Development of Amelogenin-chitosan Hydrogel for In Vitro Enamel Regrowth with a Dense Interface
Published: 07-10-2014
ABSTRACT
Biomimetic enamel reconstruction is a significant topic in material science and dentistry as a novel approach for the treatment of dental caries or erosion. Amelogenin has been proven to be a critical protein for controlling the organized growth of apatite crystals. In this paper, we present a detailed protocol for superficial enamel reconstruction by using a novel amelogenin-chitosan hydrogel. Compared to other conventional treatments, such as topical fluoride and mouthwash, this method not only has the potential to prevent the development of dental caries but also promotes significant and durable enamel restoration. The organized enamel-like microstructure regulated by amelogenin assemblies can significantly improve the mechanical properties of etched enamel, while the dense enamel-restoration interface formed by an in situ regrowth of apatite crystals can improve the effectiveness and durability of restorations. Furthermore, chitosan hydrogel is easy to use and can suppress bacterial infection, which is the major risk factor for the occurrence of dental caries. Therefore, this biocompatible and biodegradable amelogenin-chitosan hydrogel shows promise as a biomaterial for the prevention, restoration, and treatment of defective enamel.
19 Related JoVE Articles!
Improving the Success Rate of Protein Crystallization by Random Microseed Matrix Screening
Institutions: University of Bristol, Douglas Instruments.

Random microseed matrix screening (rMMS) is a protein crystallization technique in which seed crystals are added to random screens. By increasing the likelihood that crystals will grow in the metastable zone of a protein's phase diagram, extra crystallization leads are often obtained, the quality of crystals produced may be increased, and a good supply of crystals for data collection and soaking experiments is provided. Here we describe a general method for rMMS that may be applied to either sitting drop or hanging drop vapor diffusion experiments, established either by hand or using liquid handling robotics, in 96-well or 24-well tray format.
Structural Biology, Issue 78, Crystallography, X-Ray, Biochemical Phenomena, Molecular Structure, Molecular Conformation, protein crystallization, seeding, protein structure
50548
Harvesting and Cryo-cooling Crystals of Membrane Proteins Grown in Lipidic Mesophases for Structure Determination by Macromolecular Crystallography
Institutions: Trinity College Dublin .

An important route to understanding how proteins function at a mechanistic level is to have the structure of the target protein available, ideally at atomic resolution. Presently, there is only one way to capture such information as applied to integral membrane proteins (
Figure 1
), and the complexes they form, and that method is macromolecular X-ray crystallography (MX). To do MX diffraction quality crystals are needed which, in the case of membrane proteins, do not form readily. A method for crystallizing membrane proteins that involves the use of lipidic mesophases, specifically the cubic and sponge phases
1-5
, has gained considerable attention of late due to the successes it has had in the G protein-coupled receptor field
6-21
(www.mpdb.tcd.ie). However, the method, henceforth referred to as the
in meso
or lipidic cubic phase method, comes with its own technical challenges. These arise, in part, due to the generally viscous and sticky nature of the lipidic mesophase in which the crystals, which are often micro-crystals, grow. Manipulating crystals becomes difficult as a result and particularly so during harvesting
22,23
. Problems arise too at the step that precedes harvesting which requires that the glass sandwich plates in which the crystals grow (
Figure 2
)
24,25
are opened to expose the mesophase bolus, and the crystals therein, for harvesting, cryo-cooling and eventual X-ray diffraction data collection. The cubic and sponge mesophase variants (
Figure 3
) from which crystals must be harvested have profoundly different rheologies
4,26
. The cubic phase is viscous and sticky akin to a thick toothpaste. By contrast, the sponge phase is more fluid with a distinct tendency to flow. Accordingly, different approaches for opening crystallization wells containing crystals growing in the cubic and the sponge phase are called for as indeed different methods are required for harvesting crystals from the two mesophase types. Protocols for doing just that have been refined and implemented in the Membrane Structural and Functional Biology (MS&FB) Group, and are described in detail in this JoVE article (
Figure 4
). Examples are given of situations where crystals are successfully harvested and cryo-cooled. We also provide examples of cases where problems arise that lead to the irretrievable loss of crystals and describe how these problems can be avoided. In this article the Viewer is provided with step-by-step instructions for opening glass sandwich crystallization wells, for harvesting and for cryo-cooling crystals of membrane proteins growing in cubic and in sponge phases.
Materials Science, Issue 67, crystallization, glass sandwich plates, GPCR, harvesting, in meso, LCP, lipidic mesophases, macromolecular X-ray crystallography, membrane protein
4001
Exfoliation of Egyptian Blue and Han Blue, Two Alkali Earth Copper Silicate-based Pigments
Institutions: The University of Georgia.

In a visualized example of the ancient past connecting with modern times, we describe the preparation and exfoliation of CaCuSi
4
O
10
and BaCuSi
4
O
10
, the colored components of the historic Egyptian blue and Han blue pigments. The bulk forms of these materials are synthesized by both melt flux and solid-state routes, which provide some control over the crystallite size of the product. The melt flux process is time intensive, but it produces relatively large crystals at lower reaction temperatures. In comparison, the solid-state method is quicker yet requires higher reaction temperatures and yields smaller crystallites. Upon stirring in hot water, CaCuSi
4
O
10
spontaneously exfoliates into monolayer nanosheets, which are characterized by TEM and PXRD. BaCuSi
4
O
10
on the other hand requires ultrasonication in organic solvents to achieve exfoliation. Near infrared imaging illustrates that both the bulk and nanosheet forms of CaCuSi
4
O
10
and BaCuSi
4
O
10
are strong near infrared emitters. Aqueous CaCuSi
4
O
10
and BaCuSi
4
O
10
nanosheet dispersions are useful because they provide a new way to handle, characterize, and process these materials in colloidal form.
Chemistry, Issue 86, Nanosheets, Egyptian Blue, Han Blue, Pigment, Near Infrared, Luminescence, Exfoliation, Delamination, Two-Dimensional, Ink, Colloidal Dispersion
51686
Protein Crystallization for X-ray Crystallography
Institutions: Yale University.
Using the three-dimensional structure of biological macromolecules to infer how they function is one of the most important fields of modern biology. The availability of atomic resolution structures provides a deep and unique understanding of protein function, and helps to unravel the inner workings of the living cell. To date, 86% of the Protein Data Bank (rcsb-PDB) entries are macromolecular structures that were determined using X-ray crystallography. To obtain crystals suitable for crystallographic studies, the macromolecule (e.g. protein, nucleic acid, protein-protein complex or protein-nucleic acid complex) must be purified to homogeneity, or as close as possible to homogeneity. The homogeneity of the preparation is a key factor in obtaining crystals that diffract to high resolution (Bergfors, 1999; McPherson, 1999). Crystallization requires bringing the macromolecule to supersaturation. The sample should therefore be concentrated to the highest possible concentration without causing aggregation or precipitation of the macromolecule (usually 2-50 mg/ mL). Introducing the sample to precipitating agent can promote the nucleation of protein crystals in the solution, which can result in large three-dimensional crystals growing from the solution. There are two main techniques to obtain crystals: vapor diffusion and batch crystallization. In vapor diffusion, a drop containing a mixture of precipitant and protein solutions is sealed in a chamber with pure precipitant. Water vapor then diffuses out of the drop until the osmolarity of the drop and the precipitant are equal (Figure 1A). The dehydration of the drop causes a slow concentration of both protein and precipitant until equilibrium is achieved, ideally in the crystal nucleation zone of the phase diagram. The batch method relies on bringing the protein directly into the nucleation zone by mixing protein with the appropriate amount of precipitant (Figure 1B). This method is usually performed under a paraffin/mineral oil mixture to prevent the diffusion of water out of the drop. Here we will demonstrate two kinds of experimental setup for vapor diffusion, hanging drop and sitting drop, in addition to batch crystallization under oil.
Molecular Biology, Issue 47, protein crystallization, nucleic acid crystallization, vapor diffusion, X-ray crystallography, precipitant
2285
Formulations for Freeze-drying of Bacteria and Their Influence on Cell Survival
Institutions: Swedish University of Agricultural Sciences, Uppsala University.

Cellular water can be removed to reversibly inactivate microorganisms to facilitate storage. One such method of removal is freeze-drying, which is considered a gentle dehydration method. To facilitate cell survival during drying, the cells are often formulated beforehand. The formulation forms a matrix that embeds the cells and protects them from various harmful stresses imposed on the cells during freezing and drying. We present here a general method to evaluate the survival rate of cells after freeze-drying and we illustrate it by comparing the results obtained with four different formulations: the disaccharide sucrose, the sucrose derived polymer Ficoll PM400, and the respective polysaccharides hydroxyethyl cellulose (HEC) and hydroxypropyl methyl cellulose (HPMC), on two strains of bacteria,
P. putida
KT2440 and
A. chlorophenolicus
A6. In this work we illustrate how to prepare formulations for freeze-drying and how to investigate the mechanisms of cell survival after rehydration by characterizing the formulation using of differential scanning calorimetry (DSC), surface tension measurements, X-ray analysis, and electron microscopy and relating those data to survival rates. The polymers were chosen to get a monomeric structure of the respective polysaccharide resembling sucrose to a varying degrees. Using this method setup we showed that polymers can support cell survival as effectively as disaccharides if certain physical properties of the formulation are controlled
1
.
Microbiology, Issue 78, Cellular Biology, Molecular Biology, Biochemistry, Biophysics, Basic Protocols, Cell survival, sucrose, polysaccharides, cellulose, Ficoll, freeze-drying, Pseudomonas putida, Arthrobacter chlorophenolicus, cells, cell culture
4058
High-throughput Crystallization of Membrane Proteins Using the Lipidic Bicelle Method
Institutions: University of California Los Angeles , David Geffen School of Medicine, UCLA.

Membrane proteins (MPs) play a critical role in many physiological processes such as pumping specific molecules across the otherwise impermeable membrane bilayer that surrounds all cells and organelles. Alterations in the function of MPs result in many human diseases and disorders; thus, an intricate understanding of their structures remains a critical objective for biological research. However, structure determination of MPs remains a significant challenge often stemming from their hydrophobicity. MPs have substantial hydrophobic regions embedded within the bilayer. Detergents are frequently used to solubilize these proteins from the bilayer generating a protein-detergent micelle that can then be manipulated in a similar manner as soluble proteins. Traditionally, crystallization trials proceed using a protein-detergent mixture, but they often resist crystallization or produce crystals of poor quality. These problems arise due to the detergent′s inability to adequately mimic the bilayer resulting in poor stability and heterogeneity. In addition, the detergent shields the hydrophobic surface of the MP reducing the surface area available for crystal contacts. To circumvent these drawbacks MPs can be crystallized in lipidic media, which more closely simulates their endogenous environment, and has recently become a de novo technique for MP crystallization. Lipidic cubic phase (LCP) is a three-dimensional lipid bilayer penetrated by an interconnected system of aqueous channels
1
. Although monoolein is the lipid of choice, related lipids such as monopalmitolein and monovaccenin have also been used to make LCP
2
. MPs are incorporated into the LCP where they diffuse in three dimensions and feed crystal nuclei. A great advantage of the LCP is that the protein remains in a more native environment, but the method has a number of technical disadvantages including high viscosity (requiring specialized apparatuses) and difficulties in crystal visualization and manipulation
3,4
. Because of these technical difficulties, we utilized another lipidic medium for crystallization-bicelles
5,6
(
Figure 1
). Bicelles are lipid/amphiphile mixtures formed by blending a phosphatidylcholine lipid (DMPC) with an amphiphile (CHAPSO) or a short-chain lipid (DHPC). Within each bicelle disc, the lipid molecules generate a bilayer while the amphiphile molecules line the apolar edges providing beneficial properties of both bilayers and detergents. Importantly, below their transition temperature, protein-bicelle mixtures have a reduced viscosity and are manipulated in a similar manner as detergent-solubilized MPs, making bicelles compatible with crystallization robots. Bicelles have been successfully used to crystallize several membrane proteins
5,7-11
(Table 1)
. This growing collection of proteins demonstrates the versatility of bicelles for crystallizing both alpha helical and beta sheet MPs from prokaryotic and eukaryotic sources. Because of these successes and the simplicity of high-throughput implementation, bicelles should be part of every membrane protein crystallographer′s arsenal. In this video, we describe the bicelle methodology and provide a step-by-step protocol for setting up high-throughput crystallization trials of purified MPs using standard robotics.
Molecular Biology, Issue 59, membrane proteins crystallization, bicelle, lipidic crystallization
3383
Preparation of Drosophila Central Neurons for in situ Patch Clamping
Institutions: Arizona State University .

Short generation times and facile genetic techniques make the fruit fly
Drosophila melanogaster
an excellent genetic model in fundamental neuroscience research. Ion channels are the basis of all behavior since they mediate neuronal excitability. The first voltage gated ion channel cloned was the
Drosophila
voltage gated potassium channel Shaker
1,2
. Toward understanding the role of ion channels and membrane excitability for nervous system function it is useful to combine powerful genetic tools available in
Drosophila
with
in situ
patch clamp recordings. For many years such recordings have been hampered by the small size of the
Drosophila
CNS. Furthermore, a robust sheath made of glia and collagen constituted obstacles for patch pipette access to central neurons. Removal of this sheath is a necessary precondition for patch clamp recordings from any neuron in the adult
Drosophila
CNS. In recent years scientists have been able to conduct
in situ
patch clamp recordings from neurons in the adult brain
3,4
and ventral nerve cord of embryonic
5,6
, larval
7,8,9,10
, and adult
Drosophila
11,12,13,14
. A stable giga-seal is the main precondition for a good patch and depends on clean contact of the patch pipette with the cell membrane to avoid leak currents. Therefore, for whole cell
in situ
patch clamp recordings from adult
Drosophila
neurons must be cleaned thoroughly. In the first step, the ganglionic sheath has to be treated enzymatically and mechanically removed to make the target cells accessible. In the second step, the cell membrane has to be polished so that no layer of glia, collagen or other material may disturb giga-seal formation. This article describes how to prepare an identified central neuron in the
Drosophila
ventral nerve cord, the flight motoneuron 5 (MN5
15
), for somatic whole cell patch clamp recordings. Identification and visibility of the neuron is achieved by targeted expression of GFP in MN5. We do not aim to explain the patch clamp technique itself.
Neuroscience, Issue 68, Molecular Biology, Cellular Biology, Anatomy, Physiology, Patch clamp, in situ patch clamp, Drosophila, electrophysiology, motoneuron, neuron, CNS
4264
Fabrication And Characterization Of Photonic Crystal Slow Light Waveguides And Cavities
Institutions: University of St Andrews.

Slow light has been one of the hot topics in the photonics community in the past decade, generating great interest both from a fundamental point of view and for its considerable potential for practical applications. Slow light photonic crystal waveguides, in particular, have played a major part and have been successfully employed for delaying optical signals
1-4
and the enhancement of both linear
5-7
and nonlinear devices.
8-11
Photonic crystal cavities achieve similar effects to that of slow light waveguides, but over a reduced band-width. These cavities offer high Q-factor/volume ratio, for the realization of optically
12
and electrically
13
pumped ultra-low threshold lasers and the enhancement of nonlinear effects.
14-16
Furthermore, passive filters
17
and modulators
18-19
have been demonstrated, exhibiting ultra-narrow line-width, high free-spectral range and record values of low energy consumption. To attain these exciting results, a robust repeatable fabrication protocol must be developed. In this paper we take an in-depth look at our fabrication protocol which employs electron-beam lithography for the definition of photonic crystal patterns and uses wet and dry etching techniques. Our optimised fabrication recipe results in photonic crystals that do not suffer from vertical asymmetry and exhibit very good edge-wall roughness. We discuss the results of varying the etching parameters and the detrimental effects that they can have on a device, leading to a diagnostic route that can be taken to identify and eliminate similar issues. The key to evaluating slow light waveguides is the passive characterization of transmission and group index spectra. Various methods have been reported, most notably resolving the Fabry-Perot fringes of the transmission spectrum
20-21
and interferometric techniques.
22-25
Here, we describe a direct, broadband measurement technique combining spectral interferometry with Fourier transform analysis.
26
Our method stands out for its simplicity and power, as we can characterise a bare photonic crystal with access waveguides, without need for on-chip interference components, and the setup only consists of a Mach-Zehnder interferometer, with no need for moving parts and delay scans. When characterising photonic crystal cavities, techniques involving internal sources
21
or external waveguides directly coupled to the cavity
27
impact on the performance of the cavity itself, thereby distorting the measurement. Here, we describe a novel and non-intrusive technique that makes use of a cross-polarised probe beam and is known as resonant scattering (RS), where the probe is coupled out-of plane into the cavity through an objective. The technique was first demonstrated by McCutcheon
et al.28
and further developed by Galli
et al.
29
Physics, Issue 69, Optics and Photonics, Astronomy, light scattering, light transmission, optical waveguides, photonics, photonic crystals, Slow-light, Cavities, Waveguides, Silicon, SOI, Fabrication, Characterization
50216
Confocal Imaging of Confined Quiescent and Flowing Colloid-polymer Mixtures
Institutions: University of Houston.

The behavior of confined colloidal suspensions with attractive interparticle interactions is critical to the rational design of materials for directed assembly
1-3
, drug delivery
4
, improved hydrocarbon recovery
5-7
, and flowable electrodes for energy storage
8
. Suspensions containing fluorescent colloids and non-adsorbing polymers are appealing model systems, as the ratio of the polymer radius of gyration to the particle radius and concentration of polymer control the range and strength of the interparticle attraction, respectively. By tuning the polymer properties and the volume fraction of the colloids, colloid fluids, fluids of clusters, gels, crystals, and glasses can be obtained
9
. Confocal microscopy, a variant of fluorescence microscopy, allows an optically transparent and fluorescent sample to be imaged with high spatial and temporal resolution in three dimensions. In this technique, a small pinhole or slit blocks the emitted fluorescent light from regions of the sample that are outside the focal volume of the microscope optical system. As a result, only a thin section of the sample in the focal plane is imaged. This technique is particularly well suited to probe the structure and dynamics in dense colloidal suspensions at the single-particle scale: the particles are large enough to be resolved using visible light and diffuse slowly enough to be captured at typical scan speeds of commercial confocal systems
10
. Improvements in scan speeds and analysis algorithms have also enabled quantitative confocal imaging of flowing suspensions
11-16,37
. In this paper, we demonstrate confocal microscopy experiments to probe the confined phase behavior and flow properties of colloid-polymer mixtures. We first prepare colloid-polymer mixtures that are density- and refractive-index matched. Next, we report a standard protocol for imaging quiescent dense colloid-polymer mixtures under varying confinement in thin wedge-shaped cells. Finally, we demonstrate a protocol for imaging colloid-polymer mixtures during microchannel flow.
Chemistry, Issue 87, confocal microscopy, particle tracking, colloids, suspensions, confinement, gelation, microfluidics, image correlation, dynamics, suspension flow
51461
Crystallization of Membrane Proteins in Lipidic Mesophases
Institutions: The Scripps Research Institute.

Membrane proteins perform critical functions in living cells related to signal transduction, transport and energy transformations, and, as such, are implicated in a multitude of malfunctions and diseases. However, a structural and functional understanding of membrane proteins is strongly lagging behind that of their soluble partners, mainly, due to difficulties associated with their solubilization and generation of diffraction quality crystals. Crystallization in lipidic mesophases (also known as
in meso
or LCP crystallization) is a promising technique which was successfully applied to obtain high resolution structures of microbial rhodopsins, photosynthetic proteins, outer membrane beta barrels and G protein-coupled receptors. In meso crystallization takes advantage of a native-like membrane environment and typically produces crystals with lower solvent content and better ordering as compared to traditional crystallization from detergent solutions. The method is not difficult, but requires an understanding of lipid phase behavior and practice in handling viscous mesophase materials. Here we demonstrate a simple and efficient way of making LCP and reconstituting a membrane protein in the lipid bilayer of LCP using a syringe mixer, followed by dispensing nanoliter portions of LCP into an assay or crystallization plate, conducting pre-crystallization assays and harvesting crystals from the LCP matrix. These protocols provide a basic guide for approaching
in meso
crystallization trials; however, as with any crystallization experiment, extensive screening and optimization are required, and a successful outcome is not necessarily guaranteed.
Structural Biology, Issue 49, membrane protein, lipidic cubic phase, crystallization, Fluorescence recovery after photobleaching (FRAP) , G protein-coupled receptors
2501
Assessing Two-dimensional Crystallization Trials of Small Membrane Proteins for Structural Biology Studies by Electron Crystallography
Institutions: Georgia Institute of Technology, RWTH Aachen University, Georgia Institute of Technology.

Electron crystallography has evolved as a method that can be used either alternatively or in combination with three-dimensional crystallization and X-ray crystallography to study structure-function questions of membrane proteins, as well as soluble proteins. Screening for two-dimensional (2D) crystals by transmission electron microscopy (EM) is the critical step in finding, optimizing, and selecting samples for high-resolution data collection by cryo-EM. Here we describe the fundamental steps in identifying both large and ordered, as well as small 2D arrays, that can potentially supply critical information for optimization of crystallization conditions. By working with different magnifications at the EM, data on a range of critical parameters is obtained. Lower magnification supplies valuable data on the morphology and membrane size. At higher magnifications, possible order and 2D crystal dimensions are determined. In this context, it is described how CCD cameras and online-Fourier Transforms are used at higher magnifications to assess proteoliposomes for order and size. While 2D crystals of membrane proteins are most commonly grown by reconstitution by dialysis, the screening technique is equally applicable for crystals produced with the help of monolayers, native 2D crystals, and ordered arrays of soluble proteins. In addition, the methods described here are applicable to the screening for 2D crystals of even smaller as well as larger membrane proteins, where smaller proteins require the same amount of care in identification as our examples and the lattice of larger proteins might be more easily identifiable at earlier stages of the screening.
Cellular Biology, Issue 44, membrane protein, structure, two-dimensional crystallization, electron crystallography, electron microscopy, screening
1846
Characterization of G Protein-coupled Receptors by a Fluorescence-based Calcium Mobilization Assay
Institutions: KU Leuven.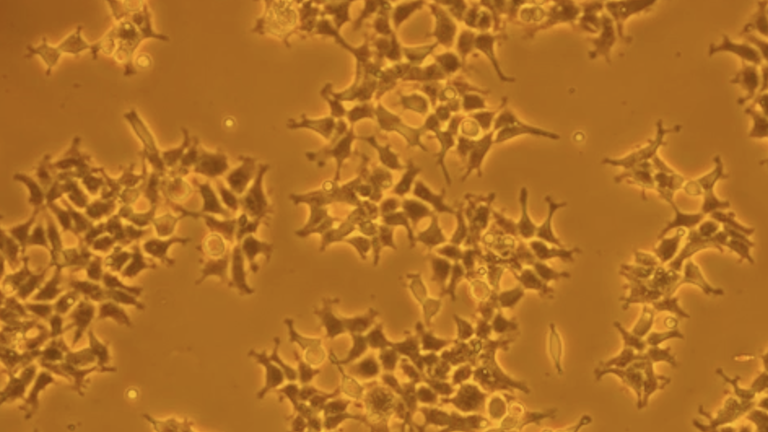 For more than 20 years, reverse pharmacology has been the preeminent strategy to discover the activating ligands of orphan G protein-coupled receptors (GPCRs). The onset of a reverse pharmacology assay is the cloning and subsequent transfection of a GPCR of interest in a cellular expression system. The heterologous expressed receptor is then challenged with a compound library of candidate ligands to identify the receptor-activating ligand(s). Receptor activation can be assessed by measuring changes in concentration of second messenger reporter molecules, like calcium or cAMP. The fluorescence-based calcium mobilization assay described here is a frequently used medium-throughput reverse pharmacology assay. The orphan GPCR is transiently expressed in human embryonic kidney 293T (HEK293T) cells and a promiscuous Gα
16
construct is co-transfected. Following ligand binding, activation of the Gα
16
subunit induces the release of calcium from the endoplasmic reticulum. Prior to ligand screening, the receptor-expressing cells are loaded with a fluorescent calcium indicator, Fluo-4 acetoxymethyl. The fluorescent signal of Fluo-4 is negligible in cells under resting conditions, but can be amplified more than a 100-fold upon the interaction with calcium ions that are released after receptor activation. The described technique does not require the time-consuming establishment of stably transfected cell lines in which the transfected genetic material is integrated into the host cell genome. Instead, a transient transfection, generating temporary expression of the target gene, is sufficient to perform the screening assay. The setup allows medium-throughput screening of hundreds of compounds. Co-transfection of the promiscuous Gα
16
, which couples to most GPCRs, allows the intracellular signaling pathway to be redirected towards the release of calcium, regardless of the native signaling pathway in endogenous settings. The HEK293T cells are easy to handle and have proven their efficacy throughout the years in receptor deorphanization assays. However, optimization of the assay for specific receptors may remain necessary.
Cellular Biology, Issue 89, G protein-coupled receptor (GPCR), calcium mobilization assay, reverse pharmacology, deorphanization, cellular expression system, HEK293T, Fluo-4, FlexStation
51516
High-throughput Fluorometric Measurement of Potential Soil Extracellular Enzyme Activities
Institutions: Colorado State University, Oak Ridge National Laboratory, University of Colorado.

Microbes in soils and other environments produce extracellular enzymes to depolymerize and hydrolyze organic macromolecules so that they can be assimilated for energy and nutrients. Measuring soil microbial enzyme activity is crucial in understanding soil ecosystem functional dynamics. The general concept of the fluorescence enzyme assay is that synthetic C-, N-, or P-rich substrates bound with a fluorescent dye are added to soil samples. When intact, the labeled substrates do not fluoresce. Enzyme activity is measured as the increase in fluorescence as the fluorescent dyes are cleaved from their substrates, which allows them to fluoresce. Enzyme measurements can be expressed in units of molarity or activity. To perform this assay, soil slurries are prepared by combining soil with a pH buffer. The pH buffer (typically a 50 mM sodium acetate or 50 mM Tris buffer), is chosen for the buffer's particular acid dissociation constant (pKa) to best match the soil sample pH. The soil slurries are inoculated with a nonlimiting amount of fluorescently labeled (
i.e.
C-, N-, or P-rich) substrate. Using soil slurries in the assay serves to minimize limitations on enzyme and substrate diffusion. Therefore, this assay controls for differences in substrate limitation, diffusion rates, and soil pH conditions; thus detecting potential enzyme activity rates as a function of the difference in enzyme concentrations (per sample). Fluorescence enzyme assays are typically more sensitive than spectrophotometric (
i.e.
colorimetric) assays, but can suffer from interference caused by impurities and the instability of many fluorescent compounds when exposed to light; so caution is required when handling fluorescent substrates. Likewise, this method only assesses potential enzyme activities under laboratory conditions when substrates are not limiting. Caution should be used when interpreting the data representing cross-site comparisons with differing temperatures or soil types, as
in situ
soil type and temperature can influence enzyme kinetics.
Environmental Sciences, Issue 81, Ecological and Environmental Phenomena, Environment, Biochemistry, Environmental Microbiology, Soil Microbiology, Ecology, Eukaryota, Archaea, Bacteria, Soil extracellular enzyme activities (EEAs), fluorometric enzyme assays, substrate degradation, 4-methylumbelliferone (MUB), 7-amino-4-methylcoumarin (MUC), enzyme temperature kinetics, soil
50961
Towards Biomimicking Wood: Fabricated Free-standing Films of Nanocellulose, Lignin, and a Synthetic Polycation
Institutions: Virginia Tech, Virginia Tech, Illinois Institute of Technology- Moffett Campus, University of Guadalajara, Virginia Tech, Virginia Tech.

Woody materials are comprised of plant cell walls that contain a layered secondary cell wall composed of structural polymers of polysaccharides and lignin. Layer-by-layer (LbL) assembly process which relies on the assembly of oppositely charged molecules from aqueous solutions was used to build a freestanding composite film of isolated wood polymers of lignin and oxidized nanofibril cellulose (NFC). To facilitate the assembly of these negatively charged polymers, a positively charged polyelectrolyte, poly(diallyldimethylammomium chloride) (PDDA), was used as a linking layer to create this simplified model cell wall. The layered adsorption process was studied quantitatively using quartz crystal microbalance with dissipation monitoring (QCM-D) and ellipsometry. The results showed that layer mass/thickness per adsorbed layer increased as a function of total number of layers. The surface coverage of the adsorbed layers was studied with atomic force microscopy (AFM). Complete coverage of the surface with lignin in all the deposition cycles was found for the system, however, surface coverage by NFC increased with the number of layers. The adsorption process was carried out for 250 cycles (500 bilayers) on a cellulose acetate (CA) substrate. Transparent free-standing LBL assembled nanocomposite films were obtained when the CA substrate was later dissolved in acetone. Scanning electron microscopy (SEM) of the fractured cross-sections showed a lamellar structure, and the thickness per adsorption cycle (PDDA-Lignin-PDDA-NC) was estimated to be 17 nm for two different lignin types used in the study. The data indicates a film with highly controlled architecture where nanocellulose and lignin are spatially deposited on the nanoscale (a polymer-polymer nanocomposites), similar to what is observed in the native cell wall.
Plant Biology, Issue 88, nanocellulose, thin films, quartz crystal microbalance, layer-by-layer, LbL
51257
Isolation of Native Soil Microorganisms with Potential for Breaking Down Biodegradable Plastic Mulch Films Used in Agriculture
Institutions: Western Washington University, Washington State University Northwestern Research and Extension Center, Texas Tech University.

Fungi native to agricultural soils that colonized commercially available biodegradable mulch (BDM) films were isolated and assessed for potential to degrade plastics. Typically, when formulations of plastics are known and a source of the feedstock is available, powdered plastic can be suspended in agar-based media and degradation determined by visualization of clearing zones. However, this approach poorly mimics
in situ
degradation of BDMs. First, BDMs are not dispersed as small particles throughout the soil matrix. Secondly, BDMs are not sold commercially as pure polymers, but rather as films containing additives (
e.g.
fillers, plasticizers and dyes) that may affect microbial growth. The procedures described herein were used for isolates acquired from soil-buried mulch films. Fungal isolates acquired from excavated BDMs were tested individually for growth on pieces of new, disinfested BDMs laid atop defined medium containing no carbon source except agar. Isolates that grew on BDMs were further tested in liquid medium where BDMs were the sole added carbon source. After approximately ten weeks, fungal colonization and BDM degradation were assessed by scanning electron microscopy. Isolates were identified via analysis of ribosomal RNA gene sequences. This report describes methods for fungal isolation, but bacteria also were isolated using these methods by substituting media appropriate for bacteria. Our methodology should prove useful for studies investigating breakdown of intact plastic films or products for which plastic feedstocks are either unknown or not available. However our approach does not provide a quantitative method for comparing rates of BDM degradation.
Microbiology, Issue 75, Plant Biology, Environmental Sciences, Agricultural Sciences, Soil Science, Molecular Biology, Cellular Biology, Genetics, Mycology, Fungi, Bacteria, Microorganisms, Biodegradable plastic, biodegradable mulch, compostable plastic, compostable mulch, plastic degradation, composting, breakdown, soil, 18S ribosomal DNA, isolation, culture
50373
Physical, Chemical and Biological Characterization of Six Biochars Produced for the Remediation of Contaminated Sites
Institutions: Royal Military College of Canada, Queen's University.

The physical and chemical properties of biochar vary based on feedstock sources and production conditions, making it possible to engineer biochars with specific functions (
e.g.
carbon sequestration, soil quality improvements, or contaminant sorption). In 2013, the International Biochar Initiative (IBI) made publically available their Standardized Product Definition and Product Testing Guidelines (Version 1.1) which set standards for physical and chemical characteristics for biochar. Six biochars made from three different feedstocks and at two temperatures were analyzed for characteristics related to their use as a soil amendment. The protocol describes analyses of the feedstocks and biochars and includes: cation exchange capacity (CEC), specific surface area (SSA), organic carbon (OC) and moisture percentage, pH, particle size distribution, and proximate and ultimate analysis. Also described in the protocol are the analyses of the feedstocks and biochars for contaminants including polycyclic aromatic hydrocarbons (PAHs), polychlorinated biphenyls (PCBs), metals and mercury as well as nutrients (phosphorous, nitrite and nitrate and ammonium as nitrogen). The protocol also includes the biological testing procedures, earthworm avoidance and germination assays. Based on the quality assurance / quality control (QA/QC) results of blanks, duplicates, standards and reference materials, all methods were determined adequate for use with biochar and feedstock materials. All biochars and feedstocks were well within the criterion set by the IBI and there were little differences among biochars, except in the case of the biochar produced from construction waste materials. This biochar (referred to as Old biochar) was determined to have elevated levels of arsenic, chromium, copper, and lead, and failed the earthworm avoidance and germination assays. Based on these results, Old biochar would not be appropriate for use as a soil amendment for carbon sequestration, substrate quality improvements or remediation.
Environmental Sciences, Issue 93, biochar, characterization, carbon sequestration, remediation, International Biochar Initiative (IBI), soil amendment
52183
Reconstitution of a Kv Channel into Lipid Membranes for Structural and Functional Studies
Institutions: University of Texas Southwestern Medical Center at Dallas.

To study the lipid-protein interaction in a reductionistic fashion, it is necessary to incorporate the membrane proteins into membranes of well-defined lipid composition. We are studying the lipid-dependent gating effects in a prototype voltage-gated potassium (Kv) channel, and have worked out detailed procedures to reconstitute the channels into different membrane systems. Our reconstitution procedures take consideration of both detergent-induced fusion of vesicles and the fusion of protein/detergent micelles with the lipid/detergent mixed micelles as well as the importance of reaching an equilibrium distribution of lipids among the protein/detergent/lipid and the detergent/lipid mixed micelles. Our data suggested that the insertion of the channels in the lipid vesicles is relatively random in orientations, and the reconstitution efficiency is so high that no detectable protein aggregates were seen in fractionation experiments. We have utilized the reconstituted channels to determine the conformational states of the channels in different lipids, record electrical activities of a small number of channels incorporated in planar lipid bilayers, screen for conformation-specific ligands from a phage-displayed peptide library, and support the growth of 2D crystals of the channels in membranes. The reconstitution procedures described here may be adapted for studying other membrane proteins in lipid bilayers, especially for the investigation of the lipid effects on the eukaryotic voltage-gated ion channels.
Molecular Biology, Issue 77, Biochemistry, Genetics, Cellular Biology, Structural Biology, Biophysics, Membrane Lipids, Phospholipids, Carrier Proteins, Membrane Proteins, Micelles, Molecular Motor Proteins, life sciences, biochemistry, Amino Acids, Peptides, and Proteins, lipid-protein interaction, channel reconstitution, lipid-dependent gating, voltage-gated ion channel, conformation-specific ligands, lipids
50436
Synthesis and Characterization of Functionalized Metal-organic Frameworks
Institutions: Northwestern University, Warsaw University of Technology, King Abdulaziz University.

Metal-organic frameworks have attracted extraordinary amounts of research attention, as they are attractive candidates for numerous industrial and technological applications. Their signature property is their ultrahigh porosity, which however imparts a series of challenges when it comes to both constructing them and working with them. Securing desired MOF chemical and physical functionality by linker/node assembly into a highly porous framework of choice can pose difficulties, as less porous and more thermodynamically stable congeners (
e.g.
, other crystalline polymorphs, catenated analogues) are often preferentially obtained by conventional synthesis methods. Once the desired product is obtained, its characterization often requires specialized techniques that address complications potentially arising from, for example, guest-molecule loss or preferential orientation of microcrystallites. Finally, accessing the large voids inside the MOFs for use in applications that involve gases can be problematic, as frameworks may be subject to collapse during removal of solvent molecules (remnants of solvothermal synthesis). In this paper, we describe synthesis and characterization methods routinely utilized in our lab either to solve or circumvent these issues. The methods include solvent-assisted linker exchange, powder X-ray diffraction in capillaries, and materials activation (cavity evacuation) by supercritical CO
2
drying. Finally, we provide a protocol for determining a suitable pressure region for applying the Brunauer-Emmett-Teller analysis to nitrogen isotherms, so as to estimate surface area of MOFs with good accuracy.
Chemistry, Issue 91, Metal-organic frameworks, porous coordination polymers, supercritical CO2 activation, crystallography, solvothermal, sorption, solvent-assisted linker exchange
52094
Use of Arabidopsis eceriferum Mutants to Explore Plant Cuticle Biosynthesis
Institutions: University of British Columbia - UBC, University of British Columbia - UBC.

The plant cuticle is a waxy outer covering on plants that has a primary role in water conservation, but is also an important barrier against the entry of pathogenic microorganisms. The cuticle is made up of a tough crosslinked polymer called "cutin" and a protective wax layer that seals the plant surface. The waxy layer of the cuticle is obvious on many plants, appearing as a shiny film on the ivy leaf or as a dusty outer covering on the surface of a grape or a cabbage leaf thanks to light scattering crystals present in the wax. Because the cuticle is an essential adaptation of plants to a terrestrial environment, understanding the genes involved in plant cuticle formation has applications in both agriculture and forestry. Today, we'll show the analysis of plant cuticle mutants identified by forward and reverse genetics approaches.
Plant Biology, Issue 16, Annual Review, Cuticle, Arabidopsis, Eceriferum Mutants, Cryso-SEM, Gas Chromatography
709