Simultaneous Whole-cell Recordings from Photoreceptors and Second-order Neurons in an Amphibian Retinal Slice Preparation
Published: 06-01-2013
ABSTRACT
One of the central tasks in retinal neuroscience is to understand the circuitry of retinal neurons and how those connections are responsible for shaping the signals transmitted to the brain. Photons are detected in the retina by rod and cone photoreceptors, which convert that energy into an electrical signal, transmitting it to other retinal neurons, where it is processed and communicated to central targets in the brain via the optic nerve. Important early insights into retinal circuitry and visual processing came from the histological studies of Cajal1,2 and, later, from electrophysiological recordings of the spiking activity of retinal ganglion cells - the output cells of the retina3,4. A detailed understanding of visual processing in the retina requires an understanding of the signaling at each step in the pathway from photoreceptor to retinal ganglion cell. However, many retinal cell types are buried deep in the tissue and therefore relatively inaccessible for electrophysiological recording. This limitation can be overcome by working with vertical slices, in which cells residing within each of the retinal layers are clearly visible and accessible for electrophysiological recording. Here, we describe a method for making vertical sections of retinas from larval tiger salamanders (Ambystoma tigrinum). While this preparation was originally developed for recordings with sharp microelectrodes5,6, we describe a method for dual whole-cell voltage clamp recordings from photoreceptors and second-order horizontal and bipolar cells in which we manipulate the photoreceptor's membrane potential while simultaneously recording post-synaptic responses in horizontal or bipolar cells. The photoreceptors of the tiger salamander are considerably larger than those of mammalian species, making this an ideal preparation in which to undertake this technically challenging experimental approach. These experiments are described with an eye toward probing the signaling properties of the synaptic ribbon - a specialized synaptic structure found in a only a handful of neurons, including rod and cone photoreceptors, that is well suited for maintaining a high rate of tonic neurotransmitter release7,8 - and how it contributes to the unique signaling properties of this first retinal synapse.
21 Related JoVE Articles!
Subretinal Transplantation of MACS Purified Photoreceptor Precursor Cells into the Adult Mouse Retina
Institutions: Technische Universität Dresden.

Vision impairment and blindness due to the loss of the light-sensing cells of the retina,
i.e.
photoreceptors, represents the main reason for disability in industrialized countries. Replacement of degenerated photoreceptors by cell transplantation represents a possible treatment option in future clinical applications. Indeed, recent preclinical studies demonstrated that immature photoreceptors, isolated from the neonatal mouse retina at postnatal day 4, have the potential to integrate into the adult mouse retina following subretinal transplantation. Donor cells generated a mature photoreceptor morphology including inner and outer segments, a round cell body located at the outer nuclear layer, and synaptic terminals in close proximity to endogenous bipolar cells. Indeed, recent reports demonstrated that donor photoreceptors functionally integrate into the neural circuitry of host mice. For a future clinical application of such cell replacement approach, purified suspensions of the cells of choice have to be generated and placed at the correct position for proper integration into the eye. For the enrichment of photoreceptor precursors, sorting should be based on specific cell surface antigens to avoid genetic reporter modification of donor cells. Here we show magnetic-associated cell sorting (MACS) - enrichment of transplantable rod photoreceptor precursors isolated from the neonatal retina of photoreceptor-specific reporter mice based on the cell surface marker CD73. Incubation with anti-CD73 antibodies followed by micro-bead conjugated secondary antibodies allowed the enrichment of rod photoreceptor precursors by MACS to approximately 90%. In comparison to flow cytometry, MACS has the advantage that it can be easier applied to GMP standards and that high amounts of cells can be sorted in relative short time periods. Injection of enriched cell suspensions into the subretinal space of adult wild-type mice resulted in a 3-fold higher integration rate compared to unsorted cell suspensions.
Medicine, Issue 84, Photoreceptor Cells, Vertebrate, Retinal Degeneration, Regeneration, retina, magnetic associated cell sorting (MACS), transplantation, regenerative therapy
50932
Cut-loading: A Useful Tool for Examining the Extent of Gap Junction Tracer Coupling Between Retinal Neurons
Institutions: Ohio State University College of Medicine, University of Texas Medical School.
In addition to chemical synaptic transmission, neurons that are connected by gap junctions can also communicate rapidly via electrical synaptic transmission. Increasing evidence indicates that gap junctions not only permit electrical current flow and synchronous activity between interconnected or coupled cells, but that the strength or effectiveness of electrical communication between coupled cells can be modulated to a great extent
1,2
. In addition, the large internal diameter (~1.2 nm) of many gap junction channels permits not only electric current flow, but also the diffusion of intracellular signaling molecules and small metabolites between interconnected cells, so that gap junctions may also mediate metabolic and chemical communication. The strength of gap junctional communication between neurons and its modulation by neurotransmitters and other factors can be studied by simultaneously electrically recording from coupled cells and by determining the extent of diffusion of tracer molecules, which are gap junction permeable, but not membrane permeable, following iontophoretic injection into single cells. However, these procedures can be extremely difficult to perform on neurons with small somata in intact neural tissue. Numerous studies on electrical synapses and the modulation of electrical communication have been conducted in the vertebrate retina, since each of the five retinal neuron types is electrically connected by gap junctions
3,4
. Increasing evidence has shown that the circadian (24-hour) clock in the retina and changes in light stimulation regulate gap junction coupling
3-8
. For example, recent work has demonstrated that the retinal circadian clock decreases gap junction coupling between rod and cone photoreceptor cells during the day by increasing dopamine D2 receptor activation, and dramatically increases rod-cone coupling at night by reducing D2 receptor activation
7,8
. However, not only are these studies extremely difficult to perform on neurons with small somata in intact neural retinal tissue, but it can be difficult to adequately control the illumination conditions during the electrophysiological study of single retinal neurons to avoid light-induced changes in gap junction conductance. Here, we present a straightforward method of determining the extent of gap junction tracer coupling between retinal neurons under different illumination conditions and at different times of the day and night. This cut-loading technique is a modification of scrape loading
9-12
, which is based on dye loading and diffusion through open gap junction channels. Scrape loading works well in cultured cells, but not in thick slices such as intact retinas. The cut-loading technique has been used to study photoreceptor coupling in intact fish and mammalian retinas
7, 8,13
, and can be used to study coupling between other retinal neurons, as described here.
Neuroscience, Issue 59, retina, photoreceptors, gap junctions, tracer coupling, neurobiotin, labeling
3180
Techniques for Processing Eyes Implanted With a Retinal Prosthesis for Localized Histopathological Analysis
Institutions: Bionics Institute, St Vincent's Hospital Melbourne, University of Melbourne, University of Melbourne.

With the recent development of retinal prostheses, it is important to develop reliable techniques for assessing the safety of these devices in preclinical studies. However, the standard fixation, preparation, and automated histology procedures are not ideal. Here we describe new procedures for evaluating the health of the retina directly adjacent to an implant. Retinal prostheses feature electrode arrays in contact with eye tissue. Previous methods have not been able to spatially localize the ocular tissue adjacent to individual electrodes within the array. In addition, standard histological processing often results in gross artifactual detachment of the retinal layers when assessing implanted eyes. Consequently, it has been difficult to assess localized damage, if present, caused by implantation and stimulation of an implanted electrode array. Therefore, we developed a method for identifying and localizing the ocular tissue adjacent to implanted electrodes using a (color-coded) dye marking scheme, and we modified an eye fixation technique to minimize artifactual retinal detachment. This method also rendered the sclera translucent, enabling localization of individual electrodes and specific parts of an implant. Finally, we used a matched control to increase the power of the histopathological assessments. In summary, this method enables reliable and efficient discrimination and assessment of the retinal cytoarchitecture in an implanted eye.
Medicine, Issue 78, Anatomy, Physiology, Biomedical Engineering, Bioengineering, Surgery, Ophthalmology, Pathology, Tissue Engineering, Prosthesis Implantation, Implantable Neurostimulators, Implants, Experimental, Histology, bionics, Retina, Prosthesis, Bionic Eye, Retinal, Implant, Suprachoroidal, Fixation, Localization, Safety, Preclinical, dissection, embedding, staining, tissue, surgical techniques, clinical techniques
50411
Morphometric Analyses of Retinal Sections
Institutions: The University of Hong Kong, The University of Hong Kong, The University of Hong Kong.

Morphometric analyses of retinal sections have been used in examining retinal diseases. For examples, neuronal cells were significantly lost in the retinal ganglion cell layer (RGCL) in rat models with N-methyl-D-aspartate (NMDA)–induced excitotoxicity
1
, retinal ischemia-reperfusion injury
2
and glaucoma
3
. Reduction of INL and inner plexiform layer (IPL) thicknesses were reversed with citicoline treatment in rats' eyes subjected to kainic acid-mediated glutamate excitotoxicity
4
. Alteration of RGC density and soma sizes were observed with different drug treatments in eyes with elevated intraocular pressure
3,5,6
. Therefore, having objective methods of analyzing the retinal morphometries may be of great significance in evaluating retinal pathologies and the effectiveness of therapeutic strategies. The retinal structure is multi-layers and several different kinds of neurons exist in the retina. The morphometric parameters of retina such as cell number, cell size and thickness of different layers are more complex than the cell culture system. Early on, these parameters can be detected using other commercial imaging software. The values are normally of relative value, and changing to the precise value may need further accurate calculation. Also, the tracing of the cell size and morphology may not be accurate and sensitive enough for statistic analysis, especially in the chronic glaucoma model. The measurements used in this protocol provided a more precise and easy way. And the absolute length of the line and size of the cell can be reported directly and easy to be copied to other files. For example, we traced the margin of the inner and outer most nuclei in the INL and formed a line then using the software to draw a 90 degree angle to measure the thickness. While without the help of the software, the line maybe oblique and the changing of retinal thickness may not be repeatable among individual observers. In addition, the number and density of RGCs can also be quantified. This protocol successfully decreases the variability in quantitating features of the retina, increases the sensitivity in detecting minimal changes. This video will demonstrate three types of morphometric analyses of the retinal sections. They include measuring the INL thickness, quantifying the number of RGCs and measuring the sizes of RGCs in absolute value. These three analyses are carried out with Stereo Investigator (MBF Bioscience — MicroBrightField, Inc.). The technique can offer a simple but scientific platform for morphometric analyses.
Neuroscience, Issue 60, morphometric analysis, retina, thickness, cell size, Stereo Investigator, neuroscience
3377
An Isolated Retinal Preparation to Record Light Response from Genetically Labeled Retinal Ganglion Cells
Institutions: University of Minnesota.

The first steps in vertebrate vision take place when light stimulates the rod and cone photoreceptors of the retina
1
. This information is then segregated into what are known as the ON and OFF pathways. The photoreceptors signal light information to the bipolar cells (BCs), which depolarize in response to increases (On BCs) or decreases (Off BCs) in light intensity. This segregation of light information is maintained at the level of the retinal ganglion cells (RGCs), which have dendrites stratifying in either the Off sublamina of the inner plexiform layer (IPL), where they receive direct excitatory input from Off BCs, or stratifying in the On sublamina of the IPL, where they receive direct excitatory input from On BCs. This segregation of information regarding increases or decreases in illumination (the On and Off pathways) is conserved and signaled to the brain in parallel. The RGCs are the output cells of the retina, and are thus an important cell to study in order to understand how light information is signaled to visual nuclei in the brain. Advances in mouse genetics over recent decades have resulted in a variety of fluorescent reporter mouse lines where specific RGC populations are labeled with a fluorescent protein to allow for identification of RGC subtypes
2 3 4
and specific targeting for electrophysiological recording. Here, we present a method for recording light responses from fluorescently labeled ganglion cells in an intact, isolated retinal preparation. This isolated retinal preparation allows for recordings from RGCs where the dendritic arbor is intact and the inputs across the entire RGC dendritic arbor are preserved. This method is applicable across a variety of ganglion cell subtypes and is amenable to a wide variety of single-cell physiological techniques.
Neuroscience, Issue 47, isolated, retina, ganglion cell, electrophysiology, patch clamp, transgenic, mouse, fluorescent
2367
Electrophysiological Characterization of GFP-Expressing Cell Populations in the Intact Retina
Institutions: University of Oldenburg.

Studying the physiological properties and synaptic connections of specific neurons in the intact tissue is a challenge for those cells that lack conspicuous morphological features or show a low population density. This applies particularly to retinal amacrine cells, an exceptionally multiform class of interneurons that comprise roughly 30 subtypes in mammals
1
. Though being a crucial part of the visual processing by shaping the retinal output
2
, most of these subtypes have not been studied up to now in a functional context because encountering these cells with a recording electrode is a rare event. Recently, a multitude of transgenic mouse lines is available that express fluorescent markers like green fluorescent protein (GFP) under the control of promoters for membrane receptors or enzymes that are specific to only a subset of neurons in a given tissue
3,4
. These pre-labeled cells are therefore accessible to directed microelectrode targeting under microscopic control, permitting the systematic study of their physiological properties
in situ
. However, excitation of fluorescent markers is accompanied by the risk of phototoxicity for the living tissue. In the retina, this approach is additionally hampered by the problem that excitation light causes appropriate stimulation of the photoreceptors, thus inflicting photopigment bleaching and transferring the retinal circuits into a light-adapted condition. These drawbacks are overcome by using infrared excitation delivered by a mode-locked laser in short pulses of the femtosecond range. Two-photon excitation provides energy sufficient for fluorophore excitation and at the same time restricts the excitation to a small tissue volume minimizing the hazards of photodamage
5
. Also, it leaves the retina responsive to visual stimuli since infrared light (>850 nm) is only poorly absorbed by photopigments
6
. In this article we demonstrate the use of a transgenic mouse retina to attain electrophysiological
in situ
recordings from GFP-expressing cells that are visually targeted by two-photon excitation. The retina is prepared and maintained in darkness and can be subjected to optical stimuli which are projected through the condenser of the microscope (Figure 1). Patch-clamp recording of light responses can be combined with dye filling to reveal the morphology and to check for gap junction-mediated dye coupling to neighboring cells, so that the target cell can by studied on different experimental levels.
Neuroscience, Issue 57, retina, transgenic mouse line, two-photon microscopy, patch-clamp recording, amacrine cells
3457
Primary Culture of Mouse Dopaminergic Neurons
Institutions: Institut de Génomique Fonctionnelle, Montpellier, U661, Montpellier, Universités de Montpellier.

Dopaminergic neurons represent less than 1% of the total number of neurons in the brain. This low amount of neurons regulates important brain functions such as motor control, motivation, and working memory. Nigrostriatal dopaminergic neurons selectively degenerate in Parkinson's disease (PD). This progressive neuronal loss is unequivocally associated with the motors symptoms of the pathology (bradykinesia, resting tremor, and muscular rigidity). The main agent responsible of dopaminergic neuron degeneration is still unknown. However, these neurons appear to be extremely vulnerable in diverse conditions. Primary cultures constitute one of the most relevant models to investigate properties and characteristics of dopaminergic neurons. These cultures can be submitted to various stress agents that mimic PD pathology and to neuroprotective compounds in order to stop or slow down neuronal degeneration. The numerous transgenic mouse models of PD that have been generated during the last decade further increased the interest of researchers for dopaminergic neuron cultures. Here, the video protocol focuses on the delicate dissection of embryonic mouse brains. Precise excision of ventral mesencephalon is crucial to obtain neuronal cultures sufficiently rich in dopaminergic cells to allow subsequent studies. This protocol can be realized with embryonic transgenic mice and is suitable for immunofluorescence staining, quantitative PCR, second messenger quantification, or neuronal death/survival assessment.
Neurobiology, Issue 91, Mus musculus, mesencephalon, embryonic, tyrosine hydroxylase, dopamine transporter, Parkinson's disease in vitro model
51751
A Novel Light Damage Paradigm for Use in Retinal Regeneration Studies in Adult Zebrafish
Institutions: Wayne State University School of Medicine, Wayne State University School of Medicine.

Light-induced retinal degeneration (LIRD) is commonly used in both rodents and zebrafish to damage rod and cone photoreceptors. In adult zebrafish, photoreceptor degeneration triggers Müller glial cells to re-enter the cell cycle and produce transient-amplifying progenitors. These progenitors continue to proliferate as they migrate to the damaged area, where they ultimately give rise to new photoreceptors. Currently, there are two widely-used LIRD paradigms, each of which results in varying degrees of photoreceptor loss and corresponding differences in the regeneration response. As more genetic and pharmacological tools are available to test the role of individual genes of interest during regeneration, there is a need to develop a robust LIRD paradigm. Here we describe a LIRD protocol that results in widespread and consistent loss of both rod and cone photoreceptors in which we have combined the use of two previously established LIRD techniques. Furthermore, this protocol can be extended for use in pigmented animals, which eliminates the need to maintain transgenic lines of interest on the albino background for LIRD studies.
Neuroscience, Issue 80, Zebrafish, Retinal Degeneration, Retina, Photoreceptor, Müller glia, Light damage
51017
Whole-cell Patch-clamp Recordings from Morphologically- and Neurochemically-identified Hippocampal Interneurons
Institutions: Charité Universitätmedizin.

GABAergic inhibitory interneurons play a central role within neuronal circuits of the brain. Interneurons comprise a small subset of the neuronal population (10-20%), but show a high level of physiological, morphological, and neurochemical heterogeneity, reflecting their diverse functions. Therefore, investigation of interneurons provides important insights into the organization principles and function of neuronal circuits. This, however, requires an integrated physiological and neuroanatomical approach for the selection and identification of individual interneuron types. Whole-cell patch-clamp recording from acute brain slices of transgenic animals, expressing fluorescent proteins under the promoters of interneuron-specific markers, provides an efficient method to target and electrophysiologically characterize intrinsic and synaptic properties of specific interneuron types. Combined with intracellular dye labeling, this approach can be extended with post-hoc morphological and immunocytochemical analysis, enabling systematic identification of recorded neurons. These methods can be tailored to suit a broad range of scientific questions regarding functional properties of diverse types of cortical neurons.
Neuroscience, Issue 91, electrophysiology, acute slice, whole-cell patch-clamp recording, neuronal morphology, immunocytochemistry, parvalbumin, hippocampus, inhibition, GABAergic interneurons, synaptic transmission, IPSC, GABA-B receptor
51706
Methylnitrosourea (MNU)-induced Retinal Degeneration and Regeneration in the Zebrafish: Histological and Functional Characteristics
Institutions: University of Bern, University Hospital of Basel, University of Fribourg.
Retinal degenerative diseases,
e.g.
retinitis pigmentosa, with resulting photoreceptor damage account for the majority of vision loss in the industrial world. Animal models are of pivotal importance to study such diseases. In this regard the photoreceptor-specific toxin
N
-methyl-
N
-nitrosourea (MNU) has been widely used in rodents to pharmacologically induce retinal degeneration. Previously, we have established a MNU-induced retinal degeneration model in the zebrafish, another popular model system in visual research. A fascinating difference to mammals is the persistent neurogenesis in the adult zebrafish retina and its regeneration after damage. To quantify this observation we have employed visual acuity measurements in the adult zebrafish. Thereby, the optokinetic reflex was used to follow functional changes in non-anesthetized fish. This was supplemented with histology as well as immunohistochemical staining for apoptosis (TUNEL) and proliferation (PCNA) to correlate the developing morphological changes. In summary, apoptosis of photoreceptors occurs three days after MNU treatment, which is followed by a marked reduction of cells in the outer nuclear layer (ONL). Thereafter, proliferation of cells in the inner nuclear layer (INL) and ONL is observed. Herein, we reveal that not only a complete histological but also a functional regeneration occurs over a time course of 30 days. Now we illustrate the methods to quantify and follow up zebrafish retinal de- and regeneration using MNU in a video-format.
Cellular Biology, Issue 92, N-methyl-N-nitrosourea (MNU), retina, degeneration, photoreceptors, Müller cells, regeneration, zebrafish, visual function
51909
Inducing Plasticity of Astrocytic Receptors by Manipulation of Neuronal Firing Rates
Institutions: University of California Riverside, University of California Riverside, University of California Riverside.

Close to two decades of research has established that astrocytes
in situ
and
in vivo
express numerous G protein-coupled receptors (GPCRs) that can be stimulated by neuronally-released transmitter. However, the ability of astrocytic receptors to exhibit plasticity in response to changes in neuronal activity has received little attention. Here we describe a model system that can be used to globally scale up or down astrocytic group I metabotropic glutamate receptors (mGluRs) in acute brain slices. Included are methods on how to prepare parasagittal hippocampal slices, construct chambers suitable for long-term slice incubation, bidirectionally manipulate neuronal action potential frequency, load astrocytes and astrocyte processes with fluorescent Ca
2+
indicator, and measure changes in astrocytic Gq GPCR activity by recording spontaneous and evoked astrocyte Ca
2+
events using confocal microscopy. In essence, a "calcium roadmap" is provided for how to measure plasticity of astrocytic Gq GPCRs. Applications of the technique for study of astrocytes are discussed. Having an understanding of how astrocytic receptor signaling is affected by changes in neuronal activity has important implications for both normal synaptic function as well as processes underlying neurological disorders and neurodegenerative disease.
Neuroscience, Issue 85, astrocyte, plasticity, mGluRs, neuronal Firing, electrophysiology, Gq GPCRs, Bolus-loading, calcium, microdomains, acute slices, Hippocampus, mouse
51458
Utilizing Transcranial Magnetic Stimulation to Study the Human Neuromuscular System
Institutions: Ohio University.

Transcranial magnetic stimulation (TMS) has been in use for more than 20 years
1
, and has grown exponentially in popularity over the past decade. While the use of TMS has expanded to the study of many systems and processes during this time, the original application and perhaps one of the most common uses of TMS involves studying the physiology, plasticity and function of the human neuromuscular system. Single pulse TMS applied to the motor cortex excites pyramidal neurons transsynaptically
2
(Figure 1) and results in a measurable electromyographic response that can be used to study and evaluate the integrity and excitability of the corticospinal tract in humans
3
. Additionally, recent advances in magnetic stimulation now allows for partitioning of cortical versus spinal excitability
4,5
. For example, paired-pulse TMS can be used to assess intracortical facilitatory and inhibitory properties by combining a conditioning stimulus and a test stimulus at different interstimulus intervals
3,4,6-8
. In this video article we will demonstrate the methodological and technical aspects of these techniques. Specifically, we will demonstrate single-pulse and paired-pulse TMS techniques as applied to the flexor carpi radialis (FCR) muscle as well as the erector spinae (ES) musculature. Our laboratory studies the FCR muscle as it is of interest to our research on the effects of wrist-hand cast immobilization on reduced muscle performance
6,9
, and we study the ES muscles due to these muscles clinical relevance as it relates to low back pain
8
. With this stated, we should note that TMS has been used to study many muscles of the hand, arm and legs, and should iterate that our demonstrations in the FCR and ES muscle groups are only selected examples of TMS being used to study the human neuromuscular system.
Medicine, Issue 59, neuroscience, muscle, electromyography, physiology, TMS, strength, motor control. sarcopenia, dynapenia, lumbar
3387
Membrane Potentials, Synaptic Responses, Neuronal Circuitry, Neuromodulation and Muscle Histology Using the Crayfish: Student Laboratory Exercises
Institutions: University of Kentucky, University of Toronto.

The purpose of this report is to help develop an understanding of the effects caused by ion gradients across a biological membrane. Two aspects that influence a cell's membrane potential and which we address in these experiments are: (1) Ion concentration of K
+
on the outside of the membrane, and (2) the permeability of the membrane to specific ions. The crayfish abdominal extensor muscles are in groupings with some being tonic (slow) and others phasic (fast) in their biochemical and physiological phenotypes, as well as in their structure; the motor neurons that innervate these muscles are correspondingly different in functional characteristics. We use these muscles as well as the superficial, tonic abdominal flexor muscle to demonstrate properties in synaptic transmission. In addition, we introduce a sensory-CNS-motor neuron-muscle circuit to demonstrate the effect of cuticular sensory stimulation as well as the influence of neuromodulators on certain aspects of the circuit. With the techniques obtained in this exercise, one can begin to answer many questions remaining in other experimental preparations as well as in physiological applications related to medicine and health. We have demonstrated the usefulness of model invertebrate preparations to address fundamental questions pertinent to all animals.
Neuroscience, Issue 47, Invertebrate, Crayfish, neurophysiology, muscle, anatomy, electrophysiology
2322
In vivo Imaging of Optic Nerve Fiber Integrity by Contrast-Enhanced MRI in Mice
Institutions: Jena University Hospital, Fritz Lipmann Institute, Jena, Jena University Hospital.

The rodent visual system encompasses retinal ganglion cells and their axons that form the optic nerve to enter thalamic and midbrain centers, and postsynaptic projections to the visual cortex. Based on its distinct anatomical structure and convenient accessibility, it has become the favored structure for studies on neuronal survival, axonal regeneration, and synaptic plasticity. Recent advancements in MR imaging have enabled the
in vivo
visualization of the retino-tectal part of this projection using manganese mediated contrast enhancement (MEMRI). Here, we present a MEMRI protocol for illustration of the visual projection in mice, by which resolutions of (200 µm)
3
can be achieved using common 3 Tesla scanners. We demonstrate how intravitreal injection of a single dosage of 15 nmol MnCl
2
leads to a saturated enhancement of the intact projection within 24 hr. With exception of the retina, changes in signal intensity are independent of coincided visual stimulation or physiological aging. We further apply this technique to longitudinally monitor axonal degeneration in response to acute optic nerve injury, a paradigm by which Mn
2+
transport completely arrests at the lesion site. Conversely, active Mn
2+
transport is quantitatively proportionate to the viability, number, and electrical activity of axon fibers. For such an analysis, we exemplify Mn
2+
transport kinetics along the visual path in a transgenic mouse model (NF-κB
p50KO
) displaying spontaneous atrophy of sensory, including visual, projections. In these mice, MEMRI indicates reduced but not delayed Mn
2+
transport as compared to wild type mice, thus revealing signs of structural and/or functional impairments by NF-κB mutations. In summary, MEMRI conveniently bridges
in vivo
assays and
post mortem
histology for the characterization of nerve fiber integrity and activity. It is highly useful for longitudinal studies on axonal degeneration and regeneration, and investigations of mutant mice for genuine or inducible phenotypes.
Neuroscience, Issue 89, manganese-enhanced MRI, mouse retino-tectal projection, visual system, neurodegeneration, optic nerve injury, NF-κB
51274
Whole Cell Patch Clamp for Investigating the Mechanisms of Infrared Neural Stimulation
Institutions: Swinburne University of Technology, The University of Melbourne.
It has been demonstrated in recent years that pulsed, infrared laser light can be used to elicit electrical responses in neural tissue, independent of any further modification of the target tissue. Infrared neural stimulation has been reported in a variety of peripheral and sensory neural tissue
in vivo
, with particular interest shown in stimulation of neurons in the auditory nerve. However, while INS has been shown to work in these settings, the mechanism (or mechanisms) by which infrared light causes neural excitation is currently not well understood. The protocol presented here describes a whole cell patch clamp method designed to facilitate the investigation of infrared neural stimulation in cultured primary auditory neurons. By thoroughly characterizing the response of these cells to infrared laser illumination
in vitro
under controlled conditions, it may be possible to gain an improved understanding of the fundamental physical and biochemical processes underlying infrared neural stimulation.
Neuroscience, Issue 77, Biomedical Engineering, Neurobiology, Molecular Biology, Cellular Biology, Physiology, Primary Cell Culture, Biophysics, Electrophysiology, fiber optics, infrared neural stimulation, patch clamp, in vitro models, spiral ganglion neurons, neurons, patch clamp recordings, cell culture
50444
Examination of Synaptic Vesicle Recycling Using FM Dyes During Evoked, Spontaneous, and Miniature Synaptic Activities
Institutions: University of Iowa Carver College of Medicine, University of Bath.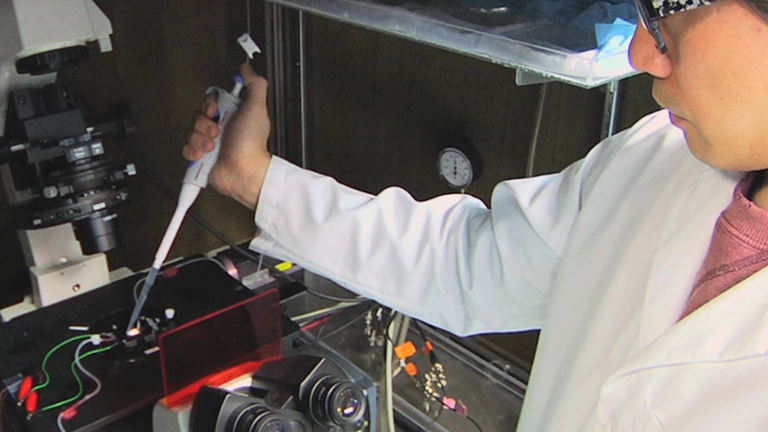 Synaptic vesicles in functional nerve terminals undergo exocytosis and endocytosis. This synaptic vesicle recycling can be effectively analyzed using styryl FM dyes, which reveal membrane turnover. Conventional protocols for the use of FM dyes were designed for analyzing neurons following stimulated (evoked) synaptic activity. Recently, protocols have become available for analyzing the FM signals that accompany weaker synaptic activities, such as spontaneous or miniature synaptic events. Analysis of these small changes in FM signals requires that the imaging system is sufficiently sensitive to detect small changes in intensity, yet that artifactual changes of large amplitude are suppressed. Here we describe a protocol that can be applied to evoked, spontaneous, and miniature synaptic activities, and use cultured hippocampal neurons as an example. This protocol also incorporates a means of assessing the rate of photobleaching of FM dyes, as this is a significant source of artifacts when imaging small changes in intensity.
Neuroscience, Issue 85, Presynaptic Terminals, Synaptic Vesicles, Microscopy, Biological Assay, Nervous System, Endocytosis, exocytosis, fluorescence imaging, FM dye, neuron, photobleaching
50557
Horizontal Slice Preparation of the Retina
Institutions: Dalhousie University, Harvard Medical School.

Traditionally the vertical slice and the whole-mount preparation of the retina have been used to study the function of retinal circuits. However, many of retinal neurons, such as amacrine cells, expand their dendrites horizontally, so that the morphology of the cells is supposed to be severely damaged in the vertical slices. In the whole-mount preparation, especially for patch-clamp recordings, retinal neurons in the middle layer are not easily accessible due to the extensive coverage of glial cell (Mueller cell) s endfeets. Here, we describe the novel slicing method to preserve the dendritic morphology of retinal neurons intact. The slice was made horizontally at the inner layer of the retina using a vibratome slicer after the retina was embedded in the low-temperature melting agarose gel. In this horizontal slice preparation of the retina, we studied the function of retinal neurons compared with their morphology, by using patch-clamp recording, calcium imaging technique, immunocytochemistry, and single-cell RT-PCR.
Neuroscience, Issue 1, retina, dissection
108
Patch Clamp Recordings from Mouse Retinal Neurons in a Dark-adapted Slice Preparation
Institutions: University of Southern California, University of Southern California Keck School of Medicine.

Our visual experience is initiated when the visual pigment in our retinal photoreceptors absorbs photons of light energy and initiates a cascade of intracellular events that lead to closure of cyclic-nucleotide-gated channels in the cell membrane. The resulting change in membrane potential leads in turn to reductions in the amount of neurotransmitter release from both rod and cone synaptic terminals. To measure how the light-evoked change in photoreceptor membrane potential leads to downstream activity in the retina, scientists have made electrophysiological recordings from retinal slice preparations for decades
1,2
. In the past these slices have been cut manually with a razor blade on retinal tissue that is attached to filter paper; in recent years another method of slicing has been developed whereby retinal tissue is embedded in low gelling temperature agar and sliced in cool solution with a vibrating microtome
3,4
. This preparation produces retinal slices with less surface damage and very robust light-evoked responses. Here we document how this procedure can be done under infrared light to avoid bleaching the visual pigment.
Neuroscience, Issue 43, vision, mice, retina, photoreceptor, bipolar cell, slice preparation, patch clamp
2107
Multifocal Electroretinograms
Institutions: University of Utah.

A limitation of traditional full-field electroretinograms (ERG) for the diagnosis of retinopathy is lack of sensitivity. Generally, ERG results are normal unless more than approximately 20% of the retina is affected. In practical terms, a patient might be legally blind as a result of macular degeneration or other scotomas and still appear normal, according to traditional full field ERG. An important development in ERGs is the multifocal ERG (mfERG). Erich Sutter adapted the mathematical sequences called binary m-sequences enabling the isolation from a single electrical signal an electroretinogram representing less than each square millimeter of retina in response to a visual stimulus
1
. Results that are generated by mfERG appear similar to those generated by flash ERG. In contrast to flash ERG, which best generates data appropriate for whole-eye disorders. The basic mfERG result is based on the calculated mathematical average of an approximation of the positive deflection component of traditional ERG response, known as the b-wave
1
. Multifocal ERG programs measure electrical activity from more than a hundred retinal areas per eye, in a few minutes. The enhanced spatial resolution enables scotomas and retinal dysfunction to be mapped and quantified. In the protocol below, we describe the recording of mfERGs using a bipolar speculum contact lens. Components of mfERG systems vary between manufacturers. For the presentation of visible stimulus, some suitable CRT monitors are available but most systems have adopted the use of flat-panel liquid crystal displays (LCD). The visual stimuli depicted here, were produced by a LCD microdisplay subtending 35 - 40 degrees horizontally and 30 - 35 degrees vertically of visual field, and calibrated to produce multifocal flash intensities of 2.7 cd s m
-2
. Amplification was 50K. Lower and upper bandpass limits were 10 and 300 Hz. The software packages used were VERIS versions 5 and 6.
Medicine, Issue 58, Multifocal electroretinogram, mfERG, electroretinogram, ERG
3176
Whole-cell Recordings of Light Evoked Excitatory Synaptic Currents in the Retinal Slice
Institutions: Boston University, Boston University, Boston University.

We use the whole-cell patch clamp technique to study the synaptic circuitry that underlies visual information processing in the retina. In this video, we will guide you through the process of performing whole-cell recordings of light evoked currents of individual cells in the retinal slice preparation. We use the aquatic tiger salamander as an animal model. We begin by describing the dissection of the eye and show how slices are mounted for electrophysiological recordings. Once the slice is placed in the recording chamber, we demonstrate how to perform whole-cell voltage clamp recordings. We then project visual stimuli onto the photoreceptors in the slice to elicit light-evoked current responses. During the recording we perfuse the slice with pharmacological agents, whereby an 8-channel perfusion system allows us to quickly switch between different agents. The retinal slice preparation is widely used for patch clamp recordings in the retina, in particular to study amacrine or bipolar cells, which are not accessible in a whole-mount preparation.
Neuroscience, Issue 17, Retina, Whole-cell recording, Tiger salamander, Light-evoked currents
771
Single-cell Suction Recordings from Mouse Cone Photoreceptors
Institutions: Washington University in St. Louis, School of Medicine.

Rod and cone photoreceptors in the retina are responsible for light detection. In darkness, cyclic nucleotide-gated (CNG) channels in the outer segment are open and allow cations to flow steadily inwards across the membrane, depolarizing the cell. Light exposure triggers the closure of the CNG channels, blocks the inward cation current flow, and thus results in cell hyperpolarization. Based on the polarity of photoreceptors, a suction recording method was developed in 1970s that, unlike the classic patch-clamp technique, does not require penetrating the plasma membrane
1
. Drawing the outer segment into a tightly-fitting glass pipette filled with extracellular solution allows recording the current changes in individual cells upon test-flash exposure. However, this well-established "outer-segment-in (OS-in)" suction recording is not suitable for mouse cone recordings, because of the low percentage of cones in the mouse retina (3%) and the difficulties in identifying the cone outer segments. Recently, an inner-segment-in (IS-in) recording configuration was developed to draw the inner segment/nuclear region of the photoreceptor into the recording pipette
2,3
. In this video, we will show how to record from individual mouse cone photoresponses using single-cell suction electrode.
Cellular Biology, Issue 35, mouse, cone photoreceptor, electrophysiology, suction-recording, CNG channels, retina, murine, IS-in
1681