The Helsinki Rat Microsurgical Sidewall Aneurysm Model
Published: 10-12-2014
ABSTRACT
Experimental saccular aneurysm models are necessary for testing novel surgical and endovascular treatment options and devices before they are introduced into clinical practice. Furthermore, experimental models are needed to elucidate the complex aneurysm biology leading to rupture of saccular aneurysms. Several different kinds of experimental models for saccular aneurysms have been established in different species. Many of them, however, require special skills, expensive equipment, or special environments, which limits their widespread use. A simple, robust, and inexpensive experimental model is needed as a standardized tool that can be used in a standardized manner in various institutions. The microsurgical rat abdominal aortic sidewall aneurysm model combines the possibility to study both novel endovascular treatment strategies and the molecular basis of aneurysm biology in a standardized and inexpensive manner. Standardized grafts by means of shape, size, and geometry are harvested from a donor rat's descending thoracic aorta and then transplanted to a syngenic recipient rat. The aneurysms are sutured end-to-side with continuous or interrupted 9-0 nylon sutures to the infrarenal abdominal aorta. We present step-by-step procedural instructions, information on necessary equipment, and discuss important anatomical and surgical details for successful microsurgical creation of an abdominal aortic sidewall aneurysm in the rat.
18 Related JoVE Articles!
A New Murine Model of Endovascular Aortic Aneurysm Repair
Institutions: Hôpital X. Bichat, AP-HP, Paris, Institut Galilée - Université Paris 13, Paris, France, Université Paris-Est Creteil, Ecole de chirurgie de l'assistance publique des hôpitaux de Paris, Université René Descartes.

Endovascular aneurysm exclusion is a validated technique to prevent aneurysm rupture. Long-term results highlight technique limitations and new aspects of Abdominal aortic aneurysm (AAA) pathophysiology. There is no abdominal aortic aneurysm endograft exclusion model cheap and reproducible, which would allow deep investigations of AAA before and after treatment. We hereby describe how to induce, and then to exclude with a covered coronary stentgraft an abdominal aortic aneurysm in a rat. The well known elastase induced AAA model was first reported in 1990
1
in a rat, then described in mice
2
. Elastin degradation leads to dilation of the aorta with inflammatory infiltration of the abdominal wall and intra luminal thrombus, matching with human AAA. Endovascular exclusion with small covered stentgraft is then performed, excluding any interactions between circulating blood and the aneurysm thrombus. Appropriate exclusion and stentgraft patency is confirmed before euthanasia by an angiography thought the left carotid artery. Partial control of elastase diffusion makes aneurysm shape different for each animal. It is difficult to create an aneurysm, which will allow an appropriate length of aorta below the aneurysm for an easy stentgraft introduction, and with adequate proximal and distal neck to prevent endoleaks. Lots of failure can result to stentgraft introduction which sometimes lead to aorta tear with pain and troubles to stitch it, and endothelial damage with post op aorta thrombosis. Giving aspirin to rats before stentgraft implantation decreases failure rate without major hemorrhage. Clamping time activates neutrophils, endothelium and platelets, and may interfere with biological analysis.
Medicine, Issue 77, Anatomy, Physiology, Biomedical Engineering, Bioengineering, Cardiology, Aortic Diseases, Aortic Aneurysm, Aortic Aneurysm, Disease Models, Animal, Vascular Surgical Procedures, Vascular Grafting, Microsurgery, animal models, Cardiovascular Diseases, Abdominal aortic aneurysm, rat, stentgraft exclusion, EVAR, animal model
50740
Isolation and Excision of Murine Aorta; A Versatile Technique in the Study of Cardiovascular Disease
Institutions: University of Cincinnati College of Medicine.
Cardiovascular disease is a broad term describing disease of the heart and/or blood vessels. The main blood vessel supplying the body with oxygenated blood is the aorta. The aorta may become affected in diseases such as atherosclerosis and aneurysm. Researchers investigating these diseases would benefit from direct observation of the aorta to characterize disease progression as well as to evaluate efficacy of potential therapeutics. The goal of this protocol is to describe proper isolation and excision of the aorta to aid investigators researching cardiovascular disease. Isolation and excision of the aorta allows investigators to look at gross morphometric changes as wells as allowing them to preserve and stain the tissue to look at histologic changes if desired. The aorta may be used for molecular studies to evaluate protein and gene expression to discover targets of interest and mechanisms of action. This technique is superior to imaging modalities as they have inherent limitations in technology and cost. Additionally, primary isolated cells from a freshly isolated and excised aorta can allowing researchers to perform further
in situ
and
in vitro
assays. The isolation and excision of the aorta has the limitation of having to sacrifice the animal however, in this case the benefits outweigh the harm as it is the most versatile technique in the study of aortic disease.
Medicine, Issue 93, Cardiovascular, aorta, murine, isolation, surgery, excision, anatomy
52172
NADH Fluorescence Imaging of Isolated Biventricular Working Rabbit Hearts
Institutions: The George Washington University, The George Washington University.

Since its inception by Langendorff
1
, the isolated perfused heart remains a prominent tool for studying cardiac physiology
2
. However, it is not well-suited for studies of cardiac metabolism, which require the heart to perform work within the context of physiologic preload and afterload pressures. Neely introduced modifications to the Langendorff technique to establish appropriate left ventricular (LV) preload and afterload pressures
3
. The model is known as the isolated LV working heart model and has been used extensively to study LV performance and metabolism
4-6
. This model, however, does not provide a properly loaded right ventricle (RV). Demmy
et al
. first reported a biventricular model as a modification of the LV working heart model
7, 8
. They found that stroke volume, cardiac output, and pressure development improved in hearts converted from working LV mode to biventricular working mode
8
. A properly loaded RV also diminishes abnormal pressure gradients across the septum to improve septal function. Biventricular working hearts have been shown to maintain aortic output, pulmonary flow, mean aortic pressure, heart rate, and myocardial ATP levels for up to 3 hours
8
. When studying the metabolic effects of myocardial injury, such as ischemia, it is often necessary to identify the location of the affected tissue. This can be done by imaging the fluorescence of NADH (the reduced form of nicotinamide adenine dinucleotide)
9-11
, a coenzyme found in large quantities in the mitochondria. NADH fluorescence (fNADH) displays a near linearly inverse relationship with local oxygen concentration
12
and provides a measure of mitochondrial redox state
13
. fNADH imaging during hypoxic and ischemic conditions has been used as a dye-free method to identify hypoxic regions
14, 15
and to monitor the progression of hypoxic conditions over time
10
. The objective of the method is to monitor the mitochondrial redox state of biventricular working hearts during protocols that alter the rate of myocyte metabolism or induce hypoxia or create a combination of the two. Hearts from New Zealand white rabbits were connected to a biventricular working heart system (Hugo Sachs Elektronik) and perfused with modified Krebs-Henseleit solution
16
at 37 °C. Aortic, LV, pulmonary artery, and left & right atrial pressures were recorded. Electrical activity was measured using a monophasic action potential electrode. To image fNADH, light from a mercury lamp was filtered (350±25 nm) and used to illuminate the epicardium. Emitted light was filtered (460±20 nm) and imaged using a CCD camera. Changes in the epicardial fNADH of biventricular working hearts during different pacing rates are presented. The combination of the heart model and fNADH imaging provides a new and valuable experimental tool for studying acute cardiac pathologies within the context of realistic physiological conditions.
Medicine, Issue 65, Physiology, cardiology, cardiac physiology, fluorescence, imaging, NADH, working, rabbit, heart
4115
Detection of Functional Matrix Metalloproteinases by Zymography
Institutions: Baylor College of Medicine.

Matrix metalloproteinases (MMPs) are zinc-containing endopeptidases. They degrade proteins by cleavage of peptide bonds. More than twenty MMPs have been identified and are separated into six groups based on their structure and substrate specificity (collagenases, gelatinases, membrane type [MT-MMP], stromelysins, matrilysins, and others). MMPs play a critical role in cell invasion, cartilage degradation, tissue remodeling, wound healing, and embryogenesis. They therefore participate in both normal processes and in the pathogenesis of many diseases, such as rheumatoid arthritis, cancer, or chronic obstructive pulmonary disease
1-6
. Here, we will focus on MMP-2 (gelatinase A, type IV collagenase), a widely expressed MMP. We will demonstrate how to detect MMP-2 in cell culture supernatants by zymography, a commonly used, simple, and yet very sensitive technique first described in 1980 by C. Heussen and E.B. Dowdle
7-10
. This technique is semi-quantitative, it can therefore be used to determine MMP levels in test samples when known concentrations of recombinant MMP are loaded on the same gel
11
. Solutions containing MMPs (e.g. cell culture supernatants, urine, or serum) are loaded onto a polyacrylamide gel containing sodium dodecyl sulfate (SDS; to linearize the proteins) and gelatin (substrate for MMP-2). The sample buffer is designed to increase sample viscosity (to facilitate gel loading), provide a tracking dye (bromophenol blue; to monitor sample migration), provide denaturing molecules (to linearize proteins), and control the pH of the sample. Proteins are then allowed to migrate under an electric current in a running buffer designed to provide a constant migration rate. The distance of migration is inversely correlated with the molecular weight of the protein (small proteins move faster through the gel than large proteins do and therefore migrate further down the gel). After migration, the gel is placed in a renaturing buffer to allow proteins to regain their tertiary structure, necessary for enzymatic activity. The gel is then placed in a developing buffer designed to allow the protease to digest its substrate. The developing buffer also contains p-aminophenylmercuric acetate (APMA) to activate the non-proteolytic pro-MMPs into active MMPs. The next step consists of staining the substrate (gelatin in our example). After washing the excess dye off the gel, areas of protease digestion appear as clear bands. The clearer the band, the more concentrated the protease it contains. Band staining intensity can then be determined by densitometry, using a software such as ImageJ, allowing for sample comparison.
Basic Protocols, Issue 45, Protease, enzyme, electrophoresis, gelatin, casein, fibrin
2445
Microsurgical Venous Pouch Arterial-Bifurcation Aneurysms in the Rabbit Model: Technical Aspects
Institutions: Hospital Rudolfstiftung, Kantonsspital Aarau, Medical University of Vienna, University of Berne, Medical University of Vienna, Paracelsus University Salzburg.

For ruptured human cerebral aneurysms endovascular embolization has become an equivalent alternative to aneurysm clipping.
1
However, large clinical trials have shown disappointing long-term results with unacceptable high rates of aneurysm recanalization and delayed aneurysm rupture.
2
To overcome these problems, animal experimental studies are crucial for the development of better endovascular devices.
3-5
Several animal models in rats, rabbits, canines and swine are available.
6-8
Comparisons of the different animal models showed the superiority of the rabbit model with regard to hemodynamics and comparability of the coagulation system and cost-effectiveness.
9-11
The venous pouch arterial bifurcation model in rabbits is formed by a venous pouch sutured into an artificially created true bifurcation of both common carotid arteries (CCA). The main advantage of this model are true bifurcational hemodynamics.
12
The major drawbacks are the sofar high microsurgical technical demands and high morbidity and mortality rates of up to 50%.
13
These limitations have resulted in less frequent use of this aneurysm model in the recent years. These shortcomings could be overcome with improved surgical procedures and modified peri- and postoperative analgetic management and anticoagulation.
14-16
Our techniques reported in this paper demonstrate this optimized technique for microsurgical creation of arterial bifurcation aneurysms.
Medicine, Issue 51, mental aneurysm, bifurcation, microsurgery, endovascular-coiling
2718
Reproducable Paraplegia by Thoracic Aortic Occlusion in a Murine Model of Spinal Cord Ischemia-reperfusion
Institutions: University of Colorado, University of Colorado.
Background
Lower extremity paralysis continues to complicate aortic interventions. The lack of understanding of the underlying pathology has hindered advancements to decrease the occurrence this injury. The current model demonstrates reproducible lower extremity paralysis following thoracic aortic occlusion.
Methods
Adult male C57BL6 mice were anesthetized with isoflurane. Through a cervicosternal incision the aorta was exposed. The descending thoracic aorta and left subclavian arteries were identified without entrance into pleural space. Skeletonization of these arteries was followed by immediate closure (Sham) or occlusion for 4 min (moderate ischemia) or 8 min (prolonged ischemia). The sternotomy and skin were closed and the mouse was transferred to warming bed for recovery.  Following recovery, functional analysis was obtained at 12 hr intervals until 48 hr.
Results
Mice that underwent sham surgery showed no observable hind limb deficit. Mice subjected to moderate ischemia for 4 min had minimal functional deficit at 12 hr followed by progression to complete paralysis at 48 hr. Mice subjected to prolonged ischemia had an immediate paralysis with no observable hind-limb movement at any point in the postoperative period. There was no observed intraoperative or post operative mortality.
Conclusion
Reproducible lower extremity paralysis whether immediate or delayed can be achieved in a murine model. Additionally, by using a median sternotomy and careful dissection, high survival rates, and reproducibility can be achieved.
Medicine, Issue 85, Spinal cord injury, thoracic aorta, paraplegia, Ischemia, reperfusion, murine model
50910
Orthotopic Aortic Transplantation: A Rat Model to Study the Development of Chronic Vasculopathy
Institutions: University Hospital Hamburg, Stanford University School of Medicine.

Research models of chronic rejection are essential to investigate pathobiological and pathophysiological processes during the development of transplant vasculopathy (TVP). The commonly used animal model for cardiovascular chronic rejection studies is the heterotopic heart transplant model performed in laboratory rodents. This model is used widely in experiments since Ono and Lindsey (3) published their technique. To analyze the findings in the blood vessels, the heart has to be sectioned and all vessels have to be measured. Another method to investigate chronic rejection in cardiovascular questionings is the aortic transplant model (1, 2). In the orthotopic aortic transplant model, the aorta can easily be histologically evaluated (2). The PVG-to-ACI model is especially useful for CAV studies, since acute vascular rejection is not a major confounding factor and Cyclosporin A (CsA) treatment does not prevent the development of CAV, similar to what we find in the clinical setting (4). A7-day period of CsA is required in this model to prevent acute rejection and to achieve long-term survival with the development of TVP. This model can also be used to investigate acute cellular rejection and media necrosis in xenogeneic models (5).
Medicine, Issue 46, chronic rejection, transplantation, rat, transplant vasculopathy
1989
Creation of Murine Experimental Abdominal Aortic Aneurysms with Elastase
Institutions: Stanford University School of Medicine, Stanford University School of Medicine.

Transient intraluminal infusion of porcine pancreatic elastase into the infrarenal segment of the abdominal aorta is the most widely used animal model of abdominal aortic aneurysm (AAA) ever since it was first described in rats by Anidjar and colleagues.
1
The rationale for its development was based on the disrupted nature of elastin observed in AAAs. This rat model has been modified to produce AAAs in the infrarenal aortic region of mice.
2
The model has the ability to add broad insight into the pathobiology of AAA due to the emergence of numerous transgenic and gene knockout mice. Moreover, it is a viable platform to test potential therapeutic agents for AAA. In this video, we demonstrate the elastase infusion AAA procedure used in our laboratory. Mice are anesthetized using 2.5% isoflurane, and a laparotomy is performed under sterile conditions. The abdominal aortais isolated with the assistance of an operating stereomicroscope (Leica). After placing temporary ligatures around the proximal and distal aorta, an aortotomy is created at the bifurcation with the tip of a 30-gauge needle. A heat-tapered segment of PE-10 polyethylene tubing is introduced through the aortotomy and secured. The aortic lumen is subsequently perfused for 5-15 minutes at 100 mm Hg with saline containing type I porcine pancreatic elastase (4.5 U/mL; Sigma Chemical Co.). After removing the perfusion catheter, the aortotomy is repaired without constriction of the lumen.
Medicine, Issue 29, abdominal aortic aneurysm, AAA, mouse, elastase
1280
Implantation of the Syncardia Total Artificial Heart
Institutions: Virginia Commonwealth University, Virginia Commonwealth University.

With advances in technology, the use of mechanical circulatory support devices for end stage heart failure has rapidly increased. The vast majority of such patients are generally well served by left ventricular assist devices (LVADs). However, a subset of patients with late stage biventricular failure or other significant anatomic lesions are not adequately treated by isolated left ventricular mechanical support. Examples of concomitant cardiac pathology that may be better treated by resection and TAH replacement includes: post infarction ventricular septal defect, aortic root aneurysm / dissection, cardiac allograft failure, massive ventricular thrombus, refractory malignant arrhythmias (independent of filling pressures), hypertrophic / restrictive cardiomyopathy, and complex congenital heart disease. Patients often present with cardiogenic shock and multi system organ dysfunction. Excision of both ventricles and orthotopic replacement with a total artificial heart (TAH) is an effective, albeit extreme, therapy for rapid restoration of blood flow and resuscitation. Perioperative management is focused on end organ resuscitation and physical rehabilitation. In addition to the usual concerns of infection, bleeding, and thromboembolism common to all mechanically supported patients, TAH patients face unique risks with regard to renal failure and anemia. Supplementation of the abrupt decrease in brain natriuretic peptide following ventriculectomy appears to have protective renal effects. Anemia following TAH implantation can be profound and persistent. Nonetheless, the anemia is generally well tolerated and transfusion are limited to avoid HLA sensitization. Until recently, TAH patients were confined as inpatients tethered to a 500 lb pneumatic console driver. Recent introduction of a backpack sized portable driver (currently under clinical trial) has enabled patients to be discharged home and even return to work. Despite the profound presentation of these sick patients, there is a 79-87% success in bridge to transplantation.
Medicine, Issue 89, mechanical circulatory support, total artificial heart, biventricular failure, operative techniques
50377
Aip1p Dynamics Are Altered by the R256H Mutation in Actin
Institutions: University of Iowa, University of Iowa.

Mutations in actin cause a range of human diseases due to specific molecular changes that often alter cytoskeletal function. In this study, imaging of fluorescently tagged proteins using total internal fluorescence (TIRF) microscopy is used to visualize and quantify changes in cytoskeletal dynamics. TIRF microscopy and the use of fluorescent tags also allows for quantification of the changes in cytoskeletal dynamics caused by mutations in actin. Using this technique, quantification of cytoskeletal function in live cells valuably complements
in vitro
studies of protein function. As an example, missense mutations affecting the actin residue R256 have been identified in three human actin isoforms suggesting this amino acid plays an important role in regulatory interactions. The effects of the actin mutation R256H on cytoskeletal movements were studied using the yeast model. The protein, Aip1, which is known to assist cofilin in actin depolymerization, was tagged with green fluorescent protein (GFP) at the N-terminus and tracked
in vivo
using TIRF microscopy. The rate of Aip1p movement in both wild type and mutant strains was quantified. In cells expressing R256H mutant actin, Aip1p motion is restricted and the rate of movement is nearly half the speed measured in wild type cells (0.88 ± 0.30 μm/sec in R256H cells compared to 1.60 ± 0.42 μm/sec in wild type cells, p < 0.005).
Developmental Biology, Issue 89, green fluorescent protein, actin, Aip1p, total internal fluorescence microscopy, yeast, cloning
51551
Mouse Models for Graft Arteriosclerosis
Institutions: Yale University School of Medicine , Yale University School of Medicine .

Graft arteriosclerois (GA), also called allograft vasculopathy, is a pathologic lesion that develops over months to years in transplanted organs characterized by diffuse, circumferential stenosis of the entire graft vascular tree. The most critical component of GA pathogenesis is the proliferation of smooth muscle-like cells within the intima. When a human coronary artery segment is interposed into the infra-renal aortae of immunodeficient mice, the intimas could be expand in response to adoptively transferred human T cells allogeneic to the artery donor or exogenous human IFN-γ in the absence of human T cells. Interposition of a mouse aorta from one strain into another mouse strain recipient is limited as a model for chronic rejection in humans because the acute cell-mediated rejection response in this mouse model completely eliminates all donor-derived vascular cells from the graft within two-three weeks. We have recently developed two new mouse models to circumvent these problems. The first model involves interposition of a vessel segment from a male mouse into a female recipient of the same inbred strain (C57BL/6J). Graft rejection in this case is directed only against minor histocompatibility antigens encoded by the Y chromosome (present in the male but not the female) and the rejection response that ensues is sufficiently indolent to preserve donor-derived smooth muscle cells for several weeks. The second model involves interposing an artery segment from a wild type C57BL/6J mouse donor into a host mouse of the same strain and gender that lacks the receptor for IFN-γ followed by administration of mouse IFN-γ (delivered via infection of the mouse liver with an adenoviral vector. There is no rejection in this case as both donor and recipient mice are of the same strain and gender but donor smooth muscle cells proliferate in response to the cytokine while host-derived cells, lacking receptor for this cytokine, are unresponsive. By backcrossing additional genetic changes into the vessel donor, both models can be used to assess the effect of specific genes on GA progression. Here, we describe detailed protocols for our mouse GA models.
Medicine, Issue 75, Anatomy, Physiology, Biomedical Engineering, Bioengineering, Cardiology, Pathology, Surgery, Tissue Engineering, Cardiovascular Diseases, vascular biology, graft arteriosclerosis, GA, mouse models, transplantation, graft, vessels, arteries, mouse, animal model, surgical techniques
50290
Evaluation of a Novel Laser-assisted Coronary Anastomotic Connector - the Trinity Clip - in a Porcine Off-pump Bypass Model
Institutions: University Medical Center Utrecht, Vascular Connect b.v., University Medical Center Utrecht, University Medical Center Utrecht.

To simplify and facilitate beating heart (
i.e.,
off-pump), minimally invasive coronary artery bypass surgery, a new coronary anastomotic connector, the Trinity Clip, is developed based on the excimer laser-assisted nonocclusive anastomosis technique. The Trinity Clip connector enables simplified, sutureless, and nonocclusive connection of the graft to the coronary artery, and an excimer laser catheter laser-punches the opening of the anastomosis. Consequently, owing to the complete nonocclusive anastomosis construction, coronary conditioning (
i.e.,
occluding or shunting) is not necessary, in contrast to the conventional anastomotic technique, hence simplifying the off-pump bypass procedure. Prior to clinical application in coronary artery bypass grafting, the safety and quality of this novel connector will be evaluated in a long-term experimental porcine off-pump coronary artery bypass (OPCAB) study. In this paper, we describe how to evaluate the coronary anastomosis in the porcine OPCAB model using various techniques to assess its quality. Representative results are summarized and visually demonstrated.
Medicine, Issue 93, Anastomosis, coronary, anastomotic connector, anastomotic coupler, excimer laser-assisted nonocclusive anastomosis (ELANA), coronary artery bypass graft (CABG), off-pump coronary artery bypass (OPCAB), beating heart surgery, excimer laser, porcine model, experimental, medical device
52127
Measuring Ascending Aortic Stiffness In Vivo in Mice Using Ultrasound
Institutions: Johns Hopkins University, Johns Hopkins University, Johns Hopkins University, Macquarie University.

We present a protocol for measuring
in vivo
aortic stiffness in mice using high-resolution ultrasound imaging. Aortic diameter is measured by ultrasound and aortic blood pressure is measured invasively with a solid-state pressure catheter. Blood pressure is raised then lowered incrementally by intravenous infusion of vasoactive drugs phenylephrine and sodium nitroprusside. Aortic diameter is measured for each pressure step to characterize the pressure-diameter relationship of the ascending aorta. Stiffness indices derived from the pressure-diameter relationship can be calculated from the data collected. Calculation of arterial compliance is described in this protocol. This technique can be used to investigate mechanisms underlying increased aortic stiffness associated with cardiovascular disease and aging. The technique produces a physiologically relevant measure of stiffness compared to
ex vivo
approaches because physiological influences on aortic stiffness are incorporated in the measurement. The primary limitation of this technique is the measurement error introduced from the movement of the aorta during the cardiac cycle. This motion can be compensated by adjusting the location of the probe with the aortic movement as well as making multiple measurements of the aortic pressure-diameter relationship and expanding the experimental group size.
Medicine, Issue 94, Aortic stiffness, ultrasound, in vivo, aortic compliance, elastic modulus, mouse model, cardiovascular disease
52200
A Novel Stretching Platform for Applications in Cell and Tissue Mechanobiology
Institutions: University of Ottawa, University of Ottawa, University of Calgary, University of Ottawa, University of Ottawa.

Tools that allow the application of mechanical forces to cells and tissues or that can quantify the mechanical properties of biological tissues have contributed dramatically to the understanding of basic mechanobiology. These techniques have been extensively used to demonstrate how the onset and progression of various diseases are heavily influenced by mechanical cues. This article presents a multi-functional biaxial stretching (BAXS) platform that can either mechanically stimulate single cells or quantify the mechanical stiffness of tissues. The BAXS platform consists of four voice coil motors that can be controlled independently. Single cells can be cultured on a flexible substrate that can be attached to the motors allowing one to expose the cells to complex, dynamic, and spatially varying strain fields. Conversely, by incorporating a force load cell, one can also quantify the mechanical properties of primary tissues as they are exposed to deformation cycles. In both cases, a proper set of clamps must be designed and mounted to the BAXS platform motors in order to firmly hold the flexible substrate or the tissue of interest. The BAXS platform can be mounted on an inverted microscope to perform simultaneous transmitted light and/or fluorescence imaging to examine the structural or biochemical response of the sample during stretching experiments. This article provides experimental details of the design and usage of the BAXS platform and presents results for single cell and whole tissue studies. The BAXS platform was used to measure the deformation of nuclei in single mouse myoblast cells in response to substrate strain and to measure the stiffness of isolated mouse aortas. The BAXS platform is a versatile tool that can be combined with various optical microscopies in order to provide novel mechanobiological insights at the sub-cellular, cellular and whole tissue levels.
Bioengineering, Issue 88, cell stretching, tissue mechanics, nuclear mechanics, uniaxial, biaxial, anisotropic, mechanobiology
51454
Localization, Identification, and Excision of Murine Adipose Depots
Institutions: University of Cincinnati College of Medicine.

Obesity has increased dramatically in the last few decades and affects over one third of the adult US population. The economic effect of obesity in 2005 reached a staggering sum of $190.2 billion in direct medical costs alone. Obesity is a major risk factor for a wide host of diseases. Historically, little was known regarding adipose and its major and essential functions in the body. Brown and white adipose are the two main types of adipose but current literature has identified a new type of fat called brite or beige adipose. Research has shown that adipose depots have specific metabolic profiles and certain depots allow for a propensity for obesity and other related disorders. The goal of this protocol is to provide researchers the capacity to identify and excise adipose depots that will allow for the analysis of different factorial effects on adipose; as well as the beneficial or detrimental role adipose plays in disease and overall health. Isolation and excision of adipose depots allows investigators to look at gross morphological changes as well as histological changes. The adipose isolated can also be used for molecular studies to evaluate transcriptional and translational change or for
in vitro
experimentation to discover targets of interest and mechanisms of action. This technique is superior to other published techniques due to the design allowing for isolation of multiple depots with simplicity and minimal contamination.
Medicine, Issue 94, adipose, surgical, excision, subcutaneous adipose tissue (SQ), perivascular adipose tissue (PVAT), visceral adipose tissue (VAT), brown adipose tissue (BAT), white adipose tissue (WAT)
52174
Design of a Cyclic Pressure Bioreactor for the Ex Vivo Study of Aortic Heart Valves
Institutions: Mississippi State University.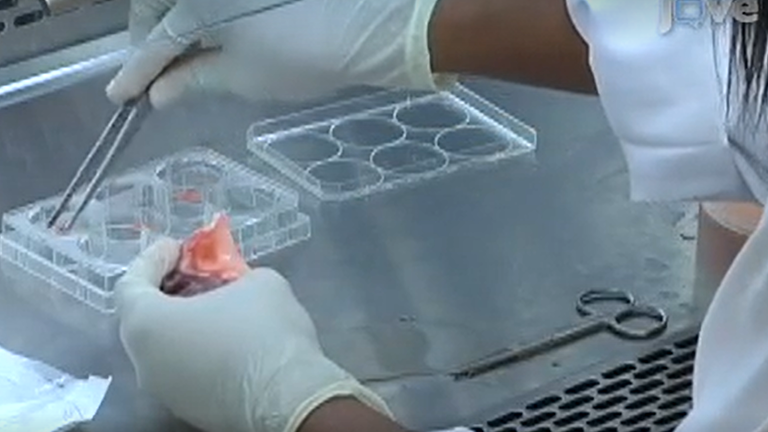 The aortic valve, located between the left ventricle and the aorta, allows for unidirectional blood flow, preventing backflow into the ventricle. Aortic valve leaflets are composed of interstitial cells suspended within an extracellular matrix (ECM) and are lined with an endothelial cell monolayer. The valve withstands a harsh, dynamic environment and is constantly exposed to shear, flexion, tension, and compression. Research has shown calcific lesions in diseased valves occur in areas of high mechanical stress as a result of endothelial disruption or interstitial matrix damage
1-3
. Hence, it is not surprising that epidemiological studies have shown high blood pressure to be a leading risk factor in the onset of aortic valve disease
4
. The only treatment option currently available for valve disease is surgical replacement of the diseased valve with a bioprosthetic or mechanical valve
5
. Improved understanding of valve biology in response to physical stresses would help elucidate the mechanisms of valve pathogenesis. In turn, this could help in the development of non-invasive therapies such as pharmaceutical intervention or prevention. Several bioreactors have been previously developed to study the mechanobiology of native or engineered heart valves
6-9
. Pulsatile bioreactors have also been developed to study a range of tissues including cartilage
10
, bone
11
and bladder
12
. The aim of this work was to develop a cyclic pressure system that could be used to elucidate the biological response of aortic valve leaflets to increased pressure loads. The system consisted of an acrylic chamber in which to place samples and produce cyclic pressure, viton diaphragm solenoid valves to control the timing of the pressure cycle, and a computer to control electrical devices. The pressure was monitored using a pressure transducer, and the signal was conditioned using a load cell conditioner. A LabVIEW program regulated the pressure using an analog device to pump compressed air into the system at the appropriate rate. The system mimicked the dynamic transvalvular pressure levels associated with the aortic valve; a saw tooth wave produced a gradual increase in pressure, typical of the transvalvular pressure gradient that is present across the valve during diastole, followed by a sharp pressure drop depicting valve opening in systole. The LabVIEW program allowed users to control the magnitude and frequency of cyclic pressure. The system was able to subject tissue samples to physiological and pathological pressure conditions. This device can be used to increase our understanding of how heart valves respond to changes in the local mechanical environment.
Bioengineering, Issue 54, Mechanobiology, Bioreactor, Aortic Heart Valve, Organ Culture
3316
Microsurgical Clip Obliteration of Middle Cerebral Aneurysm Using Intraoperative Flow Assessment
Institutions: Havard Medical School, Massachusetts General Hospital.

Cerebral aneurysms are abnormal widening or ballooning of a localized segment of an intracranial blood vessel. Surgical clipping is an important treatment for aneurysms which attempts to exclude blood from flowing into the aneurysmal segment of the vessel while preserving blood flow in a normal fashion. Improper clip placement may result in residual aneurysm with the potential for subsequent aneurysm rupture or partial or full occlusion of distal arteries resulting in cerebral infarction. Here we describe the use of an ultrasonic flow probe to provide quantitative evaluation of arterial flow before and after microsurgical clip placement at the base of a middle cerebral artery aneurysm. This information helps ensure adequate aneurysm reconstruction with preservation of normal distal blood flow.
Medicine, Issue 31, Aneurysm, intraoperative, brain, surgery, surgical clipping, blood flow, aneurysmal segment, ultrasonic flow probe
1294
Aortic Ring Assay
Institutions: Ben-Gurion University.

Angiogenesis, the sprouting of blood vessels from preexisting vasculature is associated with both natural and pathological processes. Various angiogenesis assays involve the study of individual endothelial cells in culture conditions (1). The aortic ring assay is an angiogenesis model that is based on organ culture. In this assay, angiogenic vessels grow from a segment of the aorta (modified from (2)). Briefly, mouse thoracic aorta is excised, the fat layer and adventitia are removed, and rings approximately 1 mm in length are prepared. Individual rings are then embedded in a small solid dome of basement matrix extract (BME), cast inside individual wells of a 48-well plate. Angiogenic factors and inhibitors of angiogenesis can be directly added to the rings, and a mixed co-culture of aortic rings and other cell types can be employed for the study of paracrine angiogenic effects. Sprouting is observed by inspection under a stereomicroscope over a period of 6-12 days. Due to the large variation caused by the irregularities in the aortic segments, experimentation in 6-plicates is strongly advised. Neovessel outgrowth is monitored throughout the experiment and imaged using phase microscopy, and supernatants are collected for measurement of relevant angiogenic and anti-angiogenic factors, cell death markers and nitrite.
Medicine, Issue 33, aortic rings, angiogenesis, blood vessels, aorta, mouse, vessel outgrowth
1564