Three Dimensional Vestibular Ocular Reflex Testing Using a Six Degrees of Freedom Motion Platform
Published: 05-23-2013
ABSTRACT
The vestibular organ is a sensor that measures angular and linear accelerations with six degrees of freedom (6DF). Complete or partial defects in the vestibular organ results in mild to severe equilibrium problems, such as vertigo, dizziness, oscillopsia, gait unsteadiness nausea and/or vomiting. A good and frequently used measure to quantify gaze stabilization is the gain, which is defined as the magnitude of compensatory eye movements with respect to imposed head movements. To test vestibular function more fully one has to realize that 3D VOR ideally generates compensatory ocular rotations not only with a magnitude (gain) equal and opposite to the head rotation but also about an axis that is co-linear with the head rotation axis (alignment). Abnormal vestibular function thus results in changes in gain and changes in alignment of the 3D VOR response. Here we describe a method to measure 3D VOR using whole body rotation on a 6DF motion platform. Although the method also allows testing translation VOR responses 1, we limit ourselves to a discussion of the method to measure 3D angular VOR. In addition, we restrict ourselves here to description of data collected in healthy subjects in response to angular sinusoidal and impulse stimulation. Subjects are sitting upright and receive whole-body small amplitude sinusoidal and constant acceleration impulses. Sinusoidal stimuli (f = 1 Hz, A = 4°) were delivered about the vertical axis and about axes in the horizontal plane varying between roll and pitch at increments of 22.5° in azimuth. Impulses were delivered in yaw, roll and pitch and in the vertical canal planes. Eye movements were measured using the scleral search coil technique 2. Search coil signals were sampled at a frequency of 1 kHz. The input-output ratio (gain) and misalignment (co-linearity) of the 3D VOR were calculated from the eye coil signals 3. Gain and co-linearity of 3D VOR depended on the orientation of the stimulus axis. Systematic deviations were found in particular during horizontal axis stimulation. In the light the eye rotation axis was properly aligned with the stimulus axis at orientations 0° and 90° azimuth, but gradually deviated more and more towards 45° azimuth. The systematic deviations in misalignment for intermediate axes can be explained by a low gain for torsion (X-axis or roll-axis rotation) and a high gain for vertical eye movements (Y-axis or pitch-axis rotation (see Figure 2). Because intermediate axis stimulation leads a compensatory response based on vector summation of the individual eye rotation components, the net response axis will deviate because the gain for X- and Y-axis are different. In darkness the gain of all eye rotation components had lower values. The result was that the misalignment in darkness and for impulses had different peaks and troughs than in the light: its minimum value was reached for pitch axis stimulation and its maximum for roll axis stimulation. Case Presentation Nine subjects participated in the experiment. All subjects gave their informed consent. The experimental procedure was approved by the Medical Ethics Committee of Erasmus University Medical Center and adhered to the Declaration of Helsinki for research involving human subjects. Six subjects served as controls. Three subjects had a unilateral vestibular impairment due to a vestibular schwannoma. The age of control subjects (six males and three females) ranged from 22 to 55 years. None of the controls had visual or vestibular complaints due to neurological, cardio vascular and ophthalmic disorders. The age of the patients with schwannoma varied between 44 and 64 years (two males and one female). All schwannoma subjects were under medical surveillance and/or had received treatment by a multidisciplinary team consisting of an othorhinolaryngologist and a neurosurgeon of the Erasmus University Medical Center. Tested patients all had a right side vestibular schwannoma and underwent a wait and watch policy (Table 1; subjects N1-N3) after being diagnosed with vestibular schwannoma. Their tumors had been stabile for over 8-10 years on magnetic resonance imaging.
20 Related JoVE Articles!
Studying the Neural Basis of Adaptive Locomotor Behavior in Insects
Institutions: University of Cologne.

Studying the neural basis of walking behavior, one often faces the problem that it is hard to separate the neuronally produced stepping output from those leg movements that result from passive forces and interactions with other legs through the common contact with the substrate. If we want to understand, which part of a given movement is produced by nervous system motor output, kinematic analysis of stepping movements, therefore, needs to be complemented with electrophysiological recordings of motor activity. The recording of neuronal or muscular activity in a behaving animal is often limited by the electrophysiological equipment which can constrain the animal in its ability to move with as many degrees of freedom as possible. This can either be avoided by using implantable electrodes and then having the animal move on a long tether (i.e. Clarac
et al.
, 1987; Duch & Pflüger, 1995; Böhm
et al.
, 1997; Gruhn & Rathmayer, 2002) or by transmitting the data using telemetric devices (Kutsch et al, 1993; Fischer
et al.
, 1996; Tsuchida
et al.
2004; Hama
et al.
, 2007; Wang
et al.
, 2008). Both of these elegant methods, which are successfully used in larger arthropods, often prove difficult to apply in smaller walking insects which either easily get entangled in the long tether or are hindered by the weight of the telemetric device and its batteries. In addition, in all these cases, it is still impossible to distinguish between the purely neuronal basis of locomotion and the effects exerted by mechanical coupling between the walking legs through the substrate. One solution for this problem is to conduct the experiments in a tethered animal that is free to walk in place and that is locally suspended, for example over a slippery surface, which effectively removes most ground contact mechanics. This has been used to study escape responses (Camhi and Nolen, 1981; Camhi and Levy, 1988), turning (Tryba and Ritzman, 2000a,b; Gruhn
et al.
, 2009a), backward walking (Graham and Epstein, 1985) or changes in velocity (Gruhn
et al.
, 2009b) and it allows the experimenter easily to combine intra- and extracellular physiology with kinematic analyses (Gruhn
et al.
, 2006). We use a slippery surface setup to investigate the timing of leg muscles in the behaving stick insect with respect to touch-down and lift-off under different behavioral paradigms such as straight forward and curved walking in intact and reduced preparations.
Neuroscience, issue 50, insect, walking, turning, optomotor response
2629
Video-oculography in Mice
Institutions: Erasmus MC, Rotterdam, The Netherlands, Royal Dutch Academy of Arts & Sciences (KNAW).

Eye movements are very important in order to track an object or to stabilize an image on the retina during movement. Animals without a fovea, such as the mouse, have a limited capacity to lock their eyes onto a target. In contrast to these target directed eye movements, compensatory ocular eye movements are easily elicited in afoveate animals
1,2,3,4
. Compensatory ocular movements are generated by processing vestibular and optokinetic information into a command signal that will drive the eye muscles. The processing of the vestibular and optokinetic information can be investigated separately and together, allowing the specification of a deficit in the oculomotor system. The oculomotor system can be tested by evoking an optokinetic reflex (OKR), vestibulo-ocular reflex (VOR) or a visually-enhanced vestibulo-ocular reflex (VVOR). The OKR is a reflex movement that compensates for "full-field" image movements on the retina, whereas the VOR is a reflex eye movement that compensates head movements. The VVOR is a reflex eye movement that uses both vestibular as well as optokinetic information to make the appropriate compensation. The cerebellum monitors and is able to adjust these compensatory eye movements. Therefore, oculography is a very powerful tool to investigate brain-behavior relationship under normal as well as under pathological conditions (f.e. of vestibular, ocular and/or cerebellar origin). Testing the oculomotor system, as a behavioral paradigm, is interesting for several reasons. First, the oculomotor system is a well understood neural system
5
. Second, the oculomotor system is relative simple
6
; the amount of possible eye movement is limited by its ball-in-socket architecture ("single joint") and the three pairs of extra-ocular muscles
7
. Third, the behavioral output and sensory input can easily be measured, which makes this a highly accessible system for quantitative analysis
8
. Many behavioral tests lack this high level of quantitative power. And finally, both performance as well as plasticity of the oculomotor system can be tested, allowing research on learning and memory processes
9
. Genetically modified mice are nowadays widely available and they form an important source for the exploration of brain functions at various levels
10
. In addition, they can be used as models to mimic human diseases. Applying oculography on normal, pharmacologically-treated or genetically modified mice is a powerful research tool to explore the underlying physiology of motor behaviors under normal and pathological conditions. Here, we describe how to measure video-oculography in mice
8
.
Neuroscience, Issue 65, Physiology, Medicine, mouse mutants, pupil tracking, motor learning, motor performance, cerebellum, olivocerebellar system, vestibulo-ocular reflex, optokinetic reflex, ophthalmology, oculography
3971
An Experimental Platform to Study the Closed-loop Performance of Brain-machine Interfaces
Institutions: Imperial College London.

The non-stationary nature and variability of neuronal signals is a fundamental problem in brain-machine interfacing. We developed a brain-machine interface to assess the robustness of different control-laws applied to a closed-loop image stabilization task. Taking advantage of the well-characterized fly visuomotor pathway we record the electrical activity from an identified, motion-sensitive neuron, H1, to control the yaw rotation of a two-wheeled robot. The robot is equipped with 2 high-speed video cameras providing visual motion input to a fly placed in front of 2 CRT computer monitors. The activity of the H1 neuron indicates the direction and relative speed of the robot's rotation. The neural activity is filtered and fed back into the steering system of the robot by means of proportional and proportional/adaptive control. Our goal is to test and optimize the performance of various control laws under closed-loop conditions for a broader application also in other brain machine interfaces.
Neuroscience, Issue 49, Stabilization reflexes, Sensorimotor control, Adaptive control, Insect vision
1677
Three-dimensional Optical-resolution Photoacoustic Microscopy
Institutions: Washington University in St. Louis.

Optical microscopy, providing valuable insights at the cellular and organelle levels, has been widely recognized as an enabling biomedical technology. As the mainstays of
in vivo
three-dimensional (3-D) optical microscopy, single-/multi-photon fluorescence microscopy and optical coherence tomography (OCT) have demonstrated their extraordinary sensitivities to fluorescence and optical scattering contrasts, respectively. However, the optical absorption contrast of biological tissues, which encodes essential physiological/pathological information, has not yet been assessable. The emergence of biomedical photoacoustics has led to a new branch of optical microscopy optical-resolution photoacoustic microscopy (OR-PAM)
1
, where the optical irradiation is focused to the diffraction limit to achieve cellular
1
or even subcellular
2
level lateral resolution. As a valuable complement to existing optical microscopy technologies, OR-PAM brings in at least two novelties. First and most importantly, OR-PAM detects optical absorption contrasts with extraordinary sensitivity (i.e., 100%). Combining OR-PAM with fluorescence microscopy
3
or with optical-scattering-based OCT
4
(or with both) provides comprehensive optical properties of biological tissues. Second, OR-PAM encodes optical absorption into acoustic waves, in contrast to the pure optical processes in fluorescence microscopy and OCT, and provides background-free detection. The acoustic detection in OR-PAM mitigates the impacts of optical scattering on signal degradation and naturally eliminates possible interferences (i.e., crosstalks) between excitation and detection, which is a common problem in fluorescence microscopy due to the overlap between the excitation and fluorescence spectra. Unique for optical absorption imaging, OR-PAM has demonstrated broad biomedical applications since its invention, including, but not limited to, neurology
5, 6
, ophthalmology
7, 8
, vascular biology
9
, and dermatology
10
. In this video, we teach the system configuration and alignment of OR-PAM as well as the experimental procedures for
in vivo
functional microvascular imaging.
Bioengineering, Issue 51, Optical-resolution photoacoustic microscopy, in vivo functional imaging, label-free imaging, noninvasive imaging, hemoglobin oxygen saturation, total hemoglobin concentration
2729
Fabrication and Testing of Microfluidic Optomechanical Oscillators
Institutions: University of Illinois at Urbana-Champaign, University of Michigan, University of Michigan.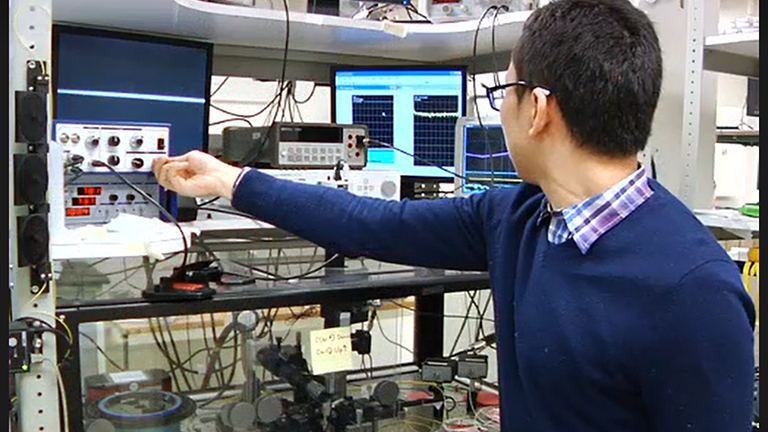 Cavity optomechanics experiments that parametrically couple the phonon modes and photon modes have been investigated in various optical systems including microresonators. However, because of the increased acoustic radiative losses during direct liquid immersion of optomechanical devices, almost all published optomechanical experiments have been performed in solid phase. This paper discusses a recently introduced hollow microfluidic optomechanical resonator. Detailed methodology is provided to fabricate these ultra-high-Q microfluidic resonators, perform optomechanical testing, and measure radiation pressure-driven breathing mode and SBS-driven whispering gallery mode parametric vibrations. By confining liquids inside the capillary resonator, high mechanical- and optical- quality factors are simultaneously maintained.
Physics, Issue 87, Optomechanics, Radiation pressure, Stimulated Brillouin scattering (SBS), Whispering gallery resonators (WGR), Oscillators, Microfluidics, Nonlinear Optics
51497
Early Metamorphic Insertion Technology for Insect Flight Behavior Monitoring
Institutions: North Carolina State University.

Early Metamorphosis Insertion Technology (EMIT) is a novel methodology for integrating microfabricated neuromuscular recording and actuation platforms on insects during their metamorphic development. Here, the implants are fused within the structure and function of the neuromuscular system as a result of metamorphic tissue remaking. The implants emerge with the insect where the development of tissue around the electronics during pupal development results in a bioelectrically and biomechanically enhanced tissue interface. This relatively more reliable and stable interface would be beneficial for many researchers exploring the neural basis of the insect locomotion with alleviated traumatic effects caused during adult stage insertions. In this article, we implant our electrodes into the indirect flight muscles of
Manduca sexta
. Located in the dorsal-thorax, these main flight powering dorsoventral and dorsolongitudinal muscles actuate the wings and supply the mechanical power for up and down strokes. Relative contraction of these two muscle groups has been under investigation to explore how the yaw maneuver is neurophysiologically coordinated. To characterize the flight dynamics, insects are often tethered with wires and their flight is recorded with digital cameras. We also developed a novel way to tether
Manduca sexta
on a magnetically levitating frame where the insect is connected to a commercially available wireless neural amplifier. This set up can be used to limit the degree of freedom to yawing "only" while transmitting the related electromyography signals from dorsoventral and dorsolongitudinal muscle groups.
Behavior, Issue 89, Manduca sexta; telemetry; metamorphosis; bioelectronics; neurophysiology; electrophysiology; neuromuscular
50901
Investigating the Three-dimensional Flow Separation Induced by a Model Vocal Fold Polyp
Institutions: The George Washington University, Clarkson University.

The fluid-structure energy exchange process for normal speech has been studied extensively, but it is not well understood for pathological conditions. Polyps and nodules, which are geometric abnormalities that form on the medial surface of the vocal folds, can disrupt vocal fold dynamics and thus can have devastating consequences on a patient's ability to communicate. Our laboratory has reported particle image velocimetry (PIV) measurements, within an investigation of a model polyp located on the medial surface of an
in vitro
driven vocal fold model, which show that such a geometric abnormality considerably disrupts the glottal jet behavior. This flow field adjustment is a likely reason for the severe degradation of the vocal quality in patients with polyps. A more complete understanding of the formation and propagation of vortical structures from a geometric protuberance, such as a vocal fold polyp, and the resulting influence on the aerodynamic loadings that drive the vocal fold dynamics, is necessary for advancing the treatment of this pathological condition. The present investigation concerns the three-dimensional flow separation induced by a wall-mounted prolate hemispheroid with a 2:1 aspect ratio in cross flow,
i.e.
a model vocal fold polyp, using an oil-film visualization technique. Unsteady, three-dimensional flow separation and its impact of the wall pressure loading are examined using skin friction line visualization and wall pressure measurements.
Bioengineering, Issue 84, oil-flow visualization, vocal fold polyp, three-dimensional flow separation, aerodynamic pressure loadings
51080
Construction and Characterization of a Novel Vocal Fold Bioreactor
Institutions: University of Delaware, University of Delaware.
In vitro
engineering of mechanically active tissues requires the presentation of physiologically relevant mechanical conditions to cultured cells. To emulate the dynamic environment of vocal folds, a novel vocal fold bioreactor capable of producing vibratory stimulations at fundamental phonation frequencies is constructed and characterized. The device is composed of a function generator, a power amplifier, a speaker selector and parallel vibration chambers. Individual vibration chambers are created by sandwiching a custom-made silicone membrane between a pair of acrylic blocks. The silicone membrane not only serves as the bottom of the chamber but also provides a mechanism for securing the cell-laden scaffold. Vibration signals, generated by a speaker mounted underneath the bottom acrylic block, are transmitted to the membrane aerodynamically by the oscillating air. Eight identical vibration modules, fixed on two stationary metal bars, are housed in an anti-humidity chamber for long-term operation in a cell culture incubator. The vibration characteristics of the vocal fold bioreactor are analyzed non-destructively using a Laser Doppler Vibrometer (LDV). The utility of the dynamic culture device is demonstrated by culturing cellular constructs in the presence of 200-Hz sinusoidal vibrations with a mid-membrane displacement of 40 µm. Mesenchymal stem cells cultured in the bioreactor respond to the vibratory signals by altering the synthesis and degradation of vocal fold-relevant, extracellular matrix components. The novel bioreactor system presented herein offers an excellent
in vitro
platform for studying vibration-induced mechanotransduction and for the engineering of functional vocal fold tissues.
Bioengineering, Issue 90, vocal fold; bioreactor; speaker; silicone membrane; fibrous scaffold; mesenchymal stem cells; vibration; extracellular matrix
51594
Using Microwave and Macroscopic Samples of Dielectric Solids to Study the Photonic Properties of Disordered Photonic Bandgap Materials
Institutions: San Francisco State University.

Recently, disordered photonic materials have been suggested as an alternative to periodic crystals for the formation of a complete photonic bandgap (PBG). In this article we will describe the methods for constructing and characterizing macroscopic disordered photonic structures using microwaves. The microwave regime offers the most convenient experimental sample size to build and test PBG media. Easily manipulated dielectric lattice components extend flexibility in building various 2D structures on top of pre-printed plastic templates. Once built, the structures could be quickly modified with point and line defects to make freeform waveguides and filters. Testing is done using a widely available Vector Network Analyzer and pairs of microwave horn antennas. Due to the scale invariance property of electromagnetic fields, the results we obtained in the microwave region can be directly applied to infrared and optical regions. Our approach is simple but delivers exciting new insight into the nature of light and disordered matter interaction. Our representative results include the first experimental demonstration of the existence of a complete and isotropic PBG in a two-dimensional (2D) hyperuniform disordered dielectric structure. Additionally we demonstrate experimentally the ability of this novel photonic structure to guide electromagnetic waves (EM) through freeform waveguides of arbitrary shape.
Physics, Issue 91, optics and photonics, photonic crystals, photonic bandgap, hyperuniform, disordered media, waveguides
51614
The Preparation of Electrohydrodynamic Bridges from Polar Dielectric Liquids
Institutions: Wetsus - Centre of Excellence for Sustainable Water Technology, IRCAM GmbH, Graz University of Technology.

Horizontal and vertical liquid bridges are simple and powerful tools for exploring the interaction of high intensity electric fields (8-20 kV/cm) and polar dielectric liquids. These bridges are unique from capillary bridges in that they exhibit extensibility beyond a few millimeters, have complex bi-directional mass transfer patterns, and emit non-Planck infrared radiation. A number of common solvents can form such bridges as well as low conductivity solutions and colloidal suspensions. The macroscopic behavior is governed by electrohydrodynamics and provides a means of studying fluid flow phenomena without the presence of rigid walls. Prior to the onset of a liquid bridge several important phenomena can be observed including advancing meniscus height (electrowetting), bulk fluid circulation (the Sumoto effect), and the ejection of charged droplets (electrospray). The interaction between surface, polarization, and displacement forces can be directly examined by varying applied voltage and bridge length. The electric field, assisted by gravity, stabilizes the liquid bridge against Rayleigh-Plateau instabilities. Construction of basic apparatus for both vertical and horizontal orientation along with operational examples, including thermographic images, for three liquids (
e.g.
, water, DMSO, and glycerol) is presented.
Physics, Issue 91, floating water bridge, polar dielectric liquids, liquid bridge, electrohydrodynamics, thermography, dielectrophoresis, electrowetting, Sumoto effect, Armstrong effect
51819
Oscillation and Reaction Board Techniques for Estimating Inertial Properties of a Below-knee Prosthesis
Institutions: University of Northern Colorado, Arizona State University, Iowa State University.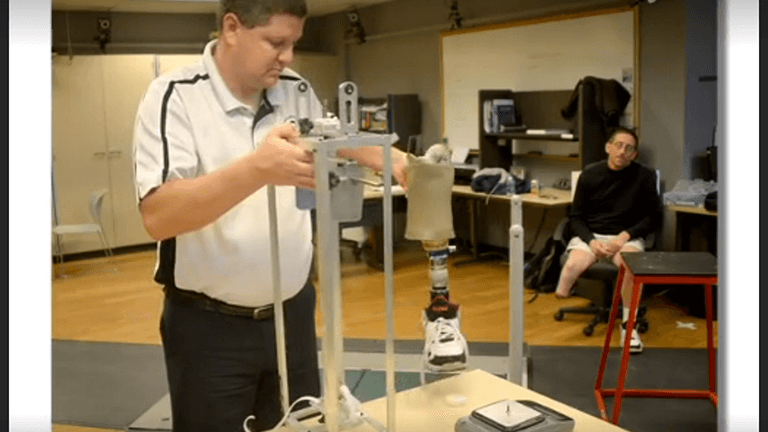 The purpose of this study was two-fold: 1) demonstrate a technique that can be used to directly estimate the inertial properties of a below-knee prosthesis, and 2) contrast the effects of the proposed technique and that of using intact limb inertial properties on joint kinetic estimates during walking in unilateral, transtibial amputees. An oscillation and reaction board system was validated and shown to be reliable when measuring inertial properties of known geometrical solids. When direct measurements of inertial properties of the prosthesis were used in inverse dynamics modeling of the lower extremity compared with inertial estimates based on an intact shank and foot, joint kinetics at the hip and knee were significantly lower during the swing phase of walking. Differences in joint kinetics during stance, however, were smaller than those observed during swing. Therefore, researchers focusing on the swing phase of walking should consider the impact of prosthesis inertia property estimates on study outcomes. For stance, either one of the two inertial models investigated in our study would likely lead to similar outcomes with an inverse dynamics assessment.
Bioengineering, Issue 87, prosthesis inertia, amputee locomotion, below-knee prosthesis, transtibial amputee
50977
Method to Measure Tone of Axial and Proximal Muscle
Institutions: Oregon Health and Science University, Queen Square, Oregon Health and Science University.

The control of tonic muscular activity remains poorly understood. While abnormal tone is commonly assessed clinically by measuring the passive resistance of relaxed limbs
1
, no systems are available to study tonic muscle control in a natural, active state of antigravity support. We have developed a device (Twister) to study tonic regulation of axial and proximal muscles during active postural maintenance (i.e. postural tone). Twister rotates axial body regions relative to each other about the vertical axis during stance, so as to twist the neck, trunk or hip regions. This twisting imposes length changes on axial muscles without changing the body's relationship to gravity. Because Twister does not provide postural support, tone must be regulated to counteract gravitational torques. We quantify this tonic regulation by the restive torque to twisting, which reflects the state of all muscles undergoing length changes, as well as by electromyography of relevant muscles. Because tone is characterized by long-lasting low-level muscle activity, tonic control is studied with slow movements that produce "tonic" changes in muscle length, without evoking fast "phasic" responses. Twister can be reconfigured to study various aspects of muscle tone, such as co-contraction, tonic modulation to postural changes, tonic interactions across body segments, as well as perceptual thresholds to slow axial rotation. Twister can also be used to provide a quantitative measurement of the effects of disease on axial and proximal postural tone and assess the efficacy of intervention.
Medicine, Issue 58, Muscle Tone, Posture, Stiffness, Motor Control
3677
Magnetic Tweezers for the Measurement of Twist and Torque
Institutions: Delft University of Technology.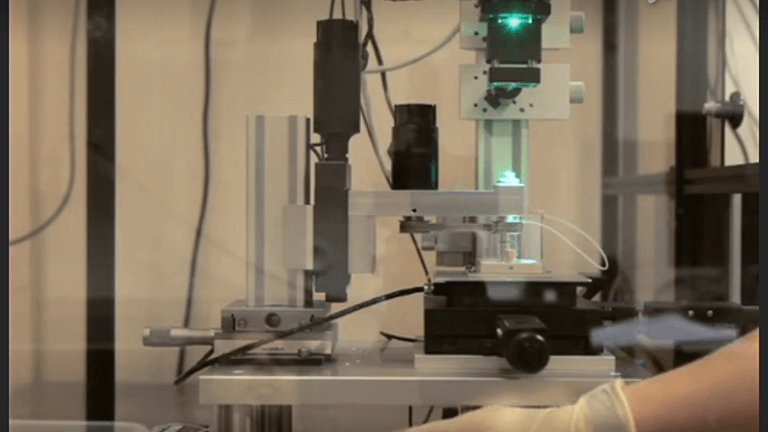 Single-molecule techniques make it possible to investigate the behavior of individual biological molecules in solution in real time. These techniques include so-called force spectroscopy approaches such as atomic force microscopy, optical tweezers, flow stretching, and magnetic tweezers. Amongst these approaches, magnetic tweezers have distinguished themselves by their ability to apply torque while maintaining a constant stretching force. Here, it is illustrated how such a "conventional" magnetic tweezers experimental configuration can, through a straightforward modification of its field configuration to minimize the magnitude of the transverse field, be adapted to measure the degree of twist in a biological molecule. The resulting configuration is termed the freely-orbiting magnetic tweezers. Additionally, it is shown how further modification of the field configuration can yield a transverse field with a magnitude intermediate between that of the "conventional" magnetic tweezers and the freely-orbiting magnetic tweezers, which makes it possible to directly measure the torque stored in a biological molecule. This configuration is termed the magnetic torque tweezers. The accompanying video explains in detail how the conversion of conventional magnetic tweezers into freely-orbiting magnetic tweezers and magnetic torque tweezers can be accomplished, and demonstrates the use of these techniques. These adaptations maintain all the strengths of conventional magnetic tweezers while greatly expanding the versatility of this powerful instrument.
Bioengineering, Issue 87, magnetic tweezers, magnetic torque tweezers, freely-orbiting magnetic tweezers, twist, torque, DNA, single-molecule techniques
51503
Simultaneous Multicolor Imaging of Biological Structures with Fluorescence Photoactivation Localization Microscopy
Institutions: University of Maine.

Localization-based super resolution microscopy can be applied to obtain a spatial map (image) of the distribution of individual fluorescently labeled single molecules within a sample with a spatial resolution of tens of nanometers. Using either photoactivatable (PAFP) or photoswitchable (PSFP) fluorescent proteins fused to proteins of interest, or organic dyes conjugated to antibodies or other molecules of interest, fluorescence photoactivation localization microscopy (FPALM) can simultaneously image multiple species of molecules within single cells. By using the following approach, populations of large numbers (thousands to hundreds of thousands) of individual molecules are imaged in single cells and localized with a precision of ~10-30 nm. Data obtained can be applied to understanding the nanoscale spatial distributions of multiple protein types within a cell. One primary advantage of this technique is the dramatic increase in spatial resolution: while diffraction limits resolution to ~200-250 nm in conventional light microscopy, FPALM can image length scales more than an order of magnitude smaller. As many biological hypotheses concern the spatial relationships among different biomolecules, the improved resolution of FPALM can provide insight into questions of cellular organization which have previously been inaccessible to conventional fluorescence microscopy. In addition to detailing the methods for sample preparation and data acquisition, we here describe the optical setup for FPALM. One additional consideration for researchers wishing to do super-resolution microscopy is cost: in-house setups are significantly cheaper than most commercially available imaging machines. Limitations of this technique include the need for optimizing the labeling of molecules of interest within cell samples, and the need for post-processing software to visualize results. We here describe the use of PAFP and PSFP expression to image two protein species in fixed cells. Extension of the technique to living cells is also described.
Basic Protocol, Issue 82, Microscopy, Super-resolution imaging, Multicolor, single molecule, FPALM, Localization microscopy, fluorescent proteins
50680
The Generation of Higher-order Laguerre-Gauss Optical Beams for High-precision Interferometry
Institutions: University of Birmingham.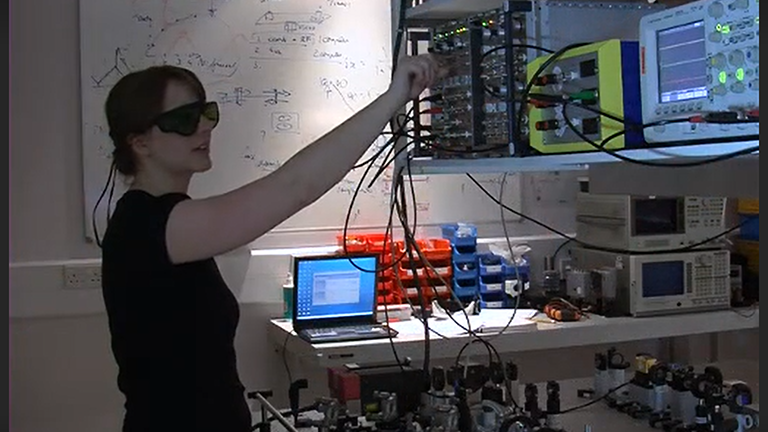 Thermal noise in high-reflectivity mirrors is a major impediment for several types of high-precision interferometric experiments that aim to reach the standard quantum limit or to cool mechanical systems to their quantum ground state. This is for example the case of future gravitational wave observatories, whose sensitivity to gravitational wave signals is expected to be limited in the most sensitive frequency band, by atomic vibration of their mirror masses. One promising approach being pursued to overcome this limitation is to employ higher-order Laguerre-Gauss (LG) optical beams in place of the conventionally used fundamental mode. Owing to their more homogeneous light intensity distribution these beams average more effectively over the thermally driven fluctuations of the mirror surface, which in turn reduces the uncertainty in the mirror position sensed by the laser light. We demonstrate a promising method to generate higher-order LG beams by shaping a fundamental Gaussian beam with the help of diffractive optical elements. We show that with conventional sensing and control techniques that are known for stabilizing fundamental laser beams, higher-order LG modes can be purified and stabilized just as well at a comparably high level. A set of diagnostic tools allows us to control and tailor the properties of generated LG beams. This enabled us to produce an LG beam with the highest purity reported to date. The demonstrated compatibility of higher-order LG modes with standard interferometry techniques and with the use of standard spherical optics makes them an ideal candidate for application in a future generation of high-precision interferometry.
Physics, Issue 78, Optics, Astronomy, Astrophysics, Gravitational waves, Laser interferometry, Metrology, Thermal noise, Laguerre-Gauss modes, interferometry
50564
Reduced-gravity Environment Hardware Demonstrations of a Prototype Miniaturized Flow Cytometer and Companion Microfluidic Mixing Technology
Institutions: DNA Medicine Institute, Harvard Medical School, NASA Glenn Research Center, ZIN Technologies.

Until recently, astronaut blood samples were collected in-flight, transported to earth on the Space Shuttle, and analyzed in terrestrial laboratories. If humans are to travel beyond low Earth orbit, a transition towards space-ready, point-of-care (POC) testing is required. Such testing needs to be comprehensive, easy to perform in a reduced-gravity environment, and unaffected by the stresses of launch and spaceflight. Countless POC devices have been developed to mimic laboratory scale counterparts, but most have narrow applications and few have demonstrable use in an in-flight, reduced-gravity environment. In fact, demonstrations of biomedical diagnostics in reduced gravity are limited altogether, making component choice and certain logistical challenges difficult to approach when seeking to test new technology. To help fill the void, we are presenting a modular method for the construction and operation of a prototype blood diagnostic device and its associated parabolic flight test rig that meet the standards for flight-testing onboard a parabolic flight, reduced-gravity aircraft. The method first focuses on rig assembly for in-flight, reduced-gravity testing of a flow cytometer and a companion microfluidic mixing chip. Components are adaptable to other designs and some custom components, such as a microvolume sample loader and the micromixer may be of particular interest. The method then shifts focus to flight preparation, by offering guidelines and suggestions to prepare for a successful flight test with regard to user training, development of a standard operating procedure (SOP), and other issues. Finally, in-flight experimental procedures specific to our demonstrations are described.
Cellular Biology, Issue 93, Point-of-care, prototype, diagnostics, spaceflight, reduced gravity, parabolic flight, flow cytometry, fluorescence, cell counting, micromixing, spiral-vortex, blood mixing
51743
A Tactile Automated Passive-Finger Stimulator (TAPS)
Institutions: Duquesne University, McMaster University.

Although tactile spatial acuity tests are used in both neuroscience research and clinical assessment, few automated devices exist for delivering controlled spatially structured stimuli to the skin. Consequently, investigators often apply tactile stimuli manually. Manual stimulus application is time consuming, requires great care and concentration on the part of the investigator, and leaves many stimulus parameters uncontrolled. We describe here a computer-controlled tactile stimulus system, the Tactile Automated Passive-finger Stimulator (TAPS), that applies spatially structured stimuli to the skin, controlling for onset velocity, contact force, and contact duration. TAPS is a versatile, programmable system, capable of efficiently conducting a variety of psychophysical procedures. We describe the components of TAPS, and show how TAPS is used to administer a two-interval forced-choice tactile grating orientation test. Corresponding Author: Daniel Goldreich
Medicine, Neuroscience, Issue 28, tactile, somatosensory, touch, cutaneous, acuity, psychophysics, Bayesian, grating orientation, sensory neuroscience, spatial discrimination
1374
Engineering Platform and Experimental Protocol for Design and Evaluation of a Neurally-controlled Powered Transfemoral Prosthesis
Institutions: North Carolina State University & University of North Carolina at Chapel Hill, University of North Carolina School of Medicine, Atlantic Prosthetics & Orthotics, LLC.

To enable intuitive operation of powered artificial legs, an interface between user and prosthesis that can recognize the user's movement intent is desired. A novel neural-machine interface (NMI) based on neuromuscular-mechanical fusion developed in our previous study has demonstrated a great potential to accurately identify the intended movement of transfemoral amputees. However, this interface has not yet been integrated with a powered prosthetic leg for true neural control. This study aimed to report (1) a flexible platform to implement and optimize neural control of powered lower limb prosthesis and (2) an experimental setup and protocol to evaluate neural prosthesis control on patients with lower limb amputations. First a platform based on a PC and a visual programming environment were developed to implement the prosthesis control algorithms, including NMI training algorithm, NMI online testing algorithm, and intrinsic control algorithm. To demonstrate the function of this platform, in this study the NMI based on neuromuscular-mechanical fusion was hierarchically integrated with intrinsic control of a prototypical transfemoral prosthesis. One patient with a unilateral transfemoral amputation was recruited to evaluate our implemented neural controller when performing activities, such as standing, level-ground walking, ramp ascent, and ramp descent continuously in the laboratory. A novel experimental setup and protocol were developed in order to test the new prosthesis control safely and efficiently. The presented proof-of-concept platform and experimental setup and protocol could aid the future development and application of neurally-controlled powered artificial legs.
Biomedical Engineering, Issue 89, neural control, powered transfemoral prosthesis, electromyography (EMG), neural-machine interface, experimental setup and protocol
51059
Long-term Behavioral Tracking of Freely Swimming Weakly Electric Fish
Institutions: University of Ottawa, University of Ottawa, University of Ottawa.

Long-term behavioral tracking can capture and quantify natural animal behaviors, including those occurring infrequently. Behaviors such as exploration and social interactions can be best studied by observing unrestrained, freely behaving animals. Weakly electric fish (WEF) display readily observable exploratory and social behaviors by emitting electric organ discharge (EOD). Here, we describe three effective techniques to synchronously measure the EOD, body position, and posture of a free-swimming WEF for an extended period of time. First, we describe the construction of an experimental tank inside of an isolation chamber designed to block external sources of sensory stimuli such as light, sound, and vibration. The aquarium was partitioned to accommodate four test specimens, and automated gates remotely control the animals' access to the central arena. Second, we describe a precise and reliable real-time EOD timing measurement method from freely swimming WEF. Signal distortions caused by the animal's body movements are corrected by spatial averaging and temporal processing stages. Third, we describe an underwater near-infrared imaging setup to observe unperturbed nocturnal animal behaviors. Infrared light pulses were used to synchronize the timing between the video and the physiological signal over a long recording duration. Our automated tracking software measures the animal's body position and posture reliably in an aquatic scene. In combination, these techniques enable long term observation of spontaneous behavior of freely swimming weakly electric fish in a reliable and precise manner. We believe our method can be similarly applied to the study of other aquatic animals by relating their physiological signals with exploratory or social behaviors.
Neuroscience, Issue 85, animal tracking, weakly electric fish, electric organ discharge, underwater infrared imaging, automated image tracking, sensory isolation chamber, exploratory behavior
50962
Characterization of Surface Modifications by White Light Interferometry: Applications in Ion Sputtering, Laser Ablation, and Tribology Experiments
Institutions: Argonne National Laboratory, Argonne National Laboratory, MassThink LLC.

In materials science and engineering it is often necessary to obtain quantitative measurements of surface topography with micrometer lateral resolution. From the measured surface, 3D topographic maps can be subsequently analyzed using a variety of software packages to extract the information that is needed. In this article we describe how white light interferometry, and optical profilometry (OP) in general, combined with generic surface analysis software, can be used for materials science and engineering tasks. In this article, a number of applications of white light interferometry for investigation of surface modifications in mass spectrometry, and wear phenomena in tribology and lubrication are demonstrated. We characterize the products of the interaction of semiconductors and metals with energetic ions (sputtering), and laser irradiation (ablation), as well as
ex situ
measurements of wear of tribological test specimens. Specifically, we will discuss: Aspects of traditional ion sputtering-based mass spectrometry such as sputtering rates/yields measurements on Si and Cu and subsequent time-to-depth conversion. Results of quantitative characterization of the interaction of femtosecond laser irradiation with a semiconductor surface. These results are important for applications such as ablation mass spectrometry, where the quantities of evaporated material can be studied and controlled via pulse duration and energy per pulse. Thus, by determining the crater geometry one can define depth and lateral resolution versus experimental setup conditions. Measurements of surface roughness parameters in two dimensions, and quantitative measurements of the surface wear that occur as a result of friction and wear tests. Some inherent drawbacks, possible artifacts, and uncertainty assessments of the white light interferometry approach will be discussed and explained.
Materials Science, Issue 72, Physics, Ion Beams (nuclear interactions), Light Reflection, Optical Properties, Semiconductor Materials, White Light Interferometry, Ion Sputtering, Laser Ablation, Femtosecond Lasers, Depth Profiling, Time-of-flight Mass Spectrometry, Tribology, Wear Analysis, Optical Profilometry, wear, friction, atomic force microscopy, AFM, scanning electron microscopy, SEM, imaging, visualization
50260