Polycrystalline Silicon Thin-film Solar cells with Plasmonic-enhanced Light-trapping
Published: 07-02-2012
ABSTRACT
One of major approaches to cheaper solar cells is reducing the amount of semiconductor material used for their fabrication and making cells thinner. To compensate for lower light absorption such physically thin devices have to incorporate light-trapping which increases their optical thickness. Light scattering by textured surfaces is a common technique but it cannot be universally applied to all solar cell technologies. Some cells, for example those made of evaporated silicon, are planar as produced and they require an alternative light-trapping means suitable for planar devices. Metal nanoparticles formed on planar silicon cell surface and capable of light scattering due to surface plasmon resonance is an effective approach. The paper presents a fabrication procedure of evaporated polycrystalline silicon solar cells with plasmonic light-trapping and demonstrates how the cell quantum efficiency improves due to presence of metal nanoparticles. To fabricate the cells a film consisting of alternative boron and phosphorous doped silicon layers is deposited on glass substrate by electron beam evaporation. An Initially amorphous film is crystallised and electronic defects are mitigated by annealing and hydrogen passivation. Metal grid contacts are applied to the layers of opposite polarity to extract electricity generated by the cell. Typically, such a ~2 μm thick cell has a short-circuit current density (Jsc) of 14-16 mA/cm2, which can be increased up to 17-18 mA/cm2 (~25% higher) after application of a simple diffuse back reflector made of a white paint. To implement plasmonic light-trapping a silver nanoparticle array is formed on the metallised cell silicon surface. A precursor silver film is deposited on the cell by thermal evaporation and annealed at 23°C to form silver nanoparticles. Nanoparticle size and coverage, which affect plasmonic light-scattering, can be tuned for enhanced cell performance by varying the precursor film thickness and its annealing conditions. An optimised nanoparticle array alone results in cell Jsc enhancement of about 28%, similar to the effect of the diffuse reflector. The photocurrent can be further increased by coating the nanoparticles by a low refractive index dielectric, like MgF2, and applying the diffused reflector. The complete plasmonic cell structure comprises the polycrystalline silicon film, a silver nanoparticle array, a layer of MgF2, and a diffuse reflector. The Jsc for such cell is 21-23 mA/cm2, up to 45% higher than Jsc of the original cell without light-trapping or ~25% higher than Jsc for the cell with the diffuse reflector only. Introduction Light-trapping in silicon solar cells is commonly achieved via light scattering at textured interfaces. Scattered light travels through a cell at oblique angles for a longer distance and when such angles exceed the critical angle at the cell interfaces the light is permanently trapped in the cell by total internal reflection (Animation 1: Light-trapping). Although this scheme works well for most solar cells, there are developing technologies where ultra-thin Si layers are produced planar (e.g. layer-transfer technologies and epitaxial c-Si layers) 1 and or when such layers are not compatible with textures substrates (e.g. evaporated silicon) 2. For such originally planar Si layer alternative light trapping approaches, such as diffuse white paint reflector 3, silicon plasma texturing 4 or high refractive index nanoparticle reflector 5 have been suggested. Metal nanoparticles can effectively scatter incident light into a higher refractive index material, like silicon, due to the surface plasmon resonance effect 6. They also can be easily formed on the planar silicon cell surface thus offering a light-trapping approach alternative to texturing. For a nanoparticle located at the air-silicon interface the scattered light fraction coupled into silicon exceeds 95% and a large faction of that light is scattered at angles above critical providing nearly ideal light-trapping condition (Animation 2: Plasmons on NP). The resonance can be tuned to the wavelength region, which is most important for a particular cell material and design, by varying the nanoparticle average size, surface coverage and local dielectric environment 6,7. Theoretical design principles of plasmonic nanoparticle solar cells have been suggested 8. In practice, Ag nanoparticle array is an ideal light-trapping partner for poly-Si thin-film solar cells because most of these design principle are naturally met. The simplest way of forming nanoparticles by thermal annealing of a thin precursor Ag film results in a random array with a relatively wide size and shape distribution, which is particularly suitable for light-trapping because such an array has a wide resonance peak, covering the wavelength range of 700-900 nm, important for poly-Si solar cell performance. The nanoparticle array can only be located on the rear poly-Si cell surface thus avoiding destructive interference between incident and scattered light which occurs for front-located nanoparticles 9. Moreover, poly-Si thin-film cells do not requires a passivating layer and the flat base-shaped nanoparticles (that naturally result from thermal annealing of a metal film) can be directly placed on silicon further increases plasmonic scattering efficiency due to surface plasmon-polariton resonance 10. The cell with the plasmonic nanoparticle array as described above can have a photocurrent about 28% higher than the original cell. However, the array still transmits a significant amount of light which escapes through the rear of the cell and does not contribute into the current. This loss can be mitigated by adding a rear reflector to allow catching transmitted light and re-directing it back to the cell. Providing sufficient distance between the reflector and the nanoparticles (a few hundred nanometers) the reflected light will then experience one more plasmonic scattering event while passing through the nanoparticle array on re-entering the cell and the reflector itself can be made diffuse - both effects further facilitating light scattering and hence light-trapping. Importantly, the Ag nanoparticles have to be encapsulated with an inert and low refractive index dielectric, like MgF2 or SiO2, from the rear reflector to avoid mechanical and chemical damage 7. Low refractive index for this cladding layer is required to maintain a high coupling fraction into silicon and larger scattering angles, which are ensured by the high optical contrast between the media on both sides of the nanoparticle, silicon and dielectric 6. The photocurrent of the plasmonic cell with the diffuse rear reflector can be up to 45% higher than the current of the original cell or up to 25% higher than the current of an equivalent cell with the diffuse reflector only.
23 Related JoVE Articles!
Dry Oxidation and Vacuum Annealing Treatments for Tuning the Wetting Properties of Carbon Nanotube Arrays
Institutions: California Institute of Technology.

In this article, we describe a simple method to reversibly tune the wetting properties of vertically aligned carbon nanotube (CNT) arrays. Here, CNT arrays are defined as densely packed multi-walled carbon nanotubes oriented perpendicular to the growth substrate as a result of a growth process by the standard thermal chemical vapor deposition (CVD) technique.
1,2
These CNT arrays are then exposed to vacuum annealing treatment to make them more hydrophobic or to dry oxidation treatment to render them more hydrophilic. The hydrophobic CNT arrays can be turned hydrophilic by exposing them to dry oxidation treatment, while the hydrophilic CNT arrays can be turned hydrophobic by exposing them to vacuum annealing treatment. Using a combination of both treatments, CNT arrays can be repeatedly switched between hydrophilic and hydrophobic.
2
Therefore, such combination show a very high potential in many industrial and consumer applications, including drug delivery system and high power density supercapacitors.
3-5
The key to vary the wettability of CNT arrays is to control the surface concentration of oxygen adsorbates. Basically oxygen adsorbates can be introduced by exposing the CNT arrays to any oxidation treatment. Here we use dry oxidation treatments, such as oxygen plasma and UV/ozone, to functionalize the surface of CNT with oxygenated functional groups. These oxygenated functional groups allow hydrogen bond between the surface of CNT and water molecules to form, rendering the CNT hydrophilic. To turn them hydrophobic, adsorbed oxygen must be removed from the surface of CNT. Here we employ vacuum annealing treatment to induce oxygen desorption process. CNT arrays with extremely low surface concentration of oxygen adsorbates exhibit a superhydrophobic behavior.
Chemistry, Issue 74, Chemical Engineering, Materials Science, Nanotechnology, Engineering, Nanotubes, Carbon, Oxidation-Reduction, Surface Properties, carbon nanotubes (synthesis and properties), Carbon nanotube, Wettability, Hydrophobic, Hydrophilic, UV/ozone, Oxygen Plasma, Vacuum Annealing
50378
Optical Trapping of Nanoparticles
Institutions: University of Victoria.

Optical trapping is a technique for immobilizing and manipulating small objects in a gentle way using light, and it has been widely applied in trapping and manipulating small biological particles. Ashkin and co-workers first demonstrated optical tweezers using a single focused beam
1
. The single beam trap can be described accurately using the perturbative gradient force formulation in the case of small Rayleigh regime particles
1
. In the perturbative regime, the optical power required for trapping a particle scales as the inverse fourth power of the particle size. High optical powers can damage dielectric particles and cause heating. For instance, trapped latex spheres of 109 nm in diameter were destroyed by a 15 mW beam in 25 sec
1
, which has serious implications for biological matter
2,3
. A self-induced back-action (SIBA) optical trapping was proposed to trap 50 nm polystyrene spheres in the non-perturbative regime
4
. In a non-perturbative regime, even a small particle with little permittivity contrast to the background can influence significantly the ambient electromagnetic field and induce a large optical force. As a particle enters an illuminated aperture, light transmission increases dramatically because of dielectric loading. If the particle attempts to leave the aperture, decreased transmission causes a change in momentum outwards from the hole and, by Newton's Third Law, results in a force on the particle inwards into the hole, trapping the particle. The light transmission can be monitored; hence, the trap can become a sensor. The SIBA trapping technique can be further improved by using a double-nanohole structure. The double-nanohole structure has been shown to give a strong local field enhancement
5,6
. Between the two sharp tips of the double-nanohole, a small particle can cause a large change in optical transmission, thereby inducing a large optical force. As a result, smaller nanoparticles can be trapped, such as 12 nm silicate spheres
7
and 3.4 nm hydrodynamic radius bovine serum albumin proteins
8
. In this work, the experimental configuration used for nanoparticle trapping is outlined. First, we detail the assembly of the trapping setup which is based on a Thorlabs Optical Tweezer Kit. Next, we explain the nanofabrication procedure of the double-nanohole in a metal film, the fabrication of the microfluidic chamber and the sample preparation. Finally, we detail the data acquisition procedure and provide typical results for trapping 20 nm polystyrene nanospheres.
Physics, Issue 71, Nanotechnology, Optics, Electrical Engineering, Computer Engineering, Physical Sciences, Engineering, Plasmonics, optical trapping, dielectric nanoparticles, nanoholes, nanofabrication, nano, microfluidics
4424
Label-free Isolation and Enrichment of Cells Through Contactless Dielectrophoresis
Institutions: Virginia Tech, Virginia Tech.

Dielectrophoresis (DEP) is the phenomenon by which polarized particles in a non-uniform electric field undergo translational motion, and can be used to direct the motion of microparticles in a surface marker-independent manner. Traditionally, DEP devices include planar metallic electrodes patterned in the sample channel. This approach can be expensive and requires a specialized cleanroom environment. Recently, a contact-free approach called contactless dielectrophoresis (cDEP) has been developed. This method utilizes the classic principle of DEP while avoiding direct contact between electrodes and sample by patterning fluidic electrodes and a sample channel from a single polydimethylsiloxane (PDMS) substrate, and has application as a rapid microfluidic strategy designed to sort and enrich microparticles. Unique to this method is that the electric field is generated via fluidic electrode channels containing a highly conductive fluid, which are separated from the sample channel by a thin insulating barrier. Because metal electrodes do not directly contact the sample, electrolysis, electrode delamination, and sample contamination are avoided. Additionally, this enables an inexpensive and simple fabrication process. cDEP is thus well-suited for manipulating sensitive biological particles. The dielectrophoretic force acting upon the particles depends not only upon spatial gradients of the electric field generated by customizable design of the device geometry, but the intrinsic biophysical properties of the cell. As such, cDEP is a label-free technique that avoids depending upon surface-expressed molecular biomarkers that may be variably expressed within a population, while still allowing characterization, enrichment, and sorting of bioparticles. Here, we demonstrate the basics of fabrication and experimentation using cDEP. We explain the simple preparation of a cDEP chip using soft lithography techniques. We discuss the experimental procedure for characterizing crossover frequency of a particle or cell, the frequency at which the dielectrophoretic force is zero. Finally, we demonstrate the use of this technique for sorting a mixture of ovarian cancer cells and fluorescing microspheres (beads).
Biomedical Engineering, Issue 79, Medicine, Cellular Biology, Molecular Biology, Bioengineering, Anatomy, Physiology, Biophysics, Physics, Microfluidics, Cell Separation, Microfluidic Analytical Techniques, Electrophoresis, Microchip, cancer diagnosis, cell enrichment, cell sorting, microfluidics, dielectrophoresis, Lab on a chip, cells, imaging
50634
Simulation, Fabrication and Characterization of THz Metamaterial Absorbers
Institutions: University of Glasgow.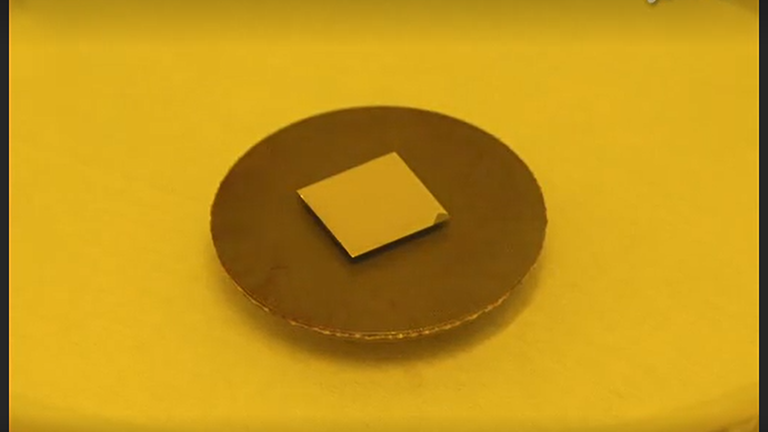 Metamaterials (MM), artificial materials engineered to have properties that may not be found in nature, have been widely explored since the first theoretical
1
and experimental demonstration
2
of their unique properties. MMs can provide a highly controllable electromagnetic response, and to date have been demonstrated in every technologically relevant spectral range including the optical
3
, near IR
4
, mid IR
5
, THz
6
, mm-wave
7
, microwave
8
and radio
9
bands. Applications include perfect lenses
10
, sensors
11
, telecommunications
12
, invisibility cloaks
13
and filters
14,15
. We have recently developed single band
16
, dual band
17
and broadband
18
THz metamaterial absorber devices capable of greater than 80% absorption at the resonance peak. The concept of a MM absorber is especially important at THz frequencies where it is difficult to find strong frequency selective THz absorbers
19
. In our MM absorber the THz radiation is absorbed in a thickness of ~ λ/20, overcoming the thickness limitation of traditional quarter wavelength absorbers. MM absorbers naturally lend themselves to THz detection applications, such as thermal sensors, and if integrated with suitable THz sources (
e.g.
QCLs), could lead to compact, highly sensitive, low cost, real time THz imaging systems.
Materials Science, Issue 70, Physics, Engineering, Metamaterial, terahertz, sensing, fabrication, clean room, simulation, FTIR, spectroscopy
50114
Setting-up an In Vitro Model of Rat Blood-brain Barrier (BBB): A Focus on BBB Impermeability and Receptor-mediated Transport
Institutions: VECT-HORUS SAS, CNRS, NICN UMR 7259.

The blood brain barrier (BBB) specifically regulates molecular and cellular flux between the blood and the nervous tissue. Our aim was to develop and characterize a highly reproducible rat syngeneic
in vitro
model of the BBB using co-cultures of primary rat brain endothelial cells (RBEC) and astrocytes to study receptors involved in transcytosis across the endothelial cell monolayer. Astrocytes were isolated by mechanical dissection following trypsin digestion and were frozen for later co-culture. RBEC were isolated from 5-week-old rat cortices. The brains were cleaned of meninges and white matter, and mechanically dissociated following enzymatic digestion. Thereafter, the tissue homogenate was centrifuged in bovine serum albumin to separate vessel fragments from nervous tissue. The vessel fragments underwent a second enzymatic digestion to free endothelial cells from their extracellular matrix. The remaining contaminating cells such as pericytes were further eliminated by plating the microvessel fragments in puromycin-containing medium. They were then passaged onto filters for co-culture with astrocytes grown on the bottom of the wells. RBEC expressed high levels of tight junction (TJ) proteins such as occludin, claudin-5 and ZO-1 with a typical localization at the cell borders. The transendothelial electrical resistance (TEER) of brain endothelial monolayers, indicating the tightness of TJs reached 300 ohm·cm
2
on average. The endothelial permeability coefficients (Pe) for lucifer yellow (LY) was highly reproducible with an average of 0.26 ± 0.11 x 10
-3
cm/min. Brain endothelial cells organized in monolayers expressed the efflux transporter P-glycoprotein (P-gp), showed a polarized transport of rhodamine 123, a ligand for P-gp, and showed specific transport of transferrin-Cy3 and DiILDL across the endothelial cell monolayer. In conclusion, we provide a protocol for setting up an
in vitro
BBB model that is highly reproducible due to the quality assurance methods, and that is suitable for research on BBB transporters and receptors.
Medicine, Issue 88, rat brain endothelial cells (RBEC), mouse, spinal cord, tight junction (TJ), receptor-mediated transport (RMT), low density lipoprotein (LDL), LDLR, transferrin, TfR, P-glycoprotein (P-gp), transendothelial electrical resistance (TEER),
51278
Using Microwave and Macroscopic Samples of Dielectric Solids to Study the Photonic Properties of Disordered Photonic Bandgap Materials
Institutions: San Francisco State University.

Recently, disordered photonic materials have been suggested as an alternative to periodic crystals for the formation of a complete photonic bandgap (PBG). In this article we will describe the methods for constructing and characterizing macroscopic disordered photonic structures using microwaves. The microwave regime offers the most convenient experimental sample size to build and test PBG media. Easily manipulated dielectric lattice components extend flexibility in building various 2D structures on top of pre-printed plastic templates. Once built, the structures could be quickly modified with point and line defects to make freeform waveguides and filters. Testing is done using a widely available Vector Network Analyzer and pairs of microwave horn antennas. Due to the scale invariance property of electromagnetic fields, the results we obtained in the microwave region can be directly applied to infrared and optical regions. Our approach is simple but delivers exciting new insight into the nature of light and disordered matter interaction. Our representative results include the first experimental demonstration of the existence of a complete and isotropic PBG in a two-dimensional (2D) hyperuniform disordered dielectric structure. Additionally we demonstrate experimentally the ability of this novel photonic structure to guide electromagnetic waves (EM) through freeform waveguides of arbitrary shape.
Physics, Issue 91, optics and photonics, photonic crystals, photonic bandgap, hyperuniform, disordered media, waveguides
51614
Cell-based Assay Protocol for the Prognostic Prediction of Idiopathic Scoliosis Using Cellular Dielectric Spectroscopy
Institutions: Sainte-Justine University Hospital Research Center, Université de Montréal.

This protocol details the experimental and analytical procedure for a cell-based assay developed in our laboratory as a functional test to predict the prognosis of idiopathic scoliosis in asymptomatic and affected children. The assay consists of the evaluation of the functional status of Gi and Gs proteins in peripheral blood mononuclear cells (PBMCs) by cellular dielectric spectroscopy (CDS), using an automated CDS-based instrument, and the classification of children into three functional groups (FG1, FG2, FG3) with respect to the profile of imbalance between the degree of response to Gi and Gs proteins stimulation. The classification is further confirmed by the differential effect of osteopontin (OPN) on response to Gi stimulation among groups and the severe progression of disease is referenced by FG2. Approximately, a volume of 10 ml of blood is required to extract PBMCs by Ficoll-gradient and cells are then stored in liquid nitrogen. The adequate number of PBMCs to perform the assay is obtained after two days of cell culture. Essentially, cells are first incubated with phytohemmaglutinin (PHA). After 24 hr incubation, medium is replaced by a PHA-free culture medium for an additional 24 hr prior to cell seeding and OPN treatment. Cells are then spectroscopically screened for their responses to somatostatin and isoproterenol, which respectively activate Gi and Gs proteins through their cognate receptors. Both somatostatin and isoproterenol are simultaneously injected with an integrated fluidics system and the cells' responses are monitored for 15 min. The assay can be performed with fresh or frozen PBMCs and the procedure is completed within 4 days.
Medicine, Issue 80, Blood Cells, Lymphocytes, Spinal Diseases, Diagnostic Techniques and Procedures, Clinical Laboratory Techniques, Dielectric Spectroscopy, Musculoskeletal Diseases, Idiopathic scoliosis, classification, prognosis, G proteins, cellular dielectric spectroscopy, PBMCs
50768
Real-Time DC-dynamic Biasing Method for Switching Time Improvement in Severely Underdamped Fringing-field Electrostatic MEMS Actuators
Institutions: University of California, Davis, Texas Instruments, Purdue University.
Mechanically underdamped electrostatic fringing-field MEMS actuators are well known for their fast switching operation in response to a unit step input bias voltage. However, the tradeoff for the improved switching performance is a relatively long settling time to reach each gap height in response to various applied voltages. Transient applied bias waveforms are employed to facilitate reduced switching times for electrostatic fringing-field MEMS actuators with high mechanical quality factors. Removing the underlying substrate of the fringing-field actuator creates the low mechanical damping environment necessary to effectively test the concept. The removal of the underlying substrate also a has substantial improvement on the reliability performance of the device in regards to failure due to stiction. Although DC-dynamic biasing is useful in improving settling time, the required slew rates for typical MEMS devices may place aggressive requirements on the charge pumps for fully-integrated on-chip designs. Additionally, there may be challenges integrating the substrate removal step into the back-end-of-line commercial CMOS processing steps. Experimental validation of fabricated actuators demonstrates an improvement of 50x in switching time when compared to conventional step biasing results. Compared to theoretical calculations, the experimental results are in good agreement.
Physics, Issue 90, microelectromechanical systems, actuators, switching time, settling time, electrostatic devices, micromachining, thin film devices
51251
Encapsulation and Permeability Characteristics of Plasma Polymerized Hollow Particles
Institutions: The Pennsylvania State University.
In this protocol, core-shell nanostructures are synthesized by plasma enhanced chemical vapor deposition. We produce an amorphous barrier by plasma polymerization of isopropanol on various solid substrates, including silica and potassium chloride. This versatile technique is used to treat nanoparticles and nanopowders with sizes ranging from 37 nm to 1 micron, by depositing films whose thickness can be anywhere from 1 nm to upwards of 100 nm. Dissolution of the core allows us to study the rate of permeation through the film. In these experiments, we determine the diffusion coefficient of KCl through the barrier film by coating KCL nanocrystals and subsequently monitoring the ionic conductivity of the coated particles suspended in water. The primary interest in this process is the encapsulation and delayed release of solutes. The thickness of the shell is one of the independent variables by which we control the rate of release. It has a strong effect on the rate of release, which increases from a six-hour release (shell thickness is 20 nm) to a long-term release over 30 days (shell thickness is 95 nm). The release profile shows a characteristic behavior: a fast release (35% of the final materials) during the first five minutes after the beginning of the dissolution, and a slower release till all of the core materials come out.
Physics, Issue 66, Chemical Engineering, Plasma Physics, Plasma coating, Core-shell structure, Hollow particles, Permeability, nanoparticles, nanopowders
4113
Rapid and Low-cost Prototyping of Medical Devices Using 3D Printed Molds for Liquid Injection Molding
Institutions: University of California, San Francisco, University of California, San Francisco, University of Southern California.

Biologically inert elastomers such as silicone are favorable materials for medical device fabrication, but forming and curing these elastomers using traditional liquid injection molding processes can be an expensive process due to tooling and equipment costs. As a result, it has traditionally been impractical to use liquid injection molding for low-cost, rapid prototyping applications. We have devised a method for rapid and low-cost production of liquid elastomer injection molded devices that utilizes fused deposition modeling 3D printers for mold design and a modified desiccator as an injection system. Low costs and rapid turnaround time in this technique lower the barrier to iteratively designing and prototyping complex elastomer devices. Furthermore, CAD models developed in this process can be later adapted for metal mold tooling design, enabling an easy transition to a traditional injection molding process. We have used this technique to manufacture intravaginal probes involving complex geometries, as well as overmolding over metal parts, using tools commonly available within an academic research laboratory. However, this technique can be easily adapted to create liquid injection molded devices for many other applications.
Bioengineering, Issue 88, liquid injection molding, reaction injection molding, molds, 3D printing, fused deposition modeling, rapid prototyping, medical devices, low cost, low volume, rapid turnaround time.
51745
Activating Molecules, Ions, and Solid Particles with Acoustic Cavitation
Institutions: UMR 5257 CEA-CNRS-UM2-ENSCM.

The chemical and physical effects of ultrasound arise not from a direct interaction of molecules with sound waves, but rather from the acoustic cavitation: the nucleation, growth, and implosive collapse of microbubbles in liquids submitted to power ultrasound. The violent implosion of bubbles leads to the formation of chemically reactive species and to the emission of light, named sonoluminescence. In this manuscript, we describe the techniques allowing study of extreme intrabubble conditions and chemical reactivity of acoustic cavitation in solutions. The analysis of sonoluminescence spectra of water sparged with noble gases provides evidence for nonequilibrium plasma formation. The photons and the "hot" particles generated by cavitation bubbles enable to excite the non-volatile species in solutions increasing their chemical reactivity. For example the mechanism of ultrabright sonoluminescence of uranyl ions in acidic solutions varies with uranium concentration: sonophotoluminescence dominates in diluted solutions, and collisional excitation contributes at higher uranium concentration. Secondary sonochemical products may arise from chemically active species that are formed inside the bubble, but then diffuse into the liquid phase and react with solution precursors to form a variety of products. For instance, the sonochemical reduction of Pt(IV) in pure water provides an innovative synthetic route for monodispersed nanoparticles of metallic platinum without any templates or capping agents. Many studies reveal the advantages of ultrasound to activate the divided solids. In general, the mechanical effects of ultrasound strongly contribute in heterogeneous systems in addition to chemical effects. In particular, the sonolysis of PuO
2
powder in pure water yields stable colloids of plutonium due to both effects.
Chemistry, Issue 86, Sonochemistry, sonoluminescence, ultrasound, cavitation, nanoparticles, actinides, colloids, nanocolloids
51237
Characterization of Complex Systems Using the Design of Experiments Approach: Transient Protein Expression in Tobacco as a Case Study
Institutions: RWTH Aachen University, Fraunhofer Gesellschaft.

Plants provide multiple benefits for the production of biopharmaceuticals including low costs, scalability, and safety. Transient expression offers the additional advantage of short development and production times, but expression levels can vary significantly between batches thus giving rise to regulatory concerns in the context of good manufacturing practice. We used a design of experiments (DoE) approach to determine the impact of major factors such as regulatory elements in the expression construct, plant growth and development parameters, and the incubation conditions during expression, on the variability of expression between batches. We tested plants expressing a model anti-HIV monoclonal antibody (2G12) and a fluorescent marker protein (DsRed). We discuss the rationale for selecting certain properties of the model and identify its potential limitations. The general approach can easily be transferred to other problems because the principles of the model are broadly applicable: knowledge-based parameter selection, complexity reduction by splitting the initial problem into smaller modules, software-guided setup of optimal experiment combinations and step-wise design augmentation. Therefore, the methodology is not only useful for characterizing protein expression in plants but also for the investigation of other complex systems lacking a mechanistic description. The predictive equations describing the interconnectivity between parameters can be used to establish mechanistic models for other complex systems.
Bioengineering, Issue 83, design of experiments (DoE), transient protein expression, plant-derived biopharmaceuticals, promoter, 5'UTR, fluorescent reporter protein, model building, incubation conditions, monoclonal antibody
51216
The Portable Chemical Sterilizer (PCS), D-FENS, and D-FEND ALL: Novel Chlorine Dioxide Decontamination Technologies for the Military
Institutions: United States Army-Natick Soldier RD&E Center, Warfighter Directorate, University of Connecticut Health Center, Lawrence Livermore National Laboratory, Children's Hospital Oakland Research Institute.

There is a stated Army need for a field-portable, non-steam sterilizer technology that can be used by Forward Surgical Teams, Dental Companies, Veterinary Service Support Detachments, Combat Support Hospitals, and Area Medical Laboratories to sterilize surgical instruments and to sterilize pathological specimens prior to disposal in operating rooms, emergency treatment areas, and intensive care units. The following ensemble of novel, 'clean and green' chlorine dioxide technologies are versatile and flexible to adapt to meet a number of critical military needs for decontamination
6,15
. Specifically, the Portable Chemical Sterilizer (PCS) was invented to meet urgent battlefield needs and close critical capability gaps for energy-independence, lightweight portability, rapid mobility, and rugged durability in high intensity forward deployments
3
. As a revolutionary technological breakthrough in surgical sterilization technology, the PCS is a Modern Field Autoclave that relies on on-site, point-of-use, at-will generation of chlorine dioxide instead of steam. Two (2) PCS units sterilize 4 surgical trays in 1 hr, which is the equivalent throughput of one large steam autoclave (nicknamed "Bertha" in deployments because of its cumbersome size, bulky dimensions, and weight). However, the PCS operates using 100% less electricity (0 vs. 9 kW) and 98% less water (10 vs. 640 oz.), significantly reduces weight by 95% (20 vs. 450 lbs, a 4-man lift) and cube by 96% (2.1 vs. 60.2 ft
3
), and virtually eliminates the difficult challenges in forward deployments of repairs and maintaining reliable operation, lifting and transporting, and electrical power required for steam autoclaves.
Bioengineering, Issue 88, chlorine dioxide, novel technologies, D-FENS, PCS, and D-FEND ALL, sterilization, decontamination, fresh produce safety
4354
The Preparation of Electrohydrodynamic Bridges from Polar Dielectric Liquids
Institutions: Wetsus - Centre of Excellence for Sustainable Water Technology, IRCAM GmbH, Graz University of Technology.

Horizontal and vertical liquid bridges are simple and powerful tools for exploring the interaction of high intensity electric fields (8-20 kV/cm) and polar dielectric liquids. These bridges are unique from capillary bridges in that they exhibit extensibility beyond a few millimeters, have complex bi-directional mass transfer patterns, and emit non-Planck infrared radiation. A number of common solvents can form such bridges as well as low conductivity solutions and colloidal suspensions. The macroscopic behavior is governed by electrohydrodynamics and provides a means of studying fluid flow phenomena without the presence of rigid walls. Prior to the onset of a liquid bridge several important phenomena can be observed including advancing meniscus height (electrowetting), bulk fluid circulation (the Sumoto effect), and the ejection of charged droplets (electrospray). The interaction between surface, polarization, and displacement forces can be directly examined by varying applied voltage and bridge length. The electric field, assisted by gravity, stabilizes the liquid bridge against Rayleigh-Plateau instabilities. Construction of basic apparatus for both vertical and horizontal orientation along with operational examples, including thermographic images, for three liquids (
e.g.
, water, DMSO, and glycerol) is presented.
Physics, Issue 91, floating water bridge, polar dielectric liquids, liquid bridge, electrohydrodynamics, thermography, dielectrophoresis, electrowetting, Sumoto effect, Armstrong effect
51819
Aseptic Laboratory Techniques: Plating Methods
Institutions: University of California, Los Angeles .

Microorganisms are present on all inanimate surfaces creating ubiquitous sources of possible contamination in the laboratory. Experimental success relies on the ability of a scientist to sterilize work surfaces and equipment as well as prevent contact of sterile instruments and solutions with non-sterile surfaces. Here we present the steps for several plating methods routinely used in the laboratory to isolate, propagate, or enumerate microorganisms such as bacteria and phage. All five methods incorporate aseptic technique, or procedures that maintain the sterility of experimental materials. Procedures described include (1) streak-plating bacterial cultures to isolate single colonies, (2) pour-plating and (3) spread-plating to enumerate viable bacterial colonies, (4) soft agar overlays to isolate phage and enumerate plaques, and (5) replica-plating to transfer cells from one plate to another in an identical spatial pattern. These procedures can be performed at the laboratory bench, provided they involve non-pathogenic strains of microorganisms (Biosafety Level 1, BSL-1). If working with BSL-2 organisms, then these manipulations must take place in a biosafety cabinet. Consult the most current edition of the
Biosafety in Microbiological and Biomedical Laboratories
(BMBL) as well as
Material Safety Data Sheets
(MSDS) for Infectious Substances to determine the biohazard classification as well as the safety precautions and containment facilities required for the microorganism in question. Bacterial strains and phage stocks can be obtained from research investigators, companies, and collections maintained by particular organizations such as the
American Type Culture Collection
(ATCC). It is recommended that non-pathogenic strains be used when learning the various plating methods. By following the procedures described in this protocol, students should be able to: ● Perform plating procedures without contaminating media. ● Isolate single bacterial colonies by the streak-plating method. ● Use pour-plating and spread-plating methods to determine the concentration of bacteria. ● Perform soft agar overlays when working with phage. ● Transfer bacterial cells from one plate to another using the replica-plating procedure. ● Given an experimental task, select the appropriate plating method.
Basic Protocols, Issue 63, Streak plates, pour plates, soft agar overlays, spread plates, replica plates, bacteria, colonies, phage, plaques, dilutions
3064
In Situ SIMS and IR Spectroscopy of Well-defined Surfaces Prepared by Soft Landing of Mass-selected Ions
Institutions: Pacific Northwest National Laboratory.

Soft landing of mass-selected ions onto surfaces is a powerful approach for the highly-controlled preparation of materials that are inaccessible using conventional synthesis techniques. Coupling soft landing with
in situ
characterization using secondary ion mass spectrometry (SIMS) and infrared reflection absorption spectroscopy (IRRAS) enables analysis of well-defined surfaces under clean vacuum conditions. The capabilities of three soft-landing instruments constructed in our laboratory are illustrated for the representative system of surface-bound organometallics prepared by soft landing of mass-selected ruthenium tris(bipyridine) dications, [Ru(bpy)
3
]
2+
(bpy = bipyridine), onto carboxylic acid terminated self-assembled monolayer surfaces on gold (COOH-SAMs).
In situ
time-of-flight (TOF)-SIMS provides insight into the reactivity of the soft-landed ions. In addition, the kinetics of charge reduction, neutralization and desorption occurring on the COOH-SAM both during and after ion soft landing are studied using
in situ
Fourier transform ion cyclotron resonance (FT-ICR)-SIMS measurements.
In situ
IRRAS experiments provide insight into how the structure of organic ligands surrounding metal centers is perturbed through immobilization of organometallic ions on COOH-SAM surfaces by soft landing. Collectively, the three instruments provide complementary information about the chemical composition, reactivity and structure of well-defined species supported on surfaces.
Chemistry, Issue 88, soft landing, mass selected ions, electrospray, secondary ion mass spectrometry, infrared spectroscopy, organometallic, catalysis
51344
The Cell-based L-Glutathione Protection Assays to Study Endocytosis and Recycling of Plasma Membrane Proteins
Institutions: Children's Hospital of Pittsburgh of UPMC, University of Pittsburgh School of Medicine.
Membrane trafficking involves transport of proteins from the plasma membrane to the cell interior (
i.e.
endocytosis) followed by trafficking to lysosomes for degradation or to the plasma membrane for recycling. The cell based L-glutathione protection assays can be used to study endocytosis and recycling of protein receptors, channels, transporters, and adhesion molecules localized at the cell surface. The endocytic assay requires labeling of cell surface proteins with a cell membrane impermeable biotin containing a disulfide bond and the N-hydroxysuccinimide (NHS) ester at 4 ºC - a temperature at which membrane trafficking does not occur. Endocytosis of biotinylated plasma membrane proteins is induced by incubation at 37 ºC. Next, the temperature is decreased again to 4 ºC to stop endocytic trafficking and the disulfide bond in biotin covalently attached to proteins that have remained at the plasma membrane is reduced with L-glutathione. At this point, only proteins that were endocytosed remain protected from L-glutathione and thus remain biotinylated. After cell lysis, biotinylated proteins are isolated with streptavidin agarose, eluted from agarose, and the biotinylated protein of interest is detected by western blotting. During the recycling assay, after biotinylation cells are incubated at 37 °C to load endocytic vesicles with biotinylated proteins and the disulfide bond in biotin covalently attached to proteins remaining at the plasma membrane is reduced with L-glutathione at 4 ºC as in the endocytic assay. Next, cells are incubated again at 37 °C to allow biotinylated proteins from endocytic vesicles to recycle to the plasma membrane. Cells are then incubated at 4 ºC, and the disulfide bond in biotin attached to proteins that recycled to the plasma membranes is reduced with L-glutathione. The biotinylated proteins protected from L-glutathione are those that did not recycle to the plasma membrane.
Basic Protocol, Issue 82, Endocytosis, recycling, plasma membrane, cell surface, EZLink, Sulfo-NHS-SS-Biotin, L-Glutathione, GSH, thiol group, disulfide bond, epithelial cells, cell polarization
50867
Fabrication of a Microfluidic Device for the Compartmentalization of Neuron Soma and Axons
Institutions: University of California, Irvine (UCI), University of California, Irvine (UCI), University of California, Irvine (UCI).

In this video, we demonstrate the technique of soft lithography with polydimethyl siloxane (PDMS) which we use to fabricate a microfluidic device for culturing neurons. Previously, a silicon wafer was patterned with the design for the neuron microfluidic device using SU-8 and photolithography to create a master mold, or what we simply refer to as a "master". Next, we pour the silicon polymer PDMS on top of the master which is then cured by heating the PDMS to 80°C for 1 hour. The PDMS forms a negative mold of the device. The PDMS is then carefully cut and lifted away from the master. Holes are punched where the reservoirs will be and the excess PDMS trimmed away from the device. Nitrogen is used to blow away any excess debris from the device. At this point the devices are now ready for use and can either bonded to corning No. 1 cover glass with a plasma sterilizer/cleaner or can be reversibly bound to the cover glass by simply placing the device on top of the cover glass. The reversible bonding of the device to glass is covered in a separate video and requires first that the device be sterilized either with 70% ethanol or by autoclaving. Plasma treating sterilizes the devices so no further treatment is necessary. It is, however, important, when plasma-treating the devices, to add liquid to the devices within 10 minutes of the plasma treatment while the surfaces are still hydrophilic. Waiting longer than 10 minutes to add liquid to the device makes it difficult for the liquid to enter the device. The neuron devices are typically plasma-bound to cover glass and 0.5 mg/ml poly-L-lysine (PLL) in pH 8.5 borate buffer is immediately added to the device. After a minimum of 3 hours incubating with PLL, the devices are washed with dH2O water a minimum of 3 times with at least 15 minutes between each wash. Next, the water is removed and fresh media is added to the device. At this point the device is ready for use. It is important to remember at this point to never remove all the media from the device. Always leave media in the main channel.
Issue 7, Cell Biology, Biomedical Engineering, Neuroscience, Cell Culture, Axonal Regeneration
261
Plasma Lithography Surface Patterning for Creation of Cell Networks
Institutions: University of Arizona , University of Arizona .

Systematic manipulation of a cell microenvironment with micro- and nanoscale resolution is often required for deciphering various cellular and molecular phenomena. To address this requirement, we have developed a plasma lithography technique to manipulate the cellular microenvironment by creating a patterned surface with feature sizes ranging from 100 nm to millimeters. The goal of this technique is to be able to study, in a controlled way, the behaviors of individual cells as well as groups of cells and their interactions. This plasma lithography method is based on selective modification of the surface chemistry on a substrate by means of shielding the contact of low-temperature plasma with a physical mold. This selective shielding leaves a chemical pattern which can guide cell attachment and movement. This pattern, or surface template, can then be used to create networks of cells whose structure can mimic that found in nature and produces a controllable environment for experimental investigations. The technique is well suited to studying biological phenomenon as it produces stable surface patterns on transparent polymeric substrates in a biocompatible manner. The surface patterns last for weeks to months and can thus guide interaction with cells for long time periods which facilitates the study of long-term cellular processes, such as differentiation and adaption. The modification to the surface is primarily chemical in nature and thus does not introduce topographical or physical interference for interpretation of results. It also does not involve any harsh or toxic substances to achieve patterning and is compatible for tissue culture. Furthermore, it can be applied to modify various types of polymeric substrates, which due to the ability to tune their properties are ideal for and are widely used in biological applications. The resolution achievable is also beneficial, as isolation of specific processes such as migration, adhesion, or binding allows for discrete, clear observations at the single to multicell level. This method has been employed to form diverse networks of different cell types for investigations involving migration, signaling, tissue formation, and the behavior and interactions of neurons arraigned in a network.
Bioengineering, Issue 52, Cell Network, Surface Patterning, Self-Organization, Developmental Biology, Tissue Engineering, Nanopattern, Micropattern, Self-Assembly, Cell Guidance, Neuron
3115
Brain Slice Stimulation Using a Microfluidic Network and Standard Perfusion Chamber
Institutions: University of Illinois, Chicago, University of Illinois, Chicago.

We have demonstrated the fabrication of a two-level microfluidic device that can be easily integrated with existing electrophysiology setups. The two-level microfluidic device is fabricated using a two-step standard negative resist lithography process
1
. The first level contains microchannels with inlet and outlet ports at each end. The second level contains microscale circular holes located midway of the channel length and centered along with channel width. Passive pumping method is used to pump fluids from the inlet port to the outlet port
2
. The microfluidic device is integrated with off-the-shelf perfusion chambers and allows seamless integration with the electrophysiology setup. The fluids introduced at the inlet ports flow through the microchannels towards the outlet ports and also escape through the circular openings located on top of the microchannels into the bath of the perfusion. Thus the bottom surface of the brain slice placed in the perfusion chamber bath and above the microfluidic device can be exposed with different neurotransmitters. The microscale thickness of the microfluidic device and the transparent nature of the materials [glass coverslip and PDMS (polydimethylsiloxane)] used to make the microfluidic device allow microscopy of the brain slice. The microfluidic device allows modulation (both spatial and temporal) of the chemical stimuli introduced to the brain slice microenvironments.
Neuroscience, Issue 8, Biomedical Engineering, Microfluidics, Slice Recording, Soft Lithography, Electrophysiology, Neurotransmitter, Bioengineering
302
Mechanical Stimulation of Stem Cells Using Cyclic Uniaxial Strain
Institutions: University of California, Berkeley.

The role of mechanical forces in the development and maintenance of biological tissues is well documented, including several mechanically regulated phenomena such as bone remodeling, muscular hypertrophy, and smooth muscle cell plasticity. However, the forces involved are often extremely complex and difficult to monitor and control in vivo. To better investigate the effects of mechanical forces on cells, we have developed an in vitro method for applying uniaxial cyclic tensile strain to adherent cells cultured on elastic membranes. This method utilizes a custom-designed bioreactor with a motorized cam-rotor system to apply the desired force. Here we present a step-by-step video protocol demonstrating how to assemble the various components of each "stretch chamber", including, in this case, a silicone membrane with micropatterned topography to orient the cells with the direction of the strain. We also describe procedures for sterilizing the chambers, seeding cells onto the membrane, latching the chamber into the bioreactor, and adjusting the mechanical parameters (i.e. magnitude and rate of strain). The procedures outlined in this particular protocol are specific for seeding human mesenchymal stem cells onto silicone membranes with 10 µm wide channels oriented parallel to the direction of strain. However, the methods and materials presented in this system are flexible enough to accommodate a number of variations on this theme: strain rate, magnitude, duration, cell type, membrane topography, membrane coating, etc. can all be tailored to the desired application or outcome. This is a robust method for investigating the effects of uniaxial tensile strain applied to cells in vitro.
Cell Biology, Issue 6, stem cells, tissue engineering, tissue culture, mechanical strain, uniaxial, micropatterning, bioreactor
242
A Multi-compartment CNS Neuron-glia Co-culture Microfluidic Platform
Institutions: Texas A&M University (TAMU), Texas A&M University (TAMU).

We present a novel multi-compartment neuron co-culture microsystem platform for
in vitro
CNS axon-glia interaction research, capable of conducting up to six independent experiments in parallel for higher-throughput. We developed a new fabrication method to create microfluidic devices having both micro and macro scale structures within the same device through a single soft-lithography process, enabling mass fabrication with good repeatability. The multi-compartment microfluidic co-culture platform is composed of one soma compartment for neurons and six axon/glia compartments for oligodendrocytes (OLs). The soma compartment and axon/glia compartments are connected by arrays of axon-guiding microchannels that function as physical barriers to confine neuronal soma in the soma compartment, while allowing axons to grow into axon/glia compartments. OLs loaded into axon/glia compartments can interact only with axons but not with neuronal soma or dendrites, enabling localized axon-glia interaction studies. The microchannels also enabled fluidic isolation between compartments, allowing six independent experiments to be conducted on a single device for higher throughput. Soft-lithography using poly(dimethylsiloxane) (PDMS) is a commonly used technique in biomedical microdevices. Reservoirs on these devices are commonly defined by manual punching. Although simple, poor alignment and time consuming nature of the process makes this process not suitable when large numbers of reservoirs have to be repeatedly created. The newly developed method did not require manual punching of reservoirs, overcoming such limitations. First, seven reservoirs (depth: 3.5 mm) were made on a poly(methyl methacrylate) (PMMA) block using a micro-milling machine. Then, arrays of ridge microstructures, fabricated on a glass substrate, were hot-embossed against the PMMA block to define microchannels that connect the soma and axon/glia compartments. This process resulted in macro-scale reservoirs (3.5 mm) and micro-scale channels (2.5 μm) to coincide within a single PMMA master. A PDMS replica that served as a mold master was obtained using soft-lithography and the final PDMS device was replicated from this master. Primary neurons from E16-18 rats were loaded to the soma compartment and cultured for two weeks. After one week of cell culture, axons crossed microchannels and formed axonal only network layer inside axon/glia compartments. Axons grew uniformly throughout six axon/glia compartments and OLs from P1-2 rats were added to axon/glia compartments at 14 days
in vitro
for co-culture.
Biomedical Engineering, Issue 31, Neuron culture, neuron-glia interaction, microfluidics, cell culture microsystem
1399
Non-plasma Bonding of PDMS for Inexpensive Fabrication of Microfluidic Devices
Institutions: University of California, Irvine (UCI), University of California, Irvine (UCI), University of California, Irvine (UCI).
In this video, we demonstrate how to use the neuron microfluidic device without plasma bonding. In some cases it may be desirable to reversibly bond devices to the Corning No. 1 cover glass. This could be due, perhaps, to a plasma cleaner not being available. In other instances, it may be desirable to remove the device from the glass after the culturing of neurons for certain types of microscopy or for immunostaining, though it is not necessary to remove the device for immunostaining since the neurons can be stained in the device. Some researchers, however, still prefer to remove the device. In this case, reversible bonding of the device to the cover glass makes that possible. There are some disadvantages to non-plasma bonding of the devices in that not as tight of a seal is formed. In some cases axons may grow under the grooves rather than through them. Also, because the glass and PDMS are hydrophobic, liquids do not readily enter the device making it necessary at times to force media and other reagents into the device. Liquids will enter the device via capillary action, but it takes significantly longer as compared to devices that have been plasma bonded. The plasma cleaner creates temporary hydrophilic charges on the glass and device that facilitate the flow of liquids through the device after bonding within seconds. For non-plasma bound devices, liquid flow through the devices takes several minutes. It is also important to note that the devices to be used with non-plasma bonding need to be sterilized first, whereas plasma treated devices do not need to be sterilized prior to use because the plasma cleaner will sterilize them.
Neuroscience, issue 9, microfluidics, neuron
410