Combining Peripheral Nerve Grafting and Matrix Modulation to Repair the Injured Rat Spinal Cord
Published: 11-20-2009
ABSTRACT
Traumatic injury to the spinal cord (SCI) causes death of neurons, disruption of motor and sensory nerve fiber (axon) pathways and disruption of communication with the brain. One of the goals of our research is to promote axon regeneration to restore connectivity across the lesion site. To accomplish this we developed a peripheral nerve (PN) grafting technique where segments of sciatic nerve are either placed directly between the damaged ends of the spinal cord or are used to form a bridge across the lesion. There are several advantages to this approach compared to transplantation of other neural tissues; regenerating axons can be directed towards a specific target area, the number and source of regenerating axons is easily determined by tracing techniques, the graft can be used for electrophysiological experiments to measure functional recovery associated with axons in the graft, and it is possible to use an autologous nerve to reduce the possibility of graft rejection. In our lab we have performed both autologous (donor and recipient are the same animal) and heterologous (donor and recipient are different animals) grafts with comparable results. This approach has been used successfully in both acute and chronic injury situations. Regenerated axons that reach the distal end of the PN graft often fail to extend back into the spinal cord, so we use microinjections of chondroitinase to degrade inhibitory molecules associated with the scar tissue surrounding the area of SCI. At the same time we have found that providing exogenous growth and trophic molecules encourages longer distance axonal regrowth into the spinal cord. Several months after transplantation we perform a variety of anatomical, behavioral and electrophysiological tests to evaluate the recovery of function in our spinal cord injured animals. This experimental approach has been used successfully in several spinal cord injury models, at different levels of injury and in different species (mouse, rat and cat). Importantly, the peripheral nerve grafting approach is effective in promoting regeneration by acute and chronically injured neurons.
21 Related JoVE Articles!
Reproducible Mouse Sciatic Nerve Crush and Subsequent Assessment of Regeneration by Whole Mount Muscle Analysis
Institutions: Temple University .

Regeneration in the peripheral nervous system (PNS) is widely studied both for its relevance to human disease and to understand the robust regenerative response mounted by PNS neurons thereby possibly illuminating the failures of CNS regeneration
1
. Sciatic nerve crush (axonotmesis) is one of the most common models of peripheral nerve injury in rodents
2
. Crushing interrupts all axons but Schwann cell basal laminae are preserved so that regeneration is optimal
3,4
. This allows the investigator to study precisely the ability of a growing axon to interact with both the Schwann cell and basal laminae
4
. Rats have generally been the preferred animal models for experimental nerve crush. They are widely available and their lesioned sciatic nerve provides a reasonable approximation of human nerve lesions
5,4
. Though smaller in size than rat nerve, the mouse nerve has many similar qualities. Most importantly though, mouse models are increasingly valuable because of the wide availability of transgenic lines now allows for a detailed dissection of the individual molecules critical for nerve regeneration
6, 7
. Prior investigators have used multiple methods to produce a nerve crush or injury including simple angled forceps, chilled forceps, hemostatic forceps, vascular clamps, and investigator-designed clamps
8,9,10,11,12
. Investigators have also used various methods of marking the injury site including suture, carbon particles and fluorescent beads
13,14,1
. We describe our method to obtain a reproducibly complete sciatic nerve crush with accurate and persistent marking of the crush-site using a fine hemostatic forceps and subsequent carbon crush-site marking. As part of our description of the sciatic nerve crush procedure we have also included a relatively simple method of muscle whole mount we use to subsequently quantify regeneration.
Neuroscience, Issue 60, Sciatic nerve crush, regeneration, neuromuscular junction, muscle whole mount, mouse
3606
Analysis of Schwann-astrocyte Interactions Using In Vitro Assays
Institutions: University of Cambridge.

Schwann cells are one of the commonly used cells in repair strategies following spinal cord injuries. Schwann cells are capable of supporting axonal regeneration and sprouting by secreting growth factors
1,2
and providing growth promoting adhesion molecules
3
and extracellular matrix molecules
4
. In addition they myelinate the demyelinated axons at the site of injury
5
. However following transplantation, Schwann cells do not migrate from the site of implant and do not intermingle with the host astrocytes
6,7
. This results in formation of a sharp boundary between the Schwann cells and astrocytes, creating an obstacle for growing axons trying to exit the graft back into the host tissue proximally and distally. Astrocytes in contact with Schwann cells also undergo hypertrophy and up-regulate the inhibitory molecules
8-13
.
In vitro
assays have been used to model Schwann cell-astrocyte interactions and have been important in understanding the mechanism underlying the cellular behaviour. These
in vitro
assays include boundary assay, where a co-culture is made using two different cells with each cell type occupying different territories with only a small gap separating the two cell fronts. As the cells divide and migrate, the two cellular fronts get closer to each other and finally collide. This allows the behaviour of the two cellular populations to be analyzed at the boundary. Another variation of the same technique is to mix the two cellular populations in culture and over time the two cell types segregate with Schwann cells clumped together as islands in between astrocytes together creating multiple Schwann-astrocyte boundaries. The second assay used in studying the interaction of two cell types is the migration assay where cellular movement can be tracked on the surface of the other cell type monolayer
14,15
. This assay is commonly known as inverted coverslip assay. Schwann cells are cultured on small glass fragments and they are inverted face down onto the surface of astrocyte monolayers and migration is assessed from the edge of coverslip. Both assays have been instrumental in studying the underlying mechanisms involved in the cellular exclusion and boundary formation. Some of the molecules identified using these techniques include N-Cadherins 15, Chondroitin Sulphate proteoglycans(CSPGs)
16,17
, FGF/Heparin
18
, Eph/Ephrins
19
. This article intends to describe boundary assay and migration assay in stepwise fashion and elucidate the possible technical problems that might occur.
Cellular Biology, Issue 47, Schwann cell, astrocyte, boundary, migration, repulsion
2214
The Spared Nerve Injury (SNI) Model of Induced Mechanical Allodynia in Mice
Institutions: Aarhus University, University of Copenhagen.

Peripheral neuropathic pain is a severe chronic pain condition which may result from trauma to sensory nerves in the peripheral nervous system. The spared nerve injury (SNI) model induces symptoms of neuropathic pain such as mechanical allodynia i.e. pain due to tactile stimuli that do not normally provoke a painful response [1]. The SNI mouse model involves ligation of two of the three branches of the sciatic nerve (the tibial nerve and the common peroneal nerve), while the sural nerve is left intact [2]. The lesion results in marked hypersensitivity in the lateral area of the paw, which is innervated by the spared sural nerve. The non-operated side of the mouse can be used as a control. The advantages of the SNI model are the robustness of the response and that it doesn't require expert microsurgical skills. The threshold for mechanical pain response is determined by testing with von Frey filaments of increasing bending force, which are repetitively pressed against the lateral area of the paw [3], [4]. A positive pain reaction is defined as sudden paw withdrawal, flinching and/or paw licking induced by the filament. A positive response in three out of five repetitive stimuli is defined as the pain threshold. As demonstrated in the video protocol, C57BL/6 mice experience profound allodynia as early as the day following surgery and maintain this for several weeks.
Neuroscience, Issue 54, Sciatic, Injury, PNS, Mechanical allodynia, Neuropathic pain, von Frey
3092
Imaging Analysis of Neuron to Glia Interaction in Microfluidic Culture Platform (MCP)-based Neuronal Axon and Glia Co-culture System
Institutions: Tufts University, Tufts Sackler School of Graduate Biomedical Sciences.
Proper neuron to glia interaction is critical to physiological function of the central nervous system (CNS). This bidirectional communication is sophisticatedly mediated by specific signaling pathways between neuron and glia
1,2
. Identification and characterization of these signaling pathways is essential to the understanding of how neuron to glia interaction shapes CNS physiology. Previously, neuron and glia mixed cultures have been widely utilized for testing and characterizing signaling pathways between neuron and glia. What we have learned from these preparations and other
in vivo
tools, however, has suggested that mutual signaling between neuron and glia often occurred in specific compartments within neurons (
i.e.
, axon, dendrite, or soma)
3
. This makes it important to develop a new culture system that allows separation of neuronal compartments and specifically examines the interaction between glia and neuronal axons/dendrites. In addition, the conventional mixed culture system is not capable of differentiating the soluble factors and direct membrane contact signals between neuron and glia. Furthermore, the large quantity of neurons and glial cells in the conventional co-culture system lacks the resolution necessary to observe the interaction between a single axon and a glial cell. In this study, we describe a novel axon and glia co-culture system with the use of a microfluidic culture platform (MCP). In this co-culture system, neurons and glial cells are cultured in two separate chambers that are connected through multiple central channels. In this microfluidic culture platform, only neuronal processes (especially axons) can enter the glial side through the central channels. In combination with powerful fluorescent protein labeling, this system allows direct examination of signaling pathways between axonal/dendritic and glial interactions, such as axon-mediated transcriptional regulation in glia, glia-mediated receptor trafficking in neuronal terminals, and glia-mediated axon growth. The narrow diameter of the chamber also significantly prohibits the flow of the neuron-enriched medium into the glial chamber, facilitating probing of the direct membrane-protein interaction between axons/dendrites and glial surfaces.
Neuroscience, Issue 68, Molecular Biology, Cellular Biology, Biophysics, Microfluidics, Microfluidic culture platform, Compartmented culture, Neuron to glia signaling, neurons, glia, cell culture
4448
Methods for Experimental Manipulations after Optic Nerve Transection in the Mammalian CNS
Institutions: University of Toronto.

Retinal ganglion cells (RGCs) are CNS neurons that output visual information from the retina to the brain, via the optic nerve. The optic nerve can be accessed within the orbit of the eye and completely transected (axotomized), cutting the axons of the entire RGC population. Optic nerve transection is a reproducible model of apoptotic neuronal cell death in the adult CNS
1-4
. This model is particularly attractive because the vitreous chamber of the eye acts as a capsule for drug delivery to the retina, permitting experimental manipulations via intraocular injections. The diffusion of chemicals through the vitreous fluid ensures that they act upon the entire RGC population. Viral vectors, plasmids or short interfering RNAs (siRNAs) can also be delivered to the vitreous chamber in order to infect or transfect retinal cells
5-12
. The high tropism of Adeno-Associated Virus (AAV) vectors is beneficial to target RGCs, with an infection rate approaching 90% of cells near the injection site
6, 7, 13-15
. Moreover, RGCs can be selectively transfected by applying siRNAs, plasmids, or viral vectors to the cut end of the optic nerve
16-19
or injecting vectors into their target the superior colliculus
10
. This allows researchers to study apoptotic mechanisms in the injured neuronal population without confounding effects on other bystander neurons or surrounding glia. RGC apoptosis has a characteristic time-course whereby cell death is delayed 3-4 days postaxotomy, after which the cells rapidly degenerate. This provides a window for experimental manipulations directed against pathways involved in apoptosis. Manipulations that directly target RGCs from the transected optic nerve stump are performed at the time of axotomy, immediately after cutting the nerve. In contrast, when substances are delivered via an intraocular route, they can be injected prior to surgery or within the first 3 days after surgery, preceding the initiation of apoptosis in axotomized RGCs. In the present article, we demonstrate several methods for experimental manipulations after optic nerve transection.
Neuroscience, Issue 51, Central Nervous System, Retinal Ganglion Cell, Axotomy, Optic Nerve Transection, Intraocular Injection, Nerve Stump Transfection, Viral Vector, Short Interfering RNA
2261
Chromatin Immunoprecipitation from Dorsal Root Ganglia Tissue following Axonal Injury
Institutions: University of Tuebingen , University of Tuebingen .

Axons in the central nervous system (CNS) do not regenerate while those in the peripheral nervous system (PNS) do regenerate to a limited extent after injury (Teng
et al.
, 2006). It is recognized that transcriptional programs essential for neurite and axonal outgrowth are reactivated upon injury in the PNS (Makwana
et al.
, 2005). However the tools available to analyze neuronal gene regulation
in vivo
are limited and often challenging. The dorsal root ganglia (DRG) offer an excellent injury model system because both the CNS and PNS are innervated by a bifurcated axon originating from the same soma. The ganglia represent a discrete collection of cell bodies where all transcriptional events occur, and thus provide a clearly defined region of transcriptional activity that can be easily and reproducibly removed from the animal. Injury of nerve fibers in the PNS (e.g. sciatic nerve), where axonal regeneration does occur, should reveal a set of transcriptional programs that are distinct from those responding to a similar injury in the CNS, where regeneration does not take place (e.g. spinal cord). Sites for transcription factor binding, histone and DNA modification resulting from injury to either PNS or CNS can be characterized using chromatin immunoprecipitation (ChIP). Here, we describe a ChIP protocol using fixed mouse DRG tissue following axonal injury. This powerful combination provides a means for characterizing the pro-regeneration chromatin environment necessary for promoting axonal regeneration.
Neuroscience, Issue 53, Chromatin immunoprecipitation, dorsal root ganglia, transcription factor, epigenetic, axonal regeneration
2803
Orthotopic Xenografting of Human Luciferase-Tagged Malignant Peripheral Nerve Sheath Tumor Cells for in vivo Testing of Candidate Therapeutic Agents
Institutions: University of Alabama at Birmingham - UAB, University of Alabama at Birmingham - UAB, University of Alabama at Birmingham - UAB.

Although
in vitro
screens are essential for the initial identification of candidate therapeutic agents, a rigorous assessment of the drug's ability to inhibit tumor growth must be performed in a suitable animal model. The type of animal model that is best for this purpose is a topic of intense discussion. Some evidence indicates that preclinical trials examining drug effects on tumors arising in transgenic mice are more predictive of clinical outcome
1
and so candidate therapeutic agents are often tested in these models. Unfortunately, transgenic models are not available for many tumor types. Further, transgenic models often have other limitations such as concerns as to how well the mouse tumor models its human counterpart, incomplete penetrance of the tumor phenotype and an inability to predict when tumors will develop. Consequently, many investigators use xenograft models (human tumor cells grafted into immunodeficient mice) for preclinical trials if appropriate transgenic tumor models are not available. Even if transgenic models are available, they are often partnered with xenograft models as the latter facilitate rapid determination of therapeutic ranges. Further, this partnership allows a comparison of the effectiveness of the agent in transgenic tumors and genuine human tumor cells. Historically, xenografting has often been performed by injecting tumor cells subcutaneously (ectopic xenografts). This technique is rapid and reproducible, relatively inexpensive and allows continuous quantitation of tumor growth during the therapeutic period
2
. However, the subcutaneous space is not the normal microenvironment for most neoplasms and so results obtained with ectopic xenografting can be misleading due to factors such as an absence of organ-specific expression of host tissue and tumor genes. It has thus been strongly recommended that ectopic grafting studies be replaced or complemented by studies in which human tumor cells are grafted into their tissue of origin (orthotopic xenografting)
2
. Unfortunately, implementation of this recommendation is often thwarted by the fact that orthotopic xenografting methodologies have not yet been developed for many tumor types. Malignant peripheral nerve sheath tumors (MPNSTs) are highly aggressive sarcomas that occur sporadically or in association with neurofibromatosis type 1
3
and most commonly arise in the sciatic nerve
4
. Here we describe a technically straightforward method in which firefly luciferase-tagged human MPNST cells are orthopically xenografted into the sciatic nerve of immunodeficient mice. Our approach to assessing the success of the grafting procedure in individual animals and subsequent non-biased randomization into study groups is also discussed.
Medicine, Issue 49, Orthotopic grafting, Schwann cell, sciatic nerve, MPNST, neurofibrosarcoma, neurofibromatosis, experimental therapeutics
2558
Utilizing Transcranial Magnetic Stimulation to Study the Human Neuromuscular System
Institutions: Ohio University.

Transcranial magnetic stimulation (TMS) has been in use for more than 20 years
1
, and has grown exponentially in popularity over the past decade. While the use of TMS has expanded to the study of many systems and processes during this time, the original application and perhaps one of the most common uses of TMS involves studying the physiology, plasticity and function of the human neuromuscular system. Single pulse TMS applied to the motor cortex excites pyramidal neurons transsynaptically
2
(Figure 1) and results in a measurable electromyographic response that can be used to study and evaluate the integrity and excitability of the corticospinal tract in humans
3
. Additionally, recent advances in magnetic stimulation now allows for partitioning of cortical versus spinal excitability
4,5
. For example, paired-pulse TMS can be used to assess intracortical facilitatory and inhibitory properties by combining a conditioning stimulus and a test stimulus at different interstimulus intervals
3,4,6-8
. In this video article we will demonstrate the methodological and technical aspects of these techniques. Specifically, we will demonstrate single-pulse and paired-pulse TMS techniques as applied to the flexor carpi radialis (FCR) muscle as well as the erector spinae (ES) musculature. Our laboratory studies the FCR muscle as it is of interest to our research on the effects of wrist-hand cast immobilization on reduced muscle performance
6,9
, and we study the ES muscles due to these muscles clinical relevance as it relates to low back pain
8
. With this stated, we should note that TMS has been used to study many muscles of the hand, arm and legs, and should iterate that our demonstrations in the FCR and ES muscle groups are only selected examples of TMS being used to study the human neuromuscular system.
Medicine, Issue 59, neuroscience, muscle, electromyography, physiology, TMS, strength, motor control. sarcopenia, dynapenia, lumbar
3387
In vivo Imaging of Optic Nerve Fiber Integrity by Contrast-Enhanced MRI in Mice
Institutions: Jena University Hospital, Fritz Lipmann Institute, Jena, Jena University Hospital.

The rodent visual system encompasses retinal ganglion cells and their axons that form the optic nerve to enter thalamic and midbrain centers, and postsynaptic projections to the visual cortex. Based on its distinct anatomical structure and convenient accessibility, it has become the favored structure for studies on neuronal survival, axonal regeneration, and synaptic plasticity. Recent advancements in MR imaging have enabled the
in vivo
visualization of the retino-tectal part of this projection using manganese mediated contrast enhancement (MEMRI). Here, we present a MEMRI protocol for illustration of the visual projection in mice, by which resolutions of (200 µm)
3
can be achieved using common 3 Tesla scanners. We demonstrate how intravitreal injection of a single dosage of 15 nmol MnCl
2
leads to a saturated enhancement of the intact projection within 24 hr. With exception of the retina, changes in signal intensity are independent of coincided visual stimulation or physiological aging. We further apply this technique to longitudinally monitor axonal degeneration in response to acute optic nerve injury, a paradigm by which Mn
2+
transport completely arrests at the lesion site. Conversely, active Mn
2+
transport is quantitatively proportionate to the viability, number, and electrical activity of axon fibers. For such an analysis, we exemplify Mn
2+
transport kinetics along the visual path in a transgenic mouse model (NF-κB
p50KO
) displaying spontaneous atrophy of sensory, including visual, projections. In these mice, MEMRI indicates reduced but not delayed Mn
2+
transport as compared to wild type mice, thus revealing signs of structural and/or functional impairments by NF-κB mutations. In summary, MEMRI conveniently bridges
in vivo
assays and
post mortem
histology for the characterization of nerve fiber integrity and activity. It is highly useful for longitudinal studies on axonal degeneration and regeneration, and investigations of mutant mice for genuine or inducible phenotypes.
Neuroscience, Issue 89, manganese-enhanced MRI, mouse retino-tectal projection, visual system, neurodegeneration, optic nerve injury, NF-κB
51274
Derivation of Enriched Oligodendrocyte Cultures and Oligodendrocyte/Neuron Myelinating Co-cultures from Post-natal Murine Tissues
Institutions: Ottawa Hospital Research Institute, University of Ottawa , Stony Brook University, University of Ottawa .

Identifying the molecular mechanisms underlying OL development is not only critical to furthering our knowledge of OL biology, but also has implications for understanding the pathogenesis of demyelinating diseases such as Multiple Sclerosis (MS). Cellular development is commonly studied with primary cell culture models. Primary cell culture facilitates the evaluation of a given cell type by providing a controlled environment, free of the extraneous variables that are present
in vivo
. While OL cultures derived from rats have provided a vast amount of insight into OL biology, similar efforts at establishing OL cultures from mice has been met with major obstacles. Developing methods to culture murine primary OLs is imperative in order to take advantage of the available transgenic mouse lines. Multiple methods for extraction of OPCs from rodent tissue have been described, ranging from neurosphere derivation, differential adhesion purification and immunopurification
1-3
. While many methods offer success, most require extensive culture times and/or costly equipment/reagents. To circumvent this, purifying OPCs from murine tissue with an adaptation of the method originally described by McCarthy & de Vellis
2
is preferred. This method involves physically separating OPCs from a mixed glial culture derived from neonatal rodent cortices. The result is a purified OPC population that can be differentiated into an OL-enriched culture. This approach is appealing due to its relatively short culture time and the unnecessary requirement for growth factors or immunopanning antibodies. While exploring the mechanisms of OL development in a purified culture is informative, it does not provide the most physiologically relevant environment for assessing myelin sheath formation. Co-culturing OLs with neurons would lend insight into the molecular underpinnings regulating OL-mediated myelination of axons. For many OL/neuron co-culture studies, dorsal root ganglion neurons (DRGNs) have proven to be the neuron type of choice. They are ideal for co-culture with OLs due to their ease of extraction, minimal amount of contaminating cells, and formation of dense neurite beds. While studies using rat/mouse myelinating xenocultures have been published
4-6
, a method for the derivation of such OL/DRGN myelinating co-cultures from post-natal murine tissue has not been described. Here we present detailed methods on how to effectively produce such cultures, along with examples of expected results. These methods are useful for addressing questions relevant to OL development/myelinating function, and are useful tools in the field of neuroscience.
Neuroscience, Issue 54, Oligodendrocyte, myelination, in vitro, dorsal root ganglion neuron, co-culture, primary cells, mouse, neuroscience
3324
Promotion of Survival and Differentiation of Neural Stem Cells with Fibrin and Growth Factor Cocktails after Severe Spinal Cord Injury
Institutions: Veterans Administration Medical Center, San Diego, University of California, San Diego.

Neural stem cells (NSCs) can self-renew and differentiate into neurons and glia. Transplanted NSCs can replace lost neurons and glia after spinal cord injury (SCI), and can form functional relays to re-connect spinal cord segments above and below a lesion. Previous studies grafting neural stem cells have been limited by incomplete graft survival within the spinal cord lesion cavity. Further, tracking of graft cell survival, differentiation, and process extension had not been optimized. Finally, in previous studies, cultured rat NSCs were typically reported to differentiate into glia when grafted to the injured spinal cord, rather than neurons, unless fate was driven to a specific cell type. To address these issues, we developed new methods to improve the survival, integration and differentiation of NSCs to sites of even severe SCI. NSCs were freshly isolated from embryonic day 14 spinal cord (E14) from a stable transgenic Fischer 344 rat line expressing green fluorescent protein (GFP) and were embedded into a fibrin matrix containing growth factors; this formulation aimed to retain grafted cells in the lesion cavity and support cell survival. NSCs in the fibrin/growth factor cocktail were implanted two weeks after thoracic level-3 (T3) complete spinal cord transections, thereby avoiding peak periods of inflammation. Resulting grafts completely filled the lesion cavity and differentiated into both neurons, which extended axons into the host spinal cord over remarkably long distances, and glia. Grafts of cultured human NSCs expressing GFP resulted in similar findings. Thus, methods are defined for improving neural stem cell grafting, survival and analysis of
in vivo
findings.
Neuroscience, Issue 89, nervous system diseases, wounds and injuries, biological factors, therapeutics, surgical procedures, neural stem cells, transplantation, spinal cord injury, fibrin, growth factors
50641
Transplantation of Olfactory Ensheathing Cells to Evaluate Functional Recovery after Peripheral Nerve Injury
Institutions: University of Rouen, Karolinska Institutet, Rouen University Hospital, Amiens University Hospital.
Olfactory ensheathing cells (OECs) are neural crest cells which allow growth and regrowth of the primary olfactory neurons. Indeed, the primary olfactory system is characterized by its ability to give rise to new neurons even in adult animals. This particular ability is partly due to the presence of OECs which create a favorable microenvironment for neurogenesis. This property of OECs has been used for cellular transplantation such as in spinal cord injury models. Although the peripheral nervous system has a greater capacity to regenerate after nerve injury than the central nervous system, complete sections induce misrouting during axonal regrowth in particular after facial of laryngeal nerve transection. Specifically, full sectioning of the recurrent laryngeal nerve (RLN) induces aberrant axonal regrowth resulting in synkinesis of the vocal cords. In this specific model, we showed that OECs transplantation efficiently increases axonal regrowth. OECs are constituted of several subpopulations present in both the olfactory mucosa (OM-OECs) and the olfactory bulbs (OB-OECs). We present here a model of cellular transplantation based on the use of these different subpopulations of OECs in a RLN injury model. Using this paradigm, primary cultures of OB-OECs and OM-OECs were transplanted in Matrigel after section and anastomosis of the RLN. Two months after surgery, we evaluated transplanted animals by complementary analyses based on videolaryngoscopy, electromyography (EMG), and histological studies. First, videolaryngoscopy allowed us to evaluate laryngeal functions, in particular muscular cocontractions phenomena. Then, EMG analyses demonstrated richness and synchronization of muscular activities. Finally, histological studies based on toluidine blue staining allowed the quantification of the number and profile of myelinated fibers. All together, we describe here how to isolate, culture, identify and transplant OECs from OM and OB after RLN section-anastomosis and how to evaluate and analyze the efficiency of these transplanted cells on axonal regrowth and laryngeal functions.
Neuroscience, Issue 84, olfactory ensheathing cells, spinal cord injury, transplantation, larynx, recurrent laryngeal nerve, peripheral nerve injury, vocal cords
50590
Membrane Potentials, Synaptic Responses, Neuronal Circuitry, Neuromodulation and Muscle Histology Using the Crayfish: Student Laboratory Exercises
Institutions: University of Kentucky, University of Toronto.

The purpose of this report is to help develop an understanding of the effects caused by ion gradients across a biological membrane. Two aspects that influence a cell's membrane potential and which we address in these experiments are: (1) Ion concentration of K
+
on the outside of the membrane, and (2) the permeability of the membrane to specific ions. The crayfish abdominal extensor muscles are in groupings with some being tonic (slow) and others phasic (fast) in their biochemical and physiological phenotypes, as well as in their structure; the motor neurons that innervate these muscles are correspondingly different in functional characteristics. We use these muscles as well as the superficial, tonic abdominal flexor muscle to demonstrate properties in synaptic transmission. In addition, we introduce a sensory-CNS-motor neuron-muscle circuit to demonstrate the effect of cuticular sensory stimulation as well as the influence of neuromodulators on certain aspects of the circuit. With the techniques obtained in this exercise, one can begin to answer many questions remaining in other experimental preparations as well as in physiological applications related to medicine and health. We have demonstrated the usefulness of model invertebrate preparations to address fundamental questions pertinent to all animals.
Neuroscience, Issue 47, Invertebrate, Crayfish, neurophysiology, muscle, anatomy, electrophysiology
2322
Using Microfluidics Chips for Live Imaging and Study of Injury Responses in Drosophila Larvae
Institutions: University of Michigan, University of Michigan, University of Michigan, University of Michigan, University of Michigan.

Live imaging is an important technique for studying cell biological processes, however this can be challenging in live animals. The translucent cuticle of the
Drosophila
larva makes it an attractive model organism for live imaging studies. However, an important challenge for live imaging techniques is to noninvasively immobilize and position an animal on the microscope. This protocol presents a simple and easy to use method for immobilizing and imaging
Drosophila
larvae on a polydimethylsiloxane (PDMS) microfluidic device, which we call the 'larva chip'. The larva chip is comprised of a snug-fitting PDMS microchamber that is attached to a thin glass coverslip, which, upon application of a vacuum via a syringe, immobilizes the animal and brings ventral structures such as the nerve cord, segmental nerves, and body wall muscles, within close proximity to the coverslip. This allows for high-resolution imaging, and importantly, avoids the use of anesthetics and chemicals, which facilitates the study of a broad range of physiological processes. Since larvae recover easily from the immobilization, they can be readily subjected to multiple imaging sessions. This allows for longitudinal studies over time courses ranging from hours to days. This protocol describes step-by-step how to prepare the chip and how to utilize the chip for live imaging of neuronal events in 3
rd
instar larvae. These events include the rapid transport of organelles in axons, calcium responses to injury, and time-lapse studies of the trafficking of photo-convertible proteins over long distances and time scales. Another application of the chip is to study regenerative and degenerative responses to axonal injury, so the second part of this protocol describes a new and simple procedure for injuring axons within peripheral nerves by a segmental nerve crush.
Bioengineering, Issue 84, Drosophila melanogaster, Live Imaging, Microfluidics, axonal injury, axonal degeneration, calcium imaging, photoconversion, laser microsurgery
50998
Motor Nerve Transection and Time-lapse Imaging of Glial Cell Behaviors in Live Zebrafish
Institutions: University of Virginia .

The nervous system is often described as a hard-wired component of the body even though it is a considerably fluid organ system that reacts to external stimuli in a consistent, stereotyped manner, while maintaining incredible flexibility and plasticity. Unlike the central nervous system (CNS), the peripheral nervous system (PNS) is capable of significant repair, but we have only just begun to understand the cellular and molecular mechanisms that govern this phenomenon. Using zebrafish as a model system, we have the unprecedented opportunity to couple regenerative studies with
in vivo
imaging and genetic manipulation. Peripheral nerves are composed of axons surrounded by layers of glia and connective tissue. Axons are ensheathed by myelinating or non-myelinating Schwann cells, which are in turn wrapped into a fascicle by a cellular sheath called the perineurium. Following an injury, adult peripheral nerves have the remarkable capacity to remove damaged axonal debris and re-innervate targets. To investigate the roles of all peripheral glia in PNS regeneration, we describe here an axon transection assay that uses a commercially available nitrogen-pumped dye laser to axotomize motor nerves in live transgenic zebrafish. We further describe the methods to couple these experiments to time-lapse imaging of injured and control nerves. This experimental paradigm can be used to not only assess the role that glia play in nerve regeneration, but can also be the platform for elucidating the molecular mechanisms that govern nervous system repair.
Neuroscience, Issue 76, Neurobiology, Cellular Biology, Molecular Biology, Genetics, Developmental Biology, Neuroglia, Zebrafish, Danio rerio, Nerve Regeneration, laser transection, nerve injury, glia, glial cell, in vivo imaging, imaging, nerves, embryos, CNS, PNS, confocal microscopy, microdissection, animal model
50621
An Ex Vivo Laser-induced Spinal Cord Injury Model to Assess Mechanisms of Axonal Degeneration in Real-time
Institutions: University of Louisville, University of Calgary.

Injured CNS axons fail to regenerate and often retract away from the injury site. Axons spared from the initial injury may later undergo secondary axonal degeneration. Lack of growth cone formation, regeneration, and loss of additional myelinated axonal projections within the spinal cord greatly limits neurological recovery following injury. To assess how central myelinated axons of the spinal cord respond to injury, we developed an
ex vivo
living spinal cord model utilizing transgenic mice that express yellow fluorescent protein in axons and a focal and highly reproducible laser-induced spinal cord injury to document the fate of axons and myelin (lipophilic fluorescent dye Nile Red) over time using two-photon excitation time-lapse microscopy. Dynamic processes such as acute axonal injury, axonal retraction, and myelin degeneration are best studied in real-time. However, the non-focal nature of contusion-based injuries and movement artifacts encountered during
in vivo
spinal cord imaging make differentiating primary and secondary axonal injury responses using high resolution microscopy challenging. The
ex vivo
spinal cord model described here mimics several aspects of clinically relevant contusion/compression-induced axonal pathologies including axonal swelling, spheroid formation, axonal transection, and peri-axonal swelling providing a useful model to study these dynamic processes in real-time. Major advantages of this model are excellent spatiotemporal resolution that allows differentiation between the primary insult that directly injures axons and secondary injury mechanisms; controlled infusion of reagents directly to the perfusate bathing the cord; precise alterations of the environmental milieu (
e.g.,
calcium, sodium ions, known contributors to axonal injury, but near impossible to manipulate
in vivo
); and murine models also offer an advantage as they provide an opportunity to visualize and manipulate genetically identified cell populations and subcellular structures. Here, we describe how to isolate and image the living spinal cord from mice to capture dynamics of acute axonal injury.
Neuroscience, Issue 93, spinal cord injury, axon, myelin, two-photon excitation microscopy, Nile Red, axonal degeneration, axonal dieback, axonal retraction
52173
Modeling Biological Membranes with Circuit Boards and Measuring Electrical Signals in Axons: Student Laboratory Exercises
Institutions: University of Kentucky, University of Toronto.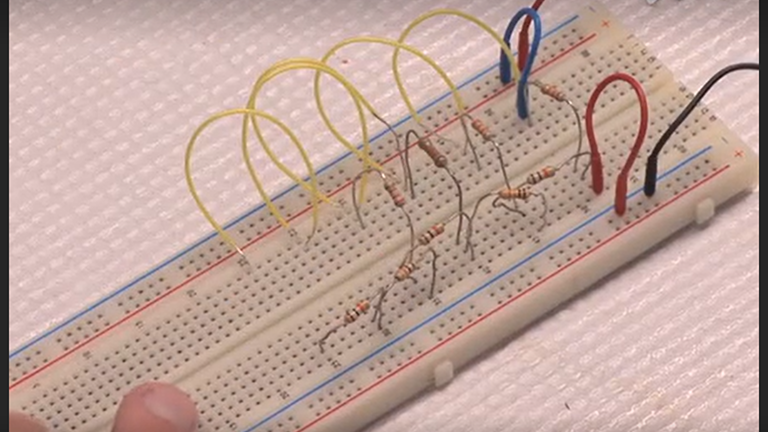 This is a demonstration of how electrical models can be used to characterize biological membranes. This exercise also introduces biophysical terminology used in electrophysiology. The same equipment is used in the membrane model as on live preparations. Some properties of an isolated nerve cord are investigated: nerve action potentials, recruitment of neurons, and responsiveness of the nerve cord to environmental factors.
Basic Protocols, Issue 47, Invertebrate, Crayfish, Modeling, Student laboratory, Nerve cord
2325
Simulating Pancreatic Neuroplasticity: In Vitro Dual-neuron Plasticity Assay
Institutions: Technische Universität München, University of Applied Sciences Kaiserslautern/Zweibrücken.

Neuroplasticity is an inherent feature of the enteric nervous system and gastrointestinal (GI) innervation under pathological conditions. However, the pathophysiological role of neuroplasticity in GI disorders remains unknown. Novel experimental models which allow simulation and modulation of GI neuroplasticity may enable enhanced appreciation of the contribution of neuroplasticity in particular GI diseases such as pancreatic cancer (PCa) and chronic pancreatitis (CP). Here, we present a protocol for simulation of pancreatic neuroplasticity under
in vitro
conditions using newborn rat dorsal root ganglia (DRG) and myenteric plexus (MP) neurons. This dual-neuron approach not only permits monitoring of both organ-intrinsic and -extrinsic neuroplasticity, but also represents a valuable tool to assess neuronal and glial morphology and electrophysiology. Moreover, it allows functional modulation of supplied microenvironmental contents for studying their impact on neuroplasticity. Once established, the present neuroplasticity assay bears the potential of being applicable to the study of neuroplasticity in any GI organ.
Medicine, Issue 86, Autonomic Nervous System Diseases, Digestive System Neoplasms, Gastrointestinal Diseases, Pancreatic Diseases, Pancreatic Neoplasms, Pancreatitis, Pancreatic neuroplasticity, dorsal root ganglia, myenteric plexus, Morphometry, neurite density, neurite branching, perikaryonal hypertrophy, neuronal plasticity
51049
Proprioception and Tension Receptors in Crab Limbs: Student Laboratory Exercises
Institutions: University of Kentucky, University of Kentucky, University of Oregon.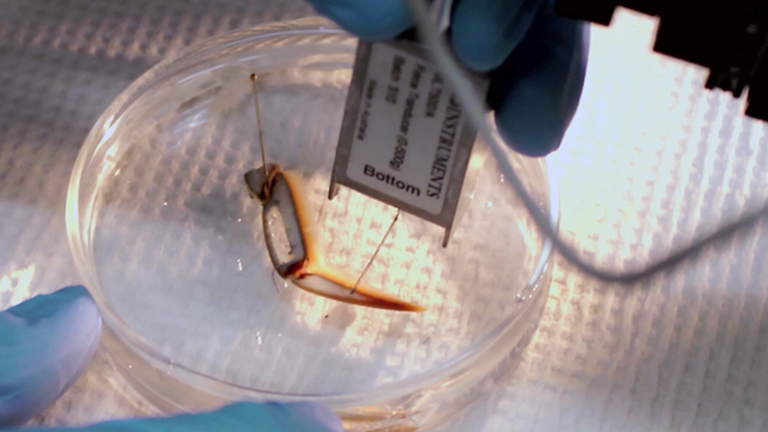 The primary purpose of these procedures is to demonstrate for teaching and research purposes how to record the activity of living primary sensory neurons responsible for proprioception as they are detecting joint position and movement, and muscle tension. Electrical activity from crustacean proprioceptors and tension receptors is recorded by basic neurophysiological instrumentation, and a transducer is used to simultaneously measure force that is generated by stimulating a motor nerve. In addition, we demonstrate how to stain the neurons for a quick assessment of their anatomical arrangement or for permanent fixation. Staining reveals anatomical organization that is representative of chordotonal organs in most crustaceans. Comparing the tension nerve responses to the proprioceptive responses is an effective teaching tool in determining how these sensory neurons are defined functionally and how the anatomy is correlated to the function. Three staining techniques are presented allowing researchers and instructors to choose a method that is ideal for their laboratory.
Neuroscience, Issue 80, Crustacean, joint, Muscle, sensory, teaching, educational, neuroscience
51050
Loading Drosophila Nerve Terminals with Calcium Indicators
Institutions: University of Texas Health Science Center at San Antonio (UTHSCSA).

Calcium plays many roles in the nervous system but none more impressive than as the trigger for neurotransmitter release, and none more profound than as the messenger essential for the synaptic plasticity that supports learning and memory. To further elucidate the molecular underpinnings of Ca
2+
-dependent synaptic mechanisms, a model system is required that is both genetically malleable and physiologically accessible. Drosophila melanogaster provides such a model. In this system, genetically-encoded fluorescent indicators are available to detect Ca
2+
changes in nerve terminals. However, these indicators have limited sensitivity to Ca
2+
and often show a non-linear response. Synthetic fluorescent indicators are better suited for measuring the rapid Ca
2+
changes associated with nerve activity. Here we demonstrate a technique for loading dextran-conjugated synthetic Ca
2+
indicators into live nerve terminals in Drosophila larvae. Particular emphasis is placed on those aspects of the protocol most critical to the technique's success, such as how to avoid static electricity discharges along the isolated nerves, maintaining the health of the preparation during extended loading periods, and ensuring axon survival by providing Ca
2+
to promote sealing of severed axon endings. Low affinity dextran-conjugated Ca
2+
-indicators, such as fluo-4 and rhod, are available which show a high signal-to-noise ratio while minimally disrupting presynaptic Ca
2+
dynamics. Dextran-conjugation helps prevent Ca
2+
indicators being sequestered into organelles such as mitochondria. The loading technique can be applied equally to larvae, embryos and adults.
Neuroscience, Issue 6, Drosophila, neuron, imaging
250
Axoplasm Isolation from Rat Sciatic Nerve
Institutions: Weizmann Institute of Science.

Isolation of pure axonal cytoplasm (axoplasm) from peripheral nerve is crucial for biochemical studies of many biological processes. In this article, we demonstrate and describe a protocol for axoplasm isolation from adult rat sciatic nerve based on the following steps: (1) dissection of nerve fascicles and separation of connective tissue; (2) incubation of short segments of nerve fascicles in hypotonic medium to release myelin and lyse non-axonal structures; and (3) extraction of the remaining axon-enriched material. Proteomic and biochemical characterization of this preparation has confirmed a high degree of enrichment for axonal components.
Neuroscience, Issue 43, Axoplasm, nerve, isolation, method, rat
2087