Constructing a Collagen Hydrogel for the Delivery of Stem Cell-loaded Chitosan Microspheres
Published: 06-01-2012
ABSTRACT
Multipotent stem cells have been shown to be extremely useful in the field of regenerative medicine1-3. However, in order to use these cells effectively for tissue regeneration, a number of variables must be taken into account. These variables include: the total volume and surface area of the implantation site, the mechanical properties of the tissue and the tissue microenvironment, which includes the amount of vascularization and the components of the extracellular matrix. Therefore, the materials being used to deliver these cells must be biocompatible with a defined chemical composition while maintaining a mechanical strength that mimics the host tissue. These materials must also be permeable to oxygen and nutrients to provide a favorable microenvironment for cells to attach and proliferate. Chitosan, a cationic polysaccharide with excellent biocompatibility, can be easily chemically modified and has a high affinity to bind with in vivo macromolecules4-5. Chitosan mimics the glycosaminoglycan portion of the extracellular matrix, enabling it to function as a substrate for cell adhesion, migration and proliferation. In this study we utilize chitosan in the form of microspheres to deliver adipose-derived stem cells (ASC) into a collagen based three-dimensional scaffold6. An ideal cell-to-microsphere ratio was determined with respect to incubation time and cell density to achieve maximum number of cells that could be loaded. Once ASC are seeded onto the chitosan microspheres (CSM), they are embedded in a collagen scaffold and can be maintained in culture for extended periods. In summary, this study provides a method to precisely deliver stem cells within a three dimensional biomaterial scaffold.
22 Related JoVE Articles!
Manipulating the Murine Lacrimal Gland
Institutions: University of California San Francisco.

The lacrimal gland (LG) secretes aqueous tears necessary for maintaining the structure and function of the cornea, a transparent tissue essential for vision. In the human a single LG resides in the orbit above the lateral end of each eye delivering tears to the ocular surface through 3 - 5 ducts. The mouse has three pairs of major ocular glands, the most studied of which is the exorbital lacrimal gland (LG) located anterior and ventral to the ear. Similar to other glandular organs, the LG develops through the process of epithelial branching morphogenesis in which a single epithelial bud within a condensed mesenchyme undergoes multiple rounds of bud and duct formation to form an intricate interconnected network of secretory acini and ducts. This elaborate process has been well documented in many other epithelial organs such as the pancreas and salivary gland. However, the LG has been much less explored and the mechanisms controlling morphogenesis are poorly understood. We suspect that this under-representation as a model system is a consequence of the difficulties associated with finding, dissecting and culturing the LG. Thus, here we describe dissection techniques for harvesting embryonic and post-natal LG and methods for
ex vivo
culture of the tissue.
Developmental Biology, Issue 93, lacrimal gland, ex vivo, branching morphogenesis, organ culture, embryogenesis
51970
Isolation of Mouse Salivary Gland Stem Cells
Institutions: University Medical Center Groningen, University of Groningen, University Medical Center Groningen, University of Groningen.

Mature salivary glands of both human and mouse origin comprise a minimum of five cell types, each of which facilitates the production and excretion of saliva into the oral cavity. Serous and mucous acinar cells are the protein and mucous producing factories of the gland respectively, and represent the origin of saliva production. Once synthesised, the various enzymatic and other proteinaceous components of saliva are secreted through a series of ductal cells bearing epithelial-type morphology, until the eventual expulsion of the saliva through one major duct into the cavity of the mouth. The composition of saliva is also modified by the ductal cells during this process. In the manifestation of diseases such as Sjögren's syndrome, and in some clinical situations such as radiotherapy treatment for head and neck cancers, saliva production by the glands is dramatically reduced
1,2
. The resulting xerostomia, a subjective feeling of dry mouth, affects not only the ability of the patient to swallow and speak, but also encourages the development of dental caries and can be socially debilitating for the sufferer. The restoration of saliva production in the above-mentioned clinical conditions therefore represents an unmet clinical need, and as such several studies have demonstrated the regenerative capacity of the salivary glands
3-5
. Further to the isolation of stem cell-like populations of cells from various tissues within the mouse and human bodies
6-8
, we have shown using the described method that stem cells isolated from mouse salivary glands can be used to rescue saliva production in irradiated salivary glands
9,10
. This discovery paves the way for the development of stem cell-based therapies for the treatment of xerostomic conditions in humans, and also for the exploration of the salivary gland as a microenvironment containing cells with multipotent self-renewing capabilities.
Stem Cell Biology, Issue 48, Murine salivary glands, stem cells, isolation, tissue culture.
2484
Preparation of Pooled Human Platelet Lysate (pHPL) as an Efficient Supplement for Animal Serum-Free Human Stem Cell Cultures
Institutions: Medical University of Graz, Austria.

Platelet derived growth factors have been shown to stimulate cell proliferation efficiently
in vivo
1,2
and
in vitro
. This effect has been reported for mesenchymal stromal cells (MSCs), fibroblasts and endothelial colony-forming cells with platelets activated by thrombin
3-5
or lysed by freeze/thaw cycles
6-14
before the platelet releasate is added to the cell culture medium. The trophic effect of platelet derived growth factors has already been tested in several trials for tissue engineering and regenerative therapy.
1,15-17
Varying efficiency is considered to be at least in part due to individually divergent concentrations of growth factors
18,19
and a current lack of standardized protocols for platelet preparation.
15,16
This protocol presents a practicable procedure to generate a pool of human platelet lysate (pHPL) derived from routinely produced platelet rich plasma (PRP) of forty to fifty single blood donations. By several freeze/thaw cycles the platelet membranes are damaged and growth factors are efficiently released into the plasma. Finally, the platelet fragments are removed by centrifugation to avoid extensive aggregate formation and deplete potential antigens. The implementation of pHPL into standard culture protocols represents a promising tool for further development of cell therapeutics propagated in an animal protein-free system.
Cellular Biology, Issue 32, Pooled human platelet lysate (pHPL), platelet derived growth factors (PDGFs), cell culture, stem cells
1523
Repair of a Critical-sized Calvarial Defect Model Using Adipose-derived Stromal Cells Harvested from Lipoaspirate
Institutions: Stanford University , Duke University , Saint Joseph Mercy Hospital, University of California, San Francisco , University of California, Los Angeles .

Craniofacial skeletal repair and regeneration offers the promise of
de novo
tissue formation through a cell-based approach utilizing stem cells. Adipose-derived stromal cells (ASCs) have proven to be an abundant source of multipotent stem cells capable of undergoing osteogenic, chondrogenic, adipogenic, and myogenic differentiation. Many studies have explored the osteogenic potential of these cells
in vivo
with the use of various scaffolding biomaterials for cellular delivery. It has been demonstrated that by utilizing an osteoconductive, hydroxyapatite-coated poly(lactic-co-glycolic acid) (HA-PLGA) scaffold seeded with ASCs, a critical-sized calvarial defect, a defect that is defined by its inability to undergo spontaneous healing over the lifetime of the animal, can be effectively show robust osseous regeneration. This
in vivo
model demonstrates the basis of translational approaches aimed to regenerate the bone tissue - the cellular component and biological matrix. This method serves as a model for the ultimate clinical application of a progenitor cell towards the repair of a specific tissue defect.
Medicine, Issue 68, Stem Cells, Skeletal Tissue Engineering, Calvarial Defect, Scaffold, Tissue Regeneration, adipose-derived stromal cells
4221
Stem Cell Transplantation in an in vitro Simulated Ischemia/Reperfusion Model
Institutions: Semmelweis University.

Stem cell transplantation protocols are finding their way into clinical practice
1,2,3
. Getting better results, making the protocols more robust, and finding new sources for implantable cells are the focus of recent research
4,5
. Investigating the effectiveness of cell therapies is not an easy task and new tools are needed to investigate the mechanisms involved in the treatment process
6
. We designed an experimental protocol of ischemia/reperfusion in order to allow the observation of cellular connections and even subcellular mechanisms during ischemia/reperfusion injury and after stem cell transplantation and to evaluate the efficacy of cell therapy. H9c2 cardiomyoblast cells were placed onto cell culture plates
7,8
. Ischemia was simulated with 150 minutes in a glucose free medium with oxygen level below 0.5%. Then, normal media and oxygen levels were reintroduced to simulate reperfusion. After oxygen glucose deprivation, the damaged cells were treated with transplantation of labeled human bone marrow derived mesenchymal stem cells by adding them to the culture. Mesenchymal stem cells are preferred in clinical trials because they are easily accessible with minimal invasive surgery, easily expandable and autologous. After 24 hours of co-cultivation, cells were stained with calcein and ethidium-homodimer to differentiate between live and dead cells. This setup allowed us to investigate the intercellular connections using confocal fluorescent microscopy and to quantify the survival rate of postischemic cells by flow cytometry. Confocal microscopy showed the interactions of the two cell populations such as cell fusion and formation of intercellular nanotubes. Flow cytometry analysis revealed 3 clusters of damaged cells which can be plotted on a graph and analyzed statistically. These populations can be investigated separately and conclusions can be drawn on these data on the effectiveness of the simulated therapeutical approach.
Medicine, Issue 57, ischemia/reperfusion model, stem cell transplantation, confocal microscopy, flow cytometry
3575
Planarian Immobilization, Partial Irradiation, and Tissue Transplantation
Institutions: University of Utah School of Medicine, UCSB, Howard Hughes Medical Institute, Stowers Institute for Medical Research.

The planarian, a freshwater flatworm, has proven to be a powerful system for dissecting metazoan regeneration and stem cell biology
1,2
. Planarian regeneration of any missing or damaged tissues is made possible by adult stem cells termed neoblasts
3
. Although these stem cells have been definitively shown to be pluripotent and singularly capable of reconstituting an entire animal
4
, the heterogeneity within the stem cell population and the dynamics of their cellular behaviors remain largely unresolved. Due to the large number and wide distribution of stem cells throughout the planarian body plan, advanced methods for manipulating subpopulations of stem cells for molecular and functional study
in vivo
are needed. Tissue transplantation and partial irradiation are two methods by which a subpopulation of planarian stem cells can be isolated for further study. Each technique has distinct advantages. Tissue transplantation allows for the introduction of stem cells, into a naïve host, that are either inherently genetically distinct or have been previously treated pharmacologically. Alternatively, partial irradiation allows for the isolation of stem cells within a host, juxtaposed to tissue devoid of stem cells, without the introduction of a wound or any breech in tissue integrity. Using these two methods, one can investigate the cell autonomous and non-autonomous factors that control stem cell functions, such as proliferation, differentiation, and migration. Both tissue transplantation
5,6
and partial irradiation
7
have been used historically in defining many of the questions about planarian regeneration that remain under study today. However, these techniques have remained underused due to the laborious and inconsistent nature of previous methods. The protocols presented here represent a large step forward in decreasing the time and effort necessary to reproducibly generate large numbers of grafted or partially irradiated animals with efficacies approaching 100 percent. We cover the culture of large animals, immobilization, preparation for partial irradiation, tissue transplantation, and the optimization of animal recovery. Furthermore, the work described here demonstrates the first application of the partial irradiation method for use with the most widely studied planarian,
Schmidtea mediterranea
. Additionally, efficient tissue grafting in planaria opens the door for the functional testing of subpopulations of naïve or treated stem cells in repopulation assays, which has long been the gold-standard method of assaying adult stem cell potential in mammals
8
. Broad adoption of these techniques will no doubt lead to a better understanding of the cellular behaviors of adult stem cells during tissue homeostasis and regeneration.
Developmental Biology, Issue 66, Neuroscience, Molecular Biology, Medicine, transplantation, partial irradiation, rescue, immobilization, planaria, flatworm, stem cell, regeneration
4015
Genetic Modification and Recombination of Salivary Gland Organ Cultures
Institutions: University at Albany, SUNY.

Branching morphogenesis occurs during the development of many organs, and the embryonic mouse submandibular gland (SMG) is a classical model for the study of branching morphogenesis. In the developing SMG, this process involves iterative steps of epithelial bud and duct formation, to ultimately give rise to a complex branched network of acini and ducts, which serve to produce and modify/transport the saliva, respectively, into the oral cavity
1-3
. The epithelial-associated basement membrane and aspects of the mesenchymal compartment, including the mesenchyme cells, growth factors and the extracellular matrix, produced by these cells, are critical to the branching mechanism, although how the cellular and molecular events are coordinated remains poorly understood
4
. The study of the molecular mechanisms driving epithelial morphogenesis advances our understanding of developmental mechanisms and provides insight into possible regenerative medicine approaches. Such studies have been hampered due to the lack of effective methods for genetic manipulation of the salivary epithelium. Currently, adenoviral transduction represents the most effective method for targeting epithelial cells in adult glands
in vivo
5
. However, in embryonic explants, dense mesenchyme and the basement membrane surrounding the epithelial cells impedes viral access to the epithelial cells. If the mesenchyme is removed, the epithelium can be transfected using adenoviruses, and epithelial rudiments can resume branching morphogenesis in the presence of Matrigel or laminin-111
6,7
. Mesenchyme-free epithelial rudiment growth also requires additional supplementation with soluble growth factors and does not fully recapitulate branching morphogenesis as it occurs in intact glands
8
. Here we describe a technique which facilitates adenoviral transduction of epithelial cells and culture of the transfected epithelium with associated mesenchyme. Following microdissection of the embryonic SMGs, removal of the mesenchyme, and viral infection of the epithelium with a GFP-containing adenovirus, we show that the epithelium spontaneously recombines with uninfected mesenchyme, recapitulating intact SMG glandular structure and branching morphogenesis. The genetically modified epithelial cell population can be easily monitored using standard fluorescence microscopy methods, if fluorescently-tagged adenoviral constructs are used. The tissue recombination method described here is currently the most effective and accessible method for transfection of epithelial cells with a wild-type or mutant vector within a complex 3D tissue construct that does not require generation of transgenic animals.
Genetics, Issue 71, Molecular Biology, Cellular Biology, Developmental Biology, Virology, Medicine, Adenovirus, Embryonic, Epithelial rudiments, Extracellular matrix, Mesenchyme, Organ culture, Submandibular gland, ex vivo, cell culture, tissue engineering, embryo, mouse, animal model
50060
A Novel Three-dimensional Flow Chamber Device to Study Chemokine-directed Extravasation of Cells Circulating under Physiological Flow Conditions
Institutions: Torrey Pines Institute for Molecular Studies, Cascade LifeSciences Inc..

Extravasation of circulating cells from the bloodstream plays a central role in many physiological and pathophysiological processes, including stem cell homing and tumor metastasis. The three-dimensional flow chamber device (hereafter the 3D device) is a novel
in vitro
technology that recreates physiological shear stress and allows each step of the cell extravasation cascade to be quantified. The 3D device consists of an upper compartment in which the cells of interest circulate under shear stress, and a lower compartment of static wells that contain the chemoattractants of interest. The two compartments are separated by porous inserts coated with a monolayer of endothelial cells (EC). An optional second insert with microenvironmental cells of interest can be placed immediately beneath the EC layer. A gas exchange unit allows the optimal CO
2
tension to be maintained and provides an access point to add or withdraw cells or compounds during the experiment. The test cells circulate in the upper compartment at the desired shear stress (flow rate) controlled by a peristaltic pump. At the end of the experiment, the circulating and migrated cells are collected for further analyses. The 3D device can be used to examine cell rolling on and adhesion to EC under shear stress, transmigration in response to chemokine gradients, resistance to shear stress, cluster formation, and cell survival. In addition, the optional second insert allows the effects of crosstalk between EC and microenvironmental cells to be examined. The translational applications of the 3D device include testing of drug candidates that target cell migration and predicting the
in vivo
behavior of cells after intravenous injection. Thus, the novel 3D device is a versatile and inexpensive tool to study the molecular mechanisms that mediate cellular extravasation.
Bioengineering, Issue 77, Cellular Biology, Biophysics, Physiology, Molecular Biology, Biomedical Engineering, Immunology, Cells, Biological Factors, Equipment and Supplies, Cell Physiological Phenomena, Natural Science Disciplines, Life Sciences (General), circulating cells, extravasation, physiological shear stress, endothelial cells, microenvironment, chemokine gradient, flow, chamber, cell culture, assay
50959
Cannulation of the Mouse Submandibular Salivary Gland via the Wharton's Duct
Institutions: McGill University , National Institutes of Health, Bethesda, MD, USA.

Severe salivary gland hypofunction is frequently found in patients with Sjögren's syndrome and those who receiving therapeutic irradiation in their head and neck regions for cancer treatment. Both groups of patients experience symptoms such as xerostomia (dry mouth), dysphagia (impaired chewing and swallowing), severe dental caries, altered taste, oro-pharyngeal infections (candidiasis), mucositis, pain and discomfort. One innovative approach of regenerative medicine for the treatment of salivary gland hypo-function is speculated in RS Redman, E Mezey
et al.
2009: stem cells can be directly deposited by cannulation into the gland as a potent method in reviving the functions of the impaired organ. Presumably, the migrated foreign stem cells will differentiate into glandular cells to function as part of the host salivary gland. Also, this cannulation technique is an expedient and effective delivery method for clinical gene transfer application. Here we illustrate the steps involved in performing the cannulation procedure on the mouse submandibular salivary gland via the Wharton's duct (
Fig 1
). C3H mice (Charles River, Montreal, QC, Canada) are used for this experiment, which have been kept under clean conventional conditions at the McGill University animal resource center. All experiments have been approved by the University Animal Care Committee and were in accordance with the guidelines of the Canadian Council on Animal Care. For this experiment, a trypan blue solution is infused into the gland through the opening of the Wharton's duct using a insulin syringe with a 29-gauge needle encased inside a polyethylene tube. Subsequently, the mouse is dissected to show that the infusions migrated into the gland successfully.
Medicine, Issue 51, Mouse, Salivary Gland, Wharton's Duct, dental disease, progenitor, stem cells
3074
Transgenic Rodent Assay for Quantifying Male Germ Cell Mutant Frequency
Institutions: Environmental Health Centre.

De novo
mutations arise mostly in the male germline and may contribute to adverse health outcomes in subsequent generations. Traditional methods for assessing the induction of germ cell mutations require the use of large numbers of animals, making them impractical. As such, germ cell mutagenicity is rarely assessed during chemical testing and risk assessment. Herein, we describe an
in vivo
male germ cell mutation assay using a transgenic rodent model that is based on a recently approved Organisation for Economic Co-operation and Development (OECD) test guideline. This method uses an
in vitro
positive selection assay to measure
in vivo
mutations induced in a transgenic λgt10 vector bearing a reporter gene directly in the germ cells of exposed males. We further describe how the detection of mutations in the transgene recovered from germ cells can be used to characterize the stage-specific sensitivity of the various spermatogenic cell types to mutagen exposure by controlling three experimental parameters: the duration of exposure (administration time), the time between exposure and sample collection (sampling time), and the cell population collected for analysis. Because a large number of germ cells can be assayed from a single male, this method has superior sensitivity compared with traditional methods, requires fewer animals and therefore much less time and resources.
Genetics, Issue 90, sperm, spermatogonia, male germ cells, spermatogenesis, de novo mutation, OECD TG 488, transgenic rodent mutation assay, N-ethyl-N-nitrosourea, genetic toxicology
51576
Manual Isolation of Adipose-derived Stem Cells from Human Lipoaspirates
Institutions: Cytori Therapeutics Inc, David Geffen School of Medicine at UCLA, David Geffen School of Medicine at UCLA, David Geffen School of Medicine at UCLA, David Geffen School of Medicine at UCLA.

In 2001, researchers at the University of California, Los Angeles, described the isolation of a new population of adult stem cells from liposuctioned adipose tissue that they initially termed Processed Lipoaspirate Cells or PLA cells. Since then, these stem cells have been renamed as Adipose-derived Stem Cells or ASCs and have gone on to become one of the most popular adult stem cells populations in the fields of stem cell research and regenerative medicine. Thousands of articles now describe the use of ASCs in a variety of regenerative animal models, including bone regeneration, peripheral nerve repair and cardiovascular engineering. Recent articles have begun to describe the myriad of uses for ASCs in the clinic. The protocol shown in this article outlines the basic procedure for manually and enzymatically isolating ASCs from large amounts of lipoaspirates obtained from cosmetic procedures. This protocol can easily be scaled up or down to accommodate the volume of lipoaspirate and can be adapted to isolate ASCs from fat tissue obtained through abdominoplasties and other similar procedures.
Cellular Biology, Issue 79, Adipose Tissue, Stem Cells, Humans, Cell Biology, biology (general), enzymatic digestion, collagenase, cell isolation, Stromal Vascular Fraction (SVF), Adipose-derived Stem Cells, ASCs, lipoaspirate, liposuction
50585
Systemic Injection of Neural Stem/Progenitor Cells in Mice with Chronic EAE
Institutions: University of Cambridge, UK, University of Cambridge, UK.

Neural stem/precursor cells (NPCs) are a promising stem cell source for transplantation approaches aiming at brain repair or restoration in regenerative neurology. This directive has arisen from the extensive evidence that brain repair is achieved after focal or systemic NPC transplantation in several preclinical models of neurological diseases. These experimental data have identified the cell delivery route as one of the main hurdles of restorative stem cell therapies for brain diseases that requires urgent assessment. Intraparenchymal stem cell grafting represents a logical approach to those pathologies characterized by isolated and accessible brain lesions such as spinal cord injuries and Parkinson's disease. Unfortunately, this principle is poorly applicable to conditions characterized by a multifocal, inflammatory and disseminated (both in time and space) nature, including multiple sclerosis (MS). As such, brain targeting by systemic NPC delivery has become a low invasive and therapeutically efficacious protocol to deliver cells to the brain and spinal cord of rodents and nonhuman primates affected by experimental chronic inflammatory damage of the central nervous system (CNS). This alternative method of cell delivery relies on the NPC pathotropism, specifically their innate capacity to (i) sense the environment
via
functional cell adhesion molecules and inflammatory cytokine and chemokine receptors; (ii) cross the leaking anatomical barriers after intravenous (
i.v
.) or intracerebroventricular (
i.c.v.
) injection; (iii) accumulate at the level of multiple perivascular site(s) of inflammatory brain and spinal cord damage; and (
i.v.
) exert remarkable tissue trophic and immune regulatory effects onto different host target cells
in vivo
. Here we describe the methods that we have developed for the
i.v
. and
i.c.v.
delivery of syngeneic NPCs in mice with experimental autoimmune encephalomyelitis (EAE), as model of chronic CNS inflammatory demyelination, and envisage the systemic stem cell delivery as a valuable technique for the selective targeting of the inflamed brain in regenerative neurology.
Immunology, Issue 86, Somatic neural stem/precursor cells, neurodegenerative disorders, regenerative medicine, multiple sclerosis, experimental autoimmune encephalomyelitis, systemic delivery, intravenous, intracerebroventricular
51154
Intramyocardial Cell Delivery: Observations in Murine Hearts
Institutions: Imperial College London, Imperial College London, Monash University.

Previous studies showed that cell delivery promotes cardiac function amelioration by release of cytokines and factors that increase cardiac tissue revascularization and cell survival. In addition, further observations revealed that specific stem cells, such as cardiac stem cells, mesenchymal stem cells and cardiospheres have the ability to integrate within the surrounding myocardium by differentiating into cardiomyocytes, smooth muscle cells and endothelial cells. Here, we present the materials and methods to reliably deliver noncontractile cells into the left ventricular wall of immunodepleted mice. The salient steps of this microsurgical procedure involve anesthesia and analgesia injection, intratracheal intubation, incision to open the chest and expose the heart and delivery of cells by a sterile 30-gauge needle and a precision microliter syringe. Tissue processing consisting of heart harvesting, embedding, sectioning and histological staining showed that intramyocardial cell injection produced a small damage in the epicardial area, as well as in the ventricular wall. Noncontractile cells were retained into the myocardial wall of immunocompromised mice and were surrounded by a layer of fibrotic tissue, likely to protect from cardiac pressure and mechanical load.
Medicine, Issue 83, intramyocardial cell injection, heart, grafting, cell therapy, stem cells, fibrotic tissue
51064
Engineering a Bilayered Hydrogel to Control ASC Differentiation
Institutions: United States Army Institute of Surgical Research, The University of Texas at Austin.

Natural polymers over the years have gained more importance because of their host biocompatibility and ability to interact with cells
in vitro
and
in vivo.
An area of research that holds promise in regenerative medicine is the combinatorial use of novel biomaterials and stem cells. A fundamental strategy in the field of tissue engineering is the use of three-dimensional scaffold (e.g., decellularized extracellular matrix, hydrogels, micro/nano particles) for directing cell function. This technology has evolved from the discovery that cells need a substrate upon which they can adhere, proliferate, and express their differentiated cellular phenotype and function
2-3
. More recently, it has also been determined that cells not only use these substrates for adherence, but also interact and take cues from the matrix substrate (e.g., extracellular matrix, ECM)
4
. Therefore, the cells and scaffolds have a reciprocal connection that serves to control tissue development, organization, and ultimate function. Adipose-derived stem cells (ASCs) are mesenchymal, non-hematopoetic stem cells present in adipose tissue that can exhibit multi-lineage differentiation and serve as a readily available source of cells (i.e. pre-vascular endothelia and pericytes). Our hypothesis is that adipose-derived stem cells can be directed toward differing phenotypes simultaneously by simply co-culturing them in bilayered matrices
1
. Our laboratory is focused on dermal wound healing. To this end, we created a single composite matrix from the natural biomaterials, fibrin, collagen, and chitosan that can mimic the characteristics and functions of a dermal-specific wound healing ECM environment.
Bioengineering, Issue 63, Biomedical Engineering, Tissue Engineering, chitosan, microspheres, collagen, hydrogel, PEG fibrin, cell delivery, adipose-derived stem cells, ASC, CSM
3953
Isolation of Blood-vessel-derived Multipotent Precursors from Human Skeletal Muscle
Institutions: University of Pittsburgh, University of Pittsburgh, Nazarbayev University, University of California at Los Angeles, Erasmus MC Stem Cell Institute, Oregon Health & Science University, Queen's Medical Research Institute and University of Edinburgh, University of California at Los Angeles, University of Pittsburgh.
Since the discovery of mesenchymal stem/stromal cells (MSCs), the native identity and localization of
MSCs
have been obscured by their retrospective isolation in culture. Recently, using fluorescence-activated cell sorting (FACS), we and other researchers prospectively identified and purified three subpopulations of multipotent precursor cells associated with the vasculature of human skeletal muscle. These three cell populations: myogenic endothelial cells (MECs), pericytes (PCs), and adventitial cells (ACs), are localized respectively to the three structural layers of blood vessels: intima, media, and adventitia. All of these human blood-vessel-derived stem cell (hBVSC) populations not only express classic MSC markers but also possess mesodermal developmental potentials similar to typical MSCs. Previously, MECs, PCs, and ACs have been isolated through distinct protocols and subsequently characterized in separate studies. The current isolation protocol, through modifications to the isolation process and adjustments in the selective cell surface markers, allows us to simultaneously purify all three hBVSC subpopulations by FACS from a single human muscle biopsy. This new method will not only streamline the isolation of multiple BVSC subpopulations but also facilitate future clinical applications of hBVSCs for distinct therapeutic purposes.
Cellular Biology, Issue 90, Blood Vessel; Pericyte; Adventitial Cell; Myogenic Endothelial Cell; Multipotent Precursor
51195
Functional Interrogation of Adult Hypothalamic Neurogenesis with Focal Radiological Inhibition
Institutions: California Institute of Technology, Johns Hopkins University School of Medicine, Johns Hopkins University School of Medicine, University Of Washington Medical Center, Johns Hopkins University School of Medicine.

The functional characterization of adult-born neurons remains a significant challenge. Approaches to inhibit adult neurogenesis via invasive viral delivery or transgenic animals have potential confounds that make interpretation of results from these studies difficult. New radiological tools are emerging, however, that allow one to noninvasively investigate the function of select groups of adult-born neurons through accurate and precise anatomical targeting in small animals. Focal ionizing radiation inhibits the birth and differentiation of new neurons, and allows targeting of specific neural progenitor regions. In order to illuminate the potential functional role that adult hypothalamic neurogenesis plays in the regulation of physiological processes, we developed a noninvasive focal irradiation technique to selectively inhibit the birth of adult-born neurons in the hypothalamic median eminence. We describe a method for
C
omputer tomography-guided
f
ocal
ir
radiation (CFIR) delivery to enable precise and accurate anatomical targeting in small animals. CFIR uses three-dimensional volumetric image guidance for localization and targeting of the radiation dose, minimizes radiation exposure to nontargeted brain regions, and allows for conformal dose distribution with sharp beam boundaries. This protocol allows one to ask questions regarding the function of adult-born neurons, but also opens areas to questions in areas of radiobiology, tumor biology, and immunology. These radiological tools will facilitate the translation of discoveries at the bench to the bedside.
Neuroscience, Issue 81, Neural Stem Cells (NSCs), Body Weight, Radiotherapy, Image-Guided, Metabolism, Energy Metabolism, Neurogenesis, Cell Proliferation, Neurosciences, Irradiation, Radiological treatment, Computer-tomography (CT) imaging, Hypothalamus, Hypothalamic Proliferative Zone (HPZ), Median Eminence (ME), Small Animal Radiation Research Platform (SARRP)
50716
Intravital Microscopy for Imaging Subcellular Structures in Live Mice Expressing Fluorescent Proteins
Institutions: National Institutes of Health, University of North Carolina at Chapel Hill , Rutgers University .

Here we describe a procedure to image subcellular structures in live rodents that is based on the use of confocal intravital microscopy. As a model organ, we use the salivary glands of live mice since they provide several advantages. First, they can be easily exposed to enable access to the optics, and stabilized to facilitate the reduction of the motion artifacts due to heartbeat and respiration. This significantly facilitates imaging and tracking small subcellular structures. Second, most of the cell populations of the salivary glands are accessible from the surface of the organ. This permits the use of confocal microscopy that has a higher spatial resolution than other techniques that have been used for
in vivo
imaging, such as two-photon microscopy. Finally, salivary glands can be easily manipulated pharmacologically and genetically, thus providing a robust system to investigate biological processes at a molecular level. In this study we focus on a protocol designed to follow the kinetics of the exocytosis of secretory granules in acinar cells and the dynamics of the apical plasma membrane where the secretory granules fuse upon stimulation of the beta-adrenergic receptors. Specifically, we used a transgenic mouse that co-expresses cytosolic GFP and a membrane-targeted peptide fused with the fluorescent protein tandem-Tomato. However, the procedures that we used to stabilize and image the salivary glands can be extended to other mouse models and coupled to other approaches to label
in vivo
cellular components, enabling the visualization of various subcellular structures, such as endosomes, lysosomes, mitochondria, and the actin cytoskeleton.
Cellular Biology, Issue 79, Microscopy, Confocal Microscopy, Fluorescence, Multiphoton, Exocytosis, Cell Biology, animal biology, animal models, Intravital Microscopy, Salivary glands, Exocytosis, In Vivo Imaging
50558
Assessing Cell Cycle Progression of Neural Stem and Progenitor Cells in the Mouse Developing Brain after Genotoxic Stress
Institutions: CEA DSV iRCM SCSR, INSERM, U967, Université Paris Diderot, Sorbonne Paris Cité, Université Paris Sud, UMR 967.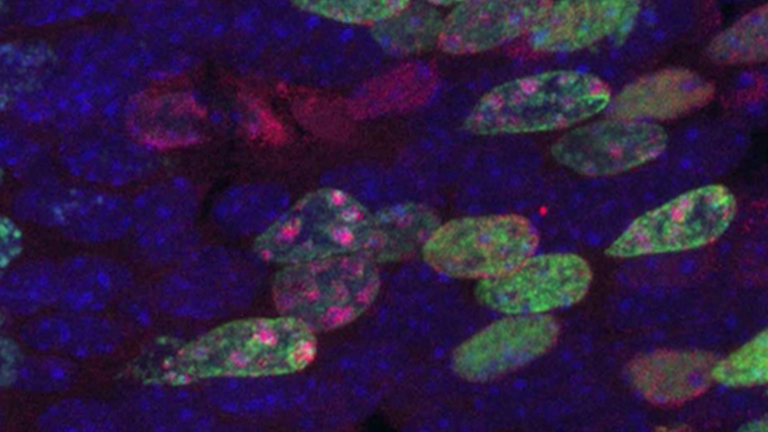 Neurons of the cerebral cortex are generated during brain development from different types of neural stem and progenitor cells (NSPC), which form a pseudostratified epithelium lining the lateral ventricles of the embryonic brain. Genotoxic stresses, such as ionizing radiation, have highly deleterious effects on the developing brain related to the high sensitivity of NSPC. Elucidation of the cellular and molecular mechanisms involved depends on the characterization of the DNA damage response of these particular types of cells, which requires an accurate method to determine NSPC progression through the cell cycle in the damaged tissue. Here is shown a method based on successive intraperitoneal injections of EdU and BrdU in pregnant mice and further detection of these two thymidine analogues in coronal sections of the embryonic brain. EdU and BrdU are both incorporated in DNA of replicating cells during S phase and are detected by two different techniques (azide or a specific antibody, respectively), which facilitate their simultaneous detection. EdU and BrdU staining are then determined for each NSPC nucleus in function of its distance from the ventricular margin in a standard region of the dorsal telencephalon. Thus this dual labeling technique allows distinguishing cells that progressed through the cell cycle from those that have activated a cell cycle checkpoint leading to cell cycle arrest in response to DNA damage. An example of experiment is presented, in which EdU was injected before irradiation and BrdU immediately after and analyzes performed within the 4 hr following irradiation. This protocol provides an accurate analysis of the acute DNA damage response of NSPC in function of the phase of the cell cycle at which they have been irradiated. This method is easily transposable to many other systems in order to determine the impact of a particular treatment on cell cycle progression in living tissues.
Neuroscience, Issue 87, EdU, BrdU, in utero irradiation, neural stem and progenitor cells, cell cycle, embryonic cortex, immunostaining, cell cycle checkpoints, apoptosis, genotoxic stress, embronic mouse brain
51209
Propagation of Human Embryonic Stem (ES) Cells
Institutions: MGH - Massachusetts General Hospital.

Cellular Biology, Issue 1, ES, embryonic stem cells, tissue culture
119
Use of Human Perivascular Stem Cells for Bone Regeneration
Institutions: School of Dentistry, UCLA, UCLA, UCLA, University of Edinburgh .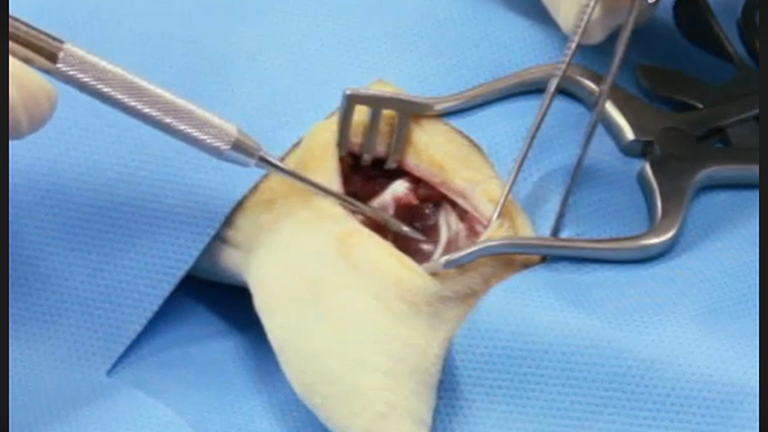 Human perivascular stem cells (PSCs) can be isolated in sufficient numbers from multiple tissues for purposes of skeletal tissue engineering
1-3
. PSCs are a FACS-sorted population of 'pericytes' (CD146+CD34-CD45-) and 'adventitial cells' (CD146-CD34+CD45-), each of which we have previously reported to have properties of mesenchymal stem cells. PSCs, like MSCs, are able to undergo osteogenic differentiation, as well as secrete pro-osteogenic cytokines
1,2
. In the present protocol, we demonstrate the osteogenicity of PSCs in several animal models including a muscle pouch implantation in SCID (severe combined immunodeficient) mice, a SCID mouse calvarial defect and a femoral segmental defect (FSD) in athymic rats. The thigh muscle pouch model is used to assess ectopic bone formation. Calvarial defects are centered on the parietal bone and are standardly 4 mm in diameter (critically sized)
8
. FSDs are bicortical and are stabilized with a polyethylene bar and K-wires
4
. The FSD described is also a critical size defect, which does not significantly heal on its own
4
. In contrast, if stem cells or growth factors are added to the defect site, significant bone regeneration can be appreciated. The overall goal of PSC xenografting is to demonstrate the osteogenic capability of this cell type in both ectopic and orthotopic bone regeneration models.
Bioengineering, Issue 63, Biomedical Engineering, Stem Cell Biology, Pericyte, Stem Cell, Bone Defect, Tissue Engineering, Osteogenesis, femoral defect, calvarial defect
2952
Testing the Physiological Barriers to Viral Transmission in Aphids Using Microinjection
Institutions: Cornell University, Cornell University.

Potato loafroll virus (PLRV), from the family Luteoviridae infects solanaceous plants. It is transmitted by aphids, primarily, the green peach aphid. When an uninfected aphid feeds on an infected plant it contracts the virus through the plant phloem. Once ingested, the virus must pass from the insect gut to the hemolymph (the insect blood ) and then must pass through the salivary gland, in order to be transmitted back to a new plant. An aphid may take up different viruses when munching on a plant, however only a small fraction will pass through the gut and salivary gland, the two main barriers for transmission to infect more plants. In the lab, we use physalis plants to study PLRV transmission. In this host, symptoms are characterized by stunting and interveinal chlorosis (yellowing of the leaves between the veins with the veins remaining green). The video that we present demonstrates a method for performing aphid microinjection on insects that do not vector PLVR viruses and tests whether the gut is preventing viral transmission. The video that we present demonstrates a method for performing Aphid microinjection on insects that do not vector PLVR viruses and tests whether the gut or salivary gland is preventing viral transmission.
Plant Biology, Issue 15, Annual Review, Aphids, Plant Virus, Potato Leaf Roll Virus, Microinjection Technique
700
Dissection of Midgut and Salivary Glands from Ae. aegypti Mosquitoes
Institutions: University of California, Irvine (UCI), University of California, Irvine (UCI).

The mosquito midgut and salivary glands are key entry and exit points for pathogens such as Plasmodium parasites and Dengue viruses. This video protocol demonstrates dissection techniques for removal of the midgut and salivary glands from Aedes aegypti mosquitoes.
Cellular Biology, Issue 5, mosquito, malaria, dissection, infectious disease
228