Labeling F-actin Barbed Ends with Rhodamine-actin in Permeabilized Neuronal Growth Cones
Published: 03-17-2011
ABSTRACT
The motile tips of growing axons are called growth cones. Growth cones lead navigating axons through developing tissues by interacting with locally expressed molecular guidance cues that bind growth cone receptors and regulate the dynamics and organization of the growth cone cytoskeleton3-6. The main target of these navigational signals is the actin filament meshwork that fills the growth cone periphery and that drives growth cone motility through continual actin polymerization and dynamic remodeling7. Positive or attractive guidance cues induce growth cone turning by stimulating actin filament (F-actin) polymerization in the region of the growth cone periphery that is nearer the source of the attractant cue. This actin polymerization drives local growth cone protrusion, adhesion of the leading margin and axonal elongation toward the attractant. Actin filament polymerization depends on the availability of sufficient actin monomer and on polymerization nuclei or actin filament barbed ends for the addition of monomer. Actin monomer is abundantly available in chick retinal and dorsal root ganglion (DRG) growth cones. Consequently, polymerization increases rapidly when free F-actin barbed ends become available for monomer addition. This occurs in chick DRG and retinal growth cones via the local activation of the F-actin severing protein actin depolymerizing factor (ADF/cofilin) in the growth cone region closer to an attractant8-10. This heightened ADF/cofilin activity severs actin filaments to create new F-actin barbed ends for polymerization. The following method demonstrates this mechanism. Total content of F-actin is visualized by staining with fluorescent phalloidin. F-actin barbed ends are visualized by the incorporation of rhodamine-actin within growth cones that are permeabilized with the procedure described in the following, which is adapted from previous studies of other motile cells11, 12. When rhodamine-actin is added at a concentration above the critical concentration for actin monomer addition to barbed ends, rhodamine-actin assembles onto free barbed ends. If the attractive cue is presented in a gradient, such as being released from a micropipette positioned to one side of a growth cone, the incorporation of rhodamine-actin onto F-actin barbed ends will be greater in the growth cone side toward the micropipette10. Growth cones are small and delicate cell structures. The procedures of permeabilization, rhodamine-actin incorporation, fixation and fluorescence visualization are all carefully done and can be conducted on the stage of an inverted microscope. These methods can be applied to studying local actin polymerization in migrating neurons, other primary tissue cells or cell lines.
23 Related JoVE Articles!
Aip1p Dynamics Are Altered by the R256H Mutation in Actin
Institutions: University of Iowa, University of Iowa.

Mutations in actin cause a range of human diseases due to specific molecular changes that often alter cytoskeletal function. In this study, imaging of fluorescently tagged proteins using total internal fluorescence (TIRF) microscopy is used to visualize and quantify changes in cytoskeletal dynamics. TIRF microscopy and the use of fluorescent tags also allows for quantification of the changes in cytoskeletal dynamics caused by mutations in actin. Using this technique, quantification of cytoskeletal function in live cells valuably complements
in vitro
studies of protein function. As an example, missense mutations affecting the actin residue R256 have been identified in three human actin isoforms suggesting this amino acid plays an important role in regulatory interactions. The effects of the actin mutation R256H on cytoskeletal movements were studied using the yeast model. The protein, Aip1, which is known to assist cofilin in actin depolymerization, was tagged with green fluorescent protein (GFP) at the N-terminus and tracked
in vivo
using TIRF microscopy. The rate of Aip1p movement in both wild type and mutant strains was quantified. In cells expressing R256H mutant actin, Aip1p motion is restricted and the rate of movement is nearly half the speed measured in wild type cells (0.88 ± 0.30 μm/sec in R256H cells compared to 1.60 ± 0.42 μm/sec in wild type cells, p < 0.005).
Developmental Biology, Issue 89, green fluorescent protein, actin, Aip1p, total internal fluorescence microscopy, yeast, cloning
51551
Quantitative Measurement of Invadopodia-mediated Extracellular Matrix Proteolysis in Single and Multicellular Contexts
Institutions: West Virginia University .
Cellular invasion into local tissues is a process important in development and homeostasis. Malregulated invasion and subsequent cell movement is characteristic of multiple pathological processes, including inflammation, cardiovascular disease and tumor cell metastasis
1
. Focalized proteolytic degradation of extracellular matrix (ECM) components in the epithelial or endothelial basement membrane is a critical step in initiating cellular invasion. In tumor cells, extensive
in vitro
analysis has determined that ECM degradation is accomplished by ventral actin-rich membrane protrusive structures termed invadopodia
2,3
. Invadopodia form in close apposition to the ECM, where they moderate ECM breakdown through the action of matrix metalloproteinases (MMPs). The ability of tumor cells to form invadopodia directly correlates with the ability to invade into local stroma and associated vascular components
3
. Visualization of invadopodia-mediated ECM degradation of cells by fluorescent microscopy using dye-labeled matrix proteins coated onto glass coverslips has emerged as the most prevalent technique for evaluating the degree of matrix proteolysis and cellular invasive potential
4,5
. Here we describe a version of the standard method for generating fluorescently-labeled glass coverslips utilizing a commercially available Oregon Green-488 gelatin conjugate. This method is easily scaled to rapidly produce large numbers of coated coverslips. We show some of the common microscopic artifacts that are often encountered during this procedure and how these can be avoided. Finally, we describe standardized methods using readily available computer software to allow quantification of labeled gelatin matrix degradation mediated by individual cells and by entire cellular populations. The described procedures provide the ability to accurately and reproducibly monitor invadopodia activity, and can also serve as a platform for evaluating the efficacy of modulating protein expression or testing of anti-invasive compounds on extracellular matrix degradation in single and multicellular settings.
Cellular Biology, Issue 66, Cancer Biology, Anatomy, Molecular Biology, Biochemistry, invadopodia, extracellular matrix, gelatin, confocal microscopy, quantification, oregon green
4119
Live Imaging of Cell Extrusion from the Epidermis of Developing Zebrafish
Institutions: University of Utah.
Homeostatic maintenance of epithelial tissues requires the continual removal of damaged cells without disrupting barrier function. Our studies have found that dying cells send signals to their live neighbors to form and contract a ring of actin and myosin that ejects it out from the epithelial sheet while closing any gaps that might have resulted from its exit, a process termed cell extrusion
1
. The optical clarity of developing zebrafish provides an excellent system to visualize extrusion in living epithelia. Here we describe a method to induce and image extrusion in the larval zebrafish epidermis. To visualize extrusion, we inject a red fluorescent protein labeled probe for F-actin into one-cell stage transgenic zebrafish embryos expressing green fluorescent protein in the epidermis and induce apoptosis by addition of G418 to larvae. We then use time-lapse imaging on a spinning disc confocal microscope to observe actin dynamics and epithelial cell behaviors during the process of apoptotic cell extrusion. This approach allows us to investigate the extrusion process in live epithelia and will provide an avenue to study disease states caused by the failure to eliminate apoptotic cells.
Developmental Biology, Issue 52, Actin, Extrusion, Epithelia, Homeostasis, Zebrafish, Time-Lapse Imaging
2689
Isolation of Rat Portal Fibroblasts by In situ Liver Perfusion
Institutions: The Children's Hospital of Philadelphia, University of Pennsylvania .

Liver fibrosis is defined by the excessive deposition of extracellular matrix by activated myofibroblasts. There are multiple precursors of hepatic myofibroblasts, including hepatic stellate cells, portal fibroblasts and bone marrow derived fibroblasts
1
. Hepatic stellate cells have been the best studied, but portal fibroblasts are increasingly recognized as important contributors to the myofibroblast pool, particularly in biliary fibrosis
2
. Portal fibroblasts undergo proliferation in response to biliary epithelial injury, potentially playing a key role in the early stages of biliary scarring
3-5
. A method of isolating portal fibroblasts would allow
in vitro
study of this cell population and lead to greater understanding of the role portal fibroblasts play in biliary fibrosis. Portal fibroblasts have been isolated using various techniques including outgrowth
6, 7
and liver perfusion with enzymatic digestion followed by size selection
8
. The advantage of the digestion and size selection technique compared to the outgrowth technique is that cells can be studied without the necessity of passage in culture. Here, we describe a modified version of the original technique described by Kruglov and Dranoff
8
for isolation of portal fibroblasts from rat liver that results in a relatively pure population of primary cells.
Physiology, Issue 64, Medicine, Liver, fibrosis, portal fibroblast, liver perfusion, myofibroblast, biliary fibrosis
3669
Creating Transient Cell Membrane Pores Using a Standard Inkjet Printer
Institutions: Clemson University.

Bioprinting has a wide range of applications and significance, including tissue engineering, direct cell application therapies, and biosensor microfabrication.
1-10
Recently, thermal inkjet printing has also been used for gene transfection.
8,9
The thermal inkjet printing process was shown to temporarily disrupt the cell membranes without affecting cell viability. The transient pores in the membrane can be used to introduce molecules, which would otherwise be too large to pass through the membrane, into the cell cytoplasm.
8,9,11
The application being demonstrated here is the use of thermal inkjet printing for the incorporation of fluorescently labeled g-actin monomers into cells. The advantage of using thermal ink-jet printing to inject molecules into cells is that the technique is relatively benign to cells.
8, 12
Cell viability after printing has been shown to be similar to standard cell plating methods
1,8
. In addition, inkjet printing can process thousands of cells in minutes, which is much faster than manual microinjection. The pores created by printing have been shown to close within about two hours. However, there is a limit to the size of the pore created (~10 nm) with this printing technique, which limits the technique to injecting cells with small proteins and/or particles.
8,9,11
A standard HP DeskJet 500 printer was modified to allow for cell printing.
3, 5, 8
The cover of the printer was removed and the paper feed mechanism was bypassed using a mechanical lever. A stage was created to allow for placement of microscope slides and coverslips directly under the print head. Ink cartridges were opened, the ink was removed and they were cleaned prior to use with cells. The printing pattern was created using standard drawing software, which then controlled the printer through a simple print command. 3T3 fibroblasts were grown to confluence, trypsinized, and then resuspended into phosphate buffered saline with soluble fluorescently labeled g-actin monomers. The cell suspension was pipetted into the ink cartridge and lines of cells were printed onto glass microscope cover slips. The live cells were imaged using fluorescence microscopy and actin was found throughout the cytoplasm. Incorporation of fluorescent actin into the cell allows for imaging of short-time cytoskeletal dynamics and is useful for a wide range of applications.
13-15
Bioengineering, Issue 61, bioprinting, inkjet, cell, actin, fluorescence, transfection
3681
Comprehensive Profiling of Dopamine Regulation in Substantia Nigra and Ventral Tegmental Area
Institutions: Louisiana State University Health Sciences Center.

Dopamine is a vigorously studied neurotransmitter in the CNS. Indeed, its involvement in locomotor activity and reward-related behaviour has fostered five decades of inquiry into the molecular deficiencies associated with dopamine regulation. The majority of these inquiries of dopamine regulation in the brain focus upon the molecular basis for its regulation in the terminal field regions of the nigrostriatal and mesoaccumbens pathways; striatum and nucleus accumbens. Furthermore, such studies have concentrated on analysis of dopamine tissue content with normalization to only wet tissue weight. Investigation of the proteins that regulate dopamine, such as tyrosine hydroxylase (TH) protein, TH phosphorylation, dopamine transporter (DAT), and vesicular monoamine transporter 2 (VMAT2) protein often do not include analysis of dopamine tissue content in the same sample. The ability to analyze both dopamine tissue content and its regulating proteins (including post-translational modifications) not only gives inherent power to interpreting the relationship of dopamine with the protein level and function of TH, DAT, or VMAT2, but also extends sample economy. This translates into less cost, and yet produces insights into the molecular regulation of dopamine in virtually any paradigm of the investigators' choice. We focus the analyses in the midbrain. Although the SN and VTA are typically neglected in most studies of dopamine regulation, these nuclei are easily dissected with practice. A comprehensive readout of dopamine tissue content and TH, DAT, or VMAT2 can be conducted. There is burgeoning literature on the impact of dopamine function in the SN and VTA on behavior, and the impingements of exogenous substances or disease processes therein
1-5
. Furthermore, compounds such as growth factors have a profound effect on dopamine and dopamine-regulating proteins, to a comparatively greater extent in the SN or VTA
6-8
. Therefore, this methodology is presented for reference to laboratories that want to extend their inquiries on how specific treatments modulate behaviour and dopamine regulation. Here, a multi-step method is presented for the analyses of dopamine tissue content, the protein levels of TH, DAT, or VMAT2, and TH phosphorylation from the substantia nigra and VTA from rodent midbrain. The analysis of TH phosphorylation can yield significant insights into not only how TH activity is regulated, but also the signaling cascades affected in the somatodendritic nuclei in a given paradigm. We will illustrate the dissection technique to segregate these two nuclei and the sample processing of dissected tissue that produces a profile revealing molecular mechanisms of dopamine regulation
in vivo,
specific for each nuclei
(Figure 1)
.
Neuroscience, Issue 66, Medicine, Physiology, midbrain, substantia nigra, ventral tegmental area, tyrosine hydroxylase, phosphorylation, nigrostriatal, mesoaccumbens, dopamine transporter
4171
In vivo Quantification of G Protein Coupled Receptor Interactions using Spectrally Resolved Two-photon Microscopy
Institutions: University of Wisconsin - Milwaukee, University of Wisconsin - Milwaukee.

The study of protein interactions in living cells is an important area of research because the information accumulated both benefits industrial applications as well as increases basic fundamental biological knowledge. Förster (Fluorescence) Resonance Energy Transfer (FRET) between a donor molecule in an electronically excited state and a nearby acceptor molecule has been frequently utilized for studies of protein-protein interactions in living cells. The proteins of interest are tagged with two different types of fluorescent probes and expressed in biological cells. The fluorescent probes are then excited, typically using laser light, and the spectral properties of the fluorescence emission emanating from the fluorescent probes is collected and analyzed. Information regarding the degree of the protein interactions is embedded in the spectral emission data. Typically, the cell must be scanned a number of times in order to accumulate enough spectral information to accurately quantify the extent of the protein interactions for each region of interest within the cell. However, the molecular composition of these regions may change during the course of the acquisition process, limiting the spatial determination of the quantitative values of the apparent FRET efficiencies to an average over entire cells. By means of a spectrally resolved two-photon microscope, we are able to obtain a full set of spectrally resolved images after only one complete excitation scan of the sample of interest. From this pixel-level spectral data, a map of FRET efficiencies throughout the cell is calculated. By applying a simple theory of FRET in oligomeric complexes to the experimentally obtained distribution of FRET efficiencies throughout the cell, a single spectrally resolved scan reveals stoichiometric and structural information about the oligomer complex under study. Here we describe the procedure of preparing biological cells (the yeast
Saccharomyces cerevisiae
) expressing membrane receptors (sterile 2 α-factor receptors) tagged with two different types of fluorescent probes. Furthermore, we illustrate critical factors involved in collecting fluorescence data using the spectrally resolved two-photon microscopy imaging system. The use of this protocol may be extended to study any type of protein which can be expressed in a living cell with a fluorescent marker attached to it.
Cellular Biology, Issue 47, Forster (Fluorescence) Resonance Energy Transfer (FRET), protein-protein interactions, protein complex, in vivo determinations, spectral resolution, two-photon microscopy, G protein-coupled receptor (GPCR), sterile 2 alpha-factor protein (Ste2p)
2247
Identification of Post-translational Modifications of Plant Protein Complexes
Institutions: University of Warwick, Norwich Research Park, The Australian National University.

Plants adapt quickly to changing environments due to elaborate perception and signaling systems. During pathogen attack, plants rapidly respond to infection
via
the recruitment and activation of immune complexes. Activation of immune complexes is associated with post-translational modifications (PTMs) of proteins, such as phosphorylation, glycosylation, or ubiquitination. Understanding how these PTMs are choreographed will lead to a better understanding of how resistance is achieved. Here we describe a protein purification method for nucleotide-binding leucine-rich repeat (NB-LRR)-interacting proteins and the subsequent identification of their post-translational modifications (PTMs). With small modifications, the protocol can be applied for the purification of other plant protein complexes. The method is based on the expression of an epitope-tagged version of the protein of interest, which is subsequently partially purified by immunoprecipitation and subjected to mass spectrometry for identification of interacting proteins and PTMs. This protocol demonstrates that: i). Dynamic changes in PTMs such as phosphorylation can be detected by mass spectrometry; ii). It is important to have sufficient quantities of the protein of interest, and this can compensate for the lack of purity of the immunoprecipitate; iii). In order to detect PTMs of a protein of interest, this protein has to be immunoprecipitated to get a sufficient quantity of protein.
Plant Biology, Issue 84, plant-microbe interactions, protein complex purification, mass spectrometry, protein phosphorylation, Prf, Pto, AvrPto, AvrPtoB
51095
Monitoring Activation of the Antiviral Pattern Recognition Receptors RIG-I And PKR By Limited Protease Digestion and Native PAGE
Institutions: Philipps-University Marburg.

Host defenses to virus infection are dependent on a rapid detection by pattern recognition receptors (PRRs) of the innate immune system. In the cytoplasm, the PRRs RIG-I and PKR bind to specific viral RNA ligands. This first mediates conformational switching and oligomerization, and then enables activation of an antiviral interferon response. While methods to measure antiviral host gene expression are well established, methods to directly monitor the activation states of RIG-I and PKR are only partially and less well established. Here, we describe two methods to monitor RIG-I and PKR stimulation upon infection with an established interferon inducer, the Rift Valley fever virus mutant clone 13 (Cl 13). Limited trypsin digestion allows to analyze alterations in protease sensitivity, indicating conformational changes of the PRRs. Trypsin digestion of lysates from mock infected cells results in a rapid degradation of RIG-I and PKR, whereas Cl 13 infection leads to the emergence of a protease-resistant RIG-I fragment. Also PKR shows a virus-induced partial resistance to trypsin digestion, which coincides with its hallmark phosphorylation at Thr 446. The formation of RIG-I and PKR oligomers was validated by native polyacrylamide gel electrophoresis (PAGE). Upon infection, there is a strong accumulation of RIG-I and PKR oligomeric complexes, whereas these proteins remained as monomers in mock infected samples. Limited protease digestion and native PAGE, both coupled to western blot analysis, allow a sensitive and direct measurement of two diverse steps of RIG-I and PKR activation. These techniques are relatively easy and quick to perform and do not require expensive equipment.
Infectious Diseases, Issue 89, innate immune response, virus infection, pathogen recognition receptor, RIG-I, PKR, IRF-3, limited protease digestion, conformational switch, native PAGE, oligomerization
51415
DNA-affinity-purified Chip (DAP-chip) Method to Determine Gene Targets for Bacterial Two component Regulatory Systems
Institutions: Lawrence Berkeley National Laboratory.

In vivo
methods such as ChIP-chip are well-established techniques used to determine global gene targets for transcription factors. However, they are of limited use in exploring bacterial two component regulatory systems with uncharacterized activation conditions. Such systems regulate transcription only when activated in the presence of unique signals. Since these signals are often unknown, the
in vitro
microarray based method described in this video article can be used to determine gene targets and binding sites for response regulators. This DNA-affinity-purified-chip method may be used for any purified regulator in any organism with a sequenced genome. The protocol involves allowing the purified tagged protein to bind to sheared genomic DNA and then affinity purifying the protein-bound DNA, followed by fluorescent labeling of the DNA and hybridization to a custom tiling array. Preceding steps that may be used to optimize the assay for specific regulators are also described. The peaks generated by the array data analysis are used to predict binding site motifs, which are then experimentally validated. The motif predictions can be further used to determine gene targets of orthologous response regulators in closely related species. We demonstrate the applicability of this method by determining the gene targets and binding site motifs and thus predicting the function for a sigma54-dependent response regulator DVU3023 in the environmental bacterium
Desulfovibrio vulgaris
Hildenborough.
Genetics, Issue 89, DNA-Affinity-Purified-chip, response regulator, transcription factor binding site, two component system, signal transduction, Desulfovibrio, lactate utilization regulator, ChIP-chip
51715
Rapid Generation of Amyloid from Native Proteins In vitro
Institutions: The University of Texas MD Anderson Cancer Center.

Proteins carry out crucial tasks in organisms by exerting functions elicited from their specific three dimensional folds. Although the native structures of polypeptides fulfill many purposes, it is now recognized that most proteins can adopt an alternative assembly of beta-sheet rich amyloid. Insoluble amyloid fibrils are initially associated with multiple human ailments, but they are increasingly shown as functional players participating in various important cellular processes. In addition, amyloid deposited in patient tissues contains
nonproteinaceous
components, such as nucleic acids and glycosaminoglycans (GAGs). These cofactors can facilitate the formation of amyloid, resulting in the generation of different types of insoluble precipitates. By taking advantage of our understanding how proteins misfold via an intermediate stage of soluble amyloid precursor, we have devised a method to convert native proteins to amyloid fibrils
in vitro
. This approach allows one to prepare amyloid in large quantities, examine the properties of amyloid generated from specific proteins, and evaluate the structural changes accompanying the conversion.
Biochemistry, Issue 82, amyloid, soluble protein oligomer, amyloid precursor, protein misfolding, amyloid fibril, protein aggregate
50869
Imaging G-protein Coupled Receptor (GPCR)-mediated Signaling Events that Control Chemotaxis of Dictyostelium Discoideum
Institutions: National Institute of Allergy and Infectious Diseases, National Institutes of Health.
Many eukaryotic cells can detect gradients of chemical signals in their environments and migrate accordingly
1
. This guided cell migration is referred as chemotaxis, which is essential for various cells to carry out their functions such as trafficking of immune cells and patterning of neuronal cells
2, 3
. A large family of G-protein coupled receptors (GPCRs) detects variable small peptides, known as chemokines, to direct cell migration
in vivo
4
. The final goal of chemotaxis research is to understand how a GPCR machinery senses chemokine gradients and controls signaling events leading to chemotaxis. To this end, we use imaging techniques to monitor, in real time, spatiotemporal concentrations of chemoattractants, cell movement in a gradient of chemoattractant, GPCR mediated activation of heterotrimeric G-protein, and intracellular signaling events involved in chemotaxis of eukaryotic cells
5-8
. The simple eukaryotic organism,
Dictyostelium discoideum
, displays chemotaxic behaviors that are similar to those of leukocytes, and
D. discoideum
is a key model system for studying eukaryotic chemotaxis. As free-living amoebae,
D. discoideum
cells divide in rich medium. Upon starvation, cells enter a developmental program in which they aggregate through cAMP-mediated chemotaxis to form multicullular structures. Many components involved in chemotaxis to cAMP have been identified in
D. discoideum
. The binding of cAMP to a GPCR (cAR1) induces dissociation of heterotrimeric G-proteins into Gγ and Gβγ subunits
7, 9, 10
. Gβγ subunits activate Ras, which in turn activates PI3K, converting PIP
2
into PIP
3
on the cell membrane
11-13
. PIP
3
serve as binding sites for proteins with pleckstrin Homology (PH) domains, thus recruiting these proteins to the membrane
14, 15
. Activation of cAR1 receptors also controls the membrane associations of PTEN, which dephosphorylates PIP
3
to PIP
2
16, 17
. The molecular mechanisms are evolutionarily conserved in chemokine GPCR-mediated chemotaxis of human cells such as neutrophils
18
. We present following methods for studying chemotaxis of
D. discoideum cells
. 1. Preparation of chemotactic component cells. 2. Imaging chemotaxis of cells in a cAMP gradient. 3. Monitoring a GPCR induced activation of heterotrimeric G-protein in single live cells. 4. Imaging chemoattractant-triggered dynamic PIP
3
responses in single live cells in real time. Our developed imaging methods can be applied to study chemotaxis of human leukocytes.
Molecular Biology, Issue 55, Chemotaxis, directional sensing, GPCR, PCR, G-proteins, signal transduction, Dictyostelium discoideum
3128
Live Cell Imaging of F-actin Dynamics via Fluorescent Speckle Microscopy (FSM)
Institutions: Scripps Institute.

In this protocol we describe the use of Fluorescent Speckle Microscopy (FSM) to capture high-resolution images of actin dynamics in PtK1 cells. A unique advantage of FSM is its ability to capture the movement and turnover kinetics (assembly/disassembly) of the F-actin network within living cells. This technique is particularly useful in deriving quantitative measurements of F-actin dynamics when paired with computer vision software (qFSM). We describe the selection, microinjection and visualization of fluorescent actin probes in living cells. Importantly, similar procedures are applicable to visualizing other macomolecular assemblies. FSM has been demonstrated for microtubules, intermediate filaments, and adhesion complexes.
Cellular Biology, Issue 30, FSM, qFSM, speckle, actin, cytoskeleton, fluorescence, microscopy, microinjection
1325
Use of Shigella flexneri to Study Autophagy-Cytoskeleton Interactions
Institutions: Imperial College London, Institut Pasteur, Unité Macrophages et Développement de l'Immunité.

Shigella flexneri
is an intracellular pathogen that can escape from phagosomes to reach the cytosol, and polymerize the host actin cytoskeleton to promote its motility and dissemination. New work has shown that proteins involved in actin-based motility are also linked to autophagy, an intracellular degradation process crucial for cell autonomous immunity. Strikingly, host cells may prevent actin-based motility of
S. flexneri
by compartmentalizing bacteria inside 'septin cages' and targeting them to autophagy. These observations indicate that a more complete understanding of septins, a family of filamentous GTP-binding proteins, will provide new insights into the process of autophagy. This report describes protocols to monitor autophagy-cytoskeleton interactions caused by
S. flexneri in vitro
using tissue culture cells and
in vivo
using zebrafish larvae. These protocols enable investigation of intracellular mechanisms that control bacterial dissemination at the molecular, cellular, and whole organism level.
Infection, Issue 91, ATG8/LC3, autophagy, cytoskeleton, HeLa cells, p62, septin, Shigella, zebrafish
51601
FtsZ Polymerization Assays: Simple Protocols and Considerations
Institutions: University of Groningen.

During bacterial cell division, the essential protein FtsZ assembles in the middle of the cell to form the so-called Z-ring. FtsZ polymerizes into long filaments in the presence of GTP
in vitro
, and polymerization is regulated by several accessory proteins. FtsZ polymerization has been extensively studied
in vitro
using basic methods including light scattering, sedimentation, GTP hydrolysis assays and electron microscopy. Buffer conditions influence both the polymerization properties of FtsZ, and the ability of FtsZ to interact with regulatory proteins. Here, we describe protocols for FtsZ polymerization studies and validate conditions and controls using
Escherichia coli
and
Bacillus subtilis
FtsZ as model proteins. A low speed sedimentation assay is introduced that allows the study of the interaction of FtsZ with proteins that bundle or tubulate FtsZ polymers. An improved GTPase assay protocol is described that allows testing of GTP hydrolysis over time using various conditions in a 96-well plate setup, with standardized incubation times that abolish variation in color development in the phosphate detection reaction. The preparation of samples for light scattering studies and electron microscopy is described. Several buffers are used to establish suitable buffer pH and salt concentration for FtsZ polymerization studies. A high concentration of KCl is the best for most of the experiments. Our methods provide a starting point for the
in vitro
characterization of FtsZ, not only from
E. coli
and
B. subtilis
but from any other bacterium. As such, the methods can be used for studies of the interaction of FtsZ with regulatory proteins or the testing of antibacterial drugs which may affect FtsZ polymerization.
Basic Protocols, Issue 81, FtsZ, protein polymerization, cell division, GTPase, sedimentation assay, light scattering
50844
Test Samples for Optimizing STORM Super-Resolution Microscopy
Institutions: National Physical Laboratory.

STORM is a recently developed super-resolution microscopy technique with up to 10 times better resolution than standard fluorescence microscopy techniques. However, as the image is acquired in a very different way than normal, by building up an image molecule-by-molecule, there are some significant challenges for users in trying to optimize their image acquisition. In order to aid this process and gain more insight into how STORM works we present the preparation of 3 test samples and the methodology of acquiring and processing STORM super-resolution images with typical resolutions of between 30-50 nm. By combining the test samples with the use of the freely available rainSTORM processing software it is possible to obtain a great deal of information about image quality and resolution. Using these metrics it is then possible to optimize the imaging procedure from the optics, to sample preparation, dye choice, buffer conditions, and image acquisition settings. We also show examples of some common problems that result in poor image quality, such as lateral drift, where the sample moves during image acquisition and density related problems resulting in the 'mislocalization' phenomenon.
Molecular Biology, Issue 79, Genetics, Bioengineering, Biomedical Engineering, Biophysics, Basic Protocols, HeLa Cells, Actin Cytoskeleton, Coated Vesicles, Receptor, Epidermal Growth Factor, Actins, Fluorescence, Endocytosis, Microscopy, STORM, super-resolution microscopy, nanoscopy, cell biology, fluorescence microscopy, test samples, resolution, actin filaments, fiducial markers, epidermal growth factor, cell, imaging
50579
Simultaneous Multicolor Imaging of Biological Structures with Fluorescence Photoactivation Localization Microscopy
Institutions: University of Maine.

Localization-based super resolution microscopy can be applied to obtain a spatial map (image) of the distribution of individual fluorescently labeled single molecules within a sample with a spatial resolution of tens of nanometers. Using either photoactivatable (PAFP) or photoswitchable (PSFP) fluorescent proteins fused to proteins of interest, or organic dyes conjugated to antibodies or other molecules of interest, fluorescence photoactivation localization microscopy (FPALM) can simultaneously image multiple species of molecules within single cells. By using the following approach, populations of large numbers (thousands to hundreds of thousands) of individual molecules are imaged in single cells and localized with a precision of ~10-30 nm. Data obtained can be applied to understanding the nanoscale spatial distributions of multiple protein types within a cell. One primary advantage of this technique is the dramatic increase in spatial resolution: while diffraction limits resolution to ~200-250 nm in conventional light microscopy, FPALM can image length scales more than an order of magnitude smaller. As many biological hypotheses concern the spatial relationships among different biomolecules, the improved resolution of FPALM can provide insight into questions of cellular organization which have previously been inaccessible to conventional fluorescence microscopy. In addition to detailing the methods for sample preparation and data acquisition, we here describe the optical setup for FPALM. One additional consideration for researchers wishing to do super-resolution microscopy is cost: in-house setups are significantly cheaper than most commercially available imaging machines. Limitations of this technique include the need for optimizing the labeling of molecules of interest within cell samples, and the need for post-processing software to visualize results. We here describe the use of PAFP and PSFP expression to image two protein species in fixed cells. Extension of the technique to living cells is also described.
Basic Protocol, Issue 82, Microscopy, Super-resolution imaging, Multicolor, single molecule, FPALM, Localization microscopy, fluorescent proteins
50680
Identification of a Murine Erythroblast Subpopulation Enriched in Enucleating Events by Multi-spectral Imaging Flow Cytometry
Institutions: University of Cincinnati College of Medicine, IBM.

Erythropoiesis in mammals concludes with the dramatic process of enucleation that results in reticulocyte formation. The mechanism of enucleation has not yet been fully elucidated. A common problem encountered when studying the localization of key proteins and structures within enucleating erythroblasts by microscopy is the difficulty to observe a sufficient number of cells undergoing enucleation. We have developed a novel analysis protocol using multiparameter high-speed cell imaging in flow (Multi-Spectral Imaging Flow Cytometry), a method that combines immunofluorescent microscopy with flow cytometry, in order to identify efficiently a significant number of enucleating events, that allows to obtain measurements and perform statistical analysis. We first describe here two
in vitro
erythropoiesis culture methods used in order to synchronize murine erythroblasts and increase the probability of capturing enucleation at the time of evaluation. Then, we describe in detail the staining of erythroblasts after fixation and permeabilization in order to study the localization of intracellular proteins or lipid rafts during enucleation by multi-spectral imaging flow cytometry. Along with size and DNA/Ter119 staining which are used to identify the orthochromatic erythroblasts, we utilize the parameters "aspect ratio" of a cell in the bright-field channel that aids in the recognition of elongated cells and "delta centroid XY Ter119/Draq5" that allows the identification of cellular events in which the center of Ter119 staining (nascent reticulocyte) is far apart from the center of Draq5 staining (nucleus undergoing extrusion), thus indicating a cell about to enucleate. The subset of the orthochromatic erythroblast population with high delta centroid and low aspect ratio is highly enriched in enucleating cells.
Basic Protocol, Issue 88, Erythropoiesis, Erythroblast enucleation, Reticulocyte, Multi-Spectral Imaging Flow Cytometry, FACS, Multiparameter high-speed cell imaging in flow, Aspect ratio, Delta centroid XY
50990
Reconstitution Of β-catenin Degradation In Xenopus Egg Extract
Institutions: Vanderbilt University Medical Center, Cincinnati Children's Hospital Medical Center, Vanderbilt University School of Medicine.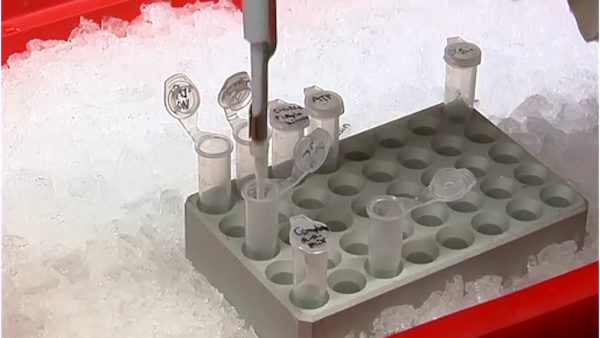 Xenopus laevis
egg extract is a well-characterized, robust system for studying the biochemistry of diverse cellular processes.
Xenopus
egg extract has been used to study protein turnover in many cellular contexts, including the cell cycle and signal transduction pathways
1-3
. Herein, a method is described for isolating
Xenopus
egg extract that has been optimized to promote the degradation of the critical Wnt pathway component, β-catenin. Two different methods are described to assess β-catenin protein degradation in
Xenopus
egg extract. One method is visually informative ([
35
S]-radiolabeled proteins), while the other is more readily scaled for high-throughput assays (firefly luciferase-tagged fusion proteins). The techniques described can be used to, but are not limited to, assess β-catenin protein turnover and identify molecular components contributing to its turnover. Additionally, the ability to purify large volumes of homogenous
Xenopus
egg extract combined with the quantitative and facile readout of luciferase-tagged proteins allows this system to be easily adapted for high-throughput screening for modulators of β-catenin degradation.
Molecular Biology, Issue 88, Xenopus laevis, Xenopus egg extracts, protein degradation, radiolabel, luciferase, autoradiography, high-throughput screening
51425
High Throughput Fluorometric Technique for Assessment of Macrophage Phagocytosis and Actin Polymerization
Institutions: University of Minnesota, University of Minnesota, 3M Corporate Research Laboratory.

The goal of fluorometric analysis is to serve as an efficient, cost effective, high throughput method of analyzing phagocytosis and other cellular processes. This technique can be used on a variety of cell types, both adherent and non-adherent, to examine a variety of cellular properties. When studying phagocytosis, fluorometric technique utilizes phagocytic cell types such as macrophages, and fluorescently labeled opsonized particles whose fluorescence can be extinguished in the presence of trypan blue. Following plating of adherent macrophages in 96-well plates, fluorescent particles (green or red) are administered and cells are allowed to phagocytose for varied amounts of time. Following internalization of fluorescent particles, cells are washed with trypan blue, which facilitates extinction of fluorescent signal from bacteria which are not internalized, or are merely adhering to the cell surface. Following the trypan wash, cells are washed with PBS, fixed, and stained with DAPI (nuclear blue fluorescent label), which serves to label nuclei of cells. By a simple fluorometric quantification through plate reading of nuclear (blue) or particle (red/green) fluorescence we can examine the ratio of relative fluorescence units of green:blue and determine a phagocytic index indicative of amount of fluorescent bacteria internalized per cell. The duration of assay using a 96-well method and multichannel pipettes for washing, from end of phagocytosis to end of data acquisition, is less than 45 min. Flow cytometry could be used in a similar manner but the advantage of fluorometry is its high throughput, rapid method of assessment with minimal manipulation of samples and quick quantification of fluorescent intensity per cell. Similar strategies can be applied to non adherent cells, live labeled bacteria, actin polymerization, and essentially any process utilizing fluorescence. Therefore, fluorometry is a promising method for its low cost, high throughput capabilities in the study of cellular processes.
Immunology, Issue 93, Fluorometry, phagocytosis, high throughput assay, actin polymerization, immunology
52195
Cytological Analysis of Spermatogenesis: Live and Fixed Preparations of Drosophila Testes
Institutions: Vanderbilt University Medical Center.

Drosophila melanogaster
is a powerful model system that has been widely used to elucidate a variety of biological processes. For example, studies of both the female and male germ lines of
Drosophila
have contributed greatly to the current understanding of meiosis as well as stem cell biology. Excellent protocols are available in the literature for the isolation and imaging of
Drosophila
ovaries and testes
3-12
. Herein, methods for the dissection and preparation of
Drosophila
testes for microscopic analysis are described with an accompanying video demonstration. A protocol for isolating testes from the abdomen of adult males and preparing slides of live tissue for analysis by phase-contrast microscopy as well as a protocol for fixing and immunostaining testes for analysis by fluorescence microscopy are presented. These techniques can be applied in the characterization of
Drosophila
mutants that exhibit defects in spermatogenesis as well as in the visualization of subcellular localizations of proteins.
Basic Protocol, Issue 83, Drosophila melanogaster, dissection, testes, spermatogenesis, meiosis, germ cells, phase-contrast microscopy, immunofluorescence
51058
Monitoring Actin Disassembly with Time-lapse Microscopy
Institutions: Harvard Medical School.

Cellular Biology, Issue 1, cytoskeleton, actin, timelapse, filament, chamber
66
Actin Co-Sedimentation Assay; for the Analysis of Protein Binding to F-Actin
Institutions: University of California, San Francisco - UCSF.

The actin cytoskeleton within the cell is a network of actin filaments that allows the movement of cells and cellular processes, and that generates tension and helps maintains cellular shape. Although the actin cytoskeleton is a rigid structure, it is a dynamic structure that is constantly remodeling. A number of proteins can bind to the actin cytoskeleton. The binding of a particular protein to F-actin is often desired to support cell biological observations or to further understand dynamic processes due to remodeling of the actin cytoskeleton. The actin co-sedimentation assay is an in vitro assay routinely used to analyze the binding of specific proteins or protein domains with F-actin. The basic principles of the assay involve an incubation of the protein of interest (full length or domain of) with F-actin, ultracentrifugation step to pellet F-actin and analysis of the protein co-sedimenting with F-actin. Actin co-sedimentation assays can be designed accordingly to measure actin binding affinities and in competition assays.
Biochemistry, Issue 13, F-actin, protein, in vitro binding, ultracentrifugation
690