Non-contact, Label-free Monitoring of Cells and Extracellular Matrix using Raman Spectroscopy
Published: 05-29-2012
ABSTRACT
Non-destructive, non-contact and label-free technologies to monitor cell and tissue cultures are needed in the field of biomedical research.1-5 However, currently available routine methods require processing steps and alter sample integrity. Raman spectroscopy is a fast method that enables the measurement of biological samples without the need for further processing steps. This laser-based technology detects the inelastic scattering of monochromatic light.6 As every chemical vibration is assigned to a specific Raman band (wavenumber in cm-1), each biological sample features a typical spectral pattern due to their inherent biochemical composition.7-9 Within Raman spectra, the peak intensities correlate with the amount of the present molecular bonds.1 Similarities and differences of the spectral data sets can be detected by employing a multivariate analysis (e.g. principal component analysis (PCA)).10 Here, we perform Raman spectroscopy of living cells and native tissues. Cells are either seeded on glass bottom dishes or kept in suspension under normal cell culture conditions (37 °C, 5% CO2) before measurement. Native tissues are dissected and stored in phosphate buffered saline (PBS) at 4 °C prior measurements. Depending on our experimental set up, we then either focused on the cell nucleus or extracellular matrix (ECM) proteins such as elastin and collagen. For all studies, a minimum of 30 cells or 30 random points of interest within the ECM are measured. Data processing steps included background subtraction and normalization.
17 Related JoVE Articles!
Probing and Mapping Electrode Surfaces in Solid Oxide Fuel Cells
Institutions: Georgia Institute of Technology , Georgia Institute of Technology .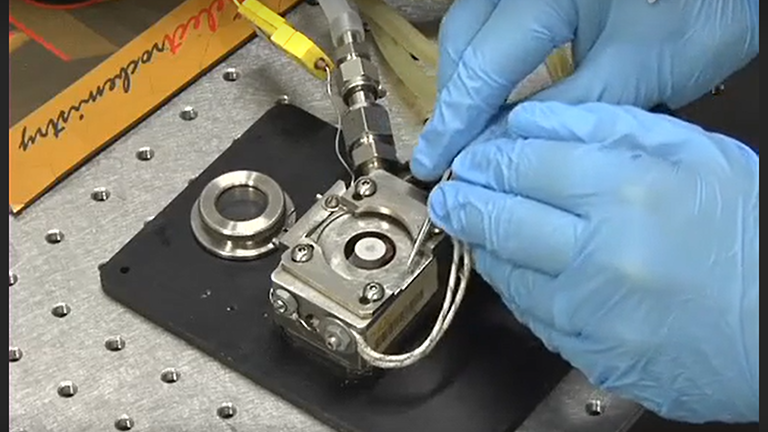 Solid oxide fuel cells (SOFCs) are potentially the most efficient and cost-effective solution to utilization of a wide variety of fuels beyond hydrogen
1-7
. The performance of SOFCs and the rates of many chemical and energy transformation processes in energy storage and conversion devices in general are limited primarily by charge and mass transfer along electrode surfaces and across interfaces. Unfortunately, the mechanistic understanding of these processes is still lacking, due largely to the difficulty of characterizing these processes under
in situ
conditions. This knowledge gap is a chief obstacle to SOFC commercialization. The development of tools for probing and mapping surface chemistries relevant to electrode reactions is vital to unraveling the mechanisms of surface processes and to achieving rational design of new electrode materials for more efficient energy storage and conversion
2
. Among the relatively few
in situ
surface analysis methods, Raman spectroscopy can be performed even with high temperatures and harsh atmospheres, making it ideal for characterizing chemical processes relevant to SOFC anode performance and degradation
8-12
. It can also be used alongside electrochemical measurements, potentially allowing direct correlation of electrochemistry to surface chemistry in an operating cell. Proper
in situ
Raman mapping measurements would be useful for pin-pointing important anode reaction mechanisms because of its sensitivity to the relevant species, including anode performance degradation through carbon deposition
8, 10, 13, 14
("coking") and sulfur poisoning
11, 15
and the manner in which surface modifications stave off this degradation
16
. The current work demonstrates significant progress towards this capability. In addition, the family of scanning probe microscopy (SPM) techniques provides a special approach to interrogate the electrode surface with nanoscale resolution. Besides the surface topography that is routinely collected by AFM and STM, other properties such as local electronic states, ion diffusion coefficient and surface potential can also be investigated
17-22
. In this work, electrochemical measurements, Raman spectroscopy, and SPM were used in conjunction with a novel test electrode platform that consists of a Ni mesh electrode embedded in an yttria-stabilized zirconia (YSZ) electrolyte. Cell performance testing and impedance spectroscopy under fuel containing H
2
S was characterized, and Raman mapping was used to further elucidate the nature of sulfur poisoning.
In situ
Raman monitoring was used to investigate coking behavior. Finally, atomic force microscopy (AFM) and electrostatic force microscopy (EFM) were used to further visualize carbon deposition on the nanoscale. From this research, we desire to produce a more complete picture of the SOFC anode.
Materials Science, Issue 67, Chemistry, Electrical Engineering, Physics, electrochemistry, catalysts (chemical), spectroscopic chemical analysis (application), microscopes, Fuel cell, Raman, AFM, SOFC, Surface, Electrode
50161
Differential Imaging of Biological Structures with Doubly-resonant Coherent Anti-stokes Raman Scattering (CARS)
Institutions: University of California, Davis, University of California, Davis.

Coherent Raman imaging techniques have seen a dramatic increase in activity over the past decade due to their promise to enable label-free optical imaging with high molecular specificity
1
. The sensitivity of these techniques, however, is many orders of magnitude weaker than fluorescence, requiring milli-molar molecular concentrations
1,2
. Here, we describe a technique that can enable the detection of weak or low concentrations of Raman-active molecules by amplifying their signal with that obtained from strong or abundant Raman scatterers. The interaction of short pulsed lasers in a biological sample generates a variety of coherent Raman scattering signals, each of which carry unique chemical information about the sample. Typically, only one of these signals, e.g. Coherent Anti-stokes Raman scattering (CARS), is used to generate an image while the others are discarded. However, when these other signals, including 3-color CARS and four-wave mixing (FWM), are collected and compared to the CARS signal, otherwise difficult to detect information can be extracted
3
. For example, doubly-resonant CARS (DR-CARS) is the result of the constructive interference between two resonant signals
4
. We demonstrate how tuning of the three lasers required to produce DR-CARS signals to the 2845 cm
-1
CH stretch vibration in lipids and the 2120 cm
-1
CD stretching vibration of a deuterated molecule (e.g. deuterated sugars, fatty acids, etc.) can be utilized to probe both Raman resonances simultaneously. Under these conditions, in addition to CARS signals from each resonance, a combined DR-CARS signal probing both is also generated. We demonstrate how detecting the difference between the DR-CARS signal and the amplifying signal from an abundant molecule's vibration can be used to enhance the sensitivity for the weaker signal. We further demonstrate that this approach even extends to applications where both signals are generated from different molecules, such that e.g. using the strong Raman signal of a solvent can enhance the weak Raman signal of a dilute solute.
Cellular Biology, Issue 44, Raman scattering, Four-wave mixing, Coherent anti-Stokes Raman scattering, Microscopy, Coherent Raman Scattering
2085
Coherent anti-Stokes Raman Scattering (CARS) Microscopy Visualizes Pharmaceutical Tablets During Dissolution
Institutions: University of Twente, Heinrich-Heine University, University of Helsinki.
Traditional pharmaceutical dissolution tests determine the amount of drug dissolved over time by measuring drug content in the dissolution medium. This method provides little direct information about what is happening on the surface of the dissolving tablet. As the tablet surface composition and structure can change during dissolution, it is essential to monitor it during dissolution testing. In this work coherent anti-Stokes Raman scattering microscopy is used to image the surface of tablets during dissolution while UV absorption spectroscopy is simultaneously providing inline analysis of dissolved drug concentration for tablets containing a 50% mixture of theophylline anhydrate and ethyl cellulose. The measurements showed that
in situ
CARS microscopy is capable of imaging selectively theophylline in the presence of ethyl cellulose. Additionally, the theophylline anhydrate converted to theophylline monohydrate during dissolution, with needle-shaped crystals growing on the tablet surface during dissolution. The conversion of theophylline anhydrate to monohydrate, combined with reduced exposure of the drug to the flowing dissolution medium resulted in decreased dissolution rates. Our results show that
in situ
CARS microscopy combined with inline UV absorption spectroscopy is capable of monitoring pharmaceutical tablet dissolution and correlating surface changes with changes in dissolution rate.
Physics, Issue 89, Coherent anti-Stokes Raman scattering, microscopy, pharmaceutics, dissolution, in situ analysis, theophylline, tablet
51847
Rejection of Fluorescence Background in Resonance and Spontaneous Raman Microspectroscopy
Institutions: University of California, Davis, University of California, Davis.

Raman spectroscopy is often plagued by a strong fluorescent background, particularly for biological samples. If a sample is excited with a train of ultrafast pulses, a system that can temporally separate spectrally overlapping signals on a picosecond timescale can isolate promptly arriving Raman scattered light from late-arriving fluorescence light. Here we discuss the construction and operation of a complex nonlinear optical system that uses all-optical switching in the form of a low-power optical Kerr gate to isolate Raman and fluorescence signals. A single 808 nm laser with 2.4 W of average power and 80 MHz repetition rate is split, with approximately 200 mW of 808 nm light being converted to < 5 mW of 404 nm light sent to the sample to excite Raman scattering. The remaining unconverted 808 nm light is then sent to a nonlinear medium where it acts as the pump for the all-optical shutter. The shutter opens and closes in 800 fs with a peak efficiency of approximately 5%. Using this system we are able to successfully separate Raman and fluorescence signals at an 80 MHz repetition rate using pulse energies and average powers that remain biologically safe. Because the system has no spare capacity in terms of optical power, we detail several design and alignment considerations that aid in maximizing the throughput of the system. We also discuss our protocol for obtaining the spatial and temporal overlap of the signal and pump beams within the Kerr medium, as well as a detailed protocol for spectral acquisition. Finally, we report a few representative results of Raman spectra obtained in the presence of strong fluorescence using our time-gating system.
Microbiology, Issue 51, Raman scattering, all-optical gating, nonlinear optics, fluorescence, timeresolved spectroscopy.
2592
Simultaneous Synthesis of Single-walled Carbon Nanotubes and Graphene in a Magnetically-enhanced Arc Plasma
Institutions: The George Washington University.

Carbon nanostructures such as single-walled carbon nanotubes (SWCNT) and graphene attract a deluge of interest of scholars nowadays due to their very promising application for molecular sensors, field effect transistor and super thin and flexible electronic devices
1-4
. Anodic arc discharge supported by the erosion of the anode material is one of the most practical and efficient methods, which can provide specific non-equilibrium processes and a high influx of carbon material to the developing structures at relatively higher temperature, and consequently the as-synthesized products have few structural defects and better crystallinity. To further improve the controllability and flexibility of the synthesis of carbon nanostructures in arc discharge, magnetic fields can be applied during the synthesis process according to the strong magnetic responses of arc plasmas. It was demonstrated that the magnetically-enhanced arc discharge can increase the average length of SWCNT
5
, narrow the diameter distribution of metallic catalyst particles and carbon nanotubes
6
, and change the ratio of metallic and semiconducting carbon nanotubes
7
, as well as lead to graphene synthesis
8
. Furthermore, it is worthwhile to remark that when we introduce a non-uniform magnetic field with the component normal to the current in arc, the Lorentz force along the J×B direction can generate the plasmas jet and make effective delivery of carbon ion particles and heat flux to samples. As a result, large-scale graphene flakes and high-purity single-walled carbon nanotubes were simultaneously generated by such new magnetically-enhanced anodic arc method. Arc imaging, scanning electron microscope (SEM), transmission electron microscope (TEM) and Raman spectroscopy were employed to analyze the characterization of carbon nanostructures. These findings indicate a wide spectrum of opportunities to manipulate with the properties of nanostructures produced in plasmas by means of controlling the arc conditions.
Bioengineering, Issue 60, Arc discharge, magnetic control, single-walled carbon nanotubes, graphene
3455
Assessing Signaling Properties of Ectodermal Epithelia During Craniofacial Development
Institutions: University of California San Francisco.

The accessibility of avian embryos has helped experimental embryologists understand the fates of cells during development and the role of tissue interactions that regulate patterning and morphogenesis of vertebrates (e.g.,
1, 2, 3, 4
). Here, we illustrate a method that exploits this accessibility to test the signaling and patterning properties of ectodermal tissues during facial development. In these experiments, we create quail-chick
5
or mouse-chick
6
chimeras by transplanting the surface cephalic ectoderm that covers the upper jaw from quail or mouse onto either the same region or an ectopic region of chick embryos. The use of quail as donor tissue for transplantation into chicks was developed to take advantage of a nucleolar marker present in quail but not chick cells, thus allowing investigators to distinguish host and donor tissues
7
. Similarly, a repetitive element is present in the mouse genome and is expressed ubiquitously, which allows us to distinguish host and donor tissues in mouse-chick chimeras
8
. The use of mouse ectoderm as donor tissue will greatly extend our understanding of these tissue interactions, because this will allow us to test the signaling properties of ectoderm derived from various mutant embryos.
Developmental Biology, Issue 49, Quail-chick chimera, Ectoderm transplant, FEZ, Mouse-chick chimera
2557
Graphene Coatings for Biomedical Implants
Institutions: Clemson University, East Carolina University, Clemson University, Clemson University.

Atomically smooth graphene as a surface coating has potential to improve implant properties. This demonstrates a method for coating nitinol alloys with nanometer thick layers of graphene for applications as a stent material. Graphene was grown on copper substrates
via
chemical vapor deposition and then transferred onto nitinol substrates. In order to understand how the graphene coating could change biological response, cell viability of rat aortic endothelial cells and rat aortic smooth muscle cells was investigated. Moreover, the effect of graphene-coatings on cell adhesion and morphology was examined with fluorescent confocal microscopy. Cells were stained for actin and nuclei, and there were noticeable differences between pristine nitinol samples compared to graphene-coated samples. Total actin expression from rat aortic smooth muscle cells was found using western blot. Protein adsorption characteristics, an indicator for potential thrombogenicity, were determined for serum albumin and fibrinogen with gel electrophoresis. Moreover, the transfer of charge from fibrinogen to substrate was deduced using Raman spectroscopy. It was found that graphene coating on nitinol substrates met the functional requirements for a stent material and improved the biological response compared to uncoated nitinol. Thus, graphene-coated nitinol is a viable candidate for a stent material.
Biomedical Engineering, Issue 73, Bioengineering, Medicine, Biophysics, Materials Science, Physics, Pharmacology, Toxicology, Surgery, Chemistry and Materials (General), graphene, biomedical implants, surface modification, chemical vapor deposition, protein expression, confocal microscopy, implants, stents, clinical
50276
Gradient Echo Quantum Memory in Warm Atomic Vapor
Institutions: The Australian National University.

Gradient echo memory (GEM) is a protocol for storing optical quantum states of light in atomic ensembles. The primary motivation for such a technology is that quantum key distribution (QKD), which uses Heisenberg uncertainty to guarantee security of cryptographic keys, is limited in transmission distance. The development of a quantum repeater is a possible path to extend QKD range, but a repeater will need a quantum memory. In our experiments we use a gas of rubidium 87 vapor that is contained in a warm gas cell. This makes the scheme particularly simple. It is also a highly versatile scheme that enables in-memory refinement of the stored state, such as frequency shifting and bandwidth manipulation. The basis of the GEM protocol is to absorb the light into an ensemble of atoms that has been prepared in a magnetic field gradient. The reversal of this gradient leads to rephasing of the atomic polarization and thus recall of the stored optical state. We will outline how we prepare the atoms and this gradient and also describe some of the pitfalls that need to be avoided, in particular four-wave mixing, which can give rise to optical gain.
Physics, Issue 81, quantum memory, photon echo, rubidium vapor, gas cell, optical memory, gradient echo memory (GEM)
50552
Label-free in situ Imaging of Lignification in Plant Cell Walls
Institutions: University of California, Berkeley, Lawrence Berkeley National Laboratory, Lawrence Berkeley National Laboratory.

Meeting growing energy demands safely and efficiently is a pressing global challenge. Therefore, research into biofuels production that seeks to find cost-effective and sustainable solutions has become a topical and critical task. Lignocellulosic biomass is poised to become the primary source of biomass for the conversion to liquid biofuels
1-6
. However, the recalcitrance of these plant cell wall materials to cost-effective and efficient degradation presents a major impediment for their use in the production of biofuels and chemicals
4
. In particular, lignin, a complex and irregular poly-phenylpropanoid heteropolymer, becomes problematic to the postharvest deconstruction of lignocellulosic biomass. For example in biomass conversion for biofuels, it inhibits saccharification in processes aimed at producing simple sugars for fermentation
7
. The effective use of plant biomass for industrial purposes is in fact largely dependent on the extent to which the plant cell wall is lignified. The removal of lignin is a costly and limiting factor
8
and lignin has therefore become a key plant breeding and genetic engineering target in order to improve cell wall conversion. Analytical tools that permit the accurate rapid characterization of lignification of plant cell walls become increasingly important for evaluating a large number of breeding populations. Extractive procedures for the isolation of native components such as lignin are inevitably destructive, bringing about significant chemical and structural modifications
9-11
. Analytical chemical
in situ
methods are thus invaluable tools for the compositional and structural characterization of lignocellulosic materials. Raman microscopy is a technique that relies on inelastic or Raman scattering of monochromatic light, like that from a laser, where the shift in energy of the laser photons is related to molecular vibrations and presents an intrinsic label-free molecular "fingerprint" of the sample. Raman microscopy can afford non-destructive and comparatively inexpensive measurements with minimal sample preparation, giving insights into chemical composition and molecular structure in a close to native state. Chemical imaging by confocal Raman microscopy has been previously used for the visualization of the spatial distribution of cellulose and lignin in wood cell walls
12-14
. Based on these earlier results, we have recently adopted this method to compare lignification in wild type and lignin-deficient transgenic
Populus trichocarpa
(black cottonwood) stem wood
15
. Analyzing the lignin Raman bands
16,17
in the spectral region between 1,600 and 1,700 cm
-1
, lignin signal intensity and localization were mapped
in situ
. Our approach visualized differences in lignin content, localization, and chemical composition. Most recently, we demonstrated Raman imaging of cell wall polymers in
Arabidopsis thaliana
with lateral resolution that is sub-μm
18
. Here, this method is presented affording visualization of lignin in plant cell walls and comparison of lignification in different tissues, samples or species without staining or labeling of the tissues.
Plant Biology, Issue 45, Raman microscopy, lignin, poplar wood, Arabidopsis thaliana
2064
Biochemical and High Throughput Microscopic Assessment of Fat Mass in Caenorhabditis Elegans
Institutions: Massachusetts General Hospital and Harvard Medical School, Massachusetts Institute of Technology.
The nematode
C. elegans
has emerged as an important model for the study of conserved genetic pathways regulating fat metabolism as it relates to human obesity and its associated pathologies. Several previous methodologies developed for the visualization of
C. elegans
triglyceride-rich fat stores have proven to be erroneous, highlighting cellular compartments other than lipid droplets. Other methods require specialized equipment, are time-consuming, or yield inconsistent results. We introduce a rapid, reproducible, fixative-based Nile red staining method for the accurate and rapid detection of neutral lipid droplets in
C. elegans
. A short fixation step in 40% isopropanol makes animals completely permeable to Nile red, which is then used to stain animals. Spectral properties of this lipophilic dye allow it to strongly and selectively fluoresce in the yellow-green spectrum only when in a lipid-rich environment, but not in more polar environments. Thus, lipid droplets can be visualized on a fluorescent microscope equipped with simple GFP imaging capability after only a brief Nile red staining step in isopropanol. The speed, affordability, and reproducibility of this protocol make it ideally suited for high throughput screens. We also demonstrate a paired method for the biochemical determination of triglycerides and phospholipids using gas chromatography mass-spectrometry. This more rigorous protocol should be used as confirmation of results obtained from the Nile red microscopic lipid determination. We anticipate that these techniques will become new standards in the field of
C. elegans
metabolic research.
Genetics, Issue 73, Biochemistry, Cellular Biology, Molecular Biology, Developmental Biology, Physiology, Anatomy, Caenorhabditis elegans, Obesity, Energy Metabolism, Lipid Metabolism, C. elegans, fluorescent lipid staining, lipids, Nile red, fat, high throughput screening, obesity, gas chromatography, mass spectrometry, GC/MS, animal model
50180
Simultaneous Multicolor Imaging of Biological Structures with Fluorescence Photoactivation Localization Microscopy
Institutions: University of Maine.

Localization-based super resolution microscopy can be applied to obtain a spatial map (image) of the distribution of individual fluorescently labeled single molecules within a sample with a spatial resolution of tens of nanometers. Using either photoactivatable (PAFP) or photoswitchable (PSFP) fluorescent proteins fused to proteins of interest, or organic dyes conjugated to antibodies or other molecules of interest, fluorescence photoactivation localization microscopy (FPALM) can simultaneously image multiple species of molecules within single cells. By using the following approach, populations of large numbers (thousands to hundreds of thousands) of individual molecules are imaged in single cells and localized with a precision of ~10-30 nm. Data obtained can be applied to understanding the nanoscale spatial distributions of multiple protein types within a cell. One primary advantage of this technique is the dramatic increase in spatial resolution: while diffraction limits resolution to ~200-250 nm in conventional light microscopy, FPALM can image length scales more than an order of magnitude smaller. As many biological hypotheses concern the spatial relationships among different biomolecules, the improved resolution of FPALM can provide insight into questions of cellular organization which have previously been inaccessible to conventional fluorescence microscopy. In addition to detailing the methods for sample preparation and data acquisition, we here describe the optical setup for FPALM. One additional consideration for researchers wishing to do super-resolution microscopy is cost: in-house setups are significantly cheaper than most commercially available imaging machines. Limitations of this technique include the need for optimizing the labeling of molecules of interest within cell samples, and the need for post-processing software to visualize results. We here describe the use of PAFP and PSFP expression to image two protein species in fixed cells. Extension of the technique to living cells is also described.
Basic Protocol, Issue 82, Microscopy, Super-resolution imaging, Multicolor, single molecule, FPALM, Localization microscopy, fluorescent proteins
50680
Visualizing Neuroblast Cytokinesis During C. elegans Embryogenesis
Institutions: Concordia University.

This protocol describes the use of fluorescence microscopy to image dividing cells within developing
Caenorhabditis elegans
embryos. In particular, this protocol focuses on how to image dividing neuroblasts, which are found underneath the epidermal cells and may be important for epidermal morphogenesis. Tissue formation is crucial for metazoan development and relies on external cues from neighboring tissues.
C. elegans
is an excellent model organism to study tissue morphogenesis
in vivo
due to its transparency and simple organization, making its tissues easy to study via microscopy. Ventral enclosure is the process where the ventral surface of the embryo is covered by a single layer of epithelial cells. This event is thought to be facilitated by the underlying neuroblasts, which provide chemical guidance cues to mediate migration of the overlying epithelial cells. However, the neuroblasts are highly proliferative and also may act as a mechanical substrate for the ventral epidermal cells. Studies using this experimental protocol could uncover the importance of intercellular communication during tissue formation, and could be used to reveal the roles of genes involved in cell division within developing tissues.
Neuroscience, Issue 85, C. elegans, morphogenesis, cytokinesis, neuroblasts, anillin, microscopy, cell division
51188
Flat Mount Preparation for Observation and Analysis of Zebrafish Embryo Specimens Stained by Whole Mount In situ Hybridization
Institutions: University of Notre Dame.

The zebrafish embryo is now commonly used for basic and biomedical research to investigate the genetic control of developmental processes and to model congenital abnormalities. During the first day of life, the zebrafish embryo progresses through many developmental stages including fertilization, cleavage, gastrulation, segmentation, and the organogenesis of structures such as the kidney, heart, and central nervous system. The anatomy of a young zebrafish embryo presents several challenges for the visualization and analysis of the tissues involved in many of these events because the embryo develops in association with a round yolk mass. Thus, for accurate analysis and imaging of experimental phenotypes in fixed embryonic specimens between the tailbud and 20 somite stage (10 and 19 hours post fertilization (hpf), respectively), such as those stained using whole mount
in situ
hybridization (WISH), it is often desirable to remove the embryo from the yolk ball and to position it flat on a glass slide. However, performing a flat mount procedure can be tedious. Therefore, successful and efficient flat mount preparation is greatly facilitated through the visual demonstration of the dissection technique, and also helped by using reagents that assist in optimal tissue handling. Here, we provide our WISH protocol for one or two-color detection of gene expression in the zebrafish embryo, and demonstrate how the flat mounting procedure can be performed on this example of a stained fixed specimen. This flat mounting protocol is broadly applicable to the study of many embryonic structures that emerge during early zebrafish development, and can be implemented in conjunction with other staining methods performed on fixed embryo samples.
Developmental Biology, Issue 89, animals, vertebrates, fishes, zebrafish, growth and development, morphogenesis, embryonic and fetal development, organogenesis, natural science disciplines, embryo, whole mount in situ hybridization, flat mount, deyolking, imaging
51604
In Situ SIMS and IR Spectroscopy of Well-defined Surfaces Prepared by Soft Landing of Mass-selected Ions
Institutions: Pacific Northwest National Laboratory.

Soft landing of mass-selected ions onto surfaces is a powerful approach for the highly-controlled preparation of materials that are inaccessible using conventional synthesis techniques. Coupling soft landing with
in situ
characterization using secondary ion mass spectrometry (SIMS) and infrared reflection absorption spectroscopy (IRRAS) enables analysis of well-defined surfaces under clean vacuum conditions. The capabilities of three soft-landing instruments constructed in our laboratory are illustrated for the representative system of surface-bound organometallics prepared by soft landing of mass-selected ruthenium tris(bipyridine) dications, [Ru(bpy)
3
]
2+
(bpy = bipyridine), onto carboxylic acid terminated self-assembled monolayer surfaces on gold (COOH-SAMs).
In situ
time-of-flight (TOF)-SIMS provides insight into the reactivity of the soft-landed ions. In addition, the kinetics of charge reduction, neutralization and desorption occurring on the COOH-SAM both during and after ion soft landing are studied using
in situ
Fourier transform ion cyclotron resonance (FT-ICR)-SIMS measurements.
In situ
IRRAS experiments provide insight into how the structure of organic ligands surrounding metal centers is perturbed through immobilization of organometallic ions on COOH-SAM surfaces by soft landing. Collectively, the three instruments provide complementary information about the chemical composition, reactivity and structure of well-defined species supported on surfaces.
Chemistry, Issue 88, soft landing, mass selected ions, electrospray, secondary ion mass spectrometry, infrared spectroscopy, organometallic, catalysis
51344
Polymer Microarrays for High Throughput Discovery of Biomaterials
Institutions: University of Nottingham , University of Nottingham , Massachusetts Institute of Technology.
The discovery of novel biomaterials that are optimized for a specific biological application is readily achieved using polymer microarrays, which allows a combinatorial library of materials to be screened in a parallel, high throughput format
1
. Herein is described the formation and characterization of a polymer microarray using an on-chip photopolymerization technique
2
. This involves mixing monomers at varied ratios to produce a library of monomer solutions, transferring the solution to a glass slide format using a robotic printing device and curing with UV irradiation. This format is readily amenable to many biological assays, including stem cell attachment and proliferation, cell sorting and low bacterial adhesion, allowing the ready identification of 'hit' materials that fulfill a specific biological criterion
3-5
. Furthermore, the use of high throughput surface characterization (HTSC) allows the biological performance to be correlated with physio-chemical properties, hence elucidating the biological-material interaction
6
. HTSC makes use of water contact angle (WCA) measurements, atomic force microscopy (AFM), X-ray photoelectron spectroscopy (XPS) and time-of-flight secondary ion mass spectrometry (ToF-SIMS). In particular, ToF-SIMS provides a chemically rich analysis of the sample that can be used to correlate the cell response with a molecular moiety. In some cases, the biological performance can be predicted from the ToF-SIMS spectra, demonstrating the chemical dependence of a biological-material interaction, and informing the development of hit materials
5,3
.
Bioengineering, Issue 59, Materials discovery, Surface characterization, Polymer library, High throughput, Cell attachment
3636
Live Imaging of the Zebrafish Embryonic Brain by Confocal Microscopy
Institutions: MIT - Massachusetts Institute of Technology, MIT - Massachusetts Institute of Technology.

In this video, we demonstrate the method our lab has developed to analyze the cell shape changes and rearrangements required to bend and fold the developing zebrafish brain (Gutzman et al, 2008). Such analysis affords a new understanding of the underlying cell biology required for development of the 3D structure of the vertebrate brain, and significantly increases our ability to study neural tube morphogenesis. The embryonic zebrafish brain is shaped beginning at 18 hours post fertilization (hpf) as the ventricles within the neuroepithelium inflate. By 24 hpf, the initial steps of neural tube morphogenesis are complete. Using the method described here, embryos at the one cell stage are injected with mRNA encoding membrane-targeted green fluorescent protein (memGFP). After injection and incubation, the embryo, now between 18 and 24 hpf, is mounted, inverted, in agarose and imaged by confocal microscopy. Notably, the zebrafish embryo is transparent making it an ideal system for fluorescent imaging. While our analyses have focused on the midbrain-hindbrain boundary and the hindbrain, this method could be extended for analysis of any region in the zebrafish to a depth of 80-100 μm.
Neuroscience, Developmental Biology, Issue 26, brain development, zebrafish, morphogenesis, microinjection, single cell injection, live imaging, confocal microscopy, embryo mounting
1217
The Preparation of Drosophila Embryos for Live-Imaging Using the Hanging Drop Protocol
Institutions: University of Waterloo.

Green fluorescent protein (GFP)-based timelapse live-imaging is a powerful technique for studying the genetic regulation of dynamic processes such as tissue morphogenesis, cell-cell adhesion, or cell death. Drosophila embryos expressing GFP are readily imaged using either stereoscopic or confocal microscopy. A goal of any live-imaging protocol is to minimize detrimental effects such as dehydration and hypoxia. Previous protocols for preparing Drosophila embryos for live-imaging analysis have involved placing dechorionated embryos in halocarbon oil and sandwiching them between a halocarbon gas-permeable membrane and a coverslip
1-3
. The introduction of compression through mounting embryos in this manner represents an undesirable complication for any biomechanical-based analysis of morphogenesis. Our method, which we call the hanging drop protocol, results in excellent viability of embryos during live imaging and does not require that embryos be compressed. Briefly, the hanging drop protocol involves the placement of embryos in a drop of halocarbon oil that is suspended from a coverslip, which is, in turn, fixed in position over a humid chamber. In addition to providing gas exchange and preventing dehydration, this arrangement takes advantage of the buoyancy of embryos in halocarbon oil to prevent them from drifting out of position during timelapse acquisition. This video describes in detail how to collect and prepare Drosophila embryos for live imaging using the hanging drop protocol. This protocol is suitable for imaging dechorionated embryos using stereomicroscopy or any upright compound fluorescence microscope.
Developmental Biology, Issue 25, Drosophila, embryos, live-imaging, GFP
1206