Detection of Functional Matrix Metalloproteinases by Zymography
Published: 11-08-2010
ABSTRACT
Matrix metalloproteinases (MMPs) are zinc-containing endopeptidases. They degrade proteins by cleavage of peptide bonds. More than twenty MMPs have been identified and are separated into six groups based on their structure and substrate specificity (collagenases, gelatinases, membrane type [MT-MMP], stromelysins, matrilysins, and others). MMPs play a critical role in cell invasion, cartilage degradation, tissue remodeling, wound healing, and embryogenesis. They therefore participate in both normal processes and in the pathogenesis of many diseases, such as rheumatoid arthritis, cancer, or chronic obstructive pulmonary disease1-6. Here, we will focus on MMP-2 (gelatinase A, type IV collagenase), a widely expressed MMP. We will demonstrate how to detect MMP-2 in cell culture supernatants by zymography, a commonly used, simple, and yet very sensitive technique first described in 1980 by C. Heussen and E.B. Dowdle7-10. This technique is semi-quantitative, it can therefore be used to determine MMP levels in test samples when known concentrations of recombinant MMP are loaded on the same gel11. Solutions containing MMPs (e.g. cell culture supernatants, urine, or serum) are loaded onto a polyacrylamide gel containing sodium dodecyl sulfate (SDS; to linearize the proteins) and gelatin (substrate for MMP-2). The sample buffer is designed to increase sample viscosity (to facilitate gel loading), provide a tracking dye (bromophenol blue; to monitor sample migration), provide denaturing molecules (to linearize proteins), and control the pH of the sample. Proteins are then allowed to migrate under an electric current in a running buffer designed to provide a constant migration rate. The distance of migration is inversely correlated with the molecular weight of the protein (small proteins move faster through the gel than large proteins do and therefore migrate further down the gel). After migration, the gel is placed in a renaturing buffer to allow proteins to regain their tertiary structure, necessary for enzymatic activity. The gel is then placed in a developing buffer designed to allow the protease to digest its substrate. The developing buffer also contains p-aminophenylmercuric acetate (APMA) to activate the non-proteolytic pro-MMPs into active MMPs. The next step consists of staining the substrate (gelatin in our example). After washing the excess dye off the gel, areas of protease digestion appear as clear bands. The clearer the band, the more concentrated the protease it contains. Band staining intensity can then be determined by densitometry, using a software such as ImageJ, allowing for sample comparison.
15 Related JoVE Articles!
Manipulating the Murine Lacrimal Gland
Institutions: University of California San Francisco.

The lacrimal gland (LG) secretes aqueous tears necessary for maintaining the structure and function of the cornea, a transparent tissue essential for vision. In the human a single LG resides in the orbit above the lateral end of each eye delivering tears to the ocular surface through 3 - 5 ducts. The mouse has three pairs of major ocular glands, the most studied of which is the exorbital lacrimal gland (LG) located anterior and ventral to the ear. Similar to other glandular organs, the LG develops through the process of epithelial branching morphogenesis in which a single epithelial bud within a condensed mesenchyme undergoes multiple rounds of bud and duct formation to form an intricate interconnected network of secretory acini and ducts. This elaborate process has been well documented in many other epithelial organs such as the pancreas and salivary gland. However, the LG has been much less explored and the mechanisms controlling morphogenesis are poorly understood. We suspect that this under-representation as a model system is a consequence of the difficulties associated with finding, dissecting and culturing the LG. Thus, here we describe dissection techniques for harvesting embryonic and post-natal LG and methods for
ex vivo
culture of the tissue.
Developmental Biology, Issue 93, lacrimal gland, ex vivo, branching morphogenesis, organ culture, embryogenesis
51970
An In Vitro Model for the Study of Cellular Pathophysiology in Globoid Cell Leukodystrophy
Institutions: University of Connecticut Health Center, University of Illinois at Chicago.

The precise function of multi-nucleated microglia, called globoid cells, that are uniquely abundant in the central nervous system of globoid cell leukodystrophy (GLD) is unclear. This gap in knowledge has been hindered by the lack of an appropriate
in vitro
model for study. Herein, we describe a primary murine glial culture system in which treatment with psychosine results in multinucleation of microglia resembling the characteristic globoid cells found in GLD. Using this novel system, we defined the conditions and modes of analysis for study of globoid cells. The potential use of this model system was validated in our previous study, which identified a potential role for matrix metalloproteinase (MMP)-3 in GLD. This novel
in vitro
system may be a useful model in which to study the formation and function, but also the potential therapeutic manipulation, of these unique cells.
Cellular Biology, Issue 92, globoid cells, psychosine, microglia, multinucleation, leukodystrophy, Krabbe disease, pathogenesis, phagocytic activity
51903
Multiplexed Single-molecule Force Proteolysis Measurements Using Magnetic Tweezers
Institutions: Stanford University .

The generation and detection of mechanical forces is a ubiquitous aspect of cell physiology, with direct relevance to cancer metastasis
1
, atherogenesis
2
and wound healing
3
. In each of these examples, cells both exert force on their surroundings and simultaneously enzymatically remodel the extracellular matrix (ECM). The effect of forces on ECM has thus become an area of considerable interest due to its likely biological and medical importance
4-7
. Single molecule techniques such as optical trapping
8
, atomic force microscopy
9
, and magnetic tweezers
10,11
allow researchers to probe the function of enzymes at a molecular level by exerting forces on individual proteins. Of these techniques, magnetic tweezers (MT) are notable for their low cost and high throughput. MT exert forces in the range of ~1-100 pN and can provide millisecond temporal resolution, qualities that are well matched to the study of enzyme mechanism at the single-molecule level
12
. Here we report a highly parallelizable MT assay to study the effect of force on the proteolysis of single protein molecules. We present the specific example of the proteolysis of a trimeric collagen peptide by matrix metalloproteinase 1 (MMP-1); however, this assay can be easily adapted to study other substrates and proteases.
Bioengineering, Issue 65, Chemical Engineering, Physics, Single-molecule spectroscopy, magnetic tweezers, force proteolysis, collagen, MMP-1
3520
Rotating Cell Culture Systems for Human Cell Culture: Human Trophoblast Cells as a Model
Institutions: Tulane University Medical School, Tulane University Medical School, Baylor College of Medicine.

The field of human trophoblast research aids in understanding the complex environment established during placentation. Due to the nature of these studies, human
in vivo
experimentation is impossible. A combination of primary cultures, explant cultures and trophoblast cell lines
1
support our understanding of invasion of the uterine wall
2
and remodeling of uterine spiral arteries
3,4
by extravillous trophoblast cells (EVTs), which is required for successful establishment of pregnancy. Despite the wealth of knowledge gleaned from such models, it is accepted that
in vitro
cell culture models using EVT-like cell lines display altered cellular properties when compared to their
in vivo
counterparts
5,6
. Cells cultured in the rotating cell culture system (RCCS) display morphological, phenotypic, and functional properties of EVT-like cell lines that more closely mimic differentiating
in utero
EVTs, with increased expression of genes mediating invasion (e.g. matrix metalloproteinases (MMPs)) and trophoblast differentiation
7,8,9
. The Saint Georges Hospital Placental cell Line-4 (SGHPL-4) (kindly donated by Dr. Guy Whitley and Dr. Judith Cartwright) is an EVT-like cell line that was used for testing in the RCCS. The design of the RCCS culture vessel is based on the principle that organs and tissues function in a three-dimensional (3-D) environment. Due to the dynamic culture conditions in the vessel, including conditions of physiologically relevant shear, cells grown in three dimensions form aggregates based on natural cellular affinities and differentiate into organotypic tissue-like assemblies
10,11,12
. The maintenance of a fluid orbit provides a low-shear, low-turbulence environment similar to conditions found
in vivo.
Sedimentation of the cultured cells is countered by adjusting the rotation speed of the RCCS to ensure a constant free-fall of cells. Gas exchange occurs through a permeable hydrophobic membrane located on the back of the bioreactor. Like their parental tissue
in vivo
, RCCS-grown cells are able to respond to chemical and molecular gradients in three dimensions (i.e. at their apical, basal, and lateral surfaces) because they are cultured on the surface of porous microcarrier beads. When grown as two-dimensional monolayers on impermeable surfaces like plastic, cells are deprived of this important communication at their basal surface. Consequently, the spatial constraints imposed by the environment profoundly affect how cells sense and decode signals from the surrounding microenvironment, thus implying an important role for the 3-D milieu
13
. We have used the RCCS to engineer biologically meaningful 3-D models of various human epithelial tissues
7,14,15,16
. Indeed, many previous reports have demonstrated that cells cultured in the RCCS can assume physiologically relevant phenotypes that have not been possible with other models
10,17-21
. In summary, culture in the RCCS represents an easy, reproducible, high-throughput platform that provides large numbers of differentiated cells that are amenable to a variety of experimental manipulations. In the following protocol, using EVTs as an example, we clearly describe the steps required to three-dimensionally culture adherent cells in the RCCS.
Bioengineering, Issue 59, Extravillous trophoblasts, cytotrophoblast, invasion, matrix metalloproteinase, 3-D cell culture, RCCS, ECM, microcarriers
3367
Three-dimensional Cell Culture Model for Measuring the Effects of Interstitial Fluid Flow on Tumor Cell Invasion
Institutions: Drexel University .

The growth and progression of most solid tumors depend on the initial transformation of the cancer cells and their response to stroma-associated signaling in the tumor microenvironment
1
. Previously, research on the tumor microenvironment has focused primarily on tumor-stromal interactions
1-2
. However, the tumor microenvironment also includes a variety of biophysical forces, whose effects remain poorly understood. These forces are biomechanical consequences of tumor growth that lead to changes in gene expression, cell division, differentiation and invasion
3
. Matrix density
4
, stiffness
5-6
, and structure
6-7
, interstitial fluid pressure
8
, and interstitial fluid flow
8
are all altered during cancer progression. Interstitial fluid flow in particular is higher in tumors compared to normal tissues
8-10
. The estimated interstitial fluid flow velocities were measured and found to be in the range of 0.1-3 μm s
-1
, depending on tumor size and differentiation
9, 11
. This is due to elevated interstitial fluid pressure caused by tumor-induced angiogenesis and increased vascular permeability
12
. Interstitial fluid flow has been shown to increase invasion of cancer cells
13-14
, vascular fibroblasts and smooth muscle cells
15
. This invasion may be due to autologous chemotactic gradients created around cells in 3-D
16
or increased matrix metalloproteinase (MMP) expression
15
, chemokine secretion and cell adhesion molecule expression
17
. However, the mechanism by which cells sense fluid flow is not well understood. In addition to altering tumor cell behavior, interstitial fluid flow modulates the activity of other cells in the tumor microenvironment. It is associated with (a) driving differentiation of fibroblasts into tumor-promoting myofibroblasts
18
, (b) transporting of antigens and other soluble factors to lymph nodes
19
, and (c) modulating lymphatic endothelial cell morphogenesis
20
. The technique presented here imposes interstitial fluid flow on cells
in vitro
and quantifies its effects on invasion (
Figure 1
). This method has been published in multiple studies to measure the effects of fluid flow on stromal and cancer cell invasion
13-15, 17
. By changing the matrix composition, cell type, and cell concentration, this method can be applied to other diseases and physiological systems to study the effects of interstitial flow on cellular processes such as invasion, differentiation, proliferation, and gene expression.
Biomedical Engineering, Issue 65, Bioengineering, Biophysics, Cancer Biology, Cancer, interstitial fluid flow, invasion, mechanobiology, migration, three-dimensional cell culture, tumor microenvironment
4159
Ex Vivo Organotypic Corneal Model of Acute Epithelial Herpes Simplex Virus Type I Infection
Institutions: Drexel University College of Medicine.

Herpes keratitis is one of the most severe pathologies associated with the herpes simplex virus-type 1 (HSV-1). Herpes keratitis is currently the leading cause of both cornea-derived and infection-associated blindness in the developed world. Typical presentation of herpes keratitis includes infection of the corneal epithelium and sometimes the deeper corneal stroma and endothelium, leading to such permanent corneal pathologies as scarring, thinning, and opacity
1
. Corneal HSV-1 infection is traditionally studied in two types of experimental models. The
in vitro
model, in which cultured monolayers of corneal epithelial cells are infected in a Petri dish, offers simplicity, high level of replicability, fast experiments, and relatively low costs. On the other hand, the
in vivo
model, in which animals such as rabbits or mice are inoculated directly in the cornea, offers a highly sophisticated physiological system, but has higher costs, longer experiments, necessary animal care, and a greater degree of variability. In this video article, we provide a detailed demonstration of a new
ex vivo
model of corneal epithelial HSV-1 infection, which combines the strengths of both the
in vitro
and the
in vivo
models. The
ex vivo
model utilizes intact corneas organotypically maintained in culture and infected with HSV-1. The use of the
ex vivo
model allows for highly physiologically-based conclusions, yet it is rather inexpensive and requires time commitment comparable to that of the
in vitro
model.
Neuroscience, Issue 69, Virology, herpes, cornea, HSV, ex vivo, explant, corneal epithelium, organotypic, keratitis, eye, vision, ophthalmology
3631
Detection of Neu1 Sialidase Activity in Regulating TOLL-like Receptor Activation
Institutions: Queen's University - Kingston, Ontario.

Mammalian Toll-like receptors (TLRs) are a family of receptors that recognize pathogen-associated molecular patterns. Not only are TLRs crucial sensors of microbial (e.g., viruses, bacteria and parasite) infections, they also play an important role in the pathophysiology of infectious diseases, inflammatory diseases, and possibly in autoimmune diseases. Thus, the intensity and duration of TLR responses against infectious diseases must be tightly controlled. It follows that understanding the structural integrity of sensor receptors, their ligand interactions and signaling components is essential for subsequent immunological protection. It would also provide important opportunities for disease modification through sensor manipulation. Although the signaling pathways of TLR sensors are well characterized, the parameters controlling interactions between the sensors and their ligands still remain poorly defined. We have recently identified a novel mechanism of TLR activation by its natural ligand, which has not been previously observed
1,2
. It suggests that ligand-induced TLR activation is tightly controlled by Neu1 sialidase activation. We have also reported that Neu1 tightly regulates neurotrophin receptors like TrkA and TrkB
3
, which involve Neu1 and matrix metalloproteinase-9 (MMP-9) cross-talk in complex with the receptors
4
. The sialidase assay has been initially use to find a novel ligand, thymoquinone, in the activation of Neu4 sialidase on the cell surface of macrophages, dendritic cells and fibroblast cells via GPCR Gαi proteins and MMP-9
5
. For TLR receptors, our data indicate that Neu1 sialidase is already in complex with TLR-2, -3 and -4 receptors, and is induced upon ligand binding to either receptor. Activated Neu1 sialidase hydrolyzes sialyl α-2,3-linked β-galactosyl residues distant from ligand binding to remove steric hinderance to TLR-4 dimerization, MyD88/TLR4 complex recruitment, NFkB activation and pro-inflammatory cell responses. In a collaborative report, Neu1 sialidase has been shown to regulate phagocytosis in macrophage cells
6
. Taken together, the sialidase assay has provided us with powerful insights to the molecular mechanisms of ligand-induced receptor activation. Although the precise relationship between Neu1 sialidase and the activation of TLR, Trk receptors has yet to be fully elucidated, it would represent a new or pioneering approach to cell regulation pathways.
Cellular Biology, Issue 43, Neu1 sialidase, TOLL-like receptors, macrophages, sialidase substrate, fluorescence microscopy, cell signaling, receptor activation
2142
Longitudinal Measurement of Extracellular Matrix Rigidity in 3D Tumor Models Using Particle-tracking Microrheology
Institutions: University of Massachusetts Boston.

The mechanical microenvironment has been shown to act as a crucial regulator of tumor growth behavior and signaling, which is itself remodeled and modified as part of a set of complex, two-way mechanosensitive interactions. While the development of biologically-relevant 3D tumor models have facilitated mechanistic studies on the impact of matrix rheology on tumor growth, the inverse problem of mapping changes in the mechanical environment induced by tumors remains challenging. Here, we describe the implementation of particle-tracking microrheology (PTM) in conjunction with 3D models of pancreatic cancer as part of a robust and viable approach for longitudinally monitoring physical changes in the tumor microenvironment,
in situ
. The methodology described here integrates a system of preparing
in vitro
3D models embedded in a model extracellular matrix (ECM) scaffold of Type I collagen with fluorescently labeled probes uniformly distributed for position- and time-dependent microrheology measurements throughout the specimen.
In vitro
tumors are plated and probed in parallel conditions using multiwell imaging plates. Drawing on established methods, videos of tracer probe movements are transformed via the Generalized Stokes Einstein Relation (GSER) to report the complex frequency-dependent viscoelastic shear modulus,
G*(ω)
. Because this approach is imaging-based, mechanical characterization is also mapped onto large transmitted-light spatial fields to simultaneously report qualitative changes in 3D tumor size and phenotype. Representative results showing contrasting mechanical response in sub-regions associated with localized invasion-induced matrix degradation as well as system calibration, validation data are presented. Undesirable outcomes from common experimental errors and troubleshooting of these issues are also presented. The 96-well 3D culture plating format implemented in this protocol is conducive to correlation of microrheology measurements with therapeutic screening assays or molecular imaging to gain new insights into impact of treatments or biochemical stimuli on the mechanical microenvironment.
Bioengineering, Issue 88, viscoelasticity, mechanobiology, extracellular matrix (ECM), matrix remodeling, 3D tumor models, tumor microenvironment, stroma, matrix metalloprotease (MMP), epithelial-mesenchymal transition (EMT)
51302
Enhancement of Apoptotic and Autophagic Induction by a Novel Synthetic C-1 Analogue of 7-deoxypancratistatin in Human Breast Adenocarcinoma and Neuroblastoma Cells with Tamoxifen
Institutions: University of Windsor, Brock University.

Breast cancer is one of the most common cancers amongst women in North America. Many current anti-cancer treatments, including ionizing radiation, induce apoptosis via DNA damage. Unfortunately, such treatments are non-selective to cancer cells and produce similar toxicity in normal cells. We have reported selective induction of apoptosis in cancer cells by the natural compound pancratistatin (PST). Recently, a novel PST analogue, a C-1 acetoxymethyl derivative of 7-deoxypancratistatin (JCTH-4), was produced by de novo synthesis and it exhibits comparable selective apoptosis inducing activity in several cancer cell lines. Recently, autophagy has been implicated in malignancies as both pro-survival and pro-death mechanisms in response to chemotherapy. Tamoxifen (TAM) has invariably demonstrated induction of pro-survival autophagy in numerous cancers. In this study, the efficacy of JCTH-4 alone and in combination with TAM to induce cell death in human breast cancer (MCF7) and neuroblastoma (SH-SY5Y) cells was evaluated. TAM alone induced autophagy, but insignificant cell death whereas JCTH-4 alone caused significant induction of apoptosis with some induction of autophagy. Interestingly, the combinatory treatment yielded a drastic increase in apoptotic and autophagic induction. We monitored time-dependent morphological changes in MCF7 cells undergoing TAM-induced autophagy, JCTH-4-induced apoptosis and autophagy, and accelerated cell death with combinatorial treatment using time-lapse microscopy. We have demonstrated these compounds to induce apoptosis/autophagy by mitochondrial targeting in these cancer cells. Importantly, these treatments did not affect the survival of noncancerous human fibroblasts. Thus, these results indicate that JCTH-4 in combination with TAM could be used as a safe and very potent anti-cancer therapy against breast cancer and neuroblastoma cells.
Cancer Biology, Issue 63, Medicine, Biochemistry, Breast adenocarcinoma, neuroblastoma, tamoxifen, combination therapy, apoptosis, autophagy
3586
Mechanical Stimulation-induced Calcium Wave Propagation in Cell Monolayers: The Example of Bovine Corneal Endothelial Cells
Institutions: KU Leuven.

Intercellular communication is essential for the coordination of physiological processes between cells in a variety of organs and tissues, including the brain, liver, retina, cochlea and vasculature. In experimental settings, intercellular Ca
2+
-waves can be elicited by applying a mechanical stimulus to a single cell. This leads to the release of the intracellular signaling molecules IP
3
and Ca
2+
that initiate the propagation of the Ca
2+
-wave concentrically from the mechanically stimulated cell to the neighboring cells. The main molecular pathways that control intercellular Ca
2+
-wave propagation are provided by gap junction channels through the direct transfer of IP
3
and by hemichannels through the release of ATP. Identification and characterization of the properties and regulation of different connexin and pannexin isoforms as gap junction channels and hemichannels are allowed by the quantification of the spread of the intercellular Ca
2+
-wave, siRNA, and the use of inhibitors of gap junction channels and hemichannels. Here, we describe a method to measure intercellular Ca
2+
-wave in monolayers of primary corneal endothelial cells loaded with Fluo4-AM in response to a controlled and localized mechanical stimulus provoked by an acute, short-lasting deformation of the cell as a result of touching the cell membrane with a micromanipulator-controlled glass micropipette with a tip diameter of less than 1 μm. We also describe the isolation of primary bovine corneal endothelial cells and its use as model system to assess Cx43-hemichannel activity as the driven force for intercellular Ca
2+
-waves through the release of ATP. Finally, we discuss the use, advantages, limitations and alternatives of this method in the context of gap junction channel and hemichannel research.
Cellular Biology, Issue 77, Molecular Biology, Medicine, Biomedical Engineering, Biophysics, Immunology, Ophthalmology, Gap Junctions, Connexins, Connexin 43, Calcium Signaling, Ca2+, Cell Communication, Paracrine Communication, Intercellular communication, calcium wave propagation, gap junctions, hemichannels, endothelial cells, cell signaling, cell, isolation, cell culture
50443
A Simplified Technique for In situ Excision of Cornea and Evisceration of Retinal Tissue from Human Ocular Globe
Institutions: Fondazione Banca Degli Occhi del Veneto O.N.L.U.S. , Telethon Institute for Genetics & Medicine (T.I.G.E.M.).

Enucleation is the process of retrieving the ocular globe from a cadaveric donor leaving the rest of the globe undisturbed. Excision refers to the retrieval of ocular tissues, especially cornea, by cutting it separate from the ocular globe. Evisceration is the process of removing the internal organs referred here as retina. The ocular globe consists of the cornea, the sclera, the vitreous body, the lens, the iris, the retina, the choroid, muscles etc (Suppl.
Figure 1
). When a patient is suffering from corneal damage, the cornea needs to be removed and a healthy one must be transplanted by keratoplastic surgeries. Genetic disorders or defects in retinal function can compromise vision. Human ocular globes can be used for various surgical procedures such as eye banking, transplantation of human cornea or sclera and research on ocular tissues. However, there is little information available on human corneal and retinal excision, probably due to the limited accessibility to human tissues. Most of the studies describing similar procedures are performed on animal models. Research scientists rely on the availability of properly dissected and well-conserved ocular tissues in order to extend the knowledge on human eye development, homeostasis and function. As we receive high amount of ocular globes out of which approximately 40% (
Table 1
) of them are used for research purposes, we are able to perform huge amount of experiments on these tissues, defining techniques to excise and preserve them regularly. The cornea is an avascular tissue which enables the transmission of light onto the retina and for this purpose should always maintain a good degree of transparency. Within the cornea, the limbus region, which is a reservoir of the stem cells, helps the reconstruction of epithelial cells and restricts the overgrowth of the conjunctiva maintaining corneal transparency and clarity. The size and thickness of the cornea are critical for clear vision, as changes in either of them could lead to distracted, unclear vision. The cornea comprises of 5 layers; a) epithelium, b) Bowman's layer, c) stroma, d) Descemet's membrane and e) endothelium. All layers should function properly to ensure clear vision
4,5,6
. The choroid is the intermediate tunic between the sclera and retina, bounded on the interior by the Bruch's membrane and is responsible for blood flow in the eye. The choroid also helps to regulate the temperature and supplies nourishment to the outer layers of the retina
5,6
. The retina is a layer of nervous tissue that covers the back of the ocular globe (Suppl.
Figure 1
) and consists of two parts: a photoreceptive part and a non-receptive part. The retina helps to receive the light from the cornea and lens and converts it into the chemical energy eventually transmitted to the brain with help of the optic nerve
5,6
. The aim of this paper is to provide a protocol for the dissection of corneal and retinal tissues from human ocular globes. Avoiding cross-contamination with adjacent tissues and preserving RNA integrity is of fundamental importance as such tissues are indispensable for research purposes aimed at (i) characterizing the transcriptome of the ocular tissues, (ii) isolating stem cells for regenerative medicine projects, and (iii) evaluating histological differences between tissues from normal/affected subjects. In this paper we describe the technique we currently use to remove the cornea, the choroid and retinal tissues from an ocular globe. Here we provide a detailed protocol for the dissection of the human ocular globe and the excision of corneal and retinal tissues. The accompanying video will help researchers to learn an appropriate technique for the retrieval of precious human tissues which are difficult to find regularly.
Medicine, Issue 64, Physiology, Human cadaver ocular globe, in situ excision, corneal tissue, in situ evisceration, retinal tissue
3765
Electric Cell-substrate Impedance Sensing for the Quantification of Endothelial Proliferation, Barrier Function, and Motility
Institutions: Institute for Cardiovascular Research, VU University Medical Center, Institute for Cardiovascular Research, VU University Medical Center.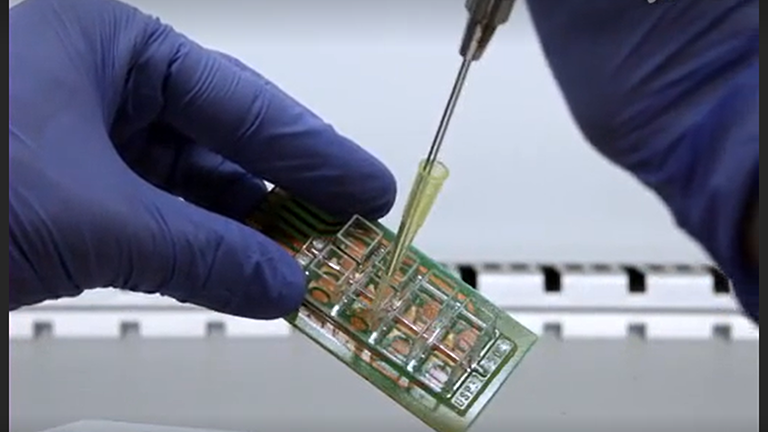 Electric Cell-substrate Impedance Sensing (ECIS) is an
in vitro
impedance measuring system to quantify the behavior of cells within adherent cell layers. To this end, cells are grown in special culture chambers on top of opposing, circular gold electrodes. A constant small alternating current is applied between the electrodes and the potential across is measured. The insulating properties of the cell membrane create a resistance towards the electrical current flow resulting in an increased electrical potential between the electrodes. Measuring cellular impedance in this manner allows the automated study of cell attachment, growth, morphology, function, and motility. Although the ECIS measurement itself is straightforward and easy to learn, the underlying theory is complex and selection of the right settings and correct analysis and interpretation of the data is not self-evident. Yet, a clear protocol describing the individual steps from the experimental design to preparation, realization, and analysis of the experiment is not available. In this article the basic measurement principle as well as possible applications, experimental considerations, advantages and limitations of the ECIS system are discussed. A guide is provided for the study of cell attachment, spreading and proliferation; quantification of cell behavior in a confluent layer, with regard to barrier function, cell motility, quality of cell-cell and cell-substrate adhesions; and quantification of wound healing and cellular responses to vasoactive stimuli. Representative results are discussed based on human microvascular (MVEC) and human umbilical vein endothelial cells (HUVEC), but are applicable to all adherent growing cells.
Bioengineering, Issue 85, ECIS, Impedance Spectroscopy, Resistance, TEER, Endothelial Barrier, Cell Adhesions, Focal Adhesions, Proliferation, Migration, Motility, Wound Healing
51300
Combination of Microstereolithography and Electrospinning to Produce Membranes Equipped with Niches for Corneal Regeneration
Institutions: University of Sheffield, University of Sheffield, L. V. Prasad Eye Institute.

Corneal problems affect millions of people worldwide reducing their quality of life significantly. Corneal disease can be caused by illnesses such as Aniridia or Steven Johnson Syndrome as well as by external factors such as chemical burns or radiation. Current treatments are (i) the use of corneal grafts and (ii) the use of stem cell expanded in the laboratory and delivered on carriers (
e.g.
, amniotic membrane); these treatments are relatively successful but unfortunately they can fail after 3-5 years. There is a need to design and manufacture new corneal biomaterial devices able to mimic in detail the physiological environment where stem cells reside in the cornea. Limbal stem cells are located in the limbus (circular area between cornea and sclera) in specific niches known as the Palisades of Vogt. In this work we have developed a new platform technology which combines two cutting-edge manufacturing techniques (microstereolithography and electrospinning) for the fabrication of corneal membranes that mimic to a certain extent the limbus. Our membranes contain artificial micropockets which aim to provide cells with protection as the Palisades of Vogt do in the eye.
Bioengineering, Issue 91, electrospinning, microstereolithography, stem cell niche, storage, limbal explants
51826
Laser-Induced Chronic Ocular Hypertension Model on SD Rats
Institutions: The University of Hong Kong - HKU.

Glaucoma is one of the major causes of blindness in the world. Elevated intraocular pressure is a major risk factor. Laser photocoagulation induced ocular hypertension is one of the well established animal models. This video demonstrates how to induce ocular hypertension by Argon laser photocoagulation in rat.
Neuroscience, Issue 10, glaucoma, ocular hypertension, rat
549
Ex vivo Mechanical Loading of Tendon
Institutions: University of California, Berkeley , University of California, San Francisco.

Injuries to the tendon (e.g., wrist tendonitis, epicondyltis) due to overuse are common in sports activities and the workplace. Most are associated with repetitive, high force hand activities. The mechanisms of cellular and structural damage due to cyclical loading are not well known. The purpose of this video is to present a new system that can simultaneously load four tendons in tissue culture. The video describes the methods of sterile tissue harvest and how the tendons are loaded onto a clamping system that is subsequently immersed into media and maintained at 37°C. One clamp is fixed while the other one is moved with a linear actuator. Tendon tensile force is monitored with a load cell in series with the mobile clamp. The actuators are controlled with a LabView program. The four tendons can be repetitively loaded with different patterns of loading, repetition rate, rate of loading, and duration. Loading can continue for a few minutes to 48 hours. At the end of loading, the tendons are removed and the mid-substance extracted for biochemical analyses. This system allows for the investigation of the effects of loading patterns on gene expression and structural changes in tendon. Ultimately, mechanisms of injury due to overuse can be studies with the findings applied to treatment and prevention.
Developmental biology, issue 4, tendon, tension
209