A Neuronal and Astrocyte Co-Culture Assay for High Content Analysis of Neurotoxicity
Published: 05-05-2009
ABSTRACT
High Content Analysis (HCA) assays combine cells and detection reagents with automated imaging and powerful image analysis algorithms, allowing measurement of multiple cellular phenotypes within a single assay. In this study, we utilized HCA to develop a novel assay for neurotoxicity. Neurotoxicity assessment represents an important part of drug safety evaluation, as well as being a significant focus of environmental protection efforts. Additionally, neurotoxicity is also a well-accepted in vitro marker of the development of neurodegenerative diseases such as Alzheimer's and Parkinson's diseases. Recently, the application of HCA to neuronal screening has been reported. By labeling neuronal cells with βIII-tubulin, HCA assays can provide high-throughput, non-subjective, quantitative measurements of parameters such as neuronal number, neurite count and neurite length, all of which can indicate neurotoxic effects. However, the role of astrocytes remains unexplored in these models. Astrocytes have an integral role in the maintenance of central nervous system (CNS) homeostasis, and are associated with both neuroprotection and neurodegradation when they are activated in response to toxic substances or disease states. GFAP is an intermediate filament protein expressed predominantly in the astrocytes of the CNS. Astrocytic activation (gliosis) leads to the upregulation of GFAP, commonly accompanied by astrocyte proliferation and hypertrophy. This process of reactive gliosis has been proposed as an early marker of damage to the nervous system. The traditional method for GFAP quantitation is by immunoassay. This approach is limited by an inability to provide information on cellular localization, morphology and cell number. We determined that HCA could be used to overcome these limitations and to simultaneously measure multiple features associated with gliosis - changes in GFAP expression, astrocyte hypertrophy, and astrocyte proliferation - within a single assay. In co-culture studies, astrocytes have been shown to protect neurons against several types of toxic insult and to critically influence neuronal survival. Recent studies have suggested that the use of astrocytes in an in vitro neurotoxicity test system may prove more relevant to human CNS structure and function than neuronal cells alone. Accordingly, we have developed an HCA assay for co-culture of neurons and astrocytes, comprised of protocols and validated, target-specific detection reagents for profiling βIII-tubulin and glial fibrillary acidic protein (GFAP). This assay enables simultaneous analysis of neurotoxicity, neurite outgrowth, gliosis, neuronal and astrocytic morphology and neuronal and astrocytic development in a wide variety of cellular models, representing a novel, non-subjective, high-throughput assay for neurotoxicity assessment. The assay holds great potential for enhanced detection of neurotoxicity and improved productivity in neuroscience research and drug discovery.
21 Related JoVE Articles!
Seven Steps to Stellate Cells
Institutions: Harvard Medical School.

Hepatic stellate cells are liver-resident cells of star-like morphology and are located in the space of Disse between liver sinusoidal endothelial cells and hepatocytes
1,2
. Stellate cells are derived from bone marrow precursors and store up to 80% of the total body vitamin A
1, 2
. Upon activation, stellate cells differentiate into myofibroblasts to produce extracellular matrix, thus contributing to liver fibrosis
3
. Based on their ability to contract, myofibroblastic stellate cells can regulate the vascular tone associated with portal hypertension
4
. Recently, we demonstrated that hepatic stellate cells are potent antigen presenting cells and can activate NKT cells as well as conventional T lymphocytes
5
. Here we present a method for the efficient preparation of hepatic stellate cells from mouse liver. Due to their perisinusoidal localization, the isolation of hepatic stellate cells is a multi-step process. In order to render stellate cells accessible to isolation from the space of Disse, mouse livers are perfused
in situ
with the digestive enzymes Pronase E and Collagenase P. Following perfusion, the liver tissue is subjected to additional enzymatic treatment with Pronase E and Collagenase P
in vitro
. Subsequently, the method takes advantage of the massive amount of vitamin A-storing lipid droplets in hepatic stellate cells. This feature allows the separation of stellate cells from other hepatic cell types by centrifugation on an 8% Nycodenz gradient. The protocol described here yields a highly pure and homogenous population of stellate cells. Purity of preparations can be assessed by staining for the marker molecule glial fibrillary acidic protein (GFAP), prior to analysis by fluorescence microscopy or flow cytometry. Further, light microscopy reveals the unique appearance of star-shaped hepatic stellate cells that harbor high amounts of lipid droplets. Taken together, we present a detailed protocol for the efficient isolation of hepatic stellate cells, including representative images of their morphological appearance and GFAP expression that help to define the stellate cell entity.
Immunology, Issue 51, Hepatic Stellate Cell, Ito Cell, Liver Immunology, Retinoic Acid, Cell Isolation
2710
Analysis of Schwann-astrocyte Interactions Using In Vitro Assays
Institutions: University of Cambridge.

Schwann cells are one of the commonly used cells in repair strategies following spinal cord injuries. Schwann cells are capable of supporting axonal regeneration and sprouting by secreting growth factors
1,2
and providing growth promoting adhesion molecules
3
and extracellular matrix molecules
4
. In addition they myelinate the demyelinated axons at the site of injury
5
. However following transplantation, Schwann cells do not migrate from the site of implant and do not intermingle with the host astrocytes
6,7
. This results in formation of a sharp boundary between the Schwann cells and astrocytes, creating an obstacle for growing axons trying to exit the graft back into the host tissue proximally and distally. Astrocytes in contact with Schwann cells also undergo hypertrophy and up-regulate the inhibitory molecules
8-13
.
In vitro
assays have been used to model Schwann cell-astrocyte interactions and have been important in understanding the mechanism underlying the cellular behaviour. These
in vitro
assays include boundary assay, where a co-culture is made using two different cells with each cell type occupying different territories with only a small gap separating the two cell fronts. As the cells divide and migrate, the two cellular fronts get closer to each other and finally collide. This allows the behaviour of the two cellular populations to be analyzed at the boundary. Another variation of the same technique is to mix the two cellular populations in culture and over time the two cell types segregate with Schwann cells clumped together as islands in between astrocytes together creating multiple Schwann-astrocyte boundaries. The second assay used in studying the interaction of two cell types is the migration assay where cellular movement can be tracked on the surface of the other cell type monolayer
14,15
. This assay is commonly known as inverted coverslip assay. Schwann cells are cultured on small glass fragments and they are inverted face down onto the surface of astrocyte monolayers and migration is assessed from the edge of coverslip. Both assays have been instrumental in studying the underlying mechanisms involved in the cellular exclusion and boundary formation. Some of the molecules identified using these techniques include N-Cadherins 15, Chondroitin Sulphate proteoglycans(CSPGs)
16,17
, FGF/Heparin
18
, Eph/Ephrins
19
. This article intends to describe boundary assay and migration assay in stepwise fashion and elucidate the possible technical problems that might occur.
Cellular Biology, Issue 47, Schwann cell, astrocyte, boundary, migration, repulsion
2214
Production of Lentiviral Vectors for Transducing Cells from the Central Nervous System
Institutions: Washington University School of Medicine.

Efficient gene delivery in the central nervous system (CNS) is important in studying gene functions, modeling neurological diseases and developing therapeutic approaches. Lentiviral vectors are attractive tools in transduction of neurons and other cell types in CNS as they transduce both dividing and non-dividing cells, support sustained expression of transgenes, and have relatively large packaging capacity and low toxicity
1-3
. Lentiviral vectors have been successfully used in transducing many neural cell types
in vitro
4-6
and in animals
7-10
. Great efforts have been made to develop lentiviral vectors with improved biosafety and efficiency for gene delivery. The current third generation replication-defective and self-inactivating (SIN) lentiviral vectors are depicted in
Figure 1
. The required elements for vector packaging are split into four plasmids. In the lentiviral transfer plasmid, the U3 region in the 5' long terminal repeat (LTR) is replaced with a strong promoter from another virus. This modification allows the transcription of the vector sequence independent of HIV-1 Tat protein that is normally required for HIV gene expression
11
. The packaging signal (Ψ) is essential for encapsidation and the Rev-responsive element (RRE) is required for producing high titer vectors. The central polypurine tract (cPPT) is important for nuclear import of the vector DNA, a feature required for transducing non-dividing cells
12
. In the 3' LTR, the cis-regulatory sequences are completely removed from the U3 region. This deletion is copied to 5' LTR after reverse transcription, resulting in transcriptional inactivation of both LTRs. Plasmid pMDLg/pRRE contains HIV-1 gag/pol genes, which provide structural proteins and reverse transcriptase. pRSV-Rev encodes Rev which binds to the RRE for efficient RNA export from the nucleus. pCMV-G encodes the vesicular stomatitis virus glycoprotein (VSV-G) that replaces HIV-1 Env. VSV-G expands the tropism of the vectors and allows concentration via ultracentrifugation
13
. All the genes encoding the accessory proteins, including Vif, Vpr, Vpu, and Nef are excluded in the packaging system. The production and manipulation of lentiviral vectors should be carried out according to NIH guidelines for research involving recombinant DNA (https://oba.od.nih.gov/oba/rac/Guidelines/NIH_Guidelines.pdf). An approval from individual Institutional Biological and Chemical Safety Committee may be required before using lentiviral vectors. Lentiviral vectors are commonly produced by cotransfection of 293T cells with lentiviral transfer plasmid and the helper plasmids encoding the proteins required for vector packaging. Many lentiviral transfer plasmids and helper plasmids can be obtained from Addgene, a non-profit plasmid repository (https://www.addgene.org/). Some stable packaging cell lines have been developed, but these systems provide less flexibility and their packaging efficiency generally declines over time
14, 15
. Commercially available transfection kits may support high efficiency of transfection
16
, but they can be very expensive for large scale vector preparations. Calcium phosphate precipitation methods provide highly efficient transfection of 293T cells and thus provide a reliable and cost effective approach for lentiviral vector production. In this protocol, we produce lentiviral vectors by cotransfection of 293T cells with four plasmids based on the calcium phosphate precipitation principle, followed by purification and concentration with ultracentrifugation through a 20% sucrose cushion. The vector titers are determined by fluorescence- activated cell sorting (FACS) analysis or by real time qPCR. The production and titration of lentiviral vectors in this protocol can be finished with 9 days. We provide an example of transducing these vectors into murine neocortical cultures containing both neurons and astrocytes. We demonstrate that lentiviral vectors support high efficiency of transduction and cell type-specific gene expression in primary cultured cells from CNS.
Neuroscience, Issue 63, Cell culture, transduction, lentiviral vector, neuron, astrocyte, promoter, CNS, genetics
4031
Imaging Analysis of Neuron to Glia Interaction in Microfluidic Culture Platform (MCP)-based Neuronal Axon and Glia Co-culture System
Institutions: Tufts University, Tufts Sackler School of Graduate Biomedical Sciences.
Proper neuron to glia interaction is critical to physiological function of the central nervous system (CNS). This bidirectional communication is sophisticatedly mediated by specific signaling pathways between neuron and glia
1,2
. Identification and characterization of these signaling pathways is essential to the understanding of how neuron to glia interaction shapes CNS physiology. Previously, neuron and glia mixed cultures have been widely utilized for testing and characterizing signaling pathways between neuron and glia. What we have learned from these preparations and other
in vivo
tools, however, has suggested that mutual signaling between neuron and glia often occurred in specific compartments within neurons (
i.e.
, axon, dendrite, or soma)
3
. This makes it important to develop a new culture system that allows separation of neuronal compartments and specifically examines the interaction between glia and neuronal axons/dendrites. In addition, the conventional mixed culture system is not capable of differentiating the soluble factors and direct membrane contact signals between neuron and glia. Furthermore, the large quantity of neurons and glial cells in the conventional co-culture system lacks the resolution necessary to observe the interaction between a single axon and a glial cell. In this study, we describe a novel axon and glia co-culture system with the use of a microfluidic culture platform (MCP). In this co-culture system, neurons and glial cells are cultured in two separate chambers that are connected through multiple central channels. In this microfluidic culture platform, only neuronal processes (especially axons) can enter the glial side through the central channels. In combination with powerful fluorescent protein labeling, this system allows direct examination of signaling pathways between axonal/dendritic and glial interactions, such as axon-mediated transcriptional regulation in glia, glia-mediated receptor trafficking in neuronal terminals, and glia-mediated axon growth. The narrow diameter of the chamber also significantly prohibits the flow of the neuron-enriched medium into the glial chamber, facilitating probing of the direct membrane-protein interaction between axons/dendrites and glial surfaces.
Neuroscience, Issue 68, Molecular Biology, Cellular Biology, Biophysics, Microfluidics, Microfluidic culture platform, Compartmented culture, Neuron to glia signaling, neurons, glia, cell culture
4448
Detection of Alternative Splicing During Epithelial-Mesenchymal Transition
Institutions: Northwestern University Feinberg School of Medicine.

Alternative splicing plays a critical role in the epithelial-mesenchymal transition (EMT), an essential cellular program that occurs in various physiological and pathological processes. Here we describe a strategy to detect alternative splicing during EMT using an inducible EMT model by expressing the transcription repressor Twist. EMT is monitored by changes in cell morphology, loss of E-cadherin localization at cell-cell junctions, and the switched expression of EMT markers, such as loss of epithelial markers E-cadherin and γ-catenin and gain of mesenchymal markers N-cadherin and vimentin. Using isoform-specific primer sets, the alternative splicing of interested mRNAs are analyzed by quantitative RT-PCR. The production of corresponding protein isoforms is validated by immunoblotting assays. The method of detecting splice isoforms described here is also suitable for the study of alternative splicing in other biological processes.
Cellular Biology, Issue 92, alternative splicing, EMT, RNA, primer design, real time PCR, splice isoforms
51845
Transient Gene Expression in Tobacco using Gibson Assembly and the Gene Gun
Institutions: Harvard University, Harvard Medical School, Delft University of Technology.

In order to target a single protein to multiple subcellular organelles, plants typically duplicate the relevant genes, and express each gene separately using complex regulatory strategies including differential promoters and/or signal sequences. Metabolic engineers and synthetic biologists interested in targeting enzymes to a particular organelle are faced with a challenge: For a protein that is to be localized to more than one organelle, the engineer must clone the same gene multiple times. This work presents a solution to this strategy: harnessing alternative splicing of mRNA. This technology takes advantage of established chloroplast and peroxisome targeting sequences and combines them into a single mRNA that is alternatively spliced. Some splice variants are sent to the chloroplast, some to the peroxisome, and some to the cytosol. Here the system is designed for multiple-organelle targeting with alternative splicing. In this work, GFP was expected to be expressed in the chloroplast, cytosol, and peroxisome by a series of rationally designed 5' mRNA tags. These tags have the potential to reduce the amount of cloning required when heterologous genes need to be expressed in multiple subcellular organelles. The constructs were designed in previous work
11
, and were cloned using Gibson assembly, a ligation independent cloning method that does not require restriction enzymes. The resultant plasmids were introduced into
Nicotiana benthamiana
epidermal leaf cells with a modified Gene Gun protocol. Finally, transformed leaves were observed with confocal microscopy.
Environmental Sciences, Issue 86, Plant Leaves, Synthetic Biology, Plants, Genetically Modified, DNA, Plant, RNA, Gene Targeting, Plant Physiological Processes, Genes, Gene gun, Gibson assembly, Nicotiana benthamiana, Alternative splicing, confocal microscopy, chloroplast, peroxisome
51234
Inhibitory Synapse Formation in a Co-culture Model Incorporating GABAergic Medium Spiny Neurons and HEK293 Cells Stably Expressing GABAA Receptors
Institutions: University College London.

Inhibitory neurons act in the central nervous system to regulate the dynamics and spatio-temporal co-ordination of neuronal networks. GABA (γ-aminobutyric acid) is the predominant inhibitory neurotransmitter in the brain. It is released from the presynaptic terminals of inhibitory neurons within highly specialized intercellular junctions known as synapses, where it binds to GABA
A
receptors (GABA
A
Rs) present at the plasma membrane of the synapse-receiving, postsynaptic neurons. Activation of these GABA-gated ion channels leads to influx of chloride resulting in postsynaptic potential changes that decrease the probability that these neurons will generate action potentials. During development, diverse types of inhibitory neurons with distinct morphological, electrophysiological and neurochemical characteristics have the ability to recognize their target neurons and form synapses which incorporate specific GABA
A
Rs subtypes. This principle of selective innervation of neuronal targets raises the question as to how the appropriate synaptic partners identify each other. To elucidate the underlying molecular mechanisms, a novel
in vitro
co-culture model system was established, in which medium spiny GABAergic neurons, a highly homogenous population of neurons isolated from the embryonic striatum, were cultured with stably transfected HEK293 cell lines that express different GABA
A
R subtypes. Synapses form rapidly, efficiently and selectively in this system, and are easily accessible for quantification. Our results indicate that various GABA
A
R subtypes differ in their ability to promote synapse formation, suggesting that this reduced
in vitro
model system can be used to reproduce, at least in part, the
in vivo
conditions required for the recognition of the appropriate synaptic partners and formation of specific synapses. Here the protocols for culturing the medium spiny neurons and generating HEK293 cells lines expressing GABA
A
Rs are first described, followed by detailed instructions on how to combine these two cell types in co-culture and analyze the formation of synaptic contacts.
Neuroscience, Issue 93, Developmental neuroscience, synaptogenesis, synaptic inhibition, co-culture, stable cell lines, GABAergic, medium spiny neurons, HEK 293 cell line
52115
Isolation of mRNAs Associated with Yeast Mitochondria to Study Mechanisms of Localized Translation
Institutions: Technion - Israel Institute of Technology.

Most of mitochondrial proteins are encoded in the nucleus and need to be imported into the organelle. Import may occur while the protein is synthesized near the mitochondria. Support for this possibility is derived from recent studies, in which many mRNAs encoding mitochondrial proteins were shown to be localized to the mitochondria vicinity. Together with earlier demonstrations of ribosomes' association with the outer membrane, these results suggest a localized translation process. Such localized translation may improve import efficiency, provide unique regulation sites and minimize cases of ectopic expression. Diverse methods have been used to characterize the factors and elements that mediate localized translation. Standard among these is subcellular fractionation by differential centrifugation. This protocol has the advantage of isolation of mRNAs, ribosomes and proteins in a single procedure. These can then be characterized by various molecular and biochemical methods. Furthermore, transcriptomics and proteomics methods can be applied to the resulting material, thereby allow genome-wide insights. The utilization of yeast as a model organism for such studies has the advantages of speed, costs and simplicity. Furthermore, the advanced genetic tools and available deletion strains facilitate verification of candidate factors.
Biochemistry, Issue 85, mitochondria, mRNA localization, Yeast, S. cerevisiae, microarray, localized translation, biochemical fractionation
51265
Study Glial Cell Heterogeneity Influence on Axon Growth Using a New Coculture Method
Institutions: Cedars Sinai Medical Center, UCLA, Fourth Military Medical University, David Geffen School of Medicine, UCLA, Fourth Military Medical Univeristy.

In the central nervous system of all mammals, severed axons after injury are unable to regenerate to their original targets and functional recovery is very poor
1
. The failure of axon regeneration is a combined result of several factors including the hostile glial cell environment, inhibitory myelin related molecules and decreased intrinsic neuron regenerative capacity
2
. Astrocytes are the most predominant glial cell type in central nervous system and play important role in axon functions under physiology and pathology conditions
3
. Contrast to the homologous oligodendrocytes, astrocytes are a heterogeneous cell population composed by different astrocyte subpopulations with diverse morphologies and gene expression
4
. The functional significance of this heterogeneity, such as their influences on axon growth, is largely unknown. To study the glial cell, especially the function of astrocyte heterogeneity in neuron behavior, we established a new method by co-culturing high purified dorsal root ganglia neurons with glial cells obtained from the rat cortex. By this technique, we were able to directly compare neuron adhesion and axon growth on different astrocytes subpopulations under the same condition. In this report, we give the detailed protocol of this method for astrocytes isolation and culture, dorsal root ganglia neurons isolation and purification, and the co-culture of DRG neurons with astrocytes. This method could also be extended to other brain regions to study cellular or regional specific interaction between neurons and glial cells.
Neuroscience, Issue 43, Dorsal root ganglia, glial cell, heterogeneity, co-culture, regeneration, axon growth
2111
Affinity-based Isolation of Tagged Nuclei from Drosophila Tissues for Gene Expression Analysis
Institutions: Purdue University.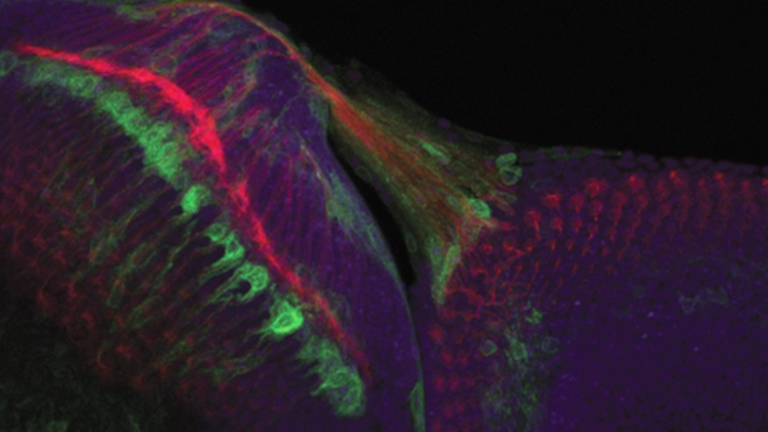 Drosophila melanogaster
embryonic and larval tissues often contain a highly heterogeneous mixture of cell types, which can complicate the analysis of gene expression in these tissues. Thus, to analyze cell-specific gene expression profiles from
Drosophila
tissues, it may be necessary to isolate specific cell types with high purity and at sufficient yields for downstream applications such as transcriptional profiling and chromatin immunoprecipitation. However, the irregular cellular morphology in tissues such as the central nervous system, coupled with the rare population of specific cell types in these tissues, can pose challenges for traditional methods of cell isolation such as laser microdissection and fluorescence-activated cell sorting (FACS). Here, an alternative approach to characterizing cell-specific gene expression profiles using affinity-based isolation of tagged nuclei, rather than whole cells, is described. Nuclei in the specific cell type of interest are genetically labeled with a nuclear envelope-localized EGFP tag using the Gal4/UAS binary expression system. These EGFP-tagged nuclei can be isolated using antibodies against GFP that are coupled to magnetic beads. The approach described in this protocol enables consistent isolation of nuclei from specific cell types in the
Drosophila
larval central nervous system at high purity and at sufficient levels for expression analysis, even when these cell types comprise less than 2% of the total cell population in the tissue. This approach can be used to isolate nuclei from a wide variety of
Drosophila
embryonic and larval cell types using specific Gal4 drivers, and may be useful for isolating nuclei from cell types that are not suitable for FACS or laser microdissection.
Biochemistry, Issue 85, Gene Expression, nuclei isolation, Drosophila, KASH, GFP, cell-type specific
51418
Isolation and Culture of Mouse Cortical Astrocytes
Institutions: University of Freiburg , University of Freiburg .

Astrocytes are an abundant cell type in the mammalian brain, yet much remains to be learned about their molecular and functional characteristics.
In vitro
astrocyte cell culture systems can be used to study the biological functions of these glial cells in detail. This video protocol shows how to obtain pure astrocytes by isolation and culture of mixed cortical cells of mouse pups. The method is based on the absence of viable neurons and the separation of astrocytes, oligodendrocytes and microglia, the three main glial cell populations of the central nervous system, in culture. Representative images during the first days of culture demonstrate the presence of a mixed cell population and indicate the timepoint, when astrocytes become confluent and should be separated from microglia and oligodendrocytes. Moreover, we demonstrate purity and astrocytic morphology of cultured astrocytes using immunocytochemical stainings for well established and newly described astrocyte markers. This culture system can be easily used to obtain pure mouse astrocytes and astrocyte-conditioned medium for studying various aspects of astrocyte biology.
Neuroscience, Issue 71, Neurobiology, Cellular Biology, Medicine, Molecular Biology, Anatomy, Physiology, brain, mouse, astrocyte culture, astrocyte, fibroblast, fibrinogen, chondroitin sulfate proteoglycan, neuronal regeneration, cell culture, animal model
50079
Laser Capture Microdissection of Neurons from Differentiated Human Neuroprogenitor Cells in Culture
Institutions: Denver VA Medical Center, University of Colorado Denver School of Medicine.

Neuroprogenitor cells (NPCs) isolated from the human fetal brain were expanded under proliferative conditions in the presence of epidermal growth factor (EGF) and fibroblast growth factor (FGF) to provide an abundant supply of cells. NPCs were differentiated in the presence of a new combination of nerve growth factor (NGF), brain-derived neurotrophic factor (BDNF), dibutyryl cAMP (DBC) and retinoic acid on dishes coated with poly-L-lysine and mouse laminin to obtain neuron-rich cultures. NPCs were also differentiated in the absence of neurotrophins, DBC and retinoic acid and in the presence of ciliary neurotrophic factor (CNTF) to yield astrocyte-rich cultures. Differentiated NPCs were characterized by immunofluorescence staining for a panel of neuronal markers including NeuN, synapsin, acetylcholinesterase, synaptophysin and GAP43. Glial fibrillary acidic protein (GFAP) and STAT3, astrocyte markers, were detected in 10-15% of differentiated NPCs. To facilitate cell-type specific molecular characterization, laser capture microdissection was performed to isolate neurons cultured on polyethylene naphthalate (PEN) membrane slides. The methods described in this study provide valuable tools to advance our understanding of the molecular mechanism of neurodegeneration.
Neuroscience, Issue 79, Neurobiology, Cellular Biology, Cells, Cultured, Neurons, Central Nervous System, Neurodegenerative Diseases, Human neuroprogenitor cells, neuronal differentiation, neuronal markers, astrocytes, laser capture microdissection, PEN membrane slides, cell culture
50487
Setting-up an In Vitro Model of Rat Blood-brain Barrier (BBB): A Focus on BBB Impermeability and Receptor-mediated Transport
Institutions: VECT-HORUS SAS, CNRS, NICN UMR 7259.

The blood brain barrier (BBB) specifically regulates molecular and cellular flux between the blood and the nervous tissue. Our aim was to develop and characterize a highly reproducible rat syngeneic
in vitro
model of the BBB using co-cultures of primary rat brain endothelial cells (RBEC) and astrocytes to study receptors involved in transcytosis across the endothelial cell monolayer. Astrocytes were isolated by mechanical dissection following trypsin digestion and were frozen for later co-culture. RBEC were isolated from 5-week-old rat cortices. The brains were cleaned of meninges and white matter, and mechanically dissociated following enzymatic digestion. Thereafter, the tissue homogenate was centrifuged in bovine serum albumin to separate vessel fragments from nervous tissue. The vessel fragments underwent a second enzymatic digestion to free endothelial cells from their extracellular matrix. The remaining contaminating cells such as pericytes were further eliminated by plating the microvessel fragments in puromycin-containing medium. They were then passaged onto filters for co-culture with astrocytes grown on the bottom of the wells. RBEC expressed high levels of tight junction (TJ) proteins such as occludin, claudin-5 and ZO-1 with a typical localization at the cell borders. The transendothelial electrical resistance (TEER) of brain endothelial monolayers, indicating the tightness of TJs reached 300 ohm·cm
2
on average. The endothelial permeability coefficients (Pe) for lucifer yellow (LY) was highly reproducible with an average of 0.26 ± 0.11 x 10
-3
cm/min. Brain endothelial cells organized in monolayers expressed the efflux transporter P-glycoprotein (P-gp), showed a polarized transport of rhodamine 123, a ligand for P-gp, and showed specific transport of transferrin-Cy3 and DiILDL across the endothelial cell monolayer. In conclusion, we provide a protocol for setting up an
in vitro
BBB model that is highly reproducible due to the quality assurance methods, and that is suitable for research on BBB transporters and receptors.
Medicine, Issue 88, rat brain endothelial cells (RBEC), mouse, spinal cord, tight junction (TJ), receptor-mediated transport (RMT), low density lipoprotein (LDL), LDLR, transferrin, TfR, P-glycoprotein (P-gp), transendothelial electrical resistance (TEER),
51278
Modeling Astrocytoma Pathogenesis In Vitro and In Vivo Using Cortical Astrocytes or Neural Stem Cells from Conditional, Genetically Engineered Mice
Institutions: University of North Carolina School of Medicine, University of North Carolina School of Medicine, University of North Carolina School of Medicine, University of North Carolina School of Medicine, University of North Carolina School of Medicine, Emory University School of Medicine, University of North Carolina School of Medicine.

Current astrocytoma models are limited in their ability to define the roles of oncogenic mutations in specific brain cell types during disease pathogenesis and their utility for preclinical drug development. In order to design a better model system for these applications, phenotypically wild-type cortical astrocytes and neural stem cells (NSC) from conditional, genetically engineered mice (GEM) that harbor various combinations of floxed oncogenic alleles were harvested and grown in culture. Genetic recombination was induced
in vitro
using adenoviral Cre-mediated recombination, resulting in expression of mutated oncogenes and deletion of tumor suppressor genes. The phenotypic consequences of these mutations were defined by measuring proliferation, transformation, and drug response
in vitro
. Orthotopic allograft models, whereby transformed cells are stereotactically injected into the brains of immune-competent, syngeneic littermates, were developed to define the role of oncogenic mutations and cell type on tumorigenesis
in vivo
. Unlike most established human glioblastoma cell line xenografts, injection of transformed GEM-derived cortical astrocytes into the brains of immune-competent littermates produced astrocytomas, including the most aggressive subtype, glioblastoma, that recapitulated the histopathological hallmarks of human astrocytomas, including diffuse invasion of normal brain parenchyma. Bioluminescence imaging of orthotopic allografts from transformed astrocytes engineered to express luciferase was utilized to monitor
in vivo
tumor growth over time. Thus, astrocytoma models using astrocytes and NSC harvested from GEM with conditional oncogenic alleles provide an integrated system to study the genetics and cell biology of astrocytoma pathogenesis
in vitro
and
in vivo
and may be useful in preclinical drug development for these devastating diseases.
Neuroscience, Issue 90, astrocytoma, cortical astrocytes, genetically engineered mice, glioblastoma, neural stem cells, orthotopic allograft
51763
Gene-environment Interaction Models to Unmask Susceptibility Mechanisms in Parkinson's Disease
Institutions: SRI International, University of California-Santa Cruz.

Lipoxygenase (LOX) activity has been implicated in neurodegenerative disorders such as Alzheimer's disease, but its effects in Parkinson's disease (PD) pathogenesis are less understood. Gene-environment interaction models have utility in unmasking the impact of specific cellular pathways in toxicity that may not be observed using a solely genetic or toxicant disease model alone. To evaluate if distinct LOX isozymes selectively contribute to PD-related neurodegeneration, transgenic (
i.e.
5-LOX and 12/15-LOX deficient) mice can be challenged with a toxin that mimics cell injury and death in the disorder. Here we describe the use of a neurotoxin, 1-methyl-4-phenyl-1,2,3,6-tetrahydropyridine (MPTP), which produces a nigrostriatal lesion to elucidate the distinct contributions of LOX isozymes to neurodegeneration related to PD. The use of MPTP in mouse, and nonhuman primate, is well-established to recapitulate the nigrostriatal damage in PD. The extent of MPTP-induced lesioning is measured by HPLC analysis of dopamine and its metabolites and semi-quantitative Western blot analysis of striatum for tyrosine hydroxylase (TH), the rate-limiting enzyme for the synthesis of dopamine. To assess inflammatory markers, which may demonstrate LOX isozyme-selective sensitivity, glial fibrillary acidic protein (GFAP) and Iba-1 immunohistochemistry are performed on brain sections containing substantia nigra, and GFAP Western blot analysis is performed on striatal homogenates. This experimental approach can provide novel insights into gene-environment interactions underlying nigrostriatal degeneration and PD.
Medicine, Issue 83, MPTP, dopamine, Iba1, TH, GFAP, lipoxygenase, transgenic, gene-environment interactions, mouse, Parkinson's disease, neurodegeneration, neuroinflammation
50960
High Efficiency Differentiation of Human Pluripotent Stem Cells to Cardiomyocytes and Characterization by Flow Cytometry
Institutions: Medical College of Wisconsin, Stanford University School of Medicine, Medical College of Wisconsin, Hong Kong University, Johns Hopkins University School of Medicine, Medical College of Wisconsin.

There is an urgent need to develop approaches for repairing the damaged heart, discovering new therapeutic drugs that do not have toxic effects on the heart, and improving strategies to accurately model heart disease. The potential of exploiting human induced pluripotent stem cell (hiPSC) technology to generate cardiac muscle "in a dish" for these applications continues to generate high enthusiasm. In recent years, the ability to efficiently generate cardiomyogenic cells from human pluripotent stem cells (hPSCs) has greatly improved, offering us new opportunities to model very early stages of human cardiac development not otherwise accessible. In contrast to many previous methods, the cardiomyocyte differentiation protocol described here does not require cell aggregation or the addition of Activin A or BMP4 and robustly generates cultures of cells that are highly positive for cardiac troponin I and T (TNNI3, TNNT2), iroquois-class homeodomain protein IRX-4 (IRX4), myosin regulatory light chain 2, ventricular/cardiac muscle isoform (MLC2v) and myosin regulatory light chain 2, atrial isoform (MLC2a) by day 10 across all human embryonic stem cell (hESC) and hiPSC lines tested to date. Cells can be passaged and maintained for more than 90 days in culture. The strategy is technically simple to implement and cost-effective. Characterization of cardiomyocytes derived from pluripotent cells often includes the analysis of reference markers, both at the mRNA and protein level. For protein analysis, flow cytometry is a powerful analytical tool for assessing quality of cells in culture and determining subpopulation homogeneity. However, technical variation in sample preparation can significantly affect quality of flow cytometry data. Thus, standardization of staining protocols should facilitate comparisons among various differentiation strategies. Accordingly, optimized staining protocols for the analysis of IRX4, MLC2v, MLC2a, TNNI3, and TNNT2 by flow cytometry are described.
Cellular Biology, Issue 91, human induced pluripotent stem cell, flow cytometry, directed differentiation, cardiomyocyte, IRX4, TNNI3, TNNT2, MCL2v, MLC2a
52010
Progenitor-derived Oligodendrocyte Culture System from Human Fetal Brain
Institutions: National Institute of Neurological Disorders and Stroke, National Institutes of Health, National Institute of Neurological Disorders and Stroke, National Institutes of Health.

Differentiation of human neural progenitors into neuronal and glial cell types offers a model to study and compare molecular regulation of neural cell lineage development.
In vitro
expansion of neural progenitors from fetal CNS tissue has been well characterized. Despite the identification and isolation of glial progenitors from adult human sub-cortical white matter and development of various culture conditions to direct differentiation of fetal neural progenitors into myelin producing oligodendrocytes, acquiring sufficient human oligodendrocytes for
in vitro
experimentation remains difficult. Differentiation of galactocerebroside
+
(GalC) and O4
+
oligodendrocyte precursor or progenitor cells (OPC) from neural precursor cells has been reported using second trimester fetal brain. However, these cells do not proliferate in the absence of support cells including astrocytes and neurons, and are lost quickly over time in culture. The need remains for a culture system to produce cells of the oligodendrocyte lineage suitable for
in vitro
experimentation. Culture of primary human oligodendrocytes could, for example, be a useful model to study the pathogenesis of neurotropic infectious agents like the human polyomavirus, JCV, that
in vivo
infects those cells. These cultured cells could also provide models of other demyelinating diseases of the central nervous system (CNS). Primary, human fetal brain-derived, multipotential neural progenitor cells proliferate
in vitro
while maintaining the capacity to differentiate into neurons (progenitor-derived neurons, PDN) and astrocytes (progenitor-derived astrocytes, PDA) This study shows that neural progenitors can be induced to differentiate through many of the stages of oligodendrocytic lineage development (progenitor-derived oligodendrocytes, PDO). We culture neural progenitor cells in DMEM-F12 serum-free media supplemented with basic fibroblast growth factor (bFGF), platelet derived growth factor (PDGF-AA), Sonic hedgehog (Shh), neurotrophic factor 3 (NT-3), N-2 and triiodothyronine (T3). The cultured cells are passaged at 2.5e6 cells per 75cm flasks approximately every seven days. Using these conditions, the majority of the cells in culture maintain a morphology characterized by few processes and express markers of pre-oligodendrocyte cells, such as A2B5 and O-4. When we remove the four growth factors (GF) (bFGF, PDGF-AA, Shh, NT-3) and add conditioned media from PDN, the cells start to acquire more processes and express markers specific of oligodendrocyte differentiation, such as GalC and myelin basic protein (MBP). We performed phenotypic characterization using multicolor flow cytometry to identify unique markers of oligodendrocyte.
Neuroscience, Issue 70, Developmental Biology, Medicine, Stem Cell Biology, Molecular Biology, Cellular Biology, Physiology, lineage characterization, neural progenitors, differentiation, cell culture model
4274
Systemic Injection of Neural Stem/Progenitor Cells in Mice with Chronic EAE
Institutions: University of Cambridge, UK, University of Cambridge, UK.

Neural stem/precursor cells (NPCs) are a promising stem cell source for transplantation approaches aiming at brain repair or restoration in regenerative neurology. This directive has arisen from the extensive evidence that brain repair is achieved after focal or systemic NPC transplantation in several preclinical models of neurological diseases. These experimental data have identified the cell delivery route as one of the main hurdles of restorative stem cell therapies for brain diseases that requires urgent assessment. Intraparenchymal stem cell grafting represents a logical approach to those pathologies characterized by isolated and accessible brain lesions such as spinal cord injuries and Parkinson's disease. Unfortunately, this principle is poorly applicable to conditions characterized by a multifocal, inflammatory and disseminated (both in time and space) nature, including multiple sclerosis (MS). As such, brain targeting by systemic NPC delivery has become a low invasive and therapeutically efficacious protocol to deliver cells to the brain and spinal cord of rodents and nonhuman primates affected by experimental chronic inflammatory damage of the central nervous system (CNS). This alternative method of cell delivery relies on the NPC pathotropism, specifically their innate capacity to (i) sense the environment
via
functional cell adhesion molecules and inflammatory cytokine and chemokine receptors; (ii) cross the leaking anatomical barriers after intravenous (
i.v
.) or intracerebroventricular (
i.c.v.
) injection; (iii) accumulate at the level of multiple perivascular site(s) of inflammatory brain and spinal cord damage; and (
i.v.
) exert remarkable tissue trophic and immune regulatory effects onto different host target cells
in vivo
. Here we describe the methods that we have developed for the
i.v
. and
i.c.v.
delivery of syngeneic NPCs in mice with experimental autoimmune encephalomyelitis (EAE), as model of chronic CNS inflammatory demyelination, and envisage the systemic stem cell delivery as a valuable technique for the selective targeting of the inflamed brain in regenerative neurology.
Immunology, Issue 86, Somatic neural stem/precursor cells, neurodegenerative disorders, regenerative medicine, multiple sclerosis, experimental autoimmune encephalomyelitis, systemic delivery, intravenous, intracerebroventricular
51154
Techniques for Processing Eyes Implanted With a Retinal Prosthesis for Localized Histopathological Analysis
Institutions: Bionics Institute, St Vincent's Hospital Melbourne, University of Melbourne, University of Melbourne.

With the recent development of retinal prostheses, it is important to develop reliable techniques for assessing the safety of these devices in preclinical studies. However, the standard fixation, preparation, and automated histology procedures are not ideal. Here we describe new procedures for evaluating the health of the retina directly adjacent to an implant. Retinal prostheses feature electrode arrays in contact with eye tissue. Previous methods have not been able to spatially localize the ocular tissue adjacent to individual electrodes within the array. In addition, standard histological processing often results in gross artifactual detachment of the retinal layers when assessing implanted eyes. Consequently, it has been difficult to assess localized damage, if present, caused by implantation and stimulation of an implanted electrode array. Therefore, we developed a method for identifying and localizing the ocular tissue adjacent to implanted electrodes using a (color-coded) dye marking scheme, and we modified an eye fixation technique to minimize artifactual retinal detachment. This method also rendered the sclera translucent, enabling localization of individual electrodes and specific parts of an implant. Finally, we used a matched control to increase the power of the histopathological assessments. In summary, this method enables reliable and efficient discrimination and assessment of the retinal cytoarchitecture in an implanted eye.
Medicine, Issue 78, Anatomy, Physiology, Biomedical Engineering, Bioengineering, Surgery, Ophthalmology, Pathology, Tissue Engineering, Prosthesis Implantation, Implantable Neurostimulators, Implants, Experimental, Histology, bionics, Retina, Prosthesis, Bionic Eye, Retinal, Implant, Suprachoroidal, Fixation, Localization, Safety, Preclinical, dissection, embedding, staining, tissue, surgical techniques, clinical techniques
50411
Cryopreservation of Cortical Tissue Blocks for the Generation of Highly Enriched Neuronal Cultures
Institutions: University of California, Irvine.

In this study, we outline a standardized protocol for the successful cryopreservation and thawing of cortical brain tissue blocks to generate highly enriched neuronal cultures. For this protocol the freezing medium used is 10% dimethyl sulfoxide (DMSO) diluted in Hank's Buffered Salt Solution (HBSS). Blocks of cortical tissue are transferred to cryovials containing the freezing medium and slowly frozen at -1°C/min in a rate-controlled freezing container. Post-thaw processing and dissociation of frozen tissue blocks consistently produced neuronal-enriched cultures which exhibited rapid neuritic growth during the first 5 days in culture and significant expansion of the neuronal network within 10 days. Immunocytochemical staining with the astrocytic marker glial fibrillary acidic protein (GFAP) and the neuronal marker beta-tubulin class III, revealed high numbers of neurons and astrocytes in the cultures. Generation of neural precursor cell cultures after tissue block dissociation resulted in rapidly expanding neurospheres, which produced large numbers of neurons and astrocytes under differentiating conditions. This simple cryopreservation protocol allows for the rapid, efficient, and inexpensive preservation of cortical brain tissue blocks, which grants increased flexibility for later generation of neuronal, astrocyte, and neuronal precursor cell cultures.
Neuroscience, Issue 45, cryopreservation, neuron, astrocyte, neuronal stem cells, tissue culture, brain cortex
2384
Axoplasm Isolation from Rat Sciatic Nerve
Institutions: Weizmann Institute of Science.

Isolation of pure axonal cytoplasm (axoplasm) from peripheral nerve is crucial for biochemical studies of many biological processes. In this article, we demonstrate and describe a protocol for axoplasm isolation from adult rat sciatic nerve based on the following steps: (1) dissection of nerve fascicles and separation of connective tissue; (2) incubation of short segments of nerve fascicles in hypotonic medium to release myelin and lyse non-axonal structures; and (3) extraction of the remaining axon-enriched material. Proteomic and biochemical characterization of this preparation has confirmed a high degree of enrichment for axonal components.
Neuroscience, Issue 43, Axoplasm, nerve, isolation, method, rat
2087