ABSTRACT
Plasma enhanced chemical vapor deposition (PECVD) of perfluoroalkanes has long been studied for tuning the wetting properties of surfaces. For high surface area microporous materials, such as metal-organic frameworks (MOFs), unique challenges present themselves for PECVD treatments. Herein the protocol for development of a MOF that was previously unstable to humid conditions is presented. The protocol describes the synthesis of Cu-BTC (also known as HKUST-1), the treatment of Cu-BTC with PECVD of perfluoroalkanes, the aging of materials under humid conditions, and the subsequent ammonia microbreakthrough experiments on milligram quantities of microporous materials. Cu-BTC has an extremely high surface area (~1,800 m2/g) when compared to most materials or surfaces that have been previously treated by PECVD methods. Parameters such as chamber pressure and treatment time are extremely important to ensure the perfluoroalkane plasma penetrates to and reacts with the inner MOF surfaces. Furthermore, the protocol for ammonia microbreakthrough experiments set forth here can be utilized for a variety of test gases and microporous materials.
20 Related JoVE Articles!
Dry Oxidation and Vacuum Annealing Treatments for Tuning the Wetting Properties of Carbon Nanotube Arrays
Institutions: California Institute of Technology.

In this article, we describe a simple method to reversibly tune the wetting properties of vertically aligned carbon nanotube (CNT) arrays. Here, CNT arrays are defined as densely packed multi-walled carbon nanotubes oriented perpendicular to the growth substrate as a result of a growth process by the standard thermal chemical vapor deposition (CVD) technique.
1,2
These CNT arrays are then exposed to vacuum annealing treatment to make them more hydrophobic or to dry oxidation treatment to render them more hydrophilic. The hydrophobic CNT arrays can be turned hydrophilic by exposing them to dry oxidation treatment, while the hydrophilic CNT arrays can be turned hydrophobic by exposing them to vacuum annealing treatment. Using a combination of both treatments, CNT arrays can be repeatedly switched between hydrophilic and hydrophobic.
2
Therefore, such combination show a very high potential in many industrial and consumer applications, including drug delivery system and high power density supercapacitors.
3-5
The key to vary the wettability of CNT arrays is to control the surface concentration of oxygen adsorbates. Basically oxygen adsorbates can be introduced by exposing the CNT arrays to any oxidation treatment. Here we use dry oxidation treatments, such as oxygen plasma and UV/ozone, to functionalize the surface of CNT with oxygenated functional groups. These oxygenated functional groups allow hydrogen bond between the surface of CNT and water molecules to form, rendering the CNT hydrophilic. To turn them hydrophobic, adsorbed oxygen must be removed from the surface of CNT. Here we employ vacuum annealing treatment to induce oxygen desorption process. CNT arrays with extremely low surface concentration of oxygen adsorbates exhibit a superhydrophobic behavior.
Chemistry, Issue 74, Chemical Engineering, Materials Science, Nanotechnology, Engineering, Nanotubes, Carbon, Oxidation-Reduction, Surface Properties, carbon nanotubes (synthesis and properties), Carbon nanotube, Wettability, Hydrophobic, Hydrophilic, UV/ozone, Oxygen Plasma, Vacuum Annealing
50378
Graphene Coatings for Biomedical Implants
Institutions: Clemson University, East Carolina University, Clemson University, Clemson University.

Atomically smooth graphene as a surface coating has potential to improve implant properties. This demonstrates a method for coating nitinol alloys with nanometer thick layers of graphene for applications as a stent material. Graphene was grown on copper substrates
via
chemical vapor deposition and then transferred onto nitinol substrates. In order to understand how the graphene coating could change biological response, cell viability of rat aortic endothelial cells and rat aortic smooth muscle cells was investigated. Moreover, the effect of graphene-coatings on cell adhesion and morphology was examined with fluorescent confocal microscopy. Cells were stained for actin and nuclei, and there were noticeable differences between pristine nitinol samples compared to graphene-coated samples. Total actin expression from rat aortic smooth muscle cells was found using western blot. Protein adsorption characteristics, an indicator for potential thrombogenicity, were determined for serum albumin and fibrinogen with gel electrophoresis. Moreover, the transfer of charge from fibrinogen to substrate was deduced using Raman spectroscopy. It was found that graphene coating on nitinol substrates met the functional requirements for a stent material and improved the biological response compared to uncoated nitinol. Thus, graphene-coated nitinol is a viable candidate for a stent material.
Biomedical Engineering, Issue 73, Bioengineering, Medicine, Biophysics, Materials Science, Physics, Pharmacology, Toxicology, Surgery, Chemistry and Materials (General), graphene, biomedical implants, surface modification, chemical vapor deposition, protein expression, confocal microscopy, implants, stents, clinical
50276
Collecting Variable-concentration Isothermal Titration Calorimetry Datasets in Order to Determine Binding Mechanisms
Institutions: McGill University.

Isothermal titration calorimetry (ITC) is commonly used to determine the thermodynamic parameters associated with the binding of a ligand to a host macromolecule. ITC has some advantages over common spectroscopic approaches for studying host/ligand interactions. For example, the heat released or absorbed when the two components interact is directly measured and does not require any exogenous reporters. Thus the binding enthalpy and the association constant (Ka) are directly obtained from ITC data, and can be used to compute the entropic contribution. Moreover, the shape of the isotherm is dependent on the c-value and the mechanistic model involved. The c-value is defined as c = n[P]tKa, where [P]t is the protein concentration, and n is the number of ligand binding sites within the host. In many cases, multiple binding sites for a given ligand are non-equivalent and ITC allows the characterization of the thermodynamic binding parameters for each individual binding site. This however requires that the correct binding model be used. This choice can be problematic if different models can fit the same experimental data. We have previously shown that this problem can be circumvented by performing experiments at several c-values. The multiple isotherms obtained at different c-values are fit simultaneously to separate models. The correct model is next identified based on the goodness of fit across the entire variable-c dataset. This process is applied here to the aminoglycoside resistance-causing enzyme aminoglycoside N-6'-acetyltransferase-Ii (AAC(6')-Ii). Although our methodology is applicable to any system, the necessity of this strategy is better demonstrated with a macromolecule-ligand system showing allostery or cooperativity, and when different binding models provide essentially identical fits to the same data. To our knowledge, there are no such systems commercially available. AAC(6')-Ii, is a homo-dimer containing two active sites, showing cooperativity between the two subunits. However ITC data obtained at a single c-value can be fit equally well to at least two different models a two-sets-of-sites independent model and a two-site sequential (cooperative) model. Through varying the c-value as explained above, it was established that the correct binding model for AAC(6')-Ii is a two-site sequential binding model. Herein, we describe the steps that must be taken when performing ITC experiments in order to obtain datasets suitable for variable-c analyses.
Biochemistry, Issue 50, ITC, global fitting, cooperativity, binding model, ligand
2529
Visualizing Proteins and Macromolecular Complexes by Negative Stain EM: from Grid Preparation to Image Acquisition
Institutions: University of California San Francisco , University of California San Francisco .

Single particle electron microscopy (EM), of both negative stained or frozen hydrated biological samples, has become a versatile tool in structural biology
1
. In recent years, this method has achieved great success in studying structures of proteins and macromolecular complexes
2, 3
. Compared with electron cryomicroscopy (cryoEM), in which frozen hydrated protein samples are embedded in a thin layer of vitreous ice
4
, negative staining is a simpler sample preparation method in which protein samples are embedded in a thin layer of dried heavy metal salt to increase specimen contrast
5
. The enhanced contrast of negative stain EM allows examination of relatively small biological samples. In addition to determining three-dimensional (3D) structure of purified proteins or protein complexes
6
, this method can be used for much broader purposes. For example, negative stain EM can be easily used to visualize purified protein samples, obtaining information such as homogeneity/heterogeneity of the sample, formation of protein complexes or large assemblies, or simply to evaluate the quality of a protein preparation. In this video article, we present a complete protocol for using an EM to observe negatively stained protein sample, from preparing carbon coated grids for negative stain EM to acquiring images of negatively stained sample in an electron microscope operated at 120kV accelerating voltage. These protocols have been used in our laboratory routinely and can be easily followed by novice users.
Bioengineering, Issue 58, Electron Microscopy, EM, cryoEM, protein, negative stain, 3D structures
3227
Formation of Ordered Biomolecular Structures by the Self-assembly of Short Peptides
Institutions: The Hebrew University of Jerusalem.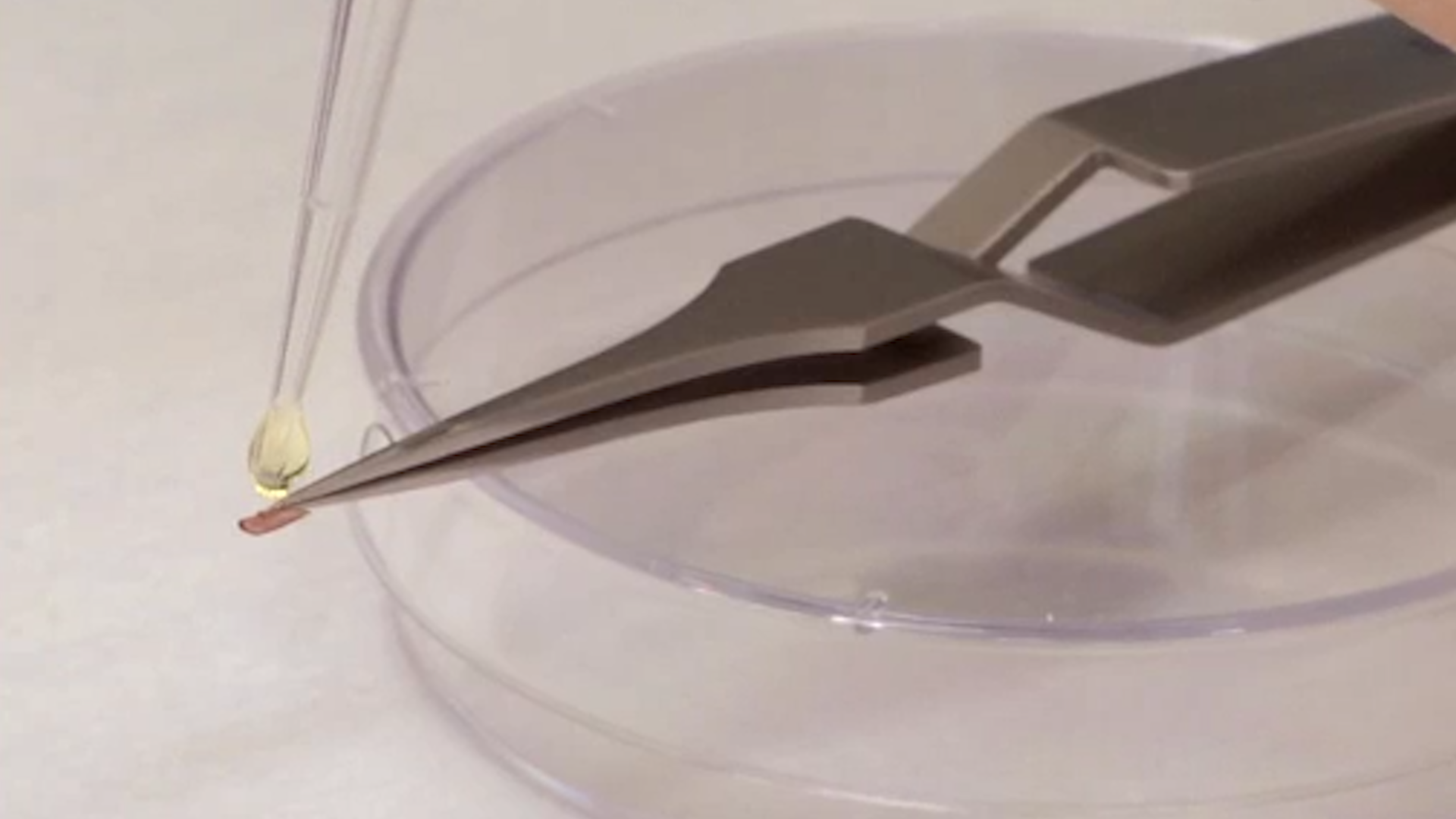 In nature, complex functional structures are formed by the self-assembly of biomolecules under mild conditions. Understanding the forces that control self-assembly and mimicking this process
in vitro
will bring about major advances in the areas of materials science and nanotechnology. Among the available biological building blocks, peptides have several advantages as they present substantial diversity, their synthesis in large scale is straightforward, and they can easily be modified with biological and chemical entities
1,2
. Several classes of designed peptides such as cyclic peptides, amphiphile peptides and peptide-conjugates self-assemble into ordered structures in solution. Homoaromatic dipeptides, are a class of short self-assembled peptides that contain all the molecular information needed to form ordered structures such as nanotubes, spheres and fibrils
3-8
. A large variety of these peptides is commercially available. This paper presents a procedure that leads to the formation of ordered structures by the self-assembly of homoaromatic peptides. The protocol requires only commercial reagents and basic laboratory equipment. In addition, the paper describes some of the methods available for the characterization of peptide-based assemblies. These methods include electron and atomic force microscopy and Fourier-Transform Infrared Spectroscopy (FT-IR). Moreover, the manuscript demonstrates the blending of peptides (coassembly) and the formation of a "beads on a string"-like structure by this process.
9
The protocols presented here can be adapted to other classes of peptides or biological building blocks and can potentially lead to the discovery of new peptide-based structures and to better control of their assembly.
Chemistry, Issue 81, Materials (General), self-assembly, peptides, diphenylalanine, atomatic interactions, coassembly, molecular recognition
50946
Synthesis and Functionalization of Nitrogen-doped Carbon Nanotube Cups with Gold Nanoparticles as Cork Stoppers
Institutions: University of Pittsburgh.
Nitrogen-doped carbon nanotubes consist of many cup-shaped graphitic compartments termed as nitrogen-doped carbon nanotube cups (NCNCs). These as-synthesized graphitic nanocups from chemical vapor deposition (CVD) method were stacked in a head-to-tail fashion held only through noncovalent interactions. Individual NCNCs can be isolated out of their stacking structure through a series of chemical and physical separation processes. First, as-synthesized NCNCs were oxidized in a mixture of strong acids to introduce oxygen-containing defects on the graphitic walls. The oxidized NCNCs were then processed using high-intensity probe-tip sonication which effectively separated the stacked NCNCs into individual graphitic nanocups. Owing to their abundant oxygen and nitrogen surface functionalities, the resulted individual NCNCs are highly hydrophilic and can be effectively functionalized with gold nanoparticles (GNPs), which preferentially fit in the opening of the cups as cork stoppers. These graphitic nanocups corked with GNPs may find promising applications as nanoscale containers and drug carriers.
Physics, Issue 75, Chemistry, Chemical Engineering, Materials Science, Physical Chemistry, Nanotechnology, Metal Nanoparticles, carbon nanotubes (synthesis and properties), carbon nanotubes, chemical vapor deposition, CVD, gold nanoparticles, probe-tip sonication, nitrogen-doped carbon nanotube cups, nanotubes, nanoparticles, nanomaterial, synthesis
50383
Localization and Relative Quantification of Carbon Nanotubes in Cells with Multispectral Imaging Flow Cytometry
Institutions: CNRS/Université Paris Diderot, CNRS/Université Paris Diderot, CNRS/Institut de Biologie Moléculaire et Cellulaire.

Carbon-based nanomaterials, like carbon nanotubes (CNTs), belong to this type of nanoparticles which are very difficult to discriminate from carbon-rich cell structures and
de facto
there is still no quantitative method to assess their distribution at cell and tissue levels. What we propose here is an innovative method allowing the detection and quantification of CNTs in cells using a multispectral imaging flow cytometer (ImageStream, Amnis). This newly developed device integrates both a high-throughput of cells and high resolution imaging, providing thus images for each cell directly in flow and therefore statistically relevant image analysis. Each cell image is acquired on bright-field (BF), dark-field (DF), and fluorescent channels, giving access respectively to the level and the distribution of light absorption, light scattered and fluorescence for each cell. The analysis consists then in a pixel-by-pixel comparison of each image, of the 7,000-10,000 cells acquired for each condition of the experiment. Localization and quantification of CNTs is made possible thanks to some particular intrinsic properties of CNTs: strong light absorbance and scattering; indeed CNTs appear as strongly absorbed dark spots on BF and bright spots on DF with a precise colocalization. This methodology could have a considerable impact on studies about interactions between nanomaterials and cells given that this protocol is applicable for a large range of nanomaterials, insofar as they are capable of absorbing (and/or scattering) strongly enough the light.
Bioengineering, Issue 82, bioengineering, imaging flow cytometry, Carbon Nanotubes, bio-nano-interactions, cellular uptake, cell trafficking
50566
Fabrication of Carbon Nanotube High-Frequency Nanoelectronic Biosensor for Sensing in High Ionic Strength Solutions
Institutions: University of Michigan - Ann Arbor.

The unique electronic properties and high surface-to-volume ratios of single-walled carbon nanotubes (SWNT) and semiconductor nanowires (NW)
1-4
make them good candidates for high sensitivity biosensors. When a charged molecule binds to such a sensor surface, it alters the carrier density
5
in the sensor, resulting in changes in its DC conductance. However, in an ionic solution a charged surface also attracts counter-ions from the solution, forming an electrical double layer (EDL). This EDL effectively screens off the charge, and in physiologically relevant conditions ~100 millimolar (mM), the characteristic charge screening length (Debye length) is less than a nanometer (nm). Thus, in high ionic strength solutions, charge based (DC) detection is fundamentally impeded
6-8
. We overcome charge screening effects by detecting molecular dipoles rather than charges at high frequency, by operating carbon nanotube field effect transistors as high frequency mixers
9-11
. At high frequencies, the AC drive force can no longer overcome the solution drag and the ions in solution do not have sufficient time to form the EDL. Further, frequency mixing technique allows us to operate at frequencies high enough to overcome ionic screening, and yet detect the sensing signals at lower frequencies
11-12
. Also, the high transconductance of SWNT transistors provides an internal gain for the sensing signal, which obviates the need for external signal amplifier. Here, we describe the protocol to (a) fabricate SWNT transistors, (b) functionalize biomolecules to the nanotube
13
, (c) design and stamp a poly-dimethylsiloxane (PDMS) micro-fluidic chamber
14
onto the device, and (d) carry out high frequency sensing in different ionic strength solutions
11
.
Bioengineering, Issue 77, Chemical Engineering, Biochemistry, Biophysics, Electrical Engineering, Nanotechnology, Biosensing Techniques, carbon nanotubes (synthesis and properties), bioelectronic instruments (theory and techniques), Carbon nanotube, biosensor, frequency mixing, biotin, streptavidin, poly-dimethylsiloxane
50438
Synthesis of Nine-atom Deltahedral Zintl Ions of Germanium and their Functionalization with Organic Groups
Institutions: University of Notre Dame .

Although the first studies of Zintl ions date between the late 1890's and early 1930's they were not structurally characterized until many years later.
1,2
Their redox chemistry is even younger, just about ten years old, but despite this short history these deltahedral clusters ions E
9
n-
(E = Si, Ge, Sn, Pb; n = 2, 3, 4) have already shown interesting and diverse reactivity and have been at the forefront of rapidly developing and exciting new chemistry.
3-6
Notable milestones are the oxidative coupling of Ge
9
4-
clusters to oligomers and infinite chains,
7-19
their metallation,
14-16,20-25
capping by transition-metal organometallic fragments,
26-34
insertion of a transition-metal atom at the center of the cluster which is sometimes combined with capping and oligomerization,
35-47
addition of main-group organometallic fragments as exo-bonded substituents,
48-50
and functionalization with various organic residues by reactions with organic halides and alkynes.
51-58
This latter development of attaching organic fragments directly to the clusters has opened up a new field, namely organo-Zintl chemistry, that is potentially fertile for further synthetic explorations, and it is the step-by-step procedure for the synthesis of germanium-divinyl clusters described herein. The initial steps outline the synthesis of an intermetallic precursor of K
4
Ge
9
from which the Ge
9
4-
clusters are extracted later in solution. This involves fused-silica glass blowing, arc-welding of niobium containers, and handling of highly air-sensitive materials in a glove box. The air-sensitive K
4
Ge
9
is then dissolved in ethylenediamine in the box and then alkenylated by a reaction with Me
3
SiC≡CSiMe
3
. The reaction is followed by electrospray mass spectrometry while the resulting solution is used for obtaining single crystals containing the functionalized clusters [H
2
C=CH-Ge
9
-CH=CH
2
]
2-
. For this purpose the solution is centrifuged, filtered, and carefully layered with a toluene solution of 18-crown-6. Left undisturbed for a few days, the so-layered solutions produced orange crystalline blocks of [K(18-crown-6)]
2
[Ge
9
(HCCH
2
)
2
]•en which were characterized by single-crystal X-ray diffraction. The process highlights standard reaction techniques, work-up, and analysis towards functionalized deltahedral Zintl clusters. It is hoped that it will help towards further development and understanding of these compounds in the community at large.
Biochemistry, Issue 60, Zintl ions, deltahedral clusters, germanium, intermetallics, alkali metals
3532
Synthesis, Assembly, and Characterization of Monolayer Protected Gold Nanoparticle Films for Protein Monolayer Electrochemistry
Institutions: University of Richmond, University of Richmond.

Colloidal gold nanoparticles protected with alkanethiolate ligands called monolayer protected gold clusters (MPCs) are synthesized and subsequently incorporated into film assemblies that serve as adsorption platforms for protein monolayer electrochemistry (PME). PME is utilized as the model system for studying electrochemical properties of redox proteins by confining them to an adsorption platform at a modified electrode, which also serves as a redox partner for electron transfer (ET) reactions. Studies have shown that gold nanoparticle film assemblies of this nature provide for a more homogeneous protein adsorption environment and promote ET without distance dependence compared to the more traditional systems modified with alkanethiol self-assembled monolayers (SAM).
1-3
In this paper, MPCs functionalized with hexanethiolate ligands are synthesized using a modified Brust reaction
4
and characterized with ultraviolet visible (UV-Vis) spectroscopy, transmission electron microscopy (TEM), and proton (
1
H) nuclear magnetic resonance (NMR). MPC films are assembled on SAM modified gold electrode interfaces by using a "dip cycle" method of alternating MPC layers and dithiol linking molecules. Film growth at gold electrode is tracked electrochemically by measuring changes to the double layer charging current of the system. Analogous films assembled on silane modified glass slides allow for optical monitoring of film growth and cross-sectional TEM analysis provides an estimated film thickness. During film assembly, manipulation of the MPC ligand protection as well as the interparticle linkage mechanism allow for networked films, that are readily adaptable, to interface with redox protein having different adsorption mechanism. For example,
Pseudomonas aeruginosa
azurin (AZ) can be adsorbed hydrophobically to dithiol-linked films of hexanethiolate MPCs and cytochrome
c
(cyt
c
) can be immobilized electrostatically at a carboxylic acid modified MPC interfacial layer. In this report, we focus on the film protocol for the AZ system exclusively. Investigations involving the adsorption of proteins on MPC modified synthetic platforms could further the understanding of interactions between biomolecules and man-made materials, and consequently aid the development of biosensor schemes, ET modeling systems, and synthetic biocompatible materials.
5-8
Bioengineering, Issue 56, Monolayer protected clusters, film assemblies, protein monolayer electrochemistry, azurin, self-assembled monolayers
3441
Investigation of Early Plasma Evolution Induced by Ultrashort Laser Pulses
Institutions: Purdue University.

Early plasma is generated owing to high intensity laser irradiation of target and the subsequent target material ionization. Its dynamics plays a significant role in laser-material interaction, especially in the air environment
1-11
. Early plasma evolution has been captured through pump-probe shadowgraphy
1-3
and interferometry
1,4-7
. However, the studied time frames and applied laser parameter ranges are limited. For example, direct examinations of plasma front locations and electron number densities within a delay time of 100 picosecond (ps) with respect to the laser pulse peak are still very few, especially for the ultrashort pulse of a duration around 100 femtosecond (fs) and a low power density around 10
14
W/cm
2
. Early plasma generated under these conditions has only been captured recently with high temporal and spatial resolutions
12
. The detailed setup strategy and procedures of this high precision measurement will be illustrated in this paper. The rationale of the measurement is optical pump-probe shadowgraphy: one ultrashort laser pulse is split to a pump pulse and a probe pulse, while the delay time between them can be adjusted by changing their beam path lengths. The pump pulse ablates the target and generates the early plasma, and the probe pulse propagates through the plasma region and detects the non-uniformity of electron number density. In addition, animations are generated using the calculated results from the simulation model of Ref.
12
to illustrate the plasma formation and evolution with a very high resolution (0.04 ~ 1 ps). Both the experimental method and the simulation method can be applied to a broad range of time frames and laser parameters. These methods can be used to examine the early plasma generated not only from metals, but also from semiconductors and insulators.
Physics, Issue 65, Mechanical Engineering, Early plasma, air ionization, pump-probe shadowgraph, molecular dynamics, Monte Carlo, particle-in-cell
4033
Manufacturing of Three-dimensionally Microstructured Nanocomposites through Microfluidic Infiltration
Institutions: École Polytechnique de Montréal.
Microstructured composite beams reinforced with complex three-dimensionally (3D) patterned nanocomposite microfilaments are fabricated via nanocomposite infiltration of 3D interconnected microfluidic networks. The manufacturing of the reinforced beams begins with the fabrication of microfluidic networks, which involves layer-by-layer deposition of fugitive ink filaments using a dispensing robot, filling the empty space between filaments using a low viscosity resin, curing the resin and finally removing the ink. Self-supported 3D structures with other geometries and many layers (
e.g.
 a few hundreds layers) could be built using this method. The resulting tubular microfluidic networks are then infiltrated with thermosetting nanocomposite suspensions containing nanofillers (
e.g.
 single-walled carbon nanotubes), and subsequently cured. The infiltration is done by applying a pressure gradient between two ends of the empty network (either by applying a vacuum or vacuum-assisted microinjection). Prior to the infiltration, the nanocomposite suspensions are prepared by dispersing nanofillers into polymer matrices using ultrasonication and three-roll mixing methods. The nanocomposites (
i.e.
 materials infiltrated) are then solidified under UV exposure/heat cure, resulting in a 3D-reinforced composite structure. The technique presented here enables the design of functional nanocomposite macroscopic products for microengineering applications such as actuators and sensors.
Chemistry, Issue 85, Microstructures, Nanocomposites, 3D-patterning, Infiltration, Direct-write assembly, Microfluidic networks
51512
Introduction to Solid Supported Membrane Based Electrophysiology
Institutions: Max Planck Institute of Biophysics, Goethe University Frankfurt.

The electrophysiological method we present is based on a solid supported membrane (SSM) composed of an octadecanethiol layer chemisorbed on a gold coated sensor chip and a phosphatidylcholine monolayer on top. This assembly is mounted into a cuvette system containing the reference electrode, a chlorinated silver wire. After adsorption of membrane fragments or proteoliposomes containing the membrane protein of interest, a fast solution exchange is used to induce the transport activity of the membrane protein. In the single solution exchange protocol two solutions, one non-activating and one activating solution, are needed. The flow is controlled by pressurized air and a valve and tubing system within a faraday cage. The kinetics of the electrogenic transport activity is obtained via capacitive coupling between the SSM and the proteoliposomes or membrane fragments. The method, therefore, yields only transient currents. The peak current represents the stationary transport activity. The time dependent transporter currents can be reconstructed by circuit analysis. This method is especially suited for prokaryotic transporters or eukaryotic transporters from intracellular membranes, which cannot be investigated by patch clamp or voltage clamp methods.
Biochemistry, Issue 75, Biophysics, Molecular Biology, Cellular Biology, Physiology, Proteins, Membrane Lipids, Membrane Transport Proteins, Kinetics, Electrophysiology, solid supported membrane, SSM, membrane transporter, lactose permease, lacY, capacitive coupling, solution exchange, model membrane, membrane protein, transporter, kinetics, transport mechanism
50230
Microwave-assisted Functionalization of Poly(ethylene glycol) and On-resin Peptides for Use in Chain Polymerizations and Hydrogel Formation
Institutions: University of Rochester, University of Rochester, University of Rochester Medical Center.

One of the main benefits to using poly(ethylene glycol) (PEG) macromers in hydrogel formation is synthetic versatility. The ability to draw from a large variety of PEG molecular weights and configurations (arm number, arm length, and branching pattern) affords researchers tight control over resulting hydrogel structures and properties, including Young's modulus and mesh size. This video will illustrate a rapid, efficient, solvent-free, microwave-assisted method to methacrylate PEG precursors into poly(ethylene glycol) dimethacrylate (PEGDM). This synthetic method provides much-needed starting materials for applications in drug delivery and regenerative medicine. The demonstrated method is superior to traditional methacrylation methods as it is significantly faster and simpler, as well as more economical and environmentally friendly, using smaller amounts of reagents and solvents. We will also demonstrate an adaptation of this technique for on-resin methacrylamide functionalization of peptides. This on-resin method allows the N-terminus of peptides to be functionalized with methacrylamide groups prior to deprotection and cleavage from resin. This allows for selective addition of methacrylamide groups to the N-termini of the peptides while amino acids with reactive side groups (
e.g.
 primary amine of lysine, primary alcohol of serine, secondary alcohols of threonine, and phenol of tyrosine) remain protected, preventing functionalization at multiple sites. This article will detail common analytical methods (proton Nuclear Magnetic Resonance spectroscopy (
;
H-NMR) and Matrix Assisted Laser Desorption Ionization Time of Flight mass spectrometry (MALDI-ToF)) to assess the efficiency of the functionalizations. Common pitfalls and suggested troubleshooting methods will be addressed, as will modifications of the technique which can be used to further tune macromer functionality and resulting hydrogel physical and chemical properties. Use of synthesized products for the formation of hydrogels for drug delivery and cell-material interaction studies will be demonstrated, with particular attention paid to modifying hydrogel composition to affect mesh size, controlling hydrogel stiffness and drug release.
Chemistry, Issue 80, Poly(ethylene glycol), peptides, polymerization, polymers, methacrylation, peptide functionalization, 1H-NMR, MALDI-ToF, hydrogels, macromer synthesis
50890
Aseptic Laboratory Techniques: Plating Methods
Institutions: University of California, Los Angeles .

Microorganisms are present on all inanimate surfaces creating ubiquitous sources of possible contamination in the laboratory. Experimental success relies on the ability of a scientist to sterilize work surfaces and equipment as well as prevent contact of sterile instruments and solutions with non-sterile surfaces. Here we present the steps for several plating methods routinely used in the laboratory to isolate, propagate, or enumerate microorganisms such as bacteria and phage. All five methods incorporate aseptic technique, or procedures that maintain the sterility of experimental materials. Procedures described include (1) streak-plating bacterial cultures to isolate single colonies, (2) pour-plating and (3) spread-plating to enumerate viable bacterial colonies, (4) soft agar overlays to isolate phage and enumerate plaques, and (5) replica-plating to transfer cells from one plate to another in an identical spatial pattern. These procedures can be performed at the laboratory bench, provided they involve non-pathogenic strains of microorganisms (Biosafety Level 1, BSL-1). If working with BSL-2 organisms, then these manipulations must take place in a biosafety cabinet. Consult the most current edition of the
Biosafety in Microbiological and Biomedical Laboratories
(BMBL) as well as
Material Safety Data Sheets
(MSDS) for Infectious Substances to determine the biohazard classification as well as the safety precautions and containment facilities required for the microorganism in question. Bacterial strains and phage stocks can be obtained from research investigators, companies, and collections maintained by particular organizations such as the
American Type Culture Collection
(ATCC). It is recommended that non-pathogenic strains be used when learning the various plating methods. By following the procedures described in this protocol, students should be able to: ● Perform plating procedures without contaminating media. ● Isolate single bacterial colonies by the streak-plating method. ● Use pour-plating and spread-plating methods to determine the concentration of bacteria. ● Perform soft agar overlays when working with phage. ● Transfer bacterial cells from one plate to another using the replica-plating procedure. ● Given an experimental task, select the appropriate plating method.
Basic Protocols, Issue 63, Streak plates, pour plates, soft agar overlays, spread plates, replica plates, bacteria, colonies, phage, plaques, dilutions
3064
FtsZ Polymerization Assays: Simple Protocols and Considerations
Institutions: University of Groningen.

During bacterial cell division, the essential protein FtsZ assembles in the middle of the cell to form the so-called Z-ring. FtsZ polymerizes into long filaments in the presence of GTP
in vitro
, and polymerization is regulated by several accessory proteins. FtsZ polymerization has been extensively studied
in vitro
using basic methods including light scattering, sedimentation, GTP hydrolysis assays and electron microscopy. Buffer conditions influence both the polymerization properties of FtsZ, and the ability of FtsZ to interact with regulatory proteins. Here, we describe protocols for FtsZ polymerization studies and validate conditions and controls using
Escherichia coli
and
Bacillus subtilis
FtsZ as model proteins. A low speed sedimentation assay is introduced that allows the study of the interaction of FtsZ with proteins that bundle or tubulate FtsZ polymers. An improved GTPase assay protocol is described that allows testing of GTP hydrolysis over time using various conditions in a 96-well plate setup, with standardized incubation times that abolish variation in color development in the phosphate detection reaction. The preparation of samples for light scattering studies and electron microscopy is described. Several buffers are used to establish suitable buffer pH and salt concentration for FtsZ polymerization studies. A high concentration of KCl is the best for most of the experiments. Our methods provide a starting point for the
in vitro
characterization of FtsZ, not only from
E. coli
and
B. subtilis
but from any other bacterium. As such, the methods can be used for studies of the interaction of FtsZ with regulatory proteins or the testing of antibacterial drugs which may affect FtsZ polymerization.
Basic Protocols, Issue 81, FtsZ, protein polymerization, cell division, GTPase, sedimentation assay, light scattering
50844
Towards Biomimicking Wood: Fabricated Free-standing Films of Nanocellulose, Lignin, and a Synthetic Polycation
Institutions: Virginia Tech, Virginia Tech, Illinois Institute of Technology- Moffett Campus, University of Guadalajara, Virginia Tech, Virginia Tech.

Woody materials are comprised of plant cell walls that contain a layered secondary cell wall composed of structural polymers of polysaccharides and lignin. Layer-by-layer (LbL) assembly process which relies on the assembly of oppositely charged molecules from aqueous solutions was used to build a freestanding composite film of isolated wood polymers of lignin and oxidized nanofibril cellulose (NFC). To facilitate the assembly of these negatively charged polymers, a positively charged polyelectrolyte, poly(diallyldimethylammomium chloride) (PDDA), was used as a linking layer to create this simplified model cell wall. The layered adsorption process was studied quantitatively using quartz crystal microbalance with dissipation monitoring (QCM-D) and ellipsometry. The results showed that layer mass/thickness per adsorbed layer increased as a function of total number of layers. The surface coverage of the adsorbed layers was studied with atomic force microscopy (AFM). Complete coverage of the surface with lignin in all the deposition cycles was found for the system, however, surface coverage by NFC increased with the number of layers. The adsorption process was carried out for 250 cycles (500 bilayers) on a cellulose acetate (CA) substrate. Transparent free-standing LBL assembled nanocomposite films were obtained when the CA substrate was later dissolved in acetone. Scanning electron microscopy (SEM) of the fractured cross-sections showed a lamellar structure, and the thickness per adsorption cycle (PDDA-Lignin-PDDA-NC) was estimated to be 17 nm for two different lignin types used in the study. The data indicates a film with highly controlled architecture where nanocellulose and lignin are spatially deposited on the nanoscale (a polymer-polymer nanocomposites), similar to what is observed in the native cell wall.
Plant Biology, Issue 88, nanocellulose, thin films, quartz crystal microbalance, layer-by-layer, LbL
51257
In Situ SIMS and IR Spectroscopy of Well-defined Surfaces Prepared by Soft Landing of Mass-selected Ions
Institutions: Pacific Northwest National Laboratory.

Soft landing of mass-selected ions onto surfaces is a powerful approach for the highly-controlled preparation of materials that are inaccessible using conventional synthesis techniques. Coupling soft landing with
in situ
characterization using secondary ion mass spectrometry (SIMS) and infrared reflection absorption spectroscopy (IRRAS) enables analysis of well-defined surfaces under clean vacuum conditions. The capabilities of three soft-landing instruments constructed in our laboratory are illustrated for the representative system of surface-bound organometallics prepared by soft landing of mass-selected ruthenium tris(bipyridine) dications, [Ru(bpy)
3
]
2+
(bpy = bipyridine), onto carboxylic acid terminated self-assembled monolayer surfaces on gold (COOH-SAMs).
In situ
time-of-flight (TOF)-SIMS provides insight into the reactivity of the soft-landed ions. In addition, the kinetics of charge reduction, neutralization and desorption occurring on the COOH-SAM both during and after ion soft landing are studied using
in situ
Fourier transform ion cyclotron resonance (FT-ICR)-SIMS measurements.
In situ
IRRAS experiments provide insight into how the structure of organic ligands surrounding metal centers is perturbed through immobilization of organometallic ions on COOH-SAM surfaces by soft landing. Collectively, the three instruments provide complementary information about the chemical composition, reactivity and structure of well-defined species supported on surfaces.
Chemistry, Issue 88, soft landing, mass selected ions, electrospray, secondary ion mass spectrometry, infrared spectroscopy, organometallic, catalysis
51344
Monitoring Protein Adsorption with Solid-state Nanopores
Institutions: Syracuse University.

Solid-state nanopores have been used to perform measurements at the single-molecule level to examine the local structure and flexibility of nucleic acids
1-6
, the unfolding of proteins
7
, and binding affinity of different ligands
8
. By coupling these nanopores to the resistive-pulse technique
9-12
, such measurements can be done under a wide variety of conditions and without the need for labeling
3
. In the resistive-pulse technique, an ionic salt solution is introduced on both sides of the nanopore. Therefore, ions are driven from one side of the chamber to the other by an applied transmembrane potential, resulting in a steady current. The partitioning of an analyte into the nanopore causes a well-defined deflection in this current, which can be analyzed to extract single-molecule information. Using this technique, the adsorption of single proteins to the nanopore walls can be monitored under a wide range of conditions
13
. Protein adsorption is growing in importance, because as microfluidic devices shrink in size, the interaction of these systems with single proteins becomes a concern. This protocol describes a rapid assay for protein binding to nitride films, which can readily be extended to other thin films amenable to nanopore drilling, or to functionalized nitride surfaces. A variety of proteins may be explored under a wide range of solutions and denaturing conditions. Additionally, this protocol may be used to explore more basic problems using nanopore spectroscopy.
Bioengineering, Issue 58, Solid-state nanopore, S/TEM, single-molecule biophysics, protein adsorption, resistive-pulse technique, nanopore spectroscopy
3560
Purifying Plasmid DNA from Bacterial Colonies Using the Qiagen Miniprep Kit
Institutions: University of California, Irvine (UCI).

Plasmid DNA purification from E. coli is a core technique for molecular cloning. Small scale purification (miniprep) from less than 5 ml of bacterial culture is a quick way for clone verification or DNA isolation, followed by further enzymatic reactions (polymerase chain reaction and restriction enzyme digestion). Here, we video-recorded the general procedures of miniprep through the QIAGEN's QIAprep 8 Miniprep Kit, aiming to introducing this highly efficient technique to the general beginners for molecular biology techniques. The whole procedure is based on alkaline lysis of E. coli cells followed by adsorption of DNA onto silica in the presence of high salt. It consists of three steps: 1) preparation and clearing of a bacterial lysate, 2) adsorption of DNA onto the QIAprep membrane, 3) washing and elution of plasmid DNA. All steps are performed without the use of phenol, chloroform, CsCl, ethidium bromide, and without alcohol precipitation. It usually takes less than 2 hours to finish the entire procedure.
Issue 6, Basic Protocols, plasmid, DNA, purification, Qiagen
247