Generation and Recovery of β-cell Spheroids From Step-growth PEG-peptide Hydrogels
Published: 12-06-2012
ABSTRACT
Hydrogels are hydrophilic crosslinked polymers that provide a three-dimensional microenvironment with tissue-like elasticity and high permeability for culturing therapeutically relevant cells or tissues. Hydrogels prepared from poly(ethylene glycol) (PEG) derivatives are increasingly used for a variety of tissue engineering applications, in part due to their tunable and cytocompatible properties. In this protocol, we utilized thiol-ene step-growth photopolymerizations to fabricate PEG-peptide hydrogels for encapsulating pancreatic MIN6 b-cells. The gels were formed by 4-arm PEG-norbornene (PEG4NB) macromer and a chymotrypsin-sensitive peptide crosslinker (CGGYC). The hydrophilic and non-fouling nature of PEG offers a cytocompatible microenvironment for cell survival and proliferation in 3D, while the use of chymotrypsin-sensitive peptide sequence (CGGY↓C, arrow indicates enzyme cleavage site, while terminal cysteine residues were added for thiol-ene crosslinking) permits rapid recovery of cell constructs forming within the hydrogel. The following protocol elaborates techniques for: (1) Encapsulation of MIN6 β-cells in thiol-ene hydrogels; (2) Qualitative and quantitative cell viability assays to determine cell survival and proliferation; (3) Recovery of cell spheroids using chymotrypsin-mediated gel erosion; and (4) Structural and functional analysis of the recovered spheroids.
21 Related JoVE Articles!
Engineering a Bilayered Hydrogel to Control ASC Differentiation
Institutions: United States Army Institute of Surgical Research, The University of Texas at Austin.

Natural polymers over the years have gained more importance because of their host biocompatibility and ability to interact with cells
in vitro
and
in vivo.
An area of research that holds promise in regenerative medicine is the combinatorial use of novel biomaterials and stem cells. A fundamental strategy in the field of tissue engineering is the use of three-dimensional scaffold (e.g., decellularized extracellular matrix, hydrogels, micro/nano particles) for directing cell function. This technology has evolved from the discovery that cells need a substrate upon which they can adhere, proliferate, and express their differentiated cellular phenotype and function
2-3
. More recently, it has also been determined that cells not only use these substrates for adherence, but also interact and take cues from the matrix substrate (e.g., extracellular matrix, ECM)
4
. Therefore, the cells and scaffolds have a reciprocal connection that serves to control tissue development, organization, and ultimate function. Adipose-derived stem cells (ASCs) are mesenchymal, non-hematopoetic stem cells present in adipose tissue that can exhibit multi-lineage differentiation and serve as a readily available source of cells (i.e. pre-vascular endothelia and pericytes). Our hypothesis is that adipose-derived stem cells can be directed toward differing phenotypes simultaneously by simply co-culturing them in bilayered matrices
1
. Our laboratory is focused on dermal wound healing. To this end, we created a single composite matrix from the natural biomaterials, fibrin, collagen, and chitosan that can mimic the characteristics and functions of a dermal-specific wound healing ECM environment.
Bioengineering, Issue 63, Biomedical Engineering, Tissue Engineering, chitosan, microspheres, collagen, hydrogel, PEG fibrin, cell delivery, adipose-derived stem cells, ASC, CSM
3953
Tissue Engineering: Construction of a Multicellular 3D Scaffold for the Delivery of Layered Cell Sheets
Institutions: University of California, Merced.
Many tissues, such as the adult human hearts, are unable to adequately regenerate after damage.
2,3
Strategies in tissue engineering propose innovations to assist the body in recovery and repair. For example, TE approaches may be able to attenuate heart remodeling after myocardial infarction (MI) and possibly increase total heart function to a near normal pre-MI level.
4
As with any functional tissue, successful regeneration of cardiac tissue involves the proper delivery of multiple cell types with environmental cues favoring integration and survival of the implanted cell/tissue graft. Engineered tissues should address multiple parameters including: soluble signals, cell-to-cell interactions, and matrix materials evaluated as delivery vehicles, their effects on cell survival, material strength, and facilitation of cell-to-tissue organization. Studies employing the direct injection of graft cells only ignore these essential elements.
2,5,6
A tissue design combining these ingredients has yet to be developed. Here, we present an example of integrated designs using layering of patterned cell sheets with two distinct types of biological-derived materials containing the target organ cell type and endothelial cells for enhancing new vessels formation in the "tissue". Although these studies focus on the generation of heart-like tissue, this tissue design can be applied to many organs other than heart with minimal design and material changes, and is meant to be an off-the-shelf product for regenerative therapies. The protocol contains five detailed steps. A temperature sensitive Poly(
N
-isopropylacrylamide) (pNIPAAM) is used to coat tissue culture dishes. Then, tissue specific cells are cultured on the surface of the coated plates/micropattern surfaces to form cell sheets with strong lateral adhesions. Thirdly, a base matrix is created for the tissue by combining porous matrix with neovascular permissive hydrogels and endothelial cells. Finally, the cell sheets are lifted from the pNIPAAM coated dishes and transferred to the base element, making the complete construct.
Bioengineering, Issue 92, Cell Delivery, Matrices, Tissue Engineering, Cardiac Patch, Cell Sheet Engineering
51044
Cellular Encapsulation in 3D Hydrogels for Tissue Engineering
Institutions: University of Pennsylvania , University of Pennsylvania-School of Medicine.

The 3D encapsulation of cells within hydrogels represents an increasingly important and popular technique for culturing cells and towards the development of constructs for tissue engineering. This environment better mimics what cells observe
in vivo,
compared to standard tissue culture, due to the tissue-like properties and 3D environment. Synthetic polymeric hydrogels are water-swollen networks that can be designed to be stable or to degrade through hydrolysis or proteolysis as new tissue is deposited by encapsulated cells. A wide variety of polymers have been explored for these applications, such as poly(ethylene glycol) and hyaluronic acid. Most commonly, the polymer is functionalized with reactive groups such as methacrylates or acrylates capable of undergoing crosslinking through various mechanisms. In the past decade, much progress has been made in engineering these microenvironments - e.g., via the physical or pendant covalent incorporation of biochemical cues - to improve viability and direct cellular phenotype, including the differentiation of encapsulated stem cells (Burdick
et al.
). The following methods for the 3D encapsulation of cells have been optimized in our and other laboratories to maximize cytocompatibility and minimize the number of hydrogel processing steps. In the following protocols (see Figure 1 for an illustration of the procedure), it is assumed that functionalized polymers capable of undergoing crosslinking are already in hand; excellent reviews of polymer chemistry as applied to the field of tissue engineering may be found elsewhere (Burdick
et al.
) and these methods are compatible with a range of polymer types. Further, the Michael-type addition (see Lutolf
et al.
) and light-initiated free radical (see Elisseeff
et al.
) mechanisms focused on here constitute only a small portion of the reported crosslinking techniques. Mixed mode crosslinking, in which a portion of reactive groups is first consumed by addition crosslinking and followed by a radical mechanism, is another commonly used and powerful paradigm for directing the phenotype of encapsulated cells (Khetan
et al.
, Salinas
et al.
).
Cellular Biology, Issue 32, Hydrogel, Tissue Engineering, Biomaterials, Encapsulation, Scaffolds, Bioengineering, Cell Culture, Polymers
1590
Fabrication of Micro-tissues using Modules of Collagen Gel Containing Cells
Institutions: University of Toronto, University of Toronto.

This protocol describes the fabrication of a type of micro-tissues called modules. The module approach generates uniform, scalable and vascularized tissues. The modules can be made of collagen as well as other gelable or crosslinkable materials. They are approximately 2 mm in length and 0.7 mm in diameter upon fabrication but shrink in size with embedded cells or when the modules are coated with endothelial cells. The modules individually are small enough that the embedded cells are within the diffusion limit of oxygen and other nutrients but modules can be packed together to form larger tissues that are perfusable. These tissues are modular in construction because different cell types can be embedded in or coated on the modules before they are packed together to form complex tissues. There are three main steps to making the modules: (1) neutralizing the collagen and embedding cells in it, (2) gelling the collagen in the tube and cutting the modules and (3) coating the modules with endothelial cells.
Bioengineering, Issue 46, Tissue engineering, micro-tissue, endothelial cells, collagen gels, modules, 3D tissue culture.
2177
Fabrication of Micropatterned Hydrogels for Neural Culture Systems using Dynamic Mask Projection Photolithography
Institutions: Tulane University.

Increasingly, patterned cell culture environments are becoming a relevant technique to study cellular characteristics, and many researchers believe in the need for 3D environments to represent
in vitro
experiments which better mimic
in vivo
qualities
1-3
. Studies in fields such as cancer research
4
, neural engineering
5
, cardiac physiology
6
, and cell-matrix interaction
7,8
have shown cell behavior differs substantially between traditional monolayer cultures and 3D constructs. Hydrogels are used as 3D environments because of their variety, versatility and ability to tailor molecular composition through functionalization
9-12
. Numerous techniques exist for creation of constructs as cell-supportive matrices, including electrospinning
13
, elastomer stamps
14
, inkjet printing
15
, additive photopatterning
16
, static photomask projection-lithography
17
, and dynamic mask microstereolithography
18
. Unfortunately, these methods involve multiple production steps and/or equipment not readily adaptable to conventional cell and tissue culture methods. The technique employed in this protocol adapts the latter two methods, using a digital micromirror device (DMD) to create dynamic photomasks for crosslinking geometrically specific poly-(ethylene glycol) (PEG) hydrogels, induced through UV initiated free radical polymerization. The resulting "2.5D" structures provide a constrained 3D environment for neural growth. We employ a dual-hydrogel approach, where PEG serves as a cell-restrictive region supplying structure to an otherwise shapeless but cell-permissive self-assembling gel made from either Puramatrix or agarose. The process is a quick simple one step fabrication which is highly reproducible and easily adapted for use with conventional cell culture methods and substrates. Whole tissue explants, such as embryonic dorsal root ganglia (DRG), can be incorporated into the dual hydrogel constructs for experimental assays such as neurite outgrowth. Additionally, dissociated cells can be encapsulated in the photocrosslinkable or self polymerizing hydrogel, or selectively adhered to the permeable support membrane using cell-restrictive photopatterning. Using the DMD, we created hydrogel constructs up to ~1mm thick, but thin film (<200 μm) PEG structures were limited by oxygen quenching of the free radical polymerization reaction. We subsequently developed a technique utilizing a layer of oil above the polymerization liquid which allowed thin PEG structure polymerization. In this protocol, we describe the expeditious creation of 3D hydrogel systems for production of microfabricated neural cell and tissue cultures. The dual hydrogel constructs demonstrated herein represent versatile
in vitro
models that may prove useful for studies in neuroscience involving cell survival, migration, and/or neurite growth and guidance. Moreover, as the protocol can work for many types of hydrogels and cells, the potential applications are both varied and vast.
Bioengineering, Issue 48, Micropatterning, Photopolymerization, Hydrogels, Cell Culture, Tissue Engineering, Neural Engineering
2636
Constructing a Collagen Hydrogel for the Delivery of Stem Cell-loaded Chitosan Microspheres
Institutions: United States Army Institute of Surgical Research.

Multipotent stem cells have been shown to be extremely useful in the field of regenerative medicine
1-3
. However, in order to use these cells effectively for tissue regeneration, a number of variables must be taken into account. These variables include: the total volume and surface area of the implantation site, the mechanical properties of the tissue and the tissue microenvironment, which includes the amount of vascularization and the components of the extracellular matrix. Therefore, the materials being used to deliver these cells must be biocompatible with a defined chemical composition while maintaining a mechanical strength that mimics the host tissue. These materials must also be permeable to oxygen and nutrients to provide a favorable microenvironment for cells to attach and proliferate. Chitosan, a cationic polysaccharide with excellent biocompatibility, can be easily chemically modified and has a high affinity to bind with
in vivo
macromolecules
4-5
. Chitosan mimics the glycosaminoglycan portion of the extracellular matrix, enabling it to function as a substrate for cell adhesion, migration and proliferation. In this study we utilize chitosan in the form of microspheres to deliver adipose-derived stem cells (ASC) into a collagen based three-dimensional scaffold
6
. An ideal cell-to-microsphere ratio was determined with respect to incubation time and cell density to achieve maximum number of cells that could be loaded. Once ASC are seeded onto the chitosan microspheres (CSM), they are embedded in a collagen scaffold and can be maintained in culture for extended periods. In summary, this study provides a method to precisely deliver stem cells within a three dimensional biomaterial scaffold.
Bioengineering, Issue 64, Biomedical Engineering, Tissue Engineering, chitosan, microspheres, collagen, hydrogel, cell delivery, adipose-derived stem cells, ASC, CSM
3624
Preparation of Hydroxy-PAAm Hydrogels for Decoupling the Effects of Mechanotransduction Cues
Institutions: Université de Mons.
It is now well established that many cellular functions are regulated by interactions of cells with physicochemical and mechanical cues of their extracellular matrix (ECM) environment. Eukaryotic cells constantly sense their local microenvironment through surface mechanosensors to transduce physical changes of ECM into biochemical signals, and integrate these signals to achieve specific changes in gene expression. Interestingly, physicochemical and mechanical parameters of the ECM can couple with each other to regulate cell fate. Therefore, a key to understanding mechanotransduction is to decouple the relative contribution of ECM cues on cellular functions. Here we present a detailed experimental protocol to rapidly and easily generate biologically relevant hydrogels for the independent tuning of mechanotransduction cues
in vitro
. We chemically modified polyacrylamide hydrogels (PAAm) to surmount their intrinsically non-adhesive properties by incorporating hydroxyl-functionalized acrylamide monomers during the polymerization. We obtained a novel PAAm hydrogel, called hydroxy-PAAm, which permits immobilization of any desired nature of ECM proteins. The combination of hydroxy-PAAm hydrogels with microcontact printing allows to independently control the morphology of single-cells, the matrix stiffness, the nature and the density of ECM proteins. We provide a simple and rapid method that can be set up in every biology lab to study
in vitro
cell mechanotransduction processes. We validate this novel two-dimensional platform by conducting experiments on endothelial cells that demonstrate a mechanical coupling between ECM stiffness and the nucleus.
Bioengineering, Issue 90, hydrogels, mechanotransduction, polyacrylamide, microcontact printing, cell shape, stiffness, durotaxis, cell-ligand density
51010
Bridging the Bio-Electronic Interface with Biofabrication
Institutions: University of Maryland , University of Maryland , University of Maryland .

Advancements in lab-on-a-chip technology promise to revolutionize both research and medicine through lower costs, better sensitivity, portability, and higher throughput. The incorporation of biological components onto biological microelectromechanical systems (bioMEMS) has shown great potential for achieving these goals. Microfabricated electronic chips allow for micrometer-scale features as well as an electrical connection for sensing and actuation. Functional biological components give the system the capacity for specific detection of analytes, enzymatic functions, and whole-cell capabilities. Standard microfabrication processes and bio-analytical techniques have been successfully utilized for decades in the computer and biological industries, respectively. Their combination and interfacing in a lab-on-a-chip environment, however, brings forth new challenges. There is a call for techniques that can build an interface between the electrode and biological component that is mild and is easy to fabricate and pattern. Biofabrication, described here, is one such approach that has shown great promise for its easy-to-assemble incorporation of biological components with versatility in the on-chip functions that are enabled. Biofabrication uses biological materials and biological mechanisms (self-assembly, enzymatic assembly) for bottom-up hierarchical assembly. While our labs have demonstrated these concepts in many formats
1,2,3
, here we demonstrate the assembly process based on electrodeposition followed by multiple applications of signal-based interactions. The assembly process consists of the electrodeposition of biocompatible stimuli-responsive polymer films on electrodes and their subsequent functionalization with biological components such as DNA, enzymes, or live cells
4,5
. Electrodeposition takes advantage of the pH gradient created at the surface of a biased electrode from the electrolysis of water
6,7
,. Chitosan and alginate are stimuli-responsive biological polymers that can be triggered to self-assemble into hydrogel films in response to imposed electrical signals
8
. The thickness of these hydrogels is determined by the extent to which the pH gradient extends from the electrode. This can be modified using varying current densities and deposition times
6,7
. This protocol will describe how chitosan films are deposited and functionalized by covalently attaching biological components to the abundant primary amine groups present on the film through either enzymatic or electrochemical methods
9,10
. Alginate films and their entrapment of live cells will also be addressed
11
. Finally, the utility of biofabrication is demonstrated through examples of signal-based interaction, including chemical-to-electrical, cell-to-cell, and also enzyme-to-cell signal transmission. Both the electrodeposition and functionalization can be performed under near-physiological conditions without the need for reagents and thus spare labile biological components from harsh conditions. Additionally, both chitosan and alginate have long been used for biologically-relevant purposes
12,13
. Overall, biofabrication, a rapid technique that can be simply performed on a benchtop, can be used for creating micron scale patterns of functional biological components on electrodes and can be used for a variety of lab-on-a-chip applications.
Bioengineering, Issue 64, Biomedical Engineering, electrodeposition, biofabrication, chitosan, alginate, lab-on-a-chip, microfluidic, DTRA
4231
Development of Amelogenin-chitosan Hydrogel for In Vitro Enamel Regrowth with a Dense Interface
Institutions: University of Southern California.

Biomimetic enamel reconstruction is a significant topic in material science and dentistry as a novel approach for the treatment of dental caries or erosion. Amelogenin has been proven to be a critical protein for controlling the organized growth of apatite crystals. In this paper, we present a detailed protocol for superficial enamel reconstruction by using a novel amelogenin-chitosan hydrogel. Compared to other conventional treatments, such as topical fluoride and mouthwash, this method not only has the potential to prevent the development of dental caries but also promotes significant and durable enamel restoration. The organized enamel-like microstructure regulated by amelogenin assemblies can significantly improve the mechanical properties of etched enamel, while the dense enamel-restoration interface formed by an
in situ
regrowth of apatite crystals can improve the effectiveness and durability of restorations. Furthermore, chitosan hydrogel is easy to use and can suppress bacterial infection, which is the major risk factor for the occurrence of dental caries. Therefore, this biocompatible and biodegradable amelogenin-chitosan hydrogel shows promise as a biomaterial for the prevention, restoration, and treatment of defective enamel.
Bioengineering, Issue 89, Enamel, Amelogenin, Chitosan hydrogel, Apatite, Biomimetic, Erosion, Superficial enamel reconstruction, Dense interface
51606
Mechanical Stimulation of Chondrocyte-agarose Hydrogels
Institutions: Queen's University , Queen's University .

Articular cartilage suffers from a limited repair capacity when damaged by mechanical insult or degraded by disease, such as osteoarthritis. To remedy this deficiency, several medical interventions have been developed. One such method is to resurface the damaged area with tissue-engineered cartilage; however, the engineered tissue typically lacks the biochemical properties and durability of native cartilage, questioning its long-term survivability. This limits the application of cartilage tissue engineering to the repair of small focal defects, relying on the surrounding tissue to protect the implanted material. To improve the properties of the developed tissue, mechanical stimulation is a popular method utilized to enhance the synthesis of cartilaginous extracellular matrix as well as the resultant mechanical properties of the engineered tissue. Mechanical stimulation applies forces to the tissue constructs analogous to those experienced
in vivo
. This is based on the premise that the mechanical environment, in part, regulates the development and maintenance of native tissue
1,2
. The most commonly applied form of mechanical stimulation in cartilage tissue engineering is dynamic compression at physiologic strains of approximately 5-20% at a frequency of 1 Hz
1,3
. Several studies have investigated the effects of dynamic compression and have shown it to have a positive effect on chondrocyte metabolism and biosynthesis, ultimately affecting the functional properties of the developed tissue
4-8
. In this paper, we illustrate the method to mechanically stimulate chondrocyte-agarose hydrogel constructs under dynamic compression and analyze changes in biosynthesis through biochemical and radioisotope assays. This method can also be readily modified to assess any potentially induced changes in cellular response as a result of mechanical stimuli.
Cellular Biology, Issue 68, Tissue Engineering, Mechanical Stimulation, Chondrocytes, Agarose, Cartilage
4229
A Matrigel-Based Tube Formation Assay to Assess the Vasculogenic Activity of Tumor Cells
Institutions: University of Massachusetts, University of Massachusetts, University of Massachusetts.

Over the past several decades, a tube formation assay using growth factor-reduced Matrigel has been typically employed to demonstrate the angiogenic activity of vascular endothelial cells
in vitro
1-5
. However, recently growing evidence has shown that this assay is not limited to test vascular behavior for endothelial cells. Instead, it also has been used to test the ability of a number of tumor cells to develop a vascular phenotype
6-8
. This capability was consistent with their vasculogenic behavior identified in xenotransplanted animals, a process known as vasculogenic mimicry (VM)
9
. There is a multitude of evidence demonstrating that tumor cell-mediated VM plays a vital role in the tumor development, independent of endothelial cell angiogenesis
6, 10-13
. For example, tumor cells were found to participate in the blood perfused, vascular channel formation in tissue samples from melanoma and glioblastoma patients
8, 10, 11
. Here, we described this tubular network assay as a useful tool in evaluation of vasculogenic activity of tumor cells. We found that some tumor cell lines such as melanoma B16F1 cells, glioblastoma U87 cells, and breast cancer MDA-MB-435 cells are able to form vascular tubules; but some do not such as colon cancer HCT116 cells. Furthermore, this vascular phenotype is dependent on cell numbers plated on the Matrigel. Therefore, this assay may serve as powerful utility to screen the vascular potential of a variety of cell types including vascular cells, tumor cells as well as other cells.
Cancer Biology, Issue 55, tumor, vascular, endothelial, tube formation, Matrigel, in vitro
3040
A Novel Three-dimensional Flow Chamber Device to Study Chemokine-directed Extravasation of Cells Circulating under Physiological Flow Conditions
Institutions: Torrey Pines Institute for Molecular Studies, Cascade LifeSciences Inc..

Extravasation of circulating cells from the bloodstream plays a central role in many physiological and pathophysiological processes, including stem cell homing and tumor metastasis. The three-dimensional flow chamber device (hereafter the 3D device) is a novel
in vitro
technology that recreates physiological shear stress and allows each step of the cell extravasation cascade to be quantified. The 3D device consists of an upper compartment in which the cells of interest circulate under shear stress, and a lower compartment of static wells that contain the chemoattractants of interest. The two compartments are separated by porous inserts coated with a monolayer of endothelial cells (EC). An optional second insert with microenvironmental cells of interest can be placed immediately beneath the EC layer. A gas exchange unit allows the optimal CO
2
tension to be maintained and provides an access point to add or withdraw cells or compounds during the experiment. The test cells circulate in the upper compartment at the desired shear stress (flow rate) controlled by a peristaltic pump. At the end of the experiment, the circulating and migrated cells are collected for further analyses. The 3D device can be used to examine cell rolling on and adhesion to EC under shear stress, transmigration in response to chemokine gradients, resistance to shear stress, cluster formation, and cell survival. In addition, the optional second insert allows the effects of crosstalk between EC and microenvironmental cells to be examined. The translational applications of the 3D device include testing of drug candidates that target cell migration and predicting the
in vivo
behavior of cells after intravenous injection. Thus, the novel 3D device is a versatile and inexpensive tool to study the molecular mechanisms that mediate cellular extravasation.
Bioengineering, Issue 77, Cellular Biology, Biophysics, Physiology, Molecular Biology, Biomedical Engineering, Immunology, Cells, Biological Factors, Equipment and Supplies, Cell Physiological Phenomena, Natural Science Disciplines, Life Sciences (General), circulating cells, extravasation, physiological shear stress, endothelial cells, microenvironment, chemokine gradient, flow, chamber, cell culture, assay
50959
Microwave-assisted Functionalization of Poly(ethylene glycol) and On-resin Peptides for Use in Chain Polymerizations and Hydrogel Formation
Institutions: University of Rochester, University of Rochester, University of Rochester Medical Center.

One of the main benefits to using poly(ethylene glycol) (PEG) macromers in hydrogel formation is synthetic versatility. The ability to draw from a large variety of PEG molecular weights and configurations (arm number, arm length, and branching pattern) affords researchers tight control over resulting hydrogel structures and properties, including Young's modulus and mesh size. This video will illustrate a rapid, efficient, solvent-free, microwave-assisted method to methacrylate PEG precursors into poly(ethylene glycol) dimethacrylate (PEGDM). This synthetic method provides much-needed starting materials for applications in drug delivery and regenerative medicine. The demonstrated method is superior to traditional methacrylation methods as it is significantly faster and simpler, as well as more economical and environmentally friendly, using smaller amounts of reagents and solvents. We will also demonstrate an adaptation of this technique for on-resin methacrylamide functionalization of peptides. This on-resin method allows the N-terminus of peptides to be functionalized with methacrylamide groups prior to deprotection and cleavage from resin. This allows for selective addition of methacrylamide groups to the N-termini of the peptides while amino acids with reactive side groups (
e.g.
 primary amine of lysine, primary alcohol of serine, secondary alcohols of threonine, and phenol of tyrosine) remain protected, preventing functionalization at multiple sites. This article will detail common analytical methods (proton Nuclear Magnetic Resonance spectroscopy (
;
H-NMR) and Matrix Assisted Laser Desorption Ionization Time of Flight mass spectrometry (MALDI-ToF)) to assess the efficiency of the functionalizations. Common pitfalls and suggested troubleshooting methods will be addressed, as will modifications of the technique which can be used to further tune macromer functionality and resulting hydrogel physical and chemical properties. Use of synthesized products for the formation of hydrogels for drug delivery and cell-material interaction studies will be demonstrated, with particular attention paid to modifying hydrogel composition to affect mesh size, controlling hydrogel stiffness and drug release.
Chemistry, Issue 80, Poly(ethylene glycol), peptides, polymerization, polymers, methacrylation, peptide functionalization, 1H-NMR, MALDI-ToF, hydrogels, macromer synthesis
50890
Setting-up an In Vitro Model of Rat Blood-brain Barrier (BBB): A Focus on BBB Impermeability and Receptor-mediated Transport
Institutions: VECT-HORUS SAS, CNRS, NICN UMR 7259.

The blood brain barrier (BBB) specifically regulates molecular and cellular flux between the blood and the nervous tissue. Our aim was to develop and characterize a highly reproducible rat syngeneic
in vitro
model of the BBB using co-cultures of primary rat brain endothelial cells (RBEC) and astrocytes to study receptors involved in transcytosis across the endothelial cell monolayer. Astrocytes were isolated by mechanical dissection following trypsin digestion and were frozen for later co-culture. RBEC were isolated from 5-week-old rat cortices. The brains were cleaned of meninges and white matter, and mechanically dissociated following enzymatic digestion. Thereafter, the tissue homogenate was centrifuged in bovine serum albumin to separate vessel fragments from nervous tissue. The vessel fragments underwent a second enzymatic digestion to free endothelial cells from their extracellular matrix. The remaining contaminating cells such as pericytes were further eliminated by plating the microvessel fragments in puromycin-containing medium. They were then passaged onto filters for co-culture with astrocytes grown on the bottom of the wells. RBEC expressed high levels of tight junction (TJ) proteins such as occludin, claudin-5 and ZO-1 with a typical localization at the cell borders. The transendothelial electrical resistance (TEER) of brain endothelial monolayers, indicating the tightness of TJs reached 300 ohm·cm
2
on average. The endothelial permeability coefficients (Pe) for lucifer yellow (LY) was highly reproducible with an average of 0.26 ± 0.11 x 10
-3
cm/min. Brain endothelial cells organized in monolayers expressed the efflux transporter P-glycoprotein (P-gp), showed a polarized transport of rhodamine 123, a ligand for P-gp, and showed specific transport of transferrin-Cy3 and DiILDL across the endothelial cell monolayer. In conclusion, we provide a protocol for setting up an
in vitro
BBB model that is highly reproducible due to the quality assurance methods, and that is suitable for research on BBB transporters and receptors.
Medicine, Issue 88, rat brain endothelial cells (RBEC), mouse, spinal cord, tight junction (TJ), receptor-mediated transport (RMT), low density lipoprotein (LDL), LDLR, transferrin, TfR, P-glycoprotein (P-gp), transendothelial electrical resistance (TEER),
51278
Mechanical Stimulation-induced Calcium Wave Propagation in Cell Monolayers: The Example of Bovine Corneal Endothelial Cells
Institutions: KU Leuven.

Intercellular communication is essential for the coordination of physiological processes between cells in a variety of organs and tissues, including the brain, liver, retina, cochlea and vasculature. In experimental settings, intercellular Ca
2+
-waves can be elicited by applying a mechanical stimulus to a single cell. This leads to the release of the intracellular signaling molecules IP
3
and Ca
2+
that initiate the propagation of the Ca
2+
-wave concentrically from the mechanically stimulated cell to the neighboring cells. The main molecular pathways that control intercellular Ca
2+
-wave propagation are provided by gap junction channels through the direct transfer of IP
3
and by hemichannels through the release of ATP. Identification and characterization of the properties and regulation of different connexin and pannexin isoforms as gap junction channels and hemichannels are allowed by the quantification of the spread of the intercellular Ca
2+
-wave, siRNA, and the use of inhibitors of gap junction channels and hemichannels. Here, we describe a method to measure intercellular Ca
2+
-wave in monolayers of primary corneal endothelial cells loaded with Fluo4-AM in response to a controlled and localized mechanical stimulus provoked by an acute, short-lasting deformation of the cell as a result of touching the cell membrane with a micromanipulator-controlled glass micropipette with a tip diameter of less than 1 μm. We also describe the isolation of primary bovine corneal endothelial cells and its use as model system to assess Cx43-hemichannel activity as the driven force for intercellular Ca
2+
-waves through the release of ATP. Finally, we discuss the use, advantages, limitations and alternatives of this method in the context of gap junction channel and hemichannel research.
Cellular Biology, Issue 77, Molecular Biology, Medicine, Biomedical Engineering, Biophysics, Immunology, Ophthalmology, Gap Junctions, Connexins, Connexin 43, Calcium Signaling, Ca2+, Cell Communication, Paracrine Communication, Intercellular communication, calcium wave propagation, gap junctions, hemichannels, endothelial cells, cell signaling, cell, isolation, cell culture
50443
Protein WISDOM: A Workbench for In silico De novo Design of BioMolecules
Institutions: Princeton University.

The aim of
de novo
protein design is to find the amino acid sequences that will fold into a desired 3-dimensional structure with improvements in specific properties, such as binding affinity, agonist or antagonist behavior, or stability, relative to the native sequence. Protein design lies at the center of current advances drug design and discovery. Not only does protein design provide predictions for potentially useful drug targets, but it also enhances our understanding of the protein folding process and protein-protein interactions. Experimental methods such as directed evolution have shown success in protein design. However, such methods are restricted by the limited sequence space that can be searched tractably. In contrast, computational design strategies allow for the screening of a much larger set of sequences covering a wide variety of properties and functionality. We have developed a range of computational
de novo
protein design methods capable of tackling several important areas of protein design. These include the design of monomeric proteins for increased stability and complexes for increased binding affinity. To disseminate these methods for broader use we present Protein WISDOM (https://www.proteinwisdom.org), a tool that provides automated methods for a variety of protein design problems. Structural templates are submitted to initialize the design process. The first stage of design is an optimization sequence selection stage that aims at improving stability through minimization of potential energy in the sequence space. Selected sequences are then run through a fold specificity stage and a binding affinity stage. A rank-ordered list of the sequences for each step of the process, along with relevant designed structures, provides the user with a comprehensive quantitative assessment of the design. Here we provide the details of each design method, as well as several notable experimental successes attained through the use of the methods.
Genetics, Issue 77, Molecular Biology, Bioengineering, Biochemistry, Biomedical Engineering, Chemical Engineering, Computational Biology, Genomics, Proteomics, Protein, Protein Binding, Computational Biology, Drug Design, optimization (mathematics), Amino Acids, Peptides, and Proteins, De novo protein and peptide design, Drug design, In silico sequence selection, Optimization, Fold specificity, Binding affinity, sequencing
50476
Synthesis of an Intein-mediated Artificial Protein Hydrogel
Institutions: Texas A&M University, College Station, Texas A&M University, College Station.

We present the synthesis of a highly stable protein hydrogel mediated by a split-intein-catalyzed protein
trans
-splicing reaction. The building blocks of this hydrogel are two protein block-copolymers each containing a subunit of a trimeric protein that serves as a crosslinker and one half of a split intein. A highly hydrophilic random coil is inserted into one of the block-copolymers for water retention. Mixing of the two protein block copolymers triggers an intein
trans
-splicing reaction, yielding a polypeptide unit with crosslinkers at either end that rapidly self-assembles into a hydrogel. This hydrogel is very stable under both acidic and basic conditions, at temperatures up to 50 °C, and in organic solvents. The hydrogel rapidly reforms after shear-induced rupture. Incorporation of a "docking station peptide" into the hydrogel building block enables convenient incorporation of "docking protein"-tagged target proteins. The hydrogel is compatible with tissue culture growth media, supports the diffusion of 20 kDa molecules, and enables the immobilization of bioactive globular proteins. The application of the intein-mediated protein hydrogel as an organic-solvent-compatible biocatalyst was demonstrated by encapsulating the horseradish peroxidase enzyme and corroborating its activity.
Bioengineering, Issue 83, split-intein, self-assembly, shear-thinning, enzyme, immobilization, organic synthesis
51202
Therapeutic Gene Delivery and Transfection in Human Pancreatic Cancer Cells using Epidermal Growth Factor Receptor-targeted Gelatin Nanoparticles
Institutions: Northeastern University.

More than 32,000 patients are diagnosed with pancreatic cancer in the United States per year and the disease is associated with very high mortality
1
. Urgent need exists to develop novel clinically-translatable therapeutic strategies that can improve on the dismal survival statistics of pancreatic cancer patients. Although gene therapy in cancer has shown a tremendous promise, the major challenge is in the development of safe and effective delivery system, which can lead to sustained transgene expression. Gelatin is one of the most versatile natural biopolymer, widely used in food and pharmaceutical products. Previous studies from our laboratory have shown that type B gelatin could physical encapsulate DNA, which preserved the supercoiled structure of the plasmid and improved transfection efficiency upon intracellular delivery. By thiolation of gelatin, the sulfhydryl groups could be introduced into the polymer and would form disulfide bond within nanoparticles, which stabilizes the whole complex and once disulfide bond is broken due to the presence of glutathione in cytosol, payload would be released
2-5
. Poly(ethylene glycol) (PEG)-modified GENS, when administered into the systemic circulation, provides long-circulation times and preferentially targets to the tumor mass due to the hyper-permeability of the neovasculature by the
enhanced permeability and retention
effect
6
. Studies have shown over-expression of the epidermal growth factor receptor (EGFR) on Panc-1 human pancreatic adenocarcinoma cells
7
. In order to actively target pancreatic cancer cell line, EGFR specific peptide was conjugated on the particle surface through a PEG spacer.
8
Most anti-tumor gene therapies are focused on administration of the tumor suppressor genes, such as wild-type p53 (wt-p53), to restore the pro-apoptotic function in the cells
9
. The p53 mechanism functions as a critical signaling pathway in cell growth, which regulates apoptosis, cell cycle arrest, metabolism and other processes
10
. In pancreatic cancer, most cells have mutations in p53 protein, causing the loss of apoptotic activity. With the introduction of wt-p53, the apoptosis could be repaired and further triggers cell death in cancer cells
11
. Based on the above rationale, we have designed EGFR targeting peptide-modified thiolated gelatin nanoparticles for wt-p53 gene delivery and evaluated delivery efficiency and transfection in Panc-1 cells.
Bioengineering, Issue 59, Gelatin Nanoparticle, Gene Therapy, Targeted Delivery, Pancreatic Cancer, Epidermal Growth Factor Receptor, EGFR
3612
Peptide-based Identification of Functional Motifs and their Binding Partners
Institutions: Morehouse School of Medicine, Institute for Systems Biology, Universiti Sains Malaysia.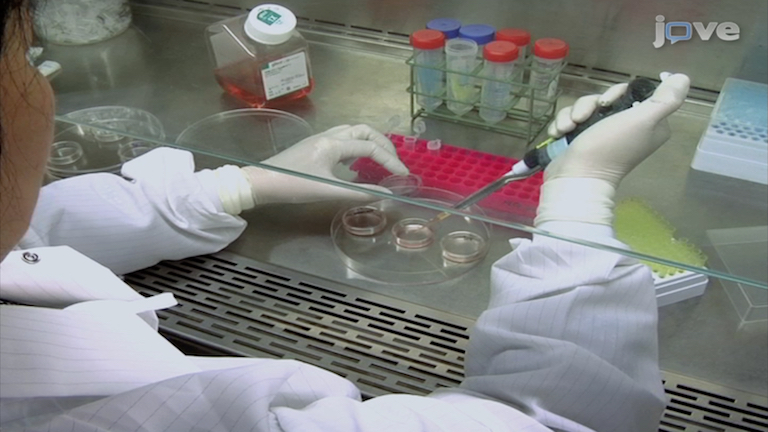 Specific short peptides derived from motifs found in full-length proteins, in our case HIV-1 Nef, not only retain their biological function, but can also competitively inhibit the function of the full-length protein. A set of 20 Nef scanning peptides, 20 amino acids in length with each overlapping 10 amino acids of its neighbor, were used to identify motifs in Nef responsible for its induction of apoptosis. Peptides containing these apoptotic motifs induced apoptosis at levels comparable to the full-length Nef protein. A second peptide, derived from the Secretion Modification Region (SMR) of Nef, retained the ability to interact with cellular proteins involved in Nef's secretion in exosomes (exNef). This SMRwt peptide was used as the "bait" protein in co-immunoprecipitation experiments to isolate cellular proteins that bind specifically to Nef's SMR motif. Protein transfection and antibody inhibition was used to physically disrupt the interaction between Nef and mortalin, one of the isolated SMR-binding proteins, and the effect was measured with a fluorescent-based exNef secretion assay. The SMRwt peptide's ability to outcompete full-length Nef for cellular proteins that bind the SMR motif, make it the first inhibitor of exNef secretion. Thus, by employing the techniques described here, which utilize the unique properties of specific short peptides derived from motifs found in full-length proteins, one may accelerate the identification of functional motifs in proteins and the development of peptide-based inhibitors of pathogenic functions.
Virology, Issue 76, Biochemistry, Immunology, Infection, Infectious Diseases, Molecular Biology, Medicine, Genetics, Microbiology, Genomics, Proteins, Exosomes, HIV, Peptides, Exocytosis, protein trafficking, secretion, HIV-1, Nef, Secretion Modification Region, SMR, peptide, AIDS, assay
50362
PuraMatrix Encapsulation of Cancer Cells
Institutions: Harvard Medical School, Dartmouth College, Harvard Medical School.

Increasing evidence suggests that culturing cancer cells in three dimensions more accurately recapitulates the complexity of tumor biology. Many of these models utilize reconstituted basement membrane derived from animals which contain a variable amount of growth factors and cytokines that can influence the growth of these cell culture models. Here, we describe in detail the preparation and use of PuraMatrix, a commercially available self assembling peptide gel that is devoid of animal-derived material and pathogens to encapsulate and propagate the ovarian cancer cell line, OVCAR-5. We begin by describing how to prepare the PuraMatrix prior to use. Next, we demonstrate how to properly mix the PuraMatrix and cell suspension to encapsulate the cells in the hydrogel. Upon the addition of cell culture media or injection into a physiological environment, the peptide component of PuraMatrix rapidly self assembles into a 3D hydrogel that exhibits a nanometer scale fibrous structure with an average pore size of 5-200 nm
1
. In addition, we demonstrate how to propagate cultures grown in encapsulated PuraMatrix. When encapsulated in PuraMatrix, OVCAR-5 cells assemble into three dimensional acinar structures that more closely resemble the morphology of micrometastatic nodules observed in the clinic than monolayer in vitro models. Using confocal microscopy we illustrate the appearance of representative OVCAR-5 cells encapsulated in PuraMatrix on day 1, 3, 5, and 7 post plating. The use of PuraMatrix to culture cancer cells should improve our understanding of the disease and allow us to assess treatment response in more clinically predictive model systems.
Cellular Biology, Issue 34, PuraMatrix, OVCAR-5 cells, Cancer, in vitro models, 3D, Encapsulation, PuraMatrix,
1692
Christopher Hughes: An in vitro model for the Study of Angiogenesis (Interview)
Institutions: University of California, Irvine (UCI).

Christopher C.W. Hughes describes the utility of his culture system for studying angiogenesis in vitro. He explains the importance of fibroblasts that secrete a critical, yet unidentified, soluble factor that allow endothelial cells to form vessels in culture that branch, form proper lumens, and undergo anastamosis.
Cellular Biology, Issue 3, angiogenesis, fibrin, endothelial, HUVEC, umbilical, Translational Research
175