Electrophysiological Recordings from the Giant Fiber Pathway of D. melanogaster
Published: 01-14-2011
ABSTRACT
When startled adult D. melanogaster react by jumping into the air and flying away. In many invertebrate species, including D. melanogaster, the "escape" (or "startle") response during the adult stage is mediated by the multi-component neuronal circuit called the Giant Fiber System (GFS). The comparative large size of the neurons, their distinctive morphology and simple connectivity make the GFS an attractive model system for studying neuronal circuitry. The GFS pathway is composed of two bilaterally symmetrical Giant Fiber (GF) interneurons whose axons descend from the brain along the midline into the thoracic ganglion via the cervical connective. In the mesothoracic neuromere (T2) of the ventral ganglia the GFs form electro-chemical synapses with 1) the large medial dendrite of the ipsilateral motorneuron (TTMn) which drives the tergotrochanteral muscle (TTM), the main extensor for the mesothoracic femur/leg, and 2) the contralateral peripherally synapsing interneuron (PSI) which in turn forms chemical (cholinergic) synapses with the motorneurons (DLMns) of the dorsal longitudinal muscles (DLMs), the wing depressors. The neuronal pathway(s) to the dorsovental muscles (DVMs), the wing elevators, has not yet been worked out (the DLMs and DVMs are known jointly as indirect flight muscles - they are not attached directly to the wings, but rather move the wings indirectly by distorting the nearby thoracic cuticle) (King and Wyman, 1980; Allen et al., 2006). The di-synaptic activation of the DLMs (via PSI) causes a small but important delay in the timing of the contraction of these muscles relative to the monosynaptic activation of TTM (~0.5 ms) allowing the TTMs to first extend the femur and propel the fly off the ground. The TTMs simultaneously stretch-activate the DLMs which in turn mutually stretch-activate the DVMs for the duration of the flight. The GF pathway can be activated either indirectly by applying a sensory (e.g."air-puff" or "lights-off") stimulus, or directly by a supra-threshold electrical stimulus to the brain (described here). In both cases, an action potential reaches the TTMs and DLMs solely via the GFs, PSIs, and TTM/DLM motoneurons, although the TTMns and DLMns do have other, as yet unidentified, sensory inputs. Measuring "latency response" (the time between the stimulation and muscle depolarization) and the "following to high frequency stimulation" (the number of successful responses to a certain number of high frequency stimuli) provides a way to reproducibly and quantitatively assess the functional status of the GFS components, including both central synapses (GF-TTMn, GF-PSI, PSI-DLMn) and the chemical (glutamatergic) neuromuscular junctions (TTMn-TTM and DLMn-DLM). It has been used to identify genes involved in central synapse formation and to assess CNS function.
23 Related JoVE Articles!
An Improved Method for Accurate and Rapid Measurement of Flight Performance in Drosophila
Institutions: University of Wisconsin-Madison.
Drosophila
has proven to be a useful model system for analysis of behavior, including flight. The initial flight tester involved dropping flies into an oil-coated graduated cylinder; landing height provided a measure of flight performance by assessing how far flies will fall before producing enough thrust to make contact with the wall of the cylinder. Here we describe an updated version of the flight tester with four major improvements. First, we added a "drop tube" to ensure that all flies enter the flight cylinder at a similar velocity between trials, eliminating variability between users. Second, we replaced the oil coating with removable plastic sheets coated in Tangle-Trap, an adhesive designed to capture live insects. Third, we use a longer cylinder to enable more accurate discrimination of flight ability. Fourth we use a digital camera and imaging software to automate the scoring of flight performance. These improvements allow for the rapid, quantitative assessment of flight behavior, useful for large datasets and large-scale genetic screens.
Behavior, Issue 84, Drosophila melanogaster, neuroscience, flight performance, slowpoke mutant flies, wild-type Canton-S flies
51223
Whole Mount Preparation of the Adult Drosophila Ventral Nerve Cord for Giant Fiber Dye Injection
Institutions: Florida Atlantic University.

To analyze the axonal and dendritic morphology of neurons, it is essential to obtain accurate labeling of neuronal structures. Preparing well labeled samples with little to no tissue damage enables us to analyze cell morphology and to compare individual samples to each other, hence allowing the identification of mutant anomalies. In the demonstrated dissection method the nervous system remains mostly inside the adult fly. Through a dorsal incision, the abdomen and thorax are opened and most of the internal organs are removed. Only the dorsal side of the ventral nerve cord (VNC) and the cervical connective (CvC) containing the big axons of the giant fibers (GFs)
1
are exposed, while the brain containing the GF cell body and dendrites remains
2
in the intact head. In this preparation most nerves of the VNC should remain attached to their muscles. Following the dissection, the intracellular filling of the giant fiber (GF) with a fluorescent dye is demonstrated. In the CvC the GF axons are located at the dorsal surface and thus can be easily visualized under a microscope with differential interference contrast (DIC) optics. This allows the injection of the GF axons with dye at this site to label the entire GF including the axons and their terminals in the VNC. This method results in reliable and strong staining of the GFs allowing the neurons to be imaged immediately after filling with an epifluorescent microscope. Alternatively, the fluorescent signal can be enhanced using standard immunohistochemistry procedures
3
suitable for high resolution confocal microscopy.
Neuroscience, Issue 52, Drosophila, in vivo dissection, giant fiber, ventral nerve cord, dye fill, immunohistochemistry
3080
Dissection of Oenocytes from Adult Drosophila melanogaster
Institutions: University of Toronto.

In
Drosophila melanogaster
, as in other insects, a waxy layer on the outer surface of the cuticle, composed primarily of hydrocarbon compounds, provides protection against desiccation and other environmental challenges. Several of these cuticular hydrocarbon (CHC) compounds also function as semiochemical signals, and as such mediate pheromonal communications between members of the same species, or in some instances between different species, and influence behavior. Specialized cells referred to as oenocytes are regarded as the primary site for CHC synthesis. However, relatively little is known regarding the involvement of the oenocytes in the regulation of the biosynthetic, transport, and deposition pathways contributing to CHC output. Given the significant role that CHCs play in several aspects of insect biology, including chemical communication, desiccation resistance, and immunity, it is important to gain a greater understanding of the molecular and genetic regulation of CHC production within these specialized cells. The adult oenocytes of
D. melanogaster
are located within the abdominal integument, and are metamerically arrayed in ribbon-like clusters radiating along the inner cuticular surface of each abdominal segment. In this video article we demonstrate a dissection technique used for the preparation of oenocytes from adult
D. melanogaster
. Specifically, we provide a detailed step-by-step demonstration of (1) how to fillet prepare an adult
Drosophila
abdomen, (2) how to identify the oenocytes and discern them from other tissues, and (3) how to remove intact oenocyte clusters from the abdominal integument. A brief experimental illustration of how this preparation can be used to examine the expression of genes involved in hydrocarbon synthesis is included. The dissected preparation demonstrated herein will allow for the detailed molecular and genetic analysis of oenocyte function in the adult fruit fly.
Developmental Biology, Issue 41, Drosophila, oenocytes, metabolism, cuticular hydrocarbons, chemical senses, chemical communication, pheromones, adult
2242
Fluorescent Labeling of Drosophila Heart Structures
Institutions: San Diego State University, The Sanford Burnham Institute for Medical Research.

The
Drosophila melanogaster
dorsal vessel, or heart, is a tubular structure comprised of a single layer of contractile cardiomyocytes, pericardial cells that align along each side of the heart wall, supportive alary muscles and, in adults, a layer of ventral longitudinal muscle cells. The contractile fibers house conserved constituents of the muscle cytoarchitecture including densely packed bundles of myofibrils and cytoskeletal/submembranous protein complexes, which interact with homologous components of the extracellular matrix. Here we describe a protocol for the fixation and the fluorescent labeling of particular myocardial elements from the hearts of dissected larvae and semi-intact adult
Drosophila
. Specifically, we demonstrate the labeling of sarcomeric F-actin and of α-actinin in larval hearts. Additionally, we perform labeling of F-actin and α-actinin in myosin-GFP expressing adult flies and of α-actinin and pericardin, a type IV extracellular matrix collagen, in wild type adult hearts. Particular attention is given to a mounting strategy for semi-intact adult hearts that minimizes handling and optimizes the opportunity for maintaining the integrity of the cardiac tubes and the associated tissues. These preparations are suitable for imaging via fluorescent and confocal microscopy. Overall, this procedure allows for careful and detailed analysis of the structural characteristics of the heart from a powerful genetically tractable model system.
Cellular Biology, Issue 32, Cardiac, cardiomyopathy, dorsal vessel, fluorescence, staining, GFP, larva, immunohistochemistry, microscopy, imaging
1423
Visualization of Proprioceptors in Drosophila Larvae and Pupae
Institutions: Technion-Israel Institute of Technology.
Proprioception is the ability to sense the motion, or position, of body parts by responding to stimuli arising within the body. In fruitflies and other insects proprioception is provided by specialized sensory organs termed chordotonal organs (ChOs)
2
. Like many other organs in
Drosophila
, ChOs develop twice during the life cycle of the fly. First, the larval ChOs develop during embryogenesis. Then, the adult ChOs start to develop in the larval imaginal discs and continue to differentiate during metamorphosis. The development of larval ChOs during embryogenesis has been studied extensively
10,11,13,15,16
. The centerpiece of each ChO is a sensory unit composed of a neuron and a scolopale cell. The sensory unit is stretched between two types of accessory cells that attach to the cuticle via specialized epidermal attachment cells
1,9,14
. When a fly larva moves, the relative displacement of the epidermal attachment cells leads to stretching of the sensory unit and consequent opening of specific transient receptor potential vanilloid (TRPV) channels at the outer segment of the dendrite
8,12
. The elicited signal is then transferred to the locomotor central pattern generator circuit in the central nervous system. Multiple ChOs have been described in the adult fly
7
. These are located near the joints of the adult fly appendages (legs, wings and halters) and in the thorax and abdomen. In addition, several hundreds of ChOs collectively form the Johnston's organ in the adult antenna that transduce acoustic to mechanical energy
3,5,17,4
. In contrast to the extensive knowledge about the development of ChOs in embryonic stages, very little is known about the morphology of these organs during larval stages. Moreover, with the exception of femoral ChOs
18
and Johnston's organ, our knowledge about the development and structure of ChOs in the adult fly is very fragmentary. Here we describe a method for staining and visualizing ChOs in third instar larvae and pupae. This method can be applied together with genetic tools to better characterize the morphology and understand the development of the various ChOs in the fly.
Neuroscience, Issue 64, Developmental Biology, Proprioceptors, chordotonal organs, wing, haltere, Drosophila, immunohistochemistry, pupae, larvae
3846
Paired Nanoinjection and Electrophysiology Assay to Screen for Bioactivity of Compounds using the Drosophila melanogaster Giant Fiber System
Institutions: Florida Atlantic University, Florida Atlantic University.

Screening compounds for
in vivo
activity can be used as a first step to identify candidates that may be developed into pharmacological agents
1,2
. We developed a novel nanoinjection/electrophysiology assay that allows the detection of bioactive modulatory effects of compounds on the function of a neuronal circuit that mediates the escape response in
Drosophila melanogaster
3,4
. Our
in vivo
assay, which uses the Drosophila Giant Fiber System (GFS,
Figure 1
) allows screening of different types of compounds, such as small molecules or peptides, and requires only minimal quantities to elicit an effect. In addition, the Drosophila GFS offers a large variety of potential molecular targets on neurons or muscles. The Giant Fibers (GFs) synapse electrically (Gap Junctions) as well as chemically (cholinergic) onto a Peripheral Synapsing Interneuron (PSI) and the Tergo Trochanteral Muscle neuron (TTMn)
5
. The PSI to DLMn (Dorsal Longitudinal Muscle neuron) connection is dependent on Dα7 nicotinic acetylcholine receptors (nAChRs)
6
. Finally, the neuromuscular junctions (NMJ) of the TTMn and the DLMn with the jump (TTM) and flight muscles (DLM) are glutamatergic
7-12
. Here, we demonstrate how to inject nanoliter quantities of a compound, while obtaining electrophysiological intracellular recordings from the Giant Fiber System
13
and how to monitor the effects of the compound on the function of this circuit. We show specificity of the assay with methyllycaconitine citrate (MLA), a nAChR antagonist, which disrupts the PSI to DLMn connection but not the GF to TTMn connection or the function of the NMJ at the jump or flight muscles. Before beginning this video it is critical that you carefully watch and become familiar with the JoVE video titled "Electrophysiological Recordings from the Giant Fiber Pathway of
D. melanogaster
" from Augustin
et al
7
, as the video presented here is intended as an expansion to this existing technique. Here we use the electrophysiological recordings method and focus in detail only on the addition of the paired nanoinjections and monitoring technique.
Neuroscience, Issue 62, Drosophila melanogaster, Giant Fiber Circuit, screening, in vivo, nanoinjection, electrophysiology, modulatory compounds, biochemistry
3597
Preparation of Drosophila Central Neurons for in situ Patch Clamping
Institutions: Arizona State University .

Short generation times and facile genetic techniques make the fruit fly
Drosophila melanogaster
an excellent genetic model in fundamental neuroscience research. Ion channels are the basis of all behavior since they mediate neuronal excitability. The first voltage gated ion channel cloned was the
Drosophila
voltage gated potassium channel Shaker
1,2
. Toward understanding the role of ion channels and membrane excitability for nervous system function it is useful to combine powerful genetic tools available in
Drosophila
with
in situ
patch clamp recordings. For many years such recordings have been hampered by the small size of the
Drosophila
CNS. Furthermore, a robust sheath made of glia and collagen constituted obstacles for patch pipette access to central neurons. Removal of this sheath is a necessary precondition for patch clamp recordings from any neuron in the adult
Drosophila
CNS. In recent years scientists have been able to conduct
in situ
patch clamp recordings from neurons in the adult brain
3,4
and ventral nerve cord of embryonic
5,6
, larval
7,8,9,10
, and adult
Drosophila
11,12,13,14
. A stable giga-seal is the main precondition for a good patch and depends on clean contact of the patch pipette with the cell membrane to avoid leak currents. Therefore, for whole cell
in situ
patch clamp recordings from adult
Drosophila
neurons must be cleaned thoroughly. In the first step, the ganglionic sheath has to be treated enzymatically and mechanically removed to make the target cells accessible. In the second step, the cell membrane has to be polished so that no layer of glia, collagen or other material may disturb giga-seal formation. This article describes how to prepare an identified central neuron in the
Drosophila
ventral nerve cord, the flight motoneuron 5 (MN5
15
), for somatic whole cell patch clamp recordings. Identification and visibility of the neuron is achieved by targeted expression of GFP in MN5. We do not aim to explain the patch clamp technique itself.
Neuroscience, Issue 68, Molecular Biology, Cellular Biology, Anatomy, Physiology, Patch clamp, in situ patch clamp, Drosophila, electrophysiology, motoneuron, neuron, CNS
4264
Live Imaging of Drosophila Larval Neuroblasts
Institutions: National Institutes of Health.

Stem cells divide asymmetrically to generate two progeny cells with unequal fate potential: a self-renewing stem cell and a differentiating cell. Given their relevance to development and disease, understanding the mechanisms that govern asymmetric stem cell division has been a robust area of study. Because they are genetically tractable and undergo successive rounds of cell division about once every hour, the stem cells of the
Drosophila
central nervous system, or neuroblasts, are indispensable models for the study of stem cell division. About 100 neural stem cells are located near the surface of each of the two larval brain lobes, making this model system particularly useful for live imaging microscopy studies. In this work, we review several approaches widely used to visualize stem cell divisions, and we address the relative advantages and disadvantages of those techniques that employ dissociated versus intact brain tissues. We also detail our simplified protocol used to explant whole brains from third instar larvae for live cell imaging and fixed analysis applications.
Neuroscience, Issue 89, live imaging, Drosophila, neuroblast, stem cell, asymmetric division, centrosome, brain, cell cycle, mitosis
51756
Reduced-gravity Environment Hardware Demonstrations of a Prototype Miniaturized Flow Cytometer and Companion Microfluidic Mixing Technology
Institutions: DNA Medicine Institute, Harvard Medical School, NASA Glenn Research Center, ZIN Technologies.

Until recently, astronaut blood samples were collected in-flight, transported to earth on the Space Shuttle, and analyzed in terrestrial laboratories. If humans are to travel beyond low Earth orbit, a transition towards space-ready, point-of-care (POC) testing is required. Such testing needs to be comprehensive, easy to perform in a reduced-gravity environment, and unaffected by the stresses of launch and spaceflight. Countless POC devices have been developed to mimic laboratory scale counterparts, but most have narrow applications and few have demonstrable use in an in-flight, reduced-gravity environment. In fact, demonstrations of biomedical diagnostics in reduced gravity are limited altogether, making component choice and certain logistical challenges difficult to approach when seeking to test new technology. To help fill the void, we are presenting a modular method for the construction and operation of a prototype blood diagnostic device and its associated parabolic flight test rig that meet the standards for flight-testing onboard a parabolic flight, reduced-gravity aircraft. The method first focuses on rig assembly for in-flight, reduced-gravity testing of a flow cytometer and a companion microfluidic mixing chip. Components are adaptable to other designs and some custom components, such as a microvolume sample loader and the micromixer may be of particular interest. The method then shifts focus to flight preparation, by offering guidelines and suggestions to prepare for a successful flight test with regard to user training, development of a standard operating procedure (SOP), and other issues. Finally, in-flight experimental procedures specific to our demonstrations are described.
Cellular Biology, Issue 93, Point-of-care, prototype, diagnostics, spaceflight, reduced gravity, parabolic flight, flow cytometry, fluorescence, cell counting, micromixing, spiral-vortex, blood mixing
51743
Neurocircuit Assays for Seizures in Epilepsy Mutants of Drosophila
Institutions: University of California, Berkeley, University of California, Berkeley.

Drosophila melanogaster
is a useful tool for studying seizure like activity. A variety of mutants in which seizures can be induced through either physical shock or electrical stimulation is available for study of various aspects of seizure activity and behavior. All flies, including wild-type, will undergo seizure-like activity if stimulated at a high enough voltage. Seizure like activity is an all-or-nothing response and each genotype has a specific seizure threshold. The seizure threshold of a specific genotype of fly can be altered either by treatment with a drug or by genetic suppression or enhancement. The threshold is easily measured by electrophysiology. Seizure-like activity can be induced via high frequency electrical stimulation delivered directly to the brain and recorded through the dorsal longitudinal muscles (DLMs) in the thorax. The DLMs are innervated by part of the giant fiber system. Starting with low voltage, high frequency stimulation, and subsequently raising the voltage in small increments, the seizure threshold for a single fly can be measured.
Neuroscience, Issue 26, elecrophysiology, Drosophila, seizures, epilepsy, giant fiber
1121
Live-cell Imaging of Sensory Organ Precursor Cells in Intact Drosophila Pupae
Institutions: Fox Chase Cancer Center.

Since the discovery of Green Fluorescent Protein (GFP), there has been a revolutionary change in the use of live-cell imaging as a tool for understanding fundamental biological mechanisms. Striking progress has been particularly evident in
Drosophila,
whose extensive toolkit of mutants and transgenic lines provides a convenient model to study evolutionarily-conserved developmental and cell biological mechanisms. We are interested in understanding the mechanisms that control cell fate specification in the adult peripheral nervous system (PNS) in
Drosophila.
Bristles that cover the head, thorax, abdomen, legs and wings of the adult fly are individual mechanosensory organs, and have been studied as a model system for understanding mechanisms of Notch-dependent cell fate decisions. Sensory organ precursor (SOP) cells of the microchaetes (or small bristles), are distributed throughout the epithelium of the pupal thorax, and are specified during the first 12 hours after the onset of pupariation. After specification, the SOP cells begin to divide, segregating the cell fate determinant Numb to one daughter cell during mitosis. Numb functions as a cell-autonomous inhibitor of the Notch signaling pathway. Here, we show a method to follow protein dynamics in SOP cell and its progeny within the intact pupal thorax using a combination of tissue-specific Gal4 drivers and GFP-tagged fusion proteins
1,2
.This technique has the advantage over fixed tissue or cultured explants because it allows us to follow the entire development of an organ from specification of the neural precursor to growth and terminal differentiation of the organ. We can therefore directly correlate changes in cell behavior to changes in terminal differentiation. Moreover, we can combine the live imaging technique with mosaic analysis with a repressible cell marker (MARCM) system to assess the dynamics of tagged proteins in mitotic SOPs under mutant or wildtype conditions. Using this technique, we and others have revealed novel insights into regulation of asymmetric cell division and the control of Notch signaling activation in SOP cells (examples include references
1-6,7 ,8
).
Neuroscience, Issue 51, Live imaging, asymmetric cell division, Drosophila, pupa
2706
Ex vivo Culture of Drosophila Pupal Testis and Single Male Germ-line Cysts: Dissection, Imaging, and Pharmacological Treatment
Institutions: Philipps-Universität Marburg, Philipps-Universität Marburg.

During spermatogenesis in mammals and in
Drosophila melanogaster,
male germ cells develop in a series of essential developmental processes. This includes differentiation from a stem cell population, mitotic amplification, and meiosis. In addition, post-meiotic germ cells undergo a dramatic morphological reshaping process as well as a global epigenetic reconfiguration of the germ line chromatin—the histone-to-protamine switch. Studying the role of a protein in post-meiotic spermatogenesis using mutagenesis or other genetic tools is often impeded by essential embryonic, pre-meiotic, or meiotic functions of the protein under investigation. The post-meiotic phenotype of a mutant of such a protein could be obscured through an earlier developmental block, or the interpretation of the phenotype could be complicated. The model organism
Drosophila melanogaster
offers a bypass to this problem: intact testes and even cysts of germ cells dissected from early pupae are able to develop
ex vivo
in culture medium. Making use of such cultures allows microscopic imaging of living germ cells in testes and of germ-line cysts. Importantly, the cultivated testes and germ cells also become accessible to pharmacological inhibitors, thereby permitting manipulation of enzymatic functions during spermatogenesis, including post-meiotic stages. The protocol presented describes how to dissect and cultivate pupal testes and germ-line cysts. Information on the development of pupal testes and culture conditions are provided alongside microscope imaging data of live testes and germ-line cysts in culture. We also describe a pharmacological assay to study post-meiotic spermatogenesis, exemplified by an assay targeting the histone-to-protamine switch using the histone acetyltransferase inhibitor anacardic acid. In principle, this cultivation method could be adapted to address many other research questions in pre- and post-meiotic spermatogenesis.
Developmental Biology, Issue 91, Ex vivo culture, testis, male germ-line cells, Drosophila, imaging, pharmacological assay
51868
Membrane Potentials, Synaptic Responses, Neuronal Circuitry, Neuromodulation and Muscle Histology Using the Crayfish: Student Laboratory Exercises
Institutions: University of Kentucky, University of Toronto.

The purpose of this report is to help develop an understanding of the effects caused by ion gradients across a biological membrane. Two aspects that influence a cell's membrane potential and which we address in these experiments are: (1) Ion concentration of K
+
on the outside of the membrane, and (2) the permeability of the membrane to specific ions. The crayfish abdominal extensor muscles are in groupings with some being tonic (slow) and others phasic (fast) in their biochemical and physiological phenotypes, as well as in their structure; the motor neurons that innervate these muscles are correspondingly different in functional characteristics. We use these muscles as well as the superficial, tonic abdominal flexor muscle to demonstrate properties in synaptic transmission. In addition, we introduce a sensory-CNS-motor neuron-muscle circuit to demonstrate the effect of cuticular sensory stimulation as well as the influence of neuromodulators on certain aspects of the circuit. With the techniques obtained in this exercise, one can begin to answer many questions remaining in other experimental preparations as well as in physiological applications related to medicine and health. We have demonstrated the usefulness of model invertebrate preparations to address fundamental questions pertinent to all animals.
Neuroscience, Issue 47, Invertebrate, Crayfish, neurophysiology, muscle, anatomy, electrophysiology
2322
Early Metamorphic Insertion Technology for Insect Flight Behavior Monitoring
Institutions: North Carolina State University.

Early Metamorphosis Insertion Technology (EMIT) is a novel methodology for integrating microfabricated neuromuscular recording and actuation platforms on insects during their metamorphic development. Here, the implants are fused within the structure and function of the neuromuscular system as a result of metamorphic tissue remaking. The implants emerge with the insect where the development of tissue around the electronics during pupal development results in a bioelectrically and biomechanically enhanced tissue interface. This relatively more reliable and stable interface would be beneficial for many researchers exploring the neural basis of the insect locomotion with alleviated traumatic effects caused during adult stage insertions. In this article, we implant our electrodes into the indirect flight muscles of
Manduca sexta
. Located in the dorsal-thorax, these main flight powering dorsoventral and dorsolongitudinal muscles actuate the wings and supply the mechanical power for up and down strokes. Relative contraction of these two muscle groups has been under investigation to explore how the yaw maneuver is neurophysiologically coordinated. To characterize the flight dynamics, insects are often tethered with wires and their flight is recorded with digital cameras. We also developed a novel way to tether
Manduca sexta
on a magnetically levitating frame where the insect is connected to a commercially available wireless neural amplifier. This set up can be used to limit the degree of freedom to yawing "only" while transmitting the related electromyography signals from dorsoventral and dorsolongitudinal muscle groups.
Behavior, Issue 89, Manduca sexta; telemetry; metamorphosis; bioelectronics; neurophysiology; electrophysiology; neuromuscular
50901
Using Microfluidics Chips for Live Imaging and Study of Injury Responses in Drosophila Larvae
Institutions: University of Michigan, University of Michigan, University of Michigan, University of Michigan, University of Michigan.

Live imaging is an important technique for studying cell biological processes, however this can be challenging in live animals. The translucent cuticle of the
Drosophila
larva makes it an attractive model organism for live imaging studies. However, an important challenge for live imaging techniques is to noninvasively immobilize and position an animal on the microscope. This protocol presents a simple and easy to use method for immobilizing and imaging
Drosophila
larvae on a polydimethylsiloxane (PDMS) microfluidic device, which we call the 'larva chip'. The larva chip is comprised of a snug-fitting PDMS microchamber that is attached to a thin glass coverslip, which, upon application of a vacuum via a syringe, immobilizes the animal and brings ventral structures such as the nerve cord, segmental nerves, and body wall muscles, within close proximity to the coverslip. This allows for high-resolution imaging, and importantly, avoids the use of anesthetics and chemicals, which facilitates the study of a broad range of physiological processes. Since larvae recover easily from the immobilization, they can be readily subjected to multiple imaging sessions. This allows for longitudinal studies over time courses ranging from hours to days. This protocol describes step-by-step how to prepare the chip and how to utilize the chip for live imaging of neuronal events in 3
rd
instar larvae. These events include the rapid transport of organelles in axons, calcium responses to injury, and time-lapse studies of the trafficking of photo-convertible proteins over long distances and time scales. Another application of the chip is to study regenerative and degenerative responses to axonal injury, so the second part of this protocol describes a new and simple procedure for injuring axons within peripheral nerves by a segmental nerve crush.
Bioengineering, Issue 84, Drosophila melanogaster, Live Imaging, Microfluidics, axonal injury, axonal degeneration, calcium imaging, photoconversion, laser microsurgery
50998
Adult and Embryonic Skeletal Muscle Microexplant Culture and Isolation of Skeletal Muscle Stem Cells
Institutions: University of Birmingham.

Cultured embryonic and adult skeletal muscle cells have a number of different uses. The micro-dissected explants technique described in this chapter is a robust and reliable method for isolating relatively large numbers of proliferative skeletal muscle cells from juvenile, adult or embryonic muscles as a source of skeletal muscle stem cells. The authors have used micro-dissected explant cultures to analyse the growth characteristics of skeletal muscle cells in wild-type and dystrophic muscles. Each of the components of tissue growth, namely cell survival, proliferation, senescence and differentiation can be analysed separately using the methods described here. The net effect of all components of growth can be established by means of measuring explant outgrowth rates. The micro-explant method can be used to establish primary cultures from a wide range of different muscle types and ages and, as described here, has been adapted by the authors to enable the isolation of embryonic skeletal muscle precursors. Uniquely, micro-explant cultures have been used to derive clonal (single cell origin) skeletal muscle stem cell (SMSc) lines which can be expanded and used for
in vivo
transplantation.
In vivo
transplanted SMSc behave as functional, tissue-specific, satellite cells which contribute to skeletal muscle fibre regeneration but which are also retained (in the satellite cell niche) as a small pool of undifferentiated stem cells which can be re-isolated into culture using the micro-explant method.
Cellular Biology, Issue 43, Skeletal muscle stem cell, embryonic tissue culture, apoptosis, growth factor, proliferation, myoblast, myogenesis, satellite cell, skeletal muscle differentiation, muscular dystrophy
2051
Analysis of Nephron Composition and Function in the Adult Zebrafish Kidney
Institutions: University of Notre Dame.

The zebrafish model has emerged as a relevant system to study kidney development, regeneration and disease. Both the embryonic and adult zebrafish kidneys are composed of functional units known as nephrons, which are highly conserved with other vertebrates, including mammals. Research in zebrafish has recently demonstrated that two distinctive phenomena transpire after adult nephrons incur damage: first, there is robust regeneration within existing nephrons that replaces the destroyed tubule epithelial cells; second, entirely new nephrons are produced from renal progenitors in a process known as neonephrogenesis. In contrast, humans and other mammals seem to have only a limited ability for nephron epithelial regeneration. To date, the mechanisms responsible for these kidney regeneration phenomena remain poorly understood. Since adult zebrafish kidneys undergo both nephron epithelial regeneration and neonephrogenesis, they provide an outstanding experimental paradigm to study these events. Further, there is a wide range of genetic and pharmacological tools available in the zebrafish model that can be used to delineate the cellular and molecular mechanisms that regulate renal regeneration. One essential aspect of such research is the evaluation of nephron structure and function. This protocol describes a set of labeling techniques that can be used to gauge renal composition and test nephron functionality in the adult zebrafish kidney. Thus, these methods are widely applicable to the future phenotypic characterization of adult zebrafish kidney injury paradigms, which include but are not limited to, nephrotoxicant exposure regimes or genetic methods of targeted cell death such as the nitroreductase mediated cell ablation technique. Further, these methods could be used to study genetic perturbations in adult kidney formation and could also be applied to assess renal status during chronic disease modeling.
Cellular Biology, Issue 90, zebrafish; kidney; nephron; nephrology; renal; regeneration; proximal tubule; distal tubule; segment; mesonephros; physiology; acute kidney injury (AKI)
51644
Methods to Assess Subcellular Compartments of Muscle in C. elegans
Institutions: University of Nottingham.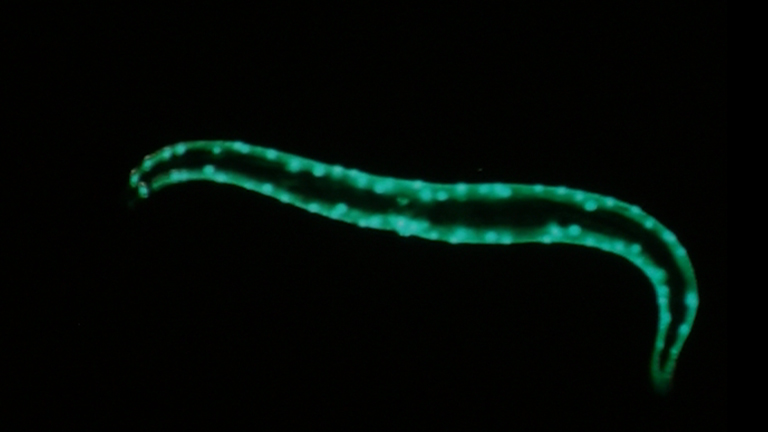 Muscle is a dynamic tissue that responds to changes in nutrition, exercise, and disease state. The loss of muscle mass and function with disease and age are significant public health burdens. We currently understand little about the genetic regulation of muscle health with disease or age. The nematode
C. elegans
is an established model for understanding the genomic regulation of biological processes of interest. This worm's body wall muscles display a large degree of homology with the muscles of higher metazoan species. Since
C. elegans
is a transparent organism, the localization of GFP to mitochondria and sarcomeres allows visualization of these structures
in vivo
. Similarly, feeding animals cationic dyes, which accumulate based on the existence of a mitochondrial membrane potential, allows the assessment of mitochondrial function
in vivo
. These methods, as well as assessment of muscle protein homeostasis, are combined with assessment of whole animal muscle function, in the form of movement assays, to allow correlation of sub-cellular defects with functional measures of muscle performance. Thus,
C. elegans
provides a powerful platform with which to assess the impact of mutations, gene knockdown, and/or chemical compounds upon muscle structure and function. Lastly, as GFP, cationic dyes, and movement assays are assessed non-invasively, prospective studies of muscle structure and function can be conducted across the whole life course and this at present cannot be easily investigated
in vivo
in any other organism.
Developmental Biology, Issue 93, Physiology, C. elegans, muscle, mitochondria, sarcomeres, ageing
52043
Preparation of Primary Myogenic Precursor Cell/Myoblast Cultures from Basal Vertebrate Lineages
Institutions: University of Alabama at Birmingham, INRA UR1067, INRA UR1037.

Due to the inherent difficulty and time involved with studying the myogenic program
in vivo
, primary culture systems derived from the resident adult stem cells of skeletal muscle, the myogenic precursor cells (MPCs), have proven indispensible to our understanding of mammalian skeletal muscle development and growth. Particularly among the basal taxa of
Vertebrata,
however, data are limited describing the molecular mechanisms controlling the self-renewal, proliferation, and differentiation of MPCs. Of particular interest are potential mechanisms that underlie the ability of basal vertebrates to undergo considerable postlarval skeletal myofiber hyperplasia (
i.e.
 teleost fish) and full regeneration following appendage loss (
i.e.
 urodele amphibians). Additionally, the use of cultured myoblasts could aid in the understanding of regeneration and the recapitulation of the myogenic program and the differences between them. To this end, we describe in detail a robust and efficient protocol (and variations therein) for isolating and maintaining MPCs and their progeny, myoblasts and immature myotubes, in cell culture as a platform for understanding the evolution of the myogenic program, beginning with the more basal vertebrates. Capitalizing on the model organism status of the zebrafish (
Danio rerio
), we report on the application of this protocol to small fishes of the cyprinid clade
Danioninae
. In tandem, this protocol can be utilized to realize a broader comparative approach by isolating MPCs from the Mexican axolotl (
Ambystomamexicanum
) and even laboratory rodents. This protocol is now widely used in studying myogenesis in several fish species, including rainbow trout, salmon, and sea bream
1-4
.
Basic Protocol, Issue 86, myogenesis, zebrafish, myoblast, cell culture, giant danio, moustached danio, myotubes, proliferation, differentiation, Danioninae, axolotl
51354
Isolation, Culture, and Transplantation of Muscle Satellite Cells
Institutions: University of Minnesota Medical School.
Muscle satellite cells are a stem cell population required for postnatal skeletal muscle development and regeneration, accounting for 2-5% of sublaminal nuclei in muscle fibers. In adult muscle, satellite cells are normally mitotically quiescent. Following injury, however, satellite cells initiate cellular proliferation to produce myoblasts, their progenies, to mediate the regeneration of muscle. Transplantation of satellite cell-derived myoblasts has been widely studied as a possible therapy for several regenerative diseases including muscular dystrophy, heart failure, and urological dysfunction. Myoblast transplantation into dystrophic skeletal muscle, infarcted heart, and dysfunctioning urinary ducts has shown that engrafted myoblasts can differentiate into muscle fibers in the host tissues and display partial functional improvement in these diseases. Therefore, the development of efficient purification methods of quiescent satellite cells from skeletal muscle, as well as the establishment of satellite cell-derived myoblast cultures and transplantation methods for myoblasts, are essential for understanding the molecular mechanisms behind satellite cell self-renewal, activation, and differentiation. Additionally, the development of cell-based therapies for muscular dystrophy and other regenerative diseases are also dependent upon these factors. However, current prospective purification methods of quiescent satellite cells require the use of expensive fluorescence-activated cell sorting (FACS) machines. Here, we present a new method for the rapid, economical, and reliable purification of quiescent satellite cells from adult mouse skeletal muscle by enzymatic dissociation followed by magnetic-activated cell sorting (MACS). Following isolation of pure quiescent satellite cells, these cells can be cultured to obtain large numbers of myoblasts after several passages. These freshly isolated quiescent satellite cells or
ex vivo
expanded myoblasts can be transplanted into cardiotoxin (CTX)-induced regenerating mouse skeletal muscle to examine the contribution of donor-derived cells to regenerating muscle fibers, as well as to satellite cell compartments for the examination of self-renewal activities.
Cellular Biology, Issue 86, skeletal muscle, muscle stem cell, satellite cell, regeneration, myoblast transplantation, muscular dystrophy, self-renewal, differentiation, myogenesis
50846
In vivo Imaging of Intact Drosophila Larvae at Sub-cellular Resolution
Institutions: University of Tübingen, University of Tübingen.

Recent improvements in optical imaging, genetically encoded fluorophores and genetic tools allowing efficient establishment of desired transgenic animal lines have enabled biological processes to be studied in the context of a living, and in some instances even behaving, organism. In this protocol we will describe how to anesthetize intact
Drosophila
larvae, using the volatile anesthetic desflurane, to follow the development and plasticity of synaptic populations at sub-cellular resolution
1-3
. While other useful methods to anesthetize
Drosophila melanogaster
larvae have been previously described
4,5,6,7,8
, the protocol presented herein demonstrates significant improvements due to the following combined key features: (1) A very high degree of anesthetization; even the heart beat is arrested allowing for lateral resolution of up to 150 nm
1
, (2) a high survival rate of > 90% per anesthetization cycle, permitting the recording of more than five time-points over a period of hours to days
2
and (3) a high sensitivity enabling us in 2 instances to study the dynamics of proteins expressed at physiological levels. In detail, we were able to visualize the postsynaptic glutamate receptor subunit GluR-IIA expressed via the endogenous promoter
1
in stable transgenic lines and the exon trap line FasII-GFP
1
. (4) In contrast to other methods
4,7
the larvae can be imaged not only alive, but also intact (i.e. non-dissected) allowing observation to occur over a number of days
1
. The accompanying video details the function of individual parts of the
in vivo
imaging chamber
2,3
, the correct mounting of the larvae, the anesthetization procedure, how to re-identify specific positions within a larva and the safe removal of the larvae from the imaging chamber.
Basic Protocols, Issue 43, In vivo, Imaging, Drosophila, Neuromuscular, Synapse, Development, Microscopy, Anesthetization, Desflurane
2249
Visualizing the Beating Heart in Drosophila
Institutions: The Sanford Burnham Institute for Medical Research.

The
Drosophila
heart has recently emerged as a good model system for examining the genetic, cellular, and molecular mechanisms underlying function in myogenic hearts. A key step in examining heart function in the fly is finding a way to access the heart in a manner that preserves its myogenic function while still allowing the beating heart organ to be observed and recorded. Two different methods for observing and recording the beating heart in both larva and adult
Drosophila
are described here. Our semi-intact preparation using adult flies allows clear visualization of the abdominal heart without interference from the pigmented cuticle and overlying fat bodies. To record larval heart beats it is necessary to immobilize the larva, which minimizes body wall movements thereby reducing heart movements that are not associated with myocardial contractions. Our methodologies produce stable adult and larval heart preparations that can beat for hours at rates of 1-3 Hz.
Physiology, Issue 31, fruit fly, adult, semi-intact preparation, arrhythmia, myogenic, larva, glue
1425
Paraffin-Embedded and Frozen Sections of Drosophila Adult Muscles
Institutions: Max Planck Institute for Biophysical Chemistry.
The molecular characterization of muscular dystrophies and myopathies in humans has revealed the complexity of muscle disease and genetic analysis of muscle specification, formation and function in model systems has provided valuable insight into muscle physiology. Therefore, identifying and characterizing molecular mechanisms that underlie muscle damage is critical. The structure of adult
Drosophila
multi-fiber muscles resemble vertebrate striated muscles
1
and the genetic tractability of
Drosophila
has made it a great system to analyze dystrophic muscle morphology and characterize the processes affecting muscular function in ageing adult flies
2
. Here we present the histological technique for preparing paraffin-embedded and frozen sections of
Drosophila
thoracic muscles. These preparations allow for the tissue to be stained with classical histological stains and labeled with protein detecting dyes, and specifically cryosections are ideal for immunohistochemical detection of proteins in intact muscles. This allows for analysis of muscle tissue structure, identification of morphological defects, and detection of the expression pattern for muscle/neuron-specific proteins in
Drosophila
adult muscles. These techniques can also be slightly modified for sectioning of other body parts.
Basic Protocols, Issue 46, Drosophila, muscles, histology, paraffin-embedded sections, cryosections
2438