Ultrahigh Density Array of Vertically Aligned Small-molecular Organic Nanowires on Arbitrary Substrates
Published: 06-18-2013
ABSTRACT
In recent years π-conjugated organic semiconductors have emerged as the active material in a number of diverse applications including large-area, low-cost displays, photovoltaics, printable and flexible electronics and organic spin valves. Organics allow (a) low-cost, low-temperature processing and (b) molecular-level design of electronic, optical and spin transport characteristics. Such features are not readily available for mainstream inorganic semiconductors, which have enabled organics to carve a niche in the silicon-dominated electronics market. The first generation of organic-based devices has focused on thin film geometries, grown by physical vapor deposition or solution processing. However, it has been realized that organic nanostructures can be used to enhance performance of above-mentioned applications and significant effort has been invested in exploring methods for organic nanostructure fabrication. A particularly interesting class of organic nanostructures is the one in which vertically oriented organic nanowires, nanorods or nanotubes are organized in a well-regimented, high-density array. Such structures are highly versatile and are ideal morphological architectures for various applications such as chemical sensors, split-dipole nanoantennas, photovoltaic devices with radially heterostructured "core-shell" nanowires, and memory devices with a cross-point geometry. Such architecture is generally realized by a template-directed approach. In the past this method has been used to grow metal and inorganic semiconductor nanowire arrays. More recently π-conjugated polymer nanowires have been grown within nanoporous templates. However, these approaches have had limited success in growing nanowires of technologically important π-conjugated small molecular weight organics, such as tris-8-hydroxyquinoline aluminum (Alq3), rubrene and methanofullerenes, which are commonly used in diverse areas including organic displays, photovoltaics, thin film transistors and spintronics. Recently we have been able to address the above-mentioned issue by employing a novel "centrifugation-assisted" approach. This method therefore broadens the spectrum of organic materials that can be patterned in a vertically ordered nanowire array. Due to the technological importance of Alq3, rubrene and methanofullerenes, our method can be used to explore how the nanostructuring of these materials affects the performance of aforementioned organic devices. The purpose of this article is to describe the technical details of the above-mentioned protocol, demonstrate how this process can be extended to grow small-molecular organic nanowires on arbitrary substrates and finally, to discuss the critical steps, limitations, possible modifications, trouble-shooting and future applications.
23 Related JoVE Articles!
Micropunching Lithography for Generating Micro- and Submicron-patterns on Polymer Substrates
Institutions: University of Texas at Arlington .

Conducting polymers have attracted great attention since the discovery of high conductivity in doped polyacetylene in 1977
1
. They offer the advantages of low weight, easy tailoring of properties and a wide spectrum of applications
2,3
. Due to sensitivity of conducting polymers to environmental conditions (e.g., air, oxygen, moisture, high temperature and chemical solutions), lithographic techniques present significant technical challenges when working with these materials
4
. For example, current photolithographic methods, such as ultra-violet (UV), are unsuitable for patterning the conducting polymers due to the involvement of wet and/or dry etching processes in these methods. In addition, current micro/nanosystems mainly have a planar form
5,6
. One layer of structures is built on the top surfaces of another layer of fabricated features. Multiple layers of these structures are stacked together to form numerous devices on a common substrate. The sidewall surfaces of the microstructures have not been used in constructing devices. On the other hand, sidewall patterns could be used, for example, to build 3-D circuits, modify fluidic channels and direct horizontal growth of nanowires and nanotubes. A macropunching method has been applied in the manufacturing industry to create macropatterns in a sheet metal for over a hundred years. Motivated by this approach, we have developed a micropunching lithography method (MPL) to overcome the obstacles of patterning conducting polymers and generating sidewall patterns. Like the macropunching method, the MPL also includes two operations (
Fig. 1
): (i) cutting; and (ii) drawing. The "cutting" operation was applied to pattern three conducting polymers
4
, polypyrrole (PPy), Poly(3,4-ethylenedioxythiophen)-poly(4-styrenesulphonate) (PEDOT) and polyaniline (PANI). It was also employed to create Al microstructures
7
. The fabricated microstructures of conducting polymers have been used as humidity
8
, chemical
8
, and glucose sensors
9
. Combined microstructures of Al and conducting polymers have been employed to fabricate capacitors and various heterojunctions
9,10,11
. The "cutting" operation was also applied to generate submicron-patterns, such as 100- and 500-nm-wide PPy lines as well as 100-nm-wide Au wires. The "drawing" operation was employed for two applications: (i) produce Au sidewall patterns on high density polyethylene (HDPE) channels which could be used for building 3D microsystems
12,13,14
, and (ii) fabricate polydimethylsiloxane (PDMS) micropillars on HDPE substrates to increase the contact angle of the channel
15
.
Mechanical Engineering, Issue 65, Physics, micropunching lithography, conducting polymers, nanowires, sidewall patterns, microlines
3725
Shape Memory Polymers for Active Cell Culture
Institutions: Syracuse Biomaterials Institute.

Shape memory polymers (SMPs) are a class of "smart" materials that have the ability to change from a fixed, temporary shape to a pre-determined permanent shape upon the application of a stimulus such as heat
1-5
. In a typical shape memory cycle, the SMP is first deformed at an elevated temperature that is higher than its transition temperature, T
trans
[either the melting temperature (T
m
) or the glass transition temperature (T
g
)]. The deformation is elastic in nature and mainly leads to a reduction in conformational entropy of the constituent network chains (following the rubber elasticity theory). The deformed SMP is then cooled to a temperature below its T
trans
while maintaining the external strain or stress constant. During cooling, the material transitions to a more rigid state (semi-crystalline or glassy), which kinetically traps or "freezes" the material in this low-entropy state leading to macroscopic shape fixing. Shape recovery is triggered by continuously heating the material through T
trans
under a stress-free (unconstrained) condition. By allowing the network chains (with regained mobility) to relax to their thermodynamically favored, maximal-entropy state, the material changes from the temporary shape to the permanent shape. Cells are capable of surveying the mechanical properties of their surrounding environment
6
. The mechanisms through which mechanical interactions between cells and their physical environment control cell behavior are areas of active research. Substrates of defined topography have emerged as powerful tools in the investigation of these mechanisms. Mesoscale, microscale, and nanoscale patterns of substrate topography have been shown to direct cell alignment, cell adhesion, and cell traction forces
7-14
. These findings have underscored the potential for substrate topography to control and assay the mechanical interactions between cells and their physical environment during cell culture, but the substrates used to date have generally been passive and could not be programmed to change significantly during culture. This physical stasis has limited the potential of topographic substrates to control cells in culture. Here, active cell culture (ACC) SMP substrates are introduced that employ surface shape memory to provide programmed control of substrate topography and deformation. These substrates demonstrate the ability to transition from a temporary grooved topography to a second, nearly flat memorized topography. This change in topography can be used to control cell behavior under standard cell culture conditions.
Bioengineering, Issue 53, Shape Memory Polymer, Mechanobiology, Tissue Engineering, Cell Culture, Cell Biomechanics
2903
Electrospinning Fibrous Polymer Scaffolds for Tissue Engineering and Cell Culture
Institutions: University of Pennsylvania .

As the field of tissue engineering evolves, there is a tremendous demand to produce more suitable materials and processing techniques in order to address the requirements (e.g., mechanics and vascularity) of more intricate organs and tissues. Electrospinning is a popular technique to create fibrous scaffolds that mimic the architecture and size scale of the native extracellular matrix. These fibrous scaffolds are also useful as cell culture substrates since the fibers can be used to direct cellular behavior, including stem cell differentiation (see extensive reviews by Mauck
et al.
and Sill
et al.
for more information). In this article, we describe the general process of electrospinning polymers and as an example, electrospin a reactive hyaluronic acid capable of crosslinking with light exposure (see Ifkovits
et al.
for a review on photocrosslinkable materials). We also introduce further processing capabilities such as photopatterning and multi-polymer scaffold formation. Photopatterning can be used to create scaffolds with channels and multi-scale porosity to increase cellular infiltration and tissue distribution. Multi-polymer scaffolds are useful to better tune the properties (mechanics and degradation) of a scaffold, including tailored porosity for cellular infiltration. Furthermore, these techniques can be extended to include a wide array of polymers and reactive macromers to create complex scaffolds that provide the cues necessary for the development of successful tissue engineered constructs.
Cellular Biology, Issue 32, Electrospinning, Photocrosslinking, Photopatterning, Tissue Engineering, Scaffolds, Biomaterials, Bioengineering
1589
Formulation of Diblock Polymeric Nanoparticles through Nanoprecipitation Technique
Institutions: University of North Carolina School of Medicine, University of North Carolina .
Nanotechnology is a relatively new branch of science that involves harnessing the unique properties of particles that are nanometers in scale (nanoparticles). Nanoparticles can be engineered in a precise fashion where their size, composition and surface chemistry can be carefully controlled. This enables unprecedented freedom to modify some of the fundamental properties of their cargo, such as solubility, diffusivity, biodistribution, release characteristics and immunogenicity. Since their inception, nanoparticles have been utilized in many areas of science and medicine, including drug delivery, imaging, and cell biology
1-4
. However, it has not been fully utilized outside of "nanotechnology laboratories" due to perceived technical barrier. In this article, we describe a simple method to synthesize a polymer based nanoparticle platform that has a wide range of potential applications. The first step is to synthesize a diblock co-polymer that has both a hydrophobic domain and hydrophilic domain. Using PLGA and PEG as model polymers, we described a conjugation reaction using EDC/NHS chemistry
5
(Fig 1). We also discuss the polymer purification process. The synthesized diblock co-polymer can self-assemble into nanoparticles in the nanoprecipitation process through hydrophobic-hydrophilic interactions. The described polymer nanoparticle is very versatile. The hydrophobic core of the nanoparticle can be utilized to carry poorly soluble drugs for drug delivery experiments6. Furthermore, the nanoparticles can overcome the problem of toxic solvents for poorly soluble molecular biology reagents, such as wortmannin, which requires a solvent like DMSO. However, DMSO can be toxic to cells and interfere with the experiment. These poorly soluble drugs and reagents can be effectively delivered using polymer nanoparticles with minimal toxicity. Polymer nanoparticles can also be loaded with fluorescent dye and utilized for intracellular trafficking studies. Lastly, these polymer nanoparticles can be conjugated to targeting ligands through surface PEG. Such targeted nanoparticles can be utilized to label specific epitopes on or in cells
7-10
.
Bioengineering, Issue 55, Nanoparticles, nanomedicine, drug delivery, polymeric micelles, polymeric nanoparticles, diblock co-polymers, nanoplatform, nanoparticle molecular imaging, polymer conjugation.
3398
Solid-state Graft Copolymer Electrolytes for Lithium Battery Applications
Institutions: Massachusetts Institute of Technology, Massachusetts Institute of Technology.

Battery safety has been a very important research area over the past decade. Commercially available lithium ion batteries employ low flash point (<80 °C), flammable, and volatile organic electrolytes. These organic based electrolyte systems are viable at ambient temperatures, but require a cooling system to ensure that temperatures do not exceed 80 °C. These cooling systems tend to increase battery costs and can malfunction which can lead to battery malfunction and explosions, thus endangering human life. Increases in petroleum prices lead to a huge demand for safe, electric hybrid vehicles that are more economically viable to operate as oil prices continue to rise. Existing organic based electrolytes used in lithium ion batteries are not applicable to high temperature automotive applications. A safer alternative to organic electrolytes is solid polymer electrolytes. This work will highlight the synthesis for a graft copolymer electrolyte (GCE) poly(oxyethylene) methacrylate (POEM) to a block with a lower glass transition temperature (
Tg
) poly(oxyethylene) acrylate (POEA). The conduction mechanism has been discussed and it has been demonstrated the relationship between polymer segmental motion and ionic conductivity indeed has a Vogel-Tammann-Fulcher (VTF) dependence. Batteries containing commercially available LP30 organic (LiPF
6
in ethylene carbonate (EC):dimethyl carbonate (DMC) at a 1:1 ratio) and GCE were cycled at ambient temperature. It was found that at ambient temperature, the batteries containing GCE showed a greater overpotential when compared to LP30 electrolyte. However at temperatures greater than 60 °C, the GCE cell exhibited much lower overpotential due to fast polymer electrolyte conductivity and nearly the full theoretical specific capacity of 170 mAh/g was accessed.
Materials Science, Issue 78, Physics, Chemistry, Chemical Engineering, Chemistry and Materials, Engineering, Lithium Batteries, Polymer Electrolytes, Polyethylene oxide, Graft Copolymer, LiFePO4, synthesis, polymers
50067
Measurement of Coherence Decay in GaMnAs Using Femtosecond Four-wave Mixing
Institutions: Dalhousie University, University of Notre Dame.
The application of femtosecond four-wave mixing to the study of fundamental properties of diluted magnetic semiconductors ((s,p)-d hybridization, spin-flip scattering) is described, using experiments on GaMnAs as a prototype III-Mn-V system.  Spectrally-resolved and time-resolved experimental configurations are described, including the use of zero-background autocorrelation techniques for pulse optimization.  The etching process used to prepare GaMnAs samples for four-wave mixing experiments is also highlighted.  The high temporal resolution of this technique, afforded by the use of short (20 fsec) optical pulses, permits the rapid spin-flip scattering process in this system to be studied directly in the time domain, providing new insight into the strong exchange coupling responsible for carrier-mediated ferromagnetism.  We also show that spectral resolution of the four-wave mixing signal allows one to extract clear signatures of (s,p)-d hybridization in this system, unlike linear spectroscopy techniques.   This increased sensitivity is due to the nonlinearity of the technique, which suppresses defect-related contributions to the optical response. This method may be used to measure the time scale for coherence decay (tied to the fastest scattering processes) in a wide variety of semiconductor systems of interest for next generation electronics and optoelectronics.
Physics, Issue 82, Four-wave mixing, spin-flip scattering, ultrafast, GaMnAs, diluted magnetic semiconductor, photon echo, dephasing, GaAs, low temperature grown semiconductor, exchange, ferromagnetic
51094
Magnetic Tweezers for the Measurement of Twist and Torque
Institutions: Delft University of Technology.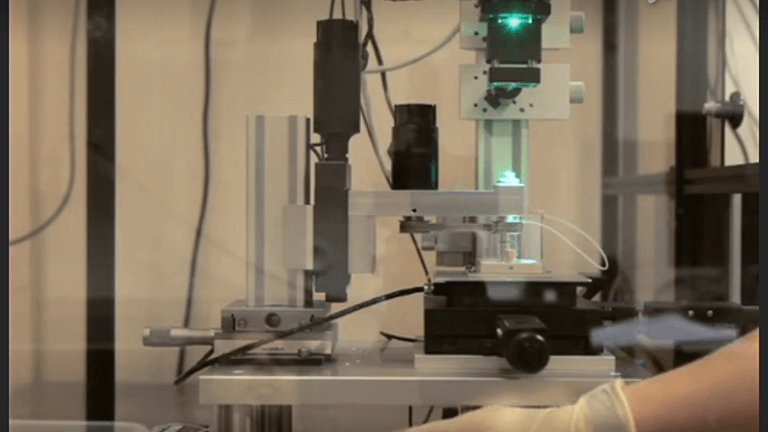 Single-molecule techniques make it possible to investigate the behavior of individual biological molecules in solution in real time. These techniques include so-called force spectroscopy approaches such as atomic force microscopy, optical tweezers, flow stretching, and magnetic tweezers. Amongst these approaches, magnetic tweezers have distinguished themselves by their ability to apply torque while maintaining a constant stretching force. Here, it is illustrated how such a "conventional" magnetic tweezers experimental configuration can, through a straightforward modification of its field configuration to minimize the magnitude of the transverse field, be adapted to measure the degree of twist in a biological molecule. The resulting configuration is termed the freely-orbiting magnetic tweezers. Additionally, it is shown how further modification of the field configuration can yield a transverse field with a magnitude intermediate between that of the "conventional" magnetic tweezers and the freely-orbiting magnetic tweezers, which makes it possible to directly measure the torque stored in a biological molecule. This configuration is termed the magnetic torque tweezers. The accompanying video explains in detail how the conversion of conventional magnetic tweezers into freely-orbiting magnetic tweezers and magnetic torque tweezers can be accomplished, and demonstrates the use of these techniques. These adaptations maintain all the strengths of conventional magnetic tweezers while greatly expanding the versatility of this powerful instrument.
Bioengineering, Issue 87, magnetic tweezers, magnetic torque tweezers, freely-orbiting magnetic tweezers, twist, torque, DNA, single-molecule techniques
51503
Designing Silk-silk Protein Alloy Materials for Biomedical Applications
Institutions: Rowan University, Rowan University, Cooper Medical School of Rowan University, Rowan University.

Fibrous proteins display different sequences and structures that have been used for various applications in biomedical fields such as biosensors, nanomedicine, tissue regeneration, and drug delivery. Designing materials based on the molecular-scale interactions between these proteins will help generate new multifunctional protein alloy biomaterials with tunable properties. Such alloy material systems also provide advantages in comparison to traditional synthetic polymers due to the materials biodegradability, biocompatibility, and tenability in the body. This article used the protein blends of wild tussah silk (
Antheraea pernyi
) and domestic mulberry silk (
Bombyx mori
) as an example to provide useful protocols regarding these topics, including how to predict protein-protein interactions by computational methods, how to produce protein alloy solutions, how to verify alloy systems by thermal analysis, and how to fabricate variable alloy materials including optical materials with diffraction gratings, electric materials with circuits coatings, and pharmaceutical materials for drug release and delivery. These methods can provide important information for designing the next generation multifunctional biomaterials based on different protein alloys.
Bioengineering, Issue 90, protein alloys, biomaterials, biomedical, silk blends, computational simulation, implantable electronic devices
50891
Fabrication And Characterization Of Photonic Crystal Slow Light Waveguides And Cavities
Institutions: University of St Andrews.

Slow light has been one of the hot topics in the photonics community in the past decade, generating great interest both from a fundamental point of view and for its considerable potential for practical applications. Slow light photonic crystal waveguides, in particular, have played a major part and have been successfully employed for delaying optical signals
1-4
and the enhancement of both linear
5-7
and nonlinear devices.
8-11
Photonic crystal cavities achieve similar effects to that of slow light waveguides, but over a reduced band-width. These cavities offer high Q-factor/volume ratio, for the realization of optically
12
and electrically
13
pumped ultra-low threshold lasers and the enhancement of nonlinear effects.
14-16
Furthermore, passive filters
17
and modulators
18-19
have been demonstrated, exhibiting ultra-narrow line-width, high free-spectral range and record values of low energy consumption. To attain these exciting results, a robust repeatable fabrication protocol must be developed. In this paper we take an in-depth look at our fabrication protocol which employs electron-beam lithography for the definition of photonic crystal patterns and uses wet and dry etching techniques. Our optimised fabrication recipe results in photonic crystals that do not suffer from vertical asymmetry and exhibit very good edge-wall roughness. We discuss the results of varying the etching parameters and the detrimental effects that they can have on a device, leading to a diagnostic route that can be taken to identify and eliminate similar issues. The key to evaluating slow light waveguides is the passive characterization of transmission and group index spectra. Various methods have been reported, most notably resolving the Fabry-Perot fringes of the transmission spectrum
20-21
and interferometric techniques.
22-25
Here, we describe a direct, broadband measurement technique combining spectral interferometry with Fourier transform analysis.
26
Our method stands out for its simplicity and power, as we can characterise a bare photonic crystal with access waveguides, without need for on-chip interference components, and the setup only consists of a Mach-Zehnder interferometer, with no need for moving parts and delay scans. When characterising photonic crystal cavities, techniques involving internal sources
21
or external waveguides directly coupled to the cavity
27
impact on the performance of the cavity itself, thereby distorting the measurement. Here, we describe a novel and non-intrusive technique that makes use of a cross-polarised probe beam and is known as resonant scattering (RS), where the probe is coupled out-of plane into the cavity through an objective. The technique was first demonstrated by McCutcheon
et al.28
and further developed by Galli
et al.
29
Physics, Issue 69, Optics and Photonics, Astronomy, light scattering, light transmission, optical waveguides, photonics, photonic crystals, Slow-light, Cavities, Waveguides, Silicon, SOI, Fabrication, Characterization
50216
Community-based Adapted Tango Dancing for Individuals with Parkinson's Disease and Older Adults
Institutions: Emory University School of Medicine, Brigham and Woman's Hospital and Massachusetts General Hospital.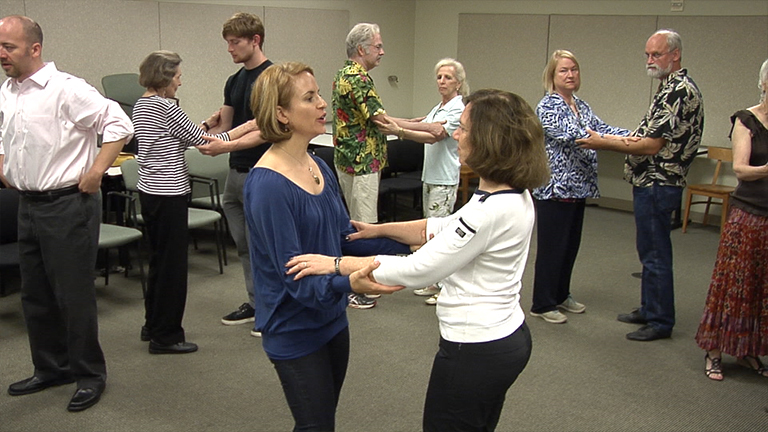 Adapted tango dancing improves mobility and balance in older adults and additional populations with balance impairments. It is composed of very simple step elements. Adapted tango involves movement initiation and cessation, multi-directional perturbations, varied speeds and rhythms. Focus on foot placement, whole body coordination, and attention to partner, path of movement, and aesthetics likely underlie adapted tango's demonstrated efficacy for improving mobility and balance. In this paper, we describe the methodology to disseminate the adapted tango teaching methods to dance instructor trainees and to implement the adapted tango by the trainees in the community for older adults and individuals with Parkinson's Disease (PD). Efficacy in improving mobility (measured with the Timed Up and Go, Tandem stance, Berg Balance Scale, Gait Speed and 30 sec chair stand), safety and fidelity of the program is maximized through targeted instructor and volunteer training and a structured detailed syllabus outlining class practices and progression.
Behavior, Issue 94, Dance, tango, balance, pedagogy, dissemination, exercise, older adults, Parkinson's Disease, mobility impairments, falls
52066
Hydrophobic Salt-modified Nafion for Enzyme Immobilization and Stabilization
Institutions: University of Utah .

Over the last decade, there has been a wealth of application for immobilized and stabilized enzymes including biocatalysis, biosensors, and biofuel cells.
1-3
In most bioelectrochemical applications, enzymes or organelles are immobilized onto an electrode surface with the use of some type of polymer matrix. This polymer scaffold should keep the enzymes stable and allow for the facile diffusion of molecules and ions in and out of the matrix. Most polymers used for this type of immobilization are based on polyamines or polyalcohols - polymers that mimic the natural environment of the enzymes that they encapsulate and stabilize the enzyme through hydrogen or ionic bonding. Another method for stabilizing enzymes involves the use of micelles, which contain hydrophobic regions that can encapsulate and stabilize enzymes.
4,5
In particular, the Minteer group has developed a micellar polymer based on commercially available Nafion.
6,7
Nafion itself is a micellar polymer that allows for the channel-assisted diffusion of protons and other small cations, but the micelles and channels are extremely small and the polymer is very acidic due to sulfonic acid side chains, which is unfavorable for enzyme immobilization. However, when Nafion is mixed with an excess of hydrophobic alkyl ammonium salts such as tetrabutylammonium bromide (TBAB), the quaternary ammonium cations replace the protons and become the counter ions to the sulfonate groups on the polymer side chains (
Figure 1
). This results in larger micelles and channels within the polymer that allow for the diffusion of large substrates and ions that are necessary for enzymatic function such as nicotinamide adenine dinucleotide (NAD). This modified Nafion polymer has been used to immobilize many different types of enzymes as well as mitochondria for use in biosensors and biofuel cells.
8-12
This paper describes a novel procedure for making this micellar polymer enzyme immobilization membrane that can stabilize enzymes. The synthesis of the micellar enzyme immobilization membrane, the procedure for immobilizing enzymes within the membrane, and the assays for studying enzymatic specific activity of the immobilized enzyme are detailed below.
Bioengineering, Issue 65, Materials Science, Chemical Engineering, enzyme immobilization, polymer modification, Nafion, enzyme stabilization, enzyme activity assays
3949
Controlling the Size, Shape and Stability of Supramolecular Polymers in Water
Institutions: Westfälische Wilhelms-Universität Münster, Eindhoven University of Technology, Eindhoven University of Technology.

For aqueous based supramolecular polymers, the simultaneous control over shape, size and stability is very difficult
1
. At the same time, the ability to do so is highly important in view of a number of applications in functional soft matter including electronics, biomedical engineering, and sensors. In the past, successful strategies to control the size and shape of supramolecular polymers typically focused on the use of templates
2,3
, end cappers
4
or selective solvent techniques
5
. Here we disclose a strategy based on self-assembling discotic amphiphiles that leads to the control over stack length and shape of ordered, chiral columnar aggregates. By balancing electrostatic repulsive interactions on the hydrophilic rim and attractive non-covalent forces within the hydrophobic core of the polymerizing building block, we manage to create small and discrete spherical objects
6,7
. Increasing the salt concentration to screen the charges induces a sphere-to-rod transition. Intriguingly, this transition is expressed in an increase of cooperativity in the temperature-dependent self-assembly mechanism, and more stable aggregates are obtained. For our study we select a benzene-1,3,5-tricarboxamide (BTA) core connected to a hydrophilic metal chelate via a hydrophobic, fluorinated L-phenylalanine based spacer (
Scheme 1
). The metal chelate selected is a Gd(III)-DTPA complex that contains two overall remaining charges per complex and necessarily two counter ions. The one-dimensional growth of the aggregate is directed by π-π stacking and intermolecular hydrogen bonding. However, the electrostatic, repulsive forces that arise from the charges on the Gd(III)-DTPA complex start limiting the one-dimensional growth of the BTA-based discotic once a certain size is reached. At millimolar concentrations the formed aggregate has a spherical shape and a diameter of around 5 nm as inferred from
1
H-NMR spectroscopy, small angle X-ray scattering, and cryogenic transmission electron microscopy (cryo-TEM). The strength of the electrostatic repulsive interactions between molecules can be reduced by increasing the salt concentration of the buffered solutions. This screening of the charges induces a transition from spherical aggregates into elongated rods with a length > 25 nm. Cryo-TEM allows to visualise the changes in shape and size. In addition, CD spectroscopy permits to derive the mechanistic details of the self-assembly processes before and after the addition of salt. Importantly, the cooperativity -a key feature that dictates the physical properties of the produced supramolecular polymers- increases dramatically upon screening the electrostatic interactions. This increase in cooperativity results in a significant increase in the molecular weight of the formed supramolecular polymers in water.
Chemical Engineering, Issue 66, Chemistry, Physics, Self-assembly, cryogenic transmission electron microscopy, circular dichroism, controlled architecture, discotic amphiphile
3975
Molecular Entanglement and Electrospinnability of Biopolymers
Institutions: Pennsylvania State University.

Electrospinning is a fascinating technique to fabricate micro- to nano-scale fibers from a wide variety of materials. For biopolymers, molecular entanglement of the constituent polymers in the spinning dope was found to be an essential prerequisite for successful electrospinning. Rheology is a powerful tool to probe the molecular conformation and interaction of biopolymers. In this report, we demonstrate the protocol for utilizing rheology to evaluate the electrospinnability of two biopolymers, starch and pullulan, from their dimethyl sulfoxide (DMSO)/water dispersions. Well-formed starch and pullulan fibers with average diameters in the submicron to micron range were obtained. Electrospinnability was evaluated by visual and microscopic observation of the fibers formed. By correlating the rheological properties of the dispersions to their electrospinnability, we demonstrate that molecular conformation, molecular entanglement, and shear viscosity all affect electrospinning. Rheology is not only useful in solvent system selection and process optimization, but also in understanding the mechanism of fiber formation on a molecular level.
Bioengineering, Issue 91, electrospinning, rheology, molecular entanglement, fiber, nanofiber, biopolymer, polysaccharides, starch, pullulan
51933
Microwave-assisted Functionalization of Poly(ethylene glycol) and On-resin Peptides for Use in Chain Polymerizations and Hydrogel Formation
Institutions: University of Rochester, University of Rochester, University of Rochester Medical Center.

One of the main benefits to using poly(ethylene glycol) (PEG) macromers in hydrogel formation is synthetic versatility. The ability to draw from a large variety of PEG molecular weights and configurations (arm number, arm length, and branching pattern) affords researchers tight control over resulting hydrogel structures and properties, including Young's modulus and mesh size. This video will illustrate a rapid, efficient, solvent-free, microwave-assisted method to methacrylate PEG precursors into poly(ethylene glycol) dimethacrylate (PEGDM). This synthetic method provides much-needed starting materials for applications in drug delivery and regenerative medicine. The demonstrated method is superior to traditional methacrylation methods as it is significantly faster and simpler, as well as more economical and environmentally friendly, using smaller amounts of reagents and solvents. We will also demonstrate an adaptation of this technique for on-resin methacrylamide functionalization of peptides. This on-resin method allows the N-terminus of peptides to be functionalized with methacrylamide groups prior to deprotection and cleavage from resin. This allows for selective addition of methacrylamide groups to the N-termini of the peptides while amino acids with reactive side groups (
e.g.
 primary amine of lysine, primary alcohol of serine, secondary alcohols of threonine, and phenol of tyrosine) remain protected, preventing functionalization at multiple sites. This article will detail common analytical methods (proton Nuclear Magnetic Resonance spectroscopy (
;
H-NMR) and Matrix Assisted Laser Desorption Ionization Time of Flight mass spectrometry (MALDI-ToF)) to assess the efficiency of the functionalizations. Common pitfalls and suggested troubleshooting methods will be addressed, as will modifications of the technique which can be used to further tune macromer functionality and resulting hydrogel physical and chemical properties. Use of synthesized products for the formation of hydrogels for drug delivery and cell-material interaction studies will be demonstrated, with particular attention paid to modifying hydrogel composition to affect mesh size, controlling hydrogel stiffness and drug release.
Chemistry, Issue 80, Poly(ethylene glycol), peptides, polymerization, polymers, methacrylation, peptide functionalization, 1H-NMR, MALDI-ToF, hydrogels, macromer synthesis
50890
Scanning-probe Single-electron Capacitance Spectroscopy
Institutions: Michigan State University, Mercyhurst University, Saint Louis University, Massachusetts Institute of Technology.
The integration of low-temperature scanning-probe techniques and single-electron capacitance spectroscopy represents a powerful tool to study the electronic quantum structure of small systems - including individual atomic dopants in semiconductors. Here we present a capacitance-based method, known as Subsurface Charge Accumulation (SCA) imaging, which is capable of resolving single-electron charging while achieving sufficient spatial resolution to image individual atomic dopants. The use of a capacitance technique enables observation of subsurface features, such as dopants buried many nanometers beneath the surface of a semiconductor material
1,2,3
. In principle, this technique can be applied to any system to resolve electron motion below an insulating surface. As in other electric-field-sensitive scanned-probe techniques
4
, the lateral spatial resolution of the measurement depends in part on the radius of curvature of the probe tip. Using tips with a small radius of curvature can enable spatial resolution of a few tens of nanometers. This fine spatial resolution allows investigations of small numbers (down to one) of subsurface dopants
1,2
. The charge resolution depends greatly on the sensitivity of the charge detection circuitry; using high electron mobility transistors (HEMT) in such circuits at cryogenic temperatures enables a sensitivity of approximately 0.01 electrons/Hz
½
at 0.3 K
5
.
Physics, Issue 77, Biophysics, Molecular Biology, Cellular Biology, Microscopy, Scanning Probe, Nanotechnology, Physics, Electronics, acceptors (solid state), donors (solid state), Solid-State Physics, tunneling microscopy, scanning capacitance microscopy, subsurface charge accumulation imaging, capacitance spectroscopy, scanning probe microscopy, single-electron spectroscopy, imaging
50676
Protein WISDOM: A Workbench for In silico De novo Design of BioMolecules
Institutions: Princeton University.

The aim of
de novo
protein design is to find the amino acid sequences that will fold into a desired 3-dimensional structure with improvements in specific properties, such as binding affinity, agonist or antagonist behavior, or stability, relative to the native sequence. Protein design lies at the center of current advances drug design and discovery. Not only does protein design provide predictions for potentially useful drug targets, but it also enhances our understanding of the protein folding process and protein-protein interactions. Experimental methods such as directed evolution have shown success in protein design. However, such methods are restricted by the limited sequence space that can be searched tractably. In contrast, computational design strategies allow for the screening of a much larger set of sequences covering a wide variety of properties and functionality. We have developed a range of computational
de novo
protein design methods capable of tackling several important areas of protein design. These include the design of monomeric proteins for increased stability and complexes for increased binding affinity. To disseminate these methods for broader use we present Protein WISDOM (https://www.proteinwisdom.org), a tool that provides automated methods for a variety of protein design problems. Structural templates are submitted to initialize the design process. The first stage of design is an optimization sequence selection stage that aims at improving stability through minimization of potential energy in the sequence space. Selected sequences are then run through a fold specificity stage and a binding affinity stage. A rank-ordered list of the sequences for each step of the process, along with relevant designed structures, provides the user with a comprehensive quantitative assessment of the design. Here we provide the details of each design method, as well as several notable experimental successes attained through the use of the methods.
Genetics, Issue 77, Molecular Biology, Bioengineering, Biochemistry, Biomedical Engineering, Chemical Engineering, Computational Biology, Genomics, Proteomics, Protein, Protein Binding, Computational Biology, Drug Design, optimization (mathematics), Amino Acids, Peptides, and Proteins, De novo protein and peptide design, Drug design, In silico sequence selection, Optimization, Fold specificity, Binding affinity, sequencing
50476
In Situ SIMS and IR Spectroscopy of Well-defined Surfaces Prepared by Soft Landing of Mass-selected Ions
Institutions: Pacific Northwest National Laboratory.

Soft landing of mass-selected ions onto surfaces is a powerful approach for the highly-controlled preparation of materials that are inaccessible using conventional synthesis techniques. Coupling soft landing with
in situ
characterization using secondary ion mass spectrometry (SIMS) and infrared reflection absorption spectroscopy (IRRAS) enables analysis of well-defined surfaces under clean vacuum conditions. The capabilities of three soft-landing instruments constructed in our laboratory are illustrated for the representative system of surface-bound organometallics prepared by soft landing of mass-selected ruthenium tris(bipyridine) dications, [Ru(bpy)
3
]
2+
(bpy = bipyridine), onto carboxylic acid terminated self-assembled monolayer surfaces on gold (COOH-SAMs).
In situ
time-of-flight (TOF)-SIMS provides insight into the reactivity of the soft-landed ions. In addition, the kinetics of charge reduction, neutralization and desorption occurring on the COOH-SAM both during and after ion soft landing are studied using
in situ
Fourier transform ion cyclotron resonance (FT-ICR)-SIMS measurements.
In situ
IRRAS experiments provide insight into how the structure of organic ligands surrounding metal centers is perturbed through immobilization of organometallic ions on COOH-SAM surfaces by soft landing. Collectively, the three instruments provide complementary information about the chemical composition, reactivity and structure of well-defined species supported on surfaces.
Chemistry, Issue 88, soft landing, mass selected ions, electrospray, secondary ion mass spectrometry, infrared spectroscopy, organometallic, catalysis
51344
Particles without a Box: Brush-first Synthesis of Photodegradable PEG Star Polymers under Ambient Conditions
Institutions: Massachusetts Institute of Technology.

Convenient methods for the rapid, parallel synthesis of diversely functionalized nanoparticles will enable discovery of novel formulations for drug delivery, biological imaging, and supported catalysis. In this report, we demonstrate parallel synthesis of brush-arm star polymer (BASP) nanoparticles by the "brush-first" method. In this method, a norbornene-terminated poly(ethylene glycol) (PEG) macromonomer (PEG-MM) is first polymerized via ring-opening metathesis polymerization (ROMP) to generate a living brush macroinitiator. Aliquots of this initiator stock solution are added to vials that contain varied amounts of a photodegradable bis-norbornene crosslinker. Exposure to crosslinker initiates a series of kinetically-controlled brush+brush and star+star coupling reactions that ultimately yields BASPs with cores comprised of the crosslinker and coronas comprised of PEG. The final BASP size depends on the amount of crosslinker added. We carry out the synthesis of three BASPs on the benchtop with no special precautions to remove air and moisture. The samples are characterized by gel permeation chromatography (GPC); results agreed closely with our previous report that utilized inert (glovebox) conditions. Key practical features, advantages, and potential disadvantages of the brush-first method are discussed.
Chemistry, Issue 80, Chemical Engineering, Nanoparticles, Polymers, Drug Delivery Systems, Polymerization, polymers, Biomedical and Dental Materials, brush first, polyethylene glycol, photodegradable, ring opening metathesis polymerization, brush polymer, star polymer, drug delivery, gel permeation chromatography, arm first, core functional, photocleavable
50874
Towards Biomimicking Wood: Fabricated Free-standing Films of Nanocellulose, Lignin, and a Synthetic Polycation
Institutions: Virginia Tech, Virginia Tech, Illinois Institute of Technology- Moffett Campus, University of Guadalajara, Virginia Tech, Virginia Tech.

Woody materials are comprised of plant cell walls that contain a layered secondary cell wall composed of structural polymers of polysaccharides and lignin. Layer-by-layer (LbL) assembly process which relies on the assembly of oppositely charged molecules from aqueous solutions was used to build a freestanding composite film of isolated wood polymers of lignin and oxidized nanofibril cellulose (NFC). To facilitate the assembly of these negatively charged polymers, a positively charged polyelectrolyte, poly(diallyldimethylammomium chloride) (PDDA), was used as a linking layer to create this simplified model cell wall. The layered adsorption process was studied quantitatively using quartz crystal microbalance with dissipation monitoring (QCM-D) and ellipsometry. The results showed that layer mass/thickness per adsorbed layer increased as a function of total number of layers. The surface coverage of the adsorbed layers was studied with atomic force microscopy (AFM). Complete coverage of the surface with lignin in all the deposition cycles was found for the system, however, surface coverage by NFC increased with the number of layers. The adsorption process was carried out for 250 cycles (500 bilayers) on a cellulose acetate (CA) substrate. Transparent free-standing LBL assembled nanocomposite films were obtained when the CA substrate was later dissolved in acetone. Scanning electron microscopy (SEM) of the fractured cross-sections showed a lamellar structure, and the thickness per adsorption cycle (PDDA-Lignin-PDDA-NC) was estimated to be 17 nm for two different lignin types used in the study. The data indicates a film with highly controlled architecture where nanocellulose and lignin are spatially deposited on the nanoscale (a polymer-polymer nanocomposites), similar to what is observed in the native cell wall.
Plant Biology, Issue 88, nanocellulose, thin films, quartz crystal microbalance, layer-by-layer, LbL
51257
Preparation of Segmented Microtubules to Study Motions Driven by the Disassembling Microtubule Ends
Institutions: Russian Academy of Sciences, Federal Research Center of Pediatric Hematology, Oncology and Immunology, Moscow, Russia, University of Pennsylvania.

Microtubule depolymerization can provide force to transport different protein complexes and protein-coated beads
in vitro
. The underlying mechanisms are thought to play a vital role in the microtubule-dependent chromosome motions during cell division, but the relevant proteins and their exact roles are ill-defined. Thus, there is a growing need to develop assays with which to study such motility
in vitro
using purified components and defined biochemical milieu. Microtubules, however, are inherently unstable polymers; their switching between growth and shortening is stochastic and difficult to control. The protocols we describe here take advantage of the segmented microtubules that are made with the photoablatable stabilizing caps. Depolymerization of such segmented microtubules can be triggered with high temporal and spatial resolution, thereby assisting studies of motility at the disassembling microtubule ends. This technique can be used to carry out a quantitative analysis of the number of molecules in the fluorescently-labeled protein complexes, which move processively with dynamic microtubule ends. To optimize a signal-to-noise ratio in this and other quantitative fluorescent assays, coverslips should be treated to reduce nonspecific absorption of soluble fluorescently-labeled proteins. Detailed protocols are provided to take into account the unevenness of fluorescent illumination, and determine the intensity of a single fluorophore using equidistant Gaussian fit. Finally, we describe the use of segmented microtubules to study microtubule-dependent motions of the protein-coated microbeads, providing insights into the ability of different motor and nonmotor proteins to couple microtubule depolymerization to processive cargo motion.
Basic Protocol, Issue 85, microscopy flow chamber, single-molecule fluorescence, laser trap, microtubule-binding protein, microtubule-dependent motor, microtubule tip-tracking
51150
FtsZ Polymerization Assays: Simple Protocols and Considerations
Institutions: University of Groningen.

During bacterial cell division, the essential protein FtsZ assembles in the middle of the cell to form the so-called Z-ring. FtsZ polymerizes into long filaments in the presence of GTP
in vitro
, and polymerization is regulated by several accessory proteins. FtsZ polymerization has been extensively studied
in vitro
using basic methods including light scattering, sedimentation, GTP hydrolysis assays and electron microscopy. Buffer conditions influence both the polymerization properties of FtsZ, and the ability of FtsZ to interact with regulatory proteins. Here, we describe protocols for FtsZ polymerization studies and validate conditions and controls using
Escherichia coli
and
Bacillus subtilis
FtsZ as model proteins. A low speed sedimentation assay is introduced that allows the study of the interaction of FtsZ with proteins that bundle or tubulate FtsZ polymers. An improved GTPase assay protocol is described that allows testing of GTP hydrolysis over time using various conditions in a 96-well plate setup, with standardized incubation times that abolish variation in color development in the phosphate detection reaction. The preparation of samples for light scattering studies and electron microscopy is described. Several buffers are used to establish suitable buffer pH and salt concentration for FtsZ polymerization studies. A high concentration of KCl is the best for most of the experiments. Our methods provide a starting point for the
in vitro
characterization of FtsZ, not only from
E. coli
and
B. subtilis
but from any other bacterium. As such, the methods can be used for studies of the interaction of FtsZ with regulatory proteins or the testing of antibacterial drugs which may affect FtsZ polymerization.
Basic Protocols, Issue 81, FtsZ, protein polymerization, cell division, GTPase, sedimentation assay, light scattering
50844
Procedure for Fabricating Biofunctional Nanofibers
Institutions: Clark Atlanta University, Clark Atlanta University, Cornell University.

Electrospinning is an effective processing method for preparing nanofibers decorated with functional groups. Nanofibers decorated with functional groups may be utilized to study material-biomarker interactions
i.e.
act as biosensors with potential as single molecule detectors. We have developed an effective approach for preparing functional polymers where the functionality has the capacity of specifically binding with a model protein. In our model system, the functional group is 2,4-dinitrophenyl (DNP) and the protein is anti-DNP IgE (Immunoglobulin E). The functional polymer, α,ω-bi[2,4-dinitrophenyl caproic][poly(ethylene oxide)-b-poly(2-methoxystyrene)-b-poly(ethylene oxide)] (CDNP-PEO-P2MS-PEO-CDNP), is prepared by anionic living polymerization. The difunctional initiator utilized in the polymerization was prepared by electron transfer reaction of α-methylstyrene and potassium (mirror) metal. The 2-methoxystyrene monomer was added first to the initiator, followed by the addition of the second monomer, ethylene oxide, and finally the living polymer was terminated by methanol. The α,ω-dihydroxyl polymer [HO-PEO-P2MS-PEO-OH] was reacted with N-2,4-DNP-∈-amino caproic acid, by DCC coupling, resulting in the formation of α,ω-bi[2,4-dinitrophenylcaproic][poly(ethyleneoxide)-b-poly(2-methoxystyrene)-b-poly(ethylene oxide)] (CDNP-PEO-P2MS-PEO-CDNP). The polymers were characterized by FT-IR,
1
H NMR and Gel Permeation Chromatography (GPC). The molecular weight distributions of the polymers were narrow (1.1-1.2) and polymers with molecular weights greater than 50,000 was used in this study. The polymers were yellow powders and soluble in tetrahydrofuran. A water soluble CDNP-PEO-P2MS-PEO-CDNP/ DMEG (dimethoxyethylene glycol) complex binds and achieves steady state binding with solution IgE within a few seconds. Higher molecular weight (water insoluble
i.e.
around 50,000) CDNP-PEO-P2MS-PEO-CDNP polymers, containing 1% single wall carbon nanotubes (SWCNT) were processed into electroactive nanofibers (100 nm to 500 nm in diameter) on silicon substrate. Fluorescence spectroscopy shows that anti-DNP IgE interacts with the nanofibers by binding with the DNP functional groups decorating the fibers. These observations suggest that appropriately functionalized nanofibers hold promise for developing biomarker detection device.
Chemistry, Issue 67, Bioengineering, Physics, Molecular Biology, Biomedical Engineering, Living polymerization, NMR Spectroscopy, Electrospinning, Nanofibers, I-V behavior, Biosensor, confocal microscopy
4135
Using Microfluidics Chips for Live Imaging and Study of Injury Responses in Drosophila Larvae
Institutions: University of Michigan, University of Michigan, University of Michigan, University of Michigan, University of Michigan.

Live imaging is an important technique for studying cell biological processes, however this can be challenging in live animals. The translucent cuticle of the
Drosophila
larva makes it an attractive model organism for live imaging studies. However, an important challenge for live imaging techniques is to noninvasively immobilize and position an animal on the microscope. This protocol presents a simple and easy to use method for immobilizing and imaging
Drosophila
larvae on a polydimethylsiloxane (PDMS) microfluidic device, which we call the 'larva chip'. The larva chip is comprised of a snug-fitting PDMS microchamber that is attached to a thin glass coverslip, which, upon application of a vacuum via a syringe, immobilizes the animal and brings ventral structures such as the nerve cord, segmental nerves, and body wall muscles, within close proximity to the coverslip. This allows for high-resolution imaging, and importantly, avoids the use of anesthetics and chemicals, which facilitates the study of a broad range of physiological processes. Since larvae recover easily from the immobilization, they can be readily subjected to multiple imaging sessions. This allows for longitudinal studies over time courses ranging from hours to days. This protocol describes step-by-step how to prepare the chip and how to utilize the chip for live imaging of neuronal events in 3
rd
instar larvae. These events include the rapid transport of organelles in axons, calcium responses to injury, and time-lapse studies of the trafficking of photo-convertible proteins over long distances and time scales. Another application of the chip is to study regenerative and degenerative responses to axonal injury, so the second part of this protocol describes a new and simple procedure for injuring axons within peripheral nerves by a segmental nerve crush.
Bioengineering, Issue 84, Drosophila melanogaster, Live Imaging, Microfluidics, axonal injury, axonal degeneration, calcium imaging, photoconversion, laser microsurgery
50998