Micropunching Lithography for Generating Micro- and Submicron-patterns on Polymer Substrates
Published: 07-02-2012
ABSTRACT
Conducting polymers have attracted great attention since the discovery of high conductivity in doped polyacetylene in 19771. They offer the advantages of low weight, easy tailoring of properties and a wide spectrum of applications2,3. Due to sensitivity of conducting polymers to environmental conditions (e.g., air, oxygen, moisture, high temperature and chemical solutions), lithographic techniques present significant technical challenges when working with these materials4. For example, current photolithographic methods, such as ultra-violet (UV), are unsuitable for patterning the conducting polymers due to the involvement of wet and/or dry etching processes in these methods. In addition, current micro/nanosystems mainly have a planar form5,6. One layer of structures is built on the top surfaces of another layer of fabricated features. Multiple layers of these structures are stacked together to form numerous devices on a common substrate. The sidewall surfaces of the microstructures have not been used in constructing devices. On the other hand, sidewall patterns could be used, for example, to build 3-D circuits, modify fluidic channels and direct horizontal growth of nanowires and nanotubes. A macropunching method has been applied in the manufacturing industry to create macropatterns in a sheet metal for over a hundred years. Motivated by this approach, we have developed a micropunching lithography method (MPL) to overcome the obstacles of patterning conducting polymers and generating sidewall patterns. Like the macropunching method, the MPL also includes two operations (Fig. 1): (i) cutting; and (ii) drawing. The "cutting" operation was applied to pattern three conducting polymers4, polypyrrole (PPy), Poly(3,4-ethylenedioxythiophen)-poly(4-styrenesulphonate) (PEDOT) and polyaniline (PANI). It was also employed to create Al microstructures7. The fabricated microstructures of conducting polymers have been used as humidity8, chemical8, and glucose sensors9. Combined microstructures of Al and conducting polymers have been employed to fabricate capacitors and various heterojunctions9,10,11. The "cutting" operation was also applied to generate submicron-patterns, such as 100- and 500-nm-wide PPy lines as well as 100-nm-wide Au wires. The "drawing" operation was employed for two applications: (i) produce Au sidewall patterns on high density polyethylene (HDPE) channels which could be used for building 3D microsystems12,13,14, and (ii) fabricate polydimethylsiloxane (PDMS) micropillars on HDPE substrates to increase the contact angle of the channel15.
24 Related JoVE Articles!
Fabrication, Densification, and Replica Molding of 3D Carbon Nanotube Microstructures
Institutions: University of Michigan , IMEC, Belgium.

The introduction of new materials and processes to microfabrication has, in large part, enabled many important advances in microsystems, lab-on-a-chip devices, and their applications. In particular, capabilities for cost-effective fabrication of polymer microstructures were transformed by the advent of soft lithography and other micromolding techniques
1, 2
, and this led a revolution in applications of microfabrication to biomedical engineering and biology. Nevertheless, it remains challenging to fabricate microstructures with well-defined nanoscale surface textures, and to fabricate arbitrary 3D shapes at the micro-scale. Robustness of master molds and maintenance of shape integrity is especially important to achieve high fidelity replication of complex structures and preserving their nanoscale surface texture. The combination of hierarchical textures, and heterogeneous shapes, is a profound challenge to existing microfabrication methods that largely rely upon top-down etching using fixed mask templates. On the other hand, the bottom-up synthesis of nanostructures such as nanotubes and nanowires can offer new capabilities to microfabrication, in particular by taking advantage of the collective self-organization of nanostructures, and local control of their growth behavior with respect to microfabricated patterns. Our goal is to introduce vertically aligned carbon nanotubes (CNTs), which we refer to as CNT "forests", as a new microfabrication material. We present details of a suite of related methods recently developed by our group: fabrication of CNT forest microstructures by thermal CVD from lithographically patterned catalyst thin films; self-directed elastocapillary densification of CNT microstructures; and replica molding of polymer microstructures using CNT composite master molds. In particular, our work shows that self-directed capillary densification ("capillary forming"), which is performed by condensation of a solvent onto the substrate with CNT microstructures, significantly increases the packing density of CNTs. This process enables directed transformation of vertical CNT microstructures into straight, inclined, and twisted shapes, which have robust mechanical properties exceeding those of typical microfabrication polymers. This in turn enables formation of nanocomposite CNT master molds by capillary-driven infiltration of polymers. The replica structures exhibit the anisotropic nanoscale texture of the aligned CNTs, and can have walls with sub-micron thickness and aspect ratios exceeding 50:1. Integration of CNT microstructures in fabrication offers further opportunity to exploit the electrical and thermal properties of CNTs, and diverse capabilities for chemical and biochemical functionalization
3
.
Mechanical Engineering, Issue 65, Physics, Carbon nanotube, microstructure, fabrication, molding, transfer, polymer
3980
Antifouling Self-assembled Monolayers on Microelectrodes for Patterning Biomolecules
Institutions: Texas A&M University (TAMU), Texas A&M University (TAMU).

We present a procedure for forming a poly(ethylene glycol) (PEG) trimethoxysilane self-assembled monolayer (SAM) on a silicon substrate with gold microelectrodes. The PEG-SAM is formed in a single assembly step and prevents biofouling on silicon and gold surfaces. The SAM is used to coat microelectrodes patterned with standard, positive-tone lithography. Using the microtubule as an example, we apply a DC voltage to induce electrophoretic migration to the SAM-coated electrode in a reversible manner. A flow chamber is used for imaging the electrophoretic migration and microtubule patterning
in situ
using epifluorescence microscopy. This method is generally applicable to biomolecule patterning, as it employs electrophoresis to immobilize target molecules and thus does not require specific molecular interactions. Further, it avoids problems encountered when attempting to pattern the SAM molecules directly using lithographic techniques. The compatibility with electron beam lithography allows this method to be used to pattern biomolecules at the nanoscale.
Biomedical Engineering, Issue 30, protein patterning, self-assembly, tubulin, kinesin, biofouling, bioNEMS, biosensor
1390
Polycrystalline Silicon Thin-film Solar cells with Plasmonic-enhanced Light-trapping
Institutions: University of New South Wales .

One of major approaches to cheaper solar cells is reducing the amount of semiconductor material used for their fabrication and making cells thinner. To compensate for lower light absorption such physically thin devices have to incorporate light-trapping which increases their optical thickness. Light scattering by textured surfaces is a common technique but it cannot be universally applied to all solar cell technologies. Some cells, for example those made of evaporated silicon, are planar as produced and they require an alternative light-trapping means suitable for planar devices. Metal nanoparticles formed on planar silicon cell surface and capable of light scattering due to surface plasmon resonance is an effective approach. The paper presents a fabrication procedure of evaporated polycrystalline silicon solar cells with plasmonic light-trapping and demonstrates how the cell quantum efficiency improves due to presence of metal nanoparticles. To fabricate the cells a film consisting of alternative boron and phosphorous doped silicon layers is deposited on glass substrate by electron beam evaporation. An Initially amorphous film is crystallised and electronic defects are mitigated by annealing and hydrogen passivation. Metal grid contacts are applied to the layers of opposite polarity to extract electricity generated by the cell. Typically, such a ~2 μm thick cell has a short-circuit current density (
Jsc
) of 14-16 mA/cm
2
, which can be increased up to 17-18 mA/cm
2
(~25% higher) after application of a simple diffuse back reflector made of a white paint. To implement plasmonic light-trapping a silver nanoparticle array is formed on the metallised cell silicon surface. A precursor silver film is deposited on the cell by thermal evaporation and annealed at 23°C to form silver nanoparticles. Nanoparticle size and coverage, which affect plasmonic light-scattering, can be tuned for enhanced cell performance by varying the precursor film thickness and its annealing conditions. An optimised nanoparticle array alone results in cell
Jsc
enhancement of about 28%, similar to the effect of the diffuse reflector. The photocurrent can be further increased by coating the nanoparticles by a low refractive index dielectric, like MgF
2
, and applying the diffused reflector. The complete plasmonic cell structure comprises the polycrystalline silicon film, a silver nanoparticle array, a layer of MgF
2
, and a diffuse reflector. The
Jsc
for such cell is 21-23 mA/cm
2
, up to 45% higher than
Jsc
of the original cell without light-trapping or ~25% higher than
Jsc
for the cell with the diffuse reflector only. Introduction Light-trapping in silicon solar cells is commonly achieved via light scattering at textured interfaces. Scattered light travels through a cell at oblique angles for a longer distance and when such angles exceed the critical angle at the cell interfaces the light is permanently trapped in the cell by total internal reflection
(Animation 1: Light-trapping)
. Although this scheme works well for most solar cells, there are developing technologies where ultra-thin Si layers are produced planar (e.g. layer-transfer technologies and epitaxial c-Si layers)
1
and or when such layers are not compatible with textures substrates (e.g. evaporated silicon)
2
. For such originally planar Si layer alternative light trapping approaches, such as diffuse white paint reflector
3
, silicon plasma texturing
4
or high refractive index nanoparticle reflector
5
have been suggested. Metal nanoparticles can effectively scatter incident light into a higher refractive index material, like silicon, due to the surface plasmon resonance effect
6
. They also can be easily formed on the planar silicon cell surface thus offering a light-trapping approach alternative to texturing. For a nanoparticle located at the air-silicon interface the scattered light fraction coupled into silicon exceeds 95% and a large faction of that light is scattered at angles above critical providing nearly ideal light-trapping condition
(Animation 2: Plasmons on NP)
. The resonance can be tuned to the wavelength region, which is most important for a particular cell material and design, by varying the nanoparticle average size, surface coverage and local dielectric environment
6,7
. Theoretical design principles of plasmonic nanoparticle solar cells have been suggested
8
. In practice, Ag nanoparticle array is an ideal light-trapping partner for poly-Si thin-film solar cells because most of these design principle are naturally met. The simplest way of forming nanoparticles by thermal annealing of a thin precursor Ag film results in a random array with a relatively wide size and shape distribution, which is particularly suitable for light-trapping because such an array has a wide resonance peak, covering the wavelength range of 700-900 nm, important for poly-Si solar cell performance. The nanoparticle array can only be located on the rear poly-Si cell surface thus avoiding destructive interference between incident and scattered light which occurs for front-located nanoparticles
9
. Moreover, poly-Si thin-film cells do not requires a passivating layer and the flat base-shaped nanoparticles (that naturally result from thermal annealing of a metal film) can be directly placed on silicon further increases plasmonic scattering efficiency due to surface plasmon-polariton resonance
10
. The cell with the plasmonic nanoparticle array as described above can have a photocurrent about 28% higher than the original cell. However, the array still transmits a significant amount of light which escapes through the rear of the cell and does not contribute into the current. This loss can be mitigated by adding a rear reflector to allow catching transmitted light and re-directing it back to the cell. Providing sufficient distance between the reflector and the nanoparticles (a few hundred nanometers) the reflected light will then experience one more plasmonic scattering event while passing through the nanoparticle array on re-entering the cell and the reflector itself can be made diffuse - both effects further facilitating light scattering and hence light-trapping. Importantly, the Ag nanoparticles have to be encapsulated with an inert and low refractive index dielectric, like MgF
2
or SiO
2
, from the rear reflector to avoid mechanical and chemical damage
7
. Low refractive index for this cladding layer is required to maintain a high coupling fraction into silicon and larger scattering angles, which are ensured by the high optical contrast between the media on both sides of the nanoparticle, silicon and dielectric
6
. The photocurrent of the plasmonic cell with the diffuse rear reflector can be up to 45% higher than the current of the original cell or up to 25% higher than the current of an equivalent cell with the diffuse reflector only.
Physics, Issue 65, Materials Science, Photovoltaics, Silicon thin-film solar cells, light-trapping, metal nanoparticles, surface plasmons
4092
Studying Cell Rolling Trajectories on Asymmetric Receptor Patterns
Institutions: MIT - Massachusetts Institute of Technology, MIT - Massachusetts Institute of Technology, Brigham and Women's Hospital and Harvard Medical School.
Lateral displacement of cells orthogonal to a flow stream by rolling on asymmetric receptor patterns presents an opportunity for development of new devices for label-free separation and analysis of cells
1
. Such devices may use lateral displacement for continuous-flow separation, or receptor patterns that modulate adhesion to distinguish between different cell phenotypes or levels of receptor expression. Understanding the nature of cell rolling trajectories on receptor-patterned substrates is necessary for engineering of the substrates and design of such devices. Here, we demonstrate a protocol for studying cell rolling trajectories on asymmetric receptor patterns that support cell rolling adhesion
2
. Well-defined, μm-scale patterns of P-selectin receptors were fabricated using microcontact printing on gold-coated slides that were incorporated in a flow chamber. HL60 cells expressing the PSGL-1 ligand
3
were flowed across a field of patterned lines and visualized on an inverted bright field microscope. The cells rolled and tracked along the inclined edges of the patterns, resulting in lateral deflection
1
. Each cell typically rolled for a certain distance along the pattern edges (defined as the edge tracking length), detached from the edge, and reattached to a downstream pattern. Although this detachment makes it difficult to track the entire trajectory of a cell from entrance to exit in the flow chamber, particle-tracking software was used to analyze and yield the rolling trajectories of the cells during the time when they were moving on a single receptor-patterned line. The trajectories were then examined to obtain distributions of cell rolling velocities and the edge tracking lengths for each cell for different patterns. This protocol is useful for quantifying cell rolling trajectories on receptor patterns and relating these to engineering parameters such as pattern angle and shear stress. Such data will be useful for design of microfluidic devices for label-free cell separation and analysis.
Bioengineering, Issue 48, cell rolling, microcontact printing, cell adhesion, cell analysis, cell separation, P-selectin
2640
Recording Multicellular Behavior in Myxococcus xanthus Biofilms using Time-lapse Microcinematography
Institutions: University of South Carolina (USC), Syracuse University.

A swarm of the δ-proteobacterium
Myxococcus xanthus
contains millions of cells that act as a collective, coordinating movement through a series of signals to create complex, dynamic patterns as a response to environmental cues. These patterns are self-organizing and emergent; they cannot be predicted by observing the behavior of the individual cells. Using a time-lapse microcinematography tracking assay, we identified a distinct emergent pattern in
M. xanthus
called chemotaxis, defined as the directed movement of a swarm up a nutrient gradient toward its source
1
. In order to efficiently characterize chemotaxis via time-lapse microcinematography, we developed a highly modifiable plate complex (Figure 1) and constructed a cluster of 8 microscopes (Figure 2), each capable of capturing time-lapse videos. The assay is rigorous enough to allow consistent replication of quantifiable data, and the resulting videos allow us to observe and track subtle changes in swarm behavior. Once captured, the videos are transferred to an analysis/storage computer with enough memory to process and store thousands of videos. The flexibility of this setup has proven useful to several members of the
M. xanthus
community.
Microbiology, Issue 42, microcinematography, Myxococcus, chemotaxis, time-lapse
2038
An Improved Mechanical Testing Method to Assess Bone-implant Anchorage
Institutions: University of Toronto.

Recent advances in material science have led to a substantial increase in the topographical complexity of implant surfaces, both on a micro- and a nano-scale. As such, traditional methods of describing implant surfaces - namely numerical determinants of surface roughness - are inadequate for predicting
in vivo
performance. Biomechanical testing provides an accurate and comparative platform to analyze the performance of biomaterial surfaces. An improved mechanical testing method to test the anchorage of bone to candidate implant surfaces is presented. The method is applicable to both early and later stages of healing and can be employed for any range of chemically or mechanically modified surfaces - but not smooth surfaces. Custom rectangular implants are placed bilaterally in the distal femora of male Wistar rats and collected with the surrounding bone. Test specimens are prepared and potted using a novel breakaway mold and the disruption test is conducted using a mechanical testing machine. This method allows for alignment of the disruption force exactly perpendicular, or parallel, to the plane of the implant surface, and provides an accurate and reproducible means for isolating an exact peri-implant region for testing.
Bioengineering, Issue 84, Mechanical test, bone anchorage, disruption test, surface topography, peri-implant bone, bone-implant interface, bone-bonding, microtopography, nanotopography
51221
In vitro Coculture Assay to Assess Pathogen Induced Neutrophil Trans-epithelial Migration
Institutions: Harvard Medical School, MGH for Children, Massachusetts General Hospital.

Mucosal surfaces serve as protective barriers against pathogenic organisms. Innate immune responses are activated upon sensing pathogen leading to the infiltration of tissues with migrating inflammatory cells, primarily neutrophils. This process has the potential to be destructive to tissues if excessive or held in an unresolved state.  Cocultured
in vitro
models can be utilized to study the unique molecular mechanisms involved in pathogen induced neutrophil trans-epithelial migration. This type of model provides versatility in experimental design with opportunity for controlled manipulation of the pathogen, epithelial barrier, or neutrophil. Pathogenic infection of the apical surface of polarized epithelial monolayers grown on permeable transwell filters instigates physiologically relevant basolateral to apical trans-epithelial migration of neutrophils applied to the basolateral surface. The
in vitro
model described herein demonstrates the multiple steps necessary for demonstrating neutrophil migration across a polarized lung epithelial monolayer that has been infected with pathogenic
P. aeruginosa
(PAO1). Seeding and culturing of permeable transwells with human derived lung epithelial cells is described, along with isolation of neutrophils from whole human blood and culturing of PAO1 and nonpathogenic K12
E. coli
(MC1000).  The emigrational process and quantitative analysis of successfully migrated neutrophils that have been mobilized in response to pathogenic infection is shown with representative data, including positive and negative controls. This
in vitro
model system can be manipulated and applied to other mucosal surfaces. Inflammatory responses that involve excessive neutrophil infiltration can be destructive to host tissues and can occur in the absence of pathogenic infections. A better understanding of the molecular mechanisms that promote neutrophil trans-epithelial migration through experimental manipulation of the
in vitro
coculture assay system described herein has significant potential to identify novel therapeutic targets for a range of mucosal infectious as well as inflammatory diseases.
Infection, Issue 83, Cellular Biology, Epithelium, Neutrophils, Pseudomonas aeruginosa, Respiratory Tract Diseases, Neutrophils, epithelial barriers, pathogens, transmigration
50823
Quantitative Assessment of Human Neutrophil Migration Across a Cultured Bladder Epithelium
Institutions: Washington University School of Medicine, Washington University School of Medicine.
The recruitment of immune cells from the periphery to the site of inflammation is an essential step in the innate immune response at any mucosal surface. During infection of the urinary bladder, polymorphonuclear leukocytes (PMN; neutrophils) migrate from the bloodstream and traverse the bladder epithelium. Failure to resolve infection in the absence of a neutrophilic response demonstrates the importance of PMN in bladder defense. To facilitate colonization of the bladder epithelium, uropathogenic
Escherichia coli
(UPEC), the causative agent of the majority of urinary tract infections (UTIs), dampen the acute inflammatory response using a variety of partially defined mechanisms. To further investigate the interplay between host and bacterial pathogen, we developed an
in vitro
model of this aspect of the innate immune response to UPEC. In the transuroepithelial neutrophil migration assay, a variation on the Boyden chamber, cultured bladder epithelial cells are grown to confluence on the underside of a permeable support. PMN are isolated from human venous blood and are applied to the basolateral side of the bladder epithelial cell layers. PMN migration representing the physiologically relevant basolateral-to-apical direction in response to bacterial infection or chemoattractant molecules is enumerated using a hemocytometer. This model can be used to investigate interactions between UPEC and eukaryotic cells as well as to interrogate the molecular requirements for the traversal of bladder epithelia by PMN. The transuroepithelial neutrophil migration model will further our understanding of the initial inflammatory response to UPEC in the bladder.
Immunology, Issue 81, uropathogenic Escherichia coli, neutrophil, bladder epithelium, neutrophil migration, innate immunity, urinary tract infection
50919
Electric Cell-substrate Impedance Sensing for the Quantification of Endothelial Proliferation, Barrier Function, and Motility
Institutions: Institute for Cardiovascular Research, VU University Medical Center, Institute for Cardiovascular Research, VU University Medical Center.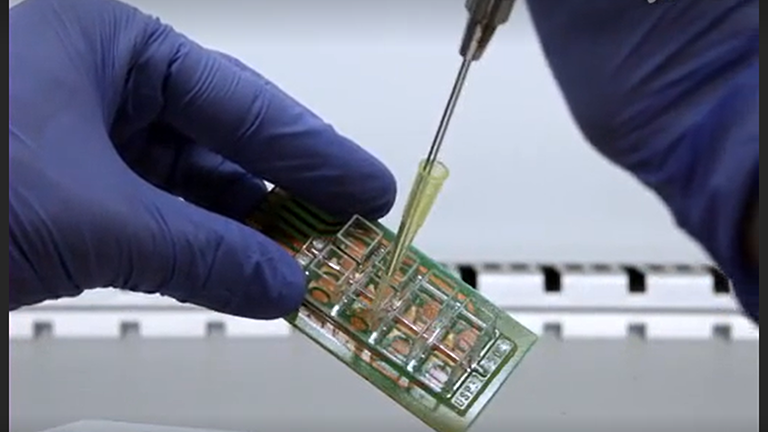 Electric Cell-substrate Impedance Sensing (ECIS) is an
in vitro
impedance measuring system to quantify the behavior of cells within adherent cell layers. To this end, cells are grown in special culture chambers on top of opposing, circular gold electrodes. A constant small alternating current is applied between the electrodes and the potential across is measured. The insulating properties of the cell membrane create a resistance towards the electrical current flow resulting in an increased electrical potential between the electrodes. Measuring cellular impedance in this manner allows the automated study of cell attachment, growth, morphology, function, and motility. Although the ECIS measurement itself is straightforward and easy to learn, the underlying theory is complex and selection of the right settings and correct analysis and interpretation of the data is not self-evident. Yet, a clear protocol describing the individual steps from the experimental design to preparation, realization, and analysis of the experiment is not available. In this article the basic measurement principle as well as possible applications, experimental considerations, advantages and limitations of the ECIS system are discussed. A guide is provided for the study of cell attachment, spreading and proliferation; quantification of cell behavior in a confluent layer, with regard to barrier function, cell motility, quality of cell-cell and cell-substrate adhesions; and quantification of wound healing and cellular responses to vasoactive stimuli. Representative results are discussed based on human microvascular (MVEC) and human umbilical vein endothelial cells (HUVEC), but are applicable to all adherent growing cells.
Bioengineering, Issue 85, ECIS, Impedance Spectroscopy, Resistance, TEER, Endothelial Barrier, Cell Adhesions, Focal Adhesions, Proliferation, Migration, Motility, Wound Healing
51300
Analysis of Cell Migration within a Three-dimensional Collagen Matrix
Institutions: Witten/Herdecke University.

The ability to migrate is a hallmark of various cell types and plays a crucial role in several physiological processes, including embryonic development, wound healing, and immune responses. However, cell migration is also a key mechanism in cancer enabling these cancer cells to detach from the primary tumor to start metastatic spreading. Within the past years various cell migration assays have been developed to analyze the migratory behavior of different cell types. Because the locomotory behavior of cells markedly differs between a two-dimensional (2D) and three-dimensional (3D) environment it can be assumed that the analysis of the migration of cells that are embedded within a 3D environment would yield in more significant cell migration data. The advantage of the described 3D collagen matrix migration assay is that cells are embedded within a physiological 3D network of collagen fibers representing the major component of the extracellular matrix. Due to time-lapse video microscopy real cell migration is measured allowing the determination of several migration parameters as well as their alterations in response to pro-migratory factors or inhibitors. Various cell types could be analyzed using this technique, including lymphocytes/leukocytes, stem cells, and tumor cells. Likewise, also cell clusters or spheroids could be embedded within the collagen matrix concomitant with analysis of the emigration of single cells from the cell cluster/ spheroid into the collagen lattice. We conclude that the 3D collagen matrix migration assay is a versatile method to analyze the migration of cells within a physiological-like 3D environment.
Bioengineering, Issue 92, cell migration, 3D collagen matrix, cell tracking
51963
Labeling F-actin Barbed Ends with Rhodamine-actin in Permeabilized Neuronal Growth Cones
Institutions: University of Minnesota.

The motile tips of growing axons are called growth cones. Growth cones lead navigating axons through developing tissues by interacting with locally expressed molecular guidance cues that bind growth cone receptors and regulate the dynamics and organization of the growth cone cytoskeleton
3-6
. The main target of these navigational signals is the actin filament meshwork that fills the growth cone periphery and that drives growth cone motility through continual actin polymerization and dynamic remodeling
7
. Positive or attractive guidance cues induce growth cone turning by stimulating actin filament (F-actin) polymerization in the region of the growth cone periphery that is nearer the source of the attractant cue. This actin polymerization drives local growth cone protrusion, adhesion of the leading margin and axonal elongation toward the attractant. Actin filament polymerization depends on the availability of sufficient actin monomer and on polymerization nuclei or actin filament barbed ends for the addition of monomer. Actin monomer is abundantly available in chick retinal and dorsal root ganglion (DRG) growth cones. Consequently, polymerization increases rapidly when free F-actin barbed ends become available for monomer addition. This occurs in chick DRG and retinal growth cones via the local activation of the F-actin severing protein actin depolymerizing factor (ADF/cofilin) in the growth cone region closer to an attractant
8-10
. This heightened ADF/cofilin activity severs actin filaments to create new F-actin barbed ends for polymerization. The following method demonstrates this mechanism. Total content of F-actin is visualized by staining with fluorescent phalloidin. F-actin barbed ends are visualized by the incorporation of rhodamine-actin within growth cones that are permeabilized with the procedure described in the following, which is adapted from previous studies of other motile cells
11, 12
. When rhodamine-actin is added at a concentration above the critical concentration for actin monomer addition to barbed ends, rhodamine-actin assembles onto free barbed ends. If the attractive cue is presented in a gradient, such as being released from a micropipette positioned to one side of a growth cone, the incorporation of rhodamine-actin onto F-actin barbed ends will be greater in the growth cone side toward the micropipette
10
. Growth cones are small and delicate cell structures. The procedures of permeabilization, rhodamine-actin incorporation, fixation and fluorescence visualization are all carefully done and can be conducted on the stage of an inverted microscope. These methods can be applied to studying local actin polymerization in migrating neurons, other primary tissue cells or cell lines.
Neuroscience, Issue 49, Actin, growth cones, barbed ends, polymerization, guidance cues
2409
Plasma Lithography Surface Patterning for Creation of Cell Networks
Institutions: University of Arizona , University of Arizona .

Systematic manipulation of a cell microenvironment with micro- and nanoscale resolution is often required for deciphering various cellular and molecular phenomena. To address this requirement, we have developed a plasma lithography technique to manipulate the cellular microenvironment by creating a patterned surface with feature sizes ranging from 100 nm to millimeters. The goal of this technique is to be able to study, in a controlled way, the behaviors of individual cells as well as groups of cells and their interactions. This plasma lithography method is based on selective modification of the surface chemistry on a substrate by means of shielding the contact of low-temperature plasma with a physical mold. This selective shielding leaves a chemical pattern which can guide cell attachment and movement. This pattern, or surface template, can then be used to create networks of cells whose structure can mimic that found in nature and produces a controllable environment for experimental investigations. The technique is well suited to studying biological phenomenon as it produces stable surface patterns on transparent polymeric substrates in a biocompatible manner. The surface patterns last for weeks to months and can thus guide interaction with cells for long time periods which facilitates the study of long-term cellular processes, such as differentiation and adaption. The modification to the surface is primarily chemical in nature and thus does not introduce topographical or physical interference for interpretation of results. It also does not involve any harsh or toxic substances to achieve patterning and is compatible for tissue culture. Furthermore, it can be applied to modify various types of polymeric substrates, which due to the ability to tune their properties are ideal for and are widely used in biological applications. The resolution achievable is also beneficial, as isolation of specific processes such as migration, adhesion, or binding allows for discrete, clear observations at the single to multicell level. This method has been employed to form diverse networks of different cell types for investigations involving migration, signaling, tissue formation, and the behavior and interactions of neurons arraigned in a network.
Bioengineering, Issue 52, Cell Network, Surface Patterning, Self-Organization, Developmental Biology, Tissue Engineering, Nanopattern, Micropattern, Self-Assembly, Cell Guidance, Neuron
3115
In Situ SIMS and IR Spectroscopy of Well-defined Surfaces Prepared by Soft Landing of Mass-selected Ions
Institutions: Pacific Northwest National Laboratory.

Soft landing of mass-selected ions onto surfaces is a powerful approach for the highly-controlled preparation of materials that are inaccessible using conventional synthesis techniques. Coupling soft landing with
in situ
characterization using secondary ion mass spectrometry (SIMS) and infrared reflection absorption spectroscopy (IRRAS) enables analysis of well-defined surfaces under clean vacuum conditions. The capabilities of three soft-landing instruments constructed in our laboratory are illustrated for the representative system of surface-bound organometallics prepared by soft landing of mass-selected ruthenium tris(bipyridine) dications, [Ru(bpy)
3
]
2+
(bpy = bipyridine), onto carboxylic acid terminated self-assembled monolayer surfaces on gold (COOH-SAMs).
In situ
time-of-flight (TOF)-SIMS provides insight into the reactivity of the soft-landed ions. In addition, the kinetics of charge reduction, neutralization and desorption occurring on the COOH-SAM both during and after ion soft landing are studied using
in situ
Fourier transform ion cyclotron resonance (FT-ICR)-SIMS measurements.
In situ
IRRAS experiments provide insight into how the structure of organic ligands surrounding metal centers is perturbed through immobilization of organometallic ions on COOH-SAM surfaces by soft landing. Collectively, the three instruments provide complementary information about the chemical composition, reactivity and structure of well-defined species supported on surfaces.
Chemistry, Issue 88, soft landing, mass selected ions, electrospray, secondary ion mass spectrometry, infrared spectroscopy, organometallic, catalysis
51344
Capillary Force Lithography for Cardiac Tissue Engineering
Institutions: University of Washington, University of Washington.
Cardiovascular disease remains the leading cause of death worldwide
1
. Cardiac tissue engineering holds much promise to deliver groundbreaking medical discoveries with the aims of developing functional tissues for cardiac regeneration as well as
in vitro
screening assays. However, the ability to create high-fidelity models of heart tissue has proven difficult. The heart's extracellular matrix (ECM) is a complex structure consisting of both biochemical and biomechanical signals ranging from the micro- to the nanometer scale
2
. Local mechanical loading conditions and cell-ECM interactions have recently been recognized as vital components in cardiac tissue engineering
3-5
. A large portion of the cardiac ECM is composed of aligned collagen fibers with nano-scale diameters that significantly influences tissue architecture and electromechanical coupling
2
. Unfortunately, few methods have been able to mimic the organization of ECM fibers down to the nanometer scale. Recent advancements in nanofabrication techniques, however, have enabled the design and fabrication of scalable scaffolds that mimic the
in vivo
structural and substrate stiffness cues of the ECM in the heart
6-9
. Here we present the development of two reproducible, cost-effective, and scalable nanopatterning processes for the functional alignment of cardiac cells using the biocompatible polymer poly(lactide-co-glycolide) (PLGA)
8
and a polyurethane (PU) based polymer. These anisotropically nanofabricated substrata (ANFS) mimic the underlying ECM of well-organized, aligned tissues and can be used to investigate the role of nanotopography on cell morphology and function
10-14
. Using a nanopatterned (NP) silicon master as a template, a polyurethane acrylate (PUA) mold is fabricated. This PUA mold is then used to pattern the PU or PLGA hydrogel via UV-assisted or solvent-mediated capillary force lithography (CFL), respectively
15,16
. Briefly, PU or PLGA pre-polymer is drop dispensed onto a glass coverslip and the PUA mold is placed on top. For UV-assisted CFL, the PU is then exposed to UV radiation (λ = 250-400 nm) for curing. For solvent-mediated CFL, the PLGA is embossed using heat (120 °C) and pressure (100 kPa). After curing, the PUA mold is peeled off, leaving behind an ANFS for cell culture. Primary cells, such as neonatal rat ventricular myocytes, as well as human pluripotent stem cell-derived cardiomyocytes, can be maintained on the ANFS
2
.
Bioengineering, Issue 88, Nanotopography, Anisotropic, Nanofabrication, Cell Culture, Cardiac Tissue Engineering
50039
Creating Adhesive and Soluble Gradients for Imaging Cell Migration with Fluorescence Microscopy
Institutions: The University of New South Wales, The University of New South Wales.

Cells can sense and migrate towards higher concentrations of adhesive cues such as the glycoproteins of the extracellular matrix and soluble cues such as growth factors. Here, we outline a method to create opposing gradients of adhesive and soluble cues in a microfluidic chamber, which is compatible with live cell imaging. A copolymer of poly-L-lysine and polyethylene glycol (PLL-PEG) is employed to passivate glass coverslips and prevent non-specific adsorption of biomolecules and cells. Next, microcontact printing or dip pen lithography are used to create tracks of streptavidin on the passivated surfaces to serve as anchoring points for the biotinylated peptide arginine-glycine-aspartic acid (RGD) as the adhesive cue. A microfluidic device is placed onto the modified surface and used to create the gradient of adhesive cues (100% RGD to 0% RGD) on the streptavidin tracks. Finally, the same microfluidic device is used to create a gradient of a chemoattractant such as fetal bovine serum (FBS), as the soluble cue in the opposite direction of the gradient of adhesive cues.
Bioengineering, Issue 74, Microbiology, Cellular Biology, Biochemistry, Molecular Biology, Biophysics, Cell migration, live cell imaging, soluble and adherent gradients, microcontact printing, dip pen lithography, microfluidics, RGD, PEG, biotin, streptavidin, chemotaxis, chemoattractant, imaging
50310
Study of Cell Migration in Microfabricated Channels
Institutions: Institut Curie, Institut Curie.
The method described here allows the study of cell migration under confinement in one dimension. It is based on the use of microfabricated channels, which impose a polarized phenotype to cells by physical constraints. Once inside channels, cells have only two possibilities: move forward or backward. This simplified migration in which directionality is restricted facilitates the automatic tracking of cells and the extraction of quantitative parameters to describe cell movement. These parameters include cell velocity, changes in direction, and pauses during motion. Microchannels are also compatible with the use of fluorescent markers and are therefore suitable to study localization of intracellular organelles and structures during cell migration at high resolution. Finally, the surface of the channels can be functionalized with different substrates, allowing the control of the adhesive properties of the channels or the study of haptotaxis. In summary, the system here described is intended to analyze the migration of large cell numbers in conditions in which both the geometry and the biochemical nature of the environment are controlled, facilitating the normalization and reproducibility of independent experiments.
Bioengineering, Issue 84, Microchannels, Cell migration, Motility, velocity, confinement, Dendritic cells
51099
Preparation of Segmented Microtubules to Study Motions Driven by the Disassembling Microtubule Ends
Institutions: Russian Academy of Sciences, Federal Research Center of Pediatric Hematology, Oncology and Immunology, Moscow, Russia, University of Pennsylvania.

Microtubule depolymerization can provide force to transport different protein complexes and protein-coated beads
in vitro
. The underlying mechanisms are thought to play a vital role in the microtubule-dependent chromosome motions during cell division, but the relevant proteins and their exact roles are ill-defined. Thus, there is a growing need to develop assays with which to study such motility
in vitro
using purified components and defined biochemical milieu. Microtubules, however, are inherently unstable polymers; their switching between growth and shortening is stochastic and difficult to control. The protocols we describe here take advantage of the segmented microtubules that are made with the photoablatable stabilizing caps. Depolymerization of such segmented microtubules can be triggered with high temporal and spatial resolution, thereby assisting studies of motility at the disassembling microtubule ends. This technique can be used to carry out a quantitative analysis of the number of molecules in the fluorescently-labeled protein complexes, which move processively with dynamic microtubule ends. To optimize a signal-to-noise ratio in this and other quantitative fluorescent assays, coverslips should be treated to reduce nonspecific absorption of soluble fluorescently-labeled proteins. Detailed protocols are provided to take into account the unevenness of fluorescent illumination, and determine the intensity of a single fluorophore using equidistant Gaussian fit. Finally, we describe the use of segmented microtubules to study microtubule-dependent motions of the protein-coated microbeads, providing insights into the ability of different motor and nonmotor proteins to couple microtubule depolymerization to processive cargo motion.
Basic Protocol, Issue 85, microscopy flow chamber, single-molecule fluorescence, laser trap, microtubule-binding protein, microtubule-dependent motor, microtubule tip-tracking
51150
Detection of Architectural Distortion in Prior Mammograms via Analysis of Oriented Patterns
Institutions: University of Calgary , University of Calgary .

We demonstrate methods for the detection of architectural distortion in prior mammograms of interval-cancer cases based on analysis of the orientation of breast tissue patterns in mammograms. We hypothesize that architectural distortion modifies the normal orientation of breast tissue patterns in mammographic images before the formation of masses or tumors. In the initial steps of our methods, the oriented structures in a given mammogram are analyzed using Gabor filters and phase portraits to detect node-like sites of radiating or intersecting tissue patterns. Each detected site is then characterized using the node value, fractal dimension, and a measure of angular dispersion specifically designed to represent spiculating patterns associated with architectural distortion. Our methods were tested with a database of 106 prior mammograms of 56 interval-cancer cases and 52 mammograms of 13 normal cases using the features developed for the characterization of architectural distortion, pattern classification
via
quadratic discriminant analysis, and validation with the leave-one-patient out procedure. According to the results of free-response receiver operating characteristic analysis, our methods have demonstrated the capability to detect architectural distortion in prior mammograms, taken 15 months (on the average) before clinical diagnosis of breast cancer, with a sensitivity of 80% at about five false positives per patient.
Medicine, Issue 78, Anatomy, Physiology, Cancer Biology, angular spread, architectural distortion, breast cancer, Computer-Assisted Diagnosis, computer-aided diagnosis (CAD), entropy, fractional Brownian motion, fractal dimension, Gabor filters, Image Processing, Medical Informatics, node map, oriented texture, Pattern Recognition, phase portraits, prior mammograms, spectral analysis
50341
Towards Biomimicking Wood: Fabricated Free-standing Films of Nanocellulose, Lignin, and a Synthetic Polycation
Institutions: Virginia Tech, Virginia Tech, Illinois Institute of Technology- Moffett Campus, University of Guadalajara, Virginia Tech, Virginia Tech.

Woody materials are comprised of plant cell walls that contain a layered secondary cell wall composed of structural polymers of polysaccharides and lignin. Layer-by-layer (LbL) assembly process which relies on the assembly of oppositely charged molecules from aqueous solutions was used to build a freestanding composite film of isolated wood polymers of lignin and oxidized nanofibril cellulose (NFC). To facilitate the assembly of these negatively charged polymers, a positively charged polyelectrolyte, poly(diallyldimethylammomium chloride) (PDDA), was used as a linking layer to create this simplified model cell wall. The layered adsorption process was studied quantitatively using quartz crystal microbalance with dissipation monitoring (QCM-D) and ellipsometry. The results showed that layer mass/thickness per adsorbed layer increased as a function of total number of layers. The surface coverage of the adsorbed layers was studied with atomic force microscopy (AFM). Complete coverage of the surface with lignin in all the deposition cycles was found for the system, however, surface coverage by NFC increased with the number of layers. The adsorption process was carried out for 250 cycles (500 bilayers) on a cellulose acetate (CA) substrate. Transparent free-standing LBL assembled nanocomposite films were obtained when the CA substrate was later dissolved in acetone. Scanning electron microscopy (SEM) of the fractured cross-sections showed a lamellar structure, and the thickness per adsorption cycle (PDDA-Lignin-PDDA-NC) was estimated to be 17 nm for two different lignin types used in the study. The data indicates a film with highly controlled architecture where nanocellulose and lignin are spatially deposited on the nanoscale (a polymer-polymer nanocomposites), similar to what is observed in the native cell wall.
Plant Biology, Issue 88, nanocellulose, thin films, quartz crystal microbalance, layer-by-layer, LbL
51257
Simultaneous Multicolor Imaging of Biological Structures with Fluorescence Photoactivation Localization Microscopy
Institutions: University of Maine.

Localization-based super resolution microscopy can be applied to obtain a spatial map (image) of the distribution of individual fluorescently labeled single molecules within a sample with a spatial resolution of tens of nanometers. Using either photoactivatable (PAFP) or photoswitchable (PSFP) fluorescent proteins fused to proteins of interest, or organic dyes conjugated to antibodies or other molecules of interest, fluorescence photoactivation localization microscopy (FPALM) can simultaneously image multiple species of molecules within single cells. By using the following approach, populations of large numbers (thousands to hundreds of thousands) of individual molecules are imaged in single cells and localized with a precision of ~10-30 nm. Data obtained can be applied to understanding the nanoscale spatial distributions of multiple protein types within a cell. One primary advantage of this technique is the dramatic increase in spatial resolution: while diffraction limits resolution to ~200-250 nm in conventional light microscopy, FPALM can image length scales more than an order of magnitude smaller. As many biological hypotheses concern the spatial relationships among different biomolecules, the improved resolution of FPALM can provide insight into questions of cellular organization which have previously been inaccessible to conventional fluorescence microscopy. In addition to detailing the methods for sample preparation and data acquisition, we here describe the optical setup for FPALM. One additional consideration for researchers wishing to do super-resolution microscopy is cost: in-house setups are significantly cheaper than most commercially available imaging machines. Limitations of this technique include the need for optimizing the labeling of molecules of interest within cell samples, and the need for post-processing software to visualize results. We here describe the use of PAFP and PSFP expression to image two protein species in fixed cells. Extension of the technique to living cells is also described.
Basic Protocol, Issue 82, Microscopy, Super-resolution imaging, Multicolor, single molecule, FPALM, Localization microscopy, fluorescent proteins
50680
Long-term Behavioral Tracking of Freely Swimming Weakly Electric Fish
Institutions: University of Ottawa, University of Ottawa, University of Ottawa.

Long-term behavioral tracking can capture and quantify natural animal behaviors, including those occurring infrequently. Behaviors such as exploration and social interactions can be best studied by observing unrestrained, freely behaving animals. Weakly electric fish (WEF) display readily observable exploratory and social behaviors by emitting electric organ discharge (EOD). Here, we describe three effective techniques to synchronously measure the EOD, body position, and posture of a free-swimming WEF for an extended period of time. First, we describe the construction of an experimental tank inside of an isolation chamber designed to block external sources of sensory stimuli such as light, sound, and vibration. The aquarium was partitioned to accommodate four test specimens, and automated gates remotely control the animals' access to the central arena. Second, we describe a precise and reliable real-time EOD timing measurement method from freely swimming WEF. Signal distortions caused by the animal's body movements are corrected by spatial averaging and temporal processing stages. Third, we describe an underwater near-infrared imaging setup to observe unperturbed nocturnal animal behaviors. Infrared light pulses were used to synchronize the timing between the video and the physiological signal over a long recording duration. Our automated tracking software measures the animal's body position and posture reliably in an aquatic scene. In combination, these techniques enable long term observation of spontaneous behavior of freely swimming weakly electric fish in a reliable and precise manner. We believe our method can be similarly applied to the study of other aquatic animals by relating their physiological signals with exploratory or social behaviors.
Neuroscience, Issue 85, animal tracking, weakly electric fish, electric organ discharge, underwater infrared imaging, automated image tracking, sensory isolation chamber, exploratory behavior
50962
Protein WISDOM: A Workbench for In silico De novo Design of BioMolecules
Institutions: Princeton University.

The aim of
de novo
protein design is to find the amino acid sequences that will fold into a desired 3-dimensional structure with improvements in specific properties, such as binding affinity, agonist or antagonist behavior, or stability, relative to the native sequence. Protein design lies at the center of current advances drug design and discovery. Not only does protein design provide predictions for potentially useful drug targets, but it also enhances our understanding of the protein folding process and protein-protein interactions. Experimental methods such as directed evolution have shown success in protein design. However, such methods are restricted by the limited sequence space that can be searched tractably. In contrast, computational design strategies allow for the screening of a much larger set of sequences covering a wide variety of properties and functionality. We have developed a range of computational
de novo
protein design methods capable of tackling several important areas of protein design. These include the design of monomeric proteins for increased stability and complexes for increased binding affinity. To disseminate these methods for broader use we present Protein WISDOM (https://www.proteinwisdom.org), a tool that provides automated methods for a variety of protein design problems. Structural templates are submitted to initialize the design process. The first stage of design is an optimization sequence selection stage that aims at improving stability through minimization of potential energy in the sequence space. Selected sequences are then run through a fold specificity stage and a binding affinity stage. A rank-ordered list of the sequences for each step of the process, along with relevant designed structures, provides the user with a comprehensive quantitative assessment of the design. Here we provide the details of each design method, as well as several notable experimental successes attained through the use of the methods.
Genetics, Issue 77, Molecular Biology, Bioengineering, Biochemistry, Biomedical Engineering, Chemical Engineering, Computational Biology, Genomics, Proteomics, Protein, Protein Binding, Computational Biology, Drug Design, optimization (mathematics), Amino Acids, Peptides, and Proteins, De novo protein and peptide design, Drug design, In silico sequence selection, Optimization, Fold specificity, Binding affinity, sequencing
50476
A New Approach for the Comparative Analysis of Multiprotein Complexes Based on 15N Metabolic Labeling and Quantitative Mass Spectrometry
Institutions: University of Münster, Carnegie Institution for Science.

The introduced protocol provides a tool for the analysis of multiprotein complexes in the thylakoid membrane, by revealing insights into complex composition under different conditions. In this protocol the approach is demonstrated by comparing the composition of the protein complex responsible for cyclic electron flow (CEF) in
Chlamydomonas reinhardtii
, isolated from genetically different strains. The procedure comprises the isolation of thylakoid membranes, followed by their separation into multiprotein complexes by sucrose density gradient centrifugation, SDS-PAGE, immunodetection and comparative, quantitative mass spectrometry (MS) based on differential metabolic labeling (
14
N/
15
N) of the analyzed strains. Detergent solubilized thylakoid membranes are loaded on sucrose density gradients at equal chlorophyll concentration. After ultracentrifugation, the gradients are separated into fractions, which are analyzed by mass-spectrometry based on equal volume. This approach allows the investigation of the composition within the gradient fractions and moreover to analyze the migration behavior of different proteins, especially focusing on ANR1, CAS, and PGRL1. Furthermore, this method is demonstrated by confirming the results with immunoblotting and additionally by supporting the findings from previous studies (the identification and PSI-dependent migration of proteins that were previously described to be part of the CEF-supercomplex such as PGRL1, FNR, and cyt
f
). Notably, this approach is applicable to address a broad range of questions for which this protocol can be adopted and
e.g.
used for comparative analyses of multiprotein complex composition isolated from distinct environmental conditions.
Microbiology, Issue 85, Sucrose density gradients, Chlamydomonas, multiprotein complexes, 15N metabolic labeling, thylakoids
51103
Brain Slice Stimulation Using a Microfluidic Network and Standard Perfusion Chamber
Institutions: University of Illinois, Chicago, University of Illinois, Chicago.

We have demonstrated the fabrication of a two-level microfluidic device that can be easily integrated with existing electrophysiology setups. The two-level microfluidic device is fabricated using a two-step standard negative resist lithography process
1
. The first level contains microchannels with inlet and outlet ports at each end. The second level contains microscale circular holes located midway of the channel length and centered along with channel width. Passive pumping method is used to pump fluids from the inlet port to the outlet port
2
. The microfluidic device is integrated with off-the-shelf perfusion chambers and allows seamless integration with the electrophysiology setup. The fluids introduced at the inlet ports flow through the microchannels towards the outlet ports and also escape through the circular openings located on top of the microchannels into the bath of the perfusion. Thus the bottom surface of the brain slice placed in the perfusion chamber bath and above the microfluidic device can be exposed with different neurotransmitters. The microscale thickness of the microfluidic device and the transparent nature of the materials [glass coverslip and PDMS (polydimethylsiloxane)] used to make the microfluidic device allow microscopy of the brain slice. The microfluidic device allows modulation (both spatial and temporal) of the chemical stimuli introduced to the brain slice microenvironments.
Neuroscience, Issue 8, Biomedical Engineering, Microfluidics, Slice Recording, Soft Lithography, Electrophysiology, Neurotransmitter, Bioengineering
302