ABSTRACT
Cardiac cell therapy has gained increasing interest and implantation of biomaterials associated with cells has become a major issue to optimize myocardial cell delivery. Rodent model of myocardial infarction (MI) consisting of Left Anterior Descending Artery (LAD) ligation has commonly been performed via a thoracotomy; a second open-heart surgery via a sternotomy has traditionally been performed for epicardial application of the treatment. Since the description of LAD ligation model, post-surgery mortality rate has dropped from 35-13%, however the second surgery has remained critical. In order to improve post-surgery recovery and reduce pain and infection, minimally invasive surgical procedures are presented. Two thoracotomies were performed, the initial one for LAD ligation and the second one for treatment epicardial administration. Biografts consisting of cells associated with solid or gel type matrices were applied onto the infarcted area. LAD ligation resulted in loss of heart function as confirmed by echocardiography performed after 2 and 6 weeks. Goldner trichrome staining performed on heart sections confirmed transmural scar formation. First and second surgeries resulted in less that 10% post-operative mortality. 
21 Related JoVE Articles!
Efficient Derivation of Human Cardiac Precursors and Cardiomyocytes from Pluripotent Human Embryonic Stem Cells with Small Molecule Induction
Institutions: San Diego Regenerative Medicine Institute, Xcelthera, Harvard Medical School, VA Boston Healthcare System, Sanford-Burnham Medical Research Institute, La Jolla IVF.

To date, the lack of a suitable human cardiac cell source has been the major setback in regenerating the human myocardium, either by cell-based transplantation or by cardiac tissue engineering
1-3
. Cardiomyocytes become terminally-differentiated soon after birth and lose their ability to proliferate. There is no evidence that stem/progenitor cells derived from other sources, such as the bone marrow or the cord blood, are able to give rise to the contractile heart muscle cells following transplantation into the heart
1-3
. The need to regenerate or repair the damaged heart muscle has not been met by adult stem cell therapy, either endogenous or via cell delivery
1-3
. The genetically stable human embryonic stem cells (hESCs) have unlimited expansion ability and unrestricted plasticity, proffering a pluripotent reservoir for
in vitro
derivation of large supplies of human somatic cells that are restricted to the lineage in need of repair and regeneration
4,5
. Due to the prevalence of cardiovascular disease worldwide and acute shortage of donor organs, there is intense interest in developing hESC-based therapies as an alternative approach. However, how to channel the wide differentiation potential of pluripotent hESCs efficiently and predictably to a desired phenotype has been a major challenge for both developmental study and clinical translation. Conventional approaches rely on multi-lineage inclination of pluripotent cells through spontaneous germ layer differentiation, resulting in inefficient and uncontrollable lineage-commitment that is often followed by phenotypic heterogeneity and instability, hence, a high risk of tumorigenicity
6-8
(see a schematic in
Fig. 1A
). In addition, undefined foreign/animal biological supplements and/or feeders that have typically been used for the isolation, expansion, and differentiation of hESCs may make direct use of such cell-specialized grafts in patients problematic
9-11
. To overcome these obstacles, we have resolved the elements of a defined culture system necessary and sufficient for sustaining the epiblast pluripotence of hESCs, serving as a platform for
de novo
derivation of clinically-suitable hESCs and effectively directing such hESCs uniformly towards clinically-relevant lineages by small molecules
12
(see a schematic in
Fig. 1B
). After screening a variety of small molecules and growth factors, we found that such defined conditions rendered nicotinamide (NAM) sufficient to induce the specification of cardiomesoderm direct from pluripotent hESCs that further progressed to cardioblasts that generated human beating cardiomyocytes with high efficiency (
Fig. 2
). We defined conditions for induction of cardioblasts direct from pluripotent hESCs without an intervening multi-lineage embryoid body stage, enabling well-controlled efficient derivation of a large supply of human cardiac cells across the spectrum of developmental stages for cell-based therapeutics.
Developmental Biology, Issue 57, human embryonic stem cell, human, cardiac progenitor, cardiomyocytes, human pluripotent cell, cardiac differentiation, small molecule induction, cell culture, cell therapy
3274
Non-invasive Optical Imaging of the Lymphatic Vasculature of a Mouse
Institutions: University of Texas Health Science Center-Houston.

The lymphatic vascular system is an important component of the circulatory system that maintains fluid homeostasis, provides immune surveillance, and mediates fat absorption in the gut. Yet despite its critical function, there is comparatively little understanding of how the lymphatic system adapts to serve these functions in health and disease
1
. Recently, we have demonstrated the ability to dynamically image lymphatic architecture and lymph "pumping" action in normal human subjects as well as in persons suffering lymphatic dysfunction using trace administration of a near-infrared fluorescent (NIRF) dye and a custom, Gen III-intensified imaging system
2-4
. NIRF imaging showed dramatic changes in lymphatic architecture and function with human disease. It remains unclear how these changes occur and new animal models are being developed to elucidate their genetic and molecular basis. In this protocol, we present NIRF lymphatic, small animal imaging
5,6
using indocyanine green (ICG), a dye that has been used for 50 years in humans
7
, and a NIRF dye-labeled cyclic albumin binding domain (cABD-IRDye800) peptide that preferentially binds mouse and human albumin
8
. Approximately 5.5 times brighter than ICG, cABD-IRDye800 has a similar lymphatic clearance profile and can be injected in smaller doses than ICG to achieve sufficient NIRF signals for imaging
8
. Because both cABD-IRDye800 and ICG bind to albumin in the interstitial space
8
, they both may depict active protein transport into and within the lymphatics. Intradermal (ID) injections (5-50 μl) of ICG (645 μM) or cABD-IRDye800 (200 μM) in saline are administered to the dorsal aspect of each hind paw and/or the left and right side of the base of the tail of an isoflurane-anesthetized mouse. The resulting dye concentration in the animal is 83-1,250 μg/kg for ICG or 113-1,700 μg/kg for cABD-IRDye800. Immediately following injections, functional lymphatic imaging is conducted for up to 1 hr using a customized, small animal NIRF imaging system. Whole animal spatial resolution can depict fluorescent lymphatic vessels of 100 microns or less, and images of structures up to 3 cm in depth can be acquired
9
. Images are acquired using V++ software and analyzed using ImageJ or MATLAB software. During analysis, consecutive regions of interest (ROIs) encompassing the entire vessel diameter are drawn along a given lymph vessel. The dimensions for each ROI are kept constant for a given vessel and NIRF intensity is measured for each ROI to quantitatively assess "packets" of lymph moving through vessels.
Immunology, Issue 73, Medicine, Anatomy, Physiology, Molecular Biology, Biomedical Engineering, Cancer Biology, Optical imaging, lymphatic imaging, mouse imaging, non-invasive imaging, near-infrared fluorescence, vasculature, circulatory system, lymphatic system, lymph, dermis, injection, imaging, mouse, animal model
4326
Reduction in Left Ventricular Wall Stress and Improvement in Function in Failing Hearts using Algisyl-LVR
Institutions: UCSF/VA Medical Center, LoneStar Heart, Inc..

Injection of Algisyl-LVR, a treatment under clinical development, is intended to treat patients with dilated cardiomyopathy. This treatment was recently used for the first time in patients who had symptomatic heart failure. In all patients, cardiac function of the left ventricle (LV) improved significantly, as manifested by consistent reduction of the LV volume and wall stress. Here we describe this novel treatment procedure and the methods used to quantify its effects on LV wall stress and function. Algisyl-LVR is a biopolymer gel consisting of Na
+
-Alginate and Ca
2+
-Alginate. The treatment procedure was carried out by mixing these two components and then combining them into one syringe for intramyocardial injections. This mixture was injected at 10 to 19 locations mid-way between the base and apex of the LV free wall in patients. Magnetic resonance imaging (MRI), together with mathematical modeling, was used to quantify the effects of this treatment in patients before treatment and at various time points during recovery. The epicardial and endocardial surfaces were first digitized from the MR images to reconstruct the LV geometry at end-systole and at end-diastole. Left ventricular cavity volumes were then measured from these reconstructed surfaces. Mathematical models of the LV were created from these MRI-reconstructed surfaces to calculate regional myofiber stress. Each LV model was constructed so that 1) it deforms according to a previously validated stress-strain relationship of the myocardium, and 2) the predicted LV cavity volume from these models matches the corresponding MRI-measured volume at end-diastole and end-systole. Diastolic filling was simulated by loading the LV endocardial surface with a prescribed end-diastolic pressure. Systolic contraction was simulated by concurrently loading the endocardial surface with a prescribed end-systolic pressure and adding active contraction in the myofiber direction. Regional myofiber stress at end-diastole and end-systole was computed from the deformed LV based on the stress-strain relationship.
Medicine, Issue 74, Biomedical Engineering, Anatomy, Physiology, Biophysics, Molecular Biology, Surgery, Cardiology, Cardiovascular Diseases, bioinjection, ventricular wall stress, mathematical model, heart failure, cardiac function, myocardium, left ventricle, LV, MRI, imaging, clinical techniques
50096
Heart Dissection in Larval, Juvenile and Adult Zebrafish, Danio rerio
Institutions: Queens College, City University of New York.

Zebrafish have become a beneficial and practical model organism for the study of embryonic heart development (see recent reviews
1-6
), however, work examining post-embryonic through adult cardiac development has been limited
7-10
. Examining the changing morphology of the maturing and aging heart are restricted by the lack of techniques available for staging and isolating juvenile and adult hearts. In order to analyze heart development over the fish's lifespan, we dissect zebrafish hearts at numerous stages and photograph them for further analysis
11
. The morphological features of the heart can easily be quantified and individual hearts can be further analyzed by a host of standard methods. Zebrafish grow at variable rates and maturation correlates better with fish size than age, thus, post-fixation, we photograph and measure fish length as a gauge of fish maturation. This protocol explains two distinct, size dependent dissection techniques for zebrafish, ranging from larvae 3.5mm standard length (SL) with hearts of 100μm ventricle length (VL), to adults, with SL of 30mm and VL 1mm or larger. Larval and adult fish have quite distinct body and organ morphology. Larvae are not only significantly smaller, they have less pigment and each organ is visually very difficult to identify. For this reason, we use distinct dissection techniques. We used pre-dissection fixation procedures, as we discovered that hearts dissected directly after euthanization have a more variable morphology, with very loose and balloon like atria compared with hearts removed following fixation. The fish fixed prior to dissection, retain
in vivo
morphology and chamber position (data not shown). In addition, for demonstration purposes, we take advantage of the heart (myocardial) specific GFP transgenic Tg(
myl7
:GFP)
twu34 (12)
, which allows us to visualize the entire heart and is particularly useful at early stages in development when the cardiac morphology is less distinct from surrounding tissues. Dissection of the heart makes further analysis of the cell and molecular biology underlying heart development and maturation using in situ hybridization, immunohistochemistry, RNA extraction or other analytical methods easier in post-embryonic zebrafish. This protocol will provide a valuable technique for the study of cardiac development maturation and aging.
Developmental Biology, Issue 55, zebrafish, Danio rerio, heart, dissection, cardiac, morphology, anatomy, juvenile, adult
3165
Assessment of Cardiac Function and Myocardial Morphology Using Small Animal Look-locker Inversion Recovery (SALLI) MRI in Rats
Institutions: German Heart Institute Berlin, German Heart Institute Berlin, Hamburg, Germany.

Small animal magnetic resonance imaging is an important tool to study cardiac function and changes in myocardial tissue. The high heart rates of small animals (200 to 600 beats/min) have previously limited the role of CMR imaging. Small animal Look-Locker inversion recovery (SALLI) is a T1 mapping sequence for small animals to overcome this problem
1
. T1 maps provide quantitative information about tissue alterations and contrast agent kinetics. It is also possible to detect diffuse myocardial processes such as interstitial fibrosis or edema
1-6
. Furthermore, from a single set of image data, it is possible to examine heart function and myocardial scarring by generating cine and inversion recovery-prepared late gadolinium enhancement-type MR images
1
. The presented video shows step-by-step the procedures to perform small animal CMR imaging. Here it is presented with a healthy Sprague-Dawley rat, however naturally it can be extended to different cardiac small animal models.
Medicine, Issue 77, Biomedical Engineering, Anatomy, Physiology, Cardiology, Heart Diseases, Cardiomyopathies, Heart Failure, Diagnostic Imaging, Cardiac Imaging Techniques, Magnetic Resonance Imaging, MRI, Cardiovascular Diseases, small animal imaging, T1 mapping, heart disease, cardiac function, myocardium, rat, animal model
50397
Induction of Myocardial Infarction in Adult Zebrafish Using Cryoinjury
Institutions: University of Fribourg, Fribourg, Switzerland.

The mammalian heart is incapable of significant regeneration following an acute injury such as myocardial infarction
1
. By contrast, urodele amphibians and teleost fish retain a remarkable capacity for cardiac regeneration with little or no scarring throughout life
2,3
. It is not known why only some non-mammalian vertebrates can recreate a complete organ from remnant tissues
4,5
. To understand the molecular and cellular differences between regenerative responses in different species, we need to use similar approaches for inducing acute injuries. In mammals, the most frequently used model to study cardiac repair has been acute ischemia after a ligation of the coronary artery or tissue destruction after cryoinjury
6,7
. The cardiac regeneration in newts and zebrafish has been predominantly studied after a partial resection of the ventricular apex
2,3
. Recently, several groups have established the cryoinjury technique in adult zebrafish
8-10
. This method has a great potential because it allows a comparative discussion of the results obtained from the mammalian and non-mammalian species. Here, we present a method to induce a reproducible disc-shaped infarct of the zebrafish ventricle by cryoinjury. This injury model is based on rapid freezing-thawing tissue, which results in massive cell death of about 20% of cardiomyocytes of the ventricular wall. First, a small incision was made through the chest with iridectomy scissors to access the heart. The ventricular wall was directly frozen by applying for 23-25 seconds a stainless steel cryoprobe precooled in liquid nitrogen. To stop the freezing of the heart, fish water at room temperature was dropped on the tip of the cryoprobe. The procedure is well tolerated by animals, with a survival rate of 95%. To characterize the regenerative process, the hearts were collected and fixed at different days after cryoinjury. Subsequently, the specimen were embedded for cryosectioning. The slides with sections were processed for histological analysis,
in situ
hybridization and immunofluorescence. This undertaking enhances our understanding of the factors that are required for the regenerative plasticity in the zebrafish, and provide new insights into the machinery of cardiac regeneration. A conceptual and molecular understanding of heart regeneration in zebrafish will impact both developmental biology and regenerative medicine.
Medicine, Issue 62, Zebrafish, heart, cryoinjury, regeneration, myocardial infarct, infarction, physiology, cardiology
3666
Gene Transfer for Ischemic Heart Failure in a Preclinical Model
Institutions: Mount Sinai School of Medicine .

Various emerging technologies are being developed for patients with heart failure. Well-established preclinical evaluations are necessary to determine their efficacy and safety. Gene therapy using viral vectors is one of the most promising approaches for treating cardiac diseases. Viral delivery of various different genes by changing the carrier gene has immeasurable therapeutic potential. In this video, the full process of an animal model of heart failure creation followed by gene transfer is presented using a swine model. First, myocardial infarction is created by occluding the proximal left anterior descending coronary artery. Heart remodeling results in chronic heart failure. Unique to our model is a fairly large scar which truly reflects patients with severe heart failure who require aggressive therapy for positive outcomes. After myocardial infarct creation and development of scar tissue, an intracoronary injection of virus is demonstrated with simultaneous nitroglycerine infusion. Our injection method provides simple and efficient gene transfer with enhanced gene expression. This combination of a myocardial infarct swine model with intracoronary virus delivery has proven to be a consistent and reproducible methodology, which helps not only to test the effect of individual gene, but also compare the efficacy of many genes as therapeutic candidates.
Medicine, Issue 51, Myocardial infarction, Gene therapy, Intracoronary injection, Viral vector, Ischemic heart failure
2778
Patient-specific Modeling of the Heart: Estimation of Ventricular Fiber Orientations
Institutions: Johns Hopkins University.

Patient-specific simulations of heart (dys)function aimed at personalizing cardiac therapy are hampered by the absence of
in vivo
imaging technology for clinically acquiring myocardial fiber orientations. The objective of this project was to develop a methodology to estimate cardiac fiber orientations from
in vivo
images of patient heart geometries. An accurate representation of ventricular geometry and fiber orientations was reconstructed, respectively, from high-resolution ex vivo structural magnetic resonance (MR) and diffusion tensor (DT) MR images of a normal human heart, referred to as the atlas. Ventricular geometry of a patient heart was extracted,
via
semiautomatic segmentation, from an
in vivo
computed tomography (CT) image. Using image transformation algorithms, the atlas ventricular geometry was deformed to match that of the patient. Finally, the deformation field was applied to the atlas fiber orientations to obtain an estimate of patient fiber orientations. The accuracy of the fiber estimates was assessed using six normal and three failing canine hearts. The mean absolute difference between inclination angles of acquired and estimated fiber orientations was 15.4 °. Computational simulations of ventricular activation maps and pseudo-ECGs in sinus rhythm and ventricular tachycardia indicated that there are no significant differences between estimated and acquired fiber orientations at a clinically observable level.The new insights obtained from the project will pave the way for the development of patient-specific models of the heart that can aid physicians in personalized diagnosis and decisions regarding electrophysiological interventions.
Bioengineering, Issue 71, Biomedical Engineering, Medicine, Anatomy, Physiology, Cardiology, Myocytes, Cardiac, Image Processing, Computer-Assisted, Magnetic Resonance Imaging, MRI, Diffusion Magnetic Resonance Imaging, Cardiac Electrophysiology, computerized simulation (general), mathematical modeling (systems analysis), Cardiomyocyte, biomedical image processing, patient-specific modeling, Electrophysiology, simulation
50125
Myocardial Infarction and Functional Outcome Assessment in Pigs
Institutions: University Medical Center Utrecht, Interuniversity Cardiology Institute of the Netherlands.

Introduction of newly discovered cardiovascular therapeutics into first-in-man trials depends on a strictly regulated ethical and legal roadmap. One important prerequisite is a good understanding of all safety and efficacy aspects obtained in a large animal model that validly reflect the human scenario of myocardial infarction (MI). Pigs are widely used in this regard since their cardiac size, hemodynamics, and coronary anatomy are close to that of humans. Here, we present an effective protocol for using the porcine MI model using a closed-chest coronary balloon occlusion of the left anterior descending artery (LAD), followed by reperfusion. This approach is based on 90 min of myocardial ischemia, inducing large left ventricle infarction of the anterior, septal and inferoseptal walls. Furthermore, we present protocols for various measures of outcome that provide a wide range of information on the heart, such as cardiac systolic and diastolic function, hemodynamics, coronary flow velocity, microvascular resistance, and infarct size. This protocol can be easily tailored to meet study specific requirements for the validation of novel cardioregenerative biologics at different stages (
i.e.
directly after the acute ischemic insult, in the subacute setting or even in the chronic MI once scar formation has been completed). This model therefore provides a useful translational tool to study MI, subsequent adverse remodeling, and the potential of novel cardioregenerative agents.
Medicine, Issue 86, myocardial infarction (MI), AMI, large animal model, pig, translational medicine, ischemic heart disease
51269
A Murine Model of Myocardial Ischemia-reperfusion Injury through Ligation of the Left Anterior Descending Artery
Institutions: The Ohio State University.

Acute or chronic myocardial infarction (MI) are cardiovascular events resulting in high morbidity and mortality. Establishing the pathological mechanisms at work during MI and developing effective therapeutic approaches requires methodology to reproducibly simulate the clinical incidence and reflect the pathophysiological changes associated with MI. Here, we describe a surgical method to induce MI in mouse models that can be used for short-term ischemia-reperfusion (I/R) injury as well as permanent ligation. The major advantage of this method is to facilitate location of the left anterior descending artery (LAD) to allow for accurate ligation of this artery to induce ischemia in the left ventricle of the mouse heart. Accurate positioning of the ligature on the LAD increases reproducibility of infarct size and thus produces more reliable results. Greater precision in placement of the ligature will improve the standard surgical approaches to simulate MI in mice, thus reducing the number of experimental animals necessary for statistically relevant studies and improving our understanding of the mechanisms producing cardiac dysfunction following MI. This mouse model of MI is also useful for the preclinical testing of treatments targeting myocardial damage following MI.
Medicine, Issue 86, Myocardial Ischemia/Reperfusion, permanent ligation, left anterior descending artery, myocardial infarction, LAD, ligation, Cardiac troponin I
51329
High Efficiency Differentiation of Human Pluripotent Stem Cells to Cardiomyocytes and Characterization by Flow Cytometry
Institutions: Medical College of Wisconsin, Stanford University School of Medicine, Medical College of Wisconsin, Hong Kong University, Johns Hopkins University School of Medicine, Medical College of Wisconsin.

There is an urgent need to develop approaches for repairing the damaged heart, discovering new therapeutic drugs that do not have toxic effects on the heart, and improving strategies to accurately model heart disease. The potential of exploiting human induced pluripotent stem cell (hiPSC) technology to generate cardiac muscle "in a dish" for these applications continues to generate high enthusiasm. In recent years, the ability to efficiently generate cardiomyogenic cells from human pluripotent stem cells (hPSCs) has greatly improved, offering us new opportunities to model very early stages of human cardiac development not otherwise accessible. In contrast to many previous methods, the cardiomyocyte differentiation protocol described here does not require cell aggregation or the addition of Activin A or BMP4 and robustly generates cultures of cells that are highly positive for cardiac troponin I and T (TNNI3, TNNT2), iroquois-class homeodomain protein IRX-4 (IRX4), myosin regulatory light chain 2, ventricular/cardiac muscle isoform (MLC2v) and myosin regulatory light chain 2, atrial isoform (MLC2a) by day 10 across all human embryonic stem cell (hESC) and hiPSC lines tested to date. Cells can be passaged and maintained for more than 90 days in culture. The strategy is technically simple to implement and cost-effective. Characterization of cardiomyocytes derived from pluripotent cells often includes the analysis of reference markers, both at the mRNA and protein level. For protein analysis, flow cytometry is a powerful analytical tool for assessing quality of cells in culture and determining subpopulation homogeneity. However, technical variation in sample preparation can significantly affect quality of flow cytometry data. Thus, standardization of staining protocols should facilitate comparisons among various differentiation strategies. Accordingly, optimized staining protocols for the analysis of IRX4, MLC2v, MLC2a, TNNI3, and TNNT2 by flow cytometry are described.
Cellular Biology, Issue 91, human induced pluripotent stem cell, flow cytometry, directed differentiation, cardiomyocyte, IRX4, TNNI3, TNNT2, MCL2v, MLC2a
52010
Intramyocardial Cell Delivery: Observations in Murine Hearts
Institutions: Imperial College London, Imperial College London, Monash University.

Previous studies showed that cell delivery promotes cardiac function amelioration by release of cytokines and factors that increase cardiac tissue revascularization and cell survival. In addition, further observations revealed that specific stem cells, such as cardiac stem cells, mesenchymal stem cells and cardiospheres have the ability to integrate within the surrounding myocardium by differentiating into cardiomyocytes, smooth muscle cells and endothelial cells. Here, we present the materials and methods to reliably deliver noncontractile cells into the left ventricular wall of immunodepleted mice. The salient steps of this microsurgical procedure involve anesthesia and analgesia injection, intratracheal intubation, incision to open the chest and expose the heart and delivery of cells by a sterile 30-gauge needle and a precision microliter syringe. Tissue processing consisting of heart harvesting, embedding, sectioning and histological staining showed that intramyocardial cell injection produced a small damage in the epicardial area, as well as in the ventricular wall. Noncontractile cells were retained into the myocardial wall of immunocompromised mice and were surrounded by a layer of fibrotic tissue, likely to protect from cardiac pressure and mechanical load.
Medicine, Issue 83, intramyocardial cell injection, heart, grafting, cell therapy, stem cells, fibrotic tissue
51064
Reconstitution Of β-catenin Degradation In Xenopus Egg Extract
Institutions: Vanderbilt University Medical Center, Cincinnati Children's Hospital Medical Center, Vanderbilt University School of Medicine.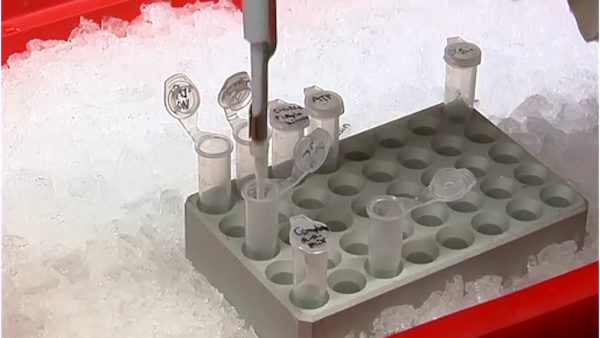 Xenopus laevis
egg extract is a well-characterized, robust system for studying the biochemistry of diverse cellular processes.
Xenopus
egg extract has been used to study protein turnover in many cellular contexts, including the cell cycle and signal transduction pathways
1-3
. Herein, a method is described for isolating
Xenopus
egg extract that has been optimized to promote the degradation of the critical Wnt pathway component, β-catenin. Two different methods are described to assess β-catenin protein degradation in
Xenopus
egg extract. One method is visually informative ([
35
S]-radiolabeled proteins), while the other is more readily scaled for high-throughput assays (firefly luciferase-tagged fusion proteins). The techniques described can be used to, but are not limited to, assess β-catenin protein turnover and identify molecular components contributing to its turnover. Additionally, the ability to purify large volumes of homogenous
Xenopus
egg extract combined with the quantitative and facile readout of luciferase-tagged proteins allows this system to be easily adapted for high-throughput screening for modulators of β-catenin degradation.
Molecular Biology, Issue 88, Xenopus laevis, Xenopus egg extracts, protein degradation, radiolabel, luciferase, autoradiography, high-throughput screening
51425
Permanent Ligation of the Left Anterior Descending Coronary Artery in Mice: A Model of Post-myocardial Infarction Remodelling and Heart Failure
Institutions: Catholic University of Leuven.
Heart failure is a syndrome in which the heart fails to pump blood at a rate commensurate with cellular oxygen requirements at rest or during stress. It is characterized by fluid retention, shortness of breath, and fatigue, in particular on exertion. Heart failure is a growing public health problem, the leading cause of hospitalization, and a major cause of mortality. Ischemic heart disease is the main cause of heart failure. Ventricular remodelling refers to changes in structure, size, and shape of the left ventricle. This architectural remodelling of the left ventricle is induced by injury (
e.g.,
myocardial infarction), by pressure overload (
e.g.,
systemic arterial hypertension or aortic stenosis), or by volume overload. Since ventricular remodelling affects wall stress, it has a profound impact on cardiac function and on the development of heart failure. A model of permanent ligation of the left anterior descending coronary artery in mice is used to investigate ventricular remodelling and cardiac function post-myocardial infarction. This model is fundamentally different in terms of objectives and pathophysiological relevance compared to the model of transient ligation of the left anterior descending coronary artery. In this latter model of ischemia/reperfusion injury, the initial extent of the infarct may be modulated by factors that affect myocardial salvage following reperfusion. In contrast, the infarct area at 24 hr after permanent ligation of the left anterior descending coronary artery is fixed. Cardiac function in this model will be affected by 1) the process of infarct expansion, infarct healing, and scar formation; and 2) the concomitant development of left ventricular dilatation, cardiac hypertrophy, and ventricular remodelling. Besides the model of permanent ligation of the left anterior descending coronary artery, the technique of invasive hemodynamic measurements in mice is presented in detail.
Medicine, Issue 94, Myocardial infarction, cardiac remodelling, infarct expansion, heart failure, cardiac function, invasive hemodynamic measurements
52206
Bladder Smooth Muscle Strip Contractility as a Method to Evaluate Lower Urinary Tract Pharmacology
Institutions: University of Pittsburgh School of Medicine, University of Pittsburgh School of Medicine.

We describe an
in vitro
method to measure bladder smooth muscle contractility, and its use for investigating physiological and pharmacological properties of the smooth muscle as well as changes induced by pathology. This method provides critical information for understanding bladder function while overcoming major methodological difficulties encountered in
in vivo
experiments, such as surgical and pharmacological manipulations that affect stability and survival of the preparations, the use of human tissue, and/or the use of expensive chemicals. It also provides a way to investigate the properties of each bladder component (
i.e.
smooth muscle, mucosa, nerves) in healthy and pathological conditions. The urinary bladder is removed from an anesthetized animal, placed in Krebs solution and cut into strips. Strips are placed into a chamber filled with warm Krebs solution. One end is attached to an isometric tension transducer to measure contraction force, the other end is attached to a fixed rod. Tissue is stimulated by directly adding compounds to the bath or by electric field stimulation electrodes that activate nerves, similar to triggering bladder contractions
in vivo
. We demonstrate the use of this method to evaluate spontaneous smooth muscle contractility during development and after an experimental spinal cord injury, the nature of neurotransmission (transmitters and receptors involved), factors involved in modulation of smooth muscle activity, the role of individual bladder components, and species and organ differences in response to pharmacological agents. Additionally, it could be used for investigating intracellular pathways involved in contraction and/or relaxation of the smooth muscle, drug structure-activity relationships and evaluation of transmitter release. The
in vitro
smooth muscle contractility method has been used extensively for over 50 years, and has provided data that significantly contributed to our understanding of bladder function as well as to pharmaceutical development of compounds currently used clinically for bladder management.
Medicine, Issue 90, Krebs, species differences, in vitro, smooth muscle contractility, neural stimulation
51807
Analysis of Tubular Membrane Networks in Cardiac Myocytes from Atria and Ventricles
Institutions: Heart Research Center Goettingen, University Medical Center Goettingen, German Center for Cardiovascular Research (DZHK) partner site Goettingen, University of Maryland School of Medicine.

In cardiac myocytes a complex network of membrane tubules - the transverse-axial tubule system (TATS) - controls deep intracellular signaling functions. While the outer surface membrane and associated TATS membrane components appear to be continuous, there are substantial differences in lipid and protein content. In ventricular myocytes (VMs), certain TATS components are highly abundant contributing to rectilinear tubule networks and regular branching 3D architectures. It is thought that peripheral TATS components propagate action potentials from the cell surface to thousands of remote intracellular sarcoendoplasmic reticulum (SER) membrane contact domains, thereby activating intracellular Ca
2+
release units (CRUs). In contrast to VMs, the organization and functional role of TATS membranes in atrial myocytes (AMs) is significantly different and much less understood. Taken together, quantitative structural characterization of TATS membrane networks in healthy and diseased myocytes is an essential prerequisite towards better understanding of functional plasticity and pathophysiological reorganization. Here, we present a strategic combination of protocols for direct quantitative analysis of TATS membrane networks in living VMs and AMs. For this, we accompany primary cell isolations of mouse VMs and/or AMs with critical quality control steps and direct membrane staining protocols for fluorescence imaging of TATS membranes. Using an optimized workflow for confocal or superresolution TATS image processing, binarized and skeletonized data are generated for quantitative analysis of the TATS network and its components. Unlike previously published indirect regional aggregate image analysis strategies, our protocols enable direct characterization of specific components and derive complex physiological properties of TATS membrane networks in living myocytes with high throughput and open access software tools. In summary, the combined protocol strategy can be readily applied for quantitative TATS network studies during physiological myocyte adaptation or disease changes, comparison of different cardiac or skeletal muscle cell types, phenotyping of transgenic models, and pharmacological or therapeutic interventions.
Bioengineering, Issue 92, cardiac myocyte, atria, ventricle, heart, primary cell isolation, fluorescence microscopy, membrane tubule, transverse-axial tubule system, image analysis, image processing, T-tubule, collagenase
51823
Acute Myocardial Infarction in Rats
Institutions: University of Texas Medical Branch, University of Houston (UH), Texas Medical Center.
With heart failure leading the cause of death in the USA (Hunt), biomedical research is fundamental to advance medical treatments for cardiovascular diseases. Animal models that mimic human cardiac disease, such as myocardial infarction (MI) and ischemia-reperfusion (IR) that induces heart failure as well as pressure-overload (transverse aortic constriction) that induces cardiac hypertrophy and heart failure (Goldman and Tarnavski), are useful models to study cardiovascular disease. In particular, myocardial ischemia (MI) is a leading cause for cardiovascular morbidity and mortality despite controlling certain risk factors such as arteriosclerosis and treatments via surgical intervention (Thygesen). Furthermore, an acute loss of the myocardium following myocardial ischemia (MI) results in increased loading conditions that induces ventricular remodeling of the infarcted border zone and the remote non-infarcted myocardium. Myocyte apoptosis, necrosis and the resultant increased hemodynamic load activate multiple biochemical intracellular signaling that initiates LV dilatation, hypertrophy, ventricular shape distortion, and collagen scar formation. This pathological remodeling and failure to normalize the increased wall stresses results in progressive dilatation, recruitment of the border zone myocardium into the scar, and eventually deterioration in myocardial contractile function (i.e. heart failure). The progression of LV dysfunction and heart failure in rats is similar to that observed in patients who sustain a large myocardial infarction, survive and subsequently develops heart failure (Goldman). The acute myocardial infarction (AMI) model in rats has been used to mimic human cardiovascular disease; specifically used to study cardiac signaling mechanisms associated with heart failure as well as to assess the contribution of therapeutic strategies for the treatment of heart failure. The method described in this report is the rat model of acute myocardial infarction (AMI). This model is also referred to as an acute ischemic cardiomyopathy or ischemia followed by reperfusion (IR); which is induced by an acute 30-minute period of ischemia by ligation of the left anterior descending artery (LAD) followed by reperfusion of the tissue by releasing the LAD ligation (Vasilyev and McConnell). This protocol will focus on assessment of the infarct size and the area-at-risk (AAR) by Evan's blue dye and triphenyl tetrazolium chloride (TTC) following 4-hours of reperfusion; additional comments toward the evaluation of cardiac function and remodeling by modifying the duration of reperfusion, is also presented. Overall, this AMI rat animal model is useful for studying the consequence of a myocardial infarction on cardiac pathophysiological and physiological function.
Medicine, Issue 48, Cardiovascular (CV), Heart Failure (HF), Acute Myocardial Infarction (AMI), Ischemia-Reperfusion (IR), Left Anterior Descending Artery (LAD)
2464
Isolation and Functional Characterization of Human Ventricular Cardiomyocytes from Fresh Surgical Samples
Institutions: University of Florence, University of Florence.

Cardiomyocytes from diseased hearts are subjected to complex remodeling processes involving changes in cell structure, excitation contraction coupling and membrane ion currents. Those changes are likely to be responsible for the increased arrhythmogenic risk and the contractile alterations leading to systolic and diastolic dysfunction in cardiac patients. However, most information on the alterations of myocyte function in cardiac diseases has come from animal models. Here we describe and validate a protocol to isolate viable myocytes from small surgical samples of ventricular myocardium from patients undergoing cardiac surgery operations. The protocol is described in detail. Electrophysiological and intracellular calcium measurements are reported to demonstrate the feasibility of a number of single cell measurements in human ventricular cardiomyocytes obtained with this method. The protocol reported here can be useful for future investigations of the cellular and molecular basis of functional alterations of the human heart in the presence of different cardiac diseases. Further, this method can be used to identify novel therapeutic targets at cellular level and to test the effectiveness of new compounds on human cardiomyocytes, with direct translational value.
Medicine, Issue 86, cardiology, cardiac cells, electrophysiology, excitation-contraction coupling, action potential, calcium, myocardium, hypertrophic cardiomyopathy, cardiac patients, cardiac disease
51116
LAD-Ligation: A Murine Model of Myocardial Infarction
Institutions: University Heart Center Hamburg, University Hospital Hamburg, Stanford University School of Medicine.

Research models of infarction and myocardial ischemia are essential to investigate the acute and chronic pathobiological and pathophysiological processes in myocardial ischemia and to develop and optimize future treatment. Two different methods of creating myocardial ischemia are performed in laboratory rodents. The first method is to create cryo infarction, a fast but inaccurate technique, where a cryo-pen is applied on the surface of the heart (1-3). Using this method the scientist can not guarantee that the cryo-scar leads to ischemia, also a vast myocardial injury is created that shows pathophysiological side effects that are not related to myocardial infarction. The second method is the permanent ligation of the left anterior descending artery (LAD). Here the LAD is ligated with one single stitch, forming an ischemia that can be seen almost immediately. By closing the LAD, no further blood flow is permitted in that area, while the surrounding myocardial tissue is nearly not affected. This surgical procedure imitates the pathobiological and pathophysiological aspects occurring in infarction-related myocardial ischemia. The method introduced in this video demonstrates the surgical procedure of a mouse infarction model by ligating the LAD. This model is convenient for pathobiological and pathophysiological as well as immunobiological studies on cardiac infarction. The shown technique provides high accuracy and correlates well with histological sections.
Medicine, Issue 32, myocardial infarction, mice, LAD ligation, ischemia, histology, validation
1438
Modified Technique for Coronary Artery Ligation in Mice
Institutions: Sahlgrenska Academy, University of Gothenburg.

Myocardial infarction (MI) is one of the most important causes of mortality in humans
1-3
. In order to improve morbidity and mortality in patients with MI we need better knowledge about pathophysiology of myocardial ischemia. This knowledge may be valuable to define new therapeutic targets for innovative cardiovascular therapies
4
. Experimental MI model in mice is an increasingly popular small-animal model in preclinical research in which MI is induced by means of permanent or temporary ligation of left coronary artery (LCA)
5
. In this video, we describe the step-by-step method of how to induce experimental MI in mice. The animal is first anesthetized with 2% isoflurane. The unconscious mouse is then intubated and connected to a ventilator for artificial ventilation. The left chest is shaved and 1.5 cm incision along mid-axillary line is made in the skin. The left pectoralis major muscle is bluntly dissociated until the ribs are exposed. The muscle layers are pulled aside and fixed with an eyelid-retractor. After these preparations, left thoracotomy is performed between the third and fourth ribs in order to visualize the anterior surface of the heart and left lung. The proximal segment of LCA artery is then ligated with a 7-0 ethilon suture which typically induces an infarct size ~40% of left ventricle. At the end, the chest is closed and the animals receive postoperative analgesia (Temgesic, 0.3 mg/50 ml, ip). The animals are kept in a warm cage until spontaneous recovery.
Medicine, Issue 73, Anatomy, Physiology, Biomedical Engineering, Surgery, Cardiology, Hematology, myocardial infarction, coronary artery, ligation, ischemia, ECG, electrocardiology, mice, animal model
3093
Modified Mouse Embryonic Stem Cell based Assay for Quantifying Cardiogenic Induction Efficiency
Institutions: Vanderbilt University School of Medicine, Vanderbilt University School of Medicine, Vanderbilt University School of Medicine, Veterans Administration TVHS.

Differentiation of pluripotent stem cells is tightly controlled by temporal and spatial regulation of multiple key signaling pathways. One of the hurdles to its understanding has been the varied methods in correlating changes of key signaling events to differentiation efficiency. We describe here the use of a mouse embryonic stem (ES) cell based assay to identify critical time windows for Wnt/β-catenin and BMP signal activation during cardiogenic induction. By scoring for contracting embryonic bodies (EBs) in a 96-well plate format, we can quickly quantify cardiogenic efficiency and identify crucial time windows for Wnt/β-catenin and BMP signal activation in a time course following specific modulator treatments. The principal outlined here is not limited to cardiac induction alone, and can be applied towards the study of many other cell lineages. In addition, the 96-well format has the potential to be further developed as a high throughput, automated assay to allow for the testing of more sophisticated experimental hypotheses.
Cellular Biology, Issue 50, Embryonic stem cells (ES) cells, embryonic bodies (EB), signaling pathways, modulators, 96-round bottom well microtiter plates and hanging droplets.
2656