Whole-Body Nanoparticle Aerosol Inhalation Exposures
Published: 05-07-2013
ABSTRACT
Inhalation is the most likely exposure route for individuals working with aerosolizable engineered nano-materials (ENM). To properly perform nanoparticle inhalation toxicology studies, the aerosols in a chamber housing the experimental animals must have: 1) a steady concentration maintained at a desired level for the entire exposure period; 2) a homogenous composition free of contaminants; and 3) a stable size distribution with a geometric mean diameter < 200 nm and a geometric standard deviation σg < 2.5 5. The generation of aerosols containing nanoparticles is quite challenging because nanoparticles easily agglomerate. This is largely due to very strong inter-particle forces and the formation of large fractal structures in tens or hundreds of microns in size 6, which are difficult to be broken up. Several common aerosol generators, including nebulizers, fluidized beds, Venturi aspirators and the Wright dust feed, were tested; however, none were able to produce nanoparticle aerosols which satisfy all criteria 5. A whole-body nanoparticle aerosol inhalation exposure system was fabricated, validated and utilized for nano-TiO2 inhalation toxicology studies. Critical components: 1) novel nano-TiO2 aerosol generator; 2) 0.5 m3 whole-body inhalation exposure chamber; and 3) monitor and control system. Nano-TiO2 aerosols generated from bulk dry nano-TiO2 powders (primary diameter of 21 nm, bulk density of 3.8 g/cm3) were delivered into the exposure chamber at a flow rate of 90 LPM (10.8 air changes/hr). Particle size distribution and mass concentration profiles were measured continuously with a scanning mobility particle sizer (SMPS), and an electric low pressure impactor (ELPI). The aerosol mass concentration (C) was verified gravimetrically (mg/m3). The mass (M) of the collected particles was determined as M = (Mpost-Mpre), where Mpreand Mpost are masses of the filter before and after sampling (mg). The mass concentration was calculated as C = M/(Q*t), where Q is sampling flowrate (m3/min), and t is the sampling time (minute). The chamber pressure, temperature, relative humidity (RH), O2 and CO2 concentrations were monitored and controlled continuously. Nano-TiO2 aerosols collected on Nuclepore filters were analyzed with a scanning electron microscope (SEM) and energy dispersive X-ray (EDX) analysis. In summary, we report that the nano-particle aerosols generated and delivered to our exposure chamber have: 1) steady mass concentration; 2) homogenous composition free of contaminants; 3) stable particle size distributions with a count-median aerodynamic diameter of 157 nm during aerosol generation. This system reliably and repeatedly creates test atmospheres that simulate occupational, environmental or domestic ENM aerosol exposures.
20 Related JoVE Articles!
A Technique to Functionalize and Self-assemble Macroscopic Nanoparticle-ligand Monolayer Films onto Template-free Substrates
Institutions: Naval Research Laboratory.
This protocol describes a self-assembly technique to create macroscopic monolayer films composed of ligand-coated nanoparticles
1
,
2
. The simple, robust and scalable technique efficiently functionalizes metallic nanoparticles with thiol-ligands in a miscible water/organic solvent mixture allowing for rapid grafting of thiol groups onto the gold nanoparticle surface. The hydrophobic ligands on the nanoparticles then quickly phase separate the nanoparticles from the aqueous based suspension and confine them to the air-fluid interface. This drives the ligand-capped nanoparticles to form monolayer domains at the air-fluid interface.  The use of water-miscible organic solvents is important as it enables the transport of the nanoparticles from the interface onto template-free substrates.  The flow is mediated by a surface tension gradient
3
,
4
and creates macroscopic, high-density, monolayer nanoparticle-ligand films.  This self-assembly technique may be generalized to include the use of particles of different compositions, size, and shape and may lead to an efficient assembly method to produce low-cost, macroscopic, high-density, monolayer nanoparticle films for wide-spread applications.
Chemistry, Issue 87, phase transfer, nanoparticle, self-assembly, bottom-up, fabrication, low-cost, monolayer, thin film, nanostructure, array, metamaterial
51282
Revealing Dynamic Processes of Materials in Liquids Using Liquid Cell Transmission Electron Microscopy
Institutions: Lawrence Berkeley National Laboratory.

The recent development for in situ transmission electron microscopy, which allows imaging through liquids with high spatial resolution, has attracted significant interests across the research fields of materials science, physics, chemistry and biology. The key enabling technology is a liquid cell. We fabricate liquid cells with thin viewing windows through a sequential microfabrication process, including silicon nitride membrane deposition, photolithographic patterning, wafer etching, cell bonding, etc. A liquid cell with the dimensions of a regular TEM grid can fit in any standard TEM sample holder. About 100 nanoliters reaction solution is loaded into the reservoirs and about 30 picoliters liquid is drawn into the viewing windows by capillary force. Subsequently, the cell is sealed and loaded into a microscope for in situ imaging. Inside the TEM, the electron beam goes through the thin liquid layer sandwiched between two silicon nitride membranes. Dynamic processes of nanoparticles in liquids, such as nucleation and growth of nanocrystals, diffusion and assembly of nanoparticles, etc., have been imaged in real time with sub-nanometer resolution. We have also applied this method to other research areas,
e.g.
, imaging proteins in water. Liquid cell TEM is poised to play a major role in revealing dynamic processes of materials in their working environments. It may also bring high impact in the study of biological processes in their native environment.
Materials Science, Issue 70, Chemical Engineering, Chemistry, Physics, Engineering, Life sciences, Liquid cell, Transmission Electron Microscopy, TEM, In situ TEM, Single nanoparticle trajectory, dynamic imaging, nanocrystals
50122
Encapsulation and Permeability Characteristics of Plasma Polymerized Hollow Particles
Institutions: The Pennsylvania State University.
In this protocol, core-shell nanostructures are synthesized by plasma enhanced chemical vapor deposition. We produce an amorphous barrier by plasma polymerization of isopropanol on various solid substrates, including silica and potassium chloride. This versatile technique is used to treat nanoparticles and nanopowders with sizes ranging from 37 nm to 1 micron, by depositing films whose thickness can be anywhere from 1 nm to upwards of 100 nm. Dissolution of the core allows us to study the rate of permeation through the film. In these experiments, we determine the diffusion coefficient of KCl through the barrier film by coating KCL nanocrystals and subsequently monitoring the ionic conductivity of the coated particles suspended in water. The primary interest in this process is the encapsulation and delayed release of solutes. The thickness of the shell is one of the independent variables by which we control the rate of release. It has a strong effect on the rate of release, which increases from a six-hour release (shell thickness is 20 nm) to a long-term release over 30 days (shell thickness is 95 nm). The release profile shows a characteristic behavior: a fast release (35% of the final materials) during the first five minutes after the beginning of the dissolution, and a slower release till all of the core materials come out.
Physics, Issue 66, Chemical Engineering, Plasma Physics, Plasma coating, Core-shell structure, Hollow particles, Permeability, nanoparticles, nanopowders
4113
High-throughput Synthesis of Carbohydrates and Functionalization of Polyanhydride Nanoparticles
Institutions: Iowa State University, Iowa State University.

Transdisciplinary approaches involving areas such as material design, nanotechnology, chemistry, and immunology have to be utilized to rationally design efficacious vaccines carriers. Nanoparticle-based platforms can prolong the persistence of vaccine antigens, which could improve vaccine immunogenicity
1
. Several biodegradable polymers have been studied as vaccine delivery vehicles
1
; in particular, polyanhydride particles have demonstrated the ability to provide sustained release of stable protein antigens and to activate antigen presenting cells and modulate immune responses
2-12
. The molecular design of these vaccine carriers needs to integrate the rational selection of polymer properties as well as the incorporation of appropriate targeting agents. High throughput automated fabrication of targeting ligands and functionalized particles is a powerful tool that will enhance the ability to study a wide range of properties and will lead to the design of reproducible vaccine delivery devices. The addition of targeting ligands capable of being recognized by specific receptors on immune cells has been shown to modulate and tailor immune responses
10,11,13
C-type lectin receptors (CLRs) are pattern recognition receptors (PRRs) that recognize carbohydrates present on the surface of pathogens. The stimulation of immune cells via CLRs allows for enhanced internalization of antigen and subsequent presentation for further T cell activation
14,15
. Therefore, carbohydrate molecules play an important role in the study of immune responses; however, the use of these biomolecules often suffers from the lack of availability of structurally well-defined and pure carbohydrates. An automation platform based on iterative solution-phase reactions can enable rapid and controlled synthesis of these synthetically challenging molecules using significantly lower building block quantities than traditional solid-phase methods
16,17
. Herein we report a protocol for the automated solution-phase synthesis of oligosaccharides such as mannose-based targeting ligands with fluorous solid-phase extraction for intermediate purification. After development of automated methods to make the carbohydrate-based targeting agent, we describe methods for their attachment on the surface of polyanhydride nanoparticles employing an automated robotic set up operated by LabVIEW as previously described
10
. Surface functionalization with carbohydrates has shown efficacy in targeting CLRs
10,11
and increasing the throughput of the fabrication method to unearth the complexities associated with a multi-parametric system will be of great value (
Figure 1a
).
Bioengineering, Issue 65, Chemical Engineering, High-throughput, Automation, Carbohydrates, Synthesis, Polyanhydrides, Nanoparticles, Functionalization, Targeting, Fluorous Solid Phase Extraction
3967
Controlling the Size, Shape and Stability of Supramolecular Polymers in Water
Institutions: Westfälische Wilhelms-Universität Münster, Eindhoven University of Technology, Eindhoven University of Technology.

For aqueous based supramolecular polymers, the simultaneous control over shape, size and stability is very difficult
1
. At the same time, the ability to do so is highly important in view of a number of applications in functional soft matter including electronics, biomedical engineering, and sensors. In the past, successful strategies to control the size and shape of supramolecular polymers typically focused on the use of templates
2,3
, end cappers
4
or selective solvent techniques
5
. Here we disclose a strategy based on self-assembling discotic amphiphiles that leads to the control over stack length and shape of ordered, chiral columnar aggregates. By balancing electrostatic repulsive interactions on the hydrophilic rim and attractive non-covalent forces within the hydrophobic core of the polymerizing building block, we manage to create small and discrete spherical objects
6,7
. Increasing the salt concentration to screen the charges induces a sphere-to-rod transition. Intriguingly, this transition is expressed in an increase of cooperativity in the temperature-dependent self-assembly mechanism, and more stable aggregates are obtained. For our study we select a benzene-1,3,5-tricarboxamide (BTA) core connected to a hydrophilic metal chelate via a hydrophobic, fluorinated L-phenylalanine based spacer (
Scheme 1
). The metal chelate selected is a Gd(III)-DTPA complex that contains two overall remaining charges per complex and necessarily two counter ions. The one-dimensional growth of the aggregate is directed by π-π stacking and intermolecular hydrogen bonding. However, the electrostatic, repulsive forces that arise from the charges on the Gd(III)-DTPA complex start limiting the one-dimensional growth of the BTA-based discotic once a certain size is reached. At millimolar concentrations the formed aggregate has a spherical shape and a diameter of around 5 nm as inferred from
1
H-NMR spectroscopy, small angle X-ray scattering, and cryogenic transmission electron microscopy (cryo-TEM). The strength of the electrostatic repulsive interactions between molecules can be reduced by increasing the salt concentration of the buffered solutions. This screening of the charges induces a transition from spherical aggregates into elongated rods with a length > 25 nm. Cryo-TEM allows to visualise the changes in shape and size. In addition, CD spectroscopy permits to derive the mechanistic details of the self-assembly processes before and after the addition of salt. Importantly, the cooperativity -a key feature that dictates the physical properties of the produced supramolecular polymers- increases dramatically upon screening the electrostatic interactions. This increase in cooperativity results in a significant increase in the molecular weight of the formed supramolecular polymers in water.
Chemical Engineering, Issue 66, Chemistry, Physics, Self-assembly, cryogenic transmission electron microscopy, circular dichroism, controlled architecture, discotic amphiphile
3975
High Throughput Single-cell and Multiple-cell Micro-encapsulation
Institutions: Vanderbilt University.

Microfluidic encapsulation methods have been previously utilized to capture cells in picoliter-scale aqueous, monodisperse drops, providing confinement from a bulk fluid environment with applications in high throughput screening, cytometry, and mass spectrometry. We describe a method to not only encapsulate single cells, but to repeatedly capture a set number of cells (here we demonstrate one- and two-cell encapsulation) to study both isolation and the interactions between cells in groups of controlled sizes. By combining drop generation techniques with cell and particle ordering, we demonstrate controlled encapsulation of cell-sized particles for efficient, continuous encapsulation. Using an aqueous particle suspension and immiscible fluorocarbon oil, we generate aqueous drops in oil with a flow focusing nozzle. The aqueous flow rate is sufficiently high to create ordering of particles which reach the nozzle at integer multiple frequencies of the drop generation frequency, encapsulating a controlled number of cells in each drop. For representative results, 9.9 μm polystyrene particles are used as cell surrogates. This study shows a single-particle encapsulation efficiency
Pk=1
of 83.7% and a double-particle encapsulation efficiency
Pk=2
of 79.5% as compared to their respective Poisson efficiencies of 39.3% and 33.3%, respectively. The effect of consistent cell and particle concentration is demonstrated to be of major importance for efficient encapsulation, and dripping to jetting transitions are also addressed. Introduction Continuous media aqueous cell suspensions share a common fluid environment which allows cells to interact in parallel and also homogenizes the effects of specific cells in measurements from the media. High-throughput encapsulation of cells into picoliter-scale drops confines the samples to protect drops from cross-contamination, enable a measure of cellular diversity within samples, prevent dilution of reagents and expressed biomarkers, and amplify signals from bioreactor products. Drops also provide the ability to re-merge drops into larger aqueous samples or with other drops for intercellular signaling studies.
1,2
The reduction in dilution implies stronger detection signals for higher accuracy measurements as well as the ability to reduce potentially costly sample and reagent volumes.
3
Encapsulation of cells in drops has been utilized to improve detection of protein expression,
4
antibodies,
5,6
enzymes,
7
and metabolic activity
8
for high throughput screening, and could be used to improve high throughput cytometry.
9
Additional studies present applications in bio-electrospraying of cell containing drops for mass spectrometry
10
and targeted surface cell coatings.
11
Some applications, however, have been limited by the lack of ability to control the number of cells encapsulated in drops. Here we present a method of ordered encapsulation
12
which increases the demonstrated encapsulation efficiencies for one and two cells and may be extrapolated for encapsulation of a larger number of cells. To achieve monodisperse drop generation, microfluidic "flow focusing" enables the creation of controllable-size drops of one fluid (an aqueous cell mixture) within another (a continuous oil phase) by using a nozzle at which the streams converge.
13
For a given nozzle geometry, the drop generation frequency
f
and drop size can be altered by adjusting oil and aqueous flow rates
Qoil
and
Qaq
. As the flow rates increase, the flows may transition from drop generation to unstable jetting of aqueous fluid from the nozzle.
14
When the aqueous solution contains suspended particles, particles become encapsulated and isolated from one another at the nozzle. For drop generation using a randomly distributed aqueous cell suspension, the average fraction of drops
Dk
containing
k
cells is dictated by Poisson statistics, where
Dk
= λ
k
exp(-λ)/(k!) and λ is the average number of cells per drop. The fraction of
cells
which end up in the "correctly" encapsulated drops is calculated using
Pk
= (
k x Dk
)/Σ(
k' x Dk'
). The subtle difference between the two metrics is that
Dk
relates to the utilization of aqueous fluid and the amount of drop sorting that must be completed following encapsulation, and
Pk
relates to the utilization of the cell sample. As an example, one could use a dilute cell suspension (low λ) to encapsulate drops where most drops containing cells would contain just one cell. While the efficiency metric
Pk
would be high, the majority of drops would be empty (low
Dk
), thus requiring a sorting mechanism to remove empty drops, also reducing throughput.
15
Combining drop generation with inertial ordering provides the ability to encapsulate drops with more predictable numbers of cells per drop and higher throughputs than random encapsulation. Inertial focusing was first discovered by Segre and Silberberg
16
and refers to the tendency of finite-sized particles to migrate to lateral equilibrium positions in channel flow. Inertial ordering refers to the tendency of the particles and cells to passively organize into equally spaced, staggered, constant velocity trains. Both focusing and ordering require sufficiently high flow rates (high Reynolds number) and particle sizes (high Particle Reynolds number).
17,18
Here, the Reynolds number Re =
uDh/ν
and particle Reynolds number Rep =Re(
a/Dh
)
2
, where
u
is a characteristic flow velocity,
Dh
[=
2wh/(w+h)
] is the hydraulic diameter,
ν
is the kinematic viscosity, a is the particle diameter, w is the channel width, and h is the channel height. Empirically, the length required to achieve fully ordered trains decreases as Re and Re
p
increase. Note that the high Re and Re
p
requirements (for this study on the order of 5 and 0.5, respectively) may conflict with the need to keep aqueous flow rates low to avoid jetting at the drop generation nozzle. Additionally, high flow rates lead to higher shear stresses on cells, which are not addressed in this protocol. The previous ordered encapsulation study demonstrated that over 90% of singly encapsulated HL60 cells under similar flow conditions to those in this study maintained cell membrane integrity.
12
However, the effect of the magnitude and time scales of shear stresses will need to be carefully considered when extrapolating to different cell types and flow parameters. The overlapping of the cell ordering, drop generation, and cell viability aqueous flow rate constraints provides an ideal operational regime for controlled encapsulation of single and multiple cells. Because very few studies address inter-particle train spacing,
19,20
determining the spacing is most easily done empirically and will depend on channel geometry, flow rate, particle size, and particle concentration. Nonetheless, the equal lateral spacing between trains implies that cells arrive at predictable, consistent time intervals. When drop generation occurs at the same rate at which ordered cells arrive at the nozzle, the cells become encapsulated within the drop in a controlled manner. This technique has been utilized to encapsulate single cells with throughputs on the order of 15 kHz,
12
a significant improvement over previous studies reporting encapsulation rates on the order of 60-160 Hz.
4,15
In the controlled encapsulation work, over 80% of drops contained one and only one cell, a significant efficiency improvement over Poisson (random) statistics, which predicts less than 40% efficiency on average.
12
In previous controlled encapsulation work,
12
the average number of particles per drop λ was tuned to provide single-cell encapsulation. We hypothesize that through tuning of flow rates, we can efficiently encapsulate any number of cells per drop when λ is equal or close to the number of desired cells per drop. While single-cell encapsulation is valuable in determining individual cell responses from stimuli, multiple-cell encapsulation provides information relating to the interaction of controlled numbers and types of cells. Here we present a protocol, representative results using polystyrene microspheres, and discussion for controlled encapsulation of multiple cells using a passive inertial ordering channel and drop generation nozzle.
Bioengineering, Issue 64, Drop-based microfluidics, inertial microfluidics, ordering, focusing, cell encapsulation, single-cell biology, cell signaling
4096
Confocal Imaging of Confined Quiescent and Flowing Colloid-polymer Mixtures
Institutions: University of Houston.

The behavior of confined colloidal suspensions with attractive interparticle interactions is critical to the rational design of materials for directed assembly
1-3
, drug delivery
4
, improved hydrocarbon recovery
5-7
, and flowable electrodes for energy storage
8
. Suspensions containing fluorescent colloids and non-adsorbing polymers are appealing model systems, as the ratio of the polymer radius of gyration to the particle radius and concentration of polymer control the range and strength of the interparticle attraction, respectively. By tuning the polymer properties and the volume fraction of the colloids, colloid fluids, fluids of clusters, gels, crystals, and glasses can be obtained
9
. Confocal microscopy, a variant of fluorescence microscopy, allows an optically transparent and fluorescent sample to be imaged with high spatial and temporal resolution in three dimensions. In this technique, a small pinhole or slit blocks the emitted fluorescent light from regions of the sample that are outside the focal volume of the microscope optical system. As a result, only a thin section of the sample in the focal plane is imaged. This technique is particularly well suited to probe the structure and dynamics in dense colloidal suspensions at the single-particle scale: the particles are large enough to be resolved using visible light and diffuse slowly enough to be captured at typical scan speeds of commercial confocal systems
10
. Improvements in scan speeds and analysis algorithms have also enabled quantitative confocal imaging of flowing suspensions
11-16,37
. In this paper, we demonstrate confocal microscopy experiments to probe the confined phase behavior and flow properties of colloid-polymer mixtures. We first prepare colloid-polymer mixtures that are density- and refractive-index matched. Next, we report a standard protocol for imaging quiescent dense colloid-polymer mixtures under varying confinement in thin wedge-shaped cells. Finally, we demonstrate a protocol for imaging colloid-polymer mixtures during microchannel flow.
Chemistry, Issue 87, confocal microscopy, particle tracking, colloids, suspensions, confinement, gelation, microfluidics, image correlation, dynamics, suspension flow
51461
Hydrogel Nanoparticle Harvesting of Plasma or Urine for Detecting Low Abundance Proteins
Institutions: George Mason University, Ceres Nanosciences.

Novel biomarker discovery plays a crucial role in providing more sensitive and specific disease detection. Unfortunately many low-abundance biomarkers that exist in biological fluids cannot be easily detected with mass spectrometry or immunoassays because they are present in very low concentration, are labile, and are often masked by high-abundance proteins such as albumin or immunoglobulin. Bait containing poly(N-isopropylacrylamide) (NIPAm) based nanoparticles are able to overcome these physiological barriers. In one step they are able to capture, concentrate and preserve biomarkers from body fluids. Low-molecular weight analytes enter the core of the nanoparticle and are captured by different organic chemical dyes, which act as high affinity protein baits. The nanoparticles are able to concentrate the proteins of interest by several orders of magnitude. This concentration factor is sufficient to increase the protein level such that the proteins are within the detection limit of current mass spectrometers, western blotting, and immunoassays. Nanoparticles can be incubated with a plethora of biological fluids and they are able to greatly enrich the concentration of low-molecular weight proteins and peptides while excluding albumin and other high-molecular weight proteins. Our data show that a 10,000 fold amplification in the concentration of a particular analyte can be achieved, enabling mass spectrometry and immunoassays to detect previously undetectable biomarkers.
Bioengineering, Issue 90, biomarker, hydrogel, low abundance, mass spectrometry, nanoparticle, plasma, protein, urine
51789
Utilization of Plasmonic and Photonic Crystal Nanostructures for Enhanced Micro- and Nanoparticle Manipulation
Institutions: University of Washington, Fred Hutchinson Cancer Research Center , University of Washington, Fred Hutchinson Cancer Research Center , Fred Hutchinson Cancer Research Center .

A method to manipulate the position and orientation of submicron particles nondestructively would be an incredibly useful tool for basic biological research. Perhaps the most widely used physical force to achieve noninvasive manipulation of small particles has been dielectrophoresis(DEP).
1
However, DEP on its own lacks the versatility and precision that are desired when manipulating cells since it is traditionally done with stationary electrodes. Optical tweezers, which utilize a three dimensional electromagnetic field gradient to exert forces on small particles, achieve this desired versatility and precision.
2
However, a major drawback of this approach is the high radiation intensity required to achieve the necessary force to trap a particle which can damage biological samples.
3
A solution that allows trapping and sorting with lower optical intensities are optoelectronic tweezers (OET) but OET's have limitations with fine manipulation of small particles; being DEP-based technology also puts constraint on the property of the solution.
4,5
This video article will describe two methods that decrease the intensity of the radiation needed for optical manipulation of living cells and also describe a method for orientation control. The first method is plasmonic tweezers which use a random gold nanoparticle (AuNP) array as a substrate for the sample as shown in Figure 1. The AuNP array converts the incident photons into localized surface plasmons (LSP) which consist of resonant dipole moments that radiate and generate a patterned radiation field with a large gradient in the cell solution. Initial work on surface plasmon enhanced trapping by Righini et al and our own modeling have shown the fields generated by the plasmonic substrate reduce the initial intensity required by enhancing the gradient field that traps the particle.
6,7,8
The plasmonic approach allows for fine orientation control of ellipsoidal particles and cells with low optical intensities because of more efficient optical energy conversion into mechanical energy and a dipole-dependent radiation field. These fields are shown in figure 2 and the low trapping intensities are detailed in figures 4 and 5. The main problems with plasmonic tweezers are that the LSP's generate a considerable amount of heat and the trapping is only two dimensional. This heat generates convective flows and thermophoresis which can be powerful enough to expel submicron particles from the trap.
9,10
The second approach that we will describe is utilizing periodic dielectric nanostructures to scatter incident light very efficiently into diffraction modes, as shown in figure 6.
11
Ideally, one would make this structure out of a dielectric material to avoid the same heating problems experienced with the plasmonic tweezers but in our approach an aluminum-coated diffraction grating is used as a one-dimensional periodic dielectric nanostructure. Although it is not a semiconductor, it did not experience significant heating and effectively trapped small particles with low trapping intensities, as shown in figure 7. Alignment of particles with the grating substrate conceptually validates the proposition that a 2-D photonic crystal could allow precise rotation of non-spherical micron sized particles.
10
The efficiencies of these optical traps are increased due to the enhanced fields produced by the nanostructures described in this paper.
Bioengineering, Issue 55, Surface plasmon, optical trapping, optical tweezers, plasmonic trapping, cell manipulation, optical manipulation
3390
Optimized Negative Staining: a High-throughput Protocol for Examining Small and Asymmetric Protein Structure by Electron Microscopy
Institutions: The Molecular Foundry.

Structural determination of proteins is rather challenging for proteins with molecular masses between 40 - 200 kDa. Considering that more than half of natural proteins have a molecular mass between 40 - 200 kDa
1,2
, a robust and high-throughput method with a nanometer resolution capability is needed. Negative staining (NS) electron microscopy (EM) is an easy, rapid, and qualitative approach which has frequently been used in research laboratories to examine protein structure and protein-protein interactions. Unfortunately, conventional NS protocols often generate structural artifacts on proteins, especially with lipoproteins that usually form presenting rouleaux artifacts. By using images of lipoproteins from cryo-electron microscopy (cryo-EM) as a standard, the key parameters in NS specimen preparation conditions were recently screened and reported as the optimized NS protocol (OpNS), a modified conventional NS protocol
3
. Artifacts like rouleaux can be greatly limited by OpNS, additionally providing high contrast along with reasonably high‐resolution (near 1 nm) images of small and asymmetric proteins. These high-resolution and high contrast images are even favorable for an individual protein (a single object, no average) 3D reconstruction, such as a 160 kDa antibody, through the method of electron tomography
4,5
. Moreover, OpNS can be a high‐throughput tool to examine hundreds of samples of small proteins. For example, the previously published mechanism of 53 kDa cholesteryl ester transfer protein (CETP) involved the screening and imaging of hundreds of samples
6
. Considering cryo-EM rarely successfully images proteins less than 200 kDa has yet to publish any study involving screening over one hundred sample conditions, it is fair to call OpNS a high-throughput method for studying small proteins. Hopefully the OpNS protocol presented here can be a useful tool to push the boundaries of EM and accelerate EM studies into small protein structure, dynamics and mechanisms.
Environmental Sciences, Issue 90, small and asymmetric protein structure, electron microscopy, optimized negative staining
51087
Designing Silk-silk Protein Alloy Materials for Biomedical Applications
Institutions: Rowan University, Rowan University, Cooper Medical School of Rowan University, Rowan University.

Fibrous proteins display different sequences and structures that have been used for various applications in biomedical fields such as biosensors, nanomedicine, tissue regeneration, and drug delivery. Designing materials based on the molecular-scale interactions between these proteins will help generate new multifunctional protein alloy biomaterials with tunable properties. Such alloy material systems also provide advantages in comparison to traditional synthetic polymers due to the materials biodegradability, biocompatibility, and tenability in the body. This article used the protein blends of wild tussah silk (
Antheraea pernyi
) and domestic mulberry silk (
Bombyx mori
) as an example to provide useful protocols regarding these topics, including how to predict protein-protein interactions by computational methods, how to produce protein alloy solutions, how to verify alloy systems by thermal analysis, and how to fabricate variable alloy materials including optical materials with diffraction gratings, electric materials with circuits coatings, and pharmaceutical materials for drug release and delivery. These methods can provide important information for designing the next generation multifunctional biomaterials based on different protein alloys.
Bioengineering, Issue 90, protein alloys, biomaterials, biomedical, silk blends, computational simulation, implantable electronic devices
50891
Protocols for Assessing Radiofrequency Interactions with Gold Nanoparticles and Biological Systems for Non-invasive Hyperthermia Cancer Therapy
Institutions: University of Texas M.D. Anderson Cancer Center, Rice University , Rice University .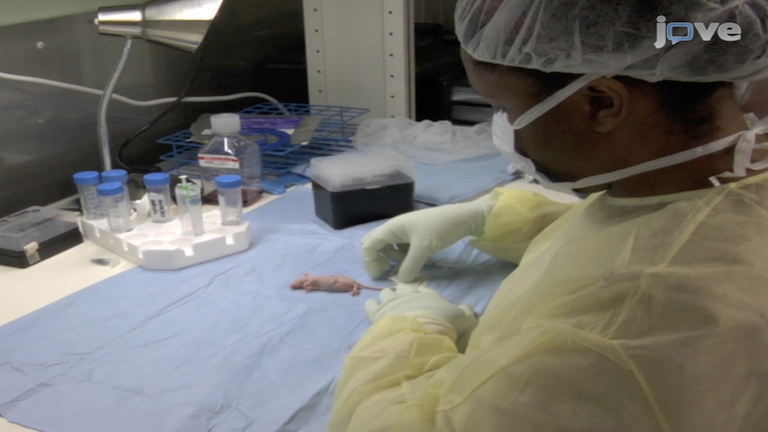 Cancer therapies which are less toxic and invasive than their existing counterparts are highly desirable. The use of RF electric-fields that penetrate deep into the body, causing minimal toxicity, are currently being studied as a viable means of non-invasive cancer therapy. It is envisioned that the interactions of RF energy with internalized nanoparticles (NPs) can liberate heat which can then cause overheating (hyperthermia) of the cell, ultimately ending in cell necrosis. In the case of non-biological systems, we present detailed protocols relating to quantifying the heat liberated by highly-concentrated NP colloids. For biological systems, in the case of
in vitro
experiments, we describe the techniques and conditions which must be adhered to in order to effectively expose cancer cells to RF energy without bulk media heating artifacts significantly obscuring the data. Finally, we give a detailed methodology for
in vivo
mouse models with ectopic hepatic cancer tumors.
Medicine, Issue 78, Electronics and Electrical Engineering, Life Sciences (General), Radiofrequency, Cancer, Nanoparticles, Hyperthermia, Gold
50480
Primer-Free Aptamer Selection Using A Random DNA Library
Institutions: Pennsylvania State University, Pennsylvania State University, Pennsylvania State University, Pennsylvania State University.

Aptamers are highly structured oligonucleotides (DNA or RNA) that can bind to targets with affinities comparable to antibodies
1
. They are identified through an in vitro selection process called Systematic Evolution of Ligands by EXponential enrichment (SELEX) to recognize a wide variety of targets, from small molecules to proteins and other macromolecules
2-4
. Aptamers have properties that are well suited for in vivo diagnostic and/or therapeutic applications: Besides good specificity and affinity, they are easily synthesized, survive more rigorous processing conditions, they are poorly immunogenic, and their relatively small size can result in facile penetration of tissues. Aptamers that are identified through the standard SELEX process usually comprise ~80 nucleotides (nt), since they are typically selected from nucleic acid libraries with ~40 nt long randomized regions plus fixed primer sites of ~20 nt on each side. The fixed primer sequences thus can comprise nearly ~50% of the library sequences, and therefore may positively or negatively compromise identification of aptamers in the selection process
3
, although bioinformatics approaches suggest that the fixed sequences do not contribute significantly to aptamer structure after selection
5
. To address these potential problems, primer sequences have been blocked by complementary oligonucleotides or switched to different sequences midway during the rounds of SELEX
6
, or they have been trimmed to 6-9 nt
7, 8
. Wen and Gray
9
designed a primer-free genomic SELEX method, in which the primer sequences were completely removed from the library before selection and were then regenerated to allow amplification of the selected genomic fragments. However, to employ the technique, a unique genomic library has to be constructed, which possesses limited diversity, and regeneration after rounds of selection relies on a linear reamplification step. Alternatively, efforts to circumvent problems caused by fixed primer sequences using high efficiency partitioning are met with problems regarding PCR amplification
10
. We have developed a primer-free (PF) selection method that significantly simplifies SELEX procedures and effectively eliminates primer-interference problems
11, 12
. The protocols work in a straightforward manner. The central random region of the library is purified without extraneous flanking sequences and is bound to a suitable target (for example to a purified protein or complex mixtures such as cell lines). Then the bound sequences are obtained, reunited with flanking sequences, and re-amplified to generate selected sub-libraries. As an example, here we selected aptamers to S100B, a protein marker for melanoma. Binding assays showed Kd s in the 10
-7
- 10
-8
M range after a few rounds of selection, and we demonstrate that the aptamers function effectively in a sandwich binding format.
Cellular Biology, Issue 41, aptamer, selection, S100B, sandwich
2039
In Situ SIMS and IR Spectroscopy of Well-defined Surfaces Prepared by Soft Landing of Mass-selected Ions
Institutions: Pacific Northwest National Laboratory.

Soft landing of mass-selected ions onto surfaces is a powerful approach for the highly-controlled preparation of materials that are inaccessible using conventional synthesis techniques. Coupling soft landing with
in situ
characterization using secondary ion mass spectrometry (SIMS) and infrared reflection absorption spectroscopy (IRRAS) enables analysis of well-defined surfaces under clean vacuum conditions. The capabilities of three soft-landing instruments constructed in our laboratory are illustrated for the representative system of surface-bound organometallics prepared by soft landing of mass-selected ruthenium tris(bipyridine) dications, [Ru(bpy)
3
]
2+
(bpy = bipyridine), onto carboxylic acid terminated self-assembled monolayer surfaces on gold (COOH-SAMs).
In situ
time-of-flight (TOF)-SIMS provides insight into the reactivity of the soft-landed ions. In addition, the kinetics of charge reduction, neutralization and desorption occurring on the COOH-SAM both during and after ion soft landing are studied using
in situ
Fourier transform ion cyclotron resonance (FT-ICR)-SIMS measurements.
In situ
IRRAS experiments provide insight into how the structure of organic ligands surrounding metal centers is perturbed through immobilization of organometallic ions on COOH-SAM surfaces by soft landing. Collectively, the three instruments provide complementary information about the chemical composition, reactivity and structure of well-defined species supported on surfaces.
Chemistry, Issue 88, soft landing, mass selected ions, electrospray, secondary ion mass spectrometry, infrared spectroscopy, organometallic, catalysis
51344
Preparation and Use of Photocatalytically Active Segmented Ag|ZnO and Coaxial TiO2-Ag Nanowires Made by Templated Electrodeposition
Institutions: University of Twente.

Photocatalytically active nanostructures require a large specific surface area with the presence of many catalytically active sites for the oxidation and reduction half reactions, and fast electron (hole) diffusion and charge separation. Nanowires present suitable architectures to meet these requirements. Axially segmented Ag|ZnO and radially segmented (coaxial) TiO
2
-Ag nanowires with a diameter of 200 nm and a length of 6-20 µm were made by templated electrodeposition within the pores of polycarbonate track-etched (PCTE) or anodized aluminum oxide (AAO) membranes, respectively. In the photocatalytic experiments, the ZnO and TiO
2
phases acted as photoanodes, and Ag as cathode. No external circuit is needed to connect both electrodes, which is a key advantage over conventional photo-electrochemical cells. For making segmented Ag|ZnO nanowires, the Ag salt electrolyte was replaced after formation of the Ag segment to form a ZnO segment attached to the Ag segment. For making coaxial TiO
2
-Ag nanowires, a TiO
2
gel was first formed by the electrochemically induced sol-gel method. Drying and thermal annealing of the as-formed TiO
2
gel resulted in the formation of crystalline TiO
2
nanotubes. A subsequent Ag electrodeposition step inside the TiO
2
nanotubes resulted in formation of coaxial TiO
2
-Ag nanowires. Due to the combination of an
n
-type semiconductor (ZnO or TiO
2
) and a metal (Ag) within the same nanowire, a Schottky barrier was created at the interface between the phases. To demonstrate the photocatalytic activity of these nanowires, the Ag|ZnO nanowires were used in a photocatalytic experiment in which H
2
gas was detected upon UV illumination of the nanowires dispersed in a methanol/water mixture. After 17 min of illumination, approximately 0.2 vol% H
2
gas was detected from a suspension of ~0.1 g of Ag|ZnO nanowires in a 50 ml 80 vol% aqueous methanol solution.
Physics, Issue 87, Multicomponent nanowires, electrochemistry, sol-gel processes, photocatalysis, photochemistry, H2 evolution
51547
Towards Biomimicking Wood: Fabricated Free-standing Films of Nanocellulose, Lignin, and a Synthetic Polycation
Institutions: Virginia Tech, Virginia Tech, Illinois Institute of Technology- Moffett Campus, University of Guadalajara, Virginia Tech, Virginia Tech.

Woody materials are comprised of plant cell walls that contain a layered secondary cell wall composed of structural polymers of polysaccharides and lignin. Layer-by-layer (LbL) assembly process which relies on the assembly of oppositely charged molecules from aqueous solutions was used to build a freestanding composite film of isolated wood polymers of lignin and oxidized nanofibril cellulose (NFC). To facilitate the assembly of these negatively charged polymers, a positively charged polyelectrolyte, poly(diallyldimethylammomium chloride) (PDDA), was used as a linking layer to create this simplified model cell wall. The layered adsorption process was studied quantitatively using quartz crystal microbalance with dissipation monitoring (QCM-D) and ellipsometry. The results showed that layer mass/thickness per adsorbed layer increased as a function of total number of layers. The surface coverage of the adsorbed layers was studied with atomic force microscopy (AFM). Complete coverage of the surface with lignin in all the deposition cycles was found for the system, however, surface coverage by NFC increased with the number of layers. The adsorption process was carried out for 250 cycles (500 bilayers) on a cellulose acetate (CA) substrate. Transparent free-standing LBL assembled nanocomposite films were obtained when the CA substrate was later dissolved in acetone. Scanning electron microscopy (SEM) of the fractured cross-sections showed a lamellar structure, and the thickness per adsorption cycle (PDDA-Lignin-PDDA-NC) was estimated to be 17 nm for two different lignin types used in the study. The data indicates a film with highly controlled architecture where nanocellulose and lignin are spatially deposited on the nanoscale (a polymer-polymer nanocomposites), similar to what is observed in the native cell wall.
Plant Biology, Issue 88, nanocellulose, thin films, quartz crystal microbalance, layer-by-layer, LbL
51257
Activating Molecules, Ions, and Solid Particles with Acoustic Cavitation
Institutions: UMR 5257 CEA-CNRS-UM2-ENSCM.

The chemical and physical effects of ultrasound arise not from a direct interaction of molecules with sound waves, but rather from the acoustic cavitation: the nucleation, growth, and implosive collapse of microbubbles in liquids submitted to power ultrasound. The violent implosion of bubbles leads to the formation of chemically reactive species and to the emission of light, named sonoluminescence. In this manuscript, we describe the techniques allowing study of extreme intrabubble conditions and chemical reactivity of acoustic cavitation in solutions. The analysis of sonoluminescence spectra of water sparged with noble gases provides evidence for nonequilibrium plasma formation. The photons and the "hot" particles generated by cavitation bubbles enable to excite the non-volatile species in solutions increasing their chemical reactivity. For example the mechanism of ultrabright sonoluminescence of uranyl ions in acidic solutions varies with uranium concentration: sonophotoluminescence dominates in diluted solutions, and collisional excitation contributes at higher uranium concentration. Secondary sonochemical products may arise from chemically active species that are formed inside the bubble, but then diffuse into the liquid phase and react with solution precursors to form a variety of products. For instance, the sonochemical reduction of Pt(IV) in pure water provides an innovative synthetic route for monodispersed nanoparticles of metallic platinum without any templates or capping agents. Many studies reveal the advantages of ultrasound to activate the divided solids. In general, the mechanical effects of ultrasound strongly contribute in heterogeneous systems in addition to chemical effects. In particular, the sonolysis of PuO
2
powder in pure water yields stable colloids of plutonium due to both effects.
Chemistry, Issue 86, Sonochemistry, sonoluminescence, ultrasound, cavitation, nanoparticles, actinides, colloids, nanocolloids
51237
Synthesis of Immunotargeted Magneto-plasmonic Nanoclusters
Institutions: University of Texas at Austin, University of Texas M.D. Anderson Cancer Center.

Magnetic and plasmonic properties combined in a single nanoparticle provide a synergy that is advantageous in a number of biomedical applications including contrast enhancement in novel magnetomotive imaging modalities, simultaneous capture and detection of circulating tumor cells (CTCs), and multimodal molecular imaging combined with photothermal therapy of cancer cells. These applications have stimulated significant interest in development of protocols for synthesis of magneto-plasmonic nanoparticles with optical absorbance in the near-infrared (NIR) region and a strong magnetic moment. Here, we present a novel protocol for synthesis of such hybrid nanoparticles that is based on an oil-in-water microemulsion method. The unique feature of the protocol described herein is synthesis of magneto-plasmonic nanoparticles of various sizes from primary blocks which also have magneto-plasmonic characteristics. This approach yields nanoparticles with a high density of magnetic and plasmonic functionalities which are uniformly distributed throughout the nanoparticle volume. The hybrid nanoparticles can be easily functionalized by attaching antibodies through the Fc moiety leaving the Fab portion that is responsible for antigen binding available for targeting.
Chemistry, Issue 90, nanoparticles, plasmonic, magnetic, nanocomposites, magnetic trapping, circulating tumor cells, dark-field imaging
52090
Aseptic Laboratory Techniques: Plating Methods
Institutions: University of California, Los Angeles .

Microorganisms are present on all inanimate surfaces creating ubiquitous sources of possible contamination in the laboratory. Experimental success relies on the ability of a scientist to sterilize work surfaces and equipment as well as prevent contact of sterile instruments and solutions with non-sterile surfaces. Here we present the steps for several plating methods routinely used in the laboratory to isolate, propagate, or enumerate microorganisms such as bacteria and phage. All five methods incorporate aseptic technique, or procedures that maintain the sterility of experimental materials. Procedures described include (1) streak-plating bacterial cultures to isolate single colonies, (2) pour-plating and (3) spread-plating to enumerate viable bacterial colonies, (4) soft agar overlays to isolate phage and enumerate plaques, and (5) replica-plating to transfer cells from one plate to another in an identical spatial pattern. These procedures can be performed at the laboratory bench, provided they involve non-pathogenic strains of microorganisms (Biosafety Level 1, BSL-1). If working with BSL-2 organisms, then these manipulations must take place in a biosafety cabinet. Consult the most current edition of the
Biosafety in Microbiological and Biomedical Laboratories
(BMBL) as well as
Material Safety Data Sheets
(MSDS) for Infectious Substances to determine the biohazard classification as well as the safety precautions and containment facilities required for the microorganism in question. Bacterial strains and phage stocks can be obtained from research investigators, companies, and collections maintained by particular organizations such as the
American Type Culture Collection
(ATCC). It is recommended that non-pathogenic strains be used when learning the various plating methods. By following the procedures described in this protocol, students should be able to: ● Perform plating procedures without contaminating media. ● Isolate single bacterial colonies by the streak-plating method. ● Use pour-plating and spread-plating methods to determine the concentration of bacteria. ● Perform soft agar overlays when working with phage. ● Transfer bacterial cells from one plate to another using the replica-plating procedure. ● Given an experimental task, select the appropriate plating method.
Basic Protocols, Issue 63, Streak plates, pour plates, soft agar overlays, spread plates, replica plates, bacteria, colonies, phage, plaques, dilutions
3064
Flame Experiments at the Advanced Light Source: New Insights into Soot Formation Processes
Institutions: Sandia National Laboratories, Lawrence Berkeley National Laboratory, Universität Bielefeld.

The following experimental protocols and the accompanying video are concerned with the flame experiments that are performed at the Chemical Dynamics Beamline of the Advanced Light Source (ALS) of the Lawrence Berkeley National Laboratory
1-4
. This video demonstrates how the complex chemical structures of laboratory-based model flames are analyzed using flame-sampling mass spectrometry with tunable synchrotron-generated vacuum-ultraviolet (VUV) radiation. This experimental approach combines isomer-resolving capabilities with high sensitivity and a large dynamic range
5,6
. The first part of the video describes experiments involving burner-stabilized, reduced-pressure (20-80 mbar) laminar premixed flames. A small hydrocarbon fuel was used for the selected flame to demonstrate the general experimental approach. It is shown how species' profiles are acquired as a function of distance from the burner surface and how the tunability of the VUV photon energy is used advantageously to identify many combustion intermediates based on their ionization energies. For example, this technique has been used to study gas-phase aspects of the soot-formation processes, and the video shows how the resonance-stabilized radicals, such as C
3
H
3
, C
3
H
5
, and
i-
C
4
H
5
, are identified as important intermediates
7
. The work has been focused on soot formation processes, and, from the chemical point of view, this process is very intriguing because chemical structures containing millions of carbon atoms are assembled from a fuel molecule possessing only a few carbon atoms in just milliseconds. The second part of the video highlights a new experiment, in which an opposed-flow diffusion flame and synchrotron-based aerosol mass spectrometry are used to study the chemical composition of the combustion-generated soot particles
4
. The experimental results indicate that the widely accepted H-abstraction-C
2
H
2
-addition (HACA) mechanism is not the sole molecular growth process responsible for the formation of the observed large polycyclic aromatic hydrocarbons (PAHs).
Physics, Issue 87, Combustion, Flame, Energy Conversion, Mass Spectrometry, Photoionization, Synchrotron, Hydrocarbon, Soot, Aerosol, Isomer
51369