Isolation and Functional Characterization of Human Ventricular Cardiomyocytes from Fresh Surgical Samples
Published: 04-21-2014
ABSTRACT
Cardiomyocytes from diseased hearts are subjected to complex remodeling processes involving changes in cell structure, excitation contraction coupling and membrane ion currents. Those changes are likely to be responsible for the increased arrhythmogenic risk and the contractile alterations leading to systolic and diastolic dysfunction in cardiac patients. However, most information on the alterations of myocyte function in cardiac diseases has come from animal models. Here we describe and validate a protocol to isolate viable myocytes from small surgical samples of ventricular myocardium from patients undergoing cardiac surgery operations. The protocol is described in detail. Electrophysiological and intracellular calcium measurements are reported to demonstrate the feasibility of a number of single cell measurements in human ventricular cardiomyocytes obtained with this method. The protocol reported here can be useful for future investigations of the cellular and molecular basis of functional alterations of the human heart in the presence of different cardiac diseases. Further, this method can be used to identify novel therapeutic targets at cellular level and to test the effectiveness of new compounds on human cardiomyocytes, with direct translational value.
20 Related JoVE Articles!
Isolation and Culture of Adult Mouse Cardiomyocytes for Cell Signaling and in vitro Cardiac Hypertrophy
Institutions: University of Toledo College of Medicine and Life Sciences, University of Toledo College of Medicine and Life Sciences.

Technological advances have made genetically modified mice, including transgenic and gene knockout mice, an essential tool in many research fields. Adult cardiomyocytes are widely accepted as a good model for cardiac cellular physiology and pathophysiology, as well as for pharmaceutical intervention. Genetically modified mice preclude the need for complicated cardiomyocyte infection processes to generate the desired genotype, which are inefficient due to cardiomyocytes' terminal differentiation. Isolation and culture of high quantity and quality functional cardiomyocytes will dramatically benefit cardiovascular research and provide an important tool for cell signaling transduction research and drug development. Here, we describe a well-established method for isolation of adult mouse cardiomyocytes that can be implemented with little training. The mouse heart is excised and cannulated to an isolated heart system, then perfused with a calcium-free and high potassium buffer followed by type II collagenase digestion in Langendorff retrograde perfusion mode. This protocol yields a consistent result for the collection of functional adult mouse cardiomyocytes from a variety of genetically modified mice.
Basic Protocol, Issue 87, adult mouse cardiomyocytes, collagenase, isolation, primary cell culture
51357
Encapsulation of Cardiomyocytes in a Fibrin Hydrogel for Cardiac Tissue Engineering
Institutions: Tufts University.

Culturing cells in a three dimensional hydrogel environment is an important technique for developing constructs for tissue engineering as well as studying cellular responses under various culture conditions in vitro. The three dimensional environment more closely mimics what the cells observe in vivo due to the application of mechanical and chemical stimuli in all dimensions
1
. Three-dimensional hydrogels can either be made from synthetic polymers such as PEG-DA
2
and PLGA
3
or a number of naturally occurring proteins such as collagen
4
, hyaluronic acid
5
or fibrin
6,7
. Hydrogels created from fibrin, a naturally occurring blood clotting protein, can polymerize to form a mesh that is part of the body's natural wound healing processes
8
. Fibrin is cell-degradable and potentially autologous
9
, making it an ideal temporary scaffold for tissue engineering. Here we describe in detail the isolation of neonatal cardiomyocytes from three day old rat pups and the preparation of the cells for encapsulation in fibrin hydrogel constructs for tissue engineering. Neonatal myocytes are a common cell source used for in vitro studies in cardiac tissue formation and engineering
4
. Fibrin gel is created by mixing fibrinogen with the enzyme thrombin. Thrombin cleaves fibrinopeptides FpA and FpB from fibrinogen, revealing binding sites that interact with other monomers
10
. These interactions cause the monomers to self-assemble into fibers that form the hydrogel mesh. Because the timing of this enzymatic reaction can be adjusted by altering the ratio of thrombin to fibrinogen, or the ratio of calcium to thrombin, one can injection mold constructs with a number of different geometries
11,12
. Further we can generate alignment of the resulting tissue by how we constrain the gel during culture
13
. After culturing the engineered cardiac tissue constructs for two weeks under static conditions, the cardiac cells have begun to remodel the construct and can generate a contraction force under electrical pacing conditions
6
. As part of this protocol, we also describe methods for analyzing the tissue engineered myocardium after the culture period including functional analysis of the active force generated by the cardiac muscle construct upon electrical stimulation, as well as methods for determining final cell viability (Live-Dead assay) and immunohistological staining to examine the expression and morphology of typical proteins important for contraction (Myosin Heavy Chain or MHC) and cellular coupling (Connexin 43 or Cx43) between myocytes.
Bioengineering, Issue 55, fibrin, scaffold, hydrogel, cardiac tissue engineering, contraction force, neonatal cardiomyocytes
3251
Mechanical Testing of Mouse Carotid Arteries: from Newborn to Adult
Institutions: Saint Louis University.

The large conducting arteries in vertebrates are composed of a specialized extracellular matrix designed to provide pulse dampening and reduce the work performed by the heart. The mix of matrix proteins determines the passive mechanical properties of the arterial wall
1
. When the matrix proteins are altered in development, aging, disease or injury, the arterial wall remodels, changing the mechanical properties and leading to subsequent cardiac adaptation
2
. In normal development, the remodeling leads to a functional cardiac and cardiovascular system optimized for the needs of the adult organism. In disease, the remodeling often leads to a negative feedback cycle that can cause cardiac failure and death. By quantifying passive arterial mechanical properties in development and disease, we can begin to understand the normal remodeling process to recreate it in tissue engineering and the pathological remodeling process to test disease treatments. Mice are useful models for studying passive arterial mechanics in development and disease. They have a relatively short lifespan (mature adults by 3 months and aged adults by 2 years), so developmental
3
and aging studies
4
can be carried out over a limited time course. The advances in mouse genetics provide numerous genotypes and phenotypes to study changes in arterial mechanics with disease progression
5
and disease treatment
6
. Mice can also be manipulated experimentally to study the effects of changes in hemodynamic parameters on the arterial remodeling process
7
. One drawback of the mouse model, especially for examining young ages, is the size of the arteries. We describe a method for passive mechanical testing of carotid arteries from mice aged 3 days to adult (approximately 90 days). We adapt a commercial myograph system to mount the arteries and perform multiple pressure or axial stretch protocols on each specimen. We discuss suitable protocols for each age, the necessary measurements and provide example data. We also include data analysis strategies for rigorous mechanical characterization of the arteries.
Bioengineering, Issue 60, blood vessel, artery, mechanics, pressure, diameter, postnatal development
3733
Design of a Cyclic Pressure Bioreactor for the Ex Vivo Study of Aortic Heart Valves
Institutions: Mississippi State University.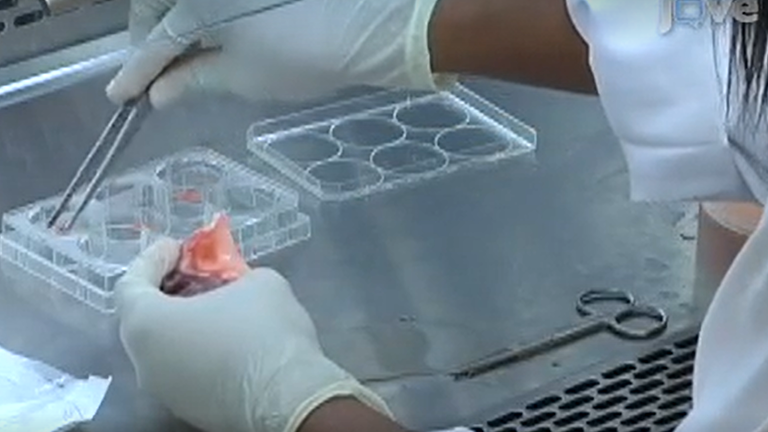 The aortic valve, located between the left ventricle and the aorta, allows for unidirectional blood flow, preventing backflow into the ventricle. Aortic valve leaflets are composed of interstitial cells suspended within an extracellular matrix (ECM) and are lined with an endothelial cell monolayer. The valve withstands a harsh, dynamic environment and is constantly exposed to shear, flexion, tension, and compression. Research has shown calcific lesions in diseased valves occur in areas of high mechanical stress as a result of endothelial disruption or interstitial matrix damage
1-3
. Hence, it is not surprising that epidemiological studies have shown high blood pressure to be a leading risk factor in the onset of aortic valve disease
4
. The only treatment option currently available for valve disease is surgical replacement of the diseased valve with a bioprosthetic or mechanical valve
5
. Improved understanding of valve biology in response to physical stresses would help elucidate the mechanisms of valve pathogenesis. In turn, this could help in the development of non-invasive therapies such as pharmaceutical intervention or prevention. Several bioreactors have been previously developed to study the mechanobiology of native or engineered heart valves
6-9
. Pulsatile bioreactors have also been developed to study a range of tissues including cartilage
10
, bone
11
and bladder
12
. The aim of this work was to develop a cyclic pressure system that could be used to elucidate the biological response of aortic valve leaflets to increased pressure loads. The system consisted of an acrylic chamber in which to place samples and produce cyclic pressure, viton diaphragm solenoid valves to control the timing of the pressure cycle, and a computer to control electrical devices. The pressure was monitored using a pressure transducer, and the signal was conditioned using a load cell conditioner. A LabVIEW program regulated the pressure using an analog device to pump compressed air into the system at the appropriate rate. The system mimicked the dynamic transvalvular pressure levels associated with the aortic valve; a saw tooth wave produced a gradual increase in pressure, typical of the transvalvular pressure gradient that is present across the valve during diastole, followed by a sharp pressure drop depicting valve opening in systole. The LabVIEW program allowed users to control the magnitude and frequency of cyclic pressure. The system was able to subject tissue samples to physiological and pathological pressure conditions. This device can be used to increase our understanding of how heart valves respond to changes in the local mechanical environment.
Bioengineering, Issue 54, Mechanobiology, Bioreactor, Aortic Heart Valve, Organ Culture
3316
A Novel Method for Localizing Reporter Fluorescent Beads Near the Cell Culture Surface for Traction Force Microscopy
Institutions: University of Illinois at Urbana-Champaign.

PA gels have long been used as a platform to study cell traction forces due to ease of fabrication and the ability to tune their elastic properties. When the substrate is coated with an extracellular matrix protein, cells adhere to the gel and apply forces, causing the gel to deform. The deformation depends on the cell traction and the elastic properties of the gel. If the deformation field of the surface is known, surface traction can be calculated using elasticity theory. Gel deformation is commonly measured by embedding fluorescent marker beads uniformly into the gel. The probes displace as the gel deforms. The probes near the surface of the gel are tracked. The displacements reported by these probes are considered as surface displacements. Their depths from the surface are ignored. This assumption introduces error in traction force evaluations. For precise measurement of cell forces, it is critical for the location of the beads to be known. We have developed a technique that utilizes simple chemistry to confine fluorescent marker beads, 0.1 and 1 µm in diameter, in PA gels, within 1.6 μm of the surface. We coat a coverslip with poly-D-lysine (PDL) and fluorescent beads. PA gel solution is then sandwiched between the coverslip and an adherent surface. The fluorescent beads transfer to the gel solution during curing. After polymerization, the PA gel contains fluorescent beads on a plane close to the gel surface.
Bioengineering, Issue 91, cell mechanics, polyacrylamide (PA) gel, traction force microscopy, fluorescent beads, poly-D-lysine (PDL), cell culture surface
51873
Shrinkage of Dental Composite in Simulated Cavity Measured with Digital Image Correlation
Institutions: University of Minnesota.

Polymerization shrinkage of dental resin composites can lead to restoration debonding or cracked tooth tissues in composite-restored teeth. In order to understand where and how shrinkage strain and stress develop in such restored teeth, Digital Image Correlation (DIC) was used to provide a comprehensive view of the displacement and strain distributions within model restorations that had undergone polymerization shrinkage. Specimens with model cavities were made of cylindrical glass rods with both diameter and length being 10 mm. The dimensions of the mesial-occlusal-distal (MOD) cavity prepared in each specimen measured 3 mm and 2 mm in width and depth, respectively. After filling the cavity with resin composite, the surface under observation was sprayed with first a thin layer of white paint and then fine black charcoal powder to create high-contrast speckles. Pictures of that surface were then taken before curing and 5 min after. Finally, the two pictures were correlated using DIC software to calculate the displacement and strain distributions. The resin composite shrunk vertically towards the bottom of the cavity, with the top center portion of the restoration having the largest downward displacement. At the same time, it shrunk horizontally towards its vertical midline. Shrinkage of the composite stretched the material in the vicinity of the "tooth-restoration" interface, resulting in cuspal deflections and high tensile strains around the restoration. Material close to the cavity walls or floor had direct strains mostly in the directions perpendicular to the interfaces. Summation of the two direct strain components showed a relatively uniform distribution around the restoration and its magnitude equaled approximately to the volumetric shrinkage strain of the material.
Medicine, Issue 89, image processing, computer-assisted, polymer matrix composites, testing of materials (composite materials), dental composite restoration, polymerization shrinkage, digital image correlation, full-field strain measurement, interfacial debonding
51191
Preparation of Complaint Matrices for Quantifying Cellular Contraction
Institutions: University of Chicago, University of Chicago, University of Chicago.

The regulation of cellular adhesion to the extracellular matrix (ECM) is essential for cell migration and ECM remodeling. Focal adhesions are macromolecular assemblies that couple the contractile F-actin cytoskeleton to the ECM. This connection allows for the transmission of intracellular mechanical forces across the cell membrane to the underlying substrate. Recent work has shown the mechanical properties of the ECM regulate focal adhesion and F-actin morphology as well as numerous physiological processes, including cell differentiation, division, proliferation and migration. Thus, the use of cell culture substrates has become an increasingly prevalent method to precisely control and modulate ECM mechanical properties. To quantify traction forces at focal adhesions in an adherent cell, compliant substrates are used in conjunction with high-resolution imaging and computational techniques in a method termed traction force microscopy (TFM). This technique relies on measurements of the local magnitude and direction of substrate deformations induced by cellular contraction. In combination with high-resolution fluorescence microscopy of fluorescently tagged proteins, it is possible to correlate cytoskeletal organization and remodeling with traction forces. Here we present a detailed experimental protocol for the preparation of two-dimensional, compliant matrices for the purpose of creating a cell culture substrate with a well-characterized, tunable mechanical stiffness, which is suitable for measuring cellular contraction. These protocols include the fabrication of polyacrylamide hydrogels, coating of ECM proteins on such gels, plating cells on gels, and high-resolution confocal microscopy using a perfusion chamber. Additionally, we provide a representative sample of data demonstrating location and magnitude of cellular forces using cited TFM protocols.
Bioengineering, Issue 46, Traction force microscopy, cellular adhesion, polyacrylamide gel, stiffness, elastic modulus
2173
Preparation of Hydroxy-PAAm Hydrogels for Decoupling the Effects of Mechanotransduction Cues
Institutions: Université de Mons.
It is now well established that many cellular functions are regulated by interactions of cells with physicochemical and mechanical cues of their extracellular matrix (ECM) environment. Eukaryotic cells constantly sense their local microenvironment through surface mechanosensors to transduce physical changes of ECM into biochemical signals, and integrate these signals to achieve specific changes in gene expression. Interestingly, physicochemical and mechanical parameters of the ECM can couple with each other to regulate cell fate. Therefore, a key to understanding mechanotransduction is to decouple the relative contribution of ECM cues on cellular functions. Here we present a detailed experimental protocol to rapidly and easily generate biologically relevant hydrogels for the independent tuning of mechanotransduction cues
in vitro
. We chemically modified polyacrylamide hydrogels (PAAm) to surmount their intrinsically non-adhesive properties by incorporating hydroxyl-functionalized acrylamide monomers during the polymerization. We obtained a novel PAAm hydrogel, called hydroxy-PAAm, which permits immobilization of any desired nature of ECM proteins. The combination of hydroxy-PAAm hydrogels with microcontact printing allows to independently control the morphology of single-cells, the matrix stiffness, the nature and the density of ECM proteins. We provide a simple and rapid method that can be set up in every biology lab to study
in vitro
cell mechanotransduction processes. We validate this novel two-dimensional platform by conducting experiments on endothelial cells that demonstrate a mechanical coupling between ECM stiffness and the nucleus.
Bioengineering, Issue 90, hydrogels, mechanotransduction, polyacrylamide, microcontact printing, cell shape, stiffness, durotaxis, cell-ligand density
51010
Capillary Force Lithography for Cardiac Tissue Engineering
Institutions: University of Washington, University of Washington.
Cardiovascular disease remains the leading cause of death worldwide
1
. Cardiac tissue engineering holds much promise to deliver groundbreaking medical discoveries with the aims of developing functional tissues for cardiac regeneration as well as
in vitro
screening assays. However, the ability to create high-fidelity models of heart tissue has proven difficult. The heart's extracellular matrix (ECM) is a complex structure consisting of both biochemical and biomechanical signals ranging from the micro- to the nanometer scale
2
. Local mechanical loading conditions and cell-ECM interactions have recently been recognized as vital components in cardiac tissue engineering
3-5
. A large portion of the cardiac ECM is composed of aligned collagen fibers with nano-scale diameters that significantly influences tissue architecture and electromechanical coupling
2
. Unfortunately, few methods have been able to mimic the organization of ECM fibers down to the nanometer scale. Recent advancements in nanofabrication techniques, however, have enabled the design and fabrication of scalable scaffolds that mimic the
in vivo
structural and substrate stiffness cues of the ECM in the heart
6-9
. Here we present the development of two reproducible, cost-effective, and scalable nanopatterning processes for the functional alignment of cardiac cells using the biocompatible polymer poly(lactide-co-glycolide) (PLGA)
8
and a polyurethane (PU) based polymer. These anisotropically nanofabricated substrata (ANFS) mimic the underlying ECM of well-organized, aligned tissues and can be used to investigate the role of nanotopography on cell morphology and function
10-14
. Using a nanopatterned (NP) silicon master as a template, a polyurethane acrylate (PUA) mold is fabricated. This PUA mold is then used to pattern the PU or PLGA hydrogel via UV-assisted or solvent-mediated capillary force lithography (CFL), respectively
15,16
. Briefly, PU or PLGA pre-polymer is drop dispensed onto a glass coverslip and the PUA mold is placed on top. For UV-assisted CFL, the PU is then exposed to UV radiation (λ = 250-400 nm) for curing. For solvent-mediated CFL, the PLGA is embossed using heat (120 °C) and pressure (100 kPa). After curing, the PUA mold is peeled off, leaving behind an ANFS for cell culture. Primary cells, such as neonatal rat ventricular myocytes, as well as human pluripotent stem cell-derived cardiomyocytes, can be maintained on the ANFS
2
.
Bioengineering, Issue 88, Nanotopography, Anisotropic, Nanofabrication, Cell Culture, Cardiac Tissue Engineering
50039
Monitoring Heart Function in Larval Drosophila melanogaster for Physiological Studies
Institutions: University of Kentucky, Lexington.

We present various methods to record cardiac function in the larval
Drosophila
. The approaches allow heart rate to be measured in unrestrained and restrained whole larvae. For direct control of the environment around the heart another approach utilizes the dissected larvae and removal of the internal organs in order to bathe the heart in desired compounds. The exposed heart also allows membrane potentials to be monitored which can give insight of the ionic currents generated by the myocytes and for electrical conduction along the heart tube. These approaches have various advantages and disadvantages for future experiments that are discussed. The larval heart preparation provides an additional model besides the
Drosophila
skeletal NMJ to investigate the role of intracellular calcium regulation on cellular function. Learning more about the underlying ionic currents that shape the action potentials in myocytes in various species, one can hope to get a handle on the known ionic dysfunctions associated to specific genes responsible for various diseases in mammals.
Cellular Biology, Issue 33, Invertebrate, myocyte, pacemaker, insect
1596
Acute Myocardial Infarction in Rats
Institutions: University of Texas Medical Branch, University of Houston (UH), Texas Medical Center.
With heart failure leading the cause of death in the USA (Hunt), biomedical research is fundamental to advance medical treatments for cardiovascular diseases. Animal models that mimic human cardiac disease, such as myocardial infarction (MI) and ischemia-reperfusion (IR) that induces heart failure as well as pressure-overload (transverse aortic constriction) that induces cardiac hypertrophy and heart failure (Goldman and Tarnavski), are useful models to study cardiovascular disease. In particular, myocardial ischemia (MI) is a leading cause for cardiovascular morbidity and mortality despite controlling certain risk factors such as arteriosclerosis and treatments via surgical intervention (Thygesen). Furthermore, an acute loss of the myocardium following myocardial ischemia (MI) results in increased loading conditions that induces ventricular remodeling of the infarcted border zone and the remote non-infarcted myocardium. Myocyte apoptosis, necrosis and the resultant increased hemodynamic load activate multiple biochemical intracellular signaling that initiates LV dilatation, hypertrophy, ventricular shape distortion, and collagen scar formation. This pathological remodeling and failure to normalize the increased wall stresses results in progressive dilatation, recruitment of the border zone myocardium into the scar, and eventually deterioration in myocardial contractile function (i.e. heart failure). The progression of LV dysfunction and heart failure in rats is similar to that observed in patients who sustain a large myocardial infarction, survive and subsequently develops heart failure (Goldman). The acute myocardial infarction (AMI) model in rats has been used to mimic human cardiovascular disease; specifically used to study cardiac signaling mechanisms associated with heart failure as well as to assess the contribution of therapeutic strategies for the treatment of heart failure. The method described in this report is the rat model of acute myocardial infarction (AMI). This model is also referred to as an acute ischemic cardiomyopathy or ischemia followed by reperfusion (IR); which is induced by an acute 30-minute period of ischemia by ligation of the left anterior descending artery (LAD) followed by reperfusion of the tissue by releasing the LAD ligation (Vasilyev and McConnell). This protocol will focus on assessment of the infarct size and the area-at-risk (AAR) by Evan's blue dye and triphenyl tetrazolium chloride (TTC) following 4-hours of reperfusion; additional comments toward the evaluation of cardiac function and remodeling by modifying the duration of reperfusion, is also presented. Overall, this AMI rat animal model is useful for studying the consequence of a myocardial infarction on cardiac pathophysiological and physiological function.
Medicine, Issue 48, Cardiovascular (CV), Heart Failure (HF), Acute Myocardial Infarction (AMI), Ischemia-Reperfusion (IR), Left Anterior Descending Artery (LAD)
2464
Preparation of DNA-crosslinked Polyacrylamide Hydrogels
Institutions: JFK Medical Center, Rutgers University, Rutgers University.

Mechanobiology is an emerging scientific area that addresses the critical role of physical cues in directing cell morphology and function. For example, the effect of tissue elasticity on cell function is a major area of mechanobiology research because tissue stiffness modulates with disease, development, and injury. Static tissue-mimicking materials, or materials that cannot alter stiffness once cells are plated, are predominately used to investigate the effects of tissue stiffness on cell functions. While information gathered from static studies is valuable, these studies are not indicative of the dynamic nature of the cellular microenvironment
in vivo
. To better address the effects of dynamic stiffness on cell function, we developed a DNA-crosslinked polyacrylamide hydrogel system (DNA gels). Unlike other dynamic substrates, DNA gels have the ability to decrease or increase in stiffness after fabrication without stimuli. DNA gels consist of DNA crosslinks that are polymerized into a polyacrylamide backbone. Adding and removing crosslinks via delivery of single-stranded DNA allows temporal, spatial, and reversible control of gel elasticity. We have shown in previous reports that dynamic modulation of DNA gel elasticity influences fibroblast and neuron behavior. In this report and video, we provide a schematic that describes the DNA gel crosslinking mechanisms and step-by-step instructions on the preparation DNA gels.
Bioengineering, Issue 90, bioengineering (general), Elastic, viscoelastic, bis-acrylamide, substrate, stiffness, dynamic, static, neuron, fibroblast, compliance, ECM, mechanobiology, tunable
51323
Isolation of Human Atrial Myocytes for Simultaneous Measurements of Ca2+ Transients and Membrane Currents
Institutions: University of Duisburg-Essen , University of Heidelberg .

The study of electrophysiological properties of cardiac ion channels with the patch-clamp technique and the exploration of cardiac cellular Ca
2+
handling abnormalities requires isolated cardiomyocytes. In addition, the possibility to investigate myocytes from patients using these techniques is an invaluable requirement to elucidate the molecular basis of cardiac diseases such as atrial fibrillation (AF).
1
Here we describe a method for isolation of human atrial myocytes which are suitable for both patch-clamp studies and simultaneous measurements of intracellular Ca
2+
concentrations. First, right atrial appendages obtained from patients undergoing open heart surgery are chopped into small tissue chunks ("chunk method") and washed in Ca
2+
-free solution. Then the tissue chunks are digested in collagenase and protease containing solutions with 20 μM Ca
2+
. Thereafter, the isolated myocytes are harvested by filtration and centrifugation of the tissue suspension. Finally, the Ca
2+
concentration in the cell storage solution is adjusted stepwise to 0.2 mM. We briefly discuss the meaning of Ca
2+
and Ca
2+
buffering during the isolation process and also provide representative recordings of action potentials and membrane currents, both together with simultaneous Ca
2+
transient measurements, performed in these isolated myocytes.
Cellular Biology, Issue 77, Medicine, Molecular Biology, Physiology, Anatomy, Cardiology, Pharmacology, human atrial myocytes, cell isolation, collagenase, calcium transient, calcium current, patch-clamp, ion currents, isolation, cell culture, myocytes, cardiomyocytes, electrophysiology, patch clamp
50235
Mechanical Stimulation-induced Calcium Wave Propagation in Cell Monolayers: The Example of Bovine Corneal Endothelial Cells
Institutions: KU Leuven.

Intercellular communication is essential for the coordination of physiological processes between cells in a variety of organs and tissues, including the brain, liver, retina, cochlea and vasculature. In experimental settings, intercellular Ca
2+
-waves can be elicited by applying a mechanical stimulus to a single cell. This leads to the release of the intracellular signaling molecules IP
3
and Ca
2+
that initiate the propagation of the Ca
2+
-wave concentrically from the mechanically stimulated cell to the neighboring cells. The main molecular pathways that control intercellular Ca
2+
-wave propagation are provided by gap junction channels through the direct transfer of IP
3
and by hemichannels through the release of ATP. Identification and characterization of the properties and regulation of different connexin and pannexin isoforms as gap junction channels and hemichannels are allowed by the quantification of the spread of the intercellular Ca
2+
-wave, siRNA, and the use of inhibitors of gap junction channels and hemichannels. Here, we describe a method to measure intercellular Ca
2+
-wave in monolayers of primary corneal endothelial cells loaded with Fluo4-AM in response to a controlled and localized mechanical stimulus provoked by an acute, short-lasting deformation of the cell as a result of touching the cell membrane with a micromanipulator-controlled glass micropipette with a tip diameter of less than 1 μm. We also describe the isolation of primary bovine corneal endothelial cells and its use as model system to assess Cx43-hemichannel activity as the driven force for intercellular Ca
2+
-waves through the release of ATP. Finally, we discuss the use, advantages, limitations and alternatives of this method in the context of gap junction channel and hemichannel research.
Cellular Biology, Issue 77, Molecular Biology, Medicine, Biomedical Engineering, Biophysics, Immunology, Ophthalmology, Gap Junctions, Connexins, Connexin 43, Calcium Signaling, Ca2+, Cell Communication, Paracrine Communication, Intercellular communication, calcium wave propagation, gap junctions, hemichannels, endothelial cells, cell signaling, cell, isolation, cell culture
50443
Isolation, Culture, and Functional Characterization of Adult Mouse Cardiomyoctyes
Institutions: Beth Israel Deaconess Medical Center, Harvard Medical School, Sapienza University.

The use of primary cardiomyocytes (CMs) in culture has provided a powerful complement to murine models of heart disease in advancing our understanding of heart disease. In particular, the ability to study ion homeostasis, ion channel function, cellular excitability and excitation-contraction coupling and their alterations in diseased conditions and by disease-causing mutations have led to significant insights into cardiac diseases. Furthermore, the lack of an adequate immortalized cell line to mimic adult CMs, and the limitations of neonatal CMs (which lack many of the structural and functional biomechanics characteristic of adult CMs) in culture have hampered our understanding of the complex interplay between signaling pathways, ion channels and contractile properties in the adult heart strengthening the importance of studying adult isolated cardiomyocytes. Here, we present methods for the isolation, culture, manipulation of gene expression by adenoviral-expressed proteins, and subsequent functional analysis of cardiomyocytes from the adult mouse. The use of these techniques will help to develop mechanistic insight into signaling pathways that regulate cellular excitability, Ca
2+
dynamics and contractility and provide a much more physiologically relevant characterization of cardiovascular disease.
Cellular Biology, Issue 79, Medicine, Cardiology, Cellular Biology, Anatomy, Physiology, Mice, Ion Channels, Primary Cell Culture, Cardiac Electrophysiology, adult mouse cardiomyocytes, cell isolation, IonOptix, Cell Culture, adenoviral transfection, patch clamp, fluorescent nanosensor
50289
A Novel Stretching Platform for Applications in Cell and Tissue Mechanobiology
Institutions: University of Ottawa, University of Ottawa, University of Calgary, University of Ottawa, University of Ottawa.

Tools that allow the application of mechanical forces to cells and tissues or that can quantify the mechanical properties of biological tissues have contributed dramatically to the understanding of basic mechanobiology. These techniques have been extensively used to demonstrate how the onset and progression of various diseases are heavily influenced by mechanical cues. This article presents a multi-functional biaxial stretching (BAXS) platform that can either mechanically stimulate single cells or quantify the mechanical stiffness of tissues. The BAXS platform consists of four voice coil motors that can be controlled independently. Single cells can be cultured on a flexible substrate that can be attached to the motors allowing one to expose the cells to complex, dynamic, and spatially varying strain fields. Conversely, by incorporating a force load cell, one can also quantify the mechanical properties of primary tissues as they are exposed to deformation cycles. In both cases, a proper set of clamps must be designed and mounted to the BAXS platform motors in order to firmly hold the flexible substrate or the tissue of interest. The BAXS platform can be mounted on an inverted microscope to perform simultaneous transmitted light and/or fluorescence imaging to examine the structural or biochemical response of the sample during stretching experiments. This article provides experimental details of the design and usage of the BAXS platform and presents results for single cell and whole tissue studies. The BAXS platform was used to measure the deformation of nuclei in single mouse myoblast cells in response to substrate strain and to measure the stiffness of isolated mouse aortas. The BAXS platform is a versatile tool that can be combined with various optical microscopies in order to provide novel mechanobiological insights at the sub-cellular, cellular and whole tissue levels.
Bioengineering, Issue 88, cell stretching, tissue mechanics, nuclear mechanics, uniaxial, biaxial, anisotropic, mechanobiology
51454
Analysis of Tubular Membrane Networks in Cardiac Myocytes from Atria and Ventricles
Institutions: Heart Research Center Goettingen, University Medical Center Goettingen, German Center for Cardiovascular Research (DZHK) partner site Goettingen, University of Maryland School of Medicine.

In cardiac myocytes a complex network of membrane tubules - the transverse-axial tubule system (TATS) - controls deep intracellular signaling functions. While the outer surface membrane and associated TATS membrane components appear to be continuous, there are substantial differences in lipid and protein content. In ventricular myocytes (VMs), certain TATS components are highly abundant contributing to rectilinear tubule networks and regular branching 3D architectures. It is thought that peripheral TATS components propagate action potentials from the cell surface to thousands of remote intracellular sarcoendoplasmic reticulum (SER) membrane contact domains, thereby activating intracellular Ca
2+
release units (CRUs). In contrast to VMs, the organization and functional role of TATS membranes in atrial myocytes (AMs) is significantly different and much less understood. Taken together, quantitative structural characterization of TATS membrane networks in healthy and diseased myocytes is an essential prerequisite towards better understanding of functional plasticity and pathophysiological reorganization. Here, we present a strategic combination of protocols for direct quantitative analysis of TATS membrane networks in living VMs and AMs. For this, we accompany primary cell isolations of mouse VMs and/or AMs with critical quality control steps and direct membrane staining protocols for fluorescence imaging of TATS membranes. Using an optimized workflow for confocal or superresolution TATS image processing, binarized and skeletonized data are generated for quantitative analysis of the TATS network and its components. Unlike previously published indirect regional aggregate image analysis strategies, our protocols enable direct characterization of specific components and derive complex physiological properties of TATS membrane networks in living myocytes with high throughput and open access software tools. In summary, the combined protocol strategy can be readily applied for quantitative TATS network studies during physiological myocyte adaptation or disease changes, comparison of different cardiac or skeletal muscle cell types, phenotyping of transgenic models, and pharmacological or therapeutic interventions.
Bioengineering, Issue 92, cardiac myocyte, atria, ventricle, heart, primary cell isolation, fluorescence microscopy, membrane tubule, transverse-axial tubule system, image analysis, image processing, T-tubule, collagenase
51823
Isolation and Physiological Analysis of Mouse Cardiomyocytes
Institutions: Vanderbilt University, Vanderbilt University.

Cardiomyocytes, the workhorse cell of the heart, contain exquisitely organized cytoskeletal and contractile elements that generate the contractile force used to pump blood. Individual cardiomyocytes were first isolated over 40 years ago in order to better study the physiology and structure of heart muscle. Techniques have rapidly improved to include enzymatic digestion via coronary perfusion. More recently, analyzing the contractility and calcium flux of isolated myocytes has provided a vital tool in the cellular and sub-cellular analysis of heart failure. Echocardiography and EKGs provide information about the heart at an organ level only. Cardiomyocyte cell culture systems exist, but cells lack physiologically essential structures such as organized sarcomeres and t-tubules required for myocyte function within the heart. In the protocol presented here, cardiomyocytes are isolated via Langendorff perfusion. The heart is removed from the mouse, mounted via the aorta to a cannula, perfused with digestion enzymes, and cells are introduced to increasing calcium concentrations. Edge and sarcomere detection software is used to analyze contractility, and a calcium binding fluorescent dye is used to visualize calcium transients of electrically paced cardiomyocytes; increasing understanding of the role cellular changes play in heart dysfunction. Traditionally used to test drug effects on cardiomyocytes, we employ this system to compare myocytes from WT mice and mice with a mutation that causes dilated cardiomyopathy. This protocol is unique in its comparison of live cells from mice with known heart function and known genetics. Many experimental conditions are reliably compared, including genetic or environmental manipulation, infection, drug treatment, and more. Beyond physiologic data, isolated cardiomyocytes are easily fixed and stained for cytoskeletal elements. Isolating cardiomyocytes via perfusion is an extremely versatile method, useful in studying cellular changes that accompany or lead to heart failure in a variety of experimental conditions.
Cellular Biology, Issue 91, cardiomyocyte isolation, Langendorff, contractility, calcium transients
51109
Reduction in Left Ventricular Wall Stress and Improvement in Function in Failing Hearts using Algisyl-LVR
Institutions: UCSF/VA Medical Center, LoneStar Heart, Inc..

Injection of Algisyl-LVR, a treatment under clinical development, is intended to treat patients with dilated cardiomyopathy. This treatment was recently used for the first time in patients who had symptomatic heart failure. In all patients, cardiac function of the left ventricle (LV) improved significantly, as manifested by consistent reduction of the LV volume and wall stress. Here we describe this novel treatment procedure and the methods used to quantify its effects on LV wall stress and function. Algisyl-LVR is a biopolymer gel consisting of Na
+
-Alginate and Ca
2+
-Alginate. The treatment procedure was carried out by mixing these two components and then combining them into one syringe for intramyocardial injections. This mixture was injected at 10 to 19 locations mid-way between the base and apex of the LV free wall in patients. Magnetic resonance imaging (MRI), together with mathematical modeling, was used to quantify the effects of this treatment in patients before treatment and at various time points during recovery. The epicardial and endocardial surfaces were first digitized from the MR images to reconstruct the LV geometry at end-systole and at end-diastole. Left ventricular cavity volumes were then measured from these reconstructed surfaces. Mathematical models of the LV were created from these MRI-reconstructed surfaces to calculate regional myofiber stress. Each LV model was constructed so that 1) it deforms according to a previously validated stress-strain relationship of the myocardium, and 2) the predicted LV cavity volume from these models matches the corresponding MRI-measured volume at end-diastole and end-systole. Diastolic filling was simulated by loading the LV endocardial surface with a prescribed end-diastolic pressure. Systolic contraction was simulated by concurrently loading the endocardial surface with a prescribed end-systolic pressure and adding active contraction in the myofiber direction. Regional myofiber stress at end-diastole and end-systole was computed from the deformed LV based on the stress-strain relationship.
Medicine, Issue 74, Biomedical Engineering, Anatomy, Physiology, Biophysics, Molecular Biology, Surgery, Cardiology, Cardiovascular Diseases, bioinjection, ventricular wall stress, mathematical model, heart failure, cardiac function, myocardium, left ventricle, LV, MRI, imaging, clinical techniques
50096
Semi-automated Optical Heartbeat Analysis of Small Hearts
Institutions: The Sanford Burnham Institute for Medical Research, The Sanford Burnham Institute for Medical Research, San Diego State University.

We have developed a method for analyzing high speed optical recordings from
Drosophila
, zebrafish and embryonic mouse hearts (Fink, et. al., 2009). Our Semi-automatic Optical Heartbeat Analysis (SOHA) uses a novel movement detection algorithm that is able to detect cardiac movements associated with individual contractile and relaxation events. The program provides a host of physiologically relevant readouts including systolic and diastolic intervals, heart rate, as well as qualitative and quantitative measures of heartbeat arrhythmicity. The program also calculates heart diameter measurements during both diastole and systole from which fractional shortening and fractional area changes are calculated. Output is provided as a digital file compatible with most spreadsheet programs. Measurements are made for every heartbeat in a record increasing the statistical power of the output. We demonstrate each of the steps where user input is required and show the application of our methodology to the analysis of heart function in all three genetically tractable heart models.
Physiology, Issue 31, Drosophila, zebrafish, mouse, heart, myosin, dilated, restricted, cardiomyopathy, KCNQ, movement detection
1435