Preparation of Hydroxy-PAAm Hydrogels for Decoupling the Effects of Mechanotransduction Cues
Published: 08-28-2014
ABSTRACT
It is now well established that many cellular functions are regulated by interactions of cells with physicochemical and mechanical cues of their extracellular matrix (ECM) environment. Eukaryotic cells constantly sense their local microenvironment through surface mechanosensors to transduce physical changes of ECM into biochemical signals, and integrate these signals to achieve specific changes in gene expression. Interestingly, physicochemical and mechanical parameters of the ECM can couple with each other to regulate cell fate. Therefore, a key to understanding mechanotransduction is to decouple the relative contribution of ECM cues on cellular functions. Here we present a detailed experimental protocol to rapidly and easily generate biologically relevant hydrogels for the independent tuning of mechanotransduction cues in vitro. We chemically modified polyacrylamide hydrogels (PAAm) to surmount their intrinsically non-adhesive properties by incorporating hydroxyl-functionalized acrylamide monomers during the polymerization. We obtained a novel PAAm hydrogel, called hydroxy-PAAm, which permits immobilization of any desired nature of ECM proteins. The combination of hydroxy-PAAm hydrogels with microcontact printing allows to independently control the morphology of single-cells, the matrix stiffness, the nature and the density of ECM proteins. We provide a simple and rapid method that can be set up in every biology lab to study in vitro cell mechanotransduction processes. We validate this novel two-dimensional platform by conducting experiments on endothelial cells that demonstrate a mechanical coupling between ECM stiffness and the nucleus.
24 Related JoVE Articles!
Micro 3D Printing Using a Digital Projector and its Application in the Study of Soft Materials Mechanics
Institutions: Massachusetts Institute of Technology.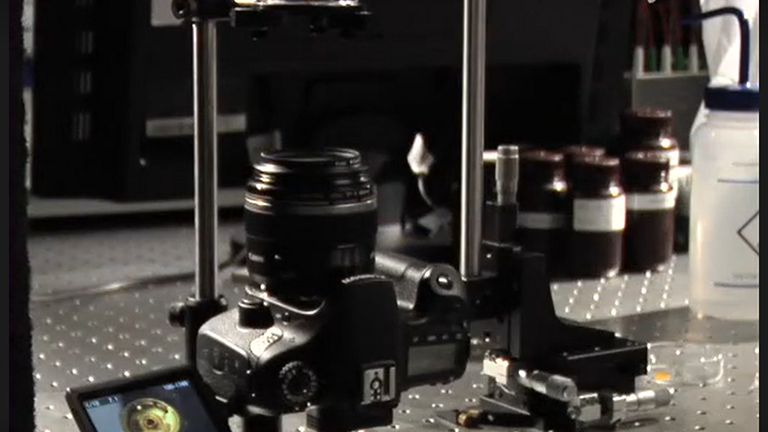 Buckling is a classical topic in mechanics. While buckling has long been studied as one of the major structural failure modes
1
, it has recently drawn new attention as a unique mechanism for pattern transformation. Nature is full of such examples where a wealth of exotic patterns are formed through mechanical instability
2-5
. Inspired by this elegant mechanism, many studies have demonstrated creation and transformation of patterns using soft materials such as elastomers and hydrogels
6-11
. Swelling gels are of particular interest because they can spontaneously trigger mechanical instability to create various patterns without the need of external force
6-10
. Recently, we have reported demonstration of full control over buckling pattern of micro-scaled tubular gels using projection micro-stereolithography (PμSL), a three-dimensional (3D) manufacturing technology capable of rapidly converting computer generated 3D models into physical objects at high resolution
12,13
. Here we present a simple method to build up a simplified PμSL system using a commercially available digital data projector to study swelling-induced buckling instability for controlled pattern transformation. A simple desktop 3D printer is built using an off-the-shelf digital data projector and simple optical components such as a convex lens and a mirror
14
. Cross-sectional images extracted from a 3D solid model is projected on the photosensitive resin surface in sequence, polymerizing liquid resin into a desired 3D solid structure in a layer-by-layer fashion. Even with this simple configuration and easy process, arbitrary 3D objects can be readily fabricated with sub-100 μm resolution. This desktop 3D printer holds potential in the study of soft material mechanics by offering a great opportunity to explore various 3D geometries. We use this system to fabricate tubular shaped hydrogel structure with different dimensions. Fixed on the bottom to the substrate, the tubular gel develops inhomogeneous stress during swelling, which gives rise to buckling instability. Various wavy patterns appear along the circumference of the tube when the gel structures undergo buckling. Experiment shows that circumferential buckling of desired mode can be created in a controlled manner. Pattern transformation of three-dimensionally structured tubular gels has significant implication not only in mechanics and material science, but also in many other emerging fields such as tunable matamaterials.
Mechanical Engineering, Issue 69, Materials Science, Physics, Chemical Engineering, 3D printing, stereo-lithography, photo-polymerization, gel, swelling, elastic instability, buckling, pattern formation
4457
Plasma Lithography Surface Patterning for Creation of Cell Networks
Institutions: University of Arizona , University of Arizona .

Systematic manipulation of a cell microenvironment with micro- and nanoscale resolution is often required for deciphering various cellular and molecular phenomena. To address this requirement, we have developed a plasma lithography technique to manipulate the cellular microenvironment by creating a patterned surface with feature sizes ranging from 100 nm to millimeters. The goal of this technique is to be able to study, in a controlled way, the behaviors of individual cells as well as groups of cells and their interactions. This plasma lithography method is based on selective modification of the surface chemistry on a substrate by means of shielding the contact of low-temperature plasma with a physical mold. This selective shielding leaves a chemical pattern which can guide cell attachment and movement. This pattern, or surface template, can then be used to create networks of cells whose structure can mimic that found in nature and produces a controllable environment for experimental investigations. The technique is well suited to studying biological phenomenon as it produces stable surface patterns on transparent polymeric substrates in a biocompatible manner. The surface patterns last for weeks to months and can thus guide interaction with cells for long time periods which facilitates the study of long-term cellular processes, such as differentiation and adaption. The modification to the surface is primarily chemical in nature and thus does not introduce topographical or physical interference for interpretation of results. It also does not involve any harsh or toxic substances to achieve patterning and is compatible for tissue culture. Furthermore, it can be applied to modify various types of polymeric substrates, which due to the ability to tune their properties are ideal for and are widely used in biological applications. The resolution achievable is also beneficial, as isolation of specific processes such as migration, adhesion, or binding allows for discrete, clear observations at the single to multicell level. This method has been employed to form diverse networks of different cell types for investigations involving migration, signaling, tissue formation, and the behavior and interactions of neurons arraigned in a network.
Bioengineering, Issue 52, Cell Network, Surface Patterning, Self-Organization, Developmental Biology, Tissue Engineering, Nanopattern, Micropattern, Self-Assembly, Cell Guidance, Neuron
3115
Agarose Gel Electrophoresis for the Separation of DNA Fragments
Institutions: University of California Los Angeles .
Agarose gel electrophoresis is the most effective way of separating DNA fragments of varying sizes ranging from 100 bp to 25 kb
1
. Agarose is isolated from the seaweed genera
Gelidium
and
Gracilaria
, and consists of repeated agarobiose (L- and D-galactose) subunits
2
. During gelation, agarose polymers associate non-covalently and form a network of bundles whose pore sizes determine a gel's molecular sieving properties. The use of agarose gel electrophoresis revolutionized the separation of DNA. Prior to the adoption of agarose gels, DNA was primarily separated using sucrose density gradient centrifugation, which only provided an approximation of size. To separate DNA using agarose gel electrophoresis, the DNA is loaded into pre-cast wells in the gel and a current applied. The phosphate backbone of the DNA (and RNA) molecule is negatively charged, therefore when placed in an electric field, DNA fragments will migrate to the positively charged anode. Because DNA has a uniform mass/charge ratio, DNA molecules are separated by size within an agarose gel in a pattern such that the distance traveled is inversely proportional to the log of its molecular weight
3
. The leading model for DNA movement through an agarose gel is "biased reptation", whereby the leading edge moves forward and pulls the rest of the molecule along
4
. The rate of migration of a DNA molecule through a gel is determined by the following: 1) size of DNA molecule; 2) agarose concentration; 3) DNA conformation
5
; 4) voltage applied, 5) presence of ethidium bromide, 6) type of agarose and 7) electrophoresis buffer. After separation, the DNA molecules can be visualized under uv light after staining with an appropriate dye. By following this protocol, students should be able to: 1. Understand the mechanism by which DNA fragments are separated within a gel matrix 2. Understand how conformation of the DNA molecule will determine its mobility through a gel matrix 3. Identify an agarose solution of appropriate concentration for their needs 4. Prepare an agarose gel for electrophoresis of DNA samples 5. Set up the gel electrophoresis apparatus and power supply 6. Select an appropriate voltage for the separation of DNA fragments 7. Understand the mechanism by which ethidium bromide allows for the visualization of DNA bands 8. Determine the sizes of separated DNA fragments  
Genetics, Issue 62, Gel electrophoresis, agarose, DNA separation, ethidium bromide
3923
Creating Adhesive and Soluble Gradients for Imaging Cell Migration with Fluorescence Microscopy
Institutions: The University of New South Wales, The University of New South Wales.

Cells can sense and migrate towards higher concentrations of adhesive cues such as the glycoproteins of the extracellular matrix and soluble cues such as growth factors. Here, we outline a method to create opposing gradients of adhesive and soluble cues in a microfluidic chamber, which is compatible with live cell imaging. A copolymer of poly-L-lysine and polyethylene glycol (PLL-PEG) is employed to passivate glass coverslips and prevent non-specific adsorption of biomolecules and cells. Next, microcontact printing or dip pen lithography are used to create tracks of streptavidin on the passivated surfaces to serve as anchoring points for the biotinylated peptide arginine-glycine-aspartic acid (RGD) as the adhesive cue. A microfluidic device is placed onto the modified surface and used to create the gradient of adhesive cues (100% RGD to 0% RGD) on the streptavidin tracks. Finally, the same microfluidic device is used to create a gradient of a chemoattractant such as fetal bovine serum (FBS), as the soluble cue in the opposite direction of the gradient of adhesive cues.
Bioengineering, Issue 74, Microbiology, Cellular Biology, Biochemistry, Molecular Biology, Biophysics, Cell migration, live cell imaging, soluble and adherent gradients, microcontact printing, dip pen lithography, microfluidics, RGD, PEG, biotin, streptavidin, chemotaxis, chemoattractant, imaging
50310
Microfabricated Platforms for Mechanically Dynamic Cell Culture
Institutions: University of Toronto, University of Toronto, University of Toronto.
The ability to systematically probe
in vitro
cellular response to combinations of mechanobiological stimuli for tissue engineering, drug discovery or fundamental cell biology studies is limited by current bioreactor technologies, which cannot simultaneously apply a variety of mechanical stimuli to cultured cells. In order to address this issue, we have developed a series of microfabricated platforms designed to screen for the effects of mechanical stimuli in a high-throughput format. In this protocol, we demonstrate the fabrication of a microactuator array of vertically displaced posts on which the technology is based, and further demonstrate how this base technology can be modified to conduct high-throughput mechanically dynamic cell culture in both two-dimensional and three-dimensional culture paradigms.
Bioengineering, Issue 46, cell culture, tissue engineering, mechanics, photopatterns, extracellular matrix, hydrogel, 3D cell culture
2224
Fabrication of Micropatterned Hydrogels for Neural Culture Systems using Dynamic Mask Projection Photolithography
Institutions: Tulane University.

Increasingly, patterned cell culture environments are becoming a relevant technique to study cellular characteristics, and many researchers believe in the need for 3D environments to represent
in vitro
experiments which better mimic
in vivo
qualities
1-3
. Studies in fields such as cancer research
4
, neural engineering
5
, cardiac physiology
6
, and cell-matrix interaction
7,8
have shown cell behavior differs substantially between traditional monolayer cultures and 3D constructs. Hydrogels are used as 3D environments because of their variety, versatility and ability to tailor molecular composition through functionalization
9-12
. Numerous techniques exist for creation of constructs as cell-supportive matrices, including electrospinning
13
, elastomer stamps
14
, inkjet printing
15
, additive photopatterning
16
, static photomask projection-lithography
17
, and dynamic mask microstereolithography
18
. Unfortunately, these methods involve multiple production steps and/or equipment not readily adaptable to conventional cell and tissue culture methods. The technique employed in this protocol adapts the latter two methods, using a digital micromirror device (DMD) to create dynamic photomasks for crosslinking geometrically specific poly-(ethylene glycol) (PEG) hydrogels, induced through UV initiated free radical polymerization. The resulting "2.5D" structures provide a constrained 3D environment for neural growth. We employ a dual-hydrogel approach, where PEG serves as a cell-restrictive region supplying structure to an otherwise shapeless but cell-permissive self-assembling gel made from either Puramatrix or agarose. The process is a quick simple one step fabrication which is highly reproducible and easily adapted for use with conventional cell culture methods and substrates. Whole tissue explants, such as embryonic dorsal root ganglia (DRG), can be incorporated into the dual hydrogel constructs for experimental assays such as neurite outgrowth. Additionally, dissociated cells can be encapsulated in the photocrosslinkable or self polymerizing hydrogel, or selectively adhered to the permeable support membrane using cell-restrictive photopatterning. Using the DMD, we created hydrogel constructs up to ~1mm thick, but thin film (<200 μm) PEG structures were limited by oxygen quenching of the free radical polymerization reaction. We subsequently developed a technique utilizing a layer of oil above the polymerization liquid which allowed thin PEG structure polymerization. In this protocol, we describe the expeditious creation of 3D hydrogel systems for production of microfabricated neural cell and tissue cultures. The dual hydrogel constructs demonstrated herein represent versatile
in vitro
models that may prove useful for studies in neuroscience involving cell survival, migration, and/or neurite growth and guidance. Moreover, as the protocol can work for many types of hydrogels and cells, the potential applications are both varied and vast.
Bioengineering, Issue 48, Micropatterning, Photopolymerization, Hydrogels, Cell Culture, Tissue Engineering, Neural Engineering
2636
Microfluidic Platform for Measuring Neutrophil Chemotaxis from Unprocessed Whole Blood
Institutions: Massachusetts General Hospital, Harvard Medical School, Shriners Burns Hospital, Harvard University School of Engineering and Applied Sciences.

Neutrophils play an essential role in protection against infections and their numbers in the blood are frequently measured in the clinic. Higher neutrophil counts in the blood are usually an indicator of ongoing infections, while low neutrophil counts are a warning sign for higher risks for infections. To accomplish their functions, neutrophils also have to be able to move effectively from the blood where they spend most of their life, into tissues, where infections occur. Consequently, any defects in the ability of neutrophils to migrate can increase the risks for infections, even when neutrophils are present in appropriate numbers in the blood. However, measuring neutrophil migration ability in the clinic is a challenging task, which is time consuming, requires large volume of blood, and expert knowledge. To address these limitations, we designed a robust microfluidic assays for neutrophil migration, which requires a single droplet of unprocessed blood, circumvents the need for neutrophil separation, and is easy to quantify on a simple microscope. In this assay, neutrophils migrate directly from the blood droplet, through small channels, towards the source of chemoattractant. To prevent the granular flow of red blood cells through the same channels, we implemented mechanical filters with right angle turns that selectively block the advance of red blood cells. We validated the assay by comparing neutrophil migration from blood droplets collected from finger prick and venous blood. We also compared these whole blood (WB) sources with neutrophil migration from samples of purified neutrophils and found consistent speed and directionality between the three sources. This microfluidic platform will enable the study of human neutrophil migration in the clinic and the research setting to help advance our understanding of neutrophil functions in health and disease.
Bioengineering, Issue 88, chemotaxis, neutrophil, whole blood assay, microfluidic device, chemoattractant, migration, inflammation
51215
Printing Thermoresponsive Reverse Molds for the Creation of Patterned Two-component Hydrogels for 3D Cell Culture
Institutions: Cartilage Engineering & Regeneration, Innovent e.V..

Bioprinting is an emerging technology that has its origins in the rapid prototyping industry. The different printing processes can be divided into contact bioprinting
1-4
(extrusion, dip pen and soft lithography), contactless bioprinting
5-7
(laser forward transfer, ink-jet deposition) and laser based techniques such as two photon photopolymerization
8
. It can be used for many applications such as tissue engineering
9-13
, biosensor microfabrication
14-16
and as a tool to answer basic biological questions such as influences of co-culturing of different cell types
17
. Unlike common photolithographic or soft-lithographic methods, extrusion bioprinting has the advantage that it does not require a separate mask or stamp. Using CAD software, the design of the structure can quickly be changed and adjusted according to the requirements of the operator. This makes bioprinting more flexible than lithography-based approaches. Here we demonstrate the printing of a sacrificial mold to create a multi-material 3D structure using an array of pillars within a hydrogel as an example. These pillars could represent hollow structures for a vascular network or the tubes within a nerve guide conduit. The material chosen for the sacrificial mold was poloxamer 407, a thermoresponsive polymer with excellent printing properties which is liquid at 4 °C and a solid above its gelation temperature ~20 °C for 24.5% w/v solutions
18
. This property allows the poloxamer-based sacrificial mold to be eluted on demand and has advantages over the slow dissolution of a solid material especially for narrow geometries. Poloxamer was printed on microscope glass slides to create the sacrificial mold. Agarose was pipetted into the mold and cooled until gelation. After elution of the poloxamer in ice cold water, the voids in the agarose mold were filled with alginate methacrylate spiked with FITC labeled fibrinogen. The filled voids were then cross-linked with UV and the construct was imaged with an epi-fluorescence microscope.
Bioengineering, Issue 77, Immunology, Cellular Biology, Biomedical Engineering, Biophysics, Molecular Biology, Materials Science, Tissue Engineering, Biomaterials, Hydrogel, Biopolymers, Structured/Patterned Hydrogels, Bioprinter, Sacrificial Mold, Thermoresponsive Polymers, Poloxamer, tissue, polymer, matrix, cell, cell culture
50632
Bridging the Bio-Electronic Interface with Biofabrication
Institutions: University of Maryland , University of Maryland , University of Maryland .

Advancements in lab-on-a-chip technology promise to revolutionize both research and medicine through lower costs, better sensitivity, portability, and higher throughput. The incorporation of biological components onto biological microelectromechanical systems (bioMEMS) has shown great potential for achieving these goals. Microfabricated electronic chips allow for micrometer-scale features as well as an electrical connection for sensing and actuation. Functional biological components give the system the capacity for specific detection of analytes, enzymatic functions, and whole-cell capabilities. Standard microfabrication processes and bio-analytical techniques have been successfully utilized for decades in the computer and biological industries, respectively. Their combination and interfacing in a lab-on-a-chip environment, however, brings forth new challenges. There is a call for techniques that can build an interface between the electrode and biological component that is mild and is easy to fabricate and pattern. Biofabrication, described here, is one such approach that has shown great promise for its easy-to-assemble incorporation of biological components with versatility in the on-chip functions that are enabled. Biofabrication uses biological materials and biological mechanisms (self-assembly, enzymatic assembly) for bottom-up hierarchical assembly. While our labs have demonstrated these concepts in many formats
1,2,3
, here we demonstrate the assembly process based on electrodeposition followed by multiple applications of signal-based interactions. The assembly process consists of the electrodeposition of biocompatible stimuli-responsive polymer films on electrodes and their subsequent functionalization with biological components such as DNA, enzymes, or live cells
4,5
. Electrodeposition takes advantage of the pH gradient created at the surface of a biased electrode from the electrolysis of water
6,7
,. Chitosan and alginate are stimuli-responsive biological polymers that can be triggered to self-assemble into hydrogel films in response to imposed electrical signals
8
. The thickness of these hydrogels is determined by the extent to which the pH gradient extends from the electrode. This can be modified using varying current densities and deposition times
6,7
. This protocol will describe how chitosan films are deposited and functionalized by covalently attaching biological components to the abundant primary amine groups present on the film through either enzymatic or electrochemical methods
9,10
. Alginate films and their entrapment of live cells will also be addressed
11
. Finally, the utility of biofabrication is demonstrated through examples of signal-based interaction, including chemical-to-electrical, cell-to-cell, and also enzyme-to-cell signal transmission. Both the electrodeposition and functionalization can be performed under near-physiological conditions without the need for reagents and thus spare labile biological components from harsh conditions. Additionally, both chitosan and alginate have long been used for biologically-relevant purposes
12,13
. Overall, biofabrication, a rapid technique that can be simply performed on a benchtop, can be used for creating micron scale patterns of functional biological components on electrodes and can be used for a variety of lab-on-a-chip applications.
Bioengineering, Issue 64, Biomedical Engineering, electrodeposition, biofabrication, chitosan, alginate, lab-on-a-chip, microfluidic, DTRA
4231
Density Gradient Multilayered Polymerization (DGMP): A Novel Technique for Creating Multi-compartment, Customizable Scaffolds for Tissue Engineering
Institutions: University of California, San Diego , University of California, San Diego , University of California, San Diego .

Complex tissue culture matrices, in which types and concentrations of biological stimuli (
e.g.
growth factors, inhibitors, or small molecules) or matrix structure (
e.g.
composition, concentration, or stiffness of the matrix) vary over space, would enable a wide range of investigations concerning how these variables affect cell differentiation, migration, and other phenomena. The major challenge in creating layered matrices is maintaining the structural integrity of layer interfaces without diffusion of individual components from each layer
1
. Current methodologies to achieve this include photopatterning
2-3
, lithography
4
, sequential functionalization5, freeze drying
6
, microfluidics
7
, or centrifugation
8
, many of which require sophisticated instrumentation and technical skills. Others rely on sequential attachment of individual layers, which may lead to delamination of layers
9
. DGMP overcomes these issues by using an inert density modifier such as iodixanol to create layers of varying densities
10
. Since the density modifier can be mixed with any prepolymer or bioactive molecule, DGMP allows each scaffold layer to be customized. Simply varying the concentration of the density modifier prevents mixing of adjacent layers while they remain aqueous. Subsequent single step polymerization gives rise to a structurally continuous multilayered scaffold, in which each layer has distinct chemical and mechanical properties. The density modifier can be easily removed with sufficient rinsing without perturbation of the individual layers or their components. This technique is therefore well suited for creating hydrogels of various sizes, shapes, and materials. A protocol for fabricating a 2D-polyethylene glycol (PEG) gel, in which alternating layers incorporate RGDS-350, is outlined below. We use PEG because it is biocompatible and inert. RGDS, a cell adhesion peptide
11
, is used to demonstrate spatial restriction of a biological cue, and the conjugation of a fluorophore (Alexa Fluor 350) enables us to visually distinguish various layers. This procedure can be adapted for other materials (
e.g.
collagen, hyaluronan, etc.) and can be extended to fabricate 3D gels with some modifications
10
.
Bioengineering, Issue 72, Biomedical Engineering, Tissue Engineering, Cell Culture Techniques, Tissue Culture Techniques, hydrogels, life sciences, bioengineering (general), Scaffolds, hydrogels, cell culture, polyethylene glycol, RGDS
50018
Cell Co-culture Patterning Using Aqueous Two-phase Systems
Institutions: University of Michigan , University of Michigan .
Cell patterning technologies that are fast, easy to use and affordable will be required for the future development of high throughput cell assays, platforms for studying cell-cell interactions and tissue engineered systems. This detailed protocol describes a method for generating co-cultures of cells using biocompatible solutions of dextran (DEX) and polyethylene glycol (PEG) that phase-separate when combined above threshold concentrations. Cells can be patterned in a variety of configurations using this method. Cell exclusion patterning can be performed by printing droplets of DEX on a substrate and covering them with a solution of PEG containing cells. The interfacial tension formed between the two polymer solutions causes cells to fall around the outside of the DEX droplet and form a circular clearing that can be used for migration assays. Cell islands can be patterned by dispensing a cell-rich DEX phase into a PEG solution or by covering the DEX droplet with a solution of PEG. Co-cultures can be formed directly by combining cell exclusion with DEX island patterning. These methods are compatible with a variety of liquid handling approaches, including manual micropipetting, and can be used with virtually any adherent cell type.
Bioengineering, Issue 73, Biomedical Engineering, Microbiology, Molecular Biology, Cellular Biology, Biochemistry, Biotechnology, Cell Migration Assays, Culture Techniques, bioengineering (general), Patterning, Aqueous Two-Phase System, Co-Culture, cell, Dextran, Polyethylene glycol, media, PEG, DEX, colonies, cell culture
50304
Preparation of DNA-crosslinked Polyacrylamide Hydrogels
Institutions: JFK Medical Center, Rutgers University, Rutgers University.

Mechanobiology is an emerging scientific area that addresses the critical role of physical cues in directing cell morphology and function. For example, the effect of tissue elasticity on cell function is a major area of mechanobiology research because tissue stiffness modulates with disease, development, and injury. Static tissue-mimicking materials, or materials that cannot alter stiffness once cells are plated, are predominately used to investigate the effects of tissue stiffness on cell functions. While information gathered from static studies is valuable, these studies are not indicative of the dynamic nature of the cellular microenvironment
in vivo
. To better address the effects of dynamic stiffness on cell function, we developed a DNA-crosslinked polyacrylamide hydrogel system (DNA gels). Unlike other dynamic substrates, DNA gels have the ability to decrease or increase in stiffness after fabrication without stimuli. DNA gels consist of DNA crosslinks that are polymerized into a polyacrylamide backbone. Adding and removing crosslinks via delivery of single-stranded DNA allows temporal, spatial, and reversible control of gel elasticity. We have shown in previous reports that dynamic modulation of DNA gel elasticity influences fibroblast and neuron behavior. In this report and video, we provide a schematic that describes the DNA gel crosslinking mechanisms and step-by-step instructions on the preparation DNA gels.
Bioengineering, Issue 90, bioengineering (general), Elastic, viscoelastic, bis-acrylamide, substrate, stiffness, dynamic, static, neuron, fibroblast, compliance, ECM, mechanobiology, tunable
51323
Microwave-assisted Functionalization of Poly(ethylene glycol) and On-resin Peptides for Use in Chain Polymerizations and Hydrogel Formation
Institutions: University of Rochester, University of Rochester, University of Rochester Medical Center.

One of the main benefits to using poly(ethylene glycol) (PEG) macromers in hydrogel formation is synthetic versatility. The ability to draw from a large variety of PEG molecular weights and configurations (arm number, arm length, and branching pattern) affords researchers tight control over resulting hydrogel structures and properties, including Young's modulus and mesh size. This video will illustrate a rapid, efficient, solvent-free, microwave-assisted method to methacrylate PEG precursors into poly(ethylene glycol) dimethacrylate (PEGDM). This synthetic method provides much-needed starting materials for applications in drug delivery and regenerative medicine. The demonstrated method is superior to traditional methacrylation methods as it is significantly faster and simpler, as well as more economical and environmentally friendly, using smaller amounts of reagents and solvents. We will also demonstrate an adaptation of this technique for on-resin methacrylamide functionalization of peptides. This on-resin method allows the N-terminus of peptides to be functionalized with methacrylamide groups prior to deprotection and cleavage from resin. This allows for selective addition of methacrylamide groups to the N-termini of the peptides while amino acids with reactive side groups (
e.g.
 primary amine of lysine, primary alcohol of serine, secondary alcohols of threonine, and phenol of tyrosine) remain protected, preventing functionalization at multiple sites. This article will detail common analytical methods (proton Nuclear Magnetic Resonance spectroscopy (
;
H-NMR) and Matrix Assisted Laser Desorption Ionization Time of Flight mass spectrometry (MALDI-ToF)) to assess the efficiency of the functionalizations. Common pitfalls and suggested troubleshooting methods will be addressed, as will modifications of the technique which can be used to further tune macromer functionality and resulting hydrogel physical and chemical properties. Use of synthesized products for the formation of hydrogels for drug delivery and cell-material interaction studies will be demonstrated, with particular attention paid to modifying hydrogel composition to affect mesh size, controlling hydrogel stiffness and drug release.
Chemistry, Issue 80, Poly(ethylene glycol), peptides, polymerization, polymers, methacrylation, peptide functionalization, 1H-NMR, MALDI-ToF, hydrogels, macromer synthesis
50890
Shrinkage of Dental Composite in Simulated Cavity Measured with Digital Image Correlation
Institutions: University of Minnesota.

Polymerization shrinkage of dental resin composites can lead to restoration debonding or cracked tooth tissues in composite-restored teeth. In order to understand where and how shrinkage strain and stress develop in such restored teeth, Digital Image Correlation (DIC) was used to provide a comprehensive view of the displacement and strain distributions within model restorations that had undergone polymerization shrinkage. Specimens with model cavities were made of cylindrical glass rods with both diameter and length being 10 mm. The dimensions of the mesial-occlusal-distal (MOD) cavity prepared in each specimen measured 3 mm and 2 mm in width and depth, respectively. After filling the cavity with resin composite, the surface under observation was sprayed with first a thin layer of white paint and then fine black charcoal powder to create high-contrast speckles. Pictures of that surface were then taken before curing and 5 min after. Finally, the two pictures were correlated using DIC software to calculate the displacement and strain distributions. The resin composite shrunk vertically towards the bottom of the cavity, with the top center portion of the restoration having the largest downward displacement. At the same time, it shrunk horizontally towards its vertical midline. Shrinkage of the composite stretched the material in the vicinity of the "tooth-restoration" interface, resulting in cuspal deflections and high tensile strains around the restoration. Material close to the cavity walls or floor had direct strains mostly in the directions perpendicular to the interfaces. Summation of the two direct strain components showed a relatively uniform distribution around the restoration and its magnitude equaled approximately to the volumetric shrinkage strain of the material.
Medicine, Issue 89, image processing, computer-assisted, polymer matrix composites, testing of materials (composite materials), dental composite restoration, polymerization shrinkage, digital image correlation, full-field strain measurement, interfacial debonding
51191
A Novel Method for Localizing Reporter Fluorescent Beads Near the Cell Culture Surface for Traction Force Microscopy
Institutions: University of Illinois at Urbana-Champaign.

PA gels have long been used as a platform to study cell traction forces due to ease of fabrication and the ability to tune their elastic properties. When the substrate is coated with an extracellular matrix protein, cells adhere to the gel and apply forces, causing the gel to deform. The deformation depends on the cell traction and the elastic properties of the gel. If the deformation field of the surface is known, surface traction can be calculated using elasticity theory. Gel deformation is commonly measured by embedding fluorescent marker beads uniformly into the gel. The probes displace as the gel deforms. The probes near the surface of the gel are tracked. The displacements reported by these probes are considered as surface displacements. Their depths from the surface are ignored. This assumption introduces error in traction force evaluations. For precise measurement of cell forces, it is critical for the location of the beads to be known. We have developed a technique that utilizes simple chemistry to confine fluorescent marker beads, 0.1 and 1 µm in diameter, in PA gels, within 1.6 μm of the surface. We coat a coverslip with poly-D-lysine (PDL) and fluorescent beads. PA gel solution is then sandwiched between the coverslip and an adherent surface. The fluorescent beads transfer to the gel solution during curing. After polymerization, the PA gel contains fluorescent beads on a plane close to the gel surface.
Bioengineering, Issue 91, cell mechanics, polyacrylamide (PA) gel, traction force microscopy, fluorescent beads, poly-D-lysine (PDL), cell culture surface
51873
Designing Silk-silk Protein Alloy Materials for Biomedical Applications
Institutions: Rowan University, Rowan University, Cooper Medical School of Rowan University, Rowan University.

Fibrous proteins display different sequences and structures that have been used for various applications in biomedical fields such as biosensors, nanomedicine, tissue regeneration, and drug delivery. Designing materials based on the molecular-scale interactions between these proteins will help generate new multifunctional protein alloy biomaterials with tunable properties. Such alloy material systems also provide advantages in comparison to traditional synthetic polymers due to the materials biodegradability, biocompatibility, and tenability in the body. This article used the protein blends of wild tussah silk (
Antheraea pernyi
) and domestic mulberry silk (
Bombyx mori
) as an example to provide useful protocols regarding these topics, including how to predict protein-protein interactions by computational methods, how to produce protein alloy solutions, how to verify alloy systems by thermal analysis, and how to fabricate variable alloy materials including optical materials with diffraction gratings, electric materials with circuits coatings, and pharmaceutical materials for drug release and delivery. These methods can provide important information for designing the next generation multifunctional biomaterials based on different protein alloys.
Bioengineering, Issue 90, protein alloys, biomaterials, biomedical, silk blends, computational simulation, implantable electronic devices
50891
Measuring the Mechanical Properties of Living Cells Using Atomic Force Microscopy
Institutions: Worcester Polytechnic Institute, Worcester Polytechnic Institute.
Mechanical properties of cells and extracellular matrix (ECM) play important roles in many biological processes including stem cell differentiation, tumor formation, and wound healing. Changes in stiffness of cells and ECM are often signs of changes in cell physiology or diseases in tissues. Hence, cell stiffness is an index to evaluate the status of cell cultures. Among the multitude of methods applied to measure the stiffness of cells and tissues, micro-indentation using an Atomic Force Microscope (AFM) provides a way to reliably measure the stiffness of living cells. This method has been widely applied to characterize the micro-scale stiffness for a variety of materials ranging from metal surfaces to soft biological tissues and cells. The basic principle of this method is to indent a cell with an AFM tip of selected geometry and measure the applied force from the bending of the AFM cantilever. Fitting the force-indentation curve to the Hertz model for the corresponding tip geometry can give quantitative measurements of material stiffness. This paper demonstrates the procedure to characterize the stiffness of living cells using AFM. Key steps including the process of AFM calibration, force-curve acquisition, and data analysis using a MATLAB routine are demonstrated. Limitations of this method are also discussed.
Biophysics, Issue 76, Bioengineering, Cellular Biology, Molecular Biology, Physics, Chemical Engineering, Biomechanics, bioengineering (general), AFM, cell stiffness, microindentation, force spectroscopy, atomic force microscopy, microscopy
50497
Confocal Imaging of Confined Quiescent and Flowing Colloid-polymer Mixtures
Institutions: University of Houston.

The behavior of confined colloidal suspensions with attractive interparticle interactions is critical to the rational design of materials for directed assembly
1-3
, drug delivery
4
, improved hydrocarbon recovery
5-7
, and flowable electrodes for energy storage
8
. Suspensions containing fluorescent colloids and non-adsorbing polymers are appealing model systems, as the ratio of the polymer radius of gyration to the particle radius and concentration of polymer control the range and strength of the interparticle attraction, respectively. By tuning the polymer properties and the volume fraction of the colloids, colloid fluids, fluids of clusters, gels, crystals, and glasses can be obtained
9
. Confocal microscopy, a variant of fluorescence microscopy, allows an optically transparent and fluorescent sample to be imaged with high spatial and temporal resolution in three dimensions. In this technique, a small pinhole or slit blocks the emitted fluorescent light from regions of the sample that are outside the focal volume of the microscope optical system. As a result, only a thin section of the sample in the focal plane is imaged. This technique is particularly well suited to probe the structure and dynamics in dense colloidal suspensions at the single-particle scale: the particles are large enough to be resolved using visible light and diffuse slowly enough to be captured at typical scan speeds of commercial confocal systems
10
. Improvements in scan speeds and analysis algorithms have also enabled quantitative confocal imaging of flowing suspensions
11-16,37
. In this paper, we demonstrate confocal microscopy experiments to probe the confined phase behavior and flow properties of colloid-polymer mixtures. We first prepare colloid-polymer mixtures that are density- and refractive-index matched. Next, we report a standard protocol for imaging quiescent dense colloid-polymer mixtures under varying confinement in thin wedge-shaped cells. Finally, we demonstrate a protocol for imaging colloid-polymer mixtures during microchannel flow.
Chemistry, Issue 87, confocal microscopy, particle tracking, colloids, suspensions, confinement, gelation, microfluidics, image correlation, dynamics, suspension flow
51461
Measuring Material Microstructure Under Flow Using 1-2 Plane Flow-Small Angle Neutron Scattering
Institutions: University of Delaware, National Institute of Standards and Technology, Institut Laue-Langevin.

A new small-angle neutron scattering (SANS) sample environment optimized for studying the microstructure of complex fluids under simple shear flow is presented. The SANS shear cell consists of a concentric cylinder Couette geometry that is sealed and rotating about a horizontal axis so that the vorticity direction of the flow field is aligned with the neutron beam enabling scattering from the 1-2 plane of shear (velocity-velocity gradient, respectively). This approach is an advance over previous shear cell sample environments as there is a strong coupling between the bulk rheology and microstructural features in the 1-2 plane of shear. Flow-instabilities, such as shear banding, can also be studied by spatially resolved measurements. This is accomplished in this sample environment by using a narrow aperture for the neutron beam and scanning along the velocity gradient direction. Time resolved experiments, such as flow start-ups and large amplitude oscillatory shear flow are also possible by synchronization of the shear motion and time-resolved detection of scattered neutrons. Representative results using the methods outlined here demonstrate the useful nature of spatial resolution for measuring the microstructure of a wormlike micelle solution that exhibits shear banding, a phenomenon that can only be investigated by resolving the structure along the velocity gradient direction. Finally, potential improvements to the current design are discussed along with suggestions for supplementary experiments as motivation for future experiments on a broad range of complex fluids in a variety of shear motions.
Physics, Issue 84, Surfactants, Rheology, Shear Banding, Nanostructure, Neutron Scattering, Complex Fluids, Flow-induced Structure
51068
Engineering a Bilayered Hydrogel to Control ASC Differentiation
Institutions: United States Army Institute of Surgical Research, The University of Texas at Austin.

Natural polymers over the years have gained more importance because of their host biocompatibility and ability to interact with cells
in vitro
and
in vivo.
An area of research that holds promise in regenerative medicine is the combinatorial use of novel biomaterials and stem cells. A fundamental strategy in the field of tissue engineering is the use of three-dimensional scaffold (e.g., decellularized extracellular matrix, hydrogels, micro/nano particles) for directing cell function. This technology has evolved from the discovery that cells need a substrate upon which they can adhere, proliferate, and express their differentiated cellular phenotype and function
2-3
. More recently, it has also been determined that cells not only use these substrates for adherence, but also interact and take cues from the matrix substrate (e.g., extracellular matrix, ECM)
4
. Therefore, the cells and scaffolds have a reciprocal connection that serves to control tissue development, organization, and ultimate function. Adipose-derived stem cells (ASCs) are mesenchymal, non-hematopoetic stem cells present in adipose tissue that can exhibit multi-lineage differentiation and serve as a readily available source of cells (i.e. pre-vascular endothelia and pericytes). Our hypothesis is that adipose-derived stem cells can be directed toward differing phenotypes simultaneously by simply co-culturing them in bilayered matrices
1
. Our laboratory is focused on dermal wound healing. To this end, we created a single composite matrix from the natural biomaterials, fibrin, collagen, and chitosan that can mimic the characteristics and functions of a dermal-specific wound healing ECM environment.
Bioengineering, Issue 63, Biomedical Engineering, Tissue Engineering, chitosan, microspheres, collagen, hydrogel, PEG fibrin, cell delivery, adipose-derived stem cells, ASC, CSM
3953
Detection of Architectural Distortion in Prior Mammograms via Analysis of Oriented Patterns
Institutions: University of Calgary , University of Calgary .

We demonstrate methods for the detection of architectural distortion in prior mammograms of interval-cancer cases based on analysis of the orientation of breast tissue patterns in mammograms. We hypothesize that architectural distortion modifies the normal orientation of breast tissue patterns in mammographic images before the formation of masses or tumors. In the initial steps of our methods, the oriented structures in a given mammogram are analyzed using Gabor filters and phase portraits to detect node-like sites of radiating or intersecting tissue patterns. Each detected site is then characterized using the node value, fractal dimension, and a measure of angular dispersion specifically designed to represent spiculating patterns associated with architectural distortion. Our methods were tested with a database of 106 prior mammograms of 56 interval-cancer cases and 52 mammograms of 13 normal cases using the features developed for the characterization of architectural distortion, pattern classification
via
quadratic discriminant analysis, and validation with the leave-one-patient out procedure. According to the results of free-response receiver operating characteristic analysis, our methods have demonstrated the capability to detect architectural distortion in prior mammograms, taken 15 months (on the average) before clinical diagnosis of breast cancer, with a sensitivity of 80% at about five false positives per patient.
Medicine, Issue 78, Anatomy, Physiology, Cancer Biology, angular spread, architectural distortion, breast cancer, Computer-Assisted Diagnosis, computer-aided diagnosis (CAD), entropy, fractional Brownian motion, fractal dimension, Gabor filters, Image Processing, Medical Informatics, node map, oriented texture, Pattern Recognition, phase portraits, prior mammograms, spectral analysis
50341
BioMEMS and Cellular Biology: Perspectives and Applications
Institutions: University of Washington.

The ability to culture cells has revolutionized hypothesis testing in basic cell and molecular biology research. It has become a standard methodology in drug screening, toxicology, and clinical assays, and is increasingly used in regenerative medicine. However, the traditional cell culture methodology essentially consisting of the immersion of a large population of cells in a homogeneous fluid medium and on a homogeneous flat substrate has become increasingly limiting both from a fundamental and practical perspective. Microfabrication technologies have enabled researchers to design, with micrometer control, the biochemical composition and topology of the substrate, and the medium composition, as well as the neighboring cell type in the surrounding cellular microenvironment. Additionally, microtechnology is conceptually well-suited for the development of fast, low-cost in vitro systems that allow for high-throughput culturing and analysis of cells under large numbers of conditions. In this interview, Albert Folch explains these limitations, how they can be overcome with soft lithography and microfluidics, and describes some relevant examples of research in his lab and future directions.
Biomedical Engineering, Issue 8, BioMEMS, Soft Lithography, Microfluidics, Agrin, Axon Guidance, Olfaction, Interview
300
A Microfluidic Device for Quantifying Bacterial Chemotaxis in Stable Concentration Gradients
Institutions: Texas A&M University, Texas A&M University, Texas A&M University.
Chemotaxis allows bacteria to approach sources of attractant chemicals or to avoid sources of repellent chemicals. Bacteria constantly monitor the concentration of specific chemoeffectors by comparing the current concentration to the concentration detected a few seconds earlier. This comparison determines the net direction of movement. Although multiple, competing gradients often coexist in nature, conventional approaches for investigating bacterial chemotaxis are suboptimal for quantifying migration in response to concentration gradients of attractants and repellents. Here, we describe the development of a microfluidic chemotaxis model for presenting precise and stable concentration gradients of chemoeffectors to bacteria and quantitatively investigating their response to the applied gradient. The device is versatile in that concentration gradients of any desired absolute concentration and gradient strength can be easily generated by diffusive mixing. The device is demonstrated using the response of
Escherichia coli
RP437 to gradients of amino acids and nickel ions.
Microbiology, Issue 38, chemotaxis, microfluidics, gradients
1779
A Gradient-generating Microfluidic Device for Cell Biology
Institutions: Brigham and Women's Hospital.

The fabrication and operation of a gradient-generating microfluidic device for studying cellular behavior is described. A microfluidic platform is an enabling experimental tool, because it can precisely manipulate fluid flows, enable high-throughput experiments, and generate stable soluble concentration gradients. Compared to conventional gradient generators, poly(dimethylsiloxane) (PDMS)-based microfluidic devices can generate stable concentration gradients of growth factors with well-defined profiles. Here, we developed simple gradient-generating microfluidic devices with three separate inlets. Three microchannels combined into one microchannel to generate concentration gradients. The stability and shape of growth factor gradients were confirmed by fluorescein isothyiocyanate (FITC)-dextran with a molecular weight similar to epidermal growth factor (EGF). Using this microfluidic device, we demonstrated that fibroblasts exposed to concentration gradients of EGF migrated toward higher concentrations. The directional orientation of cell migration and motility of migrating cells were quantitatively assessed by cell tracking analysis. Thus, this gradient-generating microfluidic device might be useful for studying and analyzing the behavior of migrating cells.
Issue 7, Cell Biology, tissue engineering, microfluidic, cell migration, gradient
271