ABSTRACT
Cancer therapies which are less toxic and invasive than their existing counterparts are highly desirable. The use of RF electric-fields that penetrate deep into the body, causing minimal toxicity, are currently being studied as a viable means of non-invasive cancer therapy. It is envisioned that the interactions of RF energy with internalized nanoparticles (NPs) can liberate heat which can then cause overheating (hyperthermia) of the cell, ultimately ending in cell necrosis. In the case of non-biological systems, we present detailed protocols relating to quantifying the heat liberated by highly-concentrated NP colloids. For biological systems, in the case of in vitro experiments, we describe the techniques and conditions which must be adhered to in order to effectively expose cancer cells to RF energy without bulk media heating artifacts significantly obscuring the data. Finally, we give a detailed methodology for in vivo mouse models with ectopic hepatic cancer tumors.
22 Related JoVE Articles!
Formulation of Diblock Polymeric Nanoparticles through Nanoprecipitation Technique
Institutions: University of North Carolina School of Medicine, University of North Carolina .
Nanotechnology is a relatively new branch of science that involves harnessing the unique properties of particles that are nanometers in scale (nanoparticles). Nanoparticles can be engineered in a precise fashion where their size, composition and surface chemistry can be carefully controlled. This enables unprecedented freedom to modify some of the fundamental properties of their cargo, such as solubility, diffusivity, biodistribution, release characteristics and immunogenicity. Since their inception, nanoparticles have been utilized in many areas of science and medicine, including drug delivery, imaging, and cell biology
1-4
. However, it has not been fully utilized outside of "nanotechnology laboratories" due to perceived technical barrier. In this article, we describe a simple method to synthesize a polymer based nanoparticle platform that has a wide range of potential applications. The first step is to synthesize a diblock co-polymer that has both a hydrophobic domain and hydrophilic domain. Using PLGA and PEG as model polymers, we described a conjugation reaction using EDC/NHS chemistry
5
(Fig 1). We also discuss the polymer purification process. The synthesized diblock co-polymer can self-assemble into nanoparticles in the nanoprecipitation process through hydrophobic-hydrophilic interactions. The described polymer nanoparticle is very versatile. The hydrophobic core of the nanoparticle can be utilized to carry poorly soluble drugs for drug delivery experiments6. Furthermore, the nanoparticles can overcome the problem of toxic solvents for poorly soluble molecular biology reagents, such as wortmannin, which requires a solvent like DMSO. However, DMSO can be toxic to cells and interfere with the experiment. These poorly soluble drugs and reagents can be effectively delivered using polymer nanoparticles with minimal toxicity. Polymer nanoparticles can also be loaded with fluorescent dye and utilized for intracellular trafficking studies. Lastly, these polymer nanoparticles can be conjugated to targeting ligands through surface PEG. Such targeted nanoparticles can be utilized to label specific epitopes on or in cells
7-10
.
Bioengineering, Issue 55, Nanoparticles, nanomedicine, drug delivery, polymeric micelles, polymeric nanoparticles, diblock co-polymers, nanoplatform, nanoparticle molecular imaging, polymer conjugation.
3398
Revealing Dynamic Processes of Materials in Liquids Using Liquid Cell Transmission Electron Microscopy
Institutions: Lawrence Berkeley National Laboratory.

The recent development for in situ transmission electron microscopy, which allows imaging through liquids with high spatial resolution, has attracted significant interests across the research fields of materials science, physics, chemistry and biology. The key enabling technology is a liquid cell. We fabricate liquid cells with thin viewing windows through a sequential microfabrication process, including silicon nitride membrane deposition, photolithographic patterning, wafer etching, cell bonding, etc. A liquid cell with the dimensions of a regular TEM grid can fit in any standard TEM sample holder. About 100 nanoliters reaction solution is loaded into the reservoirs and about 30 picoliters liquid is drawn into the viewing windows by capillary force. Subsequently, the cell is sealed and loaded into a microscope for in situ imaging. Inside the TEM, the electron beam goes through the thin liquid layer sandwiched between two silicon nitride membranes. Dynamic processes of nanoparticles in liquids, such as nucleation and growth of nanocrystals, diffusion and assembly of nanoparticles, etc., have been imaged in real time with sub-nanometer resolution. We have also applied this method to other research areas,
e.g.
, imaging proteins in water. Liquid cell TEM is poised to play a major role in revealing dynamic processes of materials in their working environments. It may also bring high impact in the study of biological processes in their native environment.
Materials Science, Issue 70, Chemical Engineering, Chemistry, Physics, Engineering, Life sciences, Liquid cell, Transmission Electron Microscopy, TEM, In situ TEM, Single nanoparticle trajectory, dynamic imaging, nanocrystals
50122
A Technique to Functionalize and Self-assemble Macroscopic Nanoparticle-ligand Monolayer Films onto Template-free Substrates
Institutions: Naval Research Laboratory.
This protocol describes a self-assembly technique to create macroscopic monolayer films composed of ligand-coated nanoparticles
1
,
2
. The simple, robust and scalable technique efficiently functionalizes metallic nanoparticles with thiol-ligands in a miscible water/organic solvent mixture allowing for rapid grafting of thiol groups onto the gold nanoparticle surface. The hydrophobic ligands on the nanoparticles then quickly phase separate the nanoparticles from the aqueous based suspension and confine them to the air-fluid interface. This drives the ligand-capped nanoparticles to form monolayer domains at the air-fluid interface.  The use of water-miscible organic solvents is important as it enables the transport of the nanoparticles from the interface onto template-free substrates.  The flow is mediated by a surface tension gradient
3
,
4
and creates macroscopic, high-density, monolayer nanoparticle-ligand films.  This self-assembly technique may be generalized to include the use of particles of different compositions, size, and shape and may lead to an efficient assembly method to produce low-cost, macroscopic, high-density, monolayer nanoparticle films for wide-spread applications.
Chemistry, Issue 87, phase transfer, nanoparticle, self-assembly, bottom-up, fabrication, low-cost, monolayer, thin film, nanostructure, array, metamaterial
51282
Microfluidic On-chip Capture-cycloaddition Reaction to Reversibly Immobilize Small Molecules or Multi-component Structures for Biosensor Applications
Institutions: Massachusetts General Hospital.
Methods for rapid surface immobilization of bioactive small molecules with control over orientation and immobilization density are highly desirable for biosensor and microarray applications. In this Study, we use a highly efficient covalent bioorthogonal [4+2] cycloaddition reaction between
trans
-cyclooctene (TCO) and 1,2,4,5-tetrazine (Tz) to enable the microfluidic immobilization of TCO/Tz-derivatized molecules. We monitor the process in real-time under continuous flow conditions using surface plasmon resonance (SPR). To enable reversible immobilization and extend the experimental range of the sensor surface, we combine a non-covalent antigen-antibody capture component with the cycloaddition reaction. By alternately presenting TCO or Tz moieties to the sensor surface, multiple capture-cycloaddition processes are now possible on one sensor surface for on-chip assembly and interaction studies of a variety of multi-component structures. We illustrate this method with two different immobilization experiments on a biosensor chip; a small molecule, AP1497 that binds FK506-binding protein 12 (FKBP12); and the same small molecule as part of an immobilized and
in situ-
functionalized nanoparticle.
Chemistry, Issue 79, Organic Chemicals, Macromolecular Substances, Chemistry and Materials (General), Surface Plasmon Resonance, Bioorthogonal Chemistry, Diels-Alder Cycloaddition Reaction, Small Molecule Immobilization, Binding Kinetics, Immobilized Nanoparticles
50772
Combinatorial Synthesis of and High-throughput Protein Release from Polymer Film and Nanoparticle Libraries
Institutions: Iowa State University.

Polyanhydrides are a class of biomaterials with excellent biocompatibility and drug delivery capabilities. While they have been studied extensively with conventional one-sample-at-a-time synthesis techniques, a more recent high-throughput approach has been developed enabling the synthesis and testing of large libraries of polyanhydrides
1
. This will facilitate more efficient optimization and design process of these biomaterials for drug and vaccine delivery applications. The method in this work describes the combinatorial synthesis of biodegradable polyanhydride film and nanoparticle libraries and the high-throughput detection of protein release from these libraries. In this robotically operated method (
Figure 1
), linear actuators and syringe pumps are controlled by LabVIEW, which enables a hands-free automated protocol, eliminating user error. Furthermore, this method enables the rapid fabrication of micro-scale polymer libraries, reducing the batch size while resulting in the creation of multivariant polymer systems. This combinatorial approach to polymer synthesis facilitates the synthesis of up to 15 different polymers in an equivalent amount of time it would take to synthesize one polymer conventionally. In addition, the combinatorial polymer library can be fabricated into blank or protein-loaded geometries including films or nanoparticles upon dissolution of the polymer library in a solvent and precipitation into a non-solvent (for nanoparticles) or by vacuum drying (for films). Upon loading a fluorochrome-conjugated protein into the polymer libraries, protein release kinetics can be assessed at high-throughput using a fluorescence-based detection method (
Figures 2
and
3
) as described previously
1
. This combinatorial platform has been validated with conventional methods
2
and the polyanhydride film and nanoparticle libraries have been characterized with
1
H NMR and FTIR. The libraries have been screened for protein release kinetics, stability and antigenicity;
in vitro
cellular toxicity, cytokine production, surface marker expression, adhesion, proliferation and differentiation; and
in vivo
biodistribution and mucoadhesion
1-11
. The combinatorial method developed herein enables high-throughput polymer synthesis and fabrication of protein-loaded nanoparticle and film libraries, which can, in turn, be screened
in vitro
and
in vivo
for optimization of biomaterial performance.
Bioengineering, Issue 67, combinatorial, high-throughput, polymer synthesis, polyanhydrides, nanoparticle fabrication, release kinetics, protein delivery
3882
Fabricating Complex Culture Substrates Using Robotic Microcontact Printing (R-µCP) and Sequential Nucleophilic Substitution
Institutions: University of Wisconsin, Madison, University of Wisconsin, Madison.
In tissue engineering, it is desirable to exhibit spatial control of tissue morphology and cell fate in culture on the micron scale. Culture substrates presenting grafted poly(ethylene glycol) (PEG) brushes can be used to achieve this task by creating microscale, non-fouling and cell adhesion resistant regions as well as regions where cells participate in biospecific interactions with covalently tethered ligands. To engineer complex tissues using such substrates, it will be necessary to sequentially pattern multiple PEG brushes functionalized to confer differential bioactivities and aligned in microscale orientations that mimic
in vivo
niches. Microcontact printing (μCP) is a versatile technique to pattern such grafted PEG brushes, but manual μCP cannot be performed with microscale precision. Thus, we combined advanced robotics with soft-lithography techniques and emerging surface chemistry reactions to develop a robotic microcontact printing (R-μCP)-assisted method for fabricating culture substrates with complex, microscale, and highly ordered patterns of PEG brushes presenting orthogonal 'click' chemistries. Here, we describe in detail the workflow to manufacture such substrates.
Bioengineering, Issue 92, Robotic microcontact printing, R-μCP, click chemistry, surface chemistry, tissue engineering, micropattern, advanced manufacturing
52186
Bridging the Bio-Electronic Interface with Biofabrication
Institutions: University of Maryland , University of Maryland , University of Maryland .

Advancements in lab-on-a-chip technology promise to revolutionize both research and medicine through lower costs, better sensitivity, portability, and higher throughput. The incorporation of biological components onto biological microelectromechanical systems (bioMEMS) has shown great potential for achieving these goals. Microfabricated electronic chips allow for micrometer-scale features as well as an electrical connection for sensing and actuation. Functional biological components give the system the capacity for specific detection of analytes, enzymatic functions, and whole-cell capabilities. Standard microfabrication processes and bio-analytical techniques have been successfully utilized for decades in the computer and biological industries, respectively. Their combination and interfacing in a lab-on-a-chip environment, however, brings forth new challenges. There is a call for techniques that can build an interface between the electrode and biological component that is mild and is easy to fabricate and pattern. Biofabrication, described here, is one such approach that has shown great promise for its easy-to-assemble incorporation of biological components with versatility in the on-chip functions that are enabled. Biofabrication uses biological materials and biological mechanisms (self-assembly, enzymatic assembly) for bottom-up hierarchical assembly. While our labs have demonstrated these concepts in many formats
1,2,3
, here we demonstrate the assembly process based on electrodeposition followed by multiple applications of signal-based interactions. The assembly process consists of the electrodeposition of biocompatible stimuli-responsive polymer films on electrodes and their subsequent functionalization with biological components such as DNA, enzymes, or live cells
4,5
. Electrodeposition takes advantage of the pH gradient created at the surface of a biased electrode from the electrolysis of water
6,7
,. Chitosan and alginate are stimuli-responsive biological polymers that can be triggered to self-assemble into hydrogel films in response to imposed electrical signals
8
. The thickness of these hydrogels is determined by the extent to which the pH gradient extends from the electrode. This can be modified using varying current densities and deposition times
6,7
. This protocol will describe how chitosan films are deposited and functionalized by covalently attaching biological components to the abundant primary amine groups present on the film through either enzymatic or electrochemical methods
9,10
. Alginate films and their entrapment of live cells will also be addressed
11
. Finally, the utility of biofabrication is demonstrated through examples of signal-based interaction, including chemical-to-electrical, cell-to-cell, and also enzyme-to-cell signal transmission. Both the electrodeposition and functionalization can be performed under near-physiological conditions without the need for reagents and thus spare labile biological components from harsh conditions. Additionally, both chitosan and alginate have long been used for biologically-relevant purposes
12,13
. Overall, biofabrication, a rapid technique that can be simply performed on a benchtop, can be used for creating micron scale patterns of functional biological components on electrodes and can be used for a variety of lab-on-a-chip applications.
Bioengineering, Issue 64, Biomedical Engineering, electrodeposition, biofabrication, chitosan, alginate, lab-on-a-chip, microfluidic, DTRA
4231
Self-reporting Scaffolds for 3-Dimensional Cell Culture
Institutions: University of Nottingham, University of Nottingham, University of Nottingham.

Culturing cells in 3D on appropriate scaffolds is thought to better mimic the
in vivo
microenvironment and increase cell-cell interactions. The resulting 3D cellular construct can often be more relevant to studying the molecular events and cell-cell interactions than similar experiments studied in 2D. To create effective 3D cultures with high cell viability throughout the scaffold the culture conditions such as oxygen and pH need to be carefully controlled as gradients in analyte concentration can exist throughout the 3D construct. Here we describe the methods of preparing biocompatible pH responsive sol-gel nanosensors and their incorporation into poly(lactic-co-glycolic acid) (PLGA) electrospun scaffolds along with their subsequent preparation for the culture of mammalian cells. The pH responsive scaffolds can be used as tools to determine microenvironmental pH within a 3D cellular construct. Furthermore, we detail the delivery of pH responsive nanosensors to the intracellular environment of mammalian cells whose growth was supported by electrospun PLGA scaffolds. The cytoplasmic location of the pH responsive nanosensors can be utilized to monitor intracellular pH (pHi) during ongoing experimentation.
Bioengineering, Issue 81, Biocompatible Materials, Nanosensors, scaffold, electrospinning, 3D cell culture, PLGA
50608
A Novel Method for Localizing Reporter Fluorescent Beads Near the Cell Culture Surface for Traction Force Microscopy
Institutions: University of Illinois at Urbana-Champaign.

PA gels have long been used as a platform to study cell traction forces due to ease of fabrication and the ability to tune their elastic properties. When the substrate is coated with an extracellular matrix protein, cells adhere to the gel and apply forces, causing the gel to deform. The deformation depends on the cell traction and the elastic properties of the gel. If the deformation field of the surface is known, surface traction can be calculated using elasticity theory. Gel deformation is commonly measured by embedding fluorescent marker beads uniformly into the gel. The probes displace as the gel deforms. The probes near the surface of the gel are tracked. The displacements reported by these probes are considered as surface displacements. Their depths from the surface are ignored. This assumption introduces error in traction force evaluations. For precise measurement of cell forces, it is critical for the location of the beads to be known. We have developed a technique that utilizes simple chemistry to confine fluorescent marker beads, 0.1 and 1 µm in diameter, in PA gels, within 1.6 μm of the surface. We coat a coverslip with poly-D-lysine (PDL) and fluorescent beads. PA gel solution is then sandwiched between the coverslip and an adherent surface. The fluorescent beads transfer to the gel solution during curing. After polymerization, the PA gel contains fluorescent beads on a plane close to the gel surface.
Bioengineering, Issue 91, cell mechanics, polyacrylamide (PA) gel, traction force microscopy, fluorescent beads, poly-D-lysine (PDL), cell culture surface
51873
Solubilization and Bio-conjugation of Quantum Dots and Bacterial Toxicity Assays by Growth Curve and Plate Count
Institutions: McGill University, Montreal, QC Canada.

Quantum dots (QDs) are fluorescent semiconductor nanoparticles with size-dependent emission spectra that can be excited by a broad choice of wavelengths. QDs have attracted a lot of interest for imaging, diagnostics, and therapy due to their bright, stable fluorescence
1,2 3,4,5
. QDs can be conjugated to a variety of bio-active molecules for binding to bacteria and mammalian cells
6
. QDs are also being widely investigated as cytotoxic agents for targeted killing of bacteria. The emergence of multiply-resistant bacterial strains is rapidly becoming a public health crisis, particularly in the case of Gram negative pathogens
7
. Because of the well-known antimicrobial effect of certain nanomaterials, especially Ag, there are hundreds of studies examining the toxicity of nanoparticles to bacteria
8
. Bacterial studies have been performed with other types of semiconductor nanoparticles as well, especially TiO
2
9,10-11
, but also ZnO
12
and others including CuO
13
. Some comparisons of bacterial strains have been performed in these studies, usually comparing a Gram negative strain with a Gram positive. With all of these particles, mechanisms of toxicity are attributed to oxidation: either the photogeneration of reactive oxygen species (ROS) by the particles or the direct release of metal ions that can cause oxidative toxicity. Even with these materials, results of different studies vary greatly. In some studies the Gram positive test strain is reportedly more sensitive than the Gram negative
10
; in others it is the opposite
14
. These studies have been well reviewed
15
. In all nanoparticle studies, particle composition, size, surface chemistry, sample aging/breakdown, and wavelength, power, and duration of light exposure can all dramatically affect the results. In addition, synthesis byproducts and solvents must be considered
16 17
. High-throughput screening techniques are needed to be able to develop effective new nanomedicine agents. CdTe QDs have anti-microbial effects alone
18
or in combination with antibiotics. In a previous study, we showed that coupling of antibiotics to CdTe can increase toxicity to bacteria but decrease toxicity to mammalian cells, due to decreased production of reactive oxygen species from the conjugates
19
. Although it is unlikely that cadmium-containing compounds will be approved for use in humans, such preparations could be used for disinfection of surfaces or sterilization of water. In this protocol, we give a straightforward approach to solubilizing CdTe QDs with mercaptopropionic acid (MPA). The QDs are ready to use within an hour. We then demonstrate coupling to an antimicrobial agent. The second part of the protocol demonstrates a 96-well bacterial inhibition assay using the conjugated and unconjugated QDs. The optical density is read over many hours, permitting the effects of QD addition and light exposure to be evaluated immediately as well as after a recovery period. We also illustrate a colony count for quantifying bacterial survival.
Biomedical Engineering, Issue 65, Bioengineering, Molecular Biology, Quantum dots, solubilization, conjugation, cytotoxicity, phototoxicity, growth curve, plate count
3969
Gold Nanostar Synthesis with a Silver Seed Mediated Growth Method
Institutions: The University of Texas at San Antonio, Centro de Investigaciones en Optica A. C., The University of Texas at San Antonio.
The physical, chemical and optical properties of nano-scale colloids depend on their material composition, size and shape
1-5
. There is a great interest in using nano-colloids for photo-thermal ablation, drug delivery and many other biomedical applications
6
. Gold is particularly used because of its low toxicity
7-9
. A property of metal nano-colloids is that they can have a strong surface plasmon resonance
10
. The peak of the surface plasmon resonance mode depends on the structure and composition of the metal nano-colloids. Since the surface plasmon resonance mode is stimulated with light there is a need to have the peak absorbance in the near infrared where biological tissue transmissivity is maximal
11, 12
. We present a method to synthesize star shaped colloidal gold, also known as star shaped nanoparticles
13-15
or nanostars
16
. This method is based on a solution containing silver seeds that are used as the nucleating agent for anisotropic growth of gold colloids
17-22
. Scanning electron microscopy (SEM) analysis of the resulting gold colloid showed that 70 % of the nanostructures were nanostars. The other 30 % of the particles were amorphous clusters of decahedra and rhomboids. The absorbance peak of the nanostars was detected to be in the near infrared (840 nm). Thus, our method produces gold nanostars suitable for biomedical applications, particularly for photo-thermal ablation.
Bioengineering, Issue 59, thermal ablation, surface plasmon resonance, nanoparticle, nanotechnology, silver seeds
3570
Aseptic Laboratory Techniques: Plating Methods
Institutions: University of California, Los Angeles .

Microorganisms are present on all inanimate surfaces creating ubiquitous sources of possible contamination in the laboratory. Experimental success relies on the ability of a scientist to sterilize work surfaces and equipment as well as prevent contact of sterile instruments and solutions with non-sterile surfaces. Here we present the steps for several plating methods routinely used in the laboratory to isolate, propagate, or enumerate microorganisms such as bacteria and phage. All five methods incorporate aseptic technique, or procedures that maintain the sterility of experimental materials. Procedures described include (1) streak-plating bacterial cultures to isolate single colonies, (2) pour-plating and (3) spread-plating to enumerate viable bacterial colonies, (4) soft agar overlays to isolate phage and enumerate plaques, and (5) replica-plating to transfer cells from one plate to another in an identical spatial pattern. These procedures can be performed at the laboratory bench, provided they involve non-pathogenic strains of microorganisms (Biosafety Level 1, BSL-1). If working with BSL-2 organisms, then these manipulations must take place in a biosafety cabinet. Consult the most current edition of the
Biosafety in Microbiological and Biomedical Laboratories
(BMBL) as well as
Material Safety Data Sheets
(MSDS) for Infectious Substances to determine the biohazard classification as well as the safety precautions and containment facilities required for the microorganism in question. Bacterial strains and phage stocks can be obtained from research investigators, companies, and collections maintained by particular organizations such as the
American Type Culture Collection
(ATCC). It is recommended that non-pathogenic strains be used when learning the various plating methods. By following the procedures described in this protocol, students should be able to: ● Perform plating procedures without contaminating media. ● Isolate single bacterial colonies by the streak-plating method. ● Use pour-plating and spread-plating methods to determine the concentration of bacteria. ● Perform soft agar overlays when working with phage. ● Transfer bacterial cells from one plate to another using the replica-plating procedure. ● Given an experimental task, select the appropriate plating method.
Basic Protocols, Issue 63, Streak plates, pour plates, soft agar overlays, spread plates, replica plates, bacteria, colonies, phage, plaques, dilutions
3064
Tangential Flow Ultrafiltration: A "Green" Method for the Size Selection and Concentration of Colloidal Silver Nanoparticles
Institutions: Wright State University, Wright State University.

Nowadays, AgNPs are extensively used in the manufacture of consumer products,
1
water disinfectants,
2
therapeutics,
1, 3
and biomedical devices
4
due to their powerful antimicrobial properties.
3-6
These nanoparticle applications are strongly influenced by the AgNP size and aggregation state. Many challenges exist in the controlled fabrication
7
and size-based isolation
4,8
of unfunctionalized, homogenous AgNPs that are free from chemically aggressive capping/stabilizing agents or organic solvents.
7-13
Limitations emerge from the toxicity of reagents, high costs or reduced efficiency of the AgNP synthesis or isolation methods (
e.g.
, centrifugation, size-dependent solubility, size-exclusion chromatography, etc.).
10,14-18
To overcome this, we recently showed that TFU permits greater control over the size, concentration and aggregation state of Creighton AgNPs (300 ml of 15.3 μg ml
-1
down to 10 ml of 198.7 μg ml
-1
) than conventional methods of isolation such as ultracentrifugation.
19
TFU is a recirculation method commonly used for the weight-based isolation of proteins, viruses and cells.
20,21
Briefly, the liquid sample is passed through a series of hollow fiber membranes with pore size ranging from 1,000 kD to 10 kD. Smaller suspended or dissolved constituents in the sample will pass through the porous barrier together with the solvent (filtrate), while the larger constituents are retained (retentate). TFU may be considered a "green" method as it neither damages the sample nor requires additional solvent to eliminate toxic excess reagents and byproducts. Furthermore, TFU may be applied to a large variety of nanoparticles as both hydrophobic and hydrophilic filters are available. The two main objectives of this study were: 1) to illustrate the experimental aspects of the TFU approach through an invited video experience and 2) to demonstrate the feasibility of the TFU method for larger volumes of colloidal nanoparticles and smaller volumes of retentate. First, unfuctionalized AgNPs (4 L, 15.2 μg ml
-1
) were synthesized using the well-established Creighton method
22,23
by the reduction of AgNO
3
with NaBH
4
. AgNP polydispersity was then minimized via a 3-step TFU using a 50-nm filter (460 cm
2
) to remove AgNPs and AgNP-aggregates larger than 50 nm, followed by two 100-kD (200 cm
2
and 20 cm
2
) filters to concentrate the AgNPs. Representative samples were characterized using transmission electron microscopy, UV-Vis absorption spectrophotometry, Raman spectroscopy, and inductively coupled plasma optical emission spectroscopy. The final retentate consisted of highly concentrated (4 ml, 8,539.9 μg ml
-1
) yet lowly aggregated and homogeneous AgNPs of 1-20 nm in diameter. This corresponds to a silver concentration yield of about 62%.
Chemistry, Issue 68, Biomedical Engineering, Chemical Engineering, Nanotechnology, silver nanoparticles, size selection, concentration, tangential flow ultrafiltration
4167
Microwave-assisted Functionalization of Poly(ethylene glycol) and On-resin Peptides for Use in Chain Polymerizations and Hydrogel Formation
Institutions: University of Rochester, University of Rochester, University of Rochester Medical Center.

One of the main benefits to using poly(ethylene glycol) (PEG) macromers in hydrogel formation is synthetic versatility. The ability to draw from a large variety of PEG molecular weights and configurations (arm number, arm length, and branching pattern) affords researchers tight control over resulting hydrogel structures and properties, including Young's modulus and mesh size. This video will illustrate a rapid, efficient, solvent-free, microwave-assisted method to methacrylate PEG precursors into poly(ethylene glycol) dimethacrylate (PEGDM). This synthetic method provides much-needed starting materials for applications in drug delivery and regenerative medicine. The demonstrated method is superior to traditional methacrylation methods as it is significantly faster and simpler, as well as more economical and environmentally friendly, using smaller amounts of reagents and solvents. We will also demonstrate an adaptation of this technique for on-resin methacrylamide functionalization of peptides. This on-resin method allows the N-terminus of peptides to be functionalized with methacrylamide groups prior to deprotection and cleavage from resin. This allows for selective addition of methacrylamide groups to the N-termini of the peptides while amino acids with reactive side groups (
e.g.
 primary amine of lysine, primary alcohol of serine, secondary alcohols of threonine, and phenol of tyrosine) remain protected, preventing functionalization at multiple sites. This article will detail common analytical methods (proton Nuclear Magnetic Resonance spectroscopy (
;
H-NMR) and Matrix Assisted Laser Desorption Ionization Time of Flight mass spectrometry (MALDI-ToF)) to assess the efficiency of the functionalizations. Common pitfalls and suggested troubleshooting methods will be addressed, as will modifications of the technique which can be used to further tune macromer functionality and resulting hydrogel physical and chemical properties. Use of synthesized products for the formation of hydrogels for drug delivery and cell-material interaction studies will be demonstrated, with particular attention paid to modifying hydrogel composition to affect mesh size, controlling hydrogel stiffness and drug release.
Chemistry, Issue 80, Poly(ethylene glycol), peptides, polymerization, polymers, methacrylation, peptide functionalization, 1H-NMR, MALDI-ToF, hydrogels, macromer synthesis
50890
Nanomechanics of Drug-target Interactions and Antibacterial Resistance Detection
Institutions: University College London.

The cantilever sensor, which acts as a transducer of reactions between model bacterial cell wall matrix immobilized on its surface and antibiotic drugs in solution, has shown considerable potential in biochemical sensing applications with unprecedented sensitivity and specificity
1-5
. The drug-target interactions generate surface stress, causing the cantilever to bend, and the signal can be analyzed optically when it is illuminated by a laser. The change in surface stress measured with nano-scale precision allows disruptions of the biomechanics of model bacterial cell wall targets to be tracked in real time. Despite offering considerable advantages, multiple cantilever sensor arrays have never been applied in quantifying drug-target binding interactions. Here, we report on the use of silicon multiple cantilever arrays coated with alkanethiol self-assembled monolayers mimicking bacterial cell wall matrix to quantitatively study antibiotic binding interactions. To understand the impact of vancomycin on the mechanics of bacterial cell wall structures
1,6,7
. We developed a new model
1
which proposes that cantilever bending can be described by two independent factors; i) namely a chemical factor, which is given by a classical Langmuir adsorption isotherm, from which we calculate the thermodynamic equilibrium dissociation constant (
Kd
) and ii) a geometrical factor, essentially a measure of how bacterial peptide receptors are distributed on the cantilever surface. The surface distribution of peptide receptors (
p
) is used to investigate the dependence of geometry and ligand loading. It is shown that a threshold value of
p ~
10% is critical to sensing applications. Below which there is no detectable bending signal while above this value, the bending signal increases almost linearly, revealing that stress is a product of a local chemical binding factor and a geometrical factor combined by the mechanical connectivity of reacted regions and provides a new paradigm for design of powerful agents to combat superbug infections.
Immunology, Issue 80, Engineering, Technology, Diagnostic Techniques and Procedures, Early Diagnosis, Bacterial Infections and Mycoses, Lipids, Amino Acids, Peptides, and Proteins, Chemical Actions and Uses, Diagnosis, Therapeutics, Surface stress, vancomycin, mucopeptides, cantilever sensor
50719
Surface Potential Measurement of Bacteria Using Kelvin Probe Force Microscopy
Institutions: University of Guelph.

Surface potential is a commonly overlooked physical characteristic that plays a dominant role in the adhesion of microorganisms to substrate surfaces. Kelvin probe force microscopy (KPFM) is a module of atomic force microscopy (AFM) that measures the contact potential difference between surfaces at the nano-scale. The combination of KPFM with AFM allows for the simultaneous generation of surface potential and topographical maps of biological samples such as bacterial cells. Here, we employ KPFM to examine the effects of surface potential on microbial adhesion to medically relevant surfaces such as stainless steel and gold. Surface potential maps revealed differences in surface potential for microbial membranes on different material substrates. A step-height graph was generated to show the difference in surface potential at a boundary area between the substrate surface and microorganisms. Changes in cellular membrane surface potential have been linked with changes in cellular metabolism and motility. Therefore, KPFM represents a powerful tool that can be utilized to examine the changes of microbial membrane surface potential upon adhesion to various substrate surfaces. In this study, we demonstrate the procedure to characterize the surface potential of individual methicillin-resistant
Staphylococcus aureus
USA100 cells on stainless steel and gold using KPFM.
Bioengineering, Issue 93, Kelvin probe force microscopy, atomic force microscopy, surface potential, stainless steel, microbial attachment, bacterial biofilms, methicillin-resistant Staphylococcus aureus
52327
Towards Biomimicking Wood: Fabricated Free-standing Films of Nanocellulose, Lignin, and a Synthetic Polycation
Institutions: Virginia Tech, Virginia Tech, Illinois Institute of Technology- Moffett Campus, University of Guadalajara, Virginia Tech, Virginia Tech.

Woody materials are comprised of plant cell walls that contain a layered secondary cell wall composed of structural polymers of polysaccharides and lignin. Layer-by-layer (LbL) assembly process which relies on the assembly of oppositely charged molecules from aqueous solutions was used to build a freestanding composite film of isolated wood polymers of lignin and oxidized nanofibril cellulose (NFC). To facilitate the assembly of these negatively charged polymers, a positively charged polyelectrolyte, poly(diallyldimethylammomium chloride) (PDDA), was used as a linking layer to create this simplified model cell wall. The layered adsorption process was studied quantitatively using quartz crystal microbalance with dissipation monitoring (QCM-D) and ellipsometry. The results showed that layer mass/thickness per adsorbed layer increased as a function of total number of layers. The surface coverage of the adsorbed layers was studied with atomic force microscopy (AFM). Complete coverage of the surface with lignin in all the deposition cycles was found for the system, however, surface coverage by NFC increased with the number of layers. The adsorption process was carried out for 250 cycles (500 bilayers) on a cellulose acetate (CA) substrate. Transparent free-standing LBL assembled nanocomposite films were obtained when the CA substrate was later dissolved in acetone. Scanning electron microscopy (SEM) of the fractured cross-sections showed a lamellar structure, and the thickness per adsorption cycle (PDDA-Lignin-PDDA-NC) was estimated to be 17 nm for two different lignin types used in the study. The data indicates a film with highly controlled architecture where nanocellulose and lignin are spatially deposited on the nanoscale (a polymer-polymer nanocomposites), similar to what is observed in the native cell wall.
Plant Biology, Issue 88, nanocellulose, thin films, quartz crystal microbalance, layer-by-layer, LbL
51257
Synthesis and Functionalization of Nitrogen-doped Carbon Nanotube Cups with Gold Nanoparticles as Cork Stoppers
Institutions: University of Pittsburgh.
Nitrogen-doped carbon nanotubes consist of many cup-shaped graphitic compartments termed as nitrogen-doped carbon nanotube cups (NCNCs). These as-synthesized graphitic nanocups from chemical vapor deposition (CVD) method were stacked in a head-to-tail fashion held only through noncovalent interactions. Individual NCNCs can be isolated out of their stacking structure through a series of chemical and physical separation processes. First, as-synthesized NCNCs were oxidized in a mixture of strong acids to introduce oxygen-containing defects on the graphitic walls. The oxidized NCNCs were then processed using high-intensity probe-tip sonication which effectively separated the stacked NCNCs into individual graphitic nanocups. Owing to their abundant oxygen and nitrogen surface functionalities, the resulted individual NCNCs are highly hydrophilic and can be effectively functionalized with gold nanoparticles (GNPs), which preferentially fit in the opening of the cups as cork stoppers. These graphitic nanocups corked with GNPs may find promising applications as nanoscale containers and drug carriers.
Physics, Issue 75, Chemistry, Chemical Engineering, Materials Science, Physical Chemistry, Nanotechnology, Metal Nanoparticles, carbon nanotubes (synthesis and properties), carbon nanotubes, chemical vapor deposition, CVD, gold nanoparticles, probe-tip sonication, nitrogen-doped carbon nanotube cups, nanotubes, nanoparticles, nanomaterial, synthesis
50383
In Situ SIMS and IR Spectroscopy of Well-defined Surfaces Prepared by Soft Landing of Mass-selected Ions
Institutions: Pacific Northwest National Laboratory.

Soft landing of mass-selected ions onto surfaces is a powerful approach for the highly-controlled preparation of materials that are inaccessible using conventional synthesis techniques. Coupling soft landing with
in situ
characterization using secondary ion mass spectrometry (SIMS) and infrared reflection absorption spectroscopy (IRRAS) enables analysis of well-defined surfaces under clean vacuum conditions. The capabilities of three soft-landing instruments constructed in our laboratory are illustrated for the representative system of surface-bound organometallics prepared by soft landing of mass-selected ruthenium tris(bipyridine) dications, [Ru(bpy)
3
]
2+
(bpy = bipyridine), onto carboxylic acid terminated self-assembled monolayer surfaces on gold (COOH-SAMs).
In situ
time-of-flight (TOF)-SIMS provides insight into the reactivity of the soft-landed ions. In addition, the kinetics of charge reduction, neutralization and desorption occurring on the COOH-SAM both during and after ion soft landing are studied using
in situ
Fourier transform ion cyclotron resonance (FT-ICR)-SIMS measurements.
In situ
IRRAS experiments provide insight into how the structure of organic ligands surrounding metal centers is perturbed through immobilization of organometallic ions on COOH-SAM surfaces by soft landing. Collectively, the three instruments provide complementary information about the chemical composition, reactivity and structure of well-defined species supported on surfaces.
Chemistry, Issue 88, soft landing, mass selected ions, electrospray, secondary ion mass spectrometry, infrared spectroscopy, organometallic, catalysis
51344
A Microplate Assay to Assess Chemical Effects on RBL-2H3 Mast Cell Degranulation: Effects of Triclosan without Use of an Organic Solvent
Institutions: University of Maine, Orono, University of Maine, Orono.

Mast cells play important roles in allergic disease and immune defense against parasites. Once activated (
e.g.
by an allergen), they degranulate, a process that results in the exocytosis of allergic mediators. Modulation of mast cell degranulation by drugs and toxicants may have positive or adverse effects on human health. Mast cell function has been dissected in detail with the use of rat basophilic leukemia mast cells (RBL-2H3), a widely accepted model of human mucosal mast cells
3-5
. Mast cell granule component and the allergic mediator β-hexosaminidase, which is released linearly in tandem with histamine from mast cells
6
, can easily and reliably be measured through reaction with a fluorogenic substrate, yielding measurable fluorescence intensity in a microplate assay that is amenable to high-throughput studies
1
. Originally published by Naal
et al.
1
, we have adapted this degranulation assay for the screening of drugs and toxicants and demonstrate its use here. Triclosan is a broad-spectrum antibacterial agent that is present in many consumer products and has been found to be a therapeutic aid in human allergic skin disease
7-11
, although the mechanism for this effect is unknown. Here we demonstrate an assay for the effect of triclosan on mast cell degranulation. We recently showed that triclosan strongly affects mast cell function
2
. In an effort to avoid use of an organic solvent, triclosan is dissolved directly into aqueous buffer with heat and stirring, and resultant concentration is confirmed using UV-Vis spectrophotometry (using ε
280
= 4,200 L/M/cm)
12
. This protocol has the potential to be used with a variety of chemicals to determine their effects on mast cell degranulation, and more broadly, their allergic potential.
Immunology, Issue 81, mast cell, basophil, degranulation, RBL-2H3, triclosan, irgasan, antibacterial, β-hexosaminidase, allergy, Asthma, toxicants, ionophore, antigen, fluorescence, microplate, UV-Vis
50671
Isolation and Chemical Characterization of Lipid A from Gram-negative Bacteria
Institutions: The University of Texas at Austin, The University of Texas at Austin, The University of Texas at Austin.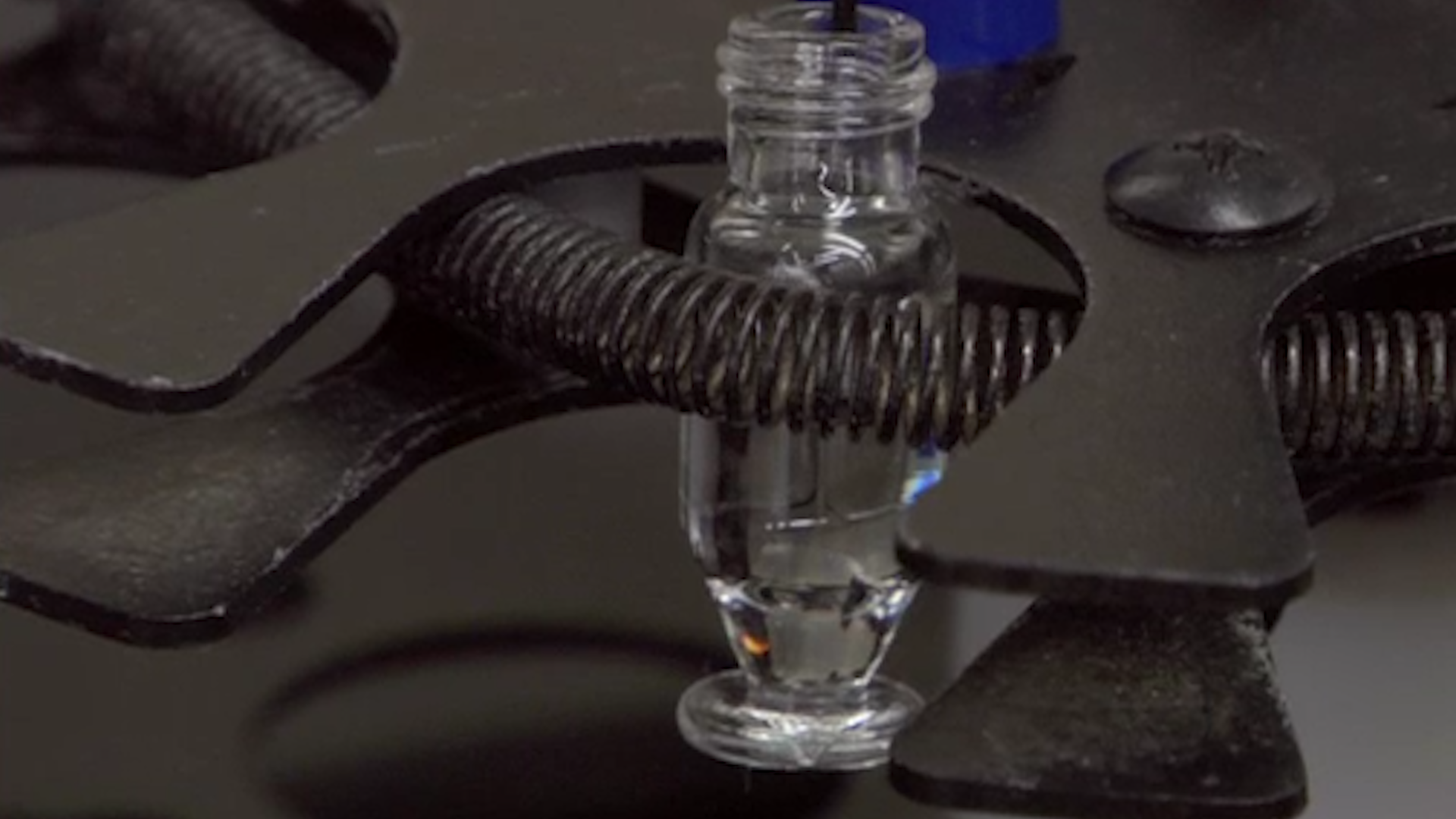 Lipopolysaccharide (LPS) is the major cell surface molecule of gram-negative bacteria, deposited on the outer leaflet of the outer membrane bilayer. LPS can be subdivided into three domains: the distal O-polysaccharide, a core oligosaccharide, and the lipid A domain consisting of a lipid A molecular species and 3-deoxy-D-manno-oct-2-ulosonic acid residues (Kdo). The lipid A domain is the only component essential for bacterial cell survival. Following its synthesis, lipid A is chemically modified in response to environmental stresses such as pH or temperature, to promote resistance to antibiotic compounds, and to evade recognition by mediators of the host innate immune response. The following protocol details the small- and large-scale isolation of lipid A from gram-negative bacteria. Isolated material is then chemically characterized by thin layer chromatography (TLC) or mass-spectrometry (MS). In addition to matrix-assisted laser desorption/ionization-time of flight (MALDI-TOF) MS, we also describe tandem MS protocols for analyzing lipid A molecular species using electrospray ionization (ESI) coupled to collision induced dissociation (CID) and newly employed ultraviolet photodissociation (UVPD) methods. Our MS protocols allow for unequivocal determination of chemical structure, paramount to characterization of lipid A molecules that contain unique or novel chemical modifications. We also describe the radioisotopic labeling, and subsequent isolation, of lipid A from bacterial cells for analysis by TLC. Relative to MS-based protocols, TLC provides a more economical and rapid characterization method, but cannot be used to unambiguously assign lipid A chemical structures without the use of standards of known chemical structure. Over the last two decades isolation and characterization of lipid A has led to numerous exciting discoveries that have improved our understanding of the physiology of gram-negative bacteria, mechanisms of antibiotic resistance, the human innate immune response, and have provided many new targets in the development of antibacterial compounds.
Chemistry, Issue 79, Membrane Lipids, Toll-Like Receptors, Endotoxins, Glycolipids, Lipopolysaccharides, Lipid A, Microbiology, Lipids, lipid A, Bligh-Dyer, thin layer chromatography (TLC), lipopolysaccharide, mass spectrometry, Collision Induced Dissociation (CID), Photodissociation (PD)
50623
PLGA Nanoparticles Formed by Single- or Double-emulsion with Vitamin E-TPGS
Institutions: Barrow Neurological Institute.
Poly(lactic-co-glycolic acid) (PLGA) is a biocompatible member of the aliphatic polyester family of biodegradable polymers. PLGA has long been a popular choice for drug delivery applications, particularly since it is already FDA-approved for use in humans in the form of resorbable sutures. Hydrophobic and hydrophilic drugs are encapsulated in PLGA particles via single- or double-emulsion. Briefly, the drug is dissolved with polymer or emulsified with polymer in an organic phase that is then emulsified with the aqueous phase. After the solvent has evaporated, particles are washed and collected via centrifugation for lyophilization and long term storage. PLGA degrades slowly via hydrolysis in aqueous environments, and encapsulated agents are released over a period of weeks to months. Although PLGA is a material that possesses many advantages for drug delivery, reproducible formation of nanoparticles can be challenging; considerable variability is introduced by the use of different equipment, reagents batch, and precise method of emulsification. Here, we describe in great detail the formation and characterization of microparticles and nanoparticles formed by single- or double-emulsion using the emulsifying agent vitamin E-TPGS. Particle morphology and size are determined with scanning electron microscopy (SEM). We provide representative SEM images for nanoparticles produced with varying emulsifier concentration, as well as examples of imaging artifacts and failed emulsifications. This protocol can be readily adapted to use alternative emulsifiers (
e.g.
poly(vinyl alcohol), PVA) or solvents (
e.g.
 dichloromethane, DCM).
Chemistry, Issue 82, Nanoparticles, Microparticles, PLGA, TPGS, drug delivery, scanning electron microscopy, emulsion, polymers
51015