ABSTRACT
Luminescence Resonance Energy Transfer, or LRET, is a powerful technique used to measure distances between two sites in proteins within the distance range of 10-100 Å. By measuring the distances under various ligated conditions, conformational changes of the protein can be easily assessed. With LRET, a lanthanide, most often chelated terbium, is used as the donor fluorophore, affording advantages such as a longer donor-only emission lifetime, the flexibility to use multiple acceptor fluorophores, and the opportunity to detect sensitized acceptor emission as an easy way to measure energy transfer without the risk of also detecting donor-only signal. Here, we describe a method to use LRET on membrane proteins expressed and assayed on the surface of intact mammalian cells. We introduce a protease cleavage site between the LRET fluorophore pair. After obtaining the original LRET signal, cleavage at that site removes the specific LRET signal from the protein of interest allowing us to quantitatively subtract the background signal that remains after cleavage. This method allows for more physiologically relevant measurements to be made without the need for purification of protein.
23 Related JoVE Articles!
Measuring Diffusion Coefficients via Two-photon Fluorescence Recovery After Photobleaching
Institutions: University of Rochester, University of Rochester.
Multi-fluorescence recovery after photobleaching is a microscopy technique used to measure the diffusion coefficient (or analogous transport parameters) of macromolecules, and can be applied to both
in vitro
and
in vivo
biological systems. Multi-fluorescence recovery after photobleaching is performed by photobleaching a region of interest within a fluorescent sample using an intense laser flash, then attenuating the beam and monitoring the fluorescence as still-fluorescent molecules from outside the region of interest diffuse in to replace the photobleached molecules. We will begin our demonstration by aligning the laser beam through the Pockels Cell (laser modulator) and along the optical path through the laser scan box and objective lens to the sample. For simplicity, we will use a sample of aqueous fluorescent dye. We will then determine the proper experimental parameters for our sample including, monitor and bleaching powers, bleach duration, bin widths (for photon counting), and fluorescence recovery time. Next, we will describe the procedure for taking recovery curves, a process that can be largely automated via LabVIEW (National Instruments, Austin, TX) for enhanced throughput. Finally, the diffusion coefficient is determined by fitting the recovery data to the appropriate mathematical model using a least-squares fitting algorithm, readily programmable using software such as MATLAB (The Mathworks, Natick, MA).
Cellular Biology, Issue 36, Diffusion, fluorescence recovery after photobleaching, MP-FRAP, FPR, multi-photon
1636
Visualization of the Immunological Synapse by Dual Color Time-gated Stimulated Emission Depletion (STED) Nanoscopy
Institutions: Texas Children's Hospital and Baylor College of Medicine.

Natural killer cells form tightly regulated, finely tuned immunological synapses (IS) in order to lyse virally infected or tumorigenic cells. Dynamic actin reorganization is critical to the function of NK cells and the formation of the IS. Imaging of F-actin at the synapse has traditionally utilized confocal microscopy, however the diffraction limit of light restricts resolution of fluorescence microscopy, including confocal, to approximately 200 nm. Recent advances in imaging technology have enabled the development of subdiffraction limited super-resolution imaging. In order to visualize F-actin architecture at the IS we recapitulate the NK cell cytotoxic synapse by adhering NK cells to activating receptor on glass. We then image proteins of interest using two-color stimulated emission depletion microscopy (STED). This results in <80 nm resolution at the synapse. Herein we describe the steps of sample preparation and the acquisition of images using dual color STED nanoscopy to visualize F-actin at the NK IS. We also illustrate optimization of sample acquisition using Leica SP8 software and time-gated STED. Finally, we utilize Huygens software for post-processing deconvolution of images.
Immunology, Issue 85, natural killer cells, F-actin, immune synapse, super-resolution microscopy, two-color stimulated emission depletion (STED) microscopy
51100
Super-resolution Imaging of the Bacterial Division Machinery
Institutions: The Johns Hopkins University School of Medicine.

Bacterial cell division requires the coordinated assembly of more than ten essential proteins at midcell
1,2
. Central to this process is the formation of a ring-like suprastructure (Z-ring) by the FtsZ protein at the division plan
3,4
. The Z-ring consists of multiple single-stranded FtsZ protofilaments, and understanding the arrangement of the protofilaments inside the Z-ring will provide insight into the mechanism of Z-ring assembly and its function as a force generator
5,6
. This information has remained elusive due to current limitations in conventional fluorescence microscopy and electron microscopy. Conventional fluorescence microscopy is unable to provide a high-resolution image of the Z-ring due to the diffraction limit of light (~200 nm). Electron cryotomographic imaging has detected scattered FtsZ protofilaments in small
C. crescentus
cells
7
, but is difficult to apply to larger cells such as
E. coli
or
B. subtilis
. Here we describe the application of a super-resolution fluorescence microscopy method, Photoactivated Localization Microscopy (PALM), to quantitatively characterize the structural organization of the
E. coli
Z-ring
8
. PALM imaging offers both high spatial resolution (~35 nm) and specific labeling to enable unambiguous identification of target proteins. We labeled FtsZ with the photoactivatable fluorescent protein mEos2, which switches from green fluorescence (excitation = 488 nm) to red fluorescence (excitation = 561 nm) upon activation at 405 nm
9
. During a PALM experiment, single FtsZ-mEos2 molecules are stochastically activated and the corresponding centroid positions of the single molecules are determined with <20 nm precision. A super-resolution image of the Z-ring is then reconstructed by superimposing the centroid positions of all detected FtsZ-mEos2 molecules. Using this method, we found that the Z-ring has a fixed width of ~100 nm and is composed of a loose bundle of FtsZ protofilaments that overlap with each other in three dimensions. These data provide a springboard for further investigations of the cell cycle dependent changes of the Z-ring
10
and can be applied to other proteins of interest.
Biophysics, Issue 71, Cellular Biology, Microbiology, Molecular Biology, Structural Biology, Chemistry, Physics, super-resolution imaging, PALM, FtsZ, mEos2, cell division, cytokinesis, divisome
50048
High-resolution Fiber-optic Microendoscopy for in situ Cellular Imaging
Institutions: Rice University, The Univeristy of Texas M. D. Anderson Cancer Center.

Many biological and clinical studies require the longitudinal study and analysis of morphology and function with cellular level resolution. Traditionally, multiple experiments are run in parallel, with individual samples removed from the study at sequential time points for evaluation by light microscopy. Several intravital techniques have been developed, with confocal, multiphoton, and second harmonic microscopy all demonstrating their ability to be used for imaging
in situ
1
. With these systems, however, the required infrastructure is complex and expensive, involving scanning laser systems and complex light sources. Here we present a protocol for the design and assembly of a high-resolution microendoscope which can be built in a day using off-the-shelf components for under US$5,000. The platform offers flexibility in terms of image resolution, field-of-view, and operating wavelength, and we describe how these parameters can be easily modified to meet the specific needs of the end user. We and others have explored the use of the high-resolution microendoscope (HRME) in
in vitro
cell culture
2-5
, in excised
6
and living animal tissues
2,5
, and in human tissues
in vivo
2,7
. Users have reported the use of several different fluorescent contrast agents, including proflavine
2-4
, benzoporphyrin-derivative monoacid ring A (BPD-MA)
5
, and fluoroscein
6,7
, all of which have received full, or investigational approval from the FDA for use in human subjects. High-resolution microendoscopy, in the form described here, may appeal to a wide range of researchers working in the basic and clinical sciences. The technique offers an effective and economical approach which complements traditional benchtop microscopy, by enabling the user to perform high-resolution, longitudinal imaging
in situ
.
Bioengineering, Issue 47, Optical imaging, intravital microscopy, in vivo microscopy, endoscopic microscopy, fiber bundle
2306
Computed Tomography-guided Time-domain Diffuse Fluorescence Tomography in Small Animals for Localization of Cancer Biomarkers
Institutions: Dartmouth College, Dartmouth College, Dartmouth College, University of Birmingham .

Small animal fluorescence molecular imaging (FMI) can be a powerful tool for preclinical drug discovery and development studies
1
. However, light absorption by tissue chromophores (e.g., hemoglobin, water, lipids, melanin) typically limits optical signal propagation through thicknesses larger than a few millimeters
2
. Compared to other visible wavelengths, tissue absorption for red and near-infrared (near-IR) light absorption dramatically decreases and non-elastic scattering becomes the dominant light-tissue interaction mechanism. The relatively recent development of fluorescent agents that absorb and emit light in the near-IR range (600-1000 nm), has driven the development of imaging systems and light propagation models that can achieve whole body three-dimensional imaging in small animals
3
. Despite great strides in this area, the ill-posed nature of diffuse fluorescence tomography remains a significant problem for the stability, contrast recovery and spatial resolution of image reconstruction techniques and the optimal approach to FMI in small animals has yet to be agreed on. The majority of research groups have invested in charge-coupled device (CCD)-based systems that provide abundant tissue-sampling but suboptimal sensitivity
4-9
, while our group and a few others
10-13
have pursued systems based on very high sensitivity detectors, that at this time allow dense tissue sampling to be achieved only at the cost of low imaging throughput. Here we demonstrate the methodology for applying single-photon detection technology in a fluorescence tomography system to localize a cancerous brain lesion in a mouse model. The fluorescence tomography (FT) system employed single photon counting using photomultiplier tubes (PMT) and information-rich time-domain light detection in a non-contact conformation
11
. This provides a simultaneous collection of transmitted excitation and emission light, and includes automatic fluorescence excitation exposure control
14
, laser referencing, and co-registration with a small animal computed tomography (microCT) system
15
. A nude mouse model was used for imaging. The animal was inoculated orthotopically with a human glioma cell line (U251) in the left cerebral hemisphere and imaged 2 weeks later. The tumor was made to fluoresce by injecting a fluorescent tracer, IRDye 800CW-EGF (LI-COR Biosciences, Lincoln, NE) targeted to epidermal growth factor receptor, a cell membrane protein known to be overexpressed in the U251 tumor line and many other cancers
18
. A second, untargeted fluorescent tracer, Alexa Fluor 647 (Life Technologies, Grand Island, NY) was also injected to account for non-receptor mediated effects on the uptake of the targeted tracers to provide a means of quantifying tracer binding and receptor availability/density
27
. A CT-guided, time-domain algorithm was used to reconstruct the location of both fluorescent tracers (
i.e.
, the location of the tumor) in the mouse brain and their ability to localize the tumor was verified by contrast-enhanced magnetic resonance imaging. Though demonstrated for fluorescence imaging in a glioma mouse model, the methodology presented in this video can be extended to different tumor models in various small animal models potentially up to the size of a rat
17
.
Cancer Biology, Issue 65, Medicine, Physics, Molecular Biology, fluorescence, glioma, light transport, tomography, CT, molecular imaging, epidermal growth factor receptor, biomarker
4050
Universal Hand-held Three-dimensional Optoacoustic Imaging Probe for Deep Tissue Human Angiography and Functional Preclinical Studies in Real Time
Institutions: Helmholtz Zentrum München, Technische Universität München.

The exclusive combination of high optical contrast and excellent spatial resolution makes optoacoustics (photoacoustics) ideal for simultaneously attaining anatomical, functional and molecular contrast in deep optically opaque tissues. While enormous potential has been recently demonstrated in the application of optoacoustics for small animal research, vast efforts have also been undertaken in translating this imaging technology into clinical practice. We present here a newly developed optoacoustic tomography approach capable of delivering high resolution and spectrally enriched volumetric images of tissue morphology and function in real time. A detailed description of the experimental protocol for operating with the imaging system in both hand-held and stationary modes is provided and showcased for different potential scenarios involving functional and molecular studies in murine models and humans. The possibility for real time visualization in three dimensions along with the versatile handheld design of the imaging probe make the newly developed approach unique among the pantheon of imaging modalities used in today's preclinical research and clinical practice.
Physiology, Issue 93, Optoacoustic tomography, photoacoustic imaging, hand-held probe, volumetric imaging, real-time tomography, five dimensional imaging, clinical imaging, functional imaging, molecular imaging, preclinical research
51864
Localization and Relative Quantification of Carbon Nanotubes in Cells with Multispectral Imaging Flow Cytometry
Institutions: CNRS/Université Paris Diderot, CNRS/Université Paris Diderot, CNRS/Institut de Biologie Moléculaire et Cellulaire.

Carbon-based nanomaterials, like carbon nanotubes (CNTs), belong to this type of nanoparticles which are very difficult to discriminate from carbon-rich cell structures and
de facto
there is still no quantitative method to assess their distribution at cell and tissue levels. What we propose here is an innovative method allowing the detection and quantification of CNTs in cells using a multispectral imaging flow cytometer (ImageStream, Amnis). This newly developed device integrates both a high-throughput of cells and high resolution imaging, providing thus images for each cell directly in flow and therefore statistically relevant image analysis. Each cell image is acquired on bright-field (BF), dark-field (DF), and fluorescent channels, giving access respectively to the level and the distribution of light absorption, light scattered and fluorescence for each cell. The analysis consists then in a pixel-by-pixel comparison of each image, of the 7,000-10,000 cells acquired for each condition of the experiment. Localization and quantification of CNTs is made possible thanks to some particular intrinsic properties of CNTs: strong light absorbance and scattering; indeed CNTs appear as strongly absorbed dark spots on BF and bright spots on DF with a precise colocalization. This methodology could have a considerable impact on studies about interactions between nanomaterials and cells given that this protocol is applicable for a large range of nanomaterials, insofar as they are capable of absorbing (and/or scattering) strongly enough the light.
Bioengineering, Issue 82, bioengineering, imaging flow cytometry, Carbon Nanotubes, bio-nano-interactions, cellular uptake, cell trafficking
50566
Multimodal Optical Microscopy Methods Reveal Polyp Tissue Morphology and Structure in Caribbean Reef Building Corals
Institutions: University of Illinois at Urbana-Champaign, University of Illinois at Urbana-Champaign, University of Illinois at Urbana-Champaign.

An integrated suite of imaging techniques has been applied to determine the three-dimensional (3D) morphology and cellular structure of polyp tissues comprising the Caribbean reef building corals
Montastraeaannularis
and
M. faveolata
. These approaches include fluorescence microscopy (FM), serial block face imaging (SBFI), and two-photon confocal laser scanning microscopy (TPLSM). SBFI provides deep tissue imaging after physical sectioning; it details the tissue surface texture and 3D visualization to tissue depths of more than 2 mm. Complementary FM and TPLSM yield ultra-high resolution images of tissue cellular structure. Results have: (1) identified previously unreported lobate tissue morphologies on the outer wall of individual coral polyps and (2) created the first surface maps of the 3D distribution and tissue density of chromatophores and algae-like dinoflagellate
zooxanthellae
endosymbionts. Spectral absorption peaks of 500 nm and 675 nm, respectively, suggest that
M. annularis
and
M. faveolata
contain similar types of chlorophyll and chromatophores. However,
M. annularis
and
M. faveolata
exhibit significant differences in the tissue density and 3D distribution of these key cellular components. This study focusing on imaging methods indicates that SBFI is extremely useful for analysis of large mm-scale samples of decalcified coral tissues. Complimentary FM and TPLSM reveal subtle submillimeter scale changes in cellular distribution and density in nondecalcified coral tissue samples. The TPLSM technique affords: (1) minimally invasive sample preparation, (2) superior optical sectioning ability, and (3) minimal light absorption and scattering, while still permitting deep tissue imaging.
Environmental Sciences, Issue 91, Serial block face imaging, two-photon fluorescence microscopy, Montastraea annularis, Montastraea faveolata, 3D coral tissue morphology and structure, zooxanthellae, chromatophore, autofluorescence, light harvesting optimization, environmental change
51824
Cerenkov Luminescence Imaging of Interscapular Brown Adipose Tissue
Institutions: Massachusetts General Hospital/Harvard Medical School, China Pharmaceutical University, Perkin Elmer.

Brown adipose tissue (BAT), widely known as a "good fat" plays pivotal roles for thermogenesis in mammals. This special tissue is closely related to metabolism and energy expenditure, and its dysfunction is one important contributor for obesity and diabetes. Contrary to previous belief, recent PET/CT imaging studies indicated the BAT depots are still present in human adults. PET imaging clearly shows that BAT has considerably high uptake of
18
F-FDG under certain conditions. In this video report, we demonstrate that Cerenkov luminescence imaging (CLI) with
18
F-FDG can be used to optically image BAT in small animals. BAT activation is observed after intraperitoneal injection of norepinephrine (NE) and cold treatment, and depression of BAT is induced by long anesthesia. Using multiple-filter Cerenkov luminescence imaging, spectral unmixing and 3D imaging reconstruction are demonstrated. Our results suggest that CLI with
18
F-FDG is a practical technique for imaging BAT in small animals, and this technique can be used as a cheap, fast, and alternative imaging tool for BAT research.
Medicine, Issue 92, Cerenkov luminescence imaging, brown adipose tissue, 18F-FDG, optical imaging, in vivo imaging, spectral unmixing
51790
Multispectral Real-time Fluorescence Imaging for Intraoperative Detection of the Sentinel Lymph Node in Gynecologic Oncology
Institutions: University Medical Center Groningen, Technical University Munich, University Medical Center Groningen.

The prognosis in virtually all solid tumors depends on the presence or absence of lymph node metastases.
1-3
Surgical treatment most often combines radical excision of the tumor with a full lymphadenectomy in the drainage area of the tumor. However, removal of lymph nodes is associated with increased morbidity due to infection, wound breakdown and lymphedema.
4,5
As an alternative, the sentinel lymph node procedure (SLN) was developed several decades ago to detect the first draining lymph node from the tumor.
6
In case of lymphogenic dissemination, the SLN is the first lymph node that is affected (Figure 1). Hence, if the SLN does not contain metastases, downstream lymph nodes will also be free from tumor metastases and need not to be removed. The SLN procedure is part of the treatment for many tumor types, like breast cancer and melanoma, but also for cancer of the vulva and cervix.
7
The current standard methodology for SLN-detection is by peritumoral injection of radiocolloid one day prior to surgery, and a colored dye intraoperatively. Disadvantages of the procedure in cervical and vulvar cancer are multiple injections in the genital area, leading to increased psychological distress for the patient, and the use of radioactive colloid. Multispectral fluorescence imaging is an emerging imaging modality that can be applied intraoperatively without the need for injection of radiocolloid. For intraoperative fluorescence imaging, two components are needed: a fluorescent agent and a quantitative optical system for intraoperative imaging. As a fluorophore we have used indocyanine green (ICG). ICG has been used for many decades to assess cardiac function, cerebral perfusion and liver perfusion.
8
It is an inert drug with a safe pharmaco-biological profile. When excited at around 750 nm, it emits light in the near-infrared spectrum around 800 nm. A custom-made multispectral fluorescence imaging camera system was used.
9
. The aim of this video article is to demonstrate the detection of the SLN using intraoperative fluorescence imaging in patients with cervical and vulvar cancer. Fluorescence imaging is used in conjunction with the standard procedure, consisting of radiocolloid and a blue dye. In the future, intraoperative fluorescence imaging might replace the current method and is also easily transferable to other indications like breast cancer and melanoma.
Medicine, Issue 44, Image-guided surgery, multispectral fluorescence, sentinel lymph node, gynecologic oncology
2225
Examination of Synaptic Vesicle Recycling Using FM Dyes During Evoked, Spontaneous, and Miniature Synaptic Activities
Institutions: University of Iowa Carver College of Medicine, University of Bath.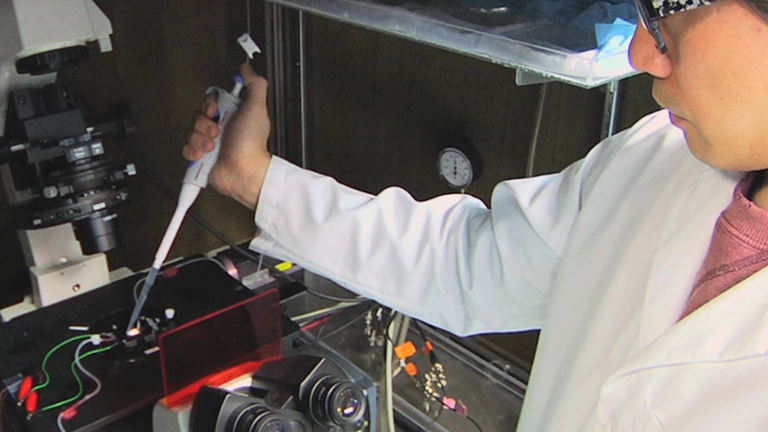 Synaptic vesicles in functional nerve terminals undergo exocytosis and endocytosis. This synaptic vesicle recycling can be effectively analyzed using styryl FM dyes, which reveal membrane turnover. Conventional protocols for the use of FM dyes were designed for analyzing neurons following stimulated (evoked) synaptic activity. Recently, protocols have become available for analyzing the FM signals that accompany weaker synaptic activities, such as spontaneous or miniature synaptic events. Analysis of these small changes in FM signals requires that the imaging system is sufficiently sensitive to detect small changes in intensity, yet that artifactual changes of large amplitude are suppressed. Here we describe a protocol that can be applied to evoked, spontaneous, and miniature synaptic activities, and use cultured hippocampal neurons as an example. This protocol also incorporates a means of assessing the rate of photobleaching of FM dyes, as this is a significant source of artifacts when imaging small changes in intensity.
Neuroscience, Issue 85, Presynaptic Terminals, Synaptic Vesicles, Microscopy, Biological Assay, Nervous System, Endocytosis, exocytosis, fluorescence imaging, FM dye, neuron, photobleaching
50557
Test Samples for Optimizing STORM Super-Resolution Microscopy
Institutions: National Physical Laboratory.

STORM is a recently developed super-resolution microscopy technique with up to 10 times better resolution than standard fluorescence microscopy techniques. However, as the image is acquired in a very different way than normal, by building up an image molecule-by-molecule, there are some significant challenges for users in trying to optimize their image acquisition. In order to aid this process and gain more insight into how STORM works we present the preparation of 3 test samples and the methodology of acquiring and processing STORM super-resolution images with typical resolutions of between 30-50 nm. By combining the test samples with the use of the freely available rainSTORM processing software it is possible to obtain a great deal of information about image quality and resolution. Using these metrics it is then possible to optimize the imaging procedure from the optics, to sample preparation, dye choice, buffer conditions, and image acquisition settings. We also show examples of some common problems that result in poor image quality, such as lateral drift, where the sample moves during image acquisition and density related problems resulting in the 'mislocalization' phenomenon.
Molecular Biology, Issue 79, Genetics, Bioengineering, Biomedical Engineering, Biophysics, Basic Protocols, HeLa Cells, Actin Cytoskeleton, Coated Vesicles, Receptor, Epidermal Growth Factor, Actins, Fluorescence, Endocytosis, Microscopy, STORM, super-resolution microscopy, nanoscopy, cell biology, fluorescence microscopy, test samples, resolution, actin filaments, fiducial markers, epidermal growth factor, cell, imaging
50579
Analysis of Tubular Membrane Networks in Cardiac Myocytes from Atria and Ventricles
Institutions: Heart Research Center Goettingen, University Medical Center Goettingen, German Center for Cardiovascular Research (DZHK) partner site Goettingen, University of Maryland School of Medicine.

In cardiac myocytes a complex network of membrane tubules - the transverse-axial tubule system (TATS) - controls deep intracellular signaling functions. While the outer surface membrane and associated TATS membrane components appear to be continuous, there are substantial differences in lipid and protein content. In ventricular myocytes (VMs), certain TATS components are highly abundant contributing to rectilinear tubule networks and regular branching 3D architectures. It is thought that peripheral TATS components propagate action potentials from the cell surface to thousands of remote intracellular sarcoendoplasmic reticulum (SER) membrane contact domains, thereby activating intracellular Ca
2+
release units (CRUs). In contrast to VMs, the organization and functional role of TATS membranes in atrial myocytes (AMs) is significantly different and much less understood. Taken together, quantitative structural characterization of TATS membrane networks in healthy and diseased myocytes is an essential prerequisite towards better understanding of functional plasticity and pathophysiological reorganization. Here, we present a strategic combination of protocols for direct quantitative analysis of TATS membrane networks in living VMs and AMs. For this, we accompany primary cell isolations of mouse VMs and/or AMs with critical quality control steps and direct membrane staining protocols for fluorescence imaging of TATS membranes. Using an optimized workflow for confocal or superresolution TATS image processing, binarized and skeletonized data are generated for quantitative analysis of the TATS network and its components. Unlike previously published indirect regional aggregate image analysis strategies, our protocols enable direct characterization of specific components and derive complex physiological properties of TATS membrane networks in living myocytes with high throughput and open access software tools. In summary, the combined protocol strategy can be readily applied for quantitative TATS network studies during physiological myocyte adaptation or disease changes, comparison of different cardiac or skeletal muscle cell types, phenotyping of transgenic models, and pharmacological or therapeutic interventions.
Bioengineering, Issue 92, cardiac myocyte, atria, ventricle, heart, primary cell isolation, fluorescence microscopy, membrane tubule, transverse-axial tubule system, image analysis, image processing, T-tubule, collagenase
51823
Simultaneous Multicolor Imaging of Biological Structures with Fluorescence Photoactivation Localization Microscopy
Institutions: University of Maine.

Localization-based super resolution microscopy can be applied to obtain a spatial map (image) of the distribution of individual fluorescently labeled single molecules within a sample with a spatial resolution of tens of nanometers. Using either photoactivatable (PAFP) or photoswitchable (PSFP) fluorescent proteins fused to proteins of interest, or organic dyes conjugated to antibodies or other molecules of interest, fluorescence photoactivation localization microscopy (FPALM) can simultaneously image multiple species of molecules within single cells. By using the following approach, populations of large numbers (thousands to hundreds of thousands) of individual molecules are imaged in single cells and localized with a precision of ~10-30 nm. Data obtained can be applied to understanding the nanoscale spatial distributions of multiple protein types within a cell. One primary advantage of this technique is the dramatic increase in spatial resolution: while diffraction limits resolution to ~200-250 nm in conventional light microscopy, FPALM can image length scales more than an order of magnitude smaller. As many biological hypotheses concern the spatial relationships among different biomolecules, the improved resolution of FPALM can provide insight into questions of cellular organization which have previously been inaccessible to conventional fluorescence microscopy. In addition to detailing the methods for sample preparation and data acquisition, we here describe the optical setup for FPALM. One additional consideration for researchers wishing to do super-resolution microscopy is cost: in-house setups are significantly cheaper than most commercially available imaging machines. Limitations of this technique include the need for optimizing the labeling of molecules of interest within cell samples, and the need for post-processing software to visualize results. We here describe the use of PAFP and PSFP expression to image two protein species in fixed cells. Extension of the technique to living cells is also described.
Basic Protocol, Issue 82, Microscopy, Super-resolution imaging, Multicolor, single molecule, FPALM, Localization microscopy, fluorescent proteins
50680
Preparation of Segmented Microtubules to Study Motions Driven by the Disassembling Microtubule Ends
Institutions: Russian Academy of Sciences, Federal Research Center of Pediatric Hematology, Oncology and Immunology, Moscow, Russia, University of Pennsylvania.

Microtubule depolymerization can provide force to transport different protein complexes and protein-coated beads
in vitro
. The underlying mechanisms are thought to play a vital role in the microtubule-dependent chromosome motions during cell division, but the relevant proteins and their exact roles are ill-defined. Thus, there is a growing need to develop assays with which to study such motility
in vitro
using purified components and defined biochemical milieu. Microtubules, however, are inherently unstable polymers; their switching between growth and shortening is stochastic and difficult to control. The protocols we describe here take advantage of the segmented microtubules that are made with the photoablatable stabilizing caps. Depolymerization of such segmented microtubules can be triggered with high temporal and spatial resolution, thereby assisting studies of motility at the disassembling microtubule ends. This technique can be used to carry out a quantitative analysis of the number of molecules in the fluorescently-labeled protein complexes, which move processively with dynamic microtubule ends. To optimize a signal-to-noise ratio in this and other quantitative fluorescent assays, coverslips should be treated to reduce nonspecific absorption of soluble fluorescently-labeled proteins. Detailed protocols are provided to take into account the unevenness of fluorescent illumination, and determine the intensity of a single fluorophore using equidistant Gaussian fit. Finally, we describe the use of segmented microtubules to study microtubule-dependent motions of the protein-coated microbeads, providing insights into the ability of different motor and nonmotor proteins to couple microtubule depolymerization to processive cargo motion.
Basic Protocol, Issue 85, microscopy flow chamber, single-molecule fluorescence, laser trap, microtubule-binding protein, microtubule-dependent motor, microtubule tip-tracking
51150
Super-resolution Imaging of the Cytokinetic Z Ring in Live Bacteria Using Fast 3D-Structured Illumination Microscopy (f3D-SIM)
Institutions: University of Technology, Sydney.

Imaging of biological samples using fluorescence microscopy has advanced substantially with new technologies to overcome the resolution barrier of the diffraction of light allowing super-resolution of live samples. There are currently three main types of super-resolution techniques – stimulated emission depletion (STED), single-molecule localization microscopy (including techniques such as PALM, STORM, and GDSIM), and structured illumination microscopy (SIM). While STED and single-molecule localization techniques show the largest increases in resolution, they have been slower to offer increased speeds of image acquisition. Three-dimensional SIM (3D-SIM) is a wide-field fluorescence microscopy technique that offers a number of advantages over both single-molecule localization and STED. Resolution is improved, with typical lateral and axial resolutions of 110 and 280 nm, respectively and depth of sampling of up to 30 µm from the coverslip, allowing for imaging of whole cells. Recent advancements (fast 3D-SIM) in the technology increasing the capture rate of raw images allows for fast capture of biological processes occurring in seconds, while significantly reducing photo-toxicity and photobleaching. Here we describe the use of one such method to image bacterial cells harboring the fluorescently-labelled cytokinetic FtsZ protein to show how cells are analyzed and the type of unique information that this technique can provide.
Molecular Biology, Issue 91, super-resolution microscopy, fluorescence microscopy, OMX, 3D-SIM, Blaze, cell division, bacteria, Bacillus subtilis, Staphylococcus aureus, FtsZ, Z ring constriction
51469
Fluorescence Imaging with One-nanometer Accuracy (FIONA)
Institutions: University of Illinois at Urbana-Champaign, University of Illinois at Urbana-Champaign, University of Illinois at Urbana-Champaign.

Fluorescence imaging with one-nanometer accuracy (FIONA) is a simple but useful technique for localizing single fluorophores with nanometer precision in the x-y plane. Here a summary of the FIONA technique is reported and examples of research that have been performed using FIONA are briefly described. First, how to set up the required equipment for FIONA experiments,
i.e.
, a total internal reflection fluorescence microscopy (TIRFM), with details on aligning the optics, is described. Then how to carry out a simple FIONA experiment on localizing immobilized Cy3-DNA single molecules using appropriate protocols, followed by the use of FIONA to measure the 36 nm step size of a single truncated myosin Va motor labeled with a quantum dot, is illustrated. Lastly, recent effort to extend the application of FIONA to thick samples is reported. It is shown that, using a water immersion objective and quantum dots soaked deep in sol-gels and rabbit eye corneas (>200 µm), localization precision of 2-3 nm can be achieved.
Molecular Biology, Issue 91, FIONA, fluorescence imaging, nanometer precision, myosin walking, thick tissue
51774
Visualizing Protein-DNA Interactions in Live Bacterial Cells Using Photoactivated Single-molecule Tracking
Institutions: University of Oxford, University of Oxford.

Protein-DNA interactions are at the heart of many fundamental cellular processes. For example, DNA replication, transcription, repair, and chromosome organization are governed by DNA-binding proteins that recognize specific DNA structures or sequences.
In vitro
experiments have helped to generate detailed models for the function of many types of DNA-binding proteins, yet, the exact mechanisms of these processes and their organization in the complex environment of the living cell remain far less understood. We recently introduced a method for quantifying DNA-repair activities in live
Escherichia coli
cells using Photoactivated Localization Microscopy (PALM) combined with single-molecule tracking. Our general approach identifies individual DNA-binding events by the change in the mobility of a single protein upon association with the chromosome. The fraction of bound molecules provides a direct quantitative measure for the protein activity and abundance of substrates or binding sites at the single-cell level. Here, we describe the concept of the method and demonstrate sample preparation, data acquisition, and data analysis procedures.
Immunology, Issue 85, Super-resolution microscopy, single-particle tracking, Live-cell imaging, DNA-binding proteins, DNA repair, molecular diffusion
51177
Identification of Disease-related Spatial Covariance Patterns using Neuroimaging Data
Institutions: The Feinstein Institute for Medical Research.

The scaled subprofile model (SSM)
1-4
is a multivariate PCA-based algorithm that identifies major sources of variation in patient and control group brain image data while rejecting lesser components (
Figure 1
). Applied directly to voxel-by-voxel covariance data of steady-state multimodality images, an entire group image set can be reduced to a few significant linearly independent covariance patterns and corresponding subject scores. Each pattern, termed a group invariant subprofile (GIS), is an orthogonal principal component that represents a spatially distributed network of functionally interrelated brain regions. Large global mean scalar effects that can obscure smaller network-specific contributions are removed by the inherent logarithmic conversion and mean centering of the data
2,5,6
. Subjects express each of these patterns to a variable degree represented by a simple scalar score that can correlate with independent clinical or psychometric descriptors
7,8
. Using logistic regression analysis of subject scores (
i.e.
pattern expression values), linear coefficients can be derived to combine multiple principal components into single disease-related spatial covariance patterns,
i.e.
composite networks with improved discrimination of patients from healthy control subjects
5,6
. Cross-validation within the derivation set can be performed using bootstrap resampling techniques
9
. Forward validation is easily confirmed by direct score evaluation of the derived patterns in prospective datasets
10
. Once validated, disease-related patterns can be used to score individual patients with respect to a fixed reference sample, often the set of healthy subjects that was used (with the disease group) in the original pattern derivation
11
. These standardized values can in turn be used to assist in differential diagnosis
12,13
and to assess disease progression and treatment effects at the network level
7,14-16
. We present an example of the application of this methodology to FDG PET data of Parkinson's Disease patients and normal controls using our in-house software to derive a characteristic covariance pattern biomarker of disease.
Medicine, Issue 76, Neurobiology, Neuroscience, Anatomy, Physiology, Molecular Biology, Basal Ganglia Diseases, Parkinsonian Disorders, Parkinson Disease, Movement Disorders, Neurodegenerative Diseases, PCA, SSM, PET, imaging biomarkers, functional brain imaging, multivariate spatial covariance analysis, global normalization, differential diagnosis, PD, brain, imaging, clinical techniques
50319
High-resolution Spatiotemporal Analysis of Receptor Dynamics by Single-molecule Fluorescence Microscopy
Institutions: University of Würzburg, Germany.

Single-molecule microscopy is emerging as a powerful approach to analyze the behavior of signaling molecules, in particular concerning those aspect (
e.g
., kinetics, coexistence of different states and populations, transient interactions), which are typically hidden in ensemble measurements, such as those obtained with standard biochemical or microscopy methods. Thus, dynamic events, such as receptor-receptor interactions, can be followed in real time in a living cell with high spatiotemporal resolution. This protocol describes a method based on labeling with small and bright organic fluorophores and total internal reflection fluorescence (TIRF) microscopy to directly visualize single receptors on the surface of living cells. This approach allows one to precisely localize receptors, measure the size of receptor complexes, and capture dynamic events such as transient receptor-receptor interactions. The protocol provides a detailed description of how to perform a single-molecule experiment, including sample preparation, image acquisition and image analysis. As an example, the application of this method to analyze two G-protein-coupled receptors,
i.e
., β
2
-adrenergic and γ-aminobutyric acid type B (GABA
B
) receptor, is reported. The protocol can be adapted to other membrane proteins and different cell models, transfection methods and labeling strategies.
Bioengineering, Issue 89, pharmacology, microscopy, receptor, live-cell imaging, single-molecule, total internal reflection fluorescence, tracking, dimerization, protein-protein interactions
51784
Basics of Multivariate Analysis in Neuroimaging Data
Institutions: Columbia University.

Multivariate analysis techniques for neuroimaging data have recently received increasing attention as they have many attractive features that cannot be easily realized by the more commonly used univariate, voxel-wise, techniques
1,5,6,7,8,9
. Multivariate approaches evaluate correlation/covariance of activation across brain regions, rather than proceeding on a voxel-by-voxel basis. Thus, their results can be more easily interpreted as a signature of neural networks. Univariate approaches, on the other hand, cannot directly address interregional correlation in the brain. Multivariate approaches can also result in greater statistical power when compared with univariate techniques, which are forced to employ very stringent corrections for voxel-wise multiple comparisons. Further, multivariate techniques also lend themselves much better to prospective application of results from the analysis of one dataset to entirely new datasets. Multivariate techniques are thus well placed to provide information about mean differences and correlations with behavior, similarly to univariate approaches, with potentially greater statistical power and better reproducibility checks. In contrast to these advantages is the high barrier of entry to the use of multivariate approaches, preventing more widespread application in the community. To the neuroscientist becoming familiar with multivariate analysis techniques, an initial survey of the field might present a bewildering variety of approaches that, although algorithmically similar, are presented with different emphases, typically by people with mathematics backgrounds. We believe that multivariate analysis techniques have sufficient potential to warrant better dissemination. Researchers should be able to employ them in an informed and accessible manner. The current article is an attempt at a didactic introduction of multivariate techniques for the novice. A conceptual introduction is followed with a very simple application to a diagnostic data set from the Alzheimer s Disease Neuroimaging Initiative (ADNI), clearly demonstrating the superior performance of the multivariate approach.
JoVE Neuroscience, Issue 41, fMRI, PET, multivariate analysis, cognitive neuroscience, clinical neuroscience
1988
Mesoscopic Fluorescence Tomography for In-vivo Imaging of Developing Drosophila
Institutions: Massachusetts General Hospital, Technical University of Munich and Helmholtz Center Munich, Harvard Medical School and Howard Hughes Medical Institute.

Visualizing developing organ formation as well as progession and treatment of disease often heavily relies on the ability to optically interrogate molecular and functional changes in intact living organisms. Most existing optical imaging methods are inadequate for imaging at dimensions that lie between the penetration limits of modern optical microscopy (0.5-1mm) and the diffusion-imposed limits of optical macroscopy (>1cm) [1]. Thus, many important model organisms, e.g. insects, animal embryos or small animal extremities, remain inaccessible for in-vivo optical imaging. Although there is increasing interest towards the development of nanometer-resolution optical imaging methods, there have not been many successful efforts in improving the imaging penetration depth. The ability to perform in-vivo imaging beyond microscopy limits is in fact met with the difficulties associated with photon scattering present in tissues. Recent efforts to image entire embryos for example [2,3] require special chemical treatment of the specimen, to clear them from scattering, a procedure that makes them suitable only for post-mortem imaging. These methods however evidence the need for imaging larger specimens than the ones usually allowed by two-photon or confocal microscopy, especially in developmental biology and in drug discovery. We have developed a new optical imaging technique named Mesoscopic Fluorescence Tomography [4], which appropriate for non-invasive in-vivo imaging at dimensions of 1mm-5mm. The method exchanges resolution for penetration depth, but offers unprecedented tomographic imaging performance and it has been developed to add time as a new dimension in developmental biology observations (and possibly other areas of biological research) by imparting the ability to image the evolution of fluorescence-tagged responses over time. As such it can accelerate studies of morphological or functional dependencies on gene mutations or external stimuli, and can importantly, capture the complete picture of development or tissue function by allowing longitudinal time-lapse visualization of the same, developing organism. The technique utilizes a modified laboratory microscope and multi-projection illumination to collect data at 360-degree projections. It applies the Fermi simplification to Fokker-Plank solution of the photon transport equation, combined with geometrical optics principles in order to build a realistic inversion scheme suitable for mesoscopic range. This allows in-vivo whole-body visualization of non-transparent three-dimensional structures in samples up to several millimeters in size. We have demonstrated the in-vivo performance of the technique by imaging three-dimensional structures of developing
Drosophila
tissues in-vivo and by following the morphogenesis of the wings in the opaque Drosophila pupae in real time over six consecutive hours.
Developmental Biology, Issue 30, fluorescence tomography, mesoscopic imaging, Drosophila, optical imaging, diffusion tomography, scattering
1510
Born Normalization for Fluorescence Optical Projection Tomography for Whole Heart Imaging
Institutions: Harvard Medical School, MGH - Massachusetts General Hospital, Technical University of Munich and Helmholtz Center Munich.

Optical projection tomography is a three-dimensional imaging technique that has been recently introduced as an imaging tool primarily in developmental biology and gene expression studies. The technique renders biological sample optically transparent by first dehydrating them and then placing in a mixture of benzyl alcohol and benzyl benzoate in a 2:1 ratio (BABB or Murray s Clear solution). The technique renders biological samples optically transparent by first dehydrating them in graded ethanol solutions then placing them in a mixture of benzyl alcohol and benzyl benzoate in a 2:1 ratio (BABB or Murray s Clear solution) to clear. After the clearing process the scattering contribution in the sample can be greatly reduced and made almost negligible while the absorption contribution cannot be eliminated completely. When trying to reconstruct the fluorescence distribution within the sample under investigation, this contribution affects the reconstructions and leads, inevitably, to image artifacts and quantification errors.. While absorption could be reduced further with a permanence of weeks or months in the clearing media, this will lead to progressive loss of fluorescence and to an unrealistically long sample processing time. This is true when reconstructing both exogenous contrast agents (molecular contrast agents) as well as endogenous contrast (e.g. reconstructions of genetically expressed fluorescent proteins).
Bioengineering, Issue 28, optical imaging, fluorescence imaging, optical projection tomography, born normalization, molecular imaging, heart imaging
1389