ABSTRACT
In most eukaryotic cells, the nucleus is the largest organelle and is typically 2 to 10 times stiffer than the surrounding cytoskeleton; consequently, the physical properties of the nucleus contribute significantly to the overall biomechanical behavior of cells under physiological and pathological conditions. For example, in migrating neutrophils and invading cancer cells, nuclear stiffness can pose a major obstacle during extravasation or passage through narrow spaces within tissues.1 On the other hand, the nucleus of cells in mechanically active tissue such as muscle requires sufficient structural support to withstand repetitive mechanical stress. Importantly, the nucleus is tightly integrated into the cellular architecture; it is physically connected to the surrounding cytoskeleton, which is a critical requirement for the intracellular movement and positioning of the nucleus, for example, in polarized cells, synaptic nuclei at neuromuscular junctions, or in migrating cells.2 Not surprisingly, mutations in nuclear envelope proteins such as lamins and nesprins, which play a critical role in determining nuclear stiffness and nucleo-cytoskeletal coupling, have been shown recently to result in a number of human diseases, including Emery-Dreifuss muscular dystrophy, limb-girdle muscular dystrophy, and dilated cardiomyopathy.3 To investigate the biophysical function of diverse nuclear envelope proteins and the effect of specific mutations, we have developed experimental methods to study the physical properties of the nucleus in single, living cells subjected to global or localized mechanical perturbation. Measuring induced nuclear deformations in response to precisely applied substrate strain application yields important information on the deformability of the nucleus and allows quantitative comparison between different mutations or cell lines deficient for specific nuclear envelope proteins. Localized cytoskeletal strain application with a microneedle is used to complement this assay and can yield additional information on intracellular force transmission between the nucleus and the cytoskeleton. Studying nuclear mechanics in intact living cells preserves the normal intracellular architecture and avoids potential artifacts that can arise when working with isolated nuclei. Furthermore, substrate strain application presents a good model for the physiological stress experienced by cells in muscle or other tissues (e.g., vascular smooth muscle cells exposed to vessel strain). Lastly, while these tools have been developed primarily to study nuclear mechanics, they can also be applied to investigate the function of cytoskeletal proteins and mechanotransduction signaling.
21 Related JoVE Articles!
Capillary Force Lithography for Cardiac Tissue Engineering
Institutions: University of Washington, University of Washington.
Cardiovascular disease remains the leading cause of death worldwide
1
. Cardiac tissue engineering holds much promise to deliver groundbreaking medical discoveries with the aims of developing functional tissues for cardiac regeneration as well as
in vitro
screening assays. However, the ability to create high-fidelity models of heart tissue has proven difficult. The heart's extracellular matrix (ECM) is a complex structure consisting of both biochemical and biomechanical signals ranging from the micro- to the nanometer scale
2
. Local mechanical loading conditions and cell-ECM interactions have recently been recognized as vital components in cardiac tissue engineering
3-5
. A large portion of the cardiac ECM is composed of aligned collagen fibers with nano-scale diameters that significantly influences tissue architecture and electromechanical coupling
2
. Unfortunately, few methods have been able to mimic the organization of ECM fibers down to the nanometer scale. Recent advancements in nanofabrication techniques, however, have enabled the design and fabrication of scalable scaffolds that mimic the
in vivo
structural and substrate stiffness cues of the ECM in the heart
6-9
. Here we present the development of two reproducible, cost-effective, and scalable nanopatterning processes for the functional alignment of cardiac cells using the biocompatible polymer poly(lactide-co-glycolide) (PLGA)
8
and a polyurethane (PU) based polymer. These anisotropically nanofabricated substrata (ANFS) mimic the underlying ECM of well-organized, aligned tissues and can be used to investigate the role of nanotopography on cell morphology and function
10-14
. Using a nanopatterned (NP) silicon master as a template, a polyurethane acrylate (PUA) mold is fabricated. This PUA mold is then used to pattern the PU or PLGA hydrogel via UV-assisted or solvent-mediated capillary force lithography (CFL), respectively
15,16
. Briefly, PU or PLGA pre-polymer is drop dispensed onto a glass coverslip and the PUA mold is placed on top. For UV-assisted CFL, the PU is then exposed to UV radiation (λ = 250-400 nm) for curing. For solvent-mediated CFL, the PLGA is embossed using heat (120 °C) and pressure (100 kPa). After curing, the PUA mold is peeled off, leaving behind an ANFS for cell culture. Primary cells, such as neonatal rat ventricular myocytes, as well as human pluripotent stem cell-derived cardiomyocytes, can be maintained on the ANFS
2
.
Bioengineering, Issue 88, Nanotopography, Anisotropic, Nanofabrication, Cell Culture, Cardiac Tissue Engineering
50039
Live Cell Response to Mechanical Stimulation Studied by Integrated Optical and Atomic Force Microscopy
Institutions: Texas A&M Health Science Center, Texas A&M University.

To understand the mechanism by which living cells sense mechanical forces, and how they respond and adapt to their environment, a new technology able to investigate cells behavior at sub-cellular level with high spatial and temporal resolution was developed. Thus, an atomic force microscope (AFM) was integrated with total internal reflection fluorescence (TIRF) microscopy and fast-spinning disk (FSD) confocal microscopy. The integrated system is broadly applicable across a wide range of molecular dynamic studies in any adherent live cells, allowing direct optical imaging of cell responses to mechanical stimulation in real-time. Significant rearrangement of the actin filaments and focal adhesions was shown due to local mechanical stimulation at the apical cell surface that induced changes into the cellular structure throughout the cell body. These innovative techniques will provide new information for understanding live cell restructuring and dynamics in response to mechanical force. A detailed protocol and a representative data set that show live cell response to mechanical stimulation are presented.
Cellular Biology, Issue 44, live cells, mechanical stimulation, integrated microscopy, atomic force microscopy, spinning-disk confocal, total internal reflection fluorescence
2072
Engineering Fibrin-based Tissue Constructs from Myofibroblasts and Application of Constraints and Strain to Induce Cell and Collagen Reorganization
Institutions: Eindhoven University of Technology.

Collagen content and organization in developing collagenous tissues can be influenced by local tissue strains and tissue constraint. Tissue engineers aim to use these principles to create tissues with predefined collagen architectures. A full understanding of the exact underlying processes of collagen remodeling to control the final tissue architecture, however, is lacking. In particular, little is known about the (re)orientation of collagen fibers in response to changes in tissue mechanical loading conditions. We developed an
in vitro
model system, consisting of biaxially-constrained myofibroblast-seeded fibrin constructs, to further elucidate collagen (re)orientation in response to i) reverting biaxial to uniaxial static loading conditions and ii) cyclic uniaxial loading of the biaxially-constrained constructs before and after a change in loading direction, with use of the Flexcell FX4000T loading device. Time-lapse confocal imaging is used to visualize collagen (re)orientation in a nondestructive manner. Cell and collagen organization in the constructs can be visualized in real-time, and an internal reference system allows us to relocate cells and collagen structures for time-lapse analysis. Various aspects of the model system can be adjusted, like cell source or use of healthy and diseased cells. Additives can be used to further elucidate mechanisms underlying collagen remodeling, by for example adding MMPs or blocking integrins. Shape and size of the construct can be easily adapted to specific needs, resulting in a highly tunable model system to study cell and collagen (re)organization.
Bioengineering, Issue 80, Connective Tissue, Myofibroblasts, Heart Valves, Heart Valve Diseases, Mechanotransduction, Cellular, Adaptation, Biological, Cellular Microenvironment, collagen remodeling, fibrin-based tissues, tissue engineering, cardiovascular
51009
An Experimental System to Study Mechanotransduction in Fetal Lung Cells
Institutions: Alpert Medical School of Brown University.

Mechanical forces generated
in utero
by repetitive breathing-like movements and by fluid distension are critical for normal lung development. A key component of lung development is the differentiation of alveolar type II epithelial cells, the major source of pulmonary surfactant. These cells also participate in fluid homeostasis in the alveolar lumen, host defense, and injury repair. In addition, distal lung parenchyma cells can be directly exposed to exaggerated stretch during mechanical ventilation after birth. However, the precise molecular and cellular mechanisms by which lung cells sense mechanical stimuli to influence lung development and to promote lung injury are not completely understood. Here, we provide a simple and high purity method to isolate type II cells and fibroblasts from rodent fetal lungs. Then, we describe an
in vitro
system, The Flexcell Strain Unit, to provide mechanical stimulation to fetal cells, simulating mechanical forces in fetal lung development or lung injury. This experimental system provides an excellent tool to investigate molecular and cellular mechanisms in fetal lung cells exposed to stretch. Using this approach, our laboratory has identified several receptors and signaling proteins that participate in mechanotransduction in fetal lung development and lung injury.
Bioengineering, Issue 60, Mechanical stretch, differentiation, lung injury, isolation, fetal, type II epithelial cells, fibroblasts
3543
Stretching Micropatterned Cells on a PDMS Membrane
Institutions: Institut Curie.

Mechanical forces exerted on cells and/or tissues play a major role in numerous processes. We have developed a device to stretch cells plated on a PolyDiMethylSiloxane (PDMS) membrane, compatible with imaging. This technique is reproducible and versatile. The PDMS membrane can be micropatterned in order to confine cells or tissues to a specific geometry. The first step is to print micropatterns onto the PDMS membrane with a deep UV technique. The PDMS membrane is then mounted on a mechanical stretcher. A chamber is bound on top of the membrane with biocompatible grease to allow gliding during the stretch. The cells are seeded and allowed to spread for several hours on the micropatterns. The sample can be stretched and unstretched multiple times with the use of a micrometric screw. It takes less than a minute to apply the stretch to its full extent (around 30%). The technique presented here does not include a motorized device, which is necessary for applying repeated stretch cycles quickly and/or computer controlled stretching, but this can be implemented. Stretching of cells or tissue can be of interest for questions related to cell forces, cell response to mechanical stress or tissue morphogenesis. This video presentation will show how to avoid typical problems that might arise when doing this type of seemingly simple experiment.
Bioengineering, Issue 83, micropatterns, stretching, forces, PDMS, microscopy, polarity, mechanical forces
51193
Environmentally-controlled Microtensile Testing of Mechanically-adaptive Polymer Nanocomposites for ex vivo Characterization
Institutions: Louis Stokes Cleveland Department of Veterans Affairs Medical Center, Case Western Reserve University, Case Western Reserve University.

Implantable microdevices are gaining significant attention for several biomedical applications
1-4
. Such devices have been made from a range of materials, each offering its own advantages and shortcomings
5,6
. Most prominently, due to the microscale device dimensions, a high modulus is required to facilitate implantation into living tissue. Conversely, the stiffness of the device should match the surrounding tissue to minimize induced local strain
7-9
. Therefore, we recently developed a new class of bio-inspired materials to meet these requirements by responding to environmental stimuli with a change in mechanical properties
10-14
. Specifically, our poly(vinyl acetate)-based nanocomposite (PVAc-NC) displays a reduction in stiffness when exposed to water and elevated temperatures (
e.g.
body temperature). Unfortunately, few methods exist to quantify the stiffness of materials
in vivo
15
, and mechanical testing outside of the physiological environment often requires large samples inappropriate for implantation. Further, stimuli-responsive materials may quickly recover their initial stiffness after explantation. Therefore, we have developed a method by which the mechanical properties of implanted microsamples can be measured
ex vivo
, with simulated physiological conditions maintained using moisture and temperature control
13,16,17
. To this end, a custom microtensile tester was designed to accommodate microscale samples
13,17
with widely-varying Young's moduli (range of 10 MPa to 5 GPa). As our interests are in the application of PVAc-NC as a biologically-adaptable neural probe substrate, a tool capable of mechanical characterization of samples at the microscale was necessary. This tool was adapted to provide humidity and temperature control, which minimized sample drying and cooling
17
. As a result, the mechanical characteristics of the explanted sample closely reflect those of the sample just prior to explantation. The overall goal of this method is to quantitatively assess the
in vivo
mechanical properties, specifically the Young's modulus, of stimuli-responsive, mechanically-adaptive polymer-based materials. This is accomplished by first establishing the environmental conditions that will minimize a change in sample mechanical properties after explantation without contributing to a reduction in stiffness independent of that resulting from implantation. Samples are then prepared for implantation, handling, and testing (
Figure 1A
). Each sample is implanted into the cerebral cortex of rats, which is represented here as an explanted rat brain, for a specified duration (
Figure 1B
). At this point, the sample is explanted and immediately loaded into the microtensile tester, and then subjected to tensile testing (
Figure 1C
). Subsequent data analysis provides insight into the mechanical behavior of these innovative materials in the environment of the cerebral cortex.
Bioengineering, Issue 78, Biophysics, Biomedical Engineering, Molecular Biology, Cellular Biology, Electrical Engineering, Materials Science, Nanotechnology, Nanocomposites, Electrodes, Implanted, Neural Prostheses, Micro-Electrical-Mechanical Systems, Implants, Experimental, mechanical properties (composite materials), Dynamic materials, polymer nanocomposite, Young's modulus, modulus of elasticity, intracortical microelectrode, polymers, biomaterials
50078
Construction and Characterization of a Novel Vocal Fold Bioreactor
Institutions: University of Delaware, University of Delaware.
In vitro
engineering of mechanically active tissues requires the presentation of physiologically relevant mechanical conditions to cultured cells. To emulate the dynamic environment of vocal folds, a novel vocal fold bioreactor capable of producing vibratory stimulations at fundamental phonation frequencies is constructed and characterized. The device is composed of a function generator, a power amplifier, a speaker selector and parallel vibration chambers. Individual vibration chambers are created by sandwiching a custom-made silicone membrane between a pair of acrylic blocks. The silicone membrane not only serves as the bottom of the chamber but also provides a mechanism for securing the cell-laden scaffold. Vibration signals, generated by a speaker mounted underneath the bottom acrylic block, are transmitted to the membrane aerodynamically by the oscillating air. Eight identical vibration modules, fixed on two stationary metal bars, are housed in an anti-humidity chamber for long-term operation in a cell culture incubator. The vibration characteristics of the vocal fold bioreactor are analyzed non-destructively using a Laser Doppler Vibrometer (LDV). The utility of the dynamic culture device is demonstrated by culturing cellular constructs in the presence of 200-Hz sinusoidal vibrations with a mid-membrane displacement of 40 µm. Mesenchymal stem cells cultured in the bioreactor respond to the vibratory signals by altering the synthesis and degradation of vocal fold-relevant, extracellular matrix components. The novel bioreactor system presented herein offers an excellent
in vitro
platform for studying vibration-induced mechanotransduction and for the engineering of functional vocal fold tissues.
Bioengineering, Issue 90, vocal fold; bioreactor; speaker; silicone membrane; fibrous scaffold; mesenchymal stem cells; vibration; extracellular matrix
51594
Video-rate Scanning Confocal Microscopy and Microendoscopy
Institutions: Harvard University , Harvard-MIT, Harvard Medical School.

Confocal microscopy has become an invaluable tool in biology and the biomedical sciences, enabling rapid, high-sensitivity, and high-resolution optical sectioning of complex systems. Confocal microscopy is routinely used, for example, to study specific cellular targets
1
, monitor dynamics in living cells
2-4
, and visualize the three dimensional evolution of entire organisms
5,6
. Extensions of confocal imaging systems, such as confocal microendoscopes, allow for high-resolution imaging
in vivo
7
and are currently being applied to disease imaging and diagnosis in clinical settings
8,9
. Confocal microscopy provides three-dimensional resolution by creating so-called "optical sections" using straightforward geometrical optics. In a standard wide-field microscope, fluorescence generated from a sample is collected by an objective lens and relayed directly to a detector. While acceptable for imaging thin samples, thick samples become blurred by fluorescence generated above and below the objective focal plane. In contrast, confocal microscopy enables virtual, optical sectioning of samples, rejecting out-of-focus light to build high resolution three-dimensional representations of samples. Confocal microscopes achieve this feat by using a confocal aperture in the detection beam path. The fluorescence collected from a sample by the objective is relayed back through the scanning mirrors and through the primary dichroic mirror, a mirror carefully selected to reflect shorter wavelengths such as the laser excitation beam while passing the longer, Stokes-shifted fluorescence emission. This long-wavelength fluorescence signal is then passed to a pair of lenses on either side of a pinhole that is positioned at a plane exactly conjugate with the focal plane of the objective lens. Photons collected from the focal volume of the object are collimated by the objective lens and are focused by the confocal lenses through the pinhole. Fluorescence generated above or below the focal plane will therefore not be collimated properly, and will not pass through the confocal pinhole
1
, creating an optical section in which only light from the microscope focus is visible. (
Fig 1
). Thus the pinhole effectively acts as a virtual aperture in the focal plane, confining the detected emission to only one limited spatial location. Modern commercial confocal microscopes offer users fully automated operation, making formerly complex imaging procedures relatively straightforward and accessible. Despite the flexibility and power of these systems, commercial confocal microscopes are not well suited for all confocal imaging tasks, such as many
in vivo
imaging applications. Without the ability to create customized imaging systems to meet their needs, important experiments can remain out of reach to many scientists. In this article, we provide a step-by-step method for the complete construction of a custom, video-rate confocal imaging system from basic components. The upright microscope will be constructed using a resonant galvanometric mirror to provide the fast scanning axis, while a standard speed resonant galvanometric mirror will scan the slow axis. To create a precise scanned beam in the objective lens focus, these mirrors will be positioned at the so-called telecentric planes using four relay lenses. Confocal detection will be accomplished using a standard, off-the-shelf photomultiplier tube (PMT), and the images will be captured and displayed using a Matrox framegrabber card and the included software.
Bioengineering, Issue 56, Microscopy, confocal microscopy, microendoscopy, video-rate, fluorescence, scanning, in vivo imaging
3252
Analysis of Tubular Membrane Networks in Cardiac Myocytes from Atria and Ventricles
Institutions: Heart Research Center Goettingen, University Medical Center Goettingen, German Center for Cardiovascular Research (DZHK) partner site Goettingen, University of Maryland School of Medicine.

In cardiac myocytes a complex network of membrane tubules - the transverse-axial tubule system (TATS) - controls deep intracellular signaling functions. While the outer surface membrane and associated TATS membrane components appear to be continuous, there are substantial differences in lipid and protein content. In ventricular myocytes (VMs), certain TATS components are highly abundant contributing to rectilinear tubule networks and regular branching 3D architectures. It is thought that peripheral TATS components propagate action potentials from the cell surface to thousands of remote intracellular sarcoendoplasmic reticulum (SER) membrane contact domains, thereby activating intracellular Ca
2+
release units (CRUs). In contrast to VMs, the organization and functional role of TATS membranes in atrial myocytes (AMs) is significantly different and much less understood. Taken together, quantitative structural characterization of TATS membrane networks in healthy and diseased myocytes is an essential prerequisite towards better understanding of functional plasticity and pathophysiological reorganization. Here, we present a strategic combination of protocols for direct quantitative analysis of TATS membrane networks in living VMs and AMs. For this, we accompany primary cell isolations of mouse VMs and/or AMs with critical quality control steps and direct membrane staining protocols for fluorescence imaging of TATS membranes. Using an optimized workflow for confocal or superresolution TATS image processing, binarized and skeletonized data are generated for quantitative analysis of the TATS network and its components. Unlike previously published indirect regional aggregate image analysis strategies, our protocols enable direct characterization of specific components and derive complex physiological properties of TATS membrane networks in living myocytes with high throughput and open access software tools. In summary, the combined protocol strategy can be readily applied for quantitative TATS network studies during physiological myocyte adaptation or disease changes, comparison of different cardiac or skeletal muscle cell types, phenotyping of transgenic models, and pharmacological or therapeutic interventions.
Bioengineering, Issue 92, cardiac myocyte, atria, ventricle, heart, primary cell isolation, fluorescence microscopy, membrane tubule, transverse-axial tubule system, image analysis, image processing, T-tubule, collagenase
51823
Analysis of Cell Migration within a Three-dimensional Collagen Matrix
Institutions: Witten/Herdecke University.

The ability to migrate is a hallmark of various cell types and plays a crucial role in several physiological processes, including embryonic development, wound healing, and immune responses. However, cell migration is also a key mechanism in cancer enabling these cancer cells to detach from the primary tumor to start metastatic spreading. Within the past years various cell migration assays have been developed to analyze the migratory behavior of different cell types. Because the locomotory behavior of cells markedly differs between a two-dimensional (2D) and three-dimensional (3D) environment it can be assumed that the analysis of the migration of cells that are embedded within a 3D environment would yield in more significant cell migration data. The advantage of the described 3D collagen matrix migration assay is that cells are embedded within a physiological 3D network of collagen fibers representing the major component of the extracellular matrix. Due to time-lapse video microscopy real cell migration is measured allowing the determination of several migration parameters as well as their alterations in response to pro-migratory factors or inhibitors. Various cell types could be analyzed using this technique, including lymphocytes/leukocytes, stem cells, and tumor cells. Likewise, also cell clusters or spheroids could be embedded within the collagen matrix concomitant with analysis of the emigration of single cells from the cell cluster/ spheroid into the collagen lattice. We conclude that the 3D collagen matrix migration assay is a versatile method to analyze the migration of cells within a physiological-like 3D environment.
Bioengineering, Issue 92, cell migration, 3D collagen matrix, cell tracking
51963
Study of the Actin Cytoskeleton in Live Endothelial Cells Expressing GFP-Actin
Institutions: Louisiana State University Health Sciences Center.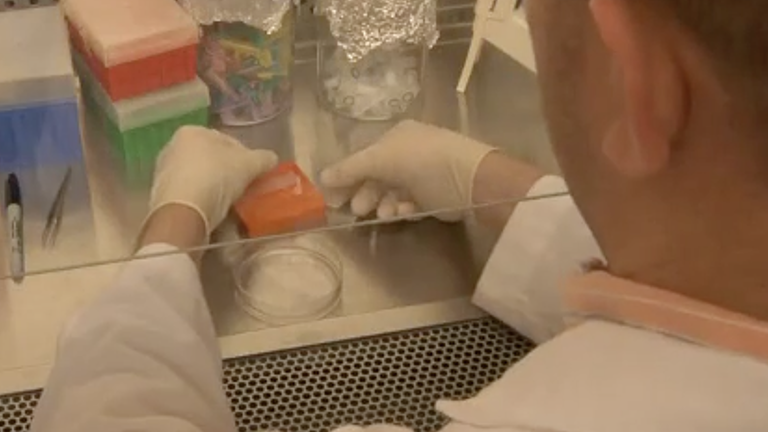 The microvascular endothelium plays an important role as a selectively permeable barrier to fluids and solutes. The adhesive junctions between endothelial cells regulate permeability of the endothelium, and many studies have indicated the important contribution of the actin cytoskeleton to determining junctional integrity
1-5
. A cortical actin belt is thought to be important for the maintenance of stable junctions
1, 2, 4, 5
. In contrast, actin stress fibers are thought to generate centripetal tension within endothelial cells that weakens junctions
2-5
. Much of this theory has been based on studies in which endothelial cells are treated with inflammatory mediators known to increase endothelial permeability, and then fixing the cells and labeling F-actin for microscopic observation. However, these studies provide a very limited understanding of the role of the actin cytoskeleton because images of fixed cells provide only snapshots in time with no information about the dynamics of actin structures
5
. Live-cell imaging allows incorporation of the dynamic nature of the actin cytoskeleton into the studies of the mechanisms determining endothelial barrier integrity. A major advantage of this method is that the impact of various inflammatory stimuli on actin structures in endothelial cells can be assessed in the same set of living cells before and after treatment, removing potential bias that may occur when observing fixed specimens. Human umbilical vein endothelial cells (HUVEC) are transfected with a GFP-β-actin plasmid and grown to confluence on glass coverslips. Time-lapse images of GFP-actin in confluent HUVEC are captured before and after the addition of inflammatory mediators that elicit time-dependent changes in endothelial barrier integrity. These studies enable visual observation of the fluid sequence of changes in the actin cytoskeleton that contribute to endothelial barrier disruption and restoration. Our results consistently show local, actin-rich lamellipodia formation and turnover in endothelial cells. The formation and movement of actin stress fibers can also be observed. An analysis of the frequency of formation and turnover of the local lamellipodia, before and after treatment with inflammatory stimuli can be documented by kymograph analyses. These studies provide important information on the dynamic nature of the actin cytoskeleton in endothelial cells that can used to discover previously unidentified molecular mechanisms important for the maintenance of endothelial barrier integrity.
Cell Biology, Issue 57, Endothelial cells, actin, cytoskeleton, live-cell imaging, GFP, lamellipodia, stress fibers, kymograph analysis
3187
A Novel Stretching Platform for Applications in Cell and Tissue Mechanobiology
Institutions: University of Ottawa, University of Ottawa, University of Calgary, University of Ottawa, University of Ottawa.

Tools that allow the application of mechanical forces to cells and tissues or that can quantify the mechanical properties of biological tissues have contributed dramatically to the understanding of basic mechanobiology. These techniques have been extensively used to demonstrate how the onset and progression of various diseases are heavily influenced by mechanical cues. This article presents a multi-functional biaxial stretching (BAXS) platform that can either mechanically stimulate single cells or quantify the mechanical stiffness of tissues. The BAXS platform consists of four voice coil motors that can be controlled independently. Single cells can be cultured on a flexible substrate that can be attached to the motors allowing one to expose the cells to complex, dynamic, and spatially varying strain fields. Conversely, by incorporating a force load cell, one can also quantify the mechanical properties of primary tissues as they are exposed to deformation cycles. In both cases, a proper set of clamps must be designed and mounted to the BAXS platform motors in order to firmly hold the flexible substrate or the tissue of interest. The BAXS platform can be mounted on an inverted microscope to perform simultaneous transmitted light and/or fluorescence imaging to examine the structural or biochemical response of the sample during stretching experiments. This article provides experimental details of the design and usage of the BAXS platform and presents results for single cell and whole tissue studies. The BAXS platform was used to measure the deformation of nuclei in single mouse myoblast cells in response to substrate strain and to measure the stiffness of isolated mouse aortas. The BAXS platform is a versatile tool that can be combined with various optical microscopies in order to provide novel mechanobiological insights at the sub-cellular, cellular and whole tissue levels.
Bioengineering, Issue 88, cell stretching, tissue mechanics, nuclear mechanics, uniaxial, biaxial, anisotropic, mechanobiology
51454
Simultaneous Multicolor Imaging of Biological Structures with Fluorescence Photoactivation Localization Microscopy
Institutions: University of Maine.

Localization-based super resolution microscopy can be applied to obtain a spatial map (image) of the distribution of individual fluorescently labeled single molecules within a sample with a spatial resolution of tens of nanometers. Using either photoactivatable (PAFP) or photoswitchable (PSFP) fluorescent proteins fused to proteins of interest, or organic dyes conjugated to antibodies or other molecules of interest, fluorescence photoactivation localization microscopy (FPALM) can simultaneously image multiple species of molecules within single cells. By using the following approach, populations of large numbers (thousands to hundreds of thousands) of individual molecules are imaged in single cells and localized with a precision of ~10-30 nm. Data obtained can be applied to understanding the nanoscale spatial distributions of multiple protein types within a cell. One primary advantage of this technique is the dramatic increase in spatial resolution: while diffraction limits resolution to ~200-250 nm in conventional light microscopy, FPALM can image length scales more than an order of magnitude smaller. As many biological hypotheses concern the spatial relationships among different biomolecules, the improved resolution of FPALM can provide insight into questions of cellular organization which have previously been inaccessible to conventional fluorescence microscopy. In addition to detailing the methods for sample preparation and data acquisition, we here describe the optical setup for FPALM. One additional consideration for researchers wishing to do super-resolution microscopy is cost: in-house setups are significantly cheaper than most commercially available imaging machines. Limitations of this technique include the need for optimizing the labeling of molecules of interest within cell samples, and the need for post-processing software to visualize results. We here describe the use of PAFP and PSFP expression to image two protein species in fixed cells. Extension of the technique to living cells is also described.
Basic Protocol, Issue 82, Microscopy, Super-resolution imaging, Multicolor, single molecule, FPALM, Localization microscopy, fluorescent proteins
50680
Electric Cell-substrate Impedance Sensing for the Quantification of Endothelial Proliferation, Barrier Function, and Motility
Institutions: Institute for Cardiovascular Research, VU University Medical Center, Institute for Cardiovascular Research, VU University Medical Center.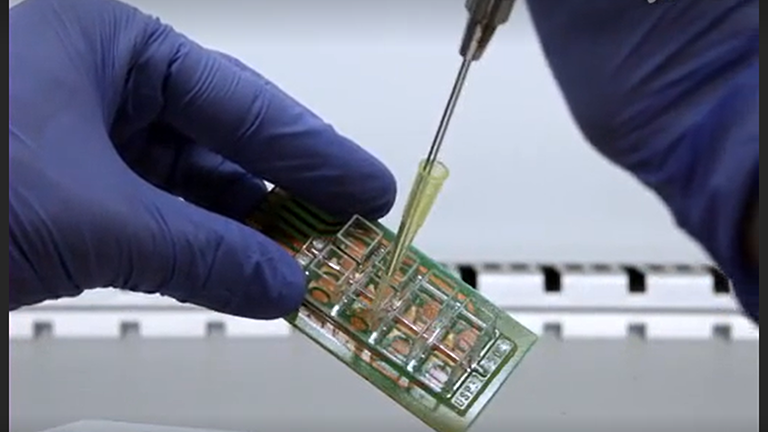 Electric Cell-substrate Impedance Sensing (ECIS) is an
in vitro
impedance measuring system to quantify the behavior of cells within adherent cell layers. To this end, cells are grown in special culture chambers on top of opposing, circular gold electrodes. A constant small alternating current is applied between the electrodes and the potential across is measured. The insulating properties of the cell membrane create a resistance towards the electrical current flow resulting in an increased electrical potential between the electrodes. Measuring cellular impedance in this manner allows the automated study of cell attachment, growth, morphology, function, and motility. Although the ECIS measurement itself is straightforward and easy to learn, the underlying theory is complex and selection of the right settings and correct analysis and interpretation of the data is not self-evident. Yet, a clear protocol describing the individual steps from the experimental design to preparation, realization, and analysis of the experiment is not available. In this article the basic measurement principle as well as possible applications, experimental considerations, advantages and limitations of the ECIS system are discussed. A guide is provided for the study of cell attachment, spreading and proliferation; quantification of cell behavior in a confluent layer, with regard to barrier function, cell motility, quality of cell-cell and cell-substrate adhesions; and quantification of wound healing and cellular responses to vasoactive stimuli. Representative results are discussed based on human microvascular (MVEC) and human umbilical vein endothelial cells (HUVEC), but are applicable to all adherent growing cells.
Bioengineering, Issue 85, ECIS, Impedance Spectroscopy, Resistance, TEER, Endothelial Barrier, Cell Adhesions, Focal Adhesions, Proliferation, Migration, Motility, Wound Healing
51300
Measurement of Tension Release During Laser Induced Axon Lesion to Evaluate Axonal Adhesion to the Substrate at Piconewton and Millisecond Resolution
Institutions: National Research Council of Italy, Università di Firenze, Istituto Italiano di Tecnologia.

The formation of functional connections in a developing neuronal network is influenced by extrinsic cues. The neurite growth of developing neurons is subject to chemical and mechanical signals, and the mechanisms by which it senses and responds to mechanical signals are poorly understood. Elucidating the role of forces in cell maturation will enable the design of scaffolds that can promote cell adhesion and cytoskeletal coupling to the substrate, and therefore improve the capacity of different neuronal types to regenerate after injury. Here, we describe a method to apply simultaneous force spectroscopy measurements during laser induced cell lesion. We measure tension release in the partially lesioned axon by simultaneous interferometric tracking of an optically trapped probe adhered to the membrane of the axon. Our experimental protocol detects the tension release with piconewton sensitivity, and the dynamic of the tension release at millisecond time resolution. Therefore, it offers a high-resolution method to study how the mechanical coupling between cells and substrates can be modulated by pharmacological treatment and/or by distinct mechanical properties of the substrate.
Bioengineering, Issue 75, Biophysics, Neuroscience, Cellular Biology, Biomedical Engineering, Engineering (General), Life Sciences (General), Physics (General), Axon, tension release, Laser dissector, optical tweezers, force spectroscopy, neurons, neurites, cytoskeleton, adhesion, cell culture, microscopy
50477
Improved Visualization and Quantitative Analysis of Drug Effects Using Micropatterned Cells
Institutions: Grenoble, France, Faculté de Médecine Rockefeller, Lyon, France.

To date, most HCA (High Content Analysis) studies are carried out with adherent cell lines grown on a homogenous substrate in tissue-culture treated micro-plates. Under these conditions, cells spread and divide in all directions resulting in an inherent variability in cell shape, morphology and behavior. The high cell-to-cell variance of the overall population impedes the success of HCA, especially for drug development. The ability of micropatterns to normalize the shape and internal polarity of every individual cell provides a tremendous opportunity for solving this critical bottleneck
1-2
. To facilitate access and use of the micropatterning technology, CYTOO has developed a range of ready to use micropatterns, available in coverslip and microwell formats. In this video article, we provide detailed protocols of all the procedures from cell seeding on CYTOOchip micropatterns, drug treatment, fixation and staining to automated acquisition, automated image processing and final data analysis. With this example, we illustrate how micropatterns can facilitate cell-based assays. Alterations of the cell cytoskeleton are difficult to quantify in cells cultured on homogenous substrates, but culturing cells on micropatterns results in a reproducible organization of the actin meshwork due to systematic positioning of the cell adhesion contacts in every cell. Such normalization of the intracellular architecture allows quantification of even small effects on the actin cytoskeleton as demonstrated in these set of protocols using blebbistatin, an inhibitor of the actin-myosin interaction.
Cellular Biology, Issue 46, Adhesive micropatterns, cell normalization, High Content Analysis, actin, image analysis, cytoskeleton, blebbistatin, cell-based assay, cell imaging, drug screening
2514
Preparation of Hydroxy-PAAm Hydrogels for Decoupling the Effects of Mechanotransduction Cues
Institutions: Université de Mons.
It is now well established that many cellular functions are regulated by interactions of cells with physicochemical and mechanical cues of their extracellular matrix (ECM) environment. Eukaryotic cells constantly sense their local microenvironment through surface mechanosensors to transduce physical changes of ECM into biochemical signals, and integrate these signals to achieve specific changes in gene expression. Interestingly, physicochemical and mechanical parameters of the ECM can couple with each other to regulate cell fate. Therefore, a key to understanding mechanotransduction is to decouple the relative contribution of ECM cues on cellular functions. Here we present a detailed experimental protocol to rapidly and easily generate biologically relevant hydrogels for the independent tuning of mechanotransduction cues
in vitro
. We chemically modified polyacrylamide hydrogels (PAAm) to surmount their intrinsically non-adhesive properties by incorporating hydroxyl-functionalized acrylamide monomers during the polymerization. We obtained a novel PAAm hydrogel, called hydroxy-PAAm, which permits immobilization of any desired nature of ECM proteins. The combination of hydroxy-PAAm hydrogels with microcontact printing allows to independently control the morphology of single-cells, the matrix stiffness, the nature and the density of ECM proteins. We provide a simple and rapid method that can be set up in every biology lab to study
in vitro
cell mechanotransduction processes. We validate this novel two-dimensional platform by conducting experiments on endothelial cells that demonstrate a mechanical coupling between ECM stiffness and the nucleus.
Bioengineering, Issue 90, hydrogels, mechanotransduction, polyacrylamide, microcontact printing, cell shape, stiffness, durotaxis, cell-ligand density
51010
Revealing the Cytoskeletal Organization of Invasive Cancer Cells in 3D
Institutions: Institut Curie.
Cell migration has traditionally been studied in 2D substrates. However, it has become increasingly evident that there is a need to study cell migration in more appropriate 3D environments, which better resemble the dimensionality of the physiological processes in question. Migratory cells can substantially differ in their morphology and mode of migration depending on whether they are moving on 2D or 3D substrates. Due to technical difficulties and incompatibilities with most standard protocols, structural and functional analysis of cells embedded within 3D matrices still remains uncommon. This article describes methods for preparation and imaging of 3D cancer cell cultures, either as single cells or spheroids. As an appropriate ECM substrate for cancer cell migration, we use nonpepsinized rat tail collagen I polymerized at room-temperature and fluorescently labeled to facilitate visualization using standard confocal microscopes. This work also includes a protocol for 3D immunofluorescent labeling of endogenous cell cytoskeleton. Using these protocols we hope to contribute to a better description of the molecular composition, localization, and functions of cellular structures in 3D.
Medicine, Issue 80, TAMRA, collagen, 3D matrix, spheroids, F-actin, microtubules
50763
Mechanical Stimulation of Stem Cells Using Cyclic Uniaxial Strain
Institutions: University of California, Berkeley.

The role of mechanical forces in the development and maintenance of biological tissues is well documented, including several mechanically regulated phenomena such as bone remodeling, muscular hypertrophy, and smooth muscle cell plasticity. However, the forces involved are often extremely complex and difficult to monitor and control in vivo. To better investigate the effects of mechanical forces on cells, we have developed an in vitro method for applying uniaxial cyclic tensile strain to adherent cells cultured on elastic membranes. This method utilizes a custom-designed bioreactor with a motorized cam-rotor system to apply the desired force. Here we present a step-by-step video protocol demonstrating how to assemble the various components of each "stretch chamber", including, in this case, a silicone membrane with micropatterned topography to orient the cells with the direction of the strain. We also describe procedures for sterilizing the chambers, seeding cells onto the membrane, latching the chamber into the bioreactor, and adjusting the mechanical parameters (i.e. magnitude and rate of strain). The procedures outlined in this particular protocol are specific for seeding human mesenchymal stem cells onto silicone membranes with 10 µm wide channels oriented parallel to the direction of strain. However, the methods and materials presented in this system are flexible enough to accommodate a number of variations on this theme: strain rate, magnitude, duration, cell type, membrane topography, membrane coating, etc. can all be tailored to the desired application or outcome. This is a robust method for investigating the effects of uniaxial tensile strain applied to cells in vitro.
Cell Biology, Issue 6, stem cells, tissue engineering, tissue culture, mechanical strain, uniaxial, micropatterning, bioreactor
242
Actin Co-Sedimentation Assay; for the Analysis of Protein Binding to F-Actin
Institutions: University of California, San Francisco - UCSF.

The actin cytoskeleton within the cell is a network of actin filaments that allows the movement of cells and cellular processes, and that generates tension and helps maintains cellular shape. Although the actin cytoskeleton is a rigid structure, it is a dynamic structure that is constantly remodeling. A number of proteins can bind to the actin cytoskeleton. The binding of a particular protein to F-actin is often desired to support cell biological observations or to further understand dynamic processes due to remodeling of the actin cytoskeleton. The actin co-sedimentation assay is an in vitro assay routinely used to analyze the binding of specific proteins or protein domains with F-actin. The basic principles of the assay involve an incubation of the protein of interest (full length or domain of) with F-actin, ultracentrifugation step to pellet F-actin and analysis of the protein co-sedimenting with F-actin. Actin co-sedimentation assays can be designed accordingly to measure actin binding affinities and in competition assays.
Biochemistry, Issue 13, F-actin, protein, in vitro binding, ultracentrifugation
690
Monitoring Actin Disassembly with Time-lapse Microscopy
Institutions: Harvard Medical School.

Cellular Biology, Issue 1, cytoskeleton, actin, timelapse, filament, chamber
66