Synthesis of Nine-atom Deltahedral Zintl Ions of Germanium and their Functionalization with Organic Groups
Published: 02-11-2012
ABSTRACT
Although the first studies of Zintl ions date between the late 1890's and early 1930's they were not structurally characterized until many years later.1,2 Their redox chemistry is even younger, just about ten years old, but despite this short history these deltahedral clusters ions E9n- (E = Si, Ge, Sn, Pb; n = 2, 3, 4) have already shown interesting and diverse reactivity and have been at the forefront of rapidly developing and exciting new chemistry.3-6 Notable milestones are the oxidative coupling of Ge94- clusters to oligomers and infinite chains,7-19 their metallation,14-16,20-25 capping by transition-metal organometallic fragments,26-34 insertion of a transition-metal atom at the center of the cluster which is sometimes combined with capping and oligomerization,35-47 addition of main-group organometallic fragments as exo-bonded substituents,48-50 and functionalization with various organic residues by reactions with organic halides and alkynes.51-58 This latter development of attaching organic fragments directly to the clusters has opened up a new field, namely organo-Zintl chemistry, that is potentially fertile for further synthetic explorations, and it is the step-by-step procedure for the synthesis of germanium-divinyl clusters described herein. The initial steps outline the synthesis of an intermetallic precursor of K4Ge9 from which the Ge94- clusters are extracted later in solution. This involves fused-silica glass blowing, arc-welding of niobium containers, and handling of highly air-sensitive materials in a glove box. The air-sensitive K4Ge9 is then dissolved in ethylenediamine in the box and then alkenylated by a reaction with Me3SiC≡CSiMe3. The reaction is followed by electrospray mass spectrometry while the resulting solution is used for obtaining single crystals containing the functionalized clusters [H2C=CH-Ge9-CH=CH2]2-. For this purpose the solution is centrifuged, filtered, and carefully layered with a toluene solution of 18-crown-6. Left undisturbed for a few days, the so-layered solutions produced orange crystalline blocks of [K(18-crown-6)]2[Ge9(HCCH2)2]•en which were characterized by single-crystal X-ray diffraction. The process highlights standard reaction techniques, work-up, and analysis towards functionalized deltahedral Zintl clusters. It is hoped that it will help towards further development and understanding of these compounds in the community at large.
18 Related JoVE Articles!
Sputter Growth and Characterization of Metamagnetic B2-ordered FeRh Epilayers
Institutions: University of Leeds, University of Leeds, University of Edinburgh, Northeastern University, Northeastern University.

Chemically ordered alloys are useful in a variety of magnetic nanotechnologies. They are most conveniently prepared at an industrial scale using sputtering techniques. Here we describe a method for preparing epitaxial thin films of B2-ordered FeRh by sputter deposition onto single crystal MgO substrates. Deposition at a slow rate onto a heated substrate allows time for the adatoms to both settle into a lattice with a well-defined epitaxial relationship with the substrate and also to find their proper places in the Fe and Rh sublattices of the B2 structure. The structure is conveniently characterized with X-ray reflectometry and diffraction and can be visualised directly using transmission electron micrograph cross-sections. B2-ordered FeRh exhibits an unusual metamagnetic phase transition: the ground state is antiferromagnetic but the alloy transforms into a ferromagnet on heating with a typical transition temperature of about 380 K. This is accompanied by a 1% volume expansion of the unit cell: isotropic in bulk, but laterally clamped in an epilayer. The presence of the antiferromagnetic ground state and the associated first order phase transition is very sensitive to the correct equiatomic stoichiometry and proper B2 ordering, and so is a convenient means to demonstrate the quality of the layers that can be deposited with this approach. We also give some examples of the various techniques by which the change in phase can be detected.
Physics, Issue 80, Sputtering, epitaxial growth, magnetism, ordered alloys
50603
Investigation of Early Plasma Evolution Induced by Ultrashort Laser Pulses
Institutions: Purdue University.

Early plasma is generated owing to high intensity laser irradiation of target and the subsequent target material ionization. Its dynamics plays a significant role in laser-material interaction, especially in the air environment
1-11
. Early plasma evolution has been captured through pump-probe shadowgraphy
1-3
and interferometry
1,4-7
. However, the studied time frames and applied laser parameter ranges are limited. For example, direct examinations of plasma front locations and electron number densities within a delay time of 100 picosecond (ps) with respect to the laser pulse peak are still very few, especially for the ultrashort pulse of a duration around 100 femtosecond (fs) and a low power density around 10
14
W/cm
2
. Early plasma generated under these conditions has only been captured recently with high temporal and spatial resolutions
12
. The detailed setup strategy and procedures of this high precision measurement will be illustrated in this paper. The rationale of the measurement is optical pump-probe shadowgraphy: one ultrashort laser pulse is split to a pump pulse and a probe pulse, while the delay time between them can be adjusted by changing their beam path lengths. The pump pulse ablates the target and generates the early plasma, and the probe pulse propagates through the plasma region and detects the non-uniformity of electron number density. In addition, animations are generated using the calculated results from the simulation model of Ref.
12
to illustrate the plasma formation and evolution with a very high resolution (0.04 ~ 1 ps). Both the experimental method and the simulation method can be applied to a broad range of time frames and laser parameters. These methods can be used to examine the early plasma generated not only from metals, but also from semiconductors and insulators.
Physics, Issue 65, Mechanical Engineering, Early plasma, air ionization, pump-probe shadowgraph, molecular dynamics, Monte Carlo, particle-in-cell
4033
Preparation of Hydrophobic Metal-Organic Frameworks via Plasma Enhanced Chemical Vapor Deposition of Perfluoroalkanes for the Removal of Ammonia
Institutions: Science Applications International Corporation (SAIC), Research Development Engineering Command.
Plasma enhanced chemical vapor deposition (PECVD) of perfluoroalkanes has long been studied for tuning the wetting properties of surfaces. For high surface area microporous materials, such as metal-organic frameworks (MOFs), unique challenges present themselves for PECVD treatments. Herein the protocol for development of a MOF that was previously unstable to humid conditions is presented. The protocol describes the synthesis of Cu-BTC (also known as HKUST-1), the treatment of Cu-BTC with PECVD of perfluoroalkanes, the aging of materials under humid conditions, and the subsequent ammonia microbreakthrough experiments on milligram quantities of microporous materials. Cu-BTC has an extremely high surface area (~1,800 m
2
/g) when compared to most materials or surfaces that have been previously treated by PECVD methods. Parameters such as chamber pressure and treatment time are extremely important to ensure the perfluoroalkane plasma penetrates to and reacts with the inner MOF surfaces. Furthermore, the protocol for ammonia microbreakthrough experiments set forth here can be utilized for a variety of test gases and microporous materials.
Chemistry, Issue 80, materials (general), gas absorption, low pressure chemistry, organometallic materials, Chemistry and Materials (General), Inorganic, Organic and Physical Chemistry, plasma enhanced chemical vapor deposition, fluorine chemistry, microporosity, metal-organic frameworks, hydrophobic, stability, breakthrough, ammonia, adsorption
51175
Fabrication of Spatially Confined Complex Oxides
Institutions: Oak Ridge National Laboratory, University of Tennessee, Knoxville.
Complex materials such as high Tc superconductors, multiferroics, and colossal magnetoresistors have electronic and magnetic properties that arise from the inherent strong electron correlations that reside within them. These materials can also possess electronic phase separation in which regions of vastly different resistive and magnetic behavior can coexist within a single crystal alloy material. By reducing the scale of these materials to length scales at and below the inherent size of the electronic domains, novel behaviors can be exposed. Because of this and the fact that spin-charge-lattice-orbital order parameters each involve correlation lengths, spatially reducing these materials for transport measurements is a critical step in understanding the fundamental physics that drives complex behaviors. These materials also offer great potential to become the next generation of electronic devices
1-3
. Thus, the fabrication of low dimensional nano- or micro-structures is extremely important to achieve new functionality. This involves multiple controllable processes from high quality thin film growth to accurate electronic property characterization. Here, we present fabrication protocols of high quality microstructures for complex oxide manganite devices. Detailed descriptions and required equipment of thin film growth, photo-lithography, and wire-bonding are presented.
Materials Science, Issue 77, Physics, Chemistry, Chemical Engineering, Mechanical Engineering, Nanotechnology, electrical transport properties in solids, condensed matter physics, thin films (theory, deposition and growth), conductivity (solid state), Pulsed laser deposition, oxides thin films, photolithography, wire-bonding, thin film, etching, fabrication, nanofabrication
50573
Micro-drive Array for Chronic in vivo Recording: Tetrode Assembly
Institutions: MIT - Massachusetts Institute of Technology, MIT - Massachusetts Institute of Technology.
The tetrode, a bundle of four electrodes, has proven to be a valuable tool for the simultaneous recording of multiple neurons in-vivo. The differential amplitude of action potential signatures over the channels of a tetrode allows for the isolation of single-unit activity from multi-unit signals. The ability to precisely control the stereotaxic location and depth of the tetrode is critical for studying coordinated neural activity across brain regions. In combination with a micro-drive array, it is possible to achieve precise placement and stable control of many tetrodes over the course of days to weeks. In this protocol, we demonstrate how to fabricate and condition tetrodes using basic tools and materials, install the tetrodes into a multi-drive tetrode array for chronic in-vivo recording in the rat, make ground wire connections to the micro-drive array, and attach a protective cone onto the micro-drive array in order to protect the tetrodes from physical contact with the environment.
Neuroscience, Issue 26, fabrication, micro-drive array, tetrode, electrophysiology, multiple neuronal recordings, in vivo recording, systems neuroscience, hippocampus, coordinated neural activity, cortex, rat brain
1098
Fabricating Metamaterials Using the Fiber Drawing Method
Institutions: University of Sydney .

Metamaterials are man-made composite materials, fabricated by assembling components much smaller than the wavelength at which they operate
1
. They owe their electromagnetic properties to the structure of their constituents, instead of the atoms that compose them. For example, sub-wavelength metal wires can be arranged to possess an effective electric permittivity that is either positive or negative at a given frequency, in contrast to the metals themselves
2
. This unprecedented control over the behaviour of light can potentially lead to a number of novel devices, such as invisibility cloaks
3
, negative refractive index materials
4
, and lenses that resolve objects below the diffraction limit
5
. However, metamaterials operating at optical, mid-infrared and terahertz frequencies are conventionally made using nano- and micro-fabrication techniques that are expensive and produce samples that are at most a few centimetres in size
6-7
. Here we present a fabrication method to produce hundreds of meters of metal wire metamaterials in fiber form, which exhibit a terahertz plasmonic response
8
. We combine the stack-and-draw technique used to produce microstructured polymer optical fiber
9
with the Taylor-wire process
10
, using indium wires inside polymethylmethacrylate (PMMA) tubes. PMMA is chosen because it is an easy to handle, drawable dielectric with suitable optical properties in the terahertz region; indium because it has a melting temperature of 156.6 °C which is appropriate for codrawing with PMMA. We include an indium wire of 1 mm diameter and 99.99% purity in a PMMA tube with 1 mm inner diameter (ID) and 12 mm outside diameter (OD) which is sealed at one end. The tube is evacuated and drawn down to an outer diameter of 1.2 mm. The resulting fiber is then cut into smaller pieces, and stacked into a larger PMMA tube. This stack is sealed at one end and fed into a furnace while being rapidly drawn, reducing the diameter of the structure by a factor of 10, and increasing the length by a factor of 100. Such fibers possess features on the micro- and nano- scale, are inherently flexible, mass-producible, and can be woven to exhibit electromagnetic properties that are not found in nature. They represent a promising platform for a number of novel devices from terahertz to optical frequencies, such as invisible fibers, woven negative refractive index cloths, and super-resolving lenses.
Physics, Issue 68, Optics, Photonics, Materials Science, Fiber drawing, metamaterials, polymer optical fiber, microstructured fibers
4299
Revealing Dynamic Processes of Materials in Liquids Using Liquid Cell Transmission Electron Microscopy
Institutions: Lawrence Berkeley National Laboratory.

The recent development for in situ transmission electron microscopy, which allows imaging through liquids with high spatial resolution, has attracted significant interests across the research fields of materials science, physics, chemistry and biology. The key enabling technology is a liquid cell. We fabricate liquid cells with thin viewing windows through a sequential microfabrication process, including silicon nitride membrane deposition, photolithographic patterning, wafer etching, cell bonding, etc. A liquid cell with the dimensions of a regular TEM grid can fit in any standard TEM sample holder. About 100 nanoliters reaction solution is loaded into the reservoirs and about 30 picoliters liquid is drawn into the viewing windows by capillary force. Subsequently, the cell is sealed and loaded into a microscope for in situ imaging. Inside the TEM, the electron beam goes through the thin liquid layer sandwiched between two silicon nitride membranes. Dynamic processes of nanoparticles in liquids, such as nucleation and growth of nanocrystals, diffusion and assembly of nanoparticles, etc., have been imaged in real time with sub-nanometer resolution. We have also applied this method to other research areas,
e.g.
, imaging proteins in water. Liquid cell TEM is poised to play a major role in revealing dynamic processes of materials in their working environments. It may also bring high impact in the study of biological processes in their native environment.
Materials Science, Issue 70, Chemical Engineering, Chemistry, Physics, Engineering, Life sciences, Liquid cell, Transmission Electron Microscopy, TEM, In situ TEM, Single nanoparticle trajectory, dynamic imaging, nanocrystals
50122
Proprioception and Tension Receptors in Crab Limbs: Student Laboratory Exercises
Institutions: University of Kentucky, University of Kentucky, University of Oregon.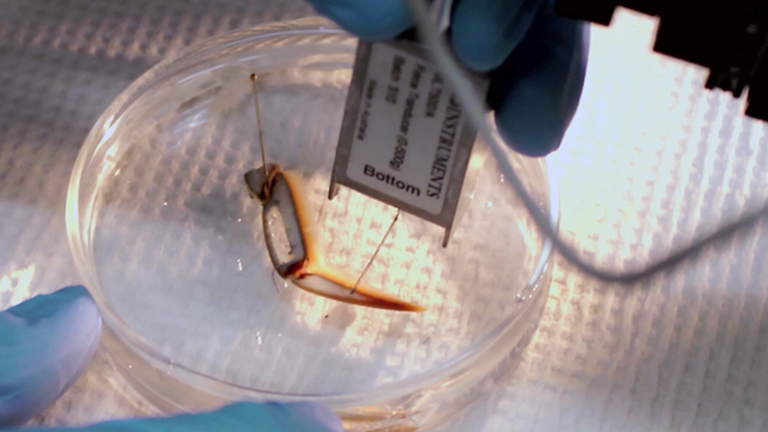 The primary purpose of these procedures is to demonstrate for teaching and research purposes how to record the activity of living primary sensory neurons responsible for proprioception as they are detecting joint position and movement, and muscle tension. Electrical activity from crustacean proprioceptors and tension receptors is recorded by basic neurophysiological instrumentation, and a transducer is used to simultaneously measure force that is generated by stimulating a motor nerve. In addition, we demonstrate how to stain the neurons for a quick assessment of their anatomical arrangement or for permanent fixation. Staining reveals anatomical organization that is representative of chordotonal organs in most crustaceans. Comparing the tension nerve responses to the proprioceptive responses is an effective teaching tool in determining how these sensory neurons are defined functionally and how the anatomy is correlated to the function. Three staining techniques are presented allowing researchers and instructors to choose a method that is ideal for their laboratory.
Neuroscience, Issue 80, Crustacean, joint, Muscle, sensory, teaching, educational, neuroscience
51050
High-Sensitivity Nuclear Magnetic Resonance at Giga-Pascal Pressures: A New Tool for Probing Electronic and Chemical Properties of Condensed Matter under Extreme Conditions
Institutions: University of Leipzig.

Nuclear Magnetic Resonance (NMR) is one of the most important techniques for the study of condensed matter systems, their chemical structure, and their electronic properties. The application of high pressure enables one to synthesize new materials, but the response of known materials to high pressure is a very useful tool for studying their electronic structure and developing theories. For example, high-pressure synthesis might be at the origin of life; and understanding the behavior of small molecules under extreme pressure will tell us more about fundamental processes in our universe. It is no wonder that there has always been great interest in having NMR available at high pressures. Unfortunately, the desired pressures are often well into the Giga-Pascal (GPa) range and require special anvil cell devices where only very small, secluded volumes are available. This has restricted the use of NMR almost entirely in the past, and only recently, a new approach to high-sensitivity GPa NMR, which has a resonating micro-coil inside the sample chamber, was put forward. This approach enables us to achieve high sensitivity with experiments that bring the power of NMR to Giga-Pascal pressure condensed matter research. First applications, the detection of a topological electronic transition in ordinary aluminum metal and the closing of the pseudo-gap in high-temperature superconductivity, show the power of such an approach. Meanwhile, the range of achievable pressures was increased tremendously with a new generation of anvil cells (up to 10.1 GPa), that fit standard-bore NMR magnets. This approach might become a new, important tool for the investigation of many condensed matter systems, in chemistry, geochemistry, and in physics, since we can now watch structural changes with the eyes of a very versatile probe.
Physics, Issue 92, NMR, micro-coil, anvil cell, high pressures, condensed matter, radio-frequency
52243
Modeling Neural Immune Signaling of Episodic and Chronic Migraine Using Spreading Depression In Vitro
Institutions: The University of Chicago Medical Center, The University of Chicago Medical Center.

Migraine and its transformation to chronic migraine are healthcare burdens in need of improved treatment options. We seek to define how neural immune signaling modulates the susceptibility to migraine, modeled
in vitro
using spreading depression (SD), as a means to develop novel therapeutic targets for episodic and chronic migraine. SD is the likely cause of migraine aura and migraine pain. It is a paroxysmal loss of neuronal function triggered by initially increased neuronal activity, which slowly propagates within susceptible brain regions. Normal brain function is exquisitely sensitive to, and relies on, coincident low-level immune signaling. Thus, neural immune signaling likely affects electrical activity of SD, and therefore migraine. Pain perception studies of SD in whole animals are fraught with difficulties, but whole animals are well suited to examine systems biology aspects of migraine since SD activates trigeminal nociceptive pathways. However, whole animal studies alone cannot be used to decipher the cellular and neural circuit mechanisms of SD. Instead,
in vitro
preparations where environmental conditions can be controlled are necessary. Here, it is important to recognize limitations of acute slices and distinct advantages of hippocampal slice cultures. Acute brain slices cannot reveal subtle changes in immune signaling since preparing the slices alone triggers: pro-inflammatory changes that last days, epileptiform behavior due to high levels of oxygen tension needed to vitalize the slices, and irreversible cell injury at anoxic slice centers. In contrast, we examine immune signaling in mature hippocampal slice cultures since the cultures closely parallel their
in vivo
counterpart with mature trisynaptic function; show quiescent astrocytes, microglia, and cytokine levels; and SD is easily induced in an unanesthetized preparation. Furthermore, the slices are long-lived and SD can be induced on consecutive days without injury, making this preparation the sole means to-date capable of modeling the neuroimmune consequences of chronic SD, and thus perhaps chronic migraine. We use electrophysiological techniques and non-invasive imaging to
measure
neuronal cell and circuit functions coincident with SD. Neural immune gene expression variables are measured with qPCR screening, qPCR arrays, and, importantly, use of cDNA preamplification for detection of ultra-low level targets such as interferon-gamma using whole, regional, or specific cell enhanced (via laser dissection microscopy) sampling. Cytokine cascade signaling is further assessed with multiplexed phosphoprotein related targets with gene expression and phosphoprotein changes confirmed via cell-specific immunostaining. Pharmacological and siRNA strategies are used to
mimic
and
modulate
SD immune signaling.
Neuroscience, Issue 52, innate immunity, hormesis, microglia, T-cells, hippocampus, slice culture, gene expression, laser dissection microscopy, real-time qPCR, interferon-gamma
2910
Cryo-electron Microscopy Specimen Preparation By Means Of a Focused Ion Beam
Institutions: Uppsala University, Gatan Inc., Swedish University of Agricultural Sciences, University of Oslo.
Here we present a protocol used to prepare cryo-TEM samples of
Aspergillus niger
spores, but which can easily be adapted for any number of microorganisms or solutions. We make use of a custom built cryo-transfer station and a modified cryo-SEM preparation chamber
2
. The spores are taken from a culture, plunge-frozen in a liquid nitrogen slush and observed in the cryo-SEM to select a region of interest. A thin lamella is then extracted using the FIB, attached to a TEM grid and subsequently thinned to electron transparency. The grid is transferred to a cryo-TEM holder and into a TEM for high resolution studies. Thanks to the introduction of a cooled nanomanipulator tip and a cryo-transfer station, this protocol is a straightforward adaptation to cryogenic temperature of the routinely used FIB preparation of TEM samples. As such it has the advantages of requiring a small amount of modifications to existing instruments, setups and procedures; it is easy to implement; it has a broad range of applications, in principle the same as for cryo-TEM sample preparation. One limitation is that it requires skillful handling of the specimens at critical steps to avoid or minimize contaminations.
Bioengineering, Issue 89, Cryoelectron Microscopy, Life Sciences (General), Cryo-microscopy, Focused ion beam, Sample preparation, TEM, FIB
51463
Modeling Biological Membranes with Circuit Boards and Measuring Electrical Signals in Axons: Student Laboratory Exercises
Institutions: University of Kentucky, University of Toronto.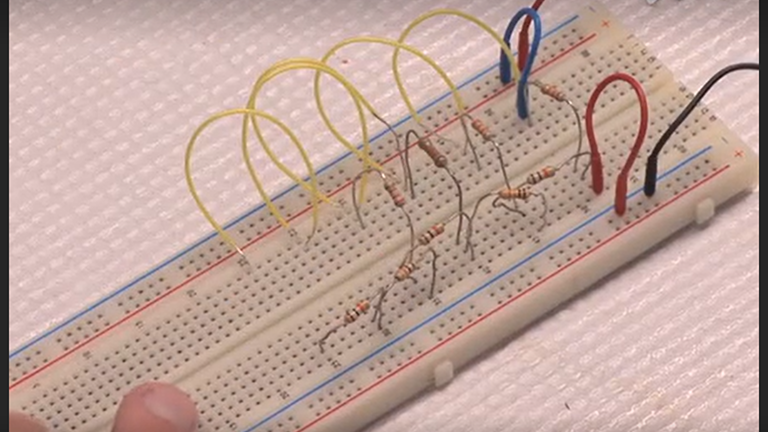 This is a demonstration of how electrical models can be used to characterize biological membranes. This exercise also introduces biophysical terminology used in electrophysiology. The same equipment is used in the membrane model as on live preparations. Some properties of an isolated nerve cord are investigated: nerve action potentials, recruitment of neurons, and responsiveness of the nerve cord to environmental factors.
Basic Protocols, Issue 47, Invertebrate, Crayfish, Modeling, Student laboratory, Nerve cord
2325
Community-based Adapted Tango Dancing for Individuals with Parkinson's Disease and Older Adults
Institutions: Emory University School of Medicine, Brigham and Woman's Hospital and Massachusetts General Hospital.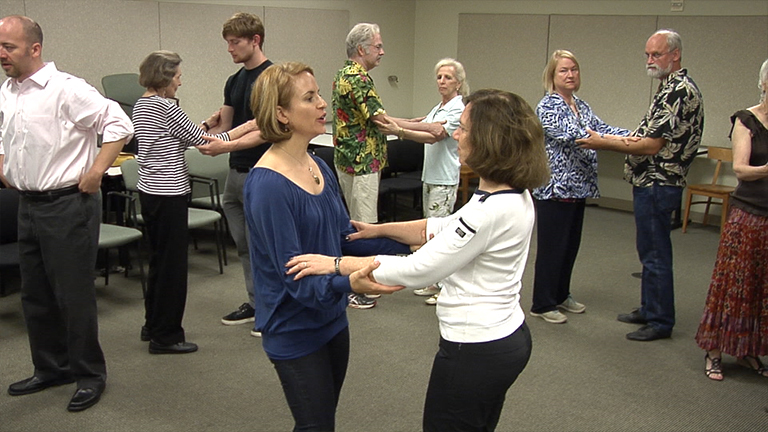 Adapted tango dancing improves mobility and balance in older adults and additional populations with balance impairments. It is composed of very simple step elements. Adapted tango involves movement initiation and cessation, multi-directional perturbations, varied speeds and rhythms. Focus on foot placement, whole body coordination, and attention to partner, path of movement, and aesthetics likely underlie adapted tango's demonstrated efficacy for improving mobility and balance. In this paper, we describe the methodology to disseminate the adapted tango teaching methods to dance instructor trainees and to implement the adapted tango by the trainees in the community for older adults and individuals with Parkinson's Disease (PD). Efficacy in improving mobility (measured with the Timed Up and Go, Tandem stance, Berg Balance Scale, Gait Speed and 30 sec chair stand), safety and fidelity of the program is maximized through targeted instructor and volunteer training and a structured detailed syllabus outlining class practices and progression.
Behavior, Issue 94, Dance, tango, balance, pedagogy, dissemination, exercise, older adults, Parkinson's Disease, mobility impairments, falls
52066
In Situ Neutron Powder Diffraction Using Custom-made Lithium-ion Batteries
Institutions: University of Sydney, University of Wollongong, Australian Synchrotron, Australian Nuclear Science and Technology Organisation, University of Wollongong, University of New South Wales.

Li-ion batteries are widely used in portable electronic devices and are considered as promising candidates for higher-energy applications such as electric vehicles.
1,2
However, many challenges, such as energy density and battery lifetimes, need to be overcome before this particular battery technology can be widely implemented in such applications.
3
This research is challenging, and we outline a method to address these challenges using
in situ
NPD to probe the crystal structure of electrodes undergoing electrochemical cycling (charge/discharge) in a battery. NPD data help determine the underlying structural mechanism responsible for a range of electrode properties, and this information can direct the development of better electrodes and batteries. We briefly review six types of battery designs custom-made for NPD experiments and detail the method to construct the 'roll-over' cell that we have successfully used on the high-intensity NPD instrument, WOMBAT, at the Australian Nuclear Science and Technology Organisation (ANSTO). The design considerations and materials used for cell construction are discussed in conjunction with aspects of the actual
in situ
NPD experiment and initial directions are presented on how to analyze such complex
in situ
data.
Physics, Issue 93, In operando, structure-property relationships, electrochemical cycling, electrochemical cells, crystallography, battery performance
52284
Preparation and Use of Photocatalytically Active Segmented Ag|ZnO and Coaxial TiO2-Ag Nanowires Made by Templated Electrodeposition
Institutions: University of Twente.

Photocatalytically active nanostructures require a large specific surface area with the presence of many catalytically active sites for the oxidation and reduction half reactions, and fast electron (hole) diffusion and charge separation. Nanowires present suitable architectures to meet these requirements. Axially segmented Ag|ZnO and radially segmented (coaxial) TiO
2
-Ag nanowires with a diameter of 200 nm and a length of 6-20 µm were made by templated electrodeposition within the pores of polycarbonate track-etched (PCTE) or anodized aluminum oxide (AAO) membranes, respectively. In the photocatalytic experiments, the ZnO and TiO
2
phases acted as photoanodes, and Ag as cathode. No external circuit is needed to connect both electrodes, which is a key advantage over conventional photo-electrochemical cells. For making segmented Ag|ZnO nanowires, the Ag salt electrolyte was replaced after formation of the Ag segment to form a ZnO segment attached to the Ag segment. For making coaxial TiO
2
-Ag nanowires, a TiO
2
gel was first formed by the electrochemically induced sol-gel method. Drying and thermal annealing of the as-formed TiO
2
gel resulted in the formation of crystalline TiO
2
nanotubes. A subsequent Ag electrodeposition step inside the TiO
2
nanotubes resulted in formation of coaxial TiO
2
-Ag nanowires. Due to the combination of an
n
-type semiconductor (ZnO or TiO
2
) and a metal (Ag) within the same nanowire, a Schottky barrier was created at the interface between the phases. To demonstrate the photocatalytic activity of these nanowires, the Ag|ZnO nanowires were used in a photocatalytic experiment in which H
2
gas was detected upon UV illumination of the nanowires dispersed in a methanol/water mixture. After 17 min of illumination, approximately 0.2 vol% H
2
gas was detected from a suspension of ~0.1 g of Ag|ZnO nanowires in a 50 ml 80 vol% aqueous methanol solution.
Physics, Issue 87, Multicomponent nanowires, electrochemistry, sol-gel processes, photocatalysis, photochemistry, H2 evolution
51547
In Situ SIMS and IR Spectroscopy of Well-defined Surfaces Prepared by Soft Landing of Mass-selected Ions
Institutions: Pacific Northwest National Laboratory.

Soft landing of mass-selected ions onto surfaces is a powerful approach for the highly-controlled preparation of materials that are inaccessible using conventional synthesis techniques. Coupling soft landing with
in situ
characterization using secondary ion mass spectrometry (SIMS) and infrared reflection absorption spectroscopy (IRRAS) enables analysis of well-defined surfaces under clean vacuum conditions. The capabilities of three soft-landing instruments constructed in our laboratory are illustrated for the representative system of surface-bound organometallics prepared by soft landing of mass-selected ruthenium tris(bipyridine) dications, [Ru(bpy)
3
]
2+
(bpy = bipyridine), onto carboxylic acid terminated self-assembled monolayer surfaces on gold (COOH-SAMs).
In situ
time-of-flight (TOF)-SIMS provides insight into the reactivity of the soft-landed ions. In addition, the kinetics of charge reduction, neutralization and desorption occurring on the COOH-SAM both during and after ion soft landing are studied using
in situ
Fourier transform ion cyclotron resonance (FT-ICR)-SIMS measurements.
In situ
IRRAS experiments provide insight into how the structure of organic ligands surrounding metal centers is perturbed through immobilization of organometallic ions on COOH-SAM surfaces by soft landing. Collectively, the three instruments provide complementary information about the chemical composition, reactivity and structure of well-defined species supported on surfaces.
Chemistry, Issue 88, soft landing, mass selected ions, electrospray, secondary ion mass spectrometry, infrared spectroscopy, organometallic, catalysis
51344
Scanning-probe Single-electron Capacitance Spectroscopy
Institutions: Michigan State University, Mercyhurst University, Saint Louis University, Massachusetts Institute of Technology.
The integration of low-temperature scanning-probe techniques and single-electron capacitance spectroscopy represents a powerful tool to study the electronic quantum structure of small systems - including individual atomic dopants in semiconductors. Here we present a capacitance-based method, known as Subsurface Charge Accumulation (SCA) imaging, which is capable of resolving single-electron charging while achieving sufficient spatial resolution to image individual atomic dopants. The use of a capacitance technique enables observation of subsurface features, such as dopants buried many nanometers beneath the surface of a semiconductor material
1,2,3
. In principle, this technique can be applied to any system to resolve electron motion below an insulating surface. As in other electric-field-sensitive scanned-probe techniques
4
, the lateral spatial resolution of the measurement depends in part on the radius of curvature of the probe tip. Using tips with a small radius of curvature can enable spatial resolution of a few tens of nanometers. This fine spatial resolution allows investigations of small numbers (down to one) of subsurface dopants
1,2
. The charge resolution depends greatly on the sensitivity of the charge detection circuitry; using high electron mobility transistors (HEMT) in such circuits at cryogenic temperatures enables a sensitivity of approximately 0.01 electrons/Hz
½
at 0.3 K
5
.
Physics, Issue 77, Biophysics, Molecular Biology, Cellular Biology, Microscopy, Scanning Probe, Nanotechnology, Physics, Electronics, acceptors (solid state), donors (solid state), Solid-State Physics, tunneling microscopy, scanning capacitance microscopy, subsurface charge accumulation imaging, capacitance spectroscopy, scanning probe microscopy, single-electron spectroscopy, imaging
50676
Lesion Explorer: A Video-guided, Standardized Protocol for Accurate and Reliable MRI-derived Volumetrics in Alzheimer's Disease and Normal Elderly
Institutions: Sunnybrook Health Sciences Centre, University of Toronto.

Obtaining
in vivo
human brain tissue volumetrics from MRI is often complicated by various technical and biological issues. These challenges are exacerbated when significant brain atrophy and age-related white matter changes (
e.g.
Leukoaraiosis) are present. Lesion Explorer (LE) is an accurate and reliable neuroimaging pipeline specifically developed to address such issues commonly observed on MRI of Alzheimer's disease and normal elderly. The pipeline is a complex set of semi-automatic procedures which has been previously validated in a series of internal and external reliability tests
1,2
. However, LE's accuracy and reliability is highly dependent on properly trained manual operators to execute commands, identify distinct anatomical landmarks, and manually edit/verify various computer-generated segmentation outputs. LE can be divided into 3 main components, each requiring a set of commands and manual operations: 1) Brain-Sizer, 2) SABRE, and 3) Lesion-Seg. Brain-Sizer's manual operations involve editing of the automatic skull-stripped total intracranial vault (TIV) extraction mask, designation of ventricular cerebrospinal fluid (vCSF), and removal of subtentorial structures. The SABRE component requires checking of image alignment along the anterior and posterior commissure (ACPC) plane, and identification of several anatomical landmarks required for regional parcellation. Finally, the Lesion-Seg component involves manual checking of the automatic lesion segmentation of subcortical hyperintensities (SH) for false positive errors. While on-site training of the LE pipeline is preferable, readily available visual teaching tools with interactive training images are a viable alternative. Developed to ensure a high degree of accuracy and reliability, the following is a step-by-step, video-guided, standardized protocol for LE's manual procedures.
Medicine, Issue 86, Brain, Vascular Diseases, Magnetic Resonance Imaging (MRI), Neuroimaging, Alzheimer Disease, Aging, Neuroanatomy, brain extraction, ventricles, white matter hyperintensities, cerebrovascular disease, Alzheimer disease
50887