Repair of a Critical-sized Calvarial Defect Model Using Adipose-derived Stromal Cells Harvested from Lipoaspirate
Published: 10-31-2012
ABSTRACT
Craniofacial skeletal repair and regeneration offers the promise of de novo tissue formation through a cell-based approach utilizing stem cells. Adipose-derived stromal cells (ASCs) have proven to be an abundant source of multipotent stem cells capable of undergoing osteogenic, chondrogenic, adipogenic, and myogenic differentiation. Many studies have explored the osteogenic potential of these cells in vivo with the use of various scaffolding biomaterials for cellular delivery. It has been demonstrated that by utilizing an osteoconductive, hydroxyapatite-coated poly(lactic-co-glycolic acid) (HA-PLGA) scaffold seeded with ASCs, a critical-sized calvarial defect, a defect that is defined by its inability to undergo spontaneous healing over the lifetime of the animal, can be effectively show robust osseous regeneration. This in vivo model demonstrates the basis of translational approaches aimed to regenerate the bone tissue - the cellular component and biological matrix. This method serves as a model for the ultimate clinical application of a progenitor cell towards the repair of a specific tissue defect.
20 Related JoVE Articles!
Constructing a Collagen Hydrogel for the Delivery of Stem Cell-loaded Chitosan Microspheres
Institutions: United States Army Institute of Surgical Research.

Multipotent stem cells have been shown to be extremely useful in the field of regenerative medicine
1-3
. However, in order to use these cells effectively for tissue regeneration, a number of variables must be taken into account. These variables include: the total volume and surface area of the implantation site, the mechanical properties of the tissue and the tissue microenvironment, which includes the amount of vascularization and the components of the extracellular matrix. Therefore, the materials being used to deliver these cells must be biocompatible with a defined chemical composition while maintaining a mechanical strength that mimics the host tissue. These materials must also be permeable to oxygen and nutrients to provide a favorable microenvironment for cells to attach and proliferate. Chitosan, a cationic polysaccharide with excellent biocompatibility, can be easily chemically modified and has a high affinity to bind with
in vivo
macromolecules
4-5
. Chitosan mimics the glycosaminoglycan portion of the extracellular matrix, enabling it to function as a substrate for cell adhesion, migration and proliferation. In this study we utilize chitosan in the form of microspheres to deliver adipose-derived stem cells (ASC) into a collagen based three-dimensional scaffold
6
. An ideal cell-to-microsphere ratio was determined with respect to incubation time and cell density to achieve maximum number of cells that could be loaded. Once ASC are seeded onto the chitosan microspheres (CSM), they are embedded in a collagen scaffold and can be maintained in culture for extended periods. In summary, this study provides a method to precisely deliver stem cells within a three dimensional biomaterial scaffold.
Bioengineering, Issue 64, Biomedical Engineering, Tissue Engineering, chitosan, microspheres, collagen, hydrogel, cell delivery, adipose-derived stem cells, ASC, CSM
3624
Ex vivo Mimicry of Normal and Abnormal Human Hematopoiesis
Institutions: Imperial College London , Imperial College London .

Hematopoietic stem cells require a unique microenvironment in order to sustain blood cell formation
1
; the bone marrow (BM) is a complex three-dimensional (3D) tissue wherein hematopoiesis is regulated by spatially organized cellular microenvironments termed niches
2-4
. The organization of the BM niches is critical for the function or dysfunction of normal or malignant BM
5
. Therefore a better understanding of the
in vivo
microenvironment using an
ex vivo
mimicry would help us elucidate the molecular, cellular and microenvironmental determinants of leukemogenesis
6
. Currently, hematopoietic cells are cultured
in vitro
in two-dimensional (2D) tissue culture flasks/well-plates
7
requiring either co-culture with allogenic or xenogenic stromal cells or addition of exogenous cytokines
8
. These conditions are artificial and differ from the
in vivo
microenvironment in that they lack the 3D cellular niches and expose the cells to abnormally high cytokine concentrations which can result in differentiation and loss of pluripotency
9,10
. Herein, we present a novel 3D bone marrow culture system that simulates the
in vivo
3D growth environment and supports multilineage hematopoiesis in the absence of exogenous growth factors. The highly porous scaffold used in this system made of polyurethane (PU), facilitates high-density cell growth across a higher specific surface area than the conventional monolayer culture in 2D
11
. Our work has indicated that this model supported the growth of human cord blood (CB) mononuclear cells (MNC)
12
and primary leukemic cells in the absence of exogenous cytokines. This novel 3D mimicry provides a viable platform for the development of a human experimental model to study hematopoiesis and to explore novel treatments for leukemia.
Bioengineering, Issue 62, three-dimensional culture, hematopoiesis, leukemia, cord blood
3654
A Decellularization Methodology for the Production of a Natural Acellular Intestinal Matrix
Institutions: University College London.

Successful tissue engineering involves the combination of scaffolds with appropriate cells
in vitro
or
in vivo
. Scaffolds may be synthetic, naturally-derived or derived from tissues/organs. The latter are obtained using a technique called decellularization. Decellularization may involve a combination of physical, chemical, and enzymatic methods. The goal of this technique is to remove all cellular traces whilst maintaining the macro- and micro-architecture of the original tissue. Intestinal tissue engineering has thus far used relatively simple scaffolds that do not replicate the complex architecture of the native organ. The focus of this paper is to describe an efficient decellularization technique for rat small intestine. The isolation of the small intestine so as to ensure the maintenance of a vascular connection is described. The combination of chemical and enzymatic solutions to remove the cells whilst preserving the villus-crypt axis in the luminal aspect of the scaffold is also set out. Finally, assessment of produced scaffolds for appropriate characteristics is discussed.
Bioengineering, Issue 80, Tissue Engineering, Manufactured Materials, Biocompatible Materials, materials fabrication, Decellularization, scaffold, artificial intestine, natural acellular matrix
50658
Tri-layered Electrospinning to Mimic Native Arterial Architecture using Polycaprolactone, Elastin, and Collagen: A Preliminary Study
Institutions: Virginia Commonwealth University, Virginia Commonwealth University, University Hospital of Geneva.

Throughout native artery, collagen and elastin play an important role, providing a mechanical backbone, preventing vessel rupture, and promoting recovery under pulsatile deformations. The goal of this study was to mimic the structure of native artery by fabricating a multi-layered electrospun conduit composed of poly(caprolactone) (PCL) with the addition of elastin and collagen with blends of 45-45-10, 55-35-10, and 65-25-10 PCL-ELAS-COL to demonstrate mechanical properties indicative of native arterial tissue, while remaining conducive to tissue regeneration. Whole grafts and individual layers were analyzed using uniaxial tensile testing, dynamic compliance, suture retention, and burst strength. Compliance results revealed that changes to the middle/medial layer changed overall graft behavior with whole graft compliance values ranging from 0.8 - 2.8 % / 100 mmHg, while uniaxial results demonstrated an average modulus range of 2.0 - 11.8 MPa. Both modulus and compliance data displayed values within the range of native artery. Mathematical modeling was implemented to show how changes in layer stiffness affect the overall circumferential wall stress, and as a design aid to achieve the best mechanical combination of materials. Overall, the results indicated that a graft can be designed to mimic a tri-layered structure by altering layer properties.
Bioengineering, Issue 47, Electrospinning, Vascular Graft, Multilayer, Polycaprolactone, Elastin
2084
Microdissection of Black Widow Spider Silk-producing Glands
Institutions: University of the Pacific.

Modern spiders spin high-performance silk fibers with a broad range of biological functions, including locomotion, prey capture and protection of developing offspring
1,2
. Spiders accomplish these tasks by spinning several distinct fiber types that have diverse mechanical properties. Such specialization of fiber types has occurred through the evolution of different silk-producing glands, which function as small biofactories. These biofactories manufacture and store large quantities of silk proteins for fiber production. Through a complex series of biochemical events, these silk proteins are converted from a liquid into a solid material upon extrusion. Mechanical studies have demonstrated that spider silks are stronger than high-tensile steel
3
. Analyses to understand the relationship between the structure and function of spider silk threads have revealed that spider silk consists largely of proteins, or fibroins, that have block repeats within their protein sequences
4
. Common molecular signatures that contribute to the incredible tensile strength and extensibility of spider silks are being unraveled through the analyses of translated silk cDNAs. Given the extraordinary material properties of spider silks, research labs across the globe are racing to understand and mimic the spinning process to produce synthetic silk fibers for commercial, military and industrial applications. One of the main challenges to spinning artificial spider silk in the research lab involves a complete understanding of the biochemical processes that occur during extrusion of the fibers from the silk-producing glands. Here we present a method for the isolation of the seven different silk-producing glands from the cobweaving black widow spider, which includes the major and minor ampullate glands [manufactures dragline and scaffolding silk]
5,6
, tubuliform [synthesizes egg case silk]
7,8
, flagelliform [unknown function in cob-weavers], aggregate [makes glue silk], aciniform [synthesizes prey wrapping and egg case threads]
9
and pyriform [produces attachment disc silk]
10
. This approach is based upon anesthetizing the spider with carbon dioxide gas, subsequent separation of the cephalothorax from the abdomen, and microdissection of the abdomen to obtain the silk-producing glands. Following the separation of the different silk-producing glands, these tissues can be used to retrieve different macromolecules for distinct biochemical analyses, including quantitative real-time PCR, northern- and western blotting, mass spectrometry (MS or MS/MS) analyses to identify new silk protein sequences, search for proteins that participate in the silk assembly pathway, or use the intact tissue for cell culture or histological experiments.
Cellular Biology, Issue 47, Spider silk, silk-producing glands, fibroins, structural proteins, spidroins
2382
Cultivation of Human Neural Progenitor Cells in a 3-dimensional Self-assembling Peptide Hydrogel
Institutions: University of Rostock.

The influence of 3-dimensional (3D) scaffolds on growth, proliferation and finally neuronal differentiation is of great interest in order to find new methods for cell-based and standardised therapies in neurological disorders or neurodegenerative diseases. 3D structures are expected to provide an environment much closer to the
in vivo
situation than 2D cultures. In the context of regenerative medicine, the combination of biomaterial scaffolds with neural stem and progenitor cells holds great promise as a therapeutic tool.
1-5
Culture systems emulating a three dimensional environment have been shown to influence proliferation and differentiation in different types of stem and progenitor cells. Herein, the formation and functionalisation of the 3D-microenviroment is important to determine the survival and fate of the embedded cells.
6-8
Here we used PuraMatrix
9,10
(RADA16, PM), a peptide based hydrogel scaffold, which is well described and used to study the influence of a 3D-environment on different cell types.
7,11-14
PuraMatrix can be customised easily and the synthetic fabrication of the nano-fibers provides a 3D-culture system of high reliability, which is in addition xeno-free. Recently we have studied the influence of the PM-concentration on the formation of the scaffold.
13
In this study the used concentrations of PM had a direct impact on the formation of the 3D-structure, which was demonstrated by atomic force microscopy. A subsequent analysis of the survival and differentiation of the hNPCs revealed an influence of the used concentrations of PM on the fate of the embedded cells. However, the analysis of survival or neuronal differentiation by means of immunofluorescence techniques posses some hurdles. To gain reliable data, one has to determine the total number of cells within a matrix to obtain the relative number of e.g. neuronal cells marked by βIII-tubulin. This prerequisites a technique to analyse the scaffolds in all 3-dimensions by a confocal microscope or a comparable technique like fluorescence microscopes able to take z-stacks of the specimen. Furthermore this kind of analysis is extremely time consuming. Here we demonstrate a method to release cells from the 3D-scaffolds for the later analysis e.g. by flow cytometry. In this protocol human neural progenitor cells (hNPCs) of the ReNcell VM cell line (Millipore USA) were cultured and differentiated in 3D-scaffolds consisting of PuraMatrix (PM) or PuraMatrix supplemented with laminin (PML). In our hands a PM-concentration of 0.25% was optimal for the cultivation of the cells
13
, however the concentration might be adapted to other cell types.
12
The released cells can be used for e.g. immunocytochemical studies and subsequently analysed by flow cytometry. This speeds up the analysis and more over, the obtained data rest upon a wider base, improving the reliability of the data.
Bioengineering, Issue 59, PuraMatrix, RADA16, 3D-scaffold, ReNcell VM, human neural progenitor cells, quantification
3830
Surgical Procedures for a Rat Model of Partial Orthotopic Liver Transplantation with Hepatic Arterial Reconstruction
Institutions: RWTH-Aachen University, Kyoto University .

Orthotopic liver transplantation (OLT) in rats using a whole or partial graft is an indispensable experimental model for transplantation research, such as studies on graft preservation and ischemia-reperfusion injury
1,2
, immunological responses
3,4
, hemodynamics
5,6
, and small-for-size syndrome
7
. The rat OLT is among the most difficult animal models in experimental surgery and demands advanced microsurgical skills that take a long time to learn. Consequently, the use of this model has been limited. Since the reliability and reproducibility of results are key components of the experiments in which such complex animal models are used, it is essential for surgeons who are involved in rat OLT to be trained in well-standardized and sophisticated procedures for this model. While various techniques and modifications of OLT in rats have been reported
8
since the first model was described by Lee
et al.
9
in 1973, the elimination of the hepatic arterial reconstruction
10
and the introduction of the cuff anastomosis technique by Kamada
et al.
11
were a major advancement in this model, because they simplified the reconstruction procedures to a great degree. In the model by Kamada
et al.
, the hepatic rearterialization was also eliminated. Since rats could survive without hepatic arterial flow after liver transplantation, there was considerable controversy over the value of hepatic arterialization. However, the physiological superiority of the arterialized model has been increasingly acknowledged, especially in terms of preserving the bile duct system
8,12
and the liver integrity
8,13,14
. In this article, we present detailed surgical procedures for a rat model of OLT with hepatic arterial reconstruction using a 50% partial graft after
ex vivo
liver resection. The reconstruction procedures for each vessel and the bile duct are performed by the following methods: a 7-0 polypropylene continuous suture for the supra- and infrahepatic vena cava; a cuff technique for the portal vein; and a stent technique for the hepatic artery and the bile duct.
Medicine, Issue 73, Biomedical Engineering, Anatomy, Physiology, Immunology, Surgery, liver transplantation, liver, hepatic, partial, orthotopic, split, rat, graft, transplantation, microsurgery, procedure, clinical, technique, artery, arterialization, arterialized, anastomosis, reperfusion, rat, animal model
4376
Low Molecular Weight Protein Enrichment on Mesoporous Silica Thin Films for Biomarker Discovery
Institutions: The Methodist Hospital Research Institute, National Center for Nanoscience and Technology.

The identification of circulating biomarkers holds great potential for non invasive approaches in early diagnosis and prognosis, as well as for the monitoring of therapeutic efficiency.
1-3
The circulating low molecular weight proteome (LMWP) composed of small proteins shed from tissues and cells or peptide fragments derived from the proteolytic degradation of larger proteins, has been associated with the pathological condition in patients and likely reflects the state of disease.
4,5
Despite these potential clinical applications, the use of Mass Spectrometry (MS) to profile the LMWP from biological fluids has proven to be very challenging due to the large dynamic range of protein and peptide concentrations in serum.
6
Without sample pre-treatment, some of the more highly abundant proteins obscure the detection of low-abundance species in serum/plasma. Current proteomic-based approaches, such as two-dimensional polyacrylamide gel-electrophoresis (2D-PAGE) and shotgun proteomics methods are labor-intensive, low throughput and offer limited suitability for clinical applications.
7-9
Therefore, a more effective strategy is needed to isolate LMWP from blood and allow the high throughput screening of clinical samples. Here, we present a fast, efficient and reliable multi-fractionation system based on mesoporous silica chips to specifically target and enrich LMWP.
10,11
Mesoporous silica (MPS) thin films with tunable features at the nanoscale were fabricated using the triblock copolymer template pathway. Using different polymer templates and polymer concentrations in the precursor solution, various pore size distributions, pore structures, connectivity and surface properties were determined and applied for selective recovery of low mass proteins. The selective parsing of the enriched peptides into different subclasses according to their physicochemical properties will enhance the efficiency of recovery and detection of low abundance species. In combination with mass spectrometry and statistic analysis, we demonstrated the correlation between the nanophase characteristics of the mesoporous silica thin films and the specificity and efficacy of low mass proteome harvesting. The results presented herein reveal the potential of the nanotechnology-based technology to provide a powerful alternative to conventional methods for LMWP harvesting from complex biological fluids. Because of the ability to tune the material properties, the capability for low-cost production, the simplicity and rapidity of sample collection, and the greatly reduced sample requirements for analysis, this novel nanotechnology will substantially impact the field of proteomic biomarker research and clinical proteomic assessment.
Bioengineering, Issue 62, Nanoporous silica chip, Low molecular weight proteomics, Peptidomics, MALDI-TOF mass spectrometry, early diagnostics, proteomics
3876
Preparation of 3D Fibrin Scaffolds for Stem Cell Culture Applications
Institutions: University of Victoria , University of Victoria .

Stem cells are found in naturally occurring 3D microenvironments
in vivo
, which are often referred to as the stem cell niche
1
. Culturing stem cells inside of 3D biomaterial scaffolds provides a way to accurately mimic these microenvironments, providing an advantage over traditional 2D culture methods using polystyrene as well as a method for engineering replacement tissues
2
. While 2D tissue culture polystrene has been used for the majority of cell culture experiments, 3D biomaterial scaffolds can more closely replicate the microenvironments found
in vivo
by enabling more accurate establishment of cell polarity in the environment and possessing biochemical and mechanical properties similar to soft tissue.
3
A variety of naturally derived and synthetic biomaterial scaffolds have been investigated as 3D environments for supporting stem cell growth. While synthetic scaffolds can be synthesized to have a greater range of mechanical and chemical properties and often have greater reproducibility, natural biomaterials are often composed of proteins and polysaccharides found in the extracelluar matrix and as a result contain binding sites for cell adhesion and readily support cell culture. Fibrin scaffolds, produced by polymerizing the protein fibrinogen obtained from plasma, have been widely investigated for a variety of tissue engineering applications both
in vitro
and
in vivo
4
. Such scaffolds can be modified using a variety of methods to incorporate controlled release systems for delivering therapeutic factors
5
. Previous work has shown that such scaffolds can be used to successfully culture embryonic stem cells and this scaffold-based culture system can be used to screen the effects of various growth factors on the differentiation of the stem cells seeded inside
6,7
. This protocol details the process of polymerizing fibrin scaffolds from fibrinogen solutions using the enzymatic activity of thrombin. The process takes 2 days to complete, including an overnight dialysis step for the fibrinogen solution to remove citrates that inhibit polymerization. These detailed methods rely on fibrinogen concentrations determined to be optimal for embryonic and induced pluripotent stem cell culture. Other groups have further investigated fibrin scaffolds for a wide range of cell types and applications - demonstrating the versatility of this approach
8-12
.
Bioengineering, Issue 61, Extracellular matrix, stem cells, biomaterials, drug delivery, cell culture
3641
Engineering a Bilayered Hydrogel to Control ASC Differentiation
Institutions: United States Army Institute of Surgical Research, The University of Texas at Austin.

Natural polymers over the years have gained more importance because of their host biocompatibility and ability to interact with cells
in vitro
and
in vivo.
An area of research that holds promise in regenerative medicine is the combinatorial use of novel biomaterials and stem cells. A fundamental strategy in the field of tissue engineering is the use of three-dimensional scaffold (e.g., decellularized extracellular matrix, hydrogels, micro/nano particles) for directing cell function. This technology has evolved from the discovery that cells need a substrate upon which they can adhere, proliferate, and express their differentiated cellular phenotype and function
2-3
. More recently, it has also been determined that cells not only use these substrates for adherence, but also interact and take cues from the matrix substrate (e.g., extracellular matrix, ECM)
4
. Therefore, the cells and scaffolds have a reciprocal connection that serves to control tissue development, organization, and ultimate function. Adipose-derived stem cells (ASCs) are mesenchymal, non-hematopoetic stem cells present in adipose tissue that can exhibit multi-lineage differentiation and serve as a readily available source of cells (i.e. pre-vascular endothelia and pericytes). Our hypothesis is that adipose-derived stem cells can be directed toward differing phenotypes simultaneously by simply co-culturing them in bilayered matrices
1
. Our laboratory is focused on dermal wound healing. To this end, we created a single composite matrix from the natural biomaterials, fibrin, collagen, and chitosan that can mimic the characteristics and functions of a dermal-specific wound healing ECM environment.
Bioengineering, Issue 63, Biomedical Engineering, Tissue Engineering, chitosan, microspheres, collagen, hydrogel, PEG fibrin, cell delivery, adipose-derived stem cells, ASC, CSM
3953
Synthetic Spider Silk Production on a Laboratory Scale
Institutions: University of the Pacific.

As society progresses and resources become scarcer, it is becoming increasingly important to cultivate new technologies that engineer next generation biomaterials with high performance properties. The development of these new structural materials must be rapid, cost-efficient and involve processing methodologies and products that are environmentally friendly and sustainable. Spiders spin a multitude of different fiber types with diverse mechanical properties, offering a rich source of next generation engineering materials for biomimicry that rival the best manmade and natural materials. Since the collection of large quantities of natural spider silk is impractical, synthetic silk production has the ability to provide scientists with access to an unlimited supply of threads. Therefore, if the spinning process can be streamlined and perfected, artificial spider fibers have the potential use for a broad range of applications ranging from body armor, surgical sutures, ropes and cables, tires, strings for musical instruments, and composites for aviation and aerospace technology. In order to advance the synthetic silk production process and to yield fibers that display low variance in their material properties from spin to spin, we developed a wet-spinning protocol that integrates expression of recombinant spider silk proteins in bacteria, purification and concentration of the proteins, followed by fiber extrusion and a mechanical post-spin treatment. This is the first visual representation that reveals a step-by-step process to spin and analyze artificial silk fibers on a laboratory scale. It also provides details to minimize the introduction of variability among fibers spun from the same spinning dope. Collectively, these methods will propel the process of artificial silk production, leading to higher quality fibers that surpass natural spider silks.
Bioengineering, Issue 65, Biochemistry, Spider silk, fibroins, synthetic spider silk, silk-producing glands, wet-spinning, post-spin draw
4191
Designing Silk-silk Protein Alloy Materials for Biomedical Applications
Institutions: Rowan University, Rowan University, Cooper Medical School of Rowan University, Rowan University.

Fibrous proteins display different sequences and structures that have been used for various applications in biomedical fields such as biosensors, nanomedicine, tissue regeneration, and drug delivery. Designing materials based on the molecular-scale interactions between these proteins will help generate new multifunctional protein alloy biomaterials with tunable properties. Such alloy material systems also provide advantages in comparison to traditional synthetic polymers due to the materials biodegradability, biocompatibility, and tenability in the body. This article used the protein blends of wild tussah silk (
Antheraea pernyi
) and domestic mulberry silk (
Bombyx mori
) as an example to provide useful protocols regarding these topics, including how to predict protein-protein interactions by computational methods, how to produce protein alloy solutions, how to verify alloy systems by thermal analysis, and how to fabricate variable alloy materials including optical materials with diffraction gratings, electric materials with circuits coatings, and pharmaceutical materials for drug release and delivery. These methods can provide important information for designing the next generation multifunctional biomaterials based on different protein alloys.
Bioengineering, Issue 90, protein alloys, biomaterials, biomedical, silk blends, computational simulation, implantable electronic devices
50891
Evaluation of Biomaterials for Bladder Augmentation using Cystometric Analyses in Various Rodent Models
Institutions: Harvard Medical School, Tufts University.

Renal function and continence of urine are critically dependent on the proper function of the urinary bladder, which stores urine at low pressure and expels it with a precisely orchestrated contraction. A number of congenital and acquired urological anomalies including posterior urethral valves, benign prostatic hyperplasia, and neurogenic bladder secondary to spina bifida/spinal cord injury can result in pathologic tissue remodeling leading to impaired compliance and reduced capacity
1
. Functional or anatomical obstruction of the urinary tract is frequently associated with these conditions, and can lead to urinary incontinence and kidney damage from increased storage and voiding pressures
2
. Surgical implantation of gastrointestinal segments to expand organ capacity and reduce intravesical pressures represents the primary surgical treatment option for these disorders when medical management fails
3
. However, this approach is hampered by the limitation of available donor tissue, and is associated with significant complications including chronic urinary tract infection, metabolic perturbation, urinary stone formation, and secondary malignancy
4,5
. Current research in bladder tissue engineering is heavily focused on identifying biomaterial configurations which can support regeneration of tissues at defect sites. Conventional 3-D scaffolds derived from natural and synthetic polymers such as small intestinal submucosa and poly-glycolic acid have shown some short-term success in supporting urothelial and smooth muscle regeneration as well as facilitating increased organ storage capacity in both animal models and in the clinic
6,7
. However, deficiencies in scaffold mechanical integrity and biocompatibility often result in deleterious fibrosis
8
, graft contracture
9
, and calcification
10
, thus increasing the risk of implant failure and need for secondary surgical procedures. In addition, restoration of normal voiding characteristics utilizing standard biomaterial constructs for augmentation cystoplasty has yet to be achieved, and therefore research and development of novel matrices which can fulfill this role is needed. In order to successfully develop and evaluate optimal biomaterials for clinical bladder augmentation, efficacy research must first be performed in standardized animal models using detailed surgical methods and functional outcome assessments. We have previously reported the use of a bladder augmentation model in mice to determine the potential of silk fibroin-based scaffolds to mediate tissue regeneration and functional voiding characteristics.
11,12
Cystometric analyses of this model have shown that variations in structural and mechanical implant properties can influence the resulting urodynamic features of the tissue engineered bladders
11,12
. Positive correlations between the degree of matrix-mediated tissue regeneration determined histologically and functional compliance and capacity evaluated by cystometry were demonstrated in this model
11,12
. These results therefore suggest that functional evaluations of biomaterial configurations in rodent bladder augmentation systems may be a useful format for assessing scaffold properties and establishing
in vivo
feasibility prior to large animal studies and clinical deployment. In the current study, we will present various surgical stages of bladder augmentation in both mice and rats using silk scaffolds and demonstrate techniques for awake and anesthetized cystometry.
Bioengineering, Issue 66, Medicine, Biomedical Engineering, Physiology, Silk, bladder tissue engineering, biomaterial, scaffold, matrix, augmentation, cystometry
3981
Self-reporting Scaffolds for 3-Dimensional Cell Culture
Institutions: University of Nottingham, University of Nottingham, University of Nottingham.

Culturing cells in 3D on appropriate scaffolds is thought to better mimic the
in vivo
microenvironment and increase cell-cell interactions. The resulting 3D cellular construct can often be more relevant to studying the molecular events and cell-cell interactions than similar experiments studied in 2D. To create effective 3D cultures with high cell viability throughout the scaffold the culture conditions such as oxygen and pH need to be carefully controlled as gradients in analyte concentration can exist throughout the 3D construct. Here we describe the methods of preparing biocompatible pH responsive sol-gel nanosensors and their incorporation into poly(lactic-co-glycolic acid) (PLGA) electrospun scaffolds along with their subsequent preparation for the culture of mammalian cells. The pH responsive scaffolds can be used as tools to determine microenvironmental pH within a 3D cellular construct. Furthermore, we detail the delivery of pH responsive nanosensors to the intracellular environment of mammalian cells whose growth was supported by electrospun PLGA scaffolds. The cytoplasmic location of the pH responsive nanosensors can be utilized to monitor intracellular pH (pHi) during ongoing experimentation.
Bioengineering, Issue 81, Biocompatible Materials, Nanosensors, scaffold, electrospinning, 3D cell culture, PLGA
50608
Vascular Gene Transfer from Metallic Stent Surfaces Using Adenoviral Vectors Tethered through Hydrolysable Cross-linkers
Institutions: The Children's Hospital of Philadelphia, University of Pennsylvania.

In-stent restenosis presents a major complication of stent-based revascularization procedures widely used to re-establish blood flow through critically narrowed segments of coronary and peripheral arteries. Endovascular stents capable of tunable release of genes with anti-restenotic activity may present an alternative strategy to presently used drug-eluting stents. In order to attain clinical translation, gene-eluting stents must exhibit predictable kinetics of stent-immobilized gene vector release and site-specific transduction of vasculature, while avoiding an excessive inflammatory response typically associated with the polymer coatings used for physical entrapment of the vector. This paper describes a detailed methodology for coatless tethering of adenoviral gene vectors to stents based on a reversible binding of the adenoviral particles to polyallylamine bisphosphonate (PABT)-modified stainless steel surface via hydrolysable cross-linkers (HC). A family of bifunctional (amine- and thiol-reactive) HC with an average t
1/2
of the in-chain ester hydrolysis ranging between 5 and 50 days were used to link the vector with the stent. The vector immobilization procedure is typically carried out within 9 hr and consists of several steps: 1) incubation of the metal samples in an aqueous solution of PABT (4 hr); 2) deprotection of thiol groups installed in PABT with tris(2-carboxyethyl) phosphine (20 min); 3) expansion of thiol reactive capacity of the metal surface by reacting the samples with polyethyleneimine derivatized with pyridyldithio (PDT) groups (2 hr); 4) conversion of PDT groups to thiols with dithiothreitol (10 min); 5) modification of adenoviruses with HC (1 hr); 6) purification of modified adenoviral particles by size-exclusion column chromatography (15 min) and 7) immobilization of thiol-reactive adenoviral particles on the thiolated steel surface (1 hr). This technique has wide potential applicability beyond stents, by facilitating surface engineering of bioprosthetic devices to enhance their biocompatibility through the substrate-mediated gene delivery to the cells interfacing the implanted foreign material.
Medicine, Issue 90, gene therapy, bioconjugation, adenoviral vectors, stents, local gene delivery, smooth muscle cells, endothelial cells, bioluminescence imaging
51653
Silk Film Culture System for in vitro Analysis and Biomaterial Design
Institutions: Weill Cornell Medical College , Tufts University.

Silk films are promising protein-based biomaterials that can be fabricated with high fidelity and economically within a research laboratory environment
1,2
. These materials are desirable because they possess highly controllable dimensional and material characteristics, are biocompatible and promote cell adhesion, can be modified through topographic patterning or by chemically altering the surface, and can be used as a depot for biologically active molecules for drug delivery related applications
3-8
. In addition, silk films are relatively straightforward to custom design, can be designed to dissolve within minutes or degrade over years
in vitro
or
in vivo
, and are produce with the added benefit of being transparent in nature and therefore highly suitable for imaging applications
9-13
. The culture system methodology presented here represents a scalable approach for rapid assessments of cell-silk film surface interactions. Of particular interest is the use of surface patterned silk films to study differences in cell proliferation and responses of cells for alignment
12,14
. The seeded cultures were cultured on both micro-patterned and flat silk film substrates, and then assessed through time-lapse phase-contrast imaging, scanning electron microscopy, and biochemical assessment of metabolic activity and nucleic acid content. In summary, the silk film
in vitro
culture system offers a customizable experimental setup suitable to the study of cell-surface interactions on a biomaterial substrate, which can then be optimized and then translated to
in vivo
models. Observations using the culture system presented here are currently being used to aid in applications ranging from basic cell interactions to medical device design, and thus are relevant to a broad range of biomedical fields.
Bioengineering, Issue 62, silk, fibroin, film, biomaterial, surface patterning, in vitro, epithelium, cell culture
3646
A Full Skin Defect Model to Evaluate Vascularization of Biomaterials In Vivo
Institutions: Technische Universität München, University of Lübeck, University Hospital Zürich, Universidad de Chile.

Insufficient vascularization is considered to be one of the main factors limiting the clinical success of tissue-engineered constructs. In order to evaluate new strategies that aim at improving vascularization, reliable methods are required to make the in-growth of new blood vessels into bio-artificial scaffolds visible and quantify the results. Over the past couple of years, our group has introduced a full skin defect model that enables the direct visualization of blood vessels by transillumination and provides the possibility of quantification through digital segmentation. In this model, one surgically creates full skin defects in the back of mice and replaces them with the material tested. Molecules or cells of interest can also be incorporated in such materials to study their potential effect. After an observation time of one's own choice, materials are explanted for evaluation. Bilateral wounds provide the possibility of making internal comparisons that minimize artifacts among individuals as well as of decreasing the number of animals needed for the study. In comparison to other approaches, our method offers a simple, reliable and cost effective analysis. We have implemented this model as a routine tool to perform high-resolution screening when testing vascularization of different biomaterials and bio-activation approaches.
Bioengineering, Issue 90, Biomaterials, vascularization, tissue engineering, transillumination, digital segmentation, skin defect, scaffold, matrix, in vivo model
51428
Covalent Binding of BMP-2 on Surfaces Using a Self-assembled Monolayer Approach
Institutions: University of Heidelberg, Max Planck Institute for Intelligent Systems at Stuttgart.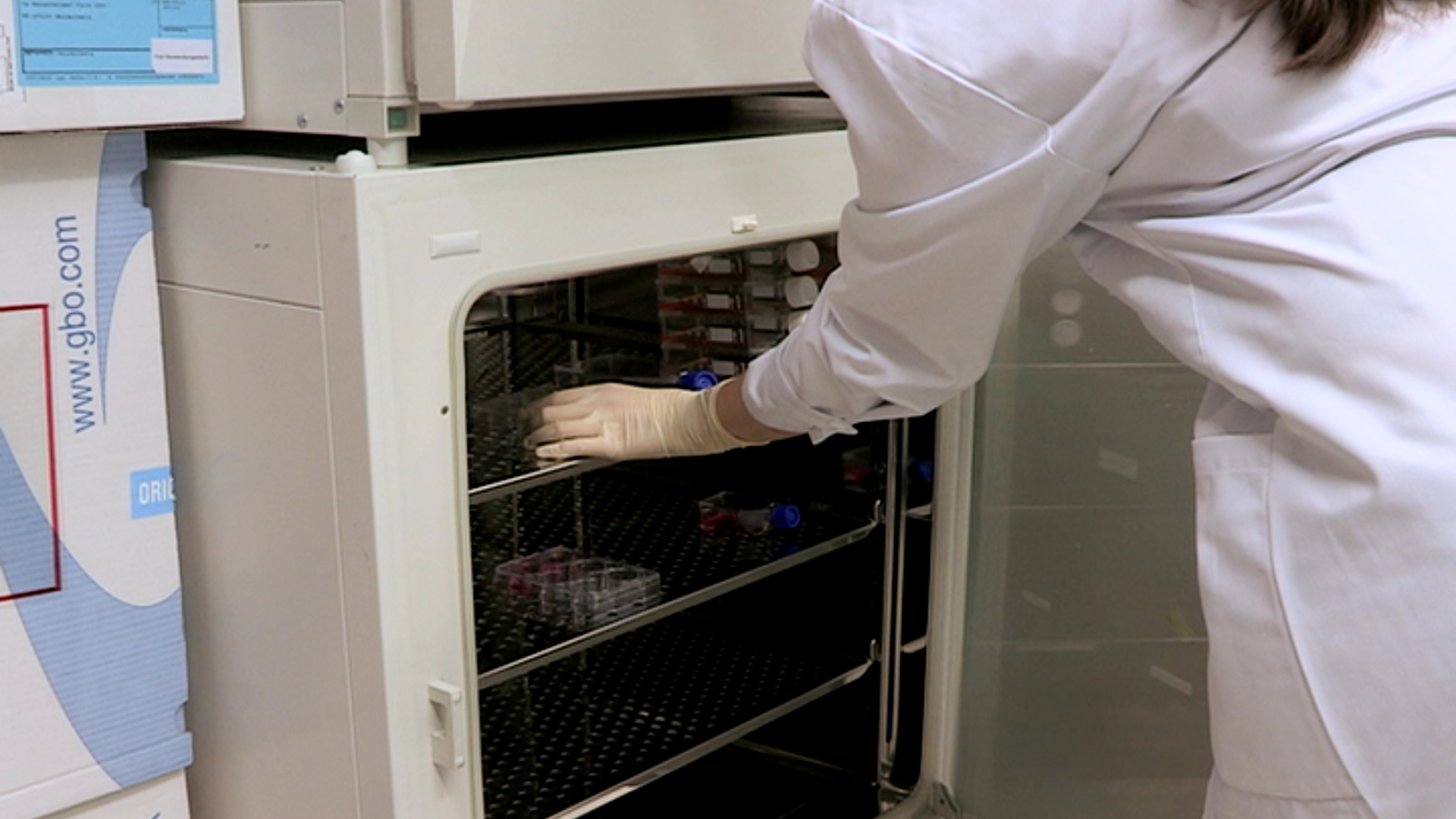 Bone morphogenetic protein 2 (BMP-2) is a growth factor embedded in the extracellular matrix of bone tissue. BMP-2 acts as trigger of mesenchymal cell differentiation into osteoblasts, thus stimulating healing and
de novo
bone formation. The clinical use of recombinant human BMP-2 (rhBMP-2) in conjunction with scaffolds has raised recent controversies, based on the mode of presentation and the amount to be delivered. The protocol presented here provides a simple and efficient way to deliver BMP-2 for
in vitro
studies on cells. We describe how to form a self-assembled monolayer consisting of a heterobifunctional linker, and show the subsequent binding step to obtain covalent immobilization of rhBMP-2. With this approach it is possible to achieve a sustained presentation of BMP-2 while maintaining the biological activity of the protein. In fact, the surface immobilization of BMP-2 allows targeted investigations by preventing unspecific adsorption, while reducing the amount of growth factor and, most notably, hindering uncontrolled release from the surface. Both short- and long-term signaling events triggered by BMP-2 are taking place when cells are exposed to surfaces presenting covalently immobilized rhBMP-2, making this approach suitable for
in vitro
studies on cell responses to BMP-2 stimulation.
Chemistry, Issue 78, Biochemistry, Chemical Engineering, Bioengineering, Biomedical Engineering, Biophysics, Genetics, Chemical Biology, Physical Chemistry, Proteins, life sciences, Biological Factors, Chemistry and Materials (General), Bone morphogenetic protein 2 (BMP-2), self-assembled monolayer (SAM), covalent immobilization, NHS-linker, BMP-2 signaling, protein, assay
50842
Construction and Characterization of a Novel Vocal Fold Bioreactor
Institutions: University of Delaware, University of Delaware.
In vitro
engineering of mechanically active tissues requires the presentation of physiologically relevant mechanical conditions to cultured cells. To emulate the dynamic environment of vocal folds, a novel vocal fold bioreactor capable of producing vibratory stimulations at fundamental phonation frequencies is constructed and characterized. The device is composed of a function generator, a power amplifier, a speaker selector and parallel vibration chambers. Individual vibration chambers are created by sandwiching a custom-made silicone membrane between a pair of acrylic blocks. The silicone membrane not only serves as the bottom of the chamber but also provides a mechanism for securing the cell-laden scaffold. Vibration signals, generated by a speaker mounted underneath the bottom acrylic block, are transmitted to the membrane aerodynamically by the oscillating air. Eight identical vibration modules, fixed on two stationary metal bars, are housed in an anti-humidity chamber for long-term operation in a cell culture incubator. The vibration characteristics of the vocal fold bioreactor are analyzed non-destructively using a Laser Doppler Vibrometer (LDV). The utility of the dynamic culture device is demonstrated by culturing cellular constructs in the presence of 200-Hz sinusoidal vibrations with a mid-membrane displacement of 40 µm. Mesenchymal stem cells cultured in the bioreactor respond to the vibratory signals by altering the synthesis and degradation of vocal fold-relevant, extracellular matrix components. The novel bioreactor system presented herein offers an excellent
in vitro
platform for studying vibration-induced mechanotransduction and for the engineering of functional vocal fold tissues.
Bioengineering, Issue 90, vocal fold; bioreactor; speaker; silicone membrane; fibrous scaffold; mesenchymal stem cells; vibration; extracellular matrix
51594
Use of Human Perivascular Stem Cells for Bone Regeneration
Institutions: School of Dentistry, UCLA, UCLA, UCLA, University of Edinburgh .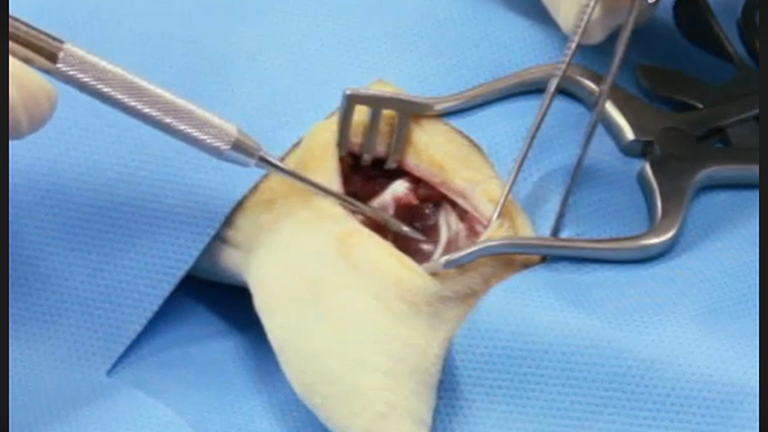 Human perivascular stem cells (PSCs) can be isolated in sufficient numbers from multiple tissues for purposes of skeletal tissue engineering
1-3
. PSCs are a FACS-sorted population of 'pericytes' (CD146+CD34-CD45-) and 'adventitial cells' (CD146-CD34+CD45-), each of which we have previously reported to have properties of mesenchymal stem cells. PSCs, like MSCs, are able to undergo osteogenic differentiation, as well as secrete pro-osteogenic cytokines
1,2
. In the present protocol, we demonstrate the osteogenicity of PSCs in several animal models including a muscle pouch implantation in SCID (severe combined immunodeficient) mice, a SCID mouse calvarial defect and a femoral segmental defect (FSD) in athymic rats. The thigh muscle pouch model is used to assess ectopic bone formation. Calvarial defects are centered on the parietal bone and are standardly 4 mm in diameter (critically sized)
8
. FSDs are bicortical and are stabilized with a polyethylene bar and K-wires
4
. The FSD described is also a critical size defect, which does not significantly heal on its own
4
. In contrast, if stem cells or growth factors are added to the defect site, significant bone regeneration can be appreciated. The overall goal of PSC xenografting is to demonstrate the osteogenic capability of this cell type in both ectopic and orthotopic bone regeneration models.
Bioengineering, Issue 63, Biomedical Engineering, Stem Cell Biology, Pericyte, Stem Cell, Bone Defect, Tissue Engineering, Osteogenesis, femoral defect, calvarial defect
2952