An Engulfment Assay: A Protocol to Assess Interactions Between CNS Phagocytes and Neurons
Published: 06-08-2014
ABSTRACT
Phagocytosis is a process in which a cell engulfs material (entire cell, parts of a cell, debris, etc.) in its surrounding extracellular environment and subsequently digests this material, commonly through lysosomal degradation. Microglia are the resident immune cells of the central nervous system (CNS) whose phagocytic function has been described in a broad range of conditions from neurodegenerative disease (e.g., beta-amyloid clearance in Alzheimer's disease) to development of the healthy brain (e.g., synaptic pruning)1-6. The following protocol is an engulfment assay developed to visualize and quantify microglia-mediated engulfment of presynaptic inputs in the developing mouse retinogeniculate system7. While this assay was used to assess microglia function in this particular context, a similar approach may be used to assess other phagocytes throughout the brain (e.g., astrocytes) and the rest of the body (e.g., peripheral macrophages) as well as other contexts in which synaptic remodeling occurs (e.g. ,brain injury/disease).
21 Related JoVE Articles!
Primary Microglia Isolation from Mixed Glial Cell Cultures of Neonatal Rat Brain Tissue
Institutions: Uniformed Services University, Uniformed Services University, Uniformed Services University.

Microglia account for approximately 12% of the total cellular population in the mammalian brain. While neurons and astrocytes are considered the major cell types of the nervous system, microglia play a significant role in normal brain physiology by monitoring tissue for debris and pathogens and maintaining homeostasis in the parenchyma via phagocytic activity
1,2
. Microglia are activated during a number of injury and disease conditions, including neurodegenerative disease, traumatic brain injury, and nervous system infection
3
. Under these activating conditions, microglia increase their phagocytic activity, undergo morpohological and proliferative change, and actively secrete reactive oxygen and nitrogen species, pro-inflammatory chemokines and cytokines, often activating a paracrine or autocrine loop
4-6
. As these microglial responses contribute to disease pathogenesis in neurological conditions, research focused on microglia is warranted. Due to the cellular heterogeneity of the brain, it is technically difficult to obtain sufficient microglial sample material with high purity during
in vivo
experiments. Current research on the neuroprotective and neurotoxic functions of microglia require a routine technical method to consistently generate pure and healthy microglia with sufficient yield for study. We present, in text and video, a protocol to isolate pure primary microglia from mixed glia cultures for a variety of downstream applications. Briefly, this technique utilizes dissociated brain tissue from neonatal rat pups to produce mixed glial cell cultures. After the mixed glial cultures reach confluency, primary microglia are mechanically isolated from the culture by a brief duration of shaking. The microglia are then plated at high purity for experimental study. The principle and protocol of this methodology have been described in the literature
7,8
. Additionally, alternate methodologies to isolate primary microglia are well described
9-12
. Homogenized brain tissue may be separated by density gradient centrifugation to yield primary microglia
12
. However, the centrifugation is of moderate length (45 min) and may cause cellular damage and activation, as well as, cause enriched microglia and other cellular populations. Another protocol has been utilized to isolate primary microglia in a variety of organisms by prolonged (16 hr) shaking while in culture
9-11
. After shaking, the media supernatant is centrifuged to isolate microglia. This longer two-step isolation method may also perturb microglial function and activation. We chiefly utilize the following microglia isolation protocol in our laboratory for a number of reasons: (1) primary microglia simulate
in vivo
biology more faithfully than immortalized rodent microglia cell lines, (2) nominal mechanical disruption minimizes potential cellular dysfunction or activation, and (3) sufficient yield can be obtained without passage of the mixed glial cell cultures. It is important to note that this protocol uses brain tissue from neonatal rat pups to isolate microglia and that using older rats to isolate microglia can significantly impact the yield, activation status, and functional properties of isolated microglia. There is evidence that aging is linked with microglia dysfunction, increased neuroinflammation and neurodegenerative pathologies, so previous studies have used
ex vivo
adult microglia to better understand the role of microglia in neurodegenerative diseases where aging is important parameter. However,
ex vivo
microglia cannot be kept in culture for prolonged periods of time. Therefore, while this protocol extends the life of primary microglia in culture, it should be noted that the microglia behave differently from adult microglia and
in vitro
studies should be carefully considered when translated to an
in vivo
setting.
Immunology, Issue 66, Neuroscience, Physiology, Molecular Biology, Cell Culture, isolation, microglia, mixed glial cell, traumatic brain injury, neurodegenerative disease
3814
Calcium Phosphate Transfection of Primary Hippocampal Neurons
Institutions: Rutgers University.
Calcium phosphate precipitation is a convenient and economical method for transfection of cultured cells. With optimization, it is possible to use this method on hard-to-transfect cells like primary neurons. Here we describe our detailed protocol for calcium phosphate transfection of hippocampal neurons cocultured with astroglial cells.
Neuroscience, Issue 81, Primary hippocampal neuron, calcium phosphate transfection, Coculture, astroglial cells, DNA
50808
A Thin-skull Window Technique for Chronic Two-photon In vivo Imaging of Murine Microglia in Models of Neuroinflammation
Institutions: University of Rochester, University of Rochester.

Traditionally in neuroscience,
in vivo
two photon imaging of the murine central nervous system has either involved the use of open-skull
1,2
or thinned-skull
3
preparations. While the open-skull technique is very versatile, it is not optimal for studying microglia because it is invasive and can cause microglial activation. Even though the thinned-skull approach is minimally invasive, the repeated re-thinning of skull required for chronic imaging increases the risks of tissue injury and microglial activation and allows for a limited number of imaging sessions. Here we present a chronic thin-skull window method for monitoring murine microglia
in vivo
over an extended period of time using two-photon microscopy. We demonstrate how to prepare a stable, accessible, thinned-skull cortical window (TSCW) with an apposed glass coverslip that remains translucent over the course of three weeks of intermittent observation. This TSCW preparation is far more immunologically inert with respect to microglial activation than open craniotomy or repeated skull thinning and allows an arbitrary number of imaging sessions during a time period of weeks. We prepare TSCW in CX
3
CR
1
GFP/+ mice
4
to visualize microglia with enhanced green fluorescent protein to ≤150 μm beneath the pial surface. We also show that this preparation can be used in conjunction with stereotactic brain injections of the HIV-1 neurotoxic protein Tat, adjacent to the TSCW, which is capable of inducing durable microgliosis. Therefore, this method is extremely useful for examining changes in microglial morphology and motility over time in the living brain in models of HIV Associated Neurocognitive Disorder (HAND) and other neurodegenerative diseases with a neuroinflammatory component.
Neuroscience, Issue 43, Thinned-skull cortical window (TSCW), Microglia, Two-photon in vivo imaging, HIV Associated Neurocognitive Disorder (HAND), Neuroinflammation
2059
Imaging Analysis of Neuron to Glia Interaction in Microfluidic Culture Platform (MCP)-based Neuronal Axon and Glia Co-culture System
Institutions: Tufts University, Tufts Sackler School of Graduate Biomedical Sciences.
Proper neuron to glia interaction is critical to physiological function of the central nervous system (CNS). This bidirectional communication is sophisticatedly mediated by specific signaling pathways between neuron and glia
1,2
. Identification and characterization of these signaling pathways is essential to the understanding of how neuron to glia interaction shapes CNS physiology. Previously, neuron and glia mixed cultures have been widely utilized for testing and characterizing signaling pathways between neuron and glia. What we have learned from these preparations and other
in vivo
tools, however, has suggested that mutual signaling between neuron and glia often occurred in specific compartments within neurons (
i.e.
, axon, dendrite, or soma)
3
. This makes it important to develop a new culture system that allows separation of neuronal compartments and specifically examines the interaction between glia and neuronal axons/dendrites. In addition, the conventional mixed culture system is not capable of differentiating the soluble factors and direct membrane contact signals between neuron and glia. Furthermore, the large quantity of neurons and glial cells in the conventional co-culture system lacks the resolution necessary to observe the interaction between a single axon and a glial cell. In this study, we describe a novel axon and glia co-culture system with the use of a microfluidic culture platform (MCP). In this co-culture system, neurons and glial cells are cultured in two separate chambers that are connected through multiple central channels. In this microfluidic culture platform, only neuronal processes (especially axons) can enter the glial side through the central channels. In combination with powerful fluorescent protein labeling, this system allows direct examination of signaling pathways between axonal/dendritic and glial interactions, such as axon-mediated transcriptional regulation in glia, glia-mediated receptor trafficking in neuronal terminals, and glia-mediated axon growth. The narrow diameter of the chamber also significantly prohibits the flow of the neuron-enriched medium into the glial chamber, facilitating probing of the direct membrane-protein interaction between axons/dendrites and glial surfaces.
Neuroscience, Issue 68, Molecular Biology, Cellular Biology, Biophysics, Microfluidics, Microfluidic culture platform, Compartmented culture, Neuron to glia signaling, neurons, glia, cell culture
4448
Quantifying Synapses: an Immunocytochemistry-based Assay to Quantify Synapse Number
Institutions: Duke University, Duke University.

One of the most important goals in neuroscience is to understand the molecular cues that instruct early stages of synapse formation. As such it has become imperative to develop objective approaches to quantify changes in synaptic connectivity. Starting from sample fixation, this protocol details how to quantify synapse number both in dissociated neuronal culture and in brain sections using immunocytochemistry. Using compartment-specific antibodies, we label presynaptic terminals as well as sites of postsynaptic specialization. We define synapses as points of colocalization between the signals generated by these markers. The number of these colocalizations is quantified using a plug in Puncta Analyzer (written by Bary Wark, available upon request, c.eroglu@cellbio.duke.edu) under the ImageJ analysis software platform. The synapse assay described in this protocol can be applied to any neural tissue or culture preparation for which you have selective pre- and postsynaptic markers. This synapse assay is a valuable tool that can be widely utilized in the study of synaptic development.
Neuroscience, Issue 45, synapse, immunocytochemistry, brain, neuron, astrocyte
2270
Detection of MicroRNAs in Microglia by Real-time PCR in Normal CNS and During Neuroinflammation
Institutions: Harvard Medical School.

Microglia are cells of the myeloid lineage that reside in the central nervous system (CNS)
1
. These cells play an important role in pathologies of many diseases associated with neuroinflammation such as multiple sclerosis (MS)
2
. Microglia in a normal CNS express macrophage marker CD11b and exhibit a resting phenotype by expressing low levels of activation markers such as CD45. During pathological events in the CNS, microglia become activated as determined by upregulation of CD45 and other markers
3
. The factors that affect microglia phenotype and functions in the CNS are not well studied. MicroRNAs (miRNAs) are a growing family of conserved molecules (~22 nucleotides long) that are involved in many normal physiological processes such as cell growth and differentiation
4
and pathologies such as inflammation
5
. MiRNAs downregulate the expression of certain target genes by binding complementary sequences of their mRNAs and play an important role in the activation of innate immune cells including macrophages
6
and microglia
7
. In order to investigate miRNA-mediated pathways that define the microglial phenotype, biological function, and to distinguish microglia from other types of macrophages, it is important to quantitatively assess the expression of particular microRNAs in distinct subsets of CNS-resident microglia. Common methods for measuring the expression of miRNAs in the CNS include quantitative PCR from whole neuronal tissue and
in situ
hybridization. However, quantitative PCR from whole tissue homogenate does not allow the assessment of the expression of miRNA in microglia, which represent only 5-15% of the cells of neuronal tissue. Hybridization
in situ
allows the assessment of the expression of microRNA in specific cell types in the tissue sections, but this method is not entirely quantitative. In this report we describe a quantitative and sensitive method for the detection of miRNA by real-time PCR in microglia isolated from normal CNS or during neuroinflammation using experimental autoimmune encephalomyelitis (EAE), a mouse model for MS. The described method will be useful to measure the level of expression of microRNAs in microglia in normal CNS or during neuroinflammation associated with various pathologies including MS, stroke, traumatic injury, Alzheimer's disease and brain tumors.
Immunology, Issue 65, Neuroscience, Genetics, microglia, macrophages, microRNA, brain, mouse, real-time PCR, neuroinflammation
4097
An In Vitro Model for the Study of Cellular Pathophysiology in Globoid Cell Leukodystrophy
Institutions: University of Connecticut Health Center, University of Illinois at Chicago.

The precise function of multi-nucleated microglia, called globoid cells, that are uniquely abundant in the central nervous system of globoid cell leukodystrophy (GLD) is unclear. This gap in knowledge has been hindered by the lack of an appropriate
in vitro
model for study. Herein, we describe a primary murine glial culture system in which treatment with psychosine results in multinucleation of microglia resembling the characteristic globoid cells found in GLD. Using this novel system, we defined the conditions and modes of analysis for study of globoid cells. The potential use of this model system was validated in our previous study, which identified a potential role for matrix metalloproteinase (MMP)-3 in GLD. This novel
in vitro
system may be a useful model in which to study the formation and function, but also the potential therapeutic manipulation, of these unique cells.
Cellular Biology, Issue 92, globoid cells, psychosine, microglia, multinucleation, leukodystrophy, Krabbe disease, pathogenesis, phagocytic activity
51903
Culturing Microglia from the Neonatal and Adult Central Nervous System
Institutions: Stony Brook University, Stony Brook University, Stony Brook University.

Microglia are the resident macrophage-like cells of the central nervous system (CNS) and, as such, have critically important roles in physiological and pathological processes such as CNS maturation in development, multiple sclerosis, and spinal cord injury. Microglia can be activated and recruited to action by neuronal injury or stimulation, such as axonal damage seen in MS or ischemic brain trauma resulting from stroke. These immunocompetent members of the CNS are also thought to have roles in synaptic plasticity under non-pathological conditions. We employ protocols for culturing microglia from the neonatal and adult tissues that are aimed to maximize the viable cell numbers while minimizing confounding variables, such as the presence of other CNS cell types and cell culture debris. We utilize large and easily discernable CNS components (
e.g.
cortex, spinal cord segments), which makes the entire process feasible and reproducible. The use of adult cells is a suitable alternative to the use of neonatal brain microglia, as many pathologies studied mainly affect the postnatal spinal cord. These culture systems are also useful for directly testing the effect of compounds that may either inhibit or promote microglial activation. Since microglial activation can shape the outcomes of disease in the adult CNS, there is a need for in vitro systems in which neonatal and adult microglia can be cultured and studied.
Immunology, Issue 78, Neuroscience, Neurobiology, Cellular Biology, Molecular Biology, Medicine, Biomedical Engineering, Bioengineering, Anatomy, Physiology, immunosuppression, life sciences, animal biology, animal models, biochemistry, microglia, cortex, mouse, neonatal, cell culture, spinal cord, adult, tissue culture, animal model
50647
Whole-cell Patch-clamp Recordings from Morphologically- and Neurochemically-identified Hippocampal Interneurons
Institutions: Charité Universitätmedizin.

GABAergic inhibitory interneurons play a central role within neuronal circuits of the brain. Interneurons comprise a small subset of the neuronal population (10-20%), but show a high level of physiological, morphological, and neurochemical heterogeneity, reflecting their diverse functions. Therefore, investigation of interneurons provides important insights into the organization principles and function of neuronal circuits. This, however, requires an integrated physiological and neuroanatomical approach for the selection and identification of individual interneuron types. Whole-cell patch-clamp recording from acute brain slices of transgenic animals, expressing fluorescent proteins under the promoters of interneuron-specific markers, provides an efficient method to target and electrophysiologically characterize intrinsic and synaptic properties of specific interneuron types. Combined with intracellular dye labeling, this approach can be extended with post-hoc morphological and immunocytochemical analysis, enabling systematic identification of recorded neurons. These methods can be tailored to suit a broad range of scientific questions regarding functional properties of diverse types of cortical neurons.
Neuroscience, Issue 91, electrophysiology, acute slice, whole-cell patch-clamp recording, neuronal morphology, immunocytochemistry, parvalbumin, hippocampus, inhibition, GABAergic interneurons, synaptic transmission, IPSC, GABA-B receptor
51706
Examination of Synaptic Vesicle Recycling Using FM Dyes During Evoked, Spontaneous, and Miniature Synaptic Activities
Institutions: University of Iowa Carver College of Medicine, University of Bath.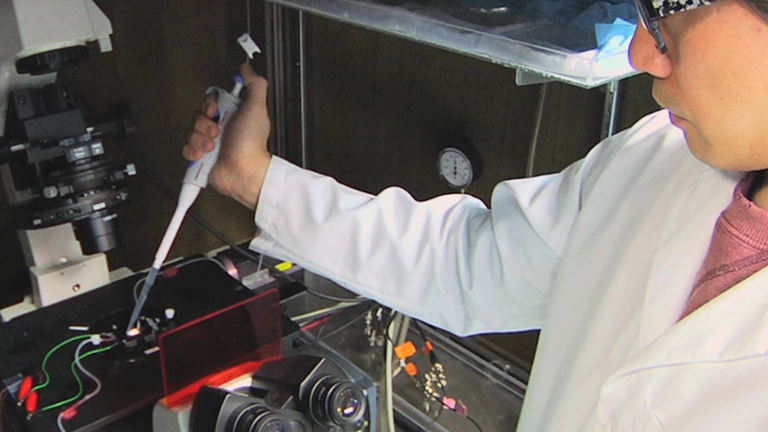 Synaptic vesicles in functional nerve terminals undergo exocytosis and endocytosis. This synaptic vesicle recycling can be effectively analyzed using styryl FM dyes, which reveal membrane turnover. Conventional protocols for the use of FM dyes were designed for analyzing neurons following stimulated (evoked) synaptic activity. Recently, protocols have become available for analyzing the FM signals that accompany weaker synaptic activities, such as spontaneous or miniature synaptic events. Analysis of these small changes in FM signals requires that the imaging system is sufficiently sensitive to detect small changes in intensity, yet that artifactual changes of large amplitude are suppressed. Here we describe a protocol that can be applied to evoked, spontaneous, and miniature synaptic activities, and use cultured hippocampal neurons as an example. This protocol also incorporates a means of assessing the rate of photobleaching of FM dyes, as this is a significant source of artifacts when imaging small changes in intensity.
Neuroscience, Issue 85, Presynaptic Terminals, Synaptic Vesicles, Microscopy, Biological Assay, Nervous System, Endocytosis, exocytosis, fluorescence imaging, FM dye, neuron, photobleaching
50557
Inhibitory Synapse Formation in a Co-culture Model Incorporating GABAergic Medium Spiny Neurons and HEK293 Cells Stably Expressing GABAA Receptors
Institutions: University College London.

Inhibitory neurons act in the central nervous system to regulate the dynamics and spatio-temporal co-ordination of neuronal networks. GABA (γ-aminobutyric acid) is the predominant inhibitory neurotransmitter in the brain. It is released from the presynaptic terminals of inhibitory neurons within highly specialized intercellular junctions known as synapses, where it binds to GABA
A
receptors (GABA
A
Rs) present at the plasma membrane of the synapse-receiving, postsynaptic neurons. Activation of these GABA-gated ion channels leads to influx of chloride resulting in postsynaptic potential changes that decrease the probability that these neurons will generate action potentials. During development, diverse types of inhibitory neurons with distinct morphological, electrophysiological and neurochemical characteristics have the ability to recognize their target neurons and form synapses which incorporate specific GABA
A
Rs subtypes. This principle of selective innervation of neuronal targets raises the question as to how the appropriate synaptic partners identify each other. To elucidate the underlying molecular mechanisms, a novel
in vitro
co-culture model system was established, in which medium spiny GABAergic neurons, a highly homogenous population of neurons isolated from the embryonic striatum, were cultured with stably transfected HEK293 cell lines that express different GABA
A
R subtypes. Synapses form rapidly, efficiently and selectively in this system, and are easily accessible for quantification. Our results indicate that various GABA
A
R subtypes differ in their ability to promote synapse formation, suggesting that this reduced
in vitro
model system can be used to reproduce, at least in part, the
in vivo
conditions required for the recognition of the appropriate synaptic partners and formation of specific synapses. Here the protocols for culturing the medium spiny neurons and generating HEK293 cells lines expressing GABA
A
Rs are first described, followed by detailed instructions on how to combine these two cell types in co-culture and analyze the formation of synaptic contacts.
Neuroscience, Issue 93, Developmental neuroscience, synaptogenesis, synaptic inhibition, co-culture, stable cell lines, GABAergic, medium spiny neurons, HEK 293 cell line
52115
Strategies for Study of Neuroprotection from Cold-preconditioning
Institutions: The University of Chicago Medical Center.

Neurological injury is a frequent cause of morbidity and mortality from general anesthesia and related surgical procedures that could be alleviated by development of effective, easy to administer and safe preconditioning treatments. We seek to define the neural immune signaling responsible for cold-preconditioning as means to identify novel targets for therapeutics development to protect brain before injury onset. Low-level pro-inflammatory mediator signaling changes over time are essential for cold-preconditioning neuroprotection. This signaling is consistent with the basic tenets of physiological conditioning hormesis, which require that irritative stimuli reach a threshold magnitude with sufficient time for adaptation to the stimuli for protection to become evident. Accordingly, delineation of the immune signaling involved in cold-preconditioning neuroprotection requires that biological systems and experimental manipulations plus technical capacities are highly reproducible and sensitive. Our approach is to use hippocampal slice cultures as an
in vitro
model that closely reflects their
in vivo
counterparts with multi-synaptic neural networks influenced by mature and quiescent macroglia / microglia. This glial state is particularly important for microglia since they are the principal source of cytokines, which are operative in the femtomolar range. Also, slice cultures can be maintained
in vitro
for several weeks, which is sufficient time to evoke activating stimuli and assess adaptive responses. Finally, environmental conditions can be accurately controlled using slice cultures so that cytokine signaling of cold-preconditioning can be measured, mimicked, and modulated to dissect the critical node aspects. Cytokine signaling system analyses require the use of sensitive and reproducible multiplexed techniques. We use quantitative PCR for TNF-α to screen for microglial activation followed by quantitative real-time qPCR array screening to assess tissue-wide cytokine changes. The latter is a most sensitive and reproducible means to measure multiple cytokine system signaling changes simultaneously. Significant changes are confirmed with targeted qPCR and then protein detection. We probe for tissue-based cytokine protein changes using multiplexed microsphere flow cytometric assays using Luminex technology. Cell-specific cytokine production is determined with double-label immunohistochemistry. Taken together, this brain tissue preparation and style of use, coupled to the suggested investigative strategies, may be an optimal approach for identifying potential targets for the development of novel therapeutics that could mimic the advantages of cold-preconditioning.
Neuroscience, Issue 43, innate immunity, hormesis, microglia, hippocampus, slice culture, immunohistochemistry, neural-immune, gene expression, real-time PCR
2192
Modeling Neural Immune Signaling of Episodic and Chronic Migraine Using Spreading Depression In Vitro
Institutions: The University of Chicago Medical Center, The University of Chicago Medical Center.

Migraine and its transformation to chronic migraine are healthcare burdens in need of improved treatment options. We seek to define how neural immune signaling modulates the susceptibility to migraine, modeled
in vitro
using spreading depression (SD), as a means to develop novel therapeutic targets for episodic and chronic migraine. SD is the likely cause of migraine aura and migraine pain. It is a paroxysmal loss of neuronal function triggered by initially increased neuronal activity, which slowly propagates within susceptible brain regions. Normal brain function is exquisitely sensitive to, and relies on, coincident low-level immune signaling. Thus, neural immune signaling likely affects electrical activity of SD, and therefore migraine. Pain perception studies of SD in whole animals are fraught with difficulties, but whole animals are well suited to examine systems biology aspects of migraine since SD activates trigeminal nociceptive pathways. However, whole animal studies alone cannot be used to decipher the cellular and neural circuit mechanisms of SD. Instead,
in vitro
preparations where environmental conditions can be controlled are necessary. Here, it is important to recognize limitations of acute slices and distinct advantages of hippocampal slice cultures. Acute brain slices cannot reveal subtle changes in immune signaling since preparing the slices alone triggers: pro-inflammatory changes that last days, epileptiform behavior due to high levels of oxygen tension needed to vitalize the slices, and irreversible cell injury at anoxic slice centers. In contrast, we examine immune signaling in mature hippocampal slice cultures since the cultures closely parallel their
in vivo
counterpart with mature trisynaptic function; show quiescent astrocytes, microglia, and cytokine levels; and SD is easily induced in an unanesthetized preparation. Furthermore, the slices are long-lived and SD can be induced on consecutive days without injury, making this preparation the sole means to-date capable of modeling the neuroimmune consequences of chronic SD, and thus perhaps chronic migraine. We use electrophysiological techniques and non-invasive imaging to
measure
neuronal cell and circuit functions coincident with SD. Neural immune gene expression variables are measured with qPCR screening, qPCR arrays, and, importantly, use of cDNA preamplification for detection of ultra-low level targets such as interferon-gamma using whole, regional, or specific cell enhanced (via laser dissection microscopy) sampling. Cytokine cascade signaling is further assessed with multiplexed phosphoprotein related targets with gene expression and phosphoprotein changes confirmed via cell-specific immunostaining. Pharmacological and siRNA strategies are used to
mimic
and
modulate
SD immune signaling.
Neuroscience, Issue 52, innate immunity, hormesis, microglia, T-cells, hippocampus, slice culture, gene expression, laser dissection microscopy, real-time qPCR, interferon-gamma
2910
Isolation of Cortical Microglia with Preserved Immunophenotype and Functionality From Murine Neonates
Institutions: Georgetown University Medical Center.

Isolation of microglia from CNS tissue is a powerful investigative tool used to study microglial biology
ex vivo
. The present method details a procedure for isolation of microglia from neonatal murine cortices by mechanical agitation with a rotary shaker. This microglia isolation method yields highly pure cortical microglia that exhibit morphological and functional characteristics indicative of quiescent microglia in normal, nonpathological conditions
in vivo
. This procedure also preserves the microglial immunophenotype and biochemical functionality as demonstrated by the induction of morphological changes, nuclear translocation of the p65 subunit of NF-κB (p65), and secretion of the hallmark proinflammatory cytokine, tumor necrosis factor-α (TNF-α), upon lipopolysaccharide (LPS) and Pam
3
CSK
4
(Pam) challenges. Therefore, the present isolation procedure preserves the immunophenotype of both quiescent and activated microglia, providing an experimental method of investigating microglia biology in
ex vivo
conditions
.
Immunology, Issue 83, neuroinflammation, Cytokines, neurodegeneration, LPS, Pam3CSK4, TLRs, PAMPs, DAMPs
51005
Isolation and Culture of Mouse Cortical Astrocytes
Institutions: University of Freiburg , University of Freiburg .

Astrocytes are an abundant cell type in the mammalian brain, yet much remains to be learned about their molecular and functional characteristics.
In vitro
astrocyte cell culture systems can be used to study the biological functions of these glial cells in detail. This video protocol shows how to obtain pure astrocytes by isolation and culture of mixed cortical cells of mouse pups. The method is based on the absence of viable neurons and the separation of astrocytes, oligodendrocytes and microglia, the three main glial cell populations of the central nervous system, in culture. Representative images during the first days of culture demonstrate the presence of a mixed cell population and indicate the timepoint, when astrocytes become confluent and should be separated from microglia and oligodendrocytes. Moreover, we demonstrate purity and astrocytic morphology of cultured astrocytes using immunocytochemical stainings for well established and newly described astrocyte markers. This culture system can be easily used to obtain pure mouse astrocytes and astrocyte-conditioned medium for studying various aspects of astrocyte biology.
Neuroscience, Issue 71, Neurobiology, Cellular Biology, Medicine, Molecular Biology, Anatomy, Physiology, brain, mouse, astrocyte culture, astrocyte, fibroblast, fibrinogen, chondroitin sulfate proteoglycan, neuronal regeneration, cell culture, animal model
50079
Inducing Plasticity of Astrocytic Receptors by Manipulation of Neuronal Firing Rates
Institutions: University of California Riverside, University of California Riverside, University of California Riverside.

Close to two decades of research has established that astrocytes
in situ
and
in vivo
express numerous G protein-coupled receptors (GPCRs) that can be stimulated by neuronally-released transmitter. However, the ability of astrocytic receptors to exhibit plasticity in response to changes in neuronal activity has received little attention. Here we describe a model system that can be used to globally scale up or down astrocytic group I metabotropic glutamate receptors (mGluRs) in acute brain slices. Included are methods on how to prepare parasagittal hippocampal slices, construct chambers suitable for long-term slice incubation, bidirectionally manipulate neuronal action potential frequency, load astrocytes and astrocyte processes with fluorescent Ca
2+
indicator, and measure changes in astrocytic Gq GPCR activity by recording spontaneous and evoked astrocyte Ca
2+
events using confocal microscopy. In essence, a "calcium roadmap" is provided for how to measure plasticity of astrocytic Gq GPCRs. Applications of the technique for study of astrocytes are discussed. Having an understanding of how astrocytic receptor signaling is affected by changes in neuronal activity has important implications for both normal synaptic function as well as processes underlying neurological disorders and neurodegenerative disease.
Neuroscience, Issue 85, astrocyte, plasticity, mGluRs, neuronal Firing, electrophysiology, Gq GPCRs, Bolus-loading, calcium, microdomains, acute slices, Hippocampus, mouse
51458
Fast Micro-iontophoresis of Glutamate and GABA: A Useful Tool to Investigate Synaptic Integration
Institutions: University of Bonn, Deutsches Zentrum für Neurodegenerative Erkrankungen e.V. (DZNE).

One of the fundamental interests in neuroscience is to understand the integration of excitatory and inhibitory inputs along the very complex structure of the dendritic tree, which eventually leads to neuronal output of action potentials at the axon. The influence of diverse spatial and temporal parameters of specific synaptic input on neuronal output is currently under investigation,
e.g.
the distance-dependent attenuation of dendritic inputs, the location-dependent interaction of spatially segregated inputs, the influence of GABAergig inhibition on excitatory integration, linear and non-linear integration modes, and many more. With fast micro-iontophoresis of glutamate and GABA it is possible to precisely investigate the spatial and temporal integration of glutamatergic excitation and GABAergic inhibition. Critical technical requirements are either a triggered fluorescent lamp, light-emitting diode (LED), or a two-photon scanning microscope to visualize dendritic branches without introducing significant photo-damage of the tissue. Furthermore, it is very important to have a micro-iontophoresis amplifier that allows for fast capacitance compensation of high resistance pipettes. Another crucial point is that no transmitter is involuntarily released by the pipette during the experiment. Once established, this technique will give reliable and reproducible signals with a high neurotransmitter and location specificity. Compared to glutamate and GABA uncaging, fast iontophoresis allows using both transmitters at the same time but at very distant locations without limitation to the field of view. There are also advantages compared to focal electrical stimulation of axons: with micro-iontophoresis the location of the input site is definitely known and it is sure that only the neurotransmitter of interest is released. However it has to be considered that with micro-iontophoresis only the postsynapse is activated and presynaptic aspects of neurotransmitter release are not resolved. In this article we demonstrate how to set up micro-iontophoresis in brain slice experiments.
Neuroscience, Issue 77, Neurobiology, Molecular Biology, Cellular Biology, Physiology, Biomedical Engineering, Biophysics, Biochemistry, biology (general), animal biology, Nervous System, Life Sciences (General), Neurosciences, brain slices, dendrites, inhibition, excitation, glutamate, GABA, micro-iontophoresis, iontophoresis, neurons, patch clamp, whole cell recordings
50701
Paired Whole Cell Recordings in Organotypic Hippocampal Slices
Institutions: University of Auckland, Stanford University.

Pair recordings involve simultaneous whole cell patch clamp recordings from two synaptically connected neurons, enabling not only direct electrophysiological characterization of the synaptic connections between individual neurons, but also pharmacological manipulation of either the presynaptic or the postsynaptic neuron. When carried out in organotypic hippocampal slice cultures, the probability that two neurons are synaptically connected is significantly increased. This preparation readily enables identification of cell types, and the neurons maintain their morphology and properties of synaptic function similar to that in native brain tissue. A major advantage of paired whole cell recordings is the highly precise information it can provide on the properties of synaptic transmission and plasticity that are not possible with other more crude techniques utilizing extracellular axonal stimulation. Paired whole cell recordings are often perceived as too challenging to perform. While there are challenging aspects to this technique, paired recordings can be performed by anyone trained in whole cell patch clamping provided specific hardware and methodological criteria are followed. The probability of attaining synaptically connected paired recordings significantly increases with healthy organotypic slices and stable micromanipulation allowing independent attainment of pre- and postsynaptic whole cell recordings. While CA3-CA3 pyramidal cell pairs are most widely used in the organotypic slice hippocampal preparation, this technique has also been successful in CA3-CA1 pairs and can be adapted to any neurons that are synaptically connected in the same slice preparation. In this manuscript we provide the detailed methodology and requirements for establishing this technique in any laboratory equipped for electrophysiology.
Neuroscience, Issue 91, hippocampus, paired recording, whole cell recording, organotypic slice, synapse, synaptic transmission, synaptic plasticity
51958
Intravital Imaging of Axonal Interactions with Microglia and Macrophages in a Mouse Dorsal Column Crush Injury
Institutions: Case Western Reserve University, Case Western Reserve University, Case Western Reserve University.

Traumatic spinal cord injury causes an inflammatory reaction involving blood-derived macrophages and central nervous system (CNS)-resident microglia. Intra-vital two-photon microscopy enables the study of macrophages and microglia in the spinal cord lesion in the living animal. This can be performed in adult animals with a traumatic injury to the dorsal column. Here, we describe methods for distinguishing macrophages from microglia in the CNS using an irradiation bone marrow chimera to obtain animals in which only macrophages or microglia are labeled with a genetically encoded green fluorescent protein. We also describe a injury model that crushes the dorsal column of the spinal cord, thereby producing a simple, easily accessible, rectangular lesion that is easily visualized in an animal through a laminectomy. Furthermore, we will outline procedures to sequentially image the animals at the anatomical site of injury for the study of cellular interactions during the first few days to weeks after injury.
Cellular Biology, Issue 93, Intravital, spinal cord crush injury, chimera, microglia, macrophages, dorsal column crush, axonal dieback
52228
Preparing T Cell Growth Factor from Rat Splenocytes
Institutions: University of California, Irvine (UCI).

Maintenance of antigen-specific T cell lines or clones in culture requires rounds of antigen-induced activation separated by phases of cell expansion
1,2
. Addition of interleukin 2 to the culture media during the expansion phase is necessary to prevent cell death and sufficient to maintain short-term T cell lines but has been shown to increase Th1 polarization
3
. Replacement of interleukin 2 by T cell growth factor (TCGF) which contains a mix of cytokines is more effective than interleukin 2 in maintaining long-term T cell lines in vitro
3
. Moreover, TCGF can easily be prepared in large amounts in the laboratory and is much cheaper than recombinant interleukin 2. Here, we show how to prepare TCGF from rat splenocyte culture supernatants. For this procedure, we harvest spleens from naive Lewis rats euthanized for thymus and blood collection. We prepare single-cell suspensions from the spleens, lyze the red blood cells by osmotic shock, and seed the splenocytes in culture medium. The cells are stimulated with concanavalin A, a mitogen that non-selectively activates all rat T lymphocytes, inducing the production of cytokines. The culture supernantant is collected 48 hours later andexcess concanavalin A is bound to alpha methyl mannoside to prevent it from activating T cell lines to which TCGF will be added. The TCGF is then sterile-filtered, aliquoted, and stored at -20°C.
Immunology, Issue 10, Rodent, Growth Factor, TCGF, Lymphocyte, Interleukin 2, Apoptosis, Survival, T cell line, Clone
402
The Organotypic Hippocampal Slice Culture Model for Examining Neuronal Injury
Institutions: Stanford University School of Medicine.

Organotypic hippocampal slice culture is an
in vitro
method to examine mechanisms of neuronal injury in which the basic architecture and composition of the hippocampus is relatively preserved
1
. The organotypic culture system allows for the examination of neuronal, astrocytic and microglial effects, but as an
ex vivo
preparation, does not address effects of blood flow, or recruitment of peripheral inflammatory cells. To that end, this culture method is frequently used to examine excitotoxic and hypoxic injury to pyramidal neurons of the hippocampus, but has also been used to examine the inflammatory response. Herein we describe the methods for generating hippocampal slice cultures from postnatal rodent brain, administering toxic stimuli to induce neuronal injury, and assaying and quantifying hippocampal neuronal death.
Neuroscience, Issue 44, Organotypic slice culture, excitotoxicity, NMDA
2106