Monitoring Protein Adsorption with Solid-state Nanopores
Published: 12-02-2011
ABSTRACT
Solid-state nanopores have been used to perform measurements at the single-molecule level to examine the local structure and flexibility of nucleic acids 1-6, the unfolding of proteins 7, and binding affinity of different ligands 8. By coupling these nanopores to the resistive-pulse technique 9-12, such measurements can be done under a wide variety of conditions and without the need for labeling 3. In the resistive-pulse technique, an ionic salt solution is introduced on both sides of the nanopore. Therefore, ions are driven from one side of the chamber to the other by an applied transmembrane potential, resulting in a steady current. The partitioning of an analyte into the nanopore causes a well-defined deflection in this current, which can be analyzed to extract single-molecule information. Using this technique, the adsorption of single proteins to the nanopore walls can be monitored under a wide range of conditions 13. Protein adsorption is growing in importance, because as microfluidic devices shrink in size, the interaction of these systems with single proteins becomes a concern. This protocol describes a rapid assay for protein binding to nitride films, which can readily be extended to other thin films amenable to nanopore drilling, or to functionalized nitride surfaces. A variety of proteins may be explored under a wide range of solutions and denaturing conditions. Additionally, this protocol may be used to explore more basic problems using nanopore spectroscopy.
21 Related JoVE Articles!
Synthesis, Assembly, and Characterization of Monolayer Protected Gold Nanoparticle Films for Protein Monolayer Electrochemistry
Institutions: University of Richmond, University of Richmond.

Colloidal gold nanoparticles protected with alkanethiolate ligands called monolayer protected gold clusters (MPCs) are synthesized and subsequently incorporated into film assemblies that serve as adsorption platforms for protein monolayer electrochemistry (PME). PME is utilized as the model system for studying electrochemical properties of redox proteins by confining them to an adsorption platform at a modified electrode, which also serves as a redox partner for electron transfer (ET) reactions. Studies have shown that gold nanoparticle film assemblies of this nature provide for a more homogeneous protein adsorption environment and promote ET without distance dependence compared to the more traditional systems modified with alkanethiol self-assembled monolayers (SAM).
1-3
In this paper, MPCs functionalized with hexanethiolate ligands are synthesized using a modified Brust reaction
4
and characterized with ultraviolet visible (UV-Vis) spectroscopy, transmission electron microscopy (TEM), and proton (
1
H) nuclear magnetic resonance (NMR). MPC films are assembled on SAM modified gold electrode interfaces by using a "dip cycle" method of alternating MPC layers and dithiol linking molecules. Film growth at gold electrode is tracked electrochemically by measuring changes to the double layer charging current of the system. Analogous films assembled on silane modified glass slides allow for optical monitoring of film growth and cross-sectional TEM analysis provides an estimated film thickness. During film assembly, manipulation of the MPC ligand protection as well as the interparticle linkage mechanism allow for networked films, that are readily adaptable, to interface with redox protein having different adsorption mechanism. For example,
Pseudomonas aeruginosa
azurin (AZ) can be adsorbed hydrophobically to dithiol-linked films of hexanethiolate MPCs and cytochrome
c
(cyt
c
) can be immobilized electrostatically at a carboxylic acid modified MPC interfacial layer. In this report, we focus on the film protocol for the AZ system exclusively. Investigations involving the adsorption of proteins on MPC modified synthetic platforms could further the understanding of interactions between biomolecules and man-made materials, and consequently aid the development of biosensor schemes, ET modeling systems, and synthetic biocompatible materials.
5-8
Bioengineering, Issue 56, Monolayer protected clusters, film assemblies, protein monolayer electrochemistry, azurin, self-assembled monolayers
3441
Visualization of Recombinant DNA and Protein Complexes Using Atomic Force Microscopy
Institutions: Seattle University, Seattle University.

Atomic force microscopy (AFM) allows for the visualizing of individual proteins, DNA molecules, protein-protein complexes, and DNA-protein complexes. On the end of the microscope's cantilever is a nano-scale probe, which traverses image areas ranging from nanometers to micrometers, measuring the elevation of macromolecules resting on the substrate surface at any given point. Electrostatic forces cause proteins, lipids, and nucleic acids to loosely attach to the substrate in random orientations and permit imaging. The generated data resemble a topographical map, where the macromolecules resolve as three-dimensional particles of discrete sizes (
Figure 1
)
1,2
. Tapping mode AFM involves the repeated oscillation of the cantilever, which permits imaging of relatively soft biomaterials such as DNA and proteins. One of the notable benefits of AFM over other nanoscale microscopy techniques is its relative adaptability to visualize individual proteins and macromolecular complexes in aqueous buffers, including near-physiologic buffered conditions, in real-time, and without staining or coating the sample to be imaged. The method presented here describes the imaging of DNA and an immunoadsorbed transcription factor (i.e. the glucocorticoid receptor, GR) in buffered solution (
Figure 2
). Immunoadsorbed proteins and protein complexes can be separated from the immunoadsorbing antibody-bead pellet by competition with the antibody epitope and then imaged (
Figure 2A
). This allows for biochemical manipulation of the biomolecules of interest prior to imaging. Once purified, DNA and proteins can be mixed and the resultant interacting complex can be imaged as well. Binding of DNA to mica requires a divalent cation
3
,such as Ni
2+
or Mg
2+
, which can be added to sample buffers yet maintain protein activity. Using a similar approach, AFM has been utilized to visualize individual enzymes, including RNA polymerase
4
and a repair enzyme
5
, bound to individual DNA strands. These experiments provide significant insight into the protein-protein and DNA-protein biophysical interactions taking place at the molecular level. Imaging individual macromolecular particles with AFM can be useful for determining particle homogeneity and for identifying the physical arrangement of constituent components of the imaged particles. While the present method was developed for visualization of GR-chaperone protein complexes
1,2
and DNA strands to which the GR can bind, it can be applied broadly to imaging DNA and protein samples from a variety of sources.
Bioengineering, Issue 53, atomic force microscopy, glucocorticoid receptor, protein-protein interaction, DNA-protein interaction, scanning probe microscopy, immunoadsorption
3061
Preparation of Hydrophobic Metal-Organic Frameworks via Plasma Enhanced Chemical Vapor Deposition of Perfluoroalkanes for the Removal of Ammonia
Institutions: Science Applications International Corporation (SAIC), Research Development Engineering Command.
Plasma enhanced chemical vapor deposition (PECVD) of perfluoroalkanes has long been studied for tuning the wetting properties of surfaces. For high surface area microporous materials, such as metal-organic frameworks (MOFs), unique challenges present themselves for PECVD treatments. Herein the protocol for development of a MOF that was previously unstable to humid conditions is presented. The protocol describes the synthesis of Cu-BTC (also known as HKUST-1), the treatment of Cu-BTC with PECVD of perfluoroalkanes, the aging of materials under humid conditions, and the subsequent ammonia microbreakthrough experiments on milligram quantities of microporous materials. Cu-BTC has an extremely high surface area (~1,800 m
2
/g) when compared to most materials or surfaces that have been previously treated by PECVD methods. Parameters such as chamber pressure and treatment time are extremely important to ensure the perfluoroalkane plasma penetrates to and reacts with the inner MOF surfaces. Furthermore, the protocol for ammonia microbreakthrough experiments set forth here can be utilized for a variety of test gases and microporous materials.
Chemistry, Issue 80, materials (general), gas absorption, low pressure chemistry, organometallic materials, Chemistry and Materials (General), Inorganic, Organic and Physical Chemistry, plasma enhanced chemical vapor deposition, fluorine chemistry, microporosity, metal-organic frameworks, hydrophobic, stability, breakthrough, ammonia, adsorption
51175
Simultaneous Synthesis of Single-walled Carbon Nanotubes and Graphene in a Magnetically-enhanced Arc Plasma
Institutions: The George Washington University.

Carbon nanostructures such as single-walled carbon nanotubes (SWCNT) and graphene attract a deluge of interest of scholars nowadays due to their very promising application for molecular sensors, field effect transistor and super thin and flexible electronic devices
1-4
. Anodic arc discharge supported by the erosion of the anode material is one of the most practical and efficient methods, which can provide specific non-equilibrium processes and a high influx of carbon material to the developing structures at relatively higher temperature, and consequently the as-synthesized products have few structural defects and better crystallinity. To further improve the controllability and flexibility of the synthesis of carbon nanostructures in arc discharge, magnetic fields can be applied during the synthesis process according to the strong magnetic responses of arc plasmas. It was demonstrated that the magnetically-enhanced arc discharge can increase the average length of SWCNT
5
, narrow the diameter distribution of metallic catalyst particles and carbon nanotubes
6
, and change the ratio of metallic and semiconducting carbon nanotubes
7
, as well as lead to graphene synthesis
8
. Furthermore, it is worthwhile to remark that when we introduce a non-uniform magnetic field with the component normal to the current in arc, the Lorentz force along the J×B direction can generate the plasmas jet and make effective delivery of carbon ion particles and heat flux to samples. As a result, large-scale graphene flakes and high-purity single-walled carbon nanotubes were simultaneously generated by such new magnetically-enhanced anodic arc method. Arc imaging, scanning electron microscope (SEM), transmission electron microscope (TEM) and Raman spectroscopy were employed to analyze the characterization of carbon nanostructures. These findings indicate a wide spectrum of opportunities to manipulate with the properties of nanostructures produced in plasmas by means of controlling the arc conditions.
Bioengineering, Issue 60, Arc discharge, magnetic control, single-walled carbon nanotubes, graphene
3455
Creating Two-Dimensional Patterned Substrates for Protein and Cell Confinement
Institutions: Washington University in St. Louis.
Microcontact printing provides a rapid, highly reproducible method for the creation of well-defined patterned substrates.
1
While microcontact printing can be employed to directly print a large number of molecules, including proteins,
2
DNA,
3
and silanes,
4
the formation of self-assembled monolayers (SAMs) from long chain alkane thiols on gold provides a simple way to confine proteins and cells to specific patterns containing adhesive and resistant regions. This confinement can be used to control cell morphology and is useful for examining a variety of questions in protein and cell biology. Here, we describe a general method for the creation of well-defined protein patterns for cellular studies.
5
This process involves three steps: the production of a patterned master using photolithography, the creation of a PDMS stamp, and microcontact printing of a gold-coated substrate. Once patterned, these cell culture substrates are capable of confining proteins and/or cells (primary cells or cell lines) to the pattern. The use of self-assembled monolayer chemistry allows for precise control over the patterned protein/cell adhesive regions and non-adhesive regions; this cannot be achieved using direct protein stamping. Hexadecanethiol, the long chain alkane thiol used in the microcontact printing step, produces a hydrophobic surface that readily adsorbs protein from solution. The glycol-terminated thiol, used for backfilling the non-printed regions of the substrate, creates a monolayer that is resistant to protein adsorption and therefore cell growth.
6
These thiol monomers produce highly structured monolayers that precisely define regions of the substrate that can support protein adsorption and cell growth. As a result, these substrates are useful for a wide variety of applications from the study of intercellular behavior
7
to the creation of microelectronics.
8
While other types of monolayer chemistry have been used for cell culture studies, including work from our group using trichlorosilanes to create patterns directly on glass substrates,
9
patterned monolayers formed from alkane thiols on gold are straight-forward to prepare. Moreover, the monomers used for monolayer preparation are commercially available, stable, and do not require storage or handling under inert atmosphere. Patterned substrates prepared from alkane thiols can also be recycled and reused several times, maintaining cell confinement.
10
Bioengineering, Issue 55, Self-assembled monolayer (SAM), microcontact printing, protein patterning, patterned cell growth
3164
Development of a 3D Graphene Electrode Dielectrophoretic Device
Institutions: Michigan Technological University, Michigan Technological University, XG Sciences, Inc..
The design and fabrication of a novel 3D electrode microdevice using 50 µm thick graphene paper and 100 µm double sided tape is described. The protocol details the procedures to construct a versatile, reusable, multiple layer, laminated dielectrophoresis chamber. Specifically, six layers of 50 µm x 0.7 cm x 2 cm graphene paper and five layers of double sided tape were alternately stacked together, then clamped to a glass slide. Then a 700 μm diameter micro-well was drilled through the laminated structure using a computer-controlled micro drilling machine. Insulating properties of the tape layer between adjacent graphene layers were assured by resistance tests. Silver conductive epoxy connected alternate layers of graphene paper and formed stable connections between the graphene paper and external copper wire electrodes. The finished device was then clamped and sealed to a glass slide. The electric field gradient was modeled within the multi-layer device. Dielectrophoretic behaviors of 6 μm polystyrene beads were demonstrated in the 1 mm deep micro-well, with medium conductivities ranging from 0.0001 S/m to 1.3 S/m, and applied signal frequencies from 100 Hz to 10 MHz. Negative dielectrophoretic responses were observed in three dimensions over most of the conductivity-frequency space and cross-over frequency values are consistent with previously reported literature values. The device did not prevent AC electroosmosis and electrothermal flows, which occurred in the low and high frequency regions, respectively. The graphene paper utilized in this device is versatile and could subsequently function as a biosensor after dielectrophoretic characterizations are complete.
Physics, Issue 88, graphene paper, dielectrophoresis, graphene electrodes, 3D laminated microdevice, polystyrene beads, cell diagnostics
51696
Real Time Measurements of Membrane Protein:Receptor Interactions Using Surface Plasmon Resonance (SPR)
Institutions: The Technion-Israel Institute of Technology.

Protein-protein interactions are pivotal to most, if not all, physiological processes, and understanding the nature of such interactions is a central step in biological research. Surface Plasmon Resonance (SPR) is a sensitive detection technique for label-free study of bio-molecular interactions in real time. In a typical SPR experiment, one component (usually a protein, termed 'ligand') is immobilized onto a sensor chip surface, while the other (the 'analyte') is free in solution and is injected over the surface. Association and dissociation of the analyte from the ligand are measured and plotted in real time on a graph called a sensogram, from which pre-equilibrium and equilibrium data is derived. Being label-free, consuming low amounts of material, and providing pre-equilibrium kinetic data, often makes SPR the method of choice when studying dynamics of protein interactions. However, one has to keep in mind that due to the method's high sensitivity, the data obtained needs to be carefully analyzed, and supported by other biochemical methods. SPR is particularly suitable for studying membrane proteins since it consumes small amounts of purified material, and is compatible with lipids and detergents. This protocol describes an SPR experiment characterizing the kinetic properties of the interaction between a membrane protein (an ABC transporter) and a soluble protein (the transporter's cognate substrate binding protein).
Structural Biology, Issue 93, ABC transporter, substrate binding protein, bio-molecular interaction kinetics, label-free, protein-protein interaction, Surface plasmon resonance (SPR), Biacore
51937
Hot Biological Catalysis: Isothermal Titration Calorimetry to Characterize Enzymatic Reactions
Institutions: University of Bologna.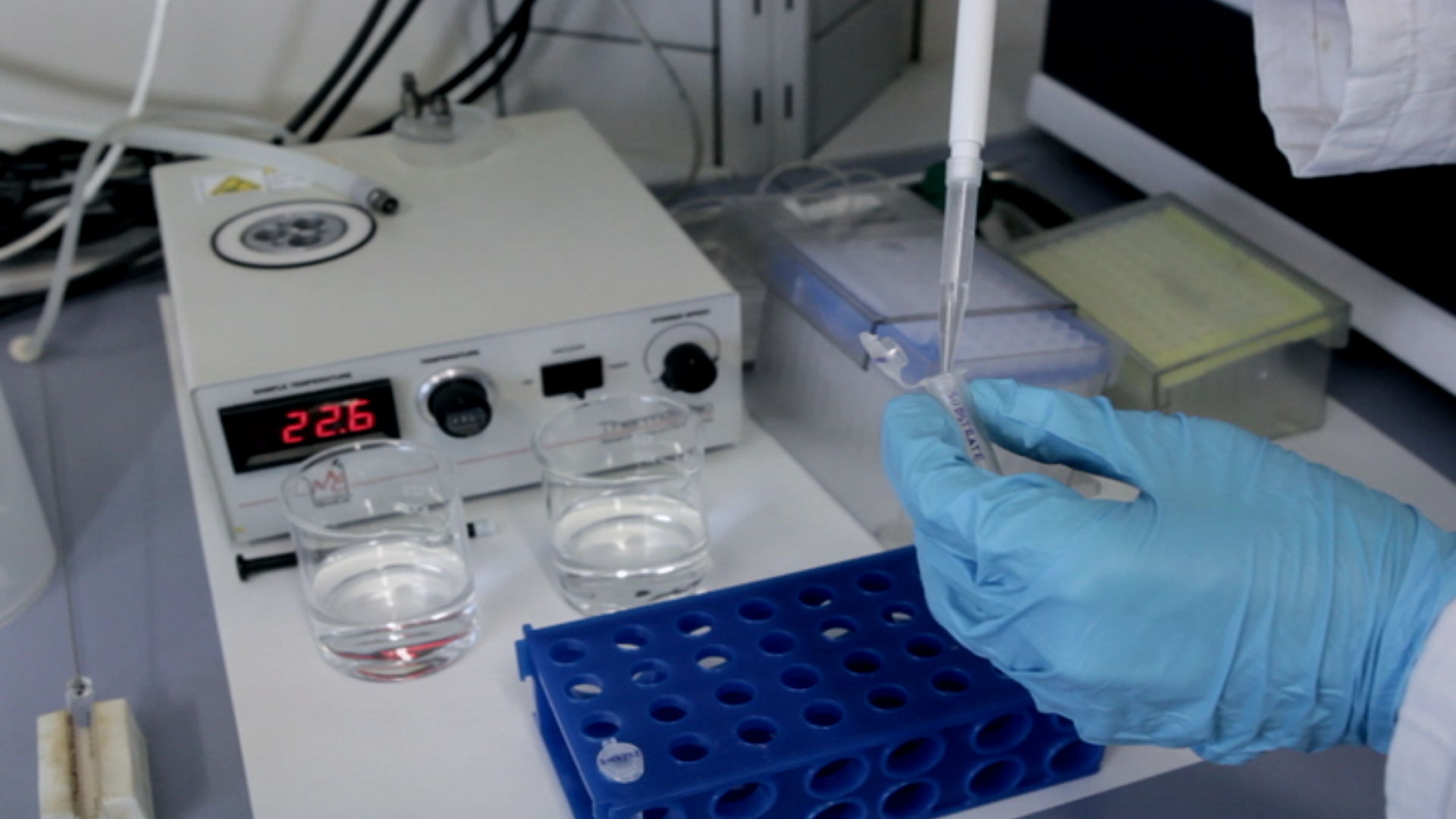 Isothermal titration calorimetry (ITC) is a well-described technique that measures the heat released or absorbed during a chemical reaction, using it as an intrinsic probe to characterize virtually every chemical process. Nowadays, this technique is extensively applied to determine thermodynamic parameters of biomolecular binding equilibria. In addition, ITC has been demonstrated to be able of directly measuring kinetics and thermodynamic parameters (
kcat, KM, ΔH
) of enzymatic reactions, even though this application is still underexploited. As heat changes spontaneously occur during enzymatic catalysis, ITC does not require any modification or labeling of the system under analysis and can be performed in solution. Moreover, the method needs little amount of material. These properties make ITC an invaluable, powerful and unique tool to study enzyme kinetics in several applications, such as, for example, drug discovery. In this work an experimental ITC-based method to quantify kinetics and thermodynamics of enzymatic reactions is thoroughly described. This method is applied to determine
kcat
and
KM
of the enzymatic hydrolysis of urea by
Canavalia ensiformis
(jack bean) urease. Calculation of intrinsic molar enthalpy (
ΔHint
) of the reaction is performed. The values thus obtained are consistent with previous data reported in literature, demonstrating the reliability of the methodology.
Chemistry, Issue 86, Isothermal titration calorimetry, enzymatic catalysis, kinetics, thermodynamics, enthalpy, Michaelis constant, catalytic rate constant, urease
51487
Nanomechanics of Drug-target Interactions and Antibacterial Resistance Detection
Institutions: University College London.

The cantilever sensor, which acts as a transducer of reactions between model bacterial cell wall matrix immobilized on its surface and antibiotic drugs in solution, has shown considerable potential in biochemical sensing applications with unprecedented sensitivity and specificity
1-5
. The drug-target interactions generate surface stress, causing the cantilever to bend, and the signal can be analyzed optically when it is illuminated by a laser. The change in surface stress measured with nano-scale precision allows disruptions of the biomechanics of model bacterial cell wall targets to be tracked in real time. Despite offering considerable advantages, multiple cantilever sensor arrays have never been applied in quantifying drug-target binding interactions. Here, we report on the use of silicon multiple cantilever arrays coated with alkanethiol self-assembled monolayers mimicking bacterial cell wall matrix to quantitatively study antibiotic binding interactions. To understand the impact of vancomycin on the mechanics of bacterial cell wall structures
1,6,7
. We developed a new model
1
which proposes that cantilever bending can be described by two independent factors; i) namely a chemical factor, which is given by a classical Langmuir adsorption isotherm, from which we calculate the thermodynamic equilibrium dissociation constant (
Kd
) and ii) a geometrical factor, essentially a measure of how bacterial peptide receptors are distributed on the cantilever surface. The surface distribution of peptide receptors (
p
) is used to investigate the dependence of geometry and ligand loading. It is shown that a threshold value of
p ~
10% is critical to sensing applications. Below which there is no detectable bending signal while above this value, the bending signal increases almost linearly, revealing that stress is a product of a local chemical binding factor and a geometrical factor combined by the mechanical connectivity of reacted regions and provides a new paradigm for design of powerful agents to combat superbug infections.
Immunology, Issue 80, Engineering, Technology, Diagnostic Techniques and Procedures, Early Diagnosis, Bacterial Infections and Mycoses, Lipids, Amino Acids, Peptides, and Proteins, Chemical Actions and Uses, Diagnosis, Therapeutics, Surface stress, vancomycin, mucopeptides, cantilever sensor
50719
Aseptic Laboratory Techniques: Plating Methods
Institutions: University of California, Los Angeles .

Microorganisms are present on all inanimate surfaces creating ubiquitous sources of possible contamination in the laboratory. Experimental success relies on the ability of a scientist to sterilize work surfaces and equipment as well as prevent contact of sterile instruments and solutions with non-sterile surfaces. Here we present the steps for several plating methods routinely used in the laboratory to isolate, propagate, or enumerate microorganisms such as bacteria and phage. All five methods incorporate aseptic technique, or procedures that maintain the sterility of experimental materials. Procedures described include (1) streak-plating bacterial cultures to isolate single colonies, (2) pour-plating and (3) spread-plating to enumerate viable bacterial colonies, (4) soft agar overlays to isolate phage and enumerate plaques, and (5) replica-plating to transfer cells from one plate to another in an identical spatial pattern. These procedures can be performed at the laboratory bench, provided they involve non-pathogenic strains of microorganisms (Biosafety Level 1, BSL-1). If working with BSL-2 organisms, then these manipulations must take place in a biosafety cabinet. Consult the most current edition of the
Biosafety in Microbiological and Biomedical Laboratories
(BMBL) as well as
Material Safety Data Sheets
(MSDS) for Infectious Substances to determine the biohazard classification as well as the safety precautions and containment facilities required for the microorganism in question. Bacterial strains and phage stocks can be obtained from research investigators, companies, and collections maintained by particular organizations such as the
American Type Culture Collection
(ATCC). It is recommended that non-pathogenic strains be used when learning the various plating methods. By following the procedures described in this protocol, students should be able to: ● Perform plating procedures without contaminating media. ● Isolate single bacterial colonies by the streak-plating method. ● Use pour-plating and spread-plating methods to determine the concentration of bacteria. ● Perform soft agar overlays when working with phage. ● Transfer bacterial cells from one plate to another using the replica-plating procedure. ● Given an experimental task, select the appropriate plating method.
Basic Protocols, Issue 63, Streak plates, pour plates, soft agar overlays, spread plates, replica plates, bacteria, colonies, phage, plaques, dilutions
3064
A Microplate Assay to Assess Chemical Effects on RBL-2H3 Mast Cell Degranulation: Effects of Triclosan without Use of an Organic Solvent
Institutions: University of Maine, Orono, University of Maine, Orono.

Mast cells play important roles in allergic disease and immune defense against parasites. Once activated (
e.g.
by an allergen), they degranulate, a process that results in the exocytosis of allergic mediators. Modulation of mast cell degranulation by drugs and toxicants may have positive or adverse effects on human health. Mast cell function has been dissected in detail with the use of rat basophilic leukemia mast cells (RBL-2H3), a widely accepted model of human mucosal mast cells
3-5
. Mast cell granule component and the allergic mediator β-hexosaminidase, which is released linearly in tandem with histamine from mast cells
6
, can easily and reliably be measured through reaction with a fluorogenic substrate, yielding measurable fluorescence intensity in a microplate assay that is amenable to high-throughput studies
1
. Originally published by Naal
et al.
1
, we have adapted this degranulation assay for the screening of drugs and toxicants and demonstrate its use here. Triclosan is a broad-spectrum antibacterial agent that is present in many consumer products and has been found to be a therapeutic aid in human allergic skin disease
7-11
, although the mechanism for this effect is unknown. Here we demonstrate an assay for the effect of triclosan on mast cell degranulation. We recently showed that triclosan strongly affects mast cell function
2
. In an effort to avoid use of an organic solvent, triclosan is dissolved directly into aqueous buffer with heat and stirring, and resultant concentration is confirmed using UV-Vis spectrophotometry (using ε
280
= 4,200 L/M/cm)
12
. This protocol has the potential to be used with a variety of chemicals to determine their effects on mast cell degranulation, and more broadly, their allergic potential.
Immunology, Issue 81, mast cell, basophil, degranulation, RBL-2H3, triclosan, irgasan, antibacterial, β-hexosaminidase, allergy, Asthma, toxicants, ionophore, antigen, fluorescence, microplate, UV-Vis
50671
Towards Biomimicking Wood: Fabricated Free-standing Films of Nanocellulose, Lignin, and a Synthetic Polycation
Institutions: Virginia Tech, Virginia Tech, Illinois Institute of Technology- Moffett Campus, University of Guadalajara, Virginia Tech, Virginia Tech.

Woody materials are comprised of plant cell walls that contain a layered secondary cell wall composed of structural polymers of polysaccharides and lignin. Layer-by-layer (LbL) assembly process which relies on the assembly of oppositely charged molecules from aqueous solutions was used to build a freestanding composite film of isolated wood polymers of lignin and oxidized nanofibril cellulose (NFC). To facilitate the assembly of these negatively charged polymers, a positively charged polyelectrolyte, poly(diallyldimethylammomium chloride) (PDDA), was used as a linking layer to create this simplified model cell wall. The layered adsorption process was studied quantitatively using quartz crystal microbalance with dissipation monitoring (QCM-D) and ellipsometry. The results showed that layer mass/thickness per adsorbed layer increased as a function of total number of layers. The surface coverage of the adsorbed layers was studied with atomic force microscopy (AFM). Complete coverage of the surface with lignin in all the deposition cycles was found for the system, however, surface coverage by NFC increased with the number of layers. The adsorption process was carried out for 250 cycles (500 bilayers) on a cellulose acetate (CA) substrate. Transparent free-standing LBL assembled nanocomposite films were obtained when the CA substrate was later dissolved in acetone. Scanning electron microscopy (SEM) of the fractured cross-sections showed a lamellar structure, and the thickness per adsorption cycle (PDDA-Lignin-PDDA-NC) was estimated to be 17 nm for two different lignin types used in the study. The data indicates a film with highly controlled architecture where nanocellulose and lignin are spatially deposited on the nanoscale (a polymer-polymer nanocomposites), similar to what is observed in the native cell wall.
Plant Biology, Issue 88, nanocellulose, thin films, quartz crystal microbalance, layer-by-layer, LbL
51257
Microwave-assisted Functionalization of Poly(ethylene glycol) and On-resin Peptides for Use in Chain Polymerizations and Hydrogel Formation
Institutions: University of Rochester, University of Rochester, University of Rochester Medical Center.

One of the main benefits to using poly(ethylene glycol) (PEG) macromers in hydrogel formation is synthetic versatility. The ability to draw from a large variety of PEG molecular weights and configurations (arm number, arm length, and branching pattern) affords researchers tight control over resulting hydrogel structures and properties, including Young's modulus and mesh size. This video will illustrate a rapid, efficient, solvent-free, microwave-assisted method to methacrylate PEG precursors into poly(ethylene glycol) dimethacrylate (PEGDM). This synthetic method provides much-needed starting materials for applications in drug delivery and regenerative medicine. The demonstrated method is superior to traditional methacrylation methods as it is significantly faster and simpler, as well as more economical and environmentally friendly, using smaller amounts of reagents and solvents. We will also demonstrate an adaptation of this technique for on-resin methacrylamide functionalization of peptides. This on-resin method allows the N-terminus of peptides to be functionalized with methacrylamide groups prior to deprotection and cleavage from resin. This allows for selective addition of methacrylamide groups to the N-termini of the peptides while amino acids with reactive side groups (
e.g.
 primary amine of lysine, primary alcohol of serine, secondary alcohols of threonine, and phenol of tyrosine) remain protected, preventing functionalization at multiple sites. This article will detail common analytical methods (proton Nuclear Magnetic Resonance spectroscopy (
;
H-NMR) and Matrix Assisted Laser Desorption Ionization Time of Flight mass spectrometry (MALDI-ToF)) to assess the efficiency of the functionalizations. Common pitfalls and suggested troubleshooting methods will be addressed, as will modifications of the technique which can be used to further tune macromer functionality and resulting hydrogel physical and chemical properties. Use of synthesized products for the formation of hydrogels for drug delivery and cell-material interaction studies will be demonstrated, with particular attention paid to modifying hydrogel composition to affect mesh size, controlling hydrogel stiffness and drug release.
Chemistry, Issue 80, Poly(ethylene glycol), peptides, polymerization, polymers, methacrylation, peptide functionalization, 1H-NMR, MALDI-ToF, hydrogels, macromer synthesis
50890
In Situ SIMS and IR Spectroscopy of Well-defined Surfaces Prepared by Soft Landing of Mass-selected Ions
Institutions: Pacific Northwest National Laboratory.

Soft landing of mass-selected ions onto surfaces is a powerful approach for the highly-controlled preparation of materials that are inaccessible using conventional synthesis techniques. Coupling soft landing with
in situ
characterization using secondary ion mass spectrometry (SIMS) and infrared reflection absorption spectroscopy (IRRAS) enables analysis of well-defined surfaces under clean vacuum conditions. The capabilities of three soft-landing instruments constructed in our laboratory are illustrated for the representative system of surface-bound organometallics prepared by soft landing of mass-selected ruthenium tris(bipyridine) dications, [Ru(bpy)
3
]
2+
(bpy = bipyridine), onto carboxylic acid terminated self-assembled monolayer surfaces on gold (COOH-SAMs).
In situ
time-of-flight (TOF)-SIMS provides insight into the reactivity of the soft-landed ions. In addition, the kinetics of charge reduction, neutralization and desorption occurring on the COOH-SAM both during and after ion soft landing are studied using
in situ
Fourier transform ion cyclotron resonance (FT-ICR)-SIMS measurements.
In situ
IRRAS experiments provide insight into how the structure of organic ligands surrounding metal centers is perturbed through immobilization of organometallic ions on COOH-SAM surfaces by soft landing. Collectively, the three instruments provide complementary information about the chemical composition, reactivity and structure of well-defined species supported on surfaces.
Chemistry, Issue 88, soft landing, mass selected ions, electrospray, secondary ion mass spectrometry, infrared spectroscopy, organometallic, catalysis
51344
Reconstitution of a Kv Channel into Lipid Membranes for Structural and Functional Studies
Institutions: University of Texas Southwestern Medical Center at Dallas.

To study the lipid-protein interaction in a reductionistic fashion, it is necessary to incorporate the membrane proteins into membranes of well-defined lipid composition. We are studying the lipid-dependent gating effects in a prototype voltage-gated potassium (Kv) channel, and have worked out detailed procedures to reconstitute the channels into different membrane systems. Our reconstitution procedures take consideration of both detergent-induced fusion of vesicles and the fusion of protein/detergent micelles with the lipid/detergent mixed micelles as well as the importance of reaching an equilibrium distribution of lipids among the protein/detergent/lipid and the detergent/lipid mixed micelles. Our data suggested that the insertion of the channels in the lipid vesicles is relatively random in orientations, and the reconstitution efficiency is so high that no detectable protein aggregates were seen in fractionation experiments. We have utilized the reconstituted channels to determine the conformational states of the channels in different lipids, record electrical activities of a small number of channels incorporated in planar lipid bilayers, screen for conformation-specific ligands from a phage-displayed peptide library, and support the growth of 2D crystals of the channels in membranes. The reconstitution procedures described here may be adapted for studying other membrane proteins in lipid bilayers, especially for the investigation of the lipid effects on the eukaryotic voltage-gated ion channels.
Molecular Biology, Issue 77, Biochemistry, Genetics, Cellular Biology, Structural Biology, Biophysics, Membrane Lipids, Phospholipids, Carrier Proteins, Membrane Proteins, Micelles, Molecular Motor Proteins, life sciences, biochemistry, Amino Acids, Peptides, and Proteins, lipid-protein interaction, channel reconstitution, lipid-dependent gating, voltage-gated ion channel, conformation-specific ligands, lipids
50436
Graphene Coatings for Biomedical Implants
Institutions: Clemson University, East Carolina University, Clemson University, Clemson University.

Atomically smooth graphene as a surface coating has potential to improve implant properties. This demonstrates a method for coating nitinol alloys with nanometer thick layers of graphene for applications as a stent material. Graphene was grown on copper substrates
via
chemical vapor deposition and then transferred onto nitinol substrates. In order to understand how the graphene coating could change biological response, cell viability of rat aortic endothelial cells and rat aortic smooth muscle cells was investigated. Moreover, the effect of graphene-coatings on cell adhesion and morphology was examined with fluorescent confocal microscopy. Cells were stained for actin and nuclei, and there were noticeable differences between pristine nitinol samples compared to graphene-coated samples. Total actin expression from rat aortic smooth muscle cells was found using western blot. Protein adsorption characteristics, an indicator for potential thrombogenicity, were determined for serum albumin and fibrinogen with gel electrophoresis. Moreover, the transfer of charge from fibrinogen to substrate was deduced using Raman spectroscopy. It was found that graphene coating on nitinol substrates met the functional requirements for a stent material and improved the biological response compared to uncoated nitinol. Thus, graphene-coated nitinol is a viable candidate for a stent material.
Biomedical Engineering, Issue 73, Bioengineering, Medicine, Biophysics, Materials Science, Physics, Pharmacology, Toxicology, Surgery, Chemistry and Materials (General), graphene, biomedical implants, surface modification, chemical vapor deposition, protein expression, confocal microscopy, implants, stents, clinical
50276
Dry Oxidation and Vacuum Annealing Treatments for Tuning the Wetting Properties of Carbon Nanotube Arrays
Institutions: California Institute of Technology.

In this article, we describe a simple method to reversibly tune the wetting properties of vertically aligned carbon nanotube (CNT) arrays. Here, CNT arrays are defined as densely packed multi-walled carbon nanotubes oriented perpendicular to the growth substrate as a result of a growth process by the standard thermal chemical vapor deposition (CVD) technique.
1,2
These CNT arrays are then exposed to vacuum annealing treatment to make them more hydrophobic or to dry oxidation treatment to render them more hydrophilic. The hydrophobic CNT arrays can be turned hydrophilic by exposing them to dry oxidation treatment, while the hydrophilic CNT arrays can be turned hydrophobic by exposing them to vacuum annealing treatment. Using a combination of both treatments, CNT arrays can be repeatedly switched between hydrophilic and hydrophobic.
2
Therefore, such combination show a very high potential in many industrial and consumer applications, including drug delivery system and high power density supercapacitors.
3-5
The key to vary the wettability of CNT arrays is to control the surface concentration of oxygen adsorbates. Basically oxygen adsorbates can be introduced by exposing the CNT arrays to any oxidation treatment. Here we use dry oxidation treatments, such as oxygen plasma and UV/ozone, to functionalize the surface of CNT with oxygenated functional groups. These oxygenated functional groups allow hydrogen bond between the surface of CNT and water molecules to form, rendering the CNT hydrophilic. To turn them hydrophobic, adsorbed oxygen must be removed from the surface of CNT. Here we employ vacuum annealing treatment to induce oxygen desorption process. CNT arrays with extremely low surface concentration of oxygen adsorbates exhibit a superhydrophobic behavior.
Chemistry, Issue 74, Chemical Engineering, Materials Science, Nanotechnology, Engineering, Nanotubes, Carbon, Oxidation-Reduction, Surface Properties, carbon nanotubes (synthesis and properties), Carbon nanotube, Wettability, Hydrophobic, Hydrophilic, UV/ozone, Oxygen Plasma, Vacuum Annealing
50378
Physical, Chemical and Biological Characterization of Six Biochars Produced for the Remediation of Contaminated Sites
Institutions: Royal Military College of Canada, Queen's University.

The physical and chemical properties of biochar vary based on feedstock sources and production conditions, making it possible to engineer biochars with specific functions (
e.g.
carbon sequestration, soil quality improvements, or contaminant sorption). In 2013, the International Biochar Initiative (IBI) made publically available their Standardized Product Definition and Product Testing Guidelines (Version 1.1) which set standards for physical and chemical characteristics for biochar. Six biochars made from three different feedstocks and at two temperatures were analyzed for characteristics related to their use as a soil amendment. The protocol describes analyses of the feedstocks and biochars and includes: cation exchange capacity (CEC), specific surface area (SSA), organic carbon (OC) and moisture percentage, pH, particle size distribution, and proximate and ultimate analysis. Also described in the protocol are the analyses of the feedstocks and biochars for contaminants including polycyclic aromatic hydrocarbons (PAHs), polychlorinated biphenyls (PCBs), metals and mercury as well as nutrients (phosphorous, nitrite and nitrate and ammonium as nitrogen). The protocol also includes the biological testing procedures, earthworm avoidance and germination assays. Based on the quality assurance / quality control (QA/QC) results of blanks, duplicates, standards and reference materials, all methods were determined adequate for use with biochar and feedstock materials. All biochars and feedstocks were well within the criterion set by the IBI and there were little differences among biochars, except in the case of the biochar produced from construction waste materials. This biochar (referred to as Old biochar) was determined to have elevated levels of arsenic, chromium, copper, and lead, and failed the earthworm avoidance and germination assays. Based on these results, Old biochar would not be appropriate for use as a soil amendment for carbon sequestration, substrate quality improvements or remediation.
Environmental Sciences, Issue 93, biochar, characterization, carbon sequestration, remediation, International Biochar Initiative (IBI), soil amendment
52183
Synthesis and Characterization of Functionalized Metal-organic Frameworks
Institutions: Northwestern University, Warsaw University of Technology, King Abdulaziz University.

Metal-organic frameworks have attracted extraordinary amounts of research attention, as they are attractive candidates for numerous industrial and technological applications. Their signature property is their ultrahigh porosity, which however imparts a series of challenges when it comes to both constructing them and working with them. Securing desired MOF chemical and physical functionality by linker/node assembly into a highly porous framework of choice can pose difficulties, as less porous and more thermodynamically stable congeners (
e.g.
, other crystalline polymorphs, catenated analogues) are often preferentially obtained by conventional synthesis methods. Once the desired product is obtained, its characterization often requires specialized techniques that address complications potentially arising from, for example, guest-molecule loss or preferential orientation of microcrystallites. Finally, accessing the large voids inside the MOFs for use in applications that involve gases can be problematic, as frameworks may be subject to collapse during removal of solvent molecules (remnants of solvothermal synthesis). In this paper, we describe synthesis and characterization methods routinely utilized in our lab either to solve or circumvent these issues. The methods include solvent-assisted linker exchange, powder X-ray diffraction in capillaries, and materials activation (cavity evacuation) by supercritical CO
2
drying. Finally, we provide a protocol for determining a suitable pressure region for applying the Brunauer-Emmett-Teller analysis to nitrogen isotherms, so as to estimate surface area of MOFs with good accuracy.
Chemistry, Issue 91, Metal-organic frameworks, porous coordination polymers, supercritical CO2 activation, crystallography, solvothermal, sorption, solvent-assisted linker exchange
52094
High-throughput Screening for Small-molecule Modulators of Inward Rectifier Potassium Channels
Institutions: Vanderbilt University School of Medicine, Vanderbilt University School of Medicine, Vanderbilt University School of Medicine.

Specific members of the inward rectifier potassium (Kir) channel family are postulated drug targets for a variety of disorders, including hypertension, atrial fibrillation, and pain
1,2
. For the most part, however, progress toward understanding their therapeutic potential or even basic physiological functions has been slowed by the lack of good pharmacological tools. Indeed, the molecular pharmacology of the inward rectifier family has lagged far behind that of the S4 superfamily of voltage-gated potassium (Kv) channels, for which a number of nanomolar-affinity and highly selective peptide toxin modulators have been discovered
3
. The bee venom toxin tertiapin and its derivatives are potent inhibitors of Kir1.1 and Kir3 channels
4,5
, but peptides are of limited use therapeutically as well as experimentally due to their antigenic properties and poor bioavailability, metabolic stability and tissue penetrance. The development of potent and selective small-molecule probes with improved pharmacological properties will be a key to fully understanding the physiology and therapeutic potential of Kir channels. The Molecular Libraries Probes Production Center Network (MLPCN) supported by the National Institutes of Health (NIH) Common Fund has created opportunities for academic scientists to initiate probe discovery campaigns for molecular targets and signaling pathways in need of better pharmacology
6
. The MLPCN provides researchers access to industry-scale screening centers and medicinal chemistry and informatics support to develop small-molecule probes to elucidate the function of genes and gene networks. The critical step in gaining entry to the MLPCN is the development of a robust target- or pathway-specific assay that is amenable for high-throughput screening (HTS). Here, we describe how to develop a fluorescence-based thallium (Tl
+
) flux assay of Kir channel function for high-throughput compound screening
7,8,9,10
.The assay is based on the permeability of the K
+
channel pore to the K
+
congener Tl
+
. A commercially available fluorescent Tl
+
reporter dye is used to detect transmembrane flux of Tl
+
through the pore. There are at least three commercially available dyes that are suitable for Tl
+
flux assays: BTC, FluoZin-2, and FluxOR
7,8
. This protocol describes assay development using FluoZin-2. Although originally developed and marketed as a zinc indicator, FluoZin-2 exhibits a robust and dose-dependent increase in fluorescence emission upon Tl
+
binding. We began working with FluoZin-2 before FluxOR was available
7,8
and have continued to do so
9,10
. However, the steps in assay development are essentially identical for all three dyes, and users should determine which dye is most appropriate for their specific needs. We also discuss the assay's performance benchmarks that must be reached to be considered for entry to the MLPCN. Since Tl
+
readily permeates most K
+
channels, the assay should be adaptable to most K
+
channel targets.
Biochemistry, Issue 71, Molecular Biology, Chemistry, Cellular Biology, Chemical Biology, Pharmacology, Molecular Pharmacology, Potassium channels, drug discovery, drug screening, high throughput, small molecules, fluorescence, thallium flux, checkerboard analysis, DMSO, cell lines, screen, assay, assay development
4209
Purifying Plasmid DNA from Bacterial Colonies Using the Qiagen Miniprep Kit
Institutions: University of California, Irvine (UCI).

Plasmid DNA purification from E. coli is a core technique for molecular cloning. Small scale purification (miniprep) from less than 5 ml of bacterial culture is a quick way for clone verification or DNA isolation, followed by further enzymatic reactions (polymerase chain reaction and restriction enzyme digestion). Here, we video-recorded the general procedures of miniprep through the QIAGEN's QIAprep 8 Miniprep Kit, aiming to introducing this highly efficient technique to the general beginners for molecular biology techniques. The whole procedure is based on alkaline lysis of E. coli cells followed by adsorption of DNA onto silica in the presence of high salt. It consists of three steps: 1) preparation and clearing of a bacterial lysate, 2) adsorption of DNA onto the QIAprep membrane, 3) washing and elution of plasmid DNA. All steps are performed without the use of phenol, chloroform, CsCl, ethidium bromide, and without alcohol precipitation. It usually takes less than 2 hours to finish the entire procedure.
Issue 6, Basic Protocols, plasmid, DNA, purification, Qiagen
247