Systematic Analysis of In Vitro Cell Rolling Using a Multi-well Plate Microfluidic System
Published: 10-16-2013
ABSTRACT
A major challenge for cell-based therapy is the inability to systemically target a large quantity of viable cells with high efficiency to tissues of interest following intravenous or intraarterial infusion. Consequently, increasing cell homing is currently studied as a strategy to improve cell therapy. Cell rolling on the vascular endothelium is an important step in the process of cell homing and can be probed in-vitro using a parallel plate flow chamber (PPFC). However, this is an extremely tedious, low throughput assay, with poorly controlled flow conditions. Instead, we used a multi-well plate microfluidic system that enables study of cellular rolling properties in a higher throughput under precisely controlled, physiologically relevant shear flow1,2. In this paper, we show how the rolling properties of HL-60 (human promyelocytic leukemia) cells on P- and E-selectin-coated surfaces as well as on cell monolayer-coated surfaces can be readily examined. To better simulate inflammatory conditions, the microfluidic channel surface was coated with endothelial cells (ECs), which were then activated with tumor necrosis factor-α (TNF-α), significantly increasing interactions with HL-60 cells under dynamic conditions. The enhanced throughput and integrated multi-parameter software analysis platform, that permits rapid analysis of parameters such as rolling velocities and rolling path, are important advantages for assessing cell rolling properties in-vitro. Allowing rapid and accurate analysis of engineering approaches designed to impact cell rolling and homing, this platform may help advance exogenous cell-based therapy.
19 Related JoVE Articles!
Static Adhesion Assay for the Study of Integrin Activation in T Lymphocytes
Institutions: New York University School of Medicine, New York University School of Medicine.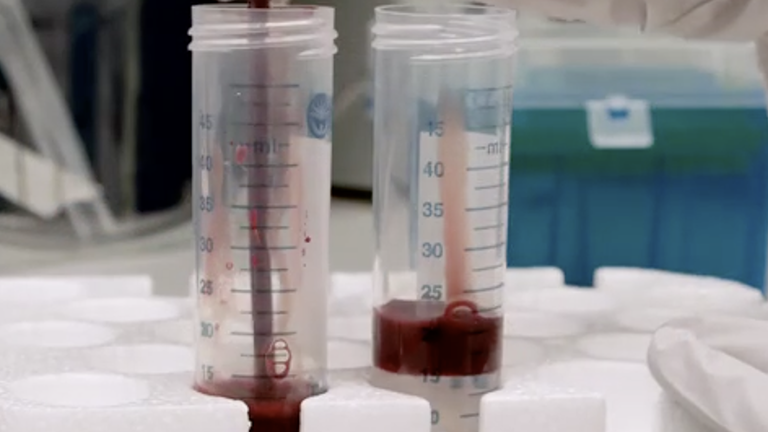 T lymphocyte adhesion is required for multiple T cell functions, including migration to sites of inflammation and formation of immunological synapses with antigen presenting cells. T cells accomplish regulated adhesion by controlling the adhesive properties of integrins, a class of cell adhesion molecules consisting of heterodimeric pairs of transmembrane proteins that interact with target molecules on partner cells or extracellular matrix. The most prominent T cell integrin is lymphocyte function associated antigen (LFA)-1, composed of subunits αL and β2, whose target is the intracellular adhesion molecule (ICAM)-1. The ability of a T cell to control adhesion derives from the ability to regulate the affinity states of individual integrins. Inside-out signaling describes the process whereby signals inside a cell cause the external domains of integrins to assume an activated state. Much of our knowledge of these complex phenomena is based on mechanistic studies performed in simplified
in vitro
model systems. The T lymphocyte adhesion assay described here is an excellent tool that allows T cells to adhere to target molecules, under static conditions, and then utilizes a fluorescent plate reader to quantify adhesiveness. This assay has been useful in defining adhesion-stimulatory or inhibitory substances that act on lymphocytes, as well as characterizing the signaling events involved. Although described here for LFA-1 - ICAM-1 mediated adhesion; this assay can be readily adapted to allow for the study of other adhesive interactions (
e.g.
 VLA-4 - fibronectin).
Immunology, Issue 88, Immune System Phenomena, T cell, adhesion, Rap1, integrins, T lymphocytes, ICAM-1
51646
Real-time Imaging of Heterotypic Platelet-neutrophil Interactions on the Activated Endothelium During Vascular Inflammation and Thrombus Formation in Live Mice
Institutions: University of Illinois at Chicago , University of Illinois at Chicago .
Interaction of activated platelets and leukocytes (mainly neutrophils) on the activated endothelium mediates thrombosis and vascular inflammation.
1,2
During thrombus formation at the site of arteriolar injury, platelets adherent to the activated endothelium and subendothelial matrix proteins support neutrophil rolling and adhesion.
3
Conversely, under venular inflammatory conditions, neutrophils adherent to the activated endothelium can support adhesion and accumulation of circulating platelets. Heterotypic platelet-neutrophil aggregation requires sequential processes by the specific receptor-counter receptor interactions between cells.
4
It is known that activated endothelial cells release adhesion molecules such as von Willebrand factor, thereby initiating platelet adhesion and accumulation under high shear conditions.
5
Also, activated endothelial cells support neutrophil rolling and adhesion by expressing selectins and intercellular adhesion molecule-1 (ICAM-1), respectively, under low shear conditions.
4
Platelet P-selectin interacts with neutrophils through P-selectin glycoprotein ligand-1 (PSGL-1), thereby inducing activation of neutrophil β2 integrins and firm adhesion between two cell types. Despite the advances in
in vitro
experiments in which heterotypic platelet-neutrophil interactions are determined in whole blood or isolated cells,
6,7
those studies cannot manipulate oxidant stress conditions during vascular disease. In this report, using fluorescently-labeled, specific antibodies against a mouse platelet and neutrophil marker, we describe a detailed intravital microscopic protocol to monitor heterotypic interactions of platelets and neutrophils on the activated endothelium during TNF-α-induced inflammation or following laser-induced injury in cremaster muscle microvessels of live mice.
Immunology, Issue 74, Medicine, Cellular Biology, Molecular Biology, Inflammation, Hematology, Neutrophils, Microscopy, Video, Thrombosis, Platelet Activation, Platelet Aggregation, Intravital microscopy, platelet, neutrophil, rolling, adhesion, vascular inflammation, thrombus formation, mice, animal model
50329
Adhesion Frequency Assay for In Situ Kinetics Analysis of Cross-Junctional Molecular Interactions at the Cell-Cell Interface
Institutions: Georgia Institute of Technology .

The micropipette adhesion assay was developed in 1998 to measure two-dimensional (2D) receptor-ligand binding kinetics
1
. The assay uses a human red blood cell (RBC) as adhesion sensor and presenting cell for one of the interacting molecules. It employs micromanipulation to bring the RBC into contact with another cell that expresses the other interacting molecule with precisely controlled area and time to enable bond formation. The adhesion event is detected as RBC elongation upon pulling the two cells apart. By controlling the density of the ligands immobilized on the RBC surface, the probability of adhesion is kept in mid-range between 0 and 1. The adhesion probability is estimated from the frequency of adhesion events in a sequence of repeated contact cycles between the two cells for a given contact time. Varying the contact time generates a binding curve. Fitting a probabilistic model for receptor-ligand reaction kinetics
1
to the binding curve returns the 2D affinity and off-rate. The assay has been validated using interactions of Fcγ receptors with IgG Fc
1-6
, selectins with glycoconjugate ligands
6-9
, integrins with ligands
10-13
, homotypical cadherin binding
14
, T cell receptor and coreceptor with peptide-major histocompatibility complexes
15-19
. The method has been used to quantify regulations of 2D kinetics by biophysical factors, such as the membrane microtopology
5
, membrane anchor
2
, molecular orientation and length
6
, carrier stiffness
9
, curvature
20
, and impingement force
20
, as well as biochemical factors, such as modulators of the cytoskeleton and membrane microenvironment where the interacting molecules reside and the surface organization of these molecules
15,17,19
. The method has also been used to study the concurrent binding of dual receptor-ligand species
3,4
, and trimolecular interactions
19
using a modified model
21
. The major advantage of the method is that it allows study of receptors in their native membrane environment. The results could be very different from those obtained using purified receptors
17
. It also allows study of the receptor-ligand interactions in a sub-second timescale with temporal resolution well beyond the typical biochemical methods. To illustrate the micropipette adhesion frequency method, we show kinetics measurement of intercellular adhesion molecule 1 (ICAM-1) functionalized on RBCs binding to integrin α
L
β
2
on neutrophils with dimeric E-selectin in the solution to activate α
L
β
2
.
Bioengineering, Issue 57, Two-dimensional binding, affinity and kinetics, micropipette manipulation, receptor-ligand interaction
3519
Isolation of Human Umbilical Vein Endothelial Cells and Their Use in the Study of Neutrophil Transmigration Under Flow Conditions
Institutions: University of Calgary .

Neutrophils are the most abundant type of white blood cell. They form an essential part of the innate immune system
1
. During acute inflammation, neutrophils are the first inflammatory cells to migrate to the site of injury. Recruitment of neutrophils to an injury site is a stepwise process that includes first, dilation of blood vessels to increase blood flow; second, microvascular structural changes and escape of plasma proteins from the bloodstream; third, rolling, adhesion and transmigration of the neutrophil across the endothelium; and fourth accumulation of neutrophils at the site of injury
2,3
. A wide array of
in vivo
and
in vitro
methods has evolved to enable the study of these processes
4
. This method focuses on neutrophil transmigration across human endothelial cells. One popular method for examining the molecular processes involved in neutrophil transmigration utilizes human neutrophils interacting with primary human umbilical vein endothelial cells (HUVEC)
5
. Neutrophil isolation has been described visually elsewhere
6
; thus this article will show the method for isolation of HUVEC. Once isolated and grown to confluence, endothelial cells are activated resulting in the upregulation of adhesion and activation molecules. For example, activation of endothelial cells with cytokines like TNF-α results in increased E-selectin and IL-8 expression
7
. E-selectin mediates capture and rolling of neutrophils and IL-8 mediates activation and firm adhesion of neutrophils. After adhesion neutrophils transmigrate. Transmigration can occur paracellularly (through endothelial cell junctions) or transcellularly (through the endothelial cell itself). In most cases, these interactions occur under flow conditions found in the vasculature
7,8
. The parallel plate flow chamber is a widely used system that mimics the hydrodynamic shear stresses found
in vivo
and enables the study of neutrophil recruitment under flow condition
in vitro
9,10
. Several companies produce parallel plate flow chambers and each have advantages and disadvantages. If fluorescent imaging is needed, glass or an optically similar polymer needs to be used. Endothelial cells do not grow well on glass. Here we present an easy and rapid method for phase-contrast, DIC and fluorescent imaging of neutrophil transmigration using a low volume ibidi channel slide made of a polymer that supports the rapid adhesion and growth of human endothelial cells and has optical qualities that are comparable to glass. In this method, endothelial cells were grown and stimulated in an ibidi μslide. Neutrophils were introduced under flow conditions and transmigration was assessed. Fluorescent imaging of the junctions enabled real-time determination of the extent of paracellular versus transcellular transmigration.
Immunology, Issue 66, Medicine, Physiology, Cellular Biology, HUVEC, ibidi, leukocyte recruitment, neutrophil, flow chamber
4032
Analysis of Physiologic E-Selectin-Mediated Leukocyte Rolling on Microvascular Endothelium
Institutions: Brigham and Women's Hospital, Brigham and Women's Hospital and Harvard Medical School.

E-selectin is a type-1 membrane protein on microvascular endothelial cells that helps initiate recruitment of circulating leukocytes to cutaneous, bone and inflamed tissues. E-selectin expression is constitutive on dermal and bone microvessels and is inducible by pro-inflammatory cytokines, such as IL-1α/ and TNF-α, on microvessels in inflamed tissues. This lectin receptor mediates weak binding interactions with carbohydrate counter-receptor ligands on circulating leukocytes, which results in a characteristic rolling behavior. Because these interactions precede more stable adhesive events and diapedesis activity, characterization of leukocyte rolling activity and identification of leukocyte E-selectin ligands have been major goals in studies of leukocyte trafficking and inflammation and in the development of anti-inflammatory therapeutics (1-5). The intent of this report is to provide a visual, comprehensive description of the most widely-used technology for studying E-selectin E-selectin ligand interactions under physiologic blood flow conditions. Our laboratory in conjunction with the Harvard Skin Disease Research Center uses a state-of-the-art parallel-plate flow chamber apparatus accompanied by digital visualization and new recording software, NIS-Elements. This technology allows us to analyze adhesion events in real time for onscreen visualization as well as record rolling activity in a video format. Cell adhesion parameters, such as rolling frequency, shear resistance and binding/tethering efficiency, are calculated with NIS-Elements software, exported to an Excel spreadsheet and subjected to statistical analysis. In the demonstration presented here, we employed the parallel-plate flow chamber to investigate E-selectin-dependent leukocyte rolling activity on live human bone marrow endothelial cells (hBMEC). Human hematopoietic progenitor KG1a cells, which express a high level of E-selectin ligand, were used as our leukocyte model, while an immortalized hBMEC cell line, HBMEC-60 cells, was used as our endothelial cell model (6). To induce and simulate native E-selectin expression in the flow chamber, HBMEC-60 cells were first activated with IL-1 . Our video presentation showed that parallel-plate flow analysis is a suitable method for studying physiologic E-selectin-mediated leukocyte rolling activities and that functional characterization of leukocyte E-selectin ligand(s) in the flow chamber can be ascertained by implementing protease or glycosidase digestions.
Immunology, Issue 24, Rolling, Selectins, Endothelial Cells, Parallel-Plate Flow Chamber, Laminar Flow, Shear Stress, Homing, Trafficking, BMEC, bone marrow
1009
Formation of Biomembrane Microarrays with a Squeegee-based Assembly Method
Institutions: University of Minnesota, University of Minnesota, Mayo Clinic College of Medicine, Mayo Clinic College of Medicine.

Lipid bilayer membranes form the plasma membranes of cells and define the boundaries of subcellular organelles. In nature, these membranes are heterogeneous mixtures of many types of lipids, contain membrane-bound proteins and are decorated with carbohydrates. In some experiments, it is desirable to decouple the biophysical or biochemical properties of the lipid bilayer from those of the natural membrane. Such cases call for the use of model systems such as giant vesicles, liposomes or supported lipid bilayers (SLBs). Arrays of SLBs are particularly attractive for sensing applications and mimicking cell-cell interactions. Here we describe a new method for forming SLB arrays. Submicron-diameter SiO
2
beads are first coated with lipid bilayers to form spherical SLBs (SSLBs). The beads are then deposited into an array of micro-fabricated submicron-diameter microwells. The preparation technique uses a "squeegee" to clean the substrate surface, while leaving behind SSLBs that have settled into microwells. This method requires no chemical modification of the microwell substrate, nor any particular targeting ligands on the SSLB. Microwells are occupied by single beads because the well diameter is tuned to be just larger than the bead diameter. Typically, more 75% of the wells are occupied, while the rest remain empty. In buffer SSLB arrays display long-term stability of greater than one week. Multiple types of SSLBs can be placed in a single array by serial deposition, and the arrays can be used for sensing, which we demonstrate by characterizing the interaction of cholera toxin with ganglioside GM1. We also show that phospholipid vesicles without the bead supports and biomembranes from cellular sources can be arrayed with the same method and cell-specific membrane lipids can be identified.
Bioengineering, Issue 87, supported lipid bilayer, beads, microarray, fluorescence, microfabrication, nanofabrication, atomic layer deposition, myelin, lipid rafts
51501
Models and Methods to Evaluate Transport of Drug Delivery Systems Across Cellular Barriers
Institutions: University of Maryland, University of Maryland.

Sub-micrometer carriers (nanocarriers; NCs) enhance efficacy of drugs by improving solubility, stability, circulation time, targeting, and release. Additionally, traversing cellular barriers in the body is crucial for both oral delivery of therapeutic NCs into the circulation and transport from the blood into tissues, where intervention is needed. NC transport across cellular barriers is achieved by: (i) the paracellular route, via transient disruption of the junctions that interlock adjacent cells, or (ii) the transcellular route, where materials are internalized by endocytosis, transported across the cell body, and secreted at the opposite cell surface (transyctosis). Delivery across cellular barriers can be facilitated by coupling therapeutics or their carriers with targeting agents that bind specifically to cell-surface markers involved in transport. Here, we provide methods to measure the extent and mechanism of NC transport across a model cell barrier, which consists of a monolayer of gastrointestinal (GI) epithelial cells grown on a porous membrane located in a transwell insert. Formation of a permeability barrier is confirmed by measuring transepithelial electrical resistance (TEER), transepithelial transport of a control substance, and immunostaining of tight junctions. As an example, ~200 nm polymer NCs are used, which carry a therapeutic cargo and are coated with an antibody that targets a cell-surface determinant. The antibody or therapeutic cargo is labeled with
125
I for radioisotope tracing and labeled NCs are added to the upper chamber over the cell monolayer for varying periods of time. NCs associated to the cells and/or transported to the underlying chamber can be detected. Measurement of free
125
I allows subtraction of the degraded fraction. The paracellular route is assessed by determining potential changes caused by NC transport to the barrier parameters described above. Transcellular transport is determined by addressing the effect of modulating endocytosis and transcytosis pathways.
Bioengineering, Issue 80, Antigens, Enzymes, Biological Therapy, bioengineering (general), Pharmaceutical Preparations, Macromolecular Substances, Therapeutics, Digestive System and Oral Physiological Phenomena, Biological Phenomena, Cell Physiological Phenomena, drug delivery systems, targeted nanocarriers, transcellular transport, epithelial cells, tight junctions, transepithelial electrical resistance, endocytosis, transcytosis, radioisotope tracing, immunostaining
50638
Imaging of HIV-1 Envelope-induced Virological Synapse and Signaling on Synthetic Lipid Bilayers
Institutions: New York University Langone School of Medicine, Marty and Helen Kimmel Center for Biology and Medicine and Skirball Institute for Biomolecular Medicine, National Institutes of Health, Veteran Affairs New York Harbor Healthcare System.

Human immunodeficiency virus type 1 (HIV-1) infection occurs most efficiently via cell to cell transmission
2,10,11
. This cell to cell transfer between CD4
+
T cells involves the formation of a virological synapse (VS), which is an F-actin-dependent cell-cell junction formed upon the engagement of HIV-1 envelope gp120 on the infected cell with CD4 and the chemokine receptor (CKR) CCR5 or CXCR4 on the target cell
8
. In addition to gp120 and its receptors, other membrane proteins, particularly the adhesion molecule LFA-1 and its ligands, the ICAM family, play a major role in VS formation and virus transmission as they are present on the surface of virus-infected donor cells and target cells, as well as on the envelope of HIV-1 virions
1,4,5,6,7,13
. VS formation is also accompanied by intracellular signaling events that are transduced as a result of gp120-engagement of its receptors. Indeed, we have recently showed that CD4
+
T cell interaction with gp120 induces recruitment and phosphorylation of signaling molecules associated with the TCR signalosome including Lck, CD3ζ, ZAP70, LAT, SLP-76, Itk, and PLCγ
15
. In this article, we present a method to visualize supramolecular arrangement and membrane-proximal signaling events taking place during VS formation. We take advantage of the glass-supported planar bi-layer system as a reductionist model to represent the surface of HIV-infected cells bearing the viral envelope gp120 and the cellular adhesion molecule ICAM-1. The protocol describes general procedures for monitoring HIV-1 gp120-induced VS assembly and signal activation events that include i) bi-layer preparation and assembly in a flow cell, ii) injection of cells and immunofluorescence staining to detect intracellular signaling molecules on cells interacting with HIV-1 gp120 and ICAM-1 on bi-layers, iii) image acquisition by TIRF microscopy, and iv) data analysis. This system generates high-resolution images of VS interface beyond that achieved with the conventional cell-cell system as it allows detection of distinct clusters of individual molecular components of VS along with specific signaling molecules recruited to these sub-domains.
Immunology, Issue 61, TIRF microscopy, planar bilayer, HIV envelope, virological synapse
3757
Determination of Lipid Raft Partitioning of Fluorescently-tagged Probes in Living Cells by Fluorescence Correlation Spectroscopy (FCS)
Institutions: Hôpital de la Pitié-Salpêtrière, Université Paris-Sud, Université Paris-Sud.

In the past fifteen years the notion that cell membranes are not homogenous and rely on microdomains to exert their functions has become widely accepted. Lipid rafts are membrane microdomains enriched in cholesterol and sphingolipids. They play a role in cellular physiological processes such as signalling, and trafficking
1,2
but are also thought to be key players in several diseases including viral or bacterial infections and neurodegenerative diseases
3
. Yet their existence is still a matter of controversy
4,5
. Indeed, lipid raft size has been estimated to be around 20 nm
6
, far under the resolution limit of conventional microscopy (around 200 nm), thus precluding their direct imaging. Up to now, the main techniques used to assess the partition of proteins of interest inside lipid rafts were Detergent Resistant Membranes (DRMs) isolation and co-patching with antibodies. Though widely used because of their rather easy implementation, these techniques were prone to artefacts and thus criticized
7,8
. Technical improvements were therefore necessary to overcome these artefacts and to be able to probe lipid rafts partition in living cells. Here we present a method for the sensitive analysis of lipid rafts partition of fluorescently-tagged proteins or lipids in the plasma membrane of living cells. This method, termed Fluorescence Correlation Spectroscopy (FCS), relies on the disparity in diffusion times of fluorescent probes located inside or outside of lipid rafts. In fact, as evidenced in both artificial membranes and cell cultures, probes would diffuse much faster outside than inside dense lipid rafts
9,10
. To determine diffusion times, minute fluorescence fluctuations are measured as a function of time in a focal volume (approximately 1 femtoliter), located at the plasma membrane of cells with a confocal microscope (
Fig. 1
). The auto-correlation curves can then be drawn from these fluctuations and fitted with appropriate mathematical diffusion models
11
. FCS can be used to determine the lipid raft partitioning of various probes, as long as they are fluorescently tagged. Fluorescent tagging can be achieved by expression of fluorescent fusion proteins or by binding of fluorescent ligands. Moreover, FCS can be used not only in artificial membranes and cell lines but also in primary cultures, as described recently
12
. It can also be used to follow the dynamics of lipid raft partitioning after drug addition or membrane lipid composition change
12
.
Cellular Biology, Issue 62, Lipid rafts, plasma membrane, diffusion times, confocal microscopy, fluorescence correlation spectroscopy (FCS)
3513
Studying Cell Rolling Trajectories on Asymmetric Receptor Patterns
Institutions: MIT - Massachusetts Institute of Technology, MIT - Massachusetts Institute of Technology, Brigham and Women's Hospital and Harvard Medical School.
Lateral displacement of cells orthogonal to a flow stream by rolling on asymmetric receptor patterns presents an opportunity for development of new devices for label-free separation and analysis of cells
1
. Such devices may use lateral displacement for continuous-flow separation, or receptor patterns that modulate adhesion to distinguish between different cell phenotypes or levels of receptor expression. Understanding the nature of cell rolling trajectories on receptor-patterned substrates is necessary for engineering of the substrates and design of such devices. Here, we demonstrate a protocol for studying cell rolling trajectories on asymmetric receptor patterns that support cell rolling adhesion
2
. Well-defined, μm-scale patterns of P-selectin receptors were fabricated using microcontact printing on gold-coated slides that were incorporated in a flow chamber. HL60 cells expressing the PSGL-1 ligand
3
were flowed across a field of patterned lines and visualized on an inverted bright field microscope. The cells rolled and tracked along the inclined edges of the patterns, resulting in lateral deflection
1
. Each cell typically rolled for a certain distance along the pattern edges (defined as the edge tracking length), detached from the edge, and reattached to a downstream pattern. Although this detachment makes it difficult to track the entire trajectory of a cell from entrance to exit in the flow chamber, particle-tracking software was used to analyze and yield the rolling trajectories of the cells during the time when they were moving on a single receptor-patterned line. The trajectories were then examined to obtain distributions of cell rolling velocities and the edge tracking lengths for each cell for different patterns. This protocol is useful for quantifying cell rolling trajectories on receptor patterns and relating these to engineering parameters such as pattern angle and shear stress. Such data will be useful for design of microfluidic devices for label-free cell separation and analysis.
Bioengineering, Issue 48, cell rolling, microcontact printing, cell adhesion, cell analysis, cell separation, P-selectin
2640
Induction of Adhesion-dependent Signals Using Low-intensity Ultrasound
Institutions: University of Bristol, Smith and Nephew.

In multicellular organisms, cell behavior is dictated by interactions with the extracellular matrix. Consequences of matrix-engagement range from regulation of cell migration and proliferation, to secretion and even differentiation. The signals underlying each of these complex processes arise from the molecular interactions of extracellular matrix receptors on the surface of the cell. Integrins are the prototypic receptors and provide a mechanical link between extracellular matrix and the cytoskeleton, as well as initiating some of the adhesion-dependent signaling cascades. However, it is becoming increasingly apparent that additional transmembrane receptors function alongside the integrins to regulate both the integrin itself and signals downstream. The most elegant of these examples is the transmembrane proteoglycan, syndecan-4, which cooperates with α
5
β
1
-integrin during adhesion to fibronectin.
In vivo
models demonstrate the importance of syndecan-4 signaling, as syndecan-4-knockout mice exhibit healing retardation due to inefficient fibroblast migration
1,2
. In wild-type animals, migration of fibroblasts toward a wound is triggered by the appearance of fibronectin that leaks from damaged capillaries and is deposited by macrophages in injured tissue. Therefore there is great interest in discovering strategies that enhance fibronectin-dependent signaling and could accelerate repair processes. The integrin-mediated and syndecan-4-mediated components of fibronectin-dependent signaling can be separated by stimulating cells with recombinant fibronectin fragments. Although integrin engagement is essential for cell adhesion, certain fibronectin-dependent signals are regulated by syndecan-4. Syndecan-4 activates the Rac1 protrusive signal
3
, causes integrin redistribution
1
, triggers recruitment of cytoskeletal molecules, such as vinculin, to focal adhesions
4
, and thereby induces directional migration
3
. We have looked for alternative strategies for activating such signals and found that low-intensity pulsed ultrasound (LIPUS) can mimic the effects of syndecan-4 engagement
5
. In this protocol we describe the method by which 30 mW/cm
2
, 1.5 MHz ultrasound, pulsed at 1 kHz (
Fig. 1
) can be applied to fibroblasts in culture (
Fig. 2
) to induce Rac1 activation and focal adhesion formation. Ultrasound stimulation is applied for a maximum of 20 minutes, as this combination of parameters has been found to be most efficacious for acceleration of clinical fracture repair
6
. The method uses recombinant fibronectin fragments to engage α
5
β
1
-integrin, without engagement of syndecan-4, and requires inhibition of protein synthesis by cycloheximide to block deposition of additional matrix by the fibroblasts., The positive effect of ultrasound on repair mechanisms is well documented
7,8
, and by understanding the molecular effect of ultrasound in culture we should be able to refine the therapeutic technique to improve clinical outcomes.
Biomedical Engineering, Issue 63, Ultrasound, LIPUS, Focal Adhesion, Syndecan-4, Wound Healing, Extracellular Matrix, Rac1, bioengineering
4024
Human T Lymphocyte Isolation, Culture and Analysis of Migration In Vitro
Institutions: University of Rochester.

The migration of T lymphocytes involves the adhesive interaction of cell surface integrins with ligands expressed on other cells or with extracellular matrix proteins. The precise spatiotemporal activation of integrins from a low affinity state to a high affinity state at the cell leading edge is important for T lymphocyte migration
1
. Likewise, retraction of the cell trailing edge, or uropod, is a necessary step in maintaining persistent integrin-dependent T lymphocyte motility
2
. Many therapeutic approaches to autoimmune or inflammatory diseases target integrins as a means to inhibit the excessive recruitment and migration of leukocytes
3
. To study the molecular events that regulate human T lymphocyte migration, we have utilized an
in vitro
system to analyze cell migration on a two-dimensional substrate that mimics the environment that a T lymphocyte encounters during recruitment from the vasculature. T lymphocytes are first isolated from human donors and are then stimulated and cultured for seven to ten days. During the assay, T lymphocytes are allowed to adhere and migrate on a substrate coated with intercellular adhesion molecule-1 (ICAM-1), a ligand for integrin LFA-1, and stromal cell-derived factor-1 (SDF-1). Our data show that T lymphocytes exhibit a migratory velocity of ~15 μm/min. T lymphocyte migration can be inhibited by integrin blockade
1
or by inhibitors of the cellular actomyosin machinery that regulates cell migration
2
.
Immunology, Issue 40, T lymphocyte, Migration, Integrin, LFA-1, ICAM-1, Chemokine
2017
Simultaneous Multicolor Imaging of Biological Structures with Fluorescence Photoactivation Localization Microscopy
Institutions: University of Maine.

Localization-based super resolution microscopy can be applied to obtain a spatial map (image) of the distribution of individual fluorescently labeled single molecules within a sample with a spatial resolution of tens of nanometers. Using either photoactivatable (PAFP) or photoswitchable (PSFP) fluorescent proteins fused to proteins of interest, or organic dyes conjugated to antibodies or other molecules of interest, fluorescence photoactivation localization microscopy (FPALM) can simultaneously image multiple species of molecules within single cells. By using the following approach, populations of large numbers (thousands to hundreds of thousands) of individual molecules are imaged in single cells and localized with a precision of ~10-30 nm. Data obtained can be applied to understanding the nanoscale spatial distributions of multiple protein types within a cell. One primary advantage of this technique is the dramatic increase in spatial resolution: while diffraction limits resolution to ~200-250 nm in conventional light microscopy, FPALM can image length scales more than an order of magnitude smaller. As many biological hypotheses concern the spatial relationships among different biomolecules, the improved resolution of FPALM can provide insight into questions of cellular organization which have previously been inaccessible to conventional fluorescence microscopy. In addition to detailing the methods for sample preparation and data acquisition, we here describe the optical setup for FPALM. One additional consideration for researchers wishing to do super-resolution microscopy is cost: in-house setups are significantly cheaper than most commercially available imaging machines. Limitations of this technique include the need for optimizing the labeling of molecules of interest within cell samples, and the need for post-processing software to visualize results. We here describe the use of PAFP and PSFP expression to image two protein species in fixed cells. Extension of the technique to living cells is also described.
Basic Protocol, Issue 82, Microscopy, Super-resolution imaging, Multicolor, single molecule, FPALM, Localization microscopy, fluorescent proteins
50680
Analysis of Cell Migration within a Three-dimensional Collagen Matrix
Institutions: Witten/Herdecke University.

The ability to migrate is a hallmark of various cell types and plays a crucial role in several physiological processes, including embryonic development, wound healing, and immune responses. However, cell migration is also a key mechanism in cancer enabling these cancer cells to detach from the primary tumor to start metastatic spreading. Within the past years various cell migration assays have been developed to analyze the migratory behavior of different cell types. Because the locomotory behavior of cells markedly differs between a two-dimensional (2D) and three-dimensional (3D) environment it can be assumed that the analysis of the migration of cells that are embedded within a 3D environment would yield in more significant cell migration data. The advantage of the described 3D collagen matrix migration assay is that cells are embedded within a physiological 3D network of collagen fibers representing the major component of the extracellular matrix. Due to time-lapse video microscopy real cell migration is measured allowing the determination of several migration parameters as well as their alterations in response to pro-migratory factors or inhibitors. Various cell types could be analyzed using this technique, including lymphocytes/leukocytes, stem cells, and tumor cells. Likewise, also cell clusters or spheroids could be embedded within the collagen matrix concomitant with analysis of the emigration of single cells from the cell cluster/ spheroid into the collagen lattice. We conclude that the 3D collagen matrix migration assay is a versatile method to analyze the migration of cells within a physiological-like 3D environment.
Bioengineering, Issue 92, cell migration, 3D collagen matrix, cell tracking
51963
Setting-up an In Vitro Model of Rat Blood-brain Barrier (BBB): A Focus on BBB Impermeability and Receptor-mediated Transport
Institutions: VECT-HORUS SAS, CNRS, NICN UMR 7259.

The blood brain barrier (BBB) specifically regulates molecular and cellular flux between the blood and the nervous tissue. Our aim was to develop and characterize a highly reproducible rat syngeneic
in vitro
model of the BBB using co-cultures of primary rat brain endothelial cells (RBEC) and astrocytes to study receptors involved in transcytosis across the endothelial cell monolayer. Astrocytes were isolated by mechanical dissection following trypsin digestion and were frozen for later co-culture. RBEC were isolated from 5-week-old rat cortices. The brains were cleaned of meninges and white matter, and mechanically dissociated following enzymatic digestion. Thereafter, the tissue homogenate was centrifuged in bovine serum albumin to separate vessel fragments from nervous tissue. The vessel fragments underwent a second enzymatic digestion to free endothelial cells from their extracellular matrix. The remaining contaminating cells such as pericytes were further eliminated by plating the microvessel fragments in puromycin-containing medium. They were then passaged onto filters for co-culture with astrocytes grown on the bottom of the wells. RBEC expressed high levels of tight junction (TJ) proteins such as occludin, claudin-5 and ZO-1 with a typical localization at the cell borders. The transendothelial electrical resistance (TEER) of brain endothelial monolayers, indicating the tightness of TJs reached 300 ohm·cm
2
on average. The endothelial permeability coefficients (Pe) for lucifer yellow (LY) was highly reproducible with an average of 0.26 ± 0.11 x 10
-3
cm/min. Brain endothelial cells organized in monolayers expressed the efflux transporter P-glycoprotein (P-gp), showed a polarized transport of rhodamine 123, a ligand for P-gp, and showed specific transport of transferrin-Cy3 and DiILDL across the endothelial cell monolayer. In conclusion, we provide a protocol for setting up an
in vitro
BBB model that is highly reproducible due to the quality assurance methods, and that is suitable for research on BBB transporters and receptors.
Medicine, Issue 88, rat brain endothelial cells (RBEC), mouse, spinal cord, tight junction (TJ), receptor-mediated transport (RMT), low density lipoprotein (LDL), LDLR, transferrin, TfR, P-glycoprotein (P-gp), transendothelial electrical resistance (TEER),
51278
Efficient Production and Purification of Recombinant Murine Kindlin-3 from Insect Cells for Biophysical Studies
Institutions: University of Oxford.

Kindlins are essential coactivators, with talin, of the cell surface receptors integrins and also participate in integrin outside-in signalling, and the control of gene transcription in the cell nucleus. The kindlins are ~75 kDa multidomain proteins and bind to an NPxY motif and upstream T/S cluster of the integrin β-subunit cytoplasmic tail. The hematopoietically-important kindlin isoform, kindlin-3, is critical for platelet aggregation during thrombus formation, leukocyte rolling in response to infection and inflammation and osteoclast podocyte formation in bone resorption. Kindlin-3's role in these processes has resulted in extensive cellular and physiological studies. However, there is a need for an efficient method of acquiring high quality milligram quantities of the protein for further studies. We have developed a protocol, here described, for the efficient expression and purification of recombinant murine kindlin-3 by use of a baculovirus-driven expression system in Sf9 cells yielding sufficient amounts of high purity full-length protein to allow its biophysical characterization. The same approach could be taken in the study of the other mammalian kindlin isoforms.
Virology, Issue 85, Heterologous protein expression, insect cells, Spodoptera frugiperda, baculovirus, protein purification, kindlin, cell adhesion
51206
Human Neutrophil Flow Chamber Adhesion Assay
Institutions: University of Alabama at Birmingham, Birmingham Veterans Affairs Medical Center, University of Alabama at Birmingham, University of Alabama at Birmingham, University of Alabama at Birmingham.

Neutrophil firm adhesion to endothelial cells plays a critical role in inflammation in both health and disease. The process of neutrophil firm adhesion involves many different adhesion molecules including members of the β
2
integrin family and their counter-receptors of the ICAM family. Recently, naturally occurring genetic variants in both β
2
integrins and ICAMs are reported to be associated with autoimmune disease. Thus, the quantitative adhesive capacity of neutrophils from individuals with varying allelic forms of these adhesion molecules is important to study in relation to mechanisms underlying development of autoimmunity. Adhesion studies in flow chamber systems can create an environment with fluid shear stress similar to that observed in the blood vessel environment
in vivo
. Here, we present a method using a flow chamber assay system to study the quantitative adhesive properties of human peripheral blood neutrophils to human umbilical vein endothelial cell (HUVEC) and to purified ligand substrates. With this method, the neutrophil adhesive capacities from donors with different allelic variants in adhesion receptors can be assessed and compared. This method can also be modified to assess adhesion of other primary cell types or cell lines.
Immunology, Issue 89, neutrophil adhesion, flow chamber, human umbilical vein endothelial cell (HUVEC), purified ligand
51410
Quantitative In vitro Assay to Measure Neutrophil Adhesion to Activated Primary Human Microvascular Endothelial Cells under Static Conditions
Institutions: University of California, San Francisco, University of California, San Francisco.

The vascular endothelium plays an integral part in the inflammatory response. During the acute phase of inflammation, endothelial cells (ECs) are activated by host mediators or directly by conserved microbial components or host-derived danger molecules. Activated ECs express cytokines, chemokines and adhesion molecules that mobilize, activate and retain leukocytes at the site of infection or injury. Neutrophils are the first leukocytes to arrive, and adhere to the endothelium through a variety of adhesion molecules present on the surfaces of both cells. The main functions of neutrophils are to directly eliminate microbial threats, promote the recruitment of other leukocytes through the release of additional factors, and initiate wound repair. Therefore, their recruitment and attachment to the endothelium is a critical step in the initiation of the inflammatory response. In this report, we describe an
in vitro
neutrophil adhesion assay using calcein AM-labeled primary human neutrophils to quantitate the extent of microvascular endothelial cell activation under static conditions. This method has the additional advantage that the same samples quantitated by fluorescence spectrophotometry can also be visualized directly using fluorescence microscopy for a more qualitative assessment of neutrophil binding.
Immunology, Issue 78, Cellular Biology, Infection, Molecular Biology, Medicine, Biomedical Engineering, Biophysics, Endothelium, Vascular, Neutrophils, Inflammation, Inflammation Mediators, Neutrophil, Leukocyte Adhesion, Endothelial cells, assay
50677
In vivo Measurement of the Mouse Pulmonary Endothelial Surface Layer
Institutions: University of Colorado School of Medicine.

The endothelial glycocalyx is a layer of proteoglycans and associated glycosaminoglycans lining the vascular lumen.
In vivo
, the glycocalyx is highly hydrated, forming a substantial endothelial surface layer (ESL) that contributes to the maintenance of endothelial function. As the endothelial glycocalyx is often aberrant
in vitro
and is lost during standard tissue fixation techniques, study of the ESL requires use of intravital microscopy. To best approximate the complex physiology of the alveolar microvasculature, pulmonary intravital imaging is ideally performed on a freely-moving lung. These preparations, however, typically suffer from extensive motion artifact. We demonstrate how closed-chest intravital microscopy of a freely-moving mouse lung can be used to measure glycocalyx integrity via ESL exclusion of fluorescently-labeled high molecular weight dextrans from the endothelial surface. This non-recovery surgical technique, which requires simultaneous brightfield and fluorescent imaging of the mouse lung, allows for longitudinal observation of the subpleural microvasculature without evidence of inducing confounding lung injury.
Medicine, Issue 72, Cellular Biology, Anatomy, Physiology, Biomedical Engineering, Biophysics, Surgery, Endothelium, Vascular, Inflammation, Pulmonary Circulation, Intravital Microscopy, endothelial surface layer, endothelial, glycocalyx, pulmonary microvasculature, catheter, tracheostomy, venous, catheterization, lung injury, mouse, animal model
50322