ABSTRACT
Stroke is the leading cause of disability and the third leading cause of death in adults worldwide1. In human stroke, there exists a highly variable clinical state; in the development of animal models of focal ischemia, however, achieving reproducibility of experimentally induced infarct volume is essential. The rat is a widely used animal model for stroke due to its relatively low animal husbandry costs and to the similarity of its cranial circulation to that of humans2,3. In humans, the middle cerebral artery (MCA) is most commonly affected in stroke syndromes and multiple methods of MCA occlusion (MCAO) have been described to mimic this clinical syndrome in animal models. Because recanalization commonly occurs following an acute stroke in the human, reperfusion after a period of occlusion has been included in many of these models. In this video, we demonstrate the transient endovascular suture MCAO model in the spontaneously hypertensive rat (SHR). A filament with a silicon tip coating is placed intraluminally at the MCA origin for 60 minutes, followed by reperfusion. Note that the optimal occlusion period may vary in other rat strains, such as Wistar or Sprague-Dawley. Several behavioral indicators of stroke in the rat are shown. Focal ischemia is confirmed using T2-weighted magnetic resonance images and by staining brain sections with 2,3,5-triphenyltetrazolium chloride (TTC) 24 hours after MCAO.
22 Related JoVE Articles!
Mesenteric Artery Contraction and Relaxation Studies Using Automated Wire Myography
Institutions: North Carolina Central University, Durham, North Carolina Central University, Durham, Wake Forest University School of Medicine.
Proximal resistance vessels, such as the mesenteric arteries, contribute substantially to the peripheral resistance. These small vessels of between 100-400 μm in diameter function primarily in directing blood flow to various organs according to the overall requirements of the body. The rat mesenteric artery has a diameter greater than 100 μm. The myography technique, first described by Mulvay and Halpern
1
, was based on the method proposed by Bevan and Osher
2
. The technique provides information about small vessels under isometric conditions, where substantial shortening of the muscle preparation is prevented. Since force production and sensitivity of vessels to different agonists is dependent on the extent of stretch, according to active tension-length relation, it is essential to conduct contraction studies under isometric conditions to prevent compliance of the mounting wires. Stainless steel wires are preferred to tungsten wires because of oxidation of the latter, which affects recorded responses
3
.The technique allows for the comparison of agonist-induced contractions of mounted vessels to obtain evidence for normal function of vascular smooth muscle cell receptors. We have shown in several studies that isolated mesenteric arteries that are contracted with phenylyephrine relax upon addition of cumulative concentrations of extracellular calcium (Ca
2+
e
). The findings led us to conclude that perivascular sensory nerves, which express the G protein-coupled Ca
2+
-sensing receptor (CaR), mediate this vasorelaxation response. Using an automated wire myography method, we show here that mesenteric arteries from Wistar, Dahl salt-sensitive(DS) and Dahl salt-resistant (DR) rats respond differently to Ca
2+
e
. Tissues from Wistar rats showed higher Ca
2+
-sensitivity compared to those from DR and DS. Reduced CaR expression in mesenteric arteries from DS rats correlates with reduced Ca
2+
e
-induced relaxation of isolated, pre-contracted arteries. The data suggest that the CaR is required for relaxation of mesenteric arteries under increased adrenergic tone, as occurs in hypertension, and indicate an inherent defect in the CaR signaling pathway in Dahl animals, which is much more severe in DS. The method is useful in determining vascular reactivity
ex vivo
in mesenteric resistance arteries and similar small blood vessels and comparisons between different agonists and/or antagonists can be easily and consistently assessed side-by-side
6,7,8
.
Medicine, Issue 55, cardiovascular, resistant arteries, contraction, relaxation, myography
3119
A Possible Zebrafish Model of Polycystic Kidney Disease: Knockdown of wnt5a Causes Cysts in Zebrafish Kidneys
Institutions: Eastern Virginia Medical School, Medical University of South Carolina, University of Michigan.

Polycystic kidney disease (PKD) is one of the most common causes of end-stage kidney disease, a devastating disease for which there is no cure. The molecular mechanisms leading to cyst formation in PKD remain somewhat unclear, but many genes are thought to be involved. Wnt5a is a non-canonical glycoprotein that regulates a wide range of developmental processes. Wnt5a works through the planar cell polarity (PCP) pathway that regulates oriented cell division during renal tubular cell elongation. Defects of the PCP pathway have been found to cause kidney cyst formation. Our paper describes a method for developing a zebrafish cystic kidney disease model by knockdown of the
wnt5a
gene with
wnt5a
antisense morpholino (MO) oligonucleotides.
Tg(wt1b:GFP)
transgenic zebrafish were used to visualize kidney structure and kidney cysts following
wnt5a
knockdown. Two distinct antisense MOs (AUG - and splice-site) were used and both resulted in curly tail down phenotype and cyst formation after
wnt5a
knockdown. Injection of mouse
Wnt5a
mRNA, resistant to the MOs due to a difference in primary base pair structure, rescued the abnormal phenotype, demonstrating that the phenotype was not due to "off-target" effects of the morpholino. This work supports the validity of using a zebrafish model to study
wnt5a
function in the kidney.
Medicine, Issue 94, Wnt5a, polycystic kidney disease, morpholino, microinjection, zebrafish, pronephros
52156
Ascending Aortic Constriction in Rats for Creation of Pressure Overload Cardiac Hypertrophy Model
Institutions: Rajiv Gandhi Centre for Biotechnology, Rajiv Gandhi Centre for Biotechnology, Sree Chitra Tirunal Institute for Medical Sciences & Technology.

Ascending aortic constriction is the most common and successful surgical model for creating pressure overload induced cardiac hypertrophy and heart failure. Here, we describe a detailed surgical procedure for creating pressure overload and cardiac hypertrophy in rats by constriction of the ascending aorta using a small metallic clip. After anesthesia, the trachea is intubated by inserting a cannula through a half way incision made between two cartilage rings of trachea. Then a skin incision is made at the level of the second intercostal space on the left chest wall and muscle layers are cleared to locate the ascending portion of aorta. The ascending aorta is constricted to 50–60% of its original diameter by application of a small sized titanium clip. Following aortic constriction, the second and third ribs are approximated with prolene sutures. The tracheal cannula is removed once spontaneous breathing was re-established. The animal is allowed to recover on the heating pad by gradually lowering anesthesia. The intensity of pressure overload created by constriction of the ascending aorta is determined by recording the pressure gradient using trans-thoracic two dimensional Doppler-echocardiography. Overall this protocol is useful to study the remodeling events and contractile properties of the heart during the gradual onset and progression from compensated cardiac hypertrophy to heart failure stage.
Medicine, Issue 88, ascending aorta, cardiac hypertrophy, pressure overload, aortic constriction, thoracotomy, surgical model.
50983
Ultrasonic Assessment of Myocardial Microstructure
Institutions: Harvard Medical School, Brigham and Women's Hospital, Harvard Medical School.
Echocardiography is a widely accessible imaging modality that is commonly used to noninvasively characterize and quantify changes in cardiac structure and function. Ultrasonic assessments of cardiac tissue can include analyses of backscatter signal intensity within a given region of interest. Previously established techniques have relied predominantly on the integrated or mean value of backscatter signal intensities, which may be susceptible to variability from aliased data from low frame rates and time delays for algorithms based on cyclic variation. Herein, we describe an ultrasound-based imaging algorithm that extends from previous methods, can be applied to a single image frame and accounts for the full distribution of signal intensity values derived from a given myocardial sample. When applied to representative mouse and human imaging data, the algorithm distinguishes between subjects with and without exposure to chronic afterload resistance. The algorithm offers an enhanced surrogate measure of myocardial microstructure and can be performed using open-access image analysis software.
Medicine, Issue 83, echocardiography, image analysis, myocardial fibrosis, hypertension, cardiac cycle, open-access image analysis software
50850
Whole Animal Perfusion Fixation for Rodents
Institutions: University of Michigan , University of Washington School of Medicine.
The goal of fixation is to rapidly and uniformly preserve tissue in a life-like state. While placing tissue directly in fixative works well for small pieces of tissue, larger specimens like the intact brain pose a problem for immersion fixation because the fixative does not reach all regions of the tissue at the same rate
5,7
. Often, changes in response to hypoxia begin before the tissue can be preserved
12
. The advantage of directly perfusing fixative through the circulatory system is that the chemical can quickly reach every corner of the organism using the natural vascular network. In order to utilize the circulatory system most effectively, care must be taken to match physiological pressures
3
. It is important to note that physiological pressures are dependent on the species used. Techniques for perfusion fixation vary depending on the tissue to be fixed and how the tissue will be processed following fixation. In this video, we describe a low-cost, rapid, controlled and uniform fixation procedure using 4% paraformaldehyde perfused via the vascular system: through the heart of the rat to obtain the best possible preservation of the brain for immunohistochemistry. The main advantage of this technique (vs. gravity-fed systems) is that the circulatory system is utilized most effectively.
Neuroscience, Issue 65, Physiology, Biomedical Engineering, Paraformaldehyde, fixation, physiological pressures, vascular system, brain, preservation
3564
Design of a Cyclic Pressure Bioreactor for the Ex Vivo Study of Aortic Heart Valves
Institutions: Mississippi State University.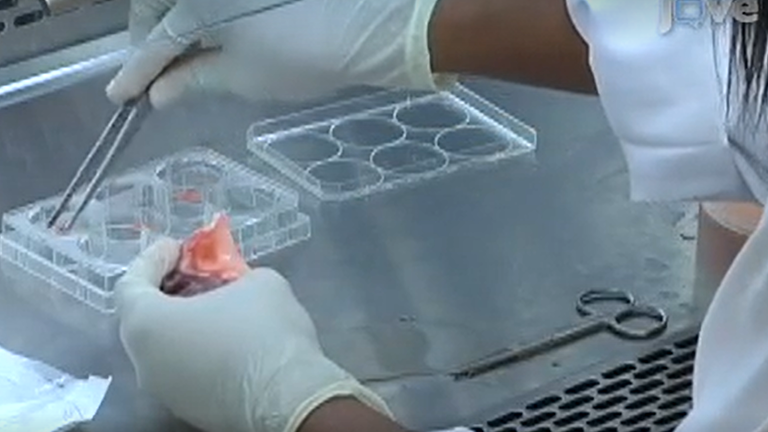 The aortic valve, located between the left ventricle and the aorta, allows for unidirectional blood flow, preventing backflow into the ventricle. Aortic valve leaflets are composed of interstitial cells suspended within an extracellular matrix (ECM) and are lined with an endothelial cell monolayer. The valve withstands a harsh, dynamic environment and is constantly exposed to shear, flexion, tension, and compression. Research has shown calcific lesions in diseased valves occur in areas of high mechanical stress as a result of endothelial disruption or interstitial matrix damage
1-3
. Hence, it is not surprising that epidemiological studies have shown high blood pressure to be a leading risk factor in the onset of aortic valve disease
4
. The only treatment option currently available for valve disease is surgical replacement of the diseased valve with a bioprosthetic or mechanical valve
5
. Improved understanding of valve biology in response to physical stresses would help elucidate the mechanisms of valve pathogenesis. In turn, this could help in the development of non-invasive therapies such as pharmaceutical intervention or prevention. Several bioreactors have been previously developed to study the mechanobiology of native or engineered heart valves
6-9
. Pulsatile bioreactors have also been developed to study a range of tissues including cartilage
10
, bone
11
and bladder
12
. The aim of this work was to develop a cyclic pressure system that could be used to elucidate the biological response of aortic valve leaflets to increased pressure loads. The system consisted of an acrylic chamber in which to place samples and produce cyclic pressure, viton diaphragm solenoid valves to control the timing of the pressure cycle, and a computer to control electrical devices. The pressure was monitored using a pressure transducer, and the signal was conditioned using a load cell conditioner. A LabVIEW program regulated the pressure using an analog device to pump compressed air into the system at the appropriate rate. The system mimicked the dynamic transvalvular pressure levels associated with the aortic valve; a saw tooth wave produced a gradual increase in pressure, typical of the transvalvular pressure gradient that is present across the valve during diastole, followed by a sharp pressure drop depicting valve opening in systole. The LabVIEW program allowed users to control the magnitude and frequency of cyclic pressure. The system was able to subject tissue samples to physiological and pathological pressure conditions. This device can be used to increase our understanding of how heart valves respond to changes in the local mechanical environment.
Bioengineering, Issue 54, Mechanobiology, Bioreactor, Aortic Heart Valve, Organ Culture
3316
The Application Of Permanent Middle Cerebral Artery Ligation in the Mouse
Institutions: University of Rochester, University of Alabama at Birmingham, University of Rochester.

Focal cerebral ischemia is among the most common type of stroke seen in patients. Due to the clinical significance there has been a prolonged effort to develop suitable animal models to study the events that unfold during ischemic insult. These techniques include transient or permanent, focal or global ischemia models using many different animal models, with the most common being rodents. The permanent MCA ligation method which is also referred as pMCAo in the literature is used extensively as a focal ischemia model in rodents
1-6
. This method was originally described for rats by Tamura et al. in 1981
7
. In this protocol a craniotomy was used to access the MCA and the proximal regions were occluded by electrocoagulation. The infarcts involve mostly cortical and sometimes striatal regions depending on the location of the occlusion. This technique is now well established and used in many laboratories
8-13
. Early use of this technique led to the definition and description of "infarct core" and "penumbra"
14-16
, and it is often used to evaluate potential neuroprotective compounds
10, 12, 13, 17
. Although the initial studies were performed in rats, permanent MCA ligation has been used successfully in mice with slight modifications
18-20
. This model yields reproducible infarcts and increased post-survival rates. Approximately 80% of the ischemic strokes in humans happen in the MCA area
21
and thus this is a very relevant model for stroke studies. Currently, there is a paucity of effective treatments available to stroke patients, and thus there is a need for good models to test potential pharmacological compounds and evaluate physiological outcomes. This method can also be used for studying intracellular hypoxia response mechanisms
in vivo
. Here, we present the MCA ligation surgery in a C57/BL6 mouse. We describe the pre-surgical preparation, MCA ligation surgery and 2,3,5 Triphenyltetrazolium chloride (TTC) staining for quantification of infarct volumes.
Medicine, Issue 53, brain, stroke, mouse, middle cerebral artery ligation
3039
Intravascular Perfusion of Carbon Black Ink Allows Reliable Visualization of Cerebral Vessels
Institutions: University of Duisburg-Essen Medical School.

The anatomical structure of cerebral vessels is a key determinant for brain hemodynamics as well as the severity of injury following ischemic insults. The cerebral vasculature dynamically responds to various pathophysiological states and it exhibits considerable differences between strains and under conditions of genetic manipulations. Essentially, a reliable technique for intracranial vessel staining is essential in order to study the pathogenesis of ischemic stroke. Until recently, a set of different techniques has been employed to visualize the cerebral vasculature including injection of low viscosity resin, araldite F, gelatin mixed with various dyes
1
(
i.e.
carmine red, India ink) or latex with
2
or without
3
carbon black. Perfusion of white latex compound through the ascending aorta has been first reported by Coyle and Jokelainen
3
. Maeda
et al.
2
have modified the protocol by adding carbon black ink to the latex compound for improved contrast visualization of the vessels after saline perfusion of the brain. However, inefficient perfusion and inadequate filling of the vessels are frequently experienced due to high viscosity of the latex compound
4
. Therefore, we have described a simple and cost-effective technique using a mixture of two commercially available carbon black inks (CB1 and CB2) to visualize the cerebral vasculature in a reproducible manner
5
. We have shown that perfusion with CB1+CB2 in mice results in staining of significantly smaller cerebral vessels at a higher density in comparison to latex perfusion
5
. Here, we describe our protocol to identify the anastomotic points between the anterior (ACA) and middle cerebral arteries (MCA) to study vessel variations in mice with different genetic backgrounds. Finally, we demonstrate the feasibility of our technique in a transient focal cerebral ischemia model in mice by combining CB1+CB2-mediated vessel staining with TTC staining in various degrees of ischemic injuries.
Neuroscience, Issue 71, Neurobiology, Medicine, Anatomy, Physiology, Cellular Biology, Immunology, Neurology, Cerebral vascular anatomy, colored latex, carbon black, ink, stroke, vascular territories, brain, vessels, imaging, animal model
4374
Isolation and Culture of Neonatal Mouse Cardiomyocytes
Institutions: King's College London, University of California San Diego .

Cultured neonatal cardiomyocytes have long been used to study myofibrillogenesis and myofibrillar functions. Cultured cardiomyocytes allow for easy investigation and manipulation of biochemical pathways, and their effect on the biomechanical properties of spontaneously beating cardiomyocytes. The following 2-day protocol describes the isolation and culture of neonatal mouse cardiomyocytes. We show how to easily dissect hearts from neonates, dissociate the cardiac tissue and enrich cardiomyocytes from the cardiac cell-population. We discuss the usage of different enzyme mixes for cell-dissociation, and their effects on cell-viability. The isolated cardiomyocytes can be subsequently used for a variety of morphological, electrophysiological, biochemical, cell-biological or biomechanical assays. We optimized the protocol for robustness and reproducibility, by using only commercially available solutions and enzyme mixes that show little lot-to-lot variability. We also address common problems associated with the isolation and culture of cardiomyocytes, and offer a variety of options for the optimization of isolation and culture conditions.
Cellular Biology, Issue 79, Biomedical Engineering, Bioengineering, Molecular Biology, Cell Culture Techniques, Primary Cell Culture, Cell Culture Techniques, Primary Cell Culture, Cell Culture Techniques, Primary Cell Culture, Cell Culture Techniques, Disease Models, Animal, Models, Cardiovascular, Cell Biology, neonatal mouse, cardiomyocytes, isolation, culture, primary cells, NMC, heart cells, animal model
50154
Ischemia-reperfusion Model of Acute Kidney Injury and Post Injury Fibrosis in Mice
Institutions: Vanderbilt University Medical Center.

Ischemia-reperfusion induced acute kidney injury (IR-AKI) is widely used as a model of AKI in mice, but results are often quite variable with high, often unreported mortality rates that may confound analyses. Bilateral renal pedicle clamping is commonly used to induce IR-AKI, but differences between effective clamp pressures and/or renal responses to ischemia between kidneys often lead to more variable results. In addition, shorter clamp times are known to induce more variable tubular injury, and while mice undergoing bilateral injury with longer clamp times develop more consistent tubular injury, they often die within the first 3 days after injury due to severe renal insufficiency. To improve post-injury survival and obtain more consistent and predictable results, we have developed two models of unilateral ischemia-reperfusion injury followed by contralateral nephrectomy. Both surgeries are performed using a dorsal approach, reducing surgical stress resulting from ventral laparotomy, commonly used for mouse IR-AKI surgeries. For induction of moderate injury BALB/c mice undergo unilateral clamping of the renal pedicle for 26 min and also undergo simultaneous contralateral nephrectomy. Using this approach, 50-60% of mice develop moderate AKI 24 hr after injury but 90-100% of mice survive. To induce more severe AKI, BALB/c mice undergo renal pedicle clamping for 30 min followed by contralateral nephrectomy 8 days after injury. This allows functional assessment of renal recovery after injury with 90-100% survival. Early post-injury tubular damage as well as post injury fibrosis are highly consistent using this model.
Medicine, Issue 78, Immunology, Infection, Biomedical Engineering, Anatomy, Physiology, Kidney, Mice, Inbred Strains, Renal Insufficiency, Acute Kidney Injury, Ischemia-reperfusion, acute kidney injury, post injury fibrosis, mice, ischemia, reperfusion, fibrosis, animal model
50495
Use of a Hanging-weight System for Isolated Renal Artery Occlusion
Institutions: University of Colorado, University of Colorado, Korea University College of Medicine.

In hospitalized patients, over 50% of cases of acute kidney injury (AKI) are caused by renal ischemia
1-3
. A recent study of hospitalized patients revealed that only a mild increase in serum creatinine levels (0.3 to 0.4 mg/dl) is associated with a 70% greater risk of death than in persons without any increase
1
. Along these lines, surgical procedures requiring cross-clamping of the aorta and renal vessels are associated with a renal failure rates of up to 30%
4
. Similarly, AKI after cardiac surgery occurs in over 10% of patients under normal circumstances and is associated with dramatic increases in mortality. AKI are also common complications after liver transplantation. At least 8-17% of patients end up requiring renal replacement therapy
5
. Moreover, delayed graft function due to tubule cell injury during kidney transplantation is frequently related to ischemia-associated AKI
6
. Moreover, AKI occurs in approximately 20% of patients suffering from sepsis
6
.The occurrence of AKI is associated with dramatic increases of morbidity and mortality
1
. Therapeutic approaches are very limited and the majority of interventional trials in AKI have failed in humans. Therefore, additional therapeutic modalities to prevent renal injury from ischemia are urgently needed
3, 7-9
. To elucidate mechanisms of renal injury due to ischemia and possible therapeutic strategies murine models are intensively required
7-13
. Mouse models provide the possibility of utilizing different genetic models including gene-targeted mice and tissue specific gene-targeted mice (cre-flox system). However, murine renal ischemia is technically challenging and experimental details significantly influence results. We performed a systematic evaluation of a novel model for isolated renal artery occlusion in mice, which specifically avoids the use of clamping or suturing the renal pedicle
14
. This model requires a nephrectomy of the right kidney since ischemia can be only performed in one kidney due to the experimental setting. In fact, by using a hanging-weight system, the renal artery is only instrumented once throughout the surgical procedure. In addition, no venous or urethral obstruction occurs with this technique. We could demonstrate time-dose-dependent and highly reproducible renal injury with ischemia by measuring serum creatinine. Moreover, when comparing this new model with conventional clamping of the whole pedicle, renal protection by ischemic preconditioning is more profound and more reliable. Therefore his new technique might be useful for other researchers who are working in the field of acute kidney injury.
Medicine, Issue 53, targeted gene deletion, murine model, acute renal failure, ischemia, reperfusion, video demonstration
2549
5/6th Nephrectomy in Combination with High Salt Diet and Nitric Oxide Synthase Inhibition to Induce Chronic Kidney Disease in the Lewis Rat
Institutions: University Medical Center Utrecht.

Chronic kidney disease (CKD) is a global problem. Slowing CKD progression is a major health priority. Since CKD is characterized by complex derangements of homeostasis, integrative animal models are necessary to study development and progression of CKD. To study development of CKD and novel therapeutic interventions in CKD, we use the 5/6th nephrectomy ablation model, a well known experimental model of progressive renal disease, resembling several aspects of human CKD. The gross reduction in renal mass causes progressive glomerular and tubulo-interstitial injury, loss of remnant nephrons and development of systemic and glomerular hypertension. It is also associated with progressive intrarenal capillary loss, inflammation and glomerulosclerosis. Risk factors for CKD invariably impact on endothelial function. To mimic this, we combine removal of 5/6th of renal mass with nitric oxide (NO) depletion and a high salt diet. After arrival and acclimatization, animals receive a NO synthase inhibitor (NG-nitro-L-Arginine) (L-NNA) supplemented to drinking water (20 mg/L) for a period of 4 weeks, followed by right sided uninephrectomy. One week later, a subtotal nephrectomy (SNX) is performed on the left side. After SNX, animals are allowed to recover for two days followed by LNNA in drinking water (20 mg/L) for a further period of 4 weeks. A high salt diet (6%), supplemented in ground chow (see time line
Figure 1
), is continued throughout the experiment. Progression of renal failure is followed over time by measuring plasma urea, systolic blood pressure and proteinuria. By six weeks after SNX, renal failure has developed. Renal function is measured using 'gold standard' inulin and para-amino hippuric acid (PAH) clearance technology. This model of CKD is characterized by a reduction in glomerular filtration rate (GFR) and effective renal plasma flow (ERPF), hypertension (systolic blood pressure>150 mmHg), proteinuria (> 50 mg/24 hr) and mild uremia (>10 mM). Histological features include tubulo-interstitial damage reflected by inflammation, tubular atrophy and fibrosis and focal glomerulosclerosis leading to massive reduction of healthy glomeruli within the remnant population (<10%). Follow-up until 12 weeks after SNX shows further progression of CKD.
Medicine, Issue 77, Anatomy, Physiology, Biomedical Engineering, Surgery, Nephrology Kidney Diseases, Glomerular Filtration Rate, Hemodynamics, Surgical Procedures, Operative, Chronic kidney disease, remnant kidney, chronic renal diseases, kidney, Nitric Oxide depletion, NO depletion, high salt diet, proteinuria, uremia, glomerulosclerosis, transgenic rat, animal model
50398
A High-throughput Method for Measurement of Glomerular Filtration Rate in Conscious Mice
Institutions: University of California, San Diego , San Diego VA Healthcare System.

The measurement of glomerular filtration rate (GFR) is the gold standard in kidney function assessment. Currently, investigators determine GFR by measuring the level of the endogenous biomarker creatinine or exogenously applied radioactive labeled inulin (
3
H or
14
C). Creatinine has the substantial drawback that proximal tubular secretion accounts for ~50% of total renal creatinine excretion and therefore creatinine is not a reliable GFR marker. Depending on the experiment performed, inulin clearance can be determined by an intravenous single bolus injection or continuous infusion (intravenous or osmotic minipump). Both approaches require the collection of plasma or plasma and urine, respectively. Other drawbacks of radioactive labeled inulin include usage of isotopes, time consuming surgical preparation of the animals, and the requirement of a terminal experiment. Here we describe a method which uses a single bolus injection of fluorescein isothiocyanate-(FITC) labeled inulin and the measurement of its fluorescence in 1-2 μl of diluted plasma. By applying a two-compartment model, with 8 blood collections per mouse, it is possible to measure GFR in up to 24 mice per day using a special work-flow protocol. This method only requires brief isoflurane anesthesia with all the blood samples being collected in a non-restrained and awake mouse. Another advantage is that it is possible to follow mice over a period of several months and treatments (
i.e.
doing paired experiments with dietary changes or drug applications). We hope that this technique of measuring GFR is useful to other investigators studying mouse kidney function and will replace less accurate methods of estimating kidney function, such as plasma creatinine and blood urea nitrogen.
Medicine, Issue 75, Anatomy, Physiology, Biomedical Engineering, Molecular Biology, Nephrology, Kidney Function Tests, Glomerular filtration rate, rats, mice, conscious, creatinine, inulin, Jaffe, hypertension, HPLC, animal model
50330
Analysis of Tubular Membrane Networks in Cardiac Myocytes from Atria and Ventricles
Institutions: Heart Research Center Goettingen, University Medical Center Goettingen, German Center for Cardiovascular Research (DZHK) partner site Goettingen, University of Maryland School of Medicine.

In cardiac myocytes a complex network of membrane tubules - the transverse-axial tubule system (TATS) - controls deep intracellular signaling functions. While the outer surface membrane and associated TATS membrane components appear to be continuous, there are substantial differences in lipid and protein content. In ventricular myocytes (VMs), certain TATS components are highly abundant contributing to rectilinear tubule networks and regular branching 3D architectures. It is thought that peripheral TATS components propagate action potentials from the cell surface to thousands of remote intracellular sarcoendoplasmic reticulum (SER) membrane contact domains, thereby activating intracellular Ca
2+
release units (CRUs). In contrast to VMs, the organization and functional role of TATS membranes in atrial myocytes (AMs) is significantly different and much less understood. Taken together, quantitative structural characterization of TATS membrane networks in healthy and diseased myocytes is an essential prerequisite towards better understanding of functional plasticity and pathophysiological reorganization. Here, we present a strategic combination of protocols for direct quantitative analysis of TATS membrane networks in living VMs and AMs. For this, we accompany primary cell isolations of mouse VMs and/or AMs with critical quality control steps and direct membrane staining protocols for fluorescence imaging of TATS membranes. Using an optimized workflow for confocal or superresolution TATS image processing, binarized and skeletonized data are generated for quantitative analysis of the TATS network and its components. Unlike previously published indirect regional aggregate image analysis strategies, our protocols enable direct characterization of specific components and derive complex physiological properties of TATS membrane networks in living myocytes with high throughput and open access software tools. In summary, the combined protocol strategy can be readily applied for quantitative TATS network studies during physiological myocyte adaptation or disease changes, comparison of different cardiac or skeletal muscle cell types, phenotyping of transgenic models, and pharmacological or therapeutic interventions.
Bioengineering, Issue 92, cardiac myocyte, atria, ventricle, heart, primary cell isolation, fluorescence microscopy, membrane tubule, transverse-axial tubule system, image analysis, image processing, T-tubule, collagenase
51823
Analysis of Nephron Composition and Function in the Adult Zebrafish Kidney
Institutions: University of Notre Dame.

The zebrafish model has emerged as a relevant system to study kidney development, regeneration and disease. Both the embryonic and adult zebrafish kidneys are composed of functional units known as nephrons, which are highly conserved with other vertebrates, including mammals. Research in zebrafish has recently demonstrated that two distinctive phenomena transpire after adult nephrons incur damage: first, there is robust regeneration within existing nephrons that replaces the destroyed tubule epithelial cells; second, entirely new nephrons are produced from renal progenitors in a process known as neonephrogenesis. In contrast, humans and other mammals seem to have only a limited ability for nephron epithelial regeneration. To date, the mechanisms responsible for these kidney regeneration phenomena remain poorly understood. Since adult zebrafish kidneys undergo both nephron epithelial regeneration and neonephrogenesis, they provide an outstanding experimental paradigm to study these events. Further, there is a wide range of genetic and pharmacological tools available in the zebrafish model that can be used to delineate the cellular and molecular mechanisms that regulate renal regeneration. One essential aspect of such research is the evaluation of nephron structure and function. This protocol describes a set of labeling techniques that can be used to gauge renal composition and test nephron functionality in the adult zebrafish kidney. Thus, these methods are widely applicable to the future phenotypic characterization of adult zebrafish kidney injury paradigms, which include but are not limited to, nephrotoxicant exposure regimes or genetic methods of targeted cell death such as the nitroreductase mediated cell ablation technique. Further, these methods could be used to study genetic perturbations in adult kidney formation and could also be applied to assess renal status during chronic disease modeling.
Cellular Biology, Issue 90, zebrafish; kidney; nephron; nephrology; renal; regeneration; proximal tubule; distal tubule; segment; mesonephros; physiology; acute kidney injury (AKI)
51644
Getting to Compliance in Forced Exercise in Rodents: A Critical Standard to Evaluate Exercise Impact in Aging-related Disorders and Disease
Institutions: Louisiana State University Health Sciences Center.

There is a major increase in the awareness of the positive impact of exercise on improving several disease states with neurobiological basis; these include improving cognitive function and physical performance. As a result, there is an increase in the number of animal studies employing exercise. It is argued that one intrinsic value of forced exercise is that the investigator has control over the factors that can influence the impact of exercise on behavioral outcomes, notably exercise frequency, duration, and intensity of the exercise regimen. However, compliance in forced exercise regimens may be an issue, particularly if potential confounds of employing foot-shock are to be avoided. It is also important to consider that since most cognitive and locomotor impairments strike in the aged individual, determining impact of exercise on these impairments should consider using aged rodents with a highest possible level of compliance to ensure minimal need for test subjects. Here, the pertinent steps and considerations necessary to achieve nearly 100% compliance to treadmill exercise in an aged rodent model will be presented and discussed. Notwithstanding the particular exercise regimen being employed by the investigator, our protocol should be of use to investigators that are particularly interested in the potential impact of forced exercise on aging-related impairments, including aging-related Parkinsonism and Parkinson's disease.
Behavior, Issue 90, Exercise, locomotor, Parkinson's disease, aging, treadmill, bradykinesia, Parkinsonism
51827
Bladder Smooth Muscle Strip Contractility as a Method to Evaluate Lower Urinary Tract Pharmacology
Institutions: University of Pittsburgh School of Medicine, University of Pittsburgh School of Medicine.

We describe an
in vitro
method to measure bladder smooth muscle contractility, and its use for investigating physiological and pharmacological properties of the smooth muscle as well as changes induced by pathology. This method provides critical information for understanding bladder function while overcoming major methodological difficulties encountered in
in vivo
experiments, such as surgical and pharmacological manipulations that affect stability and survival of the preparations, the use of human tissue, and/or the use of expensive chemicals. It also provides a way to investigate the properties of each bladder component (
i.e.
smooth muscle, mucosa, nerves) in healthy and pathological conditions. The urinary bladder is removed from an anesthetized animal, placed in Krebs solution and cut into strips. Strips are placed into a chamber filled with warm Krebs solution. One end is attached to an isometric tension transducer to measure contraction force, the other end is attached to a fixed rod. Tissue is stimulated by directly adding compounds to the bath or by electric field stimulation electrodes that activate nerves, similar to triggering bladder contractions
in vivo
. We demonstrate the use of this method to evaluate spontaneous smooth muscle contractility during development and after an experimental spinal cord injury, the nature of neurotransmission (transmitters and receptors involved), factors involved in modulation of smooth muscle activity, the role of individual bladder components, and species and organ differences in response to pharmacological agents. Additionally, it could be used for investigating intracellular pathways involved in contraction and/or relaxation of the smooth muscle, drug structure-activity relationships and evaluation of transmitter release. The
in vitro
smooth muscle contractility method has been used extensively for over 50 years, and has provided data that significantly contributed to our understanding of bladder function as well as to pharmaceutical development of compounds currently used clinically for bladder management.
Medicine, Issue 90, Krebs, species differences, in vitro, smooth muscle contractility, neural stimulation
51807
Setting-up an In Vitro Model of Rat Blood-brain Barrier (BBB): A Focus on BBB Impermeability and Receptor-mediated Transport
Institutions: VECT-HORUS SAS, CNRS, NICN UMR 7259.

The blood brain barrier (BBB) specifically regulates molecular and cellular flux between the blood and the nervous tissue. Our aim was to develop and characterize a highly reproducible rat syngeneic
in vitro
model of the BBB using co-cultures of primary rat brain endothelial cells (RBEC) and astrocytes to study receptors involved in transcytosis across the endothelial cell monolayer. Astrocytes were isolated by mechanical dissection following trypsin digestion and were frozen for later co-culture. RBEC were isolated from 5-week-old rat cortices. The brains were cleaned of meninges and white matter, and mechanically dissociated following enzymatic digestion. Thereafter, the tissue homogenate was centrifuged in bovine serum albumin to separate vessel fragments from nervous tissue. The vessel fragments underwent a second enzymatic digestion to free endothelial cells from their extracellular matrix. The remaining contaminating cells such as pericytes were further eliminated by plating the microvessel fragments in puromycin-containing medium. They were then passaged onto filters for co-culture with astrocytes grown on the bottom of the wells. RBEC expressed high levels of tight junction (TJ) proteins such as occludin, claudin-5 and ZO-1 with a typical localization at the cell borders. The transendothelial electrical resistance (TEER) of brain endothelial monolayers, indicating the tightness of TJs reached 300 ohm·cm
2
on average. The endothelial permeability coefficients (Pe) for lucifer yellow (LY) was highly reproducible with an average of 0.26 ± 0.11 x 10
-3
cm/min. Brain endothelial cells organized in monolayers expressed the efflux transporter P-glycoprotein (P-gp), showed a polarized transport of rhodamine 123, a ligand for P-gp, and showed specific transport of transferrin-Cy3 and DiILDL across the endothelial cell monolayer. In conclusion, we provide a protocol for setting up an
in vitro
BBB model that is highly reproducible due to the quality assurance methods, and that is suitable for research on BBB transporters and receptors.
Medicine, Issue 88, rat brain endothelial cells (RBEC), mouse, spinal cord, tight junction (TJ), receptor-mediated transport (RMT), low density lipoprotein (LDL), LDLR, transferrin, TfR, P-glycoprotein (P-gp), transendothelial electrical resistance (TEER),
51278
Assessment of Vascular Function in Patients With Chronic Kidney Disease
Institutions: University of Colorado, Denver, University of Colorado, Boulder.

Patients with chronic kidney disease (CKD) have significantly increased risk of cardiovascular disease (CVD) compared to the general population, and this is only partially explained by traditional CVD risk factors. Vascular dysfunction is an important non-traditional risk factor, characterized by vascular endothelial dysfunction (most commonly assessed as impaired endothelium-dependent dilation [EDD]) and stiffening of the large elastic arteries. While various techniques exist to assess EDD and large elastic artery stiffness, the most commonly used are brachial artery flow-mediated dilation (FMD
BA
) and aortic pulse-wave velocity (aPWV), respectively. Both of these noninvasive measures of vascular dysfunction are independent predictors of future cardiovascular events in patients with and without kidney disease. Patients with CKD demonstrate both impaired FMD
BA
, and increased aPWV. While the exact mechanisms by which vascular dysfunction develops in CKD are incompletely understood, increased oxidative stress and a subsequent reduction in nitric oxide (NO) bioavailability are important contributors. Cellular changes in oxidative stress can be assessed by collecting vascular endothelial cells from the antecubital vein and measuring protein expression of markers of oxidative stress using immunofluorescence. We provide here a discussion of these methods to measure FMD
BA
, aPWV, and vascular endothelial cell protein expression.
Medicine, Issue 88, chronic kidney disease, endothelial cells, flow-mediated dilation, immunofluorescence, oxidative stress, pulse-wave velocity
51478
3-Dimensional Resin Casting and Imaging of Mouse Portal Vein or Intrahepatic Bile Duct System
Institutions: Vanderbilt University, Cincinnati Children's Hospital, Duke University .

In organs, the correct architecture of vascular and ductal structures is indispensable for proper physiological function, and the formation and maintenance of these structures is a highly regulated process. The analysis of these complex, 3-dimensional structures has greatly depended on either 2-dimensional examination in section or on dye injection studies. These techniques, however, are not able to provide a complete and quantifiable representation of the ductal or vascular structures they are intended to elucidate. Alternatively, the nature of 3-dimensional plastic resin casts generates a permanent snapshot of the system and is a novel and widely useful technique for visualizing and quantifying 3-dimensional structures and networks. A crucial advantage of the resin casting system is the ability to determine the intact and connected, or communicating, structure of a blood vessel or duct. The structure of vascular and ductal networks are crucial for organ function, and this technique has the potential to aid study of vascular and ductal networks in several ways. Resin casting may be used to analyze normal morphology and functional architecture of a luminal structure, identify developmental morphogenetic changes, and uncover morphological differences in tissue architecture between normal and disease states. Previous work has utilized resin casting to study, for example, architectural and functional defects within the mouse intrahepatic bile duct system that were not reflected in 2-dimensional analysis of the structure
1,2
, alterations in brain vasculature of a Alzheimer's disease mouse model
3
, portal vein abnormalities in portal hypertensive and cirrhotic mice
4
, developmental steps in rat lymphatic maturation between immature and adult lungs
5
, immediate microvascular changes in the rat liver, pancreas, and kidney in response in to chemical injury
6
. Here we present a method of generating a 3-dimensional resin cast of a mouse vascular or ductal network, focusing specifically on the portal vein and intrahepatic bile duct. These casts can be visualized by clearing or macerating the tissue and can then be analyzed. This technique can be applied to virtually any vascular or ductal system and would be directly applicable to any study inquiring into the development, function, maintenance, or injury of a 3-dimensional ductal or vascular structure.
Medicine, Issue 68, Resin cast, 3-dimensional, portal vein, intrahepatic bile duct, vascular, ductal
4272
Non-invasive Assessment of Microvascular and Endothelial Function
Institutions: Thomas Jefferson University , Thomas Jefferson University, Thomas Jefferson University .

The authors have utilized capillaroscopy and forearm blood flow techniques to investigate the role of microvascular dysfunction in pathogenesis of cardiovascular disease. Capillaroscopy is a non-invasive, relatively inexpensive methodology for directly visualizing the microcirculation. Percent capillary recruitment is assessed by dividing the increase in capillary density induced by postocclusive reactive hyperemia (postocclusive reactive hyperemia capillary density minus baseline capillary density), by the maximal capillary density (observed during passive venous occlusion). Percent perfused capillaries represents the proportion of all capillaries present that are perfused (functionally active), and is calculated by dividing postocclusive reactive hyperemia capillary density by the maximal capillary density. Both percent capillary recruitment and percent perfused capillaries reflect the number of functional capillaries. The forearm blood flow (FBF) technique provides accepted non-invasive measures of endothelial function: The ratio FBF
max
/FBF
base
is computed as an estimate of vasodilation, by dividing the mean of the four FBF
max
values by the mean of the four FBF
base
values. Forearm vascular resistance at maximal vasodilation (FVR
max
) is calculated as the mean arterial pressure (MAP) divided by FBF
max
. Both the capillaroscopy and forearm techniques are readily acceptable to patients and can be learned quickly. The microvascular and endothelial function measures obtained using the methodologies described in this paper may have future utility in clinical patient cardiovascular risk-reduction strategies. As we have published reports demonstrating that microvascular and endothelial dysfunction are found in initial stages of hypertension including prehypertension, microvascular and endothelial function measures may eventually aid in early identification, risk-stratification and prevention of end-stage vascular pathology, with its potentially fatal consequences.
Medicine, Issue 71, Anatomy, Physiology, Immunology, Pharmacology, Hematology, Diseases, Health Care, Life sciences, Microcirculation, endothelial dysfunction, capillary density, microvascular function, blood vessels, capillaries, capillary, venous occlusion, circulation, experimental therapeutics, capillaroscopy
50008
Methods for ECG Evaluation of Indicators of Cardiac Risk, and Susceptibility to Aconitine-induced Arrhythmias in Rats Following Status Epilepticus
Institutions: University of Utah.

Lethal cardiac arrhythmias contribute to mortality in a number of pathological conditions. Several parameters obtained from a non-invasive, easily obtained electrocardiogram (ECG) are established, well-validated prognostic indicators of cardiac risk in patients suffering from a number of cardiomyopathies. Increased heart rate, decreased heart rate variability (HRV), and increased duration and variability of cardiac ventricular electrical activity (QT interval) are all indicative of enhanced cardiac risk
1-4
. In animal models, it is valuable to compare these ECG-derived variables and susceptibility to experimentally induced arrhythmias. Intravenous infusion of the arrhythmogenic agent aconitine has been widely used to evaluate susceptibility to arrhythmias in a range of experimental conditions, including animal models of depression
5
and hypertension
6
, following exercise
7
and exposure to air pollutants
8
, as well as determination of the antiarrhythmic efficacy of pharmacological agents
9,10.
It should be noted that QT dispersion in humans is a measure of QT interval variation across the full set of leads from a standard 12-lead ECG. Consequently, the measure of QT dispersion from the 2-lead ECG in the rat described in this protocol is different than that calculated from human ECG records. This represents a limitation in the translation of the data obtained from rodents to human clinical medicine. Status epilepticus (SE) is a single seizure or series of continuously recurring seizures lasting more than 30 min
11,12 11,12
, and results in mortality in 20% of cases
13
. Many individuals survive the SE, but die within 30 days
14,15
. The mechanism(s) of this delayed mortality is not fully understood. It has been suggested that lethal ventricular arrhythmias contribute to many of these deaths
14-17
. In addition to SE, patients experiencing spontaneously recurring seizures, i.e. epilepsy, are at risk of premature sudden and unexpected death associated with epilepsy (SUDEP)
18
. As with SE, the precise mechanisms mediating SUDEP are not known. It has been proposed that ventricular abnormalities and resulting arrhythmias make a significant contribution
18-22
. To investigate the mechanisms of seizure-related cardiac death, and the efficacy of cardioprotective therapies, it is necessary to obtain both ECG-derived indicators of risk and evaluate susceptibility to cardiac arrhythmias in animal models of seizure disorders
23-25
. Here we describe methods for implanting ECG electrodes in the Sprague-Dawley laboratory rat (Rattus norvegicus), following SE, collection and analysis of ECG recordings, and induction of arrhythmias during iv infusion of aconitine. These procedures can be used to directly determine the relationships between ECG-derived measures of cardiac electrical activity and susceptibility to ventricular arrhythmias in rat models of seizure disorders, or any pathology associated with increased risk of sudden cardiac death.
Medicine, Issue 50, cardiac, seizure disorders, QTc, QTd, cardiac arrhythmias, rat
2726