Template Directed Synthesis of Plasmonic Gold Nanotubes with Tunable IR Absorbance
Published: 04-01-2013
ABSTRACT
A nearly parallel array of pores can be produced by anodizing aluminum foils in acidic environments1, 2. Applications of anodic aluminum oxide (AAO) membranes have been under development since the 1990's and have become a common method to template the synthesis of high aspect ratio nanostructures, mostly by electrochemical growth or pore-wetting. Recently, these membranes have become commercially available in a wide range of pore sizes and densities, leading to an extensive library of functional nanostructures being synthesized from AAO membranes. These include composite nanorods, nanowires and nanotubes made of metals, inorganic materials or polymers 3-10. Nanoporous membranes have been used to synthesize nanoparticle and nanotube arrays that perform well as refractive index sensors, plasmonic biosensors, or surface enhanced Raman spectroscopy (SERS) substrates 11-16, as well as a wide range of other fields such as photo-thermal heating 17, permselective transport 18, 19, catalysis 20, microfluidics 21, and electrochemical sensing 22, 23. Here, we report a novel procedure to prepare gold nanotubes in AAO membranes. Hollow nanostructures have potential application in plasmonic and SERS sensing, and we anticipate these gold nanotubes will allow for high sensitivity and strong plasmon signals, arising from decreased material dampening 15.
20 Related JoVE Articles!
Utilization of Plasmonic and Photonic Crystal Nanostructures for Enhanced Micro- and Nanoparticle Manipulation
Institutions: University of Washington, Fred Hutchinson Cancer Research Center , University of Washington, Fred Hutchinson Cancer Research Center , Fred Hutchinson Cancer Research Center .

A method to manipulate the position and orientation of submicron particles nondestructively would be an incredibly useful tool for basic biological research. Perhaps the most widely used physical force to achieve noninvasive manipulation of small particles has been dielectrophoresis(DEP).
1
However, DEP on its own lacks the versatility and precision that are desired when manipulating cells since it is traditionally done with stationary electrodes. Optical tweezers, which utilize a three dimensional electromagnetic field gradient to exert forces on small particles, achieve this desired versatility and precision.
2
However, a major drawback of this approach is the high radiation intensity required to achieve the necessary force to trap a particle which can damage biological samples.
3
A solution that allows trapping and sorting with lower optical intensities are optoelectronic tweezers (OET) but OET's have limitations with fine manipulation of small particles; being DEP-based technology also puts constraint on the property of the solution.
4,5
This video article will describe two methods that decrease the intensity of the radiation needed for optical manipulation of living cells and also describe a method for orientation control. The first method is plasmonic tweezers which use a random gold nanoparticle (AuNP) array as a substrate for the sample as shown in Figure 1. The AuNP array converts the incident photons into localized surface plasmons (LSP) which consist of resonant dipole moments that radiate and generate a patterned radiation field with a large gradient in the cell solution. Initial work on surface plasmon enhanced trapping by Righini et al and our own modeling have shown the fields generated by the plasmonic substrate reduce the initial intensity required by enhancing the gradient field that traps the particle.
6,7,8
The plasmonic approach allows for fine orientation control of ellipsoidal particles and cells with low optical intensities because of more efficient optical energy conversion into mechanical energy and a dipole-dependent radiation field. These fields are shown in figure 2 and the low trapping intensities are detailed in figures 4 and 5. The main problems with plasmonic tweezers are that the LSP's generate a considerable amount of heat and the trapping is only two dimensional. This heat generates convective flows and thermophoresis which can be powerful enough to expel submicron particles from the trap.
9,10
The second approach that we will describe is utilizing periodic dielectric nanostructures to scatter incident light very efficiently into diffraction modes, as shown in figure 6.
11
Ideally, one would make this structure out of a dielectric material to avoid the same heating problems experienced with the plasmonic tweezers but in our approach an aluminum-coated diffraction grating is used as a one-dimensional periodic dielectric nanostructure. Although it is not a semiconductor, it did not experience significant heating and effectively trapped small particles with low trapping intensities, as shown in figure 7. Alignment of particles with the grating substrate conceptually validates the proposition that a 2-D photonic crystal could allow precise rotation of non-spherical micron sized particles.
10
The efficiencies of these optical traps are increased due to the enhanced fields produced by the nanostructures described in this paper.
Bioengineering, Issue 55, Surface plasmon, optical trapping, optical tweezers, plasmonic trapping, cell manipulation, optical manipulation
3390
Analyzing the Movement of the Nauplius 'Artemia salina' by Optical Tracking of Plasmonic Nanoparticles
Institutions: Ludwig-Maximilians-Universität.

We demonstrate how optical tweezers may provide a sensitive tool to analyze the fluidic vibrations generated by the movement of small aquatic organisms. A single gold nanoparticle held by an optical tweezer is used as a sensor to quantify the rhythmic motion of a Nauplius larva (
Artemia salina
) in a water sample. This is achieved by monitoring the time dependent displacement of the trapped nanoparticle as a consequence of the Nauplius activity. A Fourier analysis of the nanoparticle's position then yields a frequency spectrum that is characteristic to the motion of the observed species. This experiment demonstrates the capability of this method to measure and characterize the activity of small aquatic larvae without the requirement to observe them directly and to gain information about the position of the larvae with respect to the trapped particle. Overall, this approach could give an insight on the vitality of certain species found in an aquatic ecosystem and could expand the range of conventional methods for analyzing water samples.
Biophysics, Issue 89, optical tweezers, particle tracking, plasmonic nanoparticles, Nauplius, bioindicator, water sample analysis
51502
Design, Fabrication, and Experimental Characterization of Plasmonic Photoconductive Terahertz Emitters
Institutions: University of Michigan .

In this video article we present a detailed demonstration of a highly efficient method for generating terahertz waves. Our technique is based on photoconduction, which has been one of the most commonly used techniques for terahertz generation
1-8
. Terahertz generation in a photoconductive emitter is achieved by pumping an ultrafast photoconductor with a pulsed or heterodyned laser illumination. The induced photocurrent, which follows the envelope of the pump laser, is routed to a terahertz radiating antenna connected to the photoconductor contact electrodes to generate terahertz radiation. Although the quantum efficiency of a photoconductive emitter can theoretically reach 100%, the relatively long transport path lengths of photo-generated carriers to the contact electrodes of conventional photoconductors have severely limited their quantum efficiency. Additionally, the carrier screening effect and thermal breakdown strictly limit the maximum output power of conventional photoconductive terahertz sources. To address the quantum efficiency limitations of conventional photoconductive terahertz emitters, we have developed a new photoconductive emitter concept which incorporates a plasmonic contact electrode configuration to offer high quantum-efficiency and ultrafast operation simultaneously. By using nano-scale plasmonic contact electrodes, we significantly reduce the average photo-generated carrier transport path to photoconductor contact electrodes compared to conventional photoconductors
9
. Our method also allows increasing photoconductor active area without a considerable increase in the capacitive loading to the antenna, boosting the maximum terahertz radiation power by preventing the carrier screening effect and thermal breakdown at high optical pump powers. By incorporating plasmonic contact electrodes, we demonstrate enhancing the optical-to-terahertz power conversion efficiency of a conventional photoconductive terahertz emitter by a factor of 50
10
.
Physics, Issue 77, Electrical Engineering, Computer Science, Materials Science, Electronics and Electrical Engineering, Instrumentation and Photography, Lasers and Masers, Optics, Solid-State Physics, Terahertz, Plasmonic, Time-Domain Spectroscopy, Photoconductive Emitter, electronics
50517
Synthesis of Immunotargeted Magneto-plasmonic Nanoclusters
Institutions: University of Texas at Austin, University of Texas M.D. Anderson Cancer Center.

Magnetic and plasmonic properties combined in a single nanoparticle provide a synergy that is advantageous in a number of biomedical applications including contrast enhancement in novel magnetomotive imaging modalities, simultaneous capture and detection of circulating tumor cells (CTCs), and multimodal molecular imaging combined with photothermal therapy of cancer cells. These applications have stimulated significant interest in development of protocols for synthesis of magneto-plasmonic nanoparticles with optical absorbance in the near-infrared (NIR) region and a strong magnetic moment. Here, we present a novel protocol for synthesis of such hybrid nanoparticles that is based on an oil-in-water microemulsion method. The unique feature of the protocol described herein is synthesis of magneto-plasmonic nanoparticles of various sizes from primary blocks which also have magneto-plasmonic characteristics. This approach yields nanoparticles with a high density of magnetic and plasmonic functionalities which are uniformly distributed throughout the nanoparticle volume. The hybrid nanoparticles can be easily functionalized by attaching antibodies through the Fc moiety leaving the Fab portion that is responsible for antigen binding available for targeting.
Chemistry, Issue 90, nanoparticles, plasmonic, magnetic, nanocomposites, magnetic trapping, circulating tumor cells, dark-field imaging
52090
Polycrystalline Silicon Thin-film Solar cells with Plasmonic-enhanced Light-trapping
Institutions: University of New South Wales .

One of major approaches to cheaper solar cells is reducing the amount of semiconductor material used for their fabrication and making cells thinner. To compensate for lower light absorption such physically thin devices have to incorporate light-trapping which increases their optical thickness. Light scattering by textured surfaces is a common technique but it cannot be universally applied to all solar cell technologies. Some cells, for example those made of evaporated silicon, are planar as produced and they require an alternative light-trapping means suitable for planar devices. Metal nanoparticles formed on planar silicon cell surface and capable of light scattering due to surface plasmon resonance is an effective approach. The paper presents a fabrication procedure of evaporated polycrystalline silicon solar cells with plasmonic light-trapping and demonstrates how the cell quantum efficiency improves due to presence of metal nanoparticles. To fabricate the cells a film consisting of alternative boron and phosphorous doped silicon layers is deposited on glass substrate by electron beam evaporation. An Initially amorphous film is crystallised and electronic defects are mitigated by annealing and hydrogen passivation. Metal grid contacts are applied to the layers of opposite polarity to extract electricity generated by the cell. Typically, such a ~2 μm thick cell has a short-circuit current density (
Jsc
) of 14-16 mA/cm
2
, which can be increased up to 17-18 mA/cm
2
(~25% higher) after application of a simple diffuse back reflector made of a white paint. To implement plasmonic light-trapping a silver nanoparticle array is formed on the metallised cell silicon surface. A precursor silver film is deposited on the cell by thermal evaporation and annealed at 23°C to form silver nanoparticles. Nanoparticle size and coverage, which affect plasmonic light-scattering, can be tuned for enhanced cell performance by varying the precursor film thickness and its annealing conditions. An optimised nanoparticle array alone results in cell
Jsc
enhancement of about 28%, similar to the effect of the diffuse reflector. The photocurrent can be further increased by coating the nanoparticles by a low refractive index dielectric, like MgF
2
, and applying the diffused reflector. The complete plasmonic cell structure comprises the polycrystalline silicon film, a silver nanoparticle array, a layer of MgF
2
, and a diffuse reflector. The
Jsc
for such cell is 21-23 mA/cm
2
, up to 45% higher than
Jsc
of the original cell without light-trapping or ~25% higher than
Jsc
for the cell with the diffuse reflector only. Introduction Light-trapping in silicon solar cells is commonly achieved via light scattering at textured interfaces. Scattered light travels through a cell at oblique angles for a longer distance and when such angles exceed the critical angle at the cell interfaces the light is permanently trapped in the cell by total internal reflection
(Animation 1: Light-trapping)
. Although this scheme works well for most solar cells, there are developing technologies where ultra-thin Si layers are produced planar (e.g. layer-transfer technologies and epitaxial c-Si layers)
1
and or when such layers are not compatible with textures substrates (e.g. evaporated silicon)
2
. For such originally planar Si layer alternative light trapping approaches, such as diffuse white paint reflector
3
, silicon plasma texturing
4
or high refractive index nanoparticle reflector
5
have been suggested. Metal nanoparticles can effectively scatter incident light into a higher refractive index material, like silicon, due to the surface plasmon resonance effect
6
. They also can be easily formed on the planar silicon cell surface thus offering a light-trapping approach alternative to texturing. For a nanoparticle located at the air-silicon interface the scattered light fraction coupled into silicon exceeds 95% and a large faction of that light is scattered at angles above critical providing nearly ideal light-trapping condition
(Animation 2: Plasmons on NP)
. The resonance can be tuned to the wavelength region, which is most important for a particular cell material and design, by varying the nanoparticle average size, surface coverage and local dielectric environment
6,7
. Theoretical design principles of plasmonic nanoparticle solar cells have been suggested
8
. In practice, Ag nanoparticle array is an ideal light-trapping partner for poly-Si thin-film solar cells because most of these design principle are naturally met. The simplest way of forming nanoparticles by thermal annealing of a thin precursor Ag film results in a random array with a relatively wide size and shape distribution, which is particularly suitable for light-trapping because such an array has a wide resonance peak, covering the wavelength range of 700-900 nm, important for poly-Si solar cell performance. The nanoparticle array can only be located on the rear poly-Si cell surface thus avoiding destructive interference between incident and scattered light which occurs for front-located nanoparticles
9
. Moreover, poly-Si thin-film cells do not requires a passivating layer and the flat base-shaped nanoparticles (that naturally result from thermal annealing of a metal film) can be directly placed on silicon further increases plasmonic scattering efficiency due to surface plasmon-polariton resonance
10
. The cell with the plasmonic nanoparticle array as described above can have a photocurrent about 28% higher than the original cell. However, the array still transmits a significant amount of light which escapes through the rear of the cell and does not contribute into the current. This loss can be mitigated by adding a rear reflector to allow catching transmitted light and re-directing it back to the cell. Providing sufficient distance between the reflector and the nanoparticles (a few hundred nanometers) the reflected light will then experience one more plasmonic scattering event while passing through the nanoparticle array on re-entering the cell and the reflector itself can be made diffuse - both effects further facilitating light scattering and hence light-trapping. Importantly, the Ag nanoparticles have to be encapsulated with an inert and low refractive index dielectric, like MgF
2
or SiO
2
, from the rear reflector to avoid mechanical and chemical damage
7
. Low refractive index for this cladding layer is required to maintain a high coupling fraction into silicon and larger scattering angles, which are ensured by the high optical contrast between the media on both sides of the nanoparticle, silicon and dielectric
6
. The photocurrent of the plasmonic cell with the diffuse rear reflector can be up to 45% higher than the current of the original cell or up to 25% higher than the current of an equivalent cell with the diffuse reflector only.
Physics, Issue 65, Materials Science, Photovoltaics, Silicon thin-film solar cells, light-trapping, metal nanoparticles, surface plasmons
4092
Cellular Lipid Extraction for Targeted Stable Isotope Dilution Liquid Chromatography-Mass Spectrometry Analysis
Institutions: University of Pennsylvania , University of Pennsylvania .

The metabolism of fatty acids, such as arachidonic acid (AA) and linoleic acid (LA), results in the formation of oxidized bioactive lipids, including numerous stereoisomers
1,2
. These metabolites can be formed from free or esterified fatty acids. Many of these oxidized metabolites have biological activity and have been implicated in various diseases including cardiovascular and neurodegenerative diseases, asthma, and cancer
3-7
. Oxidized bioactive lipids can be formed enzymatically or by reactive oxygen species (ROS). Enzymes that metabolize fatty acids include cyclooxygenase (COX), lipoxygenase (LO), and cytochromes P450 (CYPs)
1,8
. Enzymatic metabolism results in enantioselective formation whereas ROS oxidation results in the racemic formation of products. While this protocol focuses primarily on the analysis of AA- and some LA-derived bioactive metabolites; it could be easily applied to metabolites of other fatty acids. Bioactive lipids are extracted from cell lysate or media using liquid-liquid (l-l) extraction. At the beginning of the l-l extraction process, stable isotope internal standards are added to account for errors during sample preparation. Stable isotope dilution (SID) also accounts for any differences, such as ion suppression, that metabolites may experience during the mass spectrometry (MS) analysis
9
. After the extraction, derivatization with an electron capture (EC) reagent, pentafluorylbenzyl bromide (PFB) is employed to increase detection sensitivity
10,11
. Multiple reaction monitoring (MRM) is used to increase the selectivity of the MS analysis. Before MS analysis, lipids are separated using chiral normal phase high performance liquid chromatography (HPLC). The HPLC conditions are optimized to separate the enantiomers and various stereoisomers of the monitored lipids
12
. This specific LC-MS method monitors prostaglandins (PGs), isoprostanes (isoPs), hydroxyeicosatetraenoic acids (HETEs), hydroxyoctadecadienoic acids (HODEs), oxoeicosatetraenoic acids (oxoETEs) and oxooctadecadienoic acids (oxoODEs); however, the HPLC and MS parameters can be optimized to include any fatty acid metabolites
13
. Most of the currently available bioanalytical methods do not take into account the separate quantification of enantiomers. This is extremely important when trying to deduce whether or not the metabolites were formed enzymatically or by ROS. Additionally, the ratios of the enantiomers may provide evidence for a specific enzymatic pathway of formation. The use of SID allows for accurate quantification of metabolites and accounts for any sample loss during preparation as well as the differences experienced during ionization. Using the PFB electron capture reagent increases the sensitivity of detection by two orders of magnitude over conventional APCI methods. Overall, this method, SID-LC-EC-atmospheric pressure chemical ionization APCI-MRM/MS, is one of the most sensitive, selective, and accurate methods of quantification for bioactive lipids.
Bioengineering, Issue 57, lipids, extraction, stable isotope dilution, chiral chromatography, electron capture, mass spectrometry
3399
Activating Molecules, Ions, and Solid Particles with Acoustic Cavitation
Institutions: UMR 5257 CEA-CNRS-UM2-ENSCM.

The chemical and physical effects of ultrasound arise not from a direct interaction of molecules with sound waves, but rather from the acoustic cavitation: the nucleation, growth, and implosive collapse of microbubbles in liquids submitted to power ultrasound. The violent implosion of bubbles leads to the formation of chemically reactive species and to the emission of light, named sonoluminescence. In this manuscript, we describe the techniques allowing study of extreme intrabubble conditions and chemical reactivity of acoustic cavitation in solutions. The analysis of sonoluminescence spectra of water sparged with noble gases provides evidence for nonequilibrium plasma formation. The photons and the "hot" particles generated by cavitation bubbles enable to excite the non-volatile species in solutions increasing their chemical reactivity. For example the mechanism of ultrabright sonoluminescence of uranyl ions in acidic solutions varies with uranium concentration: sonophotoluminescence dominates in diluted solutions, and collisional excitation contributes at higher uranium concentration. Secondary sonochemical products may arise from chemically active species that are formed inside the bubble, but then diffuse into the liquid phase and react with solution precursors to form a variety of products. For instance, the sonochemical reduction of Pt(IV) in pure water provides an innovative synthetic route for monodispersed nanoparticles of metallic platinum without any templates or capping agents. Many studies reveal the advantages of ultrasound to activate the divided solids. In general, the mechanical effects of ultrasound strongly contribute in heterogeneous systems in addition to chemical effects. In particular, the sonolysis of PuO
2
powder in pure water yields stable colloids of plutonium due to both effects.
Chemistry, Issue 86, Sonochemistry, sonoluminescence, ultrasound, cavitation, nanoparticles, actinides, colloids, nanocolloids
51237
Confocal Imaging of Confined Quiescent and Flowing Colloid-polymer Mixtures
Institutions: University of Houston.

The behavior of confined colloidal suspensions with attractive interparticle interactions is critical to the rational design of materials for directed assembly
1-3
, drug delivery
4
, improved hydrocarbon recovery
5-7
, and flowable electrodes for energy storage
8
. Suspensions containing fluorescent colloids and non-adsorbing polymers are appealing model systems, as the ratio of the polymer radius of gyration to the particle radius and concentration of polymer control the range and strength of the interparticle attraction, respectively. By tuning the polymer properties and the volume fraction of the colloids, colloid fluids, fluids of clusters, gels, crystals, and glasses can be obtained
9
. Confocal microscopy, a variant of fluorescence microscopy, allows an optically transparent and fluorescent sample to be imaged with high spatial and temporal resolution in three dimensions. In this technique, a small pinhole or slit blocks the emitted fluorescent light from regions of the sample that are outside the focal volume of the microscope optical system. As a result, only a thin section of the sample in the focal plane is imaged. This technique is particularly well suited to probe the structure and dynamics in dense colloidal suspensions at the single-particle scale: the particles are large enough to be resolved using visible light and diffuse slowly enough to be captured at typical scan speeds of commercial confocal systems
10
. Improvements in scan speeds and analysis algorithms have also enabled quantitative confocal imaging of flowing suspensions
11-16,37
. In this paper, we demonstrate confocal microscopy experiments to probe the confined phase behavior and flow properties of colloid-polymer mixtures. We first prepare colloid-polymer mixtures that are density- and refractive-index matched. Next, we report a standard protocol for imaging quiescent dense colloid-polymer mixtures under varying confinement in thin wedge-shaped cells. Finally, we demonstrate a protocol for imaging colloid-polymer mixtures during microchannel flow.
Chemistry, Issue 87, confocal microscopy, particle tracking, colloids, suspensions, confinement, gelation, microfluidics, image correlation, dynamics, suspension flow
51461
A Technique to Functionalize and Self-assemble Macroscopic Nanoparticle-ligand Monolayer Films onto Template-free Substrates
Institutions: Naval Research Laboratory.
This protocol describes a self-assembly technique to create macroscopic monolayer films composed of ligand-coated nanoparticles
1
,
2
. The simple, robust and scalable technique efficiently functionalizes metallic nanoparticles with thiol-ligands in a miscible water/organic solvent mixture allowing for rapid grafting of thiol groups onto the gold nanoparticle surface. The hydrophobic ligands on the nanoparticles then quickly phase separate the nanoparticles from the aqueous based suspension and confine them to the air-fluid interface. This drives the ligand-capped nanoparticles to form monolayer domains at the air-fluid interface.  The use of water-miscible organic solvents is important as it enables the transport of the nanoparticles from the interface onto template-free substrates.  The flow is mediated by a surface tension gradient
3
,
4
and creates macroscopic, high-density, monolayer nanoparticle-ligand films.  This self-assembly technique may be generalized to include the use of particles of different compositions, size, and shape and may lead to an efficient assembly method to produce low-cost, macroscopic, high-density, monolayer nanoparticle films for wide-spread applications.
Chemistry, Issue 87, phase transfer, nanoparticle, self-assembly, bottom-up, fabrication, low-cost, monolayer, thin film, nanostructure, array, metamaterial
51282
Protein WISDOM: A Workbench for In silico De novo Design of BioMolecules
Institutions: Princeton University.

The aim of
de novo
protein design is to find the amino acid sequences that will fold into a desired 3-dimensional structure with improvements in specific properties, such as binding affinity, agonist or antagonist behavior, or stability, relative to the native sequence. Protein design lies at the center of current advances drug design and discovery. Not only does protein design provide predictions for potentially useful drug targets, but it also enhances our understanding of the protein folding process and protein-protein interactions. Experimental methods such as directed evolution have shown success in protein design. However, such methods are restricted by the limited sequence space that can be searched tractably. In contrast, computational design strategies allow for the screening of a much larger set of sequences covering a wide variety of properties and functionality. We have developed a range of computational
de novo
protein design methods capable of tackling several important areas of protein design. These include the design of monomeric proteins for increased stability and complexes for increased binding affinity. To disseminate these methods for broader use we present Protein WISDOM (https://www.proteinwisdom.org), a tool that provides automated methods for a variety of protein design problems. Structural templates are submitted to initialize the design process. The first stage of design is an optimization sequence selection stage that aims at improving stability through minimization of potential energy in the sequence space. Selected sequences are then run through a fold specificity stage and a binding affinity stage. A rank-ordered list of the sequences for each step of the process, along with relevant designed structures, provides the user with a comprehensive quantitative assessment of the design. Here we provide the details of each design method, as well as several notable experimental successes attained through the use of the methods.
Genetics, Issue 77, Molecular Biology, Bioengineering, Biochemistry, Biomedical Engineering, Chemical Engineering, Computational Biology, Genomics, Proteomics, Protein, Protein Binding, Computational Biology, Drug Design, optimization (mathematics), Amino Acids, Peptides, and Proteins, De novo protein and peptide design, Drug design, In silico sequence selection, Optimization, Fold specificity, Binding affinity, sequencing
50476
Using Microwave and Macroscopic Samples of Dielectric Solids to Study the Photonic Properties of Disordered Photonic Bandgap Materials
Institutions: San Francisco State University.

Recently, disordered photonic materials have been suggested as an alternative to periodic crystals for the formation of a complete photonic bandgap (PBG). In this article we will describe the methods for constructing and characterizing macroscopic disordered photonic structures using microwaves. The microwave regime offers the most convenient experimental sample size to build and test PBG media. Easily manipulated dielectric lattice components extend flexibility in building various 2D structures on top of pre-printed plastic templates. Once built, the structures could be quickly modified with point and line defects to make freeform waveguides and filters. Testing is done using a widely available Vector Network Analyzer and pairs of microwave horn antennas. Due to the scale invariance property of electromagnetic fields, the results we obtained in the microwave region can be directly applied to infrared and optical regions. Our approach is simple but delivers exciting new insight into the nature of light and disordered matter interaction. Our representative results include the first experimental demonstration of the existence of a complete and isotropic PBG in a two-dimensional (2D) hyperuniform disordered dielectric structure. Additionally we demonstrate experimentally the ability of this novel photonic structure to guide electromagnetic waves (EM) through freeform waveguides of arbitrary shape.
Physics, Issue 91, optics and photonics, photonic crystals, photonic bandgap, hyperuniform, disordered media, waveguides
51614
Designing a Bio-responsive Robot from DNA Origami
Institutions: Bar-Ilan University.

Nucleic acids are astonishingly versatile. In addition to their natural role as storage medium for biological information
1
, they can be utilized in parallel computing
2,3
, recognize and bind molecular or cellular targets
4,5
, catalyze chemical reactions
6,7
, and generate calculated responses in a biological system
8,9
. Importantly, nucleic acids can be programmed to self-assemble into 2D and 3D structures
10-12
, enabling the integration of all these remarkable features in a single robot linking the sensing of biological cues to a preset response in order to exert a desired effect. Creating shapes from nucleic acids was first proposed by Seeman
13
, and several variations on this theme have since been realized using various techniques
11,12,14,15
. However, the most significant is perhaps the one proposed by Rothemund, termed scaffolded DNA origami
16
. In this technique, the folding of a long (>7,000 bases) single-stranded DNA '
scaffold'
is directed to a desired shape by hundreds of short complementary strands termed '
staples'
. Folding is carried out by temperature annealing ramp. This technique was successfully demonstrated in the creation of a diverse array of 2D shapes with remarkable precision and robustness. DNA origami was later extended to 3D as well
17,18
. The current paper will focus on the caDNAno 2.0 software
19
developed by Douglas and colleagues. caDNAno is a robust, user-friendly CAD tool enabling the design of 2D and 3D DNA origami shapes with versatile features. The design process relies on a systematic and accurate abstraction scheme for DNA structures, making it relatively straightforward and efficient. In this paper we demonstrate the design of a DNA origami nanorobot that has been recently described
20
. This robot is 'robotic' in the sense that it links sensing to actuation, in order to perform a task. We explain how various sensing schemes can be integrated into the structure, and how this can be relayed to a desired effect. Finally we use Cando
21
to simulate the mechanical properties of the designed shape. The concept we discuss can be adapted to multiple tasks and settings.
Bioengineering, Issue 77, Genetics, Biomedical Engineering, Molecular Biology, Medicine, Genomics, Nanotechnology, Nanomedicine, DNA origami, nanorobot, caDNAno, DNA, DNA Origami, nucleic acids, DNA structures, CAD, sequencing
50268
Harvesting Solar Energy by Means of Charge-Separating Nanocrystals and Their Solids
Institutions: Bowling Green State University, Bowling Green State University, Bowling Green State University.

Conjoining different semiconductor materials in a single nano-composite provides synthetic means for the development of novel optoelectronic materials offering a superior control over the spatial distribution of charge carriers across material interfaces. As this study demonstrates, a combination of donor-acceptor nanocrystal (NC) domains in a single nanoparticle can lead to the realization of efficient photocatalytic
1-5
materials, while a layered assembly of donor- and acceptor-like nanocrystals films gives rise to photovoltaic materials. Initially the paper focuses on the synthesis of composite inorganic nanocrystals, comprising linearly stacked ZnSe, CdS, and Pt domains, which jointly promote photoinduced charge separation. These structures are used in aqueous solutions for the photocatalysis of water under solar radiation, resulting in the production of H
2
gas. To enhance the photoinduced separation of charges, a nanorod morphology with a linear gradient originating from an intrinsic electric field is used
5
. The inter-domain energetics are then optimized to drive photogenerated electrons toward the Pt catalytic site while expelling the holes to the surface of ZnSe domains for sacrificial regeneration (via methanol). Here we show that the only efficient way to produce hydrogen is to use electron-donating ligands to passivate the surface states by tuning the energy level alignment at the semiconductor-ligand interface. Stable and efficient reduction of water is allowed by these ligands due to the fact that they fill vacancies in the valence band of the semiconductor domain, preventing energetic holes from degrading it. Specifically, we show that the energy of the hole is transferred to the ligand moiety, leaving the semiconductor domain functional. This enables us to return the entire nanocrystal-ligand system to a functional state, when the ligands are degraded, by simply adding fresh ligands to the system
4
. To promote a photovoltaic charge separation, we use a composite two-layer solid of PbS and TiO
2
films. In this configuration, photoinduced electrons are injected into TiO
2
and are subsequently picked up by an FTO electrode, while holes are channeled to a Au electrode via PbS layer
6
. To develop the latter we introduce a
Semiconductor Matrix Encapsulated Nanocrystal Arrays
(SMENA) strategy, which allows bonding PbS NCs into the surrounding matrix of CdS semiconductor. As a result, fabricated solids exhibit excellent thermal stability, attributed to the heteroepitaxial structure of nanocrystal-matrix interfaces, and show compelling light-harvesting performance in prototype solar cells
7
.
Physics, Issue 66, Materials Science, Chemical Engineering, Chemistry, Electrical Engineering, Photovoltaics, nanorods, dye-sensitized, solids, titanium dioxide, photocatalysis, quantum dots
4296
Simulation, Fabrication and Characterization of THz Metamaterial Absorbers
Institutions: University of Glasgow.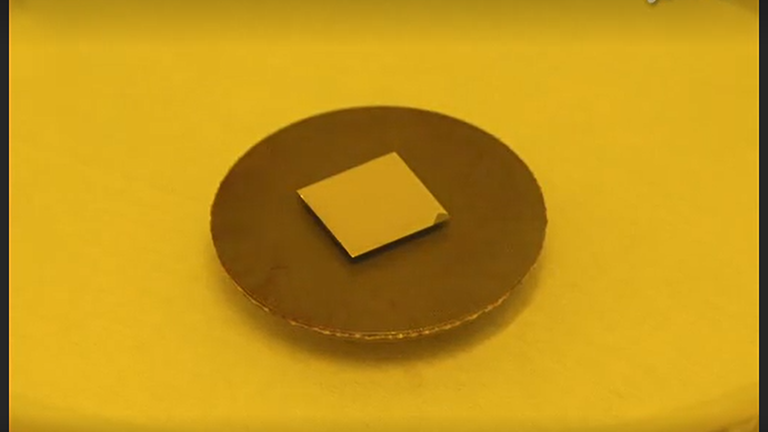 Metamaterials (MM), artificial materials engineered to have properties that may not be found in nature, have been widely explored since the first theoretical
1
and experimental demonstration
2
of their unique properties. MMs can provide a highly controllable electromagnetic response, and to date have been demonstrated in every technologically relevant spectral range including the optical
3
, near IR
4
, mid IR
5
, THz
6
, mm-wave
7
, microwave
8
and radio
9
bands. Applications include perfect lenses
10
, sensors
11
, telecommunications
12
, invisibility cloaks
13
and filters
14,15
. We have recently developed single band
16
, dual band
17
and broadband
18
THz metamaterial absorber devices capable of greater than 80% absorption at the resonance peak. The concept of a MM absorber is especially important at THz frequencies where it is difficult to find strong frequency selective THz absorbers
19
. In our MM absorber the THz radiation is absorbed in a thickness of ~ λ/20, overcoming the thickness limitation of traditional quarter wavelength absorbers. MM absorbers naturally lend themselves to THz detection applications, such as thermal sensors, and if integrated with suitable THz sources (
e.g.
QCLs), could lead to compact, highly sensitive, low cost, real time THz imaging systems.
Materials Science, Issue 70, Physics, Engineering, Metamaterial, terahertz, sensing, fabrication, clean room, simulation, FTIR, spectroscopy
50114
Controlling the Size, Shape and Stability of Supramolecular Polymers in Water
Institutions: Westfälische Wilhelms-Universität Münster, Eindhoven University of Technology, Eindhoven University of Technology.

For aqueous based supramolecular polymers, the simultaneous control over shape, size and stability is very difficult
1
. At the same time, the ability to do so is highly important in view of a number of applications in functional soft matter including electronics, biomedical engineering, and sensors. In the past, successful strategies to control the size and shape of supramolecular polymers typically focused on the use of templates
2,3
, end cappers
4
or selective solvent techniques
5
. Here we disclose a strategy based on self-assembling discotic amphiphiles that leads to the control over stack length and shape of ordered, chiral columnar aggregates. By balancing electrostatic repulsive interactions on the hydrophilic rim and attractive non-covalent forces within the hydrophobic core of the polymerizing building block, we manage to create small and discrete spherical objects
6,7
. Increasing the salt concentration to screen the charges induces a sphere-to-rod transition. Intriguingly, this transition is expressed in an increase of cooperativity in the temperature-dependent self-assembly mechanism, and more stable aggregates are obtained. For our study we select a benzene-1,3,5-tricarboxamide (BTA) core connected to a hydrophilic metal chelate via a hydrophobic, fluorinated L-phenylalanine based spacer (
Scheme 1
). The metal chelate selected is a Gd(III)-DTPA complex that contains two overall remaining charges per complex and necessarily two counter ions. The one-dimensional growth of the aggregate is directed by π-π stacking and intermolecular hydrogen bonding. However, the electrostatic, repulsive forces that arise from the charges on the Gd(III)-DTPA complex start limiting the one-dimensional growth of the BTA-based discotic once a certain size is reached. At millimolar concentrations the formed aggregate has a spherical shape and a diameter of around 5 nm as inferred from
1
H-NMR spectroscopy, small angle X-ray scattering, and cryogenic transmission electron microscopy (cryo-TEM). The strength of the electrostatic repulsive interactions between molecules can be reduced by increasing the salt concentration of the buffered solutions. This screening of the charges induces a transition from spherical aggregates into elongated rods with a length > 25 nm. Cryo-TEM allows to visualise the changes in shape and size. In addition, CD spectroscopy permits to derive the mechanistic details of the self-assembly processes before and after the addition of salt. Importantly, the cooperativity -a key feature that dictates the physical properties of the produced supramolecular polymers- increases dramatically upon screening the electrostatic interactions. This increase in cooperativity results in a significant increase in the molecular weight of the formed supramolecular polymers in water.
Chemical Engineering, Issue 66, Chemistry, Physics, Self-assembly, cryogenic transmission electron microscopy, circular dichroism, controlled architecture, discotic amphiphile
3975
Seeded Synthesis of CdSe/CdS Rod and Tetrapod Nanocrystals
Institutions: UC Berkeley, UC Berkeley, UC Berkeley, Lawrence Berkeley National Laboratory, University of Chicago, Argonne National Laboratory.

We demonstrate a method for the synthesis of multicomponent nanostructures consisting of CdS and CdSe with rod and tetrapod morphologies. A seeded synthesis strategy is used in which spherical seeds of CdSe are prepared first using a hot-injection technique. By controlling the crystal structure of the seed to be either wurtzite or zinc-blende, the subsequent hot-injection growth of CdS off of the seed results in either a rod-shaped or tetrapod-shaped nanocrystal, respectively. The phase and morphology of the synthesized nanocrystals are confirmed using X-ray diffraction and transmission electron microscopy, demonstrating that the nanocrystals are phase-pure and have a consistent morphology. The extinction coefficient and quantum yield of the synthesized nanocrystals are calculated using UV-Vis absorption spectroscopy and photoluminescence spectroscopy. The rods and tetrapods exhibit extinction coefficients and quantum yields that are higher than that of the bare seeds. This synthesis demonstrates the precise arrangement of materials that can be achieved at the nanoscale by using a seeded synthetic approach.
Chemistry, Issue 82, nanostructures, synthesis, nanocrystals, seeded rods, tetrapods, nanoheterostructures
50731
Evaluating Plasmonic Transport in Current-carrying Silver Nanowires
Institutions: Université de Bourgogne, University of Science and Technology of China, CEMES, CNRS-UPR 8011.

Plasmonics is an emerging technology capable of simultaneously transporting a plasmonic signal and an electronic signal on the same information support
1,2,3
. In this context, metal nanowires are especially desirable for realizing dense routing networks
4
. A prerequisite to operate such shared nanowire-based platform relies on our ability to electrically contact individual metal nanowires and efficiently excite surface plasmon polaritons
5
in this information support. In this article, we describe a protocol to bring electrical terminals to chemically-synthesized silver nanowires
6
randomly distributed on a glass substrate
7
. The positions of the nanowire ends with respect to predefined landmarks are precisely located using standard optical transmission microscopy before encapsulation in an electron-sensitive resist. Trenches representing the electrode layout are subsequently designed by electron-beam lithography. Metal electrodes are then fabricated by thermally evaporating a Cr/Au layer followed by a chemical lift-off. The contacted silver nanowires are finally transferred to a leakage radiation microscope for surface plasmon excitation and characterization
8,9
. Surface plasmons are launched in the nanowires by focusing a near infrared laser beam on a diffraction-limited spot overlapping one nanowire extremity
5,9
. For sufficiently large nanowires, the surface plasmon mode leaks into the glass substrate
9,10
. This leakage radiation is readily detected, imaged, and analyzed in the different conjugate planes in leakage radiation microscopy
9,11
. The electrical terminals do not affect the plasmon propagation. However, a current-induced morphological deterioration of the nanowire drastically degrades the flow of surface plasmons. The combination of surface plasmon leakage radiation microscopy with a simultaneous analysis of the nanowire electrical transport characteristics reveals the intrinsic limitations of such plasmonic circuitry.
Physics, Issue 82, light transmission, optical waveguides, photonics, plasma oscillations, plasma waves, electron motion in conductors, nanofabrication, Information Transport, plasmonics, Silver Nanowires, Leakage radiation microscopy, Electromigration
51048
Gold Nanostar Synthesis with a Silver Seed Mediated Growth Method
Institutions: The University of Texas at San Antonio, Centro de Investigaciones en Optica A. C., The University of Texas at San Antonio.
The physical, chemical and optical properties of nano-scale colloids depend on their material composition, size and shape
1-5
. There is a great interest in using nano-colloids for photo-thermal ablation, drug delivery and many other biomedical applications
6
. Gold is particularly used because of its low toxicity
7-9
. A property of metal nano-colloids is that they can have a strong surface plasmon resonance
10
. The peak of the surface plasmon resonance mode depends on the structure and composition of the metal nano-colloids. Since the surface plasmon resonance mode is stimulated with light there is a need to have the peak absorbance in the near infrared where biological tissue transmissivity is maximal
11, 12
. We present a method to synthesize star shaped colloidal gold, also known as star shaped nanoparticles
13-15
or nanostars
16
. This method is based on a solution containing silver seeds that are used as the nucleating agent for anisotropic growth of gold colloids
17-22
. Scanning electron microscopy (SEM) analysis of the resulting gold colloid showed that 70 % of the nanostructures were nanostars. The other 30 % of the particles were amorphous clusters of decahedra and rhomboids. The absorbance peak of the nanostars was detected to be in the near infrared (840 nm). Thus, our method produces gold nanostars suitable for biomedical applications, particularly for photo-thermal ablation.
Bioengineering, Issue 59, thermal ablation, surface plasmon resonance, nanoparticle, nanotechnology, silver seeds
3570
In Situ SIMS and IR Spectroscopy of Well-defined Surfaces Prepared by Soft Landing of Mass-selected Ions
Institutions: Pacific Northwest National Laboratory.

Soft landing of mass-selected ions onto surfaces is a powerful approach for the highly-controlled preparation of materials that are inaccessible using conventional synthesis techniques. Coupling soft landing with
in situ
characterization using secondary ion mass spectrometry (SIMS) and infrared reflection absorption spectroscopy (IRRAS) enables analysis of well-defined surfaces under clean vacuum conditions. The capabilities of three soft-landing instruments constructed in our laboratory are illustrated for the representative system of surface-bound organometallics prepared by soft landing of mass-selected ruthenium tris(bipyridine) dications, [Ru(bpy)
3
]
2+
(bpy = bipyridine), onto carboxylic acid terminated self-assembled monolayer surfaces on gold (COOH-SAMs).
In situ
time-of-flight (TOF)-SIMS provides insight into the reactivity of the soft-landed ions. In addition, the kinetics of charge reduction, neutralization and desorption occurring on the COOH-SAM both during and after ion soft landing are studied using
in situ
Fourier transform ion cyclotron resonance (FT-ICR)-SIMS measurements.
In situ
IRRAS experiments provide insight into how the structure of organic ligands surrounding metal centers is perturbed through immobilization of organometallic ions on COOH-SAM surfaces by soft landing. Collectively, the three instruments provide complementary information about the chemical composition, reactivity and structure of well-defined species supported on surfaces.
Chemistry, Issue 88, soft landing, mass selected ions, electrospray, secondary ion mass spectrometry, infrared spectroscopy, organometallic, catalysis
51344
Quantitative and Qualitative Examination of Particle-particle Interactions Using Colloidal Probe Nanoscopy
Institutions: University of Sydney, Dankook University.
Colloidal Probe Nanoscopy (CPN), the study of the nano-scale interactive forces between a specifically prepared colloidal probe and any chosen substrate using the Atomic Force Microscope (AFM), can provide key insights into physical interactions present within colloidal systems. Colloidal systems are widely existent in several applications including, pharmaceuticals, foods, paints, paper, soil and minerals, detergents, printing and much more.
1-3
Furthermore, colloids can exist in many states such as emulsions, foams and suspensions. Using colloidal probe nanoscopy one can obtain key information on the adhesive properties, binding energies and even gain insight into the physical stability and coagulation kinetics of the colloids present within. Additionally, colloidal probe nanoscopy can be used with biological cells to aid in drug discovery and formulation development. In this paper we describe a method for conducting colloidal probe nanoscopy, discuss key factors that are important to consider during the measurement, and show that both quantitative and qualitative data that can be obtained from such measurements.
Chemistry, Issue 89, Colloidal Probe, Nanoscopy, Suspension Stability, Adhesion Mapping, Force, Particle Interaction, Particle Kinetics
51874