High-resolution Spatiotemporal Analysis of Receptor Dynamics by Single-molecule Fluorescence Microscopy
Published: 07-25-2014
ABSTRACT
Single-molecule microscopy is emerging as a powerful approach to analyze the behavior of signaling molecules, in particular concerning those aspect (e.g., kinetics, coexistence of different states and populations, transient interactions), which are typically hidden in ensemble measurements, such as those obtained with standard biochemical or microscopy methods. Thus, dynamic events, such as receptor-receptor interactions, can be followed in real time in a living cell with high spatiotemporal resolution. This protocol describes a method based on labeling with small and bright organic fluorophores and total internal reflection fluorescence (TIRF) microscopy to directly visualize single receptors on the surface of living cells. This approach allows one to precisely localize receptors, measure the size of receptor complexes, and capture dynamic events such as transient receptor-receptor interactions. The protocol provides a detailed description of how to perform a single-molecule experiment, including sample preparation, image acquisition and image analysis. As an example, the application of this method to analyze two G-protein-coupled receptors, i.e., β2-adrenergic and γ-aminobutyric acid type B (GABAB) receptor, is reported. The protocol can be adapted to other membrane proteins and different cell models, transfection methods and labeling strategies.
25 Related JoVE Articles!
A Microfluidic-based Hydrodynamic Trap for Single Particles
Institutions: University of Illinois at Urbana-Champaign, University of Illinois at Urbana-Champaign.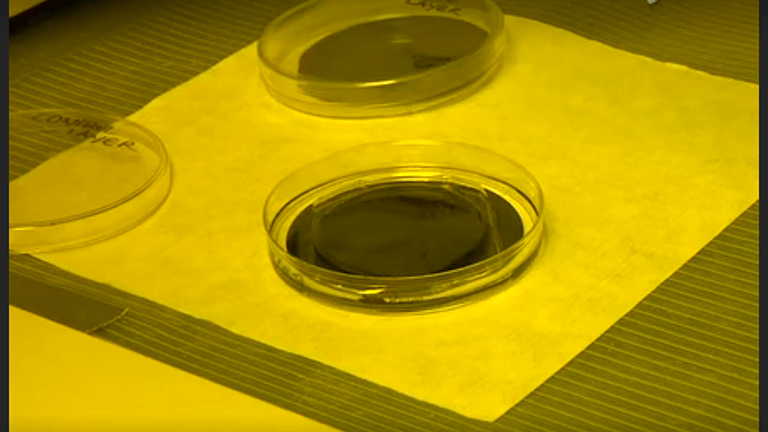 The ability to confine and manipulate single particles in free solution is a key enabling technology for fundamental and applied science. Methods for particle trapping based on optical, magnetic, electrokinetic, and acoustic techniques have led to major advancements in physics and biology ranging from the molecular to cellular level. In this article, we introduce a new microfluidic-based technique for particle trapping and manipulation based solely on hydrodynamic fluid flow. Using this method, we demonstrate trapping of micro- and nano-scale particles in aqueous solutions for long time scales. The hydrodynamic trap consists of an integrated microfluidic device with a cross-slot channel geometry where two opposing laminar streams converge, thereby generating a planar extensional flow with a fluid stagnation point (zero-velocity point). In this device, particles are confined at the trap center by active control of the flow field to maintain particle position at the fluid stagnation point. In this manner, particles are effectively trapped in free solution using a feedback control algorithm implemented with a custom-built LabVIEW code. The control algorithm consists of image acquisition for a particle in the microfluidic device, followed by particle tracking, determination of particle centroid position, and active adjustment of fluid flow by regulating the pressure applied to an on-chip pneumatic valve using a pressure regulator. In this way, the on-chip dynamic metering valve functions to regulate the relative flow rates in the outlet channels, thereby enabling fine-scale control of stagnation point position and particle trapping. The microfluidic-based hydrodynamic trap exhibits several advantages as a method for particle trapping. Hydrodynamic trapping is possible for any arbitrary particle without specific requirements on the physical or chemical properties of the trapped object. In addition, hydrodynamic trapping enables confinement of a "single" target object in concentrated or crowded particle suspensions, which is difficult using alternative force field-based trapping methods. The hydrodynamic trap is user-friendly, straightforward to implement and may be added to existing microfluidic devices to facilitate trapping and long-time analysis of particles. Overall, the hydrodynamic trap is a new platform for confinement, micromanipulation, and observation of particles without surface immobilization and eliminates the need for potentially perturbative optical, magnetic, and electric fields in the free-solution trapping of small particles.
Bioengineering, Issue 47, hydrodynamic, trap, trapping, confinement, micromanipulation, microfluidics, stagnation point flow
2517
Utilization of Plasmonic and Photonic Crystal Nanostructures for Enhanced Micro- and Nanoparticle Manipulation
Institutions: University of Washington, Fred Hutchinson Cancer Research Center , University of Washington, Fred Hutchinson Cancer Research Center , Fred Hutchinson Cancer Research Center .

A method to manipulate the position and orientation of submicron particles nondestructively would be an incredibly useful tool for basic biological research. Perhaps the most widely used physical force to achieve noninvasive manipulation of small particles has been dielectrophoresis(DEP).
1
However, DEP on its own lacks the versatility and precision that are desired when manipulating cells since it is traditionally done with stationary electrodes. Optical tweezers, which utilize a three dimensional electromagnetic field gradient to exert forces on small particles, achieve this desired versatility and precision.
2
However, a major drawback of this approach is the high radiation intensity required to achieve the necessary force to trap a particle which can damage biological samples.
3
A solution that allows trapping and sorting with lower optical intensities are optoelectronic tweezers (OET) but OET's have limitations with fine manipulation of small particles; being DEP-based technology also puts constraint on the property of the solution.
4,5
This video article will describe two methods that decrease the intensity of the radiation needed for optical manipulation of living cells and also describe a method for orientation control. The first method is plasmonic tweezers which use a random gold nanoparticle (AuNP) array as a substrate for the sample as shown in Figure 1. The AuNP array converts the incident photons into localized surface plasmons (LSP) which consist of resonant dipole moments that radiate and generate a patterned radiation field with a large gradient in the cell solution. Initial work on surface plasmon enhanced trapping by Righini et al and our own modeling have shown the fields generated by the plasmonic substrate reduce the initial intensity required by enhancing the gradient field that traps the particle.
6,7,8
The plasmonic approach allows for fine orientation control of ellipsoidal particles and cells with low optical intensities because of more efficient optical energy conversion into mechanical energy and a dipole-dependent radiation field. These fields are shown in figure 2 and the low trapping intensities are detailed in figures 4 and 5. The main problems with plasmonic tweezers are that the LSP's generate a considerable amount of heat and the trapping is only two dimensional. This heat generates convective flows and thermophoresis which can be powerful enough to expel submicron particles from the trap.
9,10
The second approach that we will describe is utilizing periodic dielectric nanostructures to scatter incident light very efficiently into diffraction modes, as shown in figure 6.
11
Ideally, one would make this structure out of a dielectric material to avoid the same heating problems experienced with the plasmonic tweezers but in our approach an aluminum-coated diffraction grating is used as a one-dimensional periodic dielectric nanostructure. Although it is not a semiconductor, it did not experience significant heating and effectively trapped small particles with low trapping intensities, as shown in figure 7. Alignment of particles with the grating substrate conceptually validates the proposition that a 2-D photonic crystal could allow precise rotation of non-spherical micron sized particles.
10
The efficiencies of these optical traps are increased due to the enhanced fields produced by the nanostructures described in this paper.
Bioengineering, Issue 55, Surface plasmon, optical trapping, optical tweezers, plasmonic trapping, cell manipulation, optical manipulation
3390
Fabrication and Characterization of Disordered Polymer Optical Fibers for Transverse Anderson Localization of Light
Institutions: University of Wisconsin-Milwaukee, Corning Incorporated, Corning, New York.

We develop and characterize a disordered polymer optical fiber that uses transverse Anderson localization as a novel waveguiding mechanism. The developed polymer optical fiber is composed of 80,000 strands of poly (methyl methacrylate) (PMMA) and polystyrene (PS) that are randomly mixed and drawn into a square cross section optical fiber with a side width of 250 μm. Initially, each strand is 200 μm in diameter and 8-inches long. During the mixing process of the original fiber strands, the fibers cross over each other; however, a large draw ratio guarantees that the refractive index profile is invariant along the length of the fiber for several tens of centimeters. The large refractive index difference of 0.1 between the disordered sites results in a small localized beam radius that is comparable to the beam radius of conventional optical fibers. The input light is launched from a standard single mode optical fiber using the butt-coupling method and the near-field output beam from the disordered fiber is imaged using a 40X objective and a CCD camera. The output beam diameter agrees well with the expected results from the numerical simulations. The disordered optical fiber presented in this work is the first device-level implementation of 2D Anderson localization, and can potentially be used for image transport and short-haul optical communication systems.
Physics, Issue 77, Chemistry, Optics, Physics (General), Transverse Anderson Localization, Polymer Optical Fibers, Scattering, Random Media, Optical Fiber Materials, electromagnetism, optical fibers, optical materials, optical waveguides, photonics, wave propagation (optics), fiber optics
50679
Quantitative and Qualitative Examination of Particle-particle Interactions Using Colloidal Probe Nanoscopy
Institutions: University of Sydney, Dankook University.
Colloidal Probe Nanoscopy (CPN), the study of the nano-scale interactive forces between a specifically prepared colloidal probe and any chosen substrate using the Atomic Force Microscope (AFM), can provide key insights into physical interactions present within colloidal systems. Colloidal systems are widely existent in several applications including, pharmaceuticals, foods, paints, paper, soil and minerals, detergents, printing and much more.
1-3
Furthermore, colloids can exist in many states such as emulsions, foams and suspensions. Using colloidal probe nanoscopy one can obtain key information on the adhesive properties, binding energies and even gain insight into the physical stability and coagulation kinetics of the colloids present within. Additionally, colloidal probe nanoscopy can be used with biological cells to aid in drug discovery and formulation development. In this paper we describe a method for conducting colloidal probe nanoscopy, discuss key factors that are important to consider during the measurement, and show that both quantitative and qualitative data that can be obtained from such measurements.
Chemistry, Issue 89, Colloidal Probe, Nanoscopy, Suspension Stability, Adhesion Mapping, Force, Particle Interaction, Particle Kinetics
51874
A Quantitative Evaluation of Cell Migration by the Phagokinetic Track Motility Assay
Institutions: Louisiana State University Health Sciences Center, Louisiana State University Health Sciences Center, SUNY Upstate Medical University, Louisiana State University Health Sciences Center.

Cellular motility is an important biological process for both unicellular and multicellular organisms. It is essential for movement of unicellular organisms towards a source of nutrients or away from unsuitable conditions, as well as in multicellular organisms for tissue development, immune surveillance and wound healing, just to mention a few roles
1,2,3
. Deregulation of this process can lead to serious neurological, cardiovascular and immunological diseases, as well as exacerbated tumor formation and spread
4,5
. Molecularly, actin polymerization and receptor recycling have been shown to play important roles in creating cellular extensions (lamellipodia), that drive the forward movement of the cell
6,7,8
. However, many biological questions about cell migration remain unanswered. The central role for cellular motility in human health and disease underlines the importance of understanding the specific mechanisms involved in this process and makes accurate methods for evaluating cell motility particularly important. Microscopes are usually used to visualize the movement of cells. However, cells move rather slowly, making the quantitative measurement of cell migration a resource-consuming process requiring expensive cameras and software to create quantitative time-lapsed movies of motile cells. Therefore, the ability to perform a quantitative measurement of cell migration that is cost-effective, non-laborious, and that utilizes common laboratory equipment is a great need for many researchers. The phagokinetic track motility assay utilizes the ability of a moving cell to clear gold particles from its path to create a measurable track on a colloidal gold-coated glass coverslip
9,10
. With the use of freely available software, multiple tracks can be evaluated for each treatment to accomplish statistical requirements. The assay can be utilized to assess motility of many cell types, such as cancer cells
11,12
, fibroblasts
9
, neutrophils
13
, skeletal muscle cells
14
, keratinocytes
15
, trophoblasts
16
, endothelial cells
17
, and monocytes
10,18-22
. The protocol involves the creation of slides coated with gold nanoparticles (Au°) that are generated by a reduction of chloroauric acid (Au
3+
) by sodium citrate. This method was developed by Turkevich
et al.
in 1951
23
and then improved in the 1970s by Frens
et al.
24,25
. As a result of this chemical reduction step, gold particles (10-20 nm in diameter) precipitate from the reaction mixture and can be applied to glass coverslips, which are then ready for use in cellular migration analyses
9,26,27
. In general, the phagokinetic track motility assay is a quick, quantitative and easy measure of cellular motility. In addition, it can be utilized as a simple high-throughput assay, for use with cell types that are not amenable to time-lapsed imaging, as well as other uses depending on the needs of the researcher. Together, the ability to quantitatively measure cellular motility of multiple cell types without the need for expensive microscopes and software, along with the use of common laboratory equipment and chemicals, make the phagokinetic track motility assay a solid choice for scientists with an interest in understanding cellular motility.
Immunology, Issue 70, Microbiology, Cellular Biology, Molecular Biology, gold nanoparticles, coverslips, cell migration, quantitative cell movement, microscopy, motility, assay
4165
Revealing Dynamic Processes of Materials in Liquids Using Liquid Cell Transmission Electron Microscopy
Institutions: Lawrence Berkeley National Laboratory.

The recent development for in situ transmission electron microscopy, which allows imaging through liquids with high spatial resolution, has attracted significant interests across the research fields of materials science, physics, chemistry and biology. The key enabling technology is a liquid cell. We fabricate liquid cells with thin viewing windows through a sequential microfabrication process, including silicon nitride membrane deposition, photolithographic patterning, wafer etching, cell bonding, etc. A liquid cell with the dimensions of a regular TEM grid can fit in any standard TEM sample holder. About 100 nanoliters reaction solution is loaded into the reservoirs and about 30 picoliters liquid is drawn into the viewing windows by capillary force. Subsequently, the cell is sealed and loaded into a microscope for in situ imaging. Inside the TEM, the electron beam goes through the thin liquid layer sandwiched between two silicon nitride membranes. Dynamic processes of nanoparticles in liquids, such as nucleation and growth of nanocrystals, diffusion and assembly of nanoparticles, etc., have been imaged in real time with sub-nanometer resolution. We have also applied this method to other research areas,
e.g.
, imaging proteins in water. Liquid cell TEM is poised to play a major role in revealing dynamic processes of materials in their working environments. It may also bring high impact in the study of biological processes in their native environment.
Materials Science, Issue 70, Chemical Engineering, Chemistry, Physics, Engineering, Life sciences, Liquid cell, Transmission Electron Microscopy, TEM, In situ TEM, Single nanoparticle trajectory, dynamic imaging, nanocrystals
50122
Activating Molecules, Ions, and Solid Particles with Acoustic Cavitation
Institutions: UMR 5257 CEA-CNRS-UM2-ENSCM.

The chemical and physical effects of ultrasound arise not from a direct interaction of molecules with sound waves, but rather from the acoustic cavitation: the nucleation, growth, and implosive collapse of microbubbles in liquids submitted to power ultrasound. The violent implosion of bubbles leads to the formation of chemically reactive species and to the emission of light, named sonoluminescence. In this manuscript, we describe the techniques allowing study of extreme intrabubble conditions and chemical reactivity of acoustic cavitation in solutions. The analysis of sonoluminescence spectra of water sparged with noble gases provides evidence for nonequilibrium plasma formation. The photons and the "hot" particles generated by cavitation bubbles enable to excite the non-volatile species in solutions increasing their chemical reactivity. For example the mechanism of ultrabright sonoluminescence of uranyl ions in acidic solutions varies with uranium concentration: sonophotoluminescence dominates in diluted solutions, and collisional excitation contributes at higher uranium concentration. Secondary sonochemical products may arise from chemically active species that are formed inside the bubble, but then diffuse into the liquid phase and react with solution precursors to form a variety of products. For instance, the sonochemical reduction of Pt(IV) in pure water provides an innovative synthetic route for monodispersed nanoparticles of metallic platinum without any templates or capping agents. Many studies reveal the advantages of ultrasound to activate the divided solids. In general, the mechanical effects of ultrasound strongly contribute in heterogeneous systems in addition to chemical effects. In particular, the sonolysis of PuO
2
powder in pure water yields stable colloids of plutonium due to both effects.
Chemistry, Issue 86, Sonochemistry, sonoluminescence, ultrasound, cavitation, nanoparticles, actinides, colloids, nanocolloids
51237
Tangential Flow Ultrafiltration: A "Green" Method for the Size Selection and Concentration of Colloidal Silver Nanoparticles
Institutions: Wright State University, Wright State University.

Nowadays, AgNPs are extensively used in the manufacture of consumer products,
1
water disinfectants,
2
therapeutics,
1, 3
and biomedical devices
4
due to their powerful antimicrobial properties.
3-6
These nanoparticle applications are strongly influenced by the AgNP size and aggregation state. Many challenges exist in the controlled fabrication
7
and size-based isolation
4,8
of unfunctionalized, homogenous AgNPs that are free from chemically aggressive capping/stabilizing agents or organic solvents.
7-13
Limitations emerge from the toxicity of reagents, high costs or reduced efficiency of the AgNP synthesis or isolation methods (
e.g.
, centrifugation, size-dependent solubility, size-exclusion chromatography, etc.).
10,14-18
To overcome this, we recently showed that TFU permits greater control over the size, concentration and aggregation state of Creighton AgNPs (300 ml of 15.3 μg ml
-1
down to 10 ml of 198.7 μg ml
-1
) than conventional methods of isolation such as ultracentrifugation.
19
TFU is a recirculation method commonly used for the weight-based isolation of proteins, viruses and cells.
20,21
Briefly, the liquid sample is passed through a series of hollow fiber membranes with pore size ranging from 1,000 kD to 10 kD. Smaller suspended or dissolved constituents in the sample will pass through the porous barrier together with the solvent (filtrate), while the larger constituents are retained (retentate). TFU may be considered a "green" method as it neither damages the sample nor requires additional solvent to eliminate toxic excess reagents and byproducts. Furthermore, TFU may be applied to a large variety of nanoparticles as both hydrophobic and hydrophilic filters are available. The two main objectives of this study were: 1) to illustrate the experimental aspects of the TFU approach through an invited video experience and 2) to demonstrate the feasibility of the TFU method for larger volumes of colloidal nanoparticles and smaller volumes of retentate. First, unfuctionalized AgNPs (4 L, 15.2 μg ml
-1
) were synthesized using the well-established Creighton method
22,23
by the reduction of AgNO
3
with NaBH
4
. AgNP polydispersity was then minimized via a 3-step TFU using a 50-nm filter (460 cm
2
) to remove AgNPs and AgNP-aggregates larger than 50 nm, followed by two 100-kD (200 cm
2
and 20 cm
2
) filters to concentrate the AgNPs. Representative samples were characterized using transmission electron microscopy, UV-Vis absorption spectrophotometry, Raman spectroscopy, and inductively coupled plasma optical emission spectroscopy. The final retentate consisted of highly concentrated (4 ml, 8,539.9 μg ml
-1
) yet lowly aggregated and homogeneous AgNPs of 1-20 nm in diameter. This corresponds to a silver concentration yield of about 62%.
Chemistry, Issue 68, Biomedical Engineering, Chemical Engineering, Nanotechnology, silver nanoparticles, size selection, concentration, tangential flow ultrafiltration
4167
Correlative Microscopy for 3D Structural Analysis of Dynamic Interactions
Institutions: University of Pittsburgh School of Medicine, University of Pittsburgh School of Medicine.
Cryo-electron tomography (cryoET) allows 3D visualization of cellular structures at molecular resolution in a close-to-physiological state
1
. However, direct visualization of individual viral complexes in their host cellular environment with cryoET is challenging
2
, due to the infrequent and dynamic nature of viral entry, particularly in the case of HIV-1. While time-lapse live-cell imaging has yielded a great deal of information about many aspects of the life cycle of HIV-1
3-7
, the resolution afforded by live-cell microscopy is limited (~ 200 nm). Our work was aimed at developing a correlation method that permits direct visualization of early events of HIV-1 infection by combining live-cell fluorescent light microscopy, cryo-fluorescent microscopy, and cryoET. In this manner, live-cell and cryo-fluorescent signals can be used to accurately guide the sampling in cryoET. Furthermore, structural information obtained from cryoET can be complemented with the dynamic functional data gained through live-cell imaging of fluorescent labeled target. In this video article, we provide detailed methods and protocols for structural investigation of HIV-1 and host-cell interactions using 3D correlative high-speed live-cell imaging and high-resolution cryoET structural analysis. HeLa cells infected with HIV-1 particles were characterized first by confocal live-cell microscopy, and the region containing the same viral particle was then analyzed by cryo-electron tomography for 3D structural details. The correlation between two sets of imaging data, optical imaging and electron imaging, was achieved using a home-built cryo-fluorescence light microscopy stage. The approach detailed here will be valuable, not only for study of virus-host cell interactions, but also for broader applications in cell biology, such as cell signaling, membrane receptor trafficking, and many other dynamic cellular processes.
Bioengineering, Issue 76, Molecular Biology, Structural Biology, Virology, Biophysics, Cellular Biology, Physiology, Medicine, Biomedical Engineering, Infection, Microbiology, Technology, Industry, Agriculture, Life Sciences (General), Correlative microscopy, CryoET, Cryo-electron tomography, Confocal live-cell imaging, Cryo-fluorescence light microscopy, HIV-1, capsid, HeLa cell, cell, virus, microscopy, imaging
50386
Easy Measurement of Diffusion Coefficients of EGFP-tagged Plasma Membrane Proteins Using k-Space Image Correlation Spectroscopy
Institutions: Aarhus University, McGill University.
Lateral diffusion and compartmentalization of plasma membrane proteins are tightly regulated in cells and thus, studying these processes will reveal new insights to plasma membrane protein function and regulation. Recently, k-Space Image Correlation Spectroscopy (kICS)
1
 was developed to enable routine measurements of diffusion coefficients directly from images of fluorescently tagged plasma membrane proteins, that avoided systematic biases introduced by probe photophysics. Although the theoretical basis for the analysis is complex, the method can be implemented by nonexperts using a freely available code to measure diffusion coefficients of proteins. kICS calculates a time correlation function from a fluorescence microscopy image stack after Fourier transformation of each image to reciprocal (k-) space. Subsequently, circular averaging, natural logarithm transform and linear fits to the correlation function yields the diffusion coefficient. This paper provides a step-by-step guide to the image analysis and measurement of diffusion coefficients via kICS. First, a high frame rate image sequence of a fluorescently labeled plasma membrane protein is acquired using a fluorescence microscope. Then, a region of interest (ROI) avoiding intracellular organelles, moving vesicles or protruding membrane regions is selected. The ROI stack is imported into a freely available code and several defined parameters (see Method section) are set for kICS analysis. The program then generates a "slope of slopes" plot from the k-space time correlation functions, and the diffusion coefficient is calculated from the slope of the plot. Below is a step-by-step kICS procedure to measure the diffusion coefficient of a membrane protein using the renal water channel aquaporin-3 tagged with EGFP as a canonical example.
Biophysics, Issue 87, Amino Acids, Peptides and Proteins, Computer Programming and Software, Diffusion coefficient, Aquaporin-3, k-Space Image Correlation Spectroscopy, Analysis
51074
3D Orbital Tracking in a Modified Two-photon Microscope: An Application to the Tracking of Intracellular Vesicles
Institutions: University of California, Irvine.

The objective of this video protocol is to discuss how to perform and analyze a three-dimensional fluorescent orbital particle tracking experiment using a modified two-photon microscope
1
. As opposed to conventional approaches (raster scan or wide field based on a stack of frames), the 3D orbital tracking allows to localize and follow with a high spatial (10 nm accuracy) and temporal resolution (50 Hz frequency response) the 3D displacement of a moving fluorescent particle on length-scales of hundreds of microns
2
. The method is based on a feedback algorithm that controls the hardware of a two-photon laser scanning microscope in order to perform a circular orbit around the object to be tracked: the feedback mechanism will maintain the fluorescent object in the center by controlling the displacement of the scanning beam
3-5
. To demonstrate the advantages of this technique, we followed a fast moving organelle, the lysosome, within a living cell
6,7
. Cells were plated according to standard protocols, and stained using a commercially lysosome dye. We discuss briefly the hardware configuration and in more detail the control software, to perform a 3D orbital tracking experiment inside living cells. We discuss in detail the parameters required in order to control the scanning microscope and enable the motion of the beam in a closed orbit around the particle. We conclude by demonstrating how this method can be effectively used to track the fast motion of a labeled lysosome along microtubules in 3D within a live cell. Lysosomes can move with speeds in the range of 0.4-0.5 µm/sec, typically displaying a directed motion along the microtubule network
8
.
Bioengineering, Issue 92, fluorescence, single particle tracking, laser scanning microscope, two-photon, vesicle transport, live-cell imaging, optics
51794
Longitudinal Measurement of Extracellular Matrix Rigidity in 3D Tumor Models Using Particle-tracking Microrheology
Institutions: University of Massachusetts Boston.

The mechanical microenvironment has been shown to act as a crucial regulator of tumor growth behavior and signaling, which is itself remodeled and modified as part of a set of complex, two-way mechanosensitive interactions. While the development of biologically-relevant 3D tumor models have facilitated mechanistic studies on the impact of matrix rheology on tumor growth, the inverse problem of mapping changes in the mechanical environment induced by tumors remains challenging. Here, we describe the implementation of particle-tracking microrheology (PTM) in conjunction with 3D models of pancreatic cancer as part of a robust and viable approach for longitudinally monitoring physical changes in the tumor microenvironment,
in situ
. The methodology described here integrates a system of preparing
in vitro
3D models embedded in a model extracellular matrix (ECM) scaffold of Type I collagen with fluorescently labeled probes uniformly distributed for position- and time-dependent microrheology measurements throughout the specimen.
In vitro
tumors are plated and probed in parallel conditions using multiwell imaging plates. Drawing on established methods, videos of tracer probe movements are transformed via the Generalized Stokes Einstein Relation (GSER) to report the complex frequency-dependent viscoelastic shear modulus,
G*(ω)
. Because this approach is imaging-based, mechanical characterization is also mapped onto large transmitted-light spatial fields to simultaneously report qualitative changes in 3D tumor size and phenotype. Representative results showing contrasting mechanical response in sub-regions associated with localized invasion-induced matrix degradation as well as system calibration, validation data are presented. Undesirable outcomes from common experimental errors and troubleshooting of these issues are also presented. The 96-well 3D culture plating format implemented in this protocol is conducive to correlation of microrheology measurements with therapeutic screening assays or molecular imaging to gain new insights into impact of treatments or biochemical stimuli on the mechanical microenvironment.
Bioengineering, Issue 88, viscoelasticity, mechanobiology, extracellular matrix (ECM), matrix remodeling, 3D tumor models, tumor microenvironment, stroma, matrix metalloprotease (MMP), epithelial-mesenchymal transition (EMT)
51302
Confocal Imaging of Confined Quiescent and Flowing Colloid-polymer Mixtures
Institutions: University of Houston.

The behavior of confined colloidal suspensions with attractive interparticle interactions is critical to the rational design of materials for directed assembly
1-3
, drug delivery
4
, improved hydrocarbon recovery
5-7
, and flowable electrodes for energy storage
8
. Suspensions containing fluorescent colloids and non-adsorbing polymers are appealing model systems, as the ratio of the polymer radius of gyration to the particle radius and concentration of polymer control the range and strength of the interparticle attraction, respectively. By tuning the polymer properties and the volume fraction of the colloids, colloid fluids, fluids of clusters, gels, crystals, and glasses can be obtained
9
. Confocal microscopy, a variant of fluorescence microscopy, allows an optically transparent and fluorescent sample to be imaged with high spatial and temporal resolution in three dimensions. In this technique, a small pinhole or slit blocks the emitted fluorescent light from regions of the sample that are outside the focal volume of the microscope optical system. As a result, only a thin section of the sample in the focal plane is imaged. This technique is particularly well suited to probe the structure and dynamics in dense colloidal suspensions at the single-particle scale: the particles are large enough to be resolved using visible light and diffuse slowly enough to be captured at typical scan speeds of commercial confocal systems
10
. Improvements in scan speeds and analysis algorithms have also enabled quantitative confocal imaging of flowing suspensions
11-16,37
. In this paper, we demonstrate confocal microscopy experiments to probe the confined phase behavior and flow properties of colloid-polymer mixtures. We first prepare colloid-polymer mixtures that are density- and refractive-index matched. Next, we report a standard protocol for imaging quiescent dense colloid-polymer mixtures under varying confinement in thin wedge-shaped cells. Finally, we demonstrate a protocol for imaging colloid-polymer mixtures during microchannel flow.
Chemistry, Issue 87, confocal microscopy, particle tracking, colloids, suspensions, confinement, gelation, microfluidics, image correlation, dynamics, suspension flow
51461
A Technique to Functionalize and Self-assemble Macroscopic Nanoparticle-ligand Monolayer Films onto Template-free Substrates
Institutions: Naval Research Laboratory.
This protocol describes a self-assembly technique to create macroscopic monolayer films composed of ligand-coated nanoparticles
1
,
2
. The simple, robust and scalable technique efficiently functionalizes metallic nanoparticles with thiol-ligands in a miscible water/organic solvent mixture allowing for rapid grafting of thiol groups onto the gold nanoparticle surface. The hydrophobic ligands on the nanoparticles then quickly phase separate the nanoparticles from the aqueous based suspension and confine them to the air-fluid interface. This drives the ligand-capped nanoparticles to form monolayer domains at the air-fluid interface.  The use of water-miscible organic solvents is important as it enables the transport of the nanoparticles from the interface onto template-free substrates.  The flow is mediated by a surface tension gradient
3
,
4
and creates macroscopic, high-density, monolayer nanoparticle-ligand films.  This self-assembly technique may be generalized to include the use of particles of different compositions, size, and shape and may lead to an efficient assembly method to produce low-cost, macroscopic, high-density, monolayer nanoparticle films for wide-spread applications.
Chemistry, Issue 87, phase transfer, nanoparticle, self-assembly, bottom-up, fabrication, low-cost, monolayer, thin film, nanostructure, array, metamaterial
51282
From Fast Fluorescence Imaging to Molecular Diffusion Law on Live Cell Membranes in a Commercial Microscope
Institutions: Scuola Normale Superiore, Instituto Italiano di Tecnologia, University of California, Irvine.

It has become increasingly evident that the spatial distribution and the motion of membrane components like lipids and proteins are key factors in the regulation of many cellular functions. However, due to the fast dynamics and the tiny structures involved, a very high spatio-temporal resolution is required to catch the real behavior of molecules. Here we present the experimental protocol for studying the dynamics of fluorescently-labeled plasma-membrane proteins and lipids in live cells with high spatiotemporal resolution. Notably, this approach doesn't need to track each molecule, but it calculates population behavior using all molecules in a given region of the membrane. The starting point is a fast imaging of a given region on the membrane. Afterwards, a complete spatio-temporal autocorrelation function is calculated correlating acquired images at increasing time delays, for example each 2, 3, n repetitions. It is possible to demonstrate that the width of the peak of the spatial autocorrelation function increases at increasing time delay as a function of particle movement due to diffusion. Therefore, fitting of the series of autocorrelation functions enables to extract the actual protein mean square displacement from imaging (iMSD), here presented in the form of apparent diffusivity vs average displacement. This yields a quantitative view of the average dynamics of single molecules with nanometer accuracy. By using a GFP-tagged variant of the Transferrin Receptor (TfR) and an ATTO488 labeled 1-palmitoyl-2-hydroxy-
sn
-glycero-3-phosphoethanolamine (PPE) it is possible to observe the spatiotemporal regulation of protein and lipid diffusion on µm-sized membrane regions in the micro-to-milli-second time range.
Bioengineering, Issue 92, fluorescence, protein dynamics, lipid dynamics, membrane heterogeneity, transient confinement, single molecule, GFP
51994
Diffusion Tensor Magnetic Resonance Imaging in the Analysis of Neurodegenerative Diseases
Institutions: University of Ulm.

Diffusion tensor imaging (DTI) techniques provide information on the microstructural processes of the cerebral white matter (WM)
in vivo
. The present applications are designed to investigate differences of WM involvement patterns in different brain diseases, especially neurodegenerative disorders, by use of different DTI analyses in comparison with matched controls. DTI data analysis is performed in a variate fashion,
i.e.
voxelwise comparison of regional diffusion direction-based metrics such as fractional anisotropy (FA), together with fiber tracking (FT) accompanied by tractwise fractional anisotropy statistics (TFAS) at the group level in order to identify differences in FA along WM structures, aiming at the definition of regional patterns of WM alterations at the group level. Transformation into a stereotaxic standard space is a prerequisite for group studies and requires thorough data processing to preserve directional inter-dependencies. The present applications show optimized technical approaches for this preservation of quantitative and directional information during spatial normalization in data analyses at the group level. On this basis, FT techniques can be applied to group averaged data in order to quantify metrics information as defined by FT. Additionally, application of DTI methods,
i.e.
differences in FA-maps after stereotaxic alignment, in a longitudinal analysis at an individual subject basis reveal information about the progression of neurological disorders. Further quality improvement of DTI based results can be obtained during preprocessing by application of a controlled elimination of gradient directions with high noise levels. In summary, DTI is used to define a distinct WM pathoanatomy of different brain diseases by the combination of whole brain-based and tract-based DTI analysis.
Medicine, Issue 77, Neuroscience, Neurobiology, Molecular Biology, Biomedical Engineering, Anatomy, Physiology, Neurodegenerative Diseases, nuclear magnetic resonance, NMR, MR, MRI, diffusion tensor imaging, fiber tracking, group level comparison, neurodegenerative diseases, brain, imaging, clinical techniques
50427
Simultaneous Multicolor Imaging of Biological Structures with Fluorescence Photoactivation Localization Microscopy
Institutions: University of Maine.

Localization-based super resolution microscopy can be applied to obtain a spatial map (image) of the distribution of individual fluorescently labeled single molecules within a sample with a spatial resolution of tens of nanometers. Using either photoactivatable (PAFP) or photoswitchable (PSFP) fluorescent proteins fused to proteins of interest, or organic dyes conjugated to antibodies or other molecules of interest, fluorescence photoactivation localization microscopy (FPALM) can simultaneously image multiple species of molecules within single cells. By using the following approach, populations of large numbers (thousands to hundreds of thousands) of individual molecules are imaged in single cells and localized with a precision of ~10-30 nm. Data obtained can be applied to understanding the nanoscale spatial distributions of multiple protein types within a cell. One primary advantage of this technique is the dramatic increase in spatial resolution: while diffraction limits resolution to ~200-250 nm in conventional light microscopy, FPALM can image length scales more than an order of magnitude smaller. As many biological hypotheses concern the spatial relationships among different biomolecules, the improved resolution of FPALM can provide insight into questions of cellular organization which have previously been inaccessible to conventional fluorescence microscopy. In addition to detailing the methods for sample preparation and data acquisition, we here describe the optical setup for FPALM. One additional consideration for researchers wishing to do super-resolution microscopy is cost: in-house setups are significantly cheaper than most commercially available imaging machines. Limitations of this technique include the need for optimizing the labeling of molecules of interest within cell samples, and the need for post-processing software to visualize results. We here describe the use of PAFP and PSFP expression to image two protein species in fixed cells. Extension of the technique to living cells is also described.
Basic Protocol, Issue 82, Microscopy, Super-resolution imaging, Multicolor, single molecule, FPALM, Localization microscopy, fluorescent proteins
50680
Magnetic Tweezers for the Measurement of Twist and Torque
Institutions: Delft University of Technology.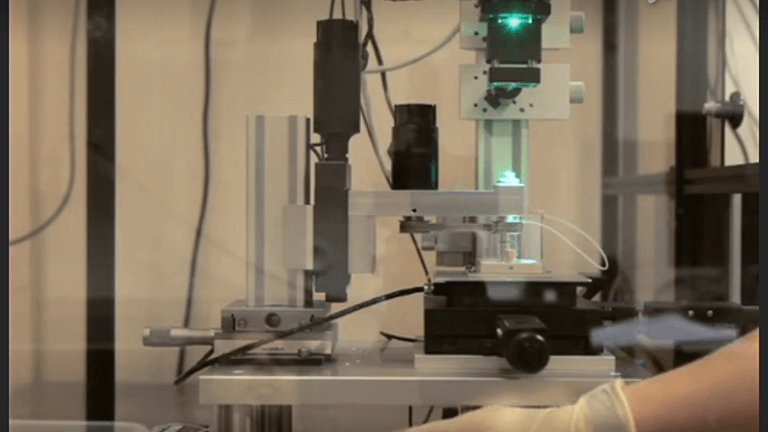 Single-molecule techniques make it possible to investigate the behavior of individual biological molecules in solution in real time. These techniques include so-called force spectroscopy approaches such as atomic force microscopy, optical tweezers, flow stretching, and magnetic tweezers. Amongst these approaches, magnetic tweezers have distinguished themselves by their ability to apply torque while maintaining a constant stretching force. Here, it is illustrated how such a "conventional" magnetic tweezers experimental configuration can, through a straightforward modification of its field configuration to minimize the magnitude of the transverse field, be adapted to measure the degree of twist in a biological molecule. The resulting configuration is termed the freely-orbiting magnetic tweezers. Additionally, it is shown how further modification of the field configuration can yield a transverse field with a magnitude intermediate between that of the "conventional" magnetic tweezers and the freely-orbiting magnetic tweezers, which makes it possible to directly measure the torque stored in a biological molecule. This configuration is termed the magnetic torque tweezers. The accompanying video explains in detail how the conversion of conventional magnetic tweezers into freely-orbiting magnetic tweezers and magnetic torque tweezers can be accomplished, and demonstrates the use of these techniques. These adaptations maintain all the strengths of conventional magnetic tweezers while greatly expanding the versatility of this powerful instrument.
Bioengineering, Issue 87, magnetic tweezers, magnetic torque tweezers, freely-orbiting magnetic tweezers, twist, torque, DNA, single-molecule techniques
51503
Setting Limits on Supersymmetry Using Simplified Models
Institutions: University College London, CERN, Lawrence Berkeley National Laboratories.

Experimental limits on supersymmetry and similar theories are difficult to set because of the enormous available parameter space and difficult to generalize because of the complexity of single points. Therefore, more phenomenological, simplified models are becoming popular for setting experimental limits, as they have clearer physical interpretations. The use of these simplified model limits to set a real limit on a concrete theory has not, however, been demonstrated. This paper recasts simplified model limits into limits on a specific and complete supersymmetry model, minimal supergravity. Limits obtained under various physical assumptions are comparable to those produced by directed searches. A prescription is provided for calculating conservative and aggressive limits on additional theories. Using acceptance and efficiency tables along with the expected and observed numbers of events in various signal regions, LHC experimental results can be recast in this manner into almost any theoretical framework, including nonsupersymmetric theories with supersymmetry-like signatures.
Physics, Issue 81, high energy physics, particle physics, Supersymmetry, LHC, ATLAS, CMS, New Physics Limits, Simplified Models
50419
Analysis of Tubular Membrane Networks in Cardiac Myocytes from Atria and Ventricles
Institutions: Heart Research Center Goettingen, University Medical Center Goettingen, German Center for Cardiovascular Research (DZHK) partner site Goettingen, University of Maryland School of Medicine.

In cardiac myocytes a complex network of membrane tubules - the transverse-axial tubule system (TATS) - controls deep intracellular signaling functions. While the outer surface membrane and associated TATS membrane components appear to be continuous, there are substantial differences in lipid and protein content. In ventricular myocytes (VMs), certain TATS components are highly abundant contributing to rectilinear tubule networks and regular branching 3D architectures. It is thought that peripheral TATS components propagate action potentials from the cell surface to thousands of remote intracellular sarcoendoplasmic reticulum (SER) membrane contact domains, thereby activating intracellular Ca
2+
release units (CRUs). In contrast to VMs, the organization and functional role of TATS membranes in atrial myocytes (AMs) is significantly different and much less understood. Taken together, quantitative structural characterization of TATS membrane networks in healthy and diseased myocytes is an essential prerequisite towards better understanding of functional plasticity and pathophysiological reorganization. Here, we present a strategic combination of protocols for direct quantitative analysis of TATS membrane networks in living VMs and AMs. For this, we accompany primary cell isolations of mouse VMs and/or AMs with critical quality control steps and direct membrane staining protocols for fluorescence imaging of TATS membranes. Using an optimized workflow for confocal or superresolution TATS image processing, binarized and skeletonized data are generated for quantitative analysis of the TATS network and its components. Unlike previously published indirect regional aggregate image analysis strategies, our protocols enable direct characterization of specific components and derive complex physiological properties of TATS membrane networks in living myocytes with high throughput and open access software tools. In summary, the combined protocol strategy can be readily applied for quantitative TATS network studies during physiological myocyte adaptation or disease changes, comparison of different cardiac or skeletal muscle cell types, phenotyping of transgenic models, and pharmacological or therapeutic interventions.
Bioengineering, Issue 92, cardiac myocyte, atria, ventricle, heart, primary cell isolation, fluorescence microscopy, membrane tubule, transverse-axial tubule system, image analysis, image processing, T-tubule, collagenase
51823
Visualizing Protein-DNA Interactions in Live Bacterial Cells Using Photoactivated Single-molecule Tracking
Institutions: University of Oxford, University of Oxford.

Protein-DNA interactions are at the heart of many fundamental cellular processes. For example, DNA replication, transcription, repair, and chromosome organization are governed by DNA-binding proteins that recognize specific DNA structures or sequences.
In vitro
experiments have helped to generate detailed models for the function of many types of DNA-binding proteins, yet, the exact mechanisms of these processes and their organization in the complex environment of the living cell remain far less understood. We recently introduced a method for quantifying DNA-repair activities in live
Escherichia coli
cells using Photoactivated Localization Microscopy (PALM) combined with single-molecule tracking. Our general approach identifies individual DNA-binding events by the change in the mobility of a single protein upon association with the chromosome. The fraction of bound molecules provides a direct quantitative measure for the protein activity and abundance of substrates or binding sites at the single-cell level. Here, we describe the concept of the method and demonstrate sample preparation, data acquisition, and data analysis procedures.
Immunology, Issue 85, Super-resolution microscopy, single-particle tracking, Live-cell imaging, DNA-binding proteins, DNA repair, molecular diffusion
51177
Atomically Defined Templates for Epitaxial Growth of Complex Oxide Thin Films
Institutions: University of Twente.

Atomically defined substrate surfaces are prerequisite for the epitaxial growth of complex oxide thin films. In this protocol, two approaches to obtain such surfaces are described. The first approach is the preparation of single terminated perovskite SrTiO
3
(001) and DyScO
3
(110) substrates. Wet etching was used to selectively remove one of the two possible surface terminations, while an annealing step was used to increase the smoothness of the surface. The resulting single terminated surfaces allow for the heteroepitaxial growth of perovskite oxide thin films with high crystalline quality and well-defined interfaces between substrate and film. In the second approach, seed layers for epitaxial film growth on arbitrary substrates were created by Langmuir-Blodgett (LB) deposition of nanosheets. As model system Ca
2
Nb
3
O
10
-
nanosheets were used, prepared by delamination of their layered parent compound HCa
2
Nb
3
O
10
. A key advantage of creating seed layers with nanosheets is that relatively expensive and size-limited single crystalline substrates can be replaced by virtually any substrate material.
Chemistry, Issue 94, Substrates, oxides, perovskites, epitaxy, thin films, single termination, surface treatment, nanosheets, Langmuir-Blodgett
52209
Determining 3D Flow Fields via Multi-camera Light Field Imaging
Institutions: Brigham Young University, Naval Undersea Warfare Center, Newport, RI.

In the field of fluid mechanics, the resolution of computational schemes has outpaced experimental methods and widened the gap between predicted and observed phenomena in fluid flows. Thus, a need exists for an accessible method capable of resolving three-dimensional (3D) data sets for a range of problems. We present a novel technique for performing quantitative 3D imaging of many types of flow fields. The 3D technique enables investigation of complicated velocity fields and bubbly flows. Measurements of these types present a variety of challenges to the instrument. For instance, optically dense bubbly multiphase flows cannot be readily imaged by traditional, non-invasive flow measurement techniques due to the bubbles occluding optical access to the interior regions of the volume of interest. By using Light Field Imaging we are able to reparameterize images captured by an array of cameras to reconstruct a 3D volumetric map for every time instance, despite partial occlusions in the volume. The technique makes use of an algorithm known as synthetic aperture (SA) refocusing, whereby a 3D focal stack is generated by combining images from several cameras post-capture
1
. Light Field Imaging allows for the capture of angular as well as spatial information about the light rays, and hence enables 3D scene reconstruction. Quantitative information can then be extracted from the 3D reconstructions using a variety of processing algorithms. In particular, we have developed measurement methods based on Light Field Imaging for performing 3D particle image velocimetry (PIV), extracting bubbles in a 3D field and tracking the boundary of a flickering flame. We present the fundamentals of the Light Field Imaging methodology in the context of our setup for performing 3DPIV of the airflow passing over a set of synthetic vocal folds, and show representative results from application of the technique to a bubble-entraining plunging jet.
Physics, Issue 73, Mechanical Engineering, Fluid Mechanics, Engineering, synthetic aperture imaging, light field, camera array, particle image velocimetry, three dimensional, vector fields, image processing, auto calibration, vocal chords, bubbles, flow, fluids
4325
Quantitatively Measuring In situ Flows using a Self-Contained Underwater Velocimetry Apparatus (SCUVA)
Institutions: Woods Hole Oceanographic Institution, Roger Williams University, Whitman Center, Providence College, California Institute of Technology.

The ability to directly measure velocity fields in a fluid environment is necessary to provide empirical data for studies in fields as diverse as oceanography, ecology, biology, and fluid mechanics. Field measurements introduce practical challenges such as environmental conditions, animal availability, and the need for field-compatible measurement techniques. To avoid these challenges, scientists typically use controlled laboratory environments to study animal-fluid interactions. However, it is reasonable to question whether one can extrapolate natural behavior (i.e., that which occurs in the field) from laboratory measurements. Therefore,
in situ
quantitative flow measurements are needed to accurately describe animal swimming in their natural environment. We designed a self-contained, portable device that operates independent of any connection to the surface, and can provide quantitative measurements of the flow field surrounding an animal. This apparatus, a self-contained underwater velocimetry apparatus (SCUVA), can be operated by a single scuba diver in depths up to 40 m. Due to the added complexity inherent of field conditions, additional considerations and preparation are required when compared to laboratory measurements. These considerations include, but are not limited to, operator motion, predicting position of swimming targets, available natural suspended particulate, and orientation of SCUVA relative to the flow of interest. The following protocol is intended to address these common field challenges and to maximize measurement success.
Bioengineering, Issue 56, In situ DPIV, SCUVA, animal flow measurements, zooplankton, propulsion
2615
Localized RNAi and Ectopic Gene Expression in the Medicinal Leech
Institutions: University of California San Diego - UCSD, University of California San Diego - UCSD.
In this video, we show the use of a pneumatic capillary gun for the accurate biolistic delivery of reagents into live tissue. We use the procedure to perturb gene expression patterns in selected segments of leech embryos, leaving the untreated segments as internal controls. The pneumatic capillary gun can be used to reach internal layers of cells at early stages of development without opening the specimen. As a method for localized introduction of substances into living tissues, the biolistic delivery with the gun has several advantages: it is fast, contact-free and non-destructive. In addition, a single capillary gun can be used for independent delivery of different substances. The delivery region can have lateral dimensions of ~50-150 µm and extends over ~15 µm around the mean penetration depth, which is adjustable between 0 and 50 µm. This delivery has the advantage of being able to target a limited number of cells in a selected location intermediate between single cell knock down by microinjection and systemic knockdown through extracellular injections or by means of genetic approaches. For knocking down or knocking in the expression of the axon guidance molecule Netrin, which is naturally expressed by some central neurons and in the ventral body wall, but not the dorsal domain, we deliver molecules of dsRNA or plasmid-DNA into the body wall and central ganglia. This procedure includes the following steps: (i) preparation of the experimental setup for a specific assay (adjusting the accelerating pressure), (ii) coating the particles with molecules of dsRNA or DNA, (iii) loading the coated particles into the gun, up to two reagents in one assay, (iv) preparing the animals for the particle delivery, (v) delivery of coated particles into the target tissue (body wall or ganglia), and (vi) processing the embryos (immunostaining, immunohistochemistry and neuronal labeling) to visualize the results, usually 2 to 3 days after the delivery. When the particles were coated with netrin dsRNA, they caused clearly visible knock-down of netrin expression that only occurred in cells containing particles (usually, 1-2 particles per cell). Particles coated with a plasmid encoding EGFP induced fluorescence in neuronal cells when they stopped in their nuclei.
Neuroscience, Issue 14, leech, netrin, axon guidance, development, mechanosensory neurons, gene gun, RNAi
697