ABSTRACT
Recently, disordered photonic materials have been suggested as an alternative to periodic crystals for the formation of a complete photonic bandgap (PBG). In this article we will describe the methods for constructing and characterizing macroscopic disordered photonic structures using microwaves. The microwave regime offers the most convenient experimental sample size to build and test PBG media. Easily manipulated dielectric lattice components extend flexibility in building various 2D structures on top of pre-printed plastic templates. Once built, the structures could be quickly modified with point and line defects to make freeform waveguides and filters. Testing is done using a widely available Vector Network Analyzer and pairs of microwave horn antennas. Due to the scale invariance property of electromagnetic fields, the results we obtained in the microwave region can be directly applied to infrared and optical regions. Our approach is simple but delivers exciting new insight into the nature of light and disordered matter interaction. Our representative results include the first experimental demonstration of the existence of a complete and isotropic PBG in a two-dimensional (2D) hyperuniform disordered dielectric structure. Additionally we demonstrate experimentally the ability of this novel photonic structure to guide electromagnetic waves (EM) through freeform waveguides of arbitrary shape.
25 Related JoVE Articles!
Time Multiplexing Super Resolving Technique for Imaging from a Moving Platform
Institutions: Bar-Ilan University, Kfar Saba, Israel.

We propose a method for increasing the resolution of an object and overcoming the diffraction limit of an optical system installed on top of a moving imaging system, such as an airborne platform or satellite. The resolution improvement is obtained in a two-step process. First, three low resolution differently defocused images are being captured and the optical phase is retrieved using an improved iterative Gerchberg-Saxton based algorithm. The phase retrieval allows to numerically back propagate the field to the aperture plane. Second, the imaging system is shifted and the first step is repeated. The obtained optical fields at the aperture plane are combined and a synthetically increased lens aperture is generated along the direction of movement, yielding higher imaging resolution. The method resembles a well-known approach from the microwave regime called the Synthetic Aperture Radar (SAR) in which the antenna size is synthetically increased along the platform propagation direction. The proposed method is demonstrated through laboratory experiment.
Physics, Issue 84, Superresolution, Fourier optics, Remote Sensing and Sensors, Digital Image Processing, optics, resolution
51148
High-Resolution Endocardial and Epicardial Optical Mapping in a Sheep Model of Stretch-Induced Atrial Fibrillation
Institutions: University of Michigan .

Atrial fibrillation (AF) is a complex cardiac arrhythmia with high morbidity and mortality.
1,2
It is the most common sustained cardiac rhythm disturbance seen in clinical practice and its prevalence is expected to increase in the coming years.
3
Increased intra-atrial pressure and dilatation have been long recognized to lead to AF,
1,4
which highlights the relevance of using animal models and stretch to study AF dynamics. Understanding the mechanisms underlying AF requires visualization of the cardiac electrical waves with high spatial and temporal resolution. While high-temporal resolution can be achieved by conventional electrical mapping traditionally used in human electrophysiological studies, the small number of intra-atrial electrodes that can be used simultaneously limits the spatial resolution and precludes any detailed tracking of the electrical waves during the arrhythmia. The introduction of optical mapping in the early 90's enabled wide-field characterization of fibrillatory activity together with sub-millimeter spatial resolution in animal models
5,6
and led to the identification of rapidly spinning electrical wave patterns (rotors) as the sources of the fibrillatory activity that may occur in the ventricles or the atria.
7-9
Using combined time- and frequency-domain analyses of optical mapping it is possible to demonstrate discrete sites of high frequency periodic activity during AF, along with frequency gradients between left and right atrium. The region with fastest rotors activates at the highest frequency and drives the overall arrhythmia.
10,11
The waves emanating from such rotor interact with either functional or anatomic obstacles in their path, resulting in the phenomenon of fibrillatory conduction.
12
Mapping the endocardial surface of the posterior left atrium (PLA) allows the tracking of AF wave dynamics in the region with the highest rotor frequency. Importantly, the PLA is the region where intracavitary catheter-based ablative procedures are most successful terminating AF in patients,
13
which underscores the relevance of studying AF dynamics from the interior of the left atrium. Here we describe a sheep model of acute stretch-induced AF, which resembles some of the characteristics of human paroxysmal AF. Epicardial mapping on the left atrium is complemented with endocardial mapping of the PLA using a dual-channel rigid borescope c-mounted to a CCD camera, which represents the most direct approach to visualize the patterns of activation in the most relevant region for AF maintenance.
Medicine, Issue 53, atrial fibrillation, endocardial mapping, patterns of activation, posterior left atrium
3103
Wideband Optical Detector of Ultrasound for Medical Imaging Applications
Institutions: Technical University of Munich and Helmholtz Center Munich.

Optical sensors of ultrasound are a promising alternative to piezoelectric techniques, as has been recently demonstrated in the field of optoacoustic imaging. In medical applications, one of the major limitations of optical sensing technology is its susceptibility to environmental conditions,
e.g.
changes in pressure and temperature, which may saturate the detection. Additionally, the clinical environment often imposes stringent limits on the size and robustness of the sensor. In this work, the combination of pulse interferometry and fiber-based optical sensing is demonstrated for ultrasound detection. Pulse interferometry enables robust performance of the readout system in the presence of rapid variations in the environmental conditions, whereas the use of all-fiber technology leads to a mechanically flexible sensing element compatible with highly demanding medical applications such as intravascular imaging. In order to achieve a short sensor length, a pi-phase-shifted fiber Bragg grating is used, which acts as a resonator trapping light over an effective length of 350 µm. To enable high bandwidth, the sensor is used for sideway detection of ultrasound, which is highly beneficial in circumferential imaging geometries such as intravascular imaging. An optoacoustic imaging setup is used to determine the response of the sensor for acoustic point sources at different positions.
Bioengineering, Issue 87, Ultrasound, optical sensors, interferometry, pulse interferometry, optical fibers, fiber Bragg gratings, optoacoustic imaging, photoacoustic imaging
50847
Lensless Fluorescent Microscopy on a Chip
Institutions: University of California, Los Angeles .

On-chip lensless imaging in general aims to replace bulky lens-based optical microscopes with simpler and more compact designs, especially for high-throughput screening applications. This emerging technology platform has the potential to eliminate the need for bulky and/or costly optical components through the help of novel theories and digital reconstruction algorithms. Along the same lines, here we demonstrate an on-chip fluorescent microscopy modality that can achieve e.g., <4μm spatial resolution over an ultra-wide field-of-view (FOV) of >0.6-8 cm
2
without the use of any lenses, mechanical-scanning or thin-film based interference filters. In this technique, fluorescent excitation is achieved through a prism or hemispherical-glass interface illuminated by an incoherent source. After interacting with the entire object volume, this excitation light is rejected by total-internal-reflection (TIR) process that is occurring at the bottom of the sample micro-fluidic chip. The fluorescent emission from the excited objects is then collected by a fiber-optic faceplate or a taper and is delivered to an optoelectronic sensor array such as a charge-coupled-device (CCD). By using a compressive-sampling based decoding algorithm, the acquired lensfree raw fluorescent images of the sample can be rapidly processed to yield e.g., <4μm resolution over an FOV of >0.6-8 cm
2
. Moreover, vertically stacked micro-channels that are separated by e.g., 50-100 μm can also be successfully imaged using the same lensfree on-chip microscopy platform, which further increases the overall throughput of this modality. This compact on-chip fluorescent imaging platform, with a rapid compressive decoder behind it, could be rather valuable for high-throughput cytometry, rare-cell research and microarray-analysis.
Bioengineering, Issue 54, Lensless Microscopy, Fluorescent On-chip Imaging, Wide-field Microscopy, On-Chip Cytometry, Compressive Sampling/Sensing
3181
Quantitative Optical Microscopy: Measurement of Cellular Biophysical Features with a Standard Optical Microscope
Institutions: Oregon Health & Science University, School of Medicine, Oregon Health & Science University, School of Medicine, Oregon Health & Science University, School of Medicine.

We describe the use of a standard optical microscope to perform quantitative measurements of mass, volume, and density on cellular specimens through a combination of bright field and differential interference contrast imagery. Two primary approaches are presented: noninterferometric quantitative phase microscopy (NIQPM), to perform measurements of total cell mass and subcellular density distribution, and Hilbert transform differential interference contrast microscopy (HTDIC) to determine volume. NIQPM is based on a simplified model of wave propagation, termed the paraxial approximation, with three underlying assumptions: low numerical aperture (NA) illumination, weak scattering, and weak absorption of light by the specimen. Fortunately, unstained cellular specimens satisfy these assumptions and low NA illumination is easily achieved on commercial microscopes. HTDIC is used to obtain volumetric information from through-focus DIC imagery under high NA illumination conditions. High NA illumination enables enhanced sectioning of the specimen along the optical axis. Hilbert transform processing on the DIC image stacks greatly enhances edge detection algorithms for localization of the specimen borders in three dimensions by separating the gray values of the specimen intensity from those of the background. The primary advantages of NIQPM and HTDIC lay in their technological accessibility using "off-the-shelf" microscopes. There are two basic limitations of these methods: slow z-stack acquisition time on commercial scopes currently abrogates the investigation of phenomena faster than 1 frame/minute, and secondly, diffraction effects restrict the utility of NIQPM and HTDIC to objects from 0.2 up to 10 (NIQPM) and 20 (HTDIC) μm in diameter, respectively. Hence, the specimen and its associated time dynamics of interest must meet certain size and temporal constraints to enable the use of these methods. Excitingly, most fixed cellular specimens are readily investigated with these methods.
Bioengineering, Issue 86, Label-free optics, quantitative microscopy, cellular biophysics, cell mass, cell volume, cell density
50988
Digital Inline Holographic Microscopy (DIHM) of Weakly-scattering Subjects
Institutions: Harvard University, Universidade Estadual Paulista.
Weakly-scattering objects, such as small colloidal particles and most biological cells, are frequently encountered in microscopy. Indeed, a range of techniques have been developed to better visualize these phase objects; phase contrast and DIC are among the most popular methods for enhancing contrast. However, recording position and shape in the out-of-imaging-plane direction remains challenging. This report introduces a simple experimental method to accurately determine the location and geometry of objects in three dimensions, using digital inline holographic microscopy (DIHM). Broadly speaking, the accessible sample volume is defined by the camera sensor size in the lateral direction, and the illumination coherence in the axial direction. Typical sample volumes range from 200 µm x 200 µm x 200 µm using LED illumination, to 5 mm x 5 mm x 5 mm or larger using laser illumination. This illumination light is configured so that plane waves are incident on the sample. Objects in the sample volume then scatter light, which interferes with the unscattered light to form interference patterns perpendicular to the illumination direction. This image (the hologram) contains the depth information required for three-dimensional reconstruction, and can be captured on a standard imaging device such as a CMOS or CCD camera. The Rayleigh-Sommerfeld back propagation method is employed to numerically refocus microscope images, and a simple imaging heuristic based on the Gouy phase anomaly is used to identify scattering objects within the reconstructed volume. This simple but robust method results in an unambiguous, model-free measurement of the location and shape of objects in microscopic samples.
Basic Protocol, Issue 84, holography, digital inline holographic microscopy (DIHM), Microbiology, microscopy, 3D imaging, Streptococcus bacteria
50488
Imaging Dendritic Spines of Rat Primary Hippocampal Neurons using Structured Illumination Microscopy
Institutions: University of Amsterdam, University of Amsterdam.

Dendritic spines are protrusions emerging from the dendrite of a neuron and represent the primary postsynaptic targets of excitatory inputs in the brain. Technological advances have identified these structures as key elements in neuron connectivity and synaptic plasticity. The quantitative analysis of spine morphology using light microscopy remains an essential problem due to technical limitations associated with light's intrinsic refraction limit. Dendritic spines can be readily identified by confocal laser-scanning fluorescence microscopy. However, measuring subtle changes in the shape and size of spines is difficult because spine dimensions other than length are usually smaller than conventional optical resolution fixed by light microscopy's theoretical resolution limit of 200 nm. Several recently developed super resolution techniques have been used to image cellular structures smaller than the 200 nm, including dendritic spines. These techniques are based on classical far-field operations and therefore allow the use of existing sample preparation methods and to image beyond the surface of a specimen. Described here is a working protocol to apply super resolution structured illumination microscopy (SIM) to the imaging of dendritic spines in primary hippocampal neuron cultures. Possible applications of SIM overlap with those of confocal microscopy. However, the two techniques present different applicability. SIM offers higher effective lateral resolution, while confocal microscopy, due to the usage of a physical pinhole, achieves resolution improvement at the expense of removal of out of focus light. In this protocol, primary neurons are cultured on glass coverslips using a standard protocol, transfected with DNA plasmids encoding fluorescent proteins and imaged using SIM. The whole protocol described herein takes approximately 2 weeks, because dendritic spines are imaged after 16-17 days
in vitro
, when dendritic development is optimal. After completion of the protocol, dendritic spines can be reconstructed in 3D from series of SIM image stacks using specialized software.
Neuroscience, Issue 87, Dendritic Spine, Microscopy, Confocal, Fluorescence, Neurosciences, hippocampus, primary neuron, super resolution microscopy, structured illumination microscopy (SIM), neuroscience, dendrite
51276
Preparation and Use of Photocatalytically Active Segmented Ag|ZnO and Coaxial TiO2-Ag Nanowires Made by Templated Electrodeposition
Institutions: University of Twente.

Photocatalytically active nanostructures require a large specific surface area with the presence of many catalytically active sites for the oxidation and reduction half reactions, and fast electron (hole) diffusion and charge separation. Nanowires present suitable architectures to meet these requirements. Axially segmented Ag|ZnO and radially segmented (coaxial) TiO
2
-Ag nanowires with a diameter of 200 nm and a length of 6-20 µm were made by templated electrodeposition within the pores of polycarbonate track-etched (PCTE) or anodized aluminum oxide (AAO) membranes, respectively. In the photocatalytic experiments, the ZnO and TiO
2
phases acted as photoanodes, and Ag as cathode. No external circuit is needed to connect both electrodes, which is a key advantage over conventional photo-electrochemical cells. For making segmented Ag|ZnO nanowires, the Ag salt electrolyte was replaced after formation of the Ag segment to form a ZnO segment attached to the Ag segment. For making coaxial TiO
2
-Ag nanowires, a TiO
2
gel was first formed by the electrochemically induced sol-gel method. Drying and thermal annealing of the as-formed TiO
2
gel resulted in the formation of crystalline TiO
2
nanotubes. A subsequent Ag electrodeposition step inside the TiO
2
nanotubes resulted in formation of coaxial TiO
2
-Ag nanowires. Due to the combination of an
n
-type semiconductor (ZnO or TiO
2
) and a metal (Ag) within the same nanowire, a Schottky barrier was created at the interface between the phases. To demonstrate the photocatalytic activity of these nanowires, the Ag|ZnO nanowires were used in a photocatalytic experiment in which H
2
gas was detected upon UV illumination of the nanowires dispersed in a methanol/water mixture. After 17 min of illumination, approximately 0.2 vol% H
2
gas was detected from a suspension of ~0.1 g of Ag|ZnO nanowires in a 50 ml 80 vol% aqueous methanol solution.
Physics, Issue 87, Multicomponent nanowires, electrochemistry, sol-gel processes, photocatalysis, photochemistry, H2 evolution
51547
Test Samples for Optimizing STORM Super-Resolution Microscopy
Institutions: National Physical Laboratory.

STORM is a recently developed super-resolution microscopy technique with up to 10 times better resolution than standard fluorescence microscopy techniques. However, as the image is acquired in a very different way than normal, by building up an image molecule-by-molecule, there are some significant challenges for users in trying to optimize their image acquisition. In order to aid this process and gain more insight into how STORM works we present the preparation of 3 test samples and the methodology of acquiring and processing STORM super-resolution images with typical resolutions of between 30-50 nm. By combining the test samples with the use of the freely available rainSTORM processing software it is possible to obtain a great deal of information about image quality and resolution. Using these metrics it is then possible to optimize the imaging procedure from the optics, to sample preparation, dye choice, buffer conditions, and image acquisition settings. We also show examples of some common problems that result in poor image quality, such as lateral drift, where the sample moves during image acquisition and density related problems resulting in the 'mislocalization' phenomenon.
Molecular Biology, Issue 79, Genetics, Bioengineering, Biomedical Engineering, Biophysics, Basic Protocols, HeLa Cells, Actin Cytoskeleton, Coated Vesicles, Receptor, Epidermal Growth Factor, Actins, Fluorescence, Endocytosis, Microscopy, STORM, super-resolution microscopy, nanoscopy, cell biology, fluorescence microscopy, test samples, resolution, actin filaments, fiducial markers, epidermal growth factor, cell, imaging
50579
High-resolution, High-speed, Three-dimensional Video Imaging with Digital Fringe Projection Techniques
Institutions: Iowa State University.

Digital fringe projection (DFP) techniques provide dense 3D measurements of dynamically changing surfaces. Like the human eyes and brain, DFP uses triangulation between matching points in two views of the same scene at different angles to compute depth. However, unlike a stereo-based method, DFP uses a digital video projector to replace one of the cameras
1
. The projector rapidly projects a known sinusoidal pattern onto the subject, and the surface of the subject distorts these patterns in the camera's field of view. Three distorted patterns (fringe images) from the camera can be used to compute the depth using triangulation. Unlike other 3D measurement methods, DFP techniques lead to systems that tend to be faster, lower in equipment cost, more flexible, and easier to develop. DFP systems can also achieve the same measurement resolution as the camera. For this reason, DFP and other digital structured light techniques have recently been the focus of intense research (as summarized in
1-5
). Taking advantage of DFP, the graphics processing unit, and optimized algorithms, we have developed a system capable of 30 Hz 3D video data acquisition, reconstruction, and display for over 300,000 measurement points per frame
6,7
. Binary defocusing DFP methods can achieve even greater speeds
8
. Diverse applications can benefit from DFP techniques. Our collaborators have used our systems for facial function analysis
9
, facial animation
10
, cardiac mechanics studies
11
, and fluid surface measurements, but many other potential applications exist. This video will teach the fundamentals of DFP techniques and illustrate the design and operation of a binary defocusing DFP system.
Physics, Issue 82, Structured light, Fringe projection, 3D imaging, 3D scanning, 3D video, binary defocusing, phase-shifting
50421
In situ Compressive Loading and Correlative Noninvasive Imaging of the Bone-periodontal Ligament-tooth Fibrous Joint
Institutions: University of California San Francisco, University of California San Francisco, Xradia Inc..

This study demonstrates a novel biomechanics testing protocol. The advantage of this protocol includes the use of an
in situ
loading device coupled to a high resolution X-ray microscope, thus enabling visualization of internal structural elements under simulated physiological loads and wet conditions. Experimental specimens will include intact bone-periodontal ligament (PDL)-tooth fibrous joints. Results will illustrate three important features of the protocol as they can be applied to organ level biomechanics: 1) reactionary force vs. displacement: tooth displacement within the alveolar socket and its reactionary response to loading, 2) three-dimensional (3D) spatial configuration and morphometrics: geometric relationship of the tooth with the alveolar socket, and 3) changes in readouts 1 and 2 due to a change in loading axis,
i.e.
from concentric to eccentric loads. Efficacy of the proposed protocol will be evaluated by coupling mechanical testing readouts to 3D morphometrics and overall biomechanics of the joint. In addition, this technique will emphasize on the need to equilibrate experimental conditions, specifically reactionary loads prior to acquiring tomograms of fibrous joints. It should be noted that the proposed protocol is limited to testing specimens under
ex vivo
conditions, and that use of contrast agents to visualize soft tissue mechanical response could lead to erroneous conclusions about tissue and organ-level biomechanics.
Bioengineering, Issue 85, biomechanics, bone-periodontal ligament-tooth complex, concentric loads, eccentric loads, contrast agent
51147
Super-resolution Imaging of the Cytokinetic Z Ring in Live Bacteria Using Fast 3D-Structured Illumination Microscopy (f3D-SIM)
Institutions: University of Technology, Sydney.

Imaging of biological samples using fluorescence microscopy has advanced substantially with new technologies to overcome the resolution barrier of the diffraction of light allowing super-resolution of live samples. There are currently three main types of super-resolution techniques – stimulated emission depletion (STED), single-molecule localization microscopy (including techniques such as PALM, STORM, and GDSIM), and structured illumination microscopy (SIM). While STED and single-molecule localization techniques show the largest increases in resolution, they have been slower to offer increased speeds of image acquisition. Three-dimensional SIM (3D-SIM) is a wide-field fluorescence microscopy technique that offers a number of advantages over both single-molecule localization and STED. Resolution is improved, with typical lateral and axial resolutions of 110 and 280 nm, respectively and depth of sampling of up to 30 µm from the coverslip, allowing for imaging of whole cells. Recent advancements (fast 3D-SIM) in the technology increasing the capture rate of raw images allows for fast capture of biological processes occurring in seconds, while significantly reducing photo-toxicity and photobleaching. Here we describe the use of one such method to image bacterial cells harboring the fluorescently-labelled cytokinetic FtsZ protein to show how cells are analyzed and the type of unique information that this technique can provide.
Molecular Biology, Issue 91, super-resolution microscopy, fluorescence microscopy, OMX, 3D-SIM, Blaze, cell division, bacteria, Bacillus subtilis, Staphylococcus aureus, FtsZ, Z ring constriction
51469
Detection of Architectural Distortion in Prior Mammograms via Analysis of Oriented Patterns
Institutions: University of Calgary , University of Calgary .

We demonstrate methods for the detection of architectural distortion in prior mammograms of interval-cancer cases based on analysis of the orientation of breast tissue patterns in mammograms. We hypothesize that architectural distortion modifies the normal orientation of breast tissue patterns in mammographic images before the formation of masses or tumors. In the initial steps of our methods, the oriented structures in a given mammogram are analyzed using Gabor filters and phase portraits to detect node-like sites of radiating or intersecting tissue patterns. Each detected site is then characterized using the node value, fractal dimension, and a measure of angular dispersion specifically designed to represent spiculating patterns associated with architectural distortion. Our methods were tested with a database of 106 prior mammograms of 56 interval-cancer cases and 52 mammograms of 13 normal cases using the features developed for the characterization of architectural distortion, pattern classification
via
quadratic discriminant analysis, and validation with the leave-one-patient out procedure. According to the results of free-response receiver operating characteristic analysis, our methods have demonstrated the capability to detect architectural distortion in prior mammograms, taken 15 months (on the average) before clinical diagnosis of breast cancer, with a sensitivity of 80% at about five false positives per patient.
Medicine, Issue 78, Anatomy, Physiology, Cancer Biology, angular spread, architectural distortion, breast cancer, Computer-Assisted Diagnosis, computer-aided diagnosis (CAD), entropy, fractional Brownian motion, fractal dimension, Gabor filters, Image Processing, Medical Informatics, node map, oriented texture, Pattern Recognition, phase portraits, prior mammograms, spectral analysis
50341
Highly Resolved Intravital Striped-illumination Microscopy of Germinal Centers
Institutions: Leibniz Institute, Max-Delbrück Center for Molecular Medicine, Leibniz Institute, LaVision Biotec GmbH, Charité - University of Medicine.
Monitoring cellular communication by intravital deep-tissue multi-photon microscopy is the key for understanding the fate of immune cells within thick tissue samples and organs in health and disease. By controlling the scanning pattern in multi-photon microscopy and applying appropriate numerical algorithms, we developed a striped-illumination approach, which enabled us to achieve 3-fold better axial resolution and improved signal-to-noise ratio,
i.e.
contrast, in more than 100 µm tissue depth within highly scattering tissue of lymphoid organs as compared to standard multi-photon microscopy. The acquisition speed as well as photobleaching and photodamage effects were similar to standard photo-multiplier-based technique, whereas the imaging depth was slightly lower due to the use of field detectors. By using the striped-illumination approach, we are able to observe the dynamics of immune complex deposits on secondary follicular dendritic cells – on the level of a few protein molecules in germinal centers.
Immunology, Issue 86, two-photon laser scanning microscopy, deep-tissue intravital imaging, germinal center, lymph node, high-resolution, enhanced contrast
51135
Simultaneous Multicolor Imaging of Biological Structures with Fluorescence Photoactivation Localization Microscopy
Institutions: University of Maine.

Localization-based super resolution microscopy can be applied to obtain a spatial map (image) of the distribution of individual fluorescently labeled single molecules within a sample with a spatial resolution of tens of nanometers. Using either photoactivatable (PAFP) or photoswitchable (PSFP) fluorescent proteins fused to proteins of interest, or organic dyes conjugated to antibodies or other molecules of interest, fluorescence photoactivation localization microscopy (FPALM) can simultaneously image multiple species of molecules within single cells. By using the following approach, populations of large numbers (thousands to hundreds of thousands) of individual molecules are imaged in single cells and localized with a precision of ~10-30 nm. Data obtained can be applied to understanding the nanoscale spatial distributions of multiple protein types within a cell. One primary advantage of this technique is the dramatic increase in spatial resolution: while diffraction limits resolution to ~200-250 nm in conventional light microscopy, FPALM can image length scales more than an order of magnitude smaller. As many biological hypotheses concern the spatial relationships among different biomolecules, the improved resolution of FPALM can provide insight into questions of cellular organization which have previously been inaccessible to conventional fluorescence microscopy. In addition to detailing the methods for sample preparation and data acquisition, we here describe the optical setup for FPALM. One additional consideration for researchers wishing to do super-resolution microscopy is cost: in-house setups are significantly cheaper than most commercially available imaging machines. Limitations of this technique include the need for optimizing the labeling of molecules of interest within cell samples, and the need for post-processing software to visualize results. We here describe the use of PAFP and PSFP expression to image two protein species in fixed cells. Extension of the technique to living cells is also described.
Basic Protocol, Issue 82, Microscopy, Super-resolution imaging, Multicolor, single molecule, FPALM, Localization microscopy, fluorescent proteins
50680
The Generation of Higher-order Laguerre-Gauss Optical Beams for High-precision Interferometry
Institutions: University of Birmingham.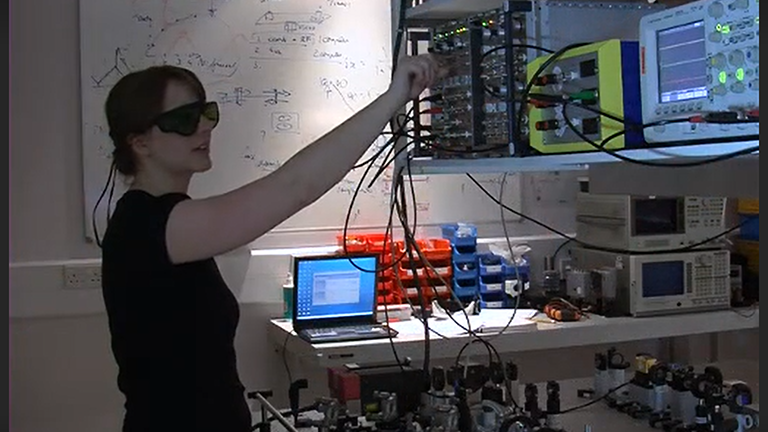 Thermal noise in high-reflectivity mirrors is a major impediment for several types of high-precision interferometric experiments that aim to reach the standard quantum limit or to cool mechanical systems to their quantum ground state. This is for example the case of future gravitational wave observatories, whose sensitivity to gravitational wave signals is expected to be limited in the most sensitive frequency band, by atomic vibration of their mirror masses. One promising approach being pursued to overcome this limitation is to employ higher-order Laguerre-Gauss (LG) optical beams in place of the conventionally used fundamental mode. Owing to their more homogeneous light intensity distribution these beams average more effectively over the thermally driven fluctuations of the mirror surface, which in turn reduces the uncertainty in the mirror position sensed by the laser light. We demonstrate a promising method to generate higher-order LG beams by shaping a fundamental Gaussian beam with the help of diffractive optical elements. We show that with conventional sensing and control techniques that are known for stabilizing fundamental laser beams, higher-order LG modes can be purified and stabilized just as well at a comparably high level. A set of diagnostic tools allows us to control and tailor the properties of generated LG beams. This enabled us to produce an LG beam with the highest purity reported to date. The demonstrated compatibility of higher-order LG modes with standard interferometry techniques and with the use of standard spherical optics makes them an ideal candidate for application in a future generation of high-precision interferometry.
Physics, Issue 78, Optics, Astronomy, Astrophysics, Gravitational waves, Laser interferometry, Metrology, Thermal noise, Laguerre-Gauss modes, interferometry
50564
Characterization of Surface Modifications by White Light Interferometry: Applications in Ion Sputtering, Laser Ablation, and Tribology Experiments
Institutions: Argonne National Laboratory, Argonne National Laboratory, MassThink LLC.

In materials science and engineering it is often necessary to obtain quantitative measurements of surface topography with micrometer lateral resolution. From the measured surface, 3D topographic maps can be subsequently analyzed using a variety of software packages to extract the information that is needed. In this article we describe how white light interferometry, and optical profilometry (OP) in general, combined with generic surface analysis software, can be used for materials science and engineering tasks. In this article, a number of applications of white light interferometry for investigation of surface modifications in mass spectrometry, and wear phenomena in tribology and lubrication are demonstrated. We characterize the products of the interaction of semiconductors and metals with energetic ions (sputtering), and laser irradiation (ablation), as well as
ex situ
measurements of wear of tribological test specimens. Specifically, we will discuss: Aspects of traditional ion sputtering-based mass spectrometry such as sputtering rates/yields measurements on Si and Cu and subsequent time-to-depth conversion. Results of quantitative characterization of the interaction of femtosecond laser irradiation with a semiconductor surface. These results are important for applications such as ablation mass spectrometry, where the quantities of evaporated material can be studied and controlled via pulse duration and energy per pulse. Thus, by determining the crater geometry one can define depth and lateral resolution versus experimental setup conditions. Measurements of surface roughness parameters in two dimensions, and quantitative measurements of the surface wear that occur as a result of friction and wear tests. Some inherent drawbacks, possible artifacts, and uncertainty assessments of the white light interferometry approach will be discussed and explained.
Materials Science, Issue 72, Physics, Ion Beams (nuclear interactions), Light Reflection, Optical Properties, Semiconductor Materials, White Light Interferometry, Ion Sputtering, Laser Ablation, Femtosecond Lasers, Depth Profiling, Time-of-flight Mass Spectrometry, Tribology, Wear Analysis, Optical Profilometry, wear, friction, atomic force microscopy, AFM, scanning electron microscopy, SEM, imaging, visualization
50260
From Voxels to Knowledge: A Practical Guide to the Segmentation of Complex Electron Microscopy 3D-Data
Institutions: Lawrence Berkeley National Laboratory, Lawrence Berkeley National Laboratory, Lawrence Berkeley National Laboratory.

Modern 3D electron microscopy approaches have recently allowed unprecedented insight into the 3D ultrastructural organization of cells and tissues, enabling the visualization of large macromolecular machines, such as adhesion complexes, as well as higher-order structures, such as the cytoskeleton and cellular organelles in their respective cell and tissue context. Given the inherent complexity of cellular volumes, it is essential to first extract the features of interest in order to allow visualization, quantification, and therefore comprehension of their 3D organization. Each data set is defined by distinct characteristics,
e.g.
, signal-to-noise ratio, crispness (sharpness) of the data, heterogeneity of its features, crowdedness of features, presence or absence of characteristic shapes that allow for easy identification, and the percentage of the entire volume that a specific region of interest occupies. All these characteristics need to be considered when deciding on which approach to take for segmentation. The six different 3D ultrastructural data sets presented were obtained by three different imaging approaches: resin embedded stained electron tomography, focused ion beam- and serial block face- scanning electron microscopy (FIB-SEM, SBF-SEM) of mildly stained and heavily stained samples, respectively. For these data sets, four different segmentation approaches have been applied: (1) fully manual model building followed solely by visualization of the model, (2) manual tracing segmentation of the data followed by surface rendering, (3) semi-automated approaches followed by surface rendering, or (4) automated custom-designed segmentation algorithms followed by surface rendering and quantitative analysis. Depending on the combination of data set characteristics, it was found that typically one of these four categorical approaches outperforms the others, but depending on the exact sequence of criteria, more than one approach may be successful. Based on these data, we propose a triage scheme that categorizes both objective data set characteristics and subjective personal criteria for the analysis of the different data sets.
Bioengineering, Issue 90, 3D electron microscopy, feature extraction, segmentation, image analysis, reconstruction, manual tracing, thresholding
51673
Characterization of Electrode Materials for Lithium Ion and Sodium Ion Batteries Using Synchrotron Radiation Techniques
Institutions: Lawrence Berkeley National Laboratory, University of Illinois at Chicago, Stanford Synchrotron Radiation Lightsource, Haldor Topsøe A/S, PolyPlus Battery Company.

Intercalation compounds such as transition metal oxides or phosphates are the most commonly used electrode materials in Li-ion and Na-ion batteries. During insertion or removal of alkali metal ions, the redox states of transition metals in the compounds change and structural transformations such as phase transitions and/or lattice parameter increases or decreases occur. These behaviors in turn determine important characteristics of the batteries such as the potential profiles, rate capabilities, and cycle lives. The extremely bright and tunable x-rays produced by synchrotron radiation allow rapid acquisition of high-resolution data that provide information about these processes. Transformations in the bulk materials, such as phase transitions, can be directly observed using X-ray diffraction (XRD), while X-ray absorption spectroscopy (XAS) gives information about the local electronic and geometric structures (
e.g.
 changes in redox states and bond lengths).
In situ
experiments carried out on operating cells are particularly useful because they allow direct correlation between the electrochemical and structural properties of the materials. These experiments are time-consuming and can be challenging to design due to the reactivity and air-sensitivity of the alkali metal anodes used in the half-cell configurations, and/or the possibility of signal interference from other cell components and hardware. For these reasons, it is appropriate to carry out
ex situ
experiments (
e.g.
 on electrodes harvested from partially charged or cycled cells) in some cases. Here, we present detailed protocols for the preparation of both
ex situ
and
in situ
samples for experiments involving synchrotron radiation and demonstrate how these experiments are done.
Physics, Issue 81, X-Ray Absorption Spectroscopy, X-Ray Diffraction, inorganic chemistry, electric batteries (applications), energy storage, Electrode materials, Li-ion battery, Na-ion battery, X-ray Absorption Spectroscopy (XAS), in situ X-ray diffraction (XRD)
50594
Optimized Negative Staining: a High-throughput Protocol for Examining Small and Asymmetric Protein Structure by Electron Microscopy
Institutions: The Molecular Foundry.

Structural determination of proteins is rather challenging for proteins with molecular masses between 40 - 200 kDa. Considering that more than half of natural proteins have a molecular mass between 40 - 200 kDa
1,2
, a robust and high-throughput method with a nanometer resolution capability is needed. Negative staining (NS) electron microscopy (EM) is an easy, rapid, and qualitative approach which has frequently been used in research laboratories to examine protein structure and protein-protein interactions. Unfortunately, conventional NS protocols often generate structural artifacts on proteins, especially with lipoproteins that usually form presenting rouleaux artifacts. By using images of lipoproteins from cryo-electron microscopy (cryo-EM) as a standard, the key parameters in NS specimen preparation conditions were recently screened and reported as the optimized NS protocol (OpNS), a modified conventional NS protocol
3
. Artifacts like rouleaux can be greatly limited by OpNS, additionally providing high contrast along with reasonably high‐resolution (near 1 nm) images of small and asymmetric proteins. These high-resolution and high contrast images are even favorable for an individual protein (a single object, no average) 3D reconstruction, such as a 160 kDa antibody, through the method of electron tomography
4,5
. Moreover, OpNS can be a high‐throughput tool to examine hundreds of samples of small proteins. For example, the previously published mechanism of 53 kDa cholesteryl ester transfer protein (CETP) involved the screening and imaging of hundreds of samples
6
. Considering cryo-EM rarely successfully images proteins less than 200 kDa has yet to publish any study involving screening over one hundred sample conditions, it is fair to call OpNS a high-throughput method for studying small proteins. Hopefully the OpNS protocol presented here can be a useful tool to push the boundaries of EM and accelerate EM studies into small protein structure, dynamics and mechanisms.
Environmental Sciences, Issue 90, small and asymmetric protein structure, electron microscopy, optimized negative staining
51087
A Method to Fabricate Disconnected Silver Nanostructures in 3D
Institutions: Harvard University , Harvard University .

The standard nanofabrication toolkit includes techniques primarily aimed at creating 2D patterns in dielectric media. Creating metal patterns on a submicron scale requires a combination of nanofabrication tools and several material processing steps. For example, steps to create planar metal structures using ultraviolet photolithography and electron-beam lithography can include sample exposure, sample development, metal deposition, and metal liftoff. To create 3D metal structures, the sequence is repeated multiple times. The complexity and difficulty of stacking and aligning multiple layers limits practical implementations of 3D metal structuring using standard nanofabrication tools. Femtosecond-laser direct-writing has emerged as a pre-eminent technique for 3D nanofabrication.
1,2
Femtosecond lasers are frequently used to create 3D patterns in polymers and glasses.
3-7
However, 3D metal direct-writing remains a challenge. Here, we describe a method to fabricate silver nanostructures embedded inside a polymer matrix using a femtosecond laser centered at 800 nm. The method enables the fabrication of patterns not feasible using other techniques, such as 3D arrays of disconnected silver voxels.
8
Disconnected 3D metal patterns are useful for metamaterials where unit cells are not in contact with each other,
9
such as coupled metal dot
10,11
or coupled metal rod
12,13
resonators. Potential applications include negative index metamaterials, invisibility cloaks, and perfect lenses. In femtosecond-laser direct-writing, the laser wavelength is chosen such that photons are not linearly absorbed in the target medium. When the laser pulse duration is compressed to the femtosecond time scale and the radiation is tightly focused inside the target, the extremely high intensity induces nonlinear absorption. Multiple photons are absorbed simultaneously to cause electronic transitions that lead to material modification within the focused region. Using this approach, one can form structures in the bulk of a material rather than on its surface. Most work on 3D direct metal writing has focused on creating self-supported metal structures.
14-16
The method described here yields sub-micrometer silver structures that do not need to be self-supported because they are embedded inside a matrix. A doped polymer matrix is prepared using a mixture of silver nitrate (AgNO
3
), polyvinylpyrrolidone (PVP) and water (H
2
O). Samples are then patterned by irradiation with an 11-MHz femtosecond laser producing 50-fs pulses. During irradiation, photoreduction of silver ions is induced through nonlinear absorption, creating an aggregate of silver nanoparticles in the focal region. Using this approach we create silver patterns embedded in a doped PVP matrix. Adding 3D translation of the sample extends the patterning to three dimensions.
Physics, Issue 69, Materials Science, Engineering, Nanotechnology, nanofabrication, microfabrication, 3D fabrication, polymer, silver, femtosecond laser processing, direct laser writing, multiphoton lithography, nonlinear absorption
4399
Bringing the Visible Universe into Focus with Robo-AO
Institutions: California Institute of Technology, California Institute of Technology, University of Toronto, Inter-University Centre for Astronomy & Astrophysics, Observatories of the Carnegie Institution for Science, Weizmann Institute of Science.

The angular resolution of ground-based optical telescopes is limited by the degrading effects of the turbulent atmosphere. In the absence of an atmosphere, the angular resolution of a typical telescope is limited only by diffraction,
i.e.
, the wavelength of interest,
λ
, divided by the size of its primary mirror's aperture,
D
. For example, the Hubble Space Telescope (HST), with a 2.4-m primary mirror, has an angular resolution at visible wavelengths of ~0.04 arc seconds. The atmosphere is composed of air at slightly different temperatures, and therefore different indices of refraction, constantly mixing. Light waves are bent as they pass through the inhomogeneous atmosphere. When a telescope on the ground focuses these light waves, instantaneous images appear fragmented, changing as a function of time. As a result, long-exposure images acquired using ground-based telescopes - even telescopes with four times the diameter of HST - appear blurry and have an angular resolution of roughly 0.5 to 1.5 arc seconds at best. Astronomical adaptive-optics systems compensate for the effects of atmospheric turbulence. First, the shape of the incoming non-planar wave is determined using measurements of a nearby bright star by a wavefront sensor. Next, an element in the optical system, such as a deformable mirror, is commanded to correct the shape of the incoming light wave. Additional corrections are made at a rate sufficient to keep up with the dynamically changing atmosphere through which the telescope looks, ultimately producing diffraction-limited images. The fidelity of the wavefront sensor measurement is based upon how well the incoming light is spatially and temporally sampled
1
. Finer sampling requires brighter reference objects. While the brightest stars can serve as reference objects for imaging targets from several to tens of arc seconds away in the best conditions, most interesting astronomical targets do not have sufficiently bright stars nearby. One solution is to focus a high-power laser beam in the direction of the astronomical target to create an artificial reference of known shape, also known as a 'laser guide star'. The Robo-AO laser adaptive optics system
2,3
employs a 10-W ultraviolet laser focused at a distance of 10 km to generate a laser guide star. Wavefront sensor measurements of the laser guide star drive the adaptive optics correction resulting in diffraction-limited images that have an angular resolution of ~0.1 arc seconds on a 1.5-m telescope.
Physics, Issue 72, Astronomy, Mechanical Engineering, Astrophysics, Optics, Adaptive optics, lasers, wavefront sensing, robotics, stars, galaxies, imaging, supernova, telescopes
50021
X-ray Dose Reduction through Adaptive Exposure in Fluoroscopic Imaging
Institutions: Triple Ring Technologies.

X-ray fluoroscopy is widely used for image guidance during cardiac intervention. However, radiation dose in these procedures can be high, and this is a significant concern, particularly in pediatric applications. Pediatrics procedures are in general much more complex than those performed on adults and thus are on average four to eight times longer
1
. Furthermore, children can undergo up to 10 fluoroscopic procedures by the age of 10, and have been shown to have a three-fold higher risk of developing fatal cancer throughout their life than the general population
2,3
. We have shown that radiation dose can be significantly reduced in adult cardiac procedures by using our scanning beam digital x-ray (SBDX) system
4
-- a fluoroscopic imaging system that employs an inverse imaging geometry
5,6
(Figure 1, Movie 1 and Figure 2). Instead of a single focal spot and an extended detector as used in conventional systems, our approach utilizes an extended X-ray source with multiple focal spots focused on a small detector. Our X-ray source consists of a scanning electron beam sequentially illuminating up to 9,000 focal spot positions. Each focal spot projects a small portion of the imaging volume onto the detector. In contrast to a conventional system where the final image is directly projected onto the detector, the SBDX uses a dedicated algorithm to reconstruct the final image from the 9,000 detector images. For pediatric applications, dose savings with the SBDX system are expected to be smaller than in adult procedures. However, the SBDX system allows for additional dose savings by implementing an electronic adaptive exposure technique. Key to this method is the multi-beam scanning technique of the SBDX system: rather than exposing every part of the image with the same radiation dose, we can dynamically vary the exposure depending on the opacity of the region exposed. Therefore, we can significantly reduce exposure in radiolucent areas and maintain exposure in more opaque regions. In our current implementation, the adaptive exposure requires user interaction (Figure 3). However, in the future, the adaptive exposure will be real time and fully automatic. We have performed experiments with an anthropomorphic phantom and compared measured radiation dose with and without adaptive exposure using a dose area product (DAP) meter. In the experiment presented here, we find a dose reduction of 30%.
Bioengineering, Issue 55, Scanning digital X-ray, fluoroscopy, pediatrics, interventional cardiology, adaptive exposure, dose savings
3236
Non-invasive 3D-Visualization with Sub-micron Resolution Using Synchrotron-X-ray-tomography
Institutions: University of Tubingen, European Synchrotron Radiation Facility.

Little is known about the internal organization of many micro-arthropods with body sizes below 1 mm. The reasons for that are the small size and the hard cuticle which makes it difficult to use protocols of classical histology. In addition, histological sectioning destroys the sample and can therefore not be used for unique material. Hence, a non-destructive method is desirable which allows to view inside small samples without the need of sectioning. We used synchrotron X-ray tomography at the European Synchrotron Radiation Facility (ESRF) in Grenoble (France) to non-invasively produce 3D tomographic datasets with a pixel-resolution of 0.7µm. Using volume rendering software, this allows us to reconstruct the internal organization in its natural state without the artefacts produced by histological sectioning. These date can be used for quantitative morphology, landmarks, or for the visualization of animated movies to understand the structure of hidden body parts and to follow complete organ systems or tissues through the samples.
Developmental Biology, Issue 15, Synchrotron X-ray tomography, Acari, Oribatida, micro-arthropods, non-invasive investigation
737
Phase Contrast and Differential Interference Contrast (DIC) Microscopy
Institutions: University of Texas Health Science Center at San Antonio (UTHSCSA).
Phase-contrast microscopy is often used to produce contrast for transparent, non light-absorbing, biological specimens. The technique was discovered by Zernike, in 1942, who received the Nobel prize for his achievement. DIC microscopy, introduced in the late 1960s, has been popular in biomedical research because it highlights edges of specimen structural detail, provides high-resolution optical sections of thick specimens including tissue cells, eggs, and embryos and does not suffer from the phase halos typical of phase-contrast images. This protocol highlights the principles and practical applications of these microscopy techniques.
Basic protocols, Issue 18, Current Protocols Wiley, Microscopy, Phase Contrast, Difference Interference Contrast
844