Solid-state Graft Copolymer Electrolytes for Lithium Battery Applications
Published: 08-12-2013
ABSTRACT
Battery safety has been a very important research area over the past decade. Commercially available lithium ion batteries employ low flash point (<80 °C), flammable, and volatile organic electrolytes. These organic based electrolyte systems are viable at ambient temperatures, but require a cooling system to ensure that temperatures do not exceed 80 °C. These cooling systems tend to increase battery costs and can malfunction which can lead to battery malfunction and explosions, thus endangering human life. Increases in petroleum prices lead to a huge demand for safe, electric hybrid vehicles that are more economically viable to operate as oil prices continue to rise. Existing organic based electrolytes used in lithium ion batteries are not applicable to high temperature automotive applications. A safer alternative to organic electrolytes is solid polymer electrolytes. This work will highlight the synthesis for a graft copolymer electrolyte (GCE) poly(oxyethylene) methacrylate (POEM) to a block with a lower glass transition temperature (Tg) poly(oxyethylene) acrylate (POEA). The conduction mechanism has been discussed and it has been demonstrated the relationship between polymer segmental motion and ionic conductivity indeed has a Vogel-Tammann-Fulcher (VTF) dependence. Batteries containing commercially available LP30 organic (LiPF6 in ethylene carbonate (EC):dimethyl carbonate (DMC) at a 1:1 ratio) and GCE were cycled at ambient temperature. It was found that at ambient temperature, the batteries containing GCE showed a greater overpotential when compared to LP30 electrolyte. However at temperatures greater than 60 °C, the GCE cell exhibited much lower overpotential due to fast polymer electrolyte conductivity and nearly the full theoretical specific capacity of 170 mAh/g was accessed.
23 Related JoVE Articles!
Probing and Mapping Electrode Surfaces in Solid Oxide Fuel Cells
Institutions: Georgia Institute of Technology , Georgia Institute of Technology .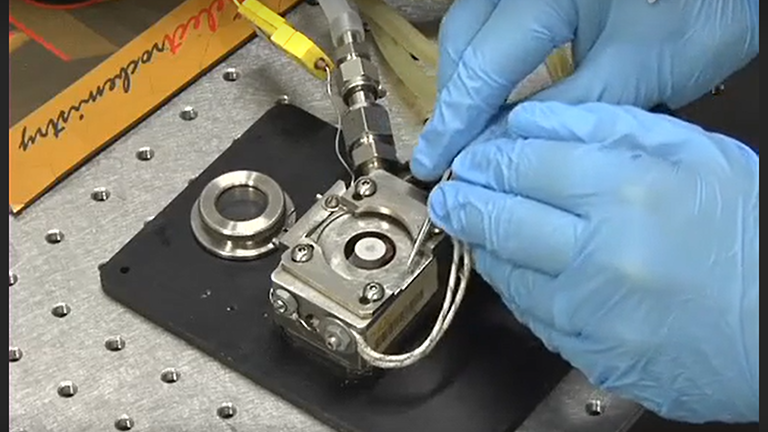 Solid oxide fuel cells (SOFCs) are potentially the most efficient and cost-effective solution to utilization of a wide variety of fuels beyond hydrogen
1-7
. The performance of SOFCs and the rates of many chemical and energy transformation processes in energy storage and conversion devices in general are limited primarily by charge and mass transfer along electrode surfaces and across interfaces. Unfortunately, the mechanistic understanding of these processes is still lacking, due largely to the difficulty of characterizing these processes under
in situ
conditions. This knowledge gap is a chief obstacle to SOFC commercialization. The development of tools for probing and mapping surface chemistries relevant to electrode reactions is vital to unraveling the mechanisms of surface processes and to achieving rational design of new electrode materials for more efficient energy storage and conversion
2
. Among the relatively few
in situ
surface analysis methods, Raman spectroscopy can be performed even with high temperatures and harsh atmospheres, making it ideal for characterizing chemical processes relevant to SOFC anode performance and degradation
8-12
. It can also be used alongside electrochemical measurements, potentially allowing direct correlation of electrochemistry to surface chemistry in an operating cell. Proper
in situ
Raman mapping measurements would be useful for pin-pointing important anode reaction mechanisms because of its sensitivity to the relevant species, including anode performance degradation through carbon deposition
8, 10, 13, 14
("coking") and sulfur poisoning
11, 15
and the manner in which surface modifications stave off this degradation
16
. The current work demonstrates significant progress towards this capability. In addition, the family of scanning probe microscopy (SPM) techniques provides a special approach to interrogate the electrode surface with nanoscale resolution. Besides the surface topography that is routinely collected by AFM and STM, other properties such as local electronic states, ion diffusion coefficient and surface potential can also be investigated
17-22
. In this work, electrochemical measurements, Raman spectroscopy, and SPM were used in conjunction with a novel test electrode platform that consists of a Ni mesh electrode embedded in an yttria-stabilized zirconia (YSZ) electrolyte. Cell performance testing and impedance spectroscopy under fuel containing H
2
S was characterized, and Raman mapping was used to further elucidate the nature of sulfur poisoning.
In situ
Raman monitoring was used to investigate coking behavior. Finally, atomic force microscopy (AFM) and electrostatic force microscopy (EFM) were used to further visualize carbon deposition on the nanoscale. From this research, we desire to produce a more complete picture of the SOFC anode.
Materials Science, Issue 67, Chemistry, Electrical Engineering, Physics, electrochemistry, catalysts (chemical), spectroscopic chemical analysis (application), microscopes, Fuel cell, Raman, AFM, SOFC, Surface, Electrode
50161
Gold Nanostar Synthesis with a Silver Seed Mediated Growth Method
Institutions: The University of Texas at San Antonio, Centro de Investigaciones en Optica A. C., The University of Texas at San Antonio.
The physical, chemical and optical properties of nano-scale colloids depend on their material composition, size and shape
1-5
. There is a great interest in using nano-colloids for photo-thermal ablation, drug delivery and many other biomedical applications
6
. Gold is particularly used because of its low toxicity
7-9
. A property of metal nano-colloids is that they can have a strong surface plasmon resonance
10
. The peak of the surface plasmon resonance mode depends on the structure and composition of the metal nano-colloids. Since the surface plasmon resonance mode is stimulated with light there is a need to have the peak absorbance in the near infrared where biological tissue transmissivity is maximal
11, 12
. We present a method to synthesize star shaped colloidal gold, also known as star shaped nanoparticles
13-15
or nanostars
16
. This method is based on a solution containing silver seeds that are used as the nucleating agent for anisotropic growth of gold colloids
17-22
. Scanning electron microscopy (SEM) analysis of the resulting gold colloid showed that 70 % of the nanostructures were nanostars. The other 30 % of the particles were amorphous clusters of decahedra and rhomboids. The absorbance peak of the nanostars was detected to be in the near infrared (840 nm). Thus, our method produces gold nanostars suitable for biomedical applications, particularly for photo-thermal ablation.
Bioengineering, Issue 59, thermal ablation, surface plasmon resonance, nanoparticle, nanotechnology, silver seeds
3570
Preparing Silica Aerogel Monoliths via a Rapid Supercritical Extraction Method
Institutions: Union College, Union College.

A procedure for the fabrication of monolithic silica aerogels in eight hours or less via a rapid supercritical extraction process is described. The procedure requires 15-20 min of preparation time, during which a liquid precursor mixture is prepared and poured into wells of a metal mold that is placed between the platens of a hydraulic hot press, followed by several hours of processing within the hot press. The precursor solution consists of a 1.0:12.0:3.6:3.5 x 10
-3
molar ratio of tetramethylorthosilicate (TMOS):methanol:water:ammonia. In each well of the mold, a porous silica sol-gel matrix forms. As the temperature of the mold and its contents is increased, the pressure within the mold rises. After the temperature/pressure conditions surpass the supercritical point for the solvent within the pores of the matrix (in this case, a methanol/water mixture), the supercritical fluid is released, and monolithic aerogel remains within the wells of the mold. With the mold used in this procedure, cylindrical monoliths of 2.2 cm diameter and 1.9 cm height are produced. Aerogels formed by this rapid method have comparable properties (low bulk and skeletal density, high surface area, mesoporous morphology) to those prepared by other methods that involve either additional reaction steps or solvent extractions (lengthier processes that generate more chemical waste).The rapid supercritical extraction method can also be applied to the fabrication of aerogels based on other precursor recipes.
Chemistry, Issue 84, Aerogel fabrication, Silica aerogels, Aerogel monoliths, Rapid supercritical extraction, Hot press, Tetramethylorthosilicate (TMOS)
51421
Synthesis and Characterization of Functionalized Metal-organic Frameworks
Institutions: Northwestern University, Warsaw University of Technology, King Abdulaziz University.

Metal-organic frameworks have attracted extraordinary amounts of research attention, as they are attractive candidates for numerous industrial and technological applications. Their signature property is their ultrahigh porosity, which however imparts a series of challenges when it comes to both constructing them and working with them. Securing desired MOF chemical and physical functionality by linker/node assembly into a highly porous framework of choice can pose difficulties, as less porous and more thermodynamically stable congeners (
e.g.
, other crystalline polymorphs, catenated analogues) are often preferentially obtained by conventional synthesis methods. Once the desired product is obtained, its characterization often requires specialized techniques that address complications potentially arising from, for example, guest-molecule loss or preferential orientation of microcrystallites. Finally, accessing the large voids inside the MOFs for use in applications that involve gases can be problematic, as frameworks may be subject to collapse during removal of solvent molecules (remnants of solvothermal synthesis). In this paper, we describe synthesis and characterization methods routinely utilized in our lab either to solve or circumvent these issues. The methods include solvent-assisted linker exchange, powder X-ray diffraction in capillaries, and materials activation (cavity evacuation) by supercritical CO
2
drying. Finally, we provide a protocol for determining a suitable pressure region for applying the Brunauer-Emmett-Teller analysis to nitrogen isotherms, so as to estimate surface area of MOFs with good accuracy.
Chemistry, Issue 91, Metal-organic frameworks, porous coordination polymers, supercritical CO2 activation, crystallography, solvothermal, sorption, solvent-assisted linker exchange
52094
Compact Quantum Dots for Single-molecule Imaging
Institutions: Emory University, Georgia Institute of Technology .

Single-molecule imaging is an important tool for understanding the mechanisms of biomolecular function and for visualizing the spatial and temporal heterogeneity of molecular behaviors that underlie cellular biology
1-4
. To image an individual molecule of interest, it is typically conjugated to a fluorescent tag (dye, protein, bead, or quantum dot) and observed with epifluorescence or total internal reflection fluorescence (TIRF) microscopy. While dyes and fluorescent proteins have been the mainstay of fluorescence imaging for decades, their fluorescence is unstable under high photon fluxes necessary to observe individual molecules, yielding only a few seconds of observation before complete loss of signal. Latex beads and dye-labeled beads provide improved signal stability but at the expense of drastically larger hydrodynamic size, which can deleteriously alter the diffusion and behavior of the molecule under study. Quantum dots (QDs) offer a balance between these two problematic regimes. These nanoparticles are composed of semiconductor materials and can be engineered with a hydrodynamically compact size with exceptional resistance to photodegradation
5
. Thus in recent years QDs have been instrumental in enabling long-term observation of complex macromolecular behavior on the single molecule level. However these particles have still been found to exhibit impaired diffusion in crowded molecular environments such as the cellular cytoplasm and the neuronal synaptic cleft, where their sizes are still too large
4,6,7
. Recently we have engineered the cores and surface coatings of QDs for minimized hydrodynamic size, while balancing offsets to colloidal stability, photostability, brightness, and nonspecific binding that have hindered the utility of compact QDs in the past
8,9
. The goal of this article is to demonstrate the synthesis, modification, and characterization of these optimized nanocrystals, composed of an alloyed Hg
x
Cd
1-x
Se core coated with an insulating Cd
y
Zn
1-y
S shell, further coated with a multidentate polymer ligand modified with short polyethylene glycol (PEG) chains (
Figure 1
). Compared with conventional CdSe nanocrystals, Hg
x
Cd
1-x
Se alloys offer greater quantum yields of fluorescence, fluorescence at red and near-infrared wavelengths for enhanced signal-to-noise in cells, and excitation at non-cytotoxic visible wavelengths. Multidentate polymer coatings bind to the nanocrystal surface in a closed and flat conformation to minimize hydrodynamic size, and PEG neutralizes the surface charge to minimize nonspecific binding to cells and biomolecules. The end result is a brightly fluorescent nanocrystal with emission between 550-800 nm and a total hydrodynamic size near 12 nm. This is in the same size range as many soluble globular proteins in cells, and substantially smaller than conventional PEGylated QDs (25-35 nm).
Physics, Issue 68, Biomedical Engineering, Chemistry, Nanotechnology, Nanoparticle, nanocrystal, synthesis, fluorescence, microscopy, imaging, conjugation, dynamics, intracellular, receptor
4236
Harvesting Solar Energy by Means of Charge-Separating Nanocrystals and Their Solids
Institutions: Bowling Green State University, Bowling Green State University, Bowling Green State University.

Conjoining different semiconductor materials in a single nano-composite provides synthetic means for the development of novel optoelectronic materials offering a superior control over the spatial distribution of charge carriers across material interfaces. As this study demonstrates, a combination of donor-acceptor nanocrystal (NC) domains in a single nanoparticle can lead to the realization of efficient photocatalytic
1-5
materials, while a layered assembly of donor- and acceptor-like nanocrystals films gives rise to photovoltaic materials. Initially the paper focuses on the synthesis of composite inorganic nanocrystals, comprising linearly stacked ZnSe, CdS, and Pt domains, which jointly promote photoinduced charge separation. These structures are used in aqueous solutions for the photocatalysis of water under solar radiation, resulting in the production of H
2
gas. To enhance the photoinduced separation of charges, a nanorod morphology with a linear gradient originating from an intrinsic electric field is used
5
. The inter-domain energetics are then optimized to drive photogenerated electrons toward the Pt catalytic site while expelling the holes to the surface of ZnSe domains for sacrificial regeneration (via methanol). Here we show that the only efficient way to produce hydrogen is to use electron-donating ligands to passivate the surface states by tuning the energy level alignment at the semiconductor-ligand interface. Stable and efficient reduction of water is allowed by these ligands due to the fact that they fill vacancies in the valence band of the semiconductor domain, preventing energetic holes from degrading it. Specifically, we show that the energy of the hole is transferred to the ligand moiety, leaving the semiconductor domain functional. This enables us to return the entire nanocrystal-ligand system to a functional state, when the ligands are degraded, by simply adding fresh ligands to the system
4
. To promote a photovoltaic charge separation, we use a composite two-layer solid of PbS and TiO
2
films. In this configuration, photoinduced electrons are injected into TiO
2
and are subsequently picked up by an FTO electrode, while holes are channeled to a Au electrode via PbS layer
6
. To develop the latter we introduce a
Semiconductor Matrix Encapsulated Nanocrystal Arrays
(SMENA) strategy, which allows bonding PbS NCs into the surrounding matrix of CdS semiconductor. As a result, fabricated solids exhibit excellent thermal stability, attributed to the heteroepitaxial structure of nanocrystal-matrix interfaces, and show compelling light-harvesting performance in prototype solar cells
7
.
Physics, Issue 66, Materials Science, Chemical Engineering, Chemistry, Electrical Engineering, Photovoltaics, nanorods, dye-sensitized, solids, titanium dioxide, photocatalysis, quantum dots
4296
Preparation of Silica Nanoparticles Through Microwave-assisted Acid-catalysis
Institutions: Oak Ridge Institute for Science and Education, Airbase Technology Division, Clemson University.

Microwave-assisted synthetic techniques were used to quickly and reproducibly produce silica nanoparticle
sols
using an acid catalyst with nanoparticle diameters ranging from 30-250 nm by varying the reaction conditions. Through the selection of a microwave compatible solvent, silicic acid precursor, catalyst, and microwave irradiation time, these microwave-assisted methods were capable of overcoming the previously reported shortcomings associated with synthesis of silica nanoparticles using microwave reactors. The siloxane precursor was hydrolyzed using the acid catalyst, HCl. Acetone, a low-tan
δ
solvent, mediates the condensation reactions and has minimal interaction with the electromagnetic field. Condensation reactions begin when the silicic acid precursor couples with the microwave radiation, leading to silica nanoparticle
sol
formation. The silica nanoparticles were characterized by dynamic light scattering data and scanning electron microscopy, which show the materials' morphology and size to be dependent on the reaction conditions. Microwave-assisted reactions produce silica nanoparticles with roughened textured surfaces that are atypical for silica
sols
produced by Stöber's methods, which have smooth surfaces.
Chemistry, Issue 82, Chemistry, chemical manufacturing, chemistry (general), materials (general), nanocomposites, catalysts (chemical), chemistry of compounds, Chemistry and Materials (General), Composite Materials, Inorganic, Organic and Physical Chemistry, Engineering (General), Microwave, nanoparticle, silica, silicic acid, NP, SiO2, synthesis
51022
Microfluidic Fabrication of Polymeric and Biohybrid Fibers with Predesigned Size and Shape
Institutions: US Naval Research Laboratory, North Carolina State University and University of North Carolina at Chapel Hill.

A "sheath" fluid passing through a microfluidic channel at low Reynolds number can be directed around another "core" stream and used to dictate the shape as well as the diameter of a core stream. Grooves in the top and bottom of a microfluidic channel were designed to direct the sheath fluid and shape the core fluid. By matching the viscosity and hydrophilicity of the sheath and core fluids, the interfacial effects are minimized and complex fluid shapes can be formed. Controlling the relative flow rates of the sheath and core fluids determines the cross-sectional area of the core fluid. Fibers have been produced with sizes ranging from 300 nm to ~1 mm, and fiber cross-sections can be round, flat, square, or complex as in the case with double anchor fibers. Polymerization of the core fluid downstream from the shaping region solidifies the fibers. Photoinitiated click chemistries are well suited for rapid polymerization of the core fluid by irradiation with ultraviolet light. Fibers with a wide variety of shapes have been produced from a list of polymers including liquid crystals, poly(methylmethacrylate), thiol-ene and thiol-yne resins, polyethylene glycol, and hydrogel derivatives. Minimal shear during the shaping process and mild polymerization conditions also makes the fabrication process well suited for encapsulation of cells and other biological components.
Bioengineering, Issue 83, hydrodynamic focusing, polymer fiber, biohybrid, microfabrication, sheath flow, click chemistry
50958
Integrating a Triplet-triplet Annihilation Up-conversion System to Enhance Dye-sensitized Solar Cell Response to Sub-bandgap Light
Institutions: The University of Wollongong, The University of Sydney, The University of New South Wales.

The poor response of dye-sensitized solar cells (DSCs) to red and infrared light is a significant impediment to the realization of higher photocurrents and hence higher efficiencies. Photon up-conversion by way of triplet-triplet annihilation (TTA-UC) is an attractive technique for using these otherwise wasted low energy photons to produce photocurrent, while not interfering with the photoanodic performance in a deleterious manner. Further to this, TTA-UC has a number of features, distinct from other reported photon up-conversion technologies, which renders it particularly suitable for coupling with DSC technology. In this work, a proven high performance TTA-UC system, comprising a palladium porphyrin sensitizer and rubrene emitter, is combined with a high performance DSC (utilizing the organic dye D149) in an integrated device. The device shows an enhanced response to sub-bandgap light over the absorption range of the TTA-UC sub-unit resulting in the highest figure of merit for up-conversion assisted DSC performance to date.
Physics, Issue 91, Third generation photovoltaics, upconversion, organic electronics, device architecture, porphyrins, photovoltaic testing
52028
Towards Biomimicking Wood: Fabricated Free-standing Films of Nanocellulose, Lignin, and a Synthetic Polycation
Institutions: Virginia Tech, Virginia Tech, Illinois Institute of Technology- Moffett Campus, University of Guadalajara, Virginia Tech, Virginia Tech.

Woody materials are comprised of plant cell walls that contain a layered secondary cell wall composed of structural polymers of polysaccharides and lignin. Layer-by-layer (LbL) assembly process which relies on the assembly of oppositely charged molecules from aqueous solutions was used to build a freestanding composite film of isolated wood polymers of lignin and oxidized nanofibril cellulose (NFC). To facilitate the assembly of these negatively charged polymers, a positively charged polyelectrolyte, poly(diallyldimethylammomium chloride) (PDDA), was used as a linking layer to create this simplified model cell wall. The layered adsorption process was studied quantitatively using quartz crystal microbalance with dissipation monitoring (QCM-D) and ellipsometry. The results showed that layer mass/thickness per adsorbed layer increased as a function of total number of layers. The surface coverage of the adsorbed layers was studied with atomic force microscopy (AFM). Complete coverage of the surface with lignin in all the deposition cycles was found for the system, however, surface coverage by NFC increased with the number of layers. The adsorption process was carried out for 250 cycles (500 bilayers) on a cellulose acetate (CA) substrate. Transparent free-standing LBL assembled nanocomposite films were obtained when the CA substrate was later dissolved in acetone. Scanning electron microscopy (SEM) of the fractured cross-sections showed a lamellar structure, and the thickness per adsorption cycle (PDDA-Lignin-PDDA-NC) was estimated to be 17 nm for two different lignin types used in the study. The data indicates a film with highly controlled architecture where nanocellulose and lignin are spatially deposited on the nanoscale (a polymer-polymer nanocomposites), similar to what is observed in the native cell wall.
Plant Biology, Issue 88, nanocellulose, thin films, quartz crystal microbalance, layer-by-layer, LbL
51257
Simultaneous Synthesis of Single-walled Carbon Nanotubes and Graphene in a Magnetically-enhanced Arc Plasma
Institutions: The George Washington University.

Carbon nanostructures such as single-walled carbon nanotubes (SWCNT) and graphene attract a deluge of interest of scholars nowadays due to their very promising application for molecular sensors, field effect transistor and super thin and flexible electronic devices
1-4
. Anodic arc discharge supported by the erosion of the anode material is one of the most practical and efficient methods, which can provide specific non-equilibrium processes and a high influx of carbon material to the developing structures at relatively higher temperature, and consequently the as-synthesized products have few structural defects and better crystallinity. To further improve the controllability and flexibility of the synthesis of carbon nanostructures in arc discharge, magnetic fields can be applied during the synthesis process according to the strong magnetic responses of arc plasmas. It was demonstrated that the magnetically-enhanced arc discharge can increase the average length of SWCNT
5
, narrow the diameter distribution of metallic catalyst particles and carbon nanotubes
6
, and change the ratio of metallic and semiconducting carbon nanotubes
7
, as well as lead to graphene synthesis
8
. Furthermore, it is worthwhile to remark that when we introduce a non-uniform magnetic field with the component normal to the current in arc, the Lorentz force along the J×B direction can generate the plasmas jet and make effective delivery of carbon ion particles and heat flux to samples. As a result, large-scale graphene flakes and high-purity single-walled carbon nanotubes were simultaneously generated by such new magnetically-enhanced anodic arc method. Arc imaging, scanning electron microscope (SEM), transmission electron microscope (TEM) and Raman spectroscopy were employed to analyze the characterization of carbon nanostructures. These findings indicate a wide spectrum of opportunities to manipulate with the properties of nanostructures produced in plasmas by means of controlling the arc conditions.
Bioengineering, Issue 60, Arc discharge, magnetic control, single-walled carbon nanotubes, graphene
3455
Revealing Dynamic Processes of Materials in Liquids Using Liquid Cell Transmission Electron Microscopy
Institutions: Lawrence Berkeley National Laboratory.

The recent development for in situ transmission electron microscopy, which allows imaging through liquids with high spatial resolution, has attracted significant interests across the research fields of materials science, physics, chemistry and biology. The key enabling technology is a liquid cell. We fabricate liquid cells with thin viewing windows through a sequential microfabrication process, including silicon nitride membrane deposition, photolithographic patterning, wafer etching, cell bonding, etc. A liquid cell with the dimensions of a regular TEM grid can fit in any standard TEM sample holder. About 100 nanoliters reaction solution is loaded into the reservoirs and about 30 picoliters liquid is drawn into the viewing windows by capillary force. Subsequently, the cell is sealed and loaded into a microscope for in situ imaging. Inside the TEM, the electron beam goes through the thin liquid layer sandwiched between two silicon nitride membranes. Dynamic processes of nanoparticles in liquids, such as nucleation and growth of nanocrystals, diffusion and assembly of nanoparticles, etc., have been imaged in real time with sub-nanometer resolution. We have also applied this method to other research areas,
e.g.
, imaging proteins in water. Liquid cell TEM is poised to play a major role in revealing dynamic processes of materials in their working environments. It may also bring high impact in the study of biological processes in their native environment.
Materials Science, Issue 70, Chemical Engineering, Chemistry, Physics, Engineering, Life sciences, Liquid cell, Transmission Electron Microscopy, TEM, In situ TEM, Single nanoparticle trajectory, dynamic imaging, nanocrystals
50122
Characterization of Electrode Materials for Lithium Ion and Sodium Ion Batteries Using Synchrotron Radiation Techniques
Institutions: Lawrence Berkeley National Laboratory, University of Illinois at Chicago, Stanford Synchrotron Radiation Lightsource, Haldor Topsøe A/S, PolyPlus Battery Company.

Intercalation compounds such as transition metal oxides or phosphates are the most commonly used electrode materials in Li-ion and Na-ion batteries. During insertion or removal of alkali metal ions, the redox states of transition metals in the compounds change and structural transformations such as phase transitions and/or lattice parameter increases or decreases occur. These behaviors in turn determine important characteristics of the batteries such as the potential profiles, rate capabilities, and cycle lives. The extremely bright and tunable x-rays produced by synchrotron radiation allow rapid acquisition of high-resolution data that provide information about these processes. Transformations in the bulk materials, such as phase transitions, can be directly observed using X-ray diffraction (XRD), while X-ray absorption spectroscopy (XAS) gives information about the local electronic and geometric structures (
e.g.
 changes in redox states and bond lengths).
In situ
experiments carried out on operating cells are particularly useful because they allow direct correlation between the electrochemical and structural properties of the materials. These experiments are time-consuming and can be challenging to design due to the reactivity and air-sensitivity of the alkali metal anodes used in the half-cell configurations, and/or the possibility of signal interference from other cell components and hardware. For these reasons, it is appropriate to carry out
ex situ
experiments (
e.g.
 on electrodes harvested from partially charged or cycled cells) in some cases. Here, we present detailed protocols for the preparation of both
ex situ
and
in situ
samples for experiments involving synchrotron radiation and demonstrate how these experiments are done.
Physics, Issue 81, X-Ray Absorption Spectroscopy, X-Ray Diffraction, inorganic chemistry, electric batteries (applications), energy storage, Electrode materials, Li-ion battery, Na-ion battery, X-ray Absorption Spectroscopy (XAS), in situ X-ray diffraction (XRD)
50594
In Situ Neutron Powder Diffraction Using Custom-made Lithium-ion Batteries
Institutions: University of Sydney, University of Wollongong, Australian Synchrotron, Australian Nuclear Science and Technology Organisation, University of Wollongong, University of New South Wales.

Li-ion batteries are widely used in portable electronic devices and are considered as promising candidates for higher-energy applications such as electric vehicles.
1,2
However, many challenges, such as energy density and battery lifetimes, need to be overcome before this particular battery technology can be widely implemented in such applications.
3
This research is challenging, and we outline a method to address these challenges using
in situ
NPD to probe the crystal structure of electrodes undergoing electrochemical cycling (charge/discharge) in a battery. NPD data help determine the underlying structural mechanism responsible for a range of electrode properties, and this information can direct the development of better electrodes and batteries. We briefly review six types of battery designs custom-made for NPD experiments and detail the method to construct the 'roll-over' cell that we have successfully used on the high-intensity NPD instrument, WOMBAT, at the Australian Nuclear Science and Technology Organisation (ANSTO). The design considerations and materials used for cell construction are discussed in conjunction with aspects of the actual
in situ
NPD experiment and initial directions are presented on how to analyze such complex
in situ
data.
Physics, Issue 93, In operando, structure-property relationships, electrochemical cycling, electrochemical cells, crystallography, battery performance
52284
Construction and Testing of Coin Cells of Lithium Ion Batteries
Institutions: Clemson University, Clemson University.

Rechargeable lithium ion batteries have wide applications in electronics, where customers always demand more capacity and longer lifetime. Lithium ion batteries have also been considered to be used in electric and hybrid vehicles
1
or even electrical grid stabilization systems
2
. All these applications simulate a dramatic increase in the research and development of battery materials
3-7
, including new materials
3,8
, doping
9
, nanostructuring
10-13
, coatings or surface modifications
14-17
and novel binders
18
. Consequently, an increasing number of physicists, chemists and materials scientists have recently ventured into this area. Coin cells are widely used in research laboratories to test new battery materials; even for the research and development that target large-scale and high-power applications, small coin cells are often used to test the capacities and rate capabilities of new materials in the initial stage. In 2010, we started a National Science Foundation (NSF) sponsored research project to investigate the surface adsorption and disordering in battery materials (grant no. DMR-1006515). In the initial stage of this project, we have struggled to learn the techniques of assembling and testing coin cells, which cannot be achieved without numerous help of other researchers in other universities (through frequent calls, email exchanges and two site visits). Thus, we feel that it is beneficial to document, by both text and video, a protocol of assembling and testing a coin cell, which will help other new researchers in this field. This effort represents the "Broader Impact" activities of our NSF project, and it will also help to educate and inspire students. In this video article, we document a protocol to assemble a CR2032 coin cell with a LiCoO
2
working electrode, a Li counter electrode, and (the mostly commonly used) polyvinylidene fluoride (PVDF) binder. To ensure new learners to readily repeat the protocol, we keep the protocol as specific and explicit as we can. However, it is important to note that in specific research and development work, many parameters adopted here can be varied. First, one can make coin cells of different sizes and test the working electrode against a counter electrode other than Li. Second, the amounts of C black and binder added into the working electrodes are often varied to suit the particular purpose of research; for example, large amounts of C black or even inert powder were added to the working electrode to test the "intrinsic" performance of cathode materials
14
. Third, better binders (other than PVDF) have also developed and used
18
. Finally, other types of electrolytes (instead of LiPF
6
) can also be used; in fact, certain high-voltage electrode materials will require the uses of special electrolytes
7
.
Materials Science, Issue 66, Chemistry, Chemical Engineering, Electrical Engineering, Physics, Battery, coin cells, CR2032, lithium, lithium ion
4104
Fabrication of VB2/Air Cells for Electrochemical Testing
Institutions: The George Washington University, Lynntech.
A technique to investigate the properties and performance of new multi-electron metal/air battery systems is proposed and presented. A method for synthesizing nanoscopic VB
2
is presented as well as step-by-step procedure for applying a zirconium oxide coating to the VB
2
particles for stabilization upon discharge. The process for disassembling existing zinc/air cells is shown, in addition construction of the new working electrode to replace the conventional zinc/air cell anode with a the nanoscopic VB
2
anode. Finally, discharge of the completed VB
2
/air battery is reported. We show that using the zinc/air cell as a test bed is useful to provide a consistent configuration to study the performance of the high-energy high capacity nanoscopic VB
2
anode.
Physics, Issue 78, Materials Science, Chemistry, Chemical Engineering, Inorganic Chemicals, Chemistry and Materials (General), Composite Materials, Inorganic, Organic and Physical Chemistry, Metals and Metallic Materials, Nonmetallic Materials, Engineering (General), Electronics and Electrical Engineering, Physics (General), energy storage, metal/air battery, nanoscopic vanadium diboride, VB2, multi-electron oxidation, electrochemical testing, electrode, fabrication
50593
Seeded Synthesis of CdSe/CdS Rod and Tetrapod Nanocrystals
Institutions: UC Berkeley, UC Berkeley, UC Berkeley, Lawrence Berkeley National Laboratory, University of Chicago, Argonne National Laboratory.

We demonstrate a method for the synthesis of multicomponent nanostructures consisting of CdS and CdSe with rod and tetrapod morphologies. A seeded synthesis strategy is used in which spherical seeds of CdSe are prepared first using a hot-injection technique. By controlling the crystal structure of the seed to be either wurtzite or zinc-blende, the subsequent hot-injection growth of CdS off of the seed results in either a rod-shaped or tetrapod-shaped nanocrystal, respectively. The phase and morphology of the synthesized nanocrystals are confirmed using X-ray diffraction and transmission electron microscopy, demonstrating that the nanocrystals are phase-pure and have a consistent morphology. The extinction coefficient and quantum yield of the synthesized nanocrystals are calculated using UV-Vis absorption spectroscopy and photoluminescence spectroscopy. The rods and tetrapods exhibit extinction coefficients and quantum yields that are higher than that of the bare seeds. This synthesis demonstrates the precise arrangement of materials that can be achieved at the nanoscale by using a seeded synthetic approach.
Chemistry, Issue 82, nanostructures, synthesis, nanocrystals, seeded rods, tetrapods, nanoheterostructures
50731
In Situ SIMS and IR Spectroscopy of Well-defined Surfaces Prepared by Soft Landing of Mass-selected Ions
Institutions: Pacific Northwest National Laboratory.

Soft landing of mass-selected ions onto surfaces is a powerful approach for the highly-controlled preparation of materials that are inaccessible using conventional synthesis techniques. Coupling soft landing with
in situ
characterization using secondary ion mass spectrometry (SIMS) and infrared reflection absorption spectroscopy (IRRAS) enables analysis of well-defined surfaces under clean vacuum conditions. The capabilities of three soft-landing instruments constructed in our laboratory are illustrated for the representative system of surface-bound organometallics prepared by soft landing of mass-selected ruthenium tris(bipyridine) dications, [Ru(bpy)
3
]
2+
(bpy = bipyridine), onto carboxylic acid terminated self-assembled monolayer surfaces on gold (COOH-SAMs).
In situ
time-of-flight (TOF)-SIMS provides insight into the reactivity of the soft-landed ions. In addition, the kinetics of charge reduction, neutralization and desorption occurring on the COOH-SAM both during and after ion soft landing are studied using
in situ
Fourier transform ion cyclotron resonance (FT-ICR)-SIMS measurements.
In situ
IRRAS experiments provide insight into how the structure of organic ligands surrounding metal centers is perturbed through immobilization of organometallic ions on COOH-SAM surfaces by soft landing. Collectively, the three instruments provide complementary information about the chemical composition, reactivity and structure of well-defined species supported on surfaces.
Chemistry, Issue 88, soft landing, mass selected ions, electrospray, secondary ion mass spectrometry, infrared spectroscopy, organometallic, catalysis
51344
Preparation and Use of Photocatalytically Active Segmented Ag|ZnO and Coaxial TiO2-Ag Nanowires Made by Templated Electrodeposition
Institutions: University of Twente.

Photocatalytically active nanostructures require a large specific surface area with the presence of many catalytically active sites for the oxidation and reduction half reactions, and fast electron (hole) diffusion and charge separation. Nanowires present suitable architectures to meet these requirements. Axially segmented Ag|ZnO and radially segmented (coaxial) TiO
2
-Ag nanowires with a diameter of 200 nm and a length of 6-20 µm were made by templated electrodeposition within the pores of polycarbonate track-etched (PCTE) or anodized aluminum oxide (AAO) membranes, respectively. In the photocatalytic experiments, the ZnO and TiO
2
phases acted as photoanodes, and Ag as cathode. No external circuit is needed to connect both electrodes, which is a key advantage over conventional photo-electrochemical cells. For making segmented Ag|ZnO nanowires, the Ag salt electrolyte was replaced after formation of the Ag segment to form a ZnO segment attached to the Ag segment. For making coaxial TiO
2
-Ag nanowires, a TiO
2
gel was first formed by the electrochemically induced sol-gel method. Drying and thermal annealing of the as-formed TiO
2
gel resulted in the formation of crystalline TiO
2
nanotubes. A subsequent Ag electrodeposition step inside the TiO
2
nanotubes resulted in formation of coaxial TiO
2
-Ag nanowires. Due to the combination of an
n
-type semiconductor (ZnO or TiO
2
) and a metal (Ag) within the same nanowire, a Schottky barrier was created at the interface between the phases. To demonstrate the photocatalytic activity of these nanowires, the Ag|ZnO nanowires were used in a photocatalytic experiment in which H
2
gas was detected upon UV illumination of the nanowires dispersed in a methanol/water mixture. After 17 min of illumination, approximately 0.2 vol% H
2
gas was detected from a suspension of ~0.1 g of Ag|ZnO nanowires in a 50 ml 80 vol% aqueous methanol solution.
Physics, Issue 87, Multicomponent nanowires, electrochemistry, sol-gel processes, photocatalysis, photochemistry, H2 evolution
51547
The Use of Magnetic Resonance Spectroscopy as a Tool for the Measurement of Bi-hemispheric Transcranial Electric Stimulation Effects on Primary Motor Cortex Metabolism
Institutions: University of Montréal, McGill University, University of Minnesota.

Transcranial direct current stimulation (tDCS) is a neuromodulation technique that has been increasingly used over the past decade in the treatment of neurological and psychiatric disorders such as stroke and depression. Yet, the mechanisms underlying its ability to modulate brain excitability to improve clinical symptoms remains poorly understood
33
. To help improve this understanding, proton magnetic resonance spectroscopy (
1
H-MRS) can be used as it allows the
in vivo
quantification of brain metabolites such as γ-aminobutyric acid (GABA) and glutamate in a region-specific manner
41
. In fact, a recent study demonstrated that
1
H-MRS is indeed a powerful means to better understand the effects of tDCS on neurotransmitter concentration
34
. This article aims to describe the complete protocol for combining tDCS (NeuroConn MR compatible stimulator) with
1
H-MRS at 3 T using a MEGA-PRESS sequence. We will describe the impact of a protocol that has shown great promise for the treatment of motor dysfunctions after stroke, which consists of bilateral stimulation of primary motor cortices
27,30,31
. Methodological factors to consider and possible modifications to the protocol are also discussed.
Neuroscience, Issue 93, proton magnetic resonance spectroscopy, transcranial direct current stimulation, primary motor cortex, GABA, glutamate, stroke
51631
The Preparation of Electrohydrodynamic Bridges from Polar Dielectric Liquids
Institutions: Wetsus - Centre of Excellence for Sustainable Water Technology, IRCAM GmbH, Graz University of Technology.

Horizontal and vertical liquid bridges are simple and powerful tools for exploring the interaction of high intensity electric fields (8-20 kV/cm) and polar dielectric liquids. These bridges are unique from capillary bridges in that they exhibit extensibility beyond a few millimeters, have complex bi-directional mass transfer patterns, and emit non-Planck infrared radiation. A number of common solvents can form such bridges as well as low conductivity solutions and colloidal suspensions. The macroscopic behavior is governed by electrohydrodynamics and provides a means of studying fluid flow phenomena without the presence of rigid walls. Prior to the onset of a liquid bridge several important phenomena can be observed including advancing meniscus height (electrowetting), bulk fluid circulation (the Sumoto effect), and the ejection of charged droplets (electrospray). The interaction between surface, polarization, and displacement forces can be directly examined by varying applied voltage and bridge length. The electric field, assisted by gravity, stabilizes the liquid bridge against Rayleigh-Plateau instabilities. Construction of basic apparatus for both vertical and horizontal orientation along with operational examples, including thermographic images, for three liquids (
e.g.
, water, DMSO, and glycerol) is presented.
Physics, Issue 91, floating water bridge, polar dielectric liquids, liquid bridge, electrohydrodynamics, thermography, dielectrophoresis, electrowetting, Sumoto effect, Armstrong effect
51819
Designing Silk-silk Protein Alloy Materials for Biomedical Applications
Institutions: Rowan University, Rowan University, Cooper Medical School of Rowan University, Rowan University.

Fibrous proteins display different sequences and structures that have been used for various applications in biomedical fields such as biosensors, nanomedicine, tissue regeneration, and drug delivery. Designing materials based on the molecular-scale interactions between these proteins will help generate new multifunctional protein alloy biomaterials with tunable properties. Such alloy material systems also provide advantages in comparison to traditional synthetic polymers due to the materials biodegradability, biocompatibility, and tenability in the body. This article used the protein blends of wild tussah silk (
Antheraea pernyi
) and domestic mulberry silk (
Bombyx mori
) as an example to provide useful protocols regarding these topics, including how to predict protein-protein interactions by computational methods, how to produce protein alloy solutions, how to verify alloy systems by thermal analysis, and how to fabricate variable alloy materials including optical materials with diffraction gratings, electric materials with circuits coatings, and pharmaceutical materials for drug release and delivery. These methods can provide important information for designing the next generation multifunctional biomaterials based on different protein alloys.
Bioengineering, Issue 90, protein alloys, biomaterials, biomedical, silk blends, computational simulation, implantable electronic devices
50891
Confocal Imaging of Confined Quiescent and Flowing Colloid-polymer Mixtures
Institutions: University of Houston.

The behavior of confined colloidal suspensions with attractive interparticle interactions is critical to the rational design of materials for directed assembly
1-3
, drug delivery
4
, improved hydrocarbon recovery
5-7
, and flowable electrodes for energy storage
8
. Suspensions containing fluorescent colloids and non-adsorbing polymers are appealing model systems, as the ratio of the polymer radius of gyration to the particle radius and concentration of polymer control the range and strength of the interparticle attraction, respectively. By tuning the polymer properties and the volume fraction of the colloids, colloid fluids, fluids of clusters, gels, crystals, and glasses can be obtained
9
. Confocal microscopy, a variant of fluorescence microscopy, allows an optically transparent and fluorescent sample to be imaged with high spatial and temporal resolution in three dimensions. In this technique, a small pinhole or slit blocks the emitted fluorescent light from regions of the sample that are outside the focal volume of the microscope optical system. As a result, only a thin section of the sample in the focal plane is imaged. This technique is particularly well suited to probe the structure and dynamics in dense colloidal suspensions at the single-particle scale: the particles are large enough to be resolved using visible light and diffuse slowly enough to be captured at typical scan speeds of commercial confocal systems
10
. Improvements in scan speeds and analysis algorithms have also enabled quantitative confocal imaging of flowing suspensions
11-16,37
. In this paper, we demonstrate confocal microscopy experiments to probe the confined phase behavior and flow properties of colloid-polymer mixtures. We first prepare colloid-polymer mixtures that are density- and refractive-index matched. Next, we report a standard protocol for imaging quiescent dense colloid-polymer mixtures under varying confinement in thin wedge-shaped cells. Finally, we demonstrate a protocol for imaging colloid-polymer mixtures during microchannel flow.
Chemistry, Issue 87, confocal microscopy, particle tracking, colloids, suspensions, confinement, gelation, microfluidics, image correlation, dynamics, suspension flow
51461