The Analysis of Purkinje Cell Dendritic Morphology in Organotypic Slice Cultures
Published: 03-21-2012
ABSTRACT
Purkinje cells are an attractive model system for studying dendritic development, because they have an impressive dendritic tree which is strictly oriented in the sagittal plane and develops mostly in the postnatal period in small rodents 3. Furthermore, several antibodies are available which selectively and intensively label Purkinje cells including all processes, with anti-Calbindin D28K being the most widely used. For viewing of dendrites in living cells, mice expressing EGFP selectively in Purkinje cells 11 are available through Jackson labs. Organotypic cerebellar slice cultures cells allow easy experimental manipulation of Purkinje cell dendritic development because most of the dendritic expansion of the Purkinje cell dendritic tree is actually taking place during the culture period 4. We present here a short, reliable and easy protocol for viewing and analyzing the dendritic morphology of Purkinje cells grown in organotypic cerebellar slice cultures. For many purposes, a quantitative evaluation of the Purkinje cell dendritic tree is desirable. We focus here on two parameters, dendritic tree size and branch point numbers, which can be rapidly and easily determined from anti-calbindin stained cerebellar slice cultures. These two parameters yield a reliable and sensitive measure of changes of the Purkinje cell dendritic tree. Using the example of treatments with the protein kinase C (PKC) activator PMA and the metabotropic glutamate receptor 1 (mGluR1) we demonstrate how differences in the dendritic development are visualized and quantitatively assessed. The combination of the presence of an extensive dendritic tree, selective and intense immunostaining methods, organotypic slice cultures which cover the period of dendritic growth and a mouse model with Purkinje cell specific EGFP expression make Purkinje cells a powerful model system for revealing the mechanisms of dendritic development.
20 Related JoVE Articles!
Genetic Manipulation of Cerebellar Granule Neurons In Vitro and In Vivo to Study Neuronal Morphology and Migration
Institutions: Max Planck Institute of Experimental Medicine, Center for Nanoscale Microscopy and Molecular Physiology of the Brain (CNMPB).

Developmental events in the brain including neuronal morphogenesis and migration are highly orchestrated processes.
In vitro
and
in vivo
analyses allow for an in-depth characterization to identify pathways involved in these events. Cerebellar granule neurons (CGNs) that are derived from the developing cerebellum are an ideal model system that allows for morphological analyses. Here, we describe a method of how to genetically manipulate CGNs and how to study axono- and dendritogenesis of individual neurons. With this method the effects of RNA interference, overexpression or small molecules can be compared to control neurons. In addition, the rodent cerebellar cortex is an easily accessible
in vivo
system owing to its predominant postnatal development. We also present an
in vivo
electroporation technique to genetically manipulate the developing cerebella and describe subsequent cerebellar analyses to assess neuronal morphology and migration.
Neuroscience, Issue 85, axons, dendrites, neuronal migration, cerebellum, cultured neurons, transfection, in vivo electroporation
51070
Wholemount Immunohistochemistry for Revealing Complex Brain Topography
Institutions: Albert Einstein College of Medicine, Yeshiva University , University of Calgary .

The repeated and well-understood cellular architecture of the cerebellum make it an ideal model system for exploring brain topography. Underlying its relatively uniform cytoarchitecture is a complex array of parasagittal domains of gene and protein expression. The molecular compartmentalization of the cerebellum is mirrored by the anatomical and functional organization of afferent fibers. To fully appreciate the complexity of cerebellar organization we previously refined a wholemount staining approach for high throughput analysis of patterning defects in the mouse cerebellum. This protocol describes in detail the reagents, tools, and practical steps that are useful to successfully reveal protein expression patterns in the adult mouse cerebellum by using wholemount immunostaining. The steps highlighted here demonstrate the utility of this method using the expression of zebrinII/aldolaseC as an example of how the fine topography of the brain can be revealed in its native three-dimensional conformation. Also described are adaptations to the protocol that allow for the visualization of protein expression in afferent projections and large cerebella for comparative studies of molecular topography. To illustrate these applications, data from afferent staining of the rat cerebellum are included.
Neuroscience, Issue 62, Gene expression, antibodies, compartmentalization, brain topography, circuitry, neuroanatomy
4042
Organotypic Slice Cultures to Study Oligodendrocyte Dynamics and Myelination
Institutions: University of Connecticut, University of Connecticut, Yale University School of Medicine.

NG2 expressing cells (polydendrocytes, oligodendrocyte precursor cells) are the fourth major glial cell population in the central nervous system. During embryonic and postnatal development they actively proliferate and generate myelinating oligodendrocytes. These cells have commonly been studied in primary dissociated cultures, neuron cocultures, and in fixed tissue. Using newly available transgenic mouse lines slice culture systems can be used to investigate proliferation and differentiation of oligodendrocyte lineage cells in both gray and white matter regions of the forebrain and cerebellum. Slice cultures are prepared from early postnatal mice and are kept in culture for up to 1 month. These slices can be imaged multiple times over the culture period to investigate cellular behavior and interactions. This method allows visualization of NG2 cell division and the steps leading to oligodendrocyte differentiation while enabling detailed analysis of region-dependent NG2 cell and oligodendrocyte functional heterogeneity. This is a powerful technique that can be used to investigate the intrinsic and extrinsic signals influencing these cells over time in a cellular environment that closely resembles that found
in vivo
.
Neuroscience, Issue 90, NG2, CSPG4, polydendrocyte, oligodendrocyte progenitor cell, oligodendrocyte, myelin, organotypic slice culture, time-lapse
51835
Mosaic Analysis of Gene Function in Postnatal Mouse Brain Development by Using Virus-based Cre Recombination
Institutions: Keck School of Medicine, University of Southern California, University of Southern California, Keck School of Medicine, University of Southern California.
Normal brain function relies not only on embryonic development when major neuronal pathways are established, but also on postnatal development when neural circuits are matured and refined. Misregulation at this stage may lead to neurological and psychiatric disorders such as autism and schizophrenia
1,2
. Many genes have been studied in the prenatal brain and found crucial to many developmental processes
3-5
. However, their function in the postnatal brain is largely unknown, partly because their deletion in mice often leads to lethality during neonatal development, and partly because their requirement in early development hampers the postnatal analysis. To overcome these obstacles, floxed alleles of these genes are currently being generated in mice
6
. When combined with transgenic alleles that express Cre recombinase in specific cell types, conditional deletion can be achieved to study gene function in the postnatal brain. However, this method requires additional alleles and extra time (3-6 months) to generate the mice with appropriate genotypes, thereby limiting the expansion of the genetic analysis to a large scale in the mouse brain. Here we demonstrate a complementary approach that uses virally-expressed Cre to study these floxed alleles rapidly and systematically in postnatal brain development. By injecting recombinant adeno-associated viruses (rAAVs)
7,8
encoding Cre into the neonatal brain, we are able to delete the gene of interest in different regions of the brain. By controlling the viral titer and coexpressing a fluorescent protein marker, we can simultaneously achieve mosaic gene inactivation and sparse neuronal labeling. This method bypasses the requirement of many genes in early development, and allows us to study their cell autonomous function in many critical processes in postnatal brain development, including axonal and dendritic growth, branching, and tiling, as well as synapse formation and refinement. This method has been used successfully in our own lab (unpublished results) and others
8,9
, and can be extended to other viruses, such as lentivirus
9
, as well as to the expression of shRNA or dominant active proteins
10
. Furthermore, by combining this technique with electrophysiology as well as recently-developed optical imaging tools
11
, this method provides a new strategy to study how genetic pathways influence neural circuit development and function in mice and rats.
Neuroscience, Issue 54, Adeno-associated virus, Cre, mosaic analysis, sparse labeling, mouse, postnatal, brain development
2823
Isolation and Culture of Post-Natal Mouse Cerebellar Granule Neuron Progenitor Cells and Neurons
Institutions: Columbia University , Columbia University , Columbia University , Harvard Medical School.

The cerebellar cortex is a well described structure that provides unique opportunities for studying neuronal properties and development
1,2
. Of the cerebellar neuronal types (granule cells, Purkinje cells and inhibitory interneurons), granule neurons are by far the most numerous and are the most abundant type of neurons in the mammalian brain. In rodents, cerebellar granule neurons are generated during the first two post-natal weeks from progenitor cells in the outermost layer of the cerebellar cortex, the external granule layer (EGL). The protocol presented here describes techniques to enrich and culture granule neurons and their progenitor cells from post-natal mouse cerebellum. We will describe procedures to obtain cultures of increasing purity
3,4,
which can be used to study the differentiation of proliferating progenitor cells into granule neurons
5,6
. Once the progenitor cells differentiate, the cultures also provide a homogenous population of granule neurons for experimental manipulation and characterization of phenomena such as synaptogenesis, glutamate receptor function
7
, interaction with other purified cerebellar cells
8,9
or cell death
7
.
Neuroscience, Issue 23, cerebellum, cerebellar granule neuron progenitors, cerebellar granule neurons, external granule layer, culture, cell purification
990
Transplantation of Induced Pluripotent Stem Cell-derived Mesoangioblast-like Myogenic Progenitors in Mouse Models of Muscle Regeneration
Institutions: University College London, San Raffaele Hospital.

Patient-derived iPSCs could be an invaluable source of cells for future autologous cell therapy protocols. iPSC-derived myogenic stem/progenitor cells similar to pericyte-derived mesoangioblasts (iPSC-derived mesoangioblast-like stem/progenitor cells: IDEMs) can be established from iPSCs generated from patients affected by different forms of muscular dystrophy. Patient-specific IDEMs can be genetically corrected with different strategies (
e.g.
lentiviral vectors, human artificial chromosomes) and enhanced in their myogenic differentiation potential upon overexpression of the myogenesis regulator MyoD. This myogenic potential is then assessed
in vitro
with specific differentiation assays and analyzed by immunofluorescence. The regenerative potential of IDEMs is further evaluated
in vivo
, upon intramuscular and intra-arterial transplantation in two representative mouse models displaying acute and chronic muscle regeneration. The contribution of IDEMs to the host skeletal muscle is then confirmed by different functional tests in transplanted mice. In particular, the amelioration of the motor capacity of the animals is studied with treadmill tests. Cell engraftment and differentiation are then assessed by a number of histological and immunofluorescence assays on transplanted muscles. Overall, this paper describes the assays and tools currently utilized to evaluate the differentiation capacity of IDEMs, focusing on the transplantation methods and subsequent outcome measures to analyze the efficacy of cell transplantation.
Bioengineering, Issue 83, Skeletal Muscle, Muscle Cells, Muscle Fibers, Skeletal, Pericytes, Stem Cells, Induced Pluripotent Stem Cells (iPSCs), Muscular Dystrophies, Cell Differentiation, animal models, muscle stem/progenitor cells, mesoangioblasts, muscle regeneration, iPSC-derived mesoangioblasts (IDEMs)
50532
Laser Nanosurgery of Cerebellar Axons In Vivo
Institutions: University of Florence, National Research Council, University of Florence, International Center for Computational Neurophotonics (ICON Foundation).
Only a few neuronal populations in the central nervous system (CNS) of adult mammals show local regrowth upon dissection of their axon. In order to understand the mechanism that promotes neuronal regeneration, an in-depth analysis of the neuronal types that can remodel after injury is needed. Several studies showed that damaged climbing fibers are capable of regrowing also in adult animals
1,2
. The investigation of the time-lapse dynamics of degeneration and regeneration of these axons within their complex environment can be performed by time-lapse two-photon fluorescence (TPF) imaging
in vivo
3,4
. This technique is here combined with laser surgery, which proved to be a highly selective tool to disrupt fluorescent structures in the intact mouse cortex
5-9
. This protocol describes how to perform TPF time-lapse imaging and laser nanosurgery of single axonal branches in the cerebellum
in vivo
. Olivocerebellar neurons are labeled by anterograde tracing with a dextran-conjugated dye and then monitored by TPF imaging through a cranial window. The terminal portion of their axons are then dissected by irradiation with a Ti:Sapphire laser at high power. The degeneration and potential regrowth of the damaged neuron are monitored by TPF
in vivo
imaging during the days following the injury.
Neuroscience, Issue 89, axonal labeling, neuronal tracing, in vivo imaging, two-photon microscopy, cerebellum, climbing fibers, laser axotomy, craniotomy
51371
Revealing Neural Circuit Topography in Multi-Color
Institutions: Yeshiva University.

Neural circuits are organized into functional topographic maps. In order to visualize complex circuit architecture we developed an approach to reliably label the global patterning of multiple topographic projections. The cerebellum is an ideal model to study the orderly arrangement of neural circuits. For example, the compartmental organization of spinocerebellar mossy fibers has proven to be an indispensable system for studying mossy fiber patterning. We recently showed that wheat germ agglutinin (WGA) conjugated to Alexa 555 and 488 can be used for tracing spinocerebellar mossy fiber projections in developing and adult mice (Reeber et al. 2011). We found three major properties that make the WGA-Alexa tracers desirable tools for labeling neural projections. First, Alexa fluorophores are intense and their brightness allows for wholemount imaging directly after tracing. Second, WGA-Alexa tracers label the entire trajectory of developing and adult neural projections. Third, WGA-Alexa tracers are rapidly transported in both retrograde and anterograde directions. Here, we describe in detail how to prepare the tracers and other required tools, how to perform the surgery for spinocerebellar tracing and how best to image traced projections in three dimensions. In summary, we provide a step-by-step tracing protocol that will be useful for deciphering the organization and connectivity of functional maps not only in the cerebellum but also in the cortex, brainstem, and spinal cord.
Neuroscience, Issue 57, neuronal projections, topography, circuits, connectivity, fluorescent tracers, mice
3371
Methods for the Modulation and Analysis of NF-κB-dependent Adult Neurogenesis
Institutions: University of Bielefeld, University of Bielefeld.

The hippocampus plays a pivotal role in the formation and consolidation of episodic memories, and in spatial orientation. Historically, the adult hippocampus has been viewed as a very static anatomical region of the mammalian brain. However, recent findings have demonstrated that the dentate gyrus of the hippocampus is an area of tremendous plasticity in adults, involving not only modifications of existing neuronal circuits, but also adult neurogenesis. This plasticity is regulated by complex transcriptional networks, in which the transcription factor NF-κB plays a prominent role. To study and manipulate adult neurogenesis, a transgenic mouse model for forebrain-specific neuronal inhibition of NF-κB activity can be used. In this study, methods are described for the analysis of NF-κB-dependent neurogenesis, including its structural aspects, neuronal apoptosis and progenitor proliferation, and cognitive significance, which was specifically assessed via a dentate gyrus (DG)-dependent behavioral test, the spatial pattern separation-Barnes maze (SPS-BM). The SPS-BM protocol could be simply adapted for use with other transgenic animal models designed to assess the influence of particular genes on adult hippocampal neurogenesis. Furthermore, SPS-BM could be used in other experimental settings aimed at investigating and manipulating DG-dependent learning, for example, using pharmacological agents.
Neuroscience, Issue 84, NF-κB, hippocampus, Adult neurogenesis, spatial pattern separation-Barnes maze, dentate gyrus, p65 knock-out mice
50870
Modeling Astrocytoma Pathogenesis In Vitro and In Vivo Using Cortical Astrocytes or Neural Stem Cells from Conditional, Genetically Engineered Mice
Institutions: University of North Carolina School of Medicine, University of North Carolina School of Medicine, University of North Carolina School of Medicine, University of North Carolina School of Medicine, University of North Carolina School of Medicine, Emory University School of Medicine, University of North Carolina School of Medicine.

Current astrocytoma models are limited in their ability to define the roles of oncogenic mutations in specific brain cell types during disease pathogenesis and their utility for preclinical drug development. In order to design a better model system for these applications, phenotypically wild-type cortical astrocytes and neural stem cells (NSC) from conditional, genetically engineered mice (GEM) that harbor various combinations of floxed oncogenic alleles were harvested and grown in culture. Genetic recombination was induced
in vitro
using adenoviral Cre-mediated recombination, resulting in expression of mutated oncogenes and deletion of tumor suppressor genes. The phenotypic consequences of these mutations were defined by measuring proliferation, transformation, and drug response
in vitro
. Orthotopic allograft models, whereby transformed cells are stereotactically injected into the brains of immune-competent, syngeneic littermates, were developed to define the role of oncogenic mutations and cell type on tumorigenesis
in vivo
. Unlike most established human glioblastoma cell line xenografts, injection of transformed GEM-derived cortical astrocytes into the brains of immune-competent littermates produced astrocytomas, including the most aggressive subtype, glioblastoma, that recapitulated the histopathological hallmarks of human astrocytomas, including diffuse invasion of normal brain parenchyma. Bioluminescence imaging of orthotopic allografts from transformed astrocytes engineered to express luciferase was utilized to monitor
in vivo
tumor growth over time. Thus, astrocytoma models using astrocytes and NSC harvested from GEM with conditional oncogenic alleles provide an integrated system to study the genetics and cell biology of astrocytoma pathogenesis
in vitro
and
in vivo
and may be useful in preclinical drug development for these devastating diseases.
Neuroscience, Issue 90, astrocytoma, cortical astrocytes, genetically engineered mice, glioblastoma, neural stem cells, orthotopic allograft
51763
Construction of Vapor Chambers Used to Expose Mice to Alcohol During the Equivalent of all Three Trimesters of Human Development
Institutions: University of New Mexico Health Sciences Center.

Exposure to alcohol during development can result in a constellation of morphological and behavioral abnormalities that are collectively known as Fetal Alcohol Spectrum Disorders (FASDs). At the most severe end of the spectrum is Fetal Alcohol Syndrome (FAS), characterized by growth retardation, craniofacial dysmorphology, and neurobehavioral deficits. Studies with animal models, including rodents, have elucidated many molecular and cellular mechanisms involved in the pathophysiology of FASDs. Ethanol administration to pregnant rodents has been used to model human exposure during the first and second trimesters of pregnancy. Third trimester ethanol consumption in humans has been modeled using neonatal rodents. However, few rodent studies have characterized the effect of ethanol exposure during the equivalent to all three trimesters of human pregnancy, a pattern of exposure that is common in pregnant women. Here, we show how to build vapor chambers from readily obtainable materials that can each accommodate up to six standard mouse cages. We describe a vapor chamber paradigm that can be used to model exposure to ethanol, with minimal handling, during all three trimesters. Our studies demonstrate that pregnant dams developed significant metabolic tolerance to ethanol. However, neonatal mice did not develop metabolic tolerance and the number of fetuses, fetus weight, placenta weight, number of pups/litter, number of dead pups/litter, and pup weight were not significantly affected by ethanol exposure. An important advantage of this paradigm is its applicability to studies with genetically-modified mice. Additionally, this paradigm minimizes handling of animals, a major confound in fetal alcohol research.
Medicine, Issue 89, fetal, ethanol, exposure, paradigm, vapor, development, alcoholism, teratogenic, animal, mouse, model
51839
Isolation of Distinct Cell Populations from the Developing Cerebellum by Microdissection
Institutions: Temple University Health System.

Microdissection is a novel technique that can isolate specific regions of a tissue and eliminate contamination from cellular sources in adjacent areas. This method was first utilized in the study of Nestin-expressing progenitors (NEPs), a newly identified population of cells in the cerebellar external germinal layer (EGL). Using microdissection in combination with fluorescent-activated cell sorting (FACS), a pure population of NEPs was collected separately from conventional granule neuron precursors in the EGL and from other contaminating Nestin-expressing cells in the cerebellum. Without microdissection, functional analyses of NEPs would not have been possible with the current methods available, such as Percoll gradient centrifugation and laser capture microdissection. This technique can also be applied for use with various tissues that contain either recognizable regions or fluorescently-labeled cells. Most importantly, a major advantage of this microdissection technique is that isolated cells are living and can be cultured for further experimentation, which is currently not possible with other described methods.
Neuroscience, Issue 91, microdissection, cerebellum, EGL, Nestin, medulloblastoma
52034
Peptide-based Identification of Functional Motifs and their Binding Partners
Institutions: Morehouse School of Medicine, Institute for Systems Biology, Universiti Sains Malaysia.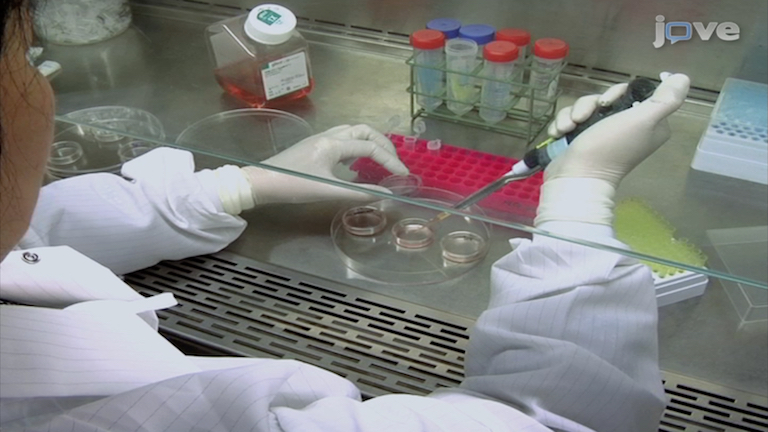 Specific short peptides derived from motifs found in full-length proteins, in our case HIV-1 Nef, not only retain their biological function, but can also competitively inhibit the function of the full-length protein. A set of 20 Nef scanning peptides, 20 amino acids in length with each overlapping 10 amino acids of its neighbor, were used to identify motifs in Nef responsible for its induction of apoptosis. Peptides containing these apoptotic motifs induced apoptosis at levels comparable to the full-length Nef protein. A second peptide, derived from the Secretion Modification Region (SMR) of Nef, retained the ability to interact with cellular proteins involved in Nef's secretion in exosomes (exNef). This SMRwt peptide was used as the "bait" protein in co-immunoprecipitation experiments to isolate cellular proteins that bind specifically to Nef's SMR motif. Protein transfection and antibody inhibition was used to physically disrupt the interaction between Nef and mortalin, one of the isolated SMR-binding proteins, and the effect was measured with a fluorescent-based exNef secretion assay. The SMRwt peptide's ability to outcompete full-length Nef for cellular proteins that bind the SMR motif, make it the first inhibitor of exNef secretion. Thus, by employing the techniques described here, which utilize the unique properties of specific short peptides derived from motifs found in full-length proteins, one may accelerate the identification of functional motifs in proteins and the development of peptide-based inhibitors of pathogenic functions.
Virology, Issue 76, Biochemistry, Immunology, Infection, Infectious Diseases, Molecular Biology, Medicine, Genetics, Microbiology, Genomics, Proteins, Exosomes, HIV, Peptides, Exocytosis, protein trafficking, secretion, HIV-1, Nef, Secretion Modification Region, SMR, peptide, AIDS, assay
50362
A Restriction Enzyme Based Cloning Method to Assess the In vitro Replication Capacity of HIV-1 Subtype C Gag-MJ4 Chimeric Viruses
Institutions: Emory University, Emory University.

The protective effect of many HLA class I alleles on HIV-1 pathogenesis and disease progression is, in part, attributed to their ability to target conserved portions of the HIV-1 genome that escape with difficulty. Sequence changes attributed to cellular immune pressure arise across the genome during infection, and if found within conserved regions of the genome such as Gag, can affect the ability of the virus to replicate
in vitro
. Transmission of HLA-linked polymorphisms in Gag to HLA-mismatched recipients has been associated with reduced set point viral loads. We hypothesized this may be due to a reduced replication capacity of the virus. Here we present a novel method for assessing the
in vitro
replication of HIV-1 as influenced by the
gag
gene isolated from acute time points from subtype C infected Zambians. This method uses restriction enzyme based cloning to insert the
gag
gene into a common subtype C HIV-1 proviral backbone, MJ4. This makes it more appropriate to the study of subtype C sequences than previous recombination based methods that have assessed the
in vitro
replication of chronically derived
gag-pro
sequences. Nevertheless, the protocol could be readily modified for studies of viruses from other subtypes. Moreover, this protocol details a robust and reproducible method for assessing the replication capacity of the Gag-MJ4 chimeric viruses on a CEM-based T cell line. This method was utilized for the study of Gag-MJ4 chimeric viruses derived from 149 subtype C acutely infected Zambians, and has allowed for the identification of residues in Gag that affect replication. More importantly, the implementation of this technique has facilitated a deeper understanding of how viral replication defines parameters of early HIV-1 pathogenesis such as set point viral load and longitudinal CD4+ T cell decline.
Infectious Diseases, Issue 90, HIV-1, Gag, viral replication, replication capacity, viral fitness, MJ4, CEM, GXR25
51506
Setting-up an In Vitro Model of Rat Blood-brain Barrier (BBB): A Focus on BBB Impermeability and Receptor-mediated Transport
Institutions: VECT-HORUS SAS, CNRS, NICN UMR 7259.

The blood brain barrier (BBB) specifically regulates molecular and cellular flux between the blood and the nervous tissue. Our aim was to develop and characterize a highly reproducible rat syngeneic
in vitro
model of the BBB using co-cultures of primary rat brain endothelial cells (RBEC) and astrocytes to study receptors involved in transcytosis across the endothelial cell monolayer. Astrocytes were isolated by mechanical dissection following trypsin digestion and were frozen for later co-culture. RBEC were isolated from 5-week-old rat cortices. The brains were cleaned of meninges and white matter, and mechanically dissociated following enzymatic digestion. Thereafter, the tissue homogenate was centrifuged in bovine serum albumin to separate vessel fragments from nervous tissue. The vessel fragments underwent a second enzymatic digestion to free endothelial cells from their extracellular matrix. The remaining contaminating cells such as pericytes were further eliminated by plating the microvessel fragments in puromycin-containing medium. They were then passaged onto filters for co-culture with astrocytes grown on the bottom of the wells. RBEC expressed high levels of tight junction (TJ) proteins such as occludin, claudin-5 and ZO-1 with a typical localization at the cell borders. The transendothelial electrical resistance (TEER) of brain endothelial monolayers, indicating the tightness of TJs reached 300 ohm·cm
2
on average. The endothelial permeability coefficients (Pe) for lucifer yellow (LY) was highly reproducible with an average of 0.26 ± 0.11 x 10
-3
cm/min. Brain endothelial cells organized in monolayers expressed the efflux transporter P-glycoprotein (P-gp), showed a polarized transport of rhodamine 123, a ligand for P-gp, and showed specific transport of transferrin-Cy3 and DiILDL across the endothelial cell monolayer. In conclusion, we provide a protocol for setting up an
in vitro
BBB model that is highly reproducible due to the quality assurance methods, and that is suitable for research on BBB transporters and receptors.
Medicine, Issue 88, rat brain endothelial cells (RBEC), mouse, spinal cord, tight junction (TJ), receptor-mediated transport (RMT), low density lipoprotein (LDL), LDLR, transferrin, TfR, P-glycoprotein (P-gp), transendothelial electrical resistance (TEER),
51278
Video-oculography in Mice
Institutions: Erasmus MC, Rotterdam, The Netherlands, Royal Dutch Academy of Arts & Sciences (KNAW).

Eye movements are very important in order to track an object or to stabilize an image on the retina during movement. Animals without a fovea, such as the mouse, have a limited capacity to lock their eyes onto a target. In contrast to these target directed eye movements, compensatory ocular eye movements are easily elicited in afoveate animals
1,2,3,4
. Compensatory ocular movements are generated by processing vestibular and optokinetic information into a command signal that will drive the eye muscles. The processing of the vestibular and optokinetic information can be investigated separately and together, allowing the specification of a deficit in the oculomotor system. The oculomotor system can be tested by evoking an optokinetic reflex (OKR), vestibulo-ocular reflex (VOR) or a visually-enhanced vestibulo-ocular reflex (VVOR). The OKR is a reflex movement that compensates for "full-field" image movements on the retina, whereas the VOR is a reflex eye movement that compensates head movements. The VVOR is a reflex eye movement that uses both vestibular as well as optokinetic information to make the appropriate compensation. The cerebellum monitors and is able to adjust these compensatory eye movements. Therefore, oculography is a very powerful tool to investigate brain-behavior relationship under normal as well as under pathological conditions (f.e. of vestibular, ocular and/or cerebellar origin). Testing the oculomotor system, as a behavioral paradigm, is interesting for several reasons. First, the oculomotor system is a well understood neural system
5
. Second, the oculomotor system is relative simple
6
; the amount of possible eye movement is limited by its ball-in-socket architecture ("single joint") and the three pairs of extra-ocular muscles
7
. Third, the behavioral output and sensory input can easily be measured, which makes this a highly accessible system for quantitative analysis
8
. Many behavioral tests lack this high level of quantitative power. And finally, both performance as well as plasticity of the oculomotor system can be tested, allowing research on learning and memory processes
9
. Genetically modified mice are nowadays widely available and they form an important source for the exploration of brain functions at various levels
10
. In addition, they can be used as models to mimic human diseases. Applying oculography on normal, pharmacologically-treated or genetically modified mice is a powerful research tool to explore the underlying physiology of motor behaviors under normal and pathological conditions. Here, we describe how to measure video-oculography in mice
8
.
Neuroscience, Issue 65, Physiology, Medicine, mouse mutants, pupil tracking, motor learning, motor performance, cerebellum, olivocerebellar system, vestibulo-ocular reflex, optokinetic reflex, ophthalmology, oculography
3971
A Simple Composite Phenotype Scoring System for Evaluating Mouse Models of Cerebellar Ataxia
Institutions: University of Washington, University of Washington, University of California, San Diego - Rady Children's Hospital.

We describe a protocol for the rapid and sensitive quantification of disease severity in mouse models of cerebella ataxia. It is derived from previously published phenotype assessments in several disease models, including spinocerebellar ataxias, Huntington s disease and spinobulbar muscular atrophy. Measures include hind limb clasping, ledge test, gait and kyphosis. Each measure is recorded on a scale of 0-3, with a combined total of 0-12 for all four measures. The results effectively discriminate between affected and non-affected individuals, while also quantifying the temporal progression of neurodegenerative disease phenotypes. Measures may be analyzed individually or combined into a composite phenotype score for greater statistical power. The ideal combination of the four described measures will depend upon the disorder in question. We present an example of the protocol used to assess disease severity in a transgenic mouse model of spinocerebellar ataxia type 7 (SCA7). Albert R. La Spada and Gwenn A. Garden contributed to this manuscript equally.
JoVE Neuroscience, Issue 39, Neurodegeneration, Mouse behavior assay, cerebellar ataxia, polyglutamine disease
1787
Assessment of Motor Balance and Coordination in Mice using the Balance Beam
Institutions: California Institute of Technology.

Brain injury, genetic manipulations, and pharmacological treatments can result in alterations of motor skills in mice. Fine motor coordination and balance can be assessed by the beam walking assay. The goal of this test is for the mouse to stay upright and walk across an elevated narrow beam to a safe platform. This test takes place over 3 consecutive days: 2 days of training and 1 day of testing. Performance on the beam is quantified by measuring the time it takes for the mouse to traverse the beam and the number of paw slips that occur in the process. Here we report the protocol used in our laboratory, and representative results from a cohort of C57BL/6 mice. This task is particularly useful for detecting subtle deficits in motor skills and balance that may not be detected by other motor tests, such as the Rotarod.
Neuroscience, Issue 49, motor skills, coordination, balance beam test, mouse behavior
2376
Understanding Cerebellar Pattern Formation
Institutions: University of Chicago.

Neuroscience, Issue 9, Brain, Development, Neuron
407
Organotypic Cerebellar Cultures: Apoptotic Challenges and Detection
Institutions: The Salk Institute for Biological Studies, The Salk Institute for Biological Studies.

Organotypic cultures of neuronal tissue were first introduced by Hogue in 1947
1,2
and have constituted a major breakthrough in the field of neuroscience. Since then, the technique was developed further and currently there are many different ways to prepare organotypic cultures. The method presented here was adapted from the one described by Stoppini
et al.
for the preparation of the slices and from Gogolla
et al.
for the staining procedure
3,4
. A unique feature of this technique is that it allows you to study different parts of the brain such as hippocampus or cerebellum in their original structure, providing a big advantage over dissociated cultures in which all the cellular organization and neuronal networks are disrupted. In the case of the cerebellum it is even more advantageous because it allows the study of Purkinje cells, extremely difficult to obtain as dissociated primary culture. This method can be used to study certain developmental features of the cerebellum
in vitro
, as well as for electrophysiological and pharmacological experiments in both wild type and mutant mice. The method described here was designed to study the effect of apoptotic stimuli such as Fas ligand in the developing cerebellum, using TUNEL staining to measure apoptotic cell death. If TUNEL staining is combined with cell type specific markers, such as Calbindin for Purkinje cells, it is possible to evaluate cell death in a cell population specific manner. The Calbindin staining also serves the purpose of evaluating the quality of the cerebellar cultures.
Neuroscience, Issue 51, Cerebellum, Organotypic, Fas, Apoptosis, Purkinje cell
2564