ABSTRACT
Quantum dots (QDs) are fluorescent semiconductor nanoparticles with size-dependent emission spectra that can be excited by a broad choice of wavelengths. QDs have attracted a lot of interest for imaging, diagnostics, and therapy due to their bright, stable fluorescence1,2 3,4,5. QDs can be conjugated to a variety of bio-active molecules for binding to bacteria and mammalian cells6. QDs are also being widely investigated as cytotoxic agents for targeted killing of bacteria. The emergence of multiply-resistant bacterial strains is rapidly becoming a public health crisis, particularly in the case of Gram negative pathogens 7. Because of the well-known antimicrobial effect of certain nanomaterials, especially Ag, there are hundreds of studies examining the toxicity of nanoparticles to bacteria 8. Bacterial studies have been performed with other types of semiconductor nanoparticles as well, especially TiO29,10-11, but also ZnO12 and others including CuO 13. Some comparisons of bacterial strains have been performed in these studies, usually comparing a Gram negative strain with a Gram positive. With all of these particles, mechanisms of toxicity are attributed to oxidation: either the photogeneration of reactive oxygen species (ROS) by the particles or the direct release of metal ions that can cause oxidative toxicity. Even with these materials, results of different studies vary greatly. In some studies the Gram positive test strain is reportedly more sensitive than the Gram negative 10; in others it is the opposite 14. These studies have been well reviewed 15. In all nanoparticle studies, particle composition, size, surface chemistry, sample aging/breakdown, and wavelength, power, and duration of light exposure can all dramatically affect the results. In addition, synthesis byproducts and solvents must be considered16 17. High-throughput screening techniques are needed to be able to develop effective new nanomedicine agents. CdTe QDs have anti-microbial effects alone18 or in combination with antibiotics. In a previous study, we showed that coupling of antibiotics to CdTe can increase toxicity to bacteria but decrease toxicity to mammalian cells, due to decreased production of reactive oxygen species from the conjugates19. Although it is unlikely that cadmium-containing compounds will be approved for use in humans, such preparations could be used for disinfection of surfaces or sterilization of water. In this protocol, we give a straightforward approach to solubilizing CdTe QDs with mercaptopropionic acid (MPA). The QDs are ready to use within an hour. We then demonstrate coupling to an antimicrobial agent. The second part of the protocol demonstrates a 96-well bacterial inhibition assay using the conjugated and unconjugated QDs. The optical density is read over many hours, permitting the effects of QD addition and light exposure to be evaluated immediately as well as after a recovery period. We also illustrate a colony count for quantifying bacterial survival.
18 Related JoVE Articles!
Compact Quantum Dots for Single-molecule Imaging
Institutions: Emory University, Georgia Institute of Technology .

Single-molecule imaging is an important tool for understanding the mechanisms of biomolecular function and for visualizing the spatial and temporal heterogeneity of molecular behaviors that underlie cellular biology
1-4
. To image an individual molecule of interest, it is typically conjugated to a fluorescent tag (dye, protein, bead, or quantum dot) and observed with epifluorescence or total internal reflection fluorescence (TIRF) microscopy. While dyes and fluorescent proteins have been the mainstay of fluorescence imaging for decades, their fluorescence is unstable under high photon fluxes necessary to observe individual molecules, yielding only a few seconds of observation before complete loss of signal. Latex beads and dye-labeled beads provide improved signal stability but at the expense of drastically larger hydrodynamic size, which can deleteriously alter the diffusion and behavior of the molecule under study. Quantum dots (QDs) offer a balance between these two problematic regimes. These nanoparticles are composed of semiconductor materials and can be engineered with a hydrodynamically compact size with exceptional resistance to photodegradation
5
. Thus in recent years QDs have been instrumental in enabling long-term observation of complex macromolecular behavior on the single molecule level. However these particles have still been found to exhibit impaired diffusion in crowded molecular environments such as the cellular cytoplasm and the neuronal synaptic cleft, where their sizes are still too large
4,6,7
. Recently we have engineered the cores and surface coatings of QDs for minimized hydrodynamic size, while balancing offsets to colloidal stability, photostability, brightness, and nonspecific binding that have hindered the utility of compact QDs in the past
8,9
. The goal of this article is to demonstrate the synthesis, modification, and characterization of these optimized nanocrystals, composed of an alloyed Hg
x
Cd
1-x
Se core coated with an insulating Cd
y
Zn
1-y
S shell, further coated with a multidentate polymer ligand modified with short polyethylene glycol (PEG) chains (
Figure 1
). Compared with conventional CdSe nanocrystals, Hg
x
Cd
1-x
Se alloys offer greater quantum yields of fluorescence, fluorescence at red and near-infrared wavelengths for enhanced signal-to-noise in cells, and excitation at non-cytotoxic visible wavelengths. Multidentate polymer coatings bind to the nanocrystal surface in a closed and flat conformation to minimize hydrodynamic size, and PEG neutralizes the surface charge to minimize nonspecific binding to cells and biomolecules. The end result is a brightly fluorescent nanocrystal with emission between 550-800 nm and a total hydrodynamic size near 12 nm. This is in the same size range as many soluble globular proteins in cells, and substantially smaller than conventional PEGylated QDs (25-35 nm).
Physics, Issue 68, Biomedical Engineering, Chemistry, Nanotechnology, Nanoparticle, nanocrystal, synthesis, fluorescence, microscopy, imaging, conjugation, dynamics, intracellular, receptor
4236
A Step Beyond BRET: Fluorescence by Unbound Excitation from Luminescence (FUEL)
Institutions: Institut Pasteur, Stanford School of Medicine, Institut d'Imagerie Biomédicale, Vanderbilt School of Medicine, The Walter & Eliza Hall Institute of Medical Research, Institut Pasteur, Institut Pasteur.

Fluorescence by Unbound Excitation from Luminescence (FUEL) is a radiative excitation-emission process that produces increased signal and contrast enhancement
in vitro
and
in vivo
. FUEL shares many of the same underlying principles as Bioluminescence Resonance Energy Transfer (BRET), yet greatly differs in the acceptable working distances between the luminescent source and the fluorescent entity. While BRET is effectively limited to a maximum of 2 times the Förster radius, commonly less than 14 nm, FUEL can occur at distances up to µm or even cm in the absence of an optical absorber. Here we expand upon the foundation and applicability of FUEL by reviewing the relevant principles behind the phenomenon and demonstrate its compatibility with a wide variety of fluorophores and fluorescent nanoparticles. Further, the utility of antibody-targeted FUEL is explored. The examples shown here provide evidence that FUEL can be utilized for applications where BRET is not possible, filling the spatial void that exists between BRET and traditional whole animal imaging.
Bioengineering, Issue 87, Biochemical Phenomena, Biochemical Processes, Energy Transfer, Fluorescence Resonance Energy Transfer (FRET), FUEL, BRET, CRET, Förster, bioluminescence, In vivo
51549
Nanofabrication of Gate-defined GaAs/AlGaAs Lateral Quantum Dots
Institutions: Université de Sherbrooke.
A quantum computer is a computer composed of quantum bits (qubits) that takes advantage of quantum effects, such as superposition of states and entanglement, to solve certain problems exponentially faster than with the best known algorithms on a classical computer. Gate-defined lateral quantum dots on GaAs/AlGaAs are one of many avenues explored for the implementation of a qubit. When properly fabricated, such a device is able to trap a small number of electrons in a certain region of space. The spin states of these electrons can then be used to implement the logical 0 and 1 of the quantum bit. Given the nanometer scale of these quantum dots, cleanroom facilities offering specialized equipment- such as scanning electron microscopes and e-beam evaporators- are required for their fabrication. Great care must be taken throughout the fabrication process to maintain cleanliness of the sample surface and to avoid damaging the fragile gates of the structure. This paper presents the detailed fabrication protocol of gate-defined lateral quantum dots from the wafer to a working device. Characterization methods and representative results are also briefly discussed. Although this paper concentrates on double quantum dots, the fabrication process remains the same for single or triple dots or even arrays of quantum dots. Moreover, the protocol can be adapted to fabricate lateral quantum dots on other substrates, such as Si/SiGe.
Physics, Issue 81, Nanostructures, Quantum Dots, Nanotechnology, Electronics, microelectronics, solid state physics, Nanofabrication, Nanoelectronics, Spin qubit, Lateral quantum dot
50581
Mapping Molecular Diffusion in the Plasma Membrane by Multiple-Target Tracing (MTT)
Institutions: Parc scientifique de Luminy, Parc scientifique de Luminy, Aix-Marseille University, Technopôle de Château-Gombert, Aix-Marseille University, Aix-Marseille University.

Our goal is to obtain a comprehensive description of molecular processes occurring at cellular membranes in different biological functions. We aim at characterizing the complex organization and dynamics of the plasma membrane at single-molecule level, by developing analytic tools dedicated to
Single-Particle Tracking
(SPT) at high density:
Multiple-Target Tracing
(MTT)
1
. Single-molecule videomicroscopy, offering millisecond and nanometric resolution
1-11
, allows a detailed representation of membrane organization
12-14
by accurately mapping descriptors such as cell receptors localization, mobility, confinement or interactions. We revisited SPT, both experimentally and algorithmically. Experimental aspects included optimizing setup and cell labeling, with a particular emphasis on reaching the highest possible labeling density, in order to provide a dynamic snapshot of molecular dynamics as it occurs within the membrane. Algorithmic issues concerned each step used for rebuilding trajectories: peaks detection, estimation and reconnection, addressed by specific tools from image analysis
15,16
. Implementing deflation after detection allows rescuing peaks initially hidden by neighboring, stronger peaks. Of note, improving detection directly impacts reconnection, by reducing gaps within trajectories. Performances have been evaluated using Monte-Carlo simulations for various labeling density and noise values, which typically represent the two major limitations for parallel measurements at high spatiotemporal resolution. The nanometric accuracy
17
obtained for single molecules, using either successive on/off photoswitching or non-linear optics, can deliver exhaustive observations. This is the basis of nanoscopy methods
17
such as STORM
18
, PALM
19,20
, RESOLFT
21
or STED
22,23
, which may often require imaging fixed samples. The central task is the detection and estimation of diffraction-limited peaks emanating from single-molecules. Hence, providing adequate assumptions such as handling a constant positional accuracy instead of Brownian motion, MTT is straightforwardly suited for nanoscopic analyses. Furthermore, MTT can fundamentally be used at any scale: not only for molecules, but also for cells or animals, for instance. Hence, MTT is a powerful tracking algorithm that finds applications at molecular and cellular scales.
Physics, Issue 63, Single-particle tracking, single-molecule fluorescence microscopy, image analysis, tracking algorithm, high-resolution diffusion map, plasma membrane lateral organization
3599
Evaluation of Polymeric Gene Delivery Nanoparticles by Nanoparticle Tracking Analysis and High-throughput Flow Cytometry
Institutions: Johns Hopkins University School of Medicine, Johns Hopkins University School of Medicine, Johns Hopkins University School of Medicine, Johns Hopkins University School of Medicine.

Non-viral gene delivery using polymeric nanoparticles has emerged as an attractive approach for gene therapy to treat genetic diseases
1
and as a technology for regenerative medicine
2
. Unlike viruses, which have significant safety issues, polymeric nanoparticles can be designed to be non-toxic, non-immunogenic, non-mutagenic, easier to synthesize, chemically versatile, capable of carrying larger nucleic acid cargo and biodegradable and/or environmentally responsive. Cationic polymers self-assemble with negatively charged DNA via electrostatic interaction to form complexes on the order of 100 nm that are commonly termed polymeric nanoparticles. Examples of biomaterials used to form nanoscale polycationic gene delivery nanoparticles include polylysine, polyphosphoesters, poly(amidoamines)s and polyethylenimine (PEI), which is a non-degradable off-the-shelf cationic polymer commonly used for nucleic acid delivery
1,3
. Poly(beta-amino ester)s (PBAEs) are a newer class of cationic polymers
4
that are hydrolytically degradable
5,6
and have been shown to be effective at gene delivery to hard-to-transfect cell types such as human retinal endothelial cells (HRECs)
7
, mouse mammary epithelial cells
8
, human brain cancer cells
9
and macrovascular (human umbilical vein, HUVECs) endothelial cells
10
. A new protocol to characterize polymeric nanoparticles utilizing nanoparticle tracking analysis (NTA) is described. In this approach, both the particle size distribution and the distribution of the number of plasmids per particle are obtained
11
. In addition, a high-throughput 96-well plate transfection assay for rapid screening of the transfection efficacy of polymeric nanoparticles is presented. In this protocol, poly(beta-amino ester)s (PBAEs) are used as model polymers and human retinal endothelial cells (HRECs) are used as model human cells. This protocol can be easily adapted to evaluate any polymeric nanoparticle and any cell type of interest in a multi-well plate format.
Biomedical Engineering, Issue 73, Bioengineering, Tissue Engineering, Cellular Biology, Medicine, Genetics, Biocompatible Materials, Biopolymers, Drug Delivery Systems, Nanotechnology, bioengineering (general), Therapeutics, Nanoparticle, poly(beta-amino ester), high-throughput, transfection, nanoparticle tracking analysis, biomaterial, gene delivery, flow cytometry
50176
Harmonic Nanoparticles for Regenerative Research
Institutions: University of Geneva, University of Geneva, École Polytechnique Fédérale de Lausanne, Trinity College Dublin, Trinity College Dublin, Nikon AG Instruments.
In this visualized experiment, protocol details are provided for
in vitro
labeling of human embryonic stem cells (hESC) with second harmonic generation nanoparticles (HNPs). The latter are a new family of probes recently introduced for labeling biological samples for multi-photon imaging. HNPs are capable of doubling the frequency of excitation light by the nonlinear optical process of second harmonic generation with no restriction on the excitation wavelength. Multi-photon based methodologies for hESC differentiation into cardiac clusters (maintained as long term air-liquid cultures) are presented in detail. In particular, evidence on how to maximize the intense second harmonic (SH) emission of isolated HNPs during 3D monitoring of beating cardiac tissue in 3D is shown. The analysis of the resulting images to retrieve 3D displacement patterns is also detailed.
Bioengineering, Issue 87, multi-photon imaging, human embryonic stem cells (ESC), nanoparticles, embryoid bodies (EBs), cardiomyocyte differentiation, cardiac contraction, air-liquid cultures
51333
Combining QD-FRET and Microfluidics to Monitor DNA Nanocomplex Self-Assembly in Real-Time
Institutions: Johns Hopkins University, Duke University, Johns Hopkins University.

Advances in genomics continue to fuel the development of therapeutics that can target pathogenesis at the cellular and molecular level. Typically functional inside the cell, nucleic acid-based therapeutics require an efficient intracellular delivery system. One widely adopted approach is to complex DNA with a gene carrier to form nanocomplexes via electrostatic self-assembly, facilitating cellular uptake of DNA while protecting it against degradation. The challenge lies in the rational design of efficient gene carriers, since premature dissociation or overly stable binding would be detrimental to the cellular uptake and therapeutic efficacy. Nanocomplexes synthesized by bulk mixing showed a diverse range of intracellular unpacking and trafficking behavior, which was attributed to the heterogeneity in size and stability of nanocomplexes. Such heterogeneity hinders the accurate assessment of the self-assembly kinetics and adds to the difficulty in correlating their physical properties to transfection efficiencies or bioactivities. We present a novel convergence of nanophotonics (i.e. QD-FRET) and microfluidics to characterize the real-time kinetics of the nanocomplex self-assembly under laminar flow. QD-FRET provides a highly sensitive indication of the onset of molecular interactions and quantitative measure throughout the synthesis process, whereas microfluidics offers a well-controlled microenvironment to spatially analyze the process with high temporal resolution (~milliseconds). For the model system of polymeric nanocomplexes, two distinct stages in the self-assembly process were captured by this analytic platform. The kinetic aspect of the self-assembly process obtained at the microscale would be particularly valuable for microreactor-based reactions which are relevant to many micro- and nano-scale applications. Further, nanocomplexes may be customized through proper design of microfludic devices, and the resulting QD-FRET polymeric DNA nanocomplexes could be readily applied for establishing structure-function relationships.
Biomedical Engineering, Issue 30, microfluidics, gene delivery, quantum dots, fluorescence resonance energy transfer, self-assembly, nanocomplexes
1432
Experimental Protocol for Manipulating Plant-induced Soil Heterogeneity
Institutions: Case Western Reserve University.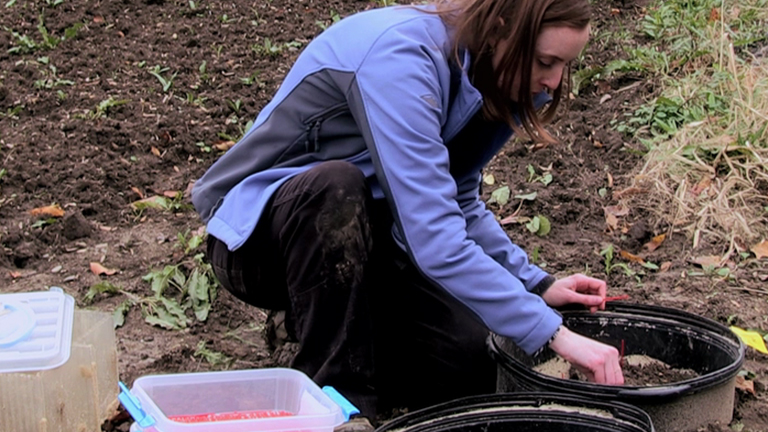 Coexistence theory has often treated environmental heterogeneity as being independent of the community composition; however biotic feedbacks such as plant-soil feedbacks (PSF) have large effects on plant performance, and create environmental heterogeneity that depends on the community composition. Understanding the importance of PSF for plant community assembly necessitates understanding of the role of heterogeneity in PSF, in addition to mean PSF effects. Here, we describe a protocol for manipulating plant-induced soil heterogeneity. Two example experiments are presented: (1) a field experiment with a 6-patch grid of soils to measure plant population responses and (2) a greenhouse experiment with 2-patch soils to measure individual plant responses. Soils can be collected from the zone of root influence (soils from the rhizosphere and directly adjacent to the rhizosphere) of plants in the field from conspecific and heterospecific plant species. Replicate collections are used to avoid pseudoreplicating soil samples. These soils are then placed into separate patches for heterogeneous treatments or mixed for a homogenized treatment. Care should be taken to ensure that heterogeneous and homogenized treatments experience the same degree of soil disturbance. Plants can then be placed in these soil treatments to determine the effect of plant-induced soil heterogeneity on plant performance. We demonstrate that plant-induced heterogeneity results in different outcomes than predicted by traditional coexistence models, perhaps because of the dynamic nature of these feedbacks. Theory that incorporates environmental heterogeneity influenced by the assembling community and additional empirical work is needed to determine when heterogeneity intrinsic to the assembling community will result in different assembly outcomes compared with heterogeneity extrinsic to the community composition.
Environmental Sciences, Issue 85, Coexistence, community assembly, environmental drivers, plant-soil feedback, soil heterogeneity, soil microbial communities, soil patch
51580
Design and Operation of a Continuous 13C and 15N Labeling Chamber for Uniform or Differential, Metabolic and Structural, Plant Isotope Labeling
Institutions: Colorado State University, USDA-ARS, Colorado State University.

Tracing rare stable isotopes from plant material through the ecosystem provides the most sensitive information about ecosystem processes; from CO
2
fluxes and soil organic matter formation to small-scale stable-isotope biomarker probing. Coupling multiple stable isotopes such as
13
C with
15
N,
18
O or 
2
H has the potential to reveal even more information about complex stoichiometric relationships during biogeochemical transformations. Isotope labeled plant material has been used in various studies of litter decomposition and soil organic matter formation
1-4
. From these and other studies, however, it has become apparent that structural components of plant material behave differently than metabolic components (
i.e
. leachable low molecular weight compounds) in terms of microbial utilization and long-term carbon storage
5-7
. The ability to study structural and metabolic components separately provides a powerful new tool for advancing the forefront of ecosystem biogeochemical studies. Here we describe a method for producing
13
C and
15
N labeled plant material that is either uniformly labeled throughout the plant or differentially labeled in structural and metabolic plant components. Here, we present the construction and operation of a continuous
13
C and
15
N labeling chamber that can be modified to meet various research needs. Uniformly labeled plant material is produced by continuous labeling from seedling to harvest, while differential labeling is achieved by removing the growing plants from the chamber weeks prior to harvest. Representative results from growing
Andropogon gerardii
Kaw demonstrate the system's ability to efficiently label plant material at the targeted levels. Through this method we have produced plant material with a 4.4 atom%
13
C and 6.7 atom%
15
N uniform plant label, or material that is differentially labeled by up to 1.29 atom%
13
C and 0.56 atom%
15
N in its metabolic and structural components (hot water extractable and hot water residual components, respectively). Challenges lie in maintaining proper temperature, humidity, CO
2
concentration, and light levels in an airtight
13
C-CO
2
atmosphere for successful plant production. This chamber description represents a useful research tool to effectively produce uniformly or differentially multi-isotope labeled plant material for use in experiments on ecosystem biogeochemical cycling.
Environmental Sciences, Issue 83, 13C, 15N, plant, stable isotope labeling, Andropogon gerardii, metabolic compounds, structural compounds, hot water extraction
51117
Production and Targeting of Monovalent Quantum Dots
Institutions: University of California, San Francisco, University of California, Berkeley, Lawrence Berkeley National Laboratory, University of California, San Francisco, University of California, San Francisco, University of California, San Francisco, University of California, San Francisco.

The multivalent nature of commercial quantum dots (QDs) and the difficulties associated with producing monovalent dots have limited their applications in biology, where clustering and the spatial organization of biomolecules is often the object of study. We describe here a protocol to produce monovalent quantum dots (mQDs) that can be accomplished in most biological research laboratories via a simple mixing of CdSe/ZnS core/shell QDs with phosphorothioate DNA (ptDNA) of defined length. After a single ptDNA strand has wrapped the QD, additional strands are excluded from the surface. Production of mQDs in this manner can be accomplished at small and large scale, with commercial reagents, and in minimal steps. These mQDs can be specifically directed to biological targets by hybridization to a complementary single stranded targeting DNA. We demonstrate the use of these mQDs as imaging probes by labeling SNAP-tagged Notch receptors on live mammalian cells, targeted by mQDs bearing a benzylguanine moiety.
Bioengineering, Issue 92, monovalent quantum dots, single particle tracking, SNAP tag, steric exclusion, phosphorothioate, DNA, nanoparticle bioconjugation, single molecule imaging
52198
Synthesis and Operation of Fluorescent-core Microcavities for Refractometric Sensing
Institutions: University of Alberta.

This paper discusses fluorescent core microcavity-based sensors that can operate in a microfluidic analysis setup. These structures are based on the formation of a fluorescent quantum-dot (QD) coating on the channel surface of a conventional microcapillary. Silicon QDs are especially attractive for this application, owing in part to their negligible toxicity compared to the II-VI and II-VI compound QDs, which are legislatively controlled substances in many countries. While the ensemble emission spectrum is broad and featureless, an Si-QD film on the channel wall of a capillary features a set of sharp, narrow peaks in the fluorescence spectrum, corresponding to the electromagnetic resonances for light trapped within the film. The peak wavelength of these resonances is sensitive to the external medium, thus permitting the device to function as a refractometric sensor in which the QDs never come into physical contact with the analyte. The experimental methods associated with the fabrication of the fluorescent-core microcapillaries are discussed in detail, as well as the analysis methods. Finally, a comparison is made between these structures and the more widely investigated liquid-core optical ring resonators, in terms of microfluidic sensing capabilities.
Physics, Issue 73, Microfluidics, Optics, Quantum Dots, Optics and Photonics, fluid flow sensors (general), luminescence (optics), optical waveguides, photonics, condensed matter physics, microcavities, whispering gallery modes, refractometric sensor, fluorescence, microcapillary, quantum dots
50256
Real-time Imaging of Axonal Transport of Quantum Dot-labeled BDNF in Primary Neurons
Institutions: University of California, San Diego, Shanghai Jiao Tong University, University of California, San Diego, VA San Diego Healthcare System.

BDNF plays an important role in several facets of neuronal survival, differentiation, and function. Structural and functional deficits in axons are increasingly viewed as an early feature of neurodegenerative diseases, including Alzheimer's disease (AD) and Huntington's disease (HD). As yet unclear is the mechanism(s) by which axonal injury is induced. We reported the development of a novel technique to produce biologically active, monobiotinylated BDNF (mBtBDNF) that can be used to trace axonal transport of BDNF. Quantum dot-labeled BDNF (QD-BDNF) was produced by conjugating quantum dot 655 to mBtBDNF. A microfluidic device was used to isolate axons from neuron cell bodies. Addition of QD-BDNF to the axonal compartment allowed live imaging of BDNF transport in axons. We demonstrated that QD-BDNF moved essentially exclusively retrogradely, with very few pauses, at a moving velocity of around 1.06 μm/sec. This system can be used to investigate mechanisms of disrupted axonal function in AD or HD, as well as other degenerative disorders.
Neuroscience, Issue 91, live imaging, brain-derived neurotrophic factor (BDNF), quantum dot, trafficking, axonal retrograde transport, microfluidic chamber
51899
Non-radioactive in situ Hybridization Protocol Applicable for Norway Spruce and a Range of Plant Species
Institutions: Uppsala University, Swedish University of Agricultural Sciences.

The high-throughput expression analysis technologies available today give scientists an overflow of expression profiles but their resolution in terms of tissue specific expression is limited because of problems in dissecting individual tissues. Expression data needs to be confirmed and complemented with expression patterns using e.g.
in situ
hybridization, a technique used to localize cell specific mRNA expression. The
in situ
hybridization method is laborious, time-consuming and often requires extensive optimization depending on species and tissue.
In situ
experiments are relatively more difficult to perform in woody species such as the conifer Norway spruce (
Picea abies
). Here we present a modified DIG
in situ
hybridization protocol, which is fast and applicable on a wide range of plant species including
P. abies
. With just a few adjustments, including altered RNase treatment and proteinase K concentration, we could use the protocol to study tissue specific expression of homologous genes in male reproductive organs of one gymnosperm and two angiosperm species;
P. abies, Arabidopsis thaliana
and
Brassica napus
. The protocol worked equally well for the species and genes studied.
AtAP3
and
BnAP3
were observed in second and third whorl floral organs in
A. thaliana
and
B. napus
and DAL13 in microsporophylls of male cones from
P. abies
. For
P. abies
the proteinase K concentration, used to permeablize the tissues, had to be increased to 3 g/ml instead of 1 g/ml, possibly due to more compact tissues and higher levels of phenolics and polysaccharides. For all species the RNase treatment was removed due to reduced signal strength without a corresponding increase in specificity. By comparing tissue specific expression patterns of homologous genes from both flowering plants and a coniferous tree we demonstrate that the DIG
in situ
protocol presented here, with only minute adjustments, can be applied to a wide range of plant species. Hence, the protocol avoids both extensive species specific optimization and the laborious use of radioactively labeled probes in favor of DIG labeled probes. We have chosen to illustrate the technically demanding steps of the protocol in our film. Anna Karlgren and Jenny Carlsson contributed equally to this study. Corresponding authors: Anna Karlgren at Anna.Karlgren@ebc.uu.se and Jens F. Sundström at Jens.Sundstrom@vbsg.slu.se
Plant Biology, Issue 26, RNA, expression analysis, Norway spruce, Arabidopsis, rapeseed, conifers
1205
In Situ Hybridization for the Precise Localization of Transcripts in Plants
Institutions: Cold Spring Harbor Laboratory.

With the advances in genomics research of the past decade, plant biology has seen numerous studies presenting large-scale quantitative analyses of gene expression. Microarray and next generation sequencing approaches are being used to investigate developmental, physiological and stress response processes, dissect epigenetic and small RNA pathways, and build large gene regulatory networks
1-3
. While these techniques facilitate the simultaneous analysis of large gene sets, they typically provide a very limited spatiotemporal resolution of gene expression changes. This limitation can be partially overcome by using either profiling method in conjunction with lasermicrodissection or fluorescence-activated cell sorting
4-7
. However, to fully understand the biological role of a gene, knowledge of its spatiotemporal pattern of expression at a cellular resolution is essential. Particularly, when studying development or the effects of environmental stimuli and mutants can the detailed analysis of a gene's expression pattern become essential. For instance, subtle quantitative differences in the expression levels of key regulatory genes can lead to dramatic phenotypes when associated with the loss or gain of expression in specific cell types. Several methods are routinely used for the detailed examination of gene expression patterns. One is through analysis of transgenic reporter lines. Such analysis can, however, become time-consuming when analyzing multiple genes or working in plants recalcitrant to transformation. Moreover, an independent validation to ensure that the transgene expression pattern mimics that of the endogenous gene is typically required. Immunohistochemical protein localization or mRNA
in situ
hybridization present relatively fast alternatives for the direct visualization of gene expression within cells and tissues. The latter has the distinct advantage that it can be readily used on any gene of interest.
In situ
hybridization allows detection of target mRNAs in cells by hybridization with a labeled anti-sense RNA probe obtained by
in vitro
transcription of the gene of interest. Here we outline a protocol for the
in situ
localization of gene expression in plants that is highly sensitivity and specific. It is optimized for use with paraformaldehyde fixed, paraffin-embedded sections, which give excellent preservation of histology, and DIG-labeled probes that are visualized by immuno-detection and alkaline-phosphatase colorimetric reaction. This protocol has been successfully applied to a number of tissues from a wide range of plant species, and can be used to analyze expression of mRNAs as well as small RNAs
8-14
.
Plant Biology, Issue 57, In Situ hybridization, RNA localization, expression analysis, plant, DIG-labeled probe
3328
Detection of Fluorescent Nanoparticle Interactions with Primary Immune Cell Subpopulations by Flow Cytometry
Institutions: Istituto Italiano di Tecnologia, University of Pisa, Istituto Italiano di Tecnologia.

Engineered nanoparticles are endowed with very promising properties for therapeutic and diagnostic purposes. This work describes a fast and reliable method of analysis by flow cytometry to study nanoparticle interaction with immune cells. Primary immune cells can be easily purified from human or mouse tissues by antibody-mediated magnetic isolation. In the first instance, the different cell populations running in a flow cytometer can be distinguished by the forward-scattered light (FSC), which is proportional to cell size, and the side-scattered light (SSC), related to cell internal complexity. Furthermore, fluorescently labeled antibodies against specific cell surface receptors permit the identification of several subpopulations within the same sample. Often, all these features vary when cells are boosted by external stimuli that change their physiological and morphological state. Here, 50 nm FITC-SiO
2
nanoparticles are used as a model to identify the internalization of nanostructured materials in human blood immune cells. The cell fluorescence and side-scattered light increase after incubation with nanoparticles allowed us to define time and concentration dependence of nanoparticle-cell interaction. Moreover, such protocol can be extended to investigate Rhodamine-SiO
2
nanoparticle interaction with primary microglia, the central nervous system resident immune cells, isolated from mutant mice that specifically express the Green Fluorescent Protein (GFP) in the monocyte/macrophage lineage. Finally, flow cytometry data related to nanoparticle internalization into the cells have been confirmed by confocal microscopy.
Immunology, Issue 85, Flow cytometry, blood leukocytes, microglia, Nanoparticles, internalization, Fluorescence, cell purification
51345
Testing the Physiological Barriers to Viral Transmission in Aphids Using Microinjection
Institutions: Cornell University, Cornell University.

Potato loafroll virus (PLRV), from the family Luteoviridae infects solanaceous plants. It is transmitted by aphids, primarily, the green peach aphid. When an uninfected aphid feeds on an infected plant it contracts the virus through the plant phloem. Once ingested, the virus must pass from the insect gut to the hemolymph (the insect blood ) and then must pass through the salivary gland, in order to be transmitted back to a new plant. An aphid may take up different viruses when munching on a plant, however only a small fraction will pass through the gut and salivary gland, the two main barriers for transmission to infect more plants. In the lab, we use physalis plants to study PLRV transmission. In this host, symptoms are characterized by stunting and interveinal chlorosis (yellowing of the leaves between the veins with the veins remaining green). The video that we present demonstrates a method for performing aphid microinjection on insects that do not vector PLVR viruses and tests whether the gut is preventing viral transmission. The video that we present demonstrates a method for performing Aphid microinjection on insects that do not vector PLVR viruses and tests whether the gut or salivary gland is preventing viral transmission.
Plant Biology, Issue 15, Annual Review, Aphids, Plant Virus, Potato Leaf Roll Virus, Microinjection Technique
700
Testing Nicotine Tolerance in Aphids Using an Artificial Diet Experiment
Institutions: Cornell University.

Plants may upregulate the production of many different seconday metabolites in response to insect feeding. One of these metabolites, nicotine, is well know to have insecticidal properties. One response of tobacco plants to herbivory, or being gnawed upon by insects, is to increase the production of this neurotoxic alkaloid. Here, we will demonstrate how to set up an experiment to address this question of whether a tobacco-adapted strain of the green peach aphid, Myzus persicae, can tolerate higher levels of nicotine than the a strain of this insect that does not infest tobacco in the field.
Plant Biology, Issue 15, Annual Review, Nicotine, Aphids, Plant Feeding Resistance, Tobacco
701
Choice and No-Choice Assays for Testing the Resistance of A. thaliana to Chewing Insects
Institutions: Cornell University.

Larvae of the small white cabbage butterfly are a pest in agricultural settings. This caterpillar species feeds from plants in the cabbage family, which include many crops such as cabbage, broccoli, Brussel sprouts etc. Rearing of the insects takes place on cabbage plants in the greenhouse. At least two cages are needed for the rearing of Pieris rapae. One for the larvae and the other to contain the adults, the butterflies. In order to investigate the role of plant hormones and toxic plant chemicals in resistance to this insect pest, we demonstrate two experiments. First, determination of the role of jasmonic acid (JA - a plant hormone often indicated in resistance to insects) in resistance to the chewing insect Pieris rapae. Caterpillar growth can be compared on wild-type and mutant plants impaired in production of JA. This experiment is considered "No Choice", because larvae are forced to subsist on a single plant which synthesizes or is deficient in JA. Second, we demonstrate an experiment that investigates the role of glucosinolates, which are used as oviposition (egg-laying) signals. Here, we use WT and mutant Arabidopsis impaired in glucosinolate production in a "Choice" experiment in which female butterflies are allowed to choose to lay their eggs on plants of either genotype. This video demonstrates the experimental setup for both assays as well as representative results.
Plant Biology, Issue 15, Annual Review, Plant Resistance, Herbivory, Arabidopsis thaliana, Pieris rapae, Caterpillars, Butterflies, Jasmonic Acid, Glucosinolates
683