In vitro Synthesis of Native, Fibrous Long Spacing and Segmental Long Spacing Collagen
Published: 09-20-2012
ABSTRACT
Collagen fibrils are present in the extracellular matrix of animal tissue to provide structural scaffolding and mechanical strength. These native collagen fibrils have a characteristic banding periodicity of ~67 nm and are formed in vivo through the hierarchical assembly of Type I collagen monomers, which are 300 nm in length and 1.4 nm in diameter. In vitro, by varying the conditions to which the monomer building blocks are exposed, unique structures ranging in length scales up to 50 microns can be constructed, including not only native type fibrils, but also fibrous long spacing and segmental long spacing collagen. Herein, we present procedures for forming the three different collagen structures from a common commercially available collagen monomer. Using the protocols that we and others have published in the past to make these three types typically lead to mixtures of structures. In particular, unbanded fibrils were commonly found when making native collagen, and native fibrils were often present when making fibrous long spacing collagen. These new procedures have the advantage of producing the desired collagen fibril type almost exclusively. The formation of the desired structures is verified by imaging using an atomic force microscope.
23 Related JoVE Articles!
Fabrication of Micro-tissues using Modules of Collagen Gel Containing Cells
Institutions: University of Toronto, University of Toronto.

This protocol describes the fabrication of a type of micro-tissues called modules. The module approach generates uniform, scalable and vascularized tissues. The modules can be made of collagen as well as other gelable or crosslinkable materials. They are approximately 2 mm in length and 0.7 mm in diameter upon fabrication but shrink in size with embedded cells or when the modules are coated with endothelial cells. The modules individually are small enough that the embedded cells are within the diffusion limit of oxygen and other nutrients but modules can be packed together to form larger tissues that are perfusable. These tissues are modular in construction because different cell types can be embedded in or coated on the modules before they are packed together to form complex tissues. There are three main steps to making the modules: (1) neutralizing the collagen and embedding cells in it, (2) gelling the collagen in the tube and cutting the modules and (3) coating the modules with endothelial cells.
Bioengineering, Issue 46, Tissue engineering, micro-tissue, endothelial cells, collagen gels, modules, 3D tissue culture.
2177
Engineering Skeletal Muscle Tissues from Murine Myoblast Progenitor Cells and Application of Electrical Stimulation
Institutions: Eindhoven University of Technology, The Netherlands.

Engineered muscle tissues can be used for several different purposes, which include the production of tissues for use as a disease model
in vitro
,
e.g.
to study pressure ulcers, for regenerative medicine and as a meat alternative
1
. The first reported 3D muscle constructs have been made many years ago and pioneers in the field are Vandenburgh and colleagues
2,3
. Advances made in muscle tissue engineering are not only the result from the vast gain in knowledge of biochemical factors, stem cells and progenitor cells, but are in particular based on insights gained by researchers that physical factors play essential roles in the control of cell behavior and tissue development. State-of-the-art engineered muscle constructs currently consist of cell-populated hydrogel constructs. In our lab these generally consist of murine myoblast progenitor cells, isolated from murine hind limb muscles or a murine myoblast cell line C2C12, mixed with a mixture of collagen/Matrigel and plated between two anchoring points, mimicking the muscle ligaments. Other cells may be considered as well,
e.g.
alternative cell lines such as L6 rat myoblasts
4
, neonatal muscle derived progenitor cells
5
, cells derived from adult muscle tissues from other species such as human
6
or even induced pluripotent stem cells (iPS cells)
7
. Cell contractility causes alignment of the cells along the long axis of the construct
8,9
and differentiation of the muscle progenitor cells after approximately one week of culture. Moreover, the application of electrical stimulation can enhance the process of differentiation to some extent
8
. Because of its limited size (8 x 2 x 0.5 mm) the complete tissue can be analyzed using confocal microscopy to monitor
e.g.
viability, differentiation and cell alignment. Depending on the specific application the requirements for the engineered muscle tissue will vary;
e.g.
use for regenerative medicine requires the up scaling of tissue size and vascularization, while to serve as a meat alternative translation to other species is necessary.
Bioengineering, Issue 73, Biomedical Engineering, Biophysics, Biomechanics, Anatomy, Physiology, Stem Cell Biology, Medicine, Cellular Biology, Molecular Biology, Genetics, Tissue Engineering, skeletal muscle, muscle progenitor cells, biophysical stimulation, iPS cells, myoblasts, muscle tissue, soft tissue, stem cells, cell culture, collagen, Matrigel, animal model
4267
Directed Cellular Self-Assembly to Fabricate Cell-Derived Tissue Rings for Biomechanical Analysis and Tissue Engineering
Institutions: Worcester Polytechnic Institute.

Each year, hundreds of thousands of patients undergo coronary artery bypass surgery in the United States.
1
Approximately one third of these patients do not have suitable autologous donor vessels due to disease progression or previous harvest. The aim of vascular tissue engineering is to develop a suitable alternative source for these bypass grafts. In addition, engineered vascular tissue may prove valuable as living vascular models to study cardiovascular diseases. Several promising approaches to engineering blood vessels have been explored, with many recent studies focusing on development and analysis of cell-based methods.
2-5
Herein, we present a method to rapidly self-assemble cells into 3D tissue rings that can be used in vitro to model vascular tissues. To do this, suspensions of smooth muscle cells are seeded into round-bottomed annular agarose wells. The non-adhesive properties of the agarose allow the cells to settle, aggregate and contract around a post at the center of the well to form a cohesive tissue ring.
6,7
These rings can be cultured for several days prior to harvesting for mechanical, physiological, biochemical, or histological analysis. We have shown that these cell-derived tissue rings yield at 100-500 kPa ultimate tensile strength
8
which exceeds the value reported for other tissue engineered vascular constructs cultured for similar durations (<30 kPa).
9,10
Our results demonstrate that robust cell-derived vascular tissue ring generation can be achieved within a short time period, and offers the opportunity for direct and quantitative assessment of the contributions of cells and cell-derived matrix (CDM) to vascular tissue structure and function.
Bioengineering, Issue 57, Cell-derived matrix, vascular tissue engineering, smooth muscle cells, cellular self-assembly, tissue biomechanics
3366
Elastomeric PGS Scaffolds in Arterial Tissue Engineering
Institutions: University of Pittsburgh, University of Pittsburgh.

Cardiovascular disease is one of the leading cause of mortality in the US and especially, coronary artery disease increases with an aging population and increasing obesity
1
. Currently, bypass surgery using autologous vessels, allografts, and synthetic grafts are known as a commonly used for arterial substitutes
2
. However, these grafts have limited applications when an inner diameter of arteries is less than 6 mm due to low availability, thrombotic complications, compliance mismatch, and late intimal hyperplasia
3,4
. To overcome these limitations, tissue engineering has been successfully applied as a promising alternative to develop small-diameter arterial constructs that are nonthrombogenic, robust, and compliant. Several previous studies have developed small-diameter arterial constructs with tri-lamellar structure, excellent mechanical properties and burst pressure comparable to native arteries
5,6
. While high tensile strength and burst pressure by increasing collagen production from a rigid material or cell sheet scaffold, these constructs still had low elastin production and compliance, which is a major problem to cause graft failure after implantation. Considering these issues, we hypothesized that an elastometric biomaterial combined with mechanical conditioning would provide elasticity and conduct mechanical signals more efficiently to vascular cells, which increase extracellular matrix production and support cellular orientation. The objective of this report is to introduce a fabrication technique of porous tubular scaffolds and a dynamic mechanical conditioning for applying them to arterial tissue engineering. We used a biodegradable elastomer, poly (glycerol sebacate) (PGS)
7
for fabricating porous tubular scaffolds from the salt fusion method. Adult primary baboon smooth muscle cells (SMCs) were seeded on the lumen of scaffolds, which cultured in our designed pulsatile flow bioreactor for 3 weeks. PGS scaffolds had consistent thickness and randomly distributed macro- and micro-pores. Mechanical conditioning from pulsatile flow bioreactor supported SMC orientation and enhanced ECM production in scaffolds. These results suggest that elastomeric scaffolds and mechanical conditioning of bioreactor culture may be a promising method for arterial tissue engineering.
Bioengineering, Issue 50, blood vessel, tissue engineering, bioreactor, smooth muscle cell
2691
Magnetic Resonance Elastography Methodology for the Evaluation of Tissue Engineered Construct Growth
Institutions: University of Nebraska-Lincoln, University of Nebraska-Lincoln.

Traditional mechanical testing often results in the destruction of the sample, and in the case of long term tissue engineered construct studies, the use of destructive assessment is not acceptable. A proposed alternative is the use of an imaging process called magnetic resonance elastography. Elastography is a nondestructive method for determining the engineered outcome by measuring local mechanical property values (i.e., complex shear modulus), which are essential markers for identifying the structure and functionality of a tissue. As a noninvasive means for evaluation, the monitoring of engineered constructs with imaging modalities such as magnetic resonance imaging (MRI) has seen increasing interest in the past decade
1
. For example, the magnetic resonance (MR) techniques of diffusion and relaxometry have been able to characterize the changes in chemical and physical properties during engineered tissue development
2
. The method proposed in the following protocol uses microscopic magnetic resonance elastography (μMRE) as a noninvasive MR based technique for measuring the mechanical properties of small soft tissues
3
. MRE is achieved by coupling a sonic mechanical actuator with the tissue of interest and recording the shear wave propagation with an MR scanner
4
. Recently, μMRE has been applied in tissue engineering to acquire essential growth information that is traditionally measured using destructive mechanical macroscopic techniques
5
. In the following procedure, elastography is achieved through the imaging of engineered constructs with a modified Hahn spin-echo sequence coupled with a mechanical actuator. As shown in Figure 1, the modified sequence synchronizes image acquisition with the transmission of external shear waves; subsequently, the motion is sensitized through the use of oscillating bipolar pairs. Following collection of images with positive and negative motion sensitization, complex division of the data produce a shear wave image. Then, the image is assessed using an inversion algorithm to generate a shear stiffness map
6
. The resulting measurements at each voxel have been shown to strongly correlate (R
2
>0.9914) with data collected using dynamic mechanical analysis
7
. In this study, elastography is integrated into the tissue development process for monitoring human mesenchymal stem cell (
h
MSC) differentiation into adipogenic and osteogenic constructs as shown in Figure 2.
Bioengineering, Issue 60, mesenchymal stem cells, tissue engineering (TE), regenerative medicine, adipose TE, magnetic resonance elastography (MRE), biomechanics, elasticity
3618
Long-term Intravital Immunofluorescence Imaging of Tissue Matrix Components with Epifluorescence and Two-photon Microscopy
Institutions: École Polytechnique Fédérale de Lausanne, Oregon Health & Science University.

Besides being a physical scaffold to maintain tissue morphology, the extracellular matrix (ECM) is actively involved in regulating cell and tissue function during development and organ homeostasis. It does so by acting via biochemical, biomechanical, and biophysical signaling pathways, such as through the release of bioactive ECM protein fragments, regulating tissue tension, and providing pathways for cell migration. The extracellular matrix of the tumor microenvironment undergoes substantial remodeling, characterized by the degradation, deposition and organization of fibrillar and non-fibrillar matrix proteins. Stromal stiffening of the tumor microenvironment can promote tumor growth and invasion, and cause remodeling of blood and lymphatic vessels. Live imaging of matrix proteins, however, to this point is limited to fibrillar collagens that can be detected by second harmonic generation using multi-photon microscopy, leaving the majority of matrix components largely invisible. Here we describe procedures for tumor inoculation in the thin dorsal ear skin, immunolabeling of extracellular matrix proteins and intravital imaging of the exposed tissue in live mice using epifluorescence and two-photon microscopy. Our intravital imaging method allows for the direct detection of both fibrillar and non-fibrillar matrix proteins in the context of a growing dermal tumor. We show examples of vessel remodeling caused by local matrix contraction. We also found that fibrillar matrix of the tumor detected with the second harmonic generation is spatially distinct from newly deposited matrix components such as tenascin C. We also showed long-term (12 hours) imaging of T-cell interaction with tumor cells and tumor cells migration along the collagen IV of basement membrane. Taken together, this method uniquely allows for the simultaneous detection of tumor cells, their physical microenvironment and the endogenous tissue immune response over time, which may provide important insights into the mechanisms underlying tumor progression and ultimate success or resistance to therapy.
Bioengineering, Issue 86, Intravital imaging, epifluorescence, two-photon imaging, Tumor matrix, Matrix remodeling
51388
Electrospinning Growth Factor Releasing Microspheres into Fibrous Scaffolds
Institutions: Wayne State University.
This procedure describes a method to fabricate a multifaceted substrate to direct nerve cell growth. This system incorporates mechanical, topographical, adhesive and chemical signals. Mechanical properties are controlled by the type of material used to fabricate the electrospun fibers. In this protocol we use 30% methacrylated Hyaluronic Acid (HA), which has a tensile modulus of ~500 Pa, to produce a soft fibrous scaffold. Electrospinning on to a rotating mandrel produces aligned fibers to create a topographical cue. Adhesion is achieved by coating the scaffold with fibronectin. The primary challenge addressed herein is providing a chemical signal throughout the depth of the scaffold for extended periods. This procedure describes fabricating poly(lactic-co-glycolic acid) (PLGA) microspheres that contain Nerve Growth Factor (NGF) and directly impregnating the scaffold with these microspheres during the electrospinning process. Due to the harsh production environment, including high sheer forces and electrical charges, protein viability is measured after production. The system provides protein release for over 60 days and has been shown to promote primary nerve cell growth.
Bioengineering, Issue 90, Electrospinning, Hyaluronic Acid, PLGA, Microspheres, Controlled Release, Neural Tissue Engineering, Directed Cell Migration
51517
Imaging Denatured Collagen Strands In vivo and Ex vivo via Photo-triggered Hybridization of Caged Collagen Mimetic Peptides
Institutions: University of Utah, Johns Hopkins University School of Medicine, Johns Hopkins University.

Collagen is a major structural component of the extracellular matrix that supports tissue formation and maintenance. Although collagen remodeling is an integral part of normal tissue renewal, excessive amount of remodeling activity is involved in tumors, arthritis, and many other pathological conditions. During collagen remodeling, the triple helical structure of collagen molecules is disrupted by proteases in the extracellular environment. In addition, collagens present in many histological tissue samples are partially denatured by the fixation and preservation processes. Therefore, these denatured collagen strands can serve as effective targets for biological imaging. We previously developed a caged collagen mimetic peptide (CMP) that can be photo-triggered to hybridize with denatured collagen strands by forming triple helical structure, which is unique to collagens. The overall goals of this procedure are
i) 
to image denatured collagen strands resulting from normal remodeling activities
in vivo
, and
ii)
to visualize collagens in
ex vivo
tissue sections using the photo-triggered caged CMPs. To achieve effective hybridization and successful
in vivo
and
ex vivo
imaging, fluorescently labeled caged CMPs are either photo-activated immediately before intravenous injection, or are directly activated on tissue sections. Normal skeletal collagen remolding in nude mice and collagens in prefixed mouse cornea tissue sections are imaged in this procedure. The imaging method based on the CMP-collagen hybridization technology presented here could lead to deeper understanding of the tissue remodeling process, as well as allow development of new diagnostics for diseases associated with high collagen remodeling activity.
Bioengineering, Issue 83, collagen remodeling, triple helix, near infrared fluorescence, bioimaging, tissue staining
51052
In situ Compressive Loading and Correlative Noninvasive Imaging of the Bone-periodontal Ligament-tooth Fibrous Joint
Institutions: University of California San Francisco, University of California San Francisco, Xradia Inc..

This study demonstrates a novel biomechanics testing protocol. The advantage of this protocol includes the use of an
in situ
loading device coupled to a high resolution X-ray microscope, thus enabling visualization of internal structural elements under simulated physiological loads and wet conditions. Experimental specimens will include intact bone-periodontal ligament (PDL)-tooth fibrous joints. Results will illustrate three important features of the protocol as they can be applied to organ level biomechanics: 1) reactionary force vs. displacement: tooth displacement within the alveolar socket and its reactionary response to loading, 2) three-dimensional (3D) spatial configuration and morphometrics: geometric relationship of the tooth with the alveolar socket, and 3) changes in readouts 1 and 2 due to a change in loading axis,
i.e.
from concentric to eccentric loads. Efficacy of the proposed protocol will be evaluated by coupling mechanical testing readouts to 3D morphometrics and overall biomechanics of the joint. In addition, this technique will emphasize on the need to equilibrate experimental conditions, specifically reactionary loads prior to acquiring tomograms of fibrous joints. It should be noted that the proposed protocol is limited to testing specimens under
ex vivo
conditions, and that use of contrast agents to visualize soft tissue mechanical response could lead to erroneous conclusions about tissue and organ-level biomechanics.
Bioengineering, Issue 85, biomechanics, bone-periodontal ligament-tooth complex, concentric loads, eccentric loads, contrast agent
51147
Tissue Engineering: Construction of a Multicellular 3D Scaffold for the Delivery of Layered Cell Sheets
Institutions: University of California, Merced.
Many tissues, such as the adult human hearts, are unable to adequately regenerate after damage.
2,3
Strategies in tissue engineering propose innovations to assist the body in recovery and repair. For example, TE approaches may be able to attenuate heart remodeling after myocardial infarction (MI) and possibly increase total heart function to a near normal pre-MI level.
4
As with any functional tissue, successful regeneration of cardiac tissue involves the proper delivery of multiple cell types with environmental cues favoring integration and survival of the implanted cell/tissue graft. Engineered tissues should address multiple parameters including: soluble signals, cell-to-cell interactions, and matrix materials evaluated as delivery vehicles, their effects on cell survival, material strength, and facilitation of cell-to-tissue organization. Studies employing the direct injection of graft cells only ignore these essential elements.
2,5,6
A tissue design combining these ingredients has yet to be developed. Here, we present an example of integrated designs using layering of patterned cell sheets with two distinct types of biological-derived materials containing the target organ cell type and endothelial cells for enhancing new vessels formation in the "tissue". Although these studies focus on the generation of heart-like tissue, this tissue design can be applied to many organs other than heart with minimal design and material changes, and is meant to be an off-the-shelf product for regenerative therapies. The protocol contains five detailed steps. A temperature sensitive Poly(
N
-isopropylacrylamide) (pNIPAAM) is used to coat tissue culture dishes. Then, tissue specific cells are cultured on the surface of the coated plates/micropattern surfaces to form cell sheets with strong lateral adhesions. Thirdly, a base matrix is created for the tissue by combining porous matrix with neovascular permissive hydrogels and endothelial cells. Finally, the cell sheets are lifted from the pNIPAAM coated dishes and transferred to the base element, making the complete construct.
Bioengineering, Issue 92, Cell Delivery, Matrices, Tissue Engineering, Cardiac Patch, Cell Sheet Engineering
51044
Mechanical Stimulation of Chondrocyte-agarose Hydrogels
Institutions: Queen's University , Queen's University .

Articular cartilage suffers from a limited repair capacity when damaged by mechanical insult or degraded by disease, such as osteoarthritis. To remedy this deficiency, several medical interventions have been developed. One such method is to resurface the damaged area with tissue-engineered cartilage; however, the engineered tissue typically lacks the biochemical properties and durability of native cartilage, questioning its long-term survivability. This limits the application of cartilage tissue engineering to the repair of small focal defects, relying on the surrounding tissue to protect the implanted material. To improve the properties of the developed tissue, mechanical stimulation is a popular method utilized to enhance the synthesis of cartilaginous extracellular matrix as well as the resultant mechanical properties of the engineered tissue. Mechanical stimulation applies forces to the tissue constructs analogous to those experienced
in vivo
. This is based on the premise that the mechanical environment, in part, regulates the development and maintenance of native tissue
1,2
. The most commonly applied form of mechanical stimulation in cartilage tissue engineering is dynamic compression at physiologic strains of approximately 5-20% at a frequency of 1 Hz
1,3
. Several studies have investigated the effects of dynamic compression and have shown it to have a positive effect on chondrocyte metabolism and biosynthesis, ultimately affecting the functional properties of the developed tissue
4-8
. In this paper, we illustrate the method to mechanically stimulate chondrocyte-agarose hydrogel constructs under dynamic compression and analyze changes in biosynthesis through biochemical and radioisotope assays. This method can also be readily modified to assess any potentially induced changes in cellular response as a result of mechanical stimuli.
Cellular Biology, Issue 68, Tissue Engineering, Mechanical Stimulation, Chondrocytes, Agarose, Cartilage
4229
Longitudinal Measurement of Extracellular Matrix Rigidity in 3D Tumor Models Using Particle-tracking Microrheology
Institutions: University of Massachusetts Boston.

The mechanical microenvironment has been shown to act as a crucial regulator of tumor growth behavior and signaling, which is itself remodeled and modified as part of a set of complex, two-way mechanosensitive interactions. While the development of biologically-relevant 3D tumor models have facilitated mechanistic studies on the impact of matrix rheology on tumor growth, the inverse problem of mapping changes in the mechanical environment induced by tumors remains challenging. Here, we describe the implementation of particle-tracking microrheology (PTM) in conjunction with 3D models of pancreatic cancer as part of a robust and viable approach for longitudinally monitoring physical changes in the tumor microenvironment,
in situ
. The methodology described here integrates a system of preparing
in vitro
3D models embedded in a model extracellular matrix (ECM) scaffold of Type I collagen with fluorescently labeled probes uniformly distributed for position- and time-dependent microrheology measurements throughout the specimen.
In vitro
tumors are plated and probed in parallel conditions using multiwell imaging plates. Drawing on established methods, videos of tracer probe movements are transformed via the Generalized Stokes Einstein Relation (GSER) to report the complex frequency-dependent viscoelastic shear modulus,
G*(ω)
. Because this approach is imaging-based, mechanical characterization is also mapped onto large transmitted-light spatial fields to simultaneously report qualitative changes in 3D tumor size and phenotype. Representative results showing contrasting mechanical response in sub-regions associated with localized invasion-induced matrix degradation as well as system calibration, validation data are presented. Undesirable outcomes from common experimental errors and troubleshooting of these issues are also presented. The 96-well 3D culture plating format implemented in this protocol is conducive to correlation of microrheology measurements with therapeutic screening assays or molecular imaging to gain new insights into impact of treatments or biochemical stimuli on the mechanical microenvironment.
Bioengineering, Issue 88, viscoelasticity, mechanobiology, extracellular matrix (ECM), matrix remodeling, 3D tumor models, tumor microenvironment, stroma, matrix metalloprotease (MMP), epithelial-mesenchymal transition (EMT)
51302
Engineering Fibrin-based Tissue Constructs from Myofibroblasts and Application of Constraints and Strain to Induce Cell and Collagen Reorganization
Institutions: Eindhoven University of Technology.

Collagen content and organization in developing collagenous tissues can be influenced by local tissue strains and tissue constraint. Tissue engineers aim to use these principles to create tissues with predefined collagen architectures. A full understanding of the exact underlying processes of collagen remodeling to control the final tissue architecture, however, is lacking. In particular, little is known about the (re)orientation of collagen fibers in response to changes in tissue mechanical loading conditions. We developed an
in vitro
model system, consisting of biaxially-constrained myofibroblast-seeded fibrin constructs, to further elucidate collagen (re)orientation in response to i) reverting biaxial to uniaxial static loading conditions and ii) cyclic uniaxial loading of the biaxially-constrained constructs before and after a change in loading direction, with use of the Flexcell FX4000T loading device. Time-lapse confocal imaging is used to visualize collagen (re)orientation in a nondestructive manner. Cell and collagen organization in the constructs can be visualized in real-time, and an internal reference system allows us to relocate cells and collagen structures for time-lapse analysis. Various aspects of the model system can be adjusted, like cell source or use of healthy and diseased cells. Additives can be used to further elucidate mechanisms underlying collagen remodeling, by for example adding MMPs or blocking integrins. Shape and size of the construct can be easily adapted to specific needs, resulting in a highly tunable model system to study cell and collagen (re)organization.
Bioengineering, Issue 80, Connective Tissue, Myofibroblasts, Heart Valves, Heart Valve Diseases, Mechanotransduction, Cellular, Adaptation, Biological, Cellular Microenvironment, collagen remodeling, fibrin-based tissues, tissue engineering, cardiovascular
51009
Construction and Characterization of a Novel Vocal Fold Bioreactor
Institutions: University of Delaware, University of Delaware.
In vitro
engineering of mechanically active tissues requires the presentation of physiologically relevant mechanical conditions to cultured cells. To emulate the dynamic environment of vocal folds, a novel vocal fold bioreactor capable of producing vibratory stimulations at fundamental phonation frequencies is constructed and characterized. The device is composed of a function generator, a power amplifier, a speaker selector and parallel vibration chambers. Individual vibration chambers are created by sandwiching a custom-made silicone membrane between a pair of acrylic blocks. The silicone membrane not only serves as the bottom of the chamber but also provides a mechanism for securing the cell-laden scaffold. Vibration signals, generated by a speaker mounted underneath the bottom acrylic block, are transmitted to the membrane aerodynamically by the oscillating air. Eight identical vibration modules, fixed on two stationary metal bars, are housed in an anti-humidity chamber for long-term operation in a cell culture incubator. The vibration characteristics of the vocal fold bioreactor are analyzed non-destructively using a Laser Doppler Vibrometer (LDV). The utility of the dynamic culture device is demonstrated by culturing cellular constructs in the presence of 200-Hz sinusoidal vibrations with a mid-membrane displacement of 40 µm. Mesenchymal stem cells cultured in the bioreactor respond to the vibratory signals by altering the synthesis and degradation of vocal fold-relevant, extracellular matrix components. The novel bioreactor system presented herein offers an excellent
in vitro
platform for studying vibration-induced mechanotransduction and for the engineering of functional vocal fold tissues.
Bioengineering, Issue 90, vocal fold; bioreactor; speaker; silicone membrane; fibrous scaffold; mesenchymal stem cells; vibration; extracellular matrix
51594
Self-reporting Scaffolds for 3-Dimensional Cell Culture
Institutions: University of Nottingham, University of Nottingham, University of Nottingham.

Culturing cells in 3D on appropriate scaffolds is thought to better mimic the
in vivo
microenvironment and increase cell-cell interactions. The resulting 3D cellular construct can often be more relevant to studying the molecular events and cell-cell interactions than similar experiments studied in 2D. To create effective 3D cultures with high cell viability throughout the scaffold the culture conditions such as oxygen and pH need to be carefully controlled as gradients in analyte concentration can exist throughout the 3D construct. Here we describe the methods of preparing biocompatible pH responsive sol-gel nanosensors and their incorporation into poly(lactic-co-glycolic acid) (PLGA) electrospun scaffolds along with their subsequent preparation for the culture of mammalian cells. The pH responsive scaffolds can be used as tools to determine microenvironmental pH within a 3D cellular construct. Furthermore, we detail the delivery of pH responsive nanosensors to the intracellular environment of mammalian cells whose growth was supported by electrospun PLGA scaffolds. The cytoplasmic location of the pH responsive nanosensors can be utilized to monitor intracellular pH (pHi) during ongoing experimentation.
Bioengineering, Issue 81, Biocompatible Materials, Nanosensors, scaffold, electrospinning, 3D cell culture, PLGA
50608
Engineering a Bilayered Hydrogel to Control ASC Differentiation
Institutions: United States Army Institute of Surgical Research, The University of Texas at Austin.

Natural polymers over the years have gained more importance because of their host biocompatibility and ability to interact with cells
in vitro
and
in vivo.
An area of research that holds promise in regenerative medicine is the combinatorial use of novel biomaterials and stem cells. A fundamental strategy in the field of tissue engineering is the use of three-dimensional scaffold (e.g., decellularized extracellular matrix, hydrogels, micro/nano particles) for directing cell function. This technology has evolved from the discovery that cells need a substrate upon which they can adhere, proliferate, and express their differentiated cellular phenotype and function
2-3
. More recently, it has also been determined that cells not only use these substrates for adherence, but also interact and take cues from the matrix substrate (e.g., extracellular matrix, ECM)
4
. Therefore, the cells and scaffolds have a reciprocal connection that serves to control tissue development, organization, and ultimate function. Adipose-derived stem cells (ASCs) are mesenchymal, non-hematopoetic stem cells present in adipose tissue that can exhibit multi-lineage differentiation and serve as a readily available source of cells (i.e. pre-vascular endothelia and pericytes). Our hypothesis is that adipose-derived stem cells can be directed toward differing phenotypes simultaneously by simply co-culturing them in bilayered matrices
1
. Our laboratory is focused on dermal wound healing. To this end, we created a single composite matrix from the natural biomaterials, fibrin, collagen, and chitosan that can mimic the characteristics and functions of a dermal-specific wound healing ECM environment.
Bioengineering, Issue 63, Biomedical Engineering, Tissue Engineering, chitosan, microspheres, collagen, hydrogel, PEG fibrin, cell delivery, adipose-derived stem cells, ASC, CSM
3953
Design of a Biaxial Mechanical Loading Bioreactor for Tissue Engineering
Institutions: The Warren Alpert Brown Medical School of Brown University and the Rhode Island Hospital, VA Medical Center, Providence, RI, University of Texas Southwestern Medical Center .

We designed a loading device that is capable of applying uniaxial or biaxial mechanical strain to a tissue engineered biocomposites fabricated for transplantation. While the device primarily functions as a bioreactor that mimics the native mechanical strains, it is also outfitted with a load cell for providing force feedback or mechanical testing of the constructs. The device subjects engineered cartilage constructs to biaxial mechanical loading with great precision of loading dose (amplitude and frequency) and is compact enough to fit inside a standard tissue culture incubator. It loads samples directly in a tissue culture plate, and multiple plate sizes are compatible with the system. The device has been designed using components manufactured for precision-guided laser applications. Bi-axial loading is accomplished by two orthogonal stages. The stages have a 50 mm travel range and are driven independently by stepper motor actuators, controlled by a closed-loop stepper motor driver that features micro-stepping capabilities, enabling step sizes of less than 50 nm. A polysulfone loading platen is coupled to the bi-axial moving platform. Movements of the stages are controlled by Thor-labs Advanced Positioning Technology (APT) software. The stepper motor driver is used with the software to adjust load parameters of frequency and amplitude of both shear and compression independently and simultaneously. Positional feedback is provided by linear optical encoders that have a bidirectional repeatability of 0.1 μm and a resolution of 20 nm, translating to a positional accuracy of less than 3 μm over the full 50 mm of travel. These encoders provide the necessary position feedback to the drive electronics to ensure true nanopositioning capabilities. In order to provide the force feedback to detect contact and evaluate loading responses, a precision miniature load cell is positioned between the loading platen and the moving platform. The load cell has high accuracies of 0.15% to 0.25% full scale.
Bioengineering, Issue 74, Biomedical Engineering, Biophysics, Cellular Biology, Medicine, Anatomy, Physiology, Cell Engineering, Bioreactors, Culture Techniques, Cell Engineering, Tissue Engineering, compression loads, shear loads, Tissues, bioreactor, mechanical loading, compression, shear, musculoskeletal, cartilage, bone, transplantation, cell culture
50387
Postproduction Processing of Electrospun Fibres for Tissue Engineering
Institutions: University of Sheffield , University of Sheffield , University of Sheffield .

Electrospinning is a commonly used and versatile method to produce scaffolds (often biodegradable) for 3D tissue engineering.
1, 2, 3
Many tissues
in vivo
undergo biaxial distension to varying extents such as skin, bladder, pelvic floor and even the hard palate as children grow. In producing scaffolds for these purposes there is a need to develop scaffolds of appropriate biomechanical properties (whether achieved without or with cells) and which are sterile for clinical use. The focus of this paper is not how to establish basic electrospinning parameters (as there is extensive literature on electrospinning) but on how to modify spun scaffolds post production to make them fit for tissue engineering purposes - here thickness, mechanical properties and sterilisation (required for clinical use) are considered and we also describe how cells can be cultured on scaffolds and subjected to biaxial strain to condition them for specific applications. Electrospinning tends to produce thin sheets; as the electrospinning collector becomes coated with insulating fibres it becomes a poor conductor such that fibres no longer deposit on it. Hence we describe approaches to produce thicker structures by heat or vapour annealing increasing the strength of scaffolds but not necessarily the elasticity. Sequential spinning of scaffolds of different polymers to achieve complex scaffolds is also described. Sterilisation methodologies can adversely affect strength and elasticity of scaffolds. We compare three methods for their effects on the biomechanical properties on electrospun scaffolds of poly lactic-co-glycolic acid (PLGA). Imaging of cells on scaffolds and assessment of production of extracellular matrix (ECM) proteins by cells on scaffolds is described. Culturing cells on scaffolds
in vitro
can improve scaffold strength and elasticity but the tissue engineering literature shows that cells often fail to produce appropriate ECM when cultured under static conditions. There are few commercial systems available that allow one to culture cells on scaffolds under dynamic conditioning regimes - one example is the Bose Electroforce 3100 which can be used to exert a conditioning programme on cells in scaffolds held using mechanical grips within a media filled chamber.
4
An approach to a budget cell culture bioreactor for controlled distortion in 2 dimensions is described. We show that cells can be induced to produce elastin under these conditions. Finally assessment of the biomechanical properties of processed scaffolds cultured with or without cells is described.
Bioengineering, Issue 66, Materials Science, Biomedical Engineering, Tissue Engineering, Medicine, Chemistry, Electrospinning, bilayer, biaxial distension, heat and vapour annealing, mechanical testing, fibres
4172
Magnetic Tweezers for the Measurement of Twist and Torque
Institutions: Delft University of Technology.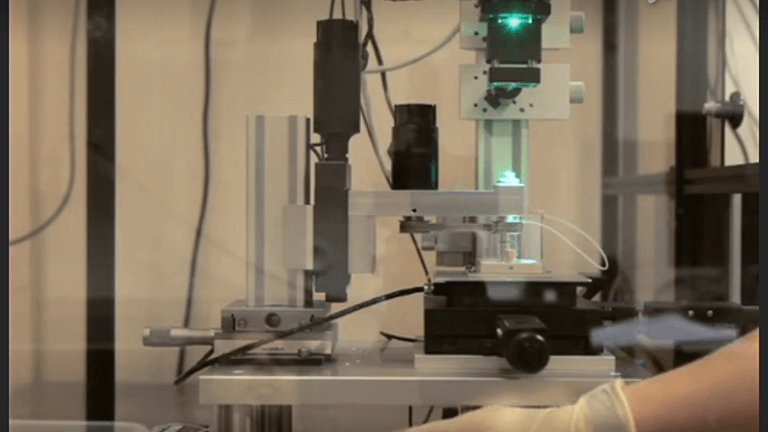 Single-molecule techniques make it possible to investigate the behavior of individual biological molecules in solution in real time. These techniques include so-called force spectroscopy approaches such as atomic force microscopy, optical tweezers, flow stretching, and magnetic tweezers. Amongst these approaches, magnetic tweezers have distinguished themselves by their ability to apply torque while maintaining a constant stretching force. Here, it is illustrated how such a "conventional" magnetic tweezers experimental configuration can, through a straightforward modification of its field configuration to minimize the magnitude of the transverse field, be adapted to measure the degree of twist in a biological molecule. The resulting configuration is termed the freely-orbiting magnetic tweezers. Additionally, it is shown how further modification of the field configuration can yield a transverse field with a magnitude intermediate between that of the "conventional" magnetic tweezers and the freely-orbiting magnetic tweezers, which makes it possible to directly measure the torque stored in a biological molecule. This configuration is termed the magnetic torque tweezers. The accompanying video explains in detail how the conversion of conventional magnetic tweezers into freely-orbiting magnetic tweezers and magnetic torque tweezers can be accomplished, and demonstrates the use of these techniques. These adaptations maintain all the strengths of conventional magnetic tweezers while greatly expanding the versatility of this powerful instrument.
Bioengineering, Issue 87, magnetic tweezers, magnetic torque tweezers, freely-orbiting magnetic tweezers, twist, torque, DNA, single-molecule techniques
51503
Simultaneous Multicolor Imaging of Biological Structures with Fluorescence Photoactivation Localization Microscopy
Institutions: University of Maine.

Localization-based super resolution microscopy can be applied to obtain a spatial map (image) of the distribution of individual fluorescently labeled single molecules within a sample with a spatial resolution of tens of nanometers. Using either photoactivatable (PAFP) or photoswitchable (PSFP) fluorescent proteins fused to proteins of interest, or organic dyes conjugated to antibodies or other molecules of interest, fluorescence photoactivation localization microscopy (FPALM) can simultaneously image multiple species of molecules within single cells. By using the following approach, populations of large numbers (thousands to hundreds of thousands) of individual molecules are imaged in single cells and localized with a precision of ~10-30 nm. Data obtained can be applied to understanding the nanoscale spatial distributions of multiple protein types within a cell. One primary advantage of this technique is the dramatic increase in spatial resolution: while diffraction limits resolution to ~200-250 nm in conventional light microscopy, FPALM can image length scales more than an order of magnitude smaller. As many biological hypotheses concern the spatial relationships among different biomolecules, the improved resolution of FPALM can provide insight into questions of cellular organization which have previously been inaccessible to conventional fluorescence microscopy. In addition to detailing the methods for sample preparation and data acquisition, we here describe the optical setup for FPALM. One additional consideration for researchers wishing to do super-resolution microscopy is cost: in-house setups are significantly cheaper than most commercially available imaging machines. Limitations of this technique include the need for optimizing the labeling of molecules of interest within cell samples, and the need for post-processing software to visualize results. We here describe the use of PAFP and PSFP expression to image two protein species in fixed cells. Extension of the technique to living cells is also described.
Basic Protocol, Issue 82, Microscopy, Super-resolution imaging, Multicolor, single molecule, FPALM, Localization microscopy, fluorescent proteins
50680
A Novel Stretching Platform for Applications in Cell and Tissue Mechanobiology
Institutions: University of Ottawa, University of Ottawa, University of Calgary, University of Ottawa, University of Ottawa.

Tools that allow the application of mechanical forces to cells and tissues or that can quantify the mechanical properties of biological tissues have contributed dramatically to the understanding of basic mechanobiology. These techniques have been extensively used to demonstrate how the onset and progression of various diseases are heavily influenced by mechanical cues. This article presents a multi-functional biaxial stretching (BAXS) platform that can either mechanically stimulate single cells or quantify the mechanical stiffness of tissues. The BAXS platform consists of four voice coil motors that can be controlled independently. Single cells can be cultured on a flexible substrate that can be attached to the motors allowing one to expose the cells to complex, dynamic, and spatially varying strain fields. Conversely, by incorporating a force load cell, one can also quantify the mechanical properties of primary tissues as they are exposed to deformation cycles. In both cases, a proper set of clamps must be designed and mounted to the BAXS platform motors in order to firmly hold the flexible substrate or the tissue of interest. The BAXS platform can be mounted on an inverted microscope to perform simultaneous transmitted light and/or fluorescence imaging to examine the structural or biochemical response of the sample during stretching experiments. This article provides experimental details of the design and usage of the BAXS platform and presents results for single cell and whole tissue studies. The BAXS platform was used to measure the deformation of nuclei in single mouse myoblast cells in response to substrate strain and to measure the stiffness of isolated mouse aortas. The BAXS platform is a versatile tool that can be combined with various optical microscopies in order to provide novel mechanobiological insights at the sub-cellular, cellular and whole tissue levels.
Bioengineering, Issue 88, cell stretching, tissue mechanics, nuclear mechanics, uniaxial, biaxial, anisotropic, mechanobiology
51454
Tri-layered Electrospinning to Mimic Native Arterial Architecture using Polycaprolactone, Elastin, and Collagen: A Preliminary Study
Institutions: Virginia Commonwealth University, Virginia Commonwealth University, University Hospital of Geneva.

Throughout native artery, collagen and elastin play an important role, providing a mechanical backbone, preventing vessel rupture, and promoting recovery under pulsatile deformations. The goal of this study was to mimic the structure of native artery by fabricating a multi-layered electrospun conduit composed of poly(caprolactone) (PCL) with the addition of elastin and collagen with blends of 45-45-10, 55-35-10, and 65-25-10 PCL-ELAS-COL to demonstrate mechanical properties indicative of native arterial tissue, while remaining conducive to tissue regeneration. Whole grafts and individual layers were analyzed using uniaxial tensile testing, dynamic compliance, suture retention, and burst strength. Compliance results revealed that changes to the middle/medial layer changed overall graft behavior with whole graft compliance values ranging from 0.8 - 2.8 % / 100 mmHg, while uniaxial results demonstrated an average modulus range of 2.0 - 11.8 MPa. Both modulus and compliance data displayed values within the range of native artery. Mathematical modeling was implemented to show how changes in layer stiffness affect the overall circumferential wall stress, and as a design aid to achieve the best mechanical combination of materials. Overall, the results indicated that a graft can be designed to mimic a tri-layered structure by altering layer properties.
Bioengineering, Issue 47, Electrospinning, Vascular Graft, Multilayer, Polycaprolactone, Elastin
2084
Fabrication of Myogenic Engineered Tissue Constructs
Institutions: Children's Hospital Boston and Harvard Medical School, Children's Hospital Boston and Harvard Medical School.

Despite the fact that electronic pacemakers are life-saving medical devices, their long-term performance in pediatric patients can be problematic owing to the restrictions imposed by a child's small size and their inevitable growth. Consequently, there is a genuine need for innovative therapies designed specifically for pediatric patients with cardiac rhythm disorders. We propose that a conductive biological alternative consisting of a collagen-based matrix containing autologously-derived cells could better adapt to growth, reduce the need for recurrent surgeries, and greatly improve the quality of life for these patients. In the present study, we describe a procedure for incorporating primary skeletal myoblast cell cultures within a hydrogel matrix to fashion a surgically-implantable tissue construct that will serve as an electrical conduit between the upper and lower chambers of the heart. Ultimately, we anticipate using this type of engineered tissue to restore atrioventricular electrical conduction in children with complete heart block. In view of that, we isolate myoblasts from the skeletal muscles of neonatal Lewis rats and plate them onto laminin-coated tissue culture dishes using a modified version of established protocols
[2, 3]
. After one to two days, cultured cells are collected and mixed with antibiotics, type 1 collagen, Matrigel™, and NaHCO
3
. The result is a viscous, uniform solution that can be cast into a mold of nearly any shape and size
[1, 4, 5]
. For our tissue constructs, we employ type 1 collagen isolated from fetal lamb skin using standard procedures
[6]
. Once the tissue has solidified at 37°C, culture media is carefully added to the plate until the construct is submerged. The engineered tissue is then allowed to further condense through dehydration for 2 more days, at which point it is ready for
in vitro
assessment or surgical-implantation.
Cellular Biology, Medicine, Issue 27, tissue engineering, collagen, cellularized matrix, electrical conduit, hydrogel, skeletal myoblasts, cardiac
1137