Development of a 3D Graphene Electrode Dielectrophoretic Device
Published: 06-22-2014
ABSTRACT
The design and fabrication of a novel 3D electrode microdevice using 50 µm thick graphene paper and 100 µm double sided tape is described. The protocol details the procedures to construct a versatile, reusable, multiple layer, laminated dielectrophoresis chamber. Specifically, six layers of 50 µm x 0.7 cm x 2 cm graphene paper and five layers of double sided tape were alternately stacked together, then clamped to a glass slide. Then a 700 μm diameter micro-well was drilled through the laminated structure using a computer-controlled micro drilling machine. Insulating properties of the tape layer between adjacent graphene layers were assured by resistance tests. Silver conductive epoxy connected alternate layers of graphene paper and formed stable connections between the graphene paper and external copper wire electrodes. The finished device was then clamped and sealed to a glass slide. The electric field gradient was modeled within the multi-layer device. Dielectrophoretic behaviors of 6 μm polystyrene beads were demonstrated in the 1 mm deep micro-well, with medium conductivities ranging from 0.0001 S/m to 1.3 S/m, and applied signal frequencies from 100 Hz to 10 MHz. Negative dielectrophoretic responses were observed in three dimensions over most of the conductivity-frequency space and cross-over frequency values are consistent with previously reported literature values. The device did not prevent AC electroosmosis and electrothermal flows, which occurred in the low and high frequency regions, respectively. The graphene paper utilized in this device is versatile and could subsequently function as a biosensor after dielectrophoretic characterizations are complete.
23 Related JoVE Articles!
Label-free Isolation and Enrichment of Cells Through Contactless Dielectrophoresis
Institutions: Virginia Tech, Virginia Tech.

Dielectrophoresis (DEP) is the phenomenon by which polarized particles in a non-uniform electric field undergo translational motion, and can be used to direct the motion of microparticles in a surface marker-independent manner. Traditionally, DEP devices include planar metallic electrodes patterned in the sample channel. This approach can be expensive and requires a specialized cleanroom environment. Recently, a contact-free approach called contactless dielectrophoresis (cDEP) has been developed. This method utilizes the classic principle of DEP while avoiding direct contact between electrodes and sample by patterning fluidic electrodes and a sample channel from a single polydimethylsiloxane (PDMS) substrate, and has application as a rapid microfluidic strategy designed to sort and enrich microparticles. Unique to this method is that the electric field is generated via fluidic electrode channels containing a highly conductive fluid, which are separated from the sample channel by a thin insulating barrier. Because metal electrodes do not directly contact the sample, electrolysis, electrode delamination, and sample contamination are avoided. Additionally, this enables an inexpensive and simple fabrication process. cDEP is thus well-suited for manipulating sensitive biological particles. The dielectrophoretic force acting upon the particles depends not only upon spatial gradients of the electric field generated by customizable design of the device geometry, but the intrinsic biophysical properties of the cell. As such, cDEP is a label-free technique that avoids depending upon surface-expressed molecular biomarkers that may be variably expressed within a population, while still allowing characterization, enrichment, and sorting of bioparticles. Here, we demonstrate the basics of fabrication and experimentation using cDEP. We explain the simple preparation of a cDEP chip using soft lithography techniques. We discuss the experimental procedure for characterizing crossover frequency of a particle or cell, the frequency at which the dielectrophoretic force is zero. Finally, we demonstrate the use of this technique for sorting a mixture of ovarian cancer cells and fluorescing microspheres (beads).
Biomedical Engineering, Issue 79, Medicine, Cellular Biology, Molecular Biology, Bioengineering, Anatomy, Physiology, Biophysics, Physics, Microfluidics, Cell Separation, Microfluidic Analytical Techniques, Electrophoresis, Microchip, cancer diagnosis, cell enrichment, cell sorting, microfluidics, dielectrophoresis, Lab on a chip, cells, imaging
50634
Separating Beads and Cells in Multi-channel Microfluidic Devices Using Dielectrophoresis and Laminar Flow
Institutions: University of Illinois at Urbana-Champaign, University of Illinois at Urbana-Champaign, University of Illinois at Urbana-Champaign, University of Illinois at Urbana-Champaign.

Microfluidic devices have advanced cell studies by providing a dynamic fluidic environment on the scale of the cell for studying, manipulating, sorting and counting cells. However, manipulating the cell within the fluidic domain remains a challenge and requires complicated fabrication protocols for forming valves and electrodes, or demands specialty equipment like optical tweezers. Here, we demonstrate that conventional printed circuit boards (PCB) can be used for the non-contact manipulation of cells by employing dielectrophoresis (DEP) for bead and cell manipulation in laminar flow fields for bioactuation, and for cell and bead separation in multichannel microfluidic devices. First, we present the protocol for assembling the DEP electrodes and microfluidic devices, and preparing the cells for DEP. Then, we characterize the DEP operation with polystyrene beads. Lastly, we show representative results of bead and cell separation in a multichannel microfluidic device. In summary, DEP is an effective method for manipulating particles (beads or cells) within microfluidic devices.
Bioengineering, Issue 48, Dielectrophoresis, microfluidic, laminar flow, cell sorting, Human colon adenocarcinoma
2545
Methods for Quantitative Detection of Antibody-induced Complement Activation on Red Blood Cells
Institutions: University of Amsterdam, University of Amsterdam.

Antibodies against red blood cells (RBCs) can lead to complement activation resulting in an accelerated clearance via complement receptors in the liver (extravascular hemolysis) or leading to intravascular lysis of RBCs. Alloantibodies (
e.g.
ABO) or autoantibodies to RBC antigens (as seen in autoimmune hemolytic anemia, AIHA) leading to complement activation are potentially harmful and can be - especially when leading to intravascular lysis - fatal
1
. Currently, complement activation due to (auto)-antibodies on RBCs is assessed
in vitro
by using the Coombs test reflecting complement deposition on RBC or by a nonquantitative hemolytic assay reflecting RBC lysis
1-4
. However, to assess the efficacy of complement inhibitors, it is mandatory to have quantitative techniques. Here we describe two such techniques. First, an assay to detect C3 and C4 deposition on red blood cells that is induced by antibodies in patient serum is presented. For this, FACS analysis is used with fluorescently labeled anti-C3 or anti-C4 antibodies. Next, a quantitative hemolytic assay is described. In this assay, complement-mediated hemolysis induced by patient serum is measured making use of spectrophotometric detection of the released hemoglobin. Both of these assays are very reproducible and quantitative, facilitating studies of antibody-induced complement activation.
Immunology, Issue 83, Complement, red blood cells, auto-immune hemolytic anemia, hemolytic assay, FACS, antibodies, C1-inhibitor
51161
Utilization of Plasmonic and Photonic Crystal Nanostructures for Enhanced Micro- and Nanoparticle Manipulation
Institutions: University of Washington, Fred Hutchinson Cancer Research Center , University of Washington, Fred Hutchinson Cancer Research Center , Fred Hutchinson Cancer Research Center .

A method to manipulate the position and orientation of submicron particles nondestructively would be an incredibly useful tool for basic biological research. Perhaps the most widely used physical force to achieve noninvasive manipulation of small particles has been dielectrophoresis(DEP).
1
However, DEP on its own lacks the versatility and precision that are desired when manipulating cells since it is traditionally done with stationary electrodes. Optical tweezers, which utilize a three dimensional electromagnetic field gradient to exert forces on small particles, achieve this desired versatility and precision.
2
However, a major drawback of this approach is the high radiation intensity required to achieve the necessary force to trap a particle which can damage biological samples.
3
A solution that allows trapping and sorting with lower optical intensities are optoelectronic tweezers (OET) but OET's have limitations with fine manipulation of small particles; being DEP-based technology also puts constraint on the property of the solution.
4,5
This video article will describe two methods that decrease the intensity of the radiation needed for optical manipulation of living cells and also describe a method for orientation control. The first method is plasmonic tweezers which use a random gold nanoparticle (AuNP) array as a substrate for the sample as shown in Figure 1. The AuNP array converts the incident photons into localized surface plasmons (LSP) which consist of resonant dipole moments that radiate and generate a patterned radiation field with a large gradient in the cell solution. Initial work on surface plasmon enhanced trapping by Righini et al and our own modeling have shown the fields generated by the plasmonic substrate reduce the initial intensity required by enhancing the gradient field that traps the particle.
6,7,8
The plasmonic approach allows for fine orientation control of ellipsoidal particles and cells with low optical intensities because of more efficient optical energy conversion into mechanical energy and a dipole-dependent radiation field. These fields are shown in figure 2 and the low trapping intensities are detailed in figures 4 and 5. The main problems with plasmonic tweezers are that the LSP's generate a considerable amount of heat and the trapping is only two dimensional. This heat generates convective flows and thermophoresis which can be powerful enough to expel submicron particles from the trap.
9,10
The second approach that we will describe is utilizing periodic dielectric nanostructures to scatter incident light very efficiently into diffraction modes, as shown in figure 6.
11
Ideally, one would make this structure out of a dielectric material to avoid the same heating problems experienced with the plasmonic tweezers but in our approach an aluminum-coated diffraction grating is used as a one-dimensional periodic dielectric nanostructure. Although it is not a semiconductor, it did not experience significant heating and effectively trapped small particles with low trapping intensities, as shown in figure 7. Alignment of particles with the grating substrate conceptually validates the proposition that a 2-D photonic crystal could allow precise rotation of non-spherical micron sized particles.
10
The efficiencies of these optical traps are increased due to the enhanced fields produced by the nanostructures described in this paper.
Bioengineering, Issue 55, Surface plasmon, optical trapping, optical tweezers, plasmonic trapping, cell manipulation, optical manipulation
3390
Adhesion Frequency Assay for In Situ Kinetics Analysis of Cross-Junctional Molecular Interactions at the Cell-Cell Interface
Institutions: Georgia Institute of Technology .

The micropipette adhesion assay was developed in 1998 to measure two-dimensional (2D) receptor-ligand binding kinetics
1
. The assay uses a human red blood cell (RBC) as adhesion sensor and presenting cell for one of the interacting molecules. It employs micromanipulation to bring the RBC into contact with another cell that expresses the other interacting molecule with precisely controlled area and time to enable bond formation. The adhesion event is detected as RBC elongation upon pulling the two cells apart. By controlling the density of the ligands immobilized on the RBC surface, the probability of adhesion is kept in mid-range between 0 and 1. The adhesion probability is estimated from the frequency of adhesion events in a sequence of repeated contact cycles between the two cells for a given contact time. Varying the contact time generates a binding curve. Fitting a probabilistic model for receptor-ligand reaction kinetics
1
to the binding curve returns the 2D affinity and off-rate. The assay has been validated using interactions of Fcγ receptors with IgG Fc
1-6
, selectins with glycoconjugate ligands
6-9
, integrins with ligands
10-13
, homotypical cadherin binding
14
, T cell receptor and coreceptor with peptide-major histocompatibility complexes
15-19
. The method has been used to quantify regulations of 2D kinetics by biophysical factors, such as the membrane microtopology
5
, membrane anchor
2
, molecular orientation and length
6
, carrier stiffness
9
, curvature
20
, and impingement force
20
, as well as biochemical factors, such as modulators of the cytoskeleton and membrane microenvironment where the interacting molecules reside and the surface organization of these molecules
15,17,19
. The method has also been used to study the concurrent binding of dual receptor-ligand species
3,4
, and trimolecular interactions
19
using a modified model
21
. The major advantage of the method is that it allows study of receptors in their native membrane environment. The results could be very different from those obtained using purified receptors
17
. It also allows study of the receptor-ligand interactions in a sub-second timescale with temporal resolution well beyond the typical biochemical methods. To illustrate the micropipette adhesion frequency method, we show kinetics measurement of intercellular adhesion molecule 1 (ICAM-1) functionalized on RBCs binding to integrin α
L
β
2
on neutrophils with dimeric E-selectin in the solution to activate α
L
β
2
.
Bioengineering, Issue 57, Two-dimensional binding, affinity and kinetics, micropipette manipulation, receptor-ligand interaction
3519
On-chip Isotachophoresis for Separation of Ions and Purification of Nucleic Acids
Institutions: Stanford University .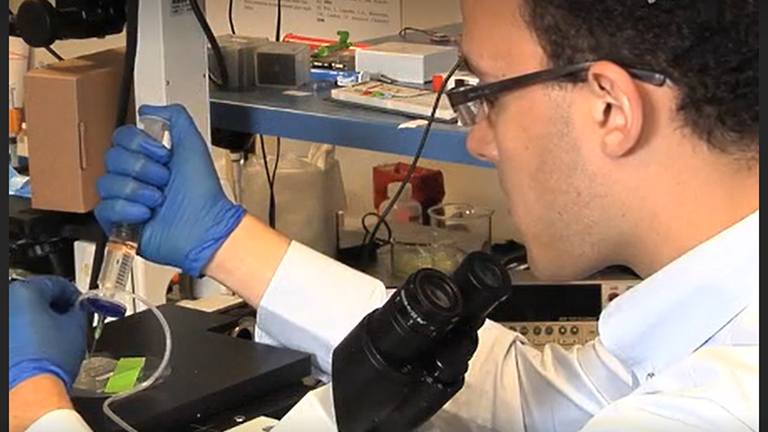 Electrokinetic techniques are a staple of microscale applications because of their unique ability to perform a variety of fluidic and electrophoretic processes in simple, compact systems with no moving parts. Isotachophoresis (ITP) is a simple and very robust electrokinetic technique that can achieve million-fold preconcentration
1,2
and efficient separation and extraction based on ionic mobility.
3
For example, we have demonstrated the application of ITP to separation and sensitive detection of unlabeled ionic molecules (e.g. toxins, DNA, rRNA, miRNA) with little or no sample preparation
4-8
and to extraction and purification of nucleic acids from complex matrices including cell culture, urine, and blood.
9-12
ITP achieves focusing and separation using an applied electric field and two buffers within a fluidic channel system. For anionic analytes, the leading electrolyte (LE) buffer is chosen such that its anions have higher effective electrophoretic mobility than the anions of the trailing electrolyte (TE) buffer (Effective mobility describes the observable drift velocity of an ion and takes into account the ionization state of the ion, as described in detail by Persat
et al.
13
). After establishing an interface between the TE and LE, an electric field is applied such that LE ions move away from the region occupied by TE ions. Sample ions of intermediate effective mobility race ahead of TE ions but cannot overtake LE ions, and so they focus at the LE-TE interface (hereafter called the "ITP interface"). Further, the TE and LE form regions of respectively low and high conductivity, which establish a steep electric field gradient at the ITP interface. This field gradient preconcentrates sample species as they focus. Proper choice of TE and LE results in focusing and purification of target species from other non-focused species and, eventually, separation and segregation of sample species. We here review the physical principles underlying ITP and discuss two standard modes of operation: "peak" and "plateau" modes. In peak mode, relatively dilute sample ions focus together within overlapping narrow peaks at the ITP interface. In plateau mode, more abundant sample ions reach a steady-state concentration and segregate into adjoining plateau-like zones ordered by their effective mobility. Peak and plateau modes arise out of the same underlying physics, but represent distinct regimes differentiated by the initial analyte concentration and/or the amount of time allotted for sample accumulation. We first describe in detail a model peak mode experiment and then demonstrate a peak mode assay for the extraction of nucleic acids from
E. coli
cell culture. We conclude by presenting a plateau mode assay, where we use a non-focusing tracer (NFT) species to visualize the separation and perform quantitation of amino acids.
Bioengineering, Issue 61, Isotachophoresis, electrokinetics, microfluidics, sample preparation
3890
Assessing Somatic Hypermutation in Ramos B Cells after Overexpression or Knockdown of Specific Genes
Institutions: Duke University .

B cells start their life with low affinity antibodies generated by V(D)J recombination. However, upon detecting a pathogen, the variable (V) region of an immunoglobulin (Ig) gene is mutated approximately 100,000-fold more than the rest of the genome through somatic hypermutation (SHM), resulting in high affinity antibodies
1,2
. In addition, class switch recombination (CSR) produces antibodies with different effector functions depending on the kind of immune response that is needed for a particular pathogen. Both CSR and SHM are initiated by activation-induced cytidine deaminase (AID), which deaminates cytosine residues in DNA to produce uracils. These uracils are processed by error-prone forms of repair pathways, eventually leading to mutations and recombination
1-3
. Our current understanding of the molecular details of SHM and CSR come from a combination of studies in mice, primary cells, cell lines, and cell-free experiments. Mouse models remain the gold standard with genetic knockouts showing critical roles for many repair factors (e.g. Ung, Msh2, Msh6, Exo1, and polymerase η)
4-10
. However, not all genes are amenable for knockout studies. For example, knockouts of several double-strand break repair proteins are embryonically lethal or impair B-cell development
11-14
. Moreover, sometimes the specific function of a protein in SHM or CSR may be masked by more global defects caused by the knockout. In addition, since experiments in mice can be lengthy, altering expression of individual genes in cell lines has become an increasingly popular first step to identifying and characterizing candidate genes
15-18
. Ramos – a Burkitt lymphoma cell line that constitutively undergoes SHM – has been a popular cell-line model to study SHM
18-24
. One advantage of Ramos cells is that they have a built-in convenient semi-quantitative measure of SHM. Wild type cells express IgM and, as they pick up mutations, some of the mutations knock out IgM expression. Therefore, assaying IgM loss by fluorescence-activated cell scanning (FACS) provides a quick read-out for the level of SHM. A more quantitative measurement of SHM can be obtained by directly sequencing the antibody genes. Since Ramos cells are difficult to transfect, we produce stable derivatives that have increased or lowered expression of an individual gene by infecting cells with retroviral or lentiviral constructs that contain either an overexpression cassette or a short hairpin RNA (shRNA), respectively. Here, we describe how we infect Ramos cells and then use these cells to investigate the role of specific genes on SHM (Figure 1).
Immunology, Issue 57, activation-induced cytidine deaminase, lentiviral infection, retroviral infection, Ramos, shRNA, somatic hypermutation
3573
Nanomechanics of Drug-target Interactions and Antibacterial Resistance Detection
Institutions: University College London.

The cantilever sensor, which acts as a transducer of reactions between model bacterial cell wall matrix immobilized on its surface and antibiotic drugs in solution, has shown considerable potential in biochemical sensing applications with unprecedented sensitivity and specificity
1-5
. The drug-target interactions generate surface stress, causing the cantilever to bend, and the signal can be analyzed optically when it is illuminated by a laser. The change in surface stress measured with nano-scale precision allows disruptions of the biomechanics of model bacterial cell wall targets to be tracked in real time. Despite offering considerable advantages, multiple cantilever sensor arrays have never been applied in quantifying drug-target binding interactions. Here, we report on the use of silicon multiple cantilever arrays coated with alkanethiol self-assembled monolayers mimicking bacterial cell wall matrix to quantitatively study antibiotic binding interactions. To understand the impact of vancomycin on the mechanics of bacterial cell wall structures
1,6,7
. We developed a new model
1
which proposes that cantilever bending can be described by two independent factors; i) namely a chemical factor, which is given by a classical Langmuir adsorption isotherm, from which we calculate the thermodynamic equilibrium dissociation constant (
Kd
) and ii) a geometrical factor, essentially a measure of how bacterial peptide receptors are distributed on the cantilever surface. The surface distribution of peptide receptors (
p
) is used to investigate the dependence of geometry and ligand loading. It is shown that a threshold value of
p ~
10% is critical to sensing applications. Below which there is no detectable bending signal while above this value, the bending signal increases almost linearly, revealing that stress is a product of a local chemical binding factor and a geometrical factor combined by the mechanical connectivity of reacted regions and provides a new paradigm for design of powerful agents to combat superbug infections.
Immunology, Issue 80, Engineering, Technology, Diagnostic Techniques and Procedures, Early Diagnosis, Bacterial Infections and Mycoses, Lipids, Amino Acids, Peptides, and Proteins, Chemical Actions and Uses, Diagnosis, Therapeutics, Surface stress, vancomycin, mucopeptides, cantilever sensor
50719
Isolation, Purification and Labeling of Mouse Bone Marrow Neutrophils for Functional Studies and Adoptive Transfer Experiments
Institutions: National Institute of Allergy and Infectious Diseases, NIH.

Neutrophils are critical effector cells of the innate immune system. They are rapidly recruited at sites of acute inflammation and exert protective or pathogenic effects depending on the inflammatory milieu. Nonetheless, despite the indispensable role of neutrophils in immunity, detailed understanding of the molecular factors that mediate neutrophils' effector and immunopathogenic effects in different infectious diseases and inflammatory conditions is still lacking, partly because of their short half life, the difficulties with handling of these cells and the lack of reliable experimental protocols for obtaining sufficient numbers of neutrophils for downstream functional studies and adoptive transfer experiments. Therefore, simple, fast, economical and reliable methods are highly desirable for harvesting sufficient numbers of mouse neutrophils for assessing functions such as phagocytosis, killing, cytokine production, degranulation and trafficking. To that end, we present a reproducible density gradient centrifugation-based protocol, which can be adapted in any laboratory to isolate large numbers of neutrophils from the bone marrow of mice with high purity and viability. Moreover, we present a simple protocol that uses CellTracker dyes to label the isolated neutrophils, which can then be adoptively transferred into recipient mice and tracked in several tissues for at least 4 hr post-transfer using flow cytometry. Using this approach, differential labeling of neutrophils from wild-type and gene-deficient mice with different CellTracker dyes can be successfully employed to perform competitive repopulation studies for evaluating the direct role of specific genes in trafficking of neutrophils from the blood into target tissues
in vivo
.
Immunology, Issue 77, Cellular Biology, Infection, Infectious Diseases, Molecular Biology, Medicine, Biomedical Engineering, Bioengineering, Neutrophils, Adoptive Transfer, immunology, Neutrophils, mouse, bone marrow, adoptive transfer, density gradient, labeling, CellTracker, cell, isolation, flow cytometry, animal model
50586
A Restriction Enzyme Based Cloning Method to Assess the In vitro Replication Capacity of HIV-1 Subtype C Gag-MJ4 Chimeric Viruses
Institutions: Emory University, Emory University.

The protective effect of many HLA class I alleles on HIV-1 pathogenesis and disease progression is, in part, attributed to their ability to target conserved portions of the HIV-1 genome that escape with difficulty. Sequence changes attributed to cellular immune pressure arise across the genome during infection, and if found within conserved regions of the genome such as Gag, can affect the ability of the virus to replicate
in vitro
. Transmission of HLA-linked polymorphisms in Gag to HLA-mismatched recipients has been associated with reduced set point viral loads. We hypothesized this may be due to a reduced replication capacity of the virus. Here we present a novel method for assessing the
in vitro
replication of HIV-1 as influenced by the
gag
gene isolated from acute time points from subtype C infected Zambians. This method uses restriction enzyme based cloning to insert the
gag
gene into a common subtype C HIV-1 proviral backbone, MJ4. This makes it more appropriate to the study of subtype C sequences than previous recombination based methods that have assessed the
in vitro
replication of chronically derived
gag-pro
sequences. Nevertheless, the protocol could be readily modified for studies of viruses from other subtypes. Moreover, this protocol details a robust and reproducible method for assessing the replication capacity of the Gag-MJ4 chimeric viruses on a CEM-based T cell line. This method was utilized for the study of Gag-MJ4 chimeric viruses derived from 149 subtype C acutely infected Zambians, and has allowed for the identification of residues in Gag that affect replication. More importantly, the implementation of this technique has facilitated a deeper understanding of how viral replication defines parameters of early HIV-1 pathogenesis such as set point viral load and longitudinal CD4+ T cell decline.
Infectious Diseases, Issue 90, HIV-1, Gag, viral replication, replication capacity, viral fitness, MJ4, CEM, GXR25
51506
Isolation and Quantification of Botulinum Neurotoxin From Complex Matrices Using the BoTest Matrix Assays
Institutions: BioSentinel Inc., Madison, WI.

Accurate detection and quantification of botulinum neurotoxin (BoNT) in complex matrices is required for pharmaceutical, environmental, and food sample testing. Rapid BoNT testing of foodstuffs is needed during outbreak forensics, patient diagnosis, and food safety testing while accurate potency testing is required for BoNT-based drug product manufacturing and patient safety. The widely used mouse bioassay for BoNT testing is highly sensitive but lacks the precision and throughput needed for rapid and routine BoNT testing. Furthermore, the bioassay's use of animals has resulted in calls by drug product regulatory authorities and animal-rights proponents in the US and abroad to replace the mouse bioassay for BoNT testing. Several
in vitro
replacement assays have been developed that work well with purified BoNT in simple buffers, but most have not been shown to be applicable to testing in highly complex matrices. Here, a protocol for the detection of BoNT in complex matrices using the BoTest Matrix assays is presented. The assay consists of three parts: The first part involves preparation of the samples for testing, the second part is an immunoprecipitation step using anti-BoNT antibody-coated paramagnetic beads to purify BoNT from the matrix, and the third part quantifies the isolated BoNT's proteolytic activity using a fluorogenic reporter. The protocol is written for high throughput testing in 96-well plates using both liquid and solid matrices and requires about 2 hr of manual preparation with total assay times of 4-26 hr depending on the sample type, toxin load, and desired sensitivity. Data are presented for BoNT/A testing with phosphate-buffered saline, a drug product, culture supernatant, 2% milk, and fresh tomatoes and includes discussion of critical parameters for assay success.
Neuroscience, Issue 85, Botulinum, food testing, detection, quantification, complex matrices, BoTest Matrix, Clostridium, potency testing
51170
Designing Silk-silk Protein Alloy Materials for Biomedical Applications
Institutions: Rowan University, Rowan University, Cooper Medical School of Rowan University, Rowan University.

Fibrous proteins display different sequences and structures that have been used for various applications in biomedical fields such as biosensors, nanomedicine, tissue regeneration, and drug delivery. Designing materials based on the molecular-scale interactions between these proteins will help generate new multifunctional protein alloy biomaterials with tunable properties. Such alloy material systems also provide advantages in comparison to traditional synthetic polymers due to the materials biodegradability, biocompatibility, and tenability in the body. This article used the protein blends of wild tussah silk (
Antheraea pernyi
) and domestic mulberry silk (
Bombyx mori
) as an example to provide useful protocols regarding these topics, including how to predict protein-protein interactions by computational methods, how to produce protein alloy solutions, how to verify alloy systems by thermal analysis, and how to fabricate variable alloy materials including optical materials with diffraction gratings, electric materials with circuits coatings, and pharmaceutical materials for drug release and delivery. These methods can provide important information for designing the next generation multifunctional biomaterials based on different protein alloys.
Bioengineering, Issue 90, protein alloys, biomaterials, biomedical, silk blends, computational simulation, implantable electronic devices
50891
Real-time Cytotoxicity Assays in Human Whole Blood
Institutions: Adheren, Inc, Eureka Therapeutics.

A live cell-based whole blood cytotoxicity assay (WCA) that allows access to temporal information of the overall cell cytotoxicity is developed with high-throughput cell positioning technology. The targeted tumor cell populations are first preprogrammed to immobilization into an array format, and labeled with green fluorescent cytosolic dyes. Following the cell array formation, antibody drugs are added in combination with human whole blood. Propidium iodide (PI) is then added to assess cell death. The cell array is analyzed with an automatic imaging system. While cytosolic dye labels the targeted tumor cell populations, PI labels the dead tumor cell populations. Thus, the percentage of target cancer cell killing can be quantified by calculating the number of surviving targeted cells to the number of dead targeted cells. With this method, researchers are able to access time-dependent and dose-dependent cell cytotoxicity information. Remarkably, no hazardous radiochemicals are used. The WCA presented here has been tested with lymphoma, leukemia, and solid tumor cell lines. Therefore, WCA allows researchers to assess drug efficacy in a highly relevant
ex vivo
condition.
Medicine, Issue 93, whole blood assay, cytotoxicity assay, cell array, single cell array, drug screening, cancer drug screening, whole blood cytotoxicity assay, real-time cytotoxicity assay, high content imaging, high throughput imaging, cell-based assay.
51941
The Preparation of Electrohydrodynamic Bridges from Polar Dielectric Liquids
Institutions: Wetsus - Centre of Excellence for Sustainable Water Technology, IRCAM GmbH, Graz University of Technology.

Horizontal and vertical liquid bridges are simple and powerful tools for exploring the interaction of high intensity electric fields (8-20 kV/cm) and polar dielectric liquids. These bridges are unique from capillary bridges in that they exhibit extensibility beyond a few millimeters, have complex bi-directional mass transfer patterns, and emit non-Planck infrared radiation. A number of common solvents can form such bridges as well as low conductivity solutions and colloidal suspensions. The macroscopic behavior is governed by electrohydrodynamics and provides a means of studying fluid flow phenomena without the presence of rigid walls. Prior to the onset of a liquid bridge several important phenomena can be observed including advancing meniscus height (electrowetting), bulk fluid circulation (the Sumoto effect), and the ejection of charged droplets (electrospray). The interaction between surface, polarization, and displacement forces can be directly examined by varying applied voltage and bridge length. The electric field, assisted by gravity, stabilizes the liquid bridge against Rayleigh-Plateau instabilities. Construction of basic apparatus for both vertical and horizontal orientation along with operational examples, including thermographic images, for three liquids (
e.g.
, water, DMSO, and glycerol) is presented.
Physics, Issue 91, floating water bridge, polar dielectric liquids, liquid bridge, electrohydrodynamics, thermography, dielectrophoresis, electrowetting, Sumoto effect, Armstrong effect
51819
Protein WISDOM: A Workbench for In silico De novo Design of BioMolecules
Institutions: Princeton University.

The aim of
de novo
protein design is to find the amino acid sequences that will fold into a desired 3-dimensional structure with improvements in specific properties, such as binding affinity, agonist or antagonist behavior, or stability, relative to the native sequence. Protein design lies at the center of current advances drug design and discovery. Not only does protein design provide predictions for potentially useful drug targets, but it also enhances our understanding of the protein folding process and protein-protein interactions. Experimental methods such as directed evolution have shown success in protein design. However, such methods are restricted by the limited sequence space that can be searched tractably. In contrast, computational design strategies allow for the screening of a much larger set of sequences covering a wide variety of properties and functionality. We have developed a range of computational
de novo
protein design methods capable of tackling several important areas of protein design. These include the design of monomeric proteins for increased stability and complexes for increased binding affinity. To disseminate these methods for broader use we present Protein WISDOM (https://www.proteinwisdom.org), a tool that provides automated methods for a variety of protein design problems. Structural templates are submitted to initialize the design process. The first stage of design is an optimization sequence selection stage that aims at improving stability through minimization of potential energy in the sequence space. Selected sequences are then run through a fold specificity stage and a binding affinity stage. A rank-ordered list of the sequences for each step of the process, along with relevant designed structures, provides the user with a comprehensive quantitative assessment of the design. Here we provide the details of each design method, as well as several notable experimental successes attained through the use of the methods.
Genetics, Issue 77, Molecular Biology, Bioengineering, Biochemistry, Biomedical Engineering, Chemical Engineering, Computational Biology, Genomics, Proteomics, Protein, Protein Binding, Computational Biology, Drug Design, optimization (mathematics), Amino Acids, Peptides, and Proteins, De novo protein and peptide design, Drug design, In silico sequence selection, Optimization, Fold specificity, Binding affinity, sequencing
50476
Characterization of Complex Systems Using the Design of Experiments Approach: Transient Protein Expression in Tobacco as a Case Study
Institutions: RWTH Aachen University, Fraunhofer Gesellschaft.

Plants provide multiple benefits for the production of biopharmaceuticals including low costs, scalability, and safety. Transient expression offers the additional advantage of short development and production times, but expression levels can vary significantly between batches thus giving rise to regulatory concerns in the context of good manufacturing practice. We used a design of experiments (DoE) approach to determine the impact of major factors such as regulatory elements in the expression construct, plant growth and development parameters, and the incubation conditions during expression, on the variability of expression between batches. We tested plants expressing a model anti-HIV monoclonal antibody (2G12) and a fluorescent marker protein (DsRed). We discuss the rationale for selecting certain properties of the model and identify its potential limitations. The general approach can easily be transferred to other problems because the principles of the model are broadly applicable: knowledge-based parameter selection, complexity reduction by splitting the initial problem into smaller modules, software-guided setup of optimal experiment combinations and step-wise design augmentation. Therefore, the methodology is not only useful for characterizing protein expression in plants but also for the investigation of other complex systems lacking a mechanistic description. The predictive equations describing the interconnectivity between parameters can be used to establish mechanistic models for other complex systems.
Bioengineering, Issue 83, design of experiments (DoE), transient protein expression, plant-derived biopharmaceuticals, promoter, 5'UTR, fluorescent reporter protein, model building, incubation conditions, monoclonal antibody
51216
Utilization of Microscale Silicon Cantilevers to Assess Cellular Contractile Function In Vitro
Institutions: University of Central Florida.

The development of more predictive and biologically relevant
in vitro
assays is predicated on the advancement of versatile cell culture systems which facilitate the functional assessment of the seeded cells. To that end, microscale cantilever technology offers a platform with which to measure the contractile functionality of a range of cell types, including skeletal, cardiac, and smooth muscle cells, through assessment of contraction induced substrate bending. Application of multiplexed cantilever arrays provides the means to develop moderate to high-throughput protocols for assessing drug efficacy and toxicity, disease phenotype and progression, as well as neuromuscular and other cell-cell interactions. This manuscript provides the details for fabricating reliable cantilever arrays for this purpose, and the methods required to successfully culture cells on these surfaces. Further description is provided on the steps necessary to perform functional analysis of contractile cell types maintained on such arrays using a novel laser and photo-detector system. The representative data provided highlights the precision and reproducible nature of the analysis of contractile function possible using this system, as well as the wide range of studies to which such technology can be applied. Successful widespread adoption of this system could provide investigators with the means to perform rapid, low cost functional studies
in vitro,
leading to more accurate predictions of tissue performance, disease development and response to novel therapeutic treatment.
Bioengineering, Issue 92, cantilever, in vitro, contraction, skeletal muscle, NMJ, cardiomyocytes, functional
51866
Manual Isolation of Adipose-derived Stem Cells from Human Lipoaspirates
Institutions: Cytori Therapeutics Inc, David Geffen School of Medicine at UCLA, David Geffen School of Medicine at UCLA, David Geffen School of Medicine at UCLA, David Geffen School of Medicine at UCLA.

In 2001, researchers at the University of California, Los Angeles, described the isolation of a new population of adult stem cells from liposuctioned adipose tissue that they initially termed Processed Lipoaspirate Cells or PLA cells. Since then, these stem cells have been renamed as Adipose-derived Stem Cells or ASCs and have gone on to become one of the most popular adult stem cells populations in the fields of stem cell research and regenerative medicine. Thousands of articles now describe the use of ASCs in a variety of regenerative animal models, including bone regeneration, peripheral nerve repair and cardiovascular engineering. Recent articles have begun to describe the myriad of uses for ASCs in the clinic. The protocol shown in this article outlines the basic procedure for manually and enzymatically isolating ASCs from large amounts of lipoaspirates obtained from cosmetic procedures. This protocol can easily be scaled up or down to accommodate the volume of lipoaspirate and can be adapted to isolate ASCs from fat tissue obtained through abdominoplasties and other similar procedures.
Cellular Biology, Issue 79, Adipose Tissue, Stem Cells, Humans, Cell Biology, biology (general), enzymatic digestion, collagenase, cell isolation, Stromal Vascular Fraction (SVF), Adipose-derived Stem Cells, ASCs, lipoaspirate, liposuction
50585
Simultaneous Multicolor Imaging of Biological Structures with Fluorescence Photoactivation Localization Microscopy
Institutions: University of Maine.

Localization-based super resolution microscopy can be applied to obtain a spatial map (image) of the distribution of individual fluorescently labeled single molecules within a sample with a spatial resolution of tens of nanometers. Using either photoactivatable (PAFP) or photoswitchable (PSFP) fluorescent proteins fused to proteins of interest, or organic dyes conjugated to antibodies or other molecules of interest, fluorescence photoactivation localization microscopy (FPALM) can simultaneously image multiple species of molecules within single cells. By using the following approach, populations of large numbers (thousands to hundreds of thousands) of individual molecules are imaged in single cells and localized with a precision of ~10-30 nm. Data obtained can be applied to understanding the nanoscale spatial distributions of multiple protein types within a cell. One primary advantage of this technique is the dramatic increase in spatial resolution: while diffraction limits resolution to ~200-250 nm in conventional light microscopy, FPALM can image length scales more than an order of magnitude smaller. As many biological hypotheses concern the spatial relationships among different biomolecules, the improved resolution of FPALM can provide insight into questions of cellular organization which have previously been inaccessible to conventional fluorescence microscopy. In addition to detailing the methods for sample preparation and data acquisition, we here describe the optical setup for FPALM. One additional consideration for researchers wishing to do super-resolution microscopy is cost: in-house setups are significantly cheaper than most commercially available imaging machines. Limitations of this technique include the need for optimizing the labeling of molecules of interest within cell samples, and the need for post-processing software to visualize results. We here describe the use of PAFP and PSFP expression to image two protein species in fixed cells. Extension of the technique to living cells is also described.
Basic Protocol, Issue 82, Microscopy, Super-resolution imaging, Multicolor, single molecule, FPALM, Localization microscopy, fluorescent proteins
50680
Electric Cell-substrate Impedance Sensing for the Quantification of Endothelial Proliferation, Barrier Function, and Motility
Institutions: Institute for Cardiovascular Research, VU University Medical Center, Institute for Cardiovascular Research, VU University Medical Center.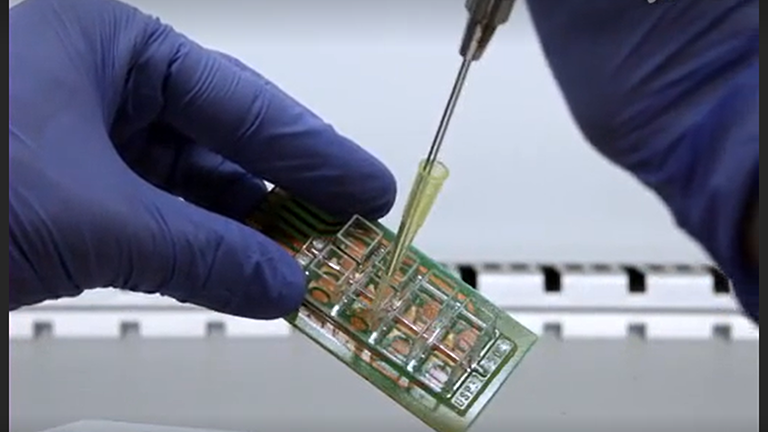 Electric Cell-substrate Impedance Sensing (ECIS) is an
in vitro
impedance measuring system to quantify the behavior of cells within adherent cell layers. To this end, cells are grown in special culture chambers on top of opposing, circular gold electrodes. A constant small alternating current is applied between the electrodes and the potential across is measured. The insulating properties of the cell membrane create a resistance towards the electrical current flow resulting in an increased electrical potential between the electrodes. Measuring cellular impedance in this manner allows the automated study of cell attachment, growth, morphology, function, and motility. Although the ECIS measurement itself is straightforward and easy to learn, the underlying theory is complex and selection of the right settings and correct analysis and interpretation of the data is not self-evident. Yet, a clear protocol describing the individual steps from the experimental design to preparation, realization, and analysis of the experiment is not available. In this article the basic measurement principle as well as possible applications, experimental considerations, advantages and limitations of the ECIS system are discussed. A guide is provided for the study of cell attachment, spreading and proliferation; quantification of cell behavior in a confluent layer, with regard to barrier function, cell motility, quality of cell-cell and cell-substrate adhesions; and quantification of wound healing and cellular responses to vasoactive stimuli. Representative results are discussed based on human microvascular (MVEC) and human umbilical vein endothelial cells (HUVEC), but are applicable to all adherent growing cells.
Bioengineering, Issue 85, ECIS, Impedance Spectroscopy, Resistance, TEER, Endothelial Barrier, Cell Adhesions, Focal Adhesions, Proliferation, Migration, Motility, Wound Healing
51300
In vivo Micro-circulation Measurement in Skeletal Muscle by Intra-vital Microscopy
Institutions: Massachusetts General Hospital, and Harvard Medical School, The University of Tokyo.

BACKGROUND: Regulatory factors and detailed physiology of in vivo microcirculation have remained not fully clarified after many different modalities of imaging had invented. While many macroscopic parameters of blood flow reflect flow velocity, changes in blood flow velocity and red blood cell (RBC) flux does not hold linear relationship in the microscopic observations. There are reports of discrepancy between RBC velocity and RBC flux, RBC flux and plasma flow volume, and of spatial and temporal heterogeneity of flow regulation in the peripheral tissues in microscopic observations, a scientific basis for the requirement of more detailed studies in microcirculatory regulation using intravital microscopy. METHODS: We modified Jeff Lichtman's method of in vivo microscopic observation of mouse sternomastoid muscles. Mice are anesthetized, ventilated, and injected with PKH26L-fluorescently labeled RBCs for microscopic observation.RESULT & CONCLUSIONS: Fluorescently labeled RBCs are detected and distinguished well by a wide-field microscope. Muscle contraction evoked by electrical stimulation induced increase in RBC flux. Quantification of other parameters including RBC velocity and capillary density were feasible. Mice tolerated well the surgery, injection of stained RBCs, microscopic observation, and electrical stimulation. No muscle or blood vessel damage was observed, suggesting that our method is relatively less invasive and suited for long-term observations.
Cellular Biology, issue 4, mouse, skeletal muscle, microscopy, circulation
210
AC Electrokinetic Phenomena Generated by Microelectrode Structures
Institutions: Drexel University, Drexel University.

The field of AC electrokinetics is rapidly growing due to its ability to perform dynamic fluid and particle manipulation on the micro- and nano-scale, which is essential for Lab-on-a-Chip applications. AC electrokinetic phenomena use electric fields to generate forces that act on fluids or suspended particles (including those made of dielectric or biological material) and cause them to move in astonishing ways
1, 2
. Within a single channel, AC electrokinetics can accomplish many essential on-chip operations such as active micro-mixing, particle separation, particle positioning and micro-pattering. A single device may accomplish several of those operations by simply adjusting operating parameters such as frequency or amplitude of the applied voltage. Suitable electric fields can be readily created by micro-electrodes integrated into microchannels. It is clear from the tremendous growth in this field that AC electrokinetics will likely have a profound effect on healthcare diagnostics
3-5
, environmental monitoring
6
and homeland security
7
. In general, there are three AC Electrokinetic phenomena (AC electroosmosis, dielectrophoresis and AC electrothermal effect) each with unique dependencies on the operating parameters. A change in these operating parameters can cause one phenomena to become dominant over another, thus changing the particle or fluid behavior. It is difficult to predict the behavior of particles and fluids due to the complicated physics that underlie AC electrokinetics. It is the goal of this publication to explain the physics and elucidate particle and fluid behavior. Our analysis also covers how to fabricate the electrode structures that generate them, and how to interpret a wide number of experimental observations using several popular device designs. This video article will help scientists and engineers understand these phenomena and may encourage them to start using AC Electrokinetics in their research.
Bioengineering, Issue 17, AC Electrokinetics, AC Electroosmosis, Dielectrophoresis, Electrothermal Effect, Microelectrode, Microfluidics, Simulation, Microsphere, Microfabrication
813
Neutrophil Isolation Protocol
Institutions: University of Pennsylvania .

Neutrophil polymorphonuclear granulocytes (PMN) are the most abundant leukocytes in humans and among the first cells to arrive on the site of inflammatory immune response. Due to their key role in inflammation, neutrophil functions such as locomotion, cytokine production, phagocytosis, and tumor cell combat are extensively studied. To characterize the specific functions of neutrophils, a clean, fast, and reliable method of separating them from other blood cells is desirable for in vitro studies, especially since neutrophils are short-lived and should be used within 2-4 hours of collection. Here, we demonstrate a standard density gradient separation method to isolate human neutrophils from whole blood using commercially available separation media that is a mixture of sodium metrizoate and Dextran 500. The procedure consists of layering whole blood over the density gradient medium, centrifugation, separation of neutrophil layer, and lysis of residual erythrocytes. Cells are then washed, counted, and resuspended in buffer to desired concentration. When performed correctly, this method has been shown to yield samples of >95% neutrophils with >95% viability.
immunology, issue 17, blood, neutrophils, neutrophil polymorphonuclear granulocytes, cell separation, cell isolation
745