ABSTRACT
Clinically, thrombolytic therapy with use of recombinant tissue plasminogen activator (tPA) remains the most effective treatment for acute ischemic stroke. However, the use of tPA is limited by its narrow therapeutic window and by increased risk of hemorrhagic transformation. There is an urgent need to develop suitable stroke models to study new thrombolytic agents and strategies for treatment of ischemic stroke. At present, two major types of ischemic stroke models have been developed in rats and mice: intraluminal suture MCAO and embolic MCAO. Although MCAO models via the intraluminal suture technique have been widely used in mechanism-driven stroke research, these suture models do not mimic the clinical situation and are not suitable for thrombolytic studies. Among these models, the embolic MCAO model closely mimics human ischemic stroke and is suitable for preclinical investigation of thrombolytic therapy. This embolic model was first developed in rats by Overgaard et al.1 in 1992 and further characterized by Zhang et al. in 19972. Although embolic MCAO has gained increasing attention, there are technical problems faced by many laboratories. To meet increasing needs for thrombolytic research, we present a highly reproducible model of embolic MCAO in the rat, which can develop a predictable infarct volume within the MCA territory. In brief, a modified PE-50 tube is gently advanced from the external carotid artery (ECA) into the lumen of the internal carotid artery (ICA) until the tip of the catheter reaches the origin of the MCA. Through the catheter, a single homologous blood clot is placed at the origin of the MCA. To identify the success of MCA occlusion, regional cerebral blood flow was monitored, neurological deficits and infarct volumes were measured. The techniques presented in this paper should help investigators to overcome technical problems for establishing this model for stroke research.
23 Related JoVE Articles!
Focal Cerebral Ischemia Model by Endovascular Suture Occlusion of the Middle Cerebral Artery in the Rat
Institutions: University of Wisconsin-Madison.

Stroke is the leading cause of disability and the third leading cause of death in adults worldwide
1
. In human stroke, there exists a highly variable clinical state; in the development of animal models of focal ischemia, however, achieving reproducibility of experimentally induced infarct volume is essential. The rat is a widely used animal model for stroke due to its relatively low animal husbandry costs and to the similarity of its cranial circulation to that of humans
2,3
. In humans, the middle cerebral artery (MCA) is most commonly affected in stroke syndromes and multiple methods of MCA occlusion (MCAO) have been described to mimic this clinical syndrome in animal models. Because recanalization commonly occurs following an acute stroke in the human, reperfusion after a period of occlusion has been included in many of these models. In this video, we demonstrate the transient endovascular suture MCAO model in the spontaneously hypertensive rat (SHR). A filament with a silicon tip coating is placed intraluminally at the MCA origin for 60 minutes, followed by reperfusion. Note that the optimal occlusion period may vary in other rat strains, such as Wistar or Sprague-Dawley. Several behavioral indicators of stroke in the rat are shown. Focal ischemia is confirmed using T2-weighted magnetic resonance images and by staining brain sections with 2,3,5-triphenyltetrazolium chloride (TTC) 24 hours after MCAO.
Neuroscience, Issue 48, Stroke, cerebral ischemia, middle cerebral artery occlusion, intraluminal filament, rat, magnetic resonance imaging, surgery, neuroscience, brain
1978
Mouse Model of Intraluminal MCAO: Cerebral Infarct Evaluation by Cresyl Violet Staining
Institutions: Clinical Research Institute of Montreal, Laval University.

Stroke is the third cause of mortality and the leading cause of disability in the World. Ischemic stroke accounts for approximately 80% of all strokes. However, the thrombolytic tissue plasminogen activator (tPA) is the only treatment of acute ischemic stroke that exists. This led researchers to develop several ischemic stroke models in a variety of species. Two major types of rodent models have been developed: models of global cerebral ischemia or focal cerebral ischemia. To mimic ischemic stroke in patients, in whom approximately 80% thrombotic or embolic strokes occur in the territory of the middle cerebral artery (MCA), the intraluminal middle cerebral artery occlusion (MCAO) model is quite relevant for stroke studies. This model was first developed in rats by Koizumi
et al.
in 1986
1
. Because of the ease of genetic manipulation in mice, these models have also been developed in this species
2-3
. Herein, we present the transient MCA occlusion procedure in C57/Bl6 mice. Previous studies have reported that physical properties of the occluder such as tip diameter, length, shape, and flexibility are critical for the reproducibility of the infarct volume
4
. Herein, a commercial silicon coated monofilaments (Doccol Corporation) have been used. Another great advantage is that this monofilament reduces the risk to induce subarachnoid hemorrhages. Using the Zeiss stereo-microscope Stemi 2000, the silicon coated monofilament was introduced into the internal carotid artery (ICA)
via
a cut in the external carotid artery (ECA) until the monofilament occludes the base of the MCA. Blood flow was restored 1 hour later by removal of the monofilament to mimic the restoration of blood flow after lysis of a thromboembolic clot in humans. The extent of cerebral infarct may be evaluated first by a neurologic score and by the measurement of the infarct volume. Ischemic mice were thus analyzed for their neurologic score at different post-reperfusion times. To evaluate the infarct volume, staining with 2,3,5-triphenyltetrazolium chloride (TTC) was usually performed. Herein, we used cresyl violet staining since it offers the opportunity to test many critical markers by immunohistochemistry. In this video, we report the MCAO procedure; neurological scores and the evaluation of the infarct volume by cresyl violet staining.
Medicine, Issue 69, Neuroscience, Biochemistry, Anatomy, Physiology, transient ischemic stroke, middle cerebral artery occlusion, intraluminal model, neuroscore, cresyl violet staining, mice, imaging
4038
Generation of Human Induced Pluripotent Stem Cells from Peripheral Blood Using the STEMCCA Lentiviral Vector
Institutions: Boston University School of Medicine, Children's Hospital of Philadelphia, Children's Hospital of Philadelphia.

Through the ectopic expression of four transcription factors, Oct4, Klf4, Sox2 and cMyc, human somatic cells can be converted to a pluripotent state, generating so-called induced pluripotent stem cells (iPSCs)
1-4
. Patient-specific iPSCs lack the ethical concerns that surround embryonic stem cells (ESCs) and would bypass possible immune rejection. Thus, iPSCs have attracted considerable attention for disease modeling studies, the screening of pharmacological compounds, and regenerative therapies
5
. We have shown the generation of transgene-free human iPSCs from patients with different lung diseases using a single excisable polycistronic lentiviral Stem Cell Cassette (STEMCCA) encoding the Yamanaka factors
6
. These iPSC lines were generated from skin fibroblasts, the most common cell type used for reprogramming. Normally, obtaining fibroblasts requires a skin punch biopsy followed by expansion of the cells in culture for a few passages. Importantly, a number of groups have reported the reprogramming of human peripheral blood cells into iPSCs
7-9
. In one study, a Tet inducible version of the STEMCCA vector was employed
9
, which required the blood cells to be simultaneously infected with a constitutively active lentivirus encoding the reverse tetracycline transactivator. In contrast to fibroblasts, peripheral blood cells can be collected via minimally invasive procedures, greatly reducing the discomfort and distress of the patient. A simple and effective protocol for reprogramming blood cells using a constitutive single excisable vector may accelerate the application of iPSC technology by making it accessible to a broader research community. Furthermore, reprogramming of peripheral blood cells allows for the generation of iPSCs from individuals in which skin biopsies should be avoided (
i.e
. aberrant scarring) or due to pre-existing disease conditions preventing access to punch biopsies. Here we demonstrate a protocol for the generation of human iPSCs from peripheral blood mononuclear cells (PBMCs) using a single floxed-excisable lentiviral vector constitutively expressing the 4 factors. Freshly collected or thawed PBMCs are expanded for 9 days as described
10,11
in medium containing ascorbic acid, SCF, IGF-1, IL-3 and EPO before being transduced with the STEMCCA lentivirus. Cells are then plated onto MEFs and ESC-like colonies can be visualized two weeks after infection. Finally, selected clones are expanded and tested for the expression of the pluripotency markers SSEA-4, Tra-1-60 and Tra-1-81. This protocol is simple, robust and highly consistent, providing a reliable methodology for the generation of human iPSCs from readily accessible 4 ml of blood.
Stem Cell Biology, Issue 68, Induced pluripotent stem cells (iPSCs), peripheral blood mononuclear cells (PBMCs), reprogramming, single excisable lentiviral vector, STEMCCA
4327
Intravascular Perfusion of Carbon Black Ink Allows Reliable Visualization of Cerebral Vessels
Institutions: University of Duisburg-Essen Medical School.

The anatomical structure of cerebral vessels is a key determinant for brain hemodynamics as well as the severity of injury following ischemic insults. The cerebral vasculature dynamically responds to various pathophysiological states and it exhibits considerable differences between strains and under conditions of genetic manipulations. Essentially, a reliable technique for intracranial vessel staining is essential in order to study the pathogenesis of ischemic stroke. Until recently, a set of different techniques has been employed to visualize the cerebral vasculature including injection of low viscosity resin, araldite F, gelatin mixed with various dyes
1
(
i.e.
carmine red, India ink) or latex with
2
or without
3
carbon black. Perfusion of white latex compound through the ascending aorta has been first reported by Coyle and Jokelainen
3
. Maeda
et al.
2
have modified the protocol by adding carbon black ink to the latex compound for improved contrast visualization of the vessels after saline perfusion of the brain. However, inefficient perfusion and inadequate filling of the vessels are frequently experienced due to high viscosity of the latex compound
4
. Therefore, we have described a simple and cost-effective technique using a mixture of two commercially available carbon black inks (CB1 and CB2) to visualize the cerebral vasculature in a reproducible manner
5
. We have shown that perfusion with CB1+CB2 in mice results in staining of significantly smaller cerebral vessels at a higher density in comparison to latex perfusion
5
. Here, we describe our protocol to identify the anastomotic points between the anterior (ACA) and middle cerebral arteries (MCA) to study vessel variations in mice with different genetic backgrounds. Finally, we demonstrate the feasibility of our technique in a transient focal cerebral ischemia model in mice by combining CB1+CB2-mediated vessel staining with TTC staining in various degrees of ischemic injuries.
Neuroscience, Issue 71, Neurobiology, Medicine, Anatomy, Physiology, Cellular Biology, Immunology, Neurology, Cerebral vascular anatomy, colored latex, carbon black, ink, stroke, vascular territories, brain, vessels, imaging, animal model
4374
Photothrombotic Ischemia: A Minimally Invasive and Reproducible Photochemical Cortical Lesion Model for Mouse Stroke Studies
Institutions: University of Turin , University of Turin , University of Turin , University of Turin .

The photothrombotic stroke model aims to induce an ischemic damage within a given cortical area by means of photo-activation of a previously injected light-sensitive dye. Following illumination, the dye is activated and produces singlet oxygen that damages components of endothelial cell membranes, with subsequent platelet aggregation and thrombi formation, which eventually determines the interruption of local blood flow. This approach, initially proposed by Rosenblum and El-Sabban in 1977, was later improved by Watson in 1985 in rat brain and set the basis of the current model. Also, the increased availability of transgenic mouse lines further contributed to raise the interest on the photothrombosis model. Briefly, a photosensitive dye (Rose Bengal) is injected intraperitoneally and enters the blood stream. When illuminated by a cold light source, the dye becomes activated and induces endothelial damage with platelet activation and thrombosis, resulting in local blood flow interruption. The light source can be applied on the intact skull with no need of craniotomy, which allows targeting of any cortical area of interest in a reproducible and non-invasive way. The mouse is then sutured and allowed to wake up. The evaluation of ischemic damage can be quickly accomplished by triphenyl-tetrazolium chloride or cresyl violet staining. This technique produces infarction of small size and well-delimited boundaries, which is highly advantageous for precise cell characterization or functional studies. Furthermore, it is particularly suitable for studying cellular and molecular responses underlying brain plasticity in transgenic mice.
Medicine, Issue 76, Biomedical Engineering, Immunology, Anatomy, Physiology, Neuroscience, Neurobiology, Surgery, Cerebral Cortex, Brain Ischemia, Stroke, Brain Injuries, Brain Ischemia, Thrombosis, Photothrombosis, Rose Bengal, experimental stroke, animal models, cortex, injury, protocol, method, technique, video, ischemia, animal model
50370
Modeling Stroke in Mice - Middle Cerebral Artery Occlusion with the Filament Model
Institutions: Center for Stroke Research Berlin, Charité Universitätsmedizin.

Stroke is among the most frequent causes of death and adult disability, especially in highly developed countries. However, treatment options to date are very limited. To meet the need for novel therapeutic approaches, experimental stroke research frequently employs rodent models of focal cerebral ischaemia. Most researchers use permanent or transient occlusion of the middle cerebral artery (MCA) in mice or rats. Proximal occlusion of the middle cerebral artery (MCA) via the intraluminal suture technique (so called filament or suture model) is probably the most frequently used model in experimental stroke research. The intraluminal MCAO model offers the advantage of inducing reproducible transient or permanent ischaemia of the MCA territory in a relatively non-invasive manner. Intraluminal approaches interrupt the blood flow of the entire territory of this artery. Filament occlusion thus arrests flow proximal to the lenticulo-striate arteries, which supply the basal ganglia. Filament occlusion of the MCA results in reproducible lesions in the cortex and striatum and can be either permanent or transient. In contrast, models inducing distal (to the branching of the lenticulo-striate arteries) MCA occlusion typically spare the striatum and primarily involve the neocortex. In addition these models do require craniectomy. In the model demonstrated in this article, a silicon coated filament is introduced into the common carotid artery and advanced along the internal carotid artery into the Circle of Willis, where it blocks the origin of the middle cerebral artery. In patients, occlusions of the middle cerebral artery are among the most common causes of ischaemic stroke. Since varying ischemic intervals can be chosen freely in this model depending on the time point of reperfusion, ischaemic lesions with varying degrees of severity can be produced. Reperfusion by removal of the occluding filament at least partially models the restoration of blood flow after spontaneous or therapeutic (tPA) lysis of a thromboembolic clot in humans. In this video we will present the basic technique as well as the major pitfalls and confounders which may limit the predictive value of this model.
Medicine, Issue 47, Stroke, middle cerebral artery occlusion, MCAo, animal model, mouse, techniques
2423
Modeling Stroke in Mice: Permanent Coagulation of the Distal Middle Cerebral Artery
Institutions: University Hospital Munich, Munich Cluster for Systems Neurology (SyNergy), University Heidelberg, Charing Cross Hospital.

Stroke is the third most common cause of death and a main cause of acquired adult disability in developed countries. Only very limited therapeutical options are available for a small proportion of stroke patients in the acute phase. Current research is intensively searching for novel therapeutic strategies and is increasingly focusing on the sub-acute and chronic phase after stroke because more patients might be eligible for therapeutic interventions in a prolonged time window. These delayed mechanisms include important pathophysiological pathways such as post-stroke inflammation, angiogenesis, neuronal plasticity and regeneration. In order to analyze these mechanisms and to subsequently evaluate novel drug targets, experimental stroke models with clinical relevance, low mortality and high reproducibility are sought after. Moreover, mice are the smallest mammals in which a focal stroke lesion can be induced and for which a broad spectrum of transgenic models are available. Therefore, we describe here the mouse model of transcranial, permanent coagulation of the middle cerebral artery via electrocoagulation distal of the lenticulostriatal arteries, the so-called "coagulation model". The resulting infarct in this model is located mainly in the cortex; the relative infarct volume in relation to brain size corresponds to the majority of human strokes. Moreover, the model fulfills the above-mentioned criteria of reproducibility and low mortality. In this video we demonstrate the surgical methods of stroke induction in the "coagulation model" and report histological and functional analysis tools.
Medicine, Issue 89, stroke, brain ischemia, animal model, middle cerebral artery, electrocoagulation
51729
Barnes Maze Testing Strategies with Small and Large Rodent Models
Institutions: University of Missouri, Food and Drug Administration.

Spatial learning and memory of laboratory rodents is often assessed via navigational ability in mazes, most popular of which are the water and dry-land (Barnes) mazes. Improved performance over sessions or trials is thought to reflect learning and memory of the escape cage/platform location. Considered less stressful than water mazes, the Barnes maze is a relatively simple design of a circular platform top with several holes equally spaced around the perimeter edge. All but one of the holes are false-bottomed or blind-ending, while one leads to an escape cage. Mildly aversive stimuli (
e.g.
 bright overhead lights) provide motivation to locate the escape cage. Latency to locate the escape cage can be measured during the session; however, additional endpoints typically require video recording. From those video recordings, use of automated tracking software can generate a variety of endpoints that are similar to those produced in water mazes (
e.g.
 distance traveled, velocity/speed, time spent in the correct quadrant, time spent moving/resting, and confirmation of latency). Type of search strategy (
i.e.
 random, serial, or direct) can be categorized as well. Barnes maze construction and testing methodologies can differ for small rodents, such as mice, and large rodents, such as rats. For example, while extra-maze cues are effective for rats, smaller wild rodents may require intra-maze cues with a visual barrier around the maze. Appropriate stimuli must be identified which motivate the rodent to locate the escape cage. Both Barnes and water mazes can be time consuming as 4-7 test trials are typically required to detect improved learning and memory performance (
e.g.
 shorter latencies or path lengths to locate the escape platform or cage) and/or differences between experimental groups. Even so, the Barnes maze is a widely employed behavioral assessment measuring spatial navigational abilities and their potential disruption by genetic, neurobehavioral manipulations, or drug/ toxicant exposure.
Behavior, Issue 84, spatial navigation, rats, Peromyscus, mice, intra- and extra-maze cues, learning, memory, latency, search strategy, escape motivation
51194
Improved Method for the Preparation of a Human Cell-based, Contact Model of the Blood-Brain Barrier
Institutions: Monash University.

The blood-brain barrier (BBB) comprises impermeable but adaptable brain capillaries which tightly control the brain environment. Failure of the BBB has been implied in the etiology of many brain pathologies, creating a need for development of human
in vitro
BBB models to assist in clinically-relevant research. Among the numerous BBB models thus far described, a static (without flow), contact BBB model, where astrocytes and brain endothelial cells (BECs) are cocultured on the opposite sides of a porous membrane, emerged as a simplified yet authentic system to simulate the BBB with high throughput screening capacity. Nevertheless the generation of such model presents few technical challenges. Here, we describe a protocol for preparation of a contact human BBB model utilizing a novel combination of primary human BECs and immortalized human astrocytes. Specifically, we detail an innovative method for cell-seeding on inverted inserts as well as specify insert staining techniques and exemplify how we use our model for BBB-related research.
Bioengineering, Issue 81, Blood-brain barrier, model, cell culture, astrocytes, brain endothelial cells, insert, membranes
50934
Getting to Compliance in Forced Exercise in Rodents: A Critical Standard to Evaluate Exercise Impact in Aging-related Disorders and Disease
Institutions: Louisiana State University Health Sciences Center.

There is a major increase in the awareness of the positive impact of exercise on improving several disease states with neurobiological basis; these include improving cognitive function and physical performance. As a result, there is an increase in the number of animal studies employing exercise. It is argued that one intrinsic value of forced exercise is that the investigator has control over the factors that can influence the impact of exercise on behavioral outcomes, notably exercise frequency, duration, and intensity of the exercise regimen. However, compliance in forced exercise regimens may be an issue, particularly if potential confounds of employing foot-shock are to be avoided. It is also important to consider that since most cognitive and locomotor impairments strike in the aged individual, determining impact of exercise on these impairments should consider using aged rodents with a highest possible level of compliance to ensure minimal need for test subjects. Here, the pertinent steps and considerations necessary to achieve nearly 100% compliance to treadmill exercise in an aged rodent model will be presented and discussed. Notwithstanding the particular exercise regimen being employed by the investigator, our protocol should be of use to investigators that are particularly interested in the potential impact of forced exercise on aging-related impairments, including aging-related Parkinsonism and Parkinson's disease.
Behavior, Issue 90, Exercise, locomotor, Parkinson's disease, aging, treadmill, bradykinesia, Parkinsonism
51827
The Application Of Permanent Middle Cerebral Artery Ligation in the Mouse
Institutions: University of Rochester, University of Alabama at Birmingham, University of Rochester.

Focal cerebral ischemia is among the most common type of stroke seen in patients. Due to the clinical significance there has been a prolonged effort to develop suitable animal models to study the events that unfold during ischemic insult. These techniques include transient or permanent, focal or global ischemia models using many different animal models, with the most common being rodents. The permanent MCA ligation method which is also referred as pMCAo in the literature is used extensively as a focal ischemia model in rodents
1-6
. This method was originally described for rats by Tamura et al. in 1981
7
. In this protocol a craniotomy was used to access the MCA and the proximal regions were occluded by electrocoagulation. The infarcts involve mostly cortical and sometimes striatal regions depending on the location of the occlusion. This technique is now well established and used in many laboratories
8-13
. Early use of this technique led to the definition and description of "infarct core" and "penumbra"
14-16
, and it is often used to evaluate potential neuroprotective compounds
10, 12, 13, 17
. Although the initial studies were performed in rats, permanent MCA ligation has been used successfully in mice with slight modifications
18-20
. This model yields reproducible infarcts and increased post-survival rates. Approximately 80% of the ischemic strokes in humans happen in the MCA area
21
and thus this is a very relevant model for stroke studies. Currently, there is a paucity of effective treatments available to stroke patients, and thus there is a need for good models to test potential pharmacological compounds and evaluate physiological outcomes. This method can also be used for studying intracellular hypoxia response mechanisms
in vivo
. Here, we present the MCA ligation surgery in a C57/BL6 mouse. We describe the pre-surgical preparation, MCA ligation surgery and 2,3,5 Triphenyltetrazolium chloride (TTC) staining for quantification of infarct volumes.
Medicine, Issue 53, brain, stroke, mouse, middle cerebral artery ligation
3039
The Hypoxic Ischemic Encephalopathy Model of Perinatal Ischemia
Institutions: Stanford University School of Medicine.

Hypoxic-Ischemic Encephalopathy (HIE) is the consequence of systemic asphyxia occurring at birth. Twenty five percent of neonates with HIE develop severe and permanent neuropsychological sequelae, including mental retardation, cerebral palsy, and epilepsy. The outcomes of HIE are devastating and permanent, making it critical to identify and develop therapeutic strategies to reduce brain injury in newborns with HIE. To that end, the neonatal rat model for hypoxic-ischemic brain injury has been developed to model this human condition. The HIE model was first validated by Vannucci et al
1
and has since been extensively used to identify mechanisms of brain injury resulting from perinatal hypoxia-ischemia
2
and to test potential therapeutic interventions
3,4
. The HIE model is a two step process and involves the ligation of the left common carotid artery followed by exposure to a hypoxic environment. Cerebral blood flow (CBF) in the hemisphere ipsilateral to the ligated carotid artery does not decrease because of the collateral blood flow via the circle of Willis; however with lower oxygen tension, the CBF in the ipsilateral hemisphere decreases significantly and results in unilateral ischemic injury. The use of 2,3,5-triphenyltetrazolium chloride (TTC) to stain and identify ischemic brain tissue was originally developed for adult models of rodent cerebral ischemia
5
, and is used to evaluate the extent of cerebral infarctin at early time points up to 72 hours after the ischemic event
6
. In this video, we demonstrate the hypoxic-ischemic injury model in postnatal rat brain and the evaluation of the infarct size using TTC staining.
Neuroscience, Issue 21, Hypoxic-ischemic encephalopathy (HIE), 2 3 5-triphenyltetrazolium chloride (TTC), brain infarct
955
Setting-up an In Vitro Model of Rat Blood-brain Barrier (BBB): A Focus on BBB Impermeability and Receptor-mediated Transport
Institutions: VECT-HORUS SAS, CNRS, NICN UMR 7259.

The blood brain barrier (BBB) specifically regulates molecular and cellular flux between the blood and the nervous tissue. Our aim was to develop and characterize a highly reproducible rat syngeneic
in vitro
model of the BBB using co-cultures of primary rat brain endothelial cells (RBEC) and astrocytes to study receptors involved in transcytosis across the endothelial cell monolayer. Astrocytes were isolated by mechanical dissection following trypsin digestion and were frozen for later co-culture. RBEC were isolated from 5-week-old rat cortices. The brains were cleaned of meninges and white matter, and mechanically dissociated following enzymatic digestion. Thereafter, the tissue homogenate was centrifuged in bovine serum albumin to separate vessel fragments from nervous tissue. The vessel fragments underwent a second enzymatic digestion to free endothelial cells from their extracellular matrix. The remaining contaminating cells such as pericytes were further eliminated by plating the microvessel fragments in puromycin-containing medium. They were then passaged onto filters for co-culture with astrocytes grown on the bottom of the wells. RBEC expressed high levels of tight junction (TJ) proteins such as occludin, claudin-5 and ZO-1 with a typical localization at the cell borders. The transendothelial electrical resistance (TEER) of brain endothelial monolayers, indicating the tightness of TJs reached 300 ohm·cm
2
on average. The endothelial permeability coefficients (Pe) for lucifer yellow (LY) was highly reproducible with an average of 0.26 ± 0.11 x 10
-3
cm/min. Brain endothelial cells organized in monolayers expressed the efflux transporter P-glycoprotein (P-gp), showed a polarized transport of rhodamine 123, a ligand for P-gp, and showed specific transport of transferrin-Cy3 and DiILDL across the endothelial cell monolayer. In conclusion, we provide a protocol for setting up an
in vitro
BBB model that is highly reproducible due to the quality assurance methods, and that is suitable for research on BBB transporters and receptors.
Medicine, Issue 88, rat brain endothelial cells (RBEC), mouse, spinal cord, tight junction (TJ), receptor-mediated transport (RMT), low density lipoprotein (LDL), LDLR, transferrin, TfR, P-glycoprotein (P-gp), transendothelial electrical resistance (TEER),
51278
Strategies for Study of Neuroprotection from Cold-preconditioning
Institutions: The University of Chicago Medical Center.

Neurological injury is a frequent cause of morbidity and mortality from general anesthesia and related surgical procedures that could be alleviated by development of effective, easy to administer and safe preconditioning treatments. We seek to define the neural immune signaling responsible for cold-preconditioning as means to identify novel targets for therapeutics development to protect brain before injury onset. Low-level pro-inflammatory mediator signaling changes over time are essential for cold-preconditioning neuroprotection. This signaling is consistent with the basic tenets of physiological conditioning hormesis, which require that irritative stimuli reach a threshold magnitude with sufficient time for adaptation to the stimuli for protection to become evident. Accordingly, delineation of the immune signaling involved in cold-preconditioning neuroprotection requires that biological systems and experimental manipulations plus technical capacities are highly reproducible and sensitive. Our approach is to use hippocampal slice cultures as an
in vitro
model that closely reflects their
in vivo
counterparts with multi-synaptic neural networks influenced by mature and quiescent macroglia / microglia. This glial state is particularly important for microglia since they are the principal source of cytokines, which are operative in the femtomolar range. Also, slice cultures can be maintained
in vitro
for several weeks, which is sufficient time to evoke activating stimuli and assess adaptive responses. Finally, environmental conditions can be accurately controlled using slice cultures so that cytokine signaling of cold-preconditioning can be measured, mimicked, and modulated to dissect the critical node aspects. Cytokine signaling system analyses require the use of sensitive and reproducible multiplexed techniques. We use quantitative PCR for TNF-α to screen for microglial activation followed by quantitative real-time qPCR array screening to assess tissue-wide cytokine changes. The latter is a most sensitive and reproducible means to measure multiple cytokine system signaling changes simultaneously. Significant changes are confirmed with targeted qPCR and then protein detection. We probe for tissue-based cytokine protein changes using multiplexed microsphere flow cytometric assays using Luminex technology. Cell-specific cytokine production is determined with double-label immunohistochemistry. Taken together, this brain tissue preparation and style of use, coupled to the suggested investigative strategies, may be an optimal approach for identifying potential targets for the development of novel therapeutics that could mimic the advantages of cold-preconditioning.
Neuroscience, Issue 43, innate immunity, hormesis, microglia, hippocampus, slice culture, immunohistochemistry, neural-immune, gene expression, real-time PCR
2192
Sex Stratified Neuronal Cultures to Study Ischemic Cell Death Pathways
Institutions: University of Colorado School of Medicine, Oregon Health & Science University, University of Colorado School of Medicine.

Sex differences in neuronal susceptibility to ischemic injury and neurodegenerative disease have long been observed, but the signaling mechanisms responsible for those differences remain unclear. Primary disassociated embryonic neuronal culture provides a simplified experimental model with which to investigate the neuronal cell signaling involved in cell death as a result of ischemia or disease; however, most neuronal cultures used in research today are mixed sex. Researchers can and do test the effects of sex steroid treatment in mixed sex neuronal cultures in models of neuronal injury and disease, but accumulating evidence suggests that the female brain responds to androgens, estrogens, and progesterone differently than the male brain. Furthermore, neonate male and female rodents respond differently to ischemic injury, with males experiencing greater injury following cerebral ischemia than females. Thus, mixed sex neuronal cultures might obscure and confound the experimental results; important information might be missed. For this reason, the Herson Lab at the University of Colorado School of Medicine routinely prepares sex-stratified primary disassociated embryonic neuronal cultures from both hippocampus and cortex. Embryos are sexed before harvesting of brain tissue and male and female tissue are disassociated separately, plated separately, and maintained separately. Using this method, the Herson Lab has demonstrated a male-specific role for the ion channel TRPM2 in ischemic cell death. In this manuscript, we share and discuss our protocol for sexing embryonic mice and preparing sex-stratified hippocampal primary disassociated neuron cultures. This method can be adapted to prepare sex-stratified cortical cultures and the method for embryo sexing can be used in conjunction with other protocols for any study in which sex is thought to be an important determinant of outcome.
Neuroscience, Issue 82, male, female, sex, neuronal culture, ischemia, cell death, neuroprotection
50758
Gene-environment Interaction Models to Unmask Susceptibility Mechanisms in Parkinson's Disease
Institutions: SRI International, University of California-Santa Cruz.

Lipoxygenase (LOX) activity has been implicated in neurodegenerative disorders such as Alzheimer's disease, but its effects in Parkinson's disease (PD) pathogenesis are less understood. Gene-environment interaction models have utility in unmasking the impact of specific cellular pathways in toxicity that may not be observed using a solely genetic or toxicant disease model alone. To evaluate if distinct LOX isozymes selectively contribute to PD-related neurodegeneration, transgenic (
i.e.
5-LOX and 12/15-LOX deficient) mice can be challenged with a toxin that mimics cell injury and death in the disorder. Here we describe the use of a neurotoxin, 1-methyl-4-phenyl-1,2,3,6-tetrahydropyridine (MPTP), which produces a nigrostriatal lesion to elucidate the distinct contributions of LOX isozymes to neurodegeneration related to PD. The use of MPTP in mouse, and nonhuman primate, is well-established to recapitulate the nigrostriatal damage in PD. The extent of MPTP-induced lesioning is measured by HPLC analysis of dopamine and its metabolites and semi-quantitative Western blot analysis of striatum for tyrosine hydroxylase (TH), the rate-limiting enzyme for the synthesis of dopamine. To assess inflammatory markers, which may demonstrate LOX isozyme-selective sensitivity, glial fibrillary acidic protein (GFAP) and Iba-1 immunohistochemistry are performed on brain sections containing substantia nigra, and GFAP Western blot analysis is performed on striatal homogenates. This experimental approach can provide novel insights into gene-environment interactions underlying nigrostriatal degeneration and PD.
Medicine, Issue 83, MPTP, dopamine, Iba1, TH, GFAP, lipoxygenase, transgenic, gene-environment interactions, mouse, Parkinson's disease, neurodegeneration, neuroinflammation
50960
Permanent Cerebral Vessel Occlusion via Double Ligature and Transection
Institutions: University of California, Irvine, University of California, Irvine, University of California, Irvine, University of California, Irvine.

Stroke is a leading cause of death, disability, and socioeconomic loss worldwide. The majority of all strokes result from an interruption in blood flow (ischemia)
1
. Middle cerebral artery (MCA) delivers a great majority of blood to the lateral surface of the cortex
2
, is the most common site of human stroke
3
, and ischemia within its territory can result in extensive dysfunction or death
1,4,5
. Survivors of ischemic stroke often suffer loss or disruption of motor capabilities, sensory deficits, and infarct. In an effort to capture these key characteristics of stroke, and thereby develop effective treatment, a great deal of emphasis is placed upon animal models of ischemia in MCA. Here we present a method of permanently occluding a cortical surface blood vessel. We will present this method using an example of a relevant vessel occlusion that models the most common type, location, and outcome of human stroke, permanent middle cerebral artery occlusion (pMCAO). In this model, we surgically expose MCA in the adult rat and subsequently occlude via double ligature and transection of the vessel. This pMCAO blocks the proximal cortical branch of MCA, causing ischemia in all of MCA cortical territory, a large portion of the cortex. This method of occlusion can also be used to occlude more distal portions of cortical vessels in order to achieve more focal ischemia targeting a smaller region of cortex. The primary disadvantages of pMCAO are that the surgical procedure is somewhat invasive as a small craniotomy is required to access MCA, though this results in minimal tissue damage. The primary advantages of this model, however, are: the site of occlusion is well defined, the degree of blood flow reduction is consistent, functional and neurological impairment occurs rapidly, infarct size is consistent, and the high rate of survival allows for long-term chronic assessment.
Medicine, Issue 77, Biomedical Engineering, Anatomy, Physiology, Neurobiology, Neuroscience, Behavior, Surgery, Therapeutics, Surgical Procedures, Operative, Investigative Techniques, Life Sciences (General), Behavioral Sciences, Animal models, Stroke, ischemia, imaging, middle cerebral artery, vessel occlusion, rodent model, surgical techniques, animal model
50418
Preparation of Primary Myogenic Precursor Cell/Myoblast Cultures from Basal Vertebrate Lineages
Institutions: University of Alabama at Birmingham, INRA UR1067, INRA UR1037.

Due to the inherent difficulty and time involved with studying the myogenic program
in vivo
, primary culture systems derived from the resident adult stem cells of skeletal muscle, the myogenic precursor cells (MPCs), have proven indispensible to our understanding of mammalian skeletal muscle development and growth. Particularly among the basal taxa of
Vertebrata,
however, data are limited describing the molecular mechanisms controlling the self-renewal, proliferation, and differentiation of MPCs. Of particular interest are potential mechanisms that underlie the ability of basal vertebrates to undergo considerable postlarval skeletal myofiber hyperplasia (
i.e.
 teleost fish) and full regeneration following appendage loss (
i.e.
 urodele amphibians). Additionally, the use of cultured myoblasts could aid in the understanding of regeneration and the recapitulation of the myogenic program and the differences between them. To this end, we describe in detail a robust and efficient protocol (and variations therein) for isolating and maintaining MPCs and their progeny, myoblasts and immature myotubes, in cell culture as a platform for understanding the evolution of the myogenic program, beginning with the more basal vertebrates. Capitalizing on the model organism status of the zebrafish (
Danio rerio
), we report on the application of this protocol to small fishes of the cyprinid clade
Danioninae
. In tandem, this protocol can be utilized to realize a broader comparative approach by isolating MPCs from the Mexican axolotl (
Ambystomamexicanum
) and even laboratory rodents. This protocol is now widely used in studying myogenesis in several fish species, including rainbow trout, salmon, and sea bream
1-4
.
Basic Protocol, Issue 86, myogenesis, zebrafish, myoblast, cell culture, giant danio, moustached danio, myotubes, proliferation, differentiation, Danioninae, axolotl
51354
2-Vessel Occlusion/Hypotension: A Rat Model of Global Brain Ischemia
Institutions: Wayne State University School of Medicine, Wayne State University School of Medicine, Wayne State University School of Medicine.

Cardiac arrest followed by resuscitation often results in dramatic brain damage caused by ischemia and subsequent reperfusion of the brain. Global brain ischemia produces damage to specific brain regions shown to be highly sensitive to ischemia
1
. Hippocampal neurons have higher sensitivity to ischemic insults compared to other cell populations, and specifically, the CA1 region of the hippocampus is particularly vulnerable to ischemia/reperfusion
2
. The design of therapeutic interventions, or study of mechanisms involved in cerebral damage, requires a model that produces damage similar to the clinical condition and in a reproducible manner. Bilateral carotid vessel occlusion with hypotension (2VOH) is a model that produces reversible forebrain ischemia, emulating the cerebral events that can occur during cardiac arrest and resuscitation. We describe a model modified from Smith
et al
. (1984)
2
, as first presented in its current form in Sanderson,
et al.
(2008)
3
, which produces reproducible injury to selectively vulnerable brain regions
3-6
. The reliability of this model is dictated by precise control of systemic blood pressure during applied hypotension, the duration of ischemia, close temperature control, a specific anesthesia regimen, and diligent post-operative care. An 8-minute ischemic insult produces cell death of CA1 hippocampal neurons that progresses over the course of 6 to 24 hr of reperfusion, while less vulnerable brain regions are spared. This progressive cell death is easily quantified after 7-14 days of reperfusion, as a near complete loss of CA1 neurons is evident at this time. In addition to this brain injury model, we present a method for CA1 damage quantification using a simple, yet thorough, methodology. Importantly, quantification can be accomplished using a simple camera-mounted microscope, and a free ImageJ (NIH) software plugin, obviating the need for cost-prohibitive stereology software programs and a motorized microscopic stage for damage assessment.
Medicine, Issue 76, Biomedical Engineering, Neurobiology, Neuroscience, Immunology, Anatomy, Physiology, Cardiology, Brain Ischemia, ischemia, reperfusion, cardiac arrest, resuscitation, 2VOH, brain injury model, CA1 hippocampal neurons, brain, neuron, blood vessel, occlusion, hypotension, animal model
50173
The Use of Magnetic Resonance Spectroscopy as a Tool for the Measurement of Bi-hemispheric Transcranial Electric Stimulation Effects on Primary Motor Cortex Metabolism
Institutions: University of Montréal, McGill University, University of Minnesota.

Transcranial direct current stimulation (tDCS) is a neuromodulation technique that has been increasingly used over the past decade in the treatment of neurological and psychiatric disorders such as stroke and depression. Yet, the mechanisms underlying its ability to modulate brain excitability to improve clinical symptoms remains poorly understood
33
. To help improve this understanding, proton magnetic resonance spectroscopy (
1
H-MRS) can be used as it allows the
in vivo
quantification of brain metabolites such as γ-aminobutyric acid (GABA) and glutamate in a region-specific manner
41
. In fact, a recent study demonstrated that
1
H-MRS is indeed a powerful means to better understand the effects of tDCS on neurotransmitter concentration
34
. This article aims to describe the complete protocol for combining tDCS (NeuroConn MR compatible stimulator) with
1
H-MRS at 3 T using a MEGA-PRESS sequence. We will describe the impact of a protocol that has shown great promise for the treatment of motor dysfunctions after stroke, which consists of bilateral stimulation of primary motor cortices
27,30,31
. Methodological factors to consider and possible modifications to the protocol are also discussed.
Neuroscience, Issue 93, proton magnetic resonance spectroscopy, transcranial direct current stimulation, primary motor cortex, GABA, glutamate, stroke
51631
Alternative Cultures for Human Pluripotent Stem Cell Production, Maintenance, and Genetic Analysis
Institutions: National Institutes of Health, National Institutes of Health.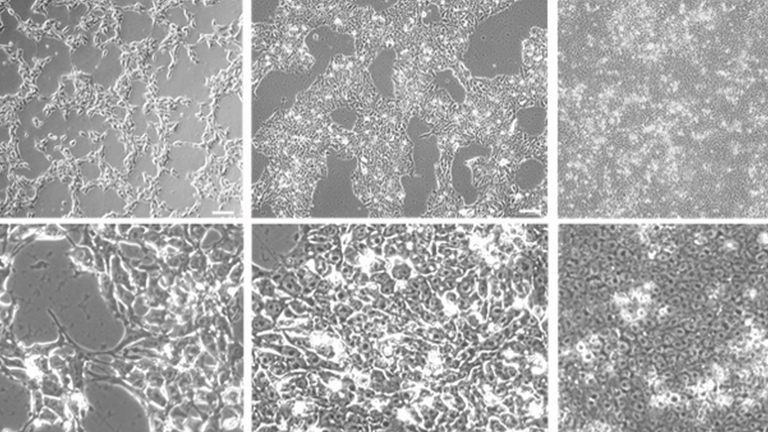 Human pluripotent stem cells (hPSCs) hold great promise for regenerative medicine and biopharmaceutical applications. Currently, optimal culture and efficient expansion of large amounts of clinical-grade hPSCs are critical issues in hPSC-based therapies. Conventionally, hPSCs are propagated as colonies on both feeder and feeder-free culture systems. However, these methods have several major limitations, including low cell yields and generation of heterogeneously differentiated cells. To improve current hPSC culture methods, we have recently developed a new method, which is based on non-colony type monolayer (NCM) culture of dissociated single cells. Here, we present detailed NCM protocols based on the Rho-associated kinase (ROCK) inhibitor Y-27632. We also provide new information regarding NCM culture with different small molecules such as Y-39983 (ROCK I inhibitor), phenylbenzodioxane (ROCK II inhibitor), and thiazovivin (a novel ROCK inhibitor). We further extend our basic protocol to cultivate hPSCs on defined extracellular proteins such as the laminin isoform 521 (LN-521) without the use of ROCK inhibitors. Moreover, based on NCM, we have demonstrated efficient transfection or transduction of plasmid DNAs, lentiviral particles, and oligonucleotide-based microRNAs into hPSCs in order to genetically modify these cells for molecular analyses and drug discovery. The NCM-based methods overcome the major shortcomings of colony-type culture, and thus may be suitable for producing large amounts of homogeneous hPSCs for future clinical therapies, stem cell research, and drug discovery.
Stem Cell Biology, Issue 89, Pluripotent stem cells, human embryonic stem cells, induced pluripotent stem cells, cell culture, non-colony type monolayer, single cell, plating efficiency, Rho-associated kinase, Y-27632, transfection, transduction
51519
Bilateral Common Carotid Artery Occlusion as an Adequate Preconditioning Stimulus to Induce Early Ischemic Tolerance to Focal Cerebral Ischemia
Institutions: Charité - Universitätsmedizin Berlin, Germany.

There is accumulating evidence, that ischemic preconditioning - a non-damaging ischemic challenge to the brain - confers a transient protection to a subsequent damaging ischemic insult. We have established bilateral common carotid artery occlusion as a preconditioning stimulus to induce early ischemic tolerance to transient focal cerebral ischemia in C57Bl6/J mice. In this video, we will demonstrate the methodology used for this study.
Medicine, Issue 75, Neurobiology, Anatomy, Physiology, Neuroscience, Immunology, Surgery, stroke, cerebral ischemia, ischemic preconditioning, ischemic tolerance, IT, ischemic stroke, middle cerebral artery occlusion, MCAO, bilateral common carotid artery occlusion, BCCAO, brain, ischemia, occlusion, reperfusion, mice, animal model, surgical techniques
4387
Mouse Model of Middle Cerebral Artery Occlusion
Institutions: Ernest Gallo Clinic and Research Center, University of California, San Francisco, Kent State University.

Stroke is the most common fatal neurological disease in the United States
1
. The majority of strokes (88%) result from blockage of blood vessels in the brain (ischemic stroke)
2
. Since most ischemic strokes (~80%) occur in the territory of middle cerebral artery (MCA)
3
, many animal stroke models that have been developed have focused on this artery. The intraluminal monofilament model of middle cerebral artery occlusion (MCAO) involves the insertion of a surgical filament into the external carotid artery and threading it forward into the internal carotid artery (ICA) until the tip occludes the origin of the MCA, resulting in a cessation of blood flow and subsequent brain infarction in the MCA territory
4
. The technique can be used to model permanent or transient occlusion
5
. If the suture is removed after a certain interval (30 min, 1 h, or 2 h), reperfusion is achieved (transient MCAO); if the filament is left in place (24 h) the procedure is suitable as a model of permanent MCAO. This technique does not require craniectomy, a neurosurgical procedure to remove a portion of skull, which may affect intracranial pressure and temperature
6
. It has become the most frequently used method to mimic permanent and transient focal cerebral ischemia in rats and mice
7,8
. To evaluate the extent of cerebral infarction, we stain brain slices with 2,3,5-triphenyltetrazolium chloride (TTC) to identify ischemic brain tissue
9
. In this video, we demonstrate the MCAO method and the determination of infarct size by TTC staining.
Medicine, Issue 48, Neurology, Stroke, mice, ischemia
2761