Synthesis of Immunotargeted Magneto-plasmonic Nanoclusters
Published: 08-22-2014
ABSTRACT
Magnetic and plasmonic properties combined in a single nanoparticle provide a synergy that is advantageous in a number of biomedical applications including contrast enhancement in novel magnetomotive imaging modalities, simultaneous capture and detection of circulating tumor cells (CTCs), and multimodal molecular imaging combined with photothermal therapy of cancer cells. These applications have stimulated significant interest in development of protocols for synthesis of magneto-plasmonic nanoparticles with optical absorbance in the near-infrared (NIR) region and a strong magnetic moment. Here, we present a novel protocol for synthesis of such hybrid nanoparticles that is based on an oil-in-water microemulsion method. The unique feature of the protocol described herein is synthesis of magneto-plasmonic nanoparticles of various sizes from primary blocks which also have magneto-plasmonic characteristics. This approach yields nanoparticles with a high density of magnetic and plasmonic functionalities which are uniformly distributed throughout the nanoparticle volume. The hybrid nanoparticles can be easily functionalized by attaching antibodies through the Fc moiety leaving the Fab portion that is responsible for antigen binding available for targeting.
22 Related JoVE Articles!
Protocols for Assessing Radiofrequency Interactions with Gold Nanoparticles and Biological Systems for Non-invasive Hyperthermia Cancer Therapy
Institutions: University of Texas M.D. Anderson Cancer Center, Rice University , Rice University .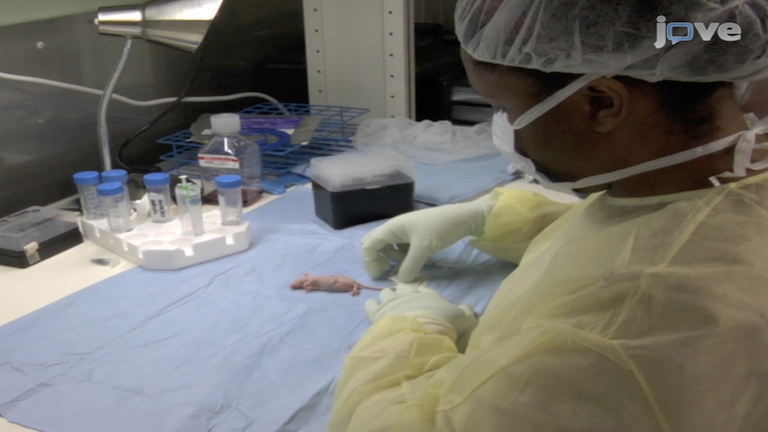 Cancer therapies which are less toxic and invasive than their existing counterparts are highly desirable. The use of RF electric-fields that penetrate deep into the body, causing minimal toxicity, are currently being studied as a viable means of non-invasive cancer therapy. It is envisioned that the interactions of RF energy with internalized nanoparticles (NPs) can liberate heat which can then cause overheating (hyperthermia) of the cell, ultimately ending in cell necrosis. In the case of non-biological systems, we present detailed protocols relating to quantifying the heat liberated by highly-concentrated NP colloids. For biological systems, in the case of
in vitro
experiments, we describe the techniques and conditions which must be adhered to in order to effectively expose cancer cells to RF energy without bulk media heating artifacts significantly obscuring the data. Finally, we give a detailed methodology for
in vivo
mouse models with ectopic hepatic cancer tumors.
Medicine, Issue 78, Electronics and Electrical Engineering, Life Sciences (General), Radiofrequency, Cancer, Nanoparticles, Hyperthermia, Gold
50480
Synthesis of an In vivo MRI-detectable Apoptosis Probe
Institutions: Stanford University Medical Center, University of California, San Francisco , San Francisco VAMC.

Cellular apoptosis is a prominent feature of many diseases, and this programmed cell death typically occurs before clinical manifestations of disease are evident. A means to detect apoptosis in its earliest, reversible stages would afford a pre-clinical 'window' during which preventive or therapeutic measures could be taken to protect the heart from permanent damage. We present herein a simple and robust method to conjugate human Annexin V (ANX), which avidly binds to cells in the earliest, reversible stages of apoptosis, to superparamagnetic iron oxide (SPIO) nanoparticles, which serve as an MRI-detectable contrast agent. The conjugation method begins with an oxidation of the SPIO nanoparticles, which oxidizes carboxyl groups on the polysaccharide shell of SPIO. Purified ANX protein is then added in the setting of a sodium borate solution to facilitate covalent interaction of ANX with SPIO in a reducing buffer. A final reduction step with sodium borohydride is performed to complete the reduction, and then the reaction is quenched. Unconjugated ANX is removed from the mix by microcentrifuge filtration. The size and purity of the ANX-SPIO product is verified by dynamic light scattering (DLS). This method does not require addition to, or modification of, the polysaccharide SPIO shell, as opposed to cross-linked iron oxide particle conjugation methods or biotin-labeled nanoparticles. As a result, this method represents a simple, robust approach that may be extended to conjugation of other proteins of interest.
Molecular Biology, Issue 65, Biomedical Engineering, conjugation, annexin, iron oxide, nanoparticle, MRI, molecular imaging
3775
Gold Nanostar Synthesis with a Silver Seed Mediated Growth Method
Institutions: The University of Texas at San Antonio, Centro de Investigaciones en Optica A. C., The University of Texas at San Antonio.
The physical, chemical and optical properties of nano-scale colloids depend on their material composition, size and shape
1-5
. There is a great interest in using nano-colloids for photo-thermal ablation, drug delivery and many other biomedical applications
6
. Gold is particularly used because of its low toxicity
7-9
. A property of metal nano-colloids is that they can have a strong surface plasmon resonance
10
. The peak of the surface plasmon resonance mode depends on the structure and composition of the metal nano-colloids. Since the surface plasmon resonance mode is stimulated with light there is a need to have the peak absorbance in the near infrared where biological tissue transmissivity is maximal
11, 12
. We present a method to synthesize star shaped colloidal gold, also known as star shaped nanoparticles
13-15
or nanostars
16
. This method is based on a solution containing silver seeds that are used as the nucleating agent for anisotropic growth of gold colloids
17-22
. Scanning electron microscopy (SEM) analysis of the resulting gold colloid showed that 70 % of the nanostructures were nanostars. The other 30 % of the particles were amorphous clusters of decahedra and rhomboids. The absorbance peak of the nanostars was detected to be in the near infrared (840 nm). Thus, our method produces gold nanostars suitable for biomedical applications, particularly for photo-thermal ablation.
Bioengineering, Issue 59, thermal ablation, surface plasmon resonance, nanoparticle, nanotechnology, silver seeds
3570
High-throughput Synthesis of Carbohydrates and Functionalization of Polyanhydride Nanoparticles
Institutions: Iowa State University, Iowa State University.

Transdisciplinary approaches involving areas such as material design, nanotechnology, chemistry, and immunology have to be utilized to rationally design efficacious vaccines carriers. Nanoparticle-based platforms can prolong the persistence of vaccine antigens, which could improve vaccine immunogenicity
1
. Several biodegradable polymers have been studied as vaccine delivery vehicles
1
; in particular, polyanhydride particles have demonstrated the ability to provide sustained release of stable protein antigens and to activate antigen presenting cells and modulate immune responses
2-12
. The molecular design of these vaccine carriers needs to integrate the rational selection of polymer properties as well as the incorporation of appropriate targeting agents. High throughput automated fabrication of targeting ligands and functionalized particles is a powerful tool that will enhance the ability to study a wide range of properties and will lead to the design of reproducible vaccine delivery devices. The addition of targeting ligands capable of being recognized by specific receptors on immune cells has been shown to modulate and tailor immune responses
10,11,13
C-type lectin receptors (CLRs) are pattern recognition receptors (PRRs) that recognize carbohydrates present on the surface of pathogens. The stimulation of immune cells via CLRs allows for enhanced internalization of antigen and subsequent presentation for further T cell activation
14,15
. Therefore, carbohydrate molecules play an important role in the study of immune responses; however, the use of these biomolecules often suffers from the lack of availability of structurally well-defined and pure carbohydrates. An automation platform based on iterative solution-phase reactions can enable rapid and controlled synthesis of these synthetically challenging molecules using significantly lower building block quantities than traditional solid-phase methods
16,17
. Herein we report a protocol for the automated solution-phase synthesis of oligosaccharides such as mannose-based targeting ligands with fluorous solid-phase extraction for intermediate purification. After development of automated methods to make the carbohydrate-based targeting agent, we describe methods for their attachment on the surface of polyanhydride nanoparticles employing an automated robotic set up operated by LabVIEW as previously described
10
. Surface functionalization with carbohydrates has shown efficacy in targeting CLRs
10,11
and increasing the throughput of the fabrication method to unearth the complexities associated with a multi-parametric system will be of great value (
Figure 1a
).
Bioengineering, Issue 65, Chemical Engineering, High-throughput, Automation, Carbohydrates, Synthesis, Polyanhydrides, Nanoparticles, Functionalization, Targeting, Fluorous Solid Phase Extraction
3967
Revealing Dynamic Processes of Materials in Liquids Using Liquid Cell Transmission Electron Microscopy
Institutions: Lawrence Berkeley National Laboratory.

The recent development for in situ transmission electron microscopy, which allows imaging through liquids with high spatial resolution, has attracted significant interests across the research fields of materials science, physics, chemistry and biology. The key enabling technology is a liquid cell. We fabricate liquid cells with thin viewing windows through a sequential microfabrication process, including silicon nitride membrane deposition, photolithographic patterning, wafer etching, cell bonding, etc. A liquid cell with the dimensions of a regular TEM grid can fit in any standard TEM sample holder. About 100 nanoliters reaction solution is loaded into the reservoirs and about 30 picoliters liquid is drawn into the viewing windows by capillary force. Subsequently, the cell is sealed and loaded into a microscope for in situ imaging. Inside the TEM, the electron beam goes through the thin liquid layer sandwiched between two silicon nitride membranes. Dynamic processes of nanoparticles in liquids, such as nucleation and growth of nanocrystals, diffusion and assembly of nanoparticles, etc., have been imaged in real time with sub-nanometer resolution. We have also applied this method to other research areas,
e.g.
, imaging proteins in water. Liquid cell TEM is poised to play a major role in revealing dynamic processes of materials in their working environments. It may also bring high impact in the study of biological processes in their native environment.
Materials Science, Issue 70, Chemical Engineering, Chemistry, Physics, Engineering, Life sciences, Liquid cell, Transmission Electron Microscopy, TEM, In situ TEM, Single nanoparticle trajectory, dynamic imaging, nanocrystals
50122
Polycrystalline Silicon Thin-film Solar cells with Plasmonic-enhanced Light-trapping
Institutions: University of New South Wales .

One of major approaches to cheaper solar cells is reducing the amount of semiconductor material used for their fabrication and making cells thinner. To compensate for lower light absorption such physically thin devices have to incorporate light-trapping which increases their optical thickness. Light scattering by textured surfaces is a common technique but it cannot be universally applied to all solar cell technologies. Some cells, for example those made of evaporated silicon, are planar as produced and they require an alternative light-trapping means suitable for planar devices. Metal nanoparticles formed on planar silicon cell surface and capable of light scattering due to surface plasmon resonance is an effective approach. The paper presents a fabrication procedure of evaporated polycrystalline silicon solar cells with plasmonic light-trapping and demonstrates how the cell quantum efficiency improves due to presence of metal nanoparticles. To fabricate the cells a film consisting of alternative boron and phosphorous doped silicon layers is deposited on glass substrate by electron beam evaporation. An Initially amorphous film is crystallised and electronic defects are mitigated by annealing and hydrogen passivation. Metal grid contacts are applied to the layers of opposite polarity to extract electricity generated by the cell. Typically, such a ~2 μm thick cell has a short-circuit current density (
Jsc
) of 14-16 mA/cm
2
, which can be increased up to 17-18 mA/cm
2
(~25% higher) after application of a simple diffuse back reflector made of a white paint. To implement plasmonic light-trapping a silver nanoparticle array is formed on the metallised cell silicon surface. A precursor silver film is deposited on the cell by thermal evaporation and annealed at 23°C to form silver nanoparticles. Nanoparticle size and coverage, which affect plasmonic light-scattering, can be tuned for enhanced cell performance by varying the precursor film thickness and its annealing conditions. An optimised nanoparticle array alone results in cell
Jsc
enhancement of about 28%, similar to the effect of the diffuse reflector. The photocurrent can be further increased by coating the nanoparticles by a low refractive index dielectric, like MgF
2
, and applying the diffused reflector. The complete plasmonic cell structure comprises the polycrystalline silicon film, a silver nanoparticle array, a layer of MgF
2
, and a diffuse reflector. The
Jsc
for such cell is 21-23 mA/cm
2
, up to 45% higher than
Jsc
of the original cell without light-trapping or ~25% higher than
Jsc
for the cell with the diffuse reflector only. Introduction Light-trapping in silicon solar cells is commonly achieved via light scattering at textured interfaces. Scattered light travels through a cell at oblique angles for a longer distance and when such angles exceed the critical angle at the cell interfaces the light is permanently trapped in the cell by total internal reflection
(Animation 1: Light-trapping)
. Although this scheme works well for most solar cells, there are developing technologies where ultra-thin Si layers are produced planar (e.g. layer-transfer technologies and epitaxial c-Si layers)
1
and or when such layers are not compatible with textures substrates (e.g. evaporated silicon)
2
. For such originally planar Si layer alternative light trapping approaches, such as diffuse white paint reflector
3
, silicon plasma texturing
4
or high refractive index nanoparticle reflector
5
have been suggested. Metal nanoparticles can effectively scatter incident light into a higher refractive index material, like silicon, due to the surface plasmon resonance effect
6
. They also can be easily formed on the planar silicon cell surface thus offering a light-trapping approach alternative to texturing. For a nanoparticle located at the air-silicon interface the scattered light fraction coupled into silicon exceeds 95% and a large faction of that light is scattered at angles above critical providing nearly ideal light-trapping condition
(Animation 2: Plasmons on NP)
. The resonance can be tuned to the wavelength region, which is most important for a particular cell material and design, by varying the nanoparticle average size, surface coverage and local dielectric environment
6,7
. Theoretical design principles of plasmonic nanoparticle solar cells have been suggested
8
. In practice, Ag nanoparticle array is an ideal light-trapping partner for poly-Si thin-film solar cells because most of these design principle are naturally met. The simplest way of forming nanoparticles by thermal annealing of a thin precursor Ag film results in a random array with a relatively wide size and shape distribution, which is particularly suitable for light-trapping because such an array has a wide resonance peak, covering the wavelength range of 700-900 nm, important for poly-Si solar cell performance. The nanoparticle array can only be located on the rear poly-Si cell surface thus avoiding destructive interference between incident and scattered light which occurs for front-located nanoparticles
9
. Moreover, poly-Si thin-film cells do not requires a passivating layer and the flat base-shaped nanoparticles (that naturally result from thermal annealing of a metal film) can be directly placed on silicon further increases plasmonic scattering efficiency due to surface plasmon-polariton resonance
10
. The cell with the plasmonic nanoparticle array as described above can have a photocurrent about 28% higher than the original cell. However, the array still transmits a significant amount of light which escapes through the rear of the cell and does not contribute into the current. This loss can be mitigated by adding a rear reflector to allow catching transmitted light and re-directing it back to the cell. Providing sufficient distance between the reflector and the nanoparticles (a few hundred nanometers) the reflected light will then experience one more plasmonic scattering event while passing through the nanoparticle array on re-entering the cell and the reflector itself can be made diffuse - both effects further facilitating light scattering and hence light-trapping. Importantly, the Ag nanoparticles have to be encapsulated with an inert and low refractive index dielectric, like MgF
2
or SiO
2
, from the rear reflector to avoid mechanical and chemical damage
7
. Low refractive index for this cladding layer is required to maintain a high coupling fraction into silicon and larger scattering angles, which are ensured by the high optical contrast between the media on both sides of the nanoparticle, silicon and dielectric
6
. The photocurrent of the plasmonic cell with the diffuse rear reflector can be up to 45% higher than the current of the original cell or up to 25% higher than the current of an equivalent cell with the diffuse reflector only.
Physics, Issue 65, Materials Science, Photovoltaics, Silicon thin-film solar cells, light-trapping, metal nanoparticles, surface plasmons
4092
Highly Resolved Intravital Striped-illumination Microscopy of Germinal Centers
Institutions: Leibniz Institute, Max-Delbrück Center for Molecular Medicine, Leibniz Institute, LaVision Biotec GmbH, Charité - University of Medicine.
Monitoring cellular communication by intravital deep-tissue multi-photon microscopy is the key for understanding the fate of immune cells within thick tissue samples and organs in health and disease. By controlling the scanning pattern in multi-photon microscopy and applying appropriate numerical algorithms, we developed a striped-illumination approach, which enabled us to achieve 3-fold better axial resolution and improved signal-to-noise ratio,
i.e.
contrast, in more than 100 µm tissue depth within highly scattering tissue of lymphoid organs as compared to standard multi-photon microscopy. The acquisition speed as well as photobleaching and photodamage effects were similar to standard photo-multiplier-based technique, whereas the imaging depth was slightly lower due to the use of field detectors. By using the striped-illumination approach, we are able to observe the dynamics of immune complex deposits on secondary follicular dendritic cells – on the level of a few protein molecules in germinal centers.
Immunology, Issue 86, two-photon laser scanning microscopy, deep-tissue intravital imaging, germinal center, lymph node, high-resolution, enhanced contrast
51135
Evaluating Plasmonic Transport in Current-carrying Silver Nanowires
Institutions: Université de Bourgogne, University of Science and Technology of China, CEMES, CNRS-UPR 8011.

Plasmonics is an emerging technology capable of simultaneously transporting a plasmonic signal and an electronic signal on the same information support
1,2,3
. In this context, metal nanowires are especially desirable for realizing dense routing networks
4
. A prerequisite to operate such shared nanowire-based platform relies on our ability to electrically contact individual metal nanowires and efficiently excite surface plasmon polaritons
5
in this information support. In this article, we describe a protocol to bring electrical terminals to chemically-synthesized silver nanowires
6
randomly distributed on a glass substrate
7
. The positions of the nanowire ends with respect to predefined landmarks are precisely located using standard optical transmission microscopy before encapsulation in an electron-sensitive resist. Trenches representing the electrode layout are subsequently designed by electron-beam lithography. Metal electrodes are then fabricated by thermally evaporating a Cr/Au layer followed by a chemical lift-off. The contacted silver nanowires are finally transferred to a leakage radiation microscope for surface plasmon excitation and characterization
8,9
. Surface plasmons are launched in the nanowires by focusing a near infrared laser beam on a diffraction-limited spot overlapping one nanowire extremity
5,9
. For sufficiently large nanowires, the surface plasmon mode leaks into the glass substrate
9,10
. This leakage radiation is readily detected, imaged, and analyzed in the different conjugate planes in leakage radiation microscopy
9,11
. The electrical terminals do not affect the plasmon propagation. However, a current-induced morphological deterioration of the nanowire drastically degrades the flow of surface plasmons. The combination of surface plasmon leakage radiation microscopy with a simultaneous analysis of the nanowire electrical transport characteristics reveals the intrinsic limitations of such plasmonic circuitry.
Physics, Issue 82, light transmission, optical waveguides, photonics, plasma oscillations, plasma waves, electron motion in conductors, nanofabrication, Information Transport, plasmonics, Silver Nanowires, Leakage radiation microscopy, Electromigration
51048
Harmonic Nanoparticles for Regenerative Research
Institutions: University of Geneva, University of Geneva, École Polytechnique Fédérale de Lausanne, Trinity College Dublin, Trinity College Dublin, Nikon AG Instruments.
In this visualized experiment, protocol details are provided for
in vitro
labeling of human embryonic stem cells (hESC) with second harmonic generation nanoparticles (HNPs). The latter are a new family of probes recently introduced for labeling biological samples for multi-photon imaging. HNPs are capable of doubling the frequency of excitation light by the nonlinear optical process of second harmonic generation with no restriction on the excitation wavelength. Multi-photon based methodologies for hESC differentiation into cardiac clusters (maintained as long term air-liquid cultures) are presented in detail. In particular, evidence on how to maximize the intense second harmonic (SH) emission of isolated HNPs during 3D monitoring of beating cardiac tissue in 3D is shown. The analysis of the resulting images to retrieve 3D displacement patterns is also detailed.
Bioengineering, Issue 87, multi-photon imaging, human embryonic stem cells (ESC), nanoparticles, embryoid bodies (EBs), cardiomyocyte differentiation, cardiac contraction, air-liquid cultures
51333
Formulation of Diblock Polymeric Nanoparticles through Nanoprecipitation Technique
Institutions: University of North Carolina School of Medicine, University of North Carolina .
Nanotechnology is a relatively new branch of science that involves harnessing the unique properties of particles that are nanometers in scale (nanoparticles). Nanoparticles can be engineered in a precise fashion where their size, composition and surface chemistry can be carefully controlled. This enables unprecedented freedom to modify some of the fundamental properties of their cargo, such as solubility, diffusivity, biodistribution, release characteristics and immunogenicity. Since their inception, nanoparticles have been utilized in many areas of science and medicine, including drug delivery, imaging, and cell biology
1-4
. However, it has not been fully utilized outside of "nanotechnology laboratories" due to perceived technical barrier. In this article, we describe a simple method to synthesize a polymer based nanoparticle platform that has a wide range of potential applications. The first step is to synthesize a diblock co-polymer that has both a hydrophobic domain and hydrophilic domain. Using PLGA and PEG as model polymers, we described a conjugation reaction using EDC/NHS chemistry
5
(Fig 1). We also discuss the polymer purification process. The synthesized diblock co-polymer can self-assemble into nanoparticles in the nanoprecipitation process through hydrophobic-hydrophilic interactions. The described polymer nanoparticle is very versatile. The hydrophobic core of the nanoparticle can be utilized to carry poorly soluble drugs for drug delivery experiments6. Furthermore, the nanoparticles can overcome the problem of toxic solvents for poorly soluble molecular biology reagents, such as wortmannin, which requires a solvent like DMSO. However, DMSO can be toxic to cells and interfere with the experiment. These poorly soluble drugs and reagents can be effectively delivered using polymer nanoparticles with minimal toxicity. Polymer nanoparticles can also be loaded with fluorescent dye and utilized for intracellular trafficking studies. Lastly, these polymer nanoparticles can be conjugated to targeting ligands through surface PEG. Such targeted nanoparticles can be utilized to label specific epitopes on or in cells
7-10
.
Bioengineering, Issue 55, Nanoparticles, nanomedicine, drug delivery, polymeric micelles, polymeric nanoparticles, diblock co-polymers, nanoplatform, nanoparticle molecular imaging, polymer conjugation.
3398
Viral Nanoparticles for In vivo Tumor Imaging
Institutions: Case Western Reserve University , Case Western Reserve University .

The use of nanomaterials has the potential to revolutionize materials science and medicine. Currently, a number of different nanoparticles are being investigated for applications in imaging and therapy. Viral nanoparticles (VNPs) derived from plants can be regarded as self-assembled bionanomaterials with defined sizes and shapes. Plant viruses under investigation in the Steinmetz lab include icosahedral particles formed by
Cowpea mosaic virus
(CPMV) and
Brome mosaic virus
(BMV), both of which are 30 nm in diameter. We are also developing rod-shaped and filamentous structures derived from the following plant viruses:
Tobacco mosaic virus
(TMV), which forms rigid rods with dimensions of 300 nm by 18 nm, and
Potato virus X
(PVX), which form filamentous particles 515 nm in length and 13 nm in width (
the reader is referred to refs. 1 and 2 for further information on VNPs)
. From a materials scientist's point of view, VNPs are attractive building blocks for several reasons: the particles are monodisperse, can be produced with ease on large scale
in planta
, are exceptionally stable, and biocompatible. Also, VNPs are "programmable" units, which can be specifically engineered using genetic modification or chemical bioconjugation methods
3
. The structure of VNPs is known to atomic resolution, and modifications can be carried out with spatial precision at the atomic level
4
, a level of control that cannot be achieved using synthetic nanomaterials with current state-of-the-art technologies. In this paper, we describe the propagation of CPMV, PVX, TMV, and BMV in
Vigna ungiuculata
and
Nicotiana benthamiana
plants. Extraction and purification protocols for each VNP are given. Methods for characterization of purified and chemically-labeled VNPs are described. In this study, we focus on chemical labeling of VNPs with fluorophores (
e.g.
Alexa Fluor 647) and polyethylene glycol (PEG). The dyes facilitate tracking and detection of the VNPs
5-10
, and PEG reduces immunogenicity of the proteinaceous nanoparticles while enhancing their pharmacokinetics
8,11
. We demonstrate tumor homing of PEGylated VNPs using a mouse xenograft tumor model. A combination of fluorescence imaging of tissues
ex vivo
using Maestro Imaging System, fluorescence quantification in homogenized tissues, and confocal microscopy is used to study biodistribution. VNPs are cleared via the reticuloendothelial system (RES); tumor homing is achieved passively via the enhanced permeability and retention (EPR) effect
12
. The VNP nanotechnology is a powerful plug-and-play technology to image and treat sites of disease
in vivo
. We are further developing VNPs to carry drug cargos and clinically-relevant imaging moieties, as well as tissue-specific ligands to target molecular receptors overexpressed in cancer and cardiovascular disease.
Cancer Biology, Issue 69, Bioengineering, Biomedical Engineering, Molecular Biology, Virology, Oncology, Viral nanoparticles, bioconjugate chemistry, tumor xenograft mouse model, fluorescence imaging
4352
Magnetic Tweezers for the Measurement of Twist and Torque
Institutions: Delft University of Technology.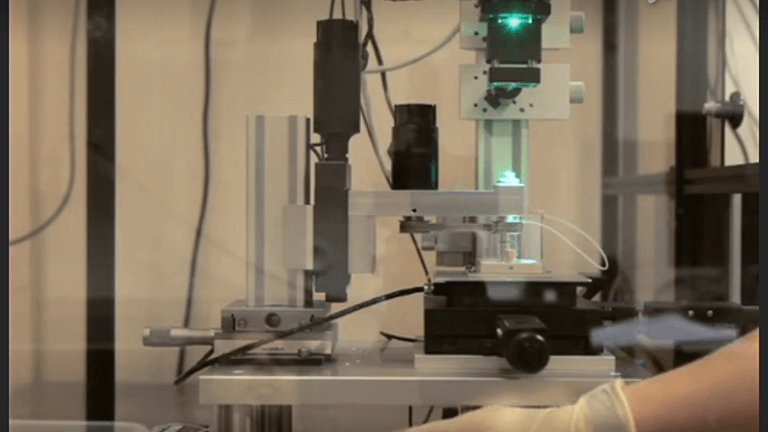 Single-molecule techniques make it possible to investigate the behavior of individual biological molecules in solution in real time. These techniques include so-called force spectroscopy approaches such as atomic force microscopy, optical tweezers, flow stretching, and magnetic tweezers. Amongst these approaches, magnetic tweezers have distinguished themselves by their ability to apply torque while maintaining a constant stretching force. Here, it is illustrated how such a "conventional" magnetic tweezers experimental configuration can, through a straightforward modification of its field configuration to minimize the magnitude of the transverse field, be adapted to measure the degree of twist in a biological molecule. The resulting configuration is termed the freely-orbiting magnetic tweezers. Additionally, it is shown how further modification of the field configuration can yield a transverse field with a magnitude intermediate between that of the "conventional" magnetic tweezers and the freely-orbiting magnetic tweezers, which makes it possible to directly measure the torque stored in a biological molecule. This configuration is termed the magnetic torque tweezers. The accompanying video explains in detail how the conversion of conventional magnetic tweezers into freely-orbiting magnetic tweezers and magnetic torque tweezers can be accomplished, and demonstrates the use of these techniques. These adaptations maintain all the strengths of conventional magnetic tweezers while greatly expanding the versatility of this powerful instrument.
Bioengineering, Issue 87, magnetic tweezers, magnetic torque tweezers, freely-orbiting magnetic tweezers, twist, torque, DNA, single-molecule techniques
51503
Compact Quantum Dots for Single-molecule Imaging
Institutions: Emory University, Georgia Institute of Technology .

Single-molecule imaging is an important tool for understanding the mechanisms of biomolecular function and for visualizing the spatial and temporal heterogeneity of molecular behaviors that underlie cellular biology
1-4
. To image an individual molecule of interest, it is typically conjugated to a fluorescent tag (dye, protein, bead, or quantum dot) and observed with epifluorescence or total internal reflection fluorescence (TIRF) microscopy. While dyes and fluorescent proteins have been the mainstay of fluorescence imaging for decades, their fluorescence is unstable under high photon fluxes necessary to observe individual molecules, yielding only a few seconds of observation before complete loss of signal. Latex beads and dye-labeled beads provide improved signal stability but at the expense of drastically larger hydrodynamic size, which can deleteriously alter the diffusion and behavior of the molecule under study. Quantum dots (QDs) offer a balance between these two problematic regimes. These nanoparticles are composed of semiconductor materials and can be engineered with a hydrodynamically compact size with exceptional resistance to photodegradation
5
. Thus in recent years QDs have been instrumental in enabling long-term observation of complex macromolecular behavior on the single molecule level. However these particles have still been found to exhibit impaired diffusion in crowded molecular environments such as the cellular cytoplasm and the neuronal synaptic cleft, where their sizes are still too large
4,6,7
. Recently we have engineered the cores and surface coatings of QDs for minimized hydrodynamic size, while balancing offsets to colloidal stability, photostability, brightness, and nonspecific binding that have hindered the utility of compact QDs in the past
8,9
. The goal of this article is to demonstrate the synthesis, modification, and characterization of these optimized nanocrystals, composed of an alloyed Hg
x
Cd
1-x
Se core coated with an insulating Cd
y
Zn
1-y
S shell, further coated with a multidentate polymer ligand modified with short polyethylene glycol (PEG) chains (
Figure 1
). Compared with conventional CdSe nanocrystals, Hg
x
Cd
1-x
Se alloys offer greater quantum yields of fluorescence, fluorescence at red and near-infrared wavelengths for enhanced signal-to-noise in cells, and excitation at non-cytotoxic visible wavelengths. Multidentate polymer coatings bind to the nanocrystal surface in a closed and flat conformation to minimize hydrodynamic size, and PEG neutralizes the surface charge to minimize nonspecific binding to cells and biomolecules. The end result is a brightly fluorescent nanocrystal with emission between 550-800 nm and a total hydrodynamic size near 12 nm. This is in the same size range as many soluble globular proteins in cells, and substantially smaller than conventional PEGylated QDs (25-35 nm).
Physics, Issue 68, Biomedical Engineering, Chemistry, Nanotechnology, Nanoparticle, nanocrystal, synthesis, fluorescence, microscopy, imaging, conjugation, dynamics, intracellular, receptor
4236
In Situ SIMS and IR Spectroscopy of Well-defined Surfaces Prepared by Soft Landing of Mass-selected Ions
Institutions: Pacific Northwest National Laboratory.

Soft landing of mass-selected ions onto surfaces is a powerful approach for the highly-controlled preparation of materials that are inaccessible using conventional synthesis techniques. Coupling soft landing with
in situ
characterization using secondary ion mass spectrometry (SIMS) and infrared reflection absorption spectroscopy (IRRAS) enables analysis of well-defined surfaces under clean vacuum conditions. The capabilities of three soft-landing instruments constructed in our laboratory are illustrated for the representative system of surface-bound organometallics prepared by soft landing of mass-selected ruthenium tris(bipyridine) dications, [Ru(bpy)
3
]
2+
(bpy = bipyridine), onto carboxylic acid terminated self-assembled monolayer surfaces on gold (COOH-SAMs).
In situ
time-of-flight (TOF)-SIMS provides insight into the reactivity of the soft-landed ions. In addition, the kinetics of charge reduction, neutralization and desorption occurring on the COOH-SAM both during and after ion soft landing are studied using
in situ
Fourier transform ion cyclotron resonance (FT-ICR)-SIMS measurements.
In situ
IRRAS experiments provide insight into how the structure of organic ligands surrounding metal centers is perturbed through immobilization of organometallic ions on COOH-SAM surfaces by soft landing. Collectively, the three instruments provide complementary information about the chemical composition, reactivity and structure of well-defined species supported on surfaces.
Chemistry, Issue 88, soft landing, mass selected ions, electrospray, secondary ion mass spectrometry, infrared spectroscopy, organometallic, catalysis
51344
Tangential Flow Ultrafiltration: A "Green" Method for the Size Selection and Concentration of Colloidal Silver Nanoparticles
Institutions: Wright State University, Wright State University.

Nowadays, AgNPs are extensively used in the manufacture of consumer products,
1
water disinfectants,
2
therapeutics,
1, 3
and biomedical devices
4
due to their powerful antimicrobial properties.
3-6
These nanoparticle applications are strongly influenced by the AgNP size and aggregation state. Many challenges exist in the controlled fabrication
7
and size-based isolation
4,8
of unfunctionalized, homogenous AgNPs that are free from chemically aggressive capping/stabilizing agents or organic solvents.
7-13
Limitations emerge from the toxicity of reagents, high costs or reduced efficiency of the AgNP synthesis or isolation methods (
e.g.
, centrifugation, size-dependent solubility, size-exclusion chromatography, etc.).
10,14-18
To overcome this, we recently showed that TFU permits greater control over the size, concentration and aggregation state of Creighton AgNPs (300 ml of 15.3 μg ml
-1
down to 10 ml of 198.7 μg ml
-1
) than conventional methods of isolation such as ultracentrifugation.
19
TFU is a recirculation method commonly used for the weight-based isolation of proteins, viruses and cells.
20,21
Briefly, the liquid sample is passed through a series of hollow fiber membranes with pore size ranging from 1,000 kD to 10 kD. Smaller suspended or dissolved constituents in the sample will pass through the porous barrier together with the solvent (filtrate), while the larger constituents are retained (retentate). TFU may be considered a "green" method as it neither damages the sample nor requires additional solvent to eliminate toxic excess reagents and byproducts. Furthermore, TFU may be applied to a large variety of nanoparticles as both hydrophobic and hydrophilic filters are available. The two main objectives of this study were: 1) to illustrate the experimental aspects of the TFU approach through an invited video experience and 2) to demonstrate the feasibility of the TFU method for larger volumes of colloidal nanoparticles and smaller volumes of retentate. First, unfuctionalized AgNPs (4 L, 15.2 μg ml
-1
) were synthesized using the well-established Creighton method
22,23
by the reduction of AgNO
3
with NaBH
4
. AgNP polydispersity was then minimized via a 3-step TFU using a 50-nm filter (460 cm
2
) to remove AgNPs and AgNP-aggregates larger than 50 nm, followed by two 100-kD (200 cm
2
and 20 cm
2
) filters to concentrate the AgNPs. Representative samples were characterized using transmission electron microscopy, UV-Vis absorption spectrophotometry, Raman spectroscopy, and inductively coupled plasma optical emission spectroscopy. The final retentate consisted of highly concentrated (4 ml, 8,539.9 μg ml
-1
) yet lowly aggregated and homogeneous AgNPs of 1-20 nm in diameter. This corresponds to a silver concentration yield of about 62%.
Chemistry, Issue 68, Biomedical Engineering, Chemical Engineering, Nanotechnology, silver nanoparticles, size selection, concentration, tangential flow ultrafiltration
4167
Analyzing the Movement of the Nauplius 'Artemia salina' by Optical Tracking of Plasmonic Nanoparticles
Institutions: Ludwig-Maximilians-Universität.

We demonstrate how optical tweezers may provide a sensitive tool to analyze the fluidic vibrations generated by the movement of small aquatic organisms. A single gold nanoparticle held by an optical tweezer is used as a sensor to quantify the rhythmic motion of a Nauplius larva (
Artemia salina
) in a water sample. This is achieved by monitoring the time dependent displacement of the trapped nanoparticle as a consequence of the Nauplius activity. A Fourier analysis of the nanoparticle's position then yields a frequency spectrum that is characteristic to the motion of the observed species. This experiment demonstrates the capability of this method to measure and characterize the activity of small aquatic larvae without the requirement to observe them directly and to gain information about the position of the larvae with respect to the trapped particle. Overall, this approach could give an insight on the vitality of certain species found in an aquatic ecosystem and could expand the range of conventional methods for analyzing water samples.
Biophysics, Issue 89, optical tweezers, particle tracking, plasmonic nanoparticles, Nauplius, bioindicator, water sample analysis
51502
A Technique to Functionalize and Self-assemble Macroscopic Nanoparticle-ligand Monolayer Films onto Template-free Substrates
Institutions: Naval Research Laboratory.
This protocol describes a self-assembly technique to create macroscopic monolayer films composed of ligand-coated nanoparticles
1
,
2
. The simple, robust and scalable technique efficiently functionalizes metallic nanoparticles with thiol-ligands in a miscible water/organic solvent mixture allowing for rapid grafting of thiol groups onto the gold nanoparticle surface. The hydrophobic ligands on the nanoparticles then quickly phase separate the nanoparticles from the aqueous based suspension and confine them to the air-fluid interface. This drives the ligand-capped nanoparticles to form monolayer domains at the air-fluid interface.  The use of water-miscible organic solvents is important as it enables the transport of the nanoparticles from the interface onto template-free substrates.  The flow is mediated by a surface tension gradient
3
,
4
and creates macroscopic, high-density, monolayer nanoparticle-ligand films.  This self-assembly technique may be generalized to include the use of particles of different compositions, size, and shape and may lead to an efficient assembly method to produce low-cost, macroscopic, high-density, monolayer nanoparticle films for wide-spread applications.
Chemistry, Issue 87, phase transfer, nanoparticle, self-assembly, bottom-up, fabrication, low-cost, monolayer, thin film, nanostructure, array, metamaterial
51282
Regioselective Biolistic Targeting in Organotypic Brain Slices Using a Modified Gene Gun
Institutions: University of Toronto, MRC-Laboratory of Molecular Biology, Cambridge, UK.

Transfection of DNA has been invaluable for biological sciences and with recent advances to organotypic brain slice preparations, the effect of various heterologous genes could thus be investigated easily while maintaining many aspects of
in vivo
biology. There has been increasing interest to transfect terminally differentiated neurons for which conventional transfection methods have been fraught with difficulties such as low yields and significant losses in viability. Biolistic transfection can circumvent many of these difficulties yet only recently has this technique been modified so that it is amenable for use in mammalian tissues. New modifications to the accelerator chamber have enhanced the gene gun's firing accuracy and increased its depths of penetration while also allowing the use of lower gas pressure (50 psi) without loss of transfection efficiency as well as permitting a focused regioselective spread of the particles to within 3 mm. In addition, this technique is straight forward and faster to perform than tedious microinjections. Both transient and stable expression are possible with nanoparticle bombardment where episomal expression can be detected within 24 hr and the cell survival was shown to be better than, or at least equal to, conventional methods. This technique has however one crucial advantage: it permits the transfection to be localized within a single restrained radius thus enabling the user to anatomically isolate the heterologous gene's effects. Here we present an in-depth protocol to prepare viable adult organotypic slices and submit them to regioselective transfection using an improved gene gun.
Neuroscience, Issue 92, Biolistics, gene gun, organotypic brain slices, Diolistic, gene delivery, staining
52148
Therapeutic Gene Delivery and Transfection in Human Pancreatic Cancer Cells using Epidermal Growth Factor Receptor-targeted Gelatin Nanoparticles
Institutions: Northeastern University.

More than 32,000 patients are diagnosed with pancreatic cancer in the United States per year and the disease is associated with very high mortality
1
. Urgent need exists to develop novel clinically-translatable therapeutic strategies that can improve on the dismal survival statistics of pancreatic cancer patients. Although gene therapy in cancer has shown a tremendous promise, the major challenge is in the development of safe and effective delivery system, which can lead to sustained transgene expression. Gelatin is one of the most versatile natural biopolymer, widely used in food and pharmaceutical products. Previous studies from our laboratory have shown that type B gelatin could physical encapsulate DNA, which preserved the supercoiled structure of the plasmid and improved transfection efficiency upon intracellular delivery. By thiolation of gelatin, the sulfhydryl groups could be introduced into the polymer and would form disulfide bond within nanoparticles, which stabilizes the whole complex and once disulfide bond is broken due to the presence of glutathione in cytosol, payload would be released
2-5
. Poly(ethylene glycol) (PEG)-modified GENS, when administered into the systemic circulation, provides long-circulation times and preferentially targets to the tumor mass due to the hyper-permeability of the neovasculature by the
enhanced permeability and retention
effect
6
. Studies have shown over-expression of the epidermal growth factor receptor (EGFR) on Panc-1 human pancreatic adenocarcinoma cells
7
. In order to actively target pancreatic cancer cell line, EGFR specific peptide was conjugated on the particle surface through a PEG spacer.
8
Most anti-tumor gene therapies are focused on administration of the tumor suppressor genes, such as wild-type p53 (wt-p53), to restore the pro-apoptotic function in the cells
9
. The p53 mechanism functions as a critical signaling pathway in cell growth, which regulates apoptosis, cell cycle arrest, metabolism and other processes
10
. In pancreatic cancer, most cells have mutations in p53 protein, causing the loss of apoptotic activity. With the introduction of wt-p53, the apoptosis could be repaired and further triggers cell death in cancer cells
11
. Based on the above rationale, we have designed EGFR targeting peptide-modified thiolated gelatin nanoparticles for wt-p53 gene delivery and evaluated delivery efficiency and transfection in Panc-1 cells.
Bioengineering, Issue 59, Gelatin Nanoparticle, Gene Therapy, Targeted Delivery, Pancreatic Cancer, Epidermal Growth Factor Receptor, EGFR
3612
Simultaneous Multicolor Imaging of Biological Structures with Fluorescence Photoactivation Localization Microscopy
Institutions: University of Maine.

Localization-based super resolution microscopy can be applied to obtain a spatial map (image) of the distribution of individual fluorescently labeled single molecules within a sample with a spatial resolution of tens of nanometers. Using either photoactivatable (PAFP) or photoswitchable (PSFP) fluorescent proteins fused to proteins of interest, or organic dyes conjugated to antibodies or other molecules of interest, fluorescence photoactivation localization microscopy (FPALM) can simultaneously image multiple species of molecules within single cells. By using the following approach, populations of large numbers (thousands to hundreds of thousands) of individual molecules are imaged in single cells and localized with a precision of ~10-30 nm. Data obtained can be applied to understanding the nanoscale spatial distributions of multiple protein types within a cell. One primary advantage of this technique is the dramatic increase in spatial resolution: while diffraction limits resolution to ~200-250 nm in conventional light microscopy, FPALM can image length scales more than an order of magnitude smaller. As many biological hypotheses concern the spatial relationships among different biomolecules, the improved resolution of FPALM can provide insight into questions of cellular organization which have previously been inaccessible to conventional fluorescence microscopy. In addition to detailing the methods for sample preparation and data acquisition, we here describe the optical setup for FPALM. One additional consideration for researchers wishing to do super-resolution microscopy is cost: in-house setups are significantly cheaper than most commercially available imaging machines. Limitations of this technique include the need for optimizing the labeling of molecules of interest within cell samples, and the need for post-processing software to visualize results. We here describe the use of PAFP and PSFP expression to image two protein species in fixed cells. Extension of the technique to living cells is also described.
Basic Protocol, Issue 82, Microscopy, Super-resolution imaging, Multicolor, single molecule, FPALM, Localization microscopy, fluorescent proteins
50680
Template Directed Synthesis of Plasmonic Gold Nanotubes with Tunable IR Absorbance
Institutions: University of Toronto.

A nearly parallel array of pores can be produced by anodizing aluminum foils in acidic environments
1, 2
. Applications of anodic aluminum oxide (AAO) membranes have been under development since the 1990's and have become a common method to template the synthesis of high aspect ratio nanostructures, mostly by electrochemical growth or pore-wetting. Recently, these membranes have become commercially available in a wide range of pore sizes and densities, leading to an extensive library of functional nanostructures being synthesized from AAO membranes. These include composite nanorods, nanowires and nanotubes made of metals, inorganic materials or polymers
3-10
. Nanoporous membranes have been used to synthesize nanoparticle and nanotube arrays that perform well as refractive index sensors, plasmonic biosensors, or surface enhanced Raman spectroscopy (SERS) substrates
11-16
, as well as a wide range of other fields such as photo-thermal heating
17
, permselective transport
18, 19
, catalysis
20
, microfluidics
21
, and electrochemical sensing
22, 23
. Here, we report a novel procedure to prepare gold nanotubes in AAO membranes. Hollow nanostructures have potential application in plasmonic and SERS sensing, and we anticipate these gold nanotubes will allow for high sensitivity and strong plasmon signals, arising from decreased material dampening
15
.
Chemistry, Issue 74, Chemical Engineering, Materials Science, Physics, Nanotechnology, Chemistry and Materials (General), Composite Materials, Inorganic, Organic and Physical Chemistry, Metals and Metallic Materials, Gold, nanotubes, anodic aluminum oxide templates, surface plasmon resonance, sensing, refractive index, template directed synthesis, nano
50420
Detection of Fluorescent Nanoparticle Interactions with Primary Immune Cell Subpopulations by Flow Cytometry
Institutions: Istituto Italiano di Tecnologia, University of Pisa, Istituto Italiano di Tecnologia.

Engineered nanoparticles are endowed with very promising properties for therapeutic and diagnostic purposes. This work describes a fast and reliable method of analysis by flow cytometry to study nanoparticle interaction with immune cells. Primary immune cells can be easily purified from human or mouse tissues by antibody-mediated magnetic isolation. In the first instance, the different cell populations running in a flow cytometer can be distinguished by the forward-scattered light (FSC), which is proportional to cell size, and the side-scattered light (SSC), related to cell internal complexity. Furthermore, fluorescently labeled antibodies against specific cell surface receptors permit the identification of several subpopulations within the same sample. Often, all these features vary when cells are boosted by external stimuli that change their physiological and morphological state. Here, 50 nm FITC-SiO
2
nanoparticles are used as a model to identify the internalization of nanostructured materials in human blood immune cells. The cell fluorescence and side-scattered light increase after incubation with nanoparticles allowed us to define time and concentration dependence of nanoparticle-cell interaction. Moreover, such protocol can be extended to investigate Rhodamine-SiO
2
nanoparticle interaction with primary microglia, the central nervous system resident immune cells, isolated from mutant mice that specifically express the Green Fluorescent Protein (GFP) in the monocyte/macrophage lineage. Finally, flow cytometry data related to nanoparticle internalization into the cells have been confirmed by confocal microscopy.
Immunology, Issue 85, Flow cytometry, blood leukocytes, microglia, Nanoparticles, internalization, Fluorescence, cell purification
51345