Fine-tuning the Size and Minimizing the Noise of Solid-state Nanopores
Published: 10-31-2013
ABSTRACT
Solid-state nanopores have emerged as a versatile tool for the characterization of single biomolecules such as nucleic acids and proteins1. However, the creation of a nanopore in a thin insulating membrane remains challenging. Fabrication methods involving specialized focused electron beam systems can produce well-defined nanopores, but yield of reliable and low-noise nanopores in commercially available membranes remains low2,3 and size control is nontrivial4,5. Here, the application of high electric fields to fine-tune the size of the nanopore while ensuring optimal low-noise performance is demonstrated. These short pulses of high electric field are used to produce a pristine electrical signal and allow for enlarging of nanopores with subnanometer precision upon prolonged exposure. This method is performed in situ in an aqueous environment using standard laboratory equipment, improving the yield and reproducibility of solid-state nanopore fabrication.
18 Related JoVE Articles!
Monitoring Protein Adsorption with Solid-state Nanopores
Institutions: Syracuse University.

Solid-state nanopores have been used to perform measurements at the single-molecule level to examine the local structure and flexibility of nucleic acids
1-6
, the unfolding of proteins
7
, and binding affinity of different ligands
8
. By coupling these nanopores to the resistive-pulse technique
9-12
, such measurements can be done under a wide variety of conditions and without the need for labeling
3
. In the resistive-pulse technique, an ionic salt solution is introduced on both sides of the nanopore. Therefore, ions are driven from one side of the chamber to the other by an applied transmembrane potential, resulting in a steady current. The partitioning of an analyte into the nanopore causes a well-defined deflection in this current, which can be analyzed to extract single-molecule information. Using this technique, the adsorption of single proteins to the nanopore walls can be monitored under a wide range of conditions
13
. Protein adsorption is growing in importance, because as microfluidic devices shrink in size, the interaction of these systems with single proteins becomes a concern. This protocol describes a rapid assay for protein binding to nitride films, which can readily be extended to other thin films amenable to nanopore drilling, or to functionalized nitride surfaces. A variety of proteins may be explored under a wide range of solutions and denaturing conditions. Additionally, this protocol may be used to explore more basic problems using nanopore spectroscopy.
Bioengineering, Issue 58, Solid-state nanopore, S/TEM, single-molecule biophysics, protein adsorption, resistive-pulse technique, nanopore spectroscopy
3560
Ultrahigh Density Array of Vertically Aligned Small-molecular Organic Nanowires on Arbitrary Substrates
Institutions: University of Alberta.
In recent years π-conjugated organic semiconductors have emerged as the active material in a number of diverse applications including large-area, low-cost displays, photovoltaics, printable and flexible electronics and organic spin valves. Organics allow (a) low-cost, low-temperature processing and (b) molecular-level design of electronic, optical and spin transport characteristics. Such features are not readily available for mainstream inorganic semiconductors, which have enabled organics to carve a niche in the silicon-dominated electronics market. The first generation of organic-based devices has focused on thin film geometries, grown by physical vapor deposition or solution processing. However, it has been realized that organic
nanostructures
can be used to enhance performance of above-mentioned applications and significant effort has been invested in exploring methods for organic nanostructure fabrication. A particularly interesting class of organic nanostructures is the one in which
vertically oriented organic nanowires, nanorods or nanotubes are organized in a well-regimented, high-density array
. Such structures are highly versatile and are ideal morphological architectures for various applications such as chemical sensors, split-dipole nanoantennas, photovoltaic devices with radially heterostructured "core-shell" nanowires, and memory devices with a cross-point geometry. Such architecture is generally realized by a template-directed approach. In the past this method has been used to grow metal and inorganic semiconductor nanowire arrays. More recently π-conjugated polymer nanowires have been grown within nanoporous templates. However, these approaches have had limited success in growing nanowires of technologically important π-conjugated
small molecular weight organics
, such as tris-8-hydroxyquinoline aluminum (Alq
3
), rubrene and methanofullerenes, which are commonly used in diverse areas including organic displays, photovoltaics, thin film transistors and spintronics. Recently we have been able to address the above-mentioned issue by employing a novel "centrifugation-assisted" approach. This method therefore broadens the spectrum of organic materials that can be patterned in a vertically ordered nanowire array. Due to the technological importance of Alq
3
, rubrene and methanofullerenes, our method can be used to explore how the nanostructuring of these materials affects the performance of aforementioned organic devices. The purpose of this article is to describe the technical details of the above-mentioned protocol, demonstrate how this process can be extended to grow small-molecular organic nanowires on
arbitrary substrates
and finally, to discuss the critical steps, limitations, possible modifications, trouble-shooting and future applications.
Physics, Issue 76, Electrical Engineering, Chemistry, Chemical Engineering, Nanotechnology, nanodevices (electronic), semiconductor devices, solid state devices, thin films (theory, deposition and growth), crystal growth (general), Organic semiconductors, small molecular organics, organic nanowires, nanorods and nanotubes, bottom-up nanofabrication, electrochemical self-assembly, anodic aluminum oxide (AAO), template-assisted synthesis of nanostructures, Raman spectrum, field emission scanning electron microscopy, FESEM
50706
Quantification and Size-profiling of Extracellular Vesicles Using Tunable Resistive Pulse Sensing
Institutions: University Medical Center Utrecht, University Medical Center Utrecht.
Extracellular vesicles (EVs), including 'microvesicles' and 'exosomes', are highly abundant in bodily fluids. Recent years have witnessed a tremendous increase in interest in EVs. EVs have been shown to play important roles in various physiological and pathological processes, including coagulation, immune responses, and cancer. In addition, EVs have potential as therapeutic agents, for instance as drug delivery vehicles or as regenerative medicine. Because of their small size (50 to 1,000 nm) accurate quantification and size profiling of EVs is technically challenging. This protocol describes how tunable resistive pulse sensing (tRPS) technology, using the qNano system, can be used to determine the concentration and size of EVs. The method, which relies on the detection of EVs upon their transfer through a nano sized pore, is relatively fast, suffices the use of small sample volumes and does not require the purification and concentration of EVs. Next to the regular operation protocol an alternative approach is described using samples spiked with polystyrene beads of known size and concentration. This real-time calibration technique can be used to overcome technical hurdles encountered when measuring EVs directly in biological fluids.
Bioengineering, Issue 92, exosomes, microvesicles, extracellular vesicles, quantification, characterization, Tunable Resistive Pulse Sensing, qNano
51623
Low Molecular Weight Protein Enrichment on Mesoporous Silica Thin Films for Biomarker Discovery
Institutions: The Methodist Hospital Research Institute, National Center for Nanoscience and Technology.

The identification of circulating biomarkers holds great potential for non invasive approaches in early diagnosis and prognosis, as well as for the monitoring of therapeutic efficiency.
1-3
The circulating low molecular weight proteome (LMWP) composed of small proteins shed from tissues and cells or peptide fragments derived from the proteolytic degradation of larger proteins, has been associated with the pathological condition in patients and likely reflects the state of disease.
4,5
Despite these potential clinical applications, the use of Mass Spectrometry (MS) to profile the LMWP from biological fluids has proven to be very challenging due to the large dynamic range of protein and peptide concentrations in serum.
6
Without sample pre-treatment, some of the more highly abundant proteins obscure the detection of low-abundance species in serum/plasma. Current proteomic-based approaches, such as two-dimensional polyacrylamide gel-electrophoresis (2D-PAGE) and shotgun proteomics methods are labor-intensive, low throughput and offer limited suitability for clinical applications.
7-9
Therefore, a more effective strategy is needed to isolate LMWP from blood and allow the high throughput screening of clinical samples. Here, we present a fast, efficient and reliable multi-fractionation system based on mesoporous silica chips to specifically target and enrich LMWP.
10,11
Mesoporous silica (MPS) thin films with tunable features at the nanoscale were fabricated using the triblock copolymer template pathway. Using different polymer templates and polymer concentrations in the precursor solution, various pore size distributions, pore structures, connectivity and surface properties were determined and applied for selective recovery of low mass proteins. The selective parsing of the enriched peptides into different subclasses according to their physicochemical properties will enhance the efficiency of recovery and detection of low abundance species. In combination with mass spectrometry and statistic analysis, we demonstrated the correlation between the nanophase characteristics of the mesoporous silica thin films and the specificity and efficacy of low mass proteome harvesting. The results presented herein reveal the potential of the nanotechnology-based technology to provide a powerful alternative to conventional methods for LMWP harvesting from complex biological fluids. Because of the ability to tune the material properties, the capability for low-cost production, the simplicity and rapidity of sample collection, and the greatly reduced sample requirements for analysis, this novel nanotechnology will substantially impact the field of proteomic biomarker research and clinical proteomic assessment.
Bioengineering, Issue 62, Nanoporous silica chip, Low molecular weight proteomics, Peptidomics, MALDI-TOF mass spectrometry, early diagnostics, proteomics
3876
Fabricating Nanogaps by Nanoskiving
Institutions: University of Groningen.

There are several methods of fabricating nanogaps with controlled spacings, but the precise control over the sub-nanometer spacing between two electrodes-and generating them in practical quantities-is still challenging. The preparation of nanogap electrodes using nanoskiving, which is a form of edge lithography, is a fast, simple and powerful technique. This method is an entirely mechanical process which does not include any photo- or electron-beam lithographic steps and does not require any special equipment or infrastructure such as clean rooms. Nanoskiving is used to fabricate electrically addressable nanogaps with control over all three dimensions; the smallest dimension of these structures is defined by the thickness of the sacrificial layer (Al or Ag) or self-assembled monolayers. These wires can be manually positioned by transporting them on drops of water and are directly electrically-addressable; no further lithography is required to connect them to an electrometer.
Chemistry, Issue 75, Materials Science, Chemical Engineering, Electrical Engineering, Physics, Nanotechnology, nanodevices (electronic), Nanoskiving, nanogaps, nanofabrication, molecular electronics, nanowires, fabrication, etching, ultramicrotome, scanning electron microscopy, SEM
50406
Fabrication of Spatially Confined Complex Oxides
Institutions: Oak Ridge National Laboratory, University of Tennessee, Knoxville.
Complex materials such as high Tc superconductors, multiferroics, and colossal magnetoresistors have electronic and magnetic properties that arise from the inherent strong electron correlations that reside within them. These materials can also possess electronic phase separation in which regions of vastly different resistive and magnetic behavior can coexist within a single crystal alloy material. By reducing the scale of these materials to length scales at and below the inherent size of the electronic domains, novel behaviors can be exposed. Because of this and the fact that spin-charge-lattice-orbital order parameters each involve correlation lengths, spatially reducing these materials for transport measurements is a critical step in understanding the fundamental physics that drives complex behaviors. These materials also offer great potential to become the next generation of electronic devices
1-3
. Thus, the fabrication of low dimensional nano- or micro-structures is extremely important to achieve new functionality. This involves multiple controllable processes from high quality thin film growth to accurate electronic property characterization. Here, we present fabrication protocols of high quality microstructures for complex oxide manganite devices. Detailed descriptions and required equipment of thin film growth, photo-lithography, and wire-bonding are presented.
Materials Science, Issue 77, Physics, Chemistry, Chemical Engineering, Mechanical Engineering, Nanotechnology, electrical transport properties in solids, condensed matter physics, thin films (theory, deposition and growth), conductivity (solid state), Pulsed laser deposition, oxides thin films, photolithography, wire-bonding, thin film, etching, fabrication, nanofabrication
50573
Simulation, Fabrication and Characterization of THz Metamaterial Absorbers
Institutions: University of Glasgow.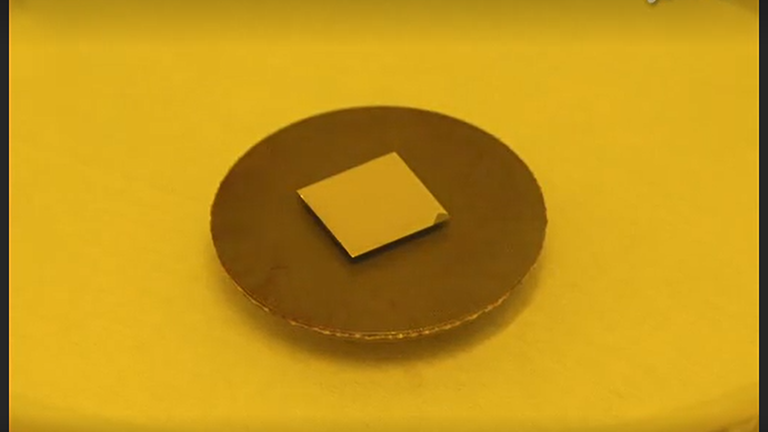 Metamaterials (MM), artificial materials engineered to have properties that may not be found in nature, have been widely explored since the first theoretical
1
and experimental demonstration
2
of their unique properties. MMs can provide a highly controllable electromagnetic response, and to date have been demonstrated in every technologically relevant spectral range including the optical
3
, near IR
4
, mid IR
5
, THz
6
, mm-wave
7
, microwave
8
and radio
9
bands. Applications include perfect lenses
10
, sensors
11
, telecommunications
12
, invisibility cloaks
13
and filters
14,15
. We have recently developed single band
16
, dual band
17
and broadband
18
THz metamaterial absorber devices capable of greater than 80% absorption at the resonance peak. The concept of a MM absorber is especially important at THz frequencies where it is difficult to find strong frequency selective THz absorbers
19
. In our MM absorber the THz radiation is absorbed in a thickness of ~ λ/20, overcoming the thickness limitation of traditional quarter wavelength absorbers. MM absorbers naturally lend themselves to THz detection applications, such as thermal sensors, and if integrated with suitable THz sources (
e.g.
QCLs), could lead to compact, highly sensitive, low cost, real time THz imaging systems.
Materials Science, Issue 70, Physics, Engineering, Metamaterial, terahertz, sensing, fabrication, clean room, simulation, FTIR, spectroscopy
50114
Using Microwave and Macroscopic Samples of Dielectric Solids to Study the Photonic Properties of Disordered Photonic Bandgap Materials
Institutions: San Francisco State University.

Recently, disordered photonic materials have been suggested as an alternative to periodic crystals for the formation of a complete photonic bandgap (PBG). In this article we will describe the methods for constructing and characterizing macroscopic disordered photonic structures using microwaves. The microwave regime offers the most convenient experimental sample size to build and test PBG media. Easily manipulated dielectric lattice components extend flexibility in building various 2D structures on top of pre-printed plastic templates. Once built, the structures could be quickly modified with point and line defects to make freeform waveguides and filters. Testing is done using a widely available Vector Network Analyzer and pairs of microwave horn antennas. Due to the scale invariance property of electromagnetic fields, the results we obtained in the microwave region can be directly applied to infrared and optical regions. Our approach is simple but delivers exciting new insight into the nature of light and disordered matter interaction. Our representative results include the first experimental demonstration of the existence of a complete and isotropic PBG in a two-dimensional (2D) hyperuniform disordered dielectric structure. Additionally we demonstrate experimentally the ability of this novel photonic structure to guide electromagnetic waves (EM) through freeform waveguides of arbitrary shape.
Physics, Issue 91, optics and photonics, photonic crystals, photonic bandgap, hyperuniform, disordered media, waveguides
51614
From Voxels to Knowledge: A Practical Guide to the Segmentation of Complex Electron Microscopy 3D-Data
Institutions: Lawrence Berkeley National Laboratory, Lawrence Berkeley National Laboratory, Lawrence Berkeley National Laboratory.

Modern 3D electron microscopy approaches have recently allowed unprecedented insight into the 3D ultrastructural organization of cells and tissues, enabling the visualization of large macromolecular machines, such as adhesion complexes, as well as higher-order structures, such as the cytoskeleton and cellular organelles in their respective cell and tissue context. Given the inherent complexity of cellular volumes, it is essential to first extract the features of interest in order to allow visualization, quantification, and therefore comprehension of their 3D organization. Each data set is defined by distinct characteristics,
e.g.
, signal-to-noise ratio, crispness (sharpness) of the data, heterogeneity of its features, crowdedness of features, presence or absence of characteristic shapes that allow for easy identification, and the percentage of the entire volume that a specific region of interest occupies. All these characteristics need to be considered when deciding on which approach to take for segmentation. The six different 3D ultrastructural data sets presented were obtained by three different imaging approaches: resin embedded stained electron tomography, focused ion beam- and serial block face- scanning electron microscopy (FIB-SEM, SBF-SEM) of mildly stained and heavily stained samples, respectively. For these data sets, four different segmentation approaches have been applied: (1) fully manual model building followed solely by visualization of the model, (2) manual tracing segmentation of the data followed by surface rendering, (3) semi-automated approaches followed by surface rendering, or (4) automated custom-designed segmentation algorithms followed by surface rendering and quantitative analysis. Depending on the combination of data set characteristics, it was found that typically one of these four categorical approaches outperforms the others, but depending on the exact sequence of criteria, more than one approach may be successful. Based on these data, we propose a triage scheme that categorizes both objective data set characteristics and subjective personal criteria for the analysis of the different data sets.
Bioengineering, Issue 90, 3D electron microscopy, feature extraction, segmentation, image analysis, reconstruction, manual tracing, thresholding
51673
Preparation and Use of Photocatalytically Active Segmented Ag|ZnO and Coaxial TiO2-Ag Nanowires Made by Templated Electrodeposition
Institutions: University of Twente.

Photocatalytically active nanostructures require a large specific surface area with the presence of many catalytically active sites for the oxidation and reduction half reactions, and fast electron (hole) diffusion and charge separation. Nanowires present suitable architectures to meet these requirements. Axially segmented Ag|ZnO and radially segmented (coaxial) TiO
2
-Ag nanowires with a diameter of 200 nm and a length of 6-20 µm were made by templated electrodeposition within the pores of polycarbonate track-etched (PCTE) or anodized aluminum oxide (AAO) membranes, respectively. In the photocatalytic experiments, the ZnO and TiO
2
phases acted as photoanodes, and Ag as cathode. No external circuit is needed to connect both electrodes, which is a key advantage over conventional photo-electrochemical cells. For making segmented Ag|ZnO nanowires, the Ag salt electrolyte was replaced after formation of the Ag segment to form a ZnO segment attached to the Ag segment. For making coaxial TiO
2
-Ag nanowires, a TiO
2
gel was first formed by the electrochemically induced sol-gel method. Drying and thermal annealing of the as-formed TiO
2
gel resulted in the formation of crystalline TiO
2
nanotubes. A subsequent Ag electrodeposition step inside the TiO
2
nanotubes resulted in formation of coaxial TiO
2
-Ag nanowires. Due to the combination of an
n
-type semiconductor (ZnO or TiO
2
) and a metal (Ag) within the same nanowire, a Schottky barrier was created at the interface between the phases. To demonstrate the photocatalytic activity of these nanowires, the Ag|ZnO nanowires were used in a photocatalytic experiment in which H
2
gas was detected upon UV illumination of the nanowires dispersed in a methanol/water mixture. After 17 min of illumination, approximately 0.2 vol% H
2
gas was detected from a suspension of ~0.1 g of Ag|ZnO nanowires in a 50 ml 80 vol% aqueous methanol solution.
Physics, Issue 87, Multicomponent nanowires, electrochemistry, sol-gel processes, photocatalysis, photochemistry, H2 evolution
51547
In Situ SIMS and IR Spectroscopy of Well-defined Surfaces Prepared by Soft Landing of Mass-selected Ions
Institutions: Pacific Northwest National Laboratory.

Soft landing of mass-selected ions onto surfaces is a powerful approach for the highly-controlled preparation of materials that are inaccessible using conventional synthesis techniques. Coupling soft landing with
in situ
characterization using secondary ion mass spectrometry (SIMS) and infrared reflection absorption spectroscopy (IRRAS) enables analysis of well-defined surfaces under clean vacuum conditions. The capabilities of three soft-landing instruments constructed in our laboratory are illustrated for the representative system of surface-bound organometallics prepared by soft landing of mass-selected ruthenium tris(bipyridine) dications, [Ru(bpy)
3
]
2+
(bpy = bipyridine), onto carboxylic acid terminated self-assembled monolayer surfaces on gold (COOH-SAMs).
In situ
time-of-flight (TOF)-SIMS provides insight into the reactivity of the soft-landed ions. In addition, the kinetics of charge reduction, neutralization and desorption occurring on the COOH-SAM both during and after ion soft landing are studied using
in situ
Fourier transform ion cyclotron resonance (FT-ICR)-SIMS measurements.
In situ
IRRAS experiments provide insight into how the structure of organic ligands surrounding metal centers is perturbed through immobilization of organometallic ions on COOH-SAM surfaces by soft landing. Collectively, the three instruments provide complementary information about the chemical composition, reactivity and structure of well-defined species supported on surfaces.
Chemistry, Issue 88, soft landing, mass selected ions, electrospray, secondary ion mass spectrometry, infrared spectroscopy, organometallic, catalysis
51344
Simultaneous Multicolor Imaging of Biological Structures with Fluorescence Photoactivation Localization Microscopy
Institutions: University of Maine.

Localization-based super resolution microscopy can be applied to obtain a spatial map (image) of the distribution of individual fluorescently labeled single molecules within a sample with a spatial resolution of tens of nanometers. Using either photoactivatable (PAFP) or photoswitchable (PSFP) fluorescent proteins fused to proteins of interest, or organic dyes conjugated to antibodies or other molecules of interest, fluorescence photoactivation localization microscopy (FPALM) can simultaneously image multiple species of molecules within single cells. By using the following approach, populations of large numbers (thousands to hundreds of thousands) of individual molecules are imaged in single cells and localized with a precision of ~10-30 nm. Data obtained can be applied to understanding the nanoscale spatial distributions of multiple protein types within a cell. One primary advantage of this technique is the dramatic increase in spatial resolution: while diffraction limits resolution to ~200-250 nm in conventional light microscopy, FPALM can image length scales more than an order of magnitude smaller. As many biological hypotheses concern the spatial relationships among different biomolecules, the improved resolution of FPALM can provide insight into questions of cellular organization which have previously been inaccessible to conventional fluorescence microscopy. In addition to detailing the methods for sample preparation and data acquisition, we here describe the optical setup for FPALM. One additional consideration for researchers wishing to do super-resolution microscopy is cost: in-house setups are significantly cheaper than most commercially available imaging machines. Limitations of this technique include the need for optimizing the labeling of molecules of interest within cell samples, and the need for post-processing software to visualize results. We here describe the use of PAFP and PSFP expression to image two protein species in fixed cells. Extension of the technique to living cells is also described.
Basic Protocol, Issue 82, Microscopy, Super-resolution imaging, Multicolor, single molecule, FPALM, Localization microscopy, fluorescent proteins
50680
Optical Trapping of Nanoparticles
Institutions: University of Victoria.

Optical trapping is a technique for immobilizing and manipulating small objects in a gentle way using light, and it has been widely applied in trapping and manipulating small biological particles. Ashkin and co-workers first demonstrated optical tweezers using a single focused beam
1
. The single beam trap can be described accurately using the perturbative gradient force formulation in the case of small Rayleigh regime particles
1
. In the perturbative regime, the optical power required for trapping a particle scales as the inverse fourth power of the particle size. High optical powers can damage dielectric particles and cause heating. For instance, trapped latex spheres of 109 nm in diameter were destroyed by a 15 mW beam in 25 sec
1
, which has serious implications for biological matter
2,3
. A self-induced back-action (SIBA) optical trapping was proposed to trap 50 nm polystyrene spheres in the non-perturbative regime
4
. In a non-perturbative regime, even a small particle with little permittivity contrast to the background can influence significantly the ambient electromagnetic field and induce a large optical force. As a particle enters an illuminated aperture, light transmission increases dramatically because of dielectric loading. If the particle attempts to leave the aperture, decreased transmission causes a change in momentum outwards from the hole and, by Newton's Third Law, results in a force on the particle inwards into the hole, trapping the particle. The light transmission can be monitored; hence, the trap can become a sensor. The SIBA trapping technique can be further improved by using a double-nanohole structure. The double-nanohole structure has been shown to give a strong local field enhancement
5,6
. Between the two sharp tips of the double-nanohole, a small particle can cause a large change in optical transmission, thereby inducing a large optical force. As a result, smaller nanoparticles can be trapped, such as 12 nm silicate spheres
7
and 3.4 nm hydrodynamic radius bovine serum albumin proteins
8
. In this work, the experimental configuration used for nanoparticle trapping is outlined. First, we detail the assembly of the trapping setup which is based on a Thorlabs Optical Tweezer Kit. Next, we explain the nanofabrication procedure of the double-nanohole in a metal film, the fabrication of the microfluidic chamber and the sample preparation. Finally, we detail the data acquisition procedure and provide typical results for trapping 20 nm polystyrene nanospheres.
Physics, Issue 71, Nanotechnology, Optics, Electrical Engineering, Computer Engineering, Physical Sciences, Engineering, Plasmonics, optical trapping, dielectric nanoparticles, nanoholes, nanofabrication, nano, microfluidics
4424
Evaluating Plasmonic Transport in Current-carrying Silver Nanowires
Institutions: Université de Bourgogne, University of Science and Technology of China, CEMES, CNRS-UPR 8011.

Plasmonics is an emerging technology capable of simultaneously transporting a plasmonic signal and an electronic signal on the same information support
1,2,3
. In this context, metal nanowires are especially desirable for realizing dense routing networks
4
. A prerequisite to operate such shared nanowire-based platform relies on our ability to electrically contact individual metal nanowires and efficiently excite surface plasmon polaritons
5
in this information support. In this article, we describe a protocol to bring electrical terminals to chemically-synthesized silver nanowires
6
randomly distributed on a glass substrate
7
. The positions of the nanowire ends with respect to predefined landmarks are precisely located using standard optical transmission microscopy before encapsulation in an electron-sensitive resist. Trenches representing the electrode layout are subsequently designed by electron-beam lithography. Metal electrodes are then fabricated by thermally evaporating a Cr/Au layer followed by a chemical lift-off. The contacted silver nanowires are finally transferred to a leakage radiation microscope for surface plasmon excitation and characterization
8,9
. Surface plasmons are launched in the nanowires by focusing a near infrared laser beam on a diffraction-limited spot overlapping one nanowire extremity
5,9
. For sufficiently large nanowires, the surface plasmon mode leaks into the glass substrate
9,10
. This leakage radiation is readily detected, imaged, and analyzed in the different conjugate planes in leakage radiation microscopy
9,11
. The electrical terminals do not affect the plasmon propagation. However, a current-induced morphological deterioration of the nanowire drastically degrades the flow of surface plasmons. The combination of surface plasmon leakage radiation microscopy with a simultaneous analysis of the nanowire electrical transport characteristics reveals the intrinsic limitations of such plasmonic circuitry.
Physics, Issue 82, light transmission, optical waveguides, photonics, plasma oscillations, plasma waves, electron motion in conductors, nanofabrication, Information Transport, plasmonics, Silver Nanowires, Leakage radiation microscopy, Electromigration
51048
The Preparation of Electrohydrodynamic Bridges from Polar Dielectric Liquids
Institutions: Wetsus - Centre of Excellence for Sustainable Water Technology, IRCAM GmbH, Graz University of Technology.

Horizontal and vertical liquid bridges are simple and powerful tools for exploring the interaction of high intensity electric fields (8-20 kV/cm) and polar dielectric liquids. These bridges are unique from capillary bridges in that they exhibit extensibility beyond a few millimeters, have complex bi-directional mass transfer patterns, and emit non-Planck infrared radiation. A number of common solvents can form such bridges as well as low conductivity solutions and colloidal suspensions. The macroscopic behavior is governed by electrohydrodynamics and provides a means of studying fluid flow phenomena without the presence of rigid walls. Prior to the onset of a liquid bridge several important phenomena can be observed including advancing meniscus height (electrowetting), bulk fluid circulation (the Sumoto effect), and the ejection of charged droplets (electrospray). The interaction between surface, polarization, and displacement forces can be directly examined by varying applied voltage and bridge length. The electric field, assisted by gravity, stabilizes the liquid bridge against Rayleigh-Plateau instabilities. Construction of basic apparatus for both vertical and horizontal orientation along with operational examples, including thermographic images, for three liquids (
e.g.
, water, DMSO, and glycerol) is presented.
Physics, Issue 91, floating water bridge, polar dielectric liquids, liquid bridge, electrohydrodynamics, thermography, dielectrophoresis, electrowetting, Sumoto effect, Armstrong effect
51819
Polycrystalline Silicon Thin-film Solar cells with Plasmonic-enhanced Light-trapping
Institutions: University of New South Wales .

One of major approaches to cheaper solar cells is reducing the amount of semiconductor material used for their fabrication and making cells thinner. To compensate for lower light absorption such physically thin devices have to incorporate light-trapping which increases their optical thickness. Light scattering by textured surfaces is a common technique but it cannot be universally applied to all solar cell technologies. Some cells, for example those made of evaporated silicon, are planar as produced and they require an alternative light-trapping means suitable for planar devices. Metal nanoparticles formed on planar silicon cell surface and capable of light scattering due to surface plasmon resonance is an effective approach. The paper presents a fabrication procedure of evaporated polycrystalline silicon solar cells with plasmonic light-trapping and demonstrates how the cell quantum efficiency improves due to presence of metal nanoparticles. To fabricate the cells a film consisting of alternative boron and phosphorous doped silicon layers is deposited on glass substrate by electron beam evaporation. An Initially amorphous film is crystallised and electronic defects are mitigated by annealing and hydrogen passivation. Metal grid contacts are applied to the layers of opposite polarity to extract electricity generated by the cell. Typically, such a ~2 μm thick cell has a short-circuit current density (
Jsc
) of 14-16 mA/cm
2
, which can be increased up to 17-18 mA/cm
2
(~25% higher) after application of a simple diffuse back reflector made of a white paint. To implement plasmonic light-trapping a silver nanoparticle array is formed on the metallised cell silicon surface. A precursor silver film is deposited on the cell by thermal evaporation and annealed at 23°C to form silver nanoparticles. Nanoparticle size and coverage, which affect plasmonic light-scattering, can be tuned for enhanced cell performance by varying the precursor film thickness and its annealing conditions. An optimised nanoparticle array alone results in cell
Jsc
enhancement of about 28%, similar to the effect of the diffuse reflector. The photocurrent can be further increased by coating the nanoparticles by a low refractive index dielectric, like MgF
2
, and applying the diffused reflector. The complete plasmonic cell structure comprises the polycrystalline silicon film, a silver nanoparticle array, a layer of MgF
2
, and a diffuse reflector. The
Jsc
for such cell is 21-23 mA/cm
2
, up to 45% higher than
Jsc
of the original cell without light-trapping or ~25% higher than
Jsc
for the cell with the diffuse reflector only. Introduction Light-trapping in silicon solar cells is commonly achieved via light scattering at textured interfaces. Scattered light travels through a cell at oblique angles for a longer distance and when such angles exceed the critical angle at the cell interfaces the light is permanently trapped in the cell by total internal reflection
(Animation 1: Light-trapping)
. Although this scheme works well for most solar cells, there are developing technologies where ultra-thin Si layers are produced planar (e.g. layer-transfer technologies and epitaxial c-Si layers)
1
and or when such layers are not compatible with textures substrates (e.g. evaporated silicon)
2
. For such originally planar Si layer alternative light trapping approaches, such as diffuse white paint reflector
3
, silicon plasma texturing
4
or high refractive index nanoparticle reflector
5
have been suggested. Metal nanoparticles can effectively scatter incident light into a higher refractive index material, like silicon, due to the surface plasmon resonance effect
6
. They also can be easily formed on the planar silicon cell surface thus offering a light-trapping approach alternative to texturing. For a nanoparticle located at the air-silicon interface the scattered light fraction coupled into silicon exceeds 95% and a large faction of that light is scattered at angles above critical providing nearly ideal light-trapping condition
(Animation 2: Plasmons on NP)
. The resonance can be tuned to the wavelength region, which is most important for a particular cell material and design, by varying the nanoparticle average size, surface coverage and local dielectric environment
6,7
. Theoretical design principles of plasmonic nanoparticle solar cells have been suggested
8
. In practice, Ag nanoparticle array is an ideal light-trapping partner for poly-Si thin-film solar cells because most of these design principle are naturally met. The simplest way of forming nanoparticles by thermal annealing of a thin precursor Ag film results in a random array with a relatively wide size and shape distribution, which is particularly suitable for light-trapping because such an array has a wide resonance peak, covering the wavelength range of 700-900 nm, important for poly-Si solar cell performance. The nanoparticle array can only be located on the rear poly-Si cell surface thus avoiding destructive interference between incident and scattered light which occurs for front-located nanoparticles
9
. Moreover, poly-Si thin-film cells do not requires a passivating layer and the flat base-shaped nanoparticles (that naturally result from thermal annealing of a metal film) can be directly placed on silicon further increases plasmonic scattering efficiency due to surface plasmon-polariton resonance
10
. The cell with the plasmonic nanoparticle array as described above can have a photocurrent about 28% higher than the original cell. However, the array still transmits a significant amount of light which escapes through the rear of the cell and does not contribute into the current. This loss can be mitigated by adding a rear reflector to allow catching transmitted light and re-directing it back to the cell. Providing sufficient distance between the reflector and the nanoparticles (a few hundred nanometers) the reflected light will then experience one more plasmonic scattering event while passing through the nanoparticle array on re-entering the cell and the reflector itself can be made diffuse - both effects further facilitating light scattering and hence light-trapping. Importantly, the Ag nanoparticles have to be encapsulated with an inert and low refractive index dielectric, like MgF
2
or SiO
2
, from the rear reflector to avoid mechanical and chemical damage
7
. Low refractive index for this cladding layer is required to maintain a high coupling fraction into silicon and larger scattering angles, which are ensured by the high optical contrast between the media on both sides of the nanoparticle, silicon and dielectric
6
. The photocurrent of the plasmonic cell with the diffuse rear reflector can be up to 45% higher than the current of the original cell or up to 25% higher than the current of an equivalent cell with the diffuse reflector only.
Physics, Issue 65, Materials Science, Photovoltaics, Silicon thin-film solar cells, light-trapping, metal nanoparticles, surface plasmons
4092
A Method to Fabricate Disconnected Silver Nanostructures in 3D
Institutions: Harvard University , Harvard University .

The standard nanofabrication toolkit includes techniques primarily aimed at creating 2D patterns in dielectric media. Creating metal patterns on a submicron scale requires a combination of nanofabrication tools and several material processing steps. For example, steps to create planar metal structures using ultraviolet photolithography and electron-beam lithography can include sample exposure, sample development, metal deposition, and metal liftoff. To create 3D metal structures, the sequence is repeated multiple times. The complexity and difficulty of stacking and aligning multiple layers limits practical implementations of 3D metal structuring using standard nanofabrication tools. Femtosecond-laser direct-writing has emerged as a pre-eminent technique for 3D nanofabrication.
1,2
Femtosecond lasers are frequently used to create 3D patterns in polymers and glasses.
3-7
However, 3D metal direct-writing remains a challenge. Here, we describe a method to fabricate silver nanostructures embedded inside a polymer matrix using a femtosecond laser centered at 800 nm. The method enables the fabrication of patterns not feasible using other techniques, such as 3D arrays of disconnected silver voxels.
8
Disconnected 3D metal patterns are useful for metamaterials where unit cells are not in contact with each other,
9
such as coupled metal dot
10,11
or coupled metal rod
12,13
resonators. Potential applications include negative index metamaterials, invisibility cloaks, and perfect lenses. In femtosecond-laser direct-writing, the laser wavelength is chosen such that photons are not linearly absorbed in the target medium. When the laser pulse duration is compressed to the femtosecond time scale and the radiation is tightly focused inside the target, the extremely high intensity induces nonlinear absorption. Multiple photons are absorbed simultaneously to cause electronic transitions that lead to material modification within the focused region. Using this approach, one can form structures in the bulk of a material rather than on its surface. Most work on 3D direct metal writing has focused on creating self-supported metal structures.
14-16
The method described here yields sub-micrometer silver structures that do not need to be self-supported because they are embedded inside a matrix. A doped polymer matrix is prepared using a mixture of silver nitrate (AgNO
3
), polyvinylpyrrolidone (PVP) and water (H
2
O). Samples are then patterned by irradiation with an 11-MHz femtosecond laser producing 50-fs pulses. During irradiation, photoreduction of silver ions is induced through nonlinear absorption, creating an aggregate of silver nanoparticles in the focal region. Using this approach we create silver patterns embedded in a doped PVP matrix. Adding 3D translation of the sample extends the patterning to three dimensions.
Physics, Issue 69, Materials Science, Engineering, Nanotechnology, nanofabrication, microfabrication, 3D fabrication, polymer, silver, femtosecond laser processing, direct laser writing, multiphoton lithography, nonlinear absorption
4399
Microfabrication of Chip-sized Scaffolds for Three-dimensional Cell cultivation
Institutions: Karlsruhe Research Centre, University of Twente, Institute for Heavy Ion Research, Karlsruhe Research Centre, Karlsruhe Research Centre.

Using microfabrication technologies is a prerequisite to create scaffolds of reproducible geometry and constant quality for three-dimensional cell cultivation. These technologies offer a wide spectrum of advantages not only for manufacturing but also for different applications. The size and shape of formed cell clusters can be influenced by the exact and reproducible architecture of the microfabricated scaffold and, therefore, the diffusion path length of nutrients and gases can be controlled.1 This is unquestionably a useful tool to prevent apoptosis and necrosis of cells due to an insufficient nutrient and gas supply or removal of cellular metabolites. Our polymer chip, called CellChip, has the outer dimensions of 2 x 2 cm with a central microstructured area. This area is subdivided into an array of up to 1156 microcontainers with a typical dimension of 300 m edge length for the cubic design (cp- or cf-chip) or of 300 m diameter and depth for the round design (r-chip).2 So far, hot embossing or micro injection moulding (in combination with subsequent laborious machining of the parts) was used for the fabrication of the microstructured chips. Basically, micro injection moulding is one of the only polymer based replication techniques that, up to now, is capable for mass production of polymer microstructures.3 However, both techniques have certain unwanted limitations due to the processing of a viscous polymer melt with the generation of very thin walls or integrated through holes. In case of the CellChip, thin bottom layers are necessary to perforate the polymer and provide small pores of defined size to supply cells with culture medium e.g. by microfluidic perfusion of the containers. In order to overcome these limitations and to reduce the manufacturing costs we have developed a new microtechnical approach on the basis of a down-scaled thermoforming process. For the manufacturing of highly porous and thin walled polymer chips, we use a combination of heavy ion irradiation, microthermoforming and track etching. In this so called "SMART" process (Substrate Modification And Replication by Thermoforming) thin polymer films are irradiated with energetic heavy projectiles of several hundred MeV introducing so-called "latent tracks" Subsequently, the film in a rubber elastic state is formed into three dimensional parts without modifying or annealing the tracks. After the forming process, selective chemical etching finally converts the tracks into cylindrical pores of adjustable diameter.
Cellular Biology, Issue 15, SMART, microthermoforming, microfabrication, scaffolds, polymer
699