ABSTRACT
Segmentation is a periodic and sequential morphogenetic process in vertebrates. This rhythmic formation of blocks of tissue called somites along the body axis is evidence of a genetic oscillator patterning the developing embryo. In zebrafish, the intracellular clock driving segmentation is comprised of members of the Her/Hes transcription factor family organized into negative feedback loops. We have recently generated transgenic fluorescent reporter lines for the cyclic gene her1 that recapitulate the spatio-temporal pattern of oscillations in the presomitic mesoderm (PSM). Using these lines, we developed an in vitro culture system that allows real-time analysis of segmentation clock oscillations within single, isolated PSM cells. By removing PSM tissue from transgenic embryos and then dispersing cells from oscillating regions onto glass-bottom dishes, we generated cultures suitable for time-lapse imaging of fluorescence signal from individual clock cells. This approach provides an experimental and conceptual framework for direct manipulation of the segmentation clock with unprecedented single-cell resolution, allowing its cell-autonomous and tissue-level properties to be distinguished and dissected.
26 Related JoVE Articles!
Recording Human Electrocorticographic (ECoG) Signals for Neuroscientific Research and Real-time Functional Cortical Mapping
Institutions: New York State Department of Health, Albany Medical College, Albany Medical College, Washington University, Rensselaer Polytechnic Institute, State University of New York at Albany, University of Texas at El Paso .

Neuroimaging studies of human cognitive, sensory, and motor processes are usually based on noninvasive techniques such as electroencephalography (EEG), magnetoencephalography or functional magnetic-resonance imaging. These techniques have either inherently low temporal or low spatial resolution, and suffer from low signal-to-noise ratio and/or poor high-frequency sensitivity. Thus, they are suboptimal for exploring the short-lived spatio-temporal dynamics of many of the underlying brain processes. In contrast, the invasive technique of electrocorticography (ECoG) provides brain signals that have an exceptionally high signal-to-noise ratio, less susceptibility to artifacts than EEG, and a high spatial and temporal resolution (i.e., <1 cm/<1 millisecond, respectively). ECoG involves measurement of electrical brain signals using electrodes that are implanted subdurally on the surface of the brain. Recent studies have shown that ECoG amplitudes in certain frequency bands carry substantial information about task-related activity, such as motor execution and planning
1
, auditory processing
2
and visual-spatial attention
3
. Most of this information is captured in the high gamma range (around 70-110 Hz). Thus, gamma activity has been proposed as a robust and general indicator of local cortical function
1-5
. ECoG can also reveal functional connectivity and resolve finer task-related spatial-temporal dynamics, thereby advancing our understanding of large-scale cortical processes. It has especially proven useful for advancing brain-computer interfacing (BCI) technology for decoding a user's intentions to enhance or improve communication
6
and control
7
. Nevertheless, human ECoG data are often hard to obtain because of the risks and limitations of the invasive procedures involved, and the need to record within the constraints of clinical settings. Still, clinical monitoring to localize epileptic foci offers a unique and valuable opportunity to collect human ECoG data. We describe our methods for collecting recording ECoG, and demonstrate how to use these signals for important real-time applications such as clinical mapping and brain-computer interfacing. Our example uses the BCI2000 software platform
8,9
and the SIGFRIED
10
method, an application for real-time mapping of brain functions. This procedure yields information that clinicians can subsequently use to guide the complex and laborious process of functional mapping by electrical stimulation. Prerequisites and Planning: Patients with drug-resistant partial epilepsy may be candidates for resective surgery of an epileptic focus to minimize the frequency of seizures. Prior to resection, the patients undergo monitoring using subdural electrodes for two purposes: first, to localize the epileptic focus, and second, to identify nearby critical brain areas (i.e., eloquent cortex) where resection could result in long-term functional deficits. To implant electrodes, a craniotomy is performed to open the skull. Then, electrode grids and/or strips are placed on the cortex, usually beneath the dura. A typical grid has a set of 8 x 8 platinum-iridium electrodes of 4 mm diameter (2.3 mm exposed surface) embedded in silicon with an inter-electrode distance of 1cm. A strip typically contains 4 or 6 such electrodes in a single line. The locations for these grids/strips are planned by a team of neurologists and neurosurgeons, and are based on previous EEG monitoring, on a structural MRI of the patient's brain, and on relevant factors of the patient's history. Continuous recording over a period of 5-12 days serves to localize epileptic foci, and electrical stimulation via the implanted electrodes allows clinicians to map eloquent cortex. At the end of the monitoring period, explantation of the electrodes and therapeutic resection are performed together in one procedure. In addition to its primary clinical purpose, invasive monitoring also provides a unique opportunity to acquire human ECoG data for neuroscientific research. The decision to include a prospective patient in the research is based on the planned location of their electrodes, on the patient's performance scores on neuropsychological assessments, and on their informed consent, which is predicated on their understanding that participation in research is optional and is not related to their treatment. As with all research involving human subjects, the research protocol must be approved by the hospital's institutional review board. The decision to perform individual experimental tasks is made day-by-day, and is contingent on the patient's endurance and willingness to participate. Some or all of the experiments may be prevented by problems with the clinical state of the patient, such as post-operative facial swelling, temporary aphasia, frequent seizures, post-ictal fatigue and confusion, and more general pain or discomfort. At the Epilepsy Monitoring Unit at Albany Medical Center in Albany, New York, clinical monitoring is implemented around the clock using a 192-channel Nihon-Kohden Neurofax monitoring system. Research recordings are made in collaboration with the Wadsworth Center of the New York State Department of Health in Albany. Signals from the ECoG electrodes are fed simultaneously to the research and the clinical systems via splitter connectors. To ensure that the clinical and research systems do not interfere with each other, the two systems typically use separate grounds. In fact, an epidural strip of electrodes is sometimes implanted to provide a ground for the clinical system. Whether research or clinical recording system, the grounding electrode is chosen to be distant from the predicted epileptic focus and from cortical areas of interest for the research. Our research system consists of eight synchronized 16-channel g.USBamp amplifier/digitizer units (g.tec, Graz, Austria). These were chosen because they are safety-rated and FDA-approved for invasive recordings, they have a very low noise-floor in the high-frequency range in which the signals of interest are found, and they come with an SDK that allows them to be integrated with custom-written research software. In order to capture the high-gamma signal accurately, we acquire signals at 1200Hz sampling rate-considerably higher than that of the typical EEG experiment or that of many clinical monitoring systems. A built-in low-pass filter automatically prevents aliasing of signals higher than the digitizer can capture. The patient's eye gaze is tracked using a monitor with a built-in Tobii T-60 eye-tracking system (Tobii Tech., Stockholm, Sweden). Additional accessories such as joystick, bluetooth Wiimote (Nintendo Co.), data-glove (5
th
Dimension Technologies), keyboard, microphone, headphones, or video camera are connected depending on the requirements of the particular experiment. Data collection, stimulus presentation, synchronization with the different input/output accessories, and real-time analysis and visualization are accomplished using our BCI2000 software
8,9
. BCI2000 is a freely available general-purpose software system for real-time biosignal data acquisition, processing and feedback. It includes an array of pre-built modules that can be flexibly configured for many different purposes, and that can be extended by researchers' own code in C++, MATLAB or Python. BCI2000 consists of four modules that communicate with each other via a network-capable protocol: a Source module that handles the acquisition of brain signals from one of 19 different hardware systems from different manufacturers; a Signal Processing module that extracts relevant ECoG features and translates them into output signals; an Application module that delivers stimuli and feedback to the subject; and the Operator module that provides a graphical interface to the investigator. A number of different experiments may be conducted with any given patient. The priority of experiments will be determined by the location of the particular patient's electrodes. However, we usually begin our experimentation using the SIGFRIED (SIGnal modeling For Realtime Identification and Event Detection) mapping method, which detects and displays significant task-related activity in real time. The resulting functional map allows us to further tailor subsequent experimental protocols and may also prove as a useful starting point for traditional mapping by electrocortical stimulation (ECS). Although ECS mapping remains the gold standard for predicting the clinical outcome of resection, the process of ECS mapping is time consuming and also has other problems, such as after-discharges or seizures. Thus, a passive functional mapping technique may prove valuable in providing an initial estimate of the locus of eloquent cortex, which may then be confirmed and refined by ECS. The results from our passive SIGFRIED mapping technique have been shown to exhibit substantial concurrence with the results derived using ECS mapping
10
. The protocol described in this paper establishes a general methodology for gathering human ECoG data, before proceeding to illustrate how experiments can be initiated using the BCI2000 software platform. Finally, as a specific example, we describe how to perform passive functional mapping using the BCI2000-based SIGFRIED system.
Neuroscience, Issue 64, electrocorticography, brain-computer interfacing, functional brain mapping, SIGFRIED, BCI2000, epilepsy monitoring, magnetic resonance imaging, MRI
3993
High-speed Particle Image Velocimetry Near Surfaces
Institutions: University of Michigan.
Multi-dimensional and transient flows play a key role in many areas of science, engineering, and health sciences but are often not well understood. The complex nature of these flows may be studied using particle image velocimetry (PIV), a laser-based imaging technique for optically accessible flows. Though many forms of PIV exist that extend the technique beyond the original planar two-component velocity measurement capabilities, the basic PIV system consists of a light source (laser), a camera, tracer particles, and analysis algorithms. The imaging and recording parameters, the light source, and the algorithms are adjusted to optimize the recording for the flow of interest and obtain valid velocity data. Common PIV investigations measure two-component velocities in a plane at a few frames per second. However, recent developments in instrumentation have facilitated high-frame rate (> 1 kHz) measurements capable of resolving transient flows with high temporal resolution. Therefore, high-frame rate measurements have enabled investigations on the evolution of the structure and dynamics of highly transient flows. These investigations play a critical role in understanding the fundamental physics of complex flows. A detailed description for performing high-resolution, high-speed planar PIV to study a transient flow near the surface of a flat plate is presented here. Details for adjusting the parameter constraints such as image and recording properties, the laser sheet properties, and processing algorithms to adapt PIV for any flow of interest are included.
Physics, Issue 76, Mechanical Engineering, Fluid Mechanics, flow measurement, fluid heat transfer, internal flow in turbomachinery (applications), boundary layer flow (general), flow visualization (instrumentation), laser instruments (design and operation), Boundary layer, micro-PIV, optical laser diagnostics, internal combustion engines, flow, fluids, particle, velocimetry, visualization
50559
Scalable Nanohelices for Predictive Studies and Enhanced 3D Visualization
Institutions: University of California Merced, University of California Merced.

Spring-like materials are ubiquitous in nature and of interest in nanotechnology for energy harvesting, hydrogen storage, and biological sensing applications.  For predictive simulations, it has become increasingly important to be able to model the structure of nanohelices accurately.  To study the effect of local structure on the properties of these complex geometries one must develop realistic models.  To date, software packages are rather limited in creating atomistic helical models.  This work focuses on producing atomistic models of silica glass (SiO
2
) nanoribbons and nanosprings for molecular dynamics (MD) simulations. Using an MD model of "bulk" silica glass, two computational procedures to precisely create the shape of nanoribbons and nanosprings are presented.  The first method employs the AWK programming language and open-source software to effectively carve various shapes of silica nanoribbons from the initial bulk model, using desired dimensions and parametric equations to define a helix.  With this method, accurate atomistic silica nanoribbons can be generated for a range of pitch values and dimensions.  The second method involves a more robust code which allows flexibility in modeling nanohelical structures.  This approach utilizes a C++ code particularly written to implement pre-screening methods as well as the mathematical equations for a helix, resulting in greater precision and efficiency when creating nanospring models.  Using these codes, well-defined and scalable nanoribbons and nanosprings suited for atomistic simulations can be effectively created.  An added value in both open-source codes is that they can be adapted to reproduce different helical structures, independent of material.  In addition, a MATLAB graphical user interface (GUI) is used to enhance learning through visualization and interaction for a general user with the atomistic helical structures.  One application of these methods is the recent study of nanohelices via MD simulations for mechanical energy harvesting purposes.
Physics, Issue 93, Helical atomistic models; open-source coding; graphical user interface; visualization software; molecular dynamics simulations; graphical processing unit accelerated simulations.
51372
Using an EEG-Based Brain-Computer Interface for Virtual Cursor Movement with BCI2000
Institutions: University of Wisconsin-Madison, New York State Dept. of Health.

A brain-computer interface (BCI) functions by translating a neural signal, such as the electroencephalogram (EEG), into a signal that can be used to control a computer or other device. The amplitude of the EEG signals in selected frequency bins are measured and translated into a device command, in this case the horizontal and vertical velocity of a computer cursor. First, the EEG electrodes are applied to the user s scalp using a cap to record brain activity. Next, a calibration procedure is used to find the EEG electrodes and features that the user will learn to voluntarily modulate to use the BCI. In humans, the power in the mu (8-12 Hz) and beta (18-28 Hz) frequency bands decrease in amplitude during a real or imagined movement. These changes can be detected in the EEG in real-time, and used to control a BCI ([1],[2]). Therefore, during a screening test, the user is asked to make several different imagined movements with their hands and feet to determine the unique EEG features that change with the imagined movements. The results from this calibration will show the best channels to use, which are configured so that amplitude changes in the mu and beta frequency bands move the cursor either horizontally or vertically. In this experiment, the general purpose BCI system BCI2000 is used to control signal acquisition, signal processing, and feedback to the user [3].
Neuroscience, Issue 29, BCI, EEG, brain-computer interface, BCI2000
1319
Measuring Material Microstructure Under Flow Using 1-2 Plane Flow-Small Angle Neutron Scattering
Institutions: University of Delaware, National Institute of Standards and Technology, Institut Laue-Langevin.

A new small-angle neutron scattering (SANS) sample environment optimized for studying the microstructure of complex fluids under simple shear flow is presented. The SANS shear cell consists of a concentric cylinder Couette geometry that is sealed and rotating about a horizontal axis so that the vorticity direction of the flow field is aligned with the neutron beam enabling scattering from the 1-2 plane of shear (velocity-velocity gradient, respectively). This approach is an advance over previous shear cell sample environments as there is a strong coupling between the bulk rheology and microstructural features in the 1-2 plane of shear. Flow-instabilities, such as shear banding, can also be studied by spatially resolved measurements. This is accomplished in this sample environment by using a narrow aperture for the neutron beam and scanning along the velocity gradient direction. Time resolved experiments, such as flow start-ups and large amplitude oscillatory shear flow are also possible by synchronization of the shear motion and time-resolved detection of scattered neutrons. Representative results using the methods outlined here demonstrate the useful nature of spatial resolution for measuring the microstructure of a wormlike micelle solution that exhibits shear banding, a phenomenon that can only be investigated by resolving the structure along the velocity gradient direction. Finally, potential improvements to the current design are discussed along with suggestions for supplementary experiments as motivation for future experiments on a broad range of complex fluids in a variety of shear motions.
Physics, Issue 84, Surfactants, Rheology, Shear Banding, Nanostructure, Neutron Scattering, Complex Fluids, Flow-induced Structure
51068
Mapping Bacterial Functional Networks and Pathways in Escherichia Coli using Synthetic Genetic Arrays
Institutions: University of Toronto, University of Toronto, University of Regina.

Phenotypes are determined by a complex series of physical (
e.g.
protein-protein) and functional (
e.g.
gene-gene or genetic) interactions (GI)
1
. While physical interactions can indicate which bacterial proteins are associated as complexes, they do not necessarily reveal pathway-level functional relationships1. GI screens, in which the growth of double mutants bearing two deleted or inactivated genes is measured and compared to the corresponding single mutants, can illuminate epistatic dependencies between loci and hence provide a means to query and discover novel functional relationships
2
. Large-scale GI maps have been reported for eukaryotic organisms like yeast
3-7
, but GI information remains sparse for prokaryotes
8
, which hinders the functional annotation of bacterial genomes. To this end, we and others have developed high-throughput quantitative bacterial GI screening methods
9, 10
. Here, we present the key steps required to perform quantitative
E. coli
Synthetic Genetic Array (eSGA) screening procedure on a genome-scale
9
, using natural bacterial conjugation and homologous recombination to systemically generate and measure the fitness of large numbers of double mutants in a colony array format
.
Briefly, a robot is used to transfer, through conjugation, chloramphenicol (Cm) - marked mutant alleles from engineered Hfr (High frequency of recombination) 'donor strains' into an ordered array of kanamycin (Kan) - marked F- recipient strains. Typically, we use loss-of-function single mutants bearing non-essential gene deletions (
e.g.
the 'Keio' collection
11
) and essential gene hypomorphic mutations (
i.e.
alleles conferring reduced protein expression, stability, or activity
9, 12, 13
) to query the functional associations of non-essential and essential genes, respectively. After conjugation and ensuing genetic exchange mediated by homologous recombination, the resulting double mutants are selected on solid medium containing both antibiotics. After outgrowth, the plates are digitally imaged and colony sizes are quantitatively scored using an in-house automated image processing system
14
. GIs are revealed when the growth rate of a double mutant is either significantly better or worse than expected
9
. Aggravating (or negative) GIs often result between loss-of-function mutations in pairs of genes from compensatory pathways that impinge on the same essential process
2
. Here, the loss of a single gene is buffered, such that either single mutant is viable. However, the loss of both pathways is deleterious and results in synthetic lethality or sickness (
i.e.
slow growth). Conversely, alleviating (or positive) interactions can occur between genes in the same pathway or protein complex
2
as the deletion of either gene alone is often sufficient to perturb the normal function of the pathway or complex such that additional perturbations do not reduce activity, and hence growth, further. Overall, systematically identifying and analyzing GI networks can provide unbiased, global maps of the functional relationships between large numbers of genes, from which pathway-level information missed by other approaches can be inferred
9
.
Genetics, Issue 69, Molecular Biology, Medicine, Biochemistry, Microbiology, Aggravating, alleviating, conjugation, double mutant, Escherichia coli, genetic interaction, Gram-negative bacteria, homologous recombination, network, synthetic lethality or sickness, suppression
4056
Whole-cell Patch-clamp Recordings from Morphologically- and Neurochemically-identified Hippocampal Interneurons
Institutions: Charité Universitätmedizin.

GABAergic inhibitory interneurons play a central role within neuronal circuits of the brain. Interneurons comprise a small subset of the neuronal population (10-20%), but show a high level of physiological, morphological, and neurochemical heterogeneity, reflecting their diverse functions. Therefore, investigation of interneurons provides important insights into the organization principles and function of neuronal circuits. This, however, requires an integrated physiological and neuroanatomical approach for the selection and identification of individual interneuron types. Whole-cell patch-clamp recording from acute brain slices of transgenic animals, expressing fluorescent proteins under the promoters of interneuron-specific markers, provides an efficient method to target and electrophysiologically characterize intrinsic and synaptic properties of specific interneuron types. Combined with intracellular dye labeling, this approach can be extended with post-hoc morphological and immunocytochemical analysis, enabling systematic identification of recorded neurons. These methods can be tailored to suit a broad range of scientific questions regarding functional properties of diverse types of cortical neurons.
Neuroscience, Issue 91, electrophysiology, acute slice, whole-cell patch-clamp recording, neuronal morphology, immunocytochemistry, parvalbumin, hippocampus, inhibition, GABAergic interneurons, synaptic transmission, IPSC, GABA-B receptor
51706
A Comparative Approach to Characterize the Landscape of Host-Pathogen Protein-Protein Interactions
Institutions: Institut Pasteur , Université Sorbonne Paris Cité, Dana Farber Cancer Institute.

Significant efforts were gathered to generate large-scale comprehensive protein-protein interaction network maps. This is instrumental to understand the pathogen-host relationships and was essentially performed by genetic screenings in yeast two-hybrid systems. The recent improvement of protein-protein interaction detection by a
Gaussia
luciferase-based fragment complementation assay now offers the opportunity to develop integrative comparative interactomic approaches necessary to rigorously compare interaction profiles of proteins from different pathogen strain variants against a common set of cellular factors. This paper specifically focuses on the utility of combining two orthogonal methods to generate protein-protein interaction datasets: yeast two-hybrid (Y2H) and a new assay, high-throughput
Gaussia princeps
protein complementation assay (HT-GPCA) performed in mammalian cells. A large-scale identification of cellular partners of a pathogen protein is performed by mating-based yeast two-hybrid screenings of cDNA libraries using multiple pathogen strain variants. A subset of interacting partners selected on a high-confidence statistical scoring is further validated in mammalian cells for pair-wise interactions with the whole set of pathogen variants proteins using HT-GPCA. This combination of two complementary methods improves the robustness of the interaction dataset, and allows the performance of a stringent comparative interaction analysis. Such comparative interactomics constitute a reliable and powerful strategy to decipher any pathogen-host interplays.
Immunology, Issue 77, Genetics, Microbiology, Biochemistry, Molecular Biology, Cellular Biology, Biomedical Engineering, Infection, Cancer Biology, Virology, Medicine, Host-Pathogen Interactions, Host-Pathogen Interactions, Protein-protein interaction, High-throughput screening, Luminescence, Yeast two-hybrid, HT-GPCA, Network, protein, yeast, cell, culture
50404
In Vivo Modeling of the Morbid Human Genome using Danio rerio
Institutions: Duke University Medical Center, Duke University, Duke University Medical Center.

Here, we present methods for the development of assays to query potentially clinically significant nonsynonymous changes using
in vivo
complementation in zebrafish. Zebrafish (
Danio rerio
) are a useful animal system due to their experimental tractability; embryos are transparent to enable facile viewing, undergo rapid development
ex vivo,
and can be genetically manipulated.
1
These aspects have allowed for significant advances in the analysis of embryogenesis, molecular processes, and morphogenetic signaling. Taken together, the advantages of this vertebrate model make zebrafish highly amenable to modeling the developmental defects in pediatric disease, and in some cases, adult-onset disorders. Because the zebrafish genome is highly conserved with that of humans (~70% orthologous), it is possible to recapitulate human disease states in zebrafish. This is accomplished either through the injection of mutant human mRNA to induce dominant negative or gain of function alleles, or utilization of morpholino (MO) antisense oligonucleotides to suppress genes to mimic loss of function variants. Through complementation of MO-induced phenotypes with capped human mRNA, our approach enables the interpretation of the deleterious effect of mutations on human protein sequence based on the ability of mutant mRNA to rescue a measurable, physiologically relevant phenotype. Modeling of the human disease alleles occurs through microinjection of zebrafish embryos with MO and/or human mRNA at the 1-4 cell stage, and phenotyping up to seven days post fertilization (dpf). This general strategy can be extended to a wide range of disease phenotypes, as demonstrated in the following protocol. We present our established models for morphogenetic signaling, craniofacial, cardiac, vascular integrity, renal function, and skeletal muscle disorder phenotypes, as well as others.
Molecular Biology, Issue 78, Genetics, Biomedical Engineering, Medicine, Developmental Biology, Biochemistry, Anatomy, Physiology, Bioengineering, Genomics, Medical, zebrafish, in vivo, morpholino, human disease modeling, transcription, PCR, mRNA, DNA, Danio rerio, animal model
50338
Investigating the Three-dimensional Flow Separation Induced by a Model Vocal Fold Polyp
Institutions: The George Washington University, Clarkson University.

The fluid-structure energy exchange process for normal speech has been studied extensively, but it is not well understood for pathological conditions. Polyps and nodules, which are geometric abnormalities that form on the medial surface of the vocal folds, can disrupt vocal fold dynamics and thus can have devastating consequences on a patient's ability to communicate. Our laboratory has reported particle image velocimetry (PIV) measurements, within an investigation of a model polyp located on the medial surface of an
in vitro
driven vocal fold model, which show that such a geometric abnormality considerably disrupts the glottal jet behavior. This flow field adjustment is a likely reason for the severe degradation of the vocal quality in patients with polyps. A more complete understanding of the formation and propagation of vortical structures from a geometric protuberance, such as a vocal fold polyp, and the resulting influence on the aerodynamic loadings that drive the vocal fold dynamics, is necessary for advancing the treatment of this pathological condition. The present investigation concerns the three-dimensional flow separation induced by a wall-mounted prolate hemispheroid with a 2:1 aspect ratio in cross flow,
i.e.
a model vocal fold polyp, using an oil-film visualization technique. Unsteady, three-dimensional flow separation and its impact of the wall pressure loading are examined using skin friction line visualization and wall pressure measurements.
Bioengineering, Issue 84, oil-flow visualization, vocal fold polyp, three-dimensional flow separation, aerodynamic pressure loadings
51080
Local and Global Methods of Assessing Thermal Nociception in Drosophila Larvae
Institutions: The University of Texas MD Anderson Cancer Center, University of Houston-Downtown, University of Texas Graduate School of Biomedical Sciences, University of Texas Graduate School of Biomedical Sciences.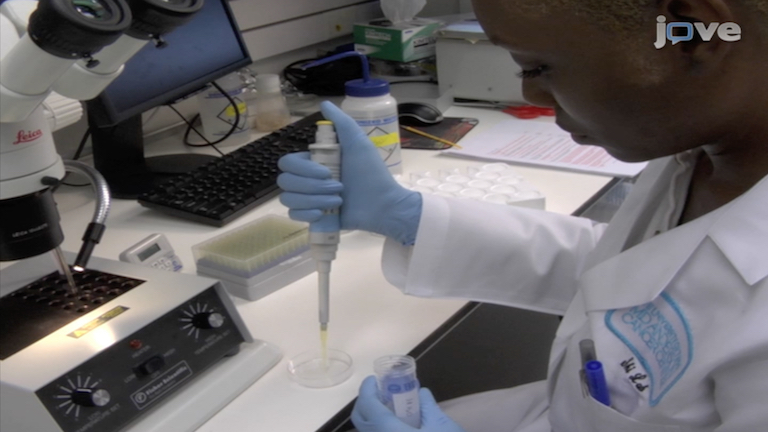 In this article, we demonstrate assays to study thermal nociception in
Drosophila
larvae. One assay involves spatially-restricted (local) stimulation of thermal nociceptors
1,2
while the second involves a wholesale (global) activation of most or all such neurons
3
. Together, these techniques allow visualization and quantification of the behavioral functions of
Drosophila
nociceptive sensory neurons. The
Drosophila
larva is an established model system to study thermal nociception, a sensory response to potentially harmful temperatures that is evolutionarily conserved across species
1,2
. The advantages of
Drosophila
for such studies are the relative simplicity of its nervous system and the sophistication of the genetic techniques that can be used to dissect the molecular basis of the underlying biology
4-6
In
Drosophila
, as in all metazoans, the response to noxious thermal stimuli generally involves a "nocifensive" aversive withdrawal to the presented stimulus
7
. Such stimuli are detected through free nerve endings or nociceptors and the amplitude of the organismal response depends on the number of nociceptors receiving the noxious stimulus
8
. In
Drosophila
, it is the class IV dendritic arborization sensory neurons that detect noxious thermal and mechanical stimuli
9
in addition to their recently discovered role as photoreceptors
10
. These neurons, which have been very well studied at the developmental level, arborize over the barrier epidermal sheet and make contacts with nearly all epidermal cells
11,12
. The single axon of each class IV neuron projects into the ventral nerve cord of the central nervous system
11
where they may connect to second-order neurons that project to the brain. Under baseline conditions, nociceptive sensory neurons will not fire until a relatively high threshold is reached. The assays described here allow the investigator to quantify baseline behavioral responses or, presumably, the sensitization that ensues following tissue damage. Each assay provokes distinct but related locomotory behavioral responses to noxious thermal stimuli and permits the researcher to visualize and quantify various aspects of thermal nociception in
Drosophila
larvae. The assays can be applied to larvae of desired genotypes or to larvae raised under different environmental conditions that might impact nociception. Since thermal nociception is conserved across species, the findings gleaned from genetic dissection in
Drosophila
will likely inform our understanding of thermal nociception in other species, including vertebrates.
Neuroscience, Issue 63, Drosophila sensory neurons, thermal nociception, nociceptive sensitization, tissue damage, fly behavioral response, dendritic arborization neurons, allodynia, hyperalgesia, behavioral assay
3837
Magnetic Resonance Spectroscopy of live Drosophila melanogaster using Magic Angle Spinning
Institutions: Massachusetts General Hospital, Harvard Medical School, Shriners Burn Institute, Harvard Medical School, Massachusetts General Hospital, Harvard Medical School.

High-Resolution Magic Angle Spinning (HRMAS) proton magnetic resonance spectroscopy (
1
H-MRS) is a novel non-destructive technique that improves spectral line-widths and allows high-resolution spectra to be obtained from extracts, intact cells, cell cultures, and more importantly intact tissue to investigate relationships between metabolites and cellular processes.
In vivo
HRMAS
1
H-MRS studies have yet to be reported in the live fruit fly
Drosophila melanogaster.
Drosophila,
as a simpler genetic organism, allows the multiple biological functions and various evolutionarily conserved signaling pathways to be examined at the whole organism level and it is a useful model for investigating genetics and physiology. To this end, we developed and implemented an
in vivo
HRMAS
1
H-MRS method to investigate live
Drosophila
at 14.1 T. Here, we outline an HRMAS
1
H-MRS protocol for the molecular characterization of
Drosophila
with a conventional MR spectrometer equipped with an HRMAS probe. This technique is a novel,
in vivo,
non-destructive
Drosophila
metabolite measurement approach, which enables the identification of disease biomarkers and thus may contribute to novel therapeutic development.
Neuroscience, Issue 38, Magnetic Resonance Spectroscopy (MRS), High Resolution Magic Angle Spinning (HRMAS), Total Through Bond Correlation Spectroscopy (TOBSY), Drosophila melanogaster
1710
Easy Measurement of Diffusion Coefficients of EGFP-tagged Plasma Membrane Proteins Using k-Space Image Correlation Spectroscopy
Institutions: Aarhus University, McGill University.
Lateral diffusion and compartmentalization of plasma membrane proteins are tightly regulated in cells and thus, studying these processes will reveal new insights to plasma membrane protein function and regulation. Recently, k-Space Image Correlation Spectroscopy (kICS)
1
 was developed to enable routine measurements of diffusion coefficients directly from images of fluorescently tagged plasma membrane proteins, that avoided systematic biases introduced by probe photophysics. Although the theoretical basis for the analysis is complex, the method can be implemented by nonexperts using a freely available code to measure diffusion coefficients of proteins. kICS calculates a time correlation function from a fluorescence microscopy image stack after Fourier transformation of each image to reciprocal (k-) space. Subsequently, circular averaging, natural logarithm transform and linear fits to the correlation function yields the diffusion coefficient. This paper provides a step-by-step guide to the image analysis and measurement of diffusion coefficients via kICS. First, a high frame rate image sequence of a fluorescently labeled plasma membrane protein is acquired using a fluorescence microscope. Then, a region of interest (ROI) avoiding intracellular organelles, moving vesicles or protruding membrane regions is selected. The ROI stack is imported into a freely available code and several defined parameters (see Method section) are set for kICS analysis. The program then generates a "slope of slopes" plot from the k-space time correlation functions, and the diffusion coefficient is calculated from the slope of the plot. Below is a step-by-step kICS procedure to measure the diffusion coefficient of a membrane protein using the renal water channel aquaporin-3 tagged with EGFP as a canonical example.
Biophysics, Issue 87, Amino Acids, Peptides and Proteins, Computer Programming and Software, Diffusion coefficient, Aquaporin-3, k-Space Image Correlation Spectroscopy, Analysis
51074
Analysis of Tubular Membrane Networks in Cardiac Myocytes from Atria and Ventricles
Institutions: Heart Research Center Goettingen, University Medical Center Goettingen, German Center for Cardiovascular Research (DZHK) partner site Goettingen, University of Maryland School of Medicine.

In cardiac myocytes a complex network of membrane tubules - the transverse-axial tubule system (TATS) - controls deep intracellular signaling functions. While the outer surface membrane and associated TATS membrane components appear to be continuous, there are substantial differences in lipid and protein content. In ventricular myocytes (VMs), certain TATS components are highly abundant contributing to rectilinear tubule networks and regular branching 3D architectures. It is thought that peripheral TATS components propagate action potentials from the cell surface to thousands of remote intracellular sarcoendoplasmic reticulum (SER) membrane contact domains, thereby activating intracellular Ca
2+
release units (CRUs). In contrast to VMs, the organization and functional role of TATS membranes in atrial myocytes (AMs) is significantly different and much less understood. Taken together, quantitative structural characterization of TATS membrane networks in healthy and diseased myocytes is an essential prerequisite towards better understanding of functional plasticity and pathophysiological reorganization. Here, we present a strategic combination of protocols for direct quantitative analysis of TATS membrane networks in living VMs and AMs. For this, we accompany primary cell isolations of mouse VMs and/or AMs with critical quality control steps and direct membrane staining protocols for fluorescence imaging of TATS membranes. Using an optimized workflow for confocal or superresolution TATS image processing, binarized and skeletonized data are generated for quantitative analysis of the TATS network and its components. Unlike previously published indirect regional aggregate image analysis strategies, our protocols enable direct characterization of specific components and derive complex physiological properties of TATS membrane networks in living myocytes with high throughput and open access software tools. In summary, the combined protocol strategy can be readily applied for quantitative TATS network studies during physiological myocyte adaptation or disease changes, comparison of different cardiac or skeletal muscle cell types, phenotyping of transgenic models, and pharmacological or therapeutic interventions.
Bioengineering, Issue 92, cardiac myocyte, atria, ventricle, heart, primary cell isolation, fluorescence microscopy, membrane tubule, transverse-axial tubule system, image analysis, image processing, T-tubule, collagenase
51823
Monitoring Cell-autonomous Circadian Clock Rhythms of Gene Expression Using Luciferase Bioluminescence Reporters
Institutions: The University of Memphis.

In mammals, many aspects of behavior and physiology such as sleep-wake cycles and liver metabolism are regulated by endogenous circadian clocks (reviewed
1,2
). The circadian time-keeping system is a hierarchical multi-oscillator network, with the central clock located in the suprachiasmatic nucleus (SCN) synchronizing and coordinating extra-SCN and peripheral clocks elsewhere
1,2
. Individual cells are the functional units for generation and maintenance of circadian rhythms
3,4
, and these oscillators of different tissue types in the organism share a remarkably similar biochemical negative feedback mechanism. However, due to interactions at the neuronal network level in the SCN and through rhythmic, systemic cues at the organismal level, circadian rhythms at the organismal level are not necessarily cell-autonomous
5-7
. Compared to traditional studies of locomotor activity
in vivo
and SCN explants
ex vivo
, cell-based
in vitro
assays allow for discovery of cell-autonomous circadian defects
5,8
. Strategically, cell-based models are more experimentally tractable for phenotypic characterization and rapid discovery of basic clock mechanisms
5,8-13
. Because circadian rhythms are dynamic, longitudinal measurements with high temporal resolution are needed to assess clock function. In recent years, real-time bioluminescence recording using firefly
luciferase
as a reporter has become a common technique for studying circadian rhythms in mammals
14,15
, as it allows for examination of the persistence and dynamics of molecular rhythms. To monitor cell-autonomous circadian rhythms of gene expression, luciferase reporters can be introduced into cells via transient transfection
13,16,17
or stable transduction
5,10,18,19
. Here we describe a stable transduction protocol using lentivirus-mediated gene delivery. The lentiviral vector system is superior to traditional methods such as transient transfection and germline transmission because of its efficiency and versatility: it permits efficient delivery and stable integration into the host genome of both dividing and non-dividing cells
20
. Once a reporter cell line is established, the dynamics of clock function can be examined through bioluminescence recording. We first describe the generation of P(
Per2
)-d
Luc
reporter lines, and then present data from this and other circadian reporters. In these assays, 3T3 mouse fibroblasts and U2OS human osteosarcoma cells are used as cellular models. We also discuss various ways of using these clock models in circadian studies. Methods described here can be applied to a great variety of cell types to study the cellular and molecular basis of circadian clocks, and may prove useful in tackling problems in other biological systems.
Genetics, Issue 67, Molecular Biology, Cellular Biology, Chemical Biology, Circadian clock, firefly luciferase, real-time bioluminescence technology, cell-autonomous model, lentiviral vector, RNA interference (RNAi), high-throughput screening (HTS)
4234
Simultaneous Multicolor Imaging of Biological Structures with Fluorescence Photoactivation Localization Microscopy
Institutions: University of Maine.

Localization-based super resolution microscopy can be applied to obtain a spatial map (image) of the distribution of individual fluorescently labeled single molecules within a sample with a spatial resolution of tens of nanometers. Using either photoactivatable (PAFP) or photoswitchable (PSFP) fluorescent proteins fused to proteins of interest, or organic dyes conjugated to antibodies or other molecules of interest, fluorescence photoactivation localization microscopy (FPALM) can simultaneously image multiple species of molecules within single cells. By using the following approach, populations of large numbers (thousands to hundreds of thousands) of individual molecules are imaged in single cells and localized with a precision of ~10-30 nm. Data obtained can be applied to understanding the nanoscale spatial distributions of multiple protein types within a cell. One primary advantage of this technique is the dramatic increase in spatial resolution: while diffraction limits resolution to ~200-250 nm in conventional light microscopy, FPALM can image length scales more than an order of magnitude smaller. As many biological hypotheses concern the spatial relationships among different biomolecules, the improved resolution of FPALM can provide insight into questions of cellular organization which have previously been inaccessible to conventional fluorescence microscopy. In addition to detailing the methods for sample preparation and data acquisition, we here describe the optical setup for FPALM. One additional consideration for researchers wishing to do super-resolution microscopy is cost: in-house setups are significantly cheaper than most commercially available imaging machines. Limitations of this technique include the need for optimizing the labeling of molecules of interest within cell samples, and the need for post-processing software to visualize results. We here describe the use of PAFP and PSFP expression to image two protein species in fixed cells. Extension of the technique to living cells is also described.
Basic Protocol, Issue 82, Microscopy, Super-resolution imaging, Multicolor, single molecule, FPALM, Localization microscopy, fluorescent proteins
50680
Oscillation and Reaction Board Techniques for Estimating Inertial Properties of a Below-knee Prosthesis
Institutions: University of Northern Colorado, Arizona State University, Iowa State University.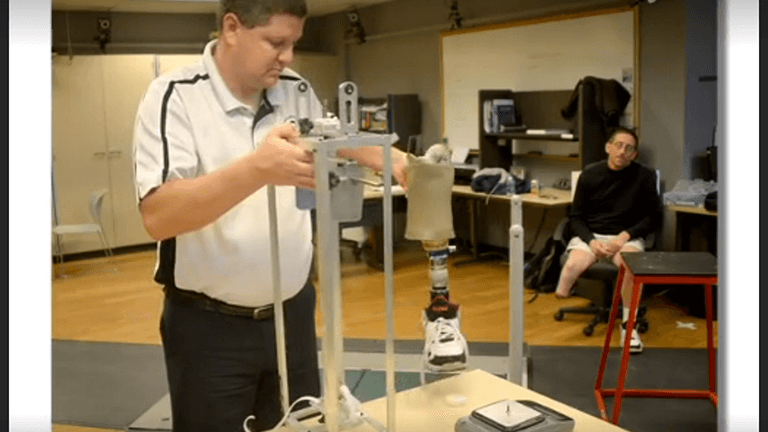 The purpose of this study was two-fold: 1) demonstrate a technique that can be used to directly estimate the inertial properties of a below-knee prosthesis, and 2) contrast the effects of the proposed technique and that of using intact limb inertial properties on joint kinetic estimates during walking in unilateral, transtibial amputees. An oscillation and reaction board system was validated and shown to be reliable when measuring inertial properties of known geometrical solids. When direct measurements of inertial properties of the prosthesis were used in inverse dynamics modeling of the lower extremity compared with inertial estimates based on an intact shank and foot, joint kinetics at the hip and knee were significantly lower during the swing phase of walking. Differences in joint kinetics during stance, however, were smaller than those observed during swing. Therefore, researchers focusing on the swing phase of walking should consider the impact of prosthesis inertia property estimates on study outcomes. For stance, either one of the two inertial models investigated in our study would likely lead to similar outcomes with an inverse dynamics assessment.
Bioengineering, Issue 87, prosthesis inertia, amputee locomotion, below-knee prosthesis, transtibial amputee
50977
Determination of Protein-ligand Interactions Using Differential Scanning Fluorimetry
Institutions: University of Exeter.

A wide range of methods are currently available for determining the dissociation constant between a protein and interacting small molecules. However, most of these require access to specialist equipment, and often require a degree of expertise to effectively establish reliable experiments and analyze data. Differential scanning fluorimetry (DSF) is being increasingly used as a robust method for initial screening of proteins for interacting small molecules, either for identifying physiological partners or for hit discovery. This technique has the advantage that it requires only a PCR machine suitable for quantitative PCR, and so suitable instrumentation is available in most institutions; an excellent range of protocols are already available; and there are strong precedents in the literature for multiple uses of the method. Past work has proposed several means of calculating dissociation constants from DSF data, but these are mathematically demanding. Here, we demonstrate a method for estimating dissociation constants from a moderate amount of DSF experimental data. These data can typically be collected and analyzed within a single day. We demonstrate how different models can be used to fit data collected from simple binding events, and where cooperative binding or independent binding sites are present. Finally, we present an example of data analysis in a case where standard models do not apply. These methods are illustrated with data collected on commercially available control proteins, and two proteins from our research program. Overall, our method provides a straightforward way for researchers to rapidly gain further insight into protein-ligand interactions using DSF.
Biophysics, Issue 91, differential scanning fluorimetry, dissociation constant, protein-ligand interactions, StepOne, cooperativity, WcbI.
51809
From Fast Fluorescence Imaging to Molecular Diffusion Law on Live Cell Membranes in a Commercial Microscope
Institutions: Scuola Normale Superiore, Instituto Italiano di Tecnologia, University of California, Irvine.

It has become increasingly evident that the spatial distribution and the motion of membrane components like lipids and proteins are key factors in the regulation of many cellular functions. However, due to the fast dynamics and the tiny structures involved, a very high spatio-temporal resolution is required to catch the real behavior of molecules. Here we present the experimental protocol for studying the dynamics of fluorescently-labeled plasma-membrane proteins and lipids in live cells with high spatiotemporal resolution. Notably, this approach doesn't need to track each molecule, but it calculates population behavior using all molecules in a given region of the membrane. The starting point is a fast imaging of a given region on the membrane. Afterwards, a complete spatio-temporal autocorrelation function is calculated correlating acquired images at increasing time delays, for example each 2, 3, n repetitions. It is possible to demonstrate that the width of the peak of the spatial autocorrelation function increases at increasing time delay as a function of particle movement due to diffusion. Therefore, fitting of the series of autocorrelation functions enables to extract the actual protein mean square displacement from imaging (iMSD), here presented in the form of apparent diffusivity vs average displacement. This yields a quantitative view of the average dynamics of single molecules with nanometer accuracy. By using a GFP-tagged variant of the Transferrin Receptor (TfR) and an ATTO488 labeled 1-palmitoyl-2-hydroxy-
sn
-glycero-3-phosphoethanolamine (PPE) it is possible to observe the spatiotemporal regulation of protein and lipid diffusion on µm-sized membrane regions in the micro-to-milli-second time range.
Bioengineering, Issue 92, fluorescence, protein dynamics, lipid dynamics, membrane heterogeneity, transient confinement, single molecule, GFP
51994
Fabrication And Characterization Of Photonic Crystal Slow Light Waveguides And Cavities
Institutions: University of St Andrews.

Slow light has been one of the hot topics in the photonics community in the past decade, generating great interest both from a fundamental point of view and for its considerable potential for practical applications. Slow light photonic crystal waveguides, in particular, have played a major part and have been successfully employed for delaying optical signals
1-4
and the enhancement of both linear
5-7
and nonlinear devices.
8-11
Photonic crystal cavities achieve similar effects to that of slow light waveguides, but over a reduced band-width. These cavities offer high Q-factor/volume ratio, for the realization of optically
12
and electrically
13
pumped ultra-low threshold lasers and the enhancement of nonlinear effects.
14-16
Furthermore, passive filters
17
and modulators
18-19
have been demonstrated, exhibiting ultra-narrow line-width, high free-spectral range and record values of low energy consumption. To attain these exciting results, a robust repeatable fabrication protocol must be developed. In this paper we take an in-depth look at our fabrication protocol which employs electron-beam lithography for the definition of photonic crystal patterns and uses wet and dry etching techniques. Our optimised fabrication recipe results in photonic crystals that do not suffer from vertical asymmetry and exhibit very good edge-wall roughness. We discuss the results of varying the etching parameters and the detrimental effects that they can have on a device, leading to a diagnostic route that can be taken to identify and eliminate similar issues. The key to evaluating slow light waveguides is the passive characterization of transmission and group index spectra. Various methods have been reported, most notably resolving the Fabry-Perot fringes of the transmission spectrum
20-21
and interferometric techniques.
22-25
Here, we describe a direct, broadband measurement technique combining spectral interferometry with Fourier transform analysis.
26
Our method stands out for its simplicity and power, as we can characterise a bare photonic crystal with access waveguides, without need for on-chip interference components, and the setup only consists of a Mach-Zehnder interferometer, with no need for moving parts and delay scans. When characterising photonic crystal cavities, techniques involving internal sources
21
or external waveguides directly coupled to the cavity
27
impact on the performance of the cavity itself, thereby distorting the measurement. Here, we describe a novel and non-intrusive technique that makes use of a cross-polarised probe beam and is known as resonant scattering (RS), where the probe is coupled out-of plane into the cavity through an objective. The technique was first demonstrated by McCutcheon
et al.28
and further developed by Galli
et al.
29
Physics, Issue 69, Optics and Photonics, Astronomy, light scattering, light transmission, optical waveguides, photonics, photonic crystals, Slow-light, Cavities, Waveguides, Silicon, SOI, Fabrication, Characterization
50216
Protein WISDOM: A Workbench for In silico De novo Design of BioMolecules
Institutions: Princeton University.

The aim of
de novo
protein design is to find the amino acid sequences that will fold into a desired 3-dimensional structure with improvements in specific properties, such as binding affinity, agonist or antagonist behavior, or stability, relative to the native sequence. Protein design lies at the center of current advances drug design and discovery. Not only does protein design provide predictions for potentially useful drug targets, but it also enhances our understanding of the protein folding process and protein-protein interactions. Experimental methods such as directed evolution have shown success in protein design. However, such methods are restricted by the limited sequence space that can be searched tractably. In contrast, computational design strategies allow for the screening of a much larger set of sequences covering a wide variety of properties and functionality. We have developed a range of computational
de novo
protein design methods capable of tackling several important areas of protein design. These include the design of monomeric proteins for increased stability and complexes for increased binding affinity. To disseminate these methods for broader use we present Protein WISDOM (https://www.proteinwisdom.org), a tool that provides automated methods for a variety of protein design problems. Structural templates are submitted to initialize the design process. The first stage of design is an optimization sequence selection stage that aims at improving stability through minimization of potential energy in the sequence space. Selected sequences are then run through a fold specificity stage and a binding affinity stage. A rank-ordered list of the sequences for each step of the process, along with relevant designed structures, provides the user with a comprehensive quantitative assessment of the design. Here we provide the details of each design method, as well as several notable experimental successes attained through the use of the methods.
Genetics, Issue 77, Molecular Biology, Bioengineering, Biochemistry, Biomedical Engineering, Chemical Engineering, Computational Biology, Genomics, Proteomics, Protein, Protein Binding, Computational Biology, Drug Design, optimization (mathematics), Amino Acids, Peptides, and Proteins, De novo protein and peptide design, Drug design, In silico sequence selection, Optimization, Fold specificity, Binding affinity, sequencing
50476
Confocal Imaging of Confined Quiescent and Flowing Colloid-polymer Mixtures
Institutions: University of Houston.

The behavior of confined colloidal suspensions with attractive interparticle interactions is critical to the rational design of materials for directed assembly
1-3
, drug delivery
4
, improved hydrocarbon recovery
5-7
, and flowable electrodes for energy storage
8
. Suspensions containing fluorescent colloids and non-adsorbing polymers are appealing model systems, as the ratio of the polymer radius of gyration to the particle radius and concentration of polymer control the range and strength of the interparticle attraction, respectively. By tuning the polymer properties and the volume fraction of the colloids, colloid fluids, fluids of clusters, gels, crystals, and glasses can be obtained
9
. Confocal microscopy, a variant of fluorescence microscopy, allows an optically transparent and fluorescent sample to be imaged with high spatial and temporal resolution in three dimensions. In this technique, a small pinhole or slit blocks the emitted fluorescent light from regions of the sample that are outside the focal volume of the microscope optical system. As a result, only a thin section of the sample in the focal plane is imaged. This technique is particularly well suited to probe the structure and dynamics in dense colloidal suspensions at the single-particle scale: the particles are large enough to be resolved using visible light and diffuse slowly enough to be captured at typical scan speeds of commercial confocal systems
10
. Improvements in scan speeds and analysis algorithms have also enabled quantitative confocal imaging of flowing suspensions
11-16,37
. In this paper, we demonstrate confocal microscopy experiments to probe the confined phase behavior and flow properties of colloid-polymer mixtures. We first prepare colloid-polymer mixtures that are density- and refractive-index matched. Next, we report a standard protocol for imaging quiescent dense colloid-polymer mixtures under varying confinement in thin wedge-shaped cells. Finally, we demonstrate a protocol for imaging colloid-polymer mixtures during microchannel flow.
Chemistry, Issue 87, confocal microscopy, particle tracking, colloids, suspensions, confinement, gelation, microfluidics, image correlation, dynamics, suspension flow
51461
Analysis of Cell Migration within a Three-dimensional Collagen Matrix
Institutions: Witten/Herdecke University.

The ability to migrate is a hallmark of various cell types and plays a crucial role in several physiological processes, including embryonic development, wound healing, and immune responses. However, cell migration is also a key mechanism in cancer enabling these cancer cells to detach from the primary tumor to start metastatic spreading. Within the past years various cell migration assays have been developed to analyze the migratory behavior of different cell types. Because the locomotory behavior of cells markedly differs between a two-dimensional (2D) and three-dimensional (3D) environment it can be assumed that the analysis of the migration of cells that are embedded within a 3D environment would yield in more significant cell migration data. The advantage of the described 3D collagen matrix migration assay is that cells are embedded within a physiological 3D network of collagen fibers representing the major component of the extracellular matrix. Due to time-lapse video microscopy real cell migration is measured allowing the determination of several migration parameters as well as their alterations in response to pro-migratory factors or inhibitors. Various cell types could be analyzed using this technique, including lymphocytes/leukocytes, stem cells, and tumor cells. Likewise, also cell clusters or spheroids could be embedded within the collagen matrix concomitant with analysis of the emigration of single cells from the cell cluster/ spheroid into the collagen lattice. We conclude that the 3D collagen matrix migration assay is a versatile method to analyze the migration of cells within a physiological-like 3D environment.
Bioengineering, Issue 92, cell migration, 3D collagen matrix, cell tracking
51963
Applications of EEG Neuroimaging Data: Event-related Potentials, Spectral Power, and Multiscale Entropy
Institutions: Baycrest.

When considering human neuroimaging data, an appreciation of signal variability represents a fundamental innovation in the way we think about brain signal. Typically, researchers represent the brain's response as the mean across repeated experimental trials and disregard signal fluctuations over time as "noise". However, it is becoming clear that brain signal variability conveys meaningful functional information about neural network dynamics. This article describes the novel method of multiscale entropy (MSE) for quantifying brain signal variability. MSE may be particularly informative of neural network dynamics because it shows timescale dependence and sensitivity to linear and nonlinear dynamics in the data.
Neuroscience, Issue 76, Neurobiology, Anatomy, Physiology, Medicine, Biomedical Engineering, Electroencephalography, EEG, electroencephalogram, Multiscale entropy, sample entropy, MEG, neuroimaging, variability, noise, timescale, non-linear, brain signal, information theory, brain, imaging
50131
Reaggregate Thymus Cultures
Institutions: University of Birmingham .
Stromal cells within lymphoid tissues are organized into three-dimensional structures that provide a scaffold that is thought to control the migration and development of haemopoeitic cells. Importantly, the maintenance of this three-dimensional organization appears to be critical for normal stromal cell function, with two-dimensional monolayer cultures often being shown to be capable of supporting only individual fragments of lymphoid tissue function. In the thymus, complex networks of cortical and medullary epithelial cells act as a framework that controls the recruitment, proliferation, differentiation and survival of lymphoid progenitors as they undergo the multi-stage process of intrathymic T-cell development. Understanding the functional role of individual stromal compartments in the thymus is essential in determining how the thymus imposes self/non-self discrimination. Here we describe a technique in which we exploit the plasticity of fetal tissues to re-associate into intact three-dimensional structures
in vitro
, following their enzymatic disaggregation. The dissociation of fetal thymus lobes into heterogeneous cellular mixtures, followed by their separation into individual cellular components, is then combined with the
in vitro
re-association of these desired cell types into three-dimensional reaggregate structures at defined ratios, thereby providing an opportunity to investigate particular aspects of T-cell development under defined cellular conditions. (This article is based on work first reported Methods in Molecular Biology 2007, Vol. 380 pages 185-196).
Immunology, Issue 18, Springer Protocols, Thymus, 2-dGuo, Thymus Organ Cultures, Immune Tolerance, Positive and Negative Selection, Lymphoid Development
905
Facilitating the Analysis of Immunological Data with Visual Analytic Techniques
Institutions: University of British Columbia, University of British Columbia, University of British Columbia.

Visual analytics (VA) has emerged as a new way to analyze large dataset through interactive visual display. We demonstrated the utility and the flexibility of a VA approach in the analysis of biological datasets. Examples of these datasets in immunology include flow cytometry, Luminex data, and genotyping (e.g., single nucleotide polymorphism) data. Contrary to the traditional information visualization approach, VA restores the analysis power in the hands of analyst by allowing the analyst to engage in real-time data exploration process. We selected the VA software called Tableau after evaluating several VA tools. Two types of analysis tasks analysis within and between datasets were demonstrated in the video presentation using an approach called paired analysis. Paired analysis, as defined in VA, is an analysis approach in which a VA tool expert works side-by-side with a domain expert during the analysis. The domain expert is the one who understands the significance of the data, and asks the questions that the collected data might address. The tool expert then creates visualizations to help find patterns in the data that might answer these questions. The short lag-time between the hypothesis generation and the rapid visual display of the data is the main advantage of a VA approach.
Immunology, Issue 47, Visual analytics, flow cytometry, Luminex, Tableau, cytokine, innate immunity, single nucleotide polymorphism
2397