ABSTRACT
This protocol details a method to analyze the ability of purified hematopoietic progenitors to generate plasmacytoid dendritic cells (pDC) in intestinal Peyer's patch (PP). Common dendritic cell progenitors (CDPs, lin- c-kitlo CD115+ Flt3+) were purified from the bone marrow of C57BL6 mice by FACS and transferred to recipient mice that lack a significant pDC population in PP; in this case, Ifnar-/- mice were used as the transfer recipients. In some mice, overexpression of the dendritic cell growth factor Flt3 ligand (Flt3L) was enforced prior to adoptive transfer of CDPs, using hydrodynamic gene transfer (HGT) of Flt3L-encoding plasmid. Flt3L overexpression expands DC populations originating from transferred (or endogenous) hematopoietic progenitors. At 7-10 days after progenitor transfer, pDCs that arise from the adoptively transferred progenitors were distinguished from recipient cells on the basis of CD45 marker expression, with pDCs from transferred CDPs being CD45.1+ and recipients being CD45.2+. The ability of transferred CDPs to contribute to the pDC population in PP and to respond to Flt3L was evaluated by flow cytometry of PP single cell suspensions from recipient mice. This method may be used to test whether other progenitor populations are capable of generating PP pDCs. In addition, this approach could be used to examine the role of factors that are predicted to affect pDC development in PP, by transferring progenitor subsets with an appropriate knockdown, knockout or overexpression of the putative developmental factor and/or by manipulating circulating cytokines via HGT. This method may also allow analysis of how PP pDCs affect the frequency or function of other immune subsets in PPs. A unique feature of this method is the use of Ifnar-/- mice, which show severely depleted PP pDCs relative to wild type animals, thus allowing reconstitution of PP pDCs in the absence of confounding effects from lethal irradiation.
26 Related JoVE Articles!
A Seed Coat Bedding Assay to Genetically Explore In Vitro How the Endosperm Controls Seed Germination in Arabidopsis thaliana
Institutions: Université de Genève.
The
Arabidopsis
endosperm consists of a single cell layer surrounding the mature embryo and playing an essential role to prevent the germination of dormant seeds or that of nondormant seeds irradiated by a far red (FR) light pulse. In order to further gain insight into the molecular genetic mechanisms underlying the germination repressive activity exerted by the endosperm, a "seed coat bedding" assay (SCBA) was devised. The SCBA is a dissection procedure physically separating seed coats and embryos from seeds, which allows monitoring the growth of embryos on an underlying layer of seed coats. Remarkably, the SCBA reconstitutes the germination repressive activities of the seed coat in the context of seed dormancy and FR-dependent control of seed germination. Since the SCBA allows the combinatorial use of dormant, nondormant and genetically modified seed coat and embryonic materials, the genetic pathways controlling germination and specifically operating in the endosperm and embryo can be dissected. Here we detail the procedure to assemble a SCBA.
Plant Biology, Issue 81, Technology, Industry, and Agriculture, Life Sciences (General), Control of Seed germination, Seed Coat, Endosperm, Dormancy, Far red light, Abscisic acid, gibberellins, DELLA factors
50732
Generation of Transgenic Hydra by Embryo Microinjection
Institutions: Yale University School of Medicine, University of California, Irvine.
As a member of the phylum Cnidaria, the sister group to all bilaterians,
Hydra
can shed light on fundamental biological processes shared among multicellular animals.
Hydra
is used as a model for the study of regeneration, pattern formation, and stem cells. However, research efforts have been hampered by lack of a reliable method for gene perturbations to study molecular function. The development of transgenic methods has revitalized the study of
Hydra
biology
1
. Transgenic
Hydra
allow for the tracking of live cells, sorting to yield pure cell populations for biochemical analysis, manipulation of gene function by knockdown and over-expression, and analysis of promoter function. Plasmid DNA injected into early stage embryos randomly integrates into the genome early in development. This results in hatchlings that express transgenes in patches of tissue in one or more of the three lineages (ectodermal epithelial, endodermal epithelial, or interstitial). The success rate of obtaining a hatchling with transgenic tissue is between 10% and 20%. Asexual propagation of the transgenic hatchling is used to establish a uniformly transgenic line in a particular lineage. Generating transgenic
Hydra
is surprisingly simple and robust, and here we describe a protocol that can be easily implemented at low cost.
Molecular Biology, Issue 91, Hydra, transgenic, microinjection, gene overexpression, gene knockdown
51888
Imaging Pheromone Sensing in a Mouse Vomeronasal Acute Tissue Slice Preparation
Institutions: University of Lausanne, University of Geneva.

Peter Karlson and Martin Lüscher used the term pheromone for the first time in 1959
1
to describe chemicals used for intra-species communication. Pheromones are volatile or non-volatile short-lived molecules
2
secreted and/or contained in biological fluids
3,4
, such as urine, a liquid known to be a main source of pheromones
3
. Pheromonal communication is implicated in a variety of key animal modalities such as kin interactions
5,6
, hierarchical organisations
3
and sexual interactions
7,8
and are consequently directly correlated with the survival of a given species
9,10,11
. In mice, the ability to detect pheromones is principally mediated by the vomeronasal organ (VNO)
10,12
, a paired structure located at the base of the nasal cavity, and enclosed in a cartilaginous capsule. Each VNO has a tubular shape with a lumen
13,14
allowing the contact with the external chemical world. The sensory neuroepithelium is principally composed of vomeronasal bipolar sensory neurons (VSNs)
15
. Each VSN extends a single dendrite to the lumen ending in a large dendritic knob bearing up to 100 microvilli implicated in chemical detection
16
. Numerous subpopulations of VSNs are present. They are differentiated by the chemoreceptor they express and thus possibly by the ligand(s) they recognize
17,18
. Two main vomeronasal receptor families, V1Rs and V2Rs
19,20,21,22
, are composed respectively by 240
23
and 120
24
members and are expressed in separate layers of the neuroepithelium. Olfactory receptors (ORs)
25
and formyl peptide receptors (FPRs)
26,27
are also expressed in VSNs. Whether or not these neuronal subpopulations use the same downstream signalling pathway for sensing pheromones is unknown. Despite a major role played by a calcium-permeable channel (TRPC2) present in the microvilli of mature neurons
28
TRPC2 independent transduction channels have been suggested
6,29
. Due to the high number of neuronal subpopulations and the peculiar morphology of the organ, pharmacological and physiological investigations of the signalling elements present in the VNO are complex. Here, we present an acute tissue slice preparation of the mouse VNO for performing calcium imaging investigations. This physiological approach allows observations, in the natural environment of a living tissue, of general or individual subpopulations of VSNs previously loaded with Fura-2AM, a calcium dye. This method is also convenient for studying any GFP-tagged pheromone receptor and is adaptable for the use of other fluorescent calcium probes. As an example, we use here a VG mouse line
30
, in which the translation of the pheromone V1rb2 receptor is linked to the expression of GFP by a polycistronic strategy.
Neuroscience, Issue 58, Vomeronasal organ, VNO, pheromone, calcium imaging, tissue slice preparation, floating immunohistochemistry, GFP
3311
Simultaneous Whole-cell Recordings from Photoreceptors and Second-order Neurons in an Amphibian Retinal Slice Preparation
Institutions: University of Nebraska Medical Center , University of Nebraska Medical Center .

One of the central tasks in retinal neuroscience is to understand the circuitry of retinal neurons and how those connections are responsible for shaping the signals transmitted to the brain. Photons are detected in the retina by rod and cone photoreceptors, which convert that energy into an electrical signal, transmitting it to other retinal neurons, where it is processed and communicated to central targets in the brain via the optic nerve. Important early insights into retinal circuitry and visual processing came from the histological studies of Cajal
1,2
and, later, from electrophysiological recordings of the spiking activity of retinal ganglion cells - the output cells of the retina
3,4
. A detailed understanding of visual processing in the retina requires an understanding of the signaling at each step in the pathway from photoreceptor to retinal ganglion cell. However, many retinal cell types are buried deep in the tissue and therefore relatively inaccessible for electrophysiological recording. This limitation can be overcome by working with vertical slices, in which cells residing within each of the retinal layers are clearly visible and accessible for electrophysiological recording. Here, we describe a method for making vertical sections of retinas from larval tiger salamanders (
Ambystoma tigrinum
). While this preparation was originally developed for recordings with sharp microelectrodes
5,6
, we describe a method for dual whole-cell voltage clamp recordings from photoreceptors and second-order horizontal and bipolar cells in which we manipulate the photoreceptor's membrane potential while simultaneously recording post-synaptic responses in horizontal or bipolar cells. The photoreceptors of the tiger salamander are considerably larger than those of mammalian species, making this an ideal preparation in which to undertake this technically challenging experimental approach. These experiments are described with an eye toward probing the signaling properties of the synaptic ribbon - a specialized synaptic structure found in a only a handful of neurons, including rod and cone photoreceptors, that is well suited for maintaining a high rate of tonic neurotransmitter release
7,8
- and how it contributes to the unique signaling properties of this first retinal synapse.
Neuroscience, Issue 76, Molecular Biology, Cellular Biology, Anatomy, Physiology, Ophthalmology, Retina, electrophysiology, paired recording, patch clamp, synaptic ribbon, photoreceptor, bipolar cell, horizontal cell, tiger salamander, animal model
50007
Subretinal Transplantation of MACS Purified Photoreceptor Precursor Cells into the Adult Mouse Retina
Institutions: Technische Universität Dresden.

Vision impairment and blindness due to the loss of the light-sensing cells of the retina,
i.e.
photoreceptors, represents the main reason for disability in industrialized countries. Replacement of degenerated photoreceptors by cell transplantation represents a possible treatment option in future clinical applications. Indeed, recent preclinical studies demonstrated that immature photoreceptors, isolated from the neonatal mouse retina at postnatal day 4, have the potential to integrate into the adult mouse retina following subretinal transplantation. Donor cells generated a mature photoreceptor morphology including inner and outer segments, a round cell body located at the outer nuclear layer, and synaptic terminals in close proximity to endogenous bipolar cells. Indeed, recent reports demonstrated that donor photoreceptors functionally integrate into the neural circuitry of host mice. For a future clinical application of such cell replacement approach, purified suspensions of the cells of choice have to be generated and placed at the correct position for proper integration into the eye. For the enrichment of photoreceptor precursors, sorting should be based on specific cell surface antigens to avoid genetic reporter modification of donor cells. Here we show magnetic-associated cell sorting (MACS) - enrichment of transplantable rod photoreceptor precursors isolated from the neonatal retina of photoreceptor-specific reporter mice based on the cell surface marker CD73. Incubation with anti-CD73 antibodies followed by micro-bead conjugated secondary antibodies allowed the enrichment of rod photoreceptor precursors by MACS to approximately 90%. In comparison to flow cytometry, MACS has the advantage that it can be easier applied to GMP standards and that high amounts of cells can be sorted in relative short time periods. Injection of enriched cell suspensions into the subretinal space of adult wild-type mice resulted in a 3-fold higher integration rate compared to unsorted cell suspensions.
Medicine, Issue 84, Photoreceptor Cells, Vertebrate, Retinal Degeneration, Regeneration, retina, magnetic associated cell sorting (MACS), transplantation, regenerative therapy
50932
An Experimental Platform to Study the Closed-loop Performance of Brain-machine Interfaces
Institutions: Imperial College London.

The non-stationary nature and variability of neuronal signals is a fundamental problem in brain-machine interfacing. We developed a brain-machine interface to assess the robustness of different control-laws applied to a closed-loop image stabilization task. Taking advantage of the well-characterized fly visuomotor pathway we record the electrical activity from an identified, motion-sensitive neuron, H1, to control the yaw rotation of a two-wheeled robot. The robot is equipped with 2 high-speed video cameras providing visual motion input to a fly placed in front of 2 CRT computer monitors. The activity of the H1 neuron indicates the direction and relative speed of the robot's rotation. The neural activity is filtered and fed back into the steering system of the robot by means of proportional and proportional/adaptive control. Our goal is to test and optimize the performance of various control laws under closed-loop conditions for a broader application also in other brain machine interfaces.
Neuroscience, Issue 49, Stabilization reflexes, Sensorimotor control, Adaptive control, Insect vision
1677
Cut-loading: A Useful Tool for Examining the Extent of Gap Junction Tracer Coupling Between Retinal Neurons
Institutions: Ohio State University College of Medicine, University of Texas Medical School.
In addition to chemical synaptic transmission, neurons that are connected by gap junctions can also communicate rapidly via electrical synaptic transmission. Increasing evidence indicates that gap junctions not only permit electrical current flow and synchronous activity between interconnected or coupled cells, but that the strength or effectiveness of electrical communication between coupled cells can be modulated to a great extent
1,2
. In addition, the large internal diameter (~1.2 nm) of many gap junction channels permits not only electric current flow, but also the diffusion of intracellular signaling molecules and small metabolites between interconnected cells, so that gap junctions may also mediate metabolic and chemical communication. The strength of gap junctional communication between neurons and its modulation by neurotransmitters and other factors can be studied by simultaneously electrically recording from coupled cells and by determining the extent of diffusion of tracer molecules, which are gap junction permeable, but not membrane permeable, following iontophoretic injection into single cells. However, these procedures can be extremely difficult to perform on neurons with small somata in intact neural tissue. Numerous studies on electrical synapses and the modulation of electrical communication have been conducted in the vertebrate retina, since each of the five retinal neuron types is electrically connected by gap junctions
3,4
. Increasing evidence has shown that the circadian (24-hour) clock in the retina and changes in light stimulation regulate gap junction coupling
3-8
. For example, recent work has demonstrated that the retinal circadian clock decreases gap junction coupling between rod and cone photoreceptor cells during the day by increasing dopamine D2 receptor activation, and dramatically increases rod-cone coupling at night by reducing D2 receptor activation
7,8
. However, not only are these studies extremely difficult to perform on neurons with small somata in intact neural retinal tissue, but it can be difficult to adequately control the illumination conditions during the electrophysiological study of single retinal neurons to avoid light-induced changes in gap junction conductance. Here, we present a straightforward method of determining the extent of gap junction tracer coupling between retinal neurons under different illumination conditions and at different times of the day and night. This cut-loading technique is a modification of scrape loading
9-12
, which is based on dye loading and diffusion through open gap junction channels. Scrape loading works well in cultured cells, but not in thick slices such as intact retinas. The cut-loading technique has been used to study photoreceptor coupling in intact fish and mammalian retinas
7, 8,13
, and can be used to study coupling between other retinal neurons, as described here.
Neuroscience, Issue 59, retina, photoreceptors, gap junctions, tracer coupling, neurobiotin, labeling
3180
A Novel Light Damage Paradigm for Use in Retinal Regeneration Studies in Adult Zebrafish
Institutions: Wayne State University School of Medicine, Wayne State University School of Medicine.

Light-induced retinal degeneration (LIRD) is commonly used in both rodents and zebrafish to damage rod and cone photoreceptors. In adult zebrafish, photoreceptor degeneration triggers Müller glial cells to re-enter the cell cycle and produce transient-amplifying progenitors. These progenitors continue to proliferate as they migrate to the damaged area, where they ultimately give rise to new photoreceptors. Currently, there are two widely-used LIRD paradigms, each of which results in varying degrees of photoreceptor loss and corresponding differences in the regeneration response. As more genetic and pharmacological tools are available to test the role of individual genes of interest during regeneration, there is a need to develop a robust LIRD paradigm. Here we describe a LIRD protocol that results in widespread and consistent loss of both rod and cone photoreceptors in which we have combined the use of two previously established LIRD techniques. Furthermore, this protocol can be extended for use in pigmented animals, which eliminates the need to maintain transgenic lines of interest on the albino background for LIRD studies.
Neuroscience, Issue 80, Zebrafish, Retinal Degeneration, Retina, Photoreceptor, Müller glia, Light damage
51017
The Tomato/GFP-FLP/FRT Method for Live Imaging of Mosaic Adult Drosophila Photoreceptor Cells
Institutions: Ecole Normale Supérieure de Lyon, Université Lille-Nord de France, The Rockefeller University.

The
Drosophila
eye is widely used as a model for studies of development and neuronal degeneration. With the powerful mitotic recombination technique, elegant genetic screens based on clonal analysis have led to the identification of signaling pathways involved in eye development and photoreceptor (PR) differentiation at larval stages. We describe here the Tomato/GFP-FLP/FRT method, which can be used for rapid clonal analysis in the eye of living adult
Drosophila
. Fluorescent photoreceptor cells are imaged with the cornea neutralization technique, on retinas with mosaic clones generated by flipase-mediated recombination. This method has several major advantages over classical histological sectioning of the retina: it can be used for high-throughput screening and has proved an effective method for identifying the factors regulating PR survival and function. It can be used for kinetic analyses of PR degeneration in the same living animal over several weeks, to demonstrate the requirement for specific genes for PR survival or function in the adult fly. This method is also useful for addressing cell autonomy issues in developmental mutants, such as those in which the establishment of planar cell polarity is affected.
Developmental Biology, Issue 79, Eye, Photoreceptor Cells, Genes, Developmental, neuron, visualization, degeneration, development, live imaging,Drosophila, photoreceptor, cornea neutralization, mitotic recombination
50610
Retinal Detachment Model in Rodents by Subretinal Injection of Sodium Hyaluronate
Institutions: Massachusetts Eye and Ear Infirmary, Harvard Medical School.

Subretinal injection of sodium hyaluronate is a widely accepted method of inducing retinal detachment (RD). However, the height and duration of RD or the occurrence of subretinal hemorrhage can affect photoreceptor cell death in the detached retina. Hence, it is advantageous to create reproducible RDs without subretinal hemorrhage for evaluating photoreceptor cell death. We modified a previously reported method to create bullous and persistent RDs in a reproducible location with rare occurrence of subretinal hemorrhage. The critical step of this modified method is the creation of a self-sealing scleral incision, which can prevent leakage of sodium hyaluronate after injection into the subretinal space. To make the self-sealing scleral incision, a scleral tunnel is created, followed by scleral penetration into the choroid with a 30 G needle. Although choroidal hemorrhage may occur during this step, astriction with a surgical spear reduces the rate of choroidal hemorrhage. This method allows a more reproducible and reliable model of photoreceptor death in diseases that involve RD such as rhegmatogenous RD, retinopathy of prematurity, diabetic retinopathy, central serous chorioretinopathy, and age-related macular degeneration (AMD).
Medicine, Issue 79, Photoreceptor Cells, Rodentia, Retinal Degeneration, Retinal Detachment, animal models, Neuroscience, ophthalmology, retina, mouse, photoreceptor cell death, retinopathy, age-related macular degeneration (AMD)
50660
In vivo Imaging of Optic Nerve Fiber Integrity by Contrast-Enhanced MRI in Mice
Institutions: Jena University Hospital, Fritz Lipmann Institute, Jena, Jena University Hospital.

The rodent visual system encompasses retinal ganglion cells and their axons that form the optic nerve to enter thalamic and midbrain centers, and postsynaptic projections to the visual cortex. Based on its distinct anatomical structure and convenient accessibility, it has become the favored structure for studies on neuronal survival, axonal regeneration, and synaptic plasticity. Recent advancements in MR imaging have enabled the
in vivo
visualization of the retino-tectal part of this projection using manganese mediated contrast enhancement (MEMRI). Here, we present a MEMRI protocol for illustration of the visual projection in mice, by which resolutions of (200 µm)
3
can be achieved using common 3 Tesla scanners. We demonstrate how intravitreal injection of a single dosage of 15 nmol MnCl
2
leads to a saturated enhancement of the intact projection within 24 hr. With exception of the retina, changes in signal intensity are independent of coincided visual stimulation or physiological aging. We further apply this technique to longitudinally monitor axonal degeneration in response to acute optic nerve injury, a paradigm by which Mn
2+
transport completely arrests at the lesion site. Conversely, active Mn
2+
transport is quantitatively proportionate to the viability, number, and electrical activity of axon fibers. For such an analysis, we exemplify Mn
2+
transport kinetics along the visual path in a transgenic mouse model (NF-κB
p50KO
) displaying spontaneous atrophy of sensory, including visual, projections. In these mice, MEMRI indicates reduced but not delayed Mn
2+
transport as compared to wild type mice, thus revealing signs of structural and/or functional impairments by NF-κB mutations. In summary, MEMRI conveniently bridges
in vivo
assays and
post mortem
histology for the characterization of nerve fiber integrity and activity. It is highly useful for longitudinal studies on axonal degeneration and regeneration, and investigations of mutant mice for genuine or inducible phenotypes.
Neuroscience, Issue 89, manganese-enhanced MRI, mouse retino-tectal projection, visual system, neurodegeneration, optic nerve injury, NF-κB
51274
Utero-tubal Embryo Transfer and Vasectomy in the Mouse Model
Institutions: United States Department of Agriculture, University of Maryland.
The transfer of preimplantation embryos to a surrogate female is a required step for the production of genetically modified mice or to study the effects of epigenetic alterations originated during preimplantation development on subsequent fetal development and adult health. The use of an effective and consistent embryo transfer technique is crucial to enhance the generation of genetically modified animals and to determine the effect of different treatments on implantation rates and survival to term. Embryos at the blastocyst stage are usually transferred by uterine transfer, performing a puncture in the uterine wall to introduce the embryo manipulation pipette. The orifice performed in the uterus does not close after the pipette has been withdrawn, and the embryos can outflow to the abdominal cavity due to the positive pressure of the uterus. The puncture can also produce a hemorrhage that impairs implantation, blocks the transfer pipette and may affect embryo development, especially when embryos without
zona
are transferred. Consequently, this technique often results in very variable and overall low embryo survival rates. Avoiding these negative effects, utero-tubal embryo transfer take advantage of the utero-tubal junction as a natural barrier that impedes embryo outflow and avoid the puncture of the uterine wall. Vasectomized males are required for obtaining pseudopregnant recipients. A technique to perform vasectomy is described as a complement to the utero-tubal embryo transfer.
Basic Protocols, Issue 84, blastocyst, chimera, lentivirus, uterine transfer, oviductal transfer, utero-tubal transfer
51214
Enhanced Northern Blot Detection of Small RNA Species in Drosophila Melanogaster
Institutions: Institut de Génétique et de Biologie Moléculaire et Cellulaire, Istituto Italiano di Tecnologia.

The last decades have witnessed the explosion of scientific interest around gene expression control mechanisms at the RNA level. This branch of molecular biology has been greatly fueled by the discovery of noncoding RNAs as major players in post-transcriptional regulation. Such a revolutionary perspective has been accompanied and triggered by the development of powerful technologies for profiling short RNAs expression, both at the high-throughput level (genome-wide identification) or as single-candidate analysis (steady state accumulation of specific species). Although several state-of-art strategies are currently available for dosing or visualizing such fleeing molecules, Northern Blot assay remains the eligible approach in molecular biology for immediate and accurate evaluation of RNA expression. It represents a first step toward the application of more sophisticated, costly technologies and, in many cases, remains a preferential method to easily gain insights into RNA biology. Here we overview an efficient protocol (Enhanced Northern Blot) for detecting weakly expressed microRNAs (or other small regulatory RNA species) from
Drosophila melanogaster
whole embryos, manually dissected larval/adult tissues or
in vitro
cultured cells. A very limited amount of RNA is required and the use of material from flow cytometry-isolated cells can be also envisaged.
Molecular Biology, Issue 90, Northern blotting, Noncoding RNAs, microRNAs, rasiRNA, Gene expression, Gcm/Glide, Drosophila melanogaster
51814
Optimization and Utilization of Agrobacterium-mediated Transient Protein Production in Nicotiana
Institutions: Fraunhofer USA Center for Molecular Biotechnology.

Agrobacterium
-mediated transient protein production in plants is a promising approach to produce vaccine antigens and therapeutic proteins within a short period of time. However, this technology is only just beginning to be applied to large-scale production as many technological obstacles to scale up are now being overcome. Here, we demonstrate a simple and reproducible method for industrial-scale transient protein production based on vacuum infiltration of
Nicotiana
plants with
Agrobacteria
carrying launch vectors. Optimization of
Agrobacterium
cultivation in AB medium allows direct dilution of the bacterial culture in Milli-Q water, simplifying the infiltration process. Among three tested species of
Nicotiana
,
N. excelsiana
(
N. benthamiana
×
N. excelsior
) was selected as the most promising host due to the ease of infiltration, high level of reporter protein production, and about two-fold higher biomass production under controlled environmental conditions. Induction of
Agrobacterium
harboring pBID4-GFP (
Tobacco mosaic virus
-based) using chemicals such as acetosyringone and monosaccharide had no effect on the protein production level. Infiltrating plant under 50 to 100 mbar for 30 or 60 sec resulted in about 95% infiltration of plant leaf tissues. Infiltration with
Agrobacterium
laboratory strain GV3101 showed the highest protein production compared to
Agrobacteria
laboratory strains LBA4404 and C58C1 and wild-type
Agrobacteria
strains at6, at10, at77 and A4. Co-expression of a viral RNA silencing suppressor, p23 or p19, in
N. benthamiana
resulted in earlier accumulation and increased production (15-25%) of target protein (influenza virus hemagglutinin).
Plant Biology, Issue 86, Agroinfiltration, Nicotiana benthamiana, transient protein production, plant-based expression, viral vector, Agrobacteria
51204
Acquiring Fluorescence Time-lapse Movies of Budding Yeast and Analyzing Single-cell Dynamics using GRAFTS
Institutions: Massachusetts Institute of Technology.

Fluorescence time-lapse microscopy has become a powerful tool in the study of many biological processes at the single-cell level. In particular, movies depicting the temporal dependence of gene expression provide insight into the dynamics of its regulation; however, there are many technical challenges to obtaining and analyzing fluorescence movies of single cells. We describe here a simple protocol using a commercially available microfluidic culture device to generate such data, and a MATLAB-based, graphical user interface (GUI) -based software package to quantify the fluorescence images. The software segments and tracks cells, enables the user to visually curate errors in the data, and automatically assigns lineage and division times. The GUI further analyzes the time series to produce whole cell traces as well as their first and second time derivatives. While the software was designed for
S. cerevisiae
, its modularity and versatility should allow it to serve as a platform for studying other cell types with few modifications.
Microbiology, Issue 77, Cellular Biology, Molecular Biology, Genetics, Biophysics, Saccharomyces cerevisiae, Microscopy, Fluorescence, Cell Biology, microscopy/fluorescence and time-lapse, budding yeast, gene expression dynamics, segmentation, lineage tracking, image tracking, software, yeast, cells, imaging
50456
Aseptic Laboratory Techniques: Plating Methods
Institutions: University of California, Los Angeles .

Microorganisms are present on all inanimate surfaces creating ubiquitous sources of possible contamination in the laboratory. Experimental success relies on the ability of a scientist to sterilize work surfaces and equipment as well as prevent contact of sterile instruments and solutions with non-sterile surfaces. Here we present the steps for several plating methods routinely used in the laboratory to isolate, propagate, or enumerate microorganisms such as bacteria and phage. All five methods incorporate aseptic technique, or procedures that maintain the sterility of experimental materials. Procedures described include (1) streak-plating bacterial cultures to isolate single colonies, (2) pour-plating and (3) spread-plating to enumerate viable bacterial colonies, (4) soft agar overlays to isolate phage and enumerate plaques, and (5) replica-plating to transfer cells from one plate to another in an identical spatial pattern. These procedures can be performed at the laboratory bench, provided they involve non-pathogenic strains of microorganisms (Biosafety Level 1, BSL-1). If working with BSL-2 organisms, then these manipulations must take place in a biosafety cabinet. Consult the most current edition of the
Biosafety in Microbiological and Biomedical Laboratories
(BMBL) as well as
Material Safety Data Sheets
(MSDS) for Infectious Substances to determine the biohazard classification as well as the safety precautions and containment facilities required for the microorganism in question. Bacterial strains and phage stocks can be obtained from research investigators, companies, and collections maintained by particular organizations such as the
American Type Culture Collection
(ATCC). It is recommended that non-pathogenic strains be used when learning the various plating methods. By following the procedures described in this protocol, students should be able to: ● Perform plating procedures without contaminating media. ● Isolate single bacterial colonies by the streak-plating method. ● Use pour-plating and spread-plating methods to determine the concentration of bacteria. ● Perform soft agar overlays when working with phage. ● Transfer bacterial cells from one plate to another using the replica-plating procedure. ● Given an experimental task, select the appropriate plating method.
Basic Protocols, Issue 63, Streak plates, pour plates, soft agar overlays, spread plates, replica plates, bacteria, colonies, phage, plaques, dilutions
3064
Polymerase Chain Reaction: Basic Protocol Plus Troubleshooting and Optimization Strategies
Institutions: University of California, Los Angeles .

In the biological sciences there have been technological advances that catapult the discipline into golden ages of discovery. For example, the field of microbiology was transformed with the advent of Anton van Leeuwenhoek's microscope, which allowed scientists to visualize prokaryotes for the first time. The development of the polymerase chain reaction (PCR) is one of those innovations that changed the course of molecular science with its impact spanning countless subdisciplines in biology. The theoretical process was outlined by Keppe and coworkers in 1971; however, it was another 14 years until the complete PCR procedure was described and experimentally applied by Kary Mullis while at Cetus Corporation in 1985. Automation and refinement of this technique progressed with the introduction of a thermal stable DNA polymerase from the bacterium
Thermus aquaticus
, consequently the name
Taq
DNA polymerase. PCR is a powerful amplification technique that can generate an ample supply of a specific segment of DNA (i.e., an amplicon) from only a small amount of starting material (i.e., DNA template or target sequence). While straightforward and generally trouble-free, there are pitfalls that complicate the reaction producing spurious results. When PCR fails it can lead to many non-specific DNA products of varying sizes that appear as a ladder or smear of bands on agarose gels. Sometimes no products form at all. Another potential problem occurs when mutations are unintentionally introduced in the amplicons, resulting in a heterogeneous population of PCR products. PCR failures can become frustrating unless patience and careful troubleshooting are employed to sort out and solve the problem(s). This protocol outlines the basic principles of PCR, provides a methodology that will result in amplification of most target sequences, and presents strategies for optimizing a reaction. By following this PCR guide, students should be able to: ● Set up reactions and thermal cycling conditions for a conventional PCR experiment ● Understand the function of various reaction components and their overall effect on a PCR experiment ● Design and optimize a PCR experiment for any DNA template ● Troubleshoot failed PCR experiments
Basic Protocols, Issue 63, PCR, optimization, primer design, melting temperature, Tm, troubleshooting, additives, enhancers, template DNA quantification, thermal cycler, molecular biology, genetics
3998
Characterization of Complex Systems Using the Design of Experiments Approach: Transient Protein Expression in Tobacco as a Case Study
Institutions: RWTH Aachen University, Fraunhofer Gesellschaft.

Plants provide multiple benefits for the production of biopharmaceuticals including low costs, scalability, and safety. Transient expression offers the additional advantage of short development and production times, but expression levels can vary significantly between batches thus giving rise to regulatory concerns in the context of good manufacturing practice. We used a design of experiments (DoE) approach to determine the impact of major factors such as regulatory elements in the expression construct, plant growth and development parameters, and the incubation conditions during expression, on the variability of expression between batches. We tested plants expressing a model anti-HIV monoclonal antibody (2G12) and a fluorescent marker protein (DsRed). We discuss the rationale for selecting certain properties of the model and identify its potential limitations. The general approach can easily be transferred to other problems because the principles of the model are broadly applicable: knowledge-based parameter selection, complexity reduction by splitting the initial problem into smaller modules, software-guided setup of optimal experiment combinations and step-wise design augmentation. Therefore, the methodology is not only useful for characterizing protein expression in plants but also for the investigation of other complex systems lacking a mechanistic description. The predictive equations describing the interconnectivity between parameters can be used to establish mechanistic models for other complex systems.
Bioengineering, Issue 83, design of experiments (DoE), transient protein expression, plant-derived biopharmaceuticals, promoter, 5'UTR, fluorescent reporter protein, model building, incubation conditions, monoclonal antibody
51216
Investigating Tissue- and Organ-specific Phytochrome Responses using FACS-assisted Cell-type Specific Expression Profiling in Arabidopsis thaliana
Institutions: Michigan State University (MSU), Michigan State University (MSU).

Light mediates an array of developmental and adaptive processes throughout the life cycle of a plant. Plants utilize light-absorbing molecules called photoreceptors to sense and adapt to light. The red/far-red light-absorbing phytochrome photoreceptors have been studied extensively. Phytochromes exist as a family of proteins with distinct and overlapping functions in all higher plant systems in which they have been studied
1
. Phytochrome-mediated light responses, which range from seed germination through flowering and senescence, are often localized to specific plant tissues or organs
2
. Despite the discovery and elucidation of individual and redundant phytochrome functions through mutational analyses, conclusive reports on distinct sites of photoperception and the molecular mechanisms of localized pools of phytochromes that mediate spatial-specific phytochrome responses are limited. We designed experiments based on the hypotheses that specific sites of phytochrome photoperception regulate tissue- and organ-specific aspects of photomorphogenesis, and that localized phytochrome pools engage distinct subsets of downstream target genes in cell-to-cell signaling. We developed a biochemical approach to selectively reduce functional phytochromes in an organ- or tissue-specific manner within transgenic plants. Our studies are based on a bipartite enhancer-trap approach that results in transactivation of the expression of a gene under control of the Upstream Activation Sequence (UAS) element by the transcriptional activator GAL4
3
. The biliverdin reductase (
BVR
) gene under the control of the UAS is silently maintained in the absence of GAL4 transactivation in the UAS-BVR parent
4
. Genetic crosses between a UAS-BVR transgenic line and a GAL4-GFP enhancer trap line result in specific expression of the
BVR
gene in cells marked by
GFP
expression
4
. BVR accumulation in Arabidopsis plants results in phytochrome chromophore deficiency
in planta
5-7
. Thus, transgenic plants that we have produced exhibit GAL4-dependent activation of the
BVR
gene, resulting in the biochemical inactivation of phytochrome, as well as GAL4-dependent
GFP
expression. Photobiological and molecular genetic analyses of
BVR
transgenic lines are yielding insight into tissue- and organ-specific phytochrome-mediated responses that have been associated with corresponding sites of photoperception
4, 7, 8
. Fluorescence Activated Cell Sorting (FACS) of GFP-positive, enhancer-trap-induced
BVR
-expressing plant protoplasts coupled with cell-type-specific gene expression profiling through microarray analysis is being used to identify putative downstream target genes involved in mediating spatial-specific phytochrome responses. This research is expanding our understanding of sites of light perception, the mechanisms through which various tissues or organs cooperate in light-regulated plant growth and development, and advancing the molecular dissection of complex phytochrome-mediated cell-to-cell signaling cascades.
Plant Biology, Issue 39, Arabidopsis thaliana, confocal microscopy, expression profiling, microarray, fluorescence, FACS, photomorphogenesis, phytochrome, protoplasting
1925
A Restriction Enzyme Based Cloning Method to Assess the In vitro Replication Capacity of HIV-1 Subtype C Gag-MJ4 Chimeric Viruses
Institutions: Emory University, Emory University.

The protective effect of many HLA class I alleles on HIV-1 pathogenesis and disease progression is, in part, attributed to their ability to target conserved portions of the HIV-1 genome that escape with difficulty. Sequence changes attributed to cellular immune pressure arise across the genome during infection, and if found within conserved regions of the genome such as Gag, can affect the ability of the virus to replicate
in vitro
. Transmission of HLA-linked polymorphisms in Gag to HLA-mismatched recipients has been associated with reduced set point viral loads. We hypothesized this may be due to a reduced replication capacity of the virus. Here we present a novel method for assessing the
in vitro
replication of HIV-1 as influenced by the
gag
gene isolated from acute time points from subtype C infected Zambians. This method uses restriction enzyme based cloning to insert the
gag
gene into a common subtype C HIV-1 proviral backbone, MJ4. This makes it more appropriate to the study of subtype C sequences than previous recombination based methods that have assessed the
in vitro
replication of chronically derived
gag-pro
sequences. Nevertheless, the protocol could be readily modified for studies of viruses from other subtypes. Moreover, this protocol details a robust and reproducible method for assessing the replication capacity of the Gag-MJ4 chimeric viruses on a CEM-based T cell line. This method was utilized for the study of Gag-MJ4 chimeric viruses derived from 149 subtype C acutely infected Zambians, and has allowed for the identification of residues in Gag that affect replication. More importantly, the implementation of this technique has facilitated a deeper understanding of how viral replication defines parameters of early HIV-1 pathogenesis such as set point viral load and longitudinal CD4+ T cell decline.
Infectious Diseases, Issue 90, HIV-1, Gag, viral replication, replication capacity, viral fitness, MJ4, CEM, GXR25
51506
Using High Resolution Computed Tomography to Visualize the Three Dimensional Structure and Function of Plant Vasculature
Institutions: U.S. Department of Agriculture, University of California - Davis, University of Western Sydney, Lawrence Berkeley National Lab, University of Florida .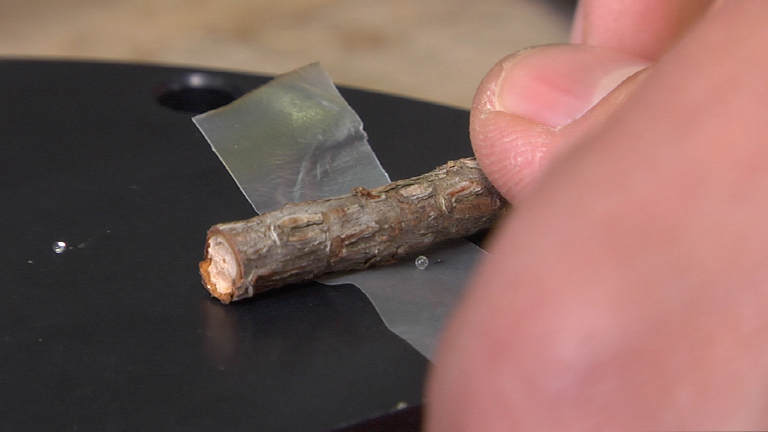 High resolution x-ray computed tomography (HRCT) is a non-destructive diagnostic imaging technique with sub-micron resolution capability that is now being used to evaluate the structure and function of plant xylem network in three dimensions (3D) (
e.g.
Brodersen
et al.
2010; 2011; 2012a,b). HRCT imaging is based on the same principles as medical CT systems, but a high intensity synchrotron x-ray source results in higher spatial resolution and decreased image acquisition time. Here, we demonstrate in detail how synchrotron-based HRCT (performed at the Advanced Light Source-LBNL Berkeley, CA, USA) in combination with Avizo software (VSG Inc., Burlington, MA, USA) is being used to explore plant xylem in excised tissue and living plants. This new imaging tool allows users to move beyond traditional static, 2D light or electron micrographs and study samples using virtual serial sections in any plane. An infinite number of slices in any orientation can be made on the same sample, a feature that is physically impossible using traditional microscopy methods. Results demonstrate that HRCT can be applied to both herbaceous and woody plant species, and a range of plant organs (
i.e.
leaves, petioles, stems, trunks, roots). Figures presented here help demonstrate both a range of representative plant vascular anatomy and the type of detail extracted from HRCT datasets, including scans for coast redwood (
Sequoia sempervirens
), walnut (
Juglans
spp.), oak (
Quercus
spp
.
), and maple (
Acer
spp.) tree saplings to sunflowers (
Helianthus annuus
), grapevines (
Vitis
spp.), and ferns (
Pteridium aquilinum
and
Woodwardia fimbriata
). Excised and dried samples from woody species are easiest to scan and typically yield the best images. However, recent improvements (
i.e.
more rapid scans and sample stabilization) have made it possible to use this visualization technique on green tissues (
e.g.
petioles) and in living plants. On occasion some shrinkage of hydrated green plant tissues will cause images to blur and methods to avoid these issues are described. These recent advances with HRCT provide promising new insights into plant vascular function.
Plant Biology, Issue 74, Cellular Biology, Molecular Biology, Biophysics, Structural Biology, Physics, Environmental Sciences, Agriculture, botany, environmental effects (biological, animal and plant), plants, radiation effects (biological, animal and plant), CT scans, advanced visualization techniques, xylem networks, plant vascular function, synchrotron, x-ray micro-tomography, ALS 8.3.2, xylem, phloem, tomography, imaging
50162
Mapping Bacterial Functional Networks and Pathways in Escherichia Coli using Synthetic Genetic Arrays
Institutions: University of Toronto, University of Toronto, University of Regina.

Phenotypes are determined by a complex series of physical (
e.g.
protein-protein) and functional (
e.g.
gene-gene or genetic) interactions (GI)
1
. While physical interactions can indicate which bacterial proteins are associated as complexes, they do not necessarily reveal pathway-level functional relationships1. GI screens, in which the growth of double mutants bearing two deleted or inactivated genes is measured and compared to the corresponding single mutants, can illuminate epistatic dependencies between loci and hence provide a means to query and discover novel functional relationships
2
. Large-scale GI maps have been reported for eukaryotic organisms like yeast
3-7
, but GI information remains sparse for prokaryotes
8
, which hinders the functional annotation of bacterial genomes. To this end, we and others have developed high-throughput quantitative bacterial GI screening methods
9, 10
. Here, we present the key steps required to perform quantitative
E. coli
Synthetic Genetic Array (eSGA) screening procedure on a genome-scale
9
, using natural bacterial conjugation and homologous recombination to systemically generate and measure the fitness of large numbers of double mutants in a colony array format
.
Briefly, a robot is used to transfer, through conjugation, chloramphenicol (Cm) - marked mutant alleles from engineered Hfr (High frequency of recombination) 'donor strains' into an ordered array of kanamycin (Kan) - marked F- recipient strains. Typically, we use loss-of-function single mutants bearing non-essential gene deletions (
e.g.
the 'Keio' collection
11
) and essential gene hypomorphic mutations (
i.e.
alleles conferring reduced protein expression, stability, or activity
9, 12, 13
) to query the functional associations of non-essential and essential genes, respectively. After conjugation and ensuing genetic exchange mediated by homologous recombination, the resulting double mutants are selected on solid medium containing both antibiotics. After outgrowth, the plates are digitally imaged and colony sizes are quantitatively scored using an in-house automated image processing system
14
. GIs are revealed when the growth rate of a double mutant is either significantly better or worse than expected
9
. Aggravating (or negative) GIs often result between loss-of-function mutations in pairs of genes from compensatory pathways that impinge on the same essential process
2
. Here, the loss of a single gene is buffered, such that either single mutant is viable. However, the loss of both pathways is deleterious and results in synthetic lethality or sickness (
i.e.
slow growth). Conversely, alleviating (or positive) interactions can occur between genes in the same pathway or protein complex
2
as the deletion of either gene alone is often sufficient to perturb the normal function of the pathway or complex such that additional perturbations do not reduce activity, and hence growth, further. Overall, systematically identifying and analyzing GI networks can provide unbiased, global maps of the functional relationships between large numbers of genes, from which pathway-level information missed by other approaches can be inferred
9
.
Genetics, Issue 69, Molecular Biology, Medicine, Biochemistry, Microbiology, Aggravating, alleviating, conjugation, double mutant, Escherichia coli, genetic interaction, Gram-negative bacteria, homologous recombination, network, synthetic lethality or sickness, suppression
4056
Vaccinia Virus Infection & Temporal Analysis of Virus Gene Expression: Part 3
Institutions: MIT - Massachusetts Institute of Technology.

The family
Poxviridae
consists of large double-stranded DNA containing viruses that replicate exclusively in the cytoplasm of infected cells. Members of the
orthopox
genus include variola, the causative agent of human small pox, monkeypox, and vaccinia (VAC), the prototypic member of the virus family. Within the relatively large (~ 200 kb) vaccinia genome, three classes of genes are encoded: early, intermediate, and late. While all three classes are transcribed by virally-encoded RNA polymerases, each class serves a different function in the life cycle of the virus. Poxviruses utilize multiple strategies for modulation of the host cellular environment during infection. In order to understand regulation of both host and virus gene expression, we have utilized genome-wide approaches to analyze transcript abundance from both virus and host cells. Here, we demonstrate time course infections of HeLa cells with Vaccinia virus and sampling RNA at several time points post-infection. Both host and viral total RNA is isolated and amplified for hybridization to microarrays for analysis of gene expression.
Microbiology, Issue 26, Vaccinia, virus, infection, HeLa, Microarray, amplified RNA, amino allyl, RNA, Ambion Amino Allyl MessageAmpII, gene expression
1170
Mesoscopic Fluorescence Tomography for In-vivo Imaging of Developing Drosophila
Institutions: Massachusetts General Hospital, Technical University of Munich and Helmholtz Center Munich, Harvard Medical School and Howard Hughes Medical Institute.

Visualizing developing organ formation as well as progession and treatment of disease often heavily relies on the ability to optically interrogate molecular and functional changes in intact living organisms. Most existing optical imaging methods are inadequate for imaging at dimensions that lie between the penetration limits of modern optical microscopy (0.5-1mm) and the diffusion-imposed limits of optical macroscopy (>1cm) [1]. Thus, many important model organisms, e.g. insects, animal embryos or small animal extremities, remain inaccessible for in-vivo optical imaging. Although there is increasing interest towards the development of nanometer-resolution optical imaging methods, there have not been many successful efforts in improving the imaging penetration depth. The ability to perform in-vivo imaging beyond microscopy limits is in fact met with the difficulties associated with photon scattering present in tissues. Recent efforts to image entire embryos for example [2,3] require special chemical treatment of the specimen, to clear them from scattering, a procedure that makes them suitable only for post-mortem imaging. These methods however evidence the need for imaging larger specimens than the ones usually allowed by two-photon or confocal microscopy, especially in developmental biology and in drug discovery. We have developed a new optical imaging technique named Mesoscopic Fluorescence Tomography [4], which appropriate for non-invasive in-vivo imaging at dimensions of 1mm-5mm. The method exchanges resolution for penetration depth, but offers unprecedented tomographic imaging performance and it has been developed to add time as a new dimension in developmental biology observations (and possibly other areas of biological research) by imparting the ability to image the evolution of fluorescence-tagged responses over time. As such it can accelerate studies of morphological or functional dependencies on gene mutations or external stimuli, and can importantly, capture the complete picture of development or tissue function by allowing longitudinal time-lapse visualization of the same, developing organism. The technique utilizes a modified laboratory microscope and multi-projection illumination to collect data at 360-degree projections. It applies the Fermi simplification to Fokker-Plank solution of the photon transport equation, combined with geometrical optics principles in order to build a realistic inversion scheme suitable for mesoscopic range. This allows in-vivo whole-body visualization of non-transparent three-dimensional structures in samples up to several millimeters in size. We have demonstrated the in-vivo performance of the technique by imaging three-dimensional structures of developing
Drosophila
tissues in-vivo and by following the morphogenesis of the wings in the opaque Drosophila pupae in real time over six consecutive hours.
Developmental Biology, Issue 30, fluorescence tomography, mesoscopic imaging, Drosophila, optical imaging, diffusion tomography, scattering
1510
Interview: Protein Folding and Studies of Neurodegenerative Diseases
Institutions: MIT - Massachusetts Institute of Technology.

In this interview, Dr. Lindquist describes relationships between protein folding, prion diseases and neurodegenerative disorders. The problem of the protein folding is at the core of the modern biology. In addition to their traditional biochemical functions, proteins can mediate transfer of biological information and therefore can be considered a genetic material. This recently discovered function of proteins has important implications for studies of human disorders. Dr. Lindquist also describes current experimental approaches to investigate the mechanism of neurodegenerative diseases based on genetic studies in model organisms.
Neuroscience, issue 17, protein folding, brain, neuron, prion, neurodegenerative disease, yeast, screen, Translational Research
786
Use of Arabidopsis eceriferum Mutants to Explore Plant Cuticle Biosynthesis
Institutions: University of British Columbia - UBC, University of British Columbia - UBC.

The plant cuticle is a waxy outer covering on plants that has a primary role in water conservation, but is also an important barrier against the entry of pathogenic microorganisms. The cuticle is made up of a tough crosslinked polymer called "cutin" and a protective wax layer that seals the plant surface. The waxy layer of the cuticle is obvious on many plants, appearing as a shiny film on the ivy leaf or as a dusty outer covering on the surface of a grape or a cabbage leaf thanks to light scattering crystals present in the wax. Because the cuticle is an essential adaptation of plants to a terrestrial environment, understanding the genes involved in plant cuticle formation has applications in both agriculture and forestry. Today, we'll show the analysis of plant cuticle mutants identified by forward and reverse genetics approaches.
Plant Biology, Issue 16, Annual Review, Cuticle, Arabidopsis, Eceriferum Mutants, Cryso-SEM, Gas Chromatography
709