ABSTRACT
Recently, disordered photonic materials have been suggested as an alternative to periodic crystals for the formation of a complete photonic bandgap (PBG). In this article we will describe the methods for constructing and characterizing macroscopic disordered photonic structures using microwaves. The microwave regime offers the most convenient experimental sample size to build and test PBG media. Easily manipulated dielectric lattice components extend flexibility in building various 2D structures on top of pre-printed plastic templates. Once built, the structures could be quickly modified with point and line defects to make freeform waveguides and filters. Testing is done using a widely available Vector Network Analyzer and pairs of microwave horn antennas. Due to the scale invariance property of electromagnetic fields, the results we obtained in the microwave region can be directly applied to infrared and optical regions. Our approach is simple but delivers exciting new insight into the nature of light and disordered matter interaction. Our representative results include the first experimental demonstration of the existence of a complete and isotropic PBG in a two-dimensional (2D) hyperuniform disordered dielectric structure. Additionally we demonstrate experimentally the ability of this novel photonic structure to guide electromagnetic waves (EM) through freeform waveguides of arbitrary shape.
24 Related JoVE Articles!
Optic Nerve Transection: A Model of Adult Neuron Apoptosis in the Central Nervous System
Institutions: University of Toronto.

Retinal ganglion cells (RGCs) are CNS neurons that output visual information from the retina to the brain, via the optic nerve. The optic nerve can be accessed within the orbit of the eye and completely transected (axotomized), cutting the axons of the entire RGC population. Optic nerve transection is a reproducible model of apoptotic neuronal cell death in the adult CNS
1-4
. This model is particularly attractive because the vitreous chamber of the eye acts as a capsule for drug delivery to the retina, permitting experimental manipulations via intraocular injections. The diffusion of chemicals through the vitreous fluid ensures that they act upon the entire RGC population. Moreover, RGCs can be selectively transfected by applying short interfering RNAs (siRNAs), plasmids, or viral vectors to the cut end of the optic nerve
5-7
or injecting vectors into their target, the superior colliculus
8
. This allows researchers to study apoptotic mechanisms in the desired neuronal population without confounding effects on other bystander neurons or surrounding glia. An additional benefit is the ease and accuracy with which cell survival can be quantified after injury. The retina is a flat, layered tissue and RGCs are localized in the innermost layer, the ganglion cell layer. The survival of RGCs can be tracked over time by applying a fluorescent tracer (3% Fluorogold) to the cut end of the optic nerve at the time of axotomy, or by injecting the tracer into the superior colliculus (RGC target) one week prior to axotomy. The tracer is retrogradely transported, labeling the entire RGC population. Because the ganglion cell layer is a monolayer (one cell thick), RGC densities can be quantified in flat-mounted tissue, without the need for stereology. Optic nerve transection leads to the apoptotic death of 90% of injured RGCs within 14 days postaxotomy
9-11
. RGC apoptosis has a characteristic time-course whereby cell death is delayed 3-4 days postaxotomy, after which the cells rapidly degenerate. This provides a time window for experimental manipulations directed against pathways involved in apoptosis.
Neuroscience, issue 51, Central Nervous System, Retina, Apoptosis, Retinal Ganglion Cell, Axotomy, Optic Nerve Transection, Rat, Retrograde Labeling, Rat Model
2241
Angle-resolved Photoemission Spectroscopy At Ultra-low Temperatures
Institutions: IFW-Dresden, Institute of Metal Physics of National Academy of Sciences of Ukraine, Diamond Light Source LTD, University of Johannesburg, Università di Salerno, École Polytechnique Fédérale de Lausanne.
The physical properties of a material are defined by its electronic structure. Electrons in solids are characterized by energy (ω) and momentum (
k
) and the probability to find them in a particular state with given ω and
k
is described by the spectral function A(
k
, ω). This function can be directly measured in an experiment based on the well-known photoelectric effect, for the explanation of which Albert Einstein received the Nobel Prize back in 1921. In the photoelectric effect the light shone on a surface ejects electrons from the material. According to Einstein, energy conservation allows one to determine the energy of an electron inside the sample, provided the energy of the light photon and kinetic energy of the outgoing photoelectron are known. Momentum conservation makes it also possible to estimate
k
relating it to the momentum of the photoelectron by measuring the angle at which the photoelectron left the surface. The modern version of this technique is called Angle-Resolved Photoemission Spectroscopy (ARPES) and exploits both conservation laws in order to determine the electronic structure,
i.e.
energy and momentum of electrons inside the solid. In order to resolve the details crucial for understanding the topical problems of condensed matter physics, three quantities need to be minimized: uncertainty* in photon energy, uncertainty in kinetic energy of photoelectrons and temperature of the sample. In our approach we combine three recent achievements in the field of synchrotron radiation, surface science and cryogenics. We use synchrotron radiation with tunable photon energy contributing an uncertainty of the order of 1 meV, an electron energy analyzer which detects the kinetic energies with a precision of the order of 1 meV and a He
3
cryostat which allows us to keep the temperature of the sample below 1 K. We discuss the exemplary results obtained on single crystals of Sr
2
RuO
4
and some other materials. The electronic structure of this material can be determined with an unprecedented clarity.
Physics, Issue 68, Chemistry, electron energy bands, band structure of solids, superconducting materials, condensed matter physics, ARPES, angle-resolved photoemission synchrotron, imaging
50129
Using Neutron Spin Echo Resolved Grazing Incidence Scattering to Investigate Organic Solar Cell Materials
Institutions: University of Sheffield, The University of Sheffield, Rutherford Appleton Laboratory.

The spin echo resolved grazing incidence scattering (SERGIS) technique has been used to probe the length-scales associated with irregularly shaped crystallites. Neutrons are passed through two well defined regions of magnetic field; one before and one after the sample. The two magnetic field regions have opposite polarity and are tuned such that neutrons travelling through both regions, without being perturbed, will undergo the same number of precessions in opposing directions. In this case the neutron precession in the second arm is said to "echo" the first, and the original polarization of the beam is preserved. If the neutron interacts with a sample and scatters elastically the path through the second arm is not the same as the first and the original polarization is not recovered. Depolarization of the neutron beam is a highly sensitive probe at very small angles (<50 μrad) but still allows a high intensity, divergent beam to be used. The decrease in polarization of the beam reflected from the sample as compared to that from the reference sample can be directly related to structure within the sample. In comparison to scattering observed in neutron reflection measurements the SERGIS signals are often weak and are unlikely to be observed if the in-plane structures within the sample under investigation are dilute, disordered, small in size and polydisperse or the neutron scattering contrast is low. Therefore, good results will most likely be obtained using the SERGIS technique if the sample being measured consist of thin films on a flat substrate and contain scattering features that contains a high density of moderately sized features (30 nm to 5 µm) which scatter neutrons strongly or the features are arranged on a lattice. An advantage of the SERGIS technique is that it can probe structures in the plane of the sample.
Physics, Issue 83, Spin Echo Resolved Grazing Incidence Scattering, Neutron, Crystallite, Organic solar cell, PCBM, P3HT
51129
Convergent Polishing: A Simple, Rapid, Full Aperture Polishing Process of High Quality Optical Flats & Spheres
Institutions: Lawrence Livermore National Laboratory.

Convergent Polishing is a novel polishing system and method for finishing flat and spherical glass optics in which a workpiece, independent of its initial shape (
i.e.
, surface figure), will converge to final surface figure with excellent surface quality under a fixed, unchanging set of polishing parameters in a single polishing iteration. In contrast, conventional full aperture polishing methods require multiple, often long, iterative cycles involving polishing, metrology and process changes to achieve the desired surface figure. The Convergent Polishing process is based on the concept of workpiece-lap height mismatch resulting in pressure differential that decreases with removal and results in the workpiece converging to the shape of the lap. The successful implementation of the Convergent Polishing process is a result of the combination of a number of technologies to remove all sources of non-uniform spatial material removal (except for workpiece-lap mismatch) for surface figure convergence and to reduce the number of rogue particles in the system for low scratch densities and low roughness. The Convergent Polishing process has been demonstrated for the fabrication of both flats and spheres of various shapes, sizes, and aspect ratios on various glass materials. The practical impact is that high quality optical components can be fabricated more rapidly, more repeatedly, with less metrology, and with less labor, resulting in lower unit costs. In this study, the Convergent Polishing protocol is specifically described for fabricating 26.5 cm square fused silica flats from a fine ground surface to a polished ~λ/2 surface figure after polishing 4 hr per surface on a 81 cm diameter polisher.
Physics, Issue 94, optical fabrication, pad polishing, fused silica glass, optical flats, optical spheres, ceria slurry, pitch button blocking, HF etching, scratches
51965
Constructing a Low-budget Laser Axotomy System to Study Axon Regeneration in C. elegans
Institutions: University of Utah.

Laser axotomy followed by time-lapse microscopy is a sensitive assay for axon regeneration phenotypes in
C. elegans
1
. The main difficulty of this assay is the perceived cost ($25-100K) and technical expertise required for implementing a laser ablation system
2,3
. However, solid-state pulse lasers of modest costs (<$10K) can provide robust performance for laser ablation in transparent preparations where target axons are "close" to the tissue surface. Construction and alignment of a system can be accomplished in a day. The optical path provided by light from the focused condenser to the ablation laser provides a convenient alignment guide. An intermediate module with all optics removed can be dedicated to the ablation laser and assures that no optical elements need be moved during a laser ablation session. A dichroic in the intermediate module allows simultaneous imaging and laser ablation. Centering the laser beam to the outgoing beam from the focused microscope condenser lens guides the initial alignment of the system. A variety of lenses are used to condition and expand the laser beam to fill the back aperture of the chosen objective lens. Final alignment and testing is performed with a front surface mirrored glass slide target. Laser power is adjusted to give a minimum size ablation spot (<1um). The ablation spot is centered with fine adjustments of the last kinematically mounted mirror to cross hairs fixed in the imaging window. Laser power for axotomy will be approximately 10X higher than needed for the minimum ablation spot on the target slide (this may vary with the target you use). Worms can be immobilized for laser axotomy and time-lapse imaging by mounting on agarose pads (or in microfluidic chambers
4
). Agarose pads are easily made with 10% agarose in balanced saline melted in a microwave. A drop of molten agarose is placed on a glass slide and flattened with another glass slide into a pad approximately 200 um thick (a single layer of time tape on adjacent slides is used as a spacer). A "Sharpie" cap is used to cut out a uniformed diameter circular pad of 13mm. Anesthetic (1ul Muscimol 20mM) and Microspheres (Chris Fang-Yen personal communication) (1ul 2.65% Polystyrene 0.1 um in water) are added to the center of the pad followed by 3-5 worms oriented so they are lying on their left sides. A glass coverslip is applied and then Vaseline is used to seal the coverslip and prevent evaporation of the sample.
Neuroscience, Issue 57, laser axotomy, regeneration, growth cone, time lapse, C. elegans, neuroscience, Nd:Yag laser
3331
Fabrication and Testing of Microfluidic Optomechanical Oscillators
Institutions: University of Illinois at Urbana-Champaign, University of Michigan, University of Michigan.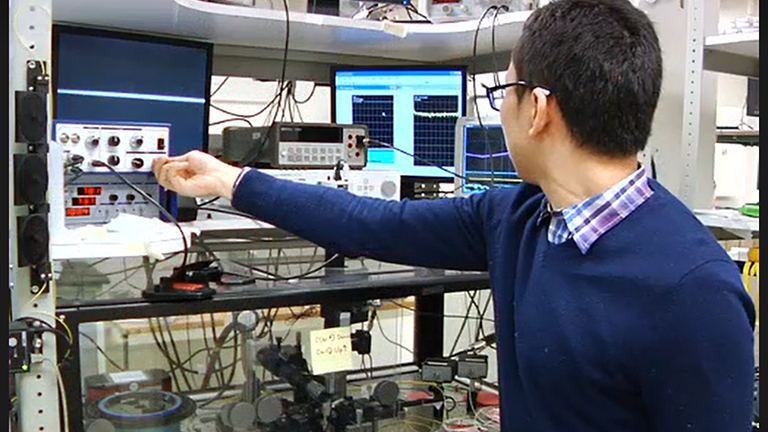 Cavity optomechanics experiments that parametrically couple the phonon modes and photon modes have been investigated in various optical systems including microresonators. However, because of the increased acoustic radiative losses during direct liquid immersion of optomechanical devices, almost all published optomechanical experiments have been performed in solid phase. This paper discusses a recently introduced hollow microfluidic optomechanical resonator. Detailed methodology is provided to fabricate these ultra-high-Q microfluidic resonators, perform optomechanical testing, and measure radiation pressure-driven breathing mode and SBS-driven whispering gallery mode parametric vibrations. By confining liquids inside the capillary resonator, high mechanical- and optical- quality factors are simultaneously maintained.
Physics, Issue 87, Optomechanics, Radiation pressure, Stimulated Brillouin scattering (SBS), Whispering gallery resonators (WGR), Oscillators, Microfluidics, Nonlinear Optics
51497
Confocal Imaging of Confined Quiescent and Flowing Colloid-polymer Mixtures
Institutions: University of Houston.

The behavior of confined colloidal suspensions with attractive interparticle interactions is critical to the rational design of materials for directed assembly
1-3
, drug delivery
4
, improved hydrocarbon recovery
5-7
, and flowable electrodes for energy storage
8
. Suspensions containing fluorescent colloids and non-adsorbing polymers are appealing model systems, as the ratio of the polymer radius of gyration to the particle radius and concentration of polymer control the range and strength of the interparticle attraction, respectively. By tuning the polymer properties and the volume fraction of the colloids, colloid fluids, fluids of clusters, gels, crystals, and glasses can be obtained
9
. Confocal microscopy, a variant of fluorescence microscopy, allows an optically transparent and fluorescent sample to be imaged with high spatial and temporal resolution in three dimensions. In this technique, a small pinhole or slit blocks the emitted fluorescent light from regions of the sample that are outside the focal volume of the microscope optical system. As a result, only a thin section of the sample in the focal plane is imaged. This technique is particularly well suited to probe the structure and dynamics in dense colloidal suspensions at the single-particle scale: the particles are large enough to be resolved using visible light and diffuse slowly enough to be captured at typical scan speeds of commercial confocal systems
10
. Improvements in scan speeds and analysis algorithms have also enabled quantitative confocal imaging of flowing suspensions
11-16,37
. In this paper, we demonstrate confocal microscopy experiments to probe the confined phase behavior and flow properties of colloid-polymer mixtures. We first prepare colloid-polymer mixtures that are density- and refractive-index matched. Next, we report a standard protocol for imaging quiescent dense colloid-polymer mixtures under varying confinement in thin wedge-shaped cells. Finally, we demonstrate a protocol for imaging colloid-polymer mixtures during microchannel flow.
Chemistry, Issue 87, confocal microscopy, particle tracking, colloids, suspensions, confinement, gelation, microfluidics, image correlation, dynamics, suspension flow
51461
Applications of EEG Neuroimaging Data: Event-related Potentials, Spectral Power, and Multiscale Entropy
Institutions: Baycrest.

When considering human neuroimaging data, an appreciation of signal variability represents a fundamental innovation in the way we think about brain signal. Typically, researchers represent the brain's response as the mean across repeated experimental trials and disregard signal fluctuations over time as "noise". However, it is becoming clear that brain signal variability conveys meaningful functional information about neural network dynamics. This article describes the novel method of multiscale entropy (MSE) for quantifying brain signal variability. MSE may be particularly informative of neural network dynamics because it shows timescale dependence and sensitivity to linear and nonlinear dynamics in the data.
Neuroscience, Issue 76, Neurobiology, Anatomy, Physiology, Medicine, Biomedical Engineering, Electroencephalography, EEG, electroencephalogram, Multiscale entropy, sample entropy, MEG, neuroimaging, variability, noise, timescale, non-linear, brain signal, information theory, brain, imaging
50131
Detection of Architectural Distortion in Prior Mammograms via Analysis of Oriented Patterns
Institutions: University of Calgary , University of Calgary .

We demonstrate methods for the detection of architectural distortion in prior mammograms of interval-cancer cases based on analysis of the orientation of breast tissue patterns in mammograms. We hypothesize that architectural distortion modifies the normal orientation of breast tissue patterns in mammographic images before the formation of masses or tumors. In the initial steps of our methods, the oriented structures in a given mammogram are analyzed using Gabor filters and phase portraits to detect node-like sites of radiating or intersecting tissue patterns. Each detected site is then characterized using the node value, fractal dimension, and a measure of angular dispersion specifically designed to represent spiculating patterns associated with architectural distortion. Our methods were tested with a database of 106 prior mammograms of 56 interval-cancer cases and 52 mammograms of 13 normal cases using the features developed for the characterization of architectural distortion, pattern classification
via
quadratic discriminant analysis, and validation with the leave-one-patient out procedure. According to the results of free-response receiver operating characteristic analysis, our methods have demonstrated the capability to detect architectural distortion in prior mammograms, taken 15 months (on the average) before clinical diagnosis of breast cancer, with a sensitivity of 80% at about five false positives per patient.
Medicine, Issue 78, Anatomy, Physiology, Cancer Biology, angular spread, architectural distortion, breast cancer, Computer-Assisted Diagnosis, computer-aided diagnosis (CAD), entropy, fractional Brownian motion, fractal dimension, Gabor filters, Image Processing, Medical Informatics, node map, oriented texture, Pattern Recognition, phase portraits, prior mammograms, spectral analysis
50341
Time Multiplexing Super Resolving Technique for Imaging from a Moving Platform
Institutions: Bar-Ilan University, Kfar Saba, Israel.

We propose a method for increasing the resolution of an object and overcoming the diffraction limit of an optical system installed on top of a moving imaging system, such as an airborne platform or satellite. The resolution improvement is obtained in a two-step process. First, three low resolution differently defocused images are being captured and the optical phase is retrieved using an improved iterative Gerchberg-Saxton based algorithm. The phase retrieval allows to numerically back propagate the field to the aperture plane. Second, the imaging system is shifted and the first step is repeated. The obtained optical fields at the aperture plane are combined and a synthetically increased lens aperture is generated along the direction of movement, yielding higher imaging resolution. The method resembles a well-known approach from the microwave regime called the Synthetic Aperture Radar (SAR) in which the antenna size is synthetically increased along the platform propagation direction. The proposed method is demonstrated through laboratory experiment.
Physics, Issue 84, Superresolution, Fourier optics, Remote Sensing and Sensors, Digital Image Processing, optics, resolution
51148
3D Orbital Tracking in a Modified Two-photon Microscope: An Application to the Tracking of Intracellular Vesicles
Institutions: University of California, Irvine.

The objective of this video protocol is to discuss how to perform and analyze a three-dimensional fluorescent orbital particle tracking experiment using a modified two-photon microscope
1
. As opposed to conventional approaches (raster scan or wide field based on a stack of frames), the 3D orbital tracking allows to localize and follow with a high spatial (10 nm accuracy) and temporal resolution (50 Hz frequency response) the 3D displacement of a moving fluorescent particle on length-scales of hundreds of microns
2
. The method is based on a feedback algorithm that controls the hardware of a two-photon laser scanning microscope in order to perform a circular orbit around the object to be tracked: the feedback mechanism will maintain the fluorescent object in the center by controlling the displacement of the scanning beam
3-5
. To demonstrate the advantages of this technique, we followed a fast moving organelle, the lysosome, within a living cell
6,7
. Cells were plated according to standard protocols, and stained using a commercially lysosome dye. We discuss briefly the hardware configuration and in more detail the control software, to perform a 3D orbital tracking experiment inside living cells. We discuss in detail the parameters required in order to control the scanning microscope and enable the motion of the beam in a closed orbit around the particle. We conclude by demonstrating how this method can be effectively used to track the fast motion of a labeled lysosome along microtubules in 3D within a live cell. Lysosomes can move with speeds in the range of 0.4-0.5 µm/sec, typically displaying a directed motion along the microtubule network
8
.
Bioengineering, Issue 92, fluorescence, single particle tracking, laser scanning microscope, two-photon, vesicle transport, live-cell imaging, optics
51794
High-Resolution Endocardial and Epicardial Optical Mapping in a Sheep Model of Stretch-Induced Atrial Fibrillation
Institutions: University of Michigan .

Atrial fibrillation (AF) is a complex cardiac arrhythmia with high morbidity and mortality.
1,2
It is the most common sustained cardiac rhythm disturbance seen in clinical practice and its prevalence is expected to increase in the coming years.
3
Increased intra-atrial pressure and dilatation have been long recognized to lead to AF,
1,4
which highlights the relevance of using animal models and stretch to study AF dynamics. Understanding the mechanisms underlying AF requires visualization of the cardiac electrical waves with high spatial and temporal resolution. While high-temporal resolution can be achieved by conventional electrical mapping traditionally used in human electrophysiological studies, the small number of intra-atrial electrodes that can be used simultaneously limits the spatial resolution and precludes any detailed tracking of the electrical waves during the arrhythmia. The introduction of optical mapping in the early 90's enabled wide-field characterization of fibrillatory activity together with sub-millimeter spatial resolution in animal models
5,6
and led to the identification of rapidly spinning electrical wave patterns (rotors) as the sources of the fibrillatory activity that may occur in the ventricles or the atria.
7-9
Using combined time- and frequency-domain analyses of optical mapping it is possible to demonstrate discrete sites of high frequency periodic activity during AF, along with frequency gradients between left and right atrium. The region with fastest rotors activates at the highest frequency and drives the overall arrhythmia.
10,11
The waves emanating from such rotor interact with either functional or anatomic obstacles in their path, resulting in the phenomenon of fibrillatory conduction.
12
Mapping the endocardial surface of the posterior left atrium (PLA) allows the tracking of AF wave dynamics in the region with the highest rotor frequency. Importantly, the PLA is the region where intracavitary catheter-based ablative procedures are most successful terminating AF in patients,
13
which underscores the relevance of studying AF dynamics from the interior of the left atrium. Here we describe a sheep model of acute stretch-induced AF, which resembles some of the characteristics of human paroxysmal AF. Epicardial mapping on the left atrium is complemented with endocardial mapping of the PLA using a dual-channel rigid borescope c-mounted to a CCD camera, which represents the most direct approach to visualize the patterns of activation in the most relevant region for AF maintenance.
Medicine, Issue 53, atrial fibrillation, endocardial mapping, patterns of activation, posterior left atrium
3103
Magnetic Resonance Derived Myocardial Strain Assessment Using Feature Tracking
Institutions: Cincinnati Children Hospital Medical Center (CCHMC), Imaging Systems GmbH, Advanced Medical Imaging Development SRL, The Christ Hospital.

Purpose: An accurate and practical method to measure parameters like strain in myocardial tissue is of great clinical value, since it has been shown, that strain is a more sensitive and earlier marker for contractile dysfunction than the frequently used parameter EF. Current technologies for CMR are time consuming and difficult to implement in clinical practice. Feature tracking is a technology that can lead to more automization and robustness of quantitative analysis of medical images with less time consumption than comparable methods. Methods: An automatic or manual input in a single phase serves as an initialization from which the system starts to track the displacement of individual patterns representing anatomical structures over time. The specialty of this method is that the images do not need to be manipulated in any way beforehand like e.g. tagging of CMR images. Results: The method is very well suited for tracking muscular tissue and with this allowing quantitative elaboration of myocardium and also blood flow. Conclusions: This new method offers a robust and time saving procedure to quantify myocardial tissue and blood with displacement, velocity and deformation parameters on regular sequences of CMR imaging. It therefore can be implemented in clinical practice.
Medicine, Issue 48, feature tracking, strain, displacement, CMR
2356
Scanning-probe Single-electron Capacitance Spectroscopy
Institutions: Michigan State University, Mercyhurst University, Saint Louis University, Massachusetts Institute of Technology.
The integration of low-temperature scanning-probe techniques and single-electron capacitance spectroscopy represents a powerful tool to study the electronic quantum structure of small systems - including individual atomic dopants in semiconductors. Here we present a capacitance-based method, known as Subsurface Charge Accumulation (SCA) imaging, which is capable of resolving single-electron charging while achieving sufficient spatial resolution to image individual atomic dopants. The use of a capacitance technique enables observation of subsurface features, such as dopants buried many nanometers beneath the surface of a semiconductor material
1,2,3
. In principle, this technique can be applied to any system to resolve electron motion below an insulating surface. As in other electric-field-sensitive scanned-probe techniques
4
, the lateral spatial resolution of the measurement depends in part on the radius of curvature of the probe tip. Using tips with a small radius of curvature can enable spatial resolution of a few tens of nanometers. This fine spatial resolution allows investigations of small numbers (down to one) of subsurface dopants
1,2
. The charge resolution depends greatly on the sensitivity of the charge detection circuitry; using high electron mobility transistors (HEMT) in such circuits at cryogenic temperatures enables a sensitivity of approximately 0.01 electrons/Hz
½
at 0.3 K
5
.
Physics, Issue 77, Biophysics, Molecular Biology, Cellular Biology, Microscopy, Scanning Probe, Nanotechnology, Physics, Electronics, acceptors (solid state), donors (solid state), Solid-State Physics, tunneling microscopy, scanning capacitance microscopy, subsurface charge accumulation imaging, capacitance spectroscopy, scanning probe microscopy, single-electron spectroscopy, imaging
50676
Characterization of Complex Systems Using the Design of Experiments Approach: Transient Protein Expression in Tobacco as a Case Study
Institutions: RWTH Aachen University, Fraunhofer Gesellschaft.

Plants provide multiple benefits for the production of biopharmaceuticals including low costs, scalability, and safety. Transient expression offers the additional advantage of short development and production times, but expression levels can vary significantly between batches thus giving rise to regulatory concerns in the context of good manufacturing practice. We used a design of experiments (DoE) approach to determine the impact of major factors such as regulatory elements in the expression construct, plant growth and development parameters, and the incubation conditions during expression, on the variability of expression between batches. We tested plants expressing a model anti-HIV monoclonal antibody (2G12) and a fluorescent marker protein (DsRed). We discuss the rationale for selecting certain properties of the model and identify its potential limitations. The general approach can easily be transferred to other problems because the principles of the model are broadly applicable: knowledge-based parameter selection, complexity reduction by splitting the initial problem into smaller modules, software-guided setup of optimal experiment combinations and step-wise design augmentation. Therefore, the methodology is not only useful for characterizing protein expression in plants but also for the investigation of other complex systems lacking a mechanistic description. The predictive equations describing the interconnectivity between parameters can be used to establish mechanistic models for other complex systems.
Bioengineering, Issue 83, design of experiments (DoE), transient protein expression, plant-derived biopharmaceuticals, promoter, 5'UTR, fluorescent reporter protein, model building, incubation conditions, monoclonal antibody
51216
Automated, Quantitative Cognitive/Behavioral Screening of Mice: For Genetics, Pharmacology, Animal Cognition and Undergraduate Instruction
Institutions: Rutgers University, Koç University, New York University, Fairfield University.
We describe a high-throughput, high-volume, fully automated, live-in 24/7 behavioral testing system for assessing the effects of genetic and pharmacological manipulations on basic mechanisms of cognition and learning in mice. A standard polypropylene mouse housing tub is connected through an acrylic tube to a standard commercial mouse test box. The test box has 3 hoppers, 2 of which are connected to pellet feeders. All are internally illuminable with an LED and monitored for head entries by infrared (IR) beams. Mice live in the environment, which eliminates handling during screening. They obtain their food during two or more daily feeding periods by performing in operant (instrumental) and Pavlovian (classical) protocols, for which we have written protocol-control software and quasi-real-time data analysis and graphing software. The data analysis and graphing routines are written in a MATLAB-based language created to simplify greatly the analysis of large time-stamped behavioral and physiological event records and to preserve a full data trail from raw data through all intermediate analyses to the published graphs and statistics within a single data structure. The data-analysis code harvests the data several times a day and subjects it to statistical and graphical analyses, which are automatically stored in the "cloud" and on in-lab computers. Thus, the progress of individual mice is visualized and quantified daily. The data-analysis code talks to the protocol-control code, permitting the automated advance from protocol to protocol of individual subjects. The behavioral protocols implemented are matching, autoshaping, timed hopper-switching, risk assessment in timed hopper-switching, impulsivity measurement, and the circadian anticipation of food availability. Open-source protocol-control and data-analysis code makes the addition of new protocols simple. Eight test environments fit in a 48 in x 24 in x 78 in cabinet; two such cabinets (16 environments) may be controlled by one computer.
Behavior, Issue 84, genetics, cognitive mechanisms, behavioral screening, learning, memory, timing
51047
Oscillation and Reaction Board Techniques for Estimating Inertial Properties of a Below-knee Prosthesis
Institutions: University of Northern Colorado, Arizona State University, Iowa State University.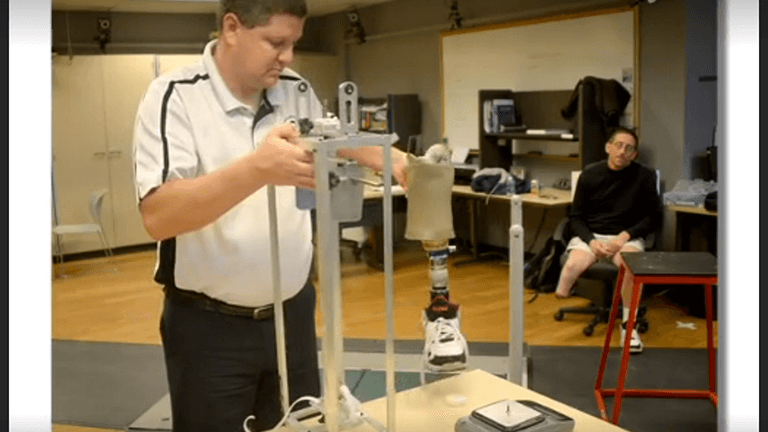 The purpose of this study was two-fold: 1) demonstrate a technique that can be used to directly estimate the inertial properties of a below-knee prosthesis, and 2) contrast the effects of the proposed technique and that of using intact limb inertial properties on joint kinetic estimates during walking in unilateral, transtibial amputees. An oscillation and reaction board system was validated and shown to be reliable when measuring inertial properties of known geometrical solids. When direct measurements of inertial properties of the prosthesis were used in inverse dynamics modeling of the lower extremity compared with inertial estimates based on an intact shank and foot, joint kinetics at the hip and knee were significantly lower during the swing phase of walking. Differences in joint kinetics during stance, however, were smaller than those observed during swing. Therefore, researchers focusing on the swing phase of walking should consider the impact of prosthesis inertia property estimates on study outcomes. For stance, either one of the two inertial models investigated in our study would likely lead to similar outcomes with an inverse dynamics assessment.
Bioengineering, Issue 87, prosthesis inertia, amputee locomotion, below-knee prosthesis, transtibial amputee
50977
Perceptual and Category Processing of the Uncanny Valley Hypothesis' Dimension of Human Likeness: Some Methodological Issues
Institutions: University of Zurich.

Mori's Uncanny Valley Hypothesis
1,2
proposes that the perception of humanlike characters such as robots and, by extension, avatars (computer-generated characters) can evoke negative or positive affect (valence) depending on the object's degree of visual and behavioral realism along a
dimension of human likeness
(
DHL
) (
Figure 1
). But studies of affective valence of subjective responses to variously realistic non-human characters have produced inconsistent findings
3, 4, 5, 6
. One of a number of reasons for this is that human likeness is not perceived as the hypothesis assumes. While the DHL can be defined following Mori's description as a smooth linear change in the degree of physical humanlike similarity, subjective perception of objects along the DHL can be understood in terms of the psychological effects of categorical perception (CP)
7
. Further behavioral and neuroimaging investigations of category processing and CP along the DHL and of the potential influence of the dimension's underlying category structure on affective experience are needed. This protocol therefore focuses on the DHL and allows examination of CP. Based on the protocol presented in the video as an example, issues surrounding the methodology in the protocol and the use in "uncanny" research of stimuli drawn from morph continua to represent the DHL are discussed in the article that accompanies the video. The use of neuroimaging and morph stimuli to represent the DHL in order to disentangle brain regions neurally responsive to physical human-like similarity from those responsive to category change and category processing is briefly illustrated.
Behavior, Issue 76, Neuroscience, Neurobiology, Molecular Biology, Psychology, Neuropsychology, uncanny valley, functional magnetic resonance imaging, fMRI, categorical perception, virtual reality, avatar, human likeness, Mori, uncanny valley hypothesis, perception, magnetic resonance imaging, MRI, imaging, clinical techniques
4375
Protein WISDOM: A Workbench for In silico De novo Design of BioMolecules
Institutions: Princeton University.

The aim of
de novo
protein design is to find the amino acid sequences that will fold into a desired 3-dimensional structure with improvements in specific properties, such as binding affinity, agonist or antagonist behavior, or stability, relative to the native sequence. Protein design lies at the center of current advances drug design and discovery. Not only does protein design provide predictions for potentially useful drug targets, but it also enhances our understanding of the protein folding process and protein-protein interactions. Experimental methods such as directed evolution have shown success in protein design. However, such methods are restricted by the limited sequence space that can be searched tractably. In contrast, computational design strategies allow for the screening of a much larger set of sequences covering a wide variety of properties and functionality. We have developed a range of computational
de novo
protein design methods capable of tackling several important areas of protein design. These include the design of monomeric proteins for increased stability and complexes for increased binding affinity. To disseminate these methods for broader use we present Protein WISDOM (https://www.proteinwisdom.org), a tool that provides automated methods for a variety of protein design problems. Structural templates are submitted to initialize the design process. The first stage of design is an optimization sequence selection stage that aims at improving stability through minimization of potential energy in the sequence space. Selected sequences are then run through a fold specificity stage and a binding affinity stage. A rank-ordered list of the sequences for each step of the process, along with relevant designed structures, provides the user with a comprehensive quantitative assessment of the design. Here we provide the details of each design method, as well as several notable experimental successes attained through the use of the methods.
Genetics, Issue 77, Molecular Biology, Bioengineering, Biochemistry, Biomedical Engineering, Chemical Engineering, Computational Biology, Genomics, Proteomics, Protein, Protein Binding, Computational Biology, Drug Design, optimization (mathematics), Amino Acids, Peptides, and Proteins, De novo protein and peptide design, Drug design, In silico sequence selection, Optimization, Fold specificity, Binding affinity, sequencing
50476
Diffusion Tensor Magnetic Resonance Imaging in the Analysis of Neurodegenerative Diseases
Institutions: University of Ulm.

Diffusion tensor imaging (DTI) techniques provide information on the microstructural processes of the cerebral white matter (WM)
in vivo
. The present applications are designed to investigate differences of WM involvement patterns in different brain diseases, especially neurodegenerative disorders, by use of different DTI analyses in comparison with matched controls. DTI data analysis is performed in a variate fashion,
i.e.
voxelwise comparison of regional diffusion direction-based metrics such as fractional anisotropy (FA), together with fiber tracking (FT) accompanied by tractwise fractional anisotropy statistics (TFAS) at the group level in order to identify differences in FA along WM structures, aiming at the definition of regional patterns of WM alterations at the group level. Transformation into a stereotaxic standard space is a prerequisite for group studies and requires thorough data processing to preserve directional inter-dependencies. The present applications show optimized technical approaches for this preservation of quantitative and directional information during spatial normalization in data analyses at the group level. On this basis, FT techniques can be applied to group averaged data in order to quantify metrics information as defined by FT. Additionally, application of DTI methods,
i.e.
differences in FA-maps after stereotaxic alignment, in a longitudinal analysis at an individual subject basis reveal information about the progression of neurological disorders. Further quality improvement of DTI based results can be obtained during preprocessing by application of a controlled elimination of gradient directions with high noise levels. In summary, DTI is used to define a distinct WM pathoanatomy of different brain diseases by the combination of whole brain-based and tract-based DTI analysis.
Medicine, Issue 77, Neuroscience, Neurobiology, Molecular Biology, Biomedical Engineering, Anatomy, Physiology, Neurodegenerative Diseases, nuclear magnetic resonance, NMR, MR, MRI, diffusion tensor imaging, fiber tracking, group level comparison, neurodegenerative diseases, brain, imaging, clinical techniques
50427
Setting Limits on Supersymmetry Using Simplified Models
Institutions: University College London, CERN, Lawrence Berkeley National Laboratories.

Experimental limits on supersymmetry and similar theories are difficult to set because of the enormous available parameter space and difficult to generalize because of the complexity of single points. Therefore, more phenomenological, simplified models are becoming popular for setting experimental limits, as they have clearer physical interpretations. The use of these simplified model limits to set a real limit on a concrete theory has not, however, been demonstrated. This paper recasts simplified model limits into limits on a specific and complete supersymmetry model, minimal supergravity. Limits obtained under various physical assumptions are comparable to those produced by directed searches. A prescription is provided for calculating conservative and aggressive limits on additional theories. Using acceptance and efficiency tables along with the expected and observed numbers of events in various signal regions, LHC experimental results can be recast in this manner into almost any theoretical framework, including nonsupersymmetric theories with supersymmetry-like signatures.
Physics, Issue 81, high energy physics, particle physics, Supersymmetry, LHC, ATLAS, CMS, New Physics Limits, Simplified Models
50419
Proton Transfer and Protein Conformation Dynamics in Photosensitive Proteins by Time-resolved Step-scan Fourier-transform Infrared Spectroscopy
Institutions: Freie Universität Berlin.

Monitoring the dynamics of protonation and protein backbone conformation changes during the function of a protein is an essential step towards understanding its mechanism. Protonation and conformational changes affect the vibration pattern of amino acid side chains and of the peptide bond, respectively, both of which can be probed by infrared (IR) difference spectroscopy. For proteins whose function can be repetitively and reproducibly triggered by light, it is possible to obtain infrared difference spectra with (sub)microsecond resolution over a broad spectral range using the step-scan Fourier transform infrared technique. With ~10
2
-10
3
repetitions of the photoreaction, the minimum number to complete a scan at reasonable spectral resolution and bandwidth, the noise level in the absorption difference spectra can be as low as ~10
-
4
, sufficient to follow the kinetics of protonation changes from a single amino acid. Lower noise levels can be accomplished by more data averaging and/or mathematical processing. The amount of protein required for optimal results is between 5-100 µg, depending on the sampling technique used. Regarding additional requirements, the protein needs to be first concentrated in a low ionic strength buffer and then dried to form a film. The protein film is hydrated prior to the experiment, either with little droplets of water or under controlled atmospheric humidity. The attained hydration level (g of water / g of protein) is gauged from an IR absorption spectrum. To showcase the technique, we studied the photocycle of the light-driven proton-pump bacteriorhodopsin in its native purple membrane environment, and of the light-gated ion channel channelrhodopsin-2 solubilized in detergent.
Biophysics, Issue 88, bacteriorhodopsin, channelrhodopsin, attenuated total reflection, proton transfer, protein dynamics, infrared spectroscopy, time-resolved spectroscopy, step-scan, membrane proteins, singular value decomposition
51622
Semi-automated Optical Heartbeat Analysis of Small Hearts
Institutions: The Sanford Burnham Institute for Medical Research, The Sanford Burnham Institute for Medical Research, San Diego State University.

We have developed a method for analyzing high speed optical recordings from
Drosophila
, zebrafish and embryonic mouse hearts (Fink, et. al., 2009). Our Semi-automatic Optical Heartbeat Analysis (SOHA) uses a novel movement detection algorithm that is able to detect cardiac movements associated with individual contractile and relaxation events. The program provides a host of physiologically relevant readouts including systolic and diastolic intervals, heart rate, as well as qualitative and quantitative measures of heartbeat arrhythmicity. The program also calculates heart diameter measurements during both diastole and systole from which fractional shortening and fractional area changes are calculated. Output is provided as a digital file compatible with most spreadsheet programs. Measurements are made for every heartbeat in a record increasing the statistical power of the output. We demonstrate each of the steps where user input is required and show the application of our methodology to the analysis of heart function in all three genetically tractable heart models.
Physiology, Issue 31, Drosophila, zebrafish, mouse, heart, myosin, dilated, restricted, cardiomyopathy, KCNQ, movement detection
1435
Spatial Multiobjective Optimization of Agricultural Conservation Practices using a SWAT Model and an Evolutionary Algorithm
Institutions: University of Washington, Iowa State University, North Carolina A&T University, Iowa Geological and Water Survey.

Finding the cost-efficient (
i.e.
, lowest-cost) ways of targeting conservation practice investments for the achievement of specific water quality goals across the landscape is of primary importance in watershed management. Traditional economics methods of finding the lowest-cost solution in the watershed context (
e.g.
,
5,12,20
) assume that off-site impacts can be accurately described as a proportion of on-site pollution generated. Such approaches are unlikely to be representative of the actual pollution process in a watershed, where the impacts of polluting sources are often determined by complex biophysical processes. The use of modern physically-based, spatially distributed hydrologic simulation models allows for a greater degree of realism in terms of process representation but requires a development of a simulation-optimization framework where the model becomes an integral part of optimization. Evolutionary algorithms appear to be a particularly useful optimization tool, able to deal with the combinatorial nature of a watershed simulation-optimization problem and allowing the use of the full water quality model. Evolutionary algorithms treat a particular spatial allocation of conservation practices in a watershed as a candidate solution and utilize sets (populations) of candidate solutions iteratively applying stochastic operators of selection, recombination, and mutation to find improvements with respect to the optimization objectives. The optimization objectives in this case are to minimize nonpoint-source pollution in the watershed, simultaneously minimizing the cost of conservation practices. A recent and expanding set of research is attempting to use similar methods and integrates water quality models with broadly defined evolutionary optimization methods
3,4,9,10,13-15,17-19,22,23,25
. In this application, we demonstrate a program which follows Rabotyagov et al.'s approach and integrates a modern and commonly used SWAT water quality model
7
with a multiobjective evolutionary algorithm SPEA2
26
, and user-specified set of conservation practices and their costs to search for the complete tradeoff frontiers between costs of conservation practices and user-specified water quality objectives. The frontiers quantify the tradeoffs faced by the watershed managers by presenting the full range of costs associated with various water quality improvement goals. The program allows for a selection of watershed configurations achieving specified water quality improvement goals and a production of maps of optimized placement of conservation practices.
Environmental Sciences, Issue 70, Plant Biology, Civil Engineering, Forest Sciences, Water quality, multiobjective optimization, evolutionary algorithms, cost efficiency, agriculture, development
4009