ABSTRACT
PA gels have long been used as a platform to study cell traction forces due to ease of fabrication and the ability to tune their elastic properties. When the substrate is coated with an extracellular matrix protein, cells adhere to the gel and apply forces, causing the gel to deform. The deformation depends on the cell traction and the elastic properties of the gel. If the deformation field of the surface is known, surface traction can be calculated using elasticity theory. Gel deformation is commonly measured by embedding fluorescent marker beads uniformly into the gel. The probes displace as the gel deforms. The probes near the surface of the gel are tracked. The displacements reported by these probes are considered as surface displacements. Their depths from the surface are ignored. This assumption introduces error in traction force evaluations. For precise measurement of cell forces, it is critical for the location of the beads to be known. We have developed a technique that utilizes simple chemistry to confine fluorescent marker beads, 0.1 and 1 µm in diameter, in PA gels, within 1.6 μm of the surface. We coat a coverslip with poly-D-lysine (PDL) and fluorescent beads. PA gel solution is then sandwiched between the coverslip and an adherent surface. The fluorescent beads transfer to the gel solution during curing. After polymerization, the PA gel contains fluorescent beads on a plane close to the gel surface.
16 Related JoVE Articles!
Preparation of Complaint Matrices for Quantifying Cellular Contraction
Institutions: University of Chicago, University of Chicago, University of Chicago.

The regulation of cellular adhesion to the extracellular matrix (ECM) is essential for cell migration and ECM remodeling. Focal adhesions are macromolecular assemblies that couple the contractile F-actin cytoskeleton to the ECM. This connection allows for the transmission of intracellular mechanical forces across the cell membrane to the underlying substrate. Recent work has shown the mechanical properties of the ECM regulate focal adhesion and F-actin morphology as well as numerous physiological processes, including cell differentiation, division, proliferation and migration. Thus, the use of cell culture substrates has become an increasingly prevalent method to precisely control and modulate ECM mechanical properties. To quantify traction forces at focal adhesions in an adherent cell, compliant substrates are used in conjunction with high-resolution imaging and computational techniques in a method termed traction force microscopy (TFM). This technique relies on measurements of the local magnitude and direction of substrate deformations induced by cellular contraction. In combination with high-resolution fluorescence microscopy of fluorescently tagged proteins, it is possible to correlate cytoskeletal organization and remodeling with traction forces. Here we present a detailed experimental protocol for the preparation of two-dimensional, compliant matrices for the purpose of creating a cell culture substrate with a well-characterized, tunable mechanical stiffness, which is suitable for measuring cellular contraction. These protocols include the fabrication of polyacrylamide hydrogels, coating of ECM proteins on such gels, plating cells on gels, and high-resolution confocal microscopy using a perfusion chamber. Additionally, we provide a representative sample of data demonstrating location and magnitude of cellular forces using cited TFM protocols.
Bioengineering, Issue 46, Traction force microscopy, cellular adhesion, polyacrylamide gel, stiffness, elastic modulus
2173
Micropipette Aspiration of Substrate-attached Cells to Estimate Cell Stiffness
Institutions: University of Illinois, University of Pennsylvania .

Growing number of studies show that biomechanical properties of individual cells play major roles in multiple cellular functions, including cell proliferation, differentiation, migration and cell-cell interactions. The two key parameters of cellular biomechanics are cellular deformability or stiffness and the ability of the cells to contract and generate force. Here we describe a quick and simple method to estimate cell stiffness by measuring the degree of membrane deformation in response to negative pressure applied by a glass micropipette to the cell surface, a technique that is called Micropipette Aspiration or Microaspiration. Microaspiration is performed by pulling a glass capillary to create a micropipette with a very small tip (2-50 μm diameter depending on the size of a cell or a tissue sample), which is then connected to a pneumatic pressure transducer and brought to a close vicinity of a cell under a microscope. When the tip of the pipette touches a cell, a step of negative pressure is applied to the pipette by the pneumatic pressure transducer generating well-defined pressure on the cell membrane. In response to pressure, the membrane is aspirated into the pipette and progressive membrane deformation or "membrane projection" into the pipette is measured as a function of time. The basic principle of this experimental approach is that the degree of membrane deformation in response to a defined mechanical force is a function of membrane stiffness. The stiffer the membrane is, the slower the rate of membrane deformation and the shorter the steady-state aspiration length.The technique can be performed on isolated cells, both in suspension and substrate-attached, large organelles, and liposomes. Analysis is performed by comparing maximal membrane deformations achieved under a given pressure for different cell populations or experimental conditions. A "stiffness coefficient" is estimated by plotting the aspirated length of membrane deformation as a function of the applied pressure. Furthermore, the data can be further analyzed to estimate the Young's modulus of the cells (E), the most common parameter to characterize stiffness of materials. It is important to note that plasma membranes of eukaryotic cells can be viewed as a bi-component system where membrane lipid bilayer is underlied by the sub-membrane cytoskeleton and that it is the cytoskeleton that constitutes the mechanical scaffold of the membrane and dominates the deformability of the cellular envelope. This approach, therefore, allows probing the biomechanical properties of the sub-membrane cytoskeleton.
Bioengineering, Issue 67, Biophysics, Biomedical Engineering, Medicine, Cellular Biology, Cell stiffness, biomechanics, microaspiration, cell membrane, cytoskeleton
3886
Preparation of Hydroxy-PAAm Hydrogels for Decoupling the Effects of Mechanotransduction Cues
Institutions: Université de Mons.
It is now well established that many cellular functions are regulated by interactions of cells with physicochemical and mechanical cues of their extracellular matrix (ECM) environment. Eukaryotic cells constantly sense their local microenvironment through surface mechanosensors to transduce physical changes of ECM into biochemical signals, and integrate these signals to achieve specific changes in gene expression. Interestingly, physicochemical and mechanical parameters of the ECM can couple with each other to regulate cell fate. Therefore, a key to understanding mechanotransduction is to decouple the relative contribution of ECM cues on cellular functions. Here we present a detailed experimental protocol to rapidly and easily generate biologically relevant hydrogels for the independent tuning of mechanotransduction cues
in vitro
. We chemically modified polyacrylamide hydrogels (PAAm) to surmount their intrinsically non-adhesive properties by incorporating hydroxyl-functionalized acrylamide monomers during the polymerization. We obtained a novel PAAm hydrogel, called hydroxy-PAAm, which permits immobilization of any desired nature of ECM proteins. The combination of hydroxy-PAAm hydrogels with microcontact printing allows to independently control the morphology of single-cells, the matrix stiffness, the nature and the density of ECM proteins. We provide a simple and rapid method that can be set up in every biology lab to study
in vitro
cell mechanotransduction processes. We validate this novel two-dimensional platform by conducting experiments on endothelial cells that demonstrate a mechanical coupling between ECM stiffness and the nucleus.
Bioengineering, Issue 90, hydrogels, mechanotransduction, polyacrylamide, microcontact printing, cell shape, stiffness, durotaxis, cell-ligand density
51010
Measuring the Mechanical Properties of Living Cells Using Atomic Force Microscopy
Institutions: Worcester Polytechnic Institute, Worcester Polytechnic Institute.
Mechanical properties of cells and extracellular matrix (ECM) play important roles in many biological processes including stem cell differentiation, tumor formation, and wound healing. Changes in stiffness of cells and ECM are often signs of changes in cell physiology or diseases in tissues. Hence, cell stiffness is an index to evaluate the status of cell cultures. Among the multitude of methods applied to measure the stiffness of cells and tissues, micro-indentation using an Atomic Force Microscope (AFM) provides a way to reliably measure the stiffness of living cells. This method has been widely applied to characterize the micro-scale stiffness for a variety of materials ranging from metal surfaces to soft biological tissues and cells. The basic principle of this method is to indent a cell with an AFM tip of selected geometry and measure the applied force from the bending of the AFM cantilever. Fitting the force-indentation curve to the Hertz model for the corresponding tip geometry can give quantitative measurements of material stiffness. This paper demonstrates the procedure to characterize the stiffness of living cells using AFM. Key steps including the process of AFM calibration, force-curve acquisition, and data analysis using a MATLAB routine are demonstrated. Limitations of this method are also discussed.
Biophysics, Issue 76, Bioengineering, Cellular Biology, Molecular Biology, Physics, Chemical Engineering, Biomechanics, bioengineering (general), AFM, cell stiffness, microindentation, force spectroscopy, atomic force microscopy, microscopy
50497
Micro 3D Printing Using a Digital Projector and its Application in the Study of Soft Materials Mechanics
Institutions: Massachusetts Institute of Technology.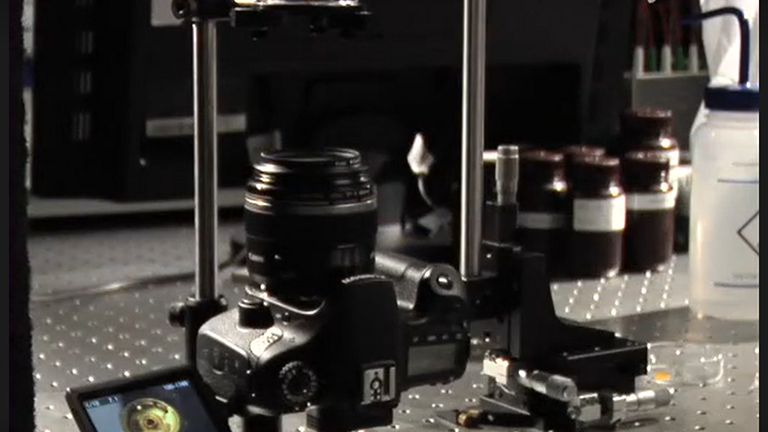 Buckling is a classical topic in mechanics. While buckling has long been studied as one of the major structural failure modes
1
, it has recently drawn new attention as a unique mechanism for pattern transformation. Nature is full of such examples where a wealth of exotic patterns are formed through mechanical instability
2-5
. Inspired by this elegant mechanism, many studies have demonstrated creation and transformation of patterns using soft materials such as elastomers and hydrogels
6-11
. Swelling gels are of particular interest because they can spontaneously trigger mechanical instability to create various patterns without the need of external force
6-10
. Recently, we have reported demonstration of full control over buckling pattern of micro-scaled tubular gels using projection micro-stereolithography (PμSL), a three-dimensional (3D) manufacturing technology capable of rapidly converting computer generated 3D models into physical objects at high resolution
12,13
. Here we present a simple method to build up a simplified PμSL system using a commercially available digital data projector to study swelling-induced buckling instability for controlled pattern transformation. A simple desktop 3D printer is built using an off-the-shelf digital data projector and simple optical components such as a convex lens and a mirror
14
. Cross-sectional images extracted from a 3D solid model is projected on the photosensitive resin surface in sequence, polymerizing liquid resin into a desired 3D solid structure in a layer-by-layer fashion. Even with this simple configuration and easy process, arbitrary 3D objects can be readily fabricated with sub-100 μm resolution. This desktop 3D printer holds potential in the study of soft material mechanics by offering a great opportunity to explore various 3D geometries. We use this system to fabricate tubular shaped hydrogel structure with different dimensions. Fixed on the bottom to the substrate, the tubular gel develops inhomogeneous stress during swelling, which gives rise to buckling instability. Various wavy patterns appear along the circumference of the tube when the gel structures undergo buckling. Experiment shows that circumferential buckling of desired mode can be created in a controlled manner. Pattern transformation of three-dimensionally structured tubular gels has significant implication not only in mechanics and material science, but also in many other emerging fields such as tunable matamaterials.
Mechanical Engineering, Issue 69, Materials Science, Physics, Chemical Engineering, 3D printing, stereo-lithography, photo-polymerization, gel, swelling, elastic instability, buckling, pattern formation
4457
In vitro Mesothelial Clearance Assay that Models the Early Steps of Ovarian Cancer Metastasis
Institutions: Harvard Medical School.

Ovarian cancer is the fifth leading cause of cancer related deaths in the United States
1
. Despite a positive initial response to therapies, 70 to 90 percent of women with ovarian cancer develop new metastases, and the recurrence is often fatal
2
. It is, therefore, necessary to understand how secondary metastases arise in order to develop better treatments for intermediate and late stage ovarian cancer. Ovarian cancer metastasis occurs when malignant cells detach from the primary tumor site and disseminate throughout the peritoneal cavity. The disseminated cells can form multicellular clusters, or spheroids, that will either remain unattached, or implant onto organs within the peritoneal cavity
3
(Figure 1, Movie 1). All of the organs within the peritoneal cavity are lined with a single, continuous, layer of mesothelial cells
4-6
(Figure 2). However, mesothelial cells are absent from underneath peritoneal tumor masses, as revealed by electron micrograph studies of excised human tumor tissue sections
3,5-7
(Figure 2). This suggests that mesothelial cells are excluded from underneath the tumor mass by an unknown process. Previous
in vitro
experiments demonstrated that primary ovarian cancer cells attach more efficiently to extracellular matrix than to mesothelial cells
8
, and more recent studies showed that primary peritoneal mesothelial cells actually provide a barrier to ovarian cancer cell adhesion and invasion (as compared to adhesion and invasion on substrates that were not covered with mesothelial cells)
9,10
. This would suggest that mesothelial cells act as a barrier against ovarian cancer metastasis. The cellular and molecular mechanisms by which ovarian cancer cells breach this barrier, and exclude the mesothelium have, until recently, remained unknown. Here we describe the methodology for an
in vitro
assay that models the interaction between ovarian cancer cell spheroids and mesothelial cells
in vivo
(Figure 3, Movie 2). Our protocol was adapted from previously described methods for analyzing ovarian tumor cell interactions with mesothelial monolayers
8-16
, and was first described in a report showing that ovarian tumor cells utilize an integrin –dependent activation of myosin and traction force to promote the exclusion of the mesothelial cells from under a tumor spheroid
17
. This model takes advantage of time-lapse fluorescence microscopy to monitor the two cell populations in real time, providing spatial and temporal information on the interaction. The ovarian cancer cells express red fluorescent protein (RFP) while the mesothelial cells express green fluorescent protein (GFP). RFP-expressing ovarian cancer cell spheroids attach to the GFP-expressing mesothelial monolayer. The spheroids spread, invade, and force the mesothelial cells aside creating a hole in the monolayer. This hole is visualized as the negative space (black) in the GFP image. The area of the hole can then be measured to quantitatively analyze differences in clearance activity between control and experimental populations of ovarian cancer and/ or mesothelial cells. This assay requires only a small number of ovarian cancer cells (100 cells per spheroid X 20-30 spheroids per condition), so it is feasible to perform this assay using precious primary tumor cell samples. Furthermore, this assay can be easily adapted for high throughput screening.
Medicine, Issue 60, Ovarian Cancer, Metastasis, In vitro Model, Mesothelial, Spheroid
3888
Biophysical Assays to Probe the Mechanical Properties of the Interphase Cell Nucleus: Substrate Strain Application and Microneedle Manipulation
Institutions: Department of Medicine, Cardiovascular Division, Cornell University.

In most eukaryotic cells, the nucleus is the largest organelle and is typically 2 to 10 times stiffer than the surrounding cytoskeleton; consequently, the physical properties of the nucleus contribute significantly to the overall biomechanical behavior of cells under physiological and pathological conditions. For example, in migrating neutrophils and invading cancer cells, nuclear stiffness can pose a major obstacle during extravasation or passage through narrow spaces within tissues.
1
On the other hand, the nucleus of cells in mechanically active tissue such as muscle requires sufficient structural support to withstand repetitive mechanical stress. Importantly, the nucleus is tightly integrated into the cellular architecture; it is physically connected to the surrounding cytoskeleton, which is a critical requirement for the intracellular movement and positioning of the nucleus, for example, in polarized cells, synaptic nuclei at neuromuscular junctions, or in migrating cells.
2
Not surprisingly, mutations in nuclear envelope proteins such as lamins and nesprins, which play a critical role in determining nuclear stiffness and nucleo-cytoskeletal coupling, have been shown recently to result in a number of human diseases, including Emery-Dreifuss muscular dystrophy, limb-girdle muscular dystrophy, and dilated cardiomyopathy.
3
To investigate the biophysical function of diverse nuclear envelope proteins and the effect of specific mutations, we have developed experimental methods to study the physical properties of the nucleus in single, living cells subjected to global or localized mechanical perturbation. Measuring induced nuclear deformations in response to precisely applied substrate strain application yields important information on the deformability of the nucleus and allows quantitative comparison between different mutations or cell lines deficient for specific nuclear envelope proteins. Localized cytoskeletal strain application with a microneedle is used to complement this assay and can yield additional information on intracellular force transmission between the nucleus and the cytoskeleton. Studying nuclear mechanics in intact living cells preserves the normal intracellular architecture and avoids potential artifacts that can arise when working with isolated nuclei. Furthermore, substrate strain application presents a good model for the physiological stress experienced by cells in muscle or other tissues (e.g., vascular smooth muscle cells exposed to vessel strain). Lastly, while these tools have been developed primarily to study nuclear mechanics, they can also be applied to investigate the function of cytoskeletal proteins and mechanotransduction signaling.
Biophysics, Issue 55, nuclear envelope, nuclear stiffness, nucleo-cytoskeletal coupling, lamin, nesprin, cytoskeleton, biomechanics, nuclear deformation, force transmission
3087
Super-resolution Imaging of the Cytokinetic Z Ring in Live Bacteria Using Fast 3D-Structured Illumination Microscopy (f3D-SIM)
Institutions: University of Technology, Sydney.

Imaging of biological samples using fluorescence microscopy has advanced substantially with new technologies to overcome the resolution barrier of the diffraction of light allowing super-resolution of live samples. There are currently three main types of super-resolution techniques – stimulated emission depletion (STED), single-molecule localization microscopy (including techniques such as PALM, STORM, and GDSIM), and structured illumination microscopy (SIM). While STED and single-molecule localization techniques show the largest increases in resolution, they have been slower to offer increased speeds of image acquisition. Three-dimensional SIM (3D-SIM) is a wide-field fluorescence microscopy technique that offers a number of advantages over both single-molecule localization and STED. Resolution is improved, with typical lateral and axial resolutions of 110 and 280 nm, respectively and depth of sampling of up to 30 µm from the coverslip, allowing for imaging of whole cells. Recent advancements (fast 3D-SIM) in the technology increasing the capture rate of raw images allows for fast capture of biological processes occurring in seconds, while significantly reducing photo-toxicity and photobleaching. Here we describe the use of one such method to image bacterial cells harboring the fluorescently-labelled cytokinetic FtsZ protein to show how cells are analyzed and the type of unique information that this technique can provide.
Molecular Biology, Issue 91, super-resolution microscopy, fluorescence microscopy, OMX, 3D-SIM, Blaze, cell division, bacteria, Bacillus subtilis, Staphylococcus aureus, FtsZ, Z ring constriction
51469
Accuracy in Dental Medicine, A New Way to Measure Trueness and Precision
Institutions: University of Zürich.

Reference scanners are used in dental medicine to verify a lot of procedures. The main interest is to verify impression methods as they serve as a base for dental restorations. The current limitation of many reference scanners is the lack of accuracy scanning large objects like full dental arches, or the limited possibility to assess detailed tooth surfaces. A new reference scanner, based on focus variation scanning technique, was evaluated with regards to highest local and general accuracy. A specific scanning protocol was tested to scan original tooth surface from dental impressions. Also, different model materials were verified. The results showed a high scanning accuracy of the reference scanner with a mean deviation of 5.3 ± 1.1 µm for trueness and 1.6 ± 0.6 µm for precision in case of full arch scans. Current dental impression methods showed much higher deviations (trueness: 20.4 ± 2.2 µm, precision: 12.5 ± 2.5 µm) than the internal scanning accuracy of the reference scanner. Smaller objects like single tooth surface can be scanned with an even higher accuracy, enabling the system to assess erosive and abrasive tooth surface loss. The reference scanner can be used to measure differences for a lot of dental research fields. The different magnification levels combined with a high local and general accuracy can be used to assess changes of single teeth or restorations up to full arch changes.
Medicine, Issue 86, Laboratories, Dental, Calibration, Technology, Dental impression, Accuracy, Trueness, Precision, Full arch scan, Abrasion
51374
Diffusion Tensor Magnetic Resonance Imaging in the Analysis of Neurodegenerative Diseases
Institutions: University of Ulm.

Diffusion tensor imaging (DTI) techniques provide information on the microstructural processes of the cerebral white matter (WM)
in vivo
. The present applications are designed to investigate differences of WM involvement patterns in different brain diseases, especially neurodegenerative disorders, by use of different DTI analyses in comparison with matched controls. DTI data analysis is performed in a variate fashion,
i.e.
voxelwise comparison of regional diffusion direction-based metrics such as fractional anisotropy (FA), together with fiber tracking (FT) accompanied by tractwise fractional anisotropy statistics (TFAS) at the group level in order to identify differences in FA along WM structures, aiming at the definition of regional patterns of WM alterations at the group level. Transformation into a stereotaxic standard space is a prerequisite for group studies and requires thorough data processing to preserve directional inter-dependencies. The present applications show optimized technical approaches for this preservation of quantitative and directional information during spatial normalization in data analyses at the group level. On this basis, FT techniques can be applied to group averaged data in order to quantify metrics information as defined by FT. Additionally, application of DTI methods,
i.e.
differences in FA-maps after stereotaxic alignment, in a longitudinal analysis at an individual subject basis reveal information about the progression of neurological disorders. Further quality improvement of DTI based results can be obtained during preprocessing by application of a controlled elimination of gradient directions with high noise levels. In summary, DTI is used to define a distinct WM pathoanatomy of different brain diseases by the combination of whole brain-based and tract-based DTI analysis.
Medicine, Issue 77, Neuroscience, Neurobiology, Molecular Biology, Biomedical Engineering, Anatomy, Physiology, Neurodegenerative Diseases, nuclear magnetic resonance, NMR, MR, MRI, diffusion tensor imaging, fiber tracking, group level comparison, neurodegenerative diseases, brain, imaging, clinical techniques
50427
From Voxels to Knowledge: A Practical Guide to the Segmentation of Complex Electron Microscopy 3D-Data
Institutions: Lawrence Berkeley National Laboratory, Lawrence Berkeley National Laboratory, Lawrence Berkeley National Laboratory.

Modern 3D electron microscopy approaches have recently allowed unprecedented insight into the 3D ultrastructural organization of cells and tissues, enabling the visualization of large macromolecular machines, such as adhesion complexes, as well as higher-order structures, such as the cytoskeleton and cellular organelles in their respective cell and tissue context. Given the inherent complexity of cellular volumes, it is essential to first extract the features of interest in order to allow visualization, quantification, and therefore comprehension of their 3D organization. Each data set is defined by distinct characteristics,
e.g.
, signal-to-noise ratio, crispness (sharpness) of the data, heterogeneity of its features, crowdedness of features, presence or absence of characteristic shapes that allow for easy identification, and the percentage of the entire volume that a specific region of interest occupies. All these characteristics need to be considered when deciding on which approach to take for segmentation. The six different 3D ultrastructural data sets presented were obtained by three different imaging approaches: resin embedded stained electron tomography, focused ion beam- and serial block face- scanning electron microscopy (FIB-SEM, SBF-SEM) of mildly stained and heavily stained samples, respectively. For these data sets, four different segmentation approaches have been applied: (1) fully manual model building followed solely by visualization of the model, (2) manual tracing segmentation of the data followed by surface rendering, (3) semi-automated approaches followed by surface rendering, or (4) automated custom-designed segmentation algorithms followed by surface rendering and quantitative analysis. Depending on the combination of data set characteristics, it was found that typically one of these four categorical approaches outperforms the others, but depending on the exact sequence of criteria, more than one approach may be successful. Based on these data, we propose a triage scheme that categorizes both objective data set characteristics and subjective personal criteria for the analysis of the different data sets.
Bioengineering, Issue 90, 3D electron microscopy, feature extraction, segmentation, image analysis, reconstruction, manual tracing, thresholding
51673
Protein WISDOM: A Workbench for In silico De novo Design of BioMolecules
Institutions: Princeton University.

The aim of
de novo
protein design is to find the amino acid sequences that will fold into a desired 3-dimensional structure with improvements in specific properties, such as binding affinity, agonist or antagonist behavior, or stability, relative to the native sequence. Protein design lies at the center of current advances drug design and discovery. Not only does protein design provide predictions for potentially useful drug targets, but it also enhances our understanding of the protein folding process and protein-protein interactions. Experimental methods such as directed evolution have shown success in protein design. However, such methods are restricted by the limited sequence space that can be searched tractably. In contrast, computational design strategies allow for the screening of a much larger set of sequences covering a wide variety of properties and functionality. We have developed a range of computational
de novo
protein design methods capable of tackling several important areas of protein design. These include the design of monomeric proteins for increased stability and complexes for increased binding affinity. To disseminate these methods for broader use we present Protein WISDOM (https://www.proteinwisdom.org), a tool that provides automated methods for a variety of protein design problems. Structural templates are submitted to initialize the design process. The first stage of design is an optimization sequence selection stage that aims at improving stability through minimization of potential energy in the sequence space. Selected sequences are then run through a fold specificity stage and a binding affinity stage. A rank-ordered list of the sequences for each step of the process, along with relevant designed structures, provides the user with a comprehensive quantitative assessment of the design. Here we provide the details of each design method, as well as several notable experimental successes attained through the use of the methods.
Genetics, Issue 77, Molecular Biology, Bioengineering, Biochemistry, Biomedical Engineering, Chemical Engineering, Computational Biology, Genomics, Proteomics, Protein, Protein Binding, Computational Biology, Drug Design, optimization (mathematics), Amino Acids, Peptides, and Proteins, De novo protein and peptide design, Drug design, In silico sequence selection, Optimization, Fold specificity, Binding affinity, sequencing
50476
Live-cell Imaging of Migrating Cells Expressing Fluorescently-tagged Proteins in a Three-dimensional Matrix
Institutions: University of California, Davis.

Traditionally, cell migration has been studied on two-dimensional, stiff plastic surfaces. However, during important biological processes such as wound healing, tissue regeneration, and cancer metastasis, cells must navigate through complex, three-dimensional extracellular tissue. To better understand the mechanisms behind these biological processes, it is important to examine the roles of the proteins responsible for driving cell migration. Here, we outline a protocol to study the mechanisms of cell migration using the epithelial cell line (MDCK), and a three-dimensional, fibrous, self-polymerizing matrix as a model system. This optically clear extracellular matrix is easily amenable to live-cell imaging studies and better mimics the physiological, soft tissue environment. This report demonstrates a technique for directly visualizing protein localization and dynamics, and deformation of the surrounding three-dimensional matrix. Examination of protein localization and dynamics during cellular processes provides key insight into protein functions. Genetically encoded fluorescent tags provide a unique method for observing protein localization and dynamics. Using this technique, we can analyze the subcellular accumulation of key, force-generating cytoskeletal components in real-time as the cell maneuvers through the matrix. In addition, using multiple fluorescent tags with different wavelengths, we can examine the localization of multiple proteins simultaneously, thus allowing us to test, for example, whether different proteins have similar or divergent roles. Furthermore, the dynamics of fluorescently tagged proteins can be quantified using Fluorescent Recovery After Photobleaching (FRAP) analysis. This measurement assays the protein mobility and how stably bound the proteins are to the cytoskeletal network. By combining live-cell imaging with the treatment of protein function inhibitors, we can examine in real-time the changes in the distribution of proteins and morphology of migrating cells. Furthermore, we also combine live-cell imaging with the use of fluorescent tracer particles embedded within the matrix to visualize the matrix deformation during cell migration. Thus, we can visualize how a migrating cell distributes force-generating proteins, and where the traction forces are exerted to the surrounding matrix. Through these techniques, we can gain valuable insight into the roles of specific proteins and their contributions to the mechanisms of cell migration.
Bioengineering, Issue 58, cell invasion, three-dimensional matrix, collagen gel, live-cell confocal imaging, FRAP, GFP, epithelial cyst
3589
In situ Compressive Loading and Correlative Noninvasive Imaging of the Bone-periodontal Ligament-tooth Fibrous Joint
Institutions: University of California San Francisco, University of California San Francisco, Xradia Inc..

This study demonstrates a novel biomechanics testing protocol. The advantage of this protocol includes the use of an
in situ
loading device coupled to a high resolution X-ray microscope, thus enabling visualization of internal structural elements under simulated physiological loads and wet conditions. Experimental specimens will include intact bone-periodontal ligament (PDL)-tooth fibrous joints. Results will illustrate three important features of the protocol as they can be applied to organ level biomechanics: 1) reactionary force vs. displacement: tooth displacement within the alveolar socket and its reactionary response to loading, 2) three-dimensional (3D) spatial configuration and morphometrics: geometric relationship of the tooth with the alveolar socket, and 3) changes in readouts 1 and 2 due to a change in loading axis,
i.e.
from concentric to eccentric loads. Efficacy of the proposed protocol will be evaluated by coupling mechanical testing readouts to 3D morphometrics and overall biomechanics of the joint. In addition, this technique will emphasize on the need to equilibrate experimental conditions, specifically reactionary loads prior to acquiring tomograms of fibrous joints. It should be noted that the proposed protocol is limited to testing specimens under
ex vivo
conditions, and that use of contrast agents to visualize soft tissue mechanical response could lead to erroneous conclusions about tissue and organ-level biomechanics.
Bioengineering, Issue 85, biomechanics, bone-periodontal ligament-tooth complex, concentric loads, eccentric loads, contrast agent
51147
A Novel Stretching Platform for Applications in Cell and Tissue Mechanobiology
Institutions: University of Ottawa, University of Ottawa, University of Calgary, University of Ottawa, University of Ottawa.

Tools that allow the application of mechanical forces to cells and tissues or that can quantify the mechanical properties of biological tissues have contributed dramatically to the understanding of basic mechanobiology. These techniques have been extensively used to demonstrate how the onset and progression of various diseases are heavily influenced by mechanical cues. This article presents a multi-functional biaxial stretching (BAXS) platform that can either mechanically stimulate single cells or quantify the mechanical stiffness of tissues. The BAXS platform consists of four voice coil motors that can be controlled independently. Single cells can be cultured on a flexible substrate that can be attached to the motors allowing one to expose the cells to complex, dynamic, and spatially varying strain fields. Conversely, by incorporating a force load cell, one can also quantify the mechanical properties of primary tissues as they are exposed to deformation cycles. In both cases, a proper set of clamps must be designed and mounted to the BAXS platform motors in order to firmly hold the flexible substrate or the tissue of interest. The BAXS platform can be mounted on an inverted microscope to perform simultaneous transmitted light and/or fluorescence imaging to examine the structural or biochemical response of the sample during stretching experiments. This article provides experimental details of the design and usage of the BAXS platform and presents results for single cell and whole tissue studies. The BAXS platform was used to measure the deformation of nuclei in single mouse myoblast cells in response to substrate strain and to measure the stiffness of isolated mouse aortas. The BAXS platform is a versatile tool that can be combined with various optical microscopies in order to provide novel mechanobiological insights at the sub-cellular, cellular and whole tissue levels.
Bioengineering, Issue 88, cell stretching, tissue mechanics, nuclear mechanics, uniaxial, biaxial, anisotropic, mechanobiology
51454
Longitudinal Measurement of Extracellular Matrix Rigidity in 3D Tumor Models Using Particle-tracking Microrheology
Institutions: University of Massachusetts Boston.

The mechanical microenvironment has been shown to act as a crucial regulator of tumor growth behavior and signaling, which is itself remodeled and modified as part of a set of complex, two-way mechanosensitive interactions. While the development of biologically-relevant 3D tumor models have facilitated mechanistic studies on the impact of matrix rheology on tumor growth, the inverse problem of mapping changes in the mechanical environment induced by tumors remains challenging. Here, we describe the implementation of particle-tracking microrheology (PTM) in conjunction with 3D models of pancreatic cancer as part of a robust and viable approach for longitudinally monitoring physical changes in the tumor microenvironment,
in situ
. The methodology described here integrates a system of preparing
in vitro
3D models embedded in a model extracellular matrix (ECM) scaffold of Type I collagen with fluorescently labeled probes uniformly distributed for position- and time-dependent microrheology measurements throughout the specimen.
In vitro
tumors are plated and probed in parallel conditions using multiwell imaging plates. Drawing on established methods, videos of tracer probe movements are transformed via the Generalized Stokes Einstein Relation (GSER) to report the complex frequency-dependent viscoelastic shear modulus,
G*(ω)
. Because this approach is imaging-based, mechanical characterization is also mapped onto large transmitted-light spatial fields to simultaneously report qualitative changes in 3D tumor size and phenotype. Representative results showing contrasting mechanical response in sub-regions associated with localized invasion-induced matrix degradation as well as system calibration, validation data are presented. Undesirable outcomes from common experimental errors and troubleshooting of these issues are also presented. The 96-well 3D culture plating format implemented in this protocol is conducive to correlation of microrheology measurements with therapeutic screening assays or molecular imaging to gain new insights into impact of treatments or biochemical stimuli on the mechanical microenvironment.
Bioengineering, Issue 88, viscoelasticity, mechanobiology, extracellular matrix (ECM), matrix remodeling, 3D tumor models, tumor microenvironment, stroma, matrix metalloprotease (MMP), epithelial-mesenchymal transition (EMT)
51302