ABSTRACT
In most eukaryotic cells, the nucleus is the largest organelle and is typically 2 to 10 times stiffer than the surrounding cytoskeleton; consequently, the physical properties of the nucleus contribute significantly to the overall biomechanical behavior of cells under physiological and pathological conditions. For example, in migrating neutrophils and invading cancer cells, nuclear stiffness can pose a major obstacle during extravasation or passage through narrow spaces within tissues.1 On the other hand, the nucleus of cells in mechanically active tissue such as muscle requires sufficient structural support to withstand repetitive mechanical stress. Importantly, the nucleus is tightly integrated into the cellular architecture; it is physically connected to the surrounding cytoskeleton, which is a critical requirement for the intracellular movement and positioning of the nucleus, for example, in polarized cells, synaptic nuclei at neuromuscular junctions, or in migrating cells.2 Not surprisingly, mutations in nuclear envelope proteins such as lamins and nesprins, which play a critical role in determining nuclear stiffness and nucleo-cytoskeletal coupling, have been shown recently to result in a number of human diseases, including Emery-Dreifuss muscular dystrophy, limb-girdle muscular dystrophy, and dilated cardiomyopathy.3 To investigate the biophysical function of diverse nuclear envelope proteins and the effect of specific mutations, we have developed experimental methods to study the physical properties of the nucleus in single, living cells subjected to global or localized mechanical perturbation. Measuring induced nuclear deformations in response to precisely applied substrate strain application yields important information on the deformability of the nucleus and allows quantitative comparison between different mutations or cell lines deficient for specific nuclear envelope proteins. Localized cytoskeletal strain application with a microneedle is used to complement this assay and can yield additional information on intracellular force transmission between the nucleus and the cytoskeleton. Studying nuclear mechanics in intact living cells preserves the normal intracellular architecture and avoids potential artifacts that can arise when working with isolated nuclei. Furthermore, substrate strain application presents a good model for the physiological stress experienced by cells in muscle or other tissues (e.g., vascular smooth muscle cells exposed to vessel strain). Lastly, while these tools have been developed primarily to study nuclear mechanics, they can also be applied to investigate the function of cytoskeletal proteins and mechanotransduction signaling.
24 Related JoVE Articles!
Labeling F-actin Barbed Ends with Rhodamine-actin in Permeabilized Neuronal Growth Cones
Institutions: University of Minnesota.

The motile tips of growing axons are called growth cones. Growth cones lead navigating axons through developing tissues by interacting with locally expressed molecular guidance cues that bind growth cone receptors and regulate the dynamics and organization of the growth cone cytoskeleton
3-6
. The main target of these navigational signals is the actin filament meshwork that fills the growth cone periphery and that drives growth cone motility through continual actin polymerization and dynamic remodeling
7
. Positive or attractive guidance cues induce growth cone turning by stimulating actin filament (F-actin) polymerization in the region of the growth cone periphery that is nearer the source of the attractant cue. This actin polymerization drives local growth cone protrusion, adhesion of the leading margin and axonal elongation toward the attractant. Actin filament polymerization depends on the availability of sufficient actin monomer and on polymerization nuclei or actin filament barbed ends for the addition of monomer. Actin monomer is abundantly available in chick retinal and dorsal root ganglion (DRG) growth cones. Consequently, polymerization increases rapidly when free F-actin barbed ends become available for monomer addition. This occurs in chick DRG and retinal growth cones via the local activation of the F-actin severing protein actin depolymerizing factor (ADF/cofilin) in the growth cone region closer to an attractant
8-10
. This heightened ADF/cofilin activity severs actin filaments to create new F-actin barbed ends for polymerization. The following method demonstrates this mechanism. Total content of F-actin is visualized by staining with fluorescent phalloidin. F-actin barbed ends are visualized by the incorporation of rhodamine-actin within growth cones that are permeabilized with the procedure described in the following, which is adapted from previous studies of other motile cells
11, 12
. When rhodamine-actin is added at a concentration above the critical concentration for actin monomer addition to barbed ends, rhodamine-actin assembles onto free barbed ends. If the attractive cue is presented in a gradient, such as being released from a micropipette positioned to one side of a growth cone, the incorporation of rhodamine-actin onto F-actin barbed ends will be greater in the growth cone side toward the micropipette
10
. Growth cones are small and delicate cell structures. The procedures of permeabilization, rhodamine-actin incorporation, fixation and fluorescence visualization are all carefully done and can be conducted on the stage of an inverted microscope. These methods can be applied to studying local actin polymerization in migrating neurons, other primary tissue cells or cell lines.
Neuroscience, Issue 49, Actin, growth cones, barbed ends, polymerization, guidance cues
2409
Imaging Cell Shape Change in Living Drosophila Embryos
Institutions: Baylor College of Medicine (BCM), Baylor College of Medicine (BCM).

The developing
Drosophila melanogaster
embryo undergoes a number of cell shape changes that are highly amenable to live confocal imaging. Cell shape changes in the fly are analogous to those in higher organisms, and they drive tissue morphogenesis. So, in many cases, their study has direct implications for understanding human disease (Table 1)
1-5
. On the sub-cellular scale, these cell shape changes are the product of activities ranging from gene expression to signal transduction, cell polarity, cytoskeletal remodeling and membrane trafficking. Thus, the
Drosophila
embryo provides not only the context to evaluate cell shape changes as they relate to tissue morphogenesis, but also offers a completely physiological environment to study the sub-cellular activities that shape cells. The protocol described here is designed to image a specific cell shape change called cellularization. Cellularization is a process of dramatic plasma membrane growth, and it ultimately converts the syncytial embryo into the cellular blastoderm. That is, at interphase of mitotic cycle 14, the plasma membrane simultaneously invaginates around each of ~6000 cortically anchored nuclei to generate a sheet of primary epithelial cells. Counter to previous suggestions, cellularization is not driven by Myosin-2 contractility
6
, but is instead fueled largely by exocytosis of membrane from internal stores
7
. Thus, cellularization is an excellent system for studying membrane trafficking during cell shape changes that require plasma membrane invagination or expansion, such as cytokinesis or transverse-tubule (T-tubule) morphogenesis in muscle. Note that this protocol is easily applied to the imaging of other cell shape changes in the fly embryo, and only requires slight adaptations such as changing the stage of embryo collection, or using "embryo glue" to mount the embryo in a specific orientation (Table 1)
8-19
. In all cases, the workflow is basically the same (Figure 1). Standard methods for cloning and
Drosophila
transgenesis are used to prepare stable fly stocks that express a protein of interest, fused to Green Fluorescent Protein (GFP) or its variants, and these flies provide a renewable source of embryos. Alternatively, fluorescent proteins/probes are directly introduced into fly embryos via straightforward micro-injection techniques
9-10
. Then, depending on the developmental event and cell shape change to be imaged, embryos are collected and staged by morphology on a dissecting microscope, and finally positioned and mounted for time-lapse imaging on a confocal microscope.
Developmental Biology, Issue 49, confocal microscopy, live imaging, GFP, Drosophila, embryos, cell shape change, cellularization, plasma membrane invagination, morphogenesis, membrane trafficking
2503
Live Cell Response to Mechanical Stimulation Studied by Integrated Optical and Atomic Force Microscopy
Institutions: Texas A&M Health Science Center, Texas A&M University.

To understand the mechanism by which living cells sense mechanical forces, and how they respond and adapt to their environment, a new technology able to investigate cells behavior at sub-cellular level with high spatial and temporal resolution was developed. Thus, an atomic force microscope (AFM) was integrated with total internal reflection fluorescence (TIRF) microscopy and fast-spinning disk (FSD) confocal microscopy. The integrated system is broadly applicable across a wide range of molecular dynamic studies in any adherent live cells, allowing direct optical imaging of cell responses to mechanical stimulation in real-time. Significant rearrangement of the actin filaments and focal adhesions was shown due to local mechanical stimulation at the apical cell surface that induced changes into the cellular structure throughout the cell body. These innovative techniques will provide new information for understanding live cell restructuring and dynamics in response to mechanical force. A detailed protocol and a representative data set that show live cell response to mechanical stimulation are presented.
Cellular Biology, Issue 44, live cells, mechanical stimulation, integrated microscopy, atomic force microscopy, spinning-disk confocal, total internal reflection fluorescence
2072
Measurement of Cytosolic Ca2+ in Isolated Contractile Lymphatics
Institutions: Louisiana State University Health Sciences Center.

Lymphatic vessels comprise a multifunctional transport system that maintains fluid homeostasis, delivers lipids to the central circulation, and acts as a surveillance system for potentially harmful antigens, optimizing mucosal immunity and adaptive immune responses
1
. Lymph is formed from interstitial fluid that enters blind-ended initial lymphatics, and then is transported against a pressure gradient in larger collecting lymphatics. Each collecting lymphatic is made up of a series of segments called lymphangions, separated by bicuspid valves that prevent backflow. Each lymphangion possesses a contractile cycle that propels lymph against a pressure gradient toward the central circulation
2
. This phasic contractile pattern is analogous to the cardiac cycle, with systolic and diastolic phases, and with a lower contraction frequency
4
. In addition, lymphatic smooth muscle generates tone and displays myogenic constriction and dilation in response to increases and decreases in luminal pressure, respectively
5
. A hybrid of molecular mechanisms that support both the phasic and tonic contractility of lymphatics are thus proposed. Contraction of smooth muscle is generally regulated by the cytosolic Ca
2+
concentration ([Ca
2+
]
i
) plus sensitivity to Ca
2+,
of the contractile elements in response to changes in the environment surrounding the cell
6
. [Ca
2+
]
i
is determined by the combination of the movement of Ca
2+
through plasma membrane ligand or voltage gated Ca
2+
channels and the release and uptake of Ca
2+
from internal stores. Cytosolic Ca
2+
binds to calmodulin and activates enzymes such as myosin light chain (MLC) kinase (MLCK), which in turn phosphorylates MLC leading to actin-myosin-mediated contraction
8
. However, the sensitivity of this pathway to Ca
2+
can be regulated by the MLC phosphatase (MLCP)
9
. MLCP activity is regulated by Rho kinase (ROCK) and the myosin phosphatase inhibitor protein CPI-17. Here, we present a method to evaluate changes in [Ca
2+
]
i
over time in isolated, perfused lymphatics in order to study Ca
2+
-dependent and Ca
2+
-sensitizing mechanisms of lymphatic smooth muscle contraction. Using isolated rat mesenteric collecting lymphatics we studied stretch-induced changes in [Ca
2+
]
i
and contractile activity. The isolated lymphatic model offers the advantage that pressure, flow, and the chemical composition of the bath solution can be tightly controlled. [Ca
2+
]
i
was determined by loading lymphatics with the ratiometric, Ca
2+
-binding dye Fura-2. These studies will provide a new approach to the broader problem of studying the different molecular mechanisms that regulate phasic contractions versus tonic constriction in lymphatic smooth muscle.
Immunology, Issue 58, Mesenteric lymphatic vessels, lymphatic smooth muscle, lymphangion, calcium transient, Fura-2
3438
Evaluation of Muscle Function of the Extensor Digitorum Longus Muscle Ex vivo and Tibialis Anterior Muscle In situ in Mice
Institutions: University of Missouri.

Body movements are mainly provided by mechanical function of skeletal muscle. Skeletal muscle is composed of numerous bundles of myofibers that are sheathed by intramuscular connective tissues. Each myofiber contains many myofibrils that run longitudinally along the length of the myofiber. Myofibrils are the contractile apparatus of muscle and they are composed of repeated contractile units known as sarcomeres. A sarcomere unit contains actin and myosin filaments that are spaced by the Z discs and titin protein. Mechanical function of skeletal muscle is defined by the contractile and passive properties of muscle. The contractile properties are used to characterize the amount of force generated during muscle contraction, time of force generation and time of muscle relaxation. Any factor that affects muscle contraction (such as interaction between actin and myosin filaments, homeostasis of calcium, ATP/ADP ratio, etc.) influences the contractile properties. The passive properties refer to the elastic and viscous properties (stiffness and viscosity) of the muscle in the absence of contraction. These properties are determined by the extracellular and the intracellular structural components (such as titin) and connective tissues (mainly collagen)
1-2
. The contractile and passive properties are two inseparable aspects of muscle function. For example, elbow flexion is accomplished by contraction of muscles in the anterior compartment of the upper arm and passive stretch of muscles in the posterior compartment of the upper arm. To truly understand muscle function, both contractile and passive properties should be studied. The contractile and/or passive mechanical properties of muscle are often compromised in muscle diseases. A good example is Duchenne muscular dystrophy (DMD), a severe muscle wasting disease caused by dystrophin deficiency
3
. Dystrophin is a cytoskeletal protein that stabilizes the muscle cell membrane (sarcolemma) during muscle contraction
4
. In the absence of dystrophin, the sarcolemma is damaged by the shearing force generated during force transmission. This membrane tearing initiates a chain reaction which leads to muscle cell death and loss of contractile machinery. As a consequence, muscle force is reduced and dead myofibers are replaced by fibrotic tissues
5
. This later change increases muscle stiffness
6
. Accurate measurement of these changes provides important guide to evaluate disease progression and to determine therapeutic efficacy of novel gene/cell/pharmacological interventions. Here, we present two methods to evaluate both contractile and passive mechanical properties of the extensor digitorum longus (EDL) muscle and the contractile properties of the tibialis anterior (TA) muscle.
Medicine, Issue 72, Immunology, Microbiology, Anatomy, Physiology, Molecular Biology, Muscle, Skeletal, Neuromuscular Diseases, Drug Therapy, Gene Therapy, Musculoskeletal Diseases, Skeletal Muscle, Tibialis Anterior, Contractile Properties, Passive Properties, EDL, TA, animal model
50183
Isolation, Culture, and Functional Characterization of Adult Mouse Cardiomyoctyes
Institutions: Beth Israel Deaconess Medical Center, Harvard Medical School, Sapienza University.

The use of primary cardiomyocytes (CMs) in culture has provided a powerful complement to murine models of heart disease in advancing our understanding of heart disease. In particular, the ability to study ion homeostasis, ion channel function, cellular excitability and excitation-contraction coupling and their alterations in diseased conditions and by disease-causing mutations have led to significant insights into cardiac diseases. Furthermore, the lack of an adequate immortalized cell line to mimic adult CMs, and the limitations of neonatal CMs (which lack many of the structural and functional biomechanics characteristic of adult CMs) in culture have hampered our understanding of the complex interplay between signaling pathways, ion channels and contractile properties in the adult heart strengthening the importance of studying adult isolated cardiomyocytes. Here, we present methods for the isolation, culture, manipulation of gene expression by adenoviral-expressed proteins, and subsequent functional analysis of cardiomyocytes from the adult mouse. The use of these techniques will help to develop mechanistic insight into signaling pathways that regulate cellular excitability, Ca
2+
dynamics and contractility and provide a much more physiologically relevant characterization of cardiovascular disease.
Cellular Biology, Issue 79, Medicine, Cardiology, Cellular Biology, Anatomy, Physiology, Mice, Ion Channels, Primary Cell Culture, Cardiac Electrophysiology, adult mouse cardiomyocytes, cell isolation, IonOptix, Cell Culture, adenoviral transfection, patch clamp, fluorescent nanosensor
50289
Mechanical Stimulation-induced Calcium Wave Propagation in Cell Monolayers: The Example of Bovine Corneal Endothelial Cells
Institutions: KU Leuven.

Intercellular communication is essential for the coordination of physiological processes between cells in a variety of organs and tissues, including the brain, liver, retina, cochlea and vasculature. In experimental settings, intercellular Ca
2+
-waves can be elicited by applying a mechanical stimulus to a single cell. This leads to the release of the intracellular signaling molecules IP
3
and Ca
2+
that initiate the propagation of the Ca
2+
-wave concentrically from the mechanically stimulated cell to the neighboring cells. The main molecular pathways that control intercellular Ca
2+
-wave propagation are provided by gap junction channels through the direct transfer of IP
3
and by hemichannels through the release of ATP. Identification and characterization of the properties and regulation of different connexin and pannexin isoforms as gap junction channels and hemichannels are allowed by the quantification of the spread of the intercellular Ca
2+
-wave, siRNA, and the use of inhibitors of gap junction channels and hemichannels. Here, we describe a method to measure intercellular Ca
2+
-wave in monolayers of primary corneal endothelial cells loaded with Fluo4-AM in response to a controlled and localized mechanical stimulus provoked by an acute, short-lasting deformation of the cell as a result of touching the cell membrane with a micromanipulator-controlled glass micropipette with a tip diameter of less than 1 μm. We also describe the isolation of primary bovine corneal endothelial cells and its use as model system to assess Cx43-hemichannel activity as the driven force for intercellular Ca
2+
-waves through the release of ATP. Finally, we discuss the use, advantages, limitations and alternatives of this method in the context of gap junction channel and hemichannel research.
Cellular Biology, Issue 77, Molecular Biology, Medicine, Biomedical Engineering, Biophysics, Immunology, Ophthalmology, Gap Junctions, Connexins, Connexin 43, Calcium Signaling, Ca2+, Cell Communication, Paracrine Communication, Intercellular communication, calcium wave propagation, gap junctions, hemichannels, endothelial cells, cell signaling, cell, isolation, cell culture
50443
Isolation and Functional Characterization of Human Ventricular Cardiomyocytes from Fresh Surgical Samples
Institutions: University of Florence, University of Florence.

Cardiomyocytes from diseased hearts are subjected to complex remodeling processes involving changes in cell structure, excitation contraction coupling and membrane ion currents. Those changes are likely to be responsible for the increased arrhythmogenic risk and the contractile alterations leading to systolic and diastolic dysfunction in cardiac patients. However, most information on the alterations of myocyte function in cardiac diseases has come from animal models. Here we describe and validate a protocol to isolate viable myocytes from small surgical samples of ventricular myocardium from patients undergoing cardiac surgery operations. The protocol is described in detail. Electrophysiological and intracellular calcium measurements are reported to demonstrate the feasibility of a number of single cell measurements in human ventricular cardiomyocytes obtained with this method. The protocol reported here can be useful for future investigations of the cellular and molecular basis of functional alterations of the human heart in the presence of different cardiac diseases. Further, this method can be used to identify novel therapeutic targets at cellular level and to test the effectiveness of new compounds on human cardiomyocytes, with direct translational value.
Medicine, Issue 86, cardiology, cardiac cells, electrophysiology, excitation-contraction coupling, action potential, calcium, myocardium, hypertrophic cardiomyopathy, cardiac patients, cardiac disease
51116
Utilization of Microscale Silicon Cantilevers to Assess Cellular Contractile Function In Vitro
Institutions: University of Central Florida.

The development of more predictive and biologically relevant
in vitro
assays is predicated on the advancement of versatile cell culture systems which facilitate the functional assessment of the seeded cells. To that end, microscale cantilever technology offers a platform with which to measure the contractile functionality of a range of cell types, including skeletal, cardiac, and smooth muscle cells, through assessment of contraction induced substrate bending. Application of multiplexed cantilever arrays provides the means to develop moderate to high-throughput protocols for assessing drug efficacy and toxicity, disease phenotype and progression, as well as neuromuscular and other cell-cell interactions. This manuscript provides the details for fabricating reliable cantilever arrays for this purpose, and the methods required to successfully culture cells on these surfaces. Further description is provided on the steps necessary to perform functional analysis of contractile cell types maintained on such arrays using a novel laser and photo-detector system. The representative data provided highlights the precision and reproducible nature of the analysis of contractile function possible using this system, as well as the wide range of studies to which such technology can be applied. Successful widespread adoption of this system could provide investigators with the means to perform rapid, low cost functional studies
in vitro,
leading to more accurate predictions of tissue performance, disease development and response to novel therapeutic treatment.
Bioengineering, Issue 92, cantilever, in vitro, contraction, skeletal muscle, NMJ, cardiomyocytes, functional
51866
ECM Protein Nanofibers and Nanostructures Engineered Using Surface-initiated Assembly
Institutions: Carnegie Mellon University, Carnegie Mellon University.
The extracellular matrix (ECM) in tissues is synthesized and assembled by cells to form a 3D fibrillar, protein network with tightly regulated fiber diameter, composition and organization. In addition to providing structural support, the physical and chemical properties of the ECM play an important role in multiple cellular processes including adhesion, differentiation, and apoptosis.
In vivo
, the ECM is assembled by exposing cryptic self-assembly (fibrillogenesis) sites within proteins. This process varies for different proteins, but fibronectin (FN) fibrillogenesis is well-characterized and serves as a model system for cell-mediated ECM assembly. Specifically, cells use integrin receptors on the cell membrane to bind FN dimers and actomyosin-generated contractile forces to unfold and expose binding sites for assembly into insoluble fibers. This receptor-mediated process enables cells to assemble and organize the ECM from the cellular to tissue scales. Here, we present a method termed surface-initiated assembly (SIA), which recapitulates cell-mediated matrix assembly using protein-surface interactions to unfold ECM proteins and assemble them into insoluble fibers. First, ECM proteins are adsorbed onto a hydrophobic polydimethylsiloxane (PDMS) surface where they partially denature (unfold) and expose cryptic binding domains. The unfolded proteins are then transferred in well-defined micro- and nanopatterns through microcontact printing onto a thermally responsive poly(N-isopropylacrylamide) (PIPAAm) surface. Thermally-triggered dissolution of the PIPAAm leads to final assembly and release of insoluble ECM protein nanofibers and nanostructures with well-defined geometries. Complex architectures are possible by engineering defined patterns on the PDMS stamps used for microcontact printing. In addition to FN, the SIA process can be used with laminin, fibrinogen and collagens type I and IV to create multi-component ECM nanostructures. Thus, SIA can be used to engineer ECM protein-based materials with precise control over the protein composition, fiber geometry and scaffold architecture in order to recapitulate the structure and composition of the ECM
in vivo
.
Bioengineering, Issue 86, Nanofibers, Nanofabrics, Extracellular Matrix Proteins, Microcontact Printing, Fibronectin, Laminin, Tissue Engineering, poly(N-isopropylacrylamide), Surface-Initiated Assembly
51176
Use of Stopped-Flow Fluorescence and Labeled Nucleotides to Analyze the ATP Turnover Cycle of Kinesins
Institutions: University of Nottingham.

The kinesin superfamily of microtubule associated motor proteins share a characteristic motor domain which both hydrolyses ATP and binds microtubules. Kinesins display differences across the superfamily both in ATP turnover and in microtubule interaction. These differences tailor specific kinesins to various functions such as cargo transport, microtubule sliding, microtubule depolymerization and microtubule stabilization. To understand the mechanism of action of a kinesin it is important to understand how the chemical cycle of ATP turnover is coupled to the mechanical cycle of microtubule interaction. To dissect the ATP turnover cycle, one approach is to utilize fluorescently labeled nucleotides to visualize individual steps in the cycle. Determining the kinetics of each nucleotide transition in the ATP turnover cycle allows the rate-limiting step or steps for the complete cycle to be identified. For a kinesin, it is important to know the rate-limiting step, in the absence of microtubules, as this step is generally accelerated several thousand fold when the kinesin interacts with microtubules. The cycle in the absence of microtubules is then compared to that in the presence of microtubules to fully understand a kinesin's ATP turnover cycle. The kinetics of individual nucleotide transitions are generally too fast to observe by manually mixing reactants, particularly in the presence of microtubules. A rapid mixing device, such as a stopped-flow fluorimeter, which allows kinetics to be observed on timescales of as little as a few milliseconds, can be used to monitor such transitions. Here, we describe protocols in which rapid mixing of reagents by stopped-flow is used in conjunction with fluorescently labeled nucleotides to dissect the ATP turnover cycle of a kinesin.
Chemistry, Issue 92, Kinesin, ATP turnover, mantATP, mantADP, stopped-flow fluorescence, microtubules, enzyme kinetics, nucleotide
52142
A Novel Stretching Platform for Applications in Cell and Tissue Mechanobiology
Institutions: University of Ottawa, University of Ottawa, University of Calgary, University of Ottawa, University of Ottawa.

Tools that allow the application of mechanical forces to cells and tissues or that can quantify the mechanical properties of biological tissues have contributed dramatically to the understanding of basic mechanobiology. These techniques have been extensively used to demonstrate how the onset and progression of various diseases are heavily influenced by mechanical cues. This article presents a multi-functional biaxial stretching (BAXS) platform that can either mechanically stimulate single cells or quantify the mechanical stiffness of tissues. The BAXS platform consists of four voice coil motors that can be controlled independently. Single cells can be cultured on a flexible substrate that can be attached to the motors allowing one to expose the cells to complex, dynamic, and spatially varying strain fields. Conversely, by incorporating a force load cell, one can also quantify the mechanical properties of primary tissues as they are exposed to deformation cycles. In both cases, a proper set of clamps must be designed and mounted to the BAXS platform motors in order to firmly hold the flexible substrate or the tissue of interest. The BAXS platform can be mounted on an inverted microscope to perform simultaneous transmitted light and/or fluorescence imaging to examine the structural or biochemical response of the sample during stretching experiments. This article provides experimental details of the design and usage of the BAXS platform and presents results for single cell and whole tissue studies. The BAXS platform was used to measure the deformation of nuclei in single mouse myoblast cells in response to substrate strain and to measure the stiffness of isolated mouse aortas. The BAXS platform is a versatile tool that can be combined with various optical microscopies in order to provide novel mechanobiological insights at the sub-cellular, cellular and whole tissue levels.
Bioengineering, Issue 88, cell stretching, tissue mechanics, nuclear mechanics, uniaxial, biaxial, anisotropic, mechanobiology
51454
Preparation of Complaint Matrices for Quantifying Cellular Contraction
Institutions: University of Chicago, University of Chicago, University of Chicago.

The regulation of cellular adhesion to the extracellular matrix (ECM) is essential for cell migration and ECM remodeling. Focal adhesions are macromolecular assemblies that couple the contractile F-actin cytoskeleton to the ECM. This connection allows for the transmission of intracellular mechanical forces across the cell membrane to the underlying substrate. Recent work has shown the mechanical properties of the ECM regulate focal adhesion and F-actin morphology as well as numerous physiological processes, including cell differentiation, division, proliferation and migration. Thus, the use of cell culture substrates has become an increasingly prevalent method to precisely control and modulate ECM mechanical properties. To quantify traction forces at focal adhesions in an adherent cell, compliant substrates are used in conjunction with high-resolution imaging and computational techniques in a method termed traction force microscopy (TFM). This technique relies on measurements of the local magnitude and direction of substrate deformations induced by cellular contraction. In combination with high-resolution fluorescence microscopy of fluorescently tagged proteins, it is possible to correlate cytoskeletal organization and remodeling with traction forces. Here we present a detailed experimental protocol for the preparation of two-dimensional, compliant matrices for the purpose of creating a cell culture substrate with a well-characterized, tunable mechanical stiffness, which is suitable for measuring cellular contraction. These protocols include the fabrication of polyacrylamide hydrogels, coating of ECM proteins on such gels, plating cells on gels, and high-resolution confocal microscopy using a perfusion chamber. Additionally, we provide a representative sample of data demonstrating location and magnitude of cellular forces using cited TFM protocols.
Bioengineering, Issue 46, Traction force microscopy, cellular adhesion, polyacrylamide gel, stiffness, elastic modulus
2173
High Efficiency Differentiation of Human Pluripotent Stem Cells to Cardiomyocytes and Characterization by Flow Cytometry
Institutions: Medical College of Wisconsin, Stanford University School of Medicine, Medical College of Wisconsin, Hong Kong University, Johns Hopkins University School of Medicine, Medical College of Wisconsin.

There is an urgent need to develop approaches for repairing the damaged heart, discovering new therapeutic drugs that do not have toxic effects on the heart, and improving strategies to accurately model heart disease. The potential of exploiting human induced pluripotent stem cell (hiPSC) technology to generate cardiac muscle "in a dish" for these applications continues to generate high enthusiasm. In recent years, the ability to efficiently generate cardiomyogenic cells from human pluripotent stem cells (hPSCs) has greatly improved, offering us new opportunities to model very early stages of human cardiac development not otherwise accessible. In contrast to many previous methods, the cardiomyocyte differentiation protocol described here does not require cell aggregation or the addition of Activin A or BMP4 and robustly generates cultures of cells that are highly positive for cardiac troponin I and T (TNNI3, TNNT2), iroquois-class homeodomain protein IRX-4 (IRX4), myosin regulatory light chain 2, ventricular/cardiac muscle isoform (MLC2v) and myosin regulatory light chain 2, atrial isoform (MLC2a) by day 10 across all human embryonic stem cell (hESC) and hiPSC lines tested to date. Cells can be passaged and maintained for more than 90 days in culture. The strategy is technically simple to implement and cost-effective. Characterization of cardiomyocytes derived from pluripotent cells often includes the analysis of reference markers, both at the mRNA and protein level. For protein analysis, flow cytometry is a powerful analytical tool for assessing quality of cells in culture and determining subpopulation homogeneity. However, technical variation in sample preparation can significantly affect quality of flow cytometry data. Thus, standardization of staining protocols should facilitate comparisons among various differentiation strategies. Accordingly, optimized staining protocols for the analysis of IRX4, MLC2v, MLC2a, TNNI3, and TNNT2 by flow cytometry are described.
Cellular Biology, Issue 91, human induced pluripotent stem cell, flow cytometry, directed differentiation, cardiomyocyte, IRX4, TNNI3, TNNT2, MCL2v, MLC2a
52010
Methods to Assess Subcellular Compartments of Muscle in C. elegans
Institutions: University of Nottingham.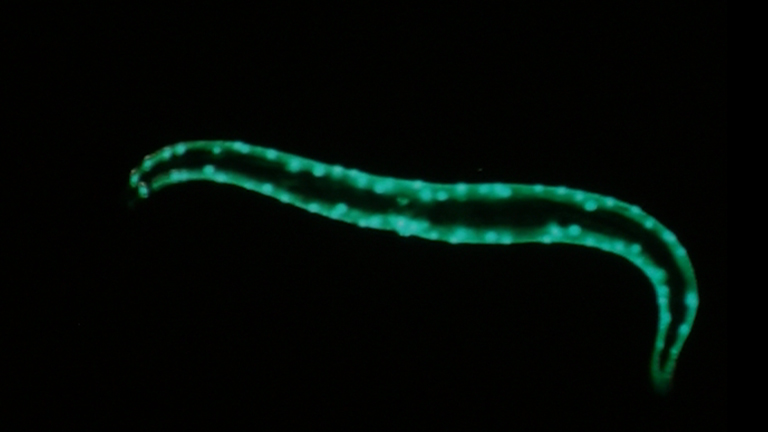 Muscle is a dynamic tissue that responds to changes in nutrition, exercise, and disease state. The loss of muscle mass and function with disease and age are significant public health burdens. We currently understand little about the genetic regulation of muscle health with disease or age. The nematode
C. elegans
is an established model for understanding the genomic regulation of biological processes of interest. This worm's body wall muscles display a large degree of homology with the muscles of higher metazoan species. Since
C. elegans
is a transparent organism, the localization of GFP to mitochondria and sarcomeres allows visualization of these structures
in vivo
. Similarly, feeding animals cationic dyes, which accumulate based on the existence of a mitochondrial membrane potential, allows the assessment of mitochondrial function
in vivo
. These methods, as well as assessment of muscle protein homeostasis, are combined with assessment of whole animal muscle function, in the form of movement assays, to allow correlation of sub-cellular defects with functional measures of muscle performance. Thus,
C. elegans
provides a powerful platform with which to assess the impact of mutations, gene knockdown, and/or chemical compounds upon muscle structure and function. Lastly, as GFP, cationic dyes, and movement assays are assessed non-invasively, prospective studies of muscle structure and function can be conducted across the whole life course and this at present cannot be easily investigated
in vivo
in any other organism.
Developmental Biology, Issue 93, Physiology, C. elegans, muscle, mitochondria, sarcomeres, ageing
52043
Simultaneous Multicolor Imaging of Biological Structures with Fluorescence Photoactivation Localization Microscopy
Institutions: University of Maine.

Localization-based super resolution microscopy can be applied to obtain a spatial map (image) of the distribution of individual fluorescently labeled single molecules within a sample with a spatial resolution of tens of nanometers. Using either photoactivatable (PAFP) or photoswitchable (PSFP) fluorescent proteins fused to proteins of interest, or organic dyes conjugated to antibodies or other molecules of interest, fluorescence photoactivation localization microscopy (FPALM) can simultaneously image multiple species of molecules within single cells. By using the following approach, populations of large numbers (thousands to hundreds of thousands) of individual molecules are imaged in single cells and localized with a precision of ~10-30 nm. Data obtained can be applied to understanding the nanoscale spatial distributions of multiple protein types within a cell. One primary advantage of this technique is the dramatic increase in spatial resolution: while diffraction limits resolution to ~200-250 nm in conventional light microscopy, FPALM can image length scales more than an order of magnitude smaller. As many biological hypotheses concern the spatial relationships among different biomolecules, the improved resolution of FPALM can provide insight into questions of cellular organization which have previously been inaccessible to conventional fluorescence microscopy. In addition to detailing the methods for sample preparation and data acquisition, we here describe the optical setup for FPALM. One additional consideration for researchers wishing to do super-resolution microscopy is cost: in-house setups are significantly cheaper than most commercially available imaging machines. Limitations of this technique include the need for optimizing the labeling of molecules of interest within cell samples, and the need for post-processing software to visualize results. We here describe the use of PAFP and PSFP expression to image two protein species in fixed cells. Extension of the technique to living cells is also described.
Basic Protocol, Issue 82, Microscopy, Super-resolution imaging, Multicolor, single molecule, FPALM, Localization microscopy, fluorescent proteins
50680
Visualizing Neuroblast Cytokinesis During C. elegans Embryogenesis
Institutions: Concordia University.

This protocol describes the use of fluorescence microscopy to image dividing cells within developing
Caenorhabditis elegans
embryos. In particular, this protocol focuses on how to image dividing neuroblasts, which are found underneath the epidermal cells and may be important for epidermal morphogenesis. Tissue formation is crucial for metazoan development and relies on external cues from neighboring tissues.
C. elegans
is an excellent model organism to study tissue morphogenesis
in vivo
due to its transparency and simple organization, making its tissues easy to study via microscopy. Ventral enclosure is the process where the ventral surface of the embryo is covered by a single layer of epithelial cells. This event is thought to be facilitated by the underlying neuroblasts, which provide chemical guidance cues to mediate migration of the overlying epithelial cells. However, the neuroblasts are highly proliferative and also may act as a mechanical substrate for the ventral epidermal cells. Studies using this experimental protocol could uncover the importance of intercellular communication during tissue formation, and could be used to reveal the roles of genes involved in cell division within developing tissues.
Neuroscience, Issue 85, C. elegans, morphogenesis, cytokinesis, neuroblasts, anillin, microscopy, cell division
51188
Ex Vivo Assessment of Contractility, Fatigability and Alternans in Isolated Skeletal Muscles
Institutions: UMDNJ-Robert Wood Johnson Medical School, University of Missouri-Kansas City, Ohio State University .

Described here is a method to measure contractility of isolated skeletal muscles. Parameters such as muscle force, muscle power, contractile kinetics, fatigability, and recovery after fatigue can be obtained to assess specific aspects of the excitation-contraction coupling (ECC) process such as excitability, contractile machinery and Ca
2+
handling ability. This method removes the nerve and blood supply and focuses on the isolated skeletal muscle itself. We routinely use this method to identify genetic components that alter the contractile property of skeletal muscle though modulating Ca
2+
signaling pathways. Here, we describe a newly identified skeletal muscle phenotype,
i.e.
, mechanic alternans, as an example of the various and rich information that can be obtained using the
in vitro
muscle contractility assay. Combination of this assay with single cell assays, genetic approaches and biochemistry assays can provide important insights into the mechanisms of ECC in skeletal muscle.
Physiology, Issue 69, extensor digitorum longus, soleus, in vitro contractility, calcium signaling, muscle-tendon complex, mechanic alternans
4198
Analysis of Tubular Membrane Networks in Cardiac Myocytes from Atria and Ventricles
Institutions: Heart Research Center Goettingen, University Medical Center Goettingen, German Center for Cardiovascular Research (DZHK) partner site Goettingen, University of Maryland School of Medicine.

In cardiac myocytes a complex network of membrane tubules - the transverse-axial tubule system (TATS) - controls deep intracellular signaling functions. While the outer surface membrane and associated TATS membrane components appear to be continuous, there are substantial differences in lipid and protein content. In ventricular myocytes (VMs), certain TATS components are highly abundant contributing to rectilinear tubule networks and regular branching 3D architectures. It is thought that peripheral TATS components propagate action potentials from the cell surface to thousands of remote intracellular sarcoendoplasmic reticulum (SER) membrane contact domains, thereby activating intracellular Ca
2+
release units (CRUs). In contrast to VMs, the organization and functional role of TATS membranes in atrial myocytes (AMs) is significantly different and much less understood. Taken together, quantitative structural characterization of TATS membrane networks in healthy and diseased myocytes is an essential prerequisite towards better understanding of functional plasticity and pathophysiological reorganization. Here, we present a strategic combination of protocols for direct quantitative analysis of TATS membrane networks in living VMs and AMs. For this, we accompany primary cell isolations of mouse VMs and/or AMs with critical quality control steps and direct membrane staining protocols for fluorescence imaging of TATS membranes. Using an optimized workflow for confocal or superresolution TATS image processing, binarized and skeletonized data are generated for quantitative analysis of the TATS network and its components. Unlike previously published indirect regional aggregate image analysis strategies, our protocols enable direct characterization of specific components and derive complex physiological properties of TATS membrane networks in living myocytes with high throughput and open access software tools. In summary, the combined protocol strategy can be readily applied for quantitative TATS network studies during physiological myocyte adaptation or disease changes, comparison of different cardiac or skeletal muscle cell types, phenotyping of transgenic models, and pharmacological or therapeutic interventions.
Bioengineering, Issue 92, cardiac myocyte, atria, ventricle, heart, primary cell isolation, fluorescence microscopy, membrane tubule, transverse-axial tubule system, image analysis, image processing, T-tubule, collagenase
51823
Bladder Smooth Muscle Strip Contractility as a Method to Evaluate Lower Urinary Tract Pharmacology
Institutions: University of Pittsburgh School of Medicine, University of Pittsburgh School of Medicine.

We describe an
in vitro
method to measure bladder smooth muscle contractility, and its use for investigating physiological and pharmacological properties of the smooth muscle as well as changes induced by pathology. This method provides critical information for understanding bladder function while overcoming major methodological difficulties encountered in
in vivo
experiments, such as surgical and pharmacological manipulations that affect stability and survival of the preparations, the use of human tissue, and/or the use of expensive chemicals. It also provides a way to investigate the properties of each bladder component (
i.e.
smooth muscle, mucosa, nerves) in healthy and pathological conditions. The urinary bladder is removed from an anesthetized animal, placed in Krebs solution and cut into strips. Strips are placed into a chamber filled with warm Krebs solution. One end is attached to an isometric tension transducer to measure contraction force, the other end is attached to a fixed rod. Tissue is stimulated by directly adding compounds to the bath or by electric field stimulation electrodes that activate nerves, similar to triggering bladder contractions
in vivo
. We demonstrate the use of this method to evaluate spontaneous smooth muscle contractility during development and after an experimental spinal cord injury, the nature of neurotransmission (transmitters and receptors involved), factors involved in modulation of smooth muscle activity, the role of individual bladder components, and species and organ differences in response to pharmacological agents. Additionally, it could be used for investigating intracellular pathways involved in contraction and/or relaxation of the smooth muscle, drug structure-activity relationships and evaluation of transmitter release. The
in vitro
smooth muscle contractility method has been used extensively for over 50 years, and has provided data that significantly contributed to our understanding of bladder function as well as to pharmaceutical development of compounds currently used clinically for bladder management.
Medicine, Issue 90, Krebs, species differences, in vitro, smooth muscle contractility, neural stimulation
51807
Monitoring Actin Disassembly with Time-lapse Microscopy
Institutions: Harvard Medical School.

Cellular Biology, Issue 1, cytoskeleton, actin, timelapse, filament, chamber
66
Fluorescent Labeling of Drosophila Heart Structures
Institutions: San Diego State University, The Sanford Burnham Institute for Medical Research.

The
Drosophila melanogaster
dorsal vessel, or heart, is a tubular structure comprised of a single layer of contractile cardiomyocytes, pericardial cells that align along each side of the heart wall, supportive alary muscles and, in adults, a layer of ventral longitudinal muscle cells. The contractile fibers house conserved constituents of the muscle cytoarchitecture including densely packed bundles of myofibrils and cytoskeletal/submembranous protein complexes, which interact with homologous components of the extracellular matrix. Here we describe a protocol for the fixation and the fluorescent labeling of particular myocardial elements from the hearts of dissected larvae and semi-intact adult
Drosophila
. Specifically, we demonstrate the labeling of sarcomeric F-actin and of α-actinin in larval hearts. Additionally, we perform labeling of F-actin and α-actinin in myosin-GFP expressing adult flies and of α-actinin and pericardin, a type IV extracellular matrix collagen, in wild type adult hearts. Particular attention is given to a mounting strategy for semi-intact adult hearts that minimizes handling and optimizes the opportunity for maintaining the integrity of the cardiac tubes and the associated tissues. These preparations are suitable for imaging via fluorescent and confocal microscopy. Overall, this procedure allows for careful and detailed analysis of the structural characteristics of the heart from a powerful genetically tractable model system.
Cellular Biology, Issue 32, Cardiac, cardiomyopathy, dorsal vessel, fluorescence, staining, GFP, larva, immunohistochemistry, microscopy, imaging
1423
Actin Co-Sedimentation Assay; for the Analysis of Protein Binding to F-Actin
Institutions: University of California, San Francisco - UCSF.

The actin cytoskeleton within the cell is a network of actin filaments that allows the movement of cells and cellular processes, and that generates tension and helps maintains cellular shape. Although the actin cytoskeleton is a rigid structure, it is a dynamic structure that is constantly remodeling. A number of proteins can bind to the actin cytoskeleton. The binding of a particular protein to F-actin is often desired to support cell biological observations or to further understand dynamic processes due to remodeling of the actin cytoskeleton. The actin co-sedimentation assay is an in vitro assay routinely used to analyze the binding of specific proteins or protein domains with F-actin. The basic principles of the assay involve an incubation of the protein of interest (full length or domain of) with F-actin, ultracentrifugation step to pellet F-actin and analysis of the protein co-sedimenting with F-actin. Actin co-sedimentation assays can be designed accordingly to measure actin binding affinities and in competition assays.
Biochemistry, Issue 13, F-actin, protein, in vitro binding, ultracentrifugation
690
Semi-automated Optical Heartbeat Analysis of Small Hearts
Institutions: The Sanford Burnham Institute for Medical Research, The Sanford Burnham Institute for Medical Research, San Diego State University.

We have developed a method for analyzing high speed optical recordings from
Drosophila
, zebrafish and embryonic mouse hearts (Fink, et. al., 2009). Our Semi-automatic Optical Heartbeat Analysis (SOHA) uses a novel movement detection algorithm that is able to detect cardiac movements associated with individual contractile and relaxation events. The program provides a host of physiologically relevant readouts including systolic and diastolic intervals, heart rate, as well as qualitative and quantitative measures of heartbeat arrhythmicity. The program also calculates heart diameter measurements during both diastole and systole from which fractional shortening and fractional area changes are calculated. Output is provided as a digital file compatible with most spreadsheet programs. Measurements are made for every heartbeat in a record increasing the statistical power of the output. We demonstrate each of the steps where user input is required and show the application of our methodology to the analysis of heart function in all three genetically tractable heart models.
Physiology, Issue 31, Drosophila, zebrafish, mouse, heart, myosin, dilated, restricted, cardiomyopathy, KCNQ, movement detection
1435