Fabrication of Carbon Nanotube High-Frequency Nanoelectronic Biosensor for Sensing in High Ionic Strength Solutions
Published: 07-22-2013
ABSTRACT
The unique electronic properties and high surface-to-volume ratios of single-walled carbon nanotubes (SWNT) and semiconductor nanowires (NW) 1-4 make them good candidates for high sensitivity biosensors. When a charged molecule binds to such a sensor surface, it alters the carrier density5 in the sensor, resulting in changes in its DC conductance. However, in an ionic solution a charged surface also attracts counter-ions from the solution, forming an electrical double layer (EDL). This EDL effectively screens off the charge, and in physiologically relevant conditions ~100 millimolar (mM), the characteristic charge screening length (Debye length) is less than a nanometer (nm). Thus, in high ionic strength solutions, charge based (DC) detection is fundamentally impeded6-8. We overcome charge screening effects by detecting molecular dipoles rather than charges at high frequency, by operating carbon nanotube field effect transistors as high frequency mixers9-11. At high frequencies, the AC drive force can no longer overcome the solution drag and the ions in solution do not have sufficient time to form the EDL. Further, frequency mixing technique allows us to operate at frequencies high enough to overcome ionic screening, and yet detect the sensing signals at lower frequencies11-12. Also, the high transconductance of SWNT transistors provides an internal gain for the sensing signal, which obviates the need for external signal amplifier. Here, we describe the protocol to (a) fabricate SWNT transistors, (b) functionalize biomolecules to the nanotube13, (c) design and stamp a poly-dimethylsiloxane (PDMS) micro-fluidic chamber14 onto the device, and (d) carry out high frequency sensing in different ionic strength solutions11.
21 Related JoVE Articles!
Hollow Microneedle-based Sensor for Multiplexed Transdermal Electrochemical Sensing
Institutions: University of North Carolina and North Carolina State University, Sandia National Laboratories.

The development of a minimally invasive multiplexed monitoring system for rapid analysis of biologically-relevant molecules could offer individuals suffering from chronic medical conditions facile assessment of their immediate physiological state. Furthermore, it could serve as a research tool for analysis of complex, multifactorial medical conditions. In order for such a multianalyte sensor to be realized, it must be minimally invasive, sampling of interstitial fluid must occur without pain or harm to the user, and analysis must be rapid as well as selective. Initially developed for pain-free drug delivery, microneedles have been used to deliver vaccines and pharmacologic agents (e.g., insulin) through the skin.
1-2
Since these devices access the interstitial space, microneedles that are integrated with microelectrodes can be used as transdermal electrochemical sensors. Selective detection of glucose, glutamate, lactate, hydrogen peroxide, and ascorbic acid has been demonstrated using integrated microneedle-electrode devices with carbon fibers, modified carbon pastes, and platinum-coated polymer microneedles serving as transducing elements.
3-7,8
This microneedle sensor technology has enabled a novel and sophisticated analytical approach for in situ and simultaneous detection of multiple analytes. Multiplexing offers the possibility of monitoring complex microenvironments, which are otherwise difficult to characterize in a rapid and minimally invasive manner. For example, this technology could be utilized for simultaneous monitoring of extracellular levels of, glucose, lactate and pH,
9
which are important metabolic indicators of disease states
7,10-14
(e.g., cancer proliferation) and exercise-induced acidosis.
15
Bioengineering, Issue 64, Biomedical Engineering, Microneedle, Microneedle sensors, multiplexed detection, electrochemistry, stereolithography
4067
Fabrication of VB2/Air Cells for Electrochemical Testing
Institutions: The George Washington University, Lynntech.
A technique to investigate the properties and performance of new multi-electron metal/air battery systems is proposed and presented. A method for synthesizing nanoscopic VB
2
is presented as well as step-by-step procedure for applying a zirconium oxide coating to the VB
2
particles for stabilization upon discharge. The process for disassembling existing zinc/air cells is shown, in addition construction of the new working electrode to replace the conventional zinc/air cell anode with a the nanoscopic VB
2
anode. Finally, discharge of the completed VB
2
/air battery is reported. We show that using the zinc/air cell as a test bed is useful to provide a consistent configuration to study the performance of the high-energy high capacity nanoscopic VB
2
anode.
Physics, Issue 78, Materials Science, Chemistry, Chemical Engineering, Inorganic Chemicals, Chemistry and Materials (General), Composite Materials, Inorganic, Organic and Physical Chemistry, Metals and Metallic Materials, Nonmetallic Materials, Engineering (General), Electronics and Electrical Engineering, Physics (General), energy storage, metal/air battery, nanoscopic vanadium diboride, VB2, multi-electron oxidation, electrochemical testing, electrode, fabrication
50593
Procedure for Fabricating Biofunctional Nanofibers
Institutions: Clark Atlanta University, Clark Atlanta University, Cornell University.

Electrospinning is an effective processing method for preparing nanofibers decorated with functional groups. Nanofibers decorated with functional groups may be utilized to study material-biomarker interactions
i.e.
act as biosensors with potential as single molecule detectors. We have developed an effective approach for preparing functional polymers where the functionality has the capacity of specifically binding with a model protein. In our model system, the functional group is 2,4-dinitrophenyl (DNP) and the protein is anti-DNP IgE (Immunoglobulin E). The functional polymer, α,ω-bi[2,4-dinitrophenyl caproic][poly(ethylene oxide)-b-poly(2-methoxystyrene)-b-poly(ethylene oxide)] (CDNP-PEO-P2MS-PEO-CDNP), is prepared by anionic living polymerization. The difunctional initiator utilized in the polymerization was prepared by electron transfer reaction of α-methylstyrene and potassium (mirror) metal. The 2-methoxystyrene monomer was added first to the initiator, followed by the addition of the second monomer, ethylene oxide, and finally the living polymer was terminated by methanol. The α,ω-dihydroxyl polymer [HO-PEO-P2MS-PEO-OH] was reacted with N-2,4-DNP-∈-amino caproic acid, by DCC coupling, resulting in the formation of α,ω-bi[2,4-dinitrophenylcaproic][poly(ethyleneoxide)-b-poly(2-methoxystyrene)-b-poly(ethylene oxide)] (CDNP-PEO-P2MS-PEO-CDNP). The polymers were characterized by FT-IR,
1
H NMR and Gel Permeation Chromatography (GPC). The molecular weight distributions of the polymers were narrow (1.1-1.2) and polymers with molecular weights greater than 50,000 was used in this study. The polymers were yellow powders and soluble in tetrahydrofuran. A water soluble CDNP-PEO-P2MS-PEO-CDNP/ DMEG (dimethoxyethylene glycol) complex binds and achieves steady state binding with solution IgE within a few seconds. Higher molecular weight (water insoluble
i.e.
around 50,000) CDNP-PEO-P2MS-PEO-CDNP polymers, containing 1% single wall carbon nanotubes (SWCNT) were processed into electroactive nanofibers (100 nm to 500 nm in diameter) on silicon substrate. Fluorescence spectroscopy shows that anti-DNP IgE interacts with the nanofibers by binding with the DNP functional groups decorating the fibers. These observations suggest that appropriately functionalized nanofibers hold promise for developing biomarker detection device.
Chemistry, Issue 67, Bioengineering, Physics, Molecular Biology, Biomedical Engineering, Living polymerization, NMR Spectroscopy, Electrospinning, Nanofibers, I-V behavior, Biosensor, confocal microscopy
4135
Dry Oxidation and Vacuum Annealing Treatments for Tuning the Wetting Properties of Carbon Nanotube Arrays
Institutions: California Institute of Technology.

In this article, we describe a simple method to reversibly tune the wetting properties of vertically aligned carbon nanotube (CNT) arrays. Here, CNT arrays are defined as densely packed multi-walled carbon nanotubes oriented perpendicular to the growth substrate as a result of a growth process by the standard thermal chemical vapor deposition (CVD) technique.
1,2
These CNT arrays are then exposed to vacuum annealing treatment to make them more hydrophobic or to dry oxidation treatment to render them more hydrophilic. The hydrophobic CNT arrays can be turned hydrophilic by exposing them to dry oxidation treatment, while the hydrophilic CNT arrays can be turned hydrophobic by exposing them to vacuum annealing treatment. Using a combination of both treatments, CNT arrays can be repeatedly switched between hydrophilic and hydrophobic.
2
Therefore, such combination show a very high potential in many industrial and consumer applications, including drug delivery system and high power density supercapacitors.
3-5
The key to vary the wettability of CNT arrays is to control the surface concentration of oxygen adsorbates. Basically oxygen adsorbates can be introduced by exposing the CNT arrays to any oxidation treatment. Here we use dry oxidation treatments, such as oxygen plasma and UV/ozone, to functionalize the surface of CNT with oxygenated functional groups. These oxygenated functional groups allow hydrogen bond between the surface of CNT and water molecules to form, rendering the CNT hydrophilic. To turn them hydrophobic, adsorbed oxygen must be removed from the surface of CNT. Here we employ vacuum annealing treatment to induce oxygen desorption process. CNT arrays with extremely low surface concentration of oxygen adsorbates exhibit a superhydrophobic behavior.
Chemistry, Issue 74, Chemical Engineering, Materials Science, Nanotechnology, Engineering, Nanotubes, Carbon, Oxidation-Reduction, Surface Properties, carbon nanotubes (synthesis and properties), Carbon nanotube, Wettability, Hydrophobic, Hydrophilic, UV/ozone, Oxygen Plasma, Vacuum Annealing
50378
Synthesis and Functionalization of Nitrogen-doped Carbon Nanotube Cups with Gold Nanoparticles as Cork Stoppers
Institutions: University of Pittsburgh.
Nitrogen-doped carbon nanotubes consist of many cup-shaped graphitic compartments termed as nitrogen-doped carbon nanotube cups (NCNCs). These as-synthesized graphitic nanocups from chemical vapor deposition (CVD) method were stacked in a head-to-tail fashion held only through noncovalent interactions. Individual NCNCs can be isolated out of their stacking structure through a series of chemical and physical separation processes. First, as-synthesized NCNCs were oxidized in a mixture of strong acids to introduce oxygen-containing defects on the graphitic walls. The oxidized NCNCs were then processed using high-intensity probe-tip sonication which effectively separated the stacked NCNCs into individual graphitic nanocups. Owing to their abundant oxygen and nitrogen surface functionalities, the resulted individual NCNCs are highly hydrophilic and can be effectively functionalized with gold nanoparticles (GNPs), which preferentially fit in the opening of the cups as cork stoppers. These graphitic nanocups corked with GNPs may find promising applications as nanoscale containers and drug carriers.
Physics, Issue 75, Chemistry, Chemical Engineering, Materials Science, Physical Chemistry, Nanotechnology, Metal Nanoparticles, carbon nanotubes (synthesis and properties), carbon nanotubes, chemical vapor deposition, CVD, gold nanoparticles, probe-tip sonication, nitrogen-doped carbon nanotube cups, nanotubes, nanoparticles, nanomaterial, synthesis
50383
Ambient Method for the Production of an Ionically Gated Carbon Nanotube Common Cathode in Tandem Organic Solar Cells
Institutions: The University of Texas at Dallas, The University of Texas at Dallas, Aalto University School of Science.
A method of fabricating organic photovoltaic (OPV) tandems that requires no vacuum processing is presented. These devices are comprised of two solution-processed polymeric cells connected in parallel by a transparent carbon nanotubes (CNT) interlayer. This structure includes improvements in fabrication techniques for tandem OPV devices. First the need for ambient-processed cathodes is considered. The CNT anode in the tandem device is tuned via ionic gating to become a common cathode. Ionic gating employs electric double layer charging to lower the work function of the CNT electrode. Secondly, the difficulty of sequentially stacking tandem layers by solution-processing is addressed. The devices are fabricated via solution and dry-lamination in ambient conditions with parallel processing steps. The method of fabricating the individual polymeric cells, the steps needed to laminate them together with a common CNT cathode, and then provide some representative results are described. These results demonstrate ionic gating of the CNT electrode to create a common cathode and addition of current and efficiency as a result of the lamination procedure.
Physics, Issue 93, Organic Photovoltaic, Carbon Nanotubes, Ionic Liquid, Tandem Photovoltaic, Conjugated Polymers, Ambient Processing
52380
Localization and Relative Quantification of Carbon Nanotubes in Cells with Multispectral Imaging Flow Cytometry
Institutions: CNRS/Université Paris Diderot, CNRS/Université Paris Diderot, CNRS/Institut de Biologie Moléculaire et Cellulaire.

Carbon-based nanomaterials, like carbon nanotubes (CNTs), belong to this type of nanoparticles which are very difficult to discriminate from carbon-rich cell structures and
de facto
there is still no quantitative method to assess their distribution at cell and tissue levels. What we propose here is an innovative method allowing the detection and quantification of CNTs in cells using a multispectral imaging flow cytometer (ImageStream, Amnis). This newly developed device integrates both a high-throughput of cells and high resolution imaging, providing thus images for each cell directly in flow and therefore statistically relevant image analysis. Each cell image is acquired on bright-field (BF), dark-field (DF), and fluorescent channels, giving access respectively to the level and the distribution of light absorption, light scattered and fluorescence for each cell. The analysis consists then in a pixel-by-pixel comparison of each image, of the 7,000-10,000 cells acquired for each condition of the experiment. Localization and quantification of CNTs is made possible thanks to some particular intrinsic properties of CNTs: strong light absorbance and scattering; indeed CNTs appear as strongly absorbed dark spots on BF and bright spots on DF with a precise colocalization. This methodology could have a considerable impact on studies about interactions between nanomaterials and cells given that this protocol is applicable for a large range of nanomaterials, insofar as they are capable of absorbing (and/or scattering) strongly enough the light.
Bioengineering, Issue 82, bioengineering, imaging flow cytometry, Carbon Nanotubes, bio-nano-interactions, cellular uptake, cell trafficking
50566
In Situ SIMS and IR Spectroscopy of Well-defined Surfaces Prepared by Soft Landing of Mass-selected Ions
Institutions: Pacific Northwest National Laboratory.

Soft landing of mass-selected ions onto surfaces is a powerful approach for the highly-controlled preparation of materials that are inaccessible using conventional synthesis techniques. Coupling soft landing with
in situ
characterization using secondary ion mass spectrometry (SIMS) and infrared reflection absorption spectroscopy (IRRAS) enables analysis of well-defined surfaces under clean vacuum conditions. The capabilities of three soft-landing instruments constructed in our laboratory are illustrated for the representative system of surface-bound organometallics prepared by soft landing of mass-selected ruthenium tris(bipyridine) dications, [Ru(bpy)
3
]
2+
(bpy = bipyridine), onto carboxylic acid terminated self-assembled monolayer surfaces on gold (COOH-SAMs).
In situ
time-of-flight (TOF)-SIMS provides insight into the reactivity of the soft-landed ions. In addition, the kinetics of charge reduction, neutralization and desorption occurring on the COOH-SAM both during and after ion soft landing are studied using
in situ
Fourier transform ion cyclotron resonance (FT-ICR)-SIMS measurements.
In situ
IRRAS experiments provide insight into how the structure of organic ligands surrounding metal centers is perturbed through immobilization of organometallic ions on COOH-SAM surfaces by soft landing. Collectively, the three instruments provide complementary information about the chemical composition, reactivity and structure of well-defined species supported on surfaces.
Chemistry, Issue 88, soft landing, mass selected ions, electrospray, secondary ion mass spectrometry, infrared spectroscopy, organometallic, catalysis
51344
Probing and Mapping Electrode Surfaces in Solid Oxide Fuel Cells
Institutions: Georgia Institute of Technology , Georgia Institute of Technology .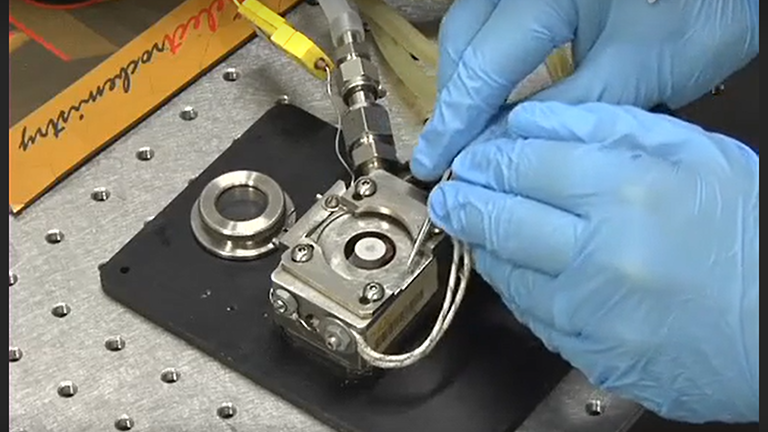 Solid oxide fuel cells (SOFCs) are potentially the most efficient and cost-effective solution to utilization of a wide variety of fuels beyond hydrogen
1-7
. The performance of SOFCs and the rates of many chemical and energy transformation processes in energy storage and conversion devices in general are limited primarily by charge and mass transfer along electrode surfaces and across interfaces. Unfortunately, the mechanistic understanding of these processes is still lacking, due largely to the difficulty of characterizing these processes under
in situ
conditions. This knowledge gap is a chief obstacle to SOFC commercialization. The development of tools for probing and mapping surface chemistries relevant to electrode reactions is vital to unraveling the mechanisms of surface processes and to achieving rational design of new electrode materials for more efficient energy storage and conversion
2
. Among the relatively few
in situ
surface analysis methods, Raman spectroscopy can be performed even with high temperatures and harsh atmospheres, making it ideal for characterizing chemical processes relevant to SOFC anode performance and degradation
8-12
. It can also be used alongside electrochemical measurements, potentially allowing direct correlation of electrochemistry to surface chemistry in an operating cell. Proper
in situ
Raman mapping measurements would be useful for pin-pointing important anode reaction mechanisms because of its sensitivity to the relevant species, including anode performance degradation through carbon deposition
8, 10, 13, 14
("coking") and sulfur poisoning
11, 15
and the manner in which surface modifications stave off this degradation
16
. The current work demonstrates significant progress towards this capability. In addition, the family of scanning probe microscopy (SPM) techniques provides a special approach to interrogate the electrode surface with nanoscale resolution. Besides the surface topography that is routinely collected by AFM and STM, other properties such as local electronic states, ion diffusion coefficient and surface potential can also be investigated
17-22
. In this work, electrochemical measurements, Raman spectroscopy, and SPM were used in conjunction with a novel test electrode platform that consists of a Ni mesh electrode embedded in an yttria-stabilized zirconia (YSZ) electrolyte. Cell performance testing and impedance spectroscopy under fuel containing H
2
S was characterized, and Raman mapping was used to further elucidate the nature of sulfur poisoning.
In situ
Raman monitoring was used to investigate coking behavior. Finally, atomic force microscopy (AFM) and electrostatic force microscopy (EFM) were used to further visualize carbon deposition on the nanoscale. From this research, we desire to produce a more complete picture of the SOFC anode.
Materials Science, Issue 67, Chemistry, Electrical Engineering, Physics, electrochemistry, catalysts (chemical), spectroscopic chemical analysis (application), microscopes, Fuel cell, Raman, AFM, SOFC, Surface, Electrode
50161
Bacterial Detection & Identification Using Electrochemical Sensors
Institutions: Veterans Affairs Greater Los Angeles Healthcare System, University of California, Los Angeles , GeneFluidics, Veterans Affairs Greater Los Angeles Healthcare System, University of California, Los Angeles .

Electrochemical sensors are widely used for rapid and accurate measurement of blood glucose and can be adapted for detection of a wide variety of analytes. Electrochemical sensors operate by transducing a biological recognition event into a useful electrical signal. Signal transduction occurs by coupling the activity of a redox enzyme to an amperometric electrode. Sensor specificity is either an inherent characteristic of the enzyme, glucose oxidase in the case of a glucose sensor, or a product of linkage between the enzyme and an antibody or probe. Here, we describe an electrochemical sensor assay method to directly detect and identify bacteria. In every case, the probes described here are DNA oligonucleotides. This method is based on sandwich hybridization of capture and detector probes with target ribosomal RNA (rRNA). The capture probe is anchored to the sensor surface, while the detector probe is linked to horseradish peroxidase (HRP). When a substrate such as 3,3',5,5'-tetramethylbenzidine (TMB) is added to an electrode with capture-target-detector complexes bound to its surface, the substrate is oxidized by HRP and reduced by the working electrode. This redox cycle results in shuttling of electrons by the substrate from the electrode to HRP, producing current flow in the electrode.
Bioengineering, Issue 74, Microbiology, Genetics, Molecular Biology, Cellular Biology, Biochemistry, Biomedical Engineering, Medicine, Immunology, Bacteria, Electrochemical sensor, ribosomal RNA, rRNA, 16S RNA, DNA, probe, assay
4282
Fabrication of Electrochemical-DNA Biosensors for the Reagentless Detection of Nucleic Acids, Proteins and Small Molecules
Institutions: University Of California Santa Barbara, University Of California Santa Barbara.

As medicine is currently practiced, doctors send specimens to a central laboratory for testing and thus must wait hours or days to receive the results. Many patients would be better served by rapid, bedside tests. To this end our laboratory and others have developed a versatile, reagentless biosensor platform that supports the quantitative, reagentless, electrochemical detection of nucleic acids (DNA, RNA), proteins (including antibodies) and small molecules analytes directly in unprocessed clinical and environmental samples. In this video, we demonstrate the preparation and use of several biosensors in this "E-DNA" class. In particular, we fabricate and demonstrate sensors for the detection of a target DNA sequence in a polymerase chain reaction mixture, an HIV-specific antibody and the drug cocaine. The preparation procedure requires only three hours of hands-on effort followed by an overnight incubation, and their use requires only minutes.
Bioengineering, Issue 52, biosensor, chemistry, detection, electrochemistry, point of care, theranostics, diagnostics, antibody, instrument, electronic
2922
Bridging the Bio-Electronic Interface with Biofabrication
Institutions: University of Maryland , University of Maryland , University of Maryland .

Advancements in lab-on-a-chip technology promise to revolutionize both research and medicine through lower costs, better sensitivity, portability, and higher throughput. The incorporation of biological components onto biological microelectromechanical systems (bioMEMS) has shown great potential for achieving these goals. Microfabricated electronic chips allow for micrometer-scale features as well as an electrical connection for sensing and actuation. Functional biological components give the system the capacity for specific detection of analytes, enzymatic functions, and whole-cell capabilities. Standard microfabrication processes and bio-analytical techniques have been successfully utilized for decades in the computer and biological industries, respectively. Their combination and interfacing in a lab-on-a-chip environment, however, brings forth new challenges. There is a call for techniques that can build an interface between the electrode and biological component that is mild and is easy to fabricate and pattern. Biofabrication, described here, is one such approach that has shown great promise for its easy-to-assemble incorporation of biological components with versatility in the on-chip functions that are enabled. Biofabrication uses biological materials and biological mechanisms (self-assembly, enzymatic assembly) for bottom-up hierarchical assembly. While our labs have demonstrated these concepts in many formats
1,2,3
, here we demonstrate the assembly process based on electrodeposition followed by multiple applications of signal-based interactions. The assembly process consists of the electrodeposition of biocompatible stimuli-responsive polymer films on electrodes and their subsequent functionalization with biological components such as DNA, enzymes, or live cells
4,5
. Electrodeposition takes advantage of the pH gradient created at the surface of a biased electrode from the electrolysis of water
6,7
,. Chitosan and alginate are stimuli-responsive biological polymers that can be triggered to self-assemble into hydrogel films in response to imposed electrical signals
8
. The thickness of these hydrogels is determined by the extent to which the pH gradient extends from the electrode. This can be modified using varying current densities and deposition times
6,7
. This protocol will describe how chitosan films are deposited and functionalized by covalently attaching biological components to the abundant primary amine groups present on the film through either enzymatic or electrochemical methods
9,10
. Alginate films and their entrapment of live cells will also be addressed
11
. Finally, the utility of biofabrication is demonstrated through examples of signal-based interaction, including chemical-to-electrical, cell-to-cell, and also enzyme-to-cell signal transmission. Both the electrodeposition and functionalization can be performed under near-physiological conditions without the need for reagents and thus spare labile biological components from harsh conditions. Additionally, both chitosan and alginate have long been used for biologically-relevant purposes
12,13
. Overall, biofabrication, a rapid technique that can be simply performed on a benchtop, can be used for creating micron scale patterns of functional biological components on electrodes and can be used for a variety of lab-on-a-chip applications.
Bioengineering, Issue 64, Biomedical Engineering, electrodeposition, biofabrication, chitosan, alginate, lab-on-a-chip, microfluidic, DTRA
4231
A Microfluidic-based Electrochemical Biochip for Label-free DNA Hybridization Analysis
Institutions: University of Maryland, University of Maryland.

Miniaturization of analytical benchtop procedures into the micro-scale provides significant advantages in regards to reaction time, cost, and integration of pre-processing steps. Utilizing these devices towards the analysis of DNA hybridization events is important because it offers a technology for real time assessment of biomarkers at the point-of-care for various diseases. However, when the device footprint decreases the dominance of various physical phenomena increases. These phenomena influence the fabrication precision and operation reliability of the device. Therefore, there is a great need to accurately fabricate and operate these devices in a reproducible manner in order to improve the overall performance. Here, we describe the protocols and the methods used for the fabrication and the operation of a microfluidic-based electrochemical biochip for accurate analysis of DNA hybridization events. The biochip is composed of two parts: a microfluidic chip with three parallel micro-channels made of polydimethylsiloxane (PDMS), and a 3 x 3 arrayed electrochemical micro-chip. The DNA hybridization events are detected using electrochemical impedance spectroscopy (EIS) analysis. The EIS analysis enables monitoring variations of the properties of the electrochemical system that are dominant at these length scales. With the ability to monitor changes of both charge transfer and diffusional resistance with the biosensor, we demonstrate the selectivity to complementary ssDNA targets, a calculated detection limit of 3.8 nM, and a 13% cross-reactivity with other non-complementary ssDNA following 20 min of incubation. This methodology can improve the performance of miniaturized devices by elucidating on the behavior of diffusion at the micro-scale regime and by enabling the study of DNA hybridization events.
Bioengineering, Issue 91, electrochemical impedance spectroscopy, DNA hybridization, biosensor, biochip, microfluidics, label-free detection, restricted diffusion, microfabrication
51797
Optical Detection of E. coli Bacteria by Mesoporous Silicon Biosensors
Institutions: Technion - Israel Institute of Technology, Technion - Israel Institute of Technology, Technion - Israel Institute of Technology.
A label-free optical biosensor based on a nanostructured porous Si is designed for rapid capture and detection of
Escherichia coli
K12 bacteria, as a model microorganism. The biosensor relies on direct binding of the target bacteria cells onto its surface, while no pretreatment (
e.g.
 by cell lysis) of the studied sample is required. A mesoporous Si thin film is used as the optical transducer element of the biosensor. Under white light illumination, the porous layer displays well-resolved Fabry-Pérot fringe patterns in its reflectivity spectrum. Applying a fast Fourier transform (FFT) to reflectivity data results in a single peak. Changes in the intensity of the FFT peak are monitored. Thus, target bacteria capture onto the biosensor surface, through antibody-antigen interactions, induces measurable changes in the intensity of the FFT peaks, allowing for a 'real time' observation of bacteria attachment. The mesoporous Si film, fabricated by an electrochemical anodization process, is conjugated with monoclonal antibodies, specific to the target bacteria. The immobilization, immunoactivity and specificity of the antibodies are confirmed by fluorescent labeling experiments. Once the biosensor is exposed to the target bacteria, the cells are directly captured onto the antibody-modified porous Si surface. These specific capturing events result in intensity changes in the thin-film optical interference spectrum of the biosensor. We demonstrate that these biosensors can detect relatively low bacteria concentrations (detection limit of 10
4
cells/ml) in less than an hour.
Bioengineering, Issue 81, analytical chemistry, silicon materials, microbiology, optical materials, Porous Si, optical biosensor, bacteria detection, label-free biosensor, nanostructure, E. coli bacteria
50805
Preparation and Use of Photocatalytically Active Segmented Ag|ZnO and Coaxial TiO2-Ag Nanowires Made by Templated Electrodeposition
Institutions: University of Twente.

Photocatalytically active nanostructures require a large specific surface area with the presence of many catalytically active sites for the oxidation and reduction half reactions, and fast electron (hole) diffusion and charge separation. Nanowires present suitable architectures to meet these requirements. Axially segmented Ag|ZnO and radially segmented (coaxial) TiO
2
-Ag nanowires with a diameter of 200 nm and a length of 6-20 µm were made by templated electrodeposition within the pores of polycarbonate track-etched (PCTE) or anodized aluminum oxide (AAO) membranes, respectively. In the photocatalytic experiments, the ZnO and TiO
2
phases acted as photoanodes, and Ag as cathode. No external circuit is needed to connect both electrodes, which is a key advantage over conventional photo-electrochemical cells. For making segmented Ag|ZnO nanowires, the Ag salt electrolyte was replaced after formation of the Ag segment to form a ZnO segment attached to the Ag segment. For making coaxial TiO
2
-Ag nanowires, a TiO
2
gel was first formed by the electrochemically induced sol-gel method. Drying and thermal annealing of the as-formed TiO
2
gel resulted in the formation of crystalline TiO
2
nanotubes. A subsequent Ag electrodeposition step inside the TiO
2
nanotubes resulted in formation of coaxial TiO
2
-Ag nanowires. Due to the combination of an
n
-type semiconductor (ZnO or TiO
2
) and a metal (Ag) within the same nanowire, a Schottky barrier was created at the interface between the phases. To demonstrate the photocatalytic activity of these nanowires, the Ag|ZnO nanowires were used in a photocatalytic experiment in which H
2
gas was detected upon UV illumination of the nanowires dispersed in a methanol/water mixture. After 17 min of illumination, approximately 0.2 vol% H
2
gas was detected from a suspension of ~0.1 g of Ag|ZnO nanowires in a 50 ml 80 vol% aqueous methanol solution.
Physics, Issue 87, Multicomponent nanowires, electrochemistry, sol-gel processes, photocatalysis, photochemistry, H2 evolution
51547
Modeling Neural Immune Signaling of Episodic and Chronic Migraine Using Spreading Depression In Vitro
Institutions: The University of Chicago Medical Center, The University of Chicago Medical Center.

Migraine and its transformation to chronic migraine are healthcare burdens in need of improved treatment options. We seek to define how neural immune signaling modulates the susceptibility to migraine, modeled
in vitro
using spreading depression (SD), as a means to develop novel therapeutic targets for episodic and chronic migraine. SD is the likely cause of migraine aura and migraine pain. It is a paroxysmal loss of neuronal function triggered by initially increased neuronal activity, which slowly propagates within susceptible brain regions. Normal brain function is exquisitely sensitive to, and relies on, coincident low-level immune signaling. Thus, neural immune signaling likely affects electrical activity of SD, and therefore migraine. Pain perception studies of SD in whole animals are fraught with difficulties, but whole animals are well suited to examine systems biology aspects of migraine since SD activates trigeminal nociceptive pathways. However, whole animal studies alone cannot be used to decipher the cellular and neural circuit mechanisms of SD. Instead,
in vitro
preparations where environmental conditions can be controlled are necessary. Here, it is important to recognize limitations of acute slices and distinct advantages of hippocampal slice cultures. Acute brain slices cannot reveal subtle changes in immune signaling since preparing the slices alone triggers: pro-inflammatory changes that last days, epileptiform behavior due to high levels of oxygen tension needed to vitalize the slices, and irreversible cell injury at anoxic slice centers. In contrast, we examine immune signaling in mature hippocampal slice cultures since the cultures closely parallel their
in vivo
counterpart with mature trisynaptic function; show quiescent astrocytes, microglia, and cytokine levels; and SD is easily induced in an unanesthetized preparation. Furthermore, the slices are long-lived and SD can be induced on consecutive days without injury, making this preparation the sole means to-date capable of modeling the neuroimmune consequences of chronic SD, and thus perhaps chronic migraine. We use electrophysiological techniques and non-invasive imaging to
measure
neuronal cell and circuit functions coincident with SD. Neural immune gene expression variables are measured with qPCR screening, qPCR arrays, and, importantly, use of cDNA preamplification for detection of ultra-low level targets such as interferon-gamma using whole, regional, or specific cell enhanced (via laser dissection microscopy) sampling. Cytokine cascade signaling is further assessed with multiplexed phosphoprotein related targets with gene expression and phosphoprotein changes confirmed via cell-specific immunostaining. Pharmacological and siRNA strategies are used to
mimic
and
modulate
SD immune signaling.
Neuroscience, Issue 52, innate immunity, hormesis, microglia, T-cells, hippocampus, slice culture, gene expression, laser dissection microscopy, real-time qPCR, interferon-gamma
2910
Development of a 3D Graphene Electrode Dielectrophoretic Device
Institutions: Michigan Technological University, Michigan Technological University, XG Sciences, Inc..
The design and fabrication of a novel 3D electrode microdevice using 50 µm thick graphene paper and 100 µm double sided tape is described. The protocol details the procedures to construct a versatile, reusable, multiple layer, laminated dielectrophoresis chamber. Specifically, six layers of 50 µm x 0.7 cm x 2 cm graphene paper and five layers of double sided tape were alternately stacked together, then clamped to a glass slide. Then a 700 μm diameter micro-well was drilled through the laminated structure using a computer-controlled micro drilling machine. Insulating properties of the tape layer between adjacent graphene layers were assured by resistance tests. Silver conductive epoxy connected alternate layers of graphene paper and formed stable connections between the graphene paper and external copper wire electrodes. The finished device was then clamped and sealed to a glass slide. The electric field gradient was modeled within the multi-layer device. Dielectrophoretic behaviors of 6 μm polystyrene beads were demonstrated in the 1 mm deep micro-well, with medium conductivities ranging from 0.0001 S/m to 1.3 S/m, and applied signal frequencies from 100 Hz to 10 MHz. Negative dielectrophoretic responses were observed in three dimensions over most of the conductivity-frequency space and cross-over frequency values are consistent with previously reported literature values. The device did not prevent AC electroosmosis and electrothermal flows, which occurred in the low and high frequency regions, respectively. The graphene paper utilized in this device is versatile and could subsequently function as a biosensor after dielectrophoretic characterizations are complete.
Physics, Issue 88, graphene paper, dielectrophoresis, graphene electrodes, 3D laminated microdevice, polystyrene beads, cell diagnostics
51696
Towards Biomimicking Wood: Fabricated Free-standing Films of Nanocellulose, Lignin, and a Synthetic Polycation
Institutions: Virginia Tech, Virginia Tech, Illinois Institute of Technology- Moffett Campus, University of Guadalajara, Virginia Tech, Virginia Tech.

Woody materials are comprised of plant cell walls that contain a layered secondary cell wall composed of structural polymers of polysaccharides and lignin. Layer-by-layer (LbL) assembly process which relies on the assembly of oppositely charged molecules from aqueous solutions was used to build a freestanding composite film of isolated wood polymers of lignin and oxidized nanofibril cellulose (NFC). To facilitate the assembly of these negatively charged polymers, a positively charged polyelectrolyte, poly(diallyldimethylammomium chloride) (PDDA), was used as a linking layer to create this simplified model cell wall. The layered adsorption process was studied quantitatively using quartz crystal microbalance with dissipation monitoring (QCM-D) and ellipsometry. The results showed that layer mass/thickness per adsorbed layer increased as a function of total number of layers. The surface coverage of the adsorbed layers was studied with atomic force microscopy (AFM). Complete coverage of the surface with lignin in all the deposition cycles was found for the system, however, surface coverage by NFC increased with the number of layers. The adsorption process was carried out for 250 cycles (500 bilayers) on a cellulose acetate (CA) substrate. Transparent free-standing LBL assembled nanocomposite films were obtained when the CA substrate was later dissolved in acetone. Scanning electron microscopy (SEM) of the fractured cross-sections showed a lamellar structure, and the thickness per adsorption cycle (PDDA-Lignin-PDDA-NC) was estimated to be 17 nm for two different lignin types used in the study. The data indicates a film with highly controlled architecture where nanocellulose and lignin are spatially deposited on the nanoscale (a polymer-polymer nanocomposites), similar to what is observed in the native cell wall.
Plant Biology, Issue 88, nanocellulose, thin films, quartz crystal microbalance, layer-by-layer, LbL
51257
Characterization of Complex Systems Using the Design of Experiments Approach: Transient Protein Expression in Tobacco as a Case Study
Institutions: RWTH Aachen University, Fraunhofer Gesellschaft.

Plants provide multiple benefits for the production of biopharmaceuticals including low costs, scalability, and safety. Transient expression offers the additional advantage of short development and production times, but expression levels can vary significantly between batches thus giving rise to regulatory concerns in the context of good manufacturing practice. We used a design of experiments (DoE) approach to determine the impact of major factors such as regulatory elements in the expression construct, plant growth and development parameters, and the incubation conditions during expression, on the variability of expression between batches. We tested plants expressing a model anti-HIV monoclonal antibody (2G12) and a fluorescent marker protein (DsRed). We discuss the rationale for selecting certain properties of the model and identify its potential limitations. The general approach can easily be transferred to other problems because the principles of the model are broadly applicable: knowledge-based parameter selection, complexity reduction by splitting the initial problem into smaller modules, software-guided setup of optimal experiment combinations and step-wise design augmentation. Therefore, the methodology is not only useful for characterizing protein expression in plants but also for the investigation of other complex systems lacking a mechanistic description. The predictive equations describing the interconnectivity between parameters can be used to establish mechanistic models for other complex systems.
Bioengineering, Issue 83, design of experiments (DoE), transient protein expression, plant-derived biopharmaceuticals, promoter, 5'UTR, fluorescent reporter protein, model building, incubation conditions, monoclonal antibody
51216
Characterization of Thermal Transport in One-dimensional Solid Materials
Institutions: Iowa State University.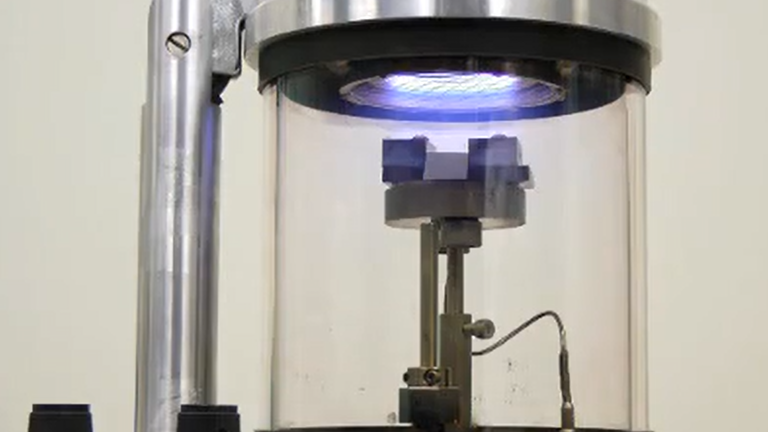 The TET (transient electro-thermal) technique is an effective approach developed to measure the thermal diffusivity of solid materials, including conductive, semi-conductive or nonconductive one-dimensional structures. This technique broadens the measurement scope of materials (conductive and nonconductive) and improves the accuracy and stability. If the sample (especially biomaterials, such as human head hair, spider silk, and silkworm silk) is not conductive, it will be coated with a gold layer to make it electronically conductive. The effect of parasitic conduction and radiative losses on the thermal diffusivity can be subtracted during data processing. Then the real thermal conductivity can be calculated with the given value of volume-based specific heat (
ρcp
), which can be obtained from calibration, noncontact photo-thermal technique or measuring the density and specific heat separately. In this work, human head hair samples are used to show how to set up the experiment, process the experimental data, and subtract the effect of parasitic conduction and radiative losses.
Physics, Issue 83, thermal transport, thermal diffusivity, thermal conductivity, transient electro-thermal technique, volume-based specific heat, human head hair
51144
Antifouling Self-assembled Monolayers on Microelectrodes for Patterning Biomolecules
Institutions: Texas A&M University (TAMU), Texas A&M University (TAMU).

We present a procedure for forming a poly(ethylene glycol) (PEG) trimethoxysilane self-assembled monolayer (SAM) on a silicon substrate with gold microelectrodes. The PEG-SAM is formed in a single assembly step and prevents biofouling on silicon and gold surfaces. The SAM is used to coat microelectrodes patterned with standard, positive-tone lithography. Using the microtubule as an example, we apply a DC voltage to induce electrophoretic migration to the SAM-coated electrode in a reversible manner. A flow chamber is used for imaging the electrophoretic migration and microtubule patterning
in situ
using epifluorescence microscopy. This method is generally applicable to biomolecule patterning, as it employs electrophoresis to immobilize target molecules and thus does not require specific molecular interactions. Further, it avoids problems encountered when attempting to pattern the SAM molecules directly using lithographic techniques. The compatibility with electron beam lithography allows this method to be used to pattern biomolecules at the nanoscale.
Biomedical Engineering, Issue 30, protein patterning, self-assembly, tubulin, kinesin, biofouling, bioNEMS, biosensor
1390