Preparation of Light-responsive Membranes by a Combined Surface Grafting and Postmodification Process
Published: 03-21-2014
ABSTRACT
In order to modify the surface tension of commercial available track-edged polymer membranes, a procedure of surface-initiated polymerization is presented. The polymerization from the membrane surface is induced by plasma treatment of the membrane, followed by reacting the membrane surface with a methanolic solution of 2-hydroxyethyl methacrylate (HEMA). Special attention is given to the process parameters for the plasma treatment prior to the polymerization on the surface. For example, the influence of the plasma-treatment on different types of membranes (e.g. polyester, polycarbonate, polyvinylidene fluoride) is studied. Furthermore, the time-dependent stability of the surface-grafted membranes is shown by contact angle measurements. When grafting poly(2-hydroxyethyl methacrylate) (PHEMA) in this way, the surface can be further modified by esterification of the alcohol moiety of the polymer with a carboxylic acid function of the desired substance. These reactions can therefore be used for the functionalization of the membrane surface. For example, the surface tension of the membrane can be changed or a desired functionality as the presented light-responsiveness can be inserted. This is demonstrated by reacting PHEMA with a carboxylic acid functionalized spirobenzopyran unit which leads to a light-responsive membrane. The choice of solvent plays a major role in the postmodification step and is discussed in more detail in this paper. The permeability measurements of such functionalized membranes are performed using a Franz cell with an external light source. By changing the wavelength of the light from the visible to the UV-range, a change of permeability of aqueous caffeine solutions is observed.
12 Related JoVE Articles!
Generation and Recovery of β-cell Spheroids From Step-growth PEG-peptide Hydrogels
Institutions: Indiana University - Purdue University at Indianapolis.
Hydrogels are hydrophilic crosslinked polymers that provide a three-dimensional microenvironment with tissue-like elasticity and high permeability for culturing therapeutically relevant cells or tissues. Hydrogels prepared from poly(ethylene glycol) (PEG) derivatives are increasingly used for a variety of tissue engineering applications, in part due to their tunable and cytocompatible properties. In this protocol, we utilized thiol-ene step-growth photopolymerizations to fabricate PEG-peptide hydrogels for encapsulating pancreatic MIN6 b-cells. The gels were formed by 4-arm PEG-norbornene (PEG4NB) macromer and a chymotrypsin-sensitive peptide crosslinker (CGGYC). The hydrophilic and non-fouling nature of PEG offers a cytocompatible microenvironment for cell survival and proliferation in 3D, while the use of chymotrypsin-sensitive peptide sequence (
C
GGY↓
C
, arrow indicates enzyme cleavage site, while terminal cysteine residues were added for thiol-ene crosslinking) permits rapid recovery of cell constructs forming within the hydrogel. The following protocol elaborates techniques for: (1) Encapsulation of MIN6 β-cells in thiol-ene hydrogels; (2) Qualitative and quantitative cell viability assays to determine cell survival and proliferation; (3) Recovery of cell spheroids using chymotrypsin-mediated gel erosion; and (4) Structural and functional analysis of the recovered spheroids.
Biomedical Engineering, Issue 70, Bioengineering, Tissue Engineering, Cellular Biology, Molecular Biology, Biomaterials, beta cells, β-cell, PEG, PEG-peptide hydrogels, hydrogel, MIN6, poylmers, peptides, spheroids, pancreas
50081
Human Cartilage Tissue Fabrication Using Three-dimensional Inkjet Printing Technology
Institutions: Rensselaer Polytechnic Institute, Stemorgan Inc., Technical University of Munich, Wuhan University, The Scripps Research Institute, Tokyo University of Science.
Bioprinting, which is based on thermal inkjet printing, is one of the most attractive enabling technologies in the field of tissue engineering and regenerative medicine. With digital control cells, scaffolds, and growth factors can be precisely deposited to the desired two-dimensional (2D) and three-dimensional (3D) locations rapidly. Therefore, this technology is an ideal approach to fabricate tissues mimicking their native anatomic structures. In order to engineer cartilage with native zonal organization, extracellular matrix composition (ECM), and mechanical properties, we developed a bioprinting platform using a commercial inkjet printer with simultaneous photopolymerization capable for 3D cartilage tissue engineering. Human chondrocytes suspended in poly(ethylene glycol) diacrylate (PEGDA) were printed for 3D neocartilage construction via layer-by-layer assembly. The printed cells were fixed at their original deposited positions, supported by the surrounding scaffold in simultaneous photopolymerization. The mechanical properties of the printed tissue were similar to the native cartilage. Compared to conventional tissue fabrication, which requires longer UV exposure, the viability of the printed cells with simultaneous photopolymerization was significantly higher. Printed neocartilage demonstrated excellent glycosaminoglycan (GAG) and collagen type II production, which was consistent with gene expression. Therefore, this platform is ideal for accurate cell distribution and arrangement for anatomic tissue engineering.
Bioengineering, Issue 88, cartilage, inkjet printing, chondrocytes, hydrogel, photopolymerization, tissue engineering
51294
Printing Thermoresponsive Reverse Molds for the Creation of Patterned Two-component Hydrogels for 3D Cell Culture
Institutions: Cartilage Engineering & Regeneration, Innovent e.V..

Bioprinting is an emerging technology that has its origins in the rapid prototyping industry. The different printing processes can be divided into contact bioprinting
1-4
(extrusion, dip pen and soft lithography), contactless bioprinting
5-7
(laser forward transfer, ink-jet deposition) and laser based techniques such as two photon photopolymerization
8
. It can be used for many applications such as tissue engineering
9-13
, biosensor microfabrication
14-16
and as a tool to answer basic biological questions such as influences of co-culturing of different cell types
17
. Unlike common photolithographic or soft-lithographic methods, extrusion bioprinting has the advantage that it does not require a separate mask or stamp. Using CAD software, the design of the structure can quickly be changed and adjusted according to the requirements of the operator. This makes bioprinting more flexible than lithography-based approaches. Here we demonstrate the printing of a sacrificial mold to create a multi-material 3D structure using an array of pillars within a hydrogel as an example. These pillars could represent hollow structures for a vascular network or the tubes within a nerve guide conduit. The material chosen for the sacrificial mold was poloxamer 407, a thermoresponsive polymer with excellent printing properties which is liquid at 4 °C and a solid above its gelation temperature ~20 °C for 24.5% w/v solutions
18
. This property allows the poloxamer-based sacrificial mold to be eluted on demand and has advantages over the slow dissolution of a solid material especially for narrow geometries. Poloxamer was printed on microscope glass slides to create the sacrificial mold. Agarose was pipetted into the mold and cooled until gelation. After elution of the poloxamer in ice cold water, the voids in the agarose mold were filled with alginate methacrylate spiked with FITC labeled fibrinogen. The filled voids were then cross-linked with UV and the construct was imaged with an epi-fluorescence microscope.
Bioengineering, Issue 77, Immunology, Cellular Biology, Biomedical Engineering, Biophysics, Molecular Biology, Materials Science, Tissue Engineering, Biomaterials, Hydrogel, Biopolymers, Structured/Patterned Hydrogels, Bioprinter, Sacrificial Mold, Thermoresponsive Polymers, Poloxamer, tissue, polymer, matrix, cell, cell culture
50632
Polymer Microarrays for High Throughput Discovery of Biomaterials
Institutions: University of Nottingham , University of Nottingham , Massachusetts Institute of Technology.
The discovery of novel biomaterials that are optimized for a specific biological application is readily achieved using polymer microarrays, which allows a combinatorial library of materials to be screened in a parallel, high throughput format
1
. Herein is described the formation and characterization of a polymer microarray using an on-chip photopolymerization technique
2
. This involves mixing monomers at varied ratios to produce a library of monomer solutions, transferring the solution to a glass slide format using a robotic printing device and curing with UV irradiation. This format is readily amenable to many biological assays, including stem cell attachment and proliferation, cell sorting and low bacterial adhesion, allowing the ready identification of 'hit' materials that fulfill a specific biological criterion
3-5
. Furthermore, the use of high throughput surface characterization (HTSC) allows the biological performance to be correlated with physio-chemical properties, hence elucidating the biological-material interaction
6
. HTSC makes use of water contact angle (WCA) measurements, atomic force microscopy (AFM), X-ray photoelectron spectroscopy (XPS) and time-of-flight secondary ion mass spectrometry (ToF-SIMS). In particular, ToF-SIMS provides a chemically rich analysis of the sample that can be used to correlate the cell response with a molecular moiety. In some cases, the biological performance can be predicted from the ToF-SIMS spectra, demonstrating the chemical dependence of a biological-material interaction, and informing the development of hit materials
5,3
.
Bioengineering, Issue 59, Materials discovery, Surface characterization, Polymer library, High throughput, Cell attachment
3636
Characteristics of Precipitation-formed Polyethylene Glycol Microgels Are Controlled by Molecular Weight of Reactants
Institutions: The University of Akron, Saint Vincent Saint Mary's High School.
This work describes the formation of poly(ethylene glycol) (PEG) microgels via a photopolymerized precipitation reaction. Precipitation reactions offer several advantages over traditional microsphere fabrication techniques. Contrary to emulsion, suspension, and dispersion techniques, microgels formed by precipitation are of uniform shape and size,
i.e.
 low polydispersity index, without the use of organic solvents or stabilizers. The mild conditions of the precipitation reaction, customizable properties of the microgels, and low viscosity for injections make them applicable for
in vivo
purposes. Unlike other fabrication techniques, microgel characteristics can be modified by changing the starting polymer molecular weight. Increasing the starting PEG molecular weight increased microgel diameter and swelling ratio. Further modifications are suggested such as encapsulating molecules during microgel crosslinking. Simple adaptations to the PEG microgel building blocks are explored for future applications of microgels as drug delivery vehicles and tissue engineering scaffolds.
Bioengineering, Issue 82, hydrogels, microgels, polyethylene glycol, molecuar weight, photopolymerized precipitation reaction, polymers, polydispersity index
51002
Combination of Microstereolithography and Electrospinning to Produce Membranes Equipped with Niches for Corneal Regeneration
Institutions: University of Sheffield, University of Sheffield, L. V. Prasad Eye Institute.

Corneal problems affect millions of people worldwide reducing their quality of life significantly. Corneal disease can be caused by illnesses such as Aniridia or Steven Johnson Syndrome as well as by external factors such as chemical burns or radiation. Current treatments are (i) the use of corneal grafts and (ii) the use of stem cell expanded in the laboratory and delivered on carriers (
e.g.
, amniotic membrane); these treatments are relatively successful but unfortunately they can fail after 3-5 years. There is a need to design and manufacture new corneal biomaterial devices able to mimic in detail the physiological environment where stem cells reside in the cornea. Limbal stem cells are located in the limbus (circular area between cornea and sclera) in specific niches known as the Palisades of Vogt. In this work we have developed a new platform technology which combines two cutting-edge manufacturing techniques (microstereolithography and electrospinning) for the fabrication of corneal membranes that mimic to a certain extent the limbus. Our membranes contain artificial micropockets which aim to provide cells with protection as the Palisades of Vogt do in the eye.
Bioengineering, Issue 91, electrospinning, microstereolithography, stem cell niche, storage, limbal explants
51826
Density Gradient Multilayered Polymerization (DGMP): A Novel Technique for Creating Multi-compartment, Customizable Scaffolds for Tissue Engineering
Institutions: University of California, San Diego , University of California, San Diego , University of California, San Diego .

Complex tissue culture matrices, in which types and concentrations of biological stimuli (
e.g.
growth factors, inhibitors, or small molecules) or matrix structure (
e.g.
composition, concentration, or stiffness of the matrix) vary over space, would enable a wide range of investigations concerning how these variables affect cell differentiation, migration, and other phenomena. The major challenge in creating layered matrices is maintaining the structural integrity of layer interfaces without diffusion of individual components from each layer
1
. Current methodologies to achieve this include photopatterning
2-3
, lithography
4
, sequential functionalization5, freeze drying
6
, microfluidics
7
, or centrifugation
8
, many of which require sophisticated instrumentation and technical skills. Others rely on sequential attachment of individual layers, which may lead to delamination of layers
9
. DGMP overcomes these issues by using an inert density modifier such as iodixanol to create layers of varying densities
10
. Since the density modifier can be mixed with any prepolymer or bioactive molecule, DGMP allows each scaffold layer to be customized. Simply varying the concentration of the density modifier prevents mixing of adjacent layers while they remain aqueous. Subsequent single step polymerization gives rise to a structurally continuous multilayered scaffold, in which each layer has distinct chemical and mechanical properties. The density modifier can be easily removed with sufficient rinsing without perturbation of the individual layers or their components. This technique is therefore well suited for creating hydrogels of various sizes, shapes, and materials. A protocol for fabricating a 2D-polyethylene glycol (PEG) gel, in which alternating layers incorporate RGDS-350, is outlined below. We use PEG because it is biocompatible and inert. RGDS, a cell adhesion peptide
11
, is used to demonstrate spatial restriction of a biological cue, and the conjugation of a fluorophore (Alexa Fluor 350) enables us to visually distinguish various layers. This procedure can be adapted for other materials (
e.g.
collagen, hyaluronan, etc.) and can be extended to fabricate 3D gels with some modifications
10
.
Bioengineering, Issue 72, Biomedical Engineering, Tissue Engineering, Cell Culture Techniques, Tissue Culture Techniques, hydrogels, life sciences, bioengineering (general), Scaffolds, hydrogels, cell culture, polyethylene glycol, RGDS
50018
Microwave-assisted Functionalization of Poly(ethylene glycol) and On-resin Peptides for Use in Chain Polymerizations and Hydrogel Formation
Institutions: University of Rochester, University of Rochester, University of Rochester Medical Center.

One of the main benefits to using poly(ethylene glycol) (PEG) macromers in hydrogel formation is synthetic versatility. The ability to draw from a large variety of PEG molecular weights and configurations (arm number, arm length, and branching pattern) affords researchers tight control over resulting hydrogel structures and properties, including Young's modulus and mesh size. This video will illustrate a rapid, efficient, solvent-free, microwave-assisted method to methacrylate PEG precursors into poly(ethylene glycol) dimethacrylate (PEGDM). This synthetic method provides much-needed starting materials for applications in drug delivery and regenerative medicine. The demonstrated method is superior to traditional methacrylation methods as it is significantly faster and simpler, as well as more economical and environmentally friendly, using smaller amounts of reagents and solvents. We will also demonstrate an adaptation of this technique for on-resin methacrylamide functionalization of peptides. This on-resin method allows the N-terminus of peptides to be functionalized with methacrylamide groups prior to deprotection and cleavage from resin. This allows for selective addition of methacrylamide groups to the N-termini of the peptides while amino acids with reactive side groups (
e.g.
 primary amine of lysine, primary alcohol of serine, secondary alcohols of threonine, and phenol of tyrosine) remain protected, preventing functionalization at multiple sites. This article will detail common analytical methods (proton Nuclear Magnetic Resonance spectroscopy (
;
H-NMR) and Matrix Assisted Laser Desorption Ionization Time of Flight mass spectrometry (MALDI-ToF)) to assess the efficiency of the functionalizations. Common pitfalls and suggested troubleshooting methods will be addressed, as will modifications of the technique which can be used to further tune macromer functionality and resulting hydrogel physical and chemical properties. Use of synthesized products for the formation of hydrogels for drug delivery and cell-material interaction studies will be demonstrated, with particular attention paid to modifying hydrogel composition to affect mesh size, controlling hydrogel stiffness and drug release.
Chemistry, Issue 80, Poly(ethylene glycol), peptides, polymerization, polymers, methacrylation, peptide functionalization, 1H-NMR, MALDI-ToF, hydrogels, macromer synthesis
50890
Micro 3D Printing Using a Digital Projector and its Application in the Study of Soft Materials Mechanics
Institutions: Massachusetts Institute of Technology.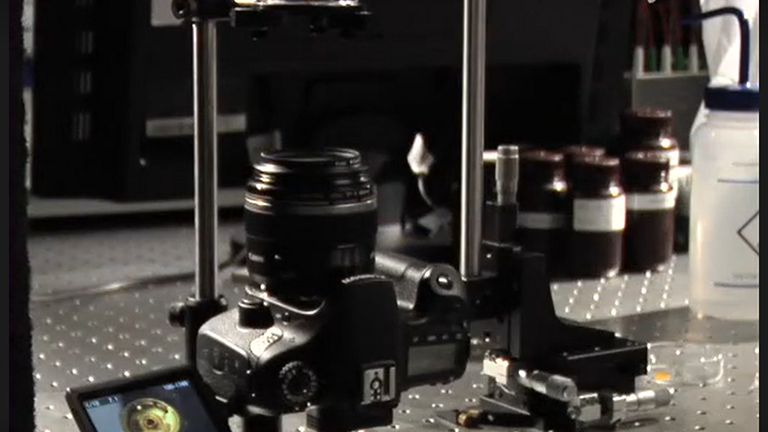 Buckling is a classical topic in mechanics. While buckling has long been studied as one of the major structural failure modes
1
, it has recently drawn new attention as a unique mechanism for pattern transformation. Nature is full of such examples where a wealth of exotic patterns are formed through mechanical instability
2-5
. Inspired by this elegant mechanism, many studies have demonstrated creation and transformation of patterns using soft materials such as elastomers and hydrogels
6-11
. Swelling gels are of particular interest because they can spontaneously trigger mechanical instability to create various patterns without the need of external force
6-10
. Recently, we have reported demonstration of full control over buckling pattern of micro-scaled tubular gels using projection micro-stereolithography (PμSL), a three-dimensional (3D) manufacturing technology capable of rapidly converting computer generated 3D models into physical objects at high resolution
12,13
. Here we present a simple method to build up a simplified PμSL system using a commercially available digital data projector to study swelling-induced buckling instability for controlled pattern transformation. A simple desktop 3D printer is built using an off-the-shelf digital data projector and simple optical components such as a convex lens and a mirror
14
. Cross-sectional images extracted from a 3D solid model is projected on the photosensitive resin surface in sequence, polymerizing liquid resin into a desired 3D solid structure in a layer-by-layer fashion. Even with this simple configuration and easy process, arbitrary 3D objects can be readily fabricated with sub-100 μm resolution. This desktop 3D printer holds potential in the study of soft material mechanics by offering a great opportunity to explore various 3D geometries. We use this system to fabricate tubular shaped hydrogel structure with different dimensions. Fixed on the bottom to the substrate, the tubular gel develops inhomogeneous stress during swelling, which gives rise to buckling instability. Various wavy patterns appear along the circumference of the tube when the gel structures undergo buckling. Experiment shows that circumferential buckling of desired mode can be created in a controlled manner. Pattern transformation of three-dimensionally structured tubular gels has significant implication not only in mechanics and material science, but also in many other emerging fields such as tunable matamaterials.
Mechanical Engineering, Issue 69, Materials Science, Physics, Chemical Engineering, 3D printing, stereo-lithography, photo-polymerization, gel, swelling, elastic instability, buckling, pattern formation
4457
Self-reporting Scaffolds for 3-Dimensional Cell Culture
Institutions: University of Nottingham, University of Nottingham, University of Nottingham.

Culturing cells in 3D on appropriate scaffolds is thought to better mimic the
in vivo
microenvironment and increase cell-cell interactions. The resulting 3D cellular construct can often be more relevant to studying the molecular events and cell-cell interactions than similar experiments studied in 2D. To create effective 3D cultures with high cell viability throughout the scaffold the culture conditions such as oxygen and pH need to be carefully controlled as gradients in analyte concentration can exist throughout the 3D construct. Here we describe the methods of preparing biocompatible pH responsive sol-gel nanosensors and their incorporation into poly(lactic-co-glycolic acid) (PLGA) electrospun scaffolds along with their subsequent preparation for the culture of mammalian cells. The pH responsive scaffolds can be used as tools to determine microenvironmental pH within a 3D cellular construct. Furthermore, we detail the delivery of pH responsive nanosensors to the intracellular environment of mammalian cells whose growth was supported by electrospun PLGA scaffolds. The cytoplasmic location of the pH responsive nanosensors can be utilized to monitor intracellular pH (pHi) during ongoing experimentation.
Bioengineering, Issue 81, Biocompatible Materials, Nanosensors, scaffold, electrospinning, 3D cell culture, PLGA
50608
Ex vivo Mimicry of Normal and Abnormal Human Hematopoiesis
Institutions: Imperial College London , Imperial College London .

Hematopoietic stem cells require a unique microenvironment in order to sustain blood cell formation
1
; the bone marrow (BM) is a complex three-dimensional (3D) tissue wherein hematopoiesis is regulated by spatially organized cellular microenvironments termed niches
2-4
. The organization of the BM niches is critical for the function or dysfunction of normal or malignant BM
5
. Therefore a better understanding of the
in vivo
microenvironment using an
ex vivo
mimicry would help us elucidate the molecular, cellular and microenvironmental determinants of leukemogenesis
6
. Currently, hematopoietic cells are cultured
in vitro
in two-dimensional (2D) tissue culture flasks/well-plates
7
requiring either co-culture with allogenic or xenogenic stromal cells or addition of exogenous cytokines
8
. These conditions are artificial and differ from the
in vivo
microenvironment in that they lack the 3D cellular niches and expose the cells to abnormally high cytokine concentrations which can result in differentiation and loss of pluripotency
9,10
. Herein, we present a novel 3D bone marrow culture system that simulates the
in vivo
3D growth environment and supports multilineage hematopoiesis in the absence of exogenous growth factors. The highly porous scaffold used in this system made of polyurethane (PU), facilitates high-density cell growth across a higher specific surface area than the conventional monolayer culture in 2D
11
. Our work has indicated that this model supported the growth of human cord blood (CB) mononuclear cells (MNC)
12
and primary leukemic cells in the absence of exogenous cytokines. This novel 3D mimicry provides a viable platform for the development of a human experimental model to study hematopoiesis and to explore novel treatments for leukemia.
Bioengineering, Issue 62, three-dimensional culture, hematopoiesis, leukemia, cord blood
3654
Particles without a Box: Brush-first Synthesis of Photodegradable PEG Star Polymers under Ambient Conditions
Institutions: Massachusetts Institute of Technology.

Convenient methods for the rapid, parallel synthesis of diversely functionalized nanoparticles will enable discovery of novel formulations for drug delivery, biological imaging, and supported catalysis. In this report, we demonstrate parallel synthesis of brush-arm star polymer (BASP) nanoparticles by the "brush-first" method. In this method, a norbornene-terminated poly(ethylene glycol) (PEG) macromonomer (PEG-MM) is first polymerized via ring-opening metathesis polymerization (ROMP) to generate a living brush macroinitiator. Aliquots of this initiator stock solution are added to vials that contain varied amounts of a photodegradable bis-norbornene crosslinker. Exposure to crosslinker initiates a series of kinetically-controlled brush+brush and star+star coupling reactions that ultimately yields BASPs with cores comprised of the crosslinker and coronas comprised of PEG. The final BASP size depends on the amount of crosslinker added. We carry out the synthesis of three BASPs on the benchtop with no special precautions to remove air and moisture. The samples are characterized by gel permeation chromatography (GPC); results agreed closely with our previous report that utilized inert (glovebox) conditions. Key practical features, advantages, and potential disadvantages of the brush-first method are discussed.
Chemistry, Issue 80, Chemical Engineering, Nanoparticles, Polymers, Drug Delivery Systems, Polymerization, polymers, Biomedical and Dental Materials, brush first, polyethylene glycol, photodegradable, ring opening metathesis polymerization, brush polymer, star polymer, drug delivery, gel permeation chromatography, arm first, core functional, photocleavable
50874