ABSTRACT
MSCs are a population of adult stem cells that is a promising source for therapeutic applications. These cells can be isolated from the bone marrow and can be easily separated from the hematopoietic stem cells (HSCs) due to their plastic adherence. This protocol describes how to isolate MSCs from rat femurs and tibias. The isolated cells were further enriched against two MSCs surface markers CD54 and CD90 by magnetic cell sorting. Expression of surface markers CD54 and CD90 were then confirmed by flow cytometry analysis. HSC marker CD45 was also included to check if the sorted MSCs were depleted of HSCs. MSCs are naturally quite heterogeneous. There are subpopulations of cells that have different shapes, proliferation and differentiation abilities. These subpopulations all express the known MSCs markers and no unique marker has yet been identified for the different subpopulations. Therefore, an alternative approach to separate out the different subpopulations is using cloning cylinders to separate out single-colony derived cells. The cells derived from the single-colonies can then be cultured and evaluated separately.
23 Related JoVE Articles!
A Cre-Lox P Recombination Approach for the Detection of Cell Fusion In Vivo
Institutions: University of Wisconsin-Madison, University of Wisconsin-Madison.

The ability of two or more cells of the same type to fuse has been utilized in metazoans throughout evolution to form many complex organs, including skeletal muscle, bone and placenta. Contemporary studies demonstrate fusion of cells of the same type confers enhanced function. For example, when the trophoblast cells of the placenta fuse to form the syncytiotrophoblast, the syncytiotrophoblast is better able to transport nutrients and hormones across the maternal-fetal barrier than unfused trophoblasts
1-4
. More recent studies demonstrate fusion of cells of different types can direct cell fate. The "reversion" or modification of cell fate by fusion was once thought to be limited to cell culture systems. But the advent of stem cell transplantation led to the discovery by us and others that stem cells can fuse with somatic cells
in vivo
and that fusion facilitates stem cell differentiation
5-7
. Thus, cell fusion is a regulated process capable of promoting cell survival and differentiation and thus could be of central importance for development, repair of tissues and even the pathogenesis of disease. Limiting the study of cell fusion, is lack of appropriate technology to 1) accurately identify fusion products and to 2) track fusion products over time. Here we present a novel approach to address both limitations via induction of bioluminescence upon fusion (
Figure 1
); bioluminescence can be detected with high sensitivity
in vivo
8-15
.
We utilize a construct encoding the firefly luciferase (Photinus pyralis) gene placed adjacent to a stop codon flanked by LoxP sequences.
When cells expressing this gene fuse with cells expressing the Cre recombinase protein, the LoxP sites are cleaved and the stop signal is excised allowing transcription of luciferase.
Because the signal is inducible, the incidence of false-positive signals is very low. Unlike existing methods which utilize the Cre/
LoxP
system
16, 17
, we have incorporated a "living" detection signal and thereby afford for the first time the opportunity to track the kinetics of cell fusion
in vivo
.
To demonstrate the approach, mice ubiquitously expressing Cre recombinase served as recipients of stem cells transfected with a construct to express luciferase downstream of a floxed stop codon.
Stem cells were transplanted via intramyocardial injection and after transplantation intravital image analysis was conducted to track the presence of fusion products in the heart and surrounding tissues over time. This approach could be adapted to analyze cell fusion in any tissue type at any stage of development, disease or adult tissue repair.
Bioengineering, Issue 59, Cell fusion, stem cell, fusogen, cre recombinase, biophotonic imaging, cellular transplantation
3581
Isolating Nasal Olfactory Stem Cells from Rodents or Humans
Institutions: Aix Marseille University, Aix Marseille University, Aix Marseille University, The Salk Institute for Biological Studies, Aix Marseille University, Aix Marseille University.

The olfactory mucosa, located in the nasal cavity, is in charge of detecting odours. It is also the only nervous tissue that is exposed to the external environment and easily accessible in every living individual. As a result, this tissue is unique for anyone aiming to identify molecular anomalies in the pathological brain or isolate adult stem cells for cell therapy. Molecular abnormalities in brain diseases are often studied using nervous tissue samples collected post-mortem. However, this material has numerous limitations. In contrast, the olfactory mucosa is readily accessible and can be biopsied safely without any loss of sense of smell
1
. Accordingly, the olfactory mucosa provides an "open window" in the adult human through which one can study developmental (e.g. autism, schizophrenia)
2-4
or neurodegenerative (e.g. Parkinson, Alzheimer) diseases
4,5
. Olfactory mucosa can be used for either comparative molecular studies
4,6
or
in vitro
experiments on neurogenesis
3,7
. The olfactory epithelium is also a nervous tissue that produces new neurons every day to replace those that are damaged by pollution, bacterial of viral infections. This permanent neurogenesis is sustained by progenitors but also stem cells residing within both compartments of the mucosa, namely the neuroepithelium and the underlying lamina propria
8-10
. We recently developed a method to purify the adult stem cells located in the lamina propria and, after having demonstrated that they are closely related to bone marrow mesenchymal stem cells (BM-MSC), we named them olfactory ecto-mesenchymal stem cells (OE-MSC)
11
. Interestingly, when compared to BM-MSCs, OE-MSCs display a high proliferation rate, an elevated clonogenicity and an inclination to differentiate into neural cells. We took advantage of these characteristics to perform studies dedicated to unveil new candidate genes in schizophrenia and Parkinson's disease
4
. We and others have also shown that OE-MSCs are promising candidates for cell therapy, after a spinal cord trauma
12,13
, a cochlear damage
14
or in an animal models of Parkinson's disease
15
or amnesia
16
. In this study, we present methods to biopsy olfactory mucosa in rats and humans. After collection, the lamina propria is enzymatically separated from the epithelium and stem cells are purified using an enzymatic or a non-enzymatic method. Purified olfactory stem cells can then be either grown in large numbers and banked in liquid nitrogen or induced to form spheres or differentiated into neural cells. These stem cells can also be used for comparative omics (genomic, transcriptomic, epigenomic, proteomic) studies.
Neuroscience, Issue 54, stem cell, nose, brain, neuron, cell therapy, diagnosis, sphere
2762
Non-contact, Label-free Monitoring of Cells and Extracellular Matrix using Raman Spectroscopy
Institutions: Eberhard Karls University, Tübingen, Fraunhofer Institute of Interfacial Engineering and Biotechnology (IGB) Stuttgart, Germany, University of Stuttgart, Germany, Julius-Maximillians University, Würzburg, Germany.

Non-destructive, non-contact and label-free technologies to monitor cell and tissue cultures are needed in the field of biomedical research.
1-5
However, currently available routine methods require processing steps and alter sample integrity. Raman spectroscopy is a fast method that enables the measurement of biological samples without the need for further processing steps. This laser-based technology detects the inelastic scattering of monochromatic light.
6
As every chemical vibration is assigned to a specific Raman band (wavenumber in cm
-1
), each biological sample features a typical spectral pattern due to their inherent biochemical composition.
7-9
Within Raman spectra, the peak intensities correlate with the amount of the present molecular bonds.
1
Similarities and differences of the spectral data sets can be detected by employing a multivariate analysis (e.g. principal component analysis (PCA)).
10
Here, we perform Raman spectroscopy of living cells and native tissues. Cells are either seeded on glass bottom dishes or kept in suspension under normal cell culture conditions (37 °C, 5% CO
2
) before measurement. Native tissues are dissected and stored in phosphate buffered saline (PBS) at 4 °C prior measurements. Depending on our experimental set up, we then either focused on the cell nucleus or extracellular matrix (ECM) proteins such as elastin and collagen. For all studies, a minimum of 30 cells or 30 random points of interest within the ECM are measured. Data processing steps included background subtraction and normalization.
Bioengineering, Issue 63, Raman spectroscopy, label-free analysis, living cells, extracellular matrix, tissue engineering
3977
Preparation and Use of Photocatalytically Active Segmented Ag|ZnO and Coaxial TiO2-Ag Nanowires Made by Templated Electrodeposition
Institutions: University of Twente.

Photocatalytically active nanostructures require a large specific surface area with the presence of many catalytically active sites for the oxidation and reduction half reactions, and fast electron (hole) diffusion and charge separation. Nanowires present suitable architectures to meet these requirements. Axially segmented Ag|ZnO and radially segmented (coaxial) TiO
2
-Ag nanowires with a diameter of 200 nm and a length of 6-20 µm were made by templated electrodeposition within the pores of polycarbonate track-etched (PCTE) or anodized aluminum oxide (AAO) membranes, respectively. In the photocatalytic experiments, the ZnO and TiO
2
phases acted as photoanodes, and Ag as cathode. No external circuit is needed to connect both electrodes, which is a key advantage over conventional photo-electrochemical cells. For making segmented Ag|ZnO nanowires, the Ag salt electrolyte was replaced after formation of the Ag segment to form a ZnO segment attached to the Ag segment. For making coaxial TiO
2
-Ag nanowires, a TiO
2
gel was first formed by the electrochemically induced sol-gel method. Drying and thermal annealing of the as-formed TiO
2
gel resulted in the formation of crystalline TiO
2
nanotubes. A subsequent Ag electrodeposition step inside the TiO
2
nanotubes resulted in formation of coaxial TiO
2
-Ag nanowires. Due to the combination of an
n
-type semiconductor (ZnO or TiO
2
) and a metal (Ag) within the same nanowire, a Schottky barrier was created at the interface between the phases. To demonstrate the photocatalytic activity of these nanowires, the Ag|ZnO nanowires were used in a photocatalytic experiment in which H
2
gas was detected upon UV illumination of the nanowires dispersed in a methanol/water mixture. After 17 min of illumination, approximately 0.2 vol% H
2
gas was detected from a suspension of ~0.1 g of Ag|ZnO nanowires in a 50 ml 80 vol% aqueous methanol solution.
Physics, Issue 87, Multicomponent nanowires, electrochemistry, sol-gel processes, photocatalysis, photochemistry, H2 evolution
51547
Detection of Nitric Oxide and Superoxide Radical Anion by Electron Paramagnetic Resonance Spectroscopy from Cells using Spin Traps
Institutions: The Ohio State University, College of Medicine, The Ohio State University.

Reactive nitrogen/oxygen species (ROS/RNS) at low concentrations play an important role in regulating cell function, signaling, and immune response but in unregulated concentrations are detrimental to cell viability
1, 2
. While living systems have evolved with endogenous and dietary antioxidant defense mechanisms to regulate ROS generation, ROS are produced continuously as natural by-products of normal metabolism of oxygen and can cause oxidative damage to biomolecules resulting in loss of protein function, DNA cleavage, or lipid peroxidation
3
, and ultimately to oxidative stress leading to cell injury or death
4
. Superoxide radical anion (O
2
•-) is the major precursor of some of the most highly oxidizing species known to exist in biological systems such as peroxynitrite and hydroxyl radical. The generation of O
2
•- signals the first sign of oxidative burst, and therefore, its detection and/or sequestration in biological systems is important. In this demonstration, O
2
•- was generated from polymorphonuclear neutrophils (PMNs). Through chemotactic stimulation with phorbol-12-myristate-13-acetate (PMA), PMN generates O
2
•- via activation of nicotinamide adenine dinucleotide phosphate (NADPH) oxidase
5
. Nitric oxide (NO) synthase which comes in three isoforms, as inducible-, neuronal- and endothelial-NOS, or iNOS, nNOS or eNOS, respectively, catalyzes the conversion of L- arginine to L-citrulline, using NADPH to produce NO
6
. Here, we generated NO from endothelial cells. Under oxidative stress conditions, eNOS for example can switch from producing NO to O
2
•- in a process called uncoupling, which is believed to be caused by oxidation of heme
7
or the co-factor, tetrahydrobiopterin (BH
4
)
8
. There are only few reliable methods for the detection of free radicals in biological systems but are limited by specificity and sensitivity. Spin trapping is commonly used for the identification of free radicals and involves the addition reaction of a radical to a spin trap forming a persistent spin adduct which can be detected by electron paramagnetic resonance (EPR) spectroscopy. The various radical adducts exhibit distinctive spectrum which can be used to identify the radicals being generated and can provide a wealth of information about the nature and kinetics of radical production
9
. The cyclic nitrones, 5,5-dimethyl-pyrroline-
N
-oxide, DMPO
10
, the phosphoryl-substituted DEPMPO
11
, and the ester-substituted, EMPO
12
and BMPO
13
, have been widely employed as spin traps--the latter spin traps exhibiting longer half-lives for O
2
•- adduct. Iron (II)-N-methyl-D-glucamine dithiocarbamate, Fe(MGD)
2
is commonly used to trap NO due to high rate of adduct formation and the high stability of the spin adduct
14
.
Molecular Biology, Issue 66, Cellular Biology, Physics, Biophysics, spin trap, eNOS, ROS, superoxide, NO, EPR
2810
Parallel-plate Flow Chamber and Continuous Flow Circuit to Evaluate Endothelial Progenitor Cells under Laminar Flow Shear Stress
Institutions: Duke University Medical Center, Duke University , University of Pennsylvania , Duke University Medical Center.
The overall goal of this method is to describe a technique to subject adherent cells to laminar flow conditions and evaluate their response to well quantifiable fluid shear stresses
1
. Our flow chamber design and flow circuit (
Fig. 1
) contains a transparent viewing region that enables testing of cell adhesion and imaging of cell morphology immediately before flow (
Fig. 11A, B
), at various time points during flow (
Fig. 11C
), and after flow (
Fig. 11D
). These experiments are illustrated with human umbilical cord blood-derived endothelial progenitor cells (EPCs) and porcine EPCs
2,3
. This method is also applicable to other adherent cell types, e.g. smooth muscle cells (SMCs) or fibroblasts. The chamber and all parts of the circuit are easily sterilized with steam autoclaving. In contrast to other chambers, e.g. microfluidic chambers, large numbers of cells (> 1 million depending on cell size) can be recovered after the flow experiment under sterile conditions for cell culture or other experiments, e.g. DNA or RNA extraction, or immunohistochemistry (
Fig. 11E
), or scanning electron microscopy
5
. The shear stress can be adjusted by varying the flow rate of the perfusate, the fluid viscosity, or the channel height and width. The latter can reduce fluid volume or cell needs while ensuring that one-dimensional flow is maintained. It is not necessary to measure chamber height between experiments, since the chamber height does not depend on the use of gaskets, which greatly increases the ease of multiple experiments. Furthermore, the circuit design easily enables the collection of perfusate samples for analysis and/or quantification of metabolites secreted by cells under fluid shear stress exposure, e.g. nitric oxide (
Fig. 12
)
6
.
Bioengineering, Issue 59, Fluid Shear Stress, Shear Stress, Shear Force, Endothelium, Endothelial Progenitor Cells, Flow Chamber, Laminar Flow, Flow Circuit, Continuous Flow, Cell Adhesion
3349
Analytical Techniques for Assaying Nitric Oxide Bioactivity
Institutions: University of Texas Health Science Center at Houston , Baylor College of Medicine .

Nitric oxide (NO) is a diatomic free radical that is extremely short lived in biological systems (less than 1 second in circulating blood)
1
. NO may be considered one of the most important signaling molecules produced in our body, regulating essential functions including but not limited to regulation of blood pressure, immune response and neural communication. Therefore its accurate detection and quantification in biological matrices is critical to understanding the role of NO in health and disease. With such a short physiological half life of NO, alternative strategies for the detection of reaction products of NO biochemistry have been developed. The quantification of relevant NO metabolites in multiple biological compartments provides valuable information with regards to
in vivo
NO production, bioavailability and metabolism. Simply sampling a single compartment such as blood or plasma may not always provide an accurate assessment of whole body NO status, particularly in tissues. The ability to compare blood with select tissues in experimental animals will help bridge the gap between basic science and clinical medicine as far as diagnostic and prognostic utility of NO biomarkers in health and disease. Therefore, extrapolation of plasma or blood NO status to specific tissues of interest is no longer a valid approach. As a result, methods continue to be developed and validated which allow the detection and quantification of NO and NO-related products/metabolites in multiple compartments of experimental animals
in vivo
. The established paradigm of NO biochemistry from production by NO synthases to activation of soluble guanylyl cyclase (sGC) to eventual oxidation to nitrite (NO
2
-
) and nitrate (NO
3
-
) may only represent part of NO's effects
in vivo
. The interaction of NO and NO-derived metabolites with protein thiols, secondary amines, and metals to form S-nitrosothiols (RSNOs), N-nitrosamines (RNNOs), and nitrosyl-heme respectively represent cGMP-independent effects of NO and are likely just as important physiologically as activation of sGC by NO. A true understanding of NO in physiology is derived from
in vivo
experiments sampling multiple compartments simultaneously. Nitric oxide (NO) methodology is a complex and often confusing science and the focus of many debates and discussion concerning NO biochemistry. The elucidation of new mechanisms and signaling pathways involving NO hinges on our ability to specifically, selectively and sensitively detect and quantify NO and all relevant NO products and metabolites in complex biological matrices. Here, we present a method for the rapid and sensitive analysis of nitrite and nitrate by HPLC as well as detection of free NO in biological samples using
in vitro
ozone based chemiluminescence with chemical derivitazation to determine molecular source of NO as well as
ex vivo
with organ bath myography.
Medicine, Issue 64, Molecular Biology, Nitric oxide, nitrite, nitrate, endothelium derived relaxing factor, HPLC, chemiluminscence
3722
Analysis of Oxidative Stress in Zebrafish Embryos
Institutions: University of Torino, Vesalius Research Center, VIB.

High levels of reactive oxygen species (ROS) may cause a change of cellular redox state towards oxidative stress condition. This situation causes oxidation of molecules (lipid, DNA, protein) and leads to cell death. Oxidative stress also impacts the progression of several pathological conditions such as diabetes, retinopathies, neurodegeneration, and cancer. Thus, it is important to define tools to investigate oxidative stress conditions not only at the level of single cells but also in the context of whole organisms. Here, we consider the zebrafish embryo as a useful
in vivo
system to perform such studies and present a protocol to measure
in vivo
oxidative stress. Taking advantage of fluorescent ROS probes and zebrafish transgenic fluorescent lines, we develop two different methods to measure oxidative stress
in vivo
: i) a "whole embryo ROS-detection method" for qualitative measurement of oxidative stress and ii) a "single-cell ROS detection method" for quantitative measurements of oxidative stress. Herein, we demonstrate the efficacy of these procedures by increasing oxidative stress in tissues by oxidant agents and physiological or genetic methods. This protocol is amenable for forward genetic screens and it will help address cause-effect relationships of ROS in animal models of oxidative stress-related pathologies such as neurological disorders and cancer.
Developmental Biology, Issue 89, Danio rerio, zebrafish embryos, endothelial cells, redox state analysis, oxidative stress detection, in vivo ROS measurements, FACS (fluorescence activated cell sorter), molecular probes
51328
Assessment of Vascular Function in Patients With Chronic Kidney Disease
Institutions: University of Colorado, Denver, University of Colorado, Boulder.

Patients with chronic kidney disease (CKD) have significantly increased risk of cardiovascular disease (CVD) compared to the general population, and this is only partially explained by traditional CVD risk factors. Vascular dysfunction is an important non-traditional risk factor, characterized by vascular endothelial dysfunction (most commonly assessed as impaired endothelium-dependent dilation [EDD]) and stiffening of the large elastic arteries. While various techniques exist to assess EDD and large elastic artery stiffness, the most commonly used are brachial artery flow-mediated dilation (FMD
BA
) and aortic pulse-wave velocity (aPWV), respectively. Both of these noninvasive measures of vascular dysfunction are independent predictors of future cardiovascular events in patients with and without kidney disease. Patients with CKD demonstrate both impaired FMD
BA
, and increased aPWV. While the exact mechanisms by which vascular dysfunction develops in CKD are incompletely understood, increased oxidative stress and a subsequent reduction in nitric oxide (NO) bioavailability are important contributors. Cellular changes in oxidative stress can be assessed by collecting vascular endothelial cells from the antecubital vein and measuring protein expression of markers of oxidative stress using immunofluorescence. We provide here a discussion of these methods to measure FMD
BA
, aPWV, and vascular endothelial cell protein expression.
Medicine, Issue 88, chronic kidney disease, endothelial cells, flow-mediated dilation, immunofluorescence, oxidative stress, pulse-wave velocity
51478
Bioengineering Human Microvascular Networks in Immunodeficient Mice
Institutions: Harvard Medical School.

The future of tissue engineering and cell-based therapies for tissue regeneration will likely rely on our ability to generate functional vascular networks in vivo. In this regard, the search for experimental models to build blood vessel networks in vivo is of utmost importance
1
. The feasibility of bioengineering microvascular networks in vivo was first shown using human tissue-derived mature endothelial cells (ECs)
2-4
; however, such autologous endothelial cells present problems for wide clinical use, because they are difficult to obtain in sufficient quantities and require harvesting from existing vasculature. These limitations have instigated the search for other sources of ECs. The identification of endothelial colony-forming cells (ECFCs) in blood presented an opportunity to non-invasively obtain ECs
5-7
. We and other authors have shown that adult and cord blood-derived ECFCs have the capacity to form functional vascular networks
in vivo
7-11
. Importantly, these studies have also shown that to obtain stable and durable vascular networks, ECFCs require co-implantation with perivascular cells. The assay we describe here illustrates this concept: we show how human cord blood-derived ECFCs can be combined with bone marrow-derived mesenchymal stem cells (MSCs) as a single cell suspension in a collagen/fibronectin/fibrinogen gel to form a functional human vascular network within 7 days after implantation into an immunodeficient mouse. The presence of human ECFC-lined lumens containing host erythrocytes can be seen throughout the implants indicating not only the formation (
de novo
) of a vascular network, but also the development of functional anastomoses with the host circulatory system. This murine model of bioengineered human vascular network is ideally suited for studies on the cellular and molecular mechanisms of human vascular network formation and for the development of strategies to vascularize engineered tissues.
Bioengineering, Issue 53, vascular network, blood vessel, vasculogenesis, angiogenesis, endothelial progenitor cells, endothelial colony-forming cells, mesenchymal stem cells, collagen gel, fibrin gel, tissue engineering, regenerative medicine
3065
Isolation and Animal Serum Free Expansion of Human Umbilical Cord Derived Mesenchymal Stromal Cells (MSCs) and Endothelial Colony Forming Progenitor Cells (ECFCs)
Institutions: Medical University of Graz, Austria.
The umbilical cord is a rich source for progenitor cells with high proliferative potential including mesenchymal stromal cells (also termed mesenchymal stem cells, MSCs) and endothelial colony forming progenitor cells (ECFCs). Both cell types are key players in maintaining the integrity of tissue and are probably also involved in regenerative processes and tumor formation. To study their biology and function in a comparative manner it is important to have both cells types available from the same donor. It may also be beneficial for regenerative purposes to derive MSCs and ECFCs from the same tissue. Because cellular therapeutics should eventually find their way from bench to bedside we established a new method to isolate and further expand progenitor cells without the use of animal protein. Pooled human platelet lysate (pHPL) replaced fetal bovine serum in all steps of our protocol to completely avoid contact of the cells to xenogeneic proteins. This video demonstrates a methodology for the isolation and expansion of progenitor cells from one umbilical cord. All materials and procedures will be described.
Cellular Biology, Issue 32, Human adult progenitor cells, mesenchymal stromal cells (MSCs), endothelial colony forming progenitor cells (ECFCs), umbilical cord
1525
A cGMP-applicable Expansion Method for Aggregates of Human Neural Stem and Progenitor Cells Derived From Pluripotent Stem Cells or Fetal Brain Tissue
Institutions: Cedars-Sinai Medical Center.

A cell expansion technique to amass large numbers of cells from a single specimen for research experiments and clinical trials would greatly benefit the stem cell community. Many current expansion methods are laborious and costly, and those involving complete dissociation may cause several stem and progenitor cell types to undergo differentiation or early senescence. To overcome these problems, we have developed an automated mechanical passaging method referred to as "chopping" that is simple and inexpensive. This technique avoids chemical or enzymatic dissociation into single cells and instead allows for the large-scale expansion of suspended, spheroid cultures that maintain constant cell/cell contact. The chopping method has primarily been used for fetal brain-derived neural progenitor cells or neurospheres, and has recently been published for use with neural stem cells derived from embryonic and induced pluripotent stem cells. The procedure involves seeding neurospheres onto a tissue culture Petri dish and subsequently passing a sharp, sterile blade through the cells effectively automating the tedious process of manually mechanically dissociating each sphere. Suspending cells in culture provides a favorable surface area-to-volume ratio; as over 500,000 cells can be grown within a single neurosphere of less than 0.5 mm in diameter. In one T175 flask, over 50 million cells can grow in suspension cultures compared to only 15 million in adherent cultures. Importantly, the chopping procedure has been used under current good manufacturing practice (cGMP), permitting mass quantity production of clinical-grade cell products.
Neuroscience, Issue 88, neural progenitor cell, neural precursor cell, neural stem cell, passaging, neurosphere, chopping, stem cell, neuroscience, suspension culture, good manufacturing practice, GMP
51219
Isolation of Blood-vessel-derived Multipotent Precursors from Human Skeletal Muscle
Institutions: University of Pittsburgh, University of Pittsburgh, Nazarbayev University, University of California at Los Angeles, Erasmus MC Stem Cell Institute, Oregon Health & Science University, Queen's Medical Research Institute and University of Edinburgh, University of California at Los Angeles, University of Pittsburgh.
Since the discovery of mesenchymal stem/stromal cells (MSCs), the native identity and localization of
MSCs
have been obscured by their retrospective isolation in culture. Recently, using fluorescence-activated cell sorting (FACS), we and other researchers prospectively identified and purified three subpopulations of multipotent precursor cells associated with the vasculature of human skeletal muscle. These three cell populations: myogenic endothelial cells (MECs), pericytes (PCs), and adventitial cells (ACs), are localized respectively to the three structural layers of blood vessels: intima, media, and adventitia. All of these human blood-vessel-derived stem cell (hBVSC) populations not only express classic MSC markers but also possess mesodermal developmental potentials similar to typical MSCs. Previously, MECs, PCs, and ACs have been isolated through distinct protocols and subsequently characterized in separate studies. The current isolation protocol, through modifications to the isolation process and adjustments in the selective cell surface markers, allows us to simultaneously purify all three hBVSC subpopulations by FACS from a single human muscle biopsy. This new method will not only streamline the isolation of multiple BVSC subpopulations but also facilitate future clinical applications of hBVSCs for distinct therapeutic purposes.
Cellular Biology, Issue 90, Blood Vessel; Pericyte; Adventitial Cell; Myogenic Endothelial Cell; Multipotent Precursor
51195
Construction and Characterization of a Novel Vocal Fold Bioreactor
Institutions: University of Delaware, University of Delaware.
In vitro
engineering of mechanically active tissues requires the presentation of physiologically relevant mechanical conditions to cultured cells. To emulate the dynamic environment of vocal folds, a novel vocal fold bioreactor capable of producing vibratory stimulations at fundamental phonation frequencies is constructed and characterized. The device is composed of a function generator, a power amplifier, a speaker selector and parallel vibration chambers. Individual vibration chambers are created by sandwiching a custom-made silicone membrane between a pair of acrylic blocks. The silicone membrane not only serves as the bottom of the chamber but also provides a mechanism for securing the cell-laden scaffold. Vibration signals, generated by a speaker mounted underneath the bottom acrylic block, are transmitted to the membrane aerodynamically by the oscillating air. Eight identical vibration modules, fixed on two stationary metal bars, are housed in an anti-humidity chamber for long-term operation in a cell culture incubator. The vibration characteristics of the vocal fold bioreactor are analyzed non-destructively using a Laser Doppler Vibrometer (LDV). The utility of the dynamic culture device is demonstrated by culturing cellular constructs in the presence of 200-Hz sinusoidal vibrations with a mid-membrane displacement of 40 µm. Mesenchymal stem cells cultured in the bioreactor respond to the vibratory signals by altering the synthesis and degradation of vocal fold-relevant, extracellular matrix components. The novel bioreactor system presented herein offers an excellent
in vitro
platform for studying vibration-induced mechanotransduction and for the engineering of functional vocal fold tissues.
Bioengineering, Issue 90, vocal fold; bioreactor; speaker; silicone membrane; fibrous scaffold; mesenchymal stem cells; vibration; extracellular matrix
51594
Microwave-assisted Functionalization of Poly(ethylene glycol) and On-resin Peptides for Use in Chain Polymerizations and Hydrogel Formation
Institutions: University of Rochester, University of Rochester, University of Rochester Medical Center.

One of the main benefits to using poly(ethylene glycol) (PEG) macromers in hydrogel formation is synthetic versatility. The ability to draw from a large variety of PEG molecular weights and configurations (arm number, arm length, and branching pattern) affords researchers tight control over resulting hydrogel structures and properties, including Young's modulus and mesh size. This video will illustrate a rapid, efficient, solvent-free, microwave-assisted method to methacrylate PEG precursors into poly(ethylene glycol) dimethacrylate (PEGDM). This synthetic method provides much-needed starting materials for applications in drug delivery and regenerative medicine. The demonstrated method is superior to traditional methacrylation methods as it is significantly faster and simpler, as well as more economical and environmentally friendly, using smaller amounts of reagents and solvents. We will also demonstrate an adaptation of this technique for on-resin methacrylamide functionalization of peptides. This on-resin method allows the N-terminus of peptides to be functionalized with methacrylamide groups prior to deprotection and cleavage from resin. This allows for selective addition of methacrylamide groups to the N-termini of the peptides while amino acids with reactive side groups (
e.g.
 primary amine of lysine, primary alcohol of serine, secondary alcohols of threonine, and phenol of tyrosine) remain protected, preventing functionalization at multiple sites. This article will detail common analytical methods (proton Nuclear Magnetic Resonance spectroscopy (
;
H-NMR) and Matrix Assisted Laser Desorption Ionization Time of Flight mass spectrometry (MALDI-ToF)) to assess the efficiency of the functionalizations. Common pitfalls and suggested troubleshooting methods will be addressed, as will modifications of the technique which can be used to further tune macromer functionality and resulting hydrogel physical and chemical properties. Use of synthesized products for the formation of hydrogels for drug delivery and cell-material interaction studies will be demonstrated, with particular attention paid to modifying hydrogel composition to affect mesh size, controlling hydrogel stiffness and drug release.
Chemistry, Issue 80, Poly(ethylene glycol), peptides, polymerization, polymers, methacrylation, peptide functionalization, 1H-NMR, MALDI-ToF, hydrogels, macromer synthesis
50890
Modeling Astrocytoma Pathogenesis In Vitro and In Vivo Using Cortical Astrocytes or Neural Stem Cells from Conditional, Genetically Engineered Mice
Institutions: University of North Carolina School of Medicine, University of North Carolina School of Medicine, University of North Carolina School of Medicine, University of North Carolina School of Medicine, University of North Carolina School of Medicine, Emory University School of Medicine, University of North Carolina School of Medicine.

Current astrocytoma models are limited in their ability to define the roles of oncogenic mutations in specific brain cell types during disease pathogenesis and their utility for preclinical drug development. In order to design a better model system for these applications, phenotypically wild-type cortical astrocytes and neural stem cells (NSC) from conditional, genetically engineered mice (GEM) that harbor various combinations of floxed oncogenic alleles were harvested and grown in culture. Genetic recombination was induced
in vitro
using adenoviral Cre-mediated recombination, resulting in expression of mutated oncogenes and deletion of tumor suppressor genes. The phenotypic consequences of these mutations were defined by measuring proliferation, transformation, and drug response
in vitro
. Orthotopic allograft models, whereby transformed cells are stereotactically injected into the brains of immune-competent, syngeneic littermates, were developed to define the role of oncogenic mutations and cell type on tumorigenesis
in vivo
. Unlike most established human glioblastoma cell line xenografts, injection of transformed GEM-derived cortical astrocytes into the brains of immune-competent littermates produced astrocytomas, including the most aggressive subtype, glioblastoma, that recapitulated the histopathological hallmarks of human astrocytomas, including diffuse invasion of normal brain parenchyma. Bioluminescence imaging of orthotopic allografts from transformed astrocytes engineered to express luciferase was utilized to monitor
in vivo
tumor growth over time. Thus, astrocytoma models using astrocytes and NSC harvested from GEM with conditional oncogenic alleles provide an integrated system to study the genetics and cell biology of astrocytoma pathogenesis
in vitro
and
in vivo
and may be useful in preclinical drug development for these devastating diseases.
Neuroscience, Issue 90, astrocytoma, cortical astrocytes, genetically engineered mice, glioblastoma, neural stem cells, orthotopic allograft
51763
Novel Whole-tissue Quantitative Assay of Nitric Oxide Levels in Drosophila Neuroinflammatory Response
Institutions: University of Alabama.

Neuroinflammation is a complex innate immune response vital to the healthy function of the central nervous system (CNS). Under normal conditions, an intricate network of inducers, detectors, and activators rapidly responds to neuron damage, infection or other immune infractions. This inflammation of immune cells is intimately associated with the pathology of neurodegenerative disorders, such as Parkinson's disease (PD), Alzheimer's disease and ALS. Under compromised disease states, chronic inflammation, intended to minimize neuron damage, may lead to an over-excitation of the immune cells, ultimately resulting in the exacerbation of disease progression. For example, loss of dopaminergic neurons in the midbrain, a hallmark of PD, is accelerated by the excessive activation of the inflammatory response. Though the cause of PD is largely unknown, exposure to environmental toxins has been implicated in the onset of sporadic cases. The herbicide paraquat, for example, has been shown to induce Parkinsonian-like pathology in several animal models, including
Drosophila melanogaster.
Here, we have used the conserved innate immune response in
Drosophila
to develop an assay capable of detecting varying levels of nitric oxide, a cell-signaling molecule critical to the activation of the inflammatory response cascade and targeted neuron death. Using paraquat-induced neuronal damage, we assess the impact of these immune insults on neuroinflammatory stimulation through the use of a novel, quantitative assay. Whole brains are fully extracted from flies either exposed to neurotoxins or of genotypes that elevate susceptibility to neurodegeneration then incubated in cell-culture media. Then, using the principles of the Griess reagent reaction, we are able to detect minor changes in the secretion of nitric oxide into cell-culture media, essentially creating a primary live-tissue model in a simple procedure. The utility of this model is amplified by the robust genetic and molecular complexity of
Drosophila melanogaster,
and this assay can be modified to be applicable to other
Drosophila
tissues or even other small, whole-organism inflammation models.
Immunology, Issue 82, biology (general), environmental effects (biological, animal and plant), immunology, animal models, Immune System Diseases, Pathological Conditions, Signs and Symptoms, Life Sciences (General), Neuroinflammation, inflammation, nitric oxide, nitric oxide synthase, Drosophila, neurodegeneration, brain, Griess assay, nitrite detection, innate immunity, Parkinson disease, tissue culture
50892
Preparation of Primary Myogenic Precursor Cell/Myoblast Cultures from Basal Vertebrate Lineages
Institutions: University of Alabama at Birmingham, INRA UR1067, INRA UR1037.

Due to the inherent difficulty and time involved with studying the myogenic program
in vivo
, primary culture systems derived from the resident adult stem cells of skeletal muscle, the myogenic precursor cells (MPCs), have proven indispensible to our understanding of mammalian skeletal muscle development and growth. Particularly among the basal taxa of
Vertebrata,
however, data are limited describing the molecular mechanisms controlling the self-renewal, proliferation, and differentiation of MPCs. Of particular interest are potential mechanisms that underlie the ability of basal vertebrates to undergo considerable postlarval skeletal myofiber hyperplasia (
i.e.
 teleost fish) and full regeneration following appendage loss (
i.e.
 urodele amphibians). Additionally, the use of cultured myoblasts could aid in the understanding of regeneration and the recapitulation of the myogenic program and the differences between them. To this end, we describe in detail a robust and efficient protocol (and variations therein) for isolating and maintaining MPCs and their progeny, myoblasts and immature myotubes, in cell culture as a platform for understanding the evolution of the myogenic program, beginning with the more basal vertebrates. Capitalizing on the model organism status of the zebrafish (
Danio rerio
), we report on the application of this protocol to small fishes of the cyprinid clade
Danioninae
. In tandem, this protocol can be utilized to realize a broader comparative approach by isolating MPCs from the Mexican axolotl (
Ambystomamexicanum
) and even laboratory rodents. This protocol is now widely used in studying myogenesis in several fish species, including rainbow trout, salmon, and sea bream
1-4
.
Basic Protocol, Issue 86, myogenesis, zebrafish, myoblast, cell culture, giant danio, moustached danio, myotubes, proliferation, differentiation, Danioninae, axolotl
51354
Modeling Neural Immune Signaling of Episodic and Chronic Migraine Using Spreading Depression In Vitro
Institutions: The University of Chicago Medical Center, The University of Chicago Medical Center.

Migraine and its transformation to chronic migraine are healthcare burdens in need of improved treatment options. We seek to define how neural immune signaling modulates the susceptibility to migraine, modeled
in vitro
using spreading depression (SD), as a means to develop novel therapeutic targets for episodic and chronic migraine. SD is the likely cause of migraine aura and migraine pain. It is a paroxysmal loss of neuronal function triggered by initially increased neuronal activity, which slowly propagates within susceptible brain regions. Normal brain function is exquisitely sensitive to, and relies on, coincident low-level immune signaling. Thus, neural immune signaling likely affects electrical activity of SD, and therefore migraine. Pain perception studies of SD in whole animals are fraught with difficulties, but whole animals are well suited to examine systems biology aspects of migraine since SD activates trigeminal nociceptive pathways. However, whole animal studies alone cannot be used to decipher the cellular and neural circuit mechanisms of SD. Instead,
in vitro
preparations where environmental conditions can be controlled are necessary. Here, it is important to recognize limitations of acute slices and distinct advantages of hippocampal slice cultures. Acute brain slices cannot reveal subtle changes in immune signaling since preparing the slices alone triggers: pro-inflammatory changes that last days, epileptiform behavior due to high levels of oxygen tension needed to vitalize the slices, and irreversible cell injury at anoxic slice centers. In contrast, we examine immune signaling in mature hippocampal slice cultures since the cultures closely parallel their
in vivo
counterpart with mature trisynaptic function; show quiescent astrocytes, microglia, and cytokine levels; and SD is easily induced in an unanesthetized preparation. Furthermore, the slices are long-lived and SD can be induced on consecutive days without injury, making this preparation the sole means to-date capable of modeling the neuroimmune consequences of chronic SD, and thus perhaps chronic migraine. We use electrophysiological techniques and non-invasive imaging to
measure
neuronal cell and circuit functions coincident with SD. Neural immune gene expression variables are measured with qPCR screening, qPCR arrays, and, importantly, use of cDNA preamplification for detection of ultra-low level targets such as interferon-gamma using whole, regional, or specific cell enhanced (via laser dissection microscopy) sampling. Cytokine cascade signaling is further assessed with multiplexed phosphoprotein related targets with gene expression and phosphoprotein changes confirmed via cell-specific immunostaining. Pharmacological and siRNA strategies are used to
mimic
and
modulate
SD immune signaling.
Neuroscience, Issue 52, innate immunity, hormesis, microglia, T-cells, hippocampus, slice culture, gene expression, laser dissection microscopy, real-time qPCR, interferon-gamma
2910
A Microplate Assay to Assess Chemical Effects on RBL-2H3 Mast Cell Degranulation: Effects of Triclosan without Use of an Organic Solvent
Institutions: University of Maine, Orono, University of Maine, Orono.

Mast cells play important roles in allergic disease and immune defense against parasites. Once activated (
e.g.
by an allergen), they degranulate, a process that results in the exocytosis of allergic mediators. Modulation of mast cell degranulation by drugs and toxicants may have positive or adverse effects on human health. Mast cell function has been dissected in detail with the use of rat basophilic leukemia mast cells (RBL-2H3), a widely accepted model of human mucosal mast cells
3-5
. Mast cell granule component and the allergic mediator β-hexosaminidase, which is released linearly in tandem with histamine from mast cells
6
, can easily and reliably be measured through reaction with a fluorogenic substrate, yielding measurable fluorescence intensity in a microplate assay that is amenable to high-throughput studies
1
. Originally published by Naal
et al.
1
, we have adapted this degranulation assay for the screening of drugs and toxicants and demonstrate its use here. Triclosan is a broad-spectrum antibacterial agent that is present in many consumer products and has been found to be a therapeutic aid in human allergic skin disease
7-11
, although the mechanism for this effect is unknown. Here we demonstrate an assay for the effect of triclosan on mast cell degranulation. We recently showed that triclosan strongly affects mast cell function
2
. In an effort to avoid use of an organic solvent, triclosan is dissolved directly into aqueous buffer with heat and stirring, and resultant concentration is confirmed using UV-Vis spectrophotometry (using ε
280
= 4,200 L/M/cm)
12
. This protocol has the potential to be used with a variety of chemicals to determine their effects on mast cell degranulation, and more broadly, their allergic potential.
Immunology, Issue 81, mast cell, basophil, degranulation, RBL-2H3, triclosan, irgasan, antibacterial, β-hexosaminidase, allergy, Asthma, toxicants, ionophore, antigen, fluorescence, microplate, UV-Vis
50671
Setting-up an In Vitro Model of Rat Blood-brain Barrier (BBB): A Focus on BBB Impermeability and Receptor-mediated Transport
Institutions: VECT-HORUS SAS, CNRS, NICN UMR 7259.

The blood brain barrier (BBB) specifically regulates molecular and cellular flux between the blood and the nervous tissue. Our aim was to develop and characterize a highly reproducible rat syngeneic
in vitro
model of the BBB using co-cultures of primary rat brain endothelial cells (RBEC) and astrocytes to study receptors involved in transcytosis across the endothelial cell monolayer. Astrocytes were isolated by mechanical dissection following trypsin digestion and were frozen for later co-culture. RBEC were isolated from 5-week-old rat cortices. The brains were cleaned of meninges and white matter, and mechanically dissociated following enzymatic digestion. Thereafter, the tissue homogenate was centrifuged in bovine serum albumin to separate vessel fragments from nervous tissue. The vessel fragments underwent a second enzymatic digestion to free endothelial cells from their extracellular matrix. The remaining contaminating cells such as pericytes were further eliminated by plating the microvessel fragments in puromycin-containing medium. They were then passaged onto filters for co-culture with astrocytes grown on the bottom of the wells. RBEC expressed high levels of tight junction (TJ) proteins such as occludin, claudin-5 and ZO-1 with a typical localization at the cell borders. The transendothelial electrical resistance (TEER) of brain endothelial monolayers, indicating the tightness of TJs reached 300 ohm·cm
2
on average. The endothelial permeability coefficients (Pe) for lucifer yellow (LY) was highly reproducible with an average of 0.26 ± 0.11 x 10
-3
cm/min. Brain endothelial cells organized in monolayers expressed the efflux transporter P-glycoprotein (P-gp), showed a polarized transport of rhodamine 123, a ligand for P-gp, and showed specific transport of transferrin-Cy3 and DiILDL across the endothelial cell monolayer. In conclusion, we provide a protocol for setting up an
in vitro
BBB model that is highly reproducible due to the quality assurance methods, and that is suitable for research on BBB transporters and receptors.
Medicine, Issue 88, rat brain endothelial cells (RBEC), mouse, spinal cord, tight junction (TJ), receptor-mediated transport (RMT), low density lipoprotein (LDL), LDLR, transferrin, TfR, P-glycoprotein (P-gp), transendothelial electrical resistance (TEER),
51278
Use of Human Perivascular Stem Cells for Bone Regeneration
Institutions: School of Dentistry, UCLA, UCLA, UCLA, University of Edinburgh .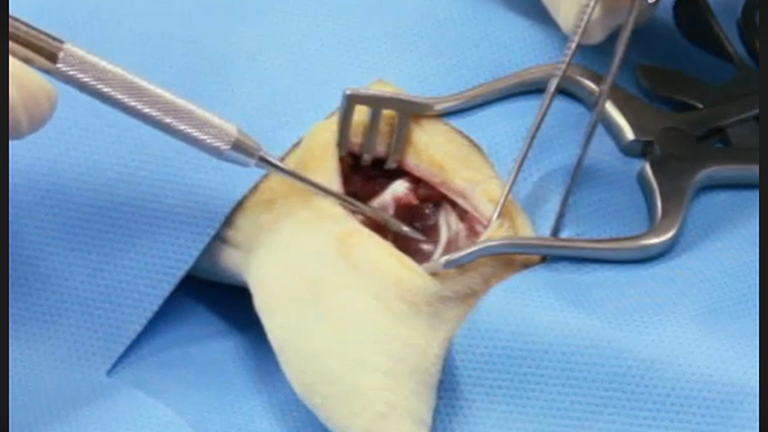 Human perivascular stem cells (PSCs) can be isolated in sufficient numbers from multiple tissues for purposes of skeletal tissue engineering
1-3
. PSCs are a FACS-sorted population of 'pericytes' (CD146+CD34-CD45-) and 'adventitial cells' (CD146-CD34+CD45-), each of which we have previously reported to have properties of mesenchymal stem cells. PSCs, like MSCs, are able to undergo osteogenic differentiation, as well as secrete pro-osteogenic cytokines
1,2
. In the present protocol, we demonstrate the osteogenicity of PSCs in several animal models including a muscle pouch implantation in SCID (severe combined immunodeficient) mice, a SCID mouse calvarial defect and a femoral segmental defect (FSD) in athymic rats. The thigh muscle pouch model is used to assess ectopic bone formation. Calvarial defects are centered on the parietal bone and are standardly 4 mm in diameter (critically sized)
8
. FSDs are bicortical and are stabilized with a polyethylene bar and K-wires
4
. The FSD described is also a critical size defect, which does not significantly heal on its own
4
. In contrast, if stem cells or growth factors are added to the defect site, significant bone regeneration can be appreciated. The overall goal of PSC xenografting is to demonstrate the osteogenic capability of this cell type in both ectopic and orthotopic bone regeneration models.
Bioengineering, Issue 63, Biomedical Engineering, Stem Cell Biology, Pericyte, Stem Cell, Bone Defect, Tissue Engineering, Osteogenesis, femoral defect, calvarial defect
2952
Implantation of Ferumoxides Labeled Human Mesenchymal Stem Cells in Cartilage Defects
Institutions: Medical Center, University of California San Francisco.

The field of tissue engineering integrates the principles of engineering, cell biology and medicine towards the regeneration of specific cells and functional tissue. Matrix associated stem cell implants (MASI) aim to regenerate cartilage defects due to arthritic or traumatic joint injuries. Adult mesenchymal stem cells (MSCs) have the ability to differentiate into cells of the chondrogenic lineage and have shown promising results for cell-based articular cartilage repair technologies. Autologous MSCs can be isolated from a variety of tissues, can be expanded in cell cultures without losing their differentiation potential, and have demonstrated chondrogenic differentiation
in vitro
and
in vivo
1, 2
. In order to provide local retention and viability of transplanted MSCs in cartilage defects, a scaffold is needed, which also supports subsequent differentiation and proliferation. The architecture of the scaffold guides tissue formation and permits the extracellular matrix, produced by the stem cells, to expand. Previous investigations have shown that a 2% agarose scaffold may support the development of stable hyaline cartilage and does not induce immune responses
3
. Long term retention of transplanted stem cells in MASI is critical for cartilage regeneration. Labeling of MSCs with iron oxide nanoparticles allows for long-term
in vivo
tracking with non-invasive MR imaging techniques
4
. This presentation will demonstrate techniques for labeling MSCs with iron oxide nanoparticles, the generation of cell-agarose constructs and implantation of these constructs into cartilage defects. The labeled constructs can be tracked non-invasively with MR-Imaging.
Cellular Biology, Issue 38, Stem cells, cartilage defect, agarose, scaffold, tissue engineering, implantation, MASI
1793