Establishment of Epstein-Barr Virus Growth-transformed Lymphoblastoid Cell Lines
Published: 11-08-2011
ABSTRACT
Infection of B cells with Epstein-Barr virus (EBV) leads to proliferation and subsequent immortalization, resulting in establishment of lymphoblastoid cell lines (LCL) in vitro. Since LCL are latently infected with EBV, they provide a model system to investigate EBV latency and virus-driven B cell proliferation and tumorigenesis1. LCL have been used to present antigens in a variety of immunologic assays2, 3. In addition, LCL can be used to generate human monoclonal antibodies4, 5 and provide a potentially unlimited source when access to primary biologic materials is limited6, 7. A variety of methods have been described to generate LCL. Earlier methods have included the use of mitogens such as phytohemagglutinin, lipopolysaccharide8, and pokeweed mitogen9 to increase the efficiency of EBV-mediated immortalization. More recently, others have used immunosuppressive agents such as cyclosporin A to inhibit T cell-mediated killing of infected B cells7, 10-12. The considerable length of time from EBV infection to establishment of cell lines drives the requirement for quicker and more reliable methods for EBV-driven B cell growth transformation. Using a combination of high titer EBV and an immunosuppressive agent, we are able to consistently infect, transform, and generate LCL from B cells in peripheral blood. This method uses a small amount of peripheral blood mononuclear cells that are infected in vitroclusters of cells can be demonstrated. The presence of CD23 with EBV in the presence of FK506, a T cell immunosuppressant. Traditionally, outgrowth of proliferating B cells is monitored by visualization of microscopic clusters of cells about a week after infection with EBV. Clumps of LCL can be seen by the naked eye after several weeks. We describe an assay to determine early if EBV-mediated growth transformation is successful even before microscopic clusters of cells can be demonstrated. The presence of CD23hiCD58+ cells observed as early as three days post-infection indicates a successful outcome.
16 Related JoVE Articles!
Monitoring Plasmid Replication in Live Mammalian Cells over Multiple Generations by Fluorescence Microscopy
Institutions: University of Wisconsin - Madison.

Few naturally-occurring plasmids are maintained in mammalian cells. Among these are genomes of gamma-herpesviruses, including Epstein-Barr virus (EBV) and Kaposi's Sarcoma-associated herpesvirus (KSHV), which cause multiple human malignancies
1-3
. These two genomes are replicated in a licensed manner, each using a single viral protein and cellular replication machinery, and are passed to daughter cells during cell division despite their lacking traditional centromeres
4-8
. Much work has been done to characterize the replications of these plasmid genomes using methods such as Southern blotting and fluorescence
in situ
hybridization (FISH). These methods are limited, though. Quantitative PCR and Southern blots provide information about the average number of plasmids per cell in a population of cells. FISH is a single-cell assay that reveals both the average number and the distribution of plasmids per cell in the population of cells but is static, allowing no information about the parent or progeny of the examined cell. Here, we describe a method for visualizing plasmids in live cells. This method is based on the binding of a fluorescently tagged lactose repressor protein to multiple sites in the plasmid of interest
9
. The DNA of interest is engineered to include approximately 250 tandem repeats of the lactose operator (LacO) sequence. LacO is specifically bound by the lactose repressor protein (LacI), which can be fused to a fluorescent protein. The fusion protein can either be expressed from the engineered plasmid or introduced by a retroviral vector. In this way, the DNA molecules are fluorescently tagged and therefore become visible via fluorescence microscopy. The fusion protein is blocked from binding the plasmid DNA by culturing cells in the presence of IPTG until the plasmids are ready to be viewed. This system allows the plasmids to be monitored in living cells through several generations, revealing properties of their synthesis and partitioning to daughter cells. Ideal cells are adherent, easily transfected, and have large nuclei. This technique has been used to determine that 84% of EBV-derived plasmids are synthesized each generation and 88% of the newly synthesized plasmids partition faithfully to daughter cells in HeLa cells. Pairs of these EBV plasmids were seen to be tethered to or associated with sister chromatids after their synthesis in S-phase until they were seen to separate as the sister chromatids separated in Anaphase
10
. The method is currently being used to study replication of KSHV genomes in HeLa cells and SLK cells. HeLa cells are immortalized human epithelial cells, and SLK cells are immortalized human endothelial cells. Though SLK cells were originally derived from a KSHV lesion, neither the HeLa nor SLK cell line naturally harbors KSHV genomes
11
. In addition to studying viral replication, this visualization technique can be used to investigate the effects of the addition, removal, or mutation of various DNA sequence elements on synthesis, localization, and partitioning of other recombinant plasmid DNAs.
Genetics, Issue 70, Molecular Biology, Cellular Biology, Genomics, DNA synthesis, DNA partitioning, plasmids, lac operator, lac repressor, mammalian cells, fluorescence microscopy
4305
Generation of Multivirus-specific T Cells to Prevent/treat Viral Infections after Allogeneic Hematopoietic Stem Cell Transplant
Institutions: Baylor College of Medicine.

Viral infections cause morbidity and mortality in allogeneic hematopoietic stem cell transplant (HSCT) recipients. We and others have successfully generated and infused T-cells specific for Epstein Barr virus (EBV), cytomegalovirus (CMV) and Adenovirus (Adv) using monocytes and EBV-transformed lymphoblastoid cell (EBV-LCL) gene-modified with an adenovirus vector as antigen presenting cells (APCs). As few as 2x10
5
/kg trivirus-specific cytotoxic T lymphocytes (CTL) proliferated by several logs after infusion and appeared to prevent and treat even severe viral disease resistant to other available therapies. The broader implementation of this encouraging approach is limited by high production costs, complexity of manufacture and the prolonged time (4-6 weeks for EBV-LCL generation, and 4-8 weeks for CTL manufacture – total 10-14 weeks) for preparation. To overcome these limitations we have developed a new, GMP-compliant CTL production protocol. First, in place of adenovectors to stimulate T-cells we use dendritic cells (DCs) nucleofected with DNA plasmids encoding LMP2, EBNA1 and BZLF1 (EBV), Hexon and Penton (Adv), and pp65 and IE1 (CMV) as antigen-presenting cells. These APCs reactivate T cells specific for all the stimulating antigens. Second, culture of activated T-cells in the presence of IL-4 (1,000U/ml) and IL-7 (10ng/ml) increases and sustains the repertoire and frequency of specific T cells in our lines. Third, we have used a new, gas permeable culture device (G-Rex) that promotes the expansion and survival of large cell numbers after a single stimulation, thus removing the requirement for EBV-LCLs and reducing technician intervention. By implementing these changes we can now produce multispecific CTL targeting EBV, CMV, and Adv at a cost per 10
6
cells that is reduced by >90%, and in just 10 days rather than 10 weeks using an approach that may be extended to additional protective viral antigens. Our FDA-approved approach should be of value for prophylactic and treatment applications for high risk allogeneic HSCT recipients.
Immunology, Issue 51, T cells, immunotherapy, viral infections, nucleofection, plasmids, G-Rex culture device
2736
Expanding Cytotoxic T Lymphocytes from Umbilical Cord Blood that Target Cytomegalovirus, Epstein-Barr Virus, and Adenovirus
Institutions: Baylor College of Medicine , Baylor College of Medicine , University of Texas M.D. Anderson Cancer Center, Baylor College of Medicine , Baylor College of Medicine .

Virus infections after stem cell transplantation are among the most common causes of death, especially after cord blood (CB) transplantation (CBT) where the CB does not contain appreciable numbers of virus-experienced T cells which can protect the recipient from infection.
1-4
We and others have shown that virus-specific CTL generated from seropositive donors and infused to the recipient are safe and protective.
5-8
However, until recently, virus-specific T cells could not be generated from cord blood, likely due to the absence of virus-specific memory T cells. In an effort to better mimic the
in vivo
priming conditions of naïve T cells, we established a method that used CB-derived dendritic cells (DC) transduced with an adenoviral vector (Ad5f35pp65) containing the immunodominant CMV antigen pp65, hence driving T cell specificity towards CMV and adenovirus.
9
At initiation, we use these matured DCs as well as CB-derived T cells in the presence of the cytokines IL-7, IL-12, and IL-15.
10
At the second stimulation we used EBV-transformed B cells, or EBV-LCL, which express both latent and lytic EBV antigens. Ad5f35pp65-transduced EBV-LCL are used to stimulate the T cells in the presence of IL-15 at the second stimulation. Subsequent stimulations use Ad5f35pp65-transduced EBV-LCL and IL-2. From 50x10
6
CB mononuclear cells we are able to generate upwards of 150 x 10
6
virus-specific T cells that lyse antigen-pulsed targets and release cytokines in response to antigenic stimulation.
11
These cells were manufactured in a GMP-compliant manner using only the 20% fraction of a fractionated cord blood unit and have been translated for clinical use.
Immunology, Issue 63, Cytotoxic T Lymphocytes (CTL), virus, stem cell transplantation, cord blood, naïve T cells, medicine
3627
Isolation and Characterization of RNA-Containing Exosomes
Institutions: University of Gothenburg.

The field of exosome research is rapidly expanding, with a dramatic increase in publications in recent years. These small vesicles (30-100 nm) of endocytic origin were first proposed to function as a way for reticulocytes to eradicate the transferrin receptor while maturing into erythrocytes
1
, and were later named exosomes. Exosomes are formed by inward budding of late endosomes, producing multivesicular bodies (MVBs), and are released into the environment by fusion of the MVBs with the plasma membrane
2
. Since the first discovery of exosomes, a wide range of cells have been shown to release these vesicles. Exosomes have also been detected in several biological fluids, including plasma, nasal lavage fluid, saliva and breast milk
3-6
. Furthermore, it has been demonstrated that the content and function of exosomes depends on the originating cell and the conditions under which they are produced. A variety of functions have been demonstrated for exosomes, such as induction of tolerance against allergen
7,8
, eradication of established tumors in mice
9
, inhibition and activation of natural killer cells
10-12
, promotion of differentiation into T regulatory cells
13
, stimulation of T cell proliferation
14
and induction of T cell apoptosis
15
. Year 2007 we demonstrated that exosomes released from mast cells contain messenger RNA (mRNA) and microRNA (miRNA), and that the RNA can be shuttled from one cell to another via exosomes. In the recipient cells, the mRNA shuttled by exosomes was shown to be translated into protein, suggesting a regulatory function of the transferred RNA
16
. Further, we have also shown that exosomes derived from cells grown under oxidative stress can induce tolerance against further stress in recipient cells and thus suggest a biological function of the exosomal shuttle RNA
17
. Cell culture media and biological fluids contain a mixture of vesicles and shed fragments. A high quality isolation method for exosomes, followed by characterization and identification of the exosomes and their content, is therefore crucial to distinguish exosomes from other vesicles and particles. Here, we present a method for the isolation of exosomes from both cell culture medium and body fluids. This isolation method is based on repeated centrifugation and filtration steps, followed by a final ultracentrifugation step in which the exosomes are pelleted. Important methods to identify the exosomes and characterize the exosomal morphology and protein content are highlighted, including electron microscopy, flow cytometry and Western blot. The purification of the total exosomal RNA is based on spin column chromatography and the exosomal RNA yield and size distribution is analyzed using a Bioanalyzer.
Molecular Biology, Issue 59, Exosomes, microvesicles, mRNA, miRNA, RNA isolation, flow cytometry, electron microscopy, Western blot, Bioanalyzer
3037
Purification and microRNA Profiling of Exosomes Derived from Blood and Culture Media
Institutions: Drexel University College of Medicine.

Stable miRNAs are present in all body fluids and some circulating miRNAs are protected from degradation by sequestration in small vesicles called exosomes. Exosomes can fuse with the plasma membrane resulting in the transfer of RNA and proteins to the target cell. Their biological functions include immune response, antigen presentation, and intracellular communication. Delivery of miRNAs that can regulate gene expression in the recipient cells via blood has opened novel avenues for target intervention. In addition to offering a strategy for delivery of drugs or RNA therapeutic agents, exosomal contents can serve as biomarkers that can aid in diagnosis, determining treatment options and prognosis. Here we will describe the procedure for quantitatively analyzing miRNAs and messenger RNAs (mRNA) from exosomes secreted in blood and cell culture media. Purified exosomes will be characterized using western blot analysis for exosomal markers and PCR for mRNAs of interest. Transmission electron microscopy (TEM) and immunogold labeling will be used to validate exosomal morphology and integrity. Total RNA will be purified from these exosomes to ensure that we can study both mRNA and miRNA from the same sample. After validating RNA integrity by Bioanalyzer, we will perform a medium throughput quantitative real time PCR (qPCR) to identify the exosomal miRNA using Taqman Low Density Array (TLDA) cards and gene expression studies for transcripts of interest. These protocols can be used to quantify changes in exosomal miRNAs in patients, rodent models and cell culture media before and after pharmacological intervention. Exosomal contents vary due to the source of origin and the physiological conditions of cells that secrete exosomes. These variations can provide insight on how cells and systems cope with stress or physiological perturbations. Our representative data show variations in miRNAs present in exosomes purified from mouse blood, human blood and human cell culture media. Here we will describe the procedure for quantitatively analyzing miRNAs and messenger RNAs (mRNA) from exosomes secreted in blood and cell culture media. Purified exosomes will be characterized using western blot analysis for exosomal markers and PCR for mRNAs of interest. Transmission electron microscopy (TEM) and immunogold labeling will be used to validate exosomal morphology and integrity. Total RNA will be purified from these exosomes to ensure that we can study both mRNA and miRNA from the same sample. After validating RNA integrity by Bioanalyzer, we will perform a medium throughput quantitative real time PCR (qPCR) to identify the exosomal miRNA using Taqman Low Density Array (TLDA) cards and gene expression studies for transcripts of interest. These protocols can be used to quantify changes in exosomal miRNAs in patients, rodent models and cell culture media before and after pharmacological intervention. Exosomal contents vary due to the source of origin and the physiological conditions of cells that secrete exosomes. These variations can provide insight on how cells and systems cope with stress or physiological perturbations. Our representative data show variations in miRNAs present in exosomes purified from mouse blood, human blood and human cell culture media
Genetics, Issue 76, Molecular Biology, Cellular Biology, Medicine, Biochemistry, Genomics, Pharmacology, Exosomes, RNA, MicroRNAs, Biomarkers, Pharmacological, Exosomes, microRNA, qPCR, PCR, blood, biomarker, TLDA, profiling, sequencing, cell culture
50294
Use of Interferon-γ Enzyme-linked Immunospot Assay to Characterize Novel T-cell Epitopes of Human Papillomavirus
Institutions: China Medical University , University of Arkansas for Medical Sciences , University of Arkansas for Medical Sciences .

A protocol has been developed to overcome the difficulties of isolating and characterizing rare T cells specific for pathogens, such as human papillomavirus (HPV), that cause localized infections. The steps involved are identifying region(s) of HPV proteins that contain T-cell epitope(s) from a subject, selecting for the peptide-specific T cells based on interferon-γ (IFN-γ) secretion, and growing and characterizing the T-cell clones (
Fig. 1
). Subject 1 was a patient who was recently diagnosed with a high-grade squamous intraepithelial lesion by biopsy and underwent loop electrical excision procedure for treatment on the day the T cells were collected
1
. A region within the human papillomavirus type 16 (HPV 16) E6 and E7 proteins which contained a T-cell epitope was identified using an IFN- g enzyme-linked immunospot (ELISPOT) assay performed with overlapping synthetic peptides (
Fig. 2
). The data from this assay were used not only to identify a region containing a T-cell epitope, but also to estimate the number of epitope specific T cells and to isolate them on the basis of IFN- γ secretion using commercially available magnetic beads (CD8 T-cell isolation kit, Miltenyi Biotec, Auburn CA). The selected IFN-γ secreting T cells were diluted and grown singly in the presence of an irradiated feeder cell mixture in order to support the growth of a single T-cell per well. These T-cell clones were screened using an IFN- γ ELISPOT assay in the presence of peptides covering the identified region and autologous Epstein-Barr virus transformed B-lymphoblastoid cells (LCLs, obtained how described by Walls and Crawford)
2
in order to minimize the number of T-cell clone cells needed. Instead of using 1 x 10
5
cells per well typically used in ELISPOT assays
1,3
, 1,000 T-cell clone cells in the presence of 1 x 10
5
autologous LCLs were used, dramatically reducing the number of T-cell clone cells needed. The autologous LCLs served not only to present peptide antigens to the T-cell clone cells, but also to keep a high cell density in the wells allowing the epitope-specific T-cell clone cells to secrete IFN-γ. This assures successful performance of IFN-γ ELISPOT assay. Similarly, IFN- γ ELISPOT assays were utilized to characterize the minimal and optimal amino acid sequence of the CD8 T-cell epitope (HPV 16 E6 52-61 FAFRDLCIVY) and its HLA class I restriction element (B58). The IFN- γ ELISPOT assay was also performed using autologous LCLs infected with vaccinia virus expressing HPV 16 E6 or E7 protein. The result demonstrated that the E6 T-cell epitope was endogenously processed. The cross-recognition of homologous T-cell epitope of other high-risk HPV types was shown. This method can also be used to describe CD4 T-cell epitopes
4
.
Immunology, Issue 61, Interferon-γ enzyme-linked immunospot assay, T-cell, epitope, human papillomavirus
3657
Vascular Gene Transfer from Metallic Stent Surfaces Using Adenoviral Vectors Tethered through Hydrolysable Cross-linkers
Institutions: The Children's Hospital of Philadelphia, University of Pennsylvania.

In-stent restenosis presents a major complication of stent-based revascularization procedures widely used to re-establish blood flow through critically narrowed segments of coronary and peripheral arteries. Endovascular stents capable of tunable release of genes with anti-restenotic activity may present an alternative strategy to presently used drug-eluting stents. In order to attain clinical translation, gene-eluting stents must exhibit predictable kinetics of stent-immobilized gene vector release and site-specific transduction of vasculature, while avoiding an excessive inflammatory response typically associated with the polymer coatings used for physical entrapment of the vector. This paper describes a detailed methodology for coatless tethering of adenoviral gene vectors to stents based on a reversible binding of the adenoviral particles to polyallylamine bisphosphonate (PABT)-modified stainless steel surface via hydrolysable cross-linkers (HC). A family of bifunctional (amine- and thiol-reactive) HC with an average t
1/2
of the in-chain ester hydrolysis ranging between 5 and 50 days were used to link the vector with the stent. The vector immobilization procedure is typically carried out within 9 hr and consists of several steps: 1) incubation of the metal samples in an aqueous solution of PABT (4 hr); 2) deprotection of thiol groups installed in PABT with tris(2-carboxyethyl) phosphine (20 min); 3) expansion of thiol reactive capacity of the metal surface by reacting the samples with polyethyleneimine derivatized with pyridyldithio (PDT) groups (2 hr); 4) conversion of PDT groups to thiols with dithiothreitol (10 min); 5) modification of adenoviruses with HC (1 hr); 6) purification of modified adenoviral particles by size-exclusion column chromatography (15 min) and 7) immobilization of thiol-reactive adenoviral particles on the thiolated steel surface (1 hr). This technique has wide potential applicability beyond stents, by facilitating surface engineering of bioprosthetic devices to enhance their biocompatibility through the substrate-mediated gene delivery to the cells interfacing the implanted foreign material.
Medicine, Issue 90, gene therapy, bioconjugation, adenoviral vectors, stents, local gene delivery, smooth muscle cells, endothelial cells, bioluminescence imaging
51653
Generation of Recombinant Influenza Virus from Plasmid DNA
Institutions: University of Rochester School of Medicine and Dentistry, Mount Sinai School of Medicine .

Efforts by a number of influenza research groups have been pivotal in the development and improvement of influenza A virus reverse genetics. Originally established in 1999
1,2
plasmid-based reverse genetic techniques to generate recombinant viruses have revolutionized the influenza research field because specific questions have been answered by genetically engineered, infectious, recombinant influenza viruses. Such studies include virus replication, function of viral proteins, the contribution of specific mutations in viral proteins in viral replication and/or pathogenesis and, also, viral vectors using recombinant influenza viruses expressing foreign proteins
3
.
Microbiology, Issue 42, influenza viruses, plasmid transfection, recombinant virus, reverse genetics techniques, HA assay
2057
Dissecting Host-virus Interaction in Lytic Replication of a Model Herpesvirus
Institutions: UT Southwestern Medical Center, UT Southwestern Medical Center.

In response to viral infection, a host develops various defensive responses, such as activating innate immune signaling pathways that lead to antiviral cytokine production
1,2
. In order to colonize the host, viruses are obligate to evade host antiviral responses and manipulate signaling pathways. Unraveling the host-virus interaction will shed light on the development of novel therapeutic strategies against viral infection. Murine γHV68 is closely related to human oncogenic Kaposi's sarcoma-associated herpesvirus and Epsten-Barr virus
3,4
. γHV68 infection in laboratory mice provides a tractable small animal model to examine the entire course of host responses and viral infection
in vivo
, which are not available for human herpesviruses. In this protocol, we present a panel of methods for phenotypic characterization and molecular dissection of host signaling components in γHV68 lytic replication both
in vivo
and
ex vivo
. The availability of genetically modified mouse strains permits the interrogation of the roles of host signaling pathways during γHV68 acute infection
in vivo
. Additionally, mouse embryonic fibroblasts (MEFs) isolated from these deficient mouse strains can be used to further dissect roles of these molecules during γHV68 lytic replication
ex vivo
. Using virological and molecular biology assays, we can pinpoint the molecular mechanism of host-virus interactions and identify host and viral genes essential for viral lytic replication. Finally, a bacterial artificial chromosome (BAC) system facilitates the introduction of mutations into the viral factor(s) that specifically interrupt the host-virus interaction. Recombinant γHV68 carrying these mutations can be used to recapitulate the phenotypes of γHV68 lytic replication in MEFs deficient in key host signaling components. This protocol offers an excellent strategy to interrogate host-pathogen interaction at multiple levels of intervention
in vivo
and
ex vivo
. Recently, we have discovered that γHV68 usurps an innate immune signaling pathway to promote viral lytic replication
5
. Specifically, γHV68 de novo infection activates the immune kinase IKKβ and activated IKKβ phosphorylates the master viral transcription factor, replication and transactivator (RTA), to promote viral transcriptional activation. In doing so, γHV68 efficiently couples its transcriptional activation to host innate immune activation, thereby facilitating viral transcription and lytic replication. This study provides an excellent example that can be applied to other viruses to interrogate host-virus interaction.
Immunology, Issue 56, herpesvirus, gamma herpesvirus 68, γHV68, signaling pathways, host-virus interaction, viral lytic replication
3140
Dissecting Innate Immune Signaling in Viral Evasion of Cytokine Production
Institutions: Keck School of Medicine, University of Southern California.

In response to a viral infection, the host innate immune response is activated to up-regulate gene expression and production of antiviral cytokines. Conversely, viruses have evolved intricate strategies to evade and exploit host immune signaling for survival and propagation. Viral immune evasion, entailing host defense and viral evasion, provides one of the most fascinating and dynamic interfaces to discern the host-virus interaction. These studies advance our understanding in innate immune regulation and pave our way to develop novel antiviral therapies. Murine γHV68 is a natural pathogen of murine rodents. γHV68 infection of mice provides a tractable small animal model to examine the antiviral response to human KSHV and EBV of which perturbation of
in vivo
virus-host interactions is not applicable. Here we describe a protocol to determine the antiviral cytokine production. This protocol can be adapted to other viruses and signaling pathways. Recently, we have discovered that γHV68 hijacks MAVS and IKKβ, key innate immune signaling components downstream of the cytosolic RIG-I and MDA5, to abrogate NFΚB activation and antiviral cytokine production. Specifically, γHV68 infection activates IKKβ and that activated IKKβ phosphorylates RelA to accelerate RelA degradation. As such, γHV68 efficiently uncouples NFΚB activation from its upstream activated IKKβ, negating antiviral cytokine gene expression. This study elucidates an intricate strategy whereby the upstream innate immune activation is intercepted by a viral pathogen to nullify the immediate downstream transcriptional activation and evade antiviral cytokine production.
Immunology, Issue 85, Herpesviridae, Cytokines, Antiviral Agents, Innate, gamma-HV68, mice infection, MEF, antiviral cytokine
51078
A New Approach for the Comparative Analysis of Multiprotein Complexes Based on 15N Metabolic Labeling and Quantitative Mass Spectrometry
Institutions: University of Münster, Carnegie Institution for Science.

The introduced protocol provides a tool for the analysis of multiprotein complexes in the thylakoid membrane, by revealing insights into complex composition under different conditions. In this protocol the approach is demonstrated by comparing the composition of the protein complex responsible for cyclic electron flow (CEF) in
Chlamydomonas reinhardtii
, isolated from genetically different strains. The procedure comprises the isolation of thylakoid membranes, followed by their separation into multiprotein complexes by sucrose density gradient centrifugation, SDS-PAGE, immunodetection and comparative, quantitative mass spectrometry (MS) based on differential metabolic labeling (
14
N/
15
N) of the analyzed strains. Detergent solubilized thylakoid membranes are loaded on sucrose density gradients at equal chlorophyll concentration. After ultracentrifugation, the gradients are separated into fractions, which are analyzed by mass-spectrometry based on equal volume. This approach allows the investigation of the composition within the gradient fractions and moreover to analyze the migration behavior of different proteins, especially focusing on ANR1, CAS, and PGRL1. Furthermore, this method is demonstrated by confirming the results with immunoblotting and additionally by supporting the findings from previous studies (the identification and PSI-dependent migration of proteins that were previously described to be part of the CEF-supercomplex such as PGRL1, FNR, and cyt
f
). Notably, this approach is applicable to address a broad range of questions for which this protocol can be adopted and
e.g.
used for comparative analyses of multiprotein complex composition isolated from distinct environmental conditions.
Microbiology, Issue 85, Sucrose density gradients, Chlamydomonas, multiprotein complexes, 15N metabolic labeling, thylakoids
51103
Peptide-based Identification of Functional Motifs and their Binding Partners
Institutions: Morehouse School of Medicine, Institute for Systems Biology, Universiti Sains Malaysia.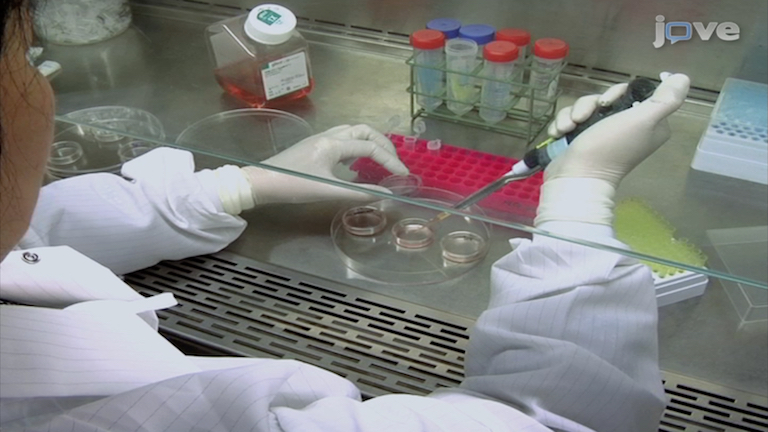 Specific short peptides derived from motifs found in full-length proteins, in our case HIV-1 Nef, not only retain their biological function, but can also competitively inhibit the function of the full-length protein. A set of 20 Nef scanning peptides, 20 amino acids in length with each overlapping 10 amino acids of its neighbor, were used to identify motifs in Nef responsible for its induction of apoptosis. Peptides containing these apoptotic motifs induced apoptosis at levels comparable to the full-length Nef protein. A second peptide, derived from the Secretion Modification Region (SMR) of Nef, retained the ability to interact with cellular proteins involved in Nef's secretion in exosomes (exNef). This SMRwt peptide was used as the "bait" protein in co-immunoprecipitation experiments to isolate cellular proteins that bind specifically to Nef's SMR motif. Protein transfection and antibody inhibition was used to physically disrupt the interaction between Nef and mortalin, one of the isolated SMR-binding proteins, and the effect was measured with a fluorescent-based exNef secretion assay. The SMRwt peptide's ability to outcompete full-length Nef for cellular proteins that bind the SMR motif, make it the first inhibitor of exNef secretion. Thus, by employing the techniques described here, which utilize the unique properties of specific short peptides derived from motifs found in full-length proteins, one may accelerate the identification of functional motifs in proteins and the development of peptide-based inhibitors of pathogenic functions.
Virology, Issue 76, Biochemistry, Immunology, Infection, Infectious Diseases, Molecular Biology, Medicine, Genetics, Microbiology, Genomics, Proteins, Exosomes, HIV, Peptides, Exocytosis, protein trafficking, secretion, HIV-1, Nef, Secretion Modification Region, SMR, peptide, AIDS, assay
50362
A Restriction Enzyme Based Cloning Method to Assess the In vitro Replication Capacity of HIV-1 Subtype C Gag-MJ4 Chimeric Viruses
Institutions: Emory University, Emory University.

The protective effect of many HLA class I alleles on HIV-1 pathogenesis and disease progression is, in part, attributed to their ability to target conserved portions of the HIV-1 genome that escape with difficulty. Sequence changes attributed to cellular immune pressure arise across the genome during infection, and if found within conserved regions of the genome such as Gag, can affect the ability of the virus to replicate
in vitro
. Transmission of HLA-linked polymorphisms in Gag to HLA-mismatched recipients has been associated with reduced set point viral loads. We hypothesized this may be due to a reduced replication capacity of the virus. Here we present a novel method for assessing the
in vitro
replication of HIV-1 as influenced by the
gag
gene isolated from acute time points from subtype C infected Zambians. This method uses restriction enzyme based cloning to insert the
gag
gene into a common subtype C HIV-1 proviral backbone, MJ4. This makes it more appropriate to the study of subtype C sequences than previous recombination based methods that have assessed the
in vitro
replication of chronically derived
gag-pro
sequences. Nevertheless, the protocol could be readily modified for studies of viruses from other subtypes. Moreover, this protocol details a robust and reproducible method for assessing the replication capacity of the Gag-MJ4 chimeric viruses on a CEM-based T cell line. This method was utilized for the study of Gag-MJ4 chimeric viruses derived from 149 subtype C acutely infected Zambians, and has allowed for the identification of residues in Gag that affect replication. More importantly, the implementation of this technique has facilitated a deeper understanding of how viral replication defines parameters of early HIV-1 pathogenesis such as set point viral load and longitudinal CD4+ T cell decline.
Infectious Diseases, Issue 90, HIV-1, Gag, viral replication, replication capacity, viral fitness, MJ4, CEM, GXR25
51506
Detection of the Genome and Transcripts of a Persistent DNA Virus in Neuronal Tissues by Fluorescent In situ Hybridization Combined with Immunostaining
Institutions: CNRS UMR 5534, Université de Lyon 1, LabEX DEVweCAN, CNRS UPR 3296, CNRS UMR 5286.

Single cell codetection of a gene, its RNA product and cellular regulatory proteins is critical to study gene expression regulation. This is a challenge in the field of virology; in particular for nuclear-replicating persistent DNA viruses that involve animal models for their study. Herpes simplex virus type 1 (HSV-1) establishes a life-long latent infection in peripheral neurons. Latent virus serves as reservoir, from which it reactivates and induces a new herpetic episode. The cell biology of HSV-1 latency remains poorly understood, in part due to the lack of methods to detect HSV-1 genomes
in situ
in animal models. We describe a DNA-fluorescent
in situ
hybridization (FISH) approach efficiently detecting low-copy viral genomes within sections of neuronal tissues from infected animal models. The method relies on heat-based antigen unmasking, and directly labeled home-made DNA probes, or commercially available probes. We developed a triple staining approach, combining DNA-FISH with RNA-FISH and immunofluorescence, using peroxidase based signal amplification to accommodate each staining requirement. A major improvement is the ability to obtain, within 10 µm tissue sections, low-background signals that can be imaged at high resolution by confocal microscopy and wide-field conventional epifluorescence. Additionally, the triple staining worked with a wide range of antibodies directed against cellular and viral proteins. The complete protocol takes 2.5 days to accommodate antibody and probe penetration within the tissue.
Neuroscience, Issue 83, Life Sciences (General), Virology, Herpes Simplex Virus (HSV), Latency, In situ hybridization, Nuclear organization, Gene expression, Microscopy
51091
Optimization and Utilization of Agrobacterium-mediated Transient Protein Production in Nicotiana
Institutions: Fraunhofer USA Center for Molecular Biotechnology.

Agrobacterium
-mediated transient protein production in plants is a promising approach to produce vaccine antigens and therapeutic proteins within a short period of time. However, this technology is only just beginning to be applied to large-scale production as many technological obstacles to scale up are now being overcome. Here, we demonstrate a simple and reproducible method for industrial-scale transient protein production based on vacuum infiltration of
Nicotiana
plants with
Agrobacteria
carrying launch vectors. Optimization of
Agrobacterium
cultivation in AB medium allows direct dilution of the bacterial culture in Milli-Q water, simplifying the infiltration process. Among three tested species of
Nicotiana
,
N. excelsiana
(
N. benthamiana
×
N. excelsior
) was selected as the most promising host due to the ease of infiltration, high level of reporter protein production, and about two-fold higher biomass production under controlled environmental conditions. Induction of
Agrobacterium
harboring pBID4-GFP (
Tobacco mosaic virus
-based) using chemicals such as acetosyringone and monosaccharide had no effect on the protein production level. Infiltrating plant under 50 to 100 mbar for 30 or 60 sec resulted in about 95% infiltration of plant leaf tissues. Infiltration with
Agrobacterium
laboratory strain GV3101 showed the highest protein production compared to
Agrobacteria
laboratory strains LBA4404 and C58C1 and wild-type
Agrobacteria
strains at6, at10, at77 and A4. Co-expression of a viral RNA silencing suppressor, p23 or p19, in
N. benthamiana
resulted in earlier accumulation and increased production (15-25%) of target protein (influenza virus hemagglutinin).
Plant Biology, Issue 86, Agroinfiltration, Nicotiana benthamiana, transient protein production, plant-based expression, viral vector, Agrobacteria
51204
Electrophoretic Separation of Proteins
Institutions: Keck Graduate Institute of Applied Life Sciences.

Electrophoresis is used to separate complex mixtures of proteins (e.g., from cells, subcellular fractions, column fractions, or immunoprecipitates), to investigate subunit compositions, and to verify homogeneity of protein samples. It can also serve to purify proteins for use in further applications. In polyacrylamide gel electrophoresis, proteins migrate in response to an electrical field through pores in a polyacrylamide gel matrix; pore size decreases with increasing acrylamide concentration. The combination of pore size and protein charge, size, and shape determines the migration rate of the protein. In this unit, the standard Laemmli method is described for discontinuous gel electrophoresis under denaturing conditions, i.e., in the presence of sodium dodecyl sulfate (SDS).
Basic Protocols, Issue 16, Current Protocols Wiley, Electrophoresis, Biochemistry, Protein Separage, Polyacrylamide Gel Electrophoresis, PAGE
758