Controlling the Size, Shape and Stability of Supramolecular Polymers in Water
Published: 08-02-2012
ABSTRACT
For aqueous based supramolecular polymers, the simultaneous control over shape, size and stability is very difficult1. At the same time, the ability to do so is highly important in view of a number of applications in functional soft matter including electronics, biomedical engineering, and sensors. In the past, successful strategies to control the size and shape of supramolecular polymers typically focused on the use of templates2,3, end cappers4 or selective solvent techniques5. Here we disclose a strategy based on self-assembling discotic amphiphiles that leads to the control over stack length and shape of ordered, chiral columnar aggregates. By balancing electrostatic repulsive interactions on the hydrophilic rim and attractive non-covalent forces within the hydrophobic core of the polymerizing building block, we manage to create small and discrete spherical objects6,7. Increasing the salt concentration to screen the charges induces a sphere-to-rod transition. Intriguingly, this transition is expressed in an increase of cooperativity in the temperature-dependent self-assembly mechanism, and more stable aggregates are obtained. For our study we select a benzene-1,3,5-tricarboxamide (BTA) core connected to a hydrophilic metal chelate via a hydrophobic, fluorinated L-phenylalanine based spacer (Scheme 1). The metal chelate selected is a Gd(III)-DTPA complex that contains two overall remaining charges per complex and necessarily two counter ions. The one-dimensional growth of the aggregate is directed by π-π stacking and intermolecular hydrogen bonding. However, the electrostatic, repulsive forces that arise from the charges on the Gd(III)-DTPA complex start limiting the one-dimensional growth of the BTA-based discotic once a certain size is reached. At millimolar concentrations the formed aggregate has a spherical shape and a diameter of around 5 nm as inferred from 1H-NMR spectroscopy, small angle X-ray scattering, and cryogenic transmission electron microscopy (cryo-TEM). The strength of the electrostatic repulsive interactions between molecules can be reduced by increasing the salt concentration of the buffered solutions. This screening of the charges induces a transition from spherical aggregates into elongated rods with a length > 25 nm. Cryo-TEM allows to visualise the changes in shape and size. In addition, CD spectroscopy permits to derive the mechanistic details of the self-assembly processes before and after the addition of salt. Importantly, the cooperativity -a key feature that dictates the physical properties of the produced supramolecular polymers- increases dramatically upon screening the electrostatic interactions. This increase in cooperativity results in a significant increase in the molecular weight of the formed supramolecular polymers in water.
18 Related JoVE Articles!
MR Molecular Imaging of Prostate Cancer with a Small Molecular CLT1 Peptide Targeted Contrast Agent
Institutions: Case Western Reserve University , Case Western Reserve University , Case Western Reserve University .
Tumor extracellular matrix has abundance of cancer related proteins that can be used as biomarkers for cancer molecular imaging. In this work, we demonstrated effective MR cancer molecular imaging with a small molecular peptide targeted Gd-DOTA monoamide complex as a targeted MRI contrast agent specific to clotted plasma proteins in tumor stroma. We performed the experiment of evaluating the effectiveness of the agent for non-invasive detection of prostate tumor with MRI in a mouse orthotopic PC-3 prostate cancer model. The targeted contrast agent was effective to produce significant tumor contrast enhancement at a low dose of 0.03 mmol Gd/kg. The peptide targeted MRI contrast agent is promising for MR molecular imaging of prostate tumor.
Cancer Biology, Issue 79, Medicine, Molecular Biology, Cellular Biology, Biomedical Engineering, Anatomy, Physiology, Biochemistry, Oncology, Biomedical and Dental Materials, Pharmaceutical Preparations, Diagnosis, MRI, magnetic resonance imaging, molecular imaging, conjugation, CLT1, prostate cancer, cancer, prostate, imaging, clinical techniques, clinical applications
50565
Preparation, Purification, and Characterization of Lanthanide Complexes for Use as Contrast Agents for Magnetic Resonance Imaging
Institutions: Wayne State University .

Polyaminopolycarboxylate-based ligands are commonly used to chelate lanthanide ions, and the resulting complexes are useful as contrast agents for magnetic resonance imaging (MRI). Many commercially available ligands are especially useful because they contain functional groups that allow for fast, high-purity, and high-yielding conjugation to macromolecules and biomolecules via amine-reactive activated esters and isothiocyanate groups or thiol-reactive maleimides. While metalation of these ligands is considered common knowledge in the field of bioconjugation chemistry, subtle differences in metalation procedures must be taken into account when selecting metal starting materials. Furthermore, multiple options for purification and characterization exist, and selection of the most effective procedure partially depends on the selection of starting materials. These subtle differences are often neglected in published protocols. Here, our goal is to demonstrate common methods for metalation, purification, and characterization of lanthanide complexes that can be used as contrast agents for MRI (Figure 1). We expect that this publication will enable biomedical scientists to incorporate lanthanide complexation reactions into their repertoire of commonly used reactions by easing the selection of starting materials and purification methods.
Medicine, Issue 53, MRI, contrast agent, lanthanide, gadolinium
2844
Functional Neuroimaging Using Ultrasonic Blood-brain Barrier Disruption and Manganese-enhanced MRI
Institutions: Stanford University , Duke University Medical Center, Duke University .

Although mice are the dominant model system for studying the genetic and molecular underpinnings of neuroscience, functional neuroimaging in mice remains technically challenging. One approach, Activation-Induced Manganese-enhanced MRI (AIM MRI), has been used successfully to map neuronal activity in rodents
1-5
. In AIM MRI, Mn
2+
acts a calcium analog and accumulates in depolarized neurons
6,7
. Because Mn
2+
shortens the T
1
tissue property, regions of elevated neuronal activity will enhance in MRI. Furthermore, Mn
2+
clears slowly from the activated regions; therefore, stimulation can be performed outside the magnet prior to imaging, enabling greater experimental flexibility. However, because Mn
2+
does not readily cross the blood-brain barrier (BBB), the need to open the BBB has limited the use of AIM MRI, especially in mice. One tool for opening the BBB is ultrasound. Though potentially damaging, if ultrasound is administered in combination with gas-filled microbubbles (i.e., ultrasound contrast agents), the acoustic pressure required for BBB opening is considerably lower. This combination of ultrasound and microbubbles can be used to reliably open the BBB without causing tissue damage
8-11
. Here, a method is presented for performing AIM MRI by using microbubbles and ultrasound to open the BBB. After an intravenous injection of perflutren microbubbles, an unfocused pulsed ultrasound beam is applied to the shaved mouse head for 3 minutes. For simplicity, we refer to this technique of BBB Opening with Microbubbles and UltraSound as BOMUS
12
. Using BOMUS to open the BBB throughout both cerebral hemispheres, manganese is administered to the whole mouse brain. After experimental stimulation of the lightly sedated mice, AIM MRI is used to map the neuronal response. To demonstrate this approach, herein BOMUS and AIM MRI are used to map unilateral mechanical stimulation of the vibrissae in lightly sedated mice
13
. Because BOMUS can open the BBB throughout both hemispheres, the unstimulated side of the brain is used to control for nonspecific background stimulation. The resultant 3D activation map agrees well with published representations of the vibrissae regions of the barrel field cortex
14
. The ultrasonic opening of the BBB is fast, noninvasive, and reversible; and thus this approach is suitable for high-throughput and/or longitudinal studies in awake mice.
Neuroscience, Issue 65, Molecular Biology, Biomedical Engineering, mouse, ultrasound, blood-brain barrier, functional MRI, fMRI, manganese-enhanced MRI, MEMRI
4055
Multi-modal Imaging of Angiogenesis in a Nude Rat Model of Breast Cancer Bone Metastasis Using Magnetic Resonance Imaging, Volumetric Computed Tomography and Ultrasound
Institutions: German Cancer Research Center, Heidelberg, Germany, German Cancer Research Center, Heidelberg, Germany.

Angiogenesis is an essential feature of cancer growth and metastasis formation. In bone metastasis, angiogenic factors are pivotal for tumor cell proliferation in the bone marrow cavity as well as for interaction of tumor and bone cells resulting in local bone destruction. Our aim was to develop a model of experimental bone metastasis that allows
in vivo
assessment of angiogenesis in skeletal lesions using non-invasive imaging techniques. For this purpose, we injected 10
5
MDA-MB-231 human breast cancer cells into the superficial epigastric artery, which precludes the growth of metastases in body areas other than the respective hind leg
1
. Following 25-30 days after tumor cell inoculation, site-specific bone metastases develop, restricted to the distal femur, proximal tibia and proximal fibula
1
. Morphological and functional aspects of angiogenesis can be investigated longitudinally in bone metastases using magnetic resonance imaging (MRI), volumetric computed tomography (VCT) and ultrasound (US). MRI displays morphologic information on the soft tissue part of bone metastases that is initially confined to the bone marrow cavity and subsequently exceeds cortical bone while progressing. Using dynamic contrast-enhanced MRI (DCE-MRI) functional data including regional blood volume, perfusion and vessel permeability can be obtained and quantified
2-4
. Bone destruction is captured in high resolution using morphological VCT imaging. Complementary to MRI findings, osteolytic lesions can be located adjacent to sites of intramedullary tumor growth. After contrast agent application, VCT angiography reveals the macrovessel architecture in bone metastases in high resolution, and DCE-VCT enables insight in the microcirculation of these lesions
5,6
. US is applicable to assess morphological and functional features from skeletal lesions due to local osteolysis of cortical bone. Using B-mode and Doppler techniques, structure and perfusion of the soft tissue metastases can be evaluated, respectively. DCE-US allows for real-time imaging of vascularization in bone metastases after injection of microbubbles
7
. In conclusion, in a model of site-specific breast cancer bone metastases multi-modal imaging techniques including MRI, VCT and US offer complementary information on morphology and functional parameters of angiogenesis in these skeletal lesions.
Cancer Biology, Issue 66, Medicine, Physiology, Physics, bone metastases, animal model, angiogenesis, imaging, magnetic resonance imaging, MRI, volumetric computed tomography, ultrasound
4178
Quantifying Mixing using Magnetic Resonance Imaging
Institutions: University of California, Davis, Procter & Gamble Company.

Mixing is a unit operation that combines two or more components into a homogeneous mixture. This work involves mixing two viscous liquid streams using an in-line static mixer. The mixer is a split-and-recombine design that employs shear and extensional flow to increase the interfacial contact between the components. A prototype split-and-recombine (SAR) mixer was constructed by aligning a series of thin laser-cut Poly (methyl methacrylate) (PMMA) plates held in place in a PVC pipe. Mixing in this device is illustrated in the photograph in
Fig. 1
. Red dye was added to a portion of the test fluid and used as the minor component being mixed into the major (undyed) component. At the inlet of the mixer, the injected layer of tracer fluid is split into two layers as it flows through the mixing section. On each subsequent mixing section, the number of horizontal layers is duplicated. Ultimately, the single stream of dye is uniformly dispersed throughout the cross section of the device. Using a non-Newtonian test fluid of 0.2% Carbopol and a doped tracer fluid of similar composition, mixing in the unit is visualized using magnetic resonance imaging (MRI). MRI is a very powerful experimental probe of molecular chemical and physical environment as well as sample structure on the length scales from microns to centimeters. This sensitivity has resulted in broad application of these techniques to characterize physical, chemical and/or biological properties of materials ranging from humans to foods to porous media
1, 2
. The equipment and conditions used here are suitable for imaging liquids containing substantial amounts of NMR mobile
1
H such as ordinary water and organic liquids including oils. Traditionally MRI has utilized super conducting magnets which are not suitable for industrial environments and not portable within a laboratory (
Fig. 2
). Recent advances in magnet technology have permitted the construction of large volume industrially compatible magnets suitable for imaging process flows. Here, MRI provides spatially resolved component concentrations at different axial locations during the mixing process. This work documents real-time mixing of highly viscous fluids via distributive mixing with an application to personal care products.
Biophysics, Issue 59, Magnetic resonance imaging, MRI, mixing, rheology, static mixer, split-and-recombine mix
3493
Labeling Stem Cells with Ferumoxytol, an FDA-Approved Iron Oxide Nanoparticle
Institutions: Molecular Imaging Program at Stanford (MIPS) , Stanford University .

Stem cell based therapies offer significant potential for the field of regenerative medicine. However, much remains to be understood regarding the
in vivo
kinetics of transplanted cells. A non-invasive method to repetitively monitor transplanted stem cells
in vivo
would allow investigators to directly monitor stem cell transplants and identify successful or unsuccessful engraftment outcomes. A wide range of stem cells continues to be investigated for countless applications. This protocol focuses on 3 different stem cell populations: human embryonic kidney 293 (HEK293) cells, human mesenchymal stem cells (hMSC) and induced pluripotent stem (iPS) cells. HEK 293 cells are derived from human embryonic kidney cells grown in culture with sheared adenovirus 5 DNA. These cells are widely used in research because they are easily cultured, grow quickly and are easily transfected. hMSCs are found in adult marrow. These cells can be replicated as undifferentiated cells while maintaining multipotency or the potential to differentiate into a limited number of cell fates. hMSCs can differentiate to lineages of mesenchymal tissues, including osteoblasts, adipocytes, chondrocytes, tendon, muscle, and marrow stroma. iPS cells are genetically reprogrammed adult cells that have been modified to express genes and factors similar to defining properties of embryonic stem cells. These cells are pluripotent meaning they have the capacity to differentiate into all cell lineages
1
. Both hMSCs and iPS cells have demonstrated tissue regenerative capacity
in-vivo
. Magnetic resonance (MR) imaging together with the use of superparamagnetic iron oxide (SPIO) nanoparticle cell labels have proven effective for
in vivo
tracking of stem cells due to the near microscopic anatomical resolution, a longer blood half-life that permits longitudinal imaging and the high sensitivity for cell detection provided by MR imaging of SPIO nanoparticles
2-4
. In addition, MR imaging with the use of SPIOs is clinically translatable. SPIOs are composed of an iron oxide core with a dextran, carboxydextran or starch surface coat that serves to contain the bioreactive iron core from plasma components. These agents create local magnetic field inhomogeneities that lead to a decreased signal on T2-weighted MR images
5
. Unfortunately, SPIOs are no longer being manufactured. Second generation, ultrasmall SPIOs (USPIO), however, offer a viable alternative. Ferumoxytol (FerahemeTM) is one USPIO composed of a non-stoichiometric magnetite core surrounded by a polyglucose sorbitol carboxymethylether coat. The colloidal, particle size of ferumoxytol is 17-30 nm as determined by light scattering. The molecular weight is 750 kDa, and the relaxivity constant at 2T MRI field is 58.609 mM-1 sec-1 strength
4
. Ferumoxytol was recently FDA-approved as an iron supplement for treatment of iron deficiency in patients with renal failure
6
. Our group has applied this agent in an "off label" use for cell labeling applications. Our technique demonstrates efficient labeling of stem cells with ferumoxytol that leads to significant MR signal effects of labeled cells on MR images. This technique may be applied for non-invasive monitoring of stem cell therapies in pre-clinical and clinical settings.
Medicine, Issue 57, USPIO, cell labeling, MR imaging, MRI, molecular imaging, iron oxides, ferumoxytol, cellular imaging, nanoparticles
3482
Experimental Protocol for Manipulating Plant-induced Soil Heterogeneity
Institutions: Case Western Reserve University.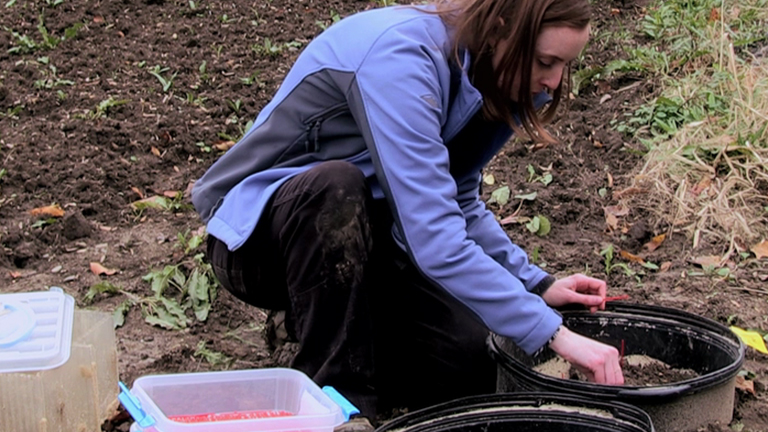 Coexistence theory has often treated environmental heterogeneity as being independent of the community composition; however biotic feedbacks such as plant-soil feedbacks (PSF) have large effects on plant performance, and create environmental heterogeneity that depends on the community composition. Understanding the importance of PSF for plant community assembly necessitates understanding of the role of heterogeneity in PSF, in addition to mean PSF effects. Here, we describe a protocol for manipulating plant-induced soil heterogeneity. Two example experiments are presented: (1) a field experiment with a 6-patch grid of soils to measure plant population responses and (2) a greenhouse experiment with 2-patch soils to measure individual plant responses. Soils can be collected from the zone of root influence (soils from the rhizosphere and directly adjacent to the rhizosphere) of plants in the field from conspecific and heterospecific plant species. Replicate collections are used to avoid pseudoreplicating soil samples. These soils are then placed into separate patches for heterogeneous treatments or mixed for a homogenized treatment. Care should be taken to ensure that heterogeneous and homogenized treatments experience the same degree of soil disturbance. Plants can then be placed in these soil treatments to determine the effect of plant-induced soil heterogeneity on plant performance. We demonstrate that plant-induced heterogeneity results in different outcomes than predicted by traditional coexistence models, perhaps because of the dynamic nature of these feedbacks. Theory that incorporates environmental heterogeneity influenced by the assembling community and additional empirical work is needed to determine when heterogeneity intrinsic to the assembling community will result in different assembly outcomes compared with heterogeneity extrinsic to the community composition.
Environmental Sciences, Issue 85, Coexistence, community assembly, environmental drivers, plant-soil feedback, soil heterogeneity, soil microbial communities, soil patch
51580
Single-plant, Sterile Microcosms for Nodulation and Growth of the Legume Plant Medicago truncatula with the Rhizobial Symbiont Sinorhizobium meliloti
Institutions: Florida State University.

Rhizobial bacteria form symbiotic, nitrogen-fixing nodules on the roots of compatible host legume plants. One of the most well-developed model systems for studying these interactions is the plant
Medicago truncatula
cv. Jemalong A17 and the rhizobial bacterium
Sinorhizobium meliloti
1021. Repeated imaging of plant roots and scoring of symbiotic phenotypes requires methods that are non-destructive to either plants or bacteria. The symbiotic phenotypes of some plant and bacterial mutants become apparent after relatively short periods of growth, and do not require long-term observation of the host/symbiont interaction. However, subtle differences in symbiotic efficiency and nodule senescence phenotypes that are not apparent in the early stages of the nodulation process require relatively long growth periods before they can be scored. Several methods have been developed for long-term growth and observation of this host/symbiont pair. However, many of these methods require repeated watering, which increases the possibility of contamination by other microbes. Other methods require a relatively large space for growth of large numbers of plants. The method described here, symbiotic growth of
M. truncatula/S. meliloti
in sterile, single-plant microcosms, has several advantages. Plants in these microcosms have sufficient moisture and nutrients to ensure that watering is not required for up to 9 weeks, preventing cross-contamination during watering. This allows phenotypes to be quantified that might be missed in short-term growth systems, such as subtle delays in nodule development and early nodule senescence. Also, the roots and nodules in the microcosm are easily viewed through the plate lid, so up-rooting of the plants for observation is not required.
Environmental Sciences, Issue 80, Plant Roots, Medicago, Gram-Negative Bacteria, Nitrogen, Microbiological Techniques, Bacterial Processes, Symbiosis, botany, microbiology, Medicago truncatula, Sinorhizobium meliloti, nodule, nitrogen fixation, legume, rhizobia, bacteria
50916
Optimization and Utilization of Agrobacterium-mediated Transient Protein Production in Nicotiana
Institutions: Fraunhofer USA Center for Molecular Biotechnology.

Agrobacterium
-mediated transient protein production in plants is a promising approach to produce vaccine antigens and therapeutic proteins within a short period of time. However, this technology is only just beginning to be applied to large-scale production as many technological obstacles to scale up are now being overcome. Here, we demonstrate a simple and reproducible method for industrial-scale transient protein production based on vacuum infiltration of
Nicotiana
plants with
Agrobacteria
carrying launch vectors. Optimization of
Agrobacterium
cultivation in AB medium allows direct dilution of the bacterial culture in Milli-Q water, simplifying the infiltration process. Among three tested species of
Nicotiana
,
N. excelsiana
(
N. benthamiana
×
N. excelsior
) was selected as the most promising host due to the ease of infiltration, high level of reporter protein production, and about two-fold higher biomass production under controlled environmental conditions. Induction of
Agrobacterium
harboring pBID4-GFP (
Tobacco mosaic virus
-based) using chemicals such as acetosyringone and monosaccharide had no effect on the protein production level. Infiltrating plant under 50 to 100 mbar for 30 or 60 sec resulted in about 95% infiltration of plant leaf tissues. Infiltration with
Agrobacterium
laboratory strain GV3101 showed the highest protein production compared to
Agrobacteria
laboratory strains LBA4404 and C58C1 and wild-type
Agrobacteria
strains at6, at10, at77 and A4. Co-expression of a viral RNA silencing suppressor, p23 or p19, in
N. benthamiana
resulted in earlier accumulation and increased production (15-25%) of target protein (influenza virus hemagglutinin).
Plant Biology, Issue 86, Agroinfiltration, Nicotiana benthamiana, transient protein production, plant-based expression, viral vector, Agrobacteria
51204
Assessment of Cardiac Function and Myocardial Morphology Using Small Animal Look-locker Inversion Recovery (SALLI) MRI in Rats
Institutions: German Heart Institute Berlin, German Heart Institute Berlin, Hamburg, Germany.

Small animal magnetic resonance imaging is an important tool to study cardiac function and changes in myocardial tissue. The high heart rates of small animals (200 to 600 beats/min) have previously limited the role of CMR imaging. Small animal Look-Locker inversion recovery (SALLI) is a T1 mapping sequence for small animals to overcome this problem
1
. T1 maps provide quantitative information about tissue alterations and contrast agent kinetics. It is also possible to detect diffuse myocardial processes such as interstitial fibrosis or edema
1-6
. Furthermore, from a single set of image data, it is possible to examine heart function and myocardial scarring by generating cine and inversion recovery-prepared late gadolinium enhancement-type MR images
1
. The presented video shows step-by-step the procedures to perform small animal CMR imaging. Here it is presented with a healthy Sprague-Dawley rat, however naturally it can be extended to different cardiac small animal models.
Medicine, Issue 77, Biomedical Engineering, Anatomy, Physiology, Cardiology, Heart Diseases, Cardiomyopathies, Heart Failure, Diagnostic Imaging, Cardiac Imaging Techniques, Magnetic Resonance Imaging, MRI, Cardiovascular Diseases, small animal imaging, T1 mapping, heart disease, cardiac function, myocardium, rat, animal model
50397
In vitro Labeling of Human Embryonic Stem Cells for Magnetic Resonance Imaging
Institutions: Stanford University .

Human embryonic stem cells (hESC) have demonstrated the ability to restore the injured myocardium. Magnetic resonance imaging (MRI) has emerged as one of the predominant imaging modalities to assess the restoration of the injured myocardium. Furthermore, ex-vivo labeling agents, such as iron-oxide nanoparticles, have been employed to track and localize the transplanted stem cells. However, this method does not monitor a fundamental cellular biology property regarding the viability of transplanted cells. It has been known that manganese chloride (MnCl
2
) enters the cells via voltage-gated calcium (Ca
2+
) channels when the cells are biologically active, and accumulates intracellularly to generate T
1
shortening effect. Therefore, we suggest that manganese-guided MRI can be useful to monitor cell viability after the transplantation of hESC into the myocardium. In this video, we will show how to label hESC with MnCl
2
and how those cells can be clearly seen by using MRI in vitro. At the same time, biological activity of Ca
2+
-channels will be modulated utilizing both Ca
2+
-channel agonist and antagonist to evaluate concomitant signal changes.
Cell Biology, Issue 18, cellular MRI, manganese, human embryonic stem cells, cell labeling, cardiology
827
Multiple-mouse Neuroanatomical Magnetic Resonance Imaging
Institutions: Hospital for Sick Children, University of Toronto.

The field of mouse phenotyping with magnetic resonance imaging (MRI) is rapidly growing, motivated by the need for improved tools for characterizing and evaluating mouse models of human disease. MRI is an excellent modality for investigating genetically altered animals. It is capable of whole brain coverage, can be used
in vivo
, and provides multiple contrast mechanisms for investigating different aspects of neuranatomy and physiology. The advent of high-field scanners along with the ability to scan multiple mice simultaneously allows for rapid phenotyping of novel mutations. Effective mouse MRI studies require attention to many aspects of experiment design. In this article, we will describe general methods to acquire quality images for mouse phenotyping using a system that images mice concurrently in shielded transmit/receive radio frequency (RF) coils in a common magnet (Bock
et al.
, 2003). We focus particularly on anatomical phenotyping, an important and accessible application that has shown a high potential for impact in many mouse models at our imaging centre. Before we can provide the detailed steps to acquire such images, there are important practical considerations for both
in vivo
brain imaging (Dazai
et al.
, 2004) and
ex vivo
brain imaging (Spring
et al.
, 2007) that should be noted. These are discussed below.
Neuroscience, Issue 48, magnetic resonance imaging, mouse, phenotyping, mouse handling, monitoring, brain, multiple mouse imaging
2497
Measuring Fluxes of Mineral Nutrients and Toxicants in Plants with Radioactive Tracers
Institutions: University of Toronto.

Unidirectional influx and efflux of nutrients and toxicants, and their resultant net fluxes, are central to the nutrition and toxicology of plants. Radioisotope tracing is a major technique used to measure such fluxes, both within plants, and between plants and their environments. Flux data obtained with radiotracer protocols can help elucidate the capacity, mechanism, regulation, and energetics of transport systems for specific mineral nutrients or toxicants, and can provide insight into compartmentation and turnover rates of subcellular mineral and metabolite pools. Here, we describe two major radioisotope protocols used in plant biology: direct influx (DI) and compartmental analysis by tracer efflux (CATE). We focus on flux measurement of potassium (K
+
) as a nutrient, and ammonia/ammonium (NH
3
/NH
4
+
) as a toxicant, in intact seedlings of the model species barley (
Hordeum vulgare
L.). These protocols can be readily adapted to other experimental systems (
e.g.
, different species, excised plant material, and other nutrients/toxicants). Advantages and limitations of these protocols are discussed.
Environmental Sciences, Issue 90, influx, efflux, net flux, compartmental analysis, radiotracers, potassium, ammonia, ammonium
51877
In vivo Imaging of Optic Nerve Fiber Integrity by Contrast-Enhanced MRI in Mice
Institutions: Jena University Hospital, Fritz Lipmann Institute, Jena, Jena University Hospital.

The rodent visual system encompasses retinal ganglion cells and their axons that form the optic nerve to enter thalamic and midbrain centers, and postsynaptic projections to the visual cortex. Based on its distinct anatomical structure and convenient accessibility, it has become the favored structure for studies on neuronal survival, axonal regeneration, and synaptic plasticity. Recent advancements in MR imaging have enabled the
in vivo
visualization of the retino-tectal part of this projection using manganese mediated contrast enhancement (MEMRI). Here, we present a MEMRI protocol for illustration of the visual projection in mice, by which resolutions of (200 µm)
3
can be achieved using common 3 Tesla scanners. We demonstrate how intravitreal injection of a single dosage of 15 nmol MnCl
2
leads to a saturated enhancement of the intact projection within 24 hr. With exception of the retina, changes in signal intensity are independent of coincided visual stimulation or physiological aging. We further apply this technique to longitudinally monitor axonal degeneration in response to acute optic nerve injury, a paradigm by which Mn
2+
transport completely arrests at the lesion site. Conversely, active Mn
2+
transport is quantitatively proportionate to the viability, number, and electrical activity of axon fibers. For such an analysis, we exemplify Mn
2+
transport kinetics along the visual path in a transgenic mouse model (NF-κB
p50KO
) displaying spontaneous atrophy of sensory, including visual, projections. In these mice, MEMRI indicates reduced but not delayed Mn
2+
transport as compared to wild type mice, thus revealing signs of structural and/or functional impairments by NF-κB mutations. In summary, MEMRI conveniently bridges
in vivo
assays and
post mortem
histology for the characterization of nerve fiber integrity and activity. It is highly useful for longitudinal studies on axonal degeneration and regeneration, and investigations of mutant mice for genuine or inducible phenotypes.
Neuroscience, Issue 89, manganese-enhanced MRI, mouse retino-tectal projection, visual system, neurodegeneration, optic nerve injury, NF-κB
51274
Cortical Source Analysis of High-Density EEG Recordings in Children
Institutions: UCL Institute of Child Health, University College London.

EEG is traditionally described as a neuroimaging technique with high temporal and low spatial resolution. Recent advances in biophysical modelling and signal processing make it possible to exploit information from other imaging modalities like structural MRI that provide high spatial resolution to overcome this constraint
1
. This is especially useful for investigations that require high resolution in the temporal as well as spatial domain. In addition, due to the easy application and low cost of EEG recordings, EEG is often the method of choice when working with populations, such as young children, that do not tolerate functional MRI scans well. However, in order to investigate which neural substrates are involved, anatomical information from structural MRI is still needed. Most EEG analysis packages work with standard head models that are based on adult anatomy. The accuracy of these models when used for children is limited
2
, because the composition and spatial configuration of head tissues changes dramatically over development
3
.  In the present paper, we provide an overview of our recent work in utilizing head models based on individual structural MRI scans or age specific head models to reconstruct the cortical generators of high density EEG. This article describes how EEG recordings are acquired, processed, and analyzed with pediatric populations at the London Baby Lab, including laboratory setup, task design, EEG preprocessing, MRI processing, and EEG channel level and source analysis. 
Behavior, Issue 88, EEG, electroencephalogram, development, source analysis, pediatric, minimum-norm estimation, cognitive neuroscience, event-related potentials 
51705
Physical, Chemical and Biological Characterization of Six Biochars Produced for the Remediation of Contaminated Sites
Institutions: Royal Military College of Canada, Queen's University.

The physical and chemical properties of biochar vary based on feedstock sources and production conditions, making it possible to engineer biochars with specific functions (
e.g.
carbon sequestration, soil quality improvements, or contaminant sorption). In 2013, the International Biochar Initiative (IBI) made publically available their Standardized Product Definition and Product Testing Guidelines (Version 1.1) which set standards for physical and chemical characteristics for biochar. Six biochars made from three different feedstocks and at two temperatures were analyzed for characteristics related to their use as a soil amendment. The protocol describes analyses of the feedstocks and biochars and includes: cation exchange capacity (CEC), specific surface area (SSA), organic carbon (OC) and moisture percentage, pH, particle size distribution, and proximate and ultimate analysis. Also described in the protocol are the analyses of the feedstocks and biochars for contaminants including polycyclic aromatic hydrocarbons (PAHs), polychlorinated biphenyls (PCBs), metals and mercury as well as nutrients (phosphorous, nitrite and nitrate and ammonium as nitrogen). The protocol also includes the biological testing procedures, earthworm avoidance and germination assays. Based on the quality assurance / quality control (QA/QC) results of blanks, duplicates, standards and reference materials, all methods were determined adequate for use with biochar and feedstock materials. All biochars and feedstocks were well within the criterion set by the IBI and there were little differences among biochars, except in the case of the biochar produced from construction waste materials. This biochar (referred to as Old biochar) was determined to have elevated levels of arsenic, chromium, copper, and lead, and failed the earthworm avoidance and germination assays. Based on these results, Old biochar would not be appropriate for use as a soil amendment for carbon sequestration, substrate quality improvements or remediation.
Environmental Sciences, Issue 93, biochar, characterization, carbon sequestration, remediation, International Biochar Initiative (IBI), soil amendment
52183
Diffusion Tensor Magnetic Resonance Imaging in the Analysis of Neurodegenerative Diseases
Institutions: University of Ulm.

Diffusion tensor imaging (DTI) techniques provide information on the microstructural processes of the cerebral white matter (WM)
in vivo
. The present applications are designed to investigate differences of WM involvement patterns in different brain diseases, especially neurodegenerative disorders, by use of different DTI analyses in comparison with matched controls. DTI data analysis is performed in a variate fashion,
i.e.
voxelwise comparison of regional diffusion direction-based metrics such as fractional anisotropy (FA), together with fiber tracking (FT) accompanied by tractwise fractional anisotropy statistics (TFAS) at the group level in order to identify differences in FA along WM structures, aiming at the definition of regional patterns of WM alterations at the group level. Transformation into a stereotaxic standard space is a prerequisite for group studies and requires thorough data processing to preserve directional inter-dependencies. The present applications show optimized technical approaches for this preservation of quantitative and directional information during spatial normalization in data analyses at the group level. On this basis, FT techniques can be applied to group averaged data in order to quantify metrics information as defined by FT. Additionally, application of DTI methods,
i.e.
differences in FA-maps after stereotaxic alignment, in a longitudinal analysis at an individual subject basis reveal information about the progression of neurological disorders. Further quality improvement of DTI based results can be obtained during preprocessing by application of a controlled elimination of gradient directions with high noise levels. In summary, DTI is used to define a distinct WM pathoanatomy of different brain diseases by the combination of whole brain-based and tract-based DTI analysis.
Medicine, Issue 77, Neuroscience, Neurobiology, Molecular Biology, Biomedical Engineering, Anatomy, Physiology, Neurodegenerative Diseases, nuclear magnetic resonance, NMR, MR, MRI, diffusion tensor imaging, fiber tracking, group level comparison, neurodegenerative diseases, brain, imaging, clinical techniques
50427
Ice-Cap: A Method for Growing Arabidopsis and Tomato Plants in 96-well Plates for High-Throughput Genotyping
Institutions: University of Wisconsin-Madison, Oregon State University .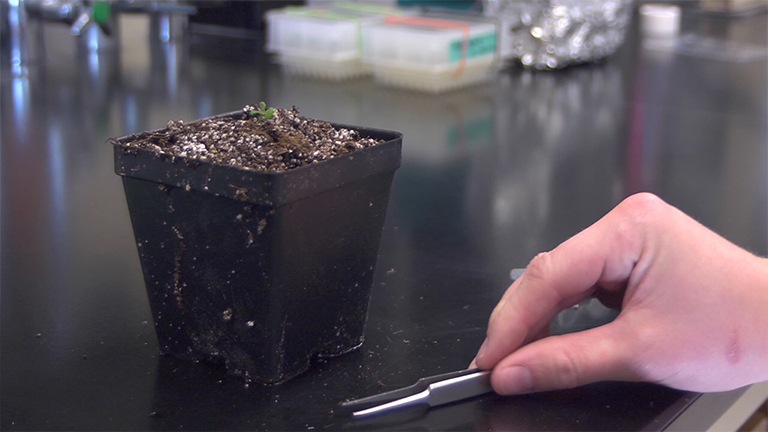 It is becoming common for plant scientists to develop projects that require the genotyping of large numbers of plants. The first step in any genotyping project is to collect a tissue sample from each individual plant. The traditional approach to this task is to sample plants one-at-a-time. If one wishes to genotype hundreds or thousands of individuals, however, using this strategy results in a significant bottleneck in the genotyping pipeline. The Ice-Cap method that we describe here provides a high-throughput solution to this challenge by allowing one scientist to collect tissue from several thousand seedlings in a single day
1,2
. This level of throughput is made possible by the fact that tissue is harvested from plants 96-at-a-time, rather than one-at-a-time. The Ice-Cap method provides an integrated platform for performing seedling growth, tissue harvest, and DNA extraction. The basis for Ice-Cap is the growth of seedlings in a stacked pair of 96-well plates. The wells of the upper plate contain plugs of agar growth media on which individual seedlings germinate. The roots grow down through the agar media, exit the upper plate through a hole, and pass into a lower plate containing water. To harvest tissue for DNA extraction, the water in the lower plate containing root tissue is rapidly frozen while the seedlings in the upper plate remain at room temperature. The upper plate is then peeled away from the lower plate, yielding one plate with 96 root tissue samples frozen in ice and one plate with 96 viable seedlings. The technique is named "Ice-Cap" because it uses ice to capture the root tissue. The 96-well plate containing the seedlings can then wrapped in foil and transferred to low temperature. This process suspends further growth of the seedlings, but does not affect their viability. Once genotype analysis has been completed, seedlings with the desired genotype can be transferred from the 96-well plate to soil for further propagation. We have demonstrated the utility of the Ice-Cap method using
Arabidopsis thaliana
, tomato, and rice seedlings. We expect that the method should also be applicable to other species of plants with seeds small enough to fit into the wells of 96-well plates.
Plant Biology, Issue 57, Plant, Arabidopsis thaliana, tomato, 96-well plate, DNA extraction, high-throughput, genotyping
3280